What Is Moz Pro?
Moz Pro is a popular all-in-one SEO software suite that contains tools designed to improve search engine visibility. Key features include Link Explorer, Keyword Explorer and Rank Tracker.
Key Features
Link Explorer (replaces OSE)
Link Explorer recently replaced Moz's Open Site Explorer.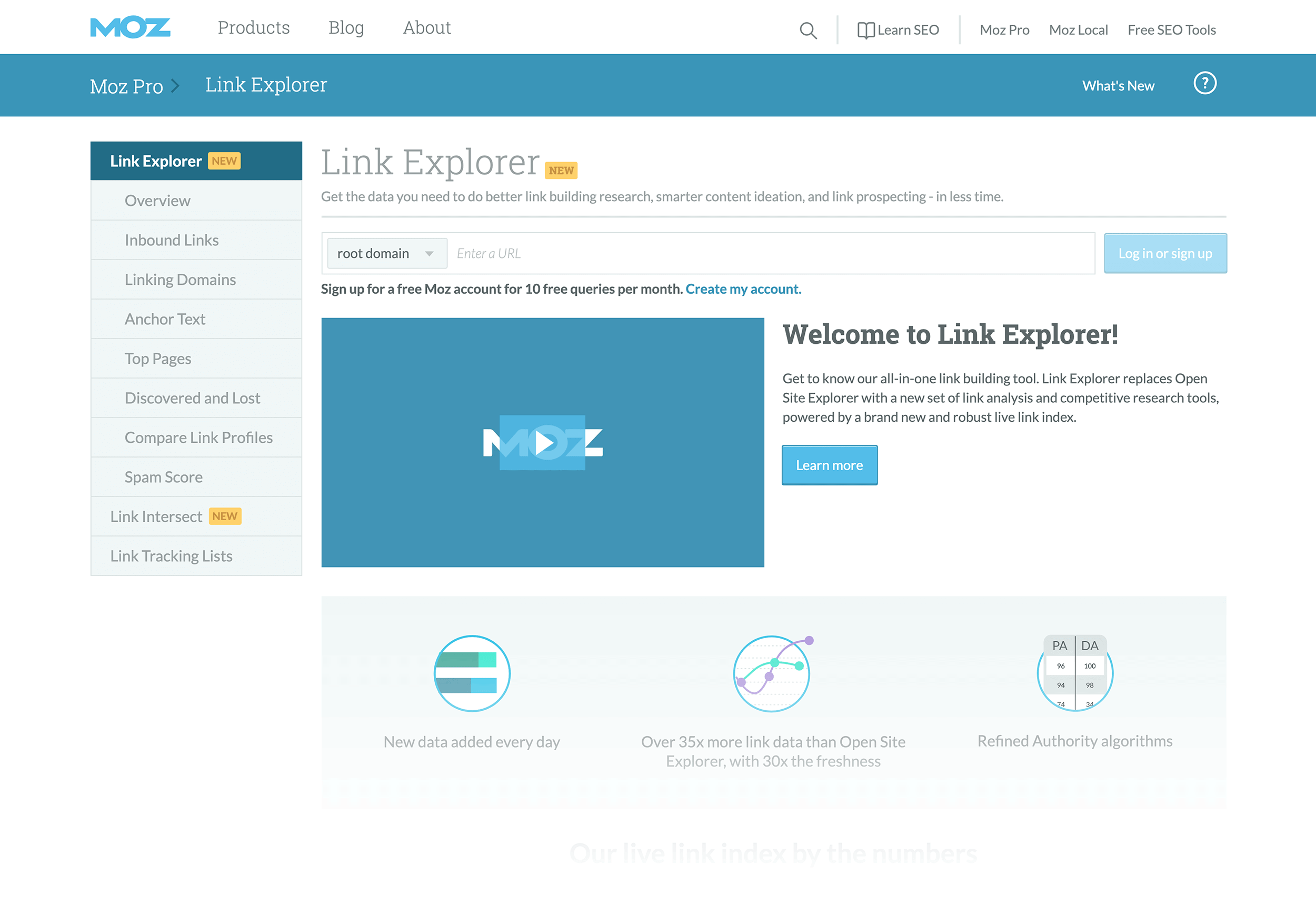 It's essentially the same as the old OSE… but with a MUCH bigger index.
(35.5 trillion links to be exact)
Let me show you how it works:
First, type your site or a competitor's site into the tool: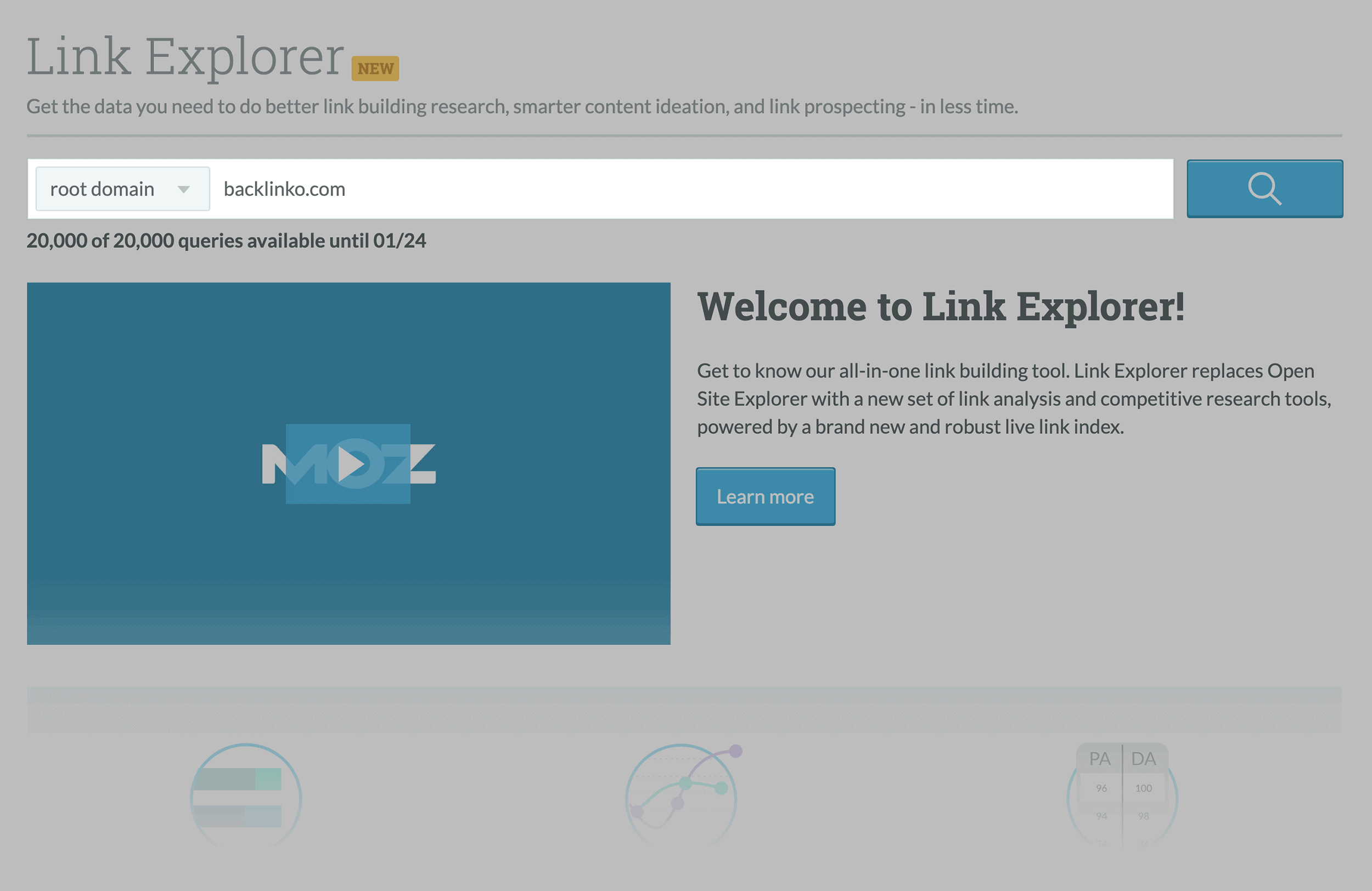 And you'll get a report on that site's link profile: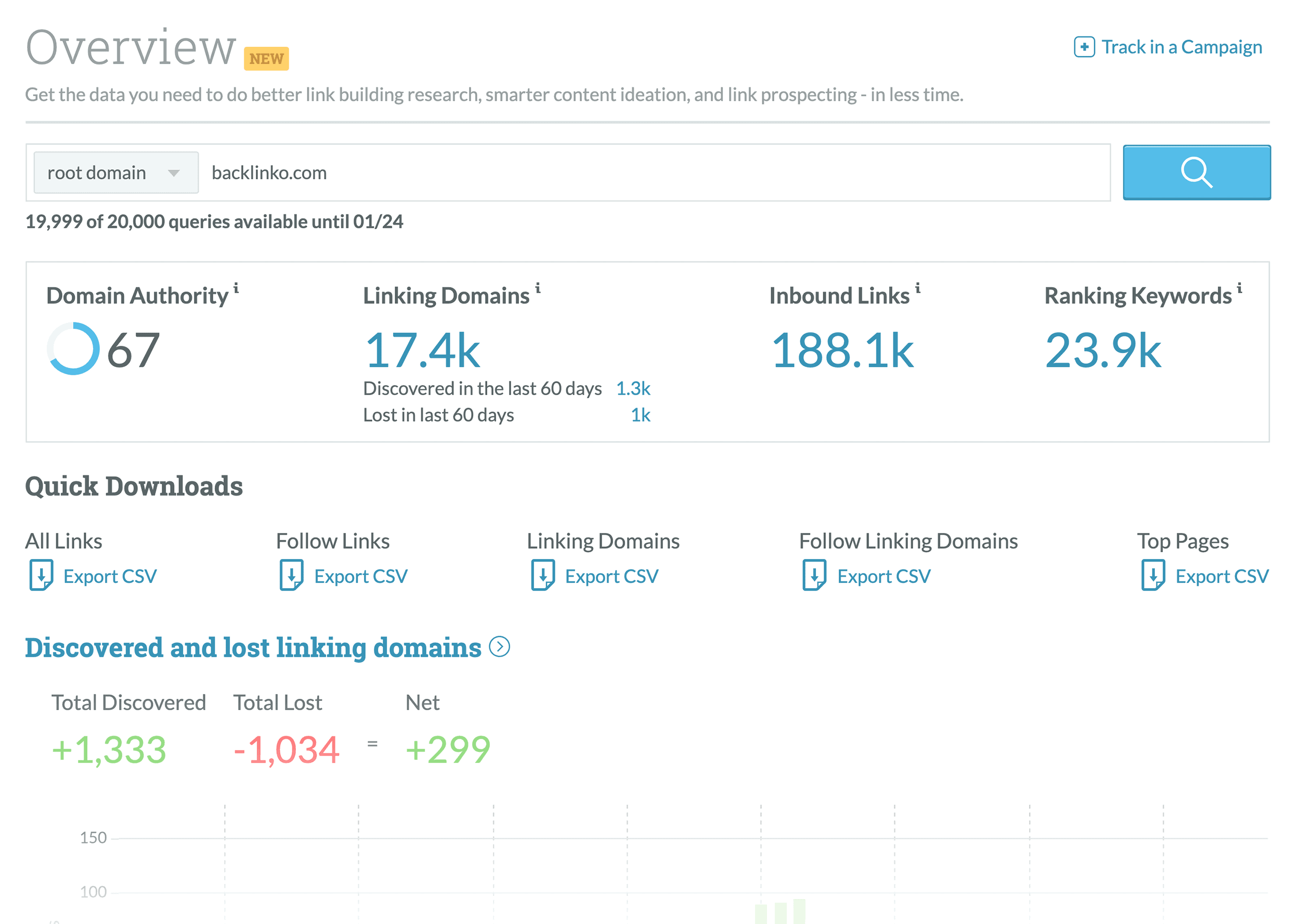 Here's what all the stuff on this page means.
First up, we have Domain Authority: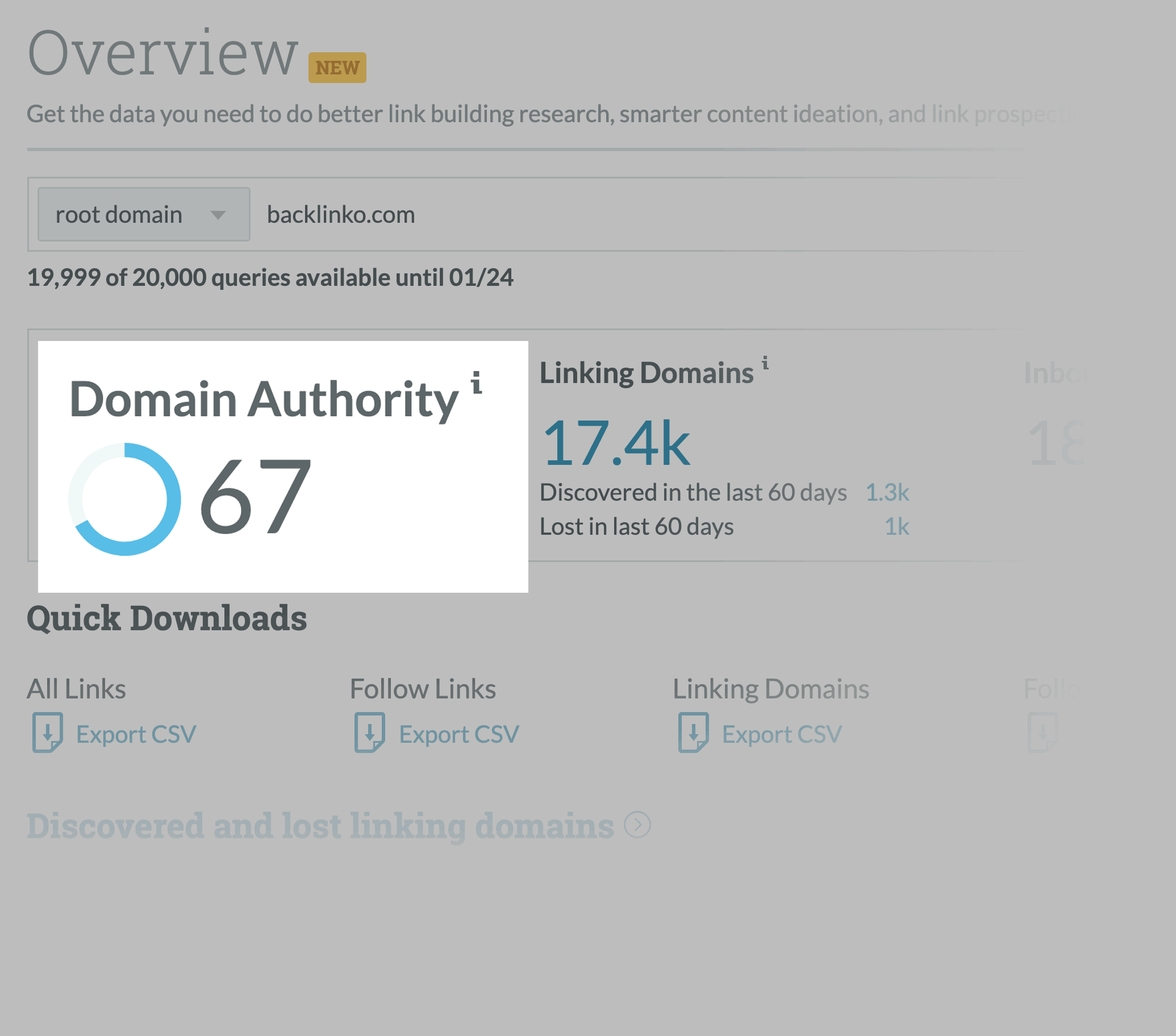 This is Moz's way of sizing up the link authority of an entire site… not an individual page.
So the more quality links you have pointing to your site, the higher this number will be.
As you can see, my Domain Authority is 67.
This number doesn't tell you much on its own.
But when you ALSO look at a competitor's Domain Authority, you can quickly see where you size up.
For example, when I put one of my SEO competitors into Link Explorer, I see that their Domain Authority is similar to mine: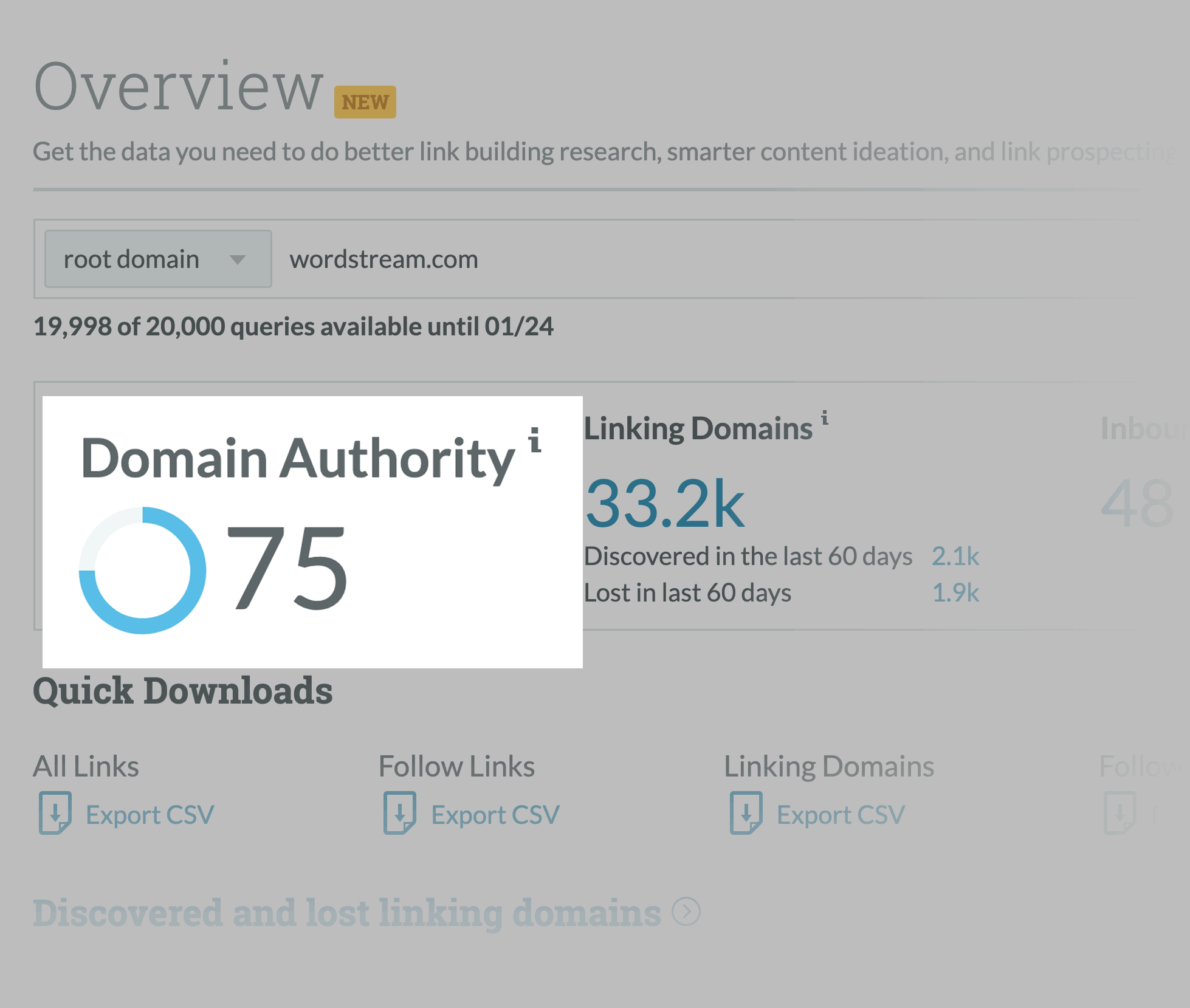 Which means I can probably rank for the same keywords they already rank for.
Next, let's take a look at "Linking Domains":
Again, this isn't super helpful on its own. But it's a quick and easy way to benchmark your site against your competitors.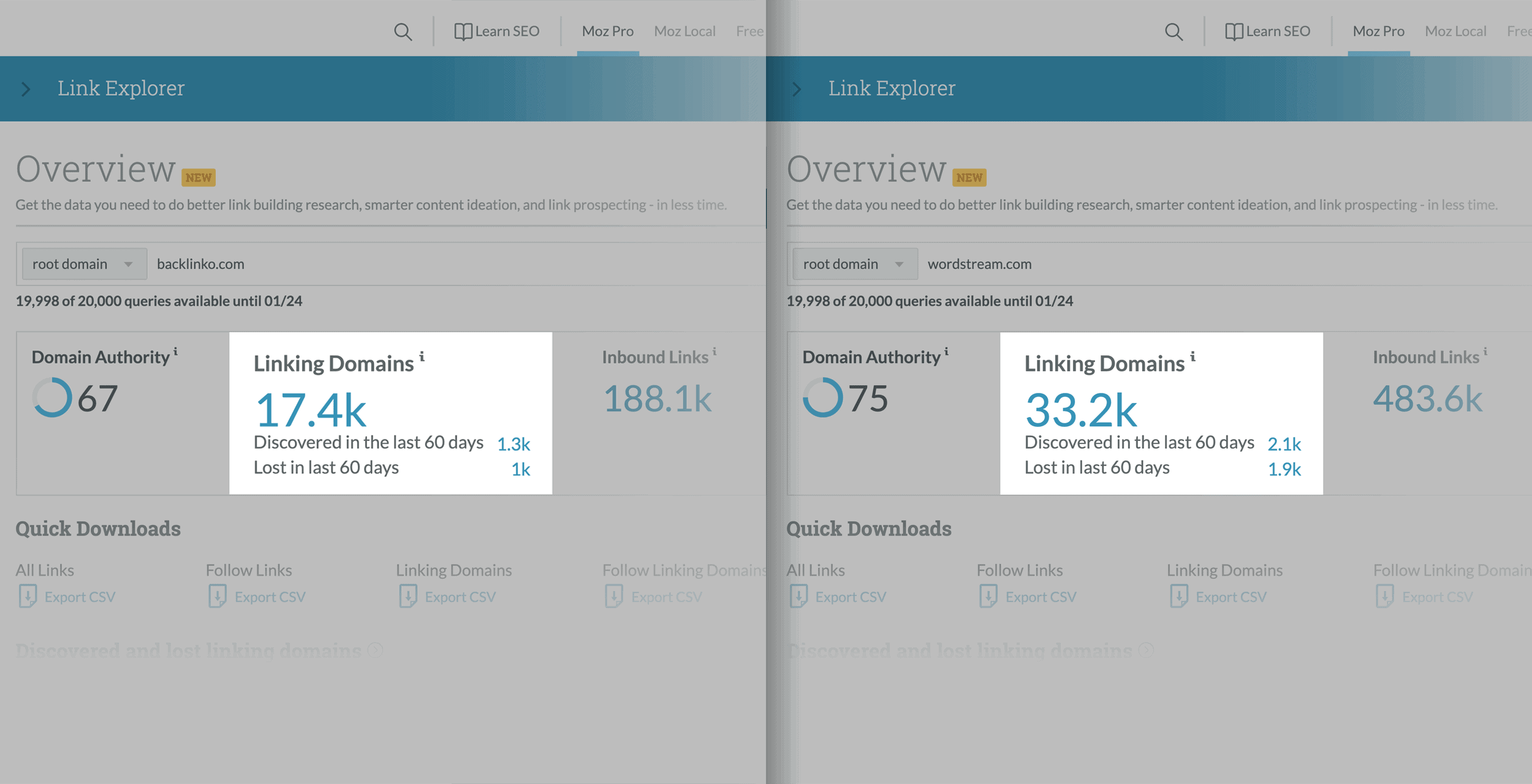 The third key feature inside of Link Explorer is "Top Pages":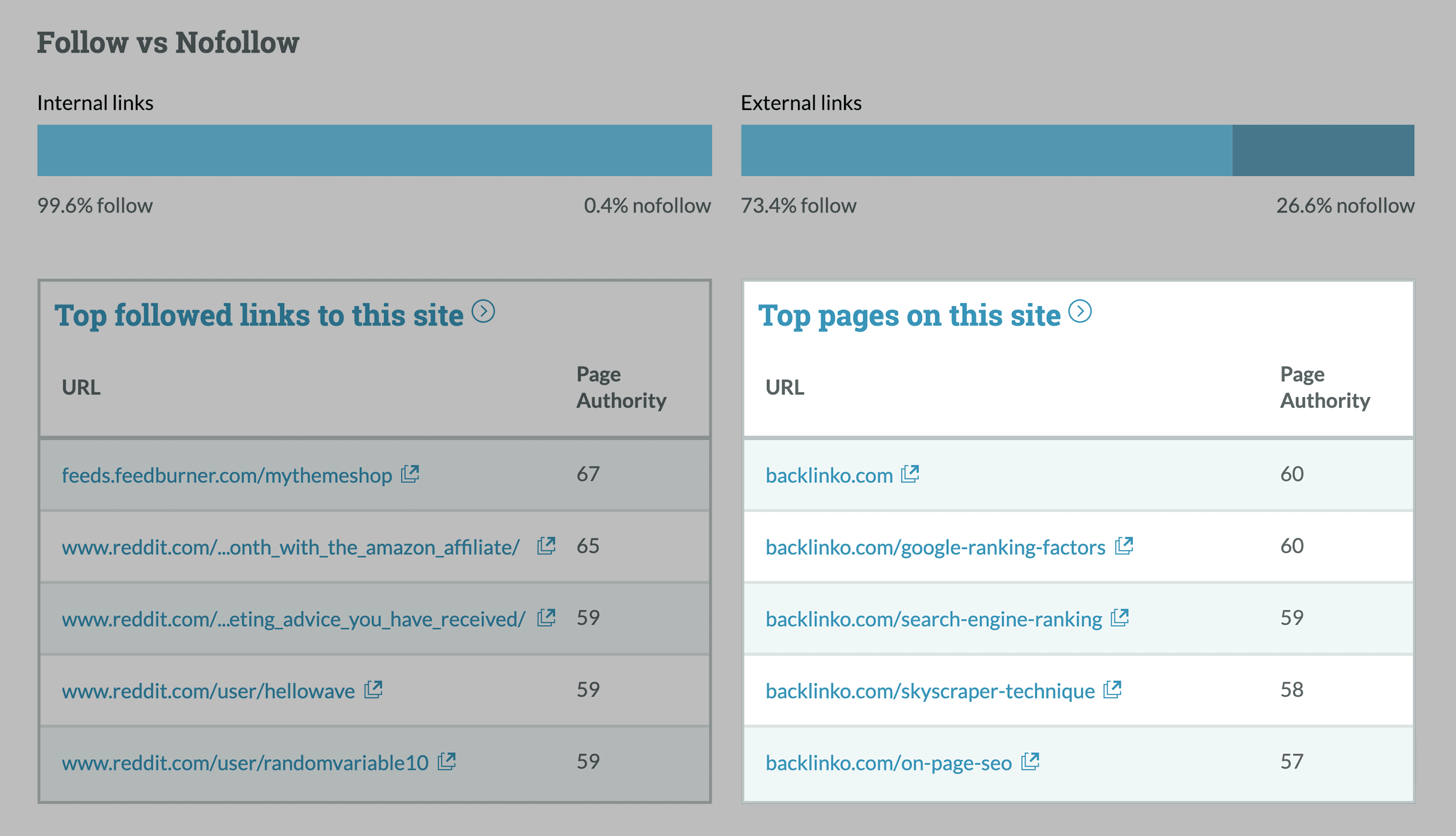 This metric shows you pages on a site with the most link authority (what Moz calls "Page Authority"):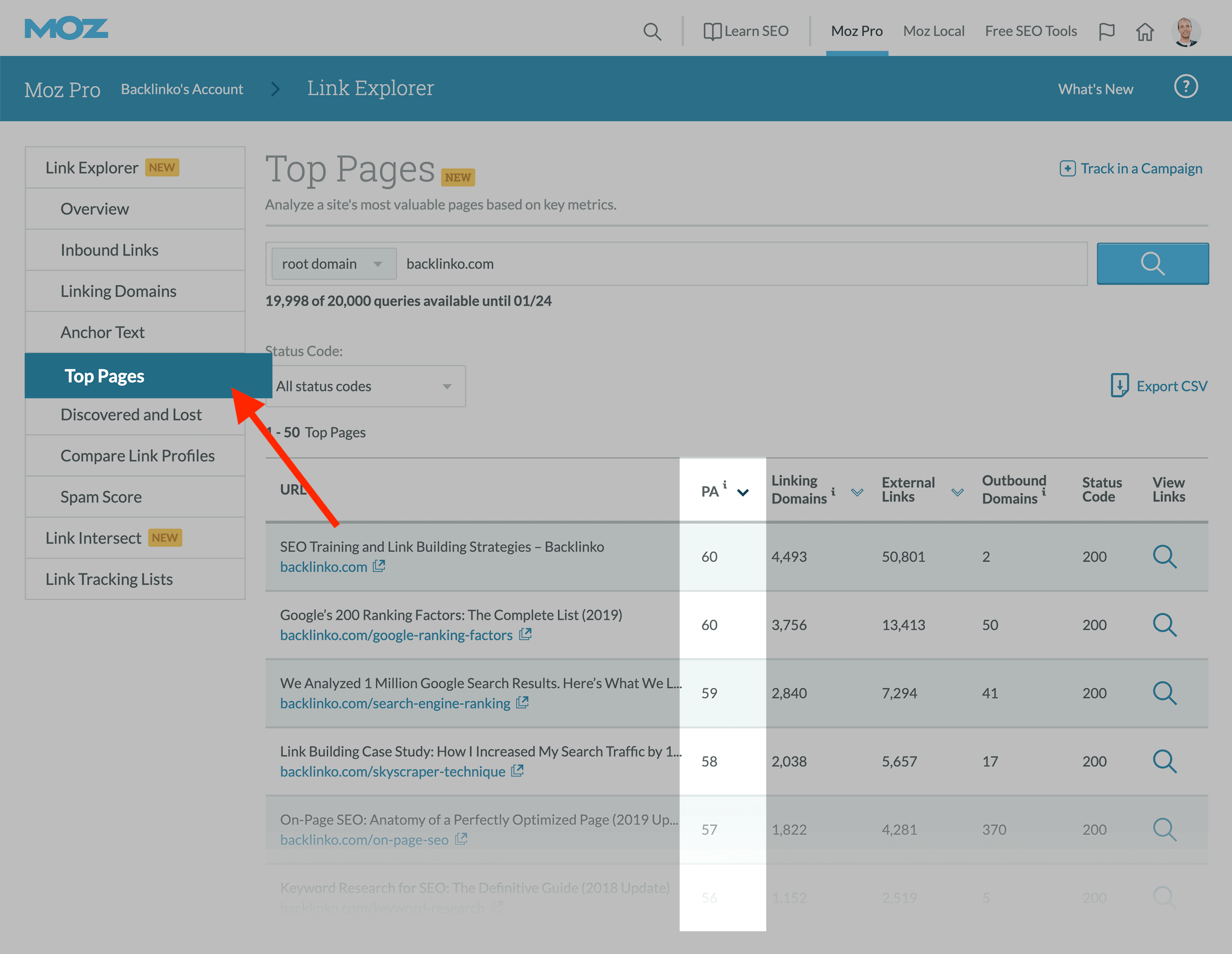 So if you want to see what type of content has worked for your competitor (in terms of backlinks), "Top Pages" is SUPER helpful.
Moz's Link Explorer also offers a "Spam Score".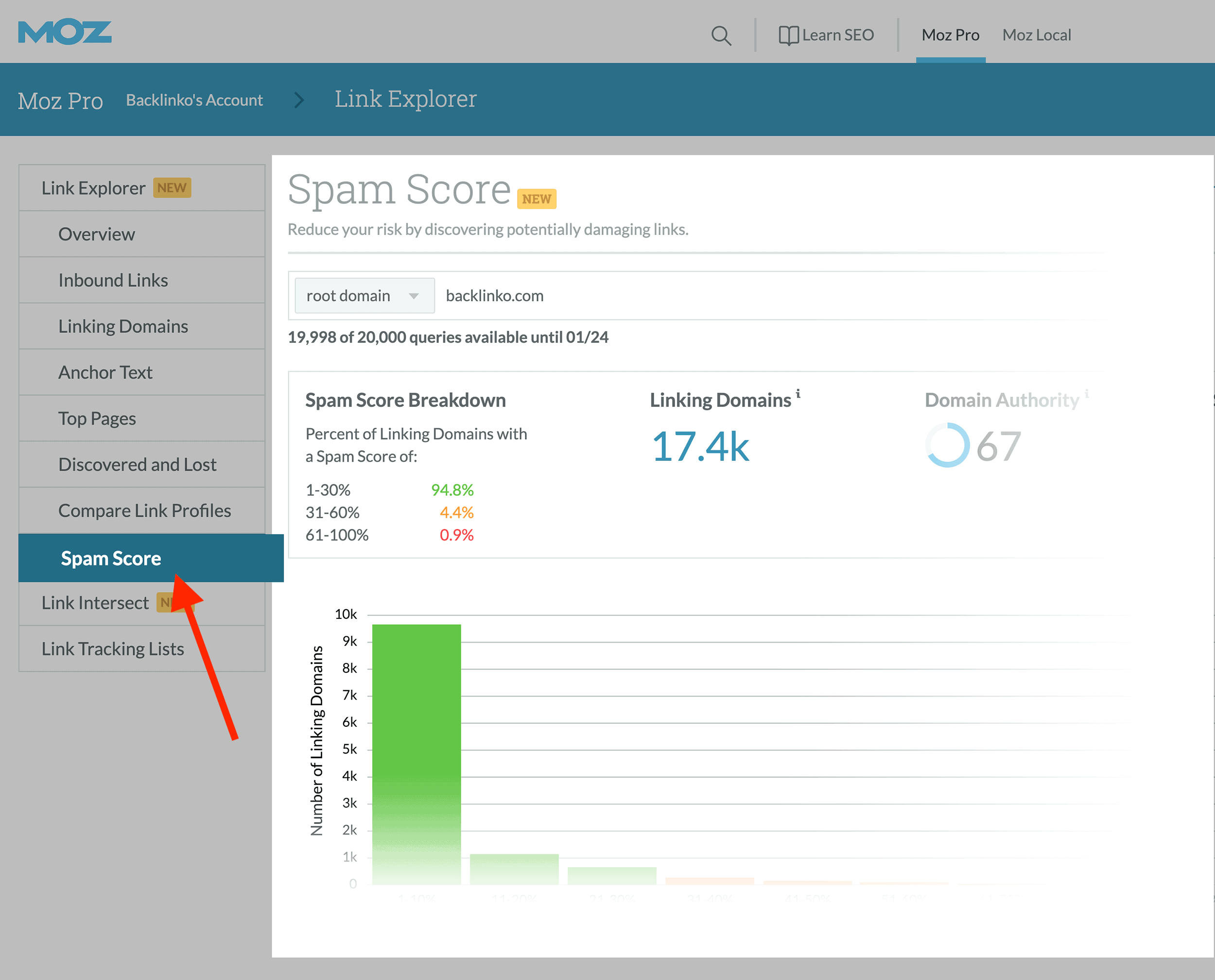 Spam Score is Moz's way of figuring out how spammy a site's links are.
For example, my site has a Spam Score of 6%:
This feature isn't perfect by any means. But it does give you an idea of whether or not a site's link profile is legit.
Finally, there's Link Intersect.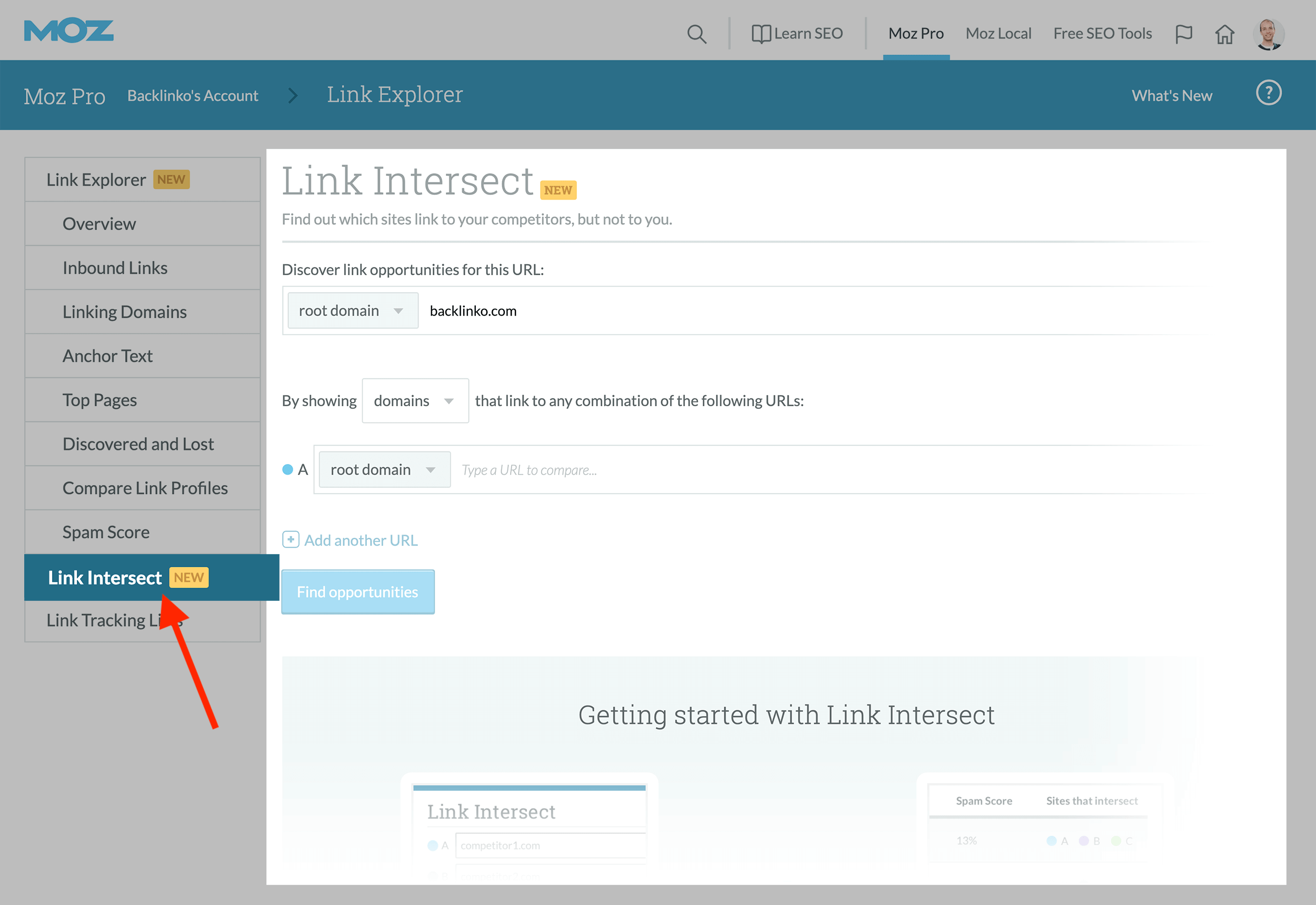 As Moz puts it, Link Intersect "Find out which sites link to your competitors, but not to you.".
Why is this helpful?
Well, if you're running a link building campaign, you DON'T want to reach out to sites that already link to you.
Instead, you want to reach out to people that link to competing sites… but haven't linked to you yet.
And Link Intersect makes finding these link opportunities a breeze: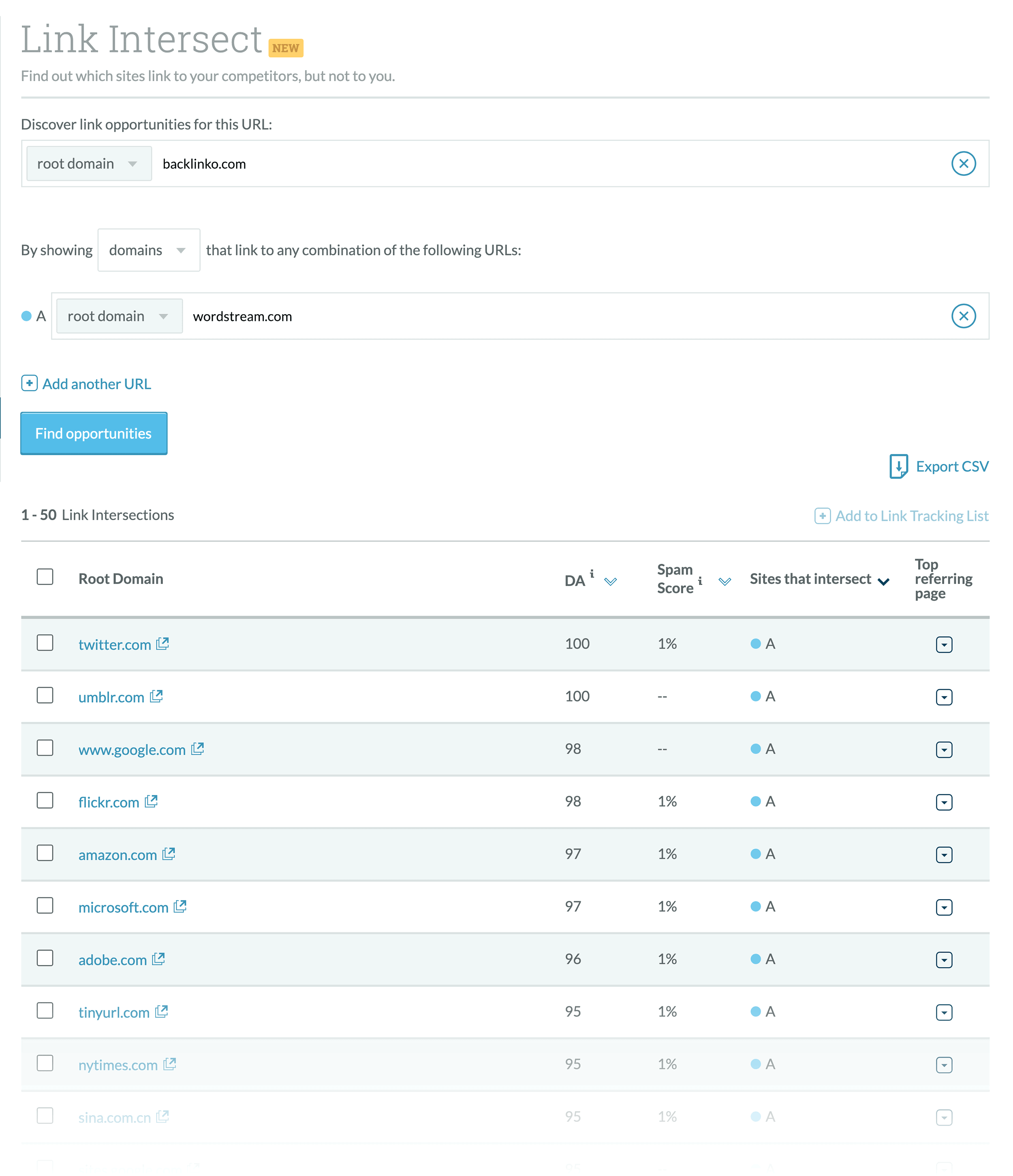 Overall, Link Explorer isn't as robust as what you find in Ahrefs. But it's a solid tool that's improving (in terms of index size and features) every month.
Fresh Web Explorer
Fresh Web Explorer is basically a brand mention monitoring tool.
But unlike most tools that passively scrape the web and alert you when they find a mention, Fresh Web Explorer lets you search for recent mentions.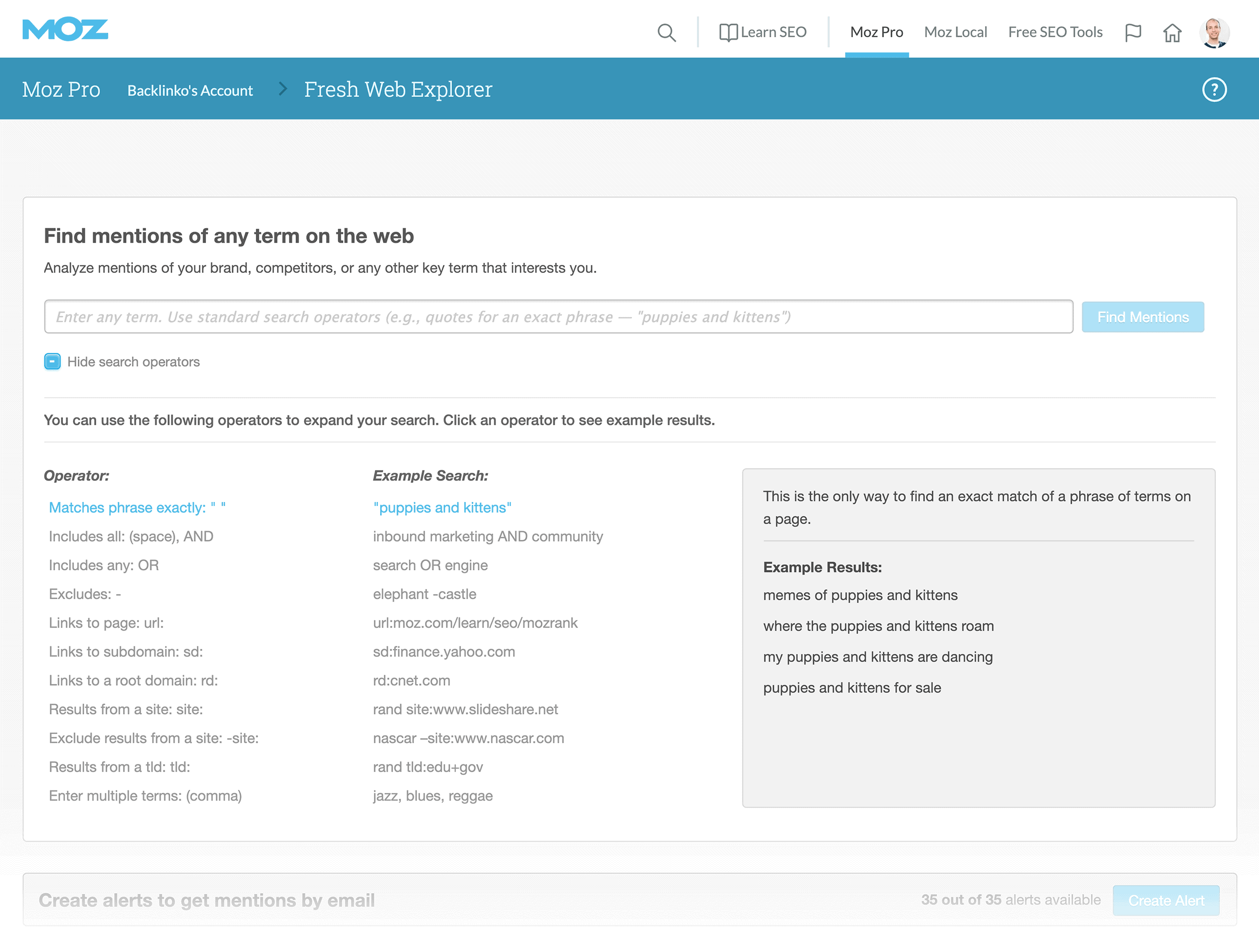 This is an insanely useful little feature.
I can't tell you how many times I've setup an alert for a hot term or keyword… only to wait days to get a report.
For example, a while back I published this post about mobile SEO: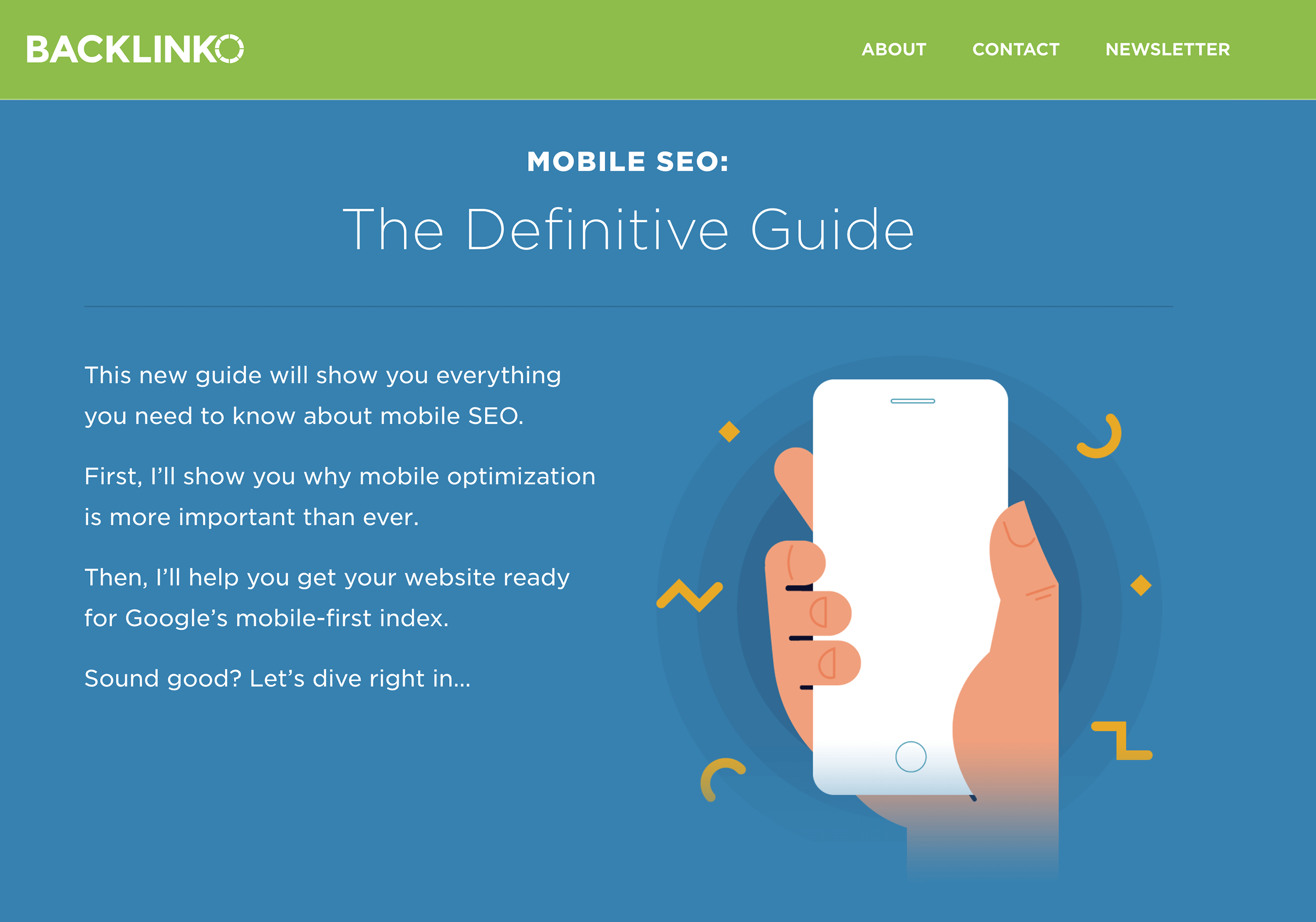 And I knew that I'd want to promote my new post to people that write about this topic.
But I didn't have an alert setup for terms like "Mobile SEO" and "Mobile Optimization".
So instead of waiting around, I can go right into Moz and get a list of mentions in 10 seconds: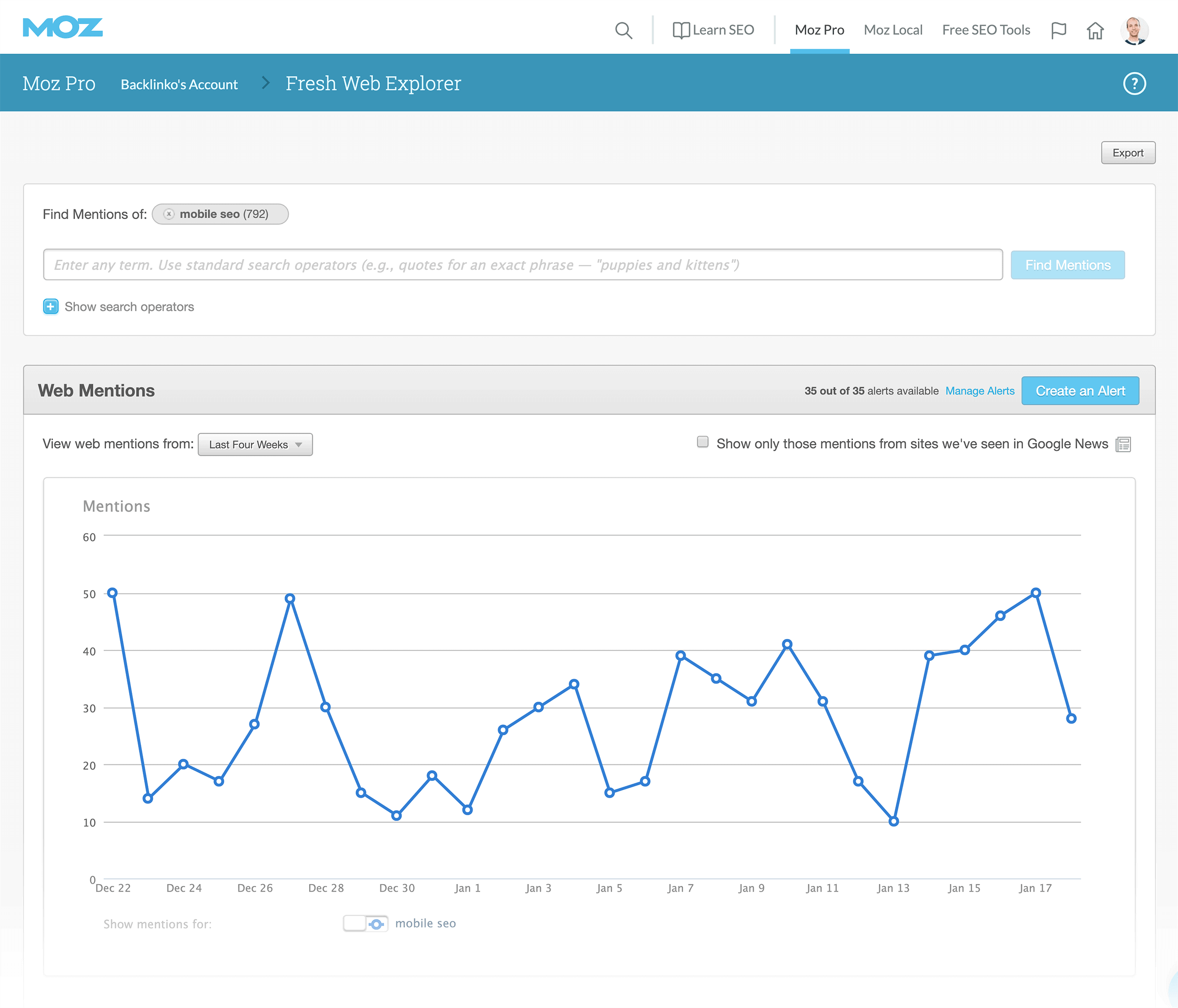 Nice.
My only beef is that Fresh Web Explorer doesn't find as many mentions as I'd like.
For example, when I search for mentions of "Backlinko" for the last month, Moz shows 1 result: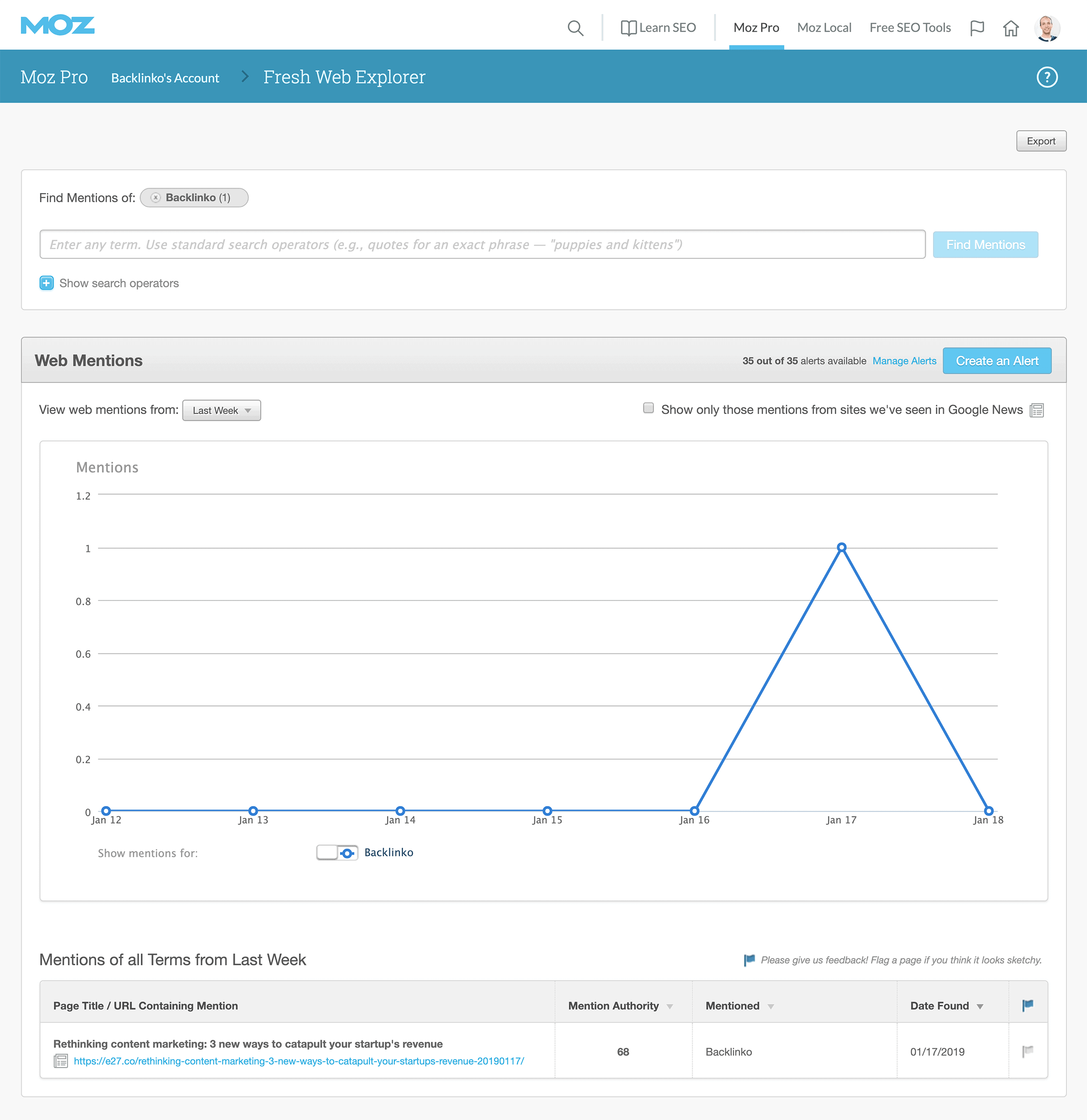 And BuzzSumo found 10 mentions over that same timeframe: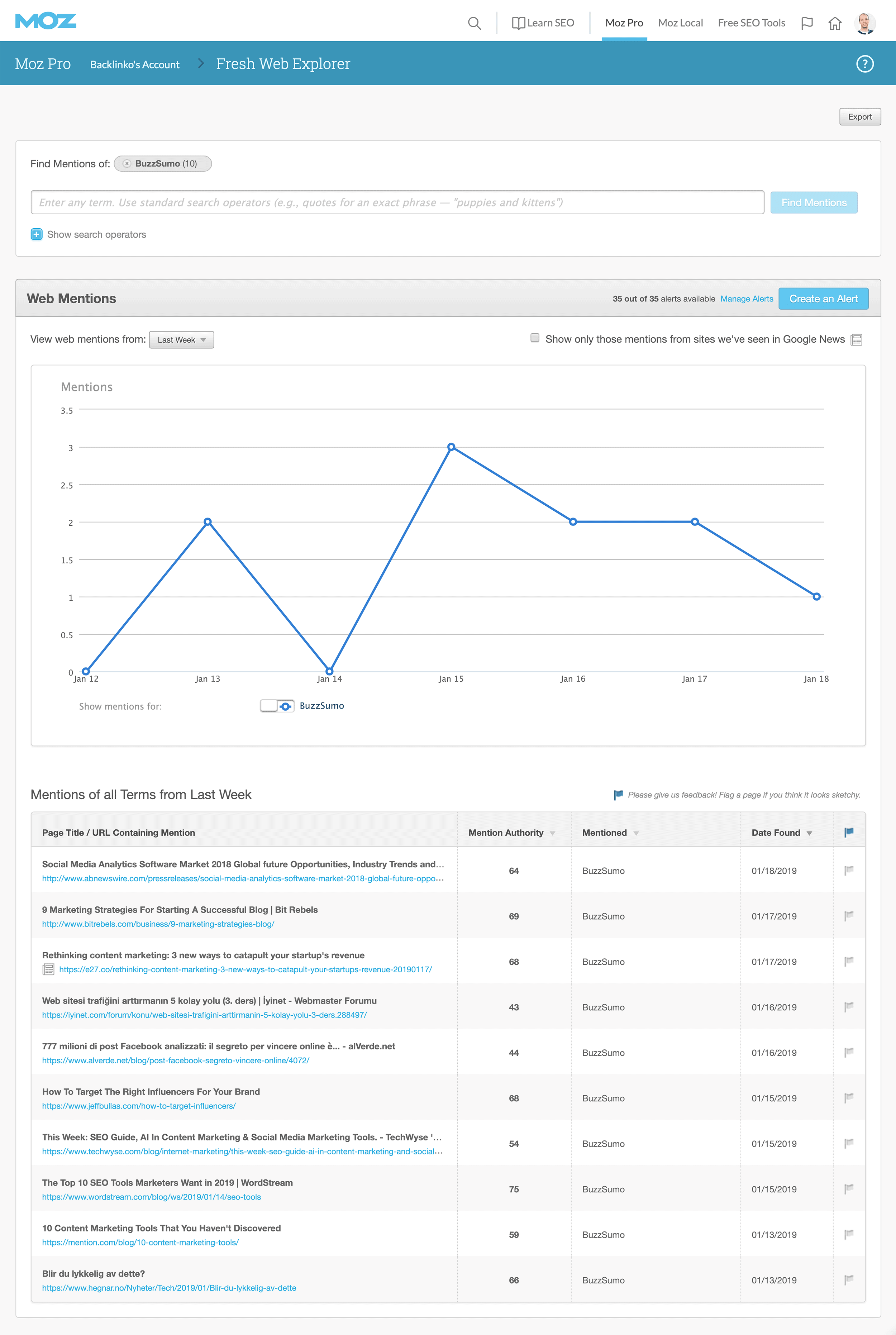 So Fresh Web Explorer is helpful for content promotion and link building. But it's not as powerful as other mention monitoring tools on the market.
Keyword Explorer
Keyword Explorer is the best overall feature in Moz Pro.
On the surface, Keyword Explorer works like most other keyword research tools on the market.
You type in a keyword.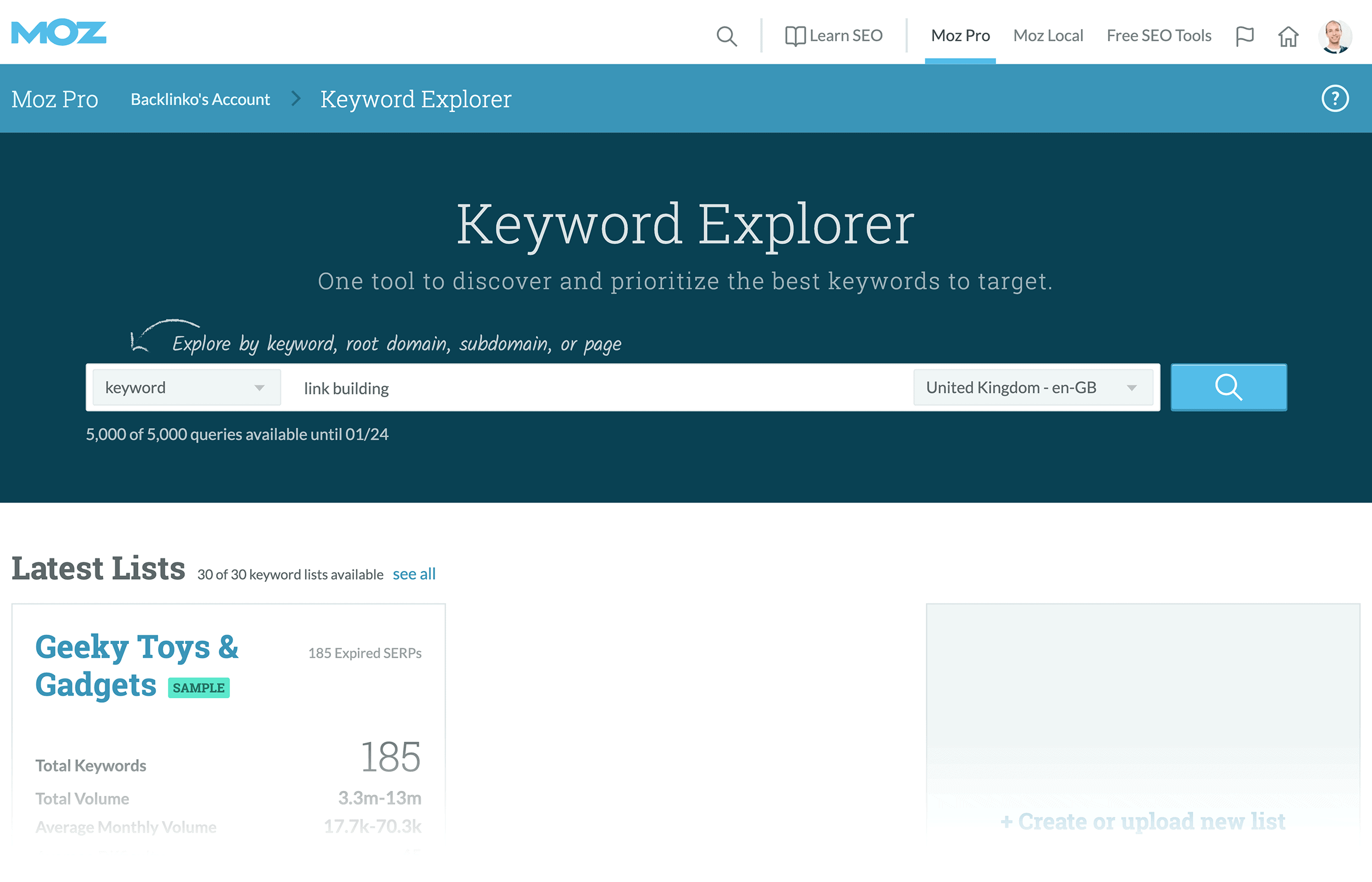 And get a list of metrics on that term… and new keyword ideas.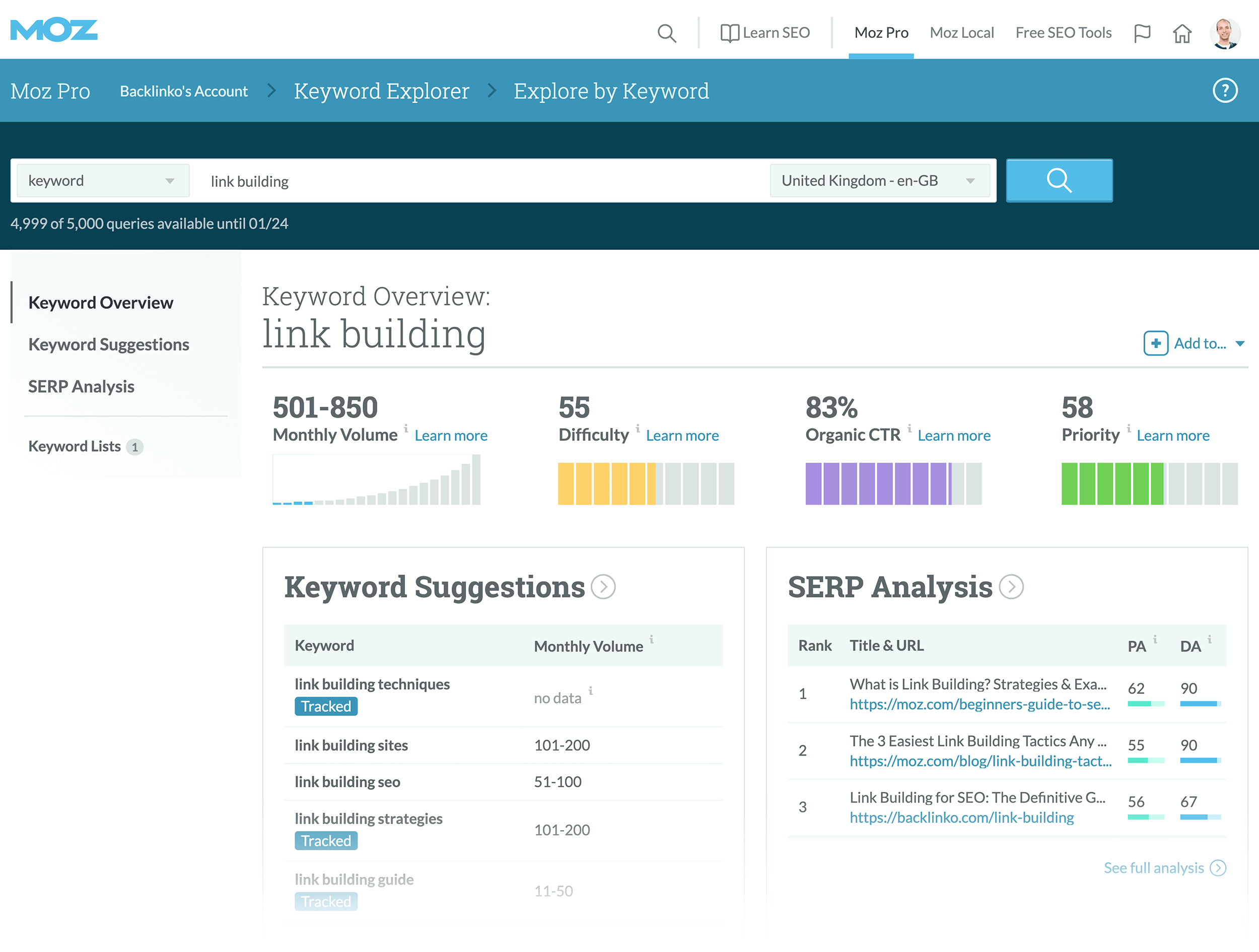 So what makes Keyword Explorer different?
Three reasons:
First, the monthly search volume numbers are more accurate than most other tools: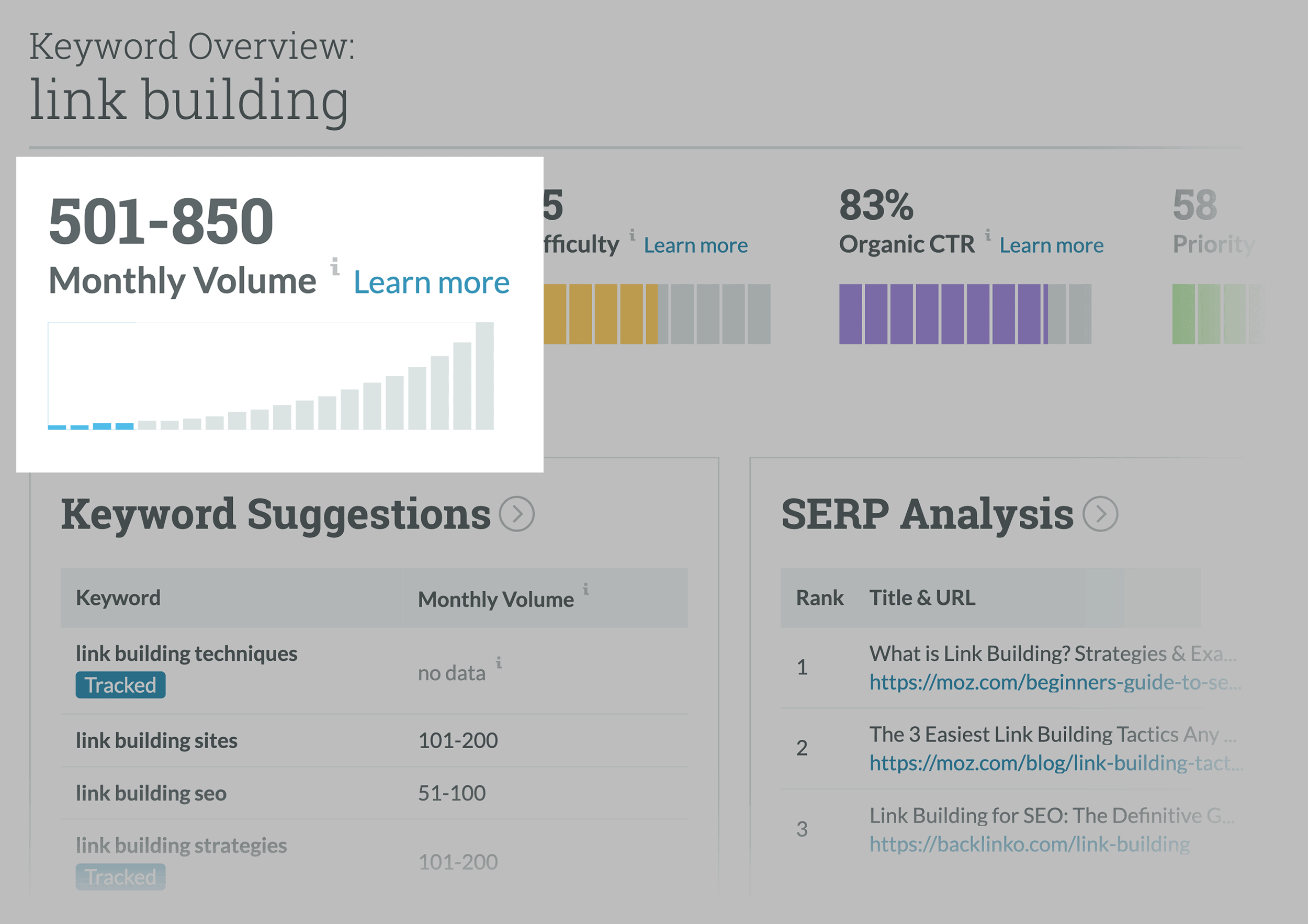 That's because Moz doesn't just scrape data from the Google Keyword Planner.
Instead, they use real user data to estimate how many people actually search for that keyword every month.
Second, the other metrics you DO get are super duper useful.
For example, you can see a keyword's difficulty and organic CTR on a single page.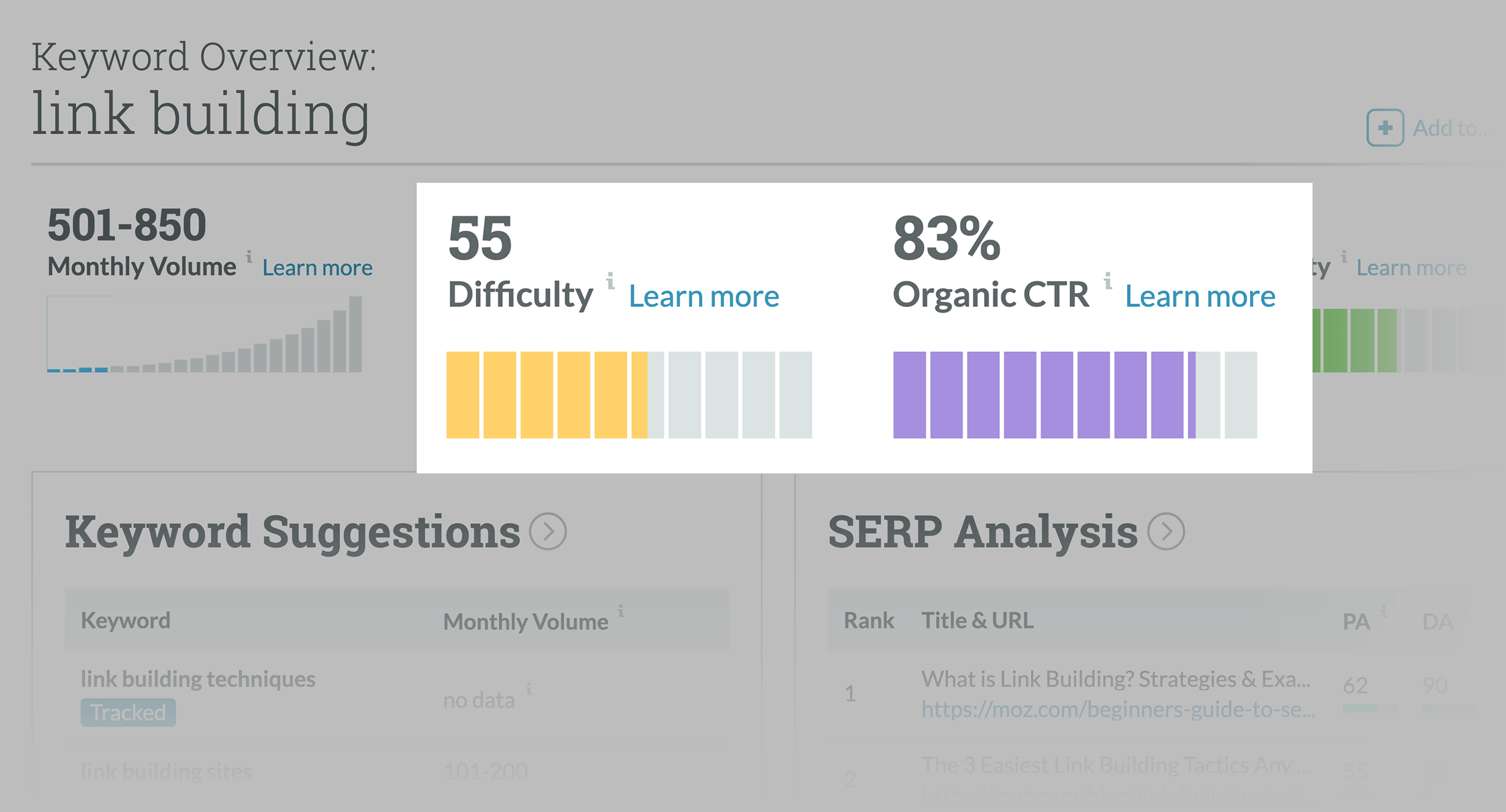 Plus, Moz grades every term with a "Priority Score".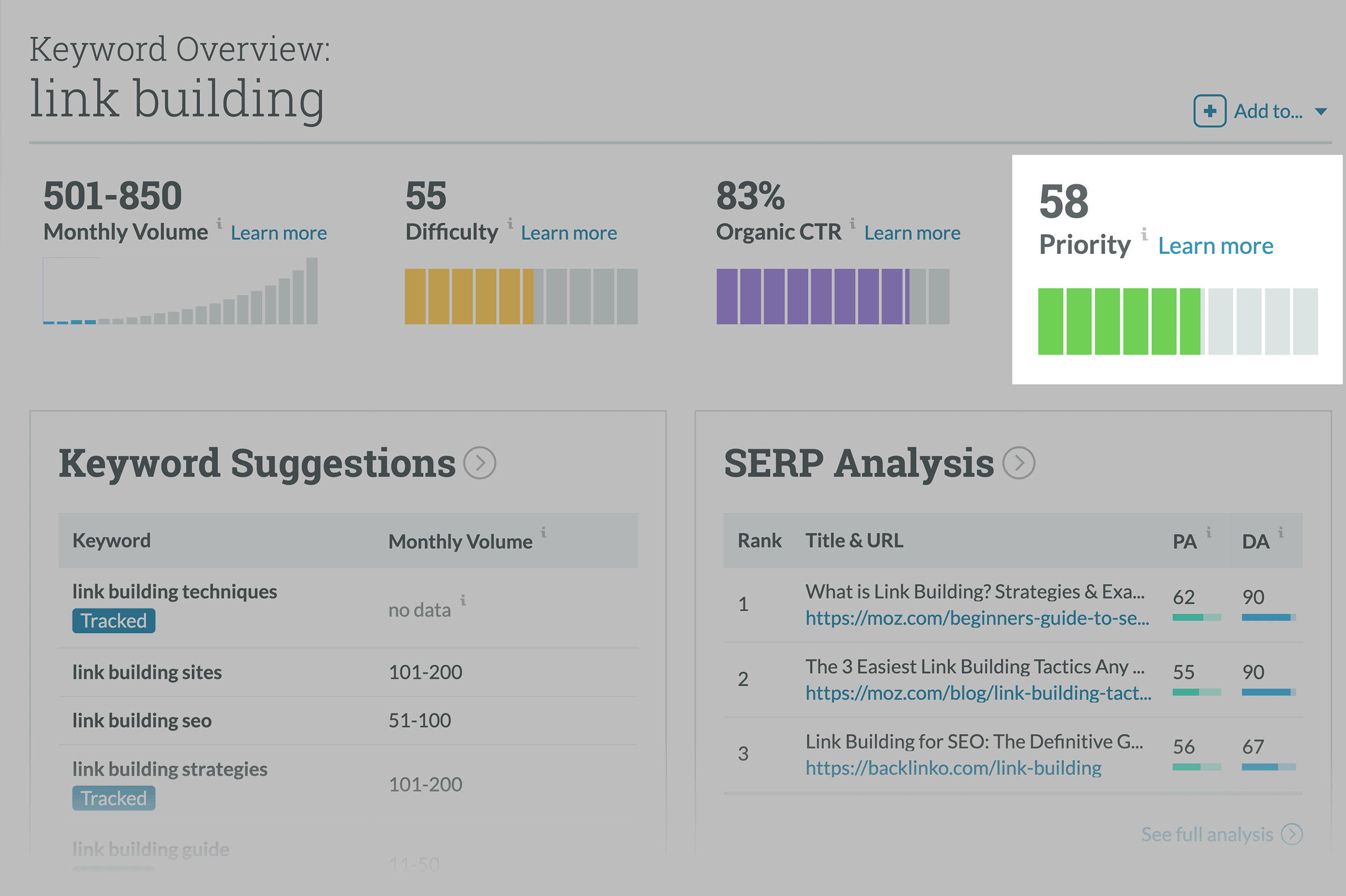 Priority Score makes it easy to to zero-in on keywords that have the best combination of search volume, organic CTR and competition.
Finally, Keyword Explorer is GREAT at generating new keyword ideas.
And unlike most other tools out there, you don't just get straight up variations of the same keyword.
For example, the keyword ideas for "Paleo Diet" include a few long tail versions of that keyword: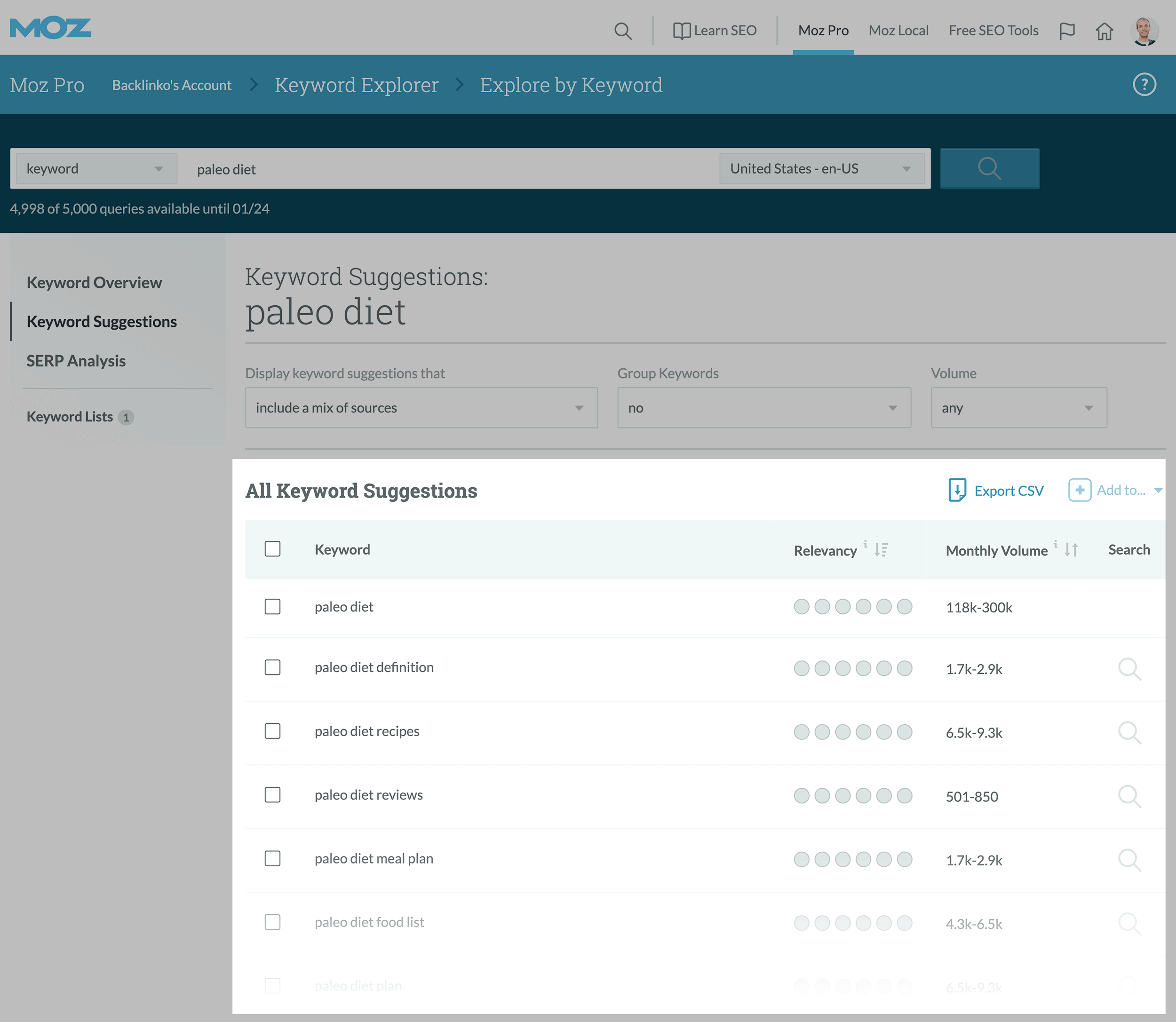 But they also give you a bunch of keywords that are related to that topic.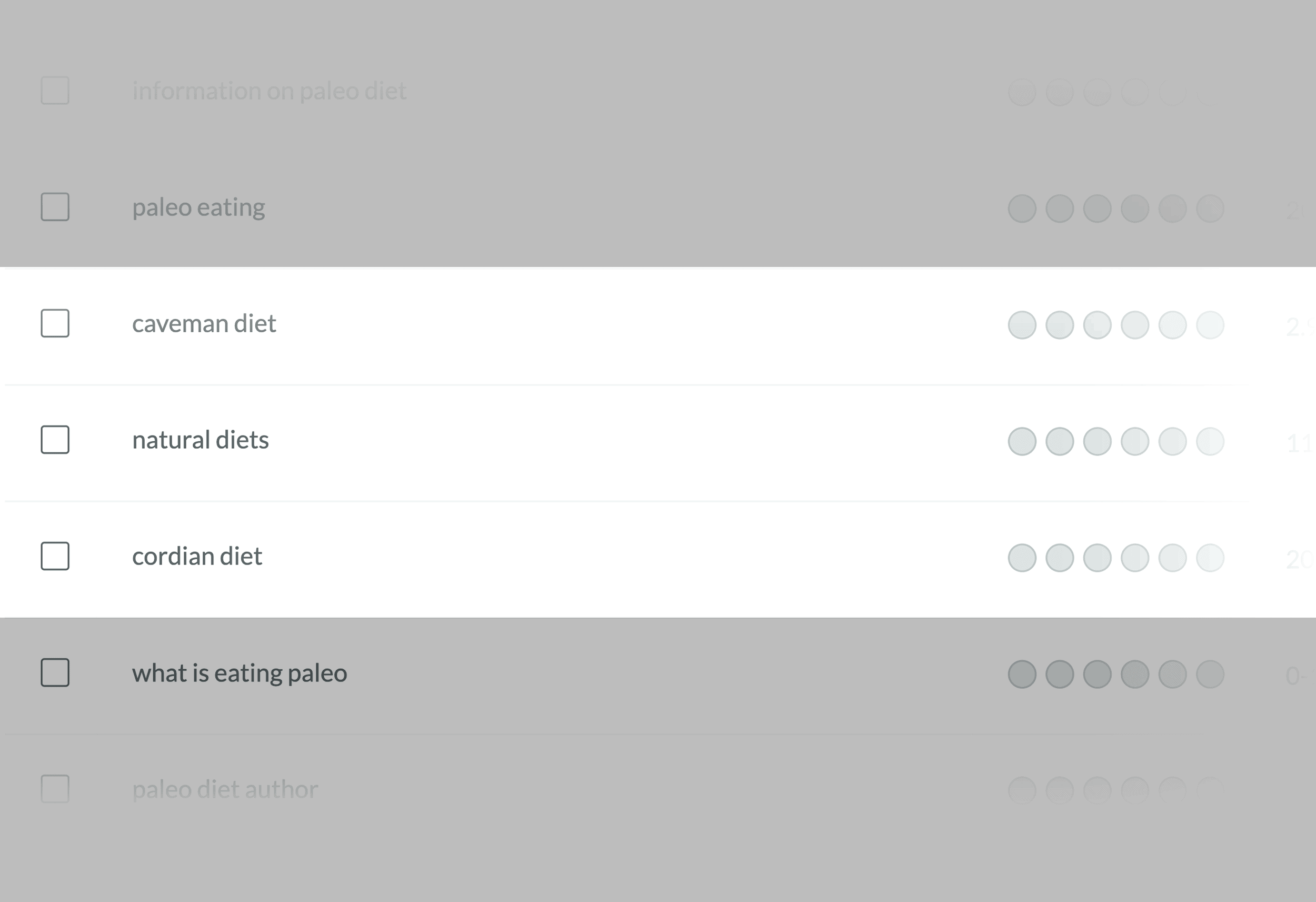 (And because these "underground" terms don't show up in most other keyword tools, they're not going to be insanely competitive)
Plus, you can easily save these terms into keyword lists to analyze later:
"Explore By Site"
This is Moz's version of SEMRush.
In other words:
It shows you keywords that your competitor's already rank for: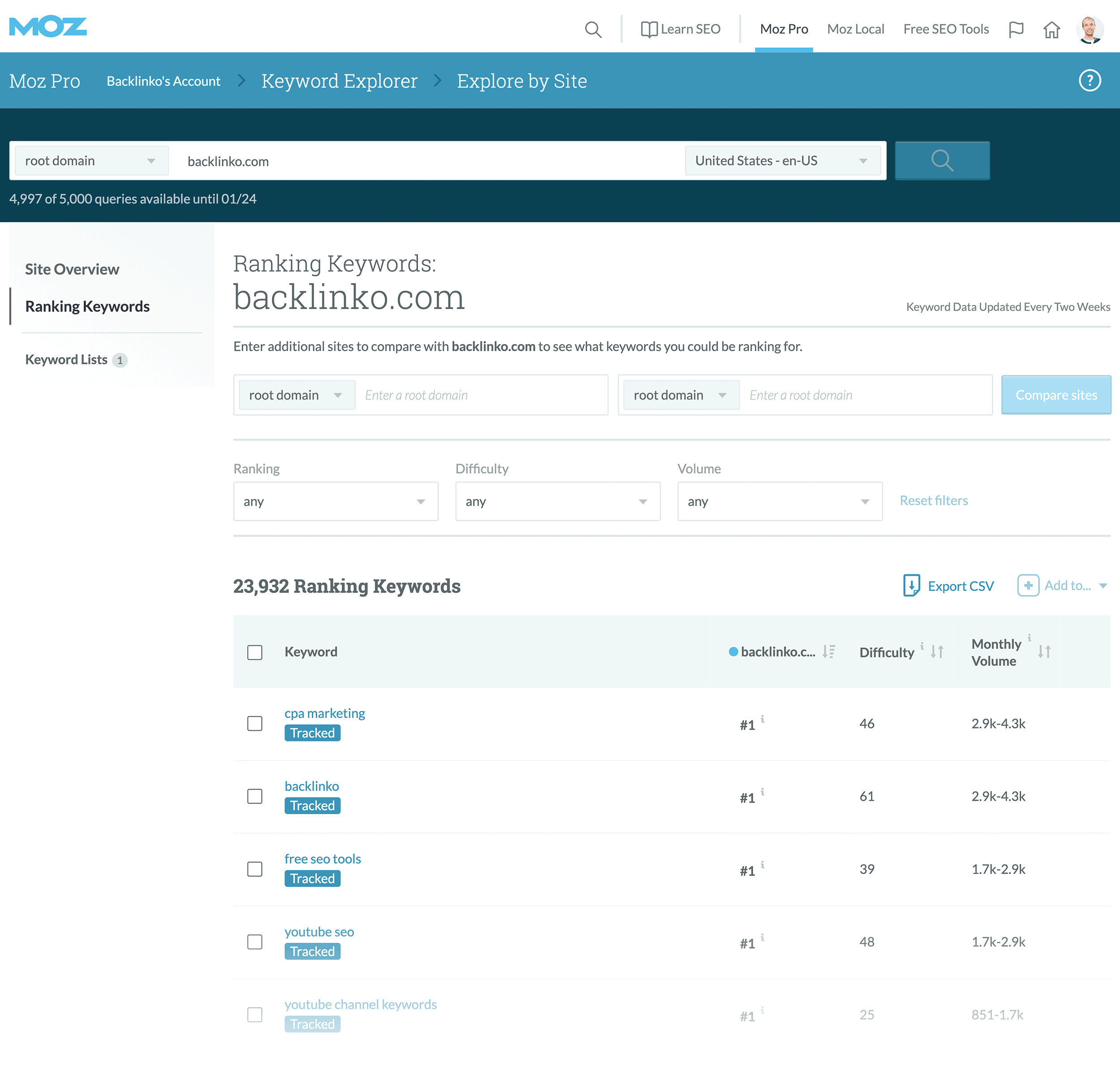 And you can use filters to easily find terms that have a certain search volume or competition leve.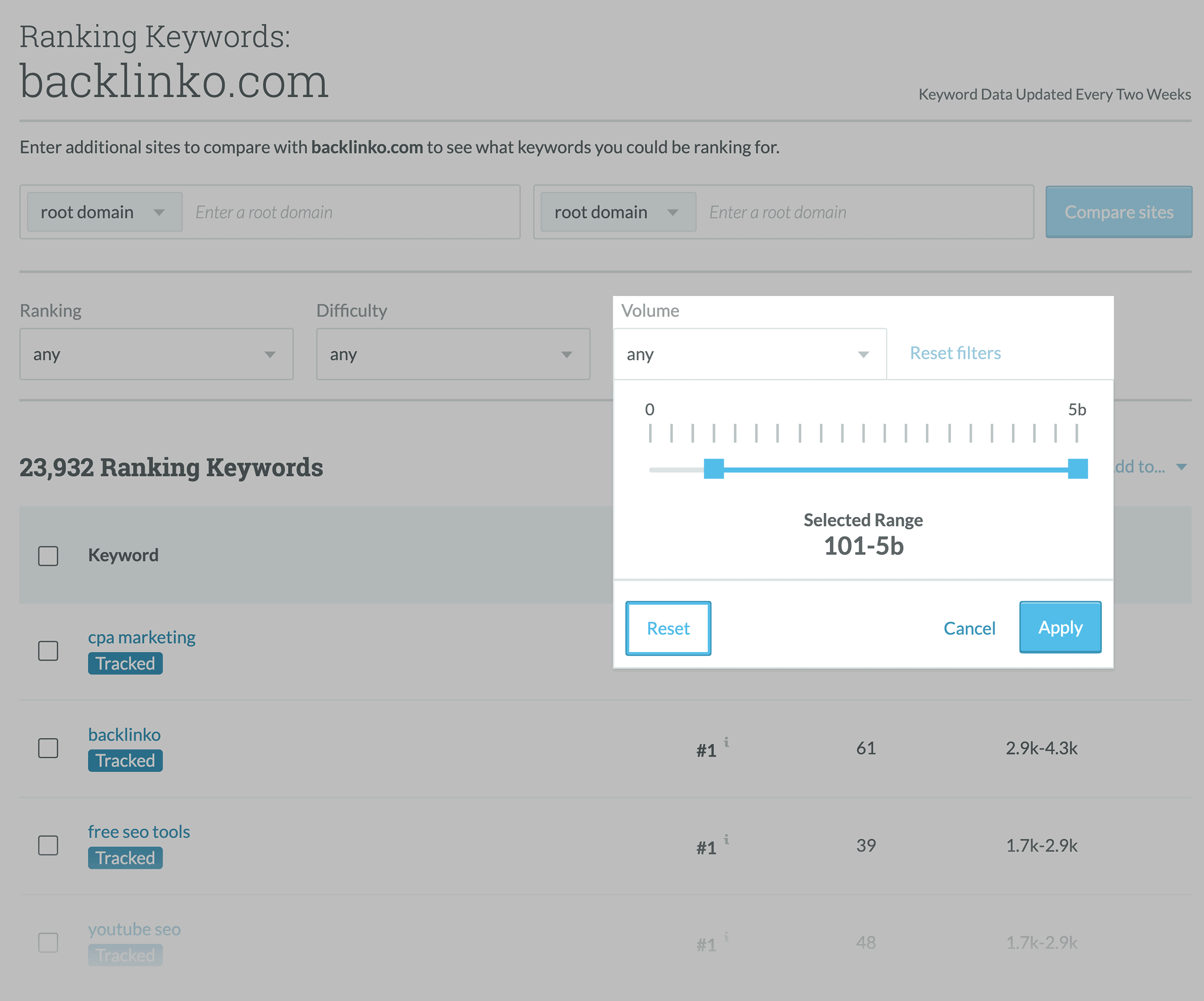 Site Crawl
This is Moz's built-in SEO audit feature.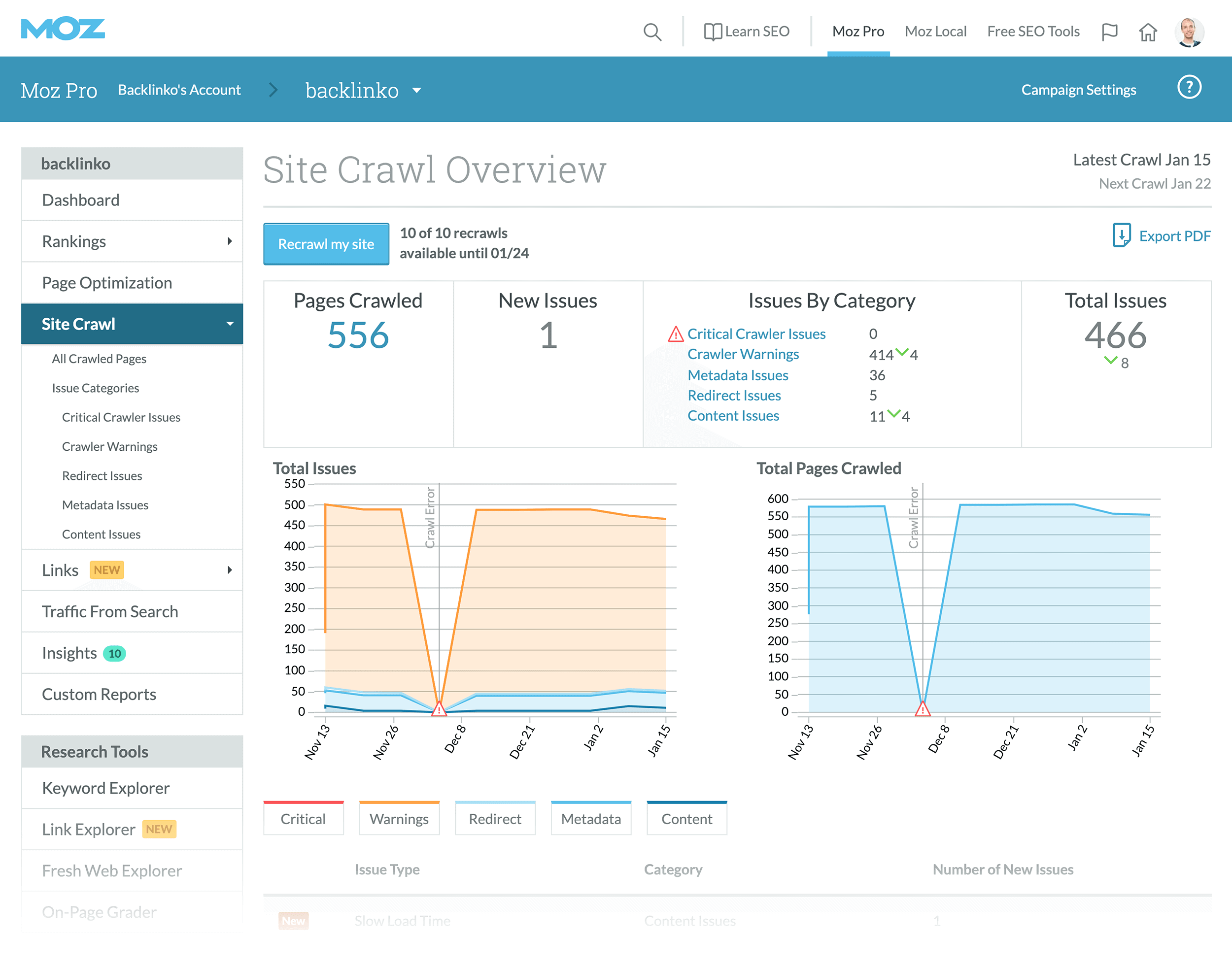 Compared to some other tools that I've tried, Site Crawl has a nice combination of robust features and intuitive user interface.
For example, Site Crawl puts issues that it finds into categories like "Critical" and "Warnings":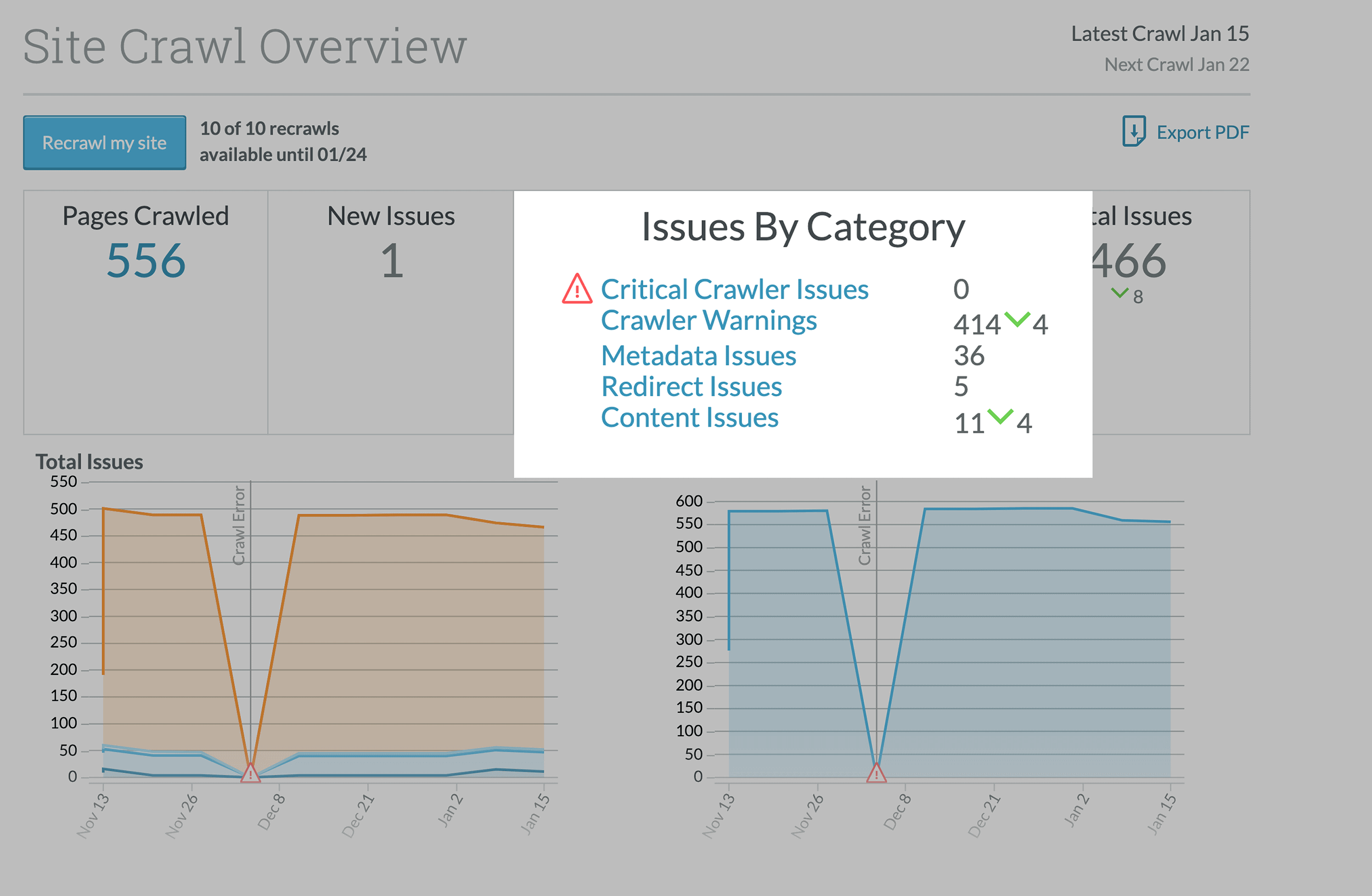 That way, you can quickly find and fix important technical SEO issues right away.
And it analyzes more than the usual "Page blocked by Robots.txt" stuff.
Site Crawl also reports on "Content Issues". In other words, this report lets you know about thin, duplicate or slow-loading content on your site: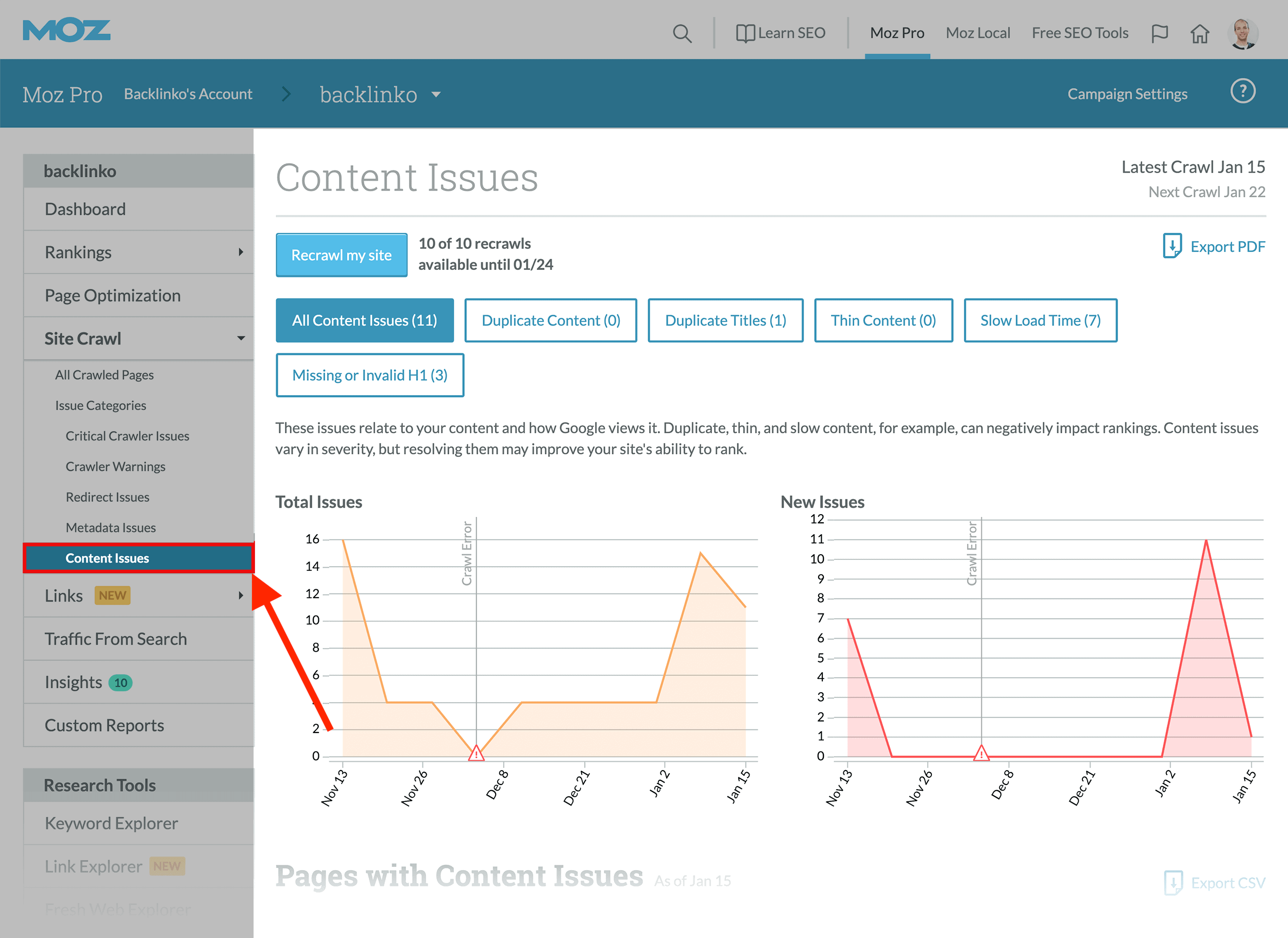 As anyone that's been in the SEO world for a while knows: duplicate content and thin can be REALLY hard to find.
(Especially on big websites with tens of thousands of pages)
And "Content Issues" makes finding these problems a cinch.
Rank Tracker
Moz's Rank Tracker is a solid rank tracking tool.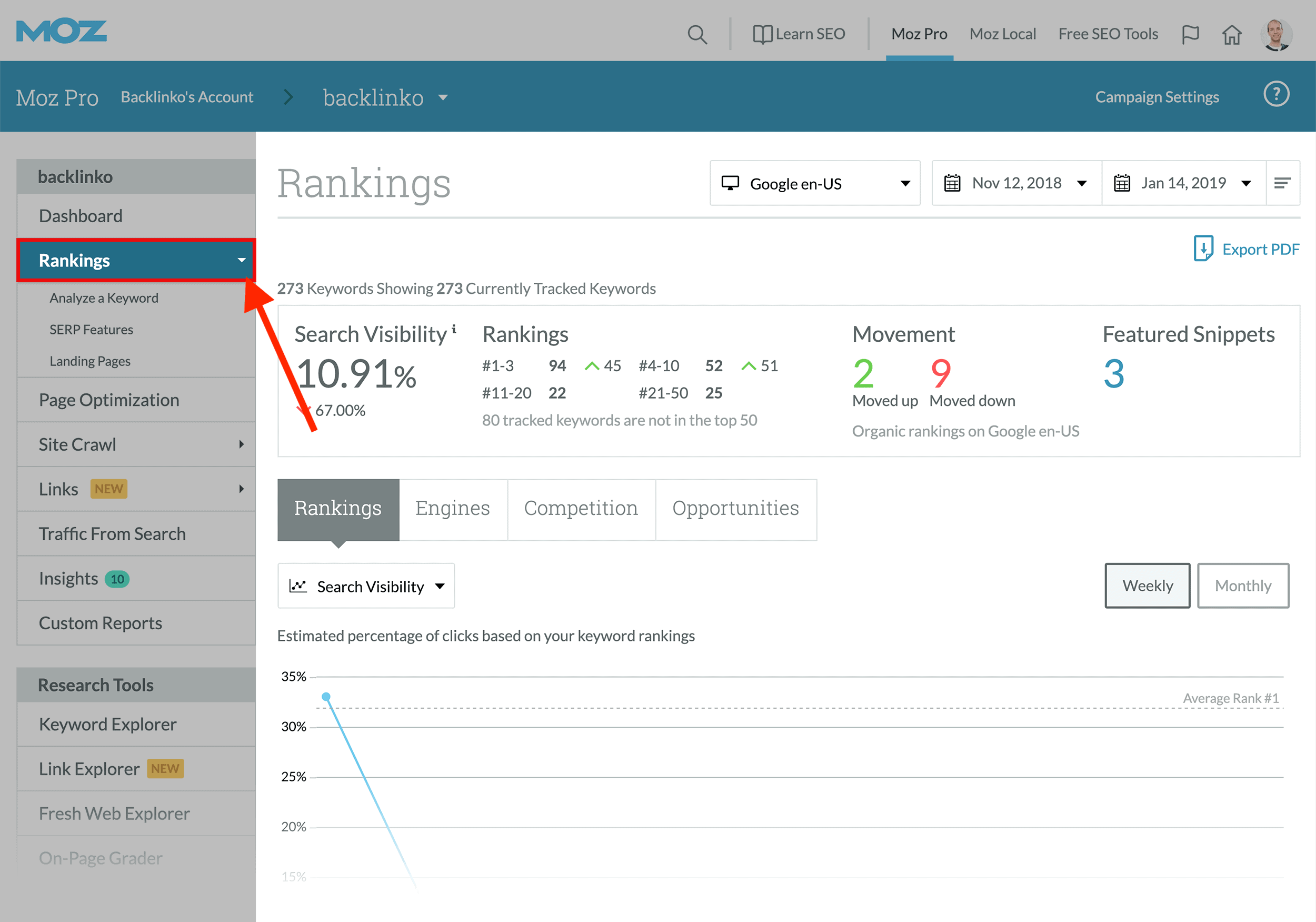 Yes, you obviously see where you rank in Google.
But Moz also tells you how many keywords moved up or down: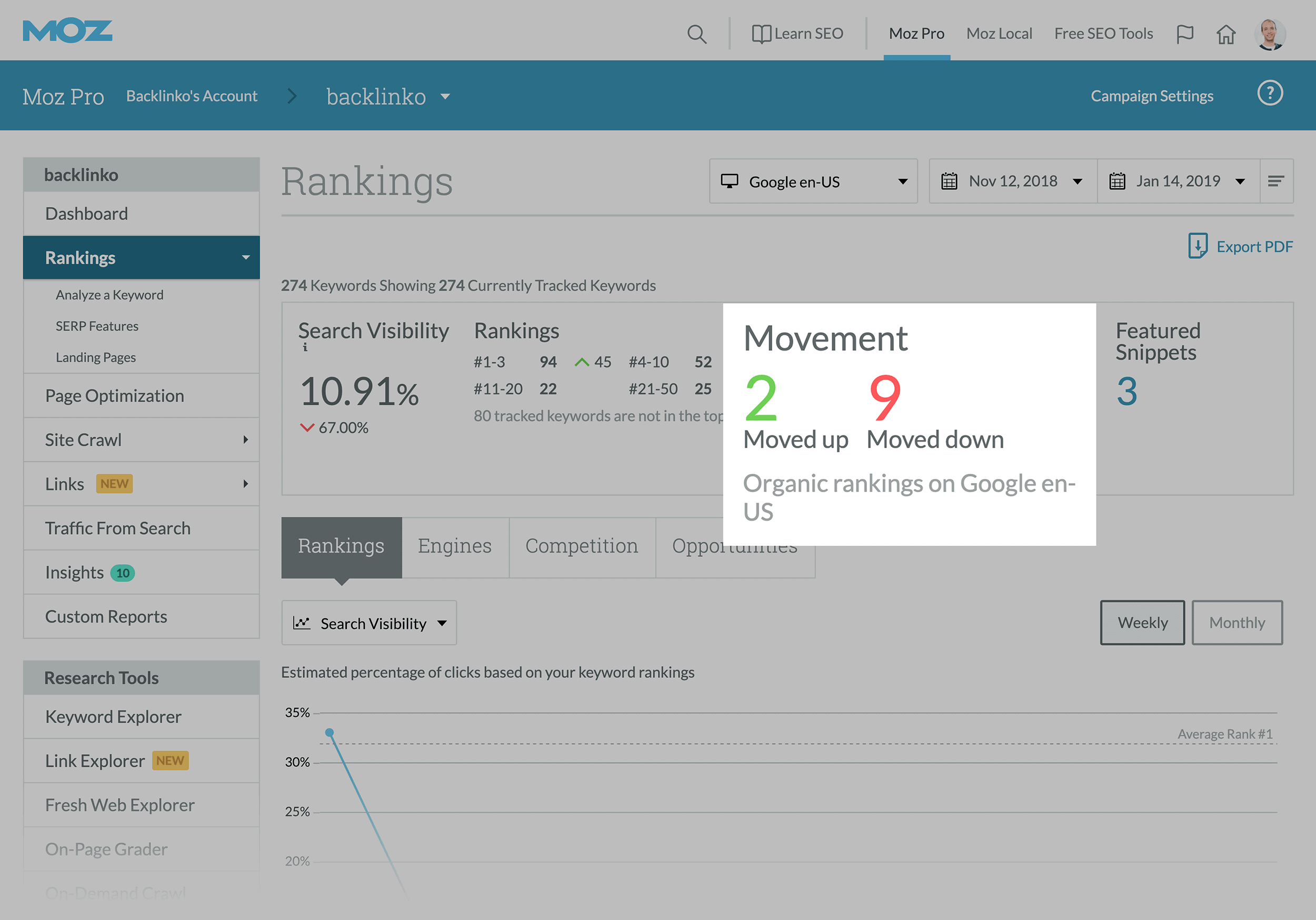 And your overall search visibility:
My one gripe with this feature is that it only updates about once per week. Not a huge deal, but it would be nice to check my keyword rankings every day.
Page Optimization
Page Optimization is just like it sounds:
It's analyzes your site's on-page SEO.
To use it, type in a URL and keyword that you want to rank for: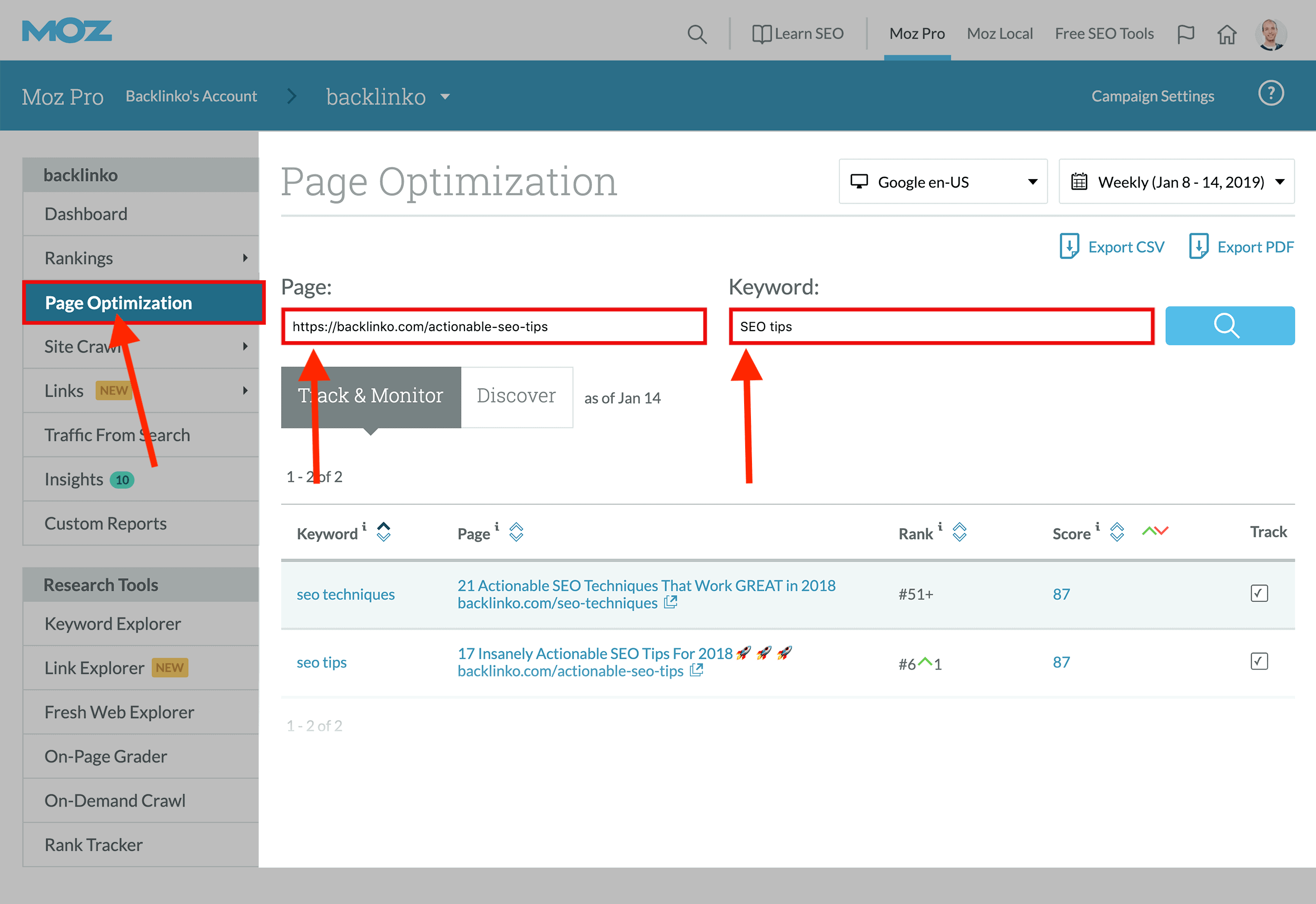 And you'll get an overall "Page Score":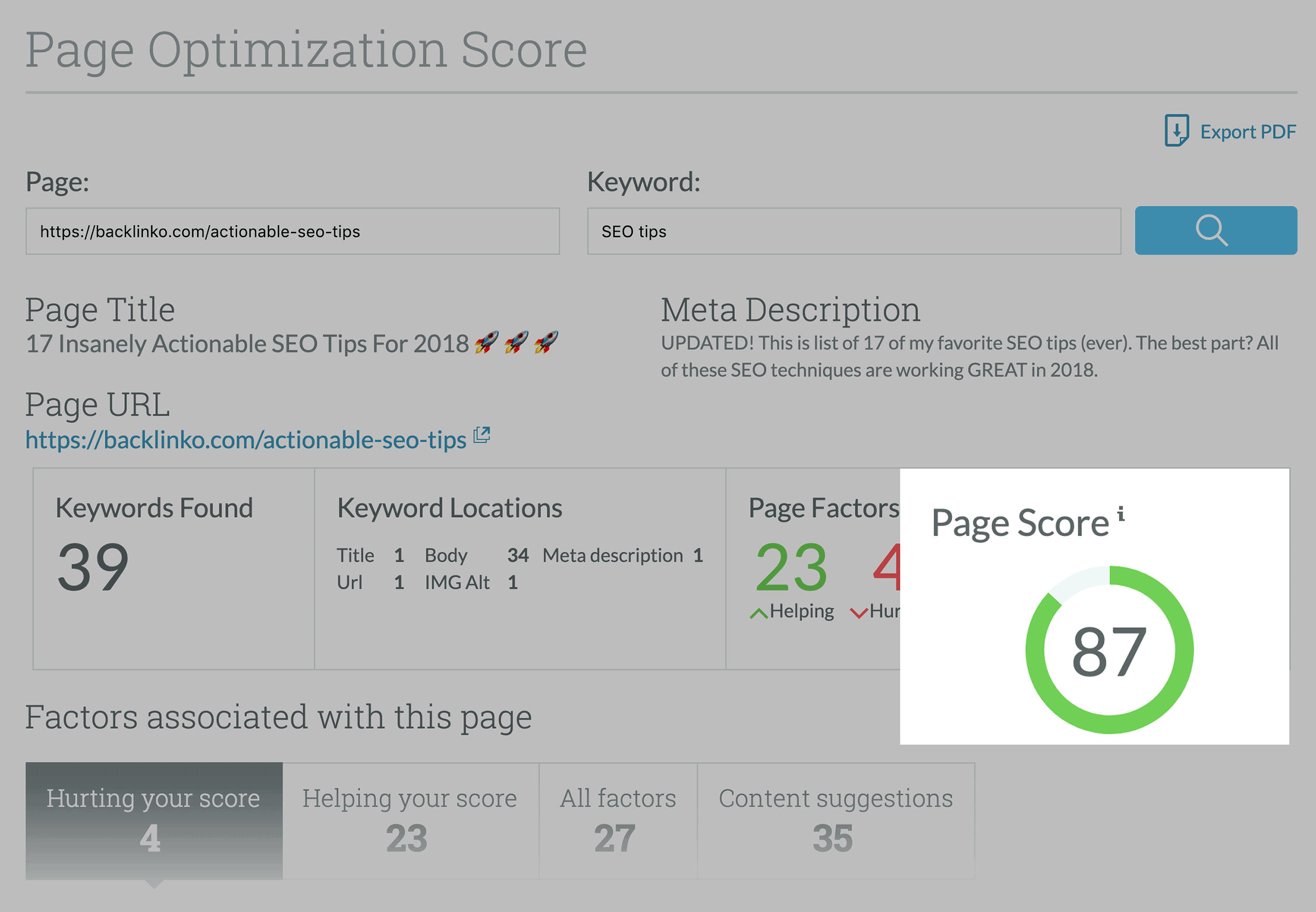 This score estimates how well-optimized that page is for that specific keyword.
And it's pretty spot on.
For example, when I analyzed this page optimized for "SEO Tips", it confirmed that my content was well-optimized for that term: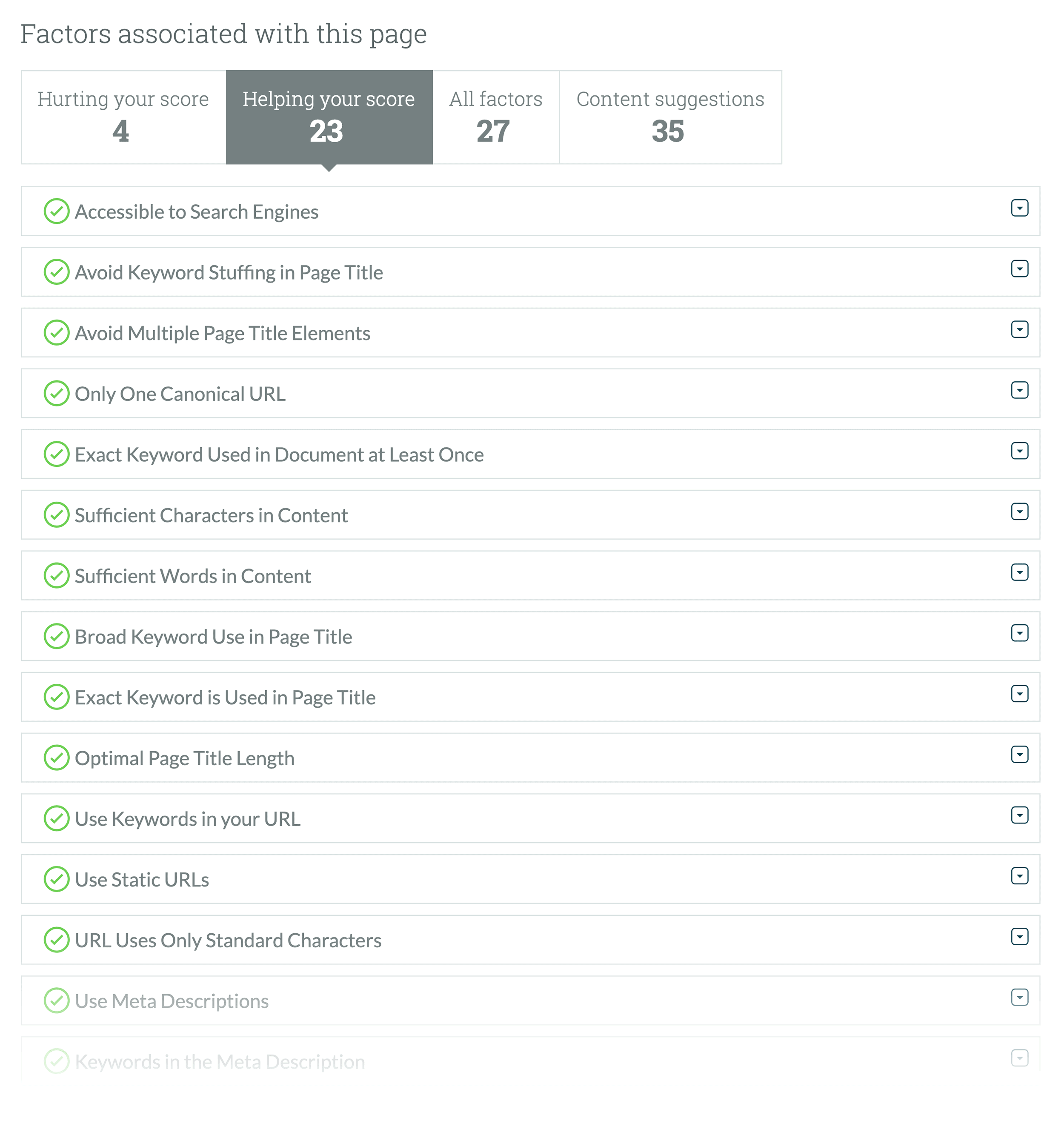 Helpful.
However, the suggestions under "Hurting Your Score" weren't as insightful: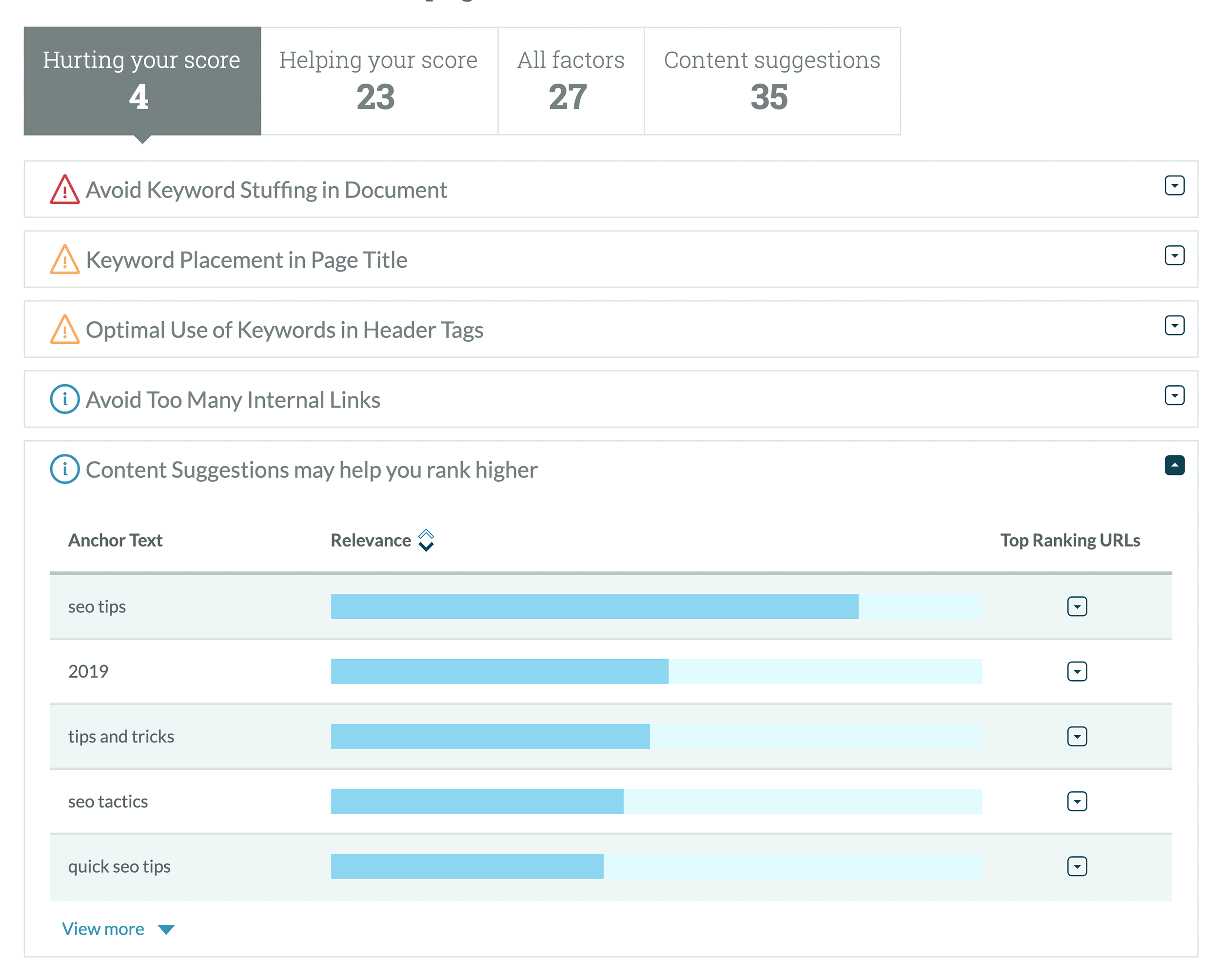 For example, it suggested that I was "keyword stuffing"…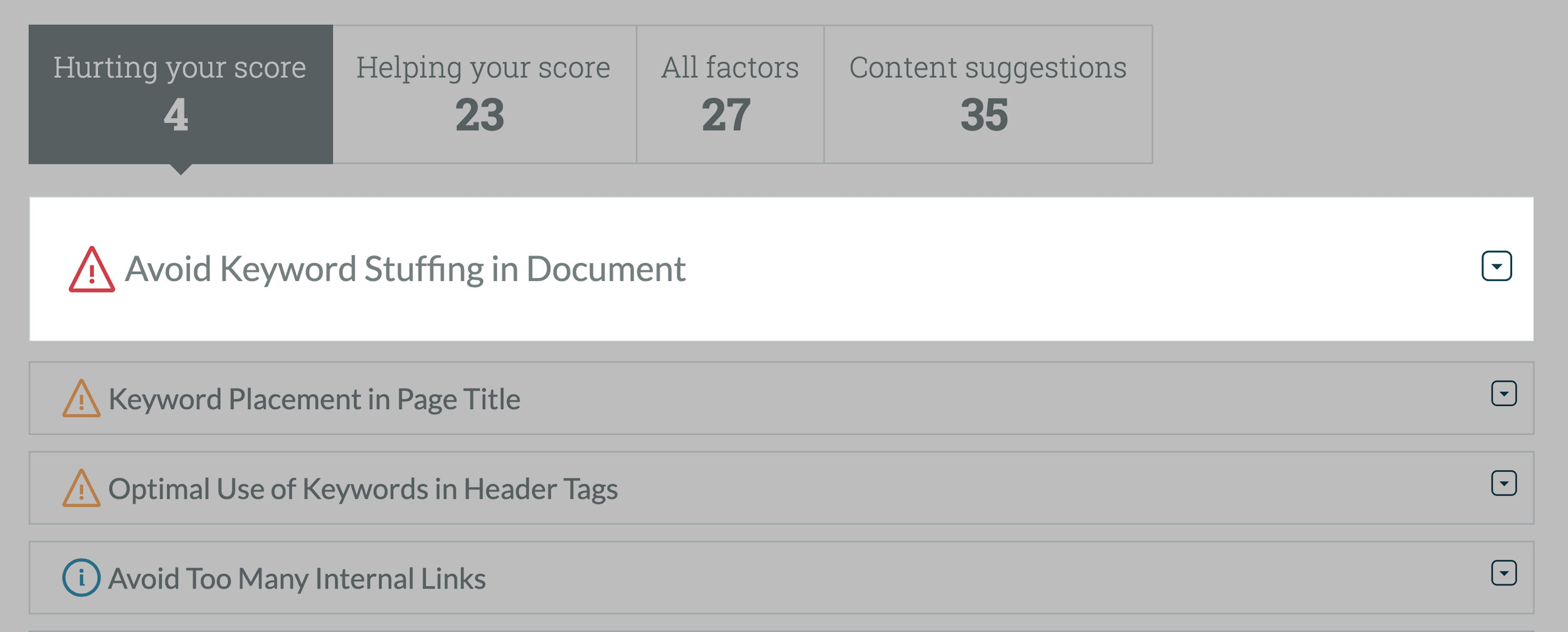 … even though I only use my target keyword twice in 3,500 words.
(Not counting text in the comments section)
So that was definitely a false positive.
I could have also used more pointed recommendations on how to fix problems that cropped up.
For example, the report told me that one issue was "Optimal Use of Keywords in Header Tags".
But it didn't tell me if I'm using two H1 tags on the page… or if my single H1 tag needed work.
Fortunately, I know how to check this stuff manually. But I can imagine someone new to SEO being super confused by these recommendations.
On the positive side, "Content Suggestions" was pretty darn useful: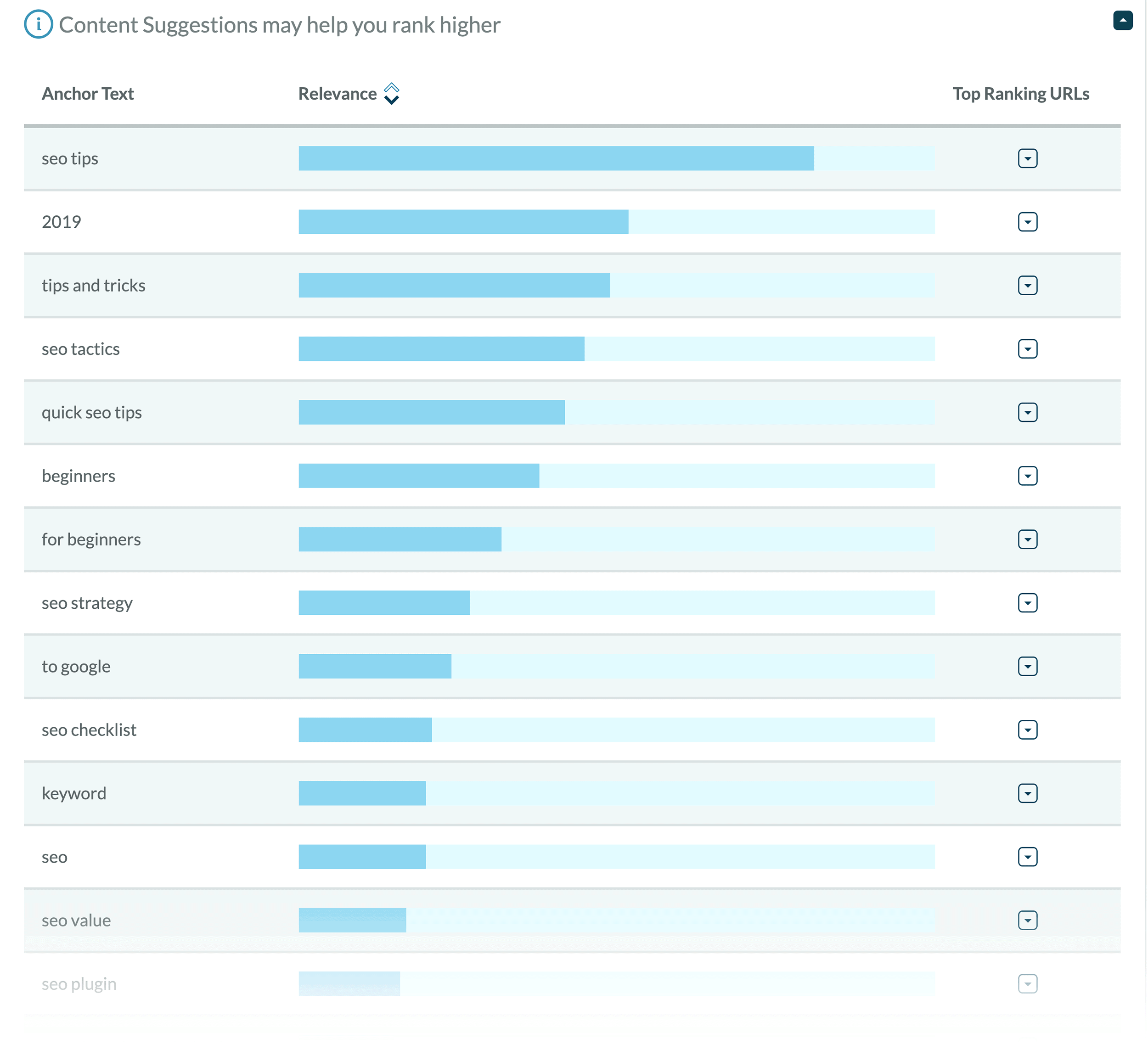 It's a list of topics that high-ranking pages cover in their content. And if you cover these same topics in your content, you might get a rankings boost.
For example, for the keyword "SEO Tips", Moz recommended that I cover subtopics like:
Keyword research
Social media
Backlinks
Technical SEO
Very cool.
MozBar
MozBar is a Chrome extension that gives you link data (like Domain Authority and Page Authority) inside of the SERPs: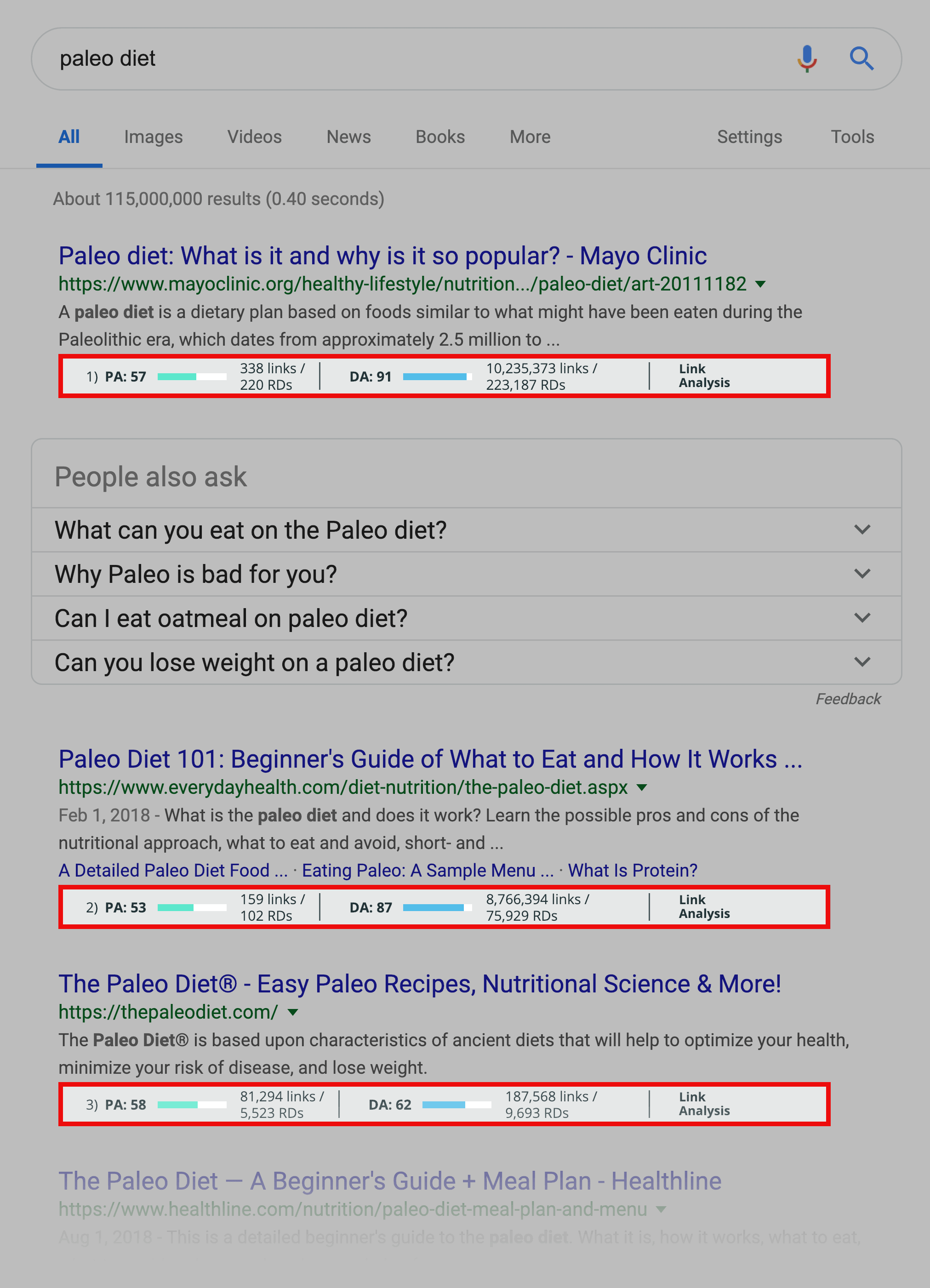 The free version of the MozBar is pretty limited.
But Moz Pro subscribers get full data on link and on-page SEO metrics.
For example, when I search for "SEO tools", I can see how the first page competition stacks up: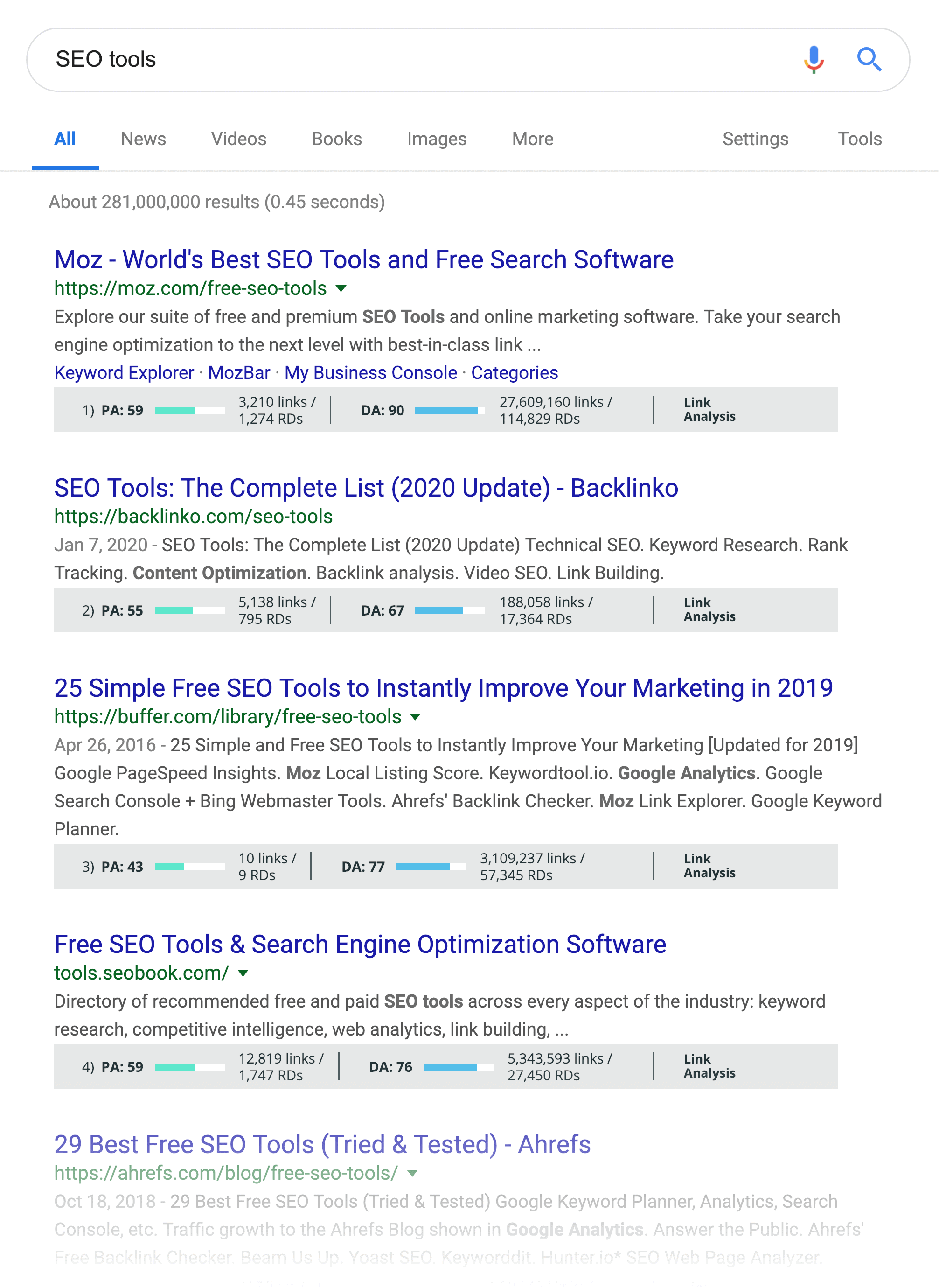 "Insights"
Insights is basically a to-do list of things you can do to improve your site's SEO.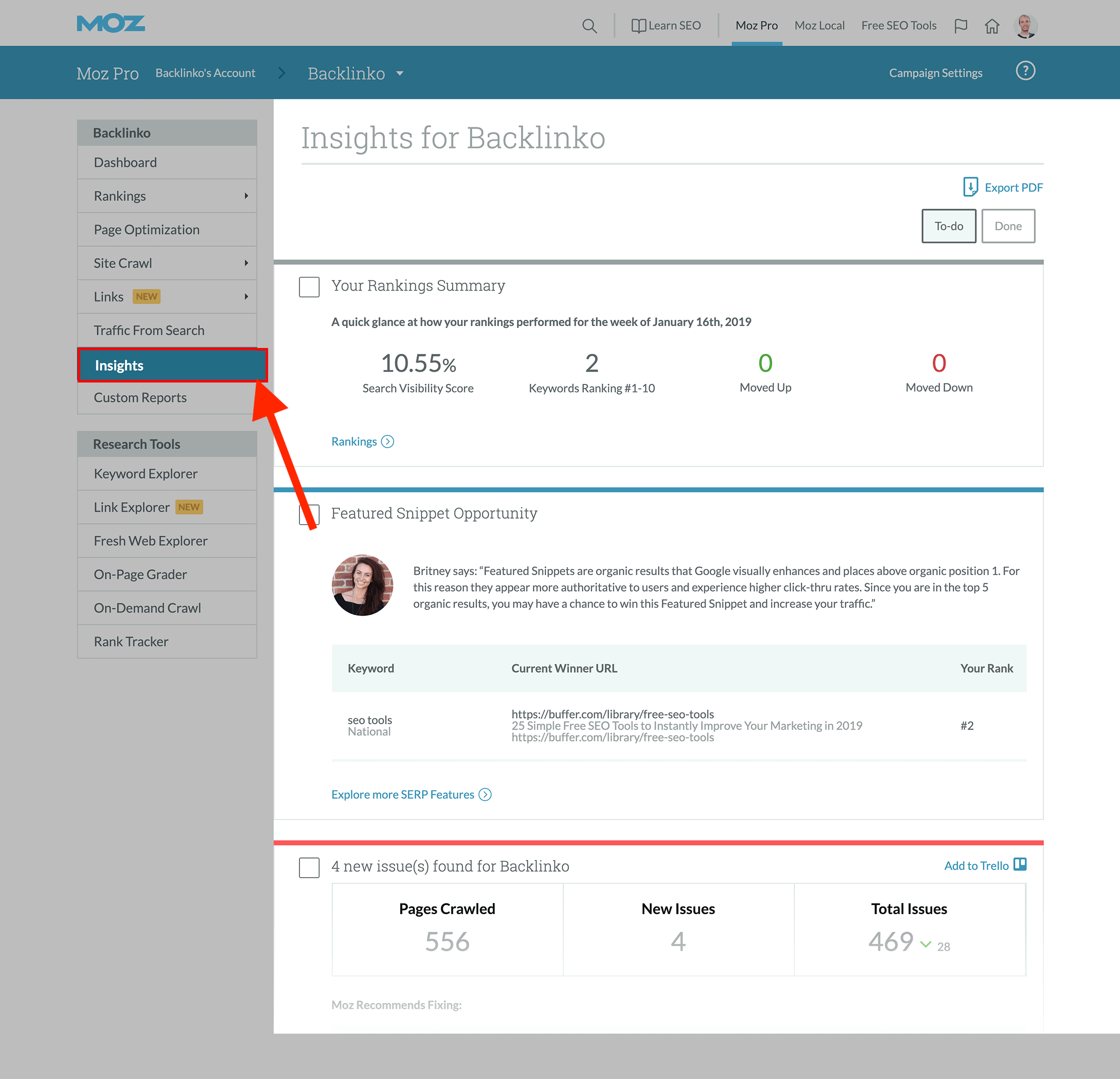 Moz Pro throws a TON of metrics and data at you.
This is nice if you're an SEO pro that can understand it all. But if you're new to SEO, the data in Moz Pro can easily overwhelm you.
Enter: Insights.
With Insights, you're handed a list of high-priority tasks that can increase your organic traffic.
Insights isn't going to point out every SEO opportunity on your site.
(You need an SEO pro for that)
But it does highlight things that can make a difference.
For example, the #1 recommendation for my site was to grab the Featured Snippet for "SEO Tools":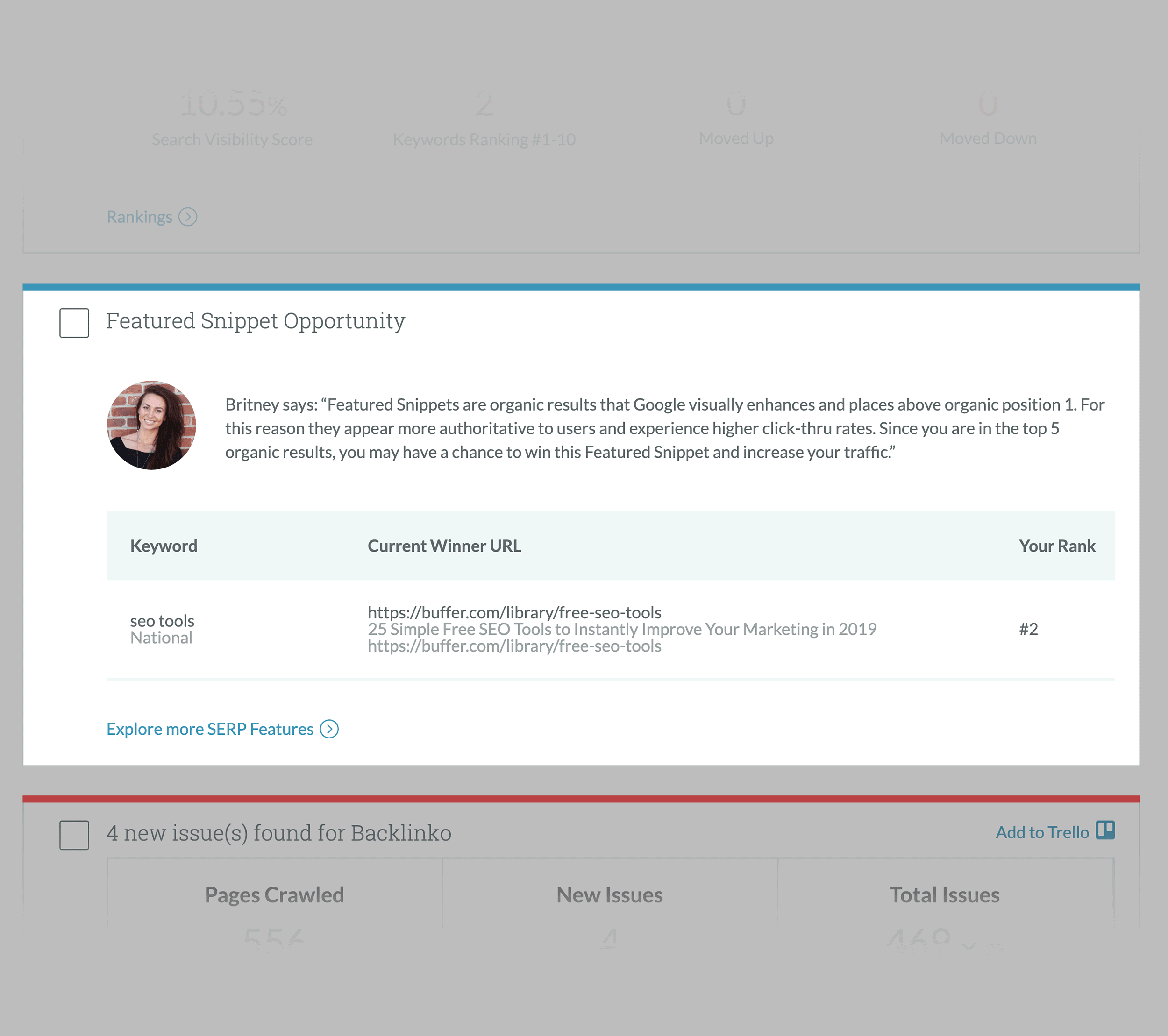 Considering I rank #1 for that term, I have a good chance of getting my content in the Featured Snippet. Solid recommendation.
It also told me that some of my site's pages have a poor mobile PageSpeed score.
Considering how important PageSpeed is for SEO, this is something I should definitely fix.
Moz Pro Campaigns
Campaigns pulls all of the data from your Moz account into a dashboard: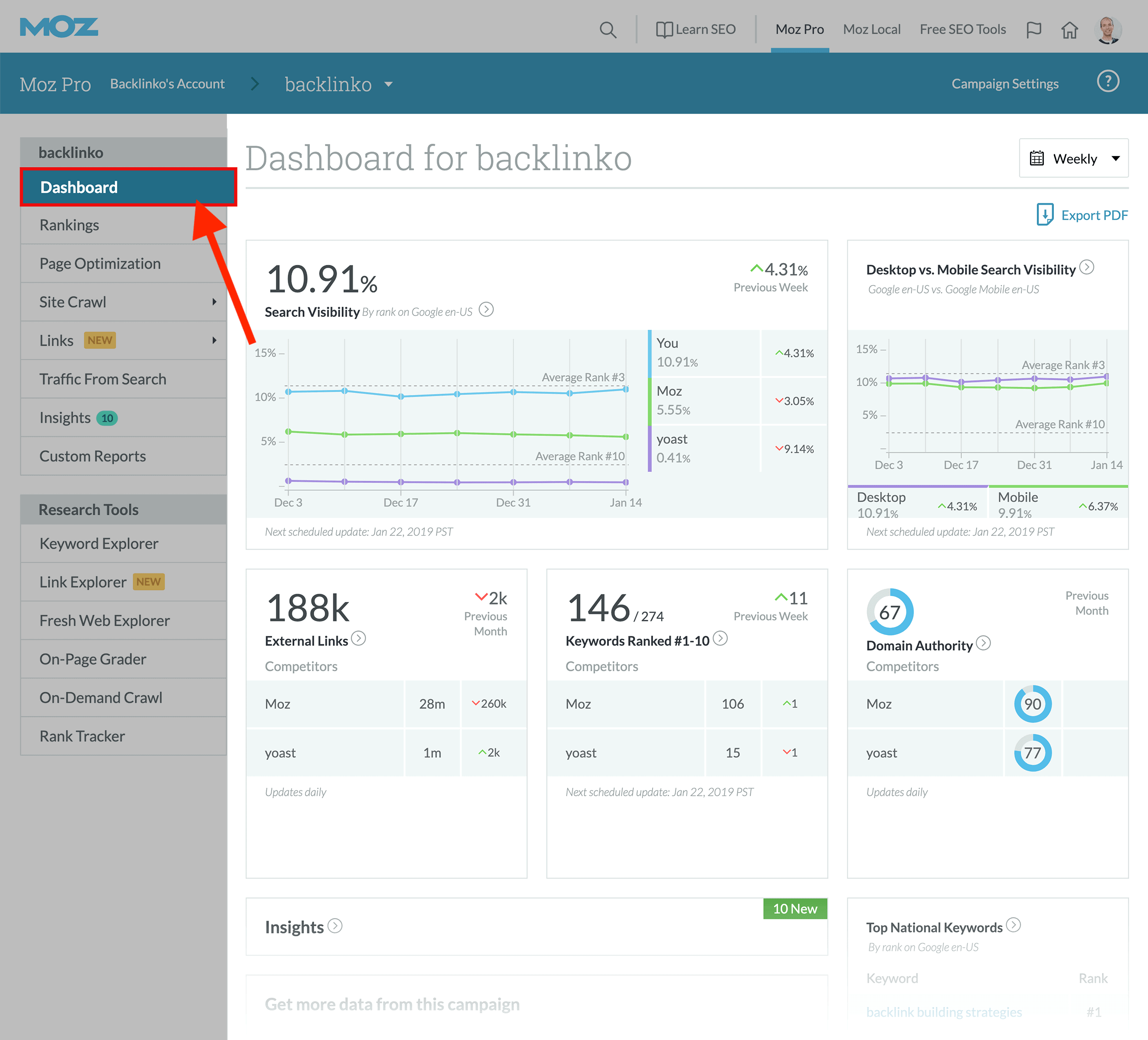 This is really helpful if you manage SEO for lots of different clients. Instead of logging in and out of Google Analytics, you get a high-level overview of each site's SEO performance on a single page.
Moz Pro Pricing
Moz's pricing ranges from $99/month for a "Standard" plan all the way up to $999/month "Premium" plan.
(All four plans have the same core features. The main differences is how many keyword reports, page analysis and keyword searches you can use every month)
How does the price compare to similar products (like SEMRush and Ahrefs)?
Well, Moz's lowest tier is a bit cheaper than Moz and Ahrefs.
(Plus, it comes with a full 30-day free trial)
So if you're in a tight budget, Moz Standard might be a good option for you.
In terms of pure value, Moz Pro a good deal. It isn't as feature-rich as Ahrefs… but it's also significantly cheaper.
If you're an SEO pro, Ahrefs might be the best option for you. It's more expensive than Moz, but also has a larger and fresher link index (plus a host of other cool features).
But if you're new to SEO or a small business owner on the hunt for a great value, you can't go wrong with a Moz Pro Standard plan.
Learn More
Tracking Your Link Prospecting Using Lists in Link Explorer: A how-to guide to using "Lists" to collect link prospects in Moz Link Explorer.
Presenting Your Findings: How to Create Relevant and Engaging SEO Reports: How to create custom reports with Moz Pro.
How to Use Keyword Explorer to Identify Competitive Keyword Opportunities: An in-depth guide to getting the most out of Keyword Explorer.