Semrush is a popular SaaS platform that specializes in keyword research, competitor analysis, and Google Ad campaign optimization.
But it is much more than that:
Semrush is software that can help you formulate, maintain, and improve digital marketing campaigns.
From end to end, Semrush keeps your domain in check and fighting fit to reach the top of the search engine results pages (SERPs).
What Is Semrush?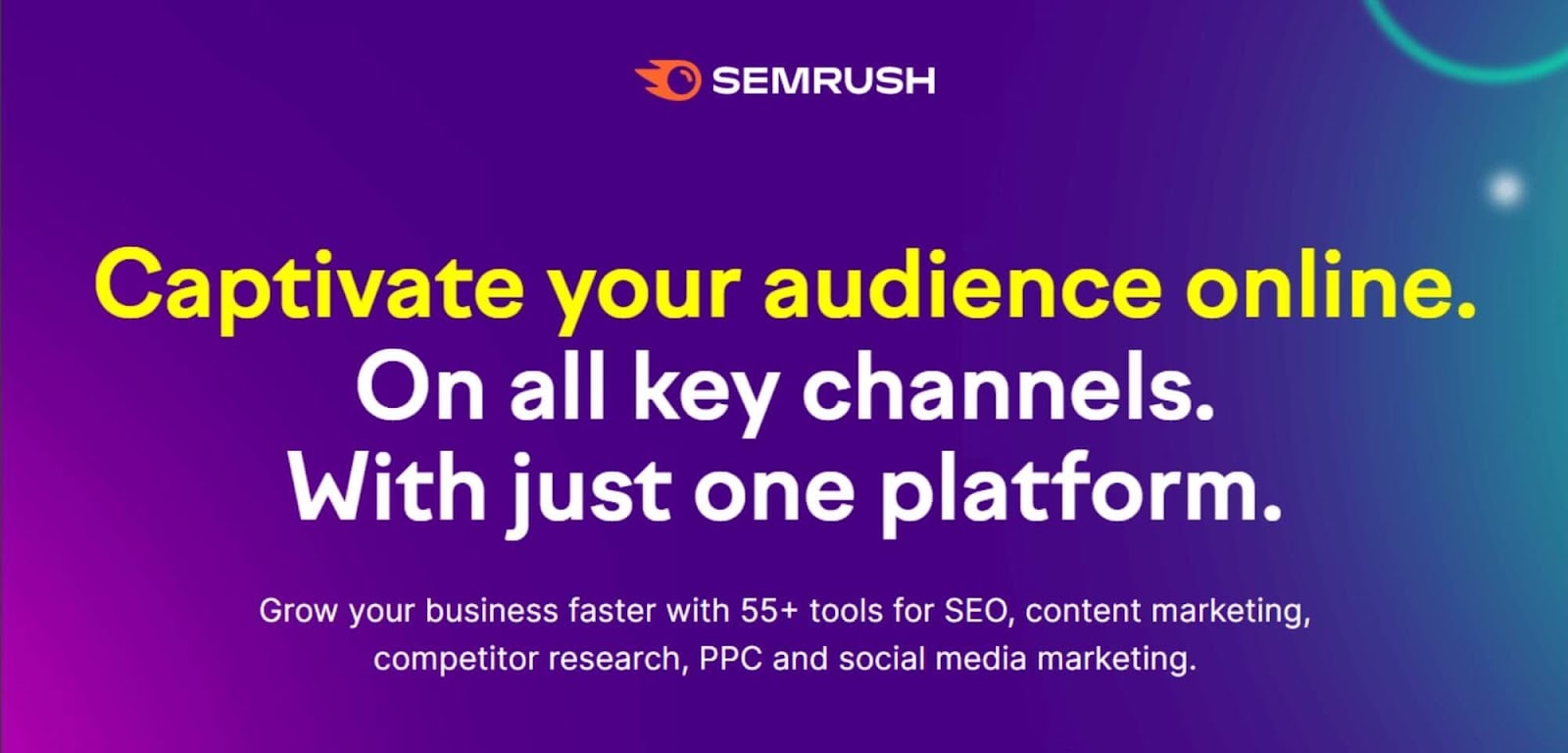 Semrush can be used for everything (in the realm of SEO and digital marketing). From identifying target keywords, and analyzing your competitor's backlink profile to monitoring your social media presence, Semrush does it all.
Semrush should not be viewed as a singular tool.
The software boasts a range of toolkits, each of which contains unique features that can be used to tweak, monitor, and improve your SEO campaign. The most popular is the SEO toolkit.
Other SEO strategy aids come in the form of toolkits dedicated to pay-per-click (PPC) advertising, social media, content marketing, management, and agency growth.
Sound like a lot?
Well, it is. 
To help you out, I've devised this ultimate guide to bring clarity to the many facets of Semrush's toolkits.
Along the way, I'll answer questions such as 'how can I use this tool to improve my domain visibility?', and explain how to use Semrush to perform keyword research, conduct site audits, compare your domain to your competitors, and more.
SEO Toolkits — What You Will Find
The SEO Toolkit
In this toolkit, you'll find all the tools you'll need to construct a successful SEO strategy.
From tracking your keyword rankings to link building, and conducting keyword analysis, this toolkit leaves no stone unturned in the SEO puzzle.
However, with 20 unique tools and dashboards at hand, the SEO toolkit can appear slightly overwhelming at first glance.
Which tool should you pick up first? How do you even use the featured tools?
Don't sweat — I'm going to break down all the features found within this bundle.
And the best place to start?
The SEO Dashboard provides you with a great overview of the tools found within.
Let's take a look…
SEO Dashboard
The SEO Dashboard breaks down all the features of the SEO Toolkit into one neat control desk.
You can use it to get a brief overview of your website's online presence.
The top banner is dedicated to Domain Analytics.
Here, you can review your site's current authority score, check how much organic traffic is coming to your site, view how many organic and paid keywords your site is ranking for, and keep track of your referring domains.

Other sections of the SEO Dashboard include:
Position Tracking
Site Audit
On-Page SEO Checker
Backlink Audit
Traffic Analytics
Organic Keywords
Backlink Analytics
Organic Traffic Insights
Link Building Tool
Why it's useful:
To put it simply—the SEO Dashboard allows you to view key metrics quickly.
Instead of looking at the Traffic Analytics or Referring Domains sections individually, you can quickly review them all in one place.
It provides the right amount of data to gauge how things are going without being overwhelming.
You can access the individual sections by clicking on any of the widgets for a deeper dive.
Pretty cool.
How to use it:
To create an SEO Dashboard, you need to first create a project. You can easily do this by clicking on 'SEO Dashboard', entering your domain, and hitting 'Create project'

Domain Overview
Another way to quickly view a site's metrics is through the Domain Overview feature.
Why it's useful:
When it comes to competitive analysis, fewer tools give you a head start quite like Domain Overview.
This feature provides you with a full breakdown of how a domain is performing.
By identifying your site's strengths and weaknesses compared to your competitors, you'll gain insights into what you need to do to outperform them.
At the top of the Domain Overview, there are four tabs:
First off, we have:
The Overview report: This report provides a thorough breakdown of a domain's authority score, organic and paid search traffic, and backlinks.

Clicking on one of these widgets, such as 'Backlinks', will take you to a more in-depth analysis.
Further down the page, there are a ton of other useful insights you can find, like:
Organic and paid traffic distribution by country, and changes in this over time
Top paid and organic keywords and organic position distribution
Keywords by intent
Your main competitors, both organic and paid
Anchor text usage
Referring domains
Indexed pages report
Branded traffic trends
Backlinks, including information on the type (text, image, etc) and nofollow vs dofollow.
And even competitive positioning maps for both paid and organic competitors.
Secondly, we have…
Compare domains: Through this tool, you can size your domain up against four of your top competitors.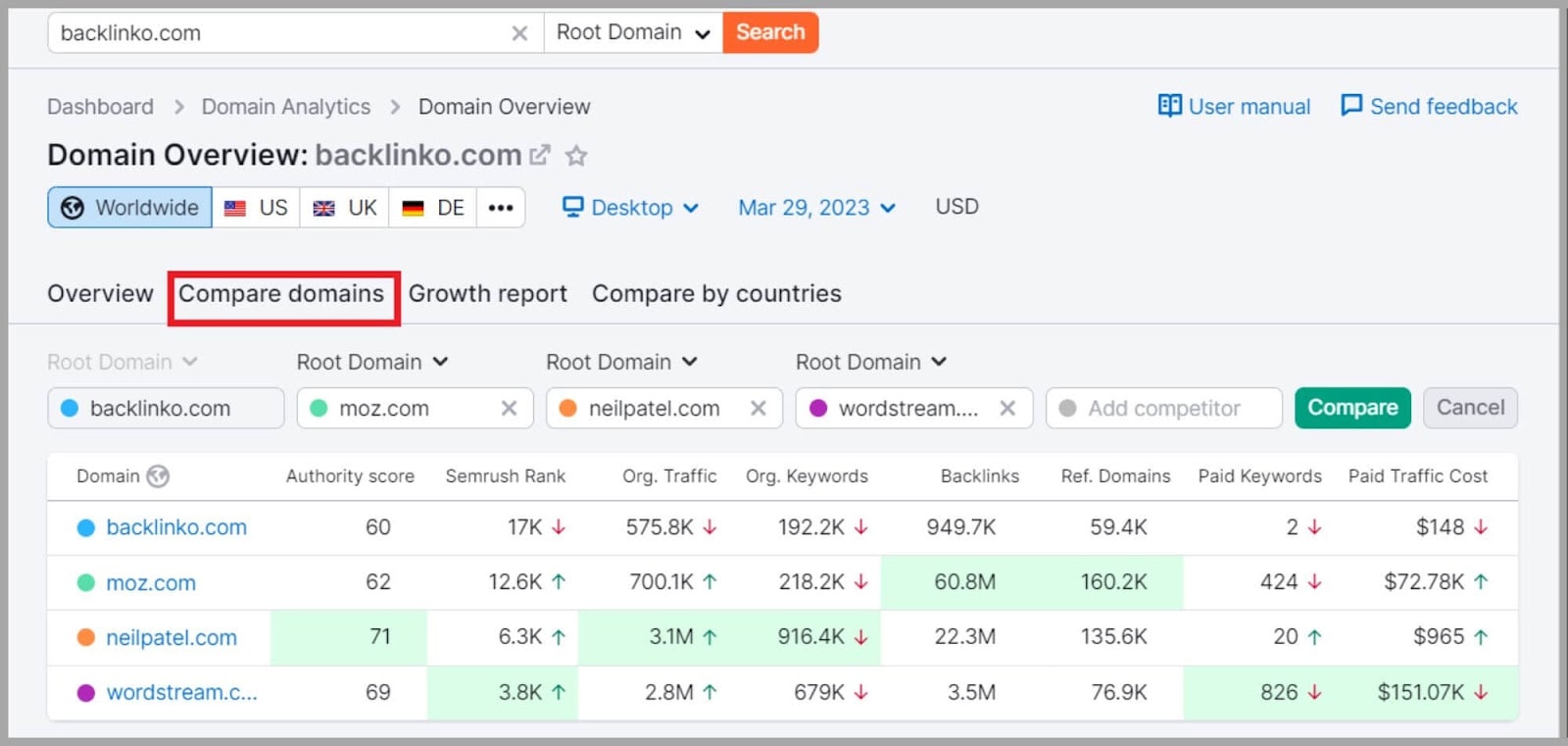 Thirdly:
Growth report: The growth report lets you see changes in a domain's paid traffic, organic traffic, keywords, and backlink profile over a specific period.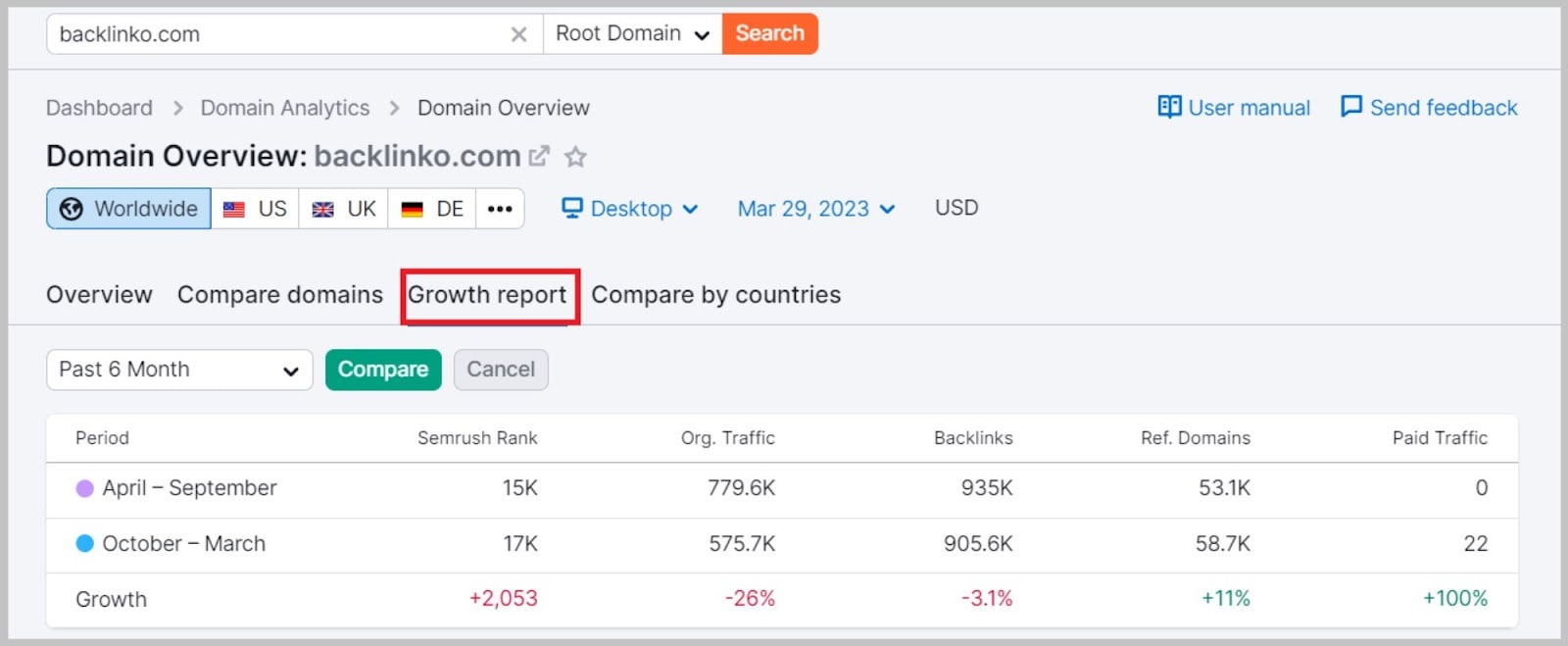 And, last but not least:
Compare by countries: This feature lets you compare up to five countries at a time, giving you an insight into how well your website is doing in each location.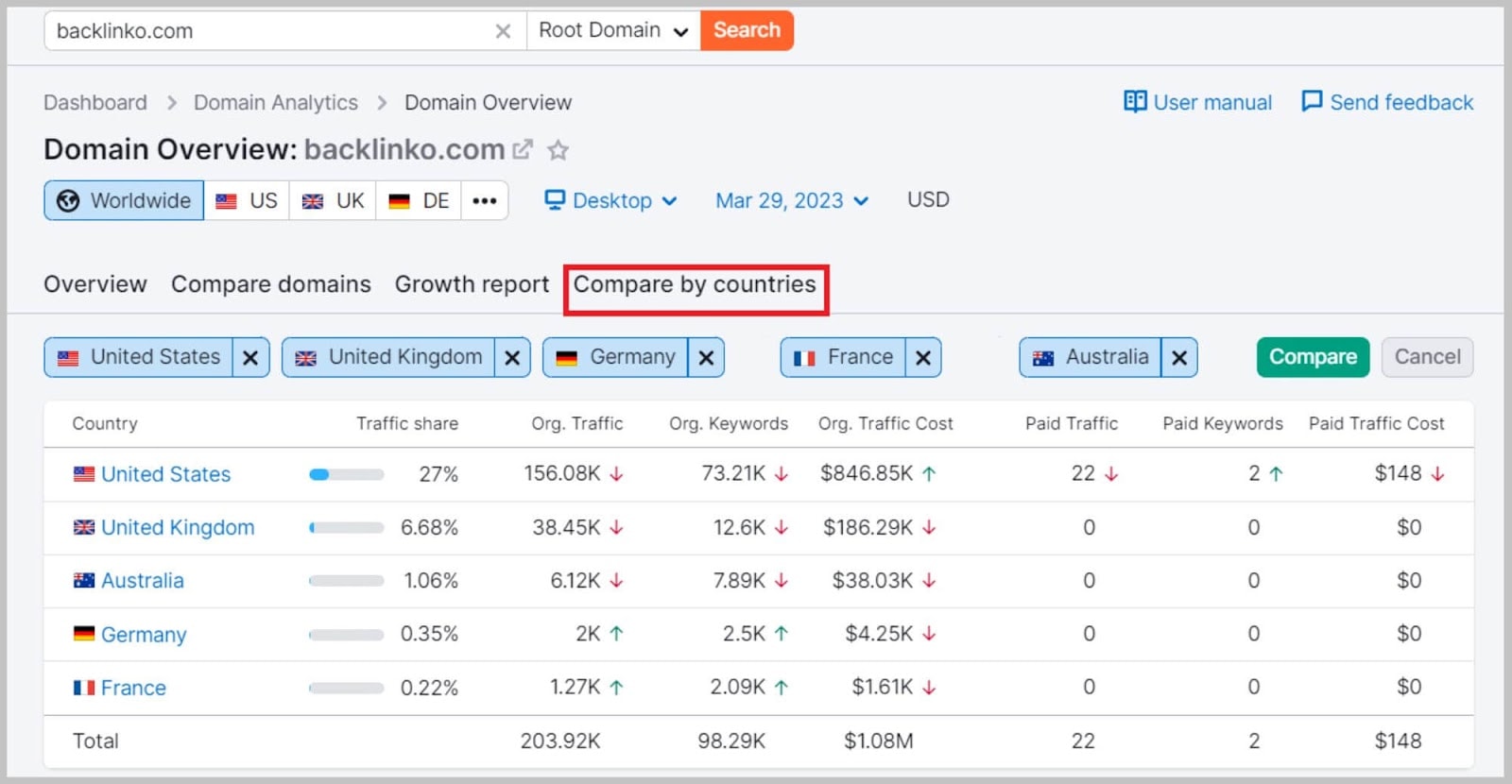 Pretty neat, right?
How to use it:
To get the data, all you have to do is paste the URL into the search bar and hit 'Search'

As standard, Domain Overview will run a 'worldwide' search. However, you can choose to focus the analysis on a specified country.
With a free account, you can run 10 Domain Overview searches per day. With a Guru account, you can run 5,000.
Traffic Analytics
Traffic Analytics gives you data on a site's overall website traffic.
As in, not just estimated traffic from Google.
First off, when you analyze a site with Traffic Analytics, you get an estimate of that site's overall traffic numbers:

You also get access to how people interact with the site. For example, you can see a site's average page views per visit, session duration, and bounce rate:

There's also a chart so you can see how these metrics have changed over time: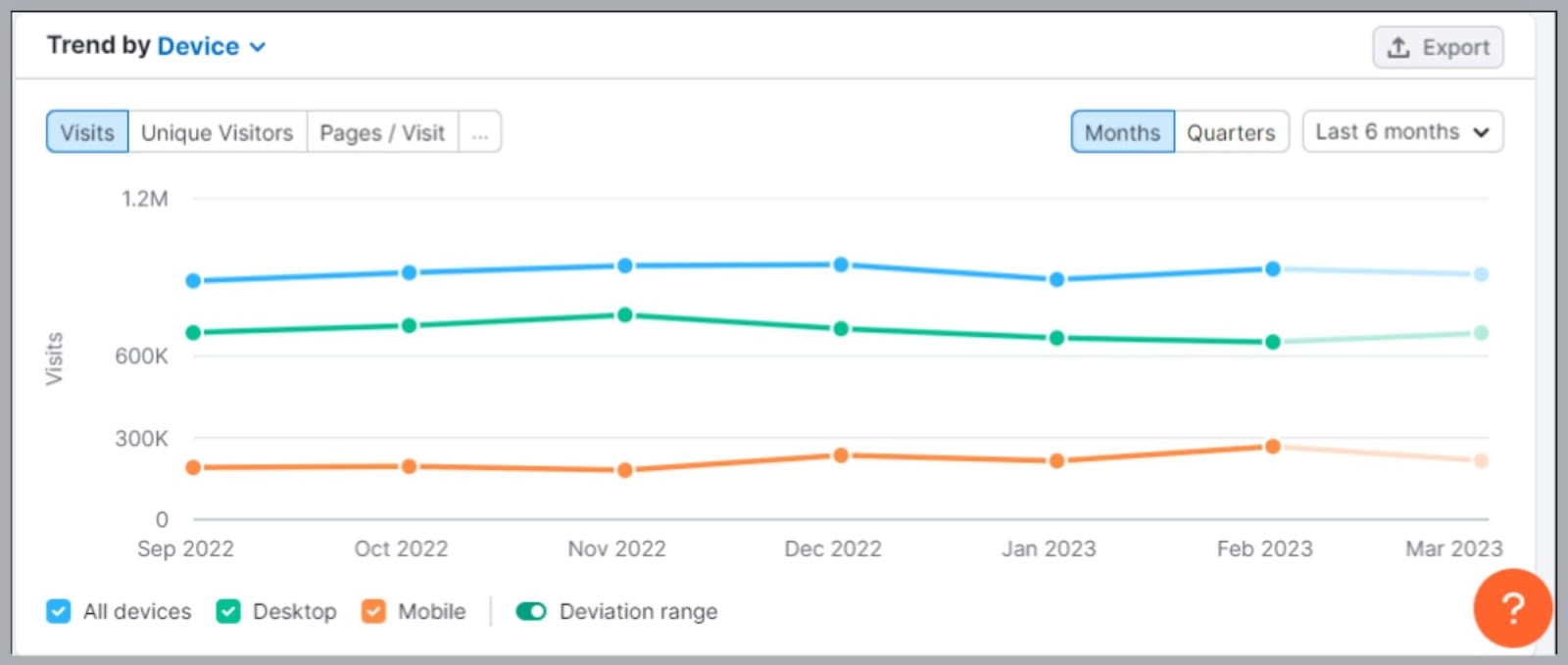 But the real meat and potatoes of this feature is the Traffic Journey tab.
Here, you will see a breakdown of a site's traffic sources: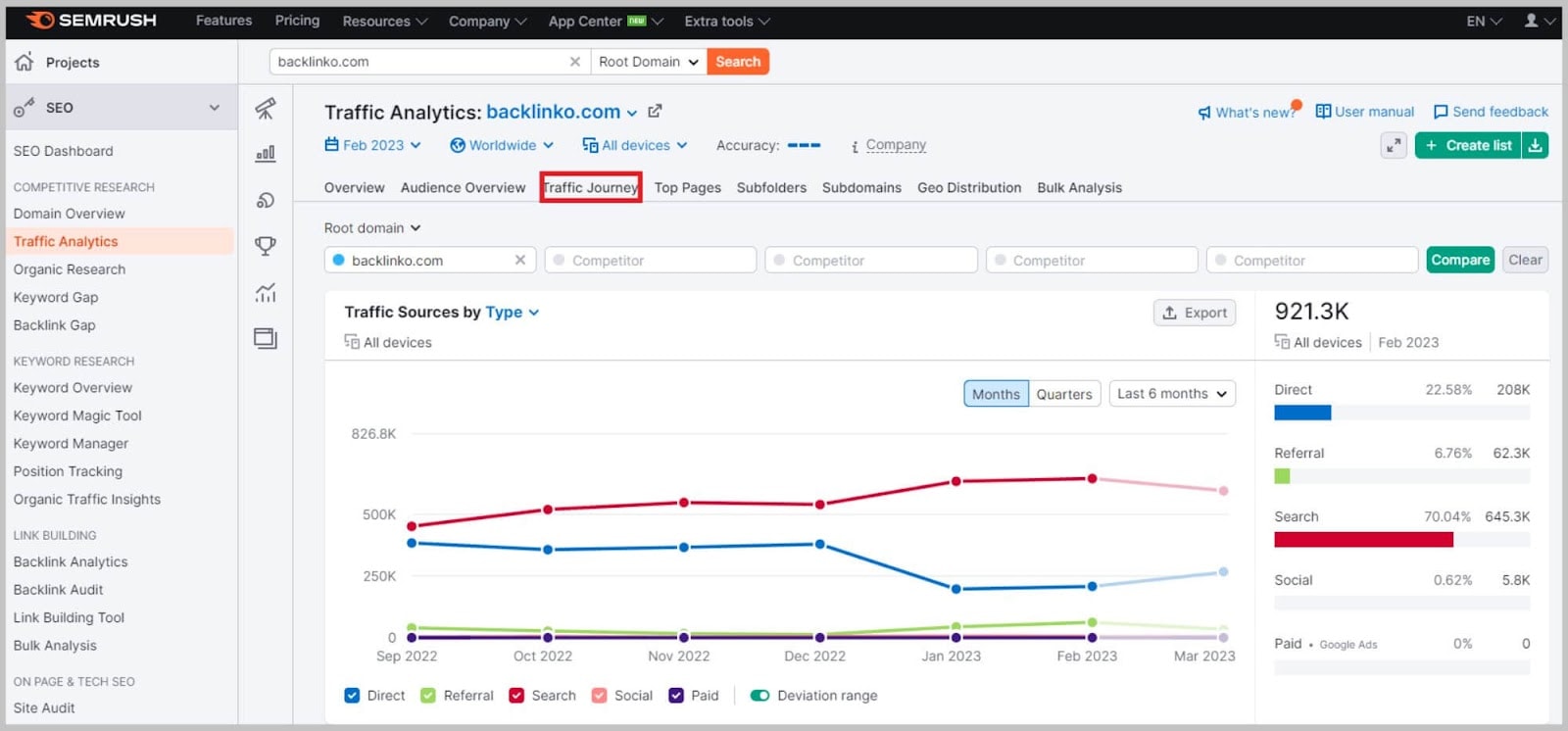 And a list of the exact sites that send your website the most traffic: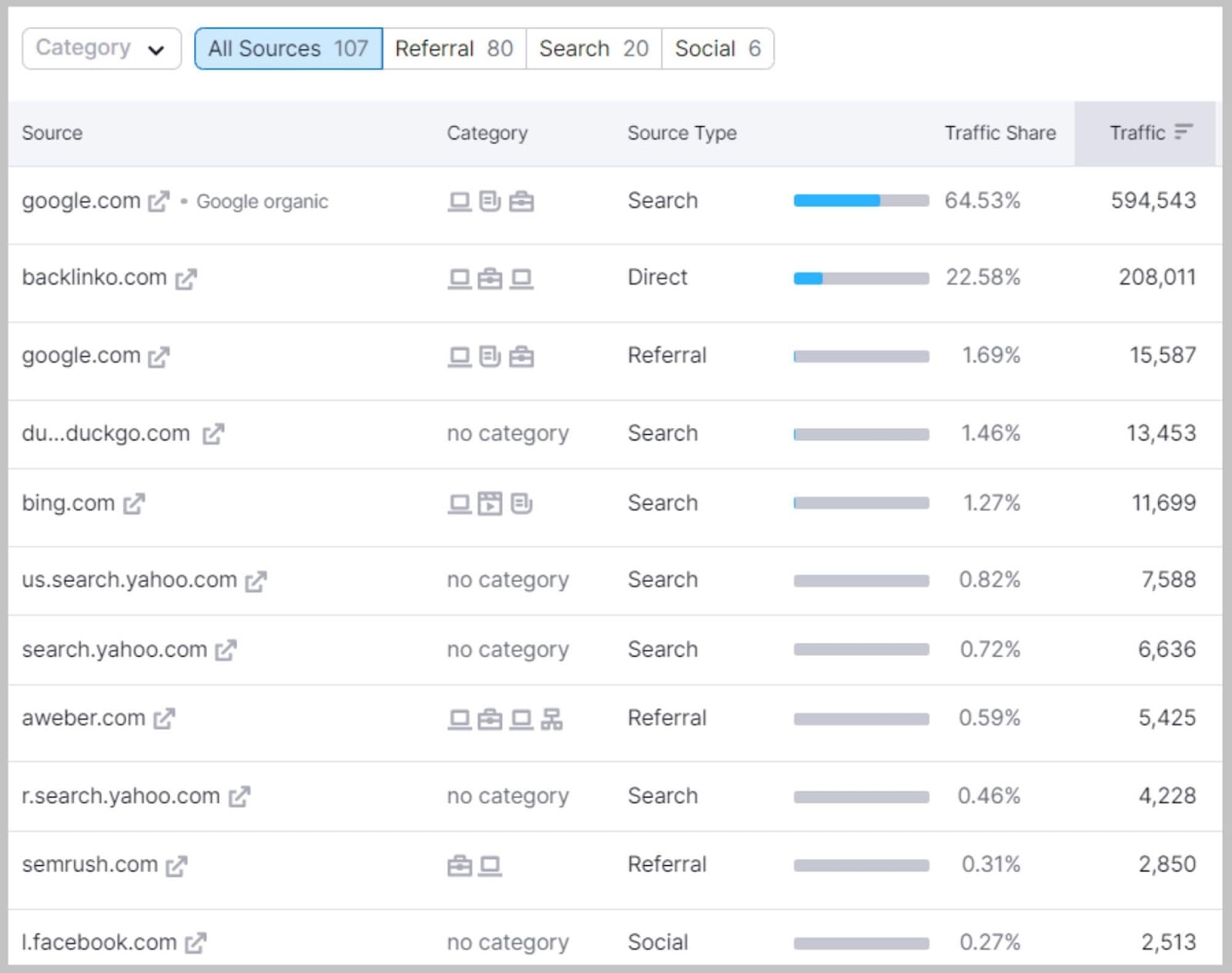 For example, you can see that I get a decent chunk of traffic from perplexity.ai: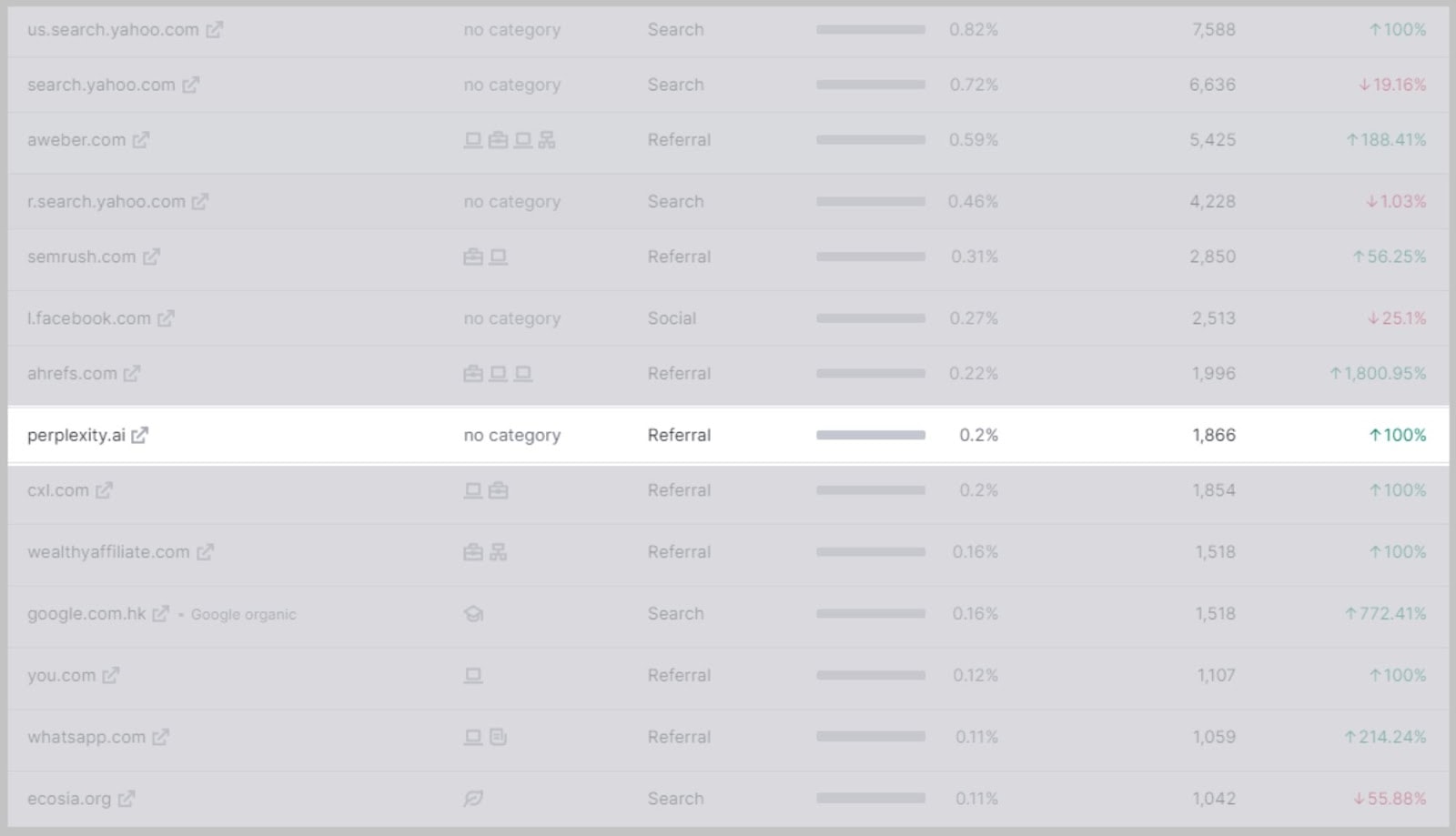 You can also see which social media platforms send your competitors the most traffic: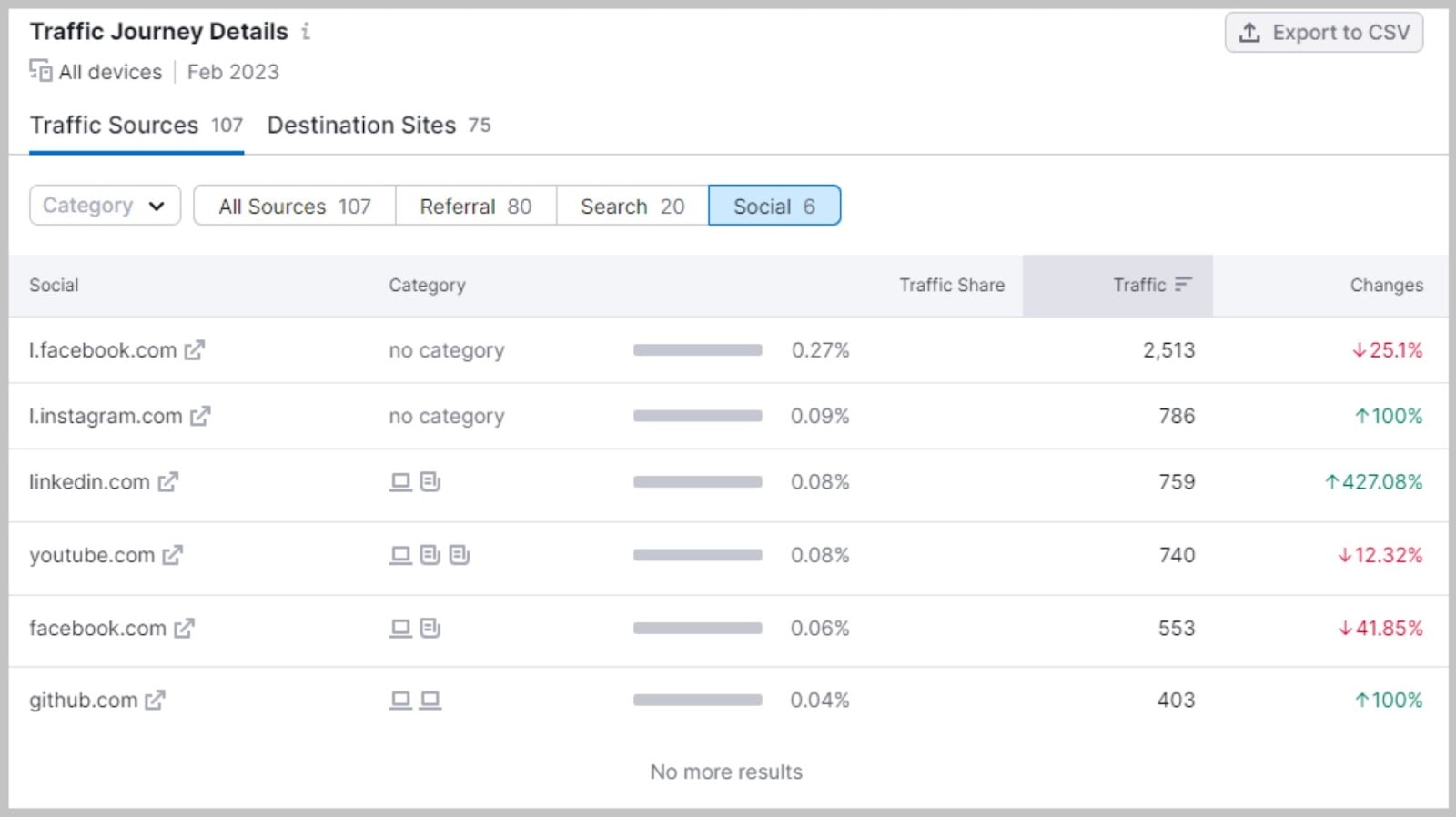 Again, this is a great way to reverse engineer what's already working for your competitors.
Organic Research
The "Organic Research" feature put Semrush on the map.
And it still works GREAT.
To use it, put a competitor's website (or your own site) into Semrush and you'll get access to lots of exceptionally useful data: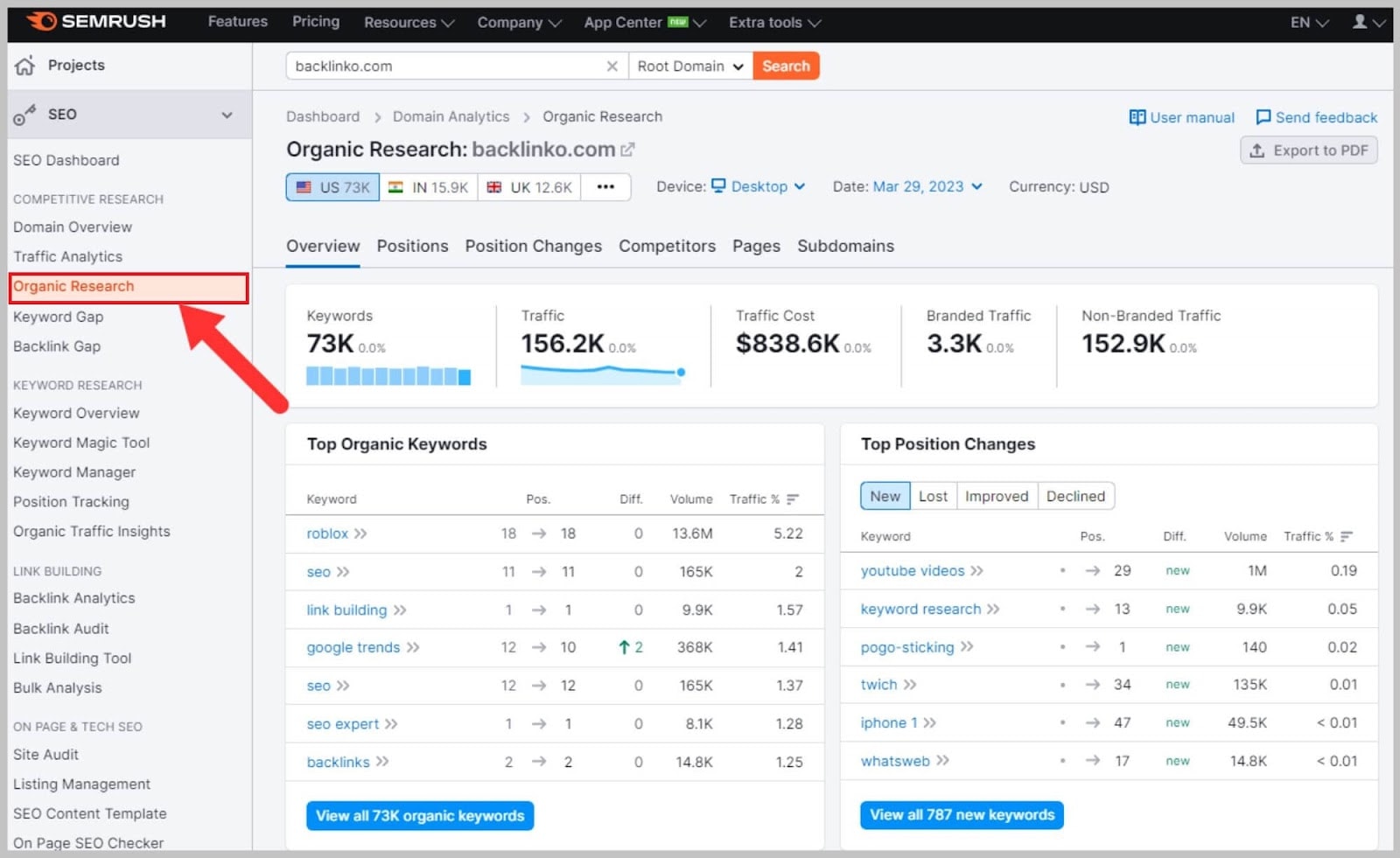 Overview
First up, you have "Keywords":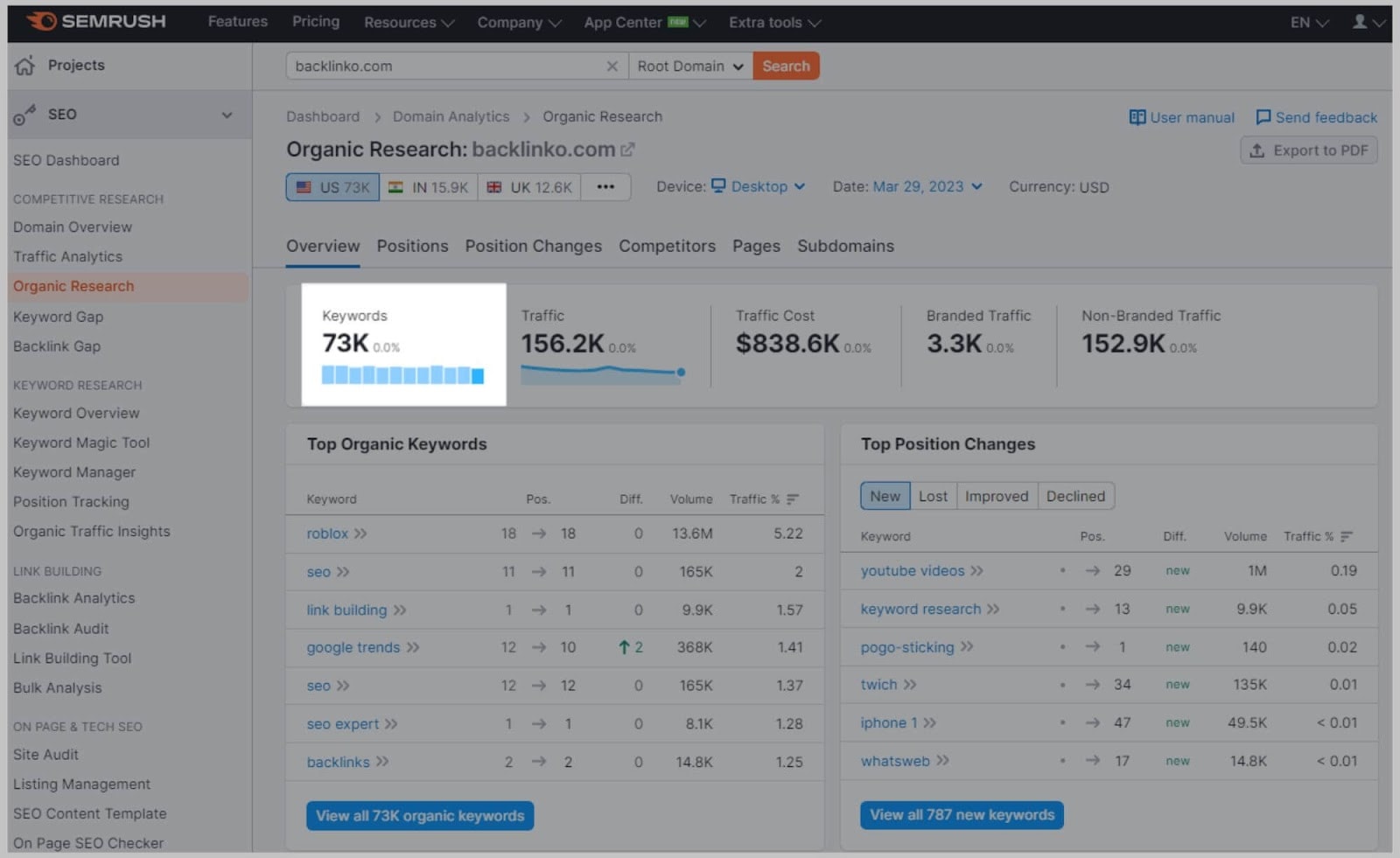 This is the total number of keywords that a domain ranks for in the top 100 positions.
Second, you have "Traffic".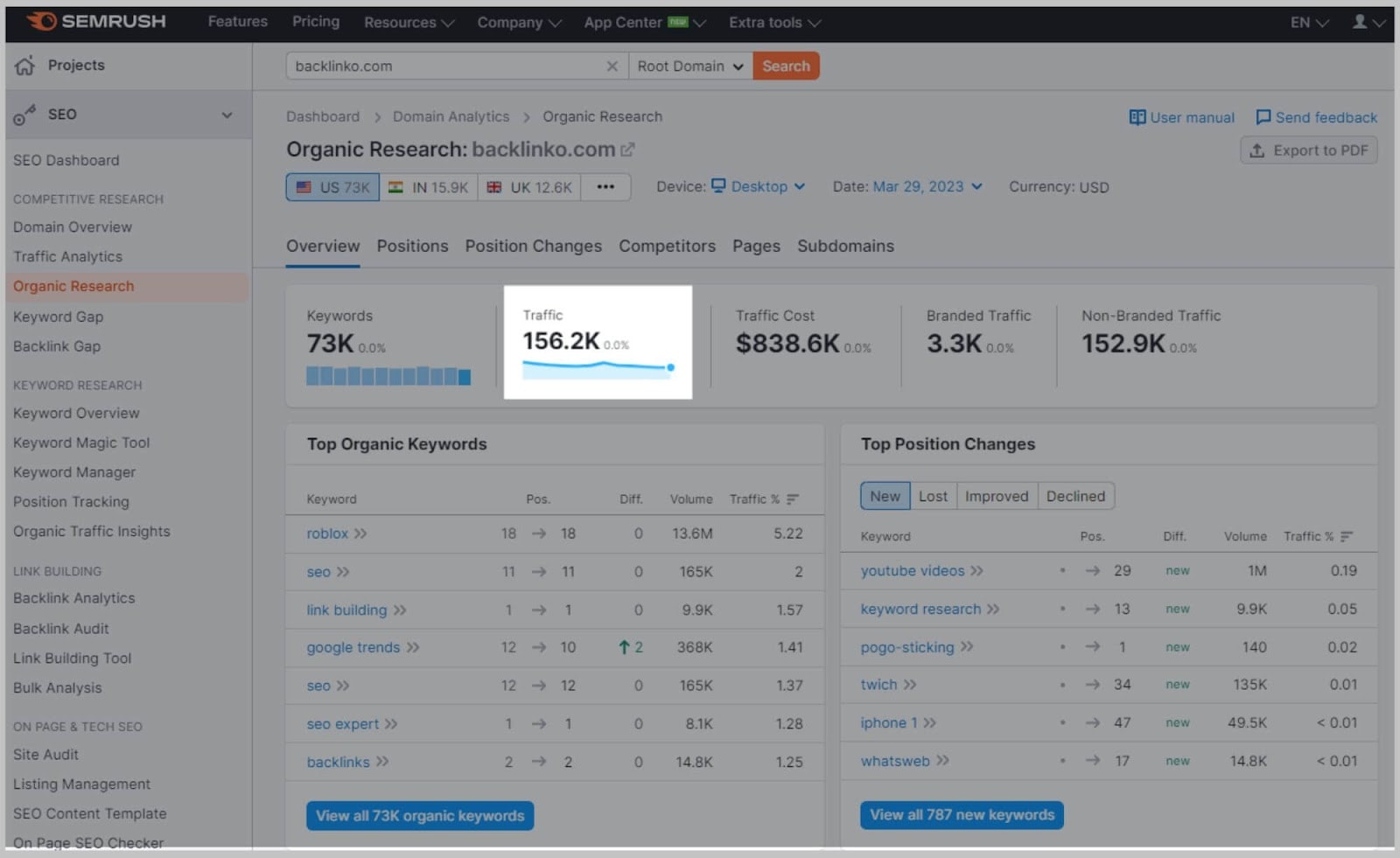 This is an estimate of how much monthly traffic that site gets from search engines:
Next, we have the metric that I pay the most attention to: "Traffic Cost":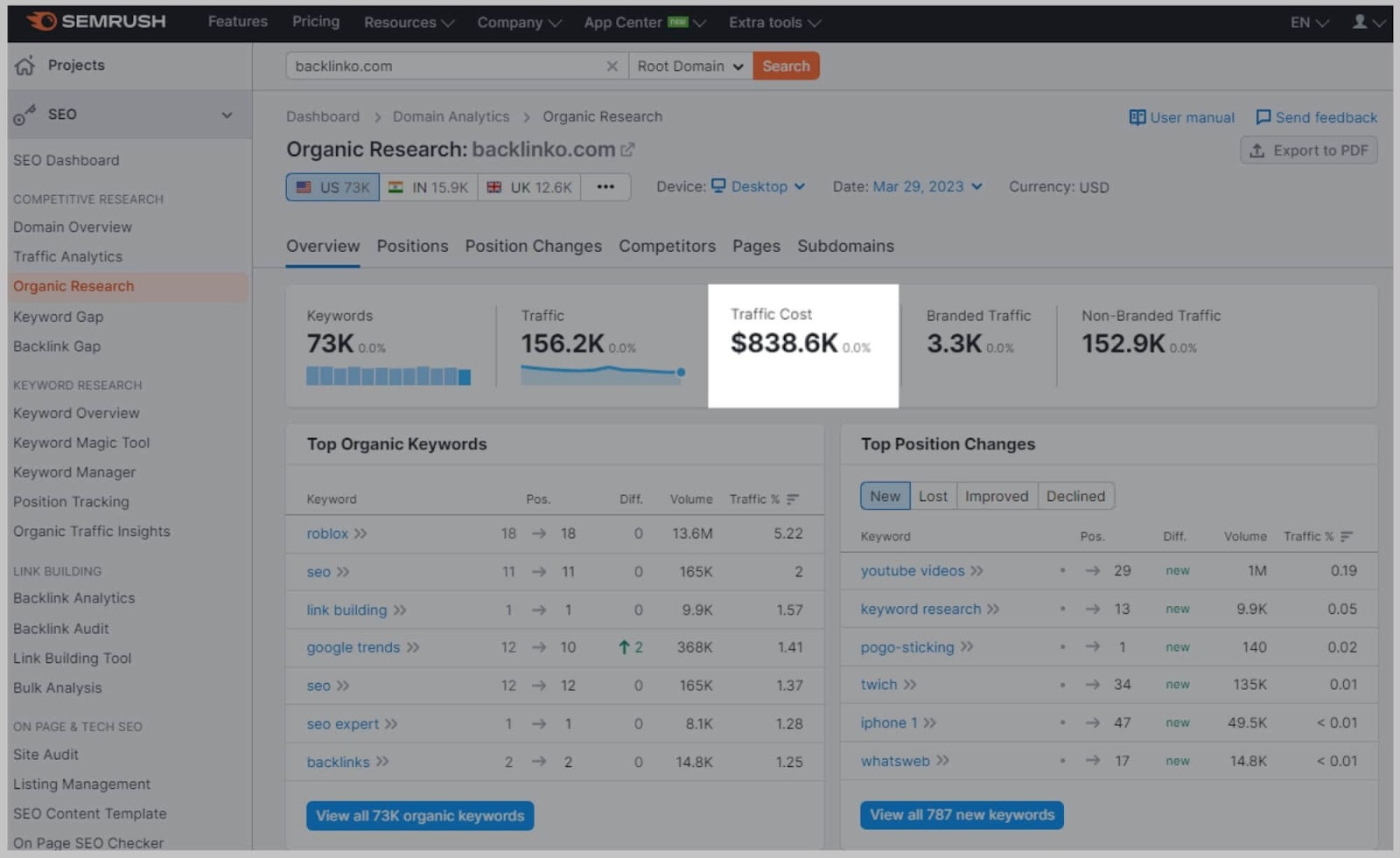 Traffic cost estimates how much that site's organic traffic is worth.
(By "worth", I mean how much you would have paid if you had gone with PPC instead of SEO).
Because this metric takes into account traffic AND the value of that traffic, it's my favorite metric in the entire Semrush suite.
For example, if you put Nerd Wallet into Semrush, you can see that they get an astounding $89.6 million worth of traffic from SEO every month:

Positions
Here's where you get to see all the keywords a domain ranks for (And where they rank.)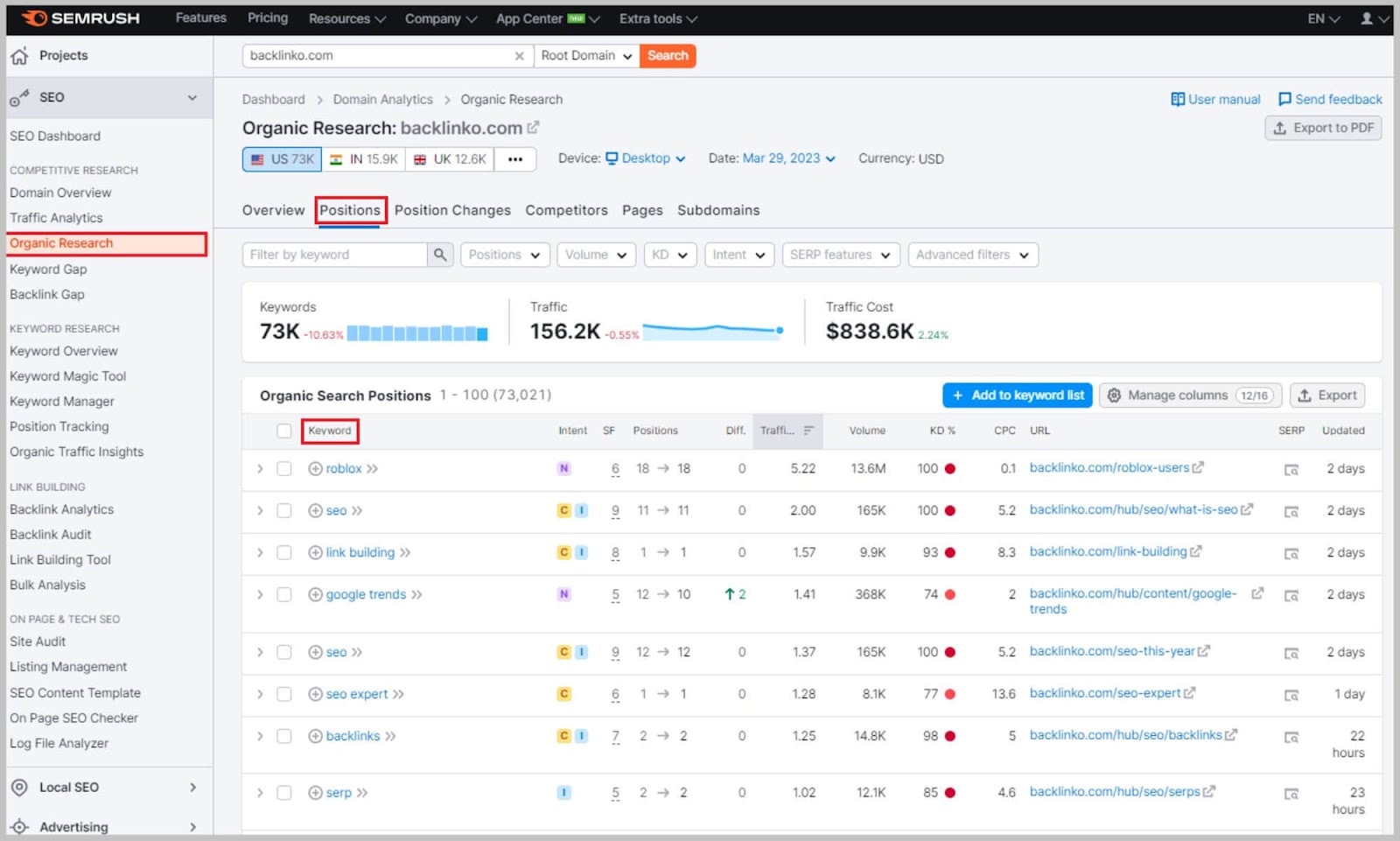 This is SUPER helpful for keyword research.
Instead of mining for gold in the Google Keyword Planner, you get a list of awesome keywords presented to you on a silver platter
After all, if your competitor ranks for these keywords, so can you.
Now:
By default, Semrush shows you how much traffic was driven to the website via the chosen keyword for the chosen time period: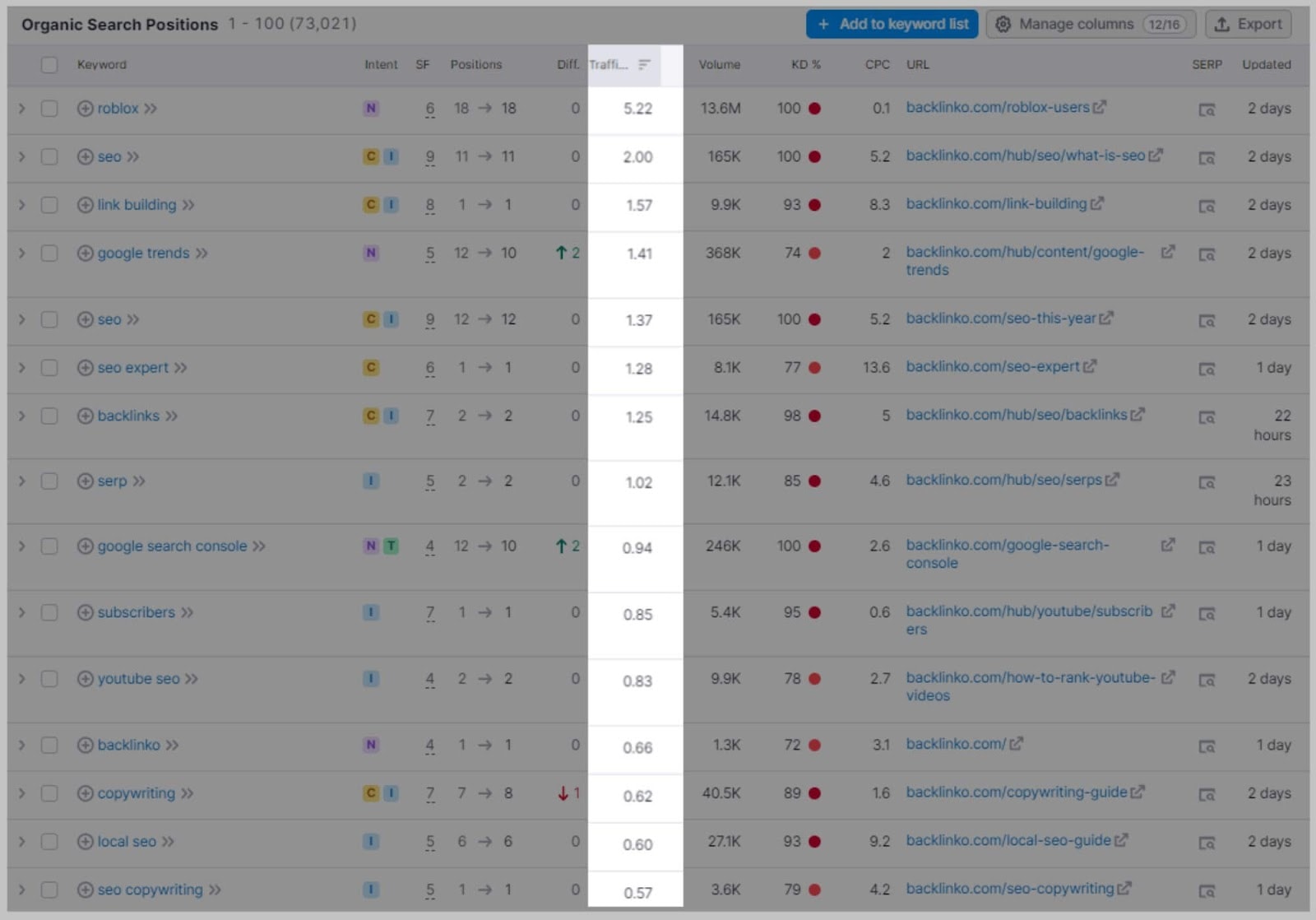 Which is a helpful starting point.
But there's so much more you can do by filtering this data.
Using the Filters
Positions:
With the positions filter, you can see how keywords rank within your chosen of range of positions.
The default setting will show positions in the top 100. But, you can choose between other filter options, such as: Top 3, Top 10, Top 20, and Top 50.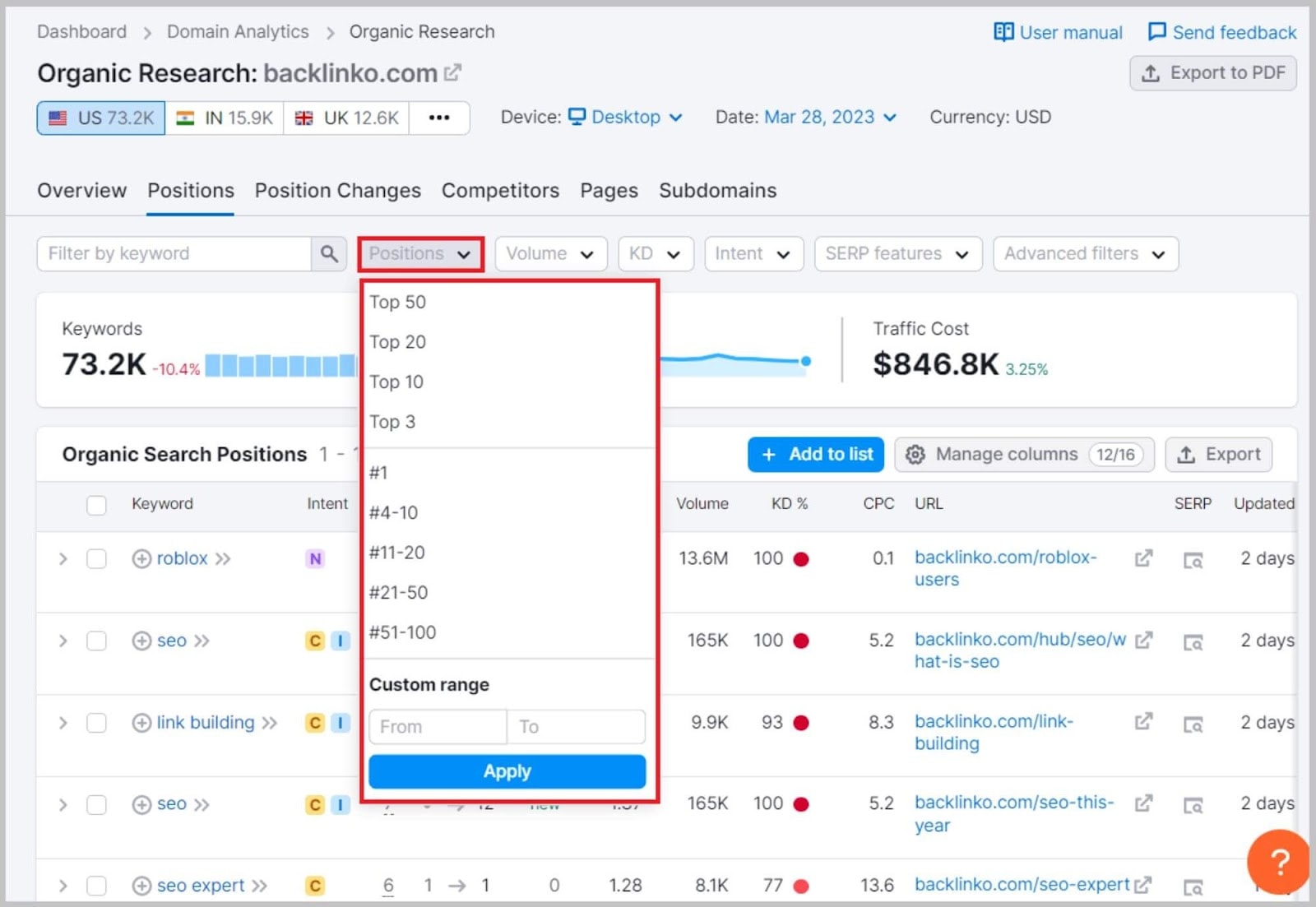 Additionally, you can search for keywords in a #1 position, as well as those in #4-10, #11-20, #21-50, and #51-100 positions.
You can also customize your search by applying a 'custom range' to this filter.
Volume:
The volume filter allows you to find multiple keywords within a specified search volume.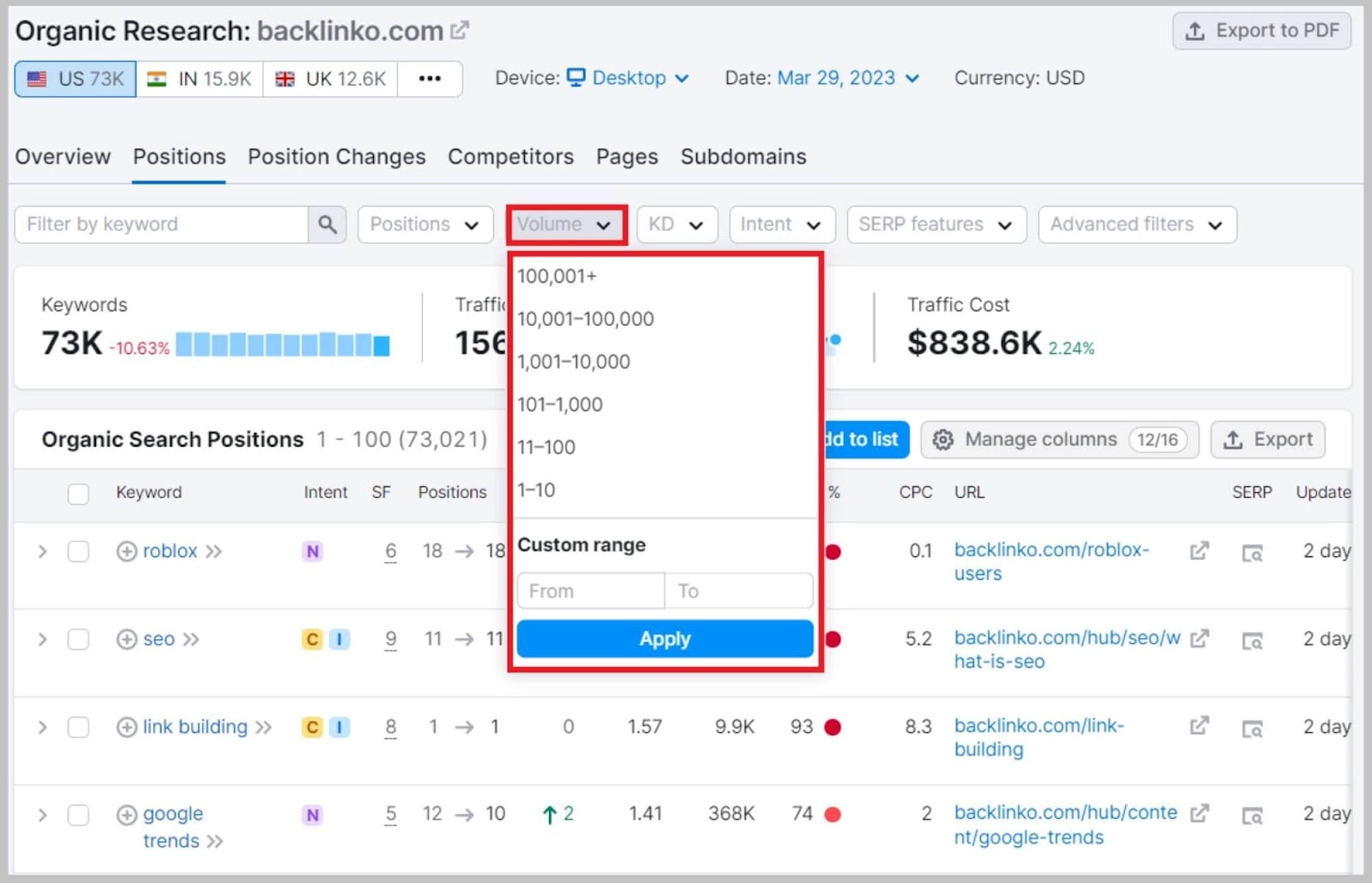 You can create a custom range or use one of the preset options.
KD:
The keyword difficulty (KD) filter helps you figure out how challenging ranking for target keywords will be.
The higher the KD score, the more difficult it is to rank for the keyword.
So, if you select only keywords with low difficulty scores, you have a greater chance of ranking for those terms. On the drop-down menu for this filter,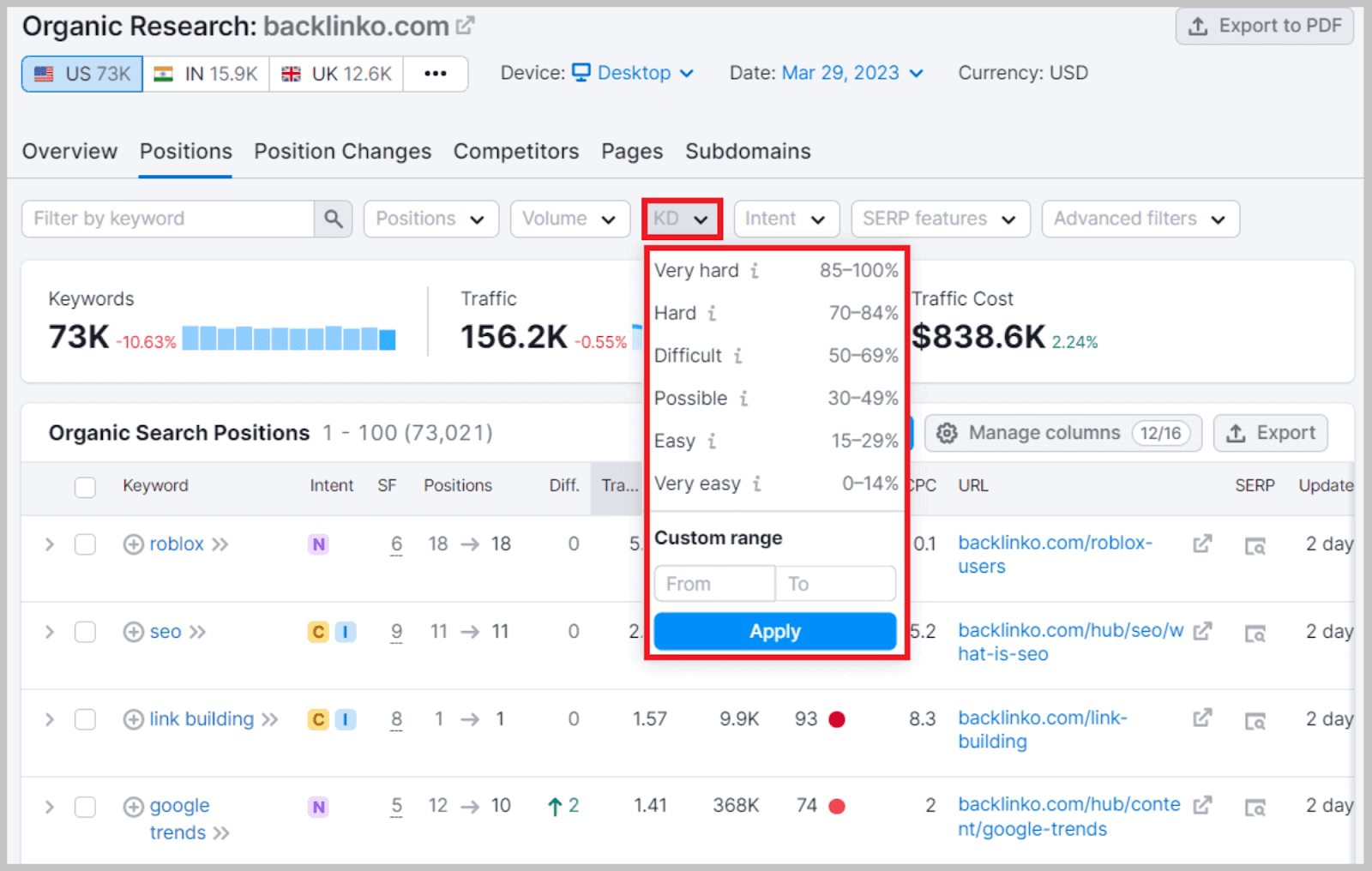 you can select percentage brackets. For example, if you set your range between 15% and 29%, you'll only be shown keywords that fall within this level of keyword difficulty.
You can select a custom range or go with a preset bracket. Present brackets start with 0-14% (very easy) and go up to 85-100% (very hard).

Intent:
This filter allows you to organize the search intent associated with each keyword.
Intent is a useful Semrush feature that helps you understand the 'why' behind a search query.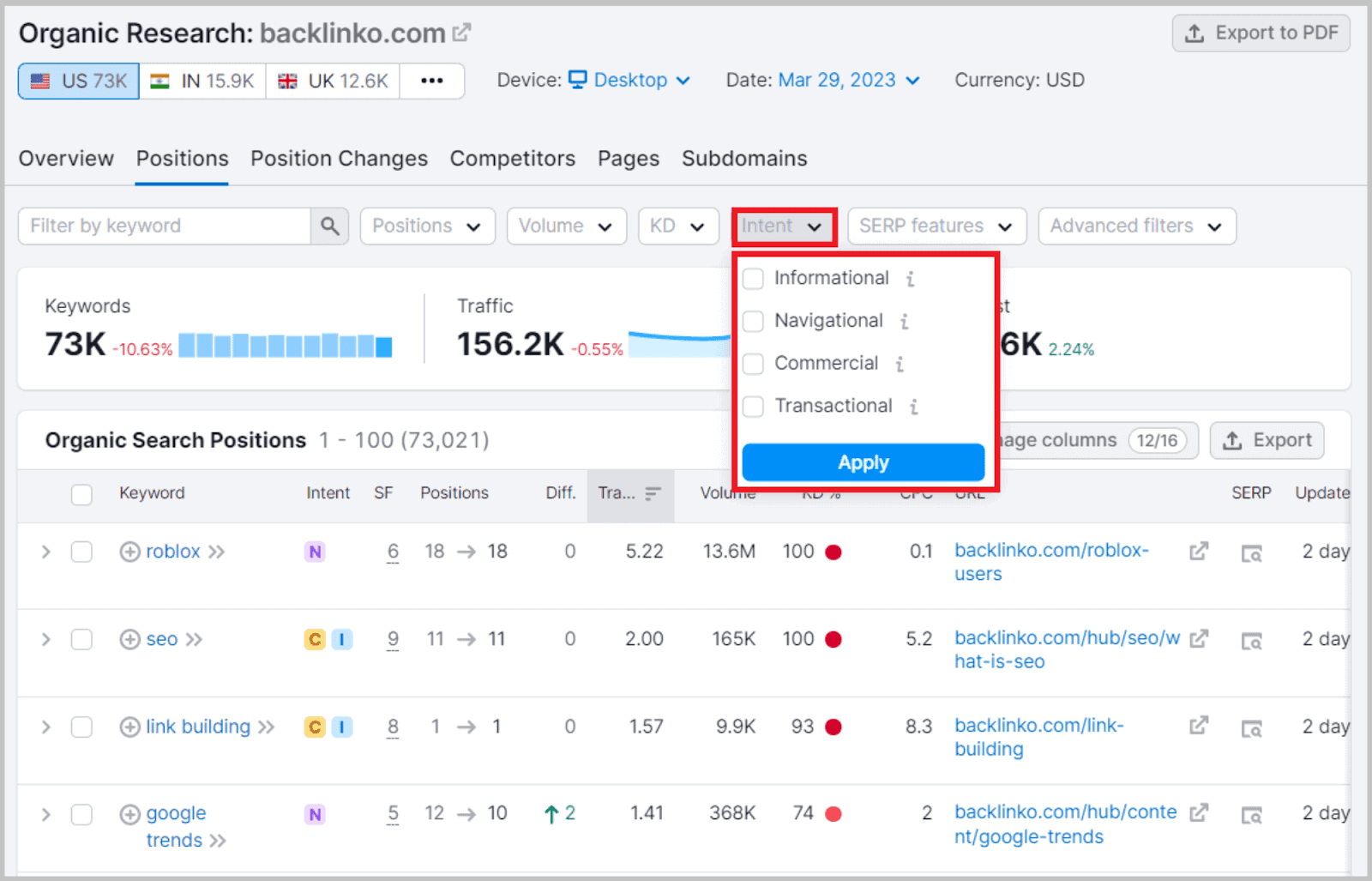 The intent is separated into four filter options:
Informational intent — These are search queries composed to find specific information or answer a question. For example, 'how to make apple sauce'.
Navigational intent — Navigational intent searches have a much more specific destination in mind. For example: 'Facebook', 'YouTube', or 'Backlinko'.
Commercial intent — Searchers making these queries are looking for information to buy the best product to fit their needs. For example, 'best laptop for traveling'.
Transactional intent — Transactional intent searches are made by those who knowexactly what they want to do or buy. They want to 'buy an iPhone 14' or 'sign up for Semrush Pro'.
SERP features:
The SERP column allows you to filter out the keywords that have a SERP feature.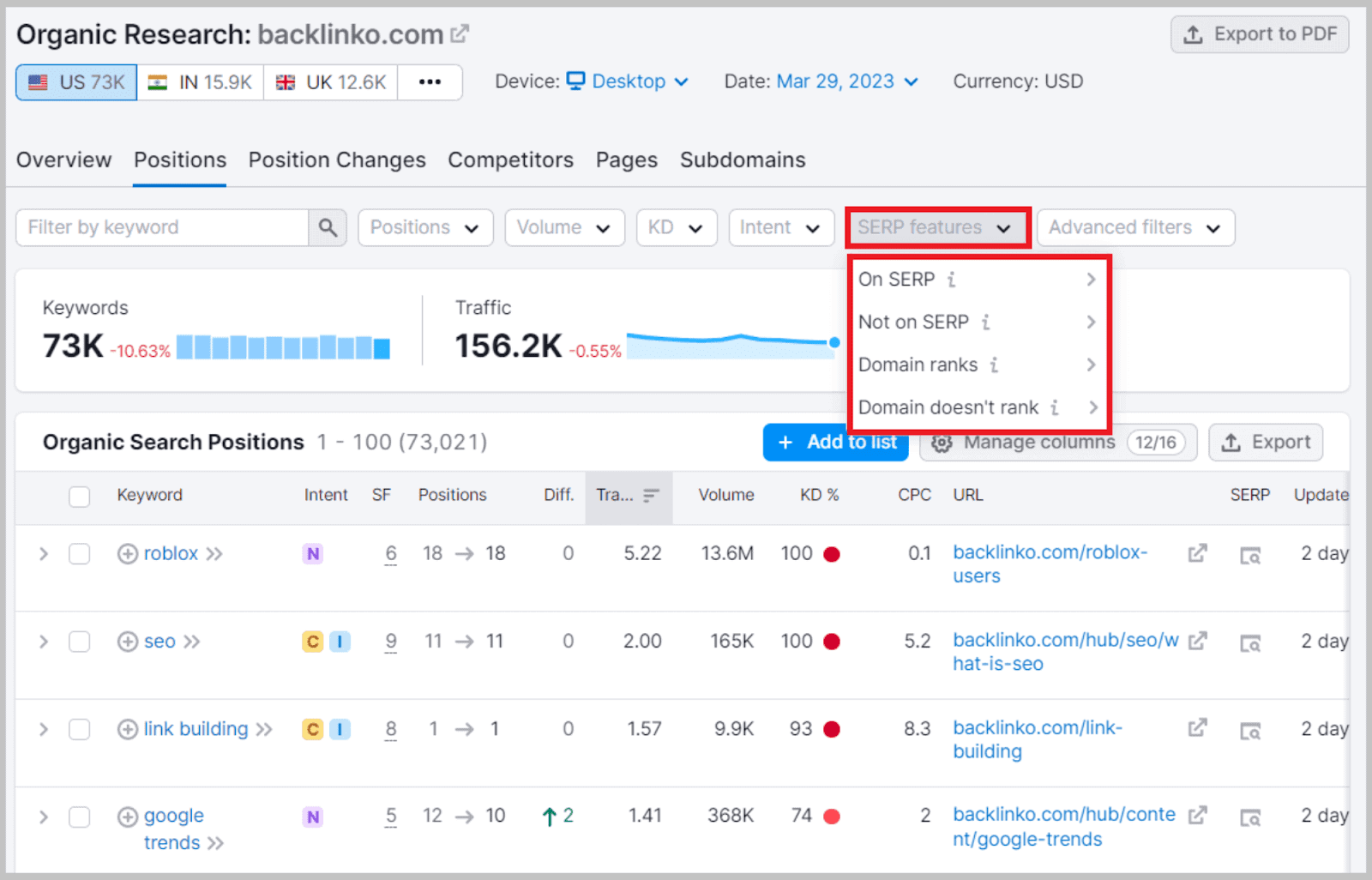 Filter options include featured snippets, local packs, site links, People Also Ask (PAA), and more.
By using this feature, you can zero in on terms that get a ton of organic clicks.
Advanced filters:
The Advanced filter options allow you to hone in on related keywords that are structured in a certain way.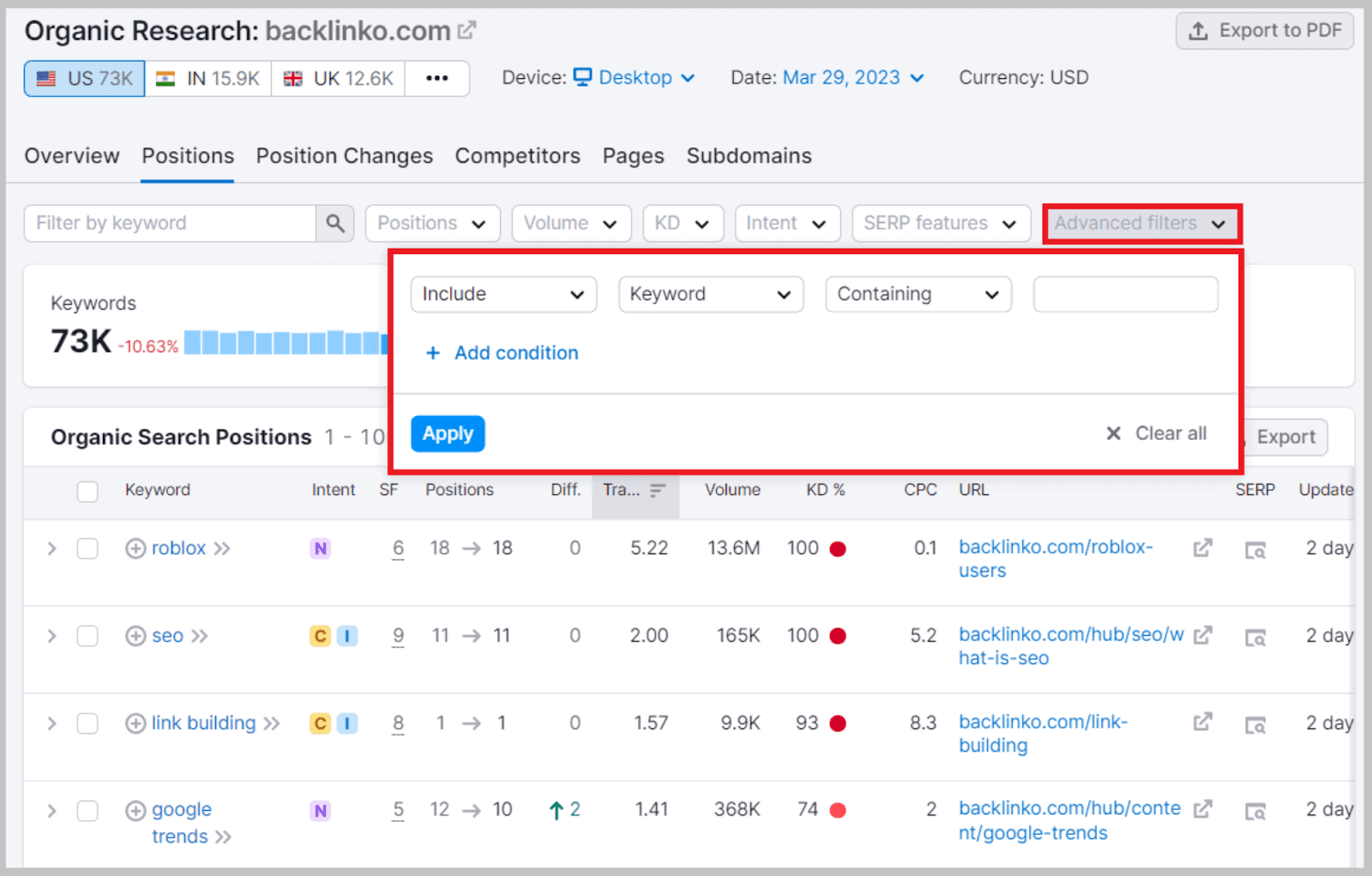 Advanced filters include:
Containing — This narrows the list to only show terms that contain the words you entered, in that order.
Word matching — The results will feature all the words you entered, but they may be in a mixed-up order.
Exactly matching — This filter will remove all other keywords andonly provide you with keywords that exactly match what you entered and don't contain any other words. Essentially, this option allows you to see which pages on your site rank for that exact term only.
Begins with — This filter removes all words that don't begin with your specified keyword.
Ends with — Similarly, this filter removes all words that don't end with your specified keyword.
You can also use these filters to exclude certain keywords so you can narrow down your search quicker.
In short:
Organic Search Positions are where I usually start the keyword research process.
Unlike most keyword research tools, this feature gives me a list of terms that I can easily rank for (by filtering the terms by keyword difficulty and using advanced filters to find more relevant terms).
Pretty cool.
Keyword Gap
The Keyword Gap tool shows you a list of keywords that up to four of your competitors rank for.
When you find a keyword that multiple competitors rank for, you know that it's one you have a good shot at ranking for too.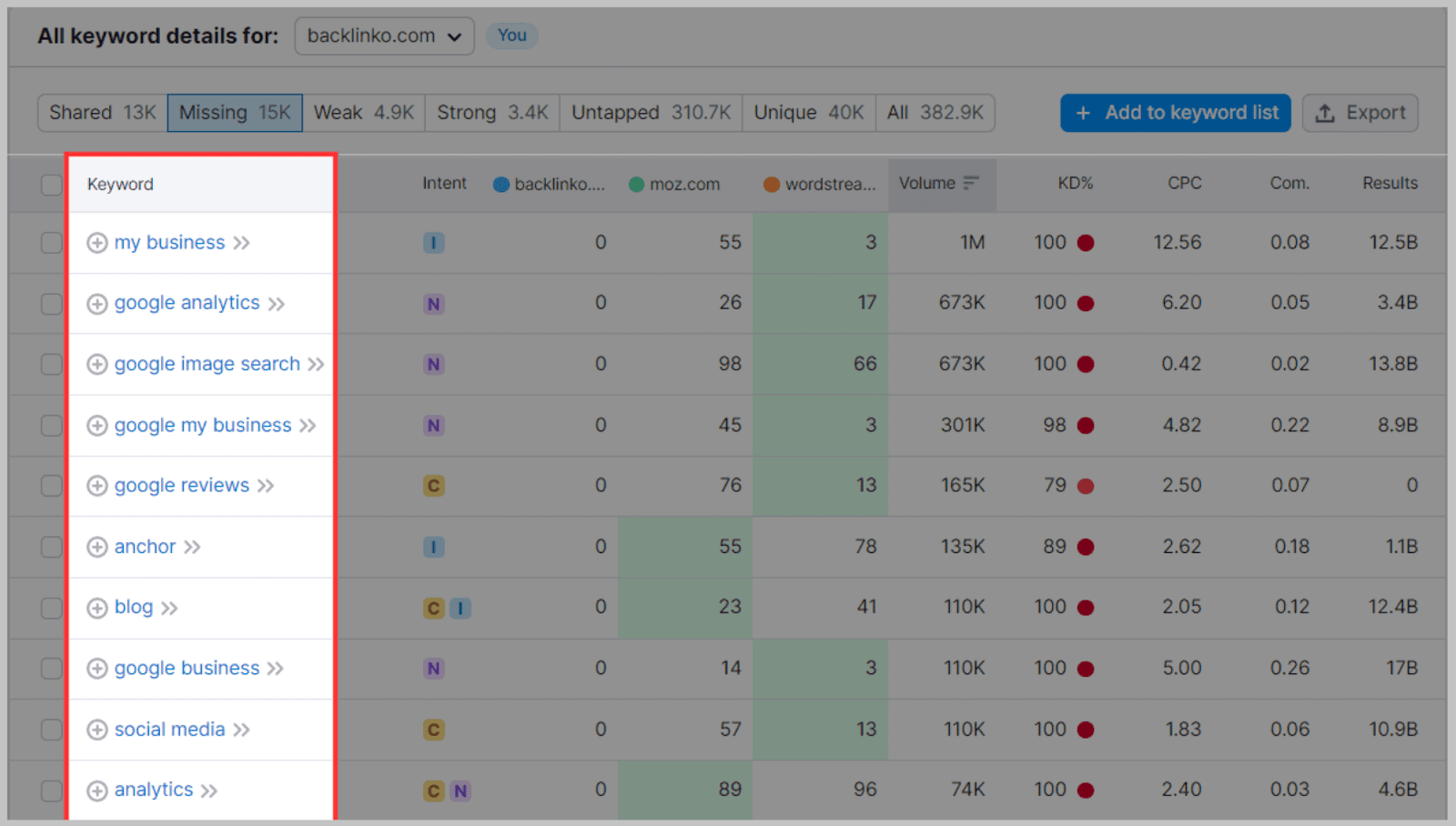 Pro Tip: By default, this tool shows you keywords that your competitors rank for in the top 100. Obviously, if two competitors both rank on page five for the same keywords, this isn't super helpful because you want to rank on page one, not page five.
That's why I set up the Position filter to ONLY see keywords that both sites rank in the top 10 for:
And that simple filter gives me a much more helpful list of keywords to work with: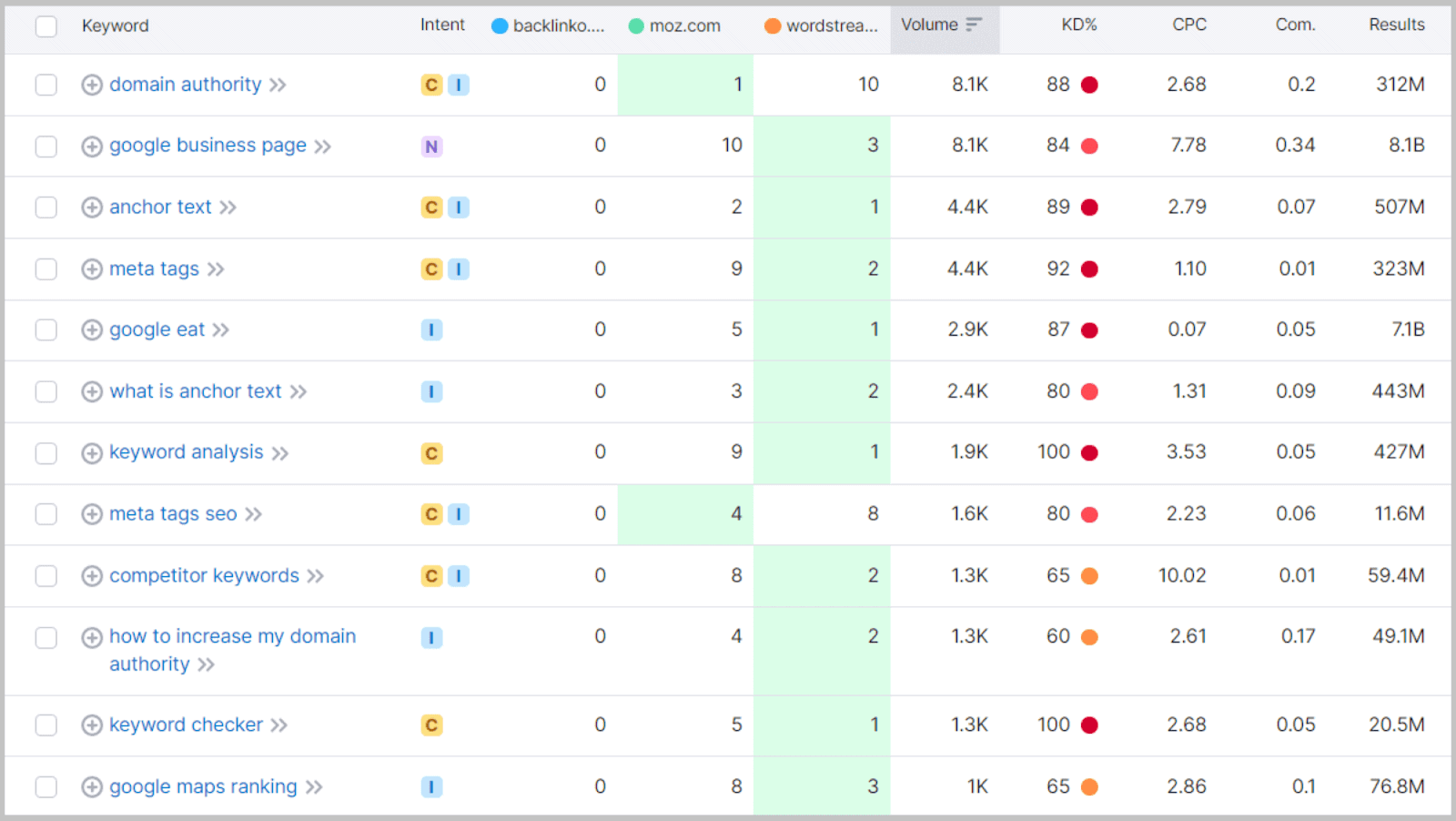 Still got a lot of keywords even after applying the Position filter? 
Kick your keyword research up a notch by applying the volume, KD, and advanced filters to narrow your options even further.
Or, put 4 of your competitors into Keyword Gap to find shared, missing, weak, strong, and unique keywords.
Keyword Overview
So far I've covered features that revolve around reverse engineering a competitor's website.
There's a good reason for that: reverse engineering is Semrush's specialty. And it's excellent at it.
That said, you can also use Semrush like a traditional keyword overview tool.
In other words:
You can pop a target keyword (or list of keywords) into the Keyword Overview Tool and get a list of keyword ideas and metrics on that term (or terms).
For example, here's what I get when I put "Paleo Diet" into Semrush: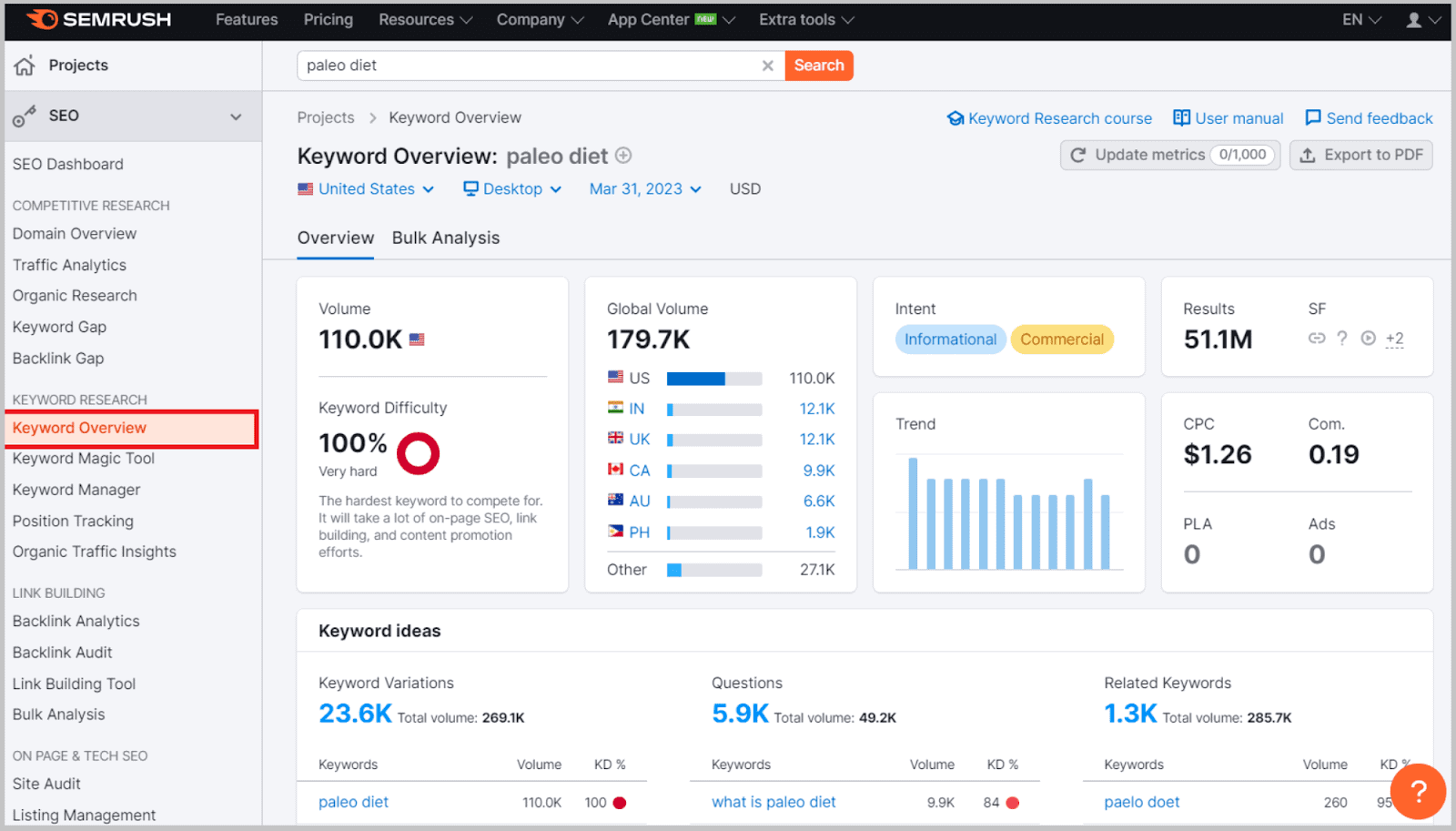 But what do these metrics all mean? Well, let me break it all down for you:
Volume shows the estimated monthly search volume of the keyword in a specified country.
Global volume is the total amount of times the keyword is featured in search queries across the globe (again, as an estimate).
Keyword difficulty is an estimate of how easily you could rank for the keyword.
CPC (cost-per-click) reveals how much it would cost for a CPC ad featuring this keyword.
Intent tells you what kind of searches the keyword features in (i.e. informational, commercial, navigational, and transactional).
SERP features show you what kind of SERP features the results page displays for this keyword.
Keyword variations are a list of search phrases that include your keyword and alterations of it. Here, you can find keyword inspiration.
Questions show you the top questions featuring the keyword that people are searching for.
Related keywords are search terms that produce similar results to your seed keyword.
Trend lets you know how much interest there has been in the keyword over the past year.
Ads are the most popular Google Ads featured on the keyword's SERP.
PLA (product listing ads)includes the top Google Shopping ads featured on the keyword's SERP.
Com. shows you how much competition there is between advertisers who are bidding for this particular keyword.
Results is the number of URLs that are featured in Google's search results for the keyword.
Keyword Magic Tool
This Semrush feature does one simple thing:
It generates A LOT of keyword ideas.
For example, when I put 'Paleo Diet' into it…

…I get a massive list of 23,607 related keywords: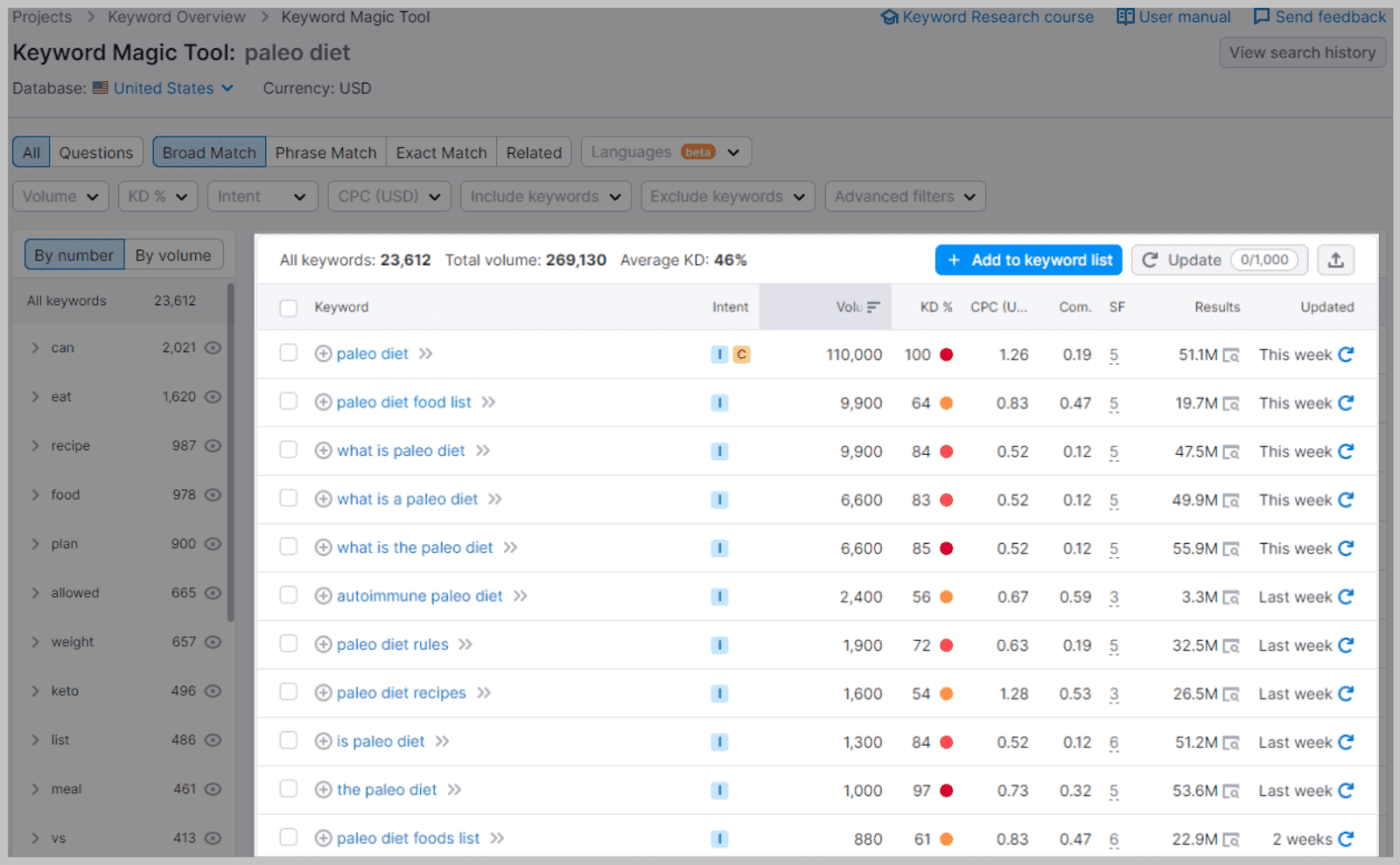 23,607 keywords is a game changer.
Why it's useful:
Unfortunately, 23,607 is a lot of keywords to sift through yourself.
Fortunately, you can sort this keyword list by search volume, keyword difficulty, CPC, and other modifiers including:

Broad Match — This is the default setting. With the broad match on, you will see all the keywords Semrush could find related to your seed keyword. The words might not match exactly what you entered — pretty clever, right?
For example, searching for "best running shoes for men" with this option selected could bring results like "best trail running shoes for men".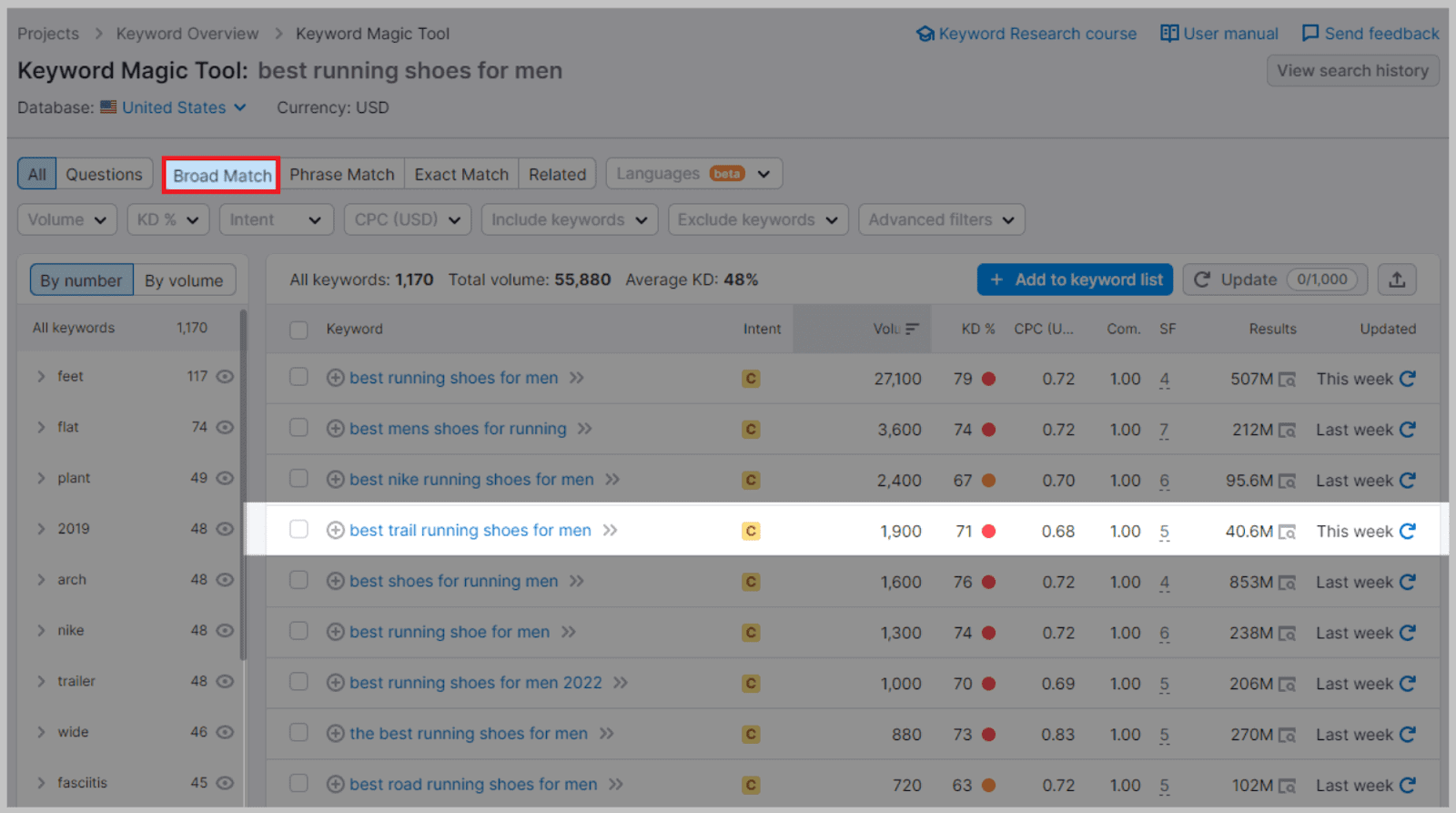 Phrase Match — This modifier will show you all related keywords that feature the same words as your target keyword, but they might be in a different order. There could also be other terms in the keywords provided on this list.
For example, if you were to enter "best running shoes" and select the Phrase Match option, it may suggest "best men's shoes for running", or "best women's running shoes".
Exact Match — This removes all verb variations and keywords that are not in the same order as the target keyword.
For example, if you were to enter "best running shoes" (again) and select Exact Match, it may suggest "best running shoes for flat feet" or "best running shoes for women".
Related — With this option, the Semrush Keyword Magic Tool looks at search engine results for the target keyword and pulls up all words and phrases that are semantically relevant.
This includes words and phrases that are relevant to, but don't feature, your exact keyword. Going back to the "best running shoes for men" example, you'll find keywords like "best jogging shoes for men" with this option selected.
Left of the match modifiers, you'll also find another useful filter: the Questions button.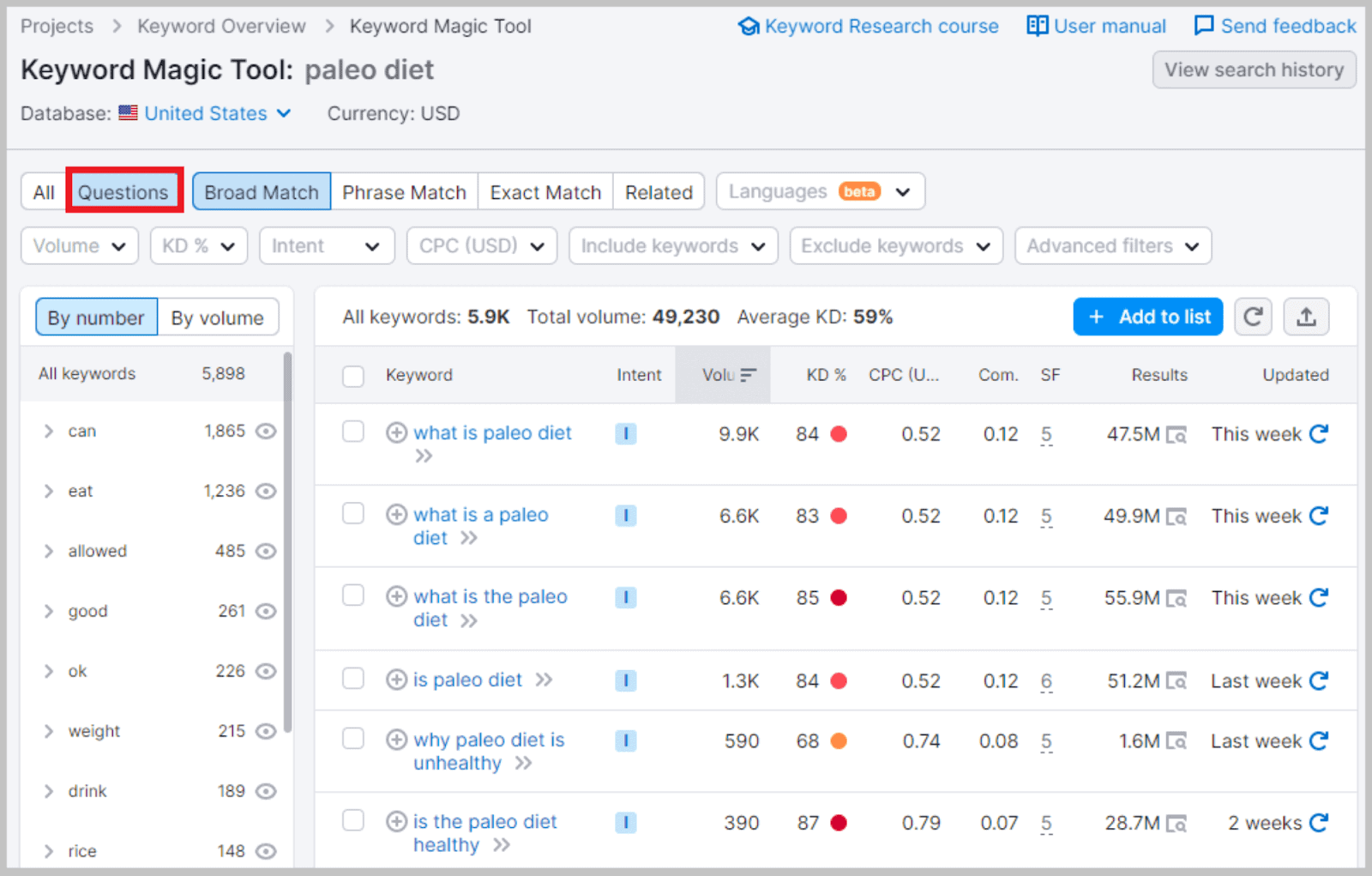 By switching from 'All' to 'Questions' you can view all relevant keywords that are written in the form of a question. If I use my paleo diet example again, I find long-tail keywords like "what is the paleo diet?" by toggling to the Questions mode.
This is invaluable when content planning, as it helps you identify long-tail keywords that web users need answers to.
Super cool.
Keyword groups and subgroups
Another reason why the Keyword Magic Tool is so useful is that it allows you to explore different keyword groups and subgroups related to your primary keyword.
You can find these keyword groups in the menu to the left of the main table, and you can organize them by number or volume.
By clicking on one of the groups, you can examine suggested topic clusters related to the main keyword.
For example, when searching for 'Paleo Diet', one of the main topics that Semrush identifies is 'Weight'. This then shows you all the relevant subtopics of 'Paleo Diet' and 'Weight'.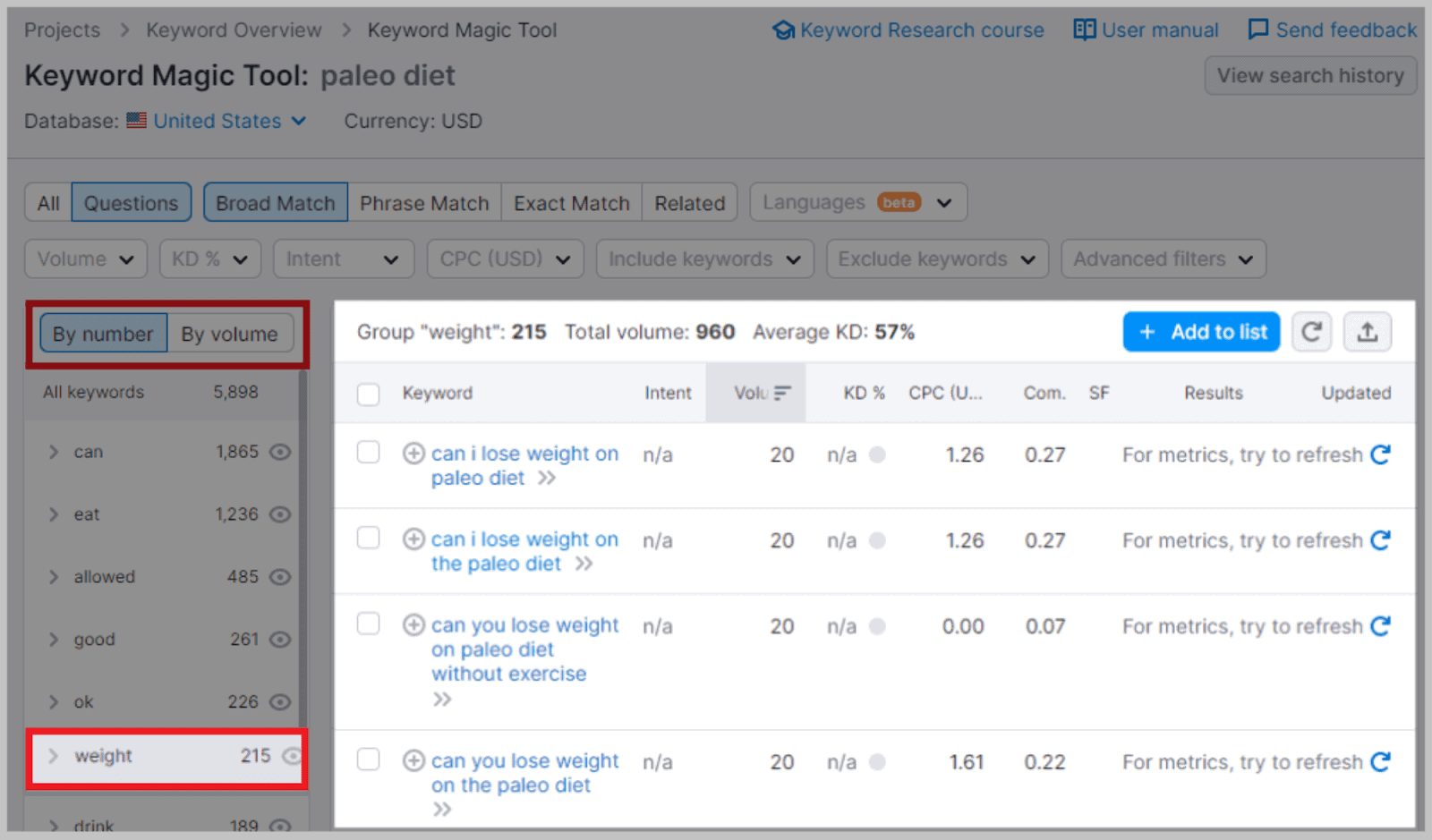 On the whole, the Keyword Magic Tool makes keyword research exceptionally easier — take my word for it!
Keyword Manager
Keyword Manager is an advanced tool that helps you stay on top of your keywords.

You add all the keywords you're trying to rank for, and Semrush will look after them for you.
By "look after" I mean manage — as the name implies!
Once a keyword is logged in the Keyword Manager, Semrush will keep relevant metrics like search volume, CPC, and trend as up-to-date as possible.
Keyword Manager will also detail if any SERP features have changed.
Why it's useful:
Keyword Manager is useful because keyword research is never a one-time thing: it's an ongoing commitment.
You need to stay up to date with your keywords and competition and make modifications as necessary. Otherwise, the competition wins!
With the ability to save up to 1,000 keywords at a time, Keyword Manager delivers on the organization front. It's key to staying one step ahead of your competitors.
How to use it:
You can add terms to the Keyword Manager from several locations.
From the Keyword Magic Tool, simply blue-tick the keywords you want to add down the left-hand side of the table.
After you've made your selection, hover over the '+' until three grey lines — click on these, and your keyword lists will appear. You can also choose to make a new list.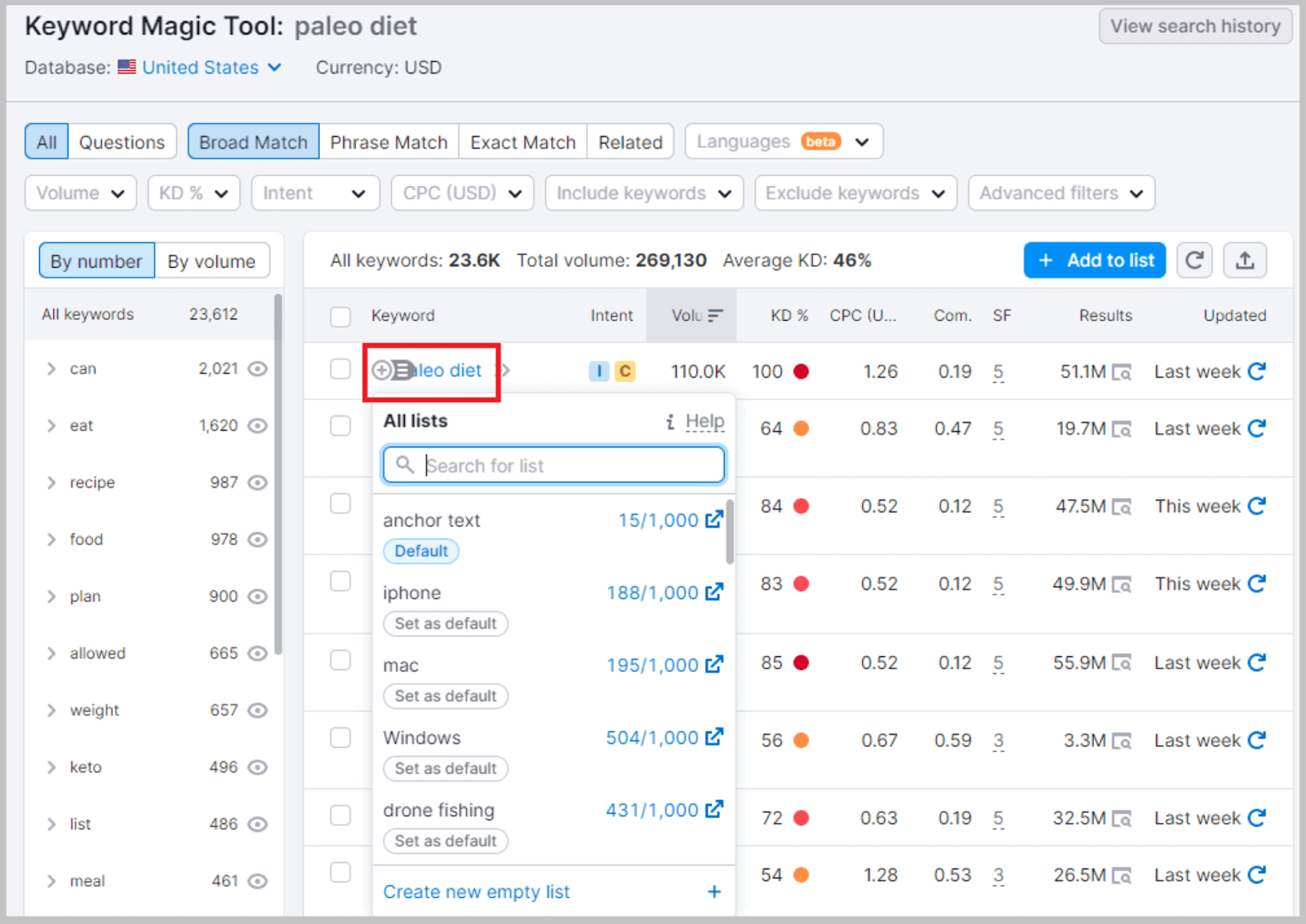 Or,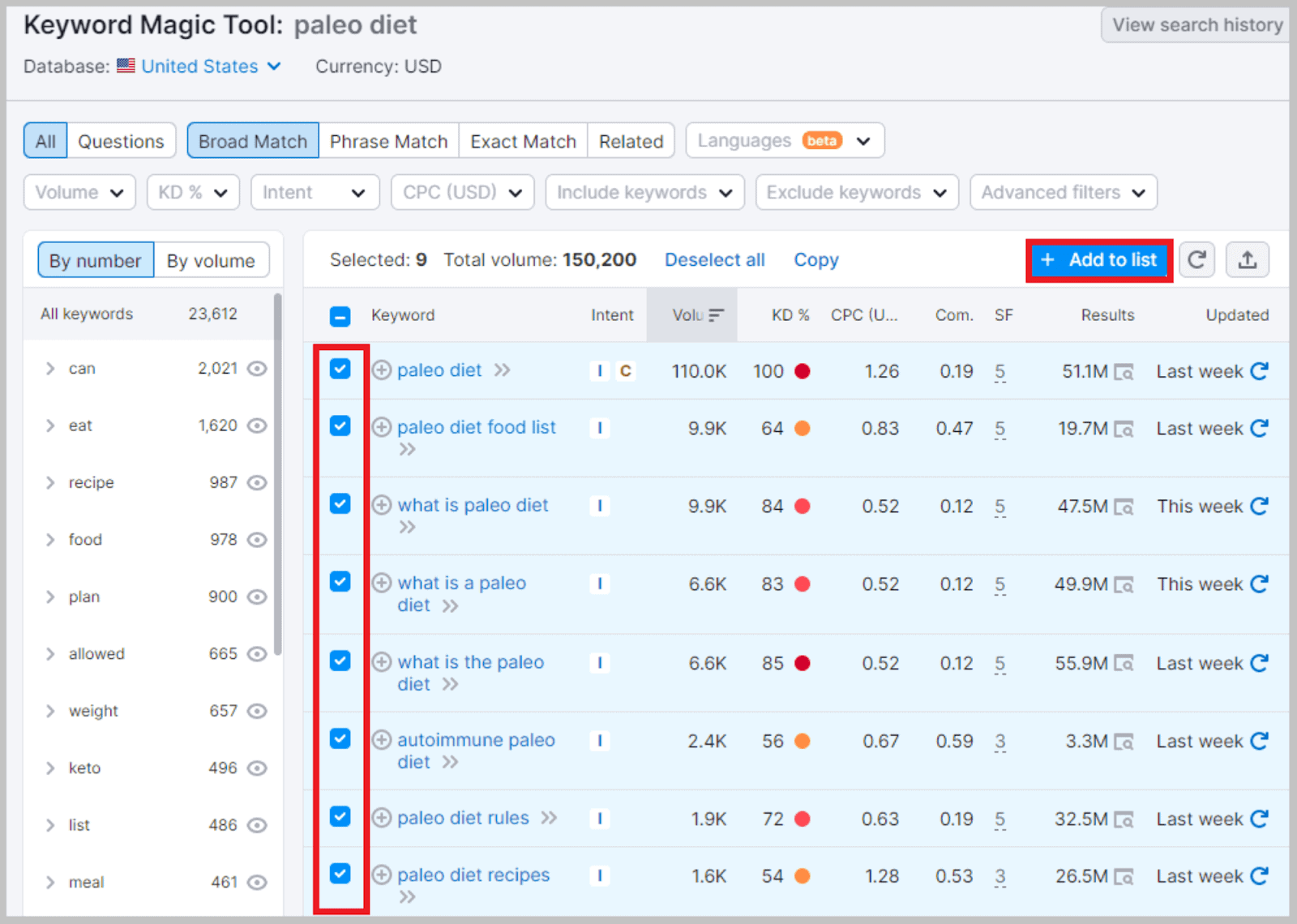 to add a bunch of keywords at the same time, you can tick all the ones you wish to add, as shown above. Then, once you've selected them all, use the '+ Add to list' button to select their destination.
You can also add keywords from the Keyword Gap and Organic Research tools in a similar way.
Certain metrics can be updated in real-time whenever necessary, while others can only be updated once per month.
For example, searches and CPC can be updated monthly.
Top competitors and keyword difficulty, on the other hand, can be updated as and when — which is super useful!
Position Tracking
This is Semrush's built-in rank-tracking tool.
You can use the Semrush Position Tracking tool to find out how your website is ranking for specific keywords geographically and on what devices (i.e., phones, tablets, etc.).
The main statistics the Position Tracking report provides are visibility, estimated traffic, and average position.
It can also be used to track local SEO and create featured snippet reports.
The best part? Position Tracking data can be converted to a PDF, allowing you to share results easily.
How to use it: 
You give Position Tracking a domain and a list of keywords…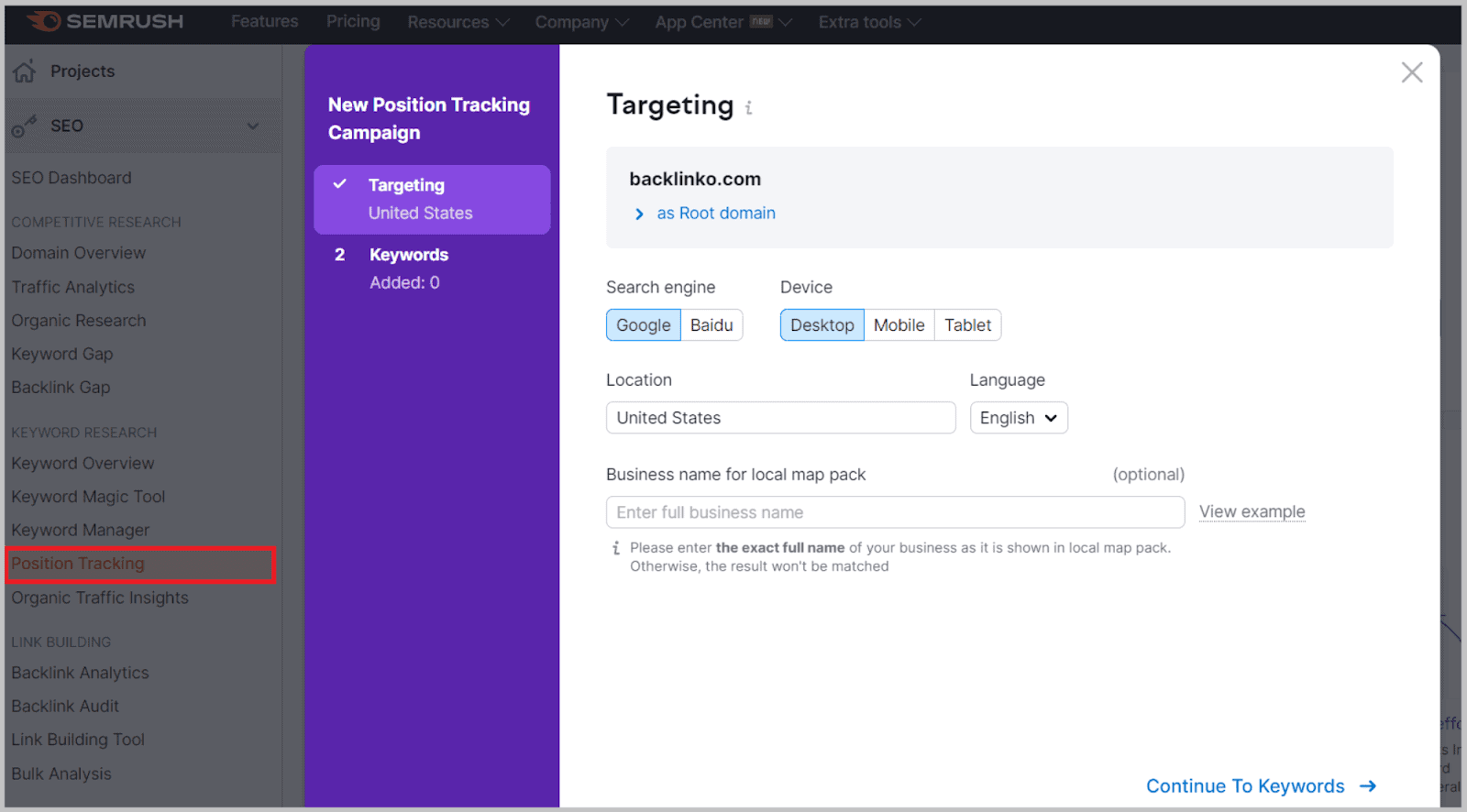 …and you get a daily update on where you rank: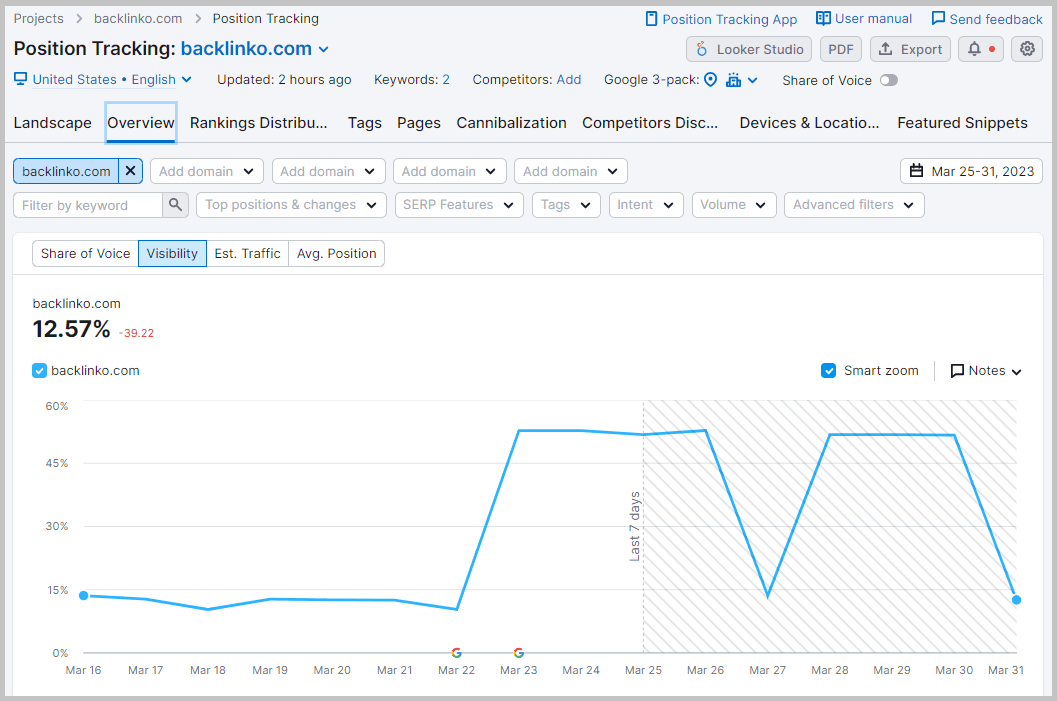 In my experience, this feature is super reliable and accurate.
(In other words, when I check my search rankings manually, they match up with the Position Tracking report.)
And that's why I use it.
Organic Traffic Insights
This tool pulls together organic search traffic data from Google Search Console, Google Analytics, and Semrush.
Once this data is collected, the Organic Traffic dashboard displays your top 50 landing pages organized by session count.
This is pretty cool in itself, but that's not all this tool provides you with:
With Organic Traffic Insights, you gain valuable pre-click data, such as position and impression.
You also gain insightful post-click data, such as goal completion on landing pages and bounce rate — pretty neat!
This is useful because you can separate your well-performing pages from your underperforming ones.
How to use it:
First, you need to connect your Google Analytics and Google Search Console accounts to Semrush.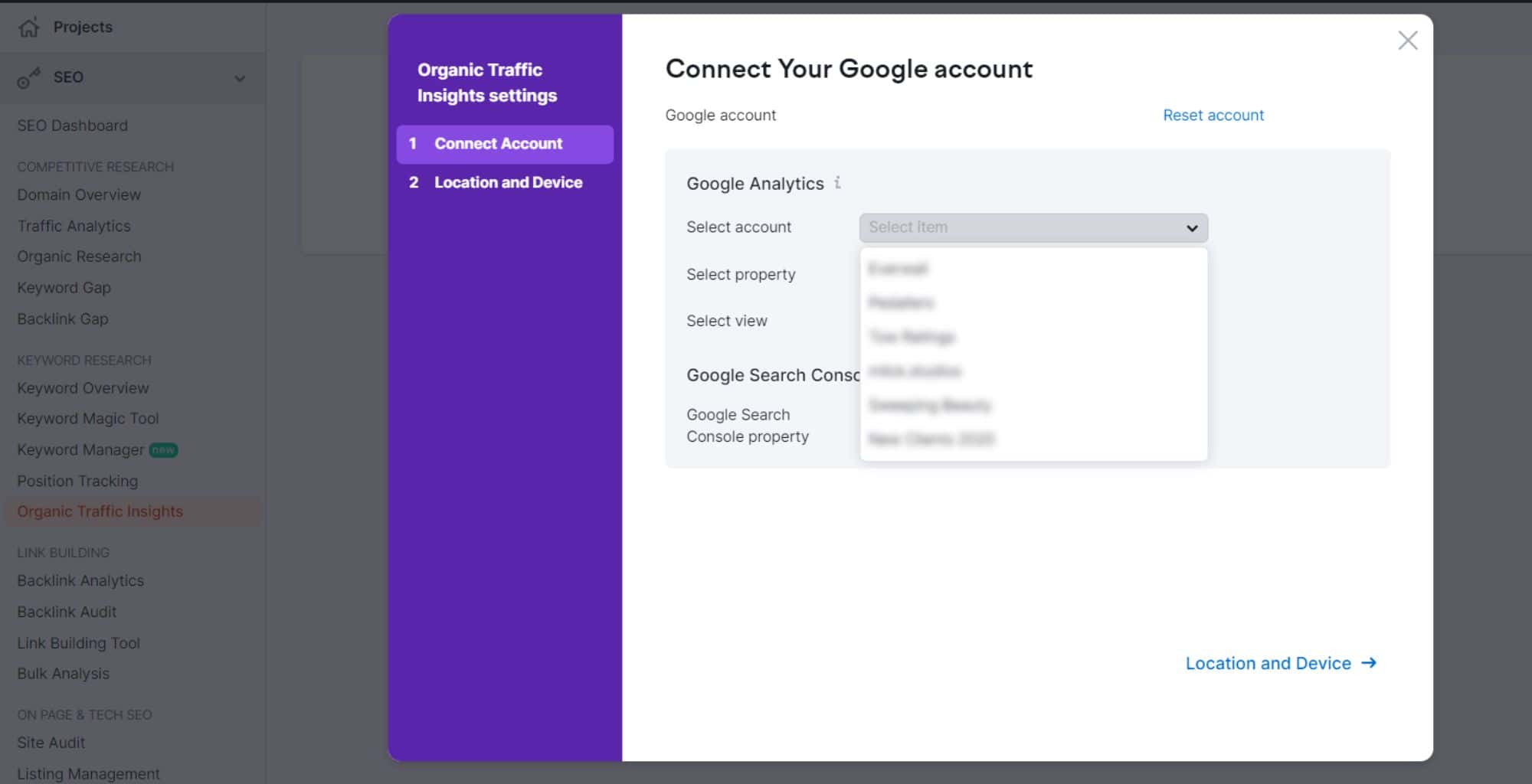 Then, Semrush analyzes the data to figure out which keywords bring in the most organic traffic, saving you time spent checking Google Analytics and Google Search Console individually!
Quite helpful.
Link Building
Semrush's link-building features are actually pretty solid.
You can analyze a site's backlink profile, anchor text usage, dofollow vs. nofollow links, overall link authority, and more:
As you probably know, link-building is an integral part of any SEO strategy.
Building links is key to drawing in organic traffic and building up your domain authority.
So, you'd expect Semrush's link-building facilities to be first-rate, right?
To make the link-building process as easy as possible for you, Semrush offers its users four very useful tools.
These four tools are Backlink Analytics, Backlink Audit, Link Building Tool, and Bulk Analysis.
Backlink Analytics
When you paste a domain into Backlink Analytics, you receive a full breakdown of the site's backlink profile.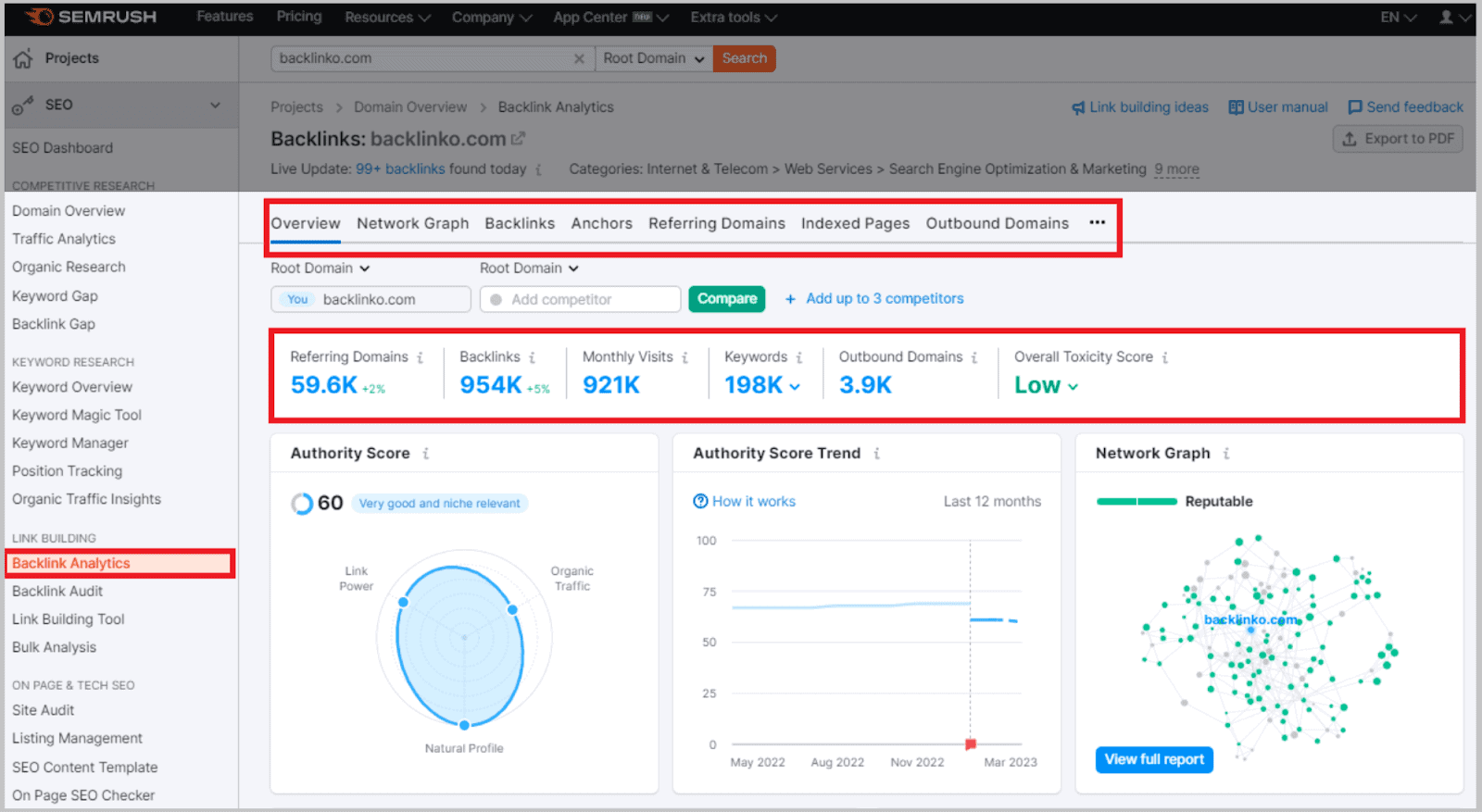 Along the top of the dashboard, you'll find nine tabs: Overview, Network Graph, Backlinks, Anchors, Referring Domains, Indexed Pages, Outbound Domains, Competitors, and Referring IPs.
The Overview tab provides you with mini-reports, which is really helpful if you're in a rush. They allow you to assess the site's overall backlink profile and also identify broken links.
If you've got more time, you can click on the individual tabs for more in-depth analysis.
Backlink Audit 
Link-building campaigns can appear spammy if not done properly, which is why I love using Semrush's Backlink Audit tool to keep tabs on any new backlinks pointing to my site.
You can make sure your backlink profile appears natural (i.e., the opposite of spammy) by disavowing toxic links as and when you attain them.
But how do you keep on top of all the links that are leading to your site? And how do you distinguish the authoritative from the spam sites (besides visiting them all and judging for yourself)?
Introducing: The Backlink Audit tool. This is your key to defending the integrity of your domain.
Put your domain into this tool and get an in-depth report on all the links that lead to your site — the good, the bad, and the downright toxic.

How to use it:
Paste your URL into the 'project name or domain' bar and leave some time for the backlink analysis to take place.
Once fully loaded, you should be able to click on your website listed under 'Projects'.
You'll then be led to a dashboard loaded with statistics.
Your eyes will probably land on the 'Overall Toxcity Score' first, and for good reason. This bar scores the healthiness of your domain in terms of backlinks.
It breaks down this score into three sections: non-toxic, potentially toxic, and toxic.
Preferably, you should have the 'non-toxic' percentage in the high 90s and the 'toxic' bar at 0%.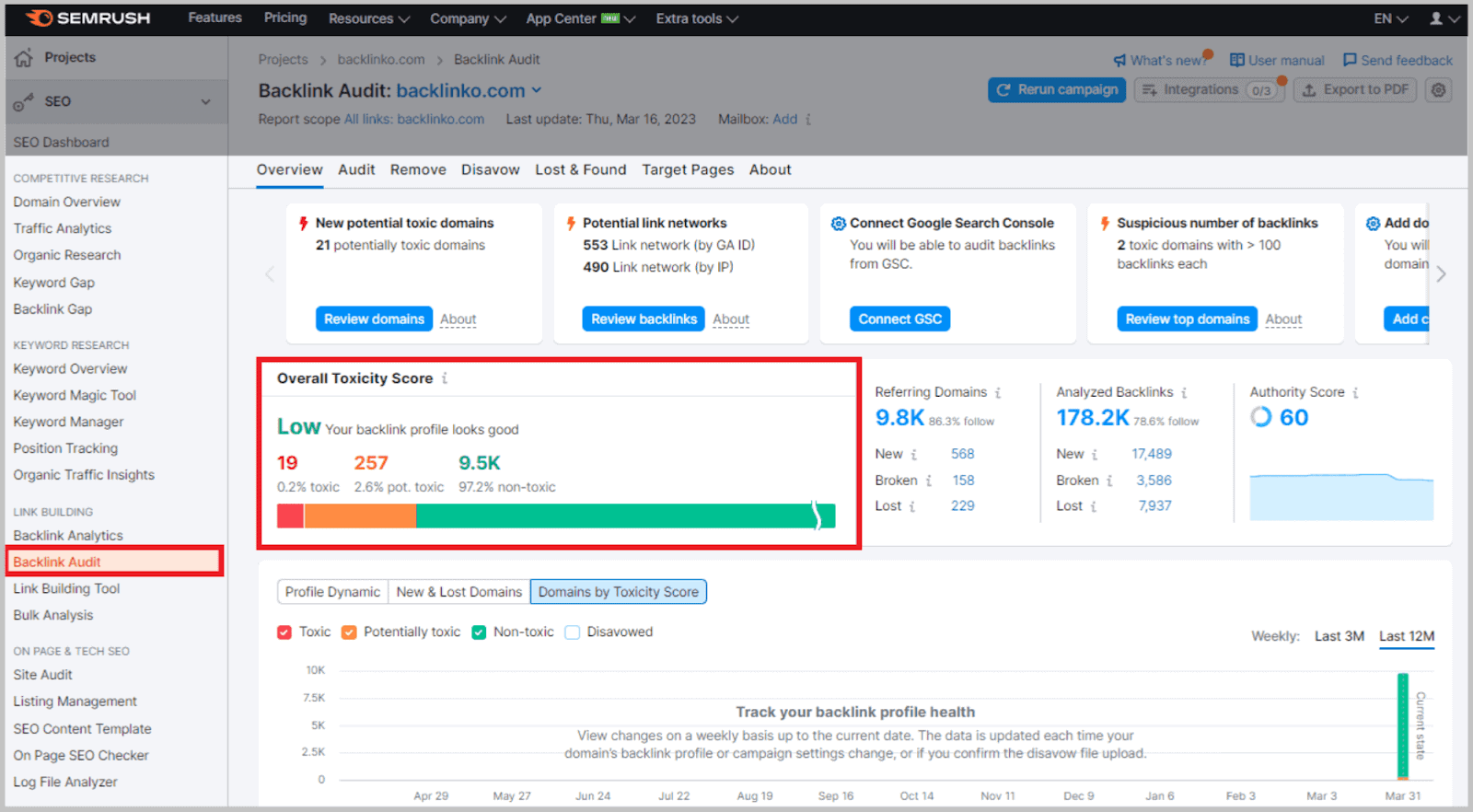 However, Semrush could be wrong. So, before you head over to Google Disavow Tool, you should check in on any toxic referring domains.
You can do this by scrolling down to the 'Backlinks to Review' tab. Here, you can click on the 'Toxic' section to get a breakdown of the suspicious domains.

If you agree with Semrush's judgment, you can select the 'Move to Disavow list' button at the right end of the link.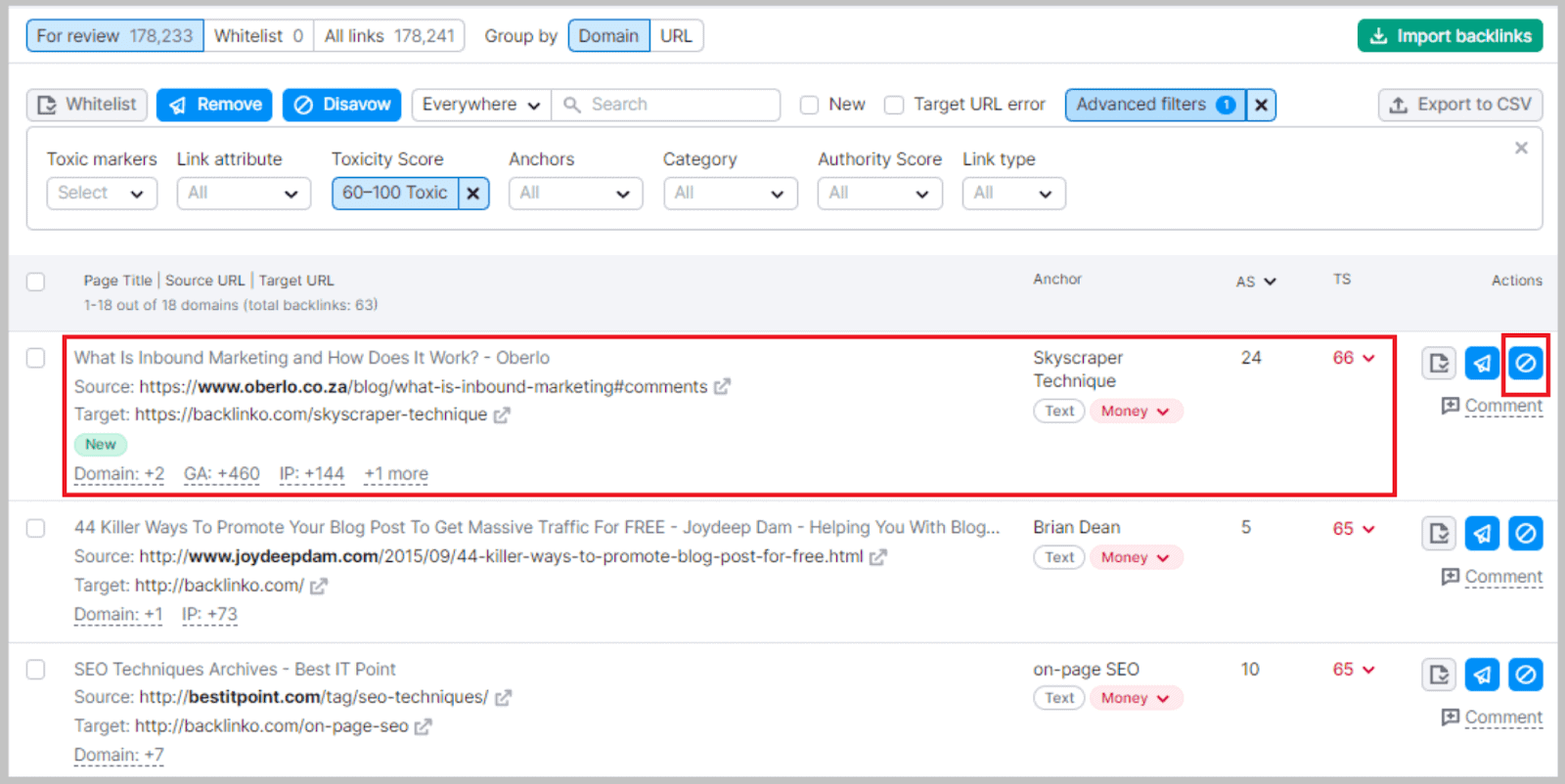 You can download this list as a .txt which can be submitted to Google Search Console.
Link Building Tool
Semrush's link-building tool is another unique feature of the already impressive platform:
This tool is a streamlined service that helps you find and engage with external sites for potential link-building opportunities.
Using data gathered from the keywords and competitors entered, the tool seeks out highly authoritative sites that could provide you with a backlink.
Trust me: this helpful tool saves you a lot of time.
Here's how it works:
First, you enter keywords that you want to rank for: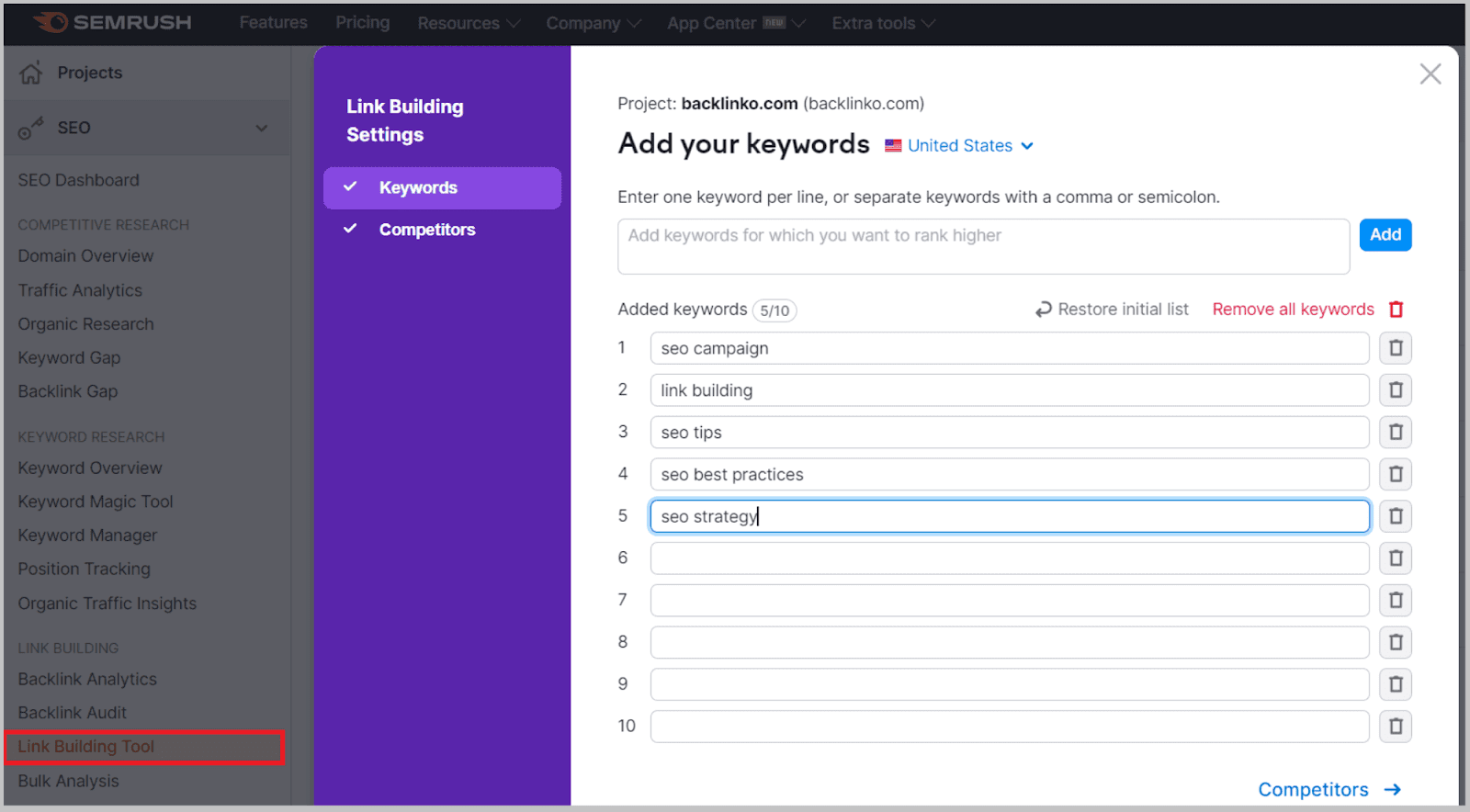 Next, add your competitors' websites: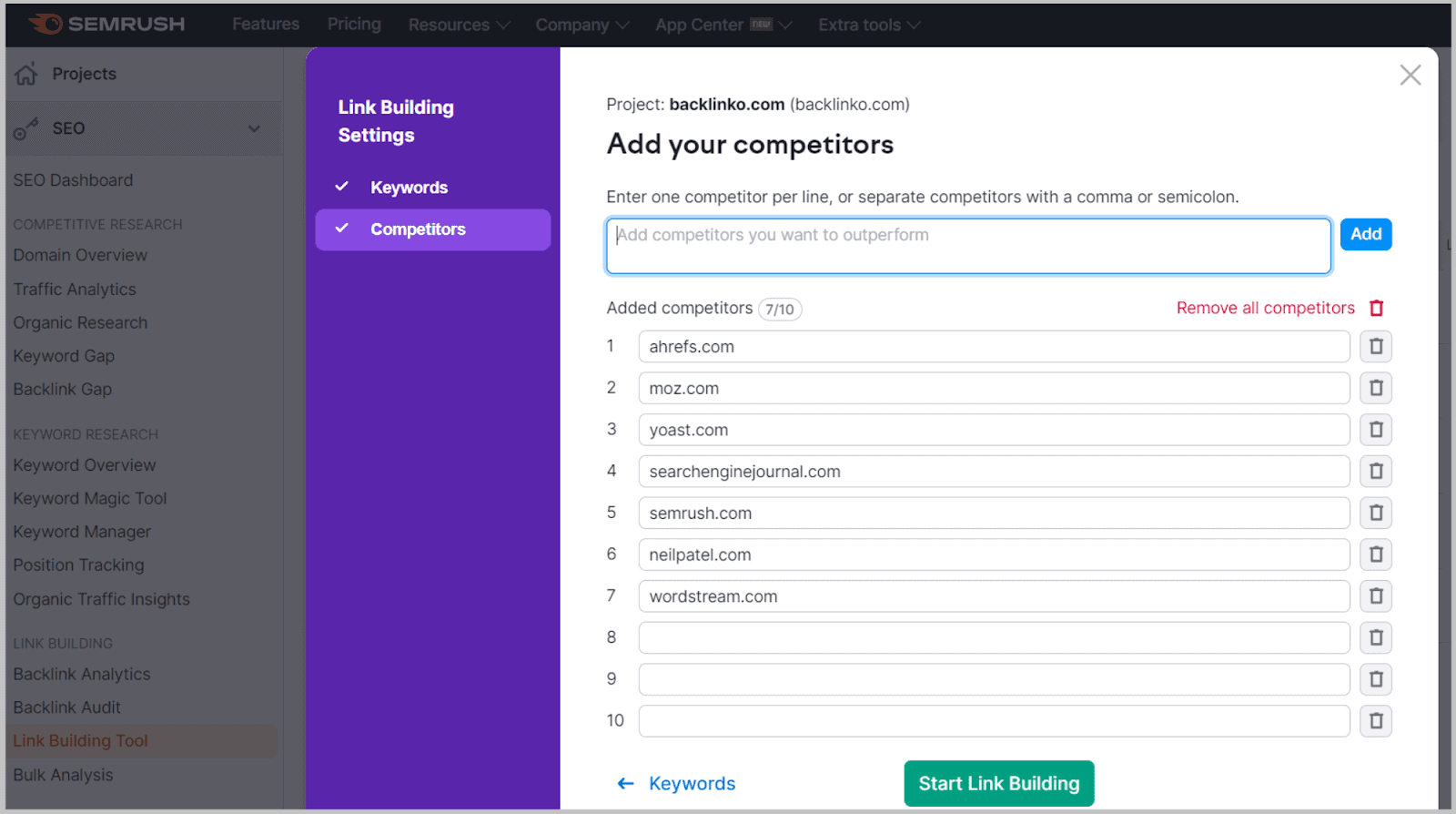 Why it's useful:
This SEO tool helps you complete fourlink-building tasks in one.
First off, it analyzes your competitors' backlink profiles to determine the kind of backlinks you need to compete.
Secondly, it collates all the link building opportunities it deems suitable for your website.
Any backlink opportunities you like the look of, you can add to the 'In progress' list.
Thirdly, it helps you connect with these backlink opportunities through the outreach module. Here, you can use the message templates to construct an effective message addressed to the target domain's webmaster.
Finally, it helps you keep track of the backlinks attained and their influence.
Once you've acquired a backlink, you can monitor it to ensure it stays live.
Five tabs run along the top of the Semrush Link Building Tool: Overview, Prospects, In Progress, Monitor, and About.
Overview 
The overview tab breaks down every aspect of your link building campaign: how many domains you've reached out to, how many replies and backlinks you've received, and other useful data.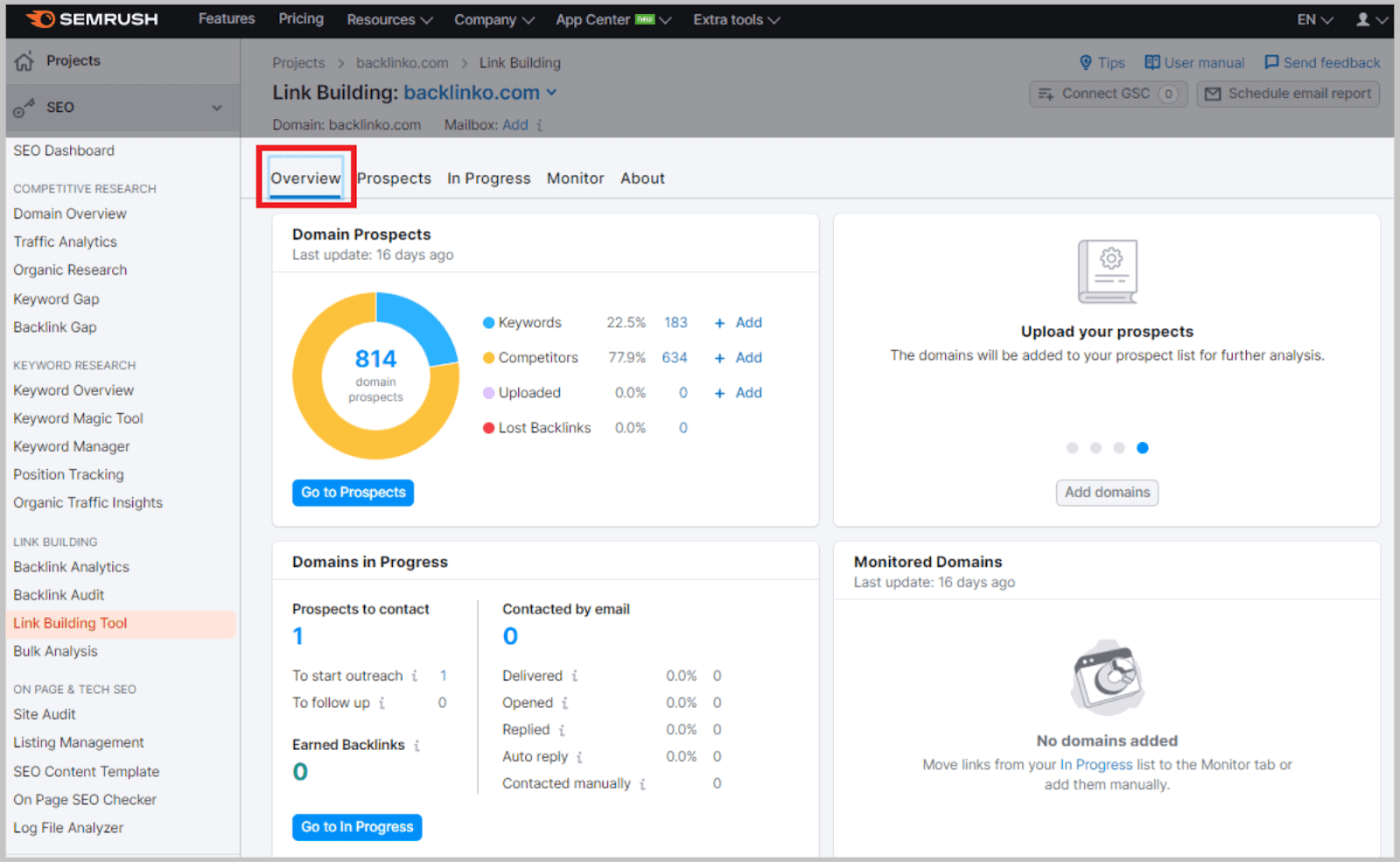 Prospects 
All prospective backlink opportunities are stored here. In Prospects, you can choose to reject prospects or move them toward the 'In Progress' tab.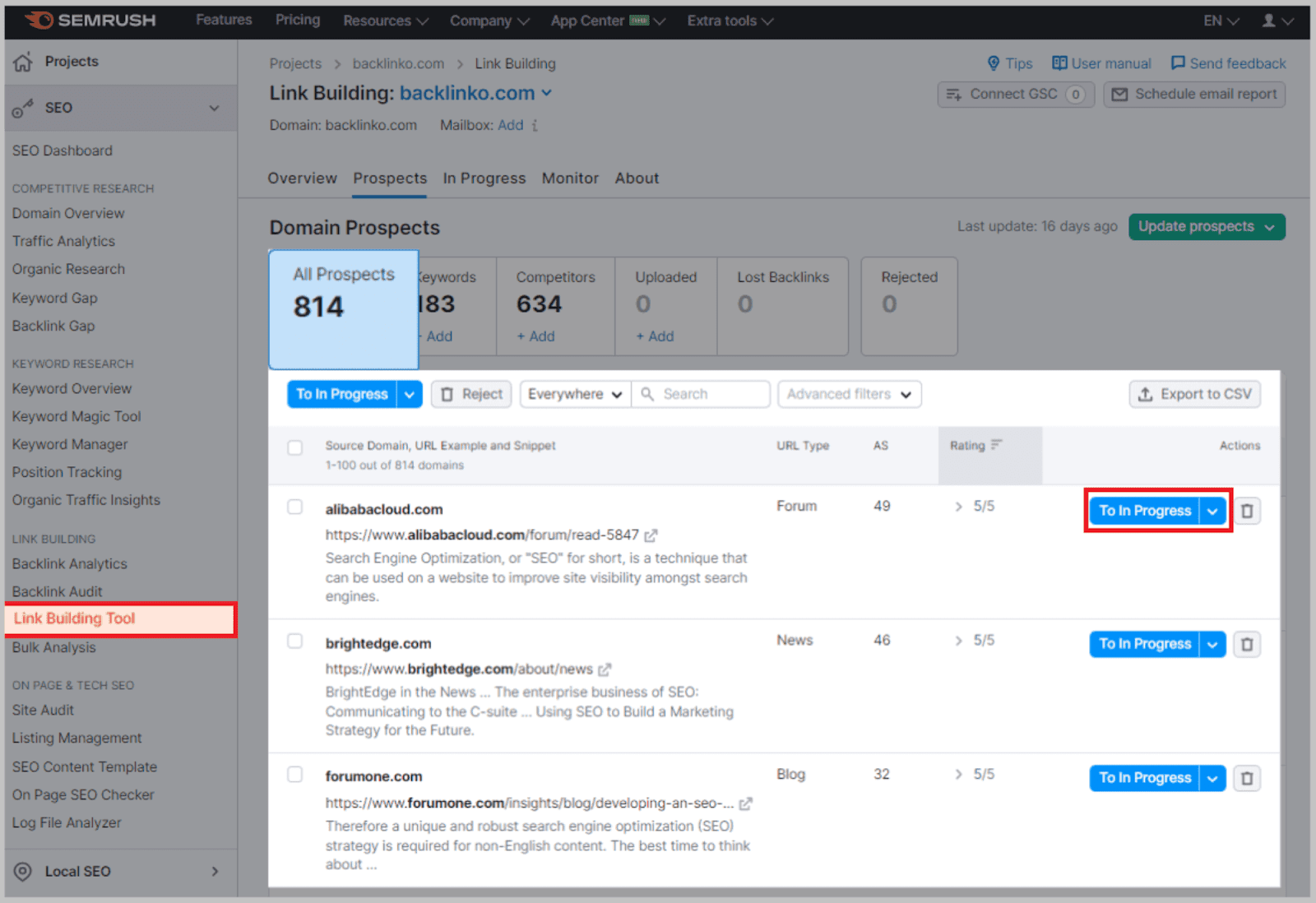 In Progress
In Progress is where you can reach out to potential backlink providers via email.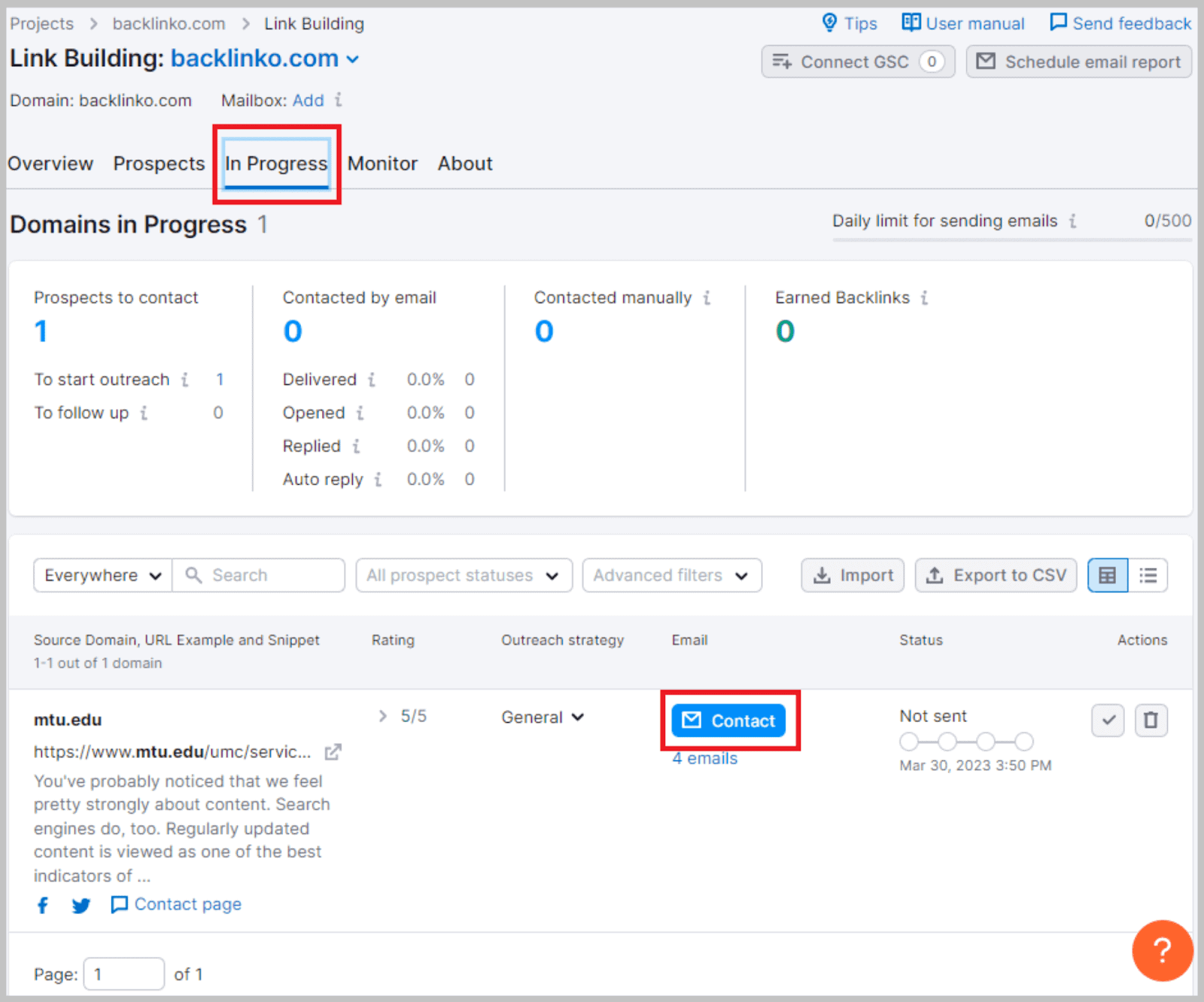 Monitor 
Once you've reached out to the chosen domains, you can monitor the progress of your outreach efforts here.

Backlink Gap 
Want to know which domains to target for backlinks?
Backlink Gap allows you to compare four competitors' backlink profiles simultaneously.
To use this tool, paste your URL into the first 'Root Domain' search bar.
Next, paste your four chosen rivals' URLs into the remaining search bars, as shown below: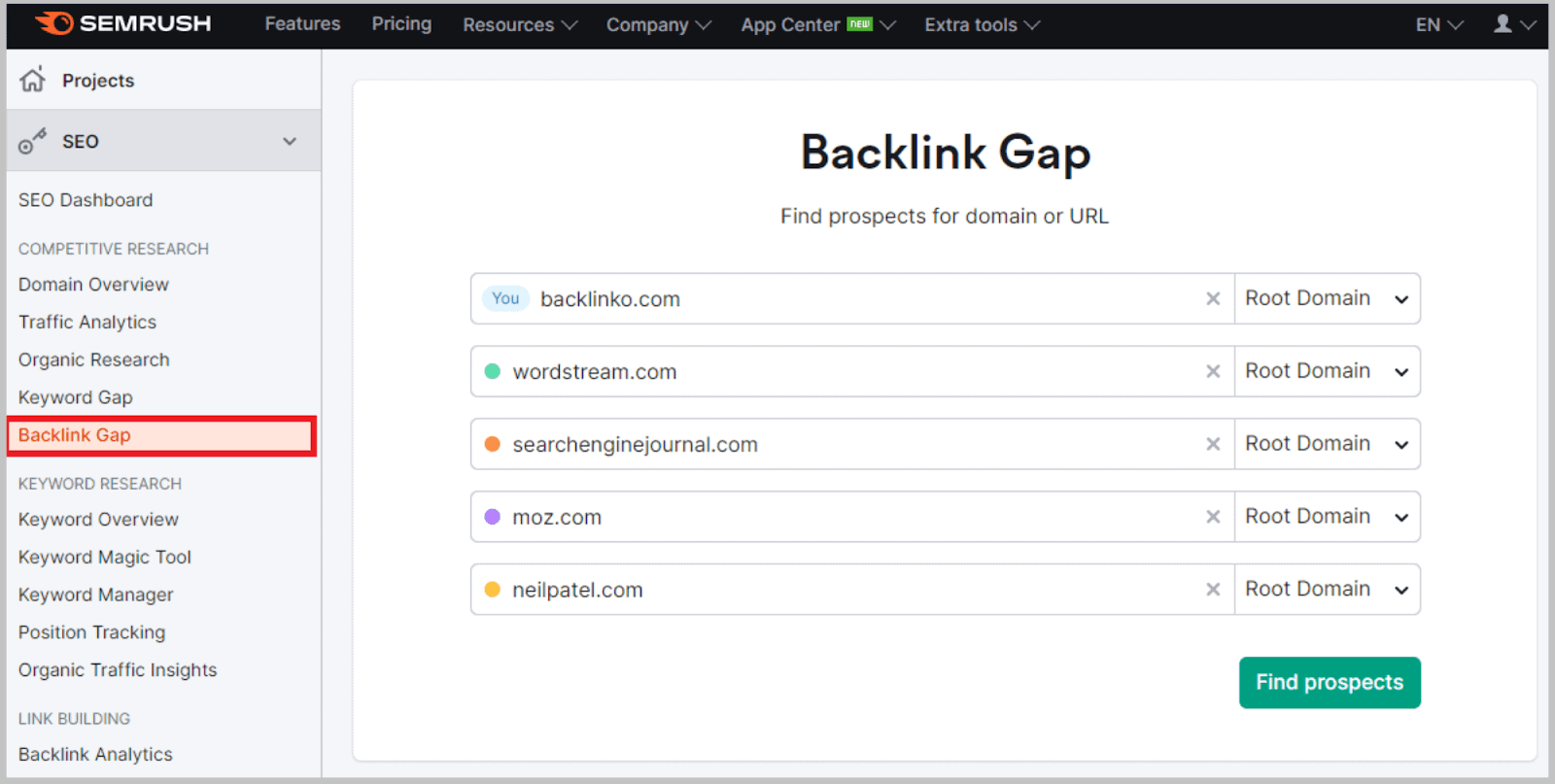 After you hit the 'Find Prospects' button, you'll see a list of all the URLs entered's referring domains. These are naturally organized in order of authority.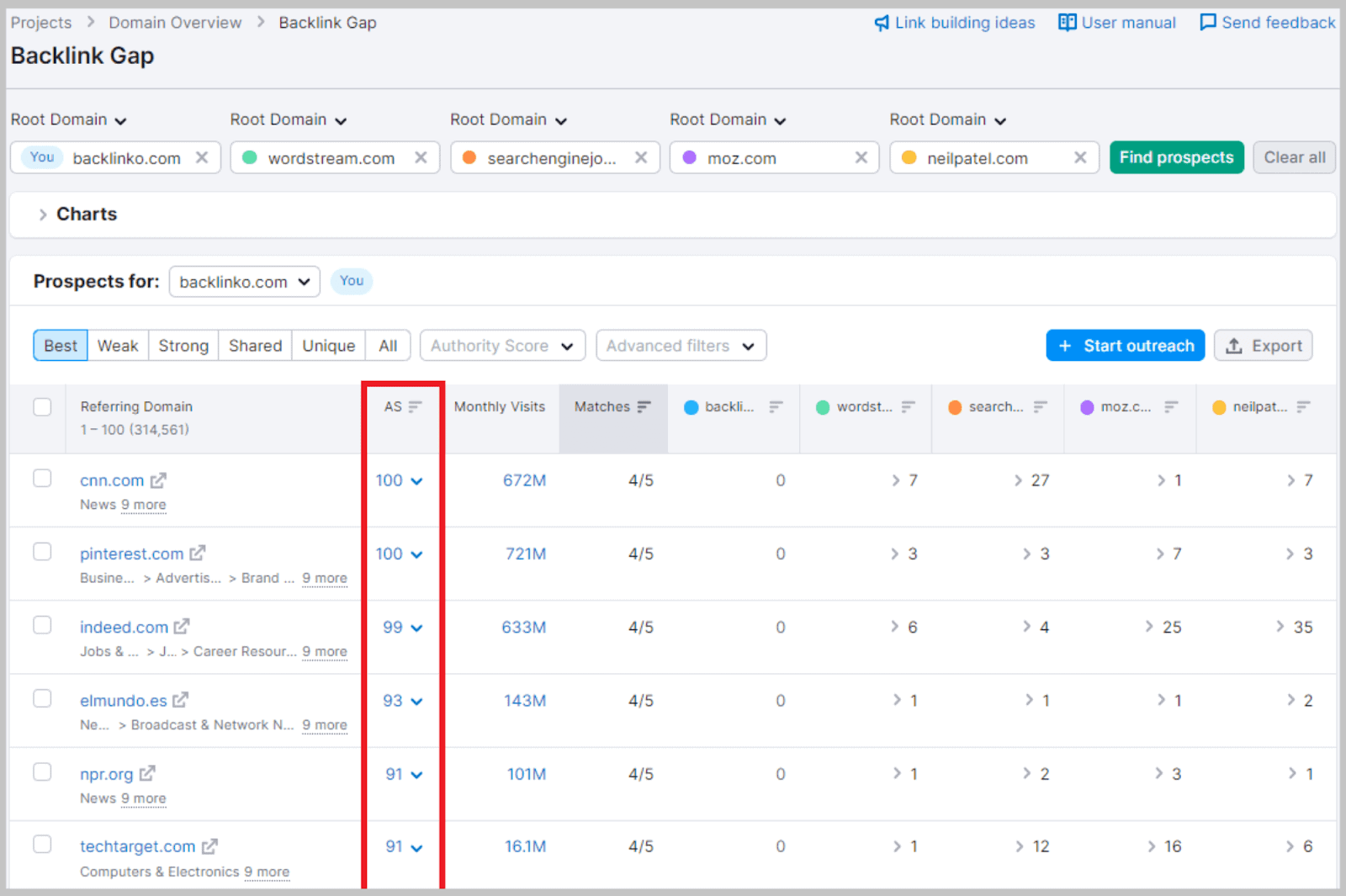 But, what can you do with this information?
You can use the tool to identify your backlink gaps—hence the title!
To do this, select your domain from the 'prospects for domain:' dropdown menu.
By clicking on the 'Best' filter, you can view the referring domains that your four competitors all share.
Check out the authority score and monthly visits of each. You could also visit the referring domains to determine how easily you could gain backlinks from them.
Bulk Analysis
Ever wondered how all of your competitors size up to one another in terms of backlinks?
Well, this tool allows you to compare a whopping 200 URLs at one time.
Once you've entered the URLs, this tool will compile a table detailing the exact number of backlinks each domain has.
This allows you to take stock of your competitors' backlink achievements and determine how far you've still got to go with your own.
It also shows the type of backlinks each domain has, such as text, images, and so on.

How to use it:
To add domains to Bulk Backlinks, type them out one per line in the text box and hit the compare button.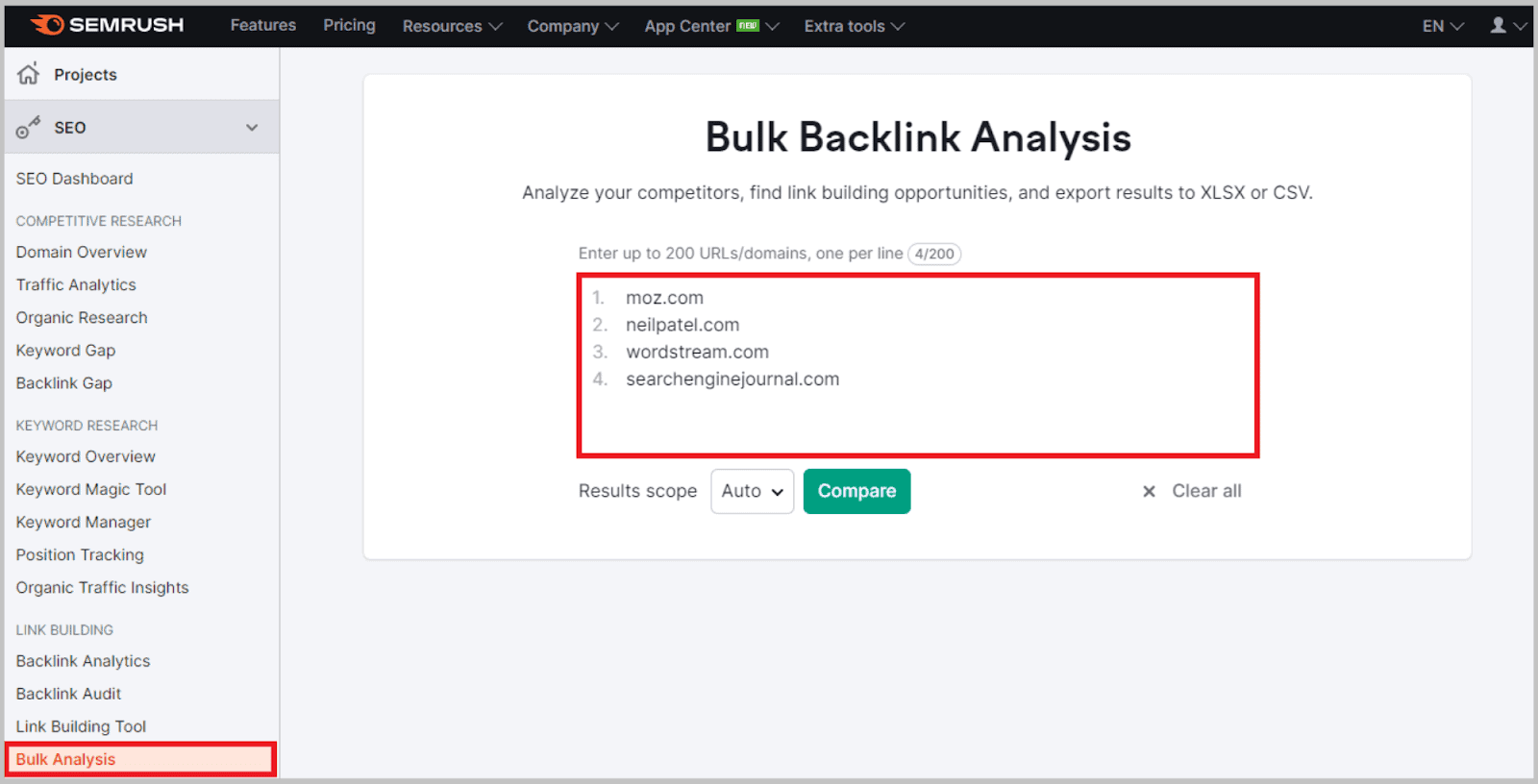 Each competitor will then appear in the table, allowing you to see their authority score, number of backlinks and referring domains, and how much traffic they receive.
Further along, you can review the domains' dofollow to nofollow link ratio. You'll also see the ratio of the types of links (text, image, form, and frame).
Other available metrics include the number of referring IPs and the number of links acquired from educational, governmental, .com, .net, and .org sites.
On Page & Tech SEO
You can use the On Page and Technical SEO package to give your domain a health check-up. It has tools to audit and analyze your website accessibility.
You can use these tools to identify and fix errors, which will improve user experience and make your domain more crawlable.
Here's what you can find in this toolbox:
Site Audit
You can also use Semrush to help with SEO site audits.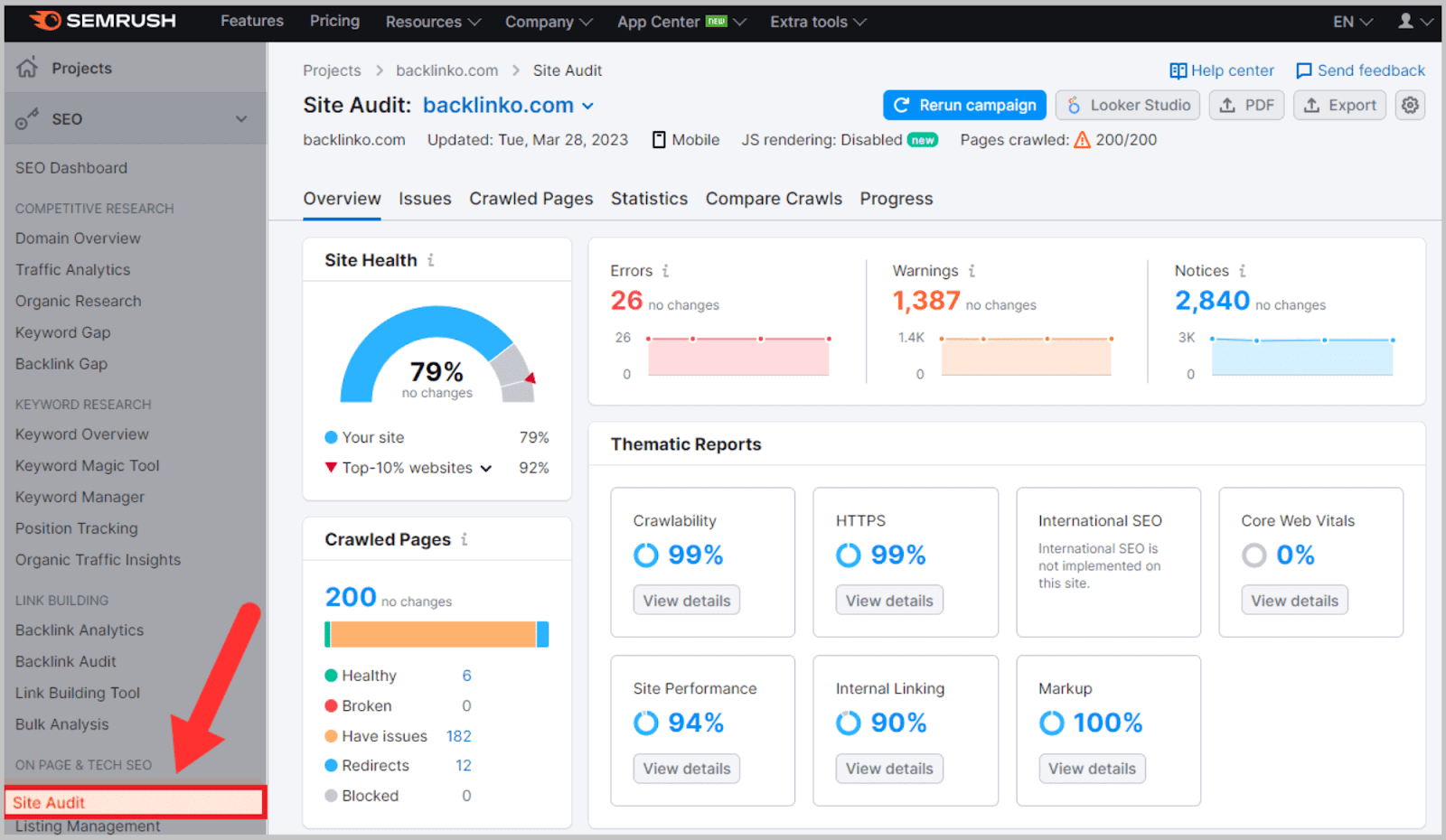 Specifically, you can identify serious errors that can impact your on-page and technical SEO.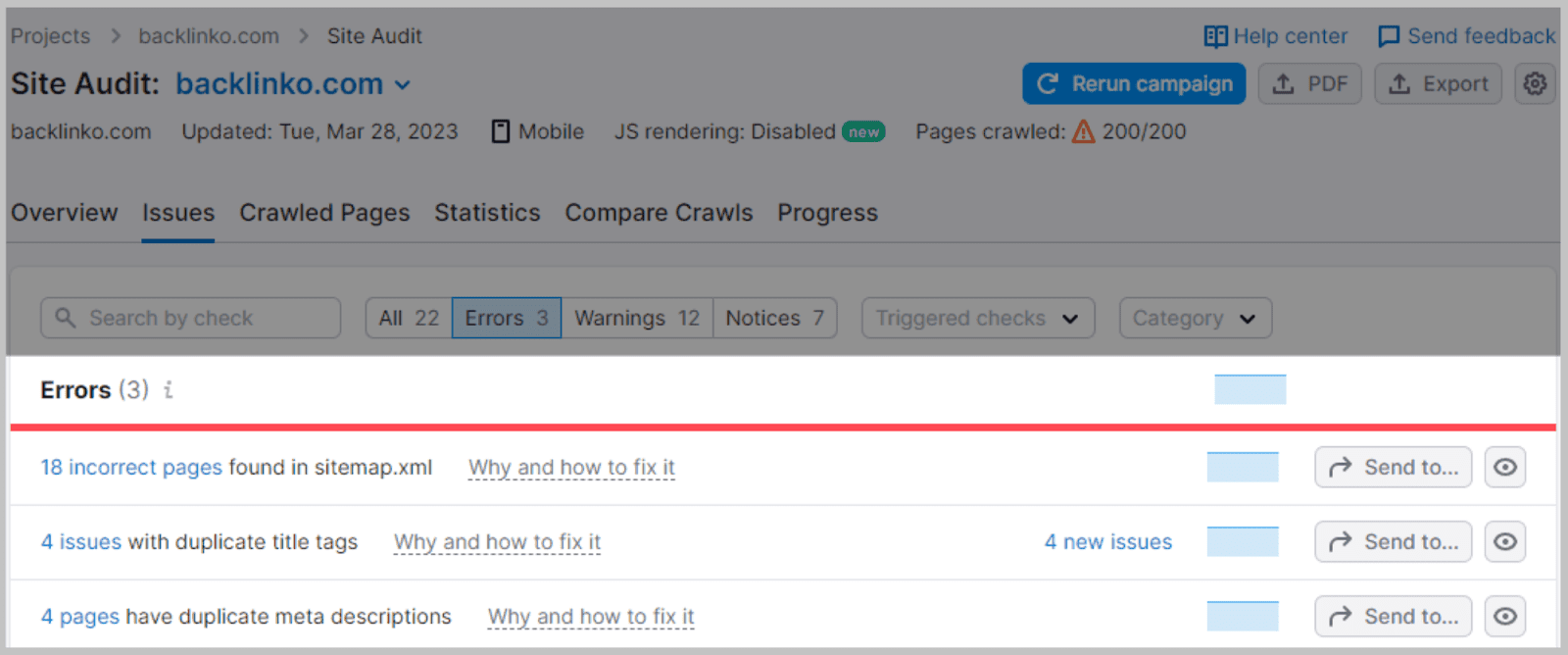 You can also review "Warnings" of things that aren't super important… but might need a fix.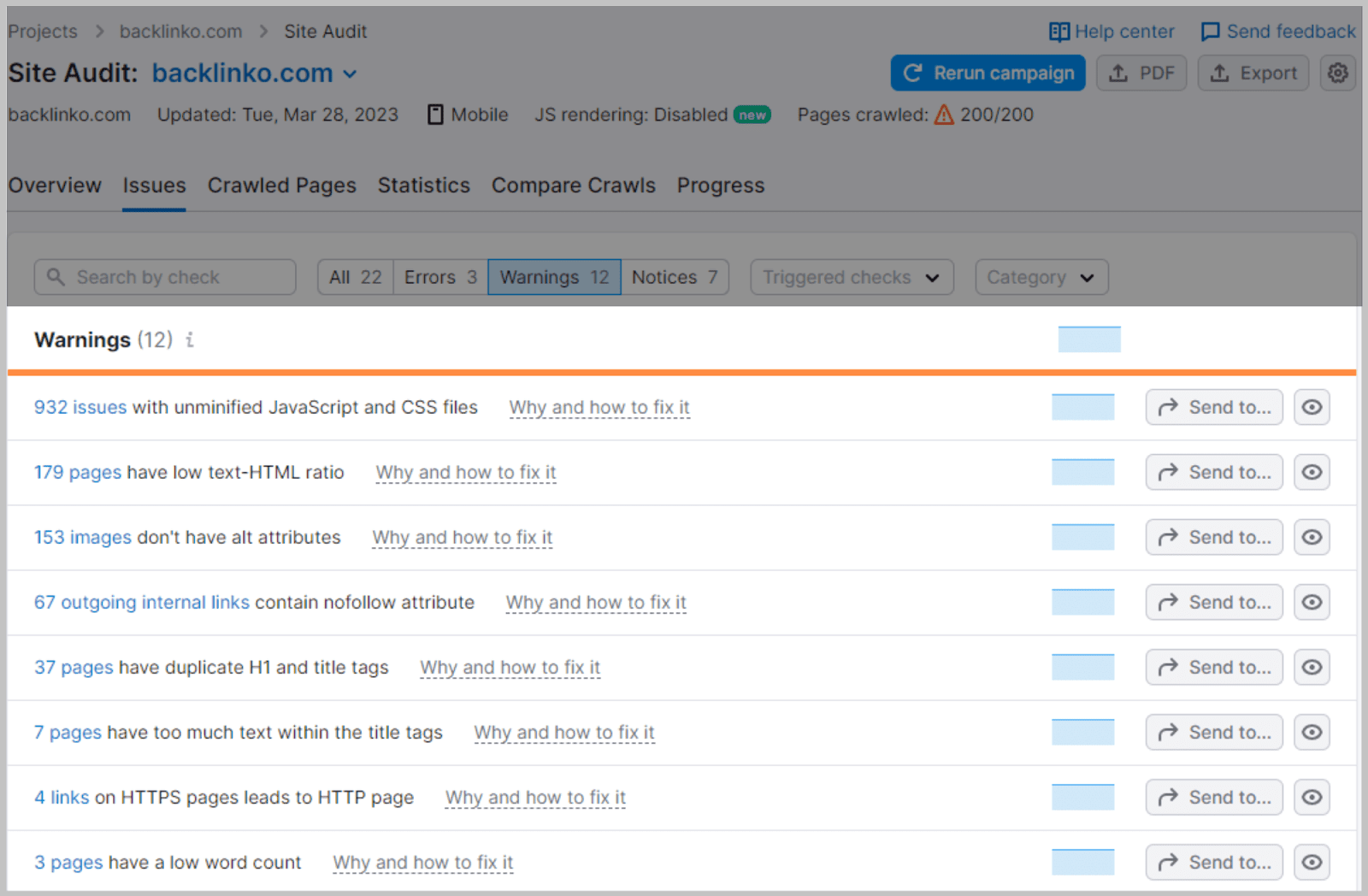 What's really cool about the Site Audit tool is that you can compare crawls: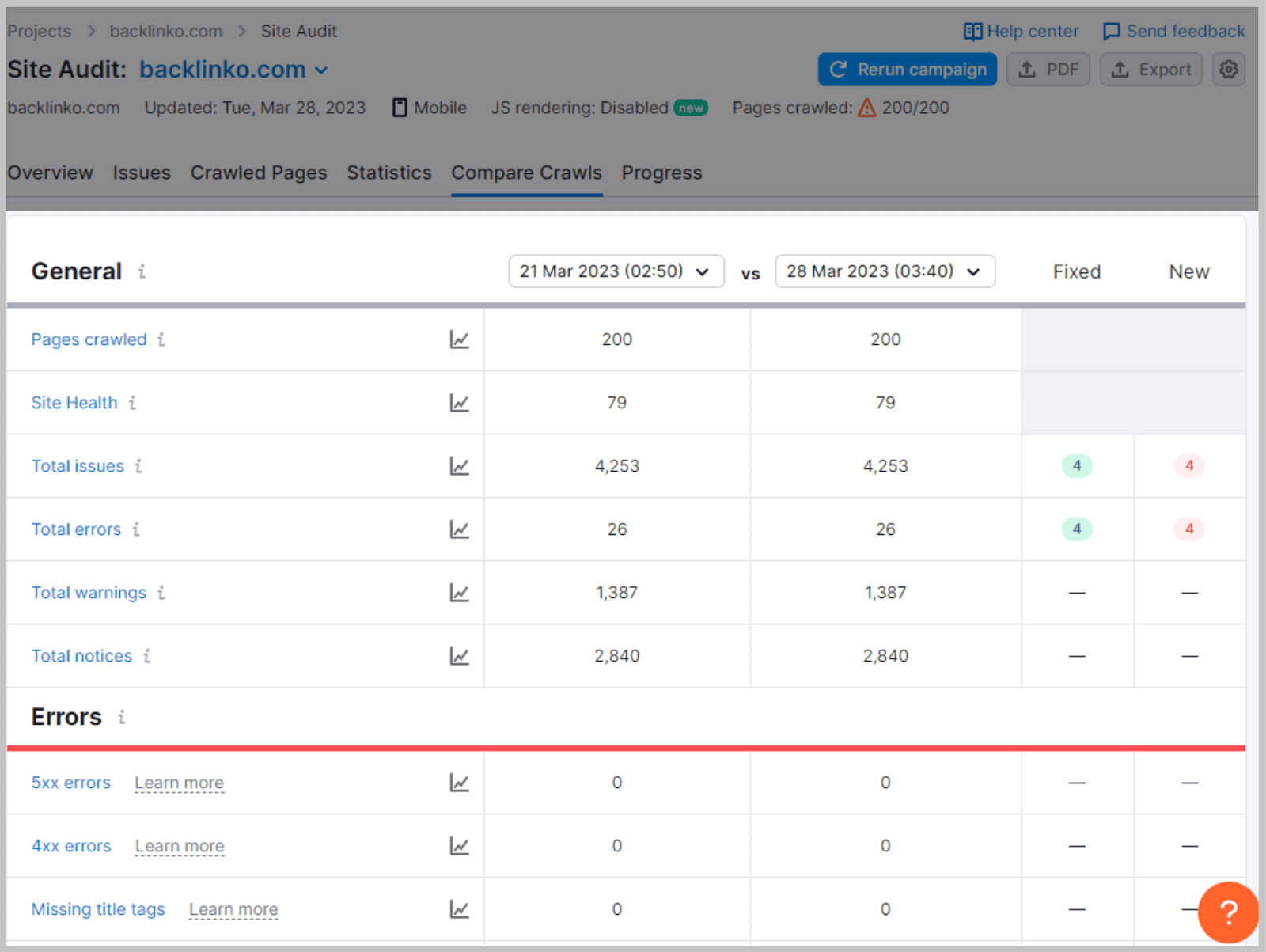 That way, you can see how your site's on-page and technical SEO health changes over time.
But my favorite part of Semrush's SEO audits is that they run automatically.
You don't need to remember to run an audit every few months; you can see your report on your dashboard every time you log in. Very convenient, Semrush.
On Page SEO Checker
On Page SEO Checker analyzes your content for traditional on-page SEO (like title tags and H1 tags).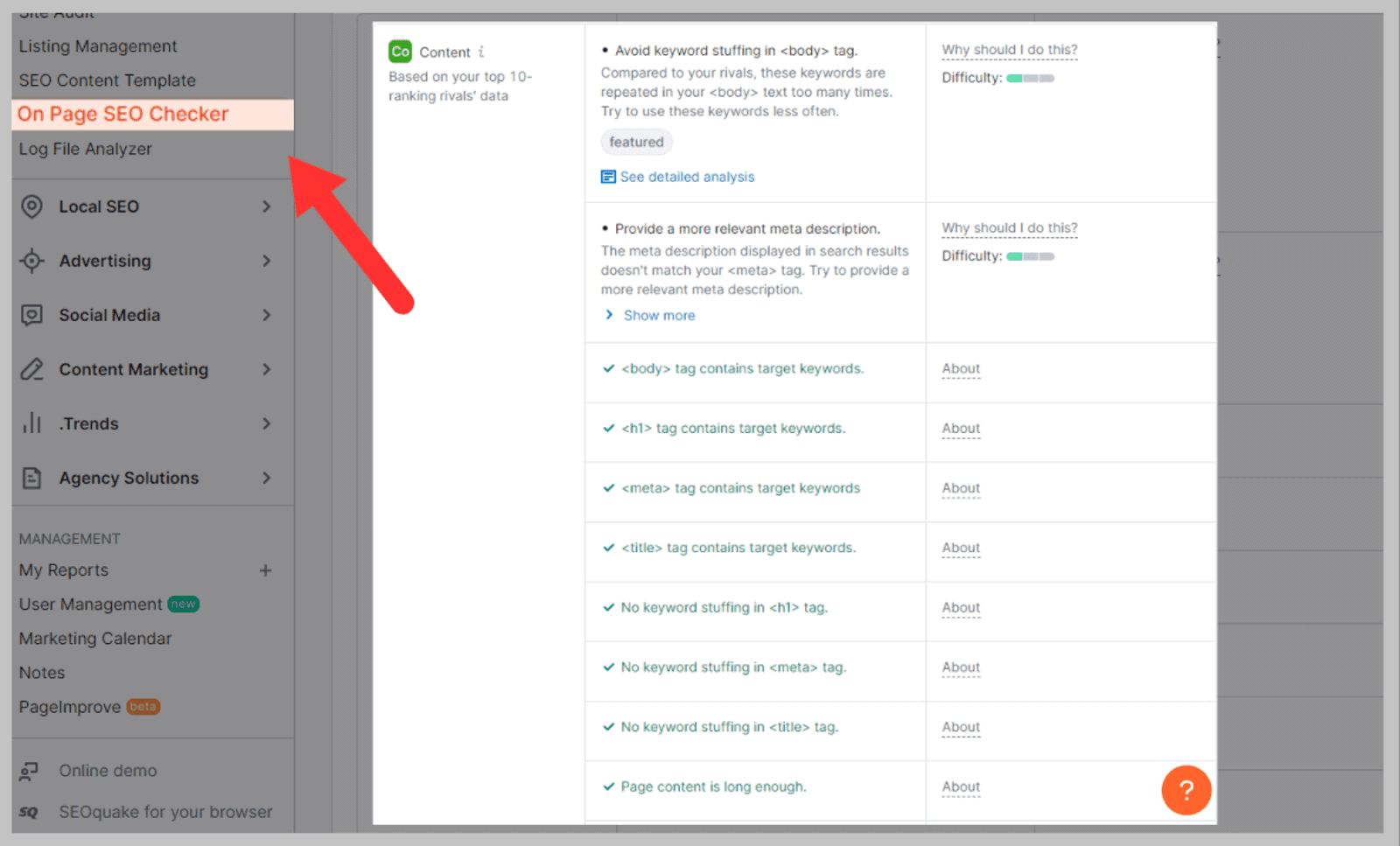 But it also lets you know about semantically-related terms that you should include in your content.
And sites that you should try to get backlinks from.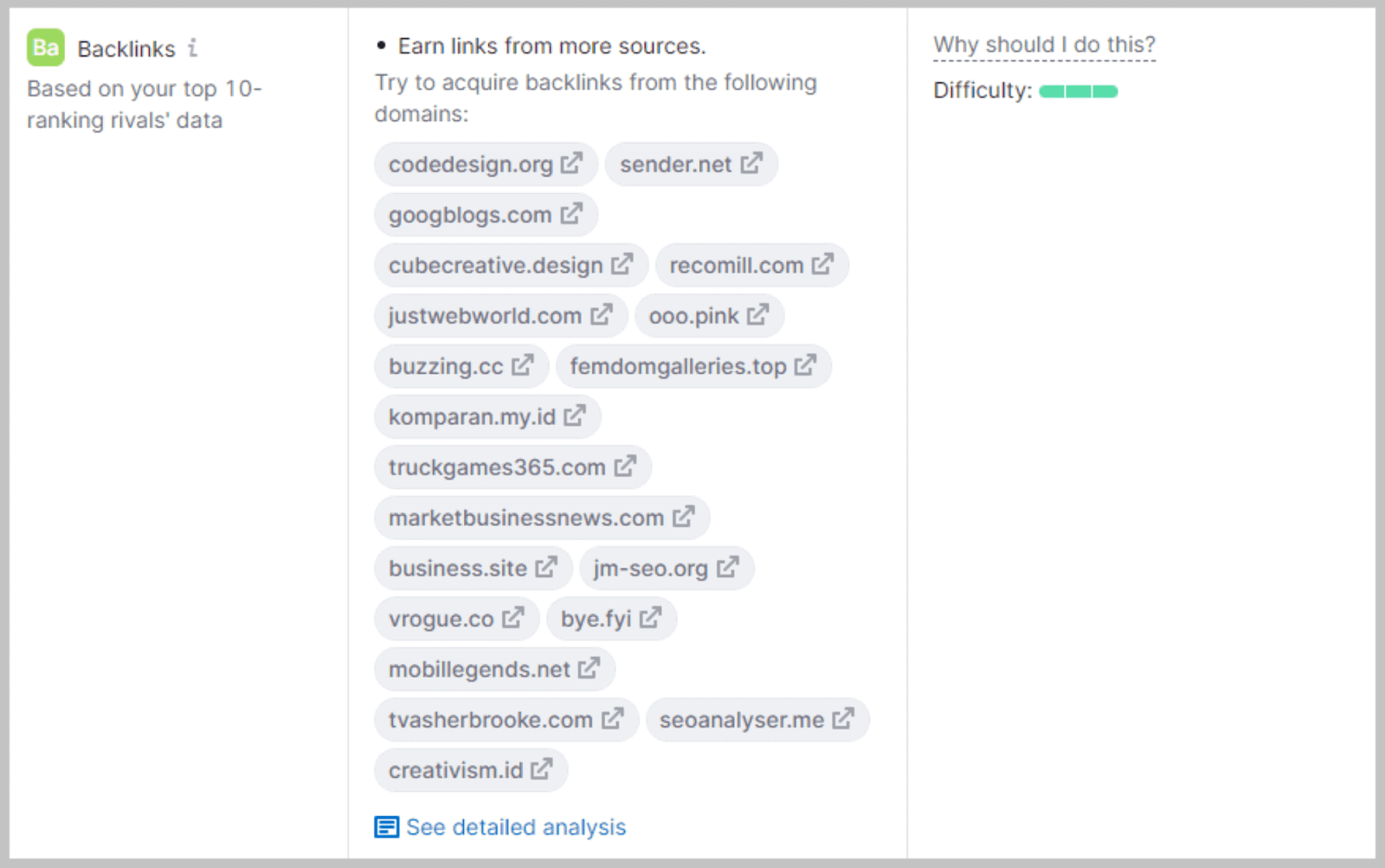 Why it's useful:
The On Page SEO checker is useful as it works as a checklist of things you can do to better your SEO strategy.
Instead of haphazardly building your website, using the On Page SEO Checker creates parameters and identifies focus points.
It brings structure and order to the chaos that defines many SEO strategies.
The On Page SEO Checker highlights backlink requirements, target content length, and user experience recommendations.
Data can be imported from both Google Search Console and Google Analytics to improve the accuracy and reliability of the Checker's suggestions.
Log File Analyzer
Log File Analyzer determines how Googlebot interacts with and crawls your website.
For a new webpage to get indexed and start ranking, it needs to first be crawled by Googlebot.
When crawling a domain, search engines have a limited 'crawl budget' to spend.
The Log File Analyzer can figure out search engine bots would spend this budget on your domain.
It highlights your most crawled web pages and how bot activity differs on the desktop and mobile versions of your site.
Why it's useful:
There are many ways to economize your given crawl budget. You could improve your website's architecture, improve site speed, or tactfully insert internal links.
But how do you know where to begin?
The Log File Analyzer can help you identify the weakest parts of your website structure. It highlights navigational issues that are preventing Google from finding and crawling your important pages.

How to use it:
To use the Log File Analyzer, you need to get the log file for your domain. You can get your log files using an FTP client. You'll find them in your/access_log/ or /logs/ folder.
Pro tip: Ensure that this file is in the access.log file format and is unarchived.
You also need to make sure that your log file size is below 1 GB, as the Analyzer won't accept anything bigger than this.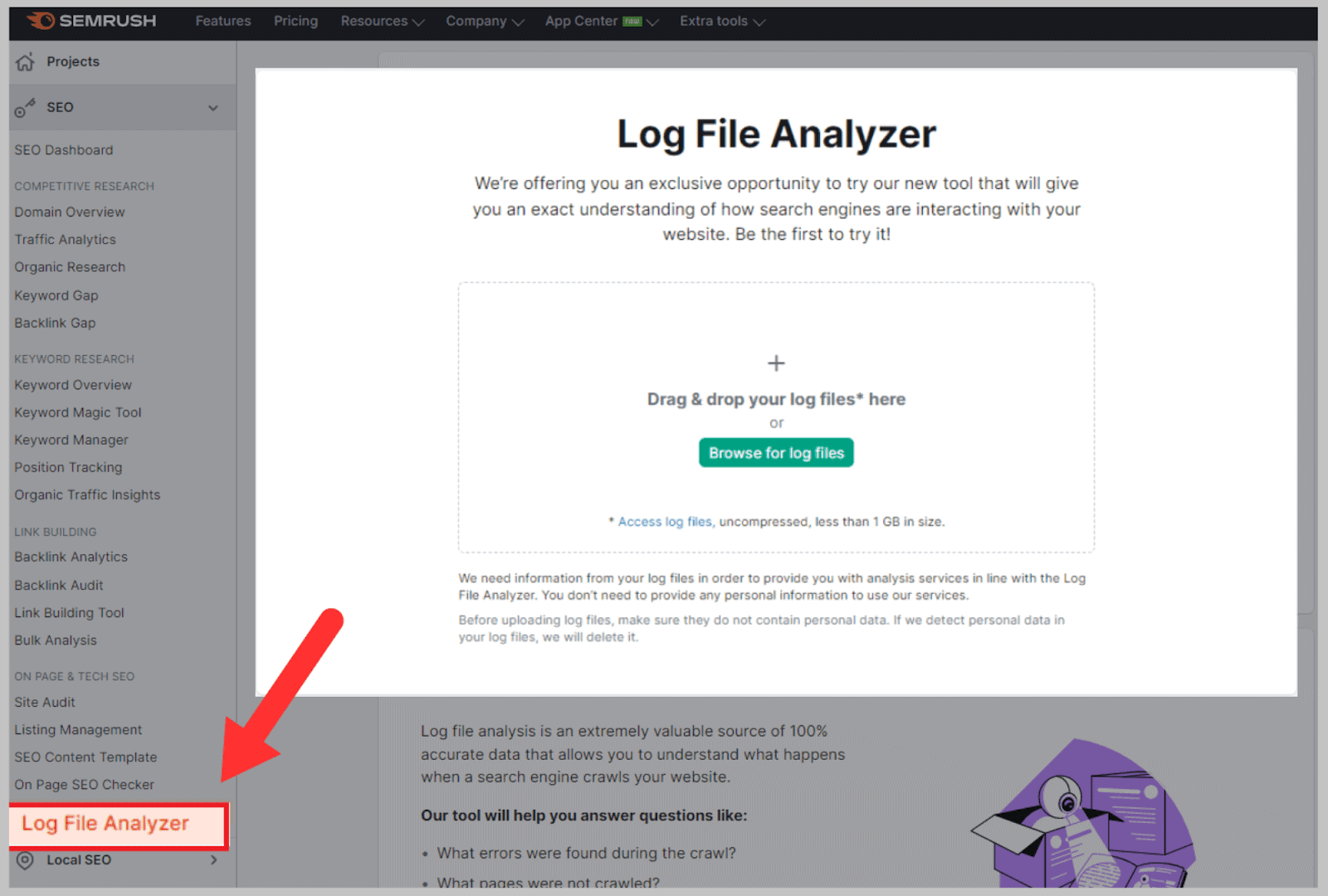 Once uploaded, you can review Googlebot activity on your pages over a chosen period of days. With this, you'll be able to identify site errors and the pages that aren't getting a lot of attention.
Local SEO
The Local SEO feature consists of two main sections: Listing Management and Review Management.
These allow you to effectively manage your online business reputation on a local level.
Listing Management
Listing Management helps establish and maintain your local listings.
If you're yet to submit your business data to directories, Listing Management can do it for you.
Through it, you can register your business with over 70 directories in the US and 40 international ones. This includes major platforms like Amazon Alexa, Google, Bing, and Apple.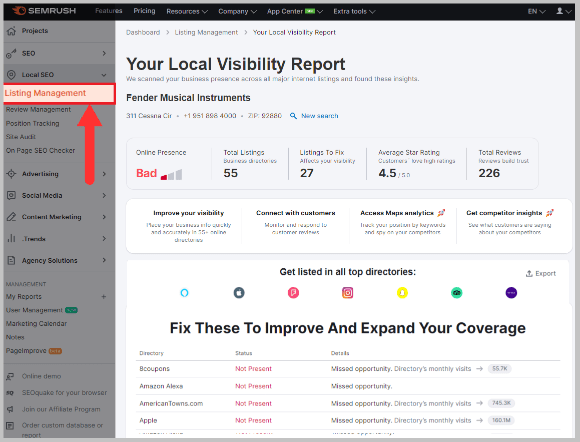 By editing your business data in one place, you avoid discrepancies in NAP (Name, Address, and Phone number) data that are common when submitting data to multiple directories.
It also makes it simple to update and edit all of your listings as your business grows and expands to new locations.
Additionally, this tool provides listing review statistics.
It shows you how well your site performs in local searches and how easily prospective customers can find your physical store.
Review Management
The Review Management tool collects all of your business directory reviews.
With it, you can review how your online reputation appears overall.
The tool organizes the reviews in terms of star rating, as they would appear on the directory site.
So, you can scroll through your latest reviews easily.
From the gathered data, Review Management also creates graphs and charts to reflect when you received each review.
There's also a graph to show your overall star rating:

Review Management is useful because all reviews can be read from the tool.
If you feel inclined to reply to a review, you can click on it. This will lead you to the exact review on the directory it was posted.
If you like to keep on top of your replies, check on the Reply Rate widget.
This widget reflects how many reviews are currently without a reply. When it reads '100%', it means all your current reviews have been replied to.
Advertising Toolkit
About to launch some Google Ads? Semrush's Advertising Toolkit can help get your campaign up and running.
Better yet, it can help you overtake the competition and secure conversions.
With competitor analyzing tools, the Advertising Toolkit can help you devise unique and timely ad copy.
In the Advertising Toolkit, you'll find five sub-features: Advertising Research, Ads History, PPC Keyword Tool, Display Advertising, and PLA Research.
Let's take a closer look at the key tools that this kit comprises:
Advertising Research 
Most people use Semrush strictly for SEO campaigns.
But it's actually a REALLY good PPC tool.
(Especially if you want to copy a competitor's keywords and ad copy.)
Specifically, you can see which keywords your competition bids on most often: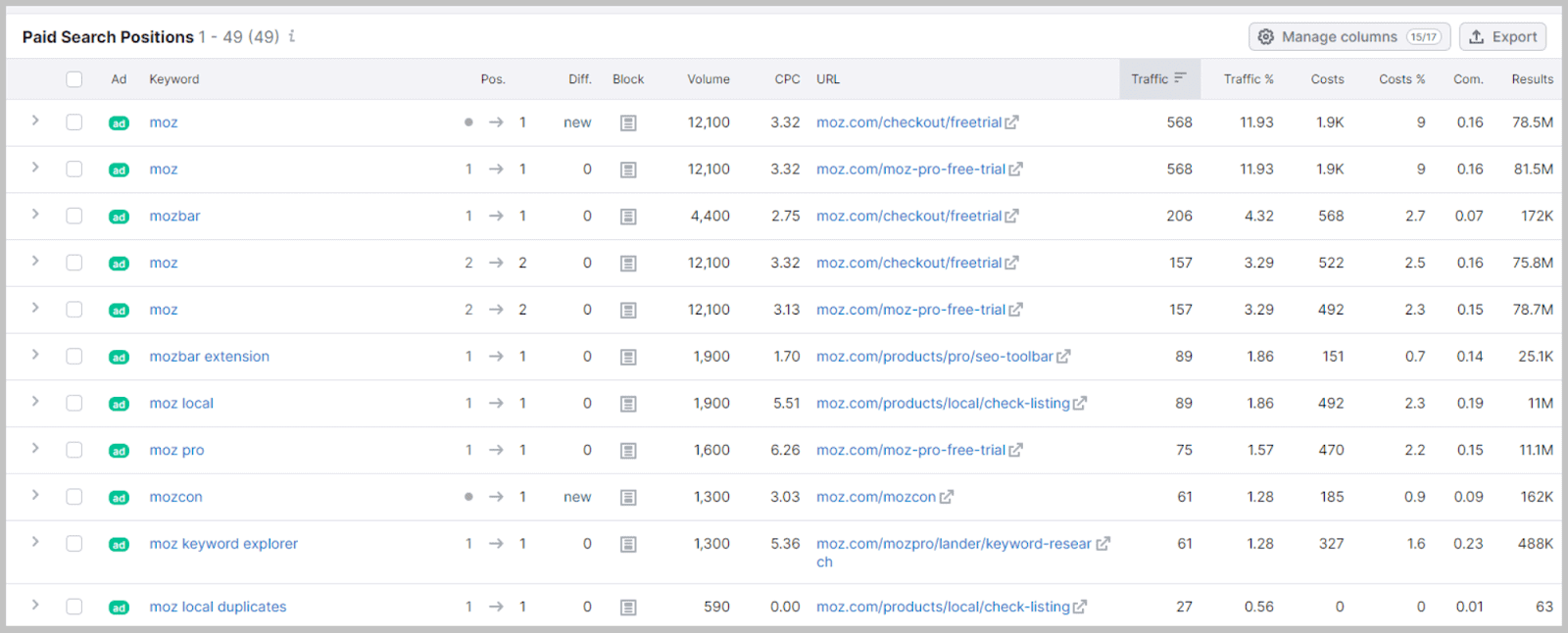 (In this case, you can see that Moz bids a ton on branded terms.)
But they also bid on targeted non-branded queries: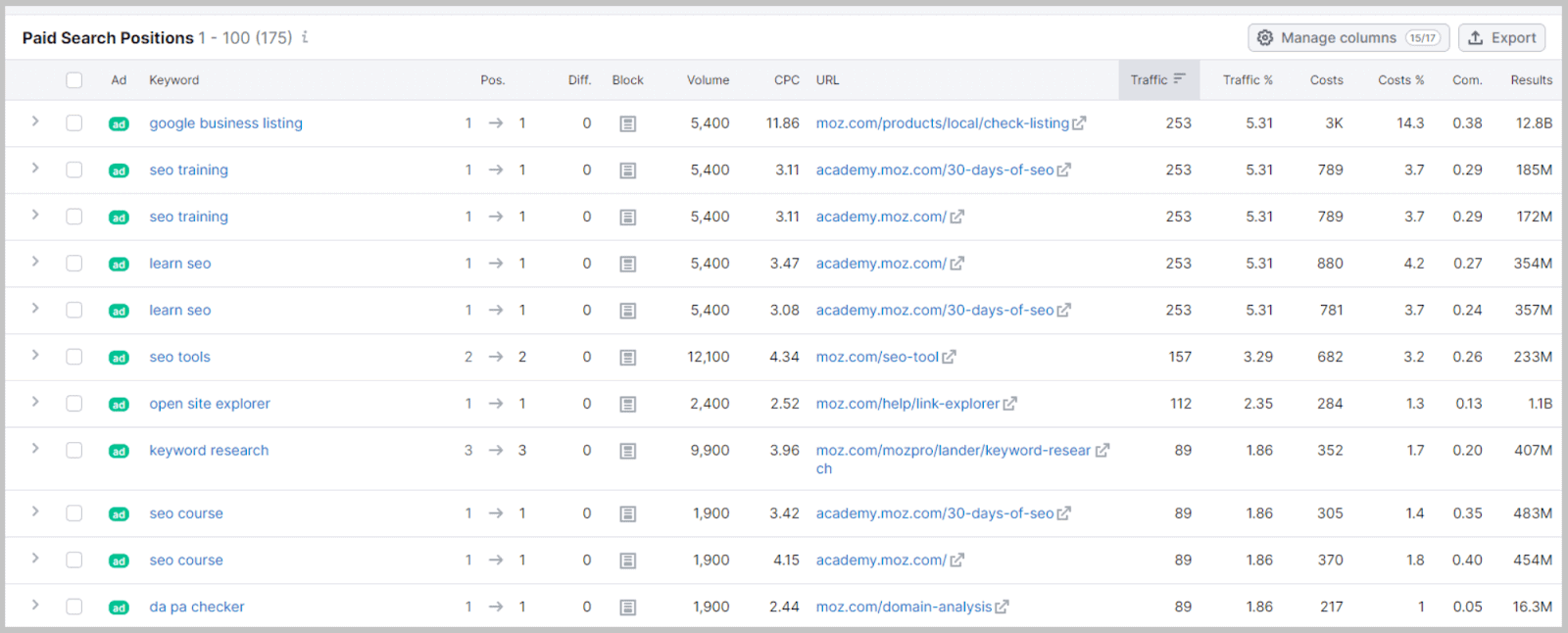 Even better, you can see the exact ads that they're running on those terms: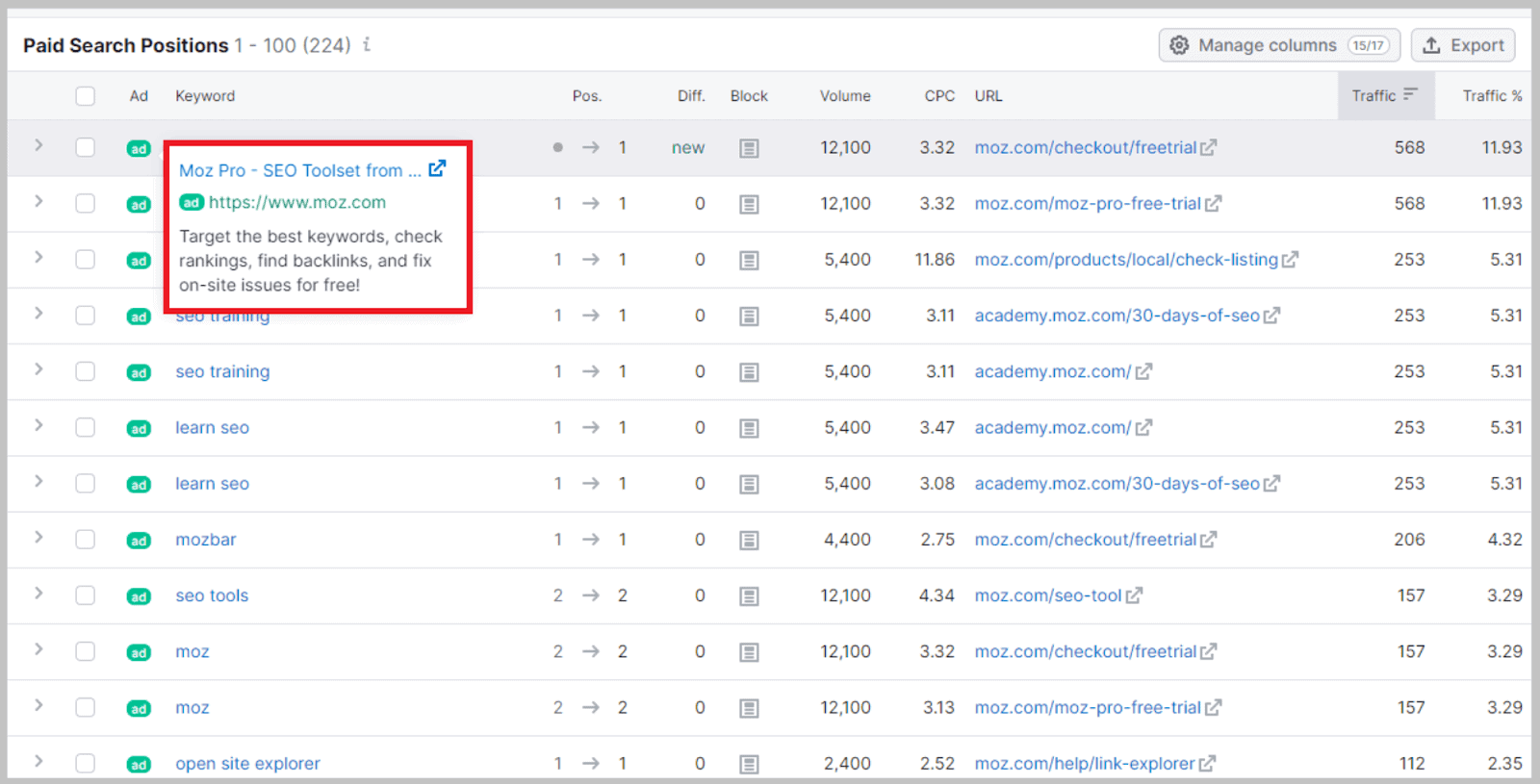 And if you find an ad that's been running for months or years, you KNOW that it's probably got an excellent Quality Score.
So if you use some of the same copy in your Google ads, you have a good chance of replicating their results.
Additionally, you can get an estimate of how much your competition spends to run ads.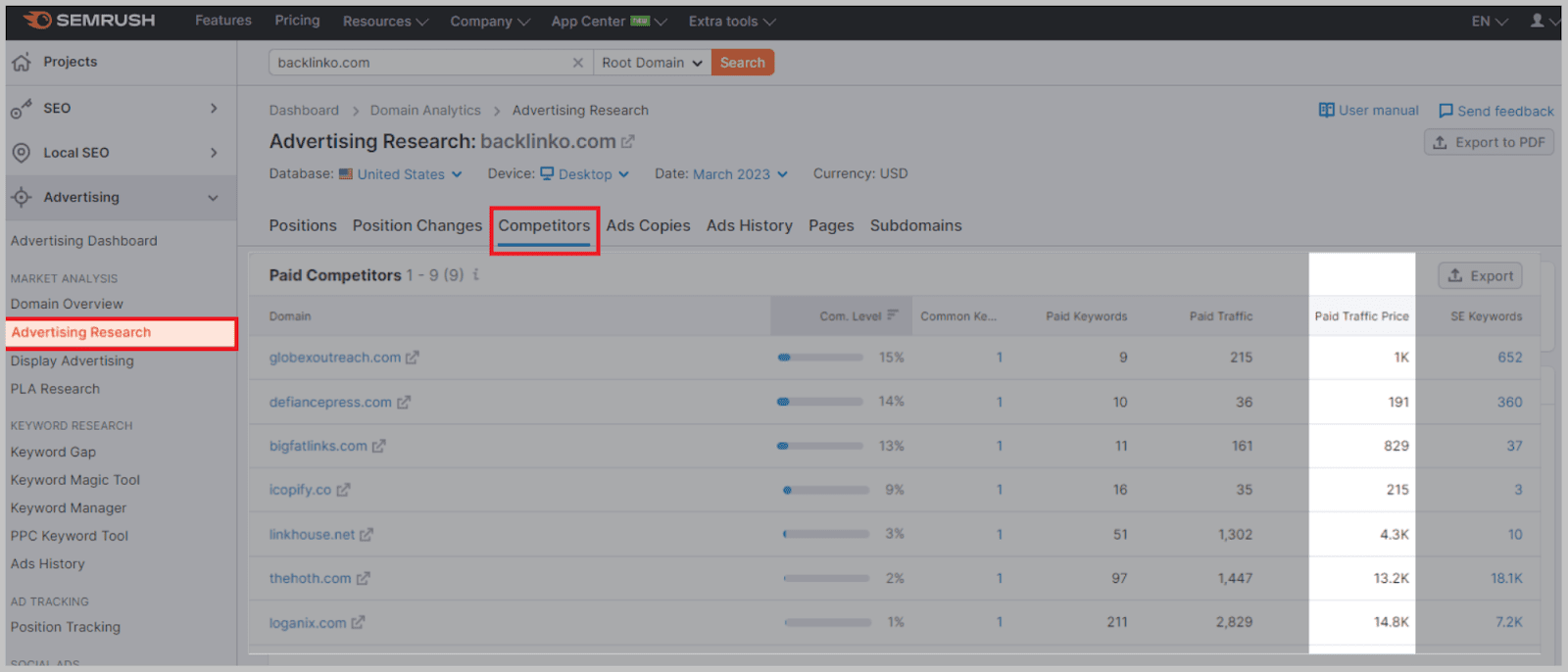 You can even get an idea of how these bidding habits change throughout the year, using the Ads History section.
How to use it:
Put in a competitor domain URL in the Advertising Research bar.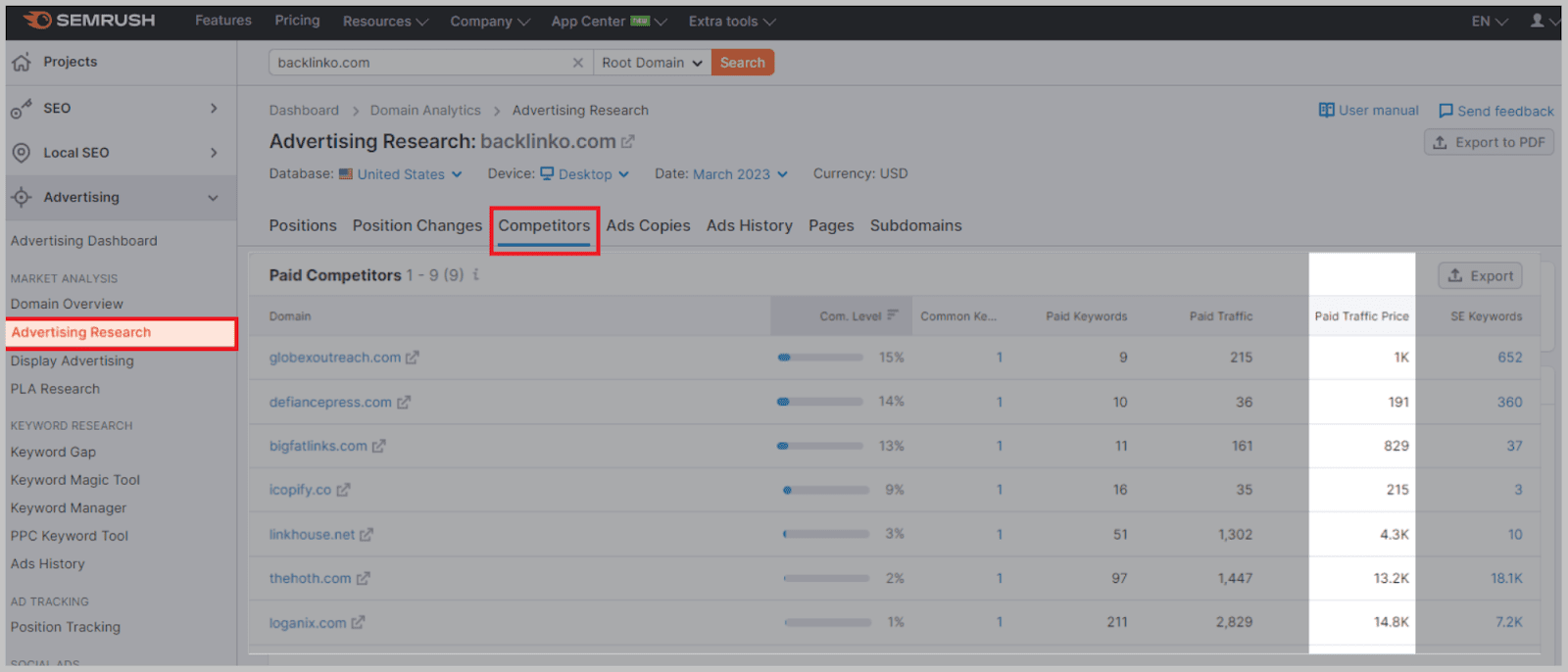 On the dashboard that appears, you'll see the graph for 'Positions' tab as default. You can alter this graph depending on what you want to find out about your competitor's ad campaign.
The options include 'Estimated Traffic', 'Keywords', and 'Traffic Costs'. The graph can also be changed to show how these aspects have changed over a month, 6 months, a year, and two years.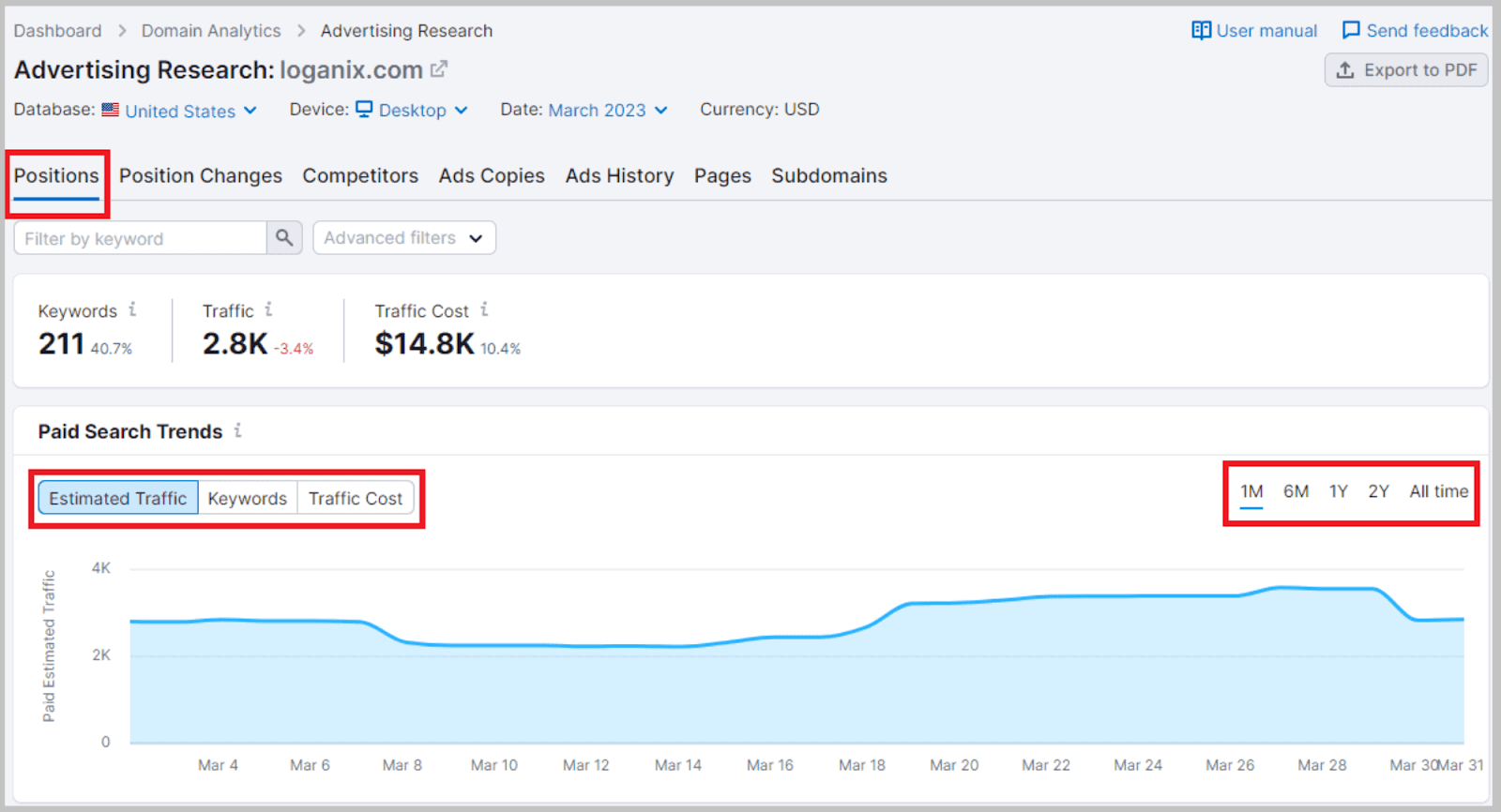 The next tab is 'Position Changes' which will show you how the domain's campaign position has improved or declined over a set period.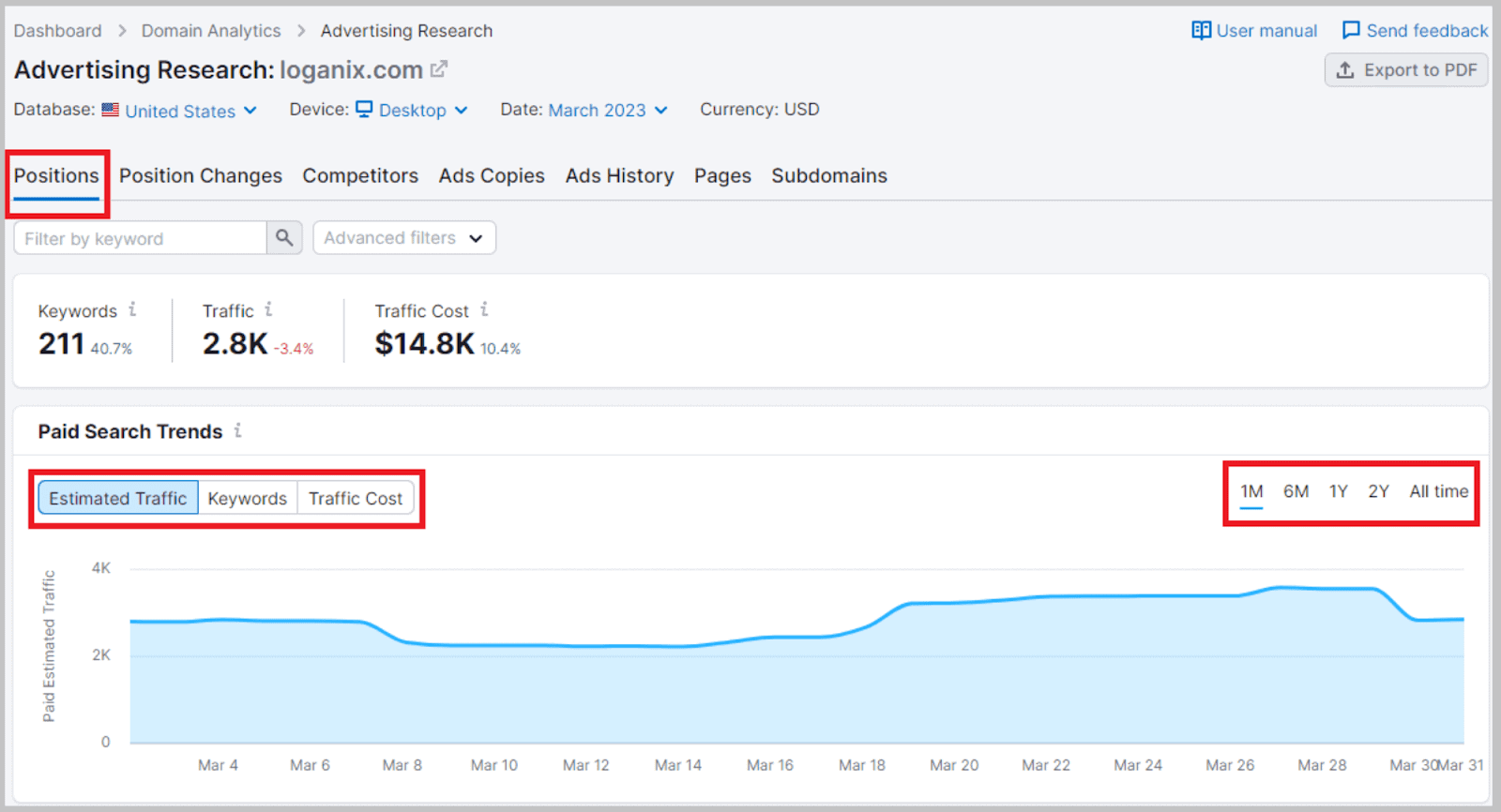 'Competitors' is far more interesting. Here, you'll find the Competitive Positioning Map.
This captures the spending habits of all the leading sites in your niche, which gives you a clear idea of how to budget your own PPC campaigns.
In 'Ad Copies' you can review the competitor's ads that are currently live. From this, you can learn how to word and structure your PPC.
'Ad History' shows you how the domain alters its ad campaign over the course of the year. Again, this could help you time your own campaign to take advantage of months when the competition promotes their product less.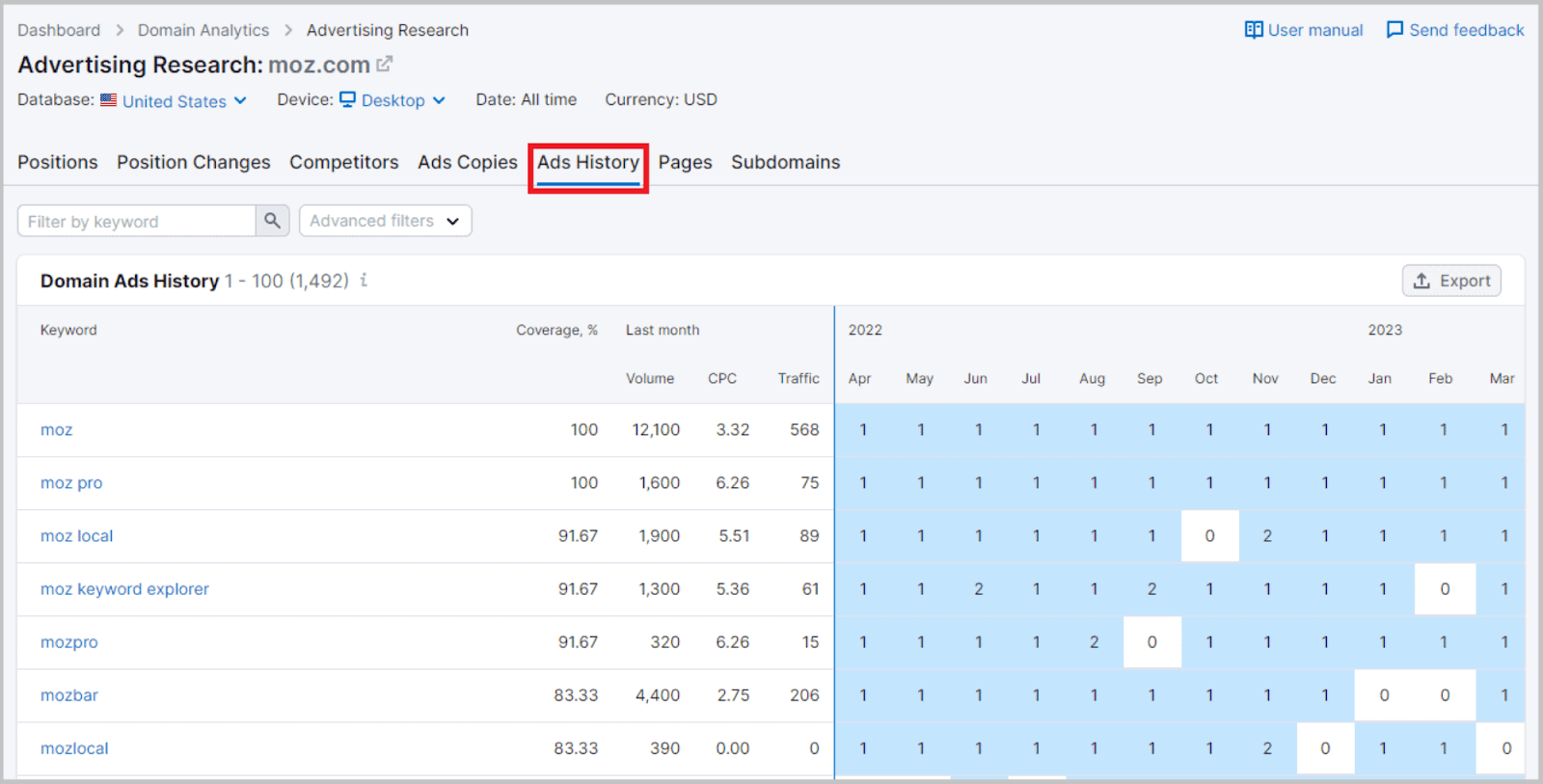 You can also review 'pages' and 'subdomains' that the ads are directing traffic towards.
PLA Research
Before you launch a Google Shopping ad campaign, you can gain a sneak peek of your competitors' SEO efforts via the PLA Research tool.
The PLA (Product Listing Ad) Tool analyzes a given domain's Google Shopping ads.
This tool will gather data on target keywords used, shopping ad positioning…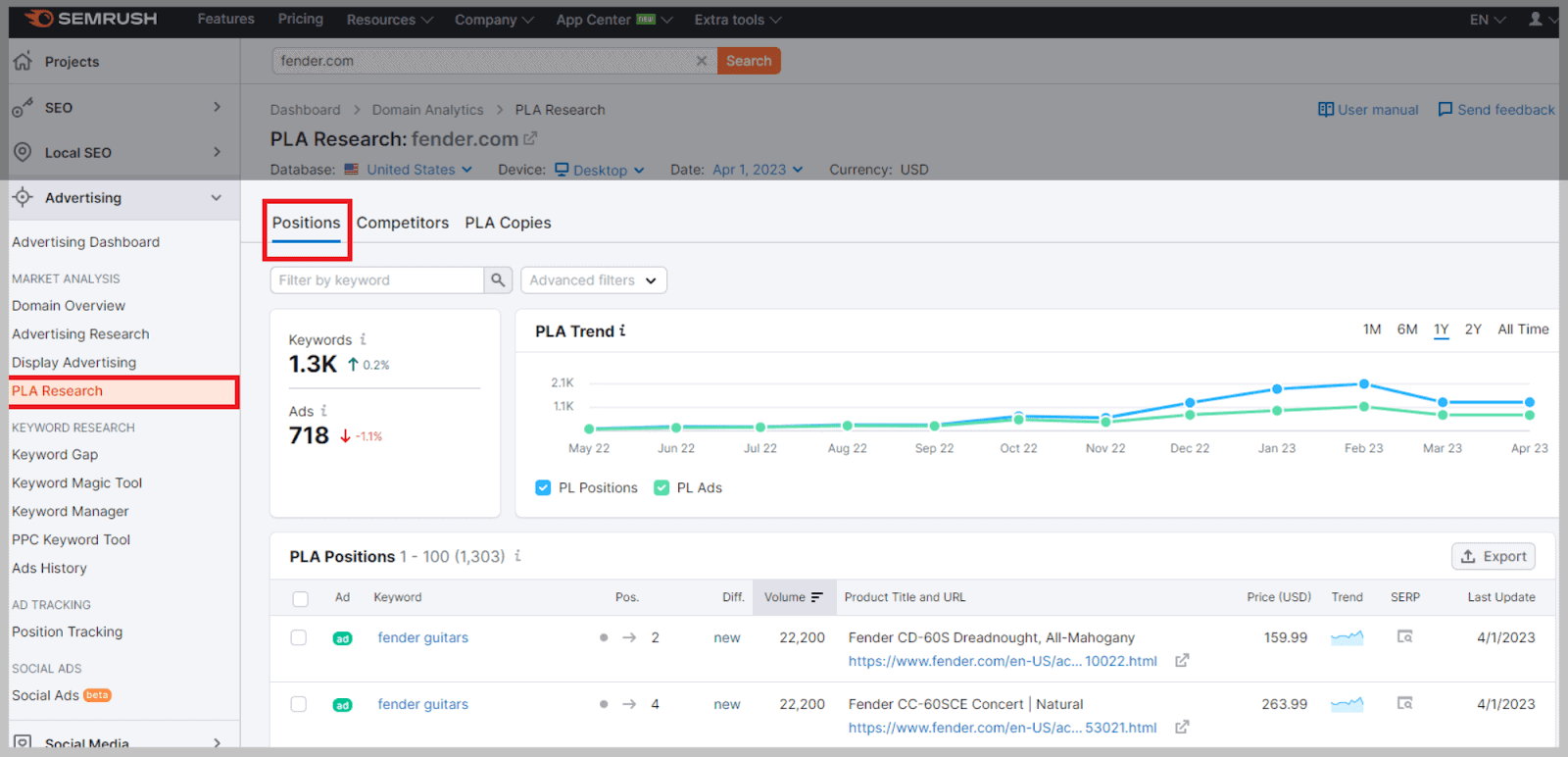 …and product prices.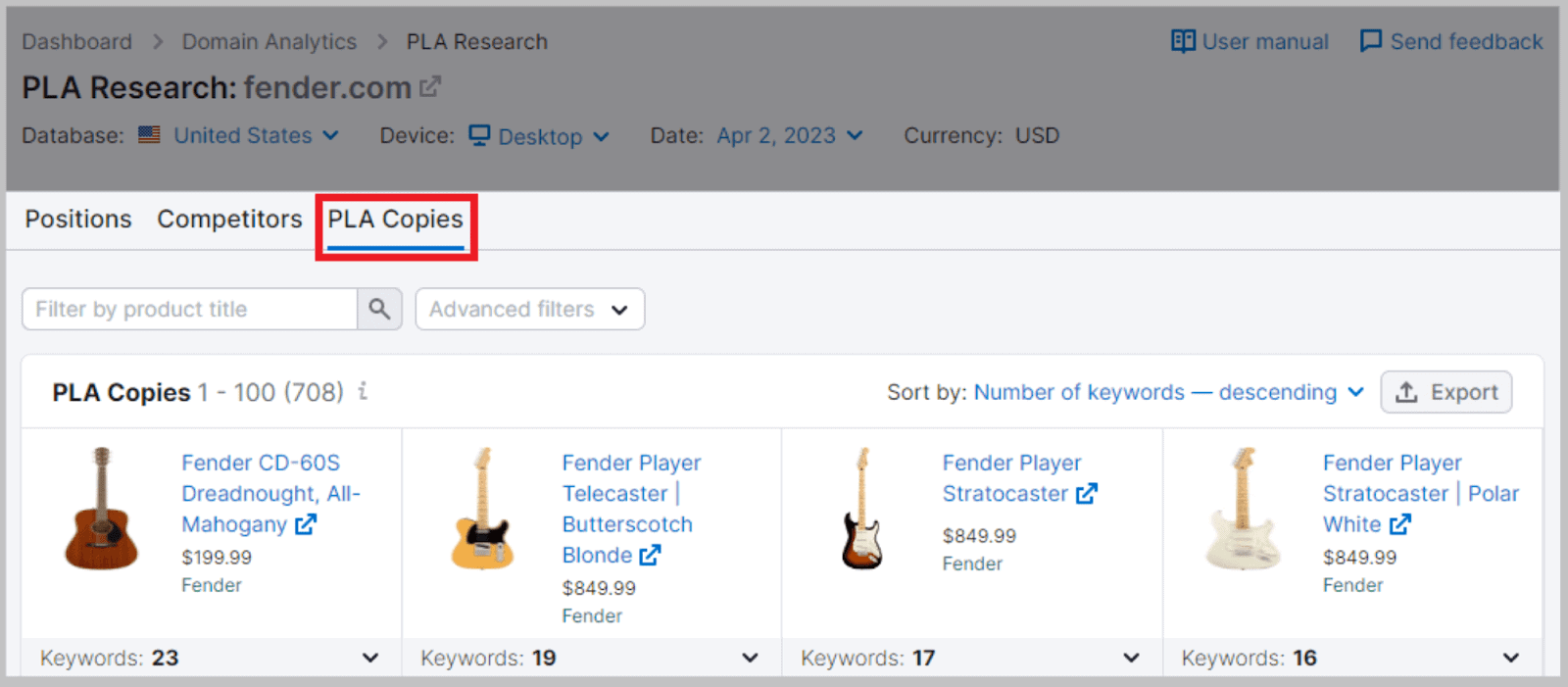 It will condense this helpful data into an easily digestible report for you to review.
With this data, you can better strategize your own Google Shopping ad campaign.
It also gives you a better idea of what you should be selling.
PPC Keyword Tool
Once you identify keywords in Ads History and the Keyword Magic Tool, you can transfer them over to the PPC Keyword Tool.
With the PPC Keyword Tool, you can organize all your keywords in preparation for a successful Google Ads campaign.
It serves to highlight strong keywords and also find negative keywords.

Despite their name, negative keywords are actually healthy for your ad campaign.
Negative keywords are keywords that you don't want your site to rank for. For example, services and products that you don't offer, but that are often associated with your business and main keywords.
By adding negative keywords to your Google Ads campaign, you'll only rank for the products and services that you do offer.

Why it's useful:
The PPC Keyword Tool is super convenient.
Once you've organized the keywords you're going to use in a campaign, you can upload the keywords directly to the Google Ads editor.
Conversely, you can import an old Google Ads campaign into the PPC Keyword Tool to make improvements.
How to use it:
On the tool's dashboard, you can organize your keywords into campaign groups.

When you run a local campaign, the table will display CPC and search volume metrics based on your chosen location.
Above the top right-hand side of the table, you'll find the 'recommendations' button.

This will give you a list of keyword suggestions, which includes taking unnecessary elements from the keywords.
Ads History
Ads History allows you to review your competitors' advertising campaigns based on a specific keyword.
Once you enter the keyword that's going to serve as the basis of your ads campaign, you'll be able to view other domains that have used this keyword in their own ads.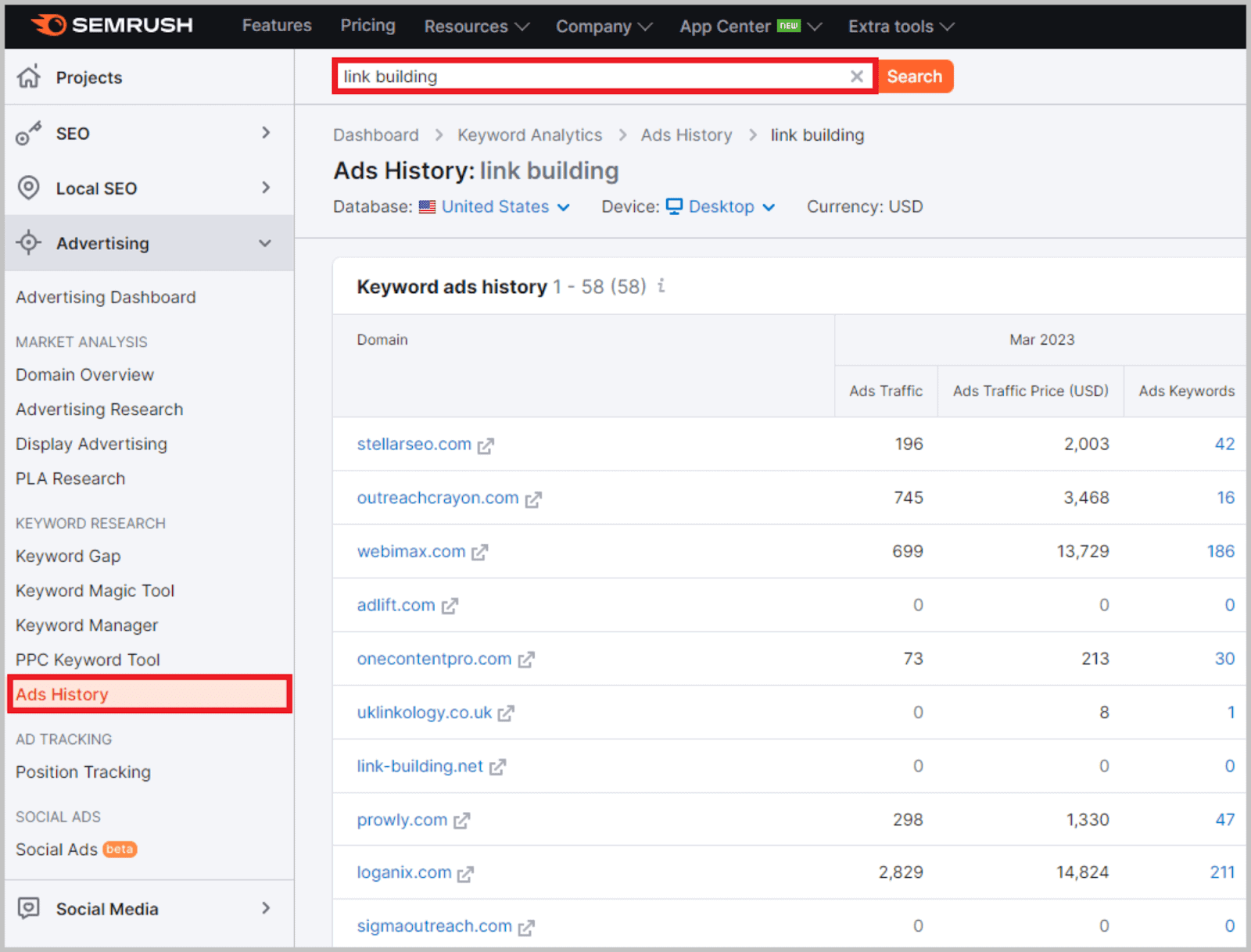 Specifically, Ads History details all the domains that used this keyword in one of Google's eight top-paid positions as part of a PPC campaign.
You can also review how much traffic each competitor pulls in from ads: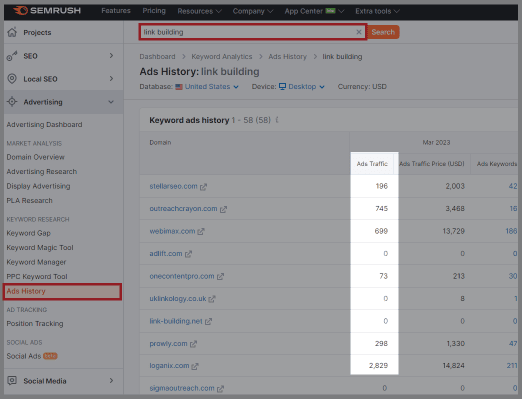 You can also view the price of this traffic as well as how many keywords have been used.
Why is this useful to your own Google Ads campaign?
Because analyzing past ads is key to acing your own.
Every aspect of Ads History results is useful to your own campaign — from successful past ads to failures.
The high-traffic campaigns can be studied for keyword inspiration, timing, and copy structure.
The low-traffic campaigns are useful as they highlight what to avoid.
Ads history is also useful for the following reasons:
View past ads
The biggest bonus of Ads History? It does some of the difficult keyword research for you.
Besides determining whether your keyword is likely to generate clicks, the tool also helps you find associated terms that your competitors used.
This means you can confidently ditch the keywords that don't work in ad campaigns, and focus only on the ones that do.
Identify trends
Not only can you see the success of a keyword at the time of viewing, but you can also see how it has performed throughout the entire campaign.
The calendar feature allows you to pinpoint when certain keywords prove most successful for ad campaigns.

Identifying these trends helps you time your ad campaigns precisely and catch seasonal traffic.
Social Media Toolkit
Search engines aren't everything. Social media needs your attention, too.
Semrush's Social Media Toolkit is a range of special features designed specifically to audit and help improve your business's social media presence.
Never underestimate the influence of social media on SEO — it's one of the best ways to improve online visibility!
Not only can it boost brand awareness, but it helps pull in more organic traffic and drives conversions.
Due to the overwhelming power of social media, Semrush introduced this Toolkit. This kit provides all the tools you need to schedule posts, analyze performance, and monitor messages.
The Social Media Dashboard gives you a quick overview of your social media statistics. Once you connect all your social media accounts, you'll be able to check your total audience and engagement levels.

Here's what else the Social Media Toolkit entails:
Social Poster
Sometimes, maintaining a social media presence can be difficult.
If you're a small business and don't have a dedicated social media manager, it's easy to forget to update the socials.
Social Poster ensures you never miss a beat with its scheduling calendar, which allows you to schedule posts weeks in advance!
Once posted, you can monitor performance using Social Poster's analytical data.
Why it's useful:
Firstly: it's useful as you can pair it with pretty much any of your social media outlets.
Covered networks include Instagram (business accounts), Facebook, LinkedIn, Twitter, and Pinterest.
On the interactive calendar, you can view all published content as well as review scheduled posts. Based on the success of prior posts, Social Poster can even offer you content suggestions.
Social Poster keeps your social media consistent
You can use it to deliver posts at specified times to catch your target audience. This is good for driving conversions, but also helpful for analytical purposes.
Plus, when paired with Social Tracker, Social Poster provides you with some great insight into how your audience interacts with your content (in comparison to how they interact with your competition).
Social Tracker
Social Tracker works as Semrush's social media competitor analysis tool. It also works as a good performance indicator, as it maps the success of your social media posts and engagement levels.
The main aim of the Social Tracker is to identify what's working for your social media as well as areas that need improving.
Like Social Poster, Social Tracker is compatible with Facebook, Instagram (business accounts), LinkedIn, and various other social media.
Why it's useful:
Social Tracker allows you to take a cohesive look at your niche. Not only does it show you the performance level of your own social media posts, but it also details your competitors' success.
Not only that, but you can compare an impressive 20 competitors and 100 social profiles at once.
Social Tracker shows you what, when and how often your competitors are posting, among other useful data.
With this information, you can perform a side-by-side comparison with your own posts. This helps you streamline your content creation and get ahead of the game, leaving your competition in your rear-view mirror.
Social Analytics
Unlike Social Tracker, Social Analytics presents you with information on your own social media exclusively.
So, what's the point in using Social Analytics if you've already got Social Tracker?
Well, Social Analytics gives you a more in-depth look at your social media performance.
Its data sets are more in-depth, and include: users' shares, overall post reach, new followers, and much more.

Why it's useful:
Information is broken down on Social Analytics into digestible graphs and charts.
For an overview of your entire social media campaign, the 'Overview' tab allows you to compare your Facebook, LinkedIn, and Instagram.
This main section uses graphs to highlight new followers, post reach, post engagement, and engagement rate.
Above each of these graphs, you'll also be able to view a fixed number of, for example, how many new followers you've received.
There are also focus tabs for each of your social media accounts. Here, you can view a more in-depth breakdown of the performance level of each of your socials.
You can review everything from demographic information, link clicks, and organic vs. paid traffic here.
Social Inbox
Social media is the main port of call for customer care queries. If your customer doesn't receive a timely response from you, they'll likely take their custom elsewhere.
However, maintaining several social media accounts at once can make keeping on top of messages difficult — especially when you're a very popular business!
Instead of monitoring several inboxes simultaneously, you can monitor just one using Semrush's Social Inbox.
Here, you to reply to messages, comments, mentions, and other direct interactions from your audience.

Why it's useful:
Social Inbox allows you to maintain consistency.
It's great having a solid social media account with lots of traffic, but the value of this is diminished when you take days to reply to your potential customers.
Instead of having to visit each of your social media accounts' inboxes, Social Inbox will notify you whenever you receive a message.
When you open a message, you can:
Reply to it
Add a tag
View the original post, or
Assign it to a team member.
This makes replying to each message via Social Inbox an easy process.
Content Marketing Toolkit
The Content Marketing Toolkit is designed to help you overcome your creative blocks.
Sometimes, writing content for your domain is no hassle.
But coming up with topic ideas can take its toll on your time.
When your well of ideas dries up, the Content Marketing Toolkit can help you out.
Not only can it make content suggestions that are Google-friendly, but the topics suggested will also appeal to both your established and prospective audiences.
Additionally, the Content Marketing Toolkit can show you your website's SEO performance on Google, and provide you with actionable steps to revamp your existing content.
Topic Research 
When planning your content strategy, turn to the Topic Research tool for a succinct list of content ideas that will connect with your target audience.
In the search bar, enter a topic and pick your target location.

Once it has loaded, select the Mind Map option.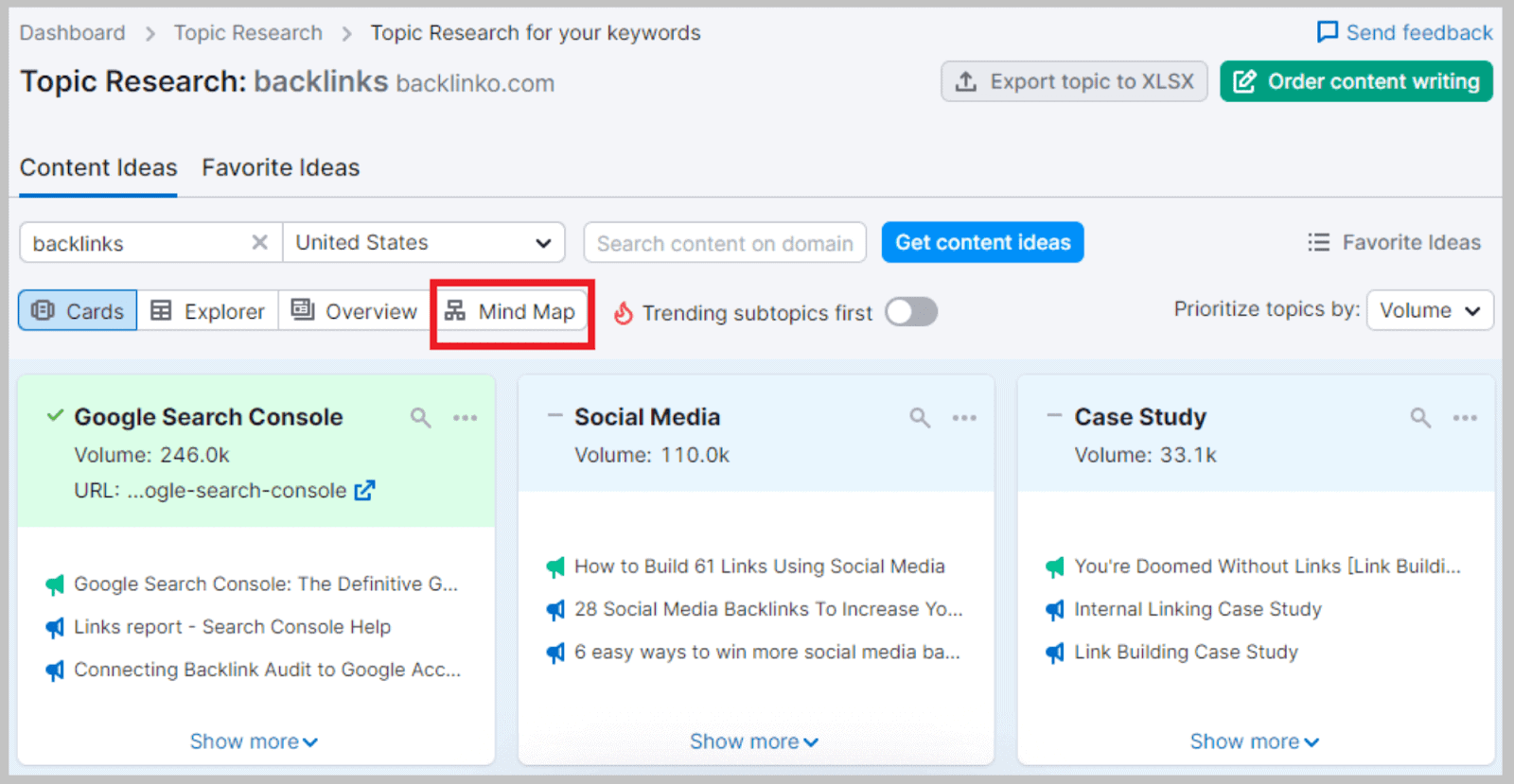 You'll be presented with a Mind Map of all the key subtopics in the center of your screen: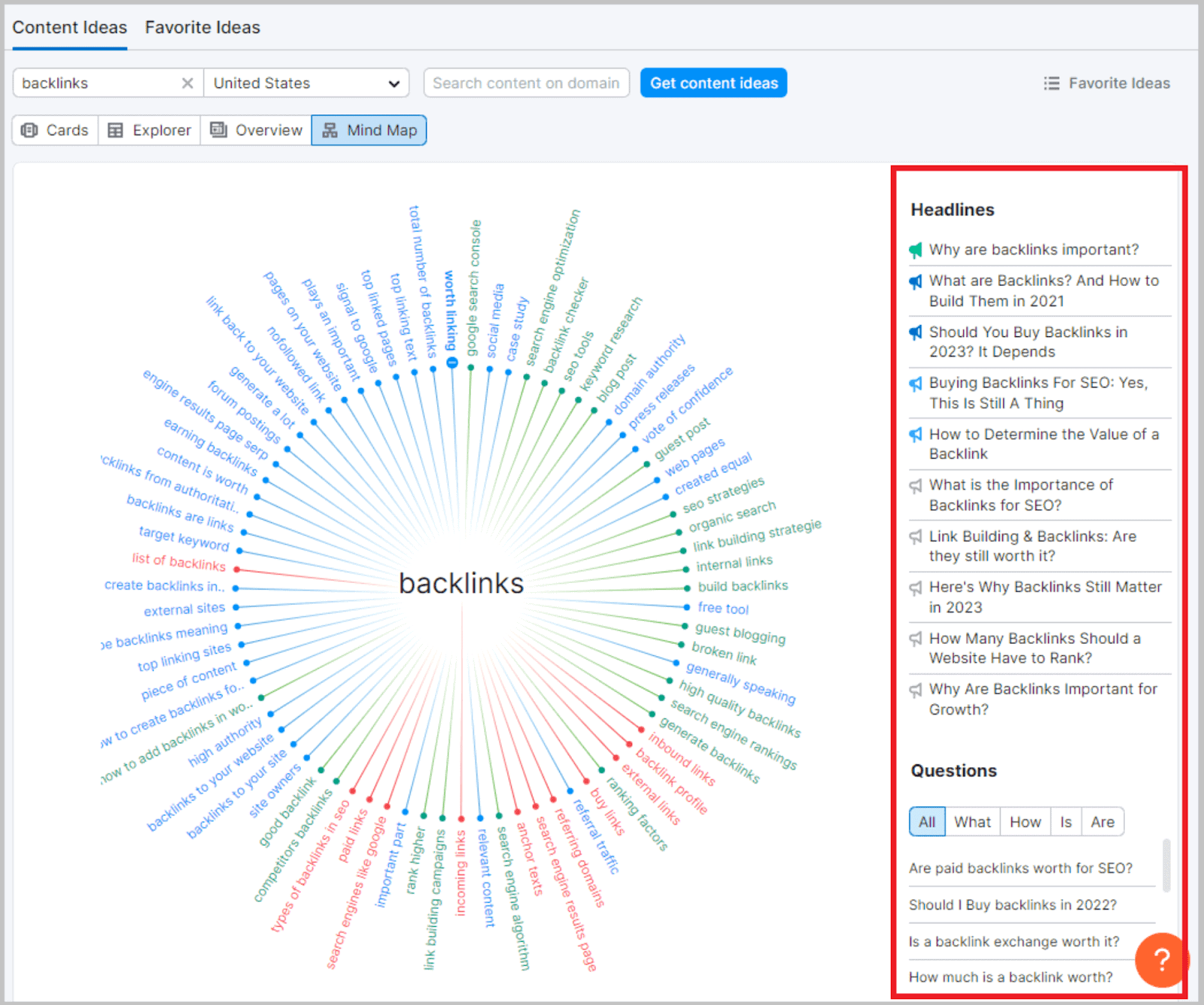 To the right, you can view headline ideas and common questions associated with the topic.
So, you can consider these burning questions that your audience needs answers to.
Within Topic Research, you'll also find Cards, Explorer, and Overview tabs.
On the 'Cards' tab, you can organize content inspiration by difficulty, volume, and topic efficiency. You can also use the 'Trending subtopics first' toggle to identify topical trends.
'Explorer' focuses on the engagement levels of each topic. You'll be able to review how many social media engagements and backlinks the topic has received.
Lastly, 'Overview' is where you'll find content structure information. This tab gathers the best headlines, subtopics, related searches, and questions for different subjects.

Why it's useful:
For each subtopic, you'll be able to review interesting metrics under the Overview tab—subtopic volume, difficulty, and topic efficiency.
So, the Topic Research tool not only grants you content inspiration but also an idea of how well they could perform SEO-wise, as well as how to structure your articles.
SEO Content Template
The SEO Content Template is designed to help you write content that contains lots of LSI keywords.
For example, let's say you wanted to rank for the "Paleo Diet".
Well, Semrush will analyze the top 10 results for that term and give you "Semantically related words" to include in your content.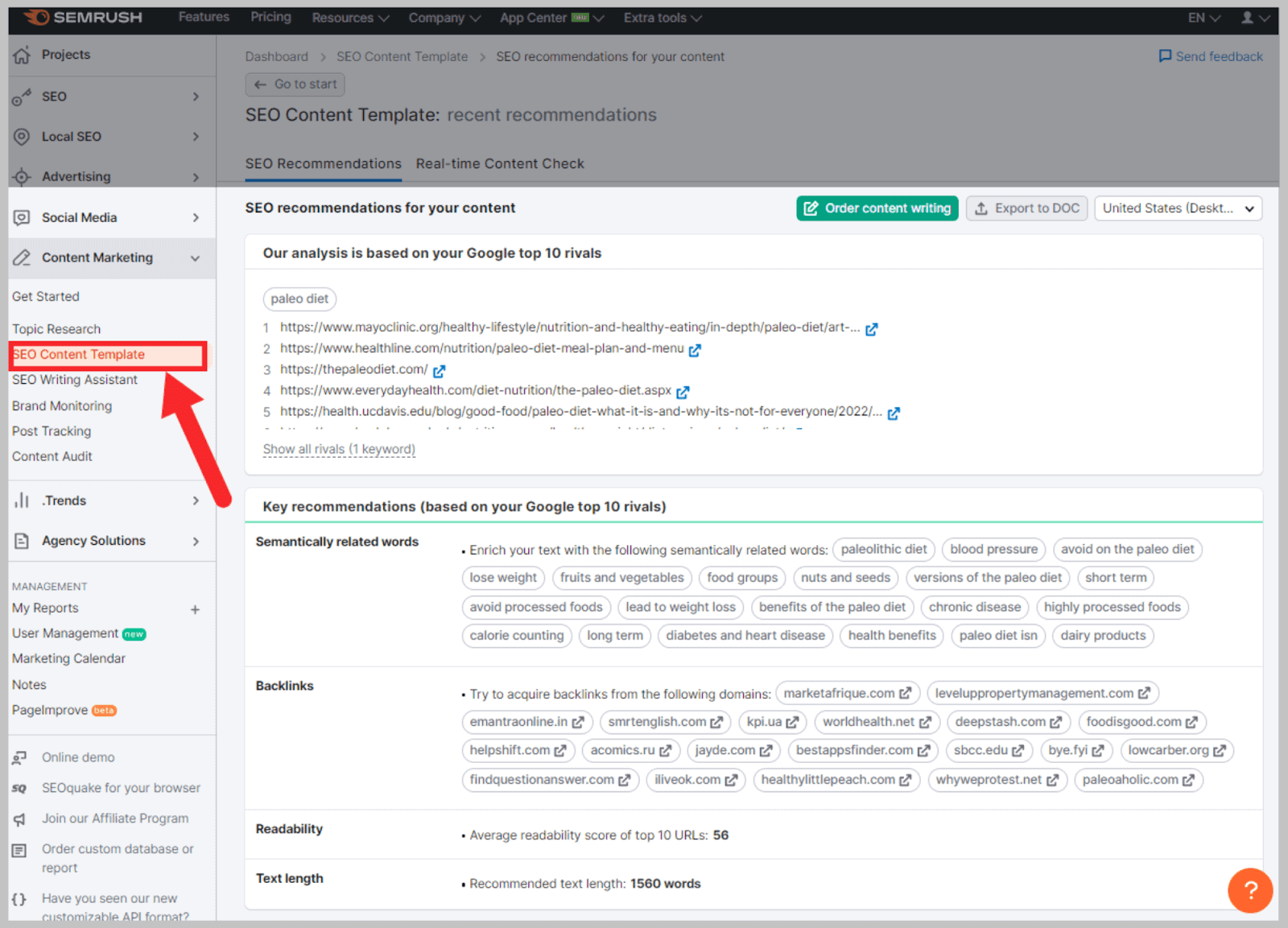 It even goes further than that. From this same SERP analysis, SEO Content Template will recommend suggested sites to get backlinks from. It will also suggest a H1, meta description, and length.
SEO Writing Assistant
Do you ever feel like your creativity is diminished when writing SEO articles? Do you feel like your mind is too focused on internal linking, keyword ranking, and organic search traffic, that you forget to write good content?
The SEO Writing Assistant can act as your SEO eyes and ears, while you direct all your focus onto writing creatively.
Best of all, you can write directly on Semrush's word processor (as shown below).
The 'Overall Score' bar reflects how SEO-friendly the content is overall.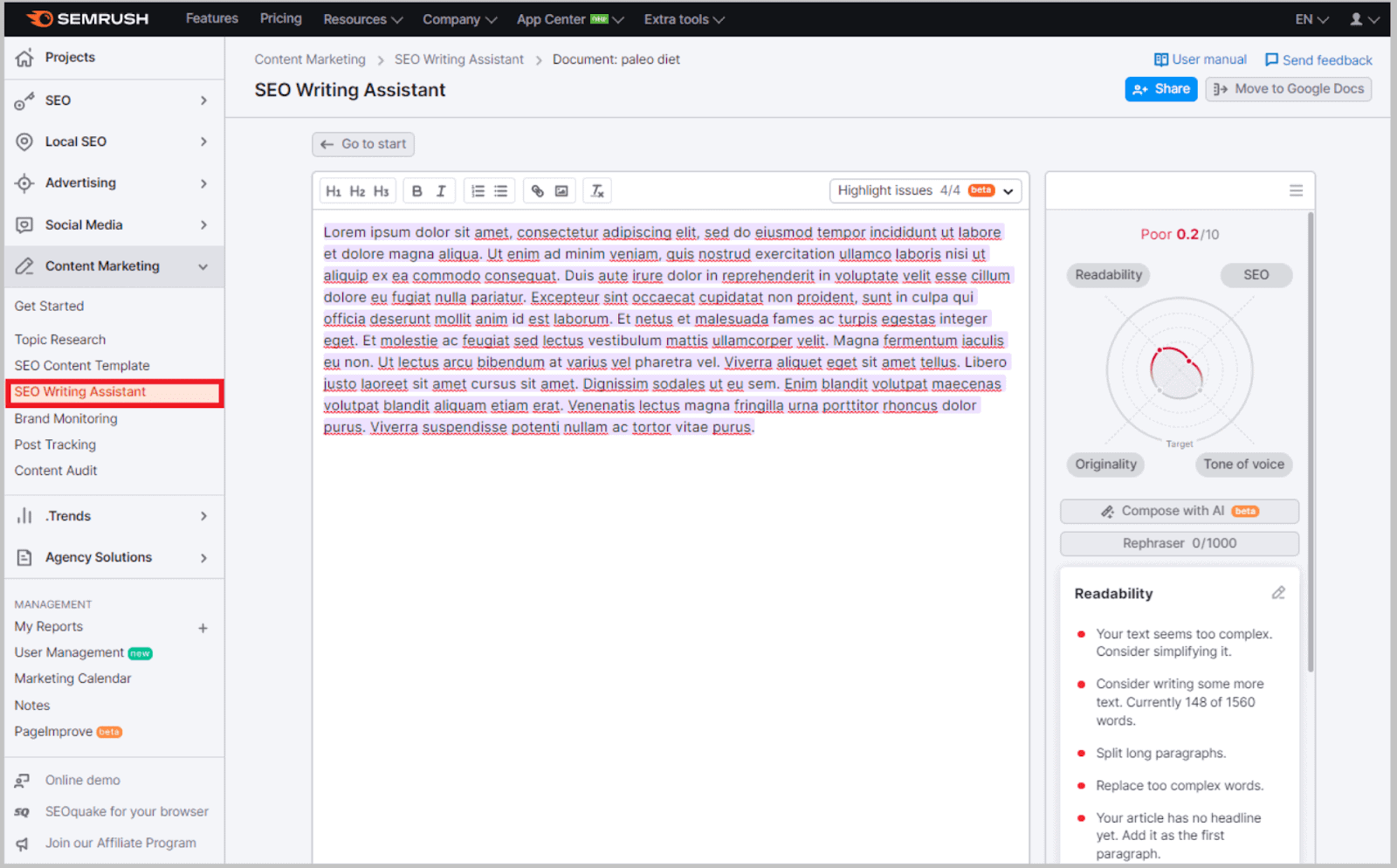 Other useful data include the readability of the content, how many keywords you've hit, and plagiarism percentage.
It even flags on-page SEO problems, such as alt attribute and link issues.
Alternatively, you can attach the SEO Writing Assistant plugin to Google Docs, MS Word, or WordPress, and it checks the SEO quality of your work as you type.
Why it's useful:
The SEO writing assistant saves you the hassle of making your work more SEO-friendly after you've finished writing it.
Instead, the easy-to-follow on-page SEO Checker keeps your content in check throughout the writing process.
This saves you a lot of editing time.
Post Tracking
Once you've published your content, Post Tracking allows you to keep on top of its performance level.
To check on a published article, paste the URL in the 'add article' bar.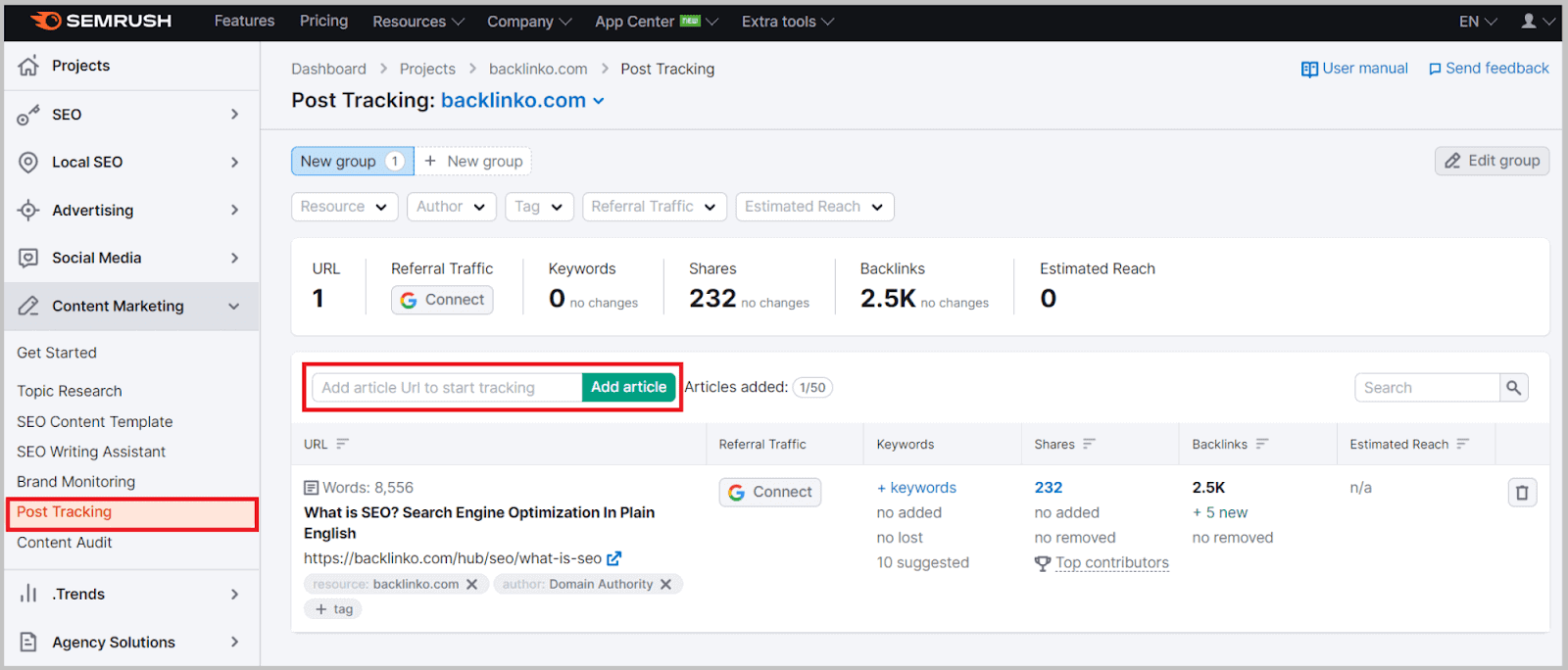 Post Tracking will then analyze the article and deliver you the following metrics:
Here's what these numbers mean:
Referral traffic — This is the amount of traffic that has landed on the page through a means other than a search engine, i.e. through social media.
Keywords — This reflects how many main keywords your post is currently ranking for in the top 100.
Shares — The number of times your article has been shared on social media.
Backlinks — How many websites are pointing to your content via a backlink.
Estimated reach — Based on big data analysis, the estimated reach reflects how many internet users have viewed your article.
Content Audit
The Content Marketing Toolkit doesn't only help you plan and execute content — it also helps you perform a content audit once your article is live.
With this tool, you can go through all the folders of your website and identify pages that require an SEO brush-up.
After you enter your domain's address into the Content Audit search bar, you'll receive a thorough review of your site's performance.
Content Audit is compatible with Google Analytics and Google Search Console, and can hold a mirror up to how site visitors interact with your page.
Through user behavior metrics, you can check on bounce rate, dwell time, and number of visits for specific pages.
You can also check what searches your web pages are ranking for.
Content Audit utilizes tables and graphs to convey the quality of your content:
Here, it will suggest how urgently edits are needed, and also whether complete rewrites are necessary.
Semrush .Trends
Semrush .Trends is a handy add-on tool (you'll need to pay extra for it) that helps maximize your competitor analysis' accuracy.
If competition is fierce in your niche, Semrush .Trends helps you keep close tabs on your rivals. From a website's search ranking to its keyword ranking, Semrush .Trends acts as your eyes and ears in competitor analysis.
Investing in Semrush .Trends will grant you the following tools:
Traffic Analytics
Traffic Analytics reveals both the amount of traffic a competitor is receiving and the content marketing strategies they are implementing to attain their traffic.
The data goes fairly in-depth, with time spent, geolocation data, and mobile visits information included.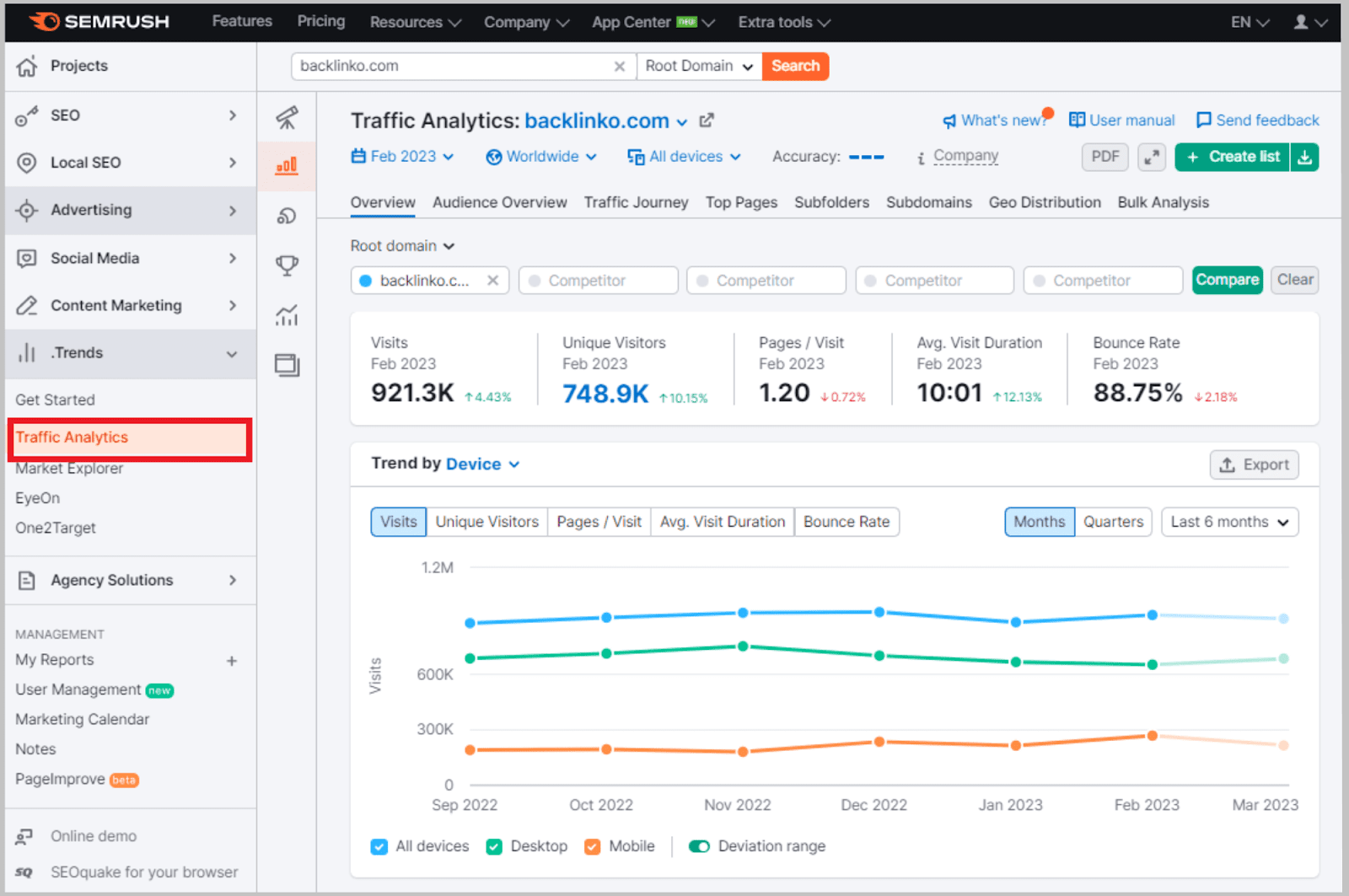 Market Explorer
Market Explorer identifies the sources that drive traffic in your niche. Based on competitor data, you can uncover the age, location, gender, and interests of your target audience.
With Market Explorer, you can also uncover how the market leaders are attracting this main demographic.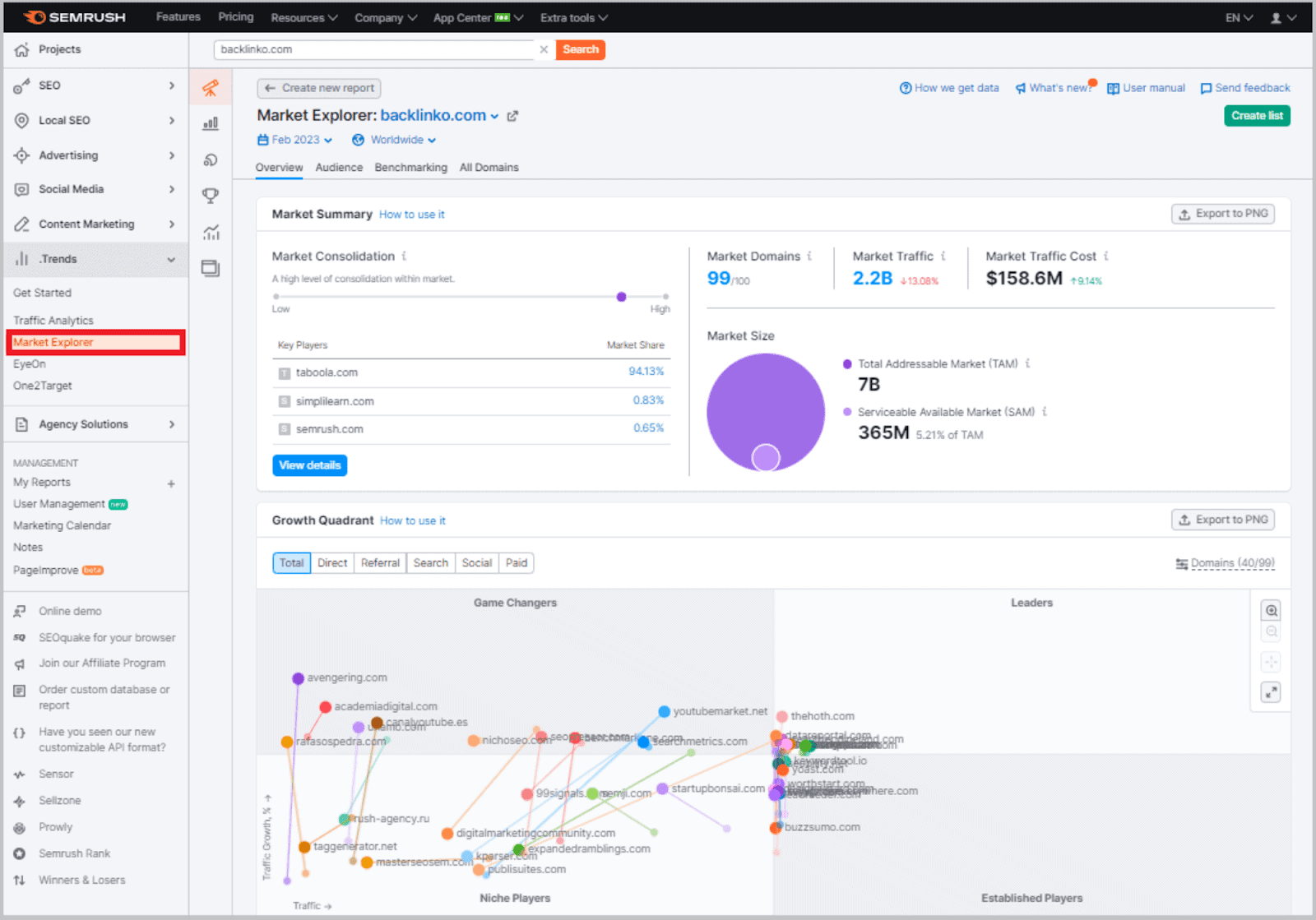 Are they doing it mostly through social media, or investing in a major SEO campaign?
Market Explorer allows you to analyze the market as a whole.
EyeOn
As its name implies, EyeOn allows you to keep an "eye on" your closest competitors.
Specifically, EyeOn will keep you up-to-date on your rival's latest posts and activity trends.
This tool also keeps a close watch over social media posts and will include data gathered from this in reports.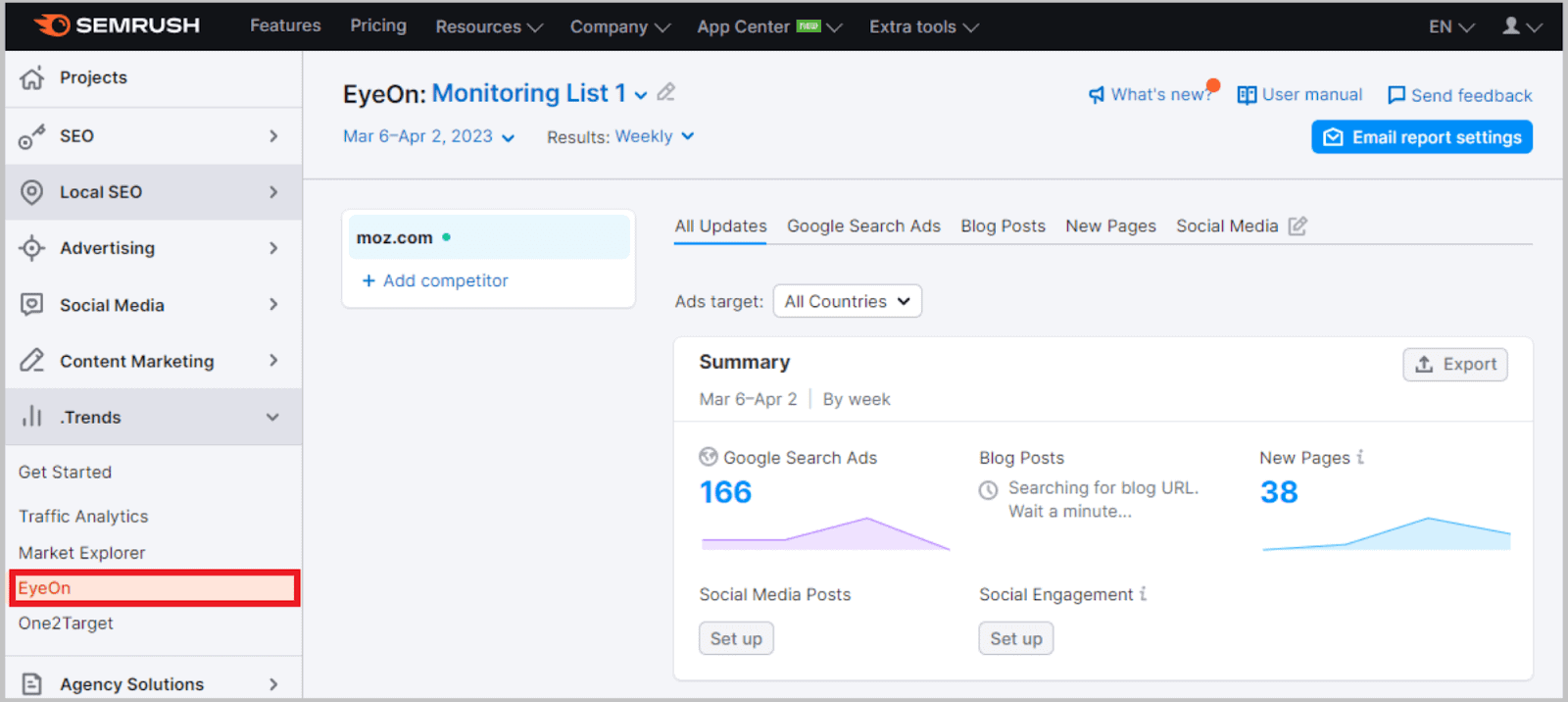 As standard, EyeOn will send you a weekly report on any changes to your competitor's content marketing strategies and other activities.
Alternatively, you can receive a real-time update on the Semrush platform.
Why it's useful: 
After a while of monitoring your competitors' movements, you'll be able to crack their SEO strategies.
Knowing exactly how your rivals ended up on page one of Google is crucial in pushing your own content through the ranks.
EyeOn also grants you web foresight. Being aware of new offerings and changes in marketing strategies could be indicative of a shift in your competitors' SEO approach.
Best of all, EyeOn allows you to track five competitors at a time. This increases the chances of you overtaking all of your competitors — not just one of them!
One2Target
Many Semrush tools can be used to analyze your demographics. However, none get you as familiar with your audience as One2Target.
The internet is a big and confusing place, and all kinds of people can land on your website.
Basic demographics such as gender and age group sometimes isn't enough to actually make a difference in how you manage your content.
Luckily, One2Target goes much further than that.
It can determine the income bracket, level of education, household size, and even the employment status of your site users.
Why it's useful:
One2Target is vital for understanding user behavior fully.
This SEO tool helps you to curate content and improve your service to meet the exact needs and wants of your audience.
To make it easy for you, One2Target's statistics are broken down into four categories: Demographics, Socioeconomics, Behaviors, and Audience Overlap.
When you cross-reference these four categories, you can determine the audience that's statistically going to bring you the most business.
Agency Solutions
The Agency Solutions feature is designed to grow your agency — no matter if you're just starting or already established.
This add-on is for agencies looking to gain new clients and retain old ones.
The kit works to help improve both the running of the agency as well as the client experience.
Tools include:
Agency Partners Platform 
The Semrush Agency Partners Platform is a growing database of agency profiles.
Here, businesses can easily explore the different agency profiles offering the services they need.
As an agency, you can create an eye-catching profile that details exactly what services you provide.
From brand strategy to content syndication, you can be frank about what you have to offer to your clients.
Once you set up an Agency Partners Platform profile, there's little else you have to do.
Potential clients will reach out to you on this directory via the contact button.
Here's the catch: to set up a profile, you need to first pass two examinations.
Once you pass the Semrush Academy exams, you gain Semrush Agency Partner status.
This badge of honor can be used on your website or added to your other agency marketing campaigns — the choice is yours.
To potential clients, this badge reflects professionalism of the highest order. It proves you can conduct research for new clients and effectively track and report.
On the whole, the badge proves you're a trustworthy agency.
The Agency Partners Platform is a great way to advertise yourself and prove your reliability to clients.
Bid Finder
Alternatively, if you'd prefer to actively find clients, you can head over to the Bid Finder section of the Agency Growth Kit.
With Bid Finder, you can locate high-value contracting opportunities for your agency.
The Bid Finder tender list is easy to scroll through, with a range of helpful filters to help you seek out perfect clients.
The 'Topics' filter allows you to select the job type.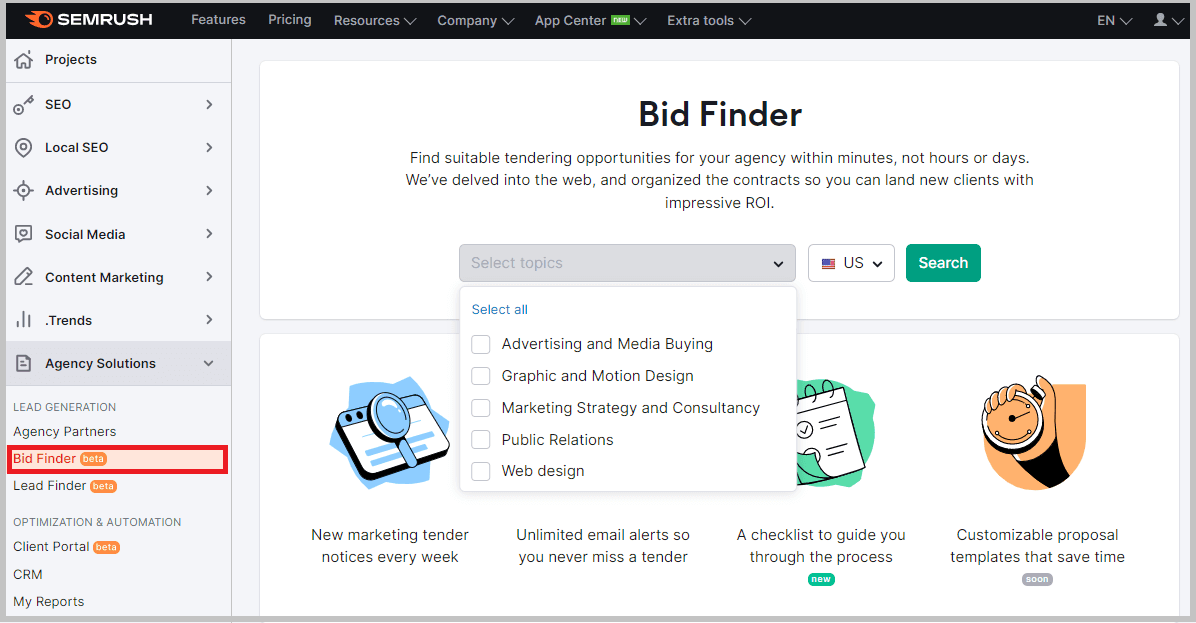 Unfortunately, searches are currently limited to only a few job types, which include the following:
Advertising and media buying
Graphic and motion design
Marketing strategy and consultancy
Public relations
Web design
Other filters include publication date, deadline, contract value, and location.
One last thing: location searches on this tool are currently limited to the following locations:
Belgium
Denmark
France
Germany
Italy
Netherlands
Norway
Spain
Sweden
United Kingdom
United States
Once filter preferences have been set, you can add them to 'saved searches' to make using Bid Finder even easier in the future.
You can also set up email notifications to keep you in the loop with new opportunities as and when they are posted.
Lead Finder 
Another active means of finding potential clients is via the Agency Growth Kit's Lead Finder.
This tool makes it easy to find leads using their location and the web technology they prefer to use.
Whenever you find a suitable lead for your agency, you can save their details to your lead list.
Determining a fitting match is made easy thanks to the wealth of information that Lead Finder provides for each business.
Firstly, Lead Finder provides you with the business's domain name, social media profiles, security details, and connected analytics.
Secondly, you can also view metrics such as traffic, backlink profile, and site authority.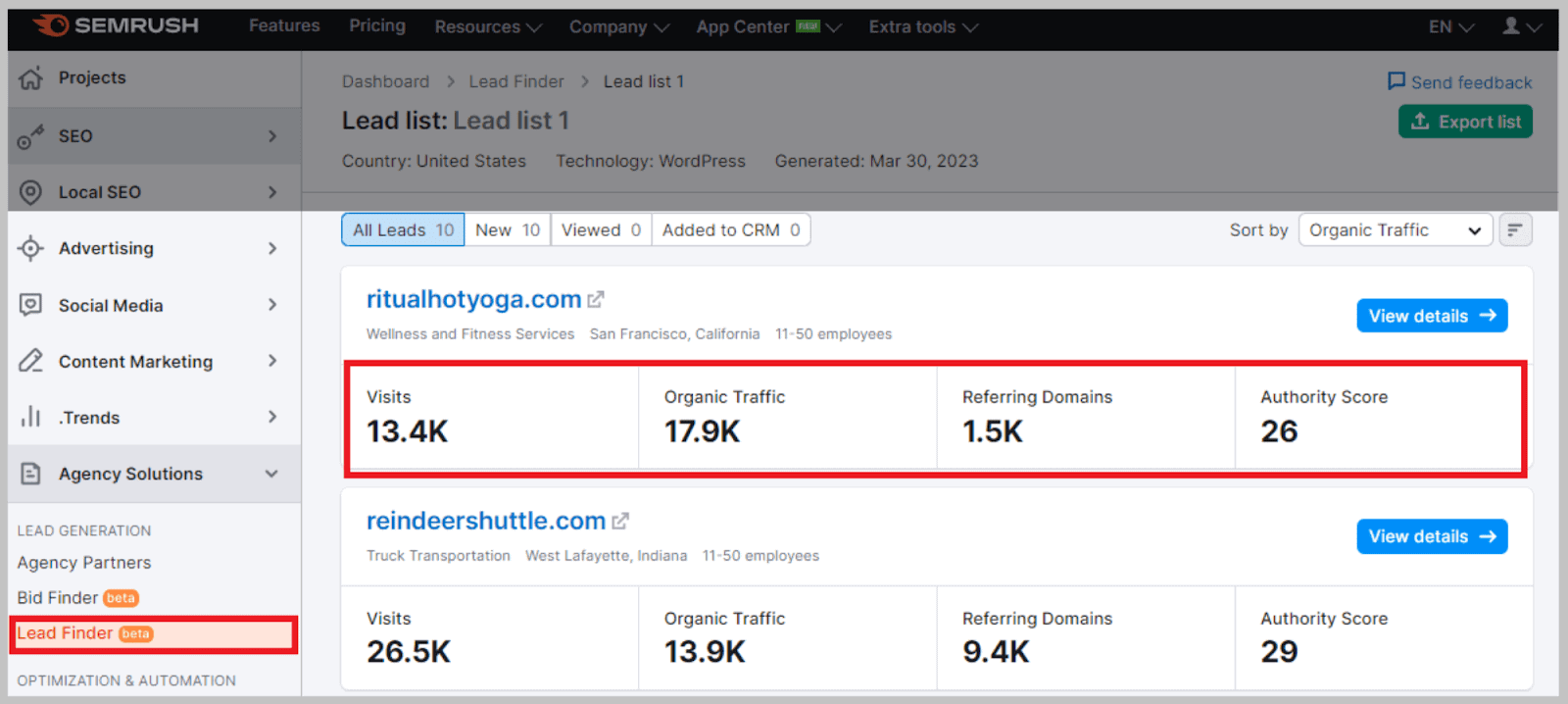 But wait, there's more: you can also find businesses that will benefit you both financially and for SEO purposes.
These advanced details will also help you separate the businesses that need your help from the ones that don't.
Lead Finder is designed to be used in conjunction with Customer Relationship Management (CRM) — more on that next.
When you find leads that match your offerings, you can add them to CRM. Here, you'll be able to build a pitch designed to inspire interest in your business's offering.
Client Portal  & CRM 
Semrush's CRM allows you to maintain and organize your client work.
Whenever you gain new client work, you can register it in the CRM.
On a basic level, CRM allows you to update project statuses, change client information, and edit budgets.
On a more impressive level, you can organize your projects in terms of priority, create checklists, and even interact and collaborate with your clients.
Collaboration is achieved through the Client Portal. These portals give your clients access to files and tasks, while also providing them with progress updates.
By letting your clients access these project updates, you provide greater transparency.
It also means you don't have to organize regular reports for your clients — as long as you keep your CRM up-to-date.
Clients not on Semrush? Don't worry…
One of the most impressive aspects is that your clients don't even have to be Semrush users to access their allocated Client Portal.
Yet to reach out to a client? Again, don't worry:
You can use CRM to pull data together and create a PDF pitch.
My Reports
Do you need to create a white-label report for your client (or your records)?
Well, you can do it through the My Reports section of the Agency Growth Kit.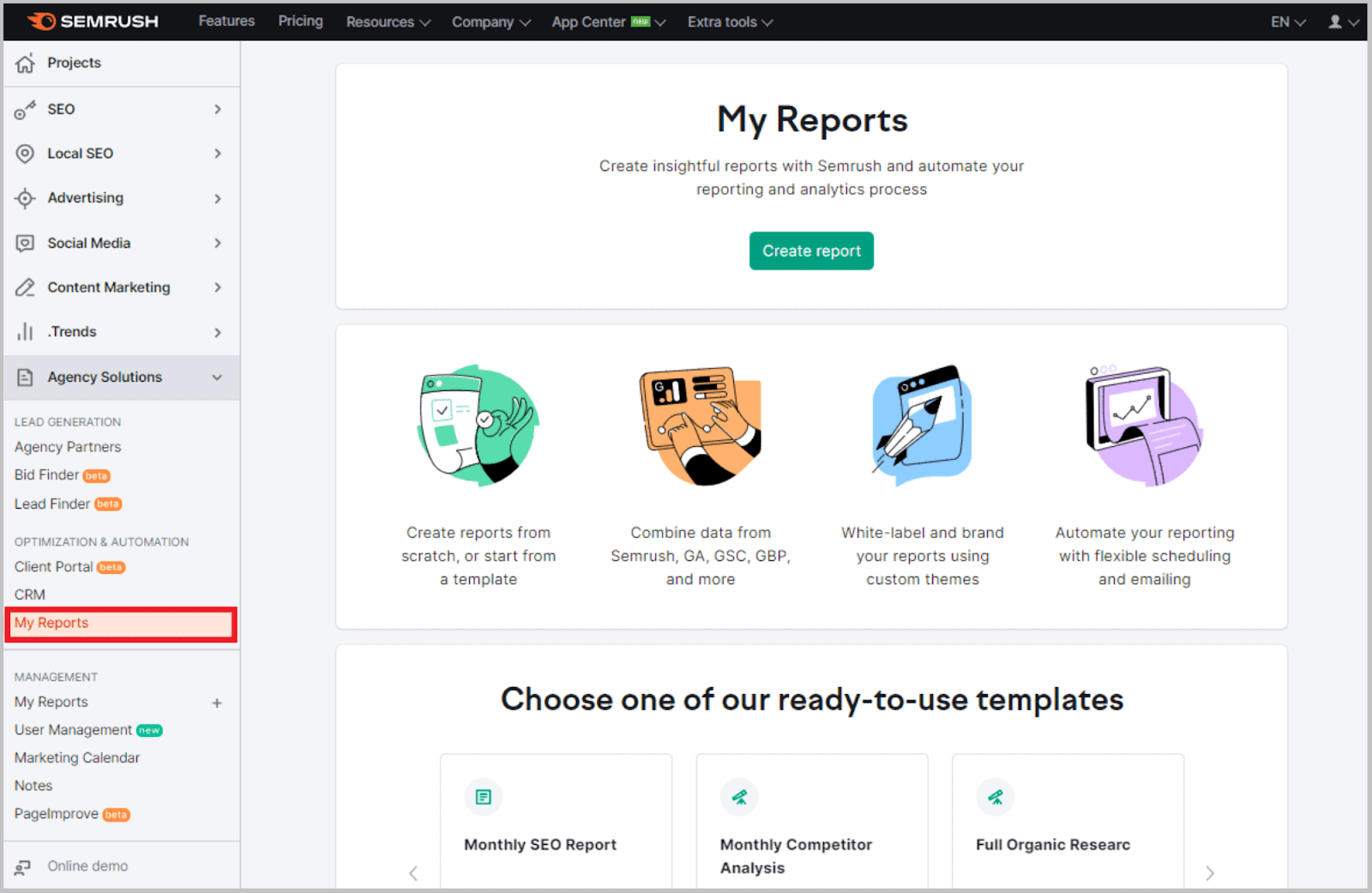 This tool makes it easy to gather data from other areas of your Semrush account to create a professional-looking PDF.
Best of all: this tool is also widely compatible with external data sources. You can integrate data from Google My Business, Google Search Console, Google Analytics, and Facebook Ads.
This ensures that the white-label reports created are as detailed as possible.
If you're in a rush, there's a range of ready-made report templates to choose from. These templates allow you to generate a report almost automatically.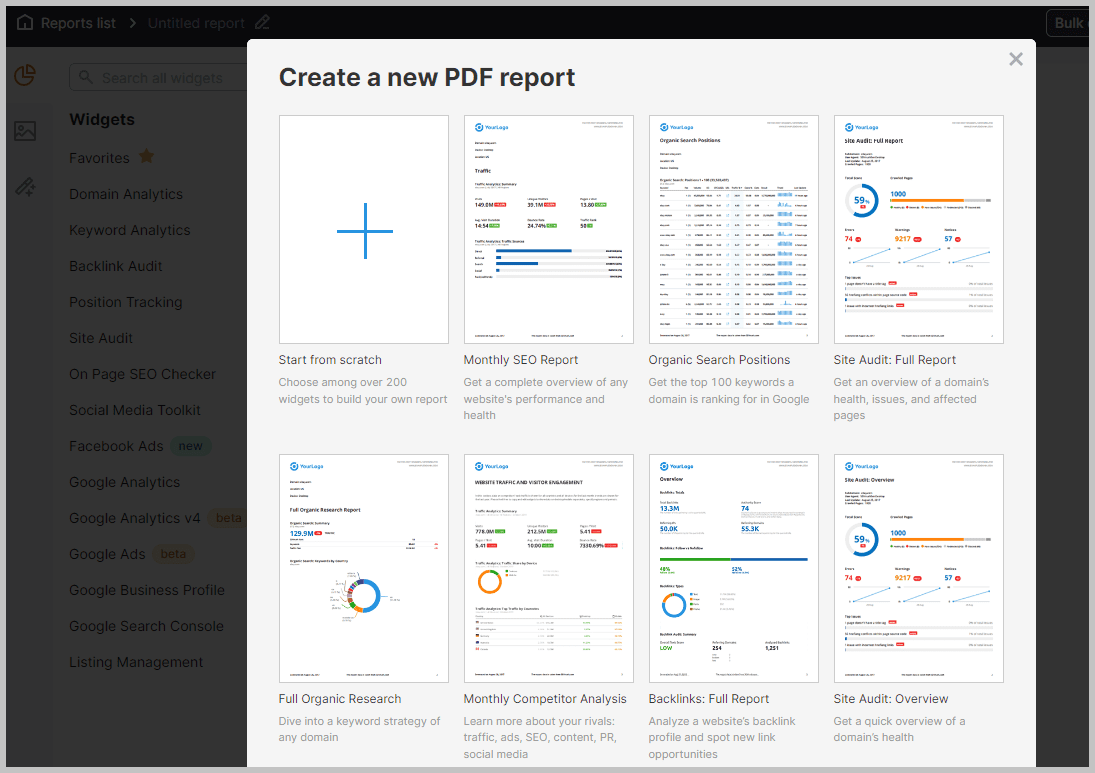 The main template options cover all your reporting needs, from monthly SEO reports to full organic research outlines.
When you click on one of these templates, all you have to do is fill out the domain information for the site you're reporting for. In just a few clicks, you'll have a comprehensive report ready for use.
This gets a major thumbs up from me.
You can also edit the templates to include relevant widgets, which you can add to the report via a simple drag-and-drop system.
Alternatively, My Reports also allows you to generate reports totally from scratch.
Management Toolkit
The Management Toolkit helps you better organize your marketing campaigns.
Through the use of calendars and notes, this kit can help you plan for future marketing strategies. It can also help you prepare for events that could improve or hamper your search rankings.
Below, we'll go over the tools that can be found exclusively in the Management Toolkit.
Marketing Calendar
If you've got a big SEO team to manage, this collaborative tool can help you on top of your priorities.
Marketing Calendar gives you no excuse for tasks being late: it's a place to create tasks, assign them, and overview the successful completion of them.
Two types of tasks can be made on the marketing calendar: campaign tasks and activity tasks.
Here's how you do it:
Set up a campaign task and select a start and an end date.
Within the campaign file, add Google Docs links, notes, and other pieces of information that will help convey the objective of the campaign.
Those who have access to the calendar will now be able to view everything you add to the campaign description.
They'll also be able to edit and contribute their own documents to the folder.
Activity tasks work slightly differently.
Instead of fixing a start and end date, you only select a due date. You can also assign activities to specific members of your team.
If you have a task that needs to be completed regularly, you can also set up activities to be recurring.
Once completed, team members can change the status of the activity.
Status options include: in progress, needs approval, and done.
Notes
The notes tool is useful in two distinct ways.
On one hand, this tool allows you to bring context to specific sections of graphs and charts.
If a drastic change is evident at a specific point in a chart, you can add a note to explain the reasoning.
What's the point in adding notes to these already informative graphs?
Because notes can help contextualize important dates in a graph.
Notes also keep you informed about important dates that could impact the SEO campaign automatically.
This includes Google updates and Semrush updates. When one is scheduled, Semrush will update your calendar on your behalf. Very smart!
To bring order to these notes, they are organized based on what they represent.
For example, notes related to Google organic and paid algorithm updates feature a 'G' Google icon.
Semrush and user notes are marked with a red note icon.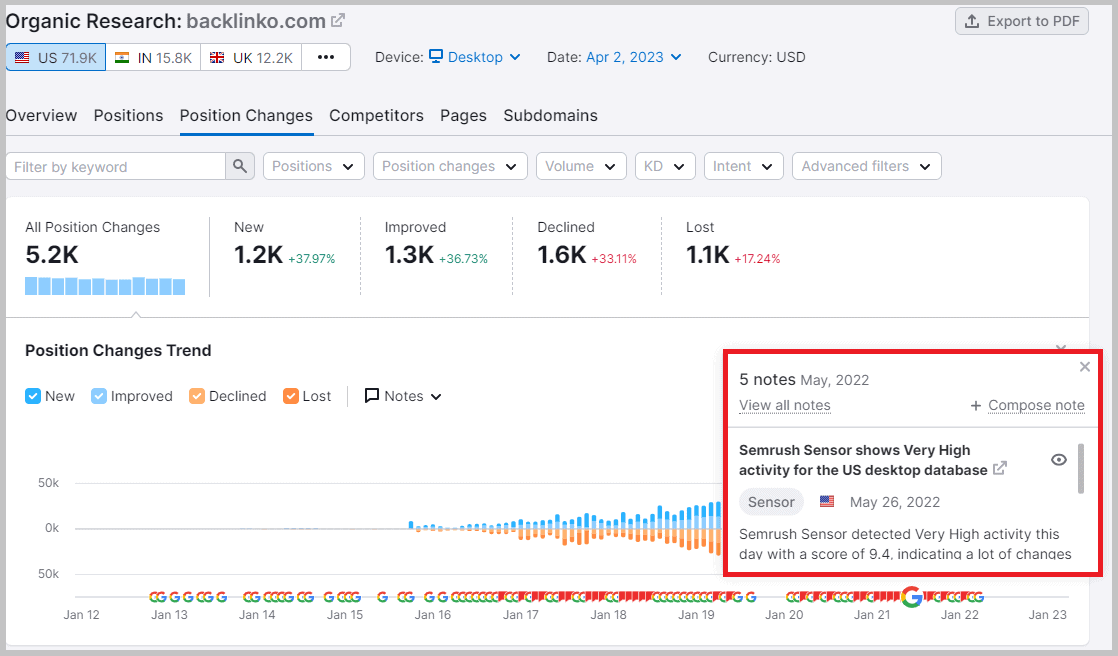 This feature is compatible with a whole bunch of Semrush tools, such as:
Backlink Audit
On Page SEO Checker
Organic Research
Organic Traffic Insights
Overview
Position Tracking
Sensor
Site Audit
Who is Semrush For? 
Semrush can simply be used as a keyword research tool.
It's perfectly acceptable to use it as such. However, you'd be underutilizing the tool massively.
As this guide has made very clear, you can use Semrush to devise your entire SEO strategy.
You can:
Perform competitor analysis,
Run an SEO audit,
Find link building opportunities,
Organize local SEO,
Gain marketing insights,
Review existing traffic
And the list goes on!
With a wide range of uses comes an even bigger range of potential users.
Semrush is for everybody, but specifically for those in the following professions:
SEO professionals & digital marketing agencies
Internet marketers
Content marketers
PPC advertisers
Social media marketers
Ecommerce businesses
Pricing Plans
There are three main pricing tiers of Semrush: Pro, Guru, and Business.
Before selecting a premium pricing plan, try out basic Semrush features with a free account. The free plan allows users to perform limited keyword research and a 100-page site audit.
The package you should opt for depends on the size of your business, as well as your specific Semrush needs.
You also have to pay more for certain packages and add-ons.
Here's an overview of Semrush's current tier and package prices, as well as an overview of what they entail:
Plans 
Pro — $199.95 per month
Guru — $229.95 per month
Business — $449.99 per month
Add-ons 
Regardless of whether you have Pro, Guru, or Business, you can get whatever add-on you need. The add-on price remains the same for each subscription tier.
Semrush .Local — $20 per month
Semrush .Local Premium — $40 per month
Semrush .Trends — $200 per month (per user)
Agency Growth Kit — $150 per month
ImpactHero — $200 per month
Semrush vs its Competitors 
Semrush may be a multi-faceted and reliable tool suite, but it's not the only one.
There are other platforms that can be used to boost your search rankings and review your website traffic.
Some of these tools can even be used to review keyword rankings on search engines other than Google (sorry, Semrush!).
Ahrefs and Moz are other prominent SEO software widely used by professionals.
So, how does Semrush compare to the competition? Let's find out:
Ahrefs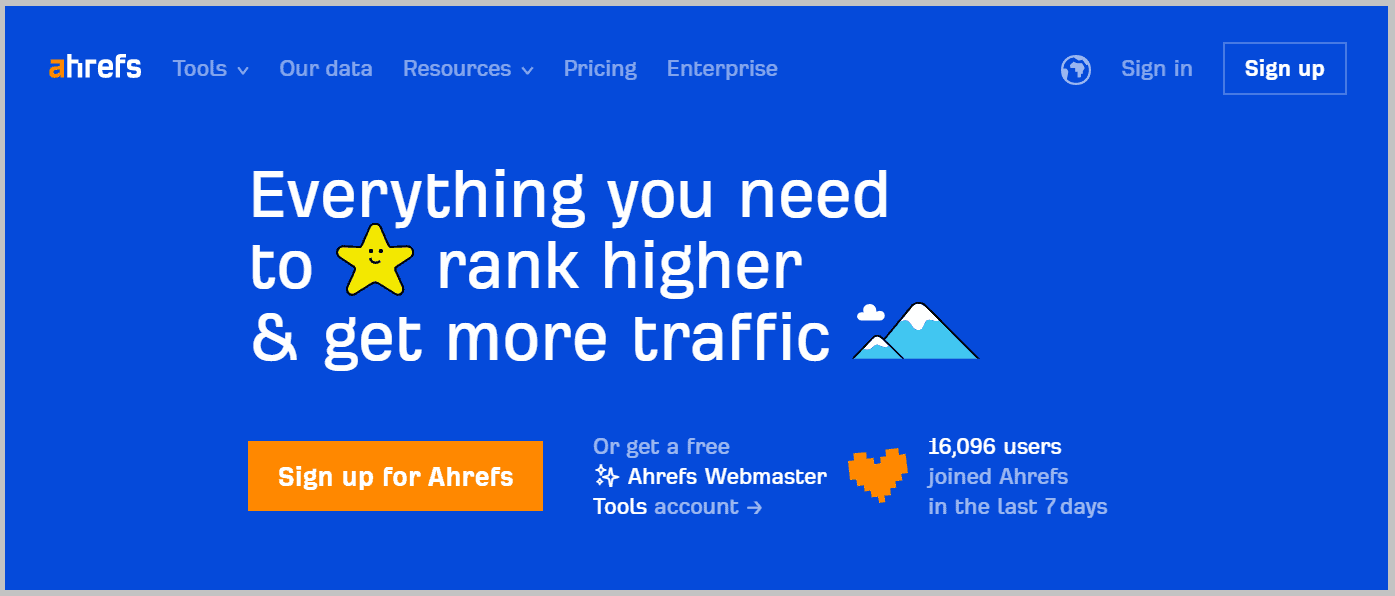 Ahrefs is mainly used for its Keywords Explorer feature, which allows users to research relevant keywords and determine keyword difficulty.
It also boasts an advanced Backlink Checker, which is noted for being the biggest backlink database available. The Ahrefs crawler (aka AhrefsBot) is the second most active crawler on the web, after Google (wow!).
Being home to several individual tools, Ahrefs is similar to Semrush in many ways.
It can determine the authority score, number of site visitors, and ranking power of competitor domains for any website.
One clear advantage that Ahrefs has over Semrush is that it can carry out its main functions over 10 different search engines. This means you can check your rankability across Bing, YouTube, Amazon, and so on.
Most Semrush features are limited to Google. You could argue that this is no big deal, given Google holds over 90% of the search engine market share worldwide (and I'd agree!).
Also, Semrush provides its users with more in-depth analysis. Although it's limited to Google, the data collected by Semrush is more wide-ranging, particularly when it comes to PPC and search intent.
Plus, Semrush has over 40 tools, while Ahrefs only has five main ones.
Moz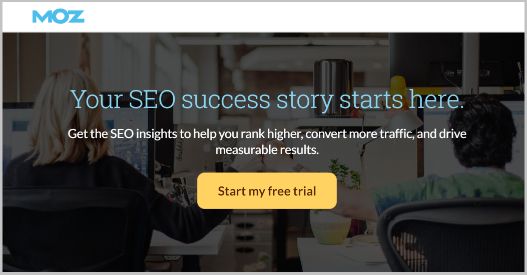 Moz is another all-in-one SEO strategy software. It allows users to perform site audits and backlink checks, and also boost their search rankings and track their SEO efforts.
The Moz Link Explorer is the platform's most common tool, which is highlighted for its backlink analysis and anchor text review. With 40 trillion (!) links registered in its library, Link Explorer is also a great place to find link building opportunities.
Moz's Keyword Explorer is similarly vast, with over 500 million potential keyword suggestions.
Moz and Semrush are often compared due to their almost identical tool library. In terms of basic features, there's nothing that Semrush has that Moz does not.
However, the latter does lack a few advanced add-on features. For example, Moz is particularly lacking in social media marketing tools.
It also doesn't feature equivalents to Semrush's SEO Writing Assistant or Post Tracking.
FAQs
What is the best way to use Semrush?
The best way to use Semrush is using its toolbox add-ons. While the basic SEO toolbox provides you with a launchpad, the other toolboxes can help skyrocket your campaign.
If your campaign relies heavily on social media marketing, the Social Media Toolkit will grant you the necessary extra tools to perfect your SEO efforts.
If you're planning on running a lot of Google Ads, consider using the Advertising Toolkit.
The tools found in these add-ons work alongside the basic SEO services of Semrush.
Is Semrush easy to learn?
Semrush is easy to learn if you start with the basics. The Keyword Magic Tool is an excellent place to start, as it works just like a standard keyword research tool.
Although basic relative to Semrush's more advanced features, this SEO tool allows you to get used to the basic functions of the platform.
Plus, like many of the software's features, the Keyword Magic Tool is compatible with the platform's more advanced tools.
Is Semrush worth the money?
Semrush is worth the money as it covers all bases. Performing market research, running competitive analysis, conducting keyword research, and even position tracking can all be done under the Semrush roof.
Instead of investing in loads of separate software, it makes more sense for digital marketers to do it all in one place. The best part is that all of Semrush's features are high quality, and widely considered the best in the business.
Is Semrush the best SEO tool?
Semrush is noted for being more user-friendly than its competitors, particularly the likes of Ahrefs. It also provides more features and greater accuracy than other SEO software tools.
The diversity of its features and all the data it provides has led it to become amongst the biggest SEO software in the world.
In the SEO and SEM market, Semrush holds 9.02% of the market share, which is significant!
As of December 2022, around 95,000 customers were implementing Semrush into their daily digital marketing operations.
How accurate is Semrush?
Semrush is not 100% accurate and it doesn't claim to be. When it comes to the likes of content marketing, existing traffic rates, and backlink searching, Semrush can only be seen as a guide to devising an SEO strategy and pulling in more traffic.
Although mostly accurate, its data can prove false. It bases its recommendations on statistics, which, in the ever-changing face of the internet, can prove unreliable.
It should not be seen as a definitive answer to your SEO problems. However, it can certainly help guide you toward SEO success. You can connect Semrush with Google Analytics and other tools to ensure as much accuracy as possible.
Now It's Your Turn to Try Semrush
I hope you found this article interesting, and now feel more confident experimenting with Semrush's SEO and digital marketing features.
Describing Semrush as a useful SEO tool is definitely an understatement — especially when you consider the 40+ singular tools found within the platform.
Semrush currently helps 95,000 paying customers improve their website's performance, determine top keywords, boost organic search traffic, and much, much more.
When trying out Semrush for yourself, use the pointers provided in this Semrush tutorial piece, and let me know how you get on in the comments.