One of the hardest things about SEO is this:
How do you know if what you're doing is actually working?
It's a tough question to answer. Especially because it can take months for SEO to really kick in.
Well, today you're going to see exactly what SEO metrics to track. How to track them. And how to double down on what's already driving the best results for you.
With that, here are the top 10 most important SEO KPIs to monitor.
1. Total Clicks
At the end of the day, the point of SEO is to get more traffic from Google.
And the best way to see how much traffic Google is sending you?
"Total Clicks" in the Google Search Console.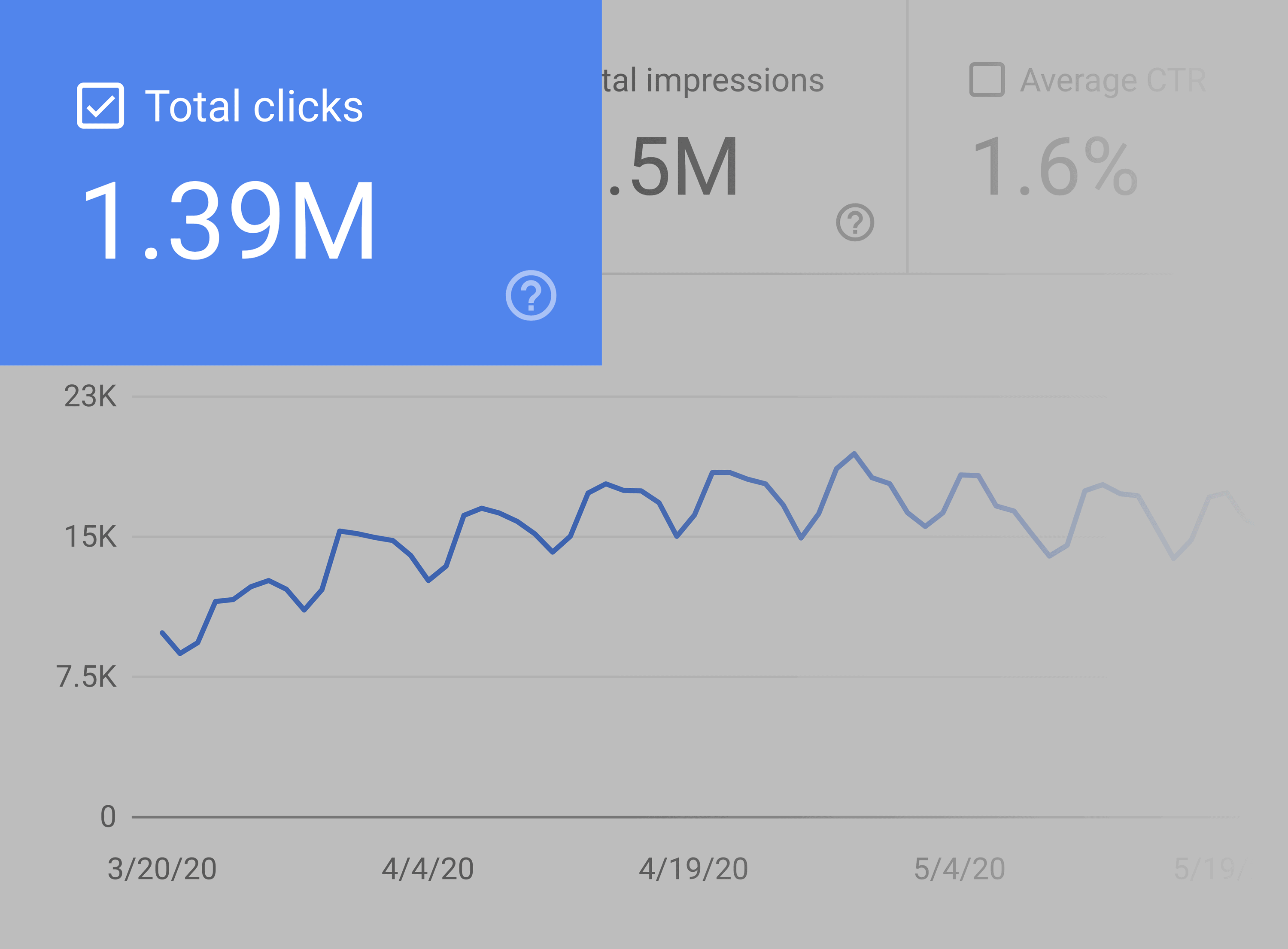 This report shows you exactly how many people clicked on your site in Google's organic results.
Now:
There's a lot of other helpful information here too. Like impressions. And Average CTR.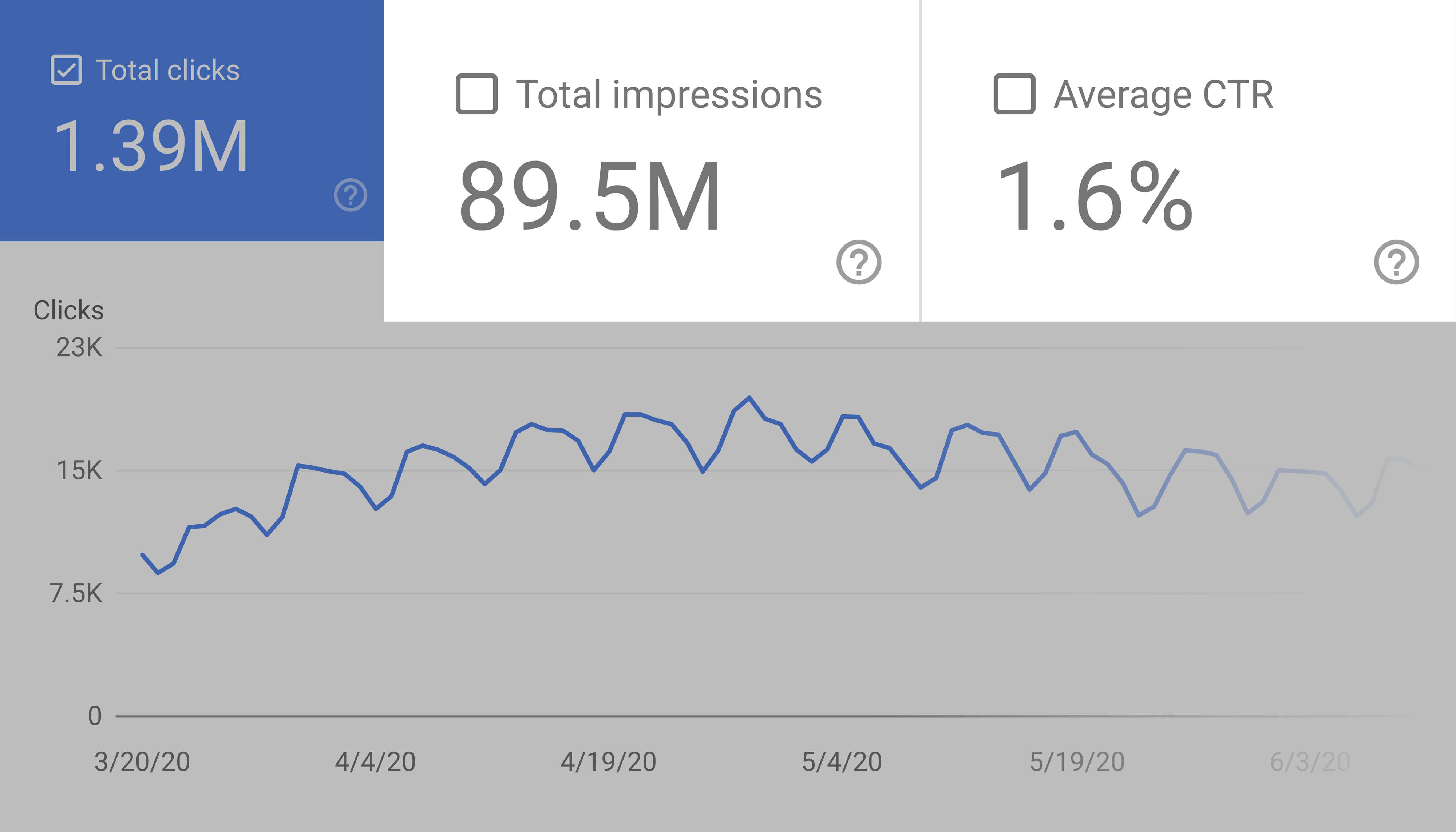 But these aren't nearly as important as total clicks. In fact, I'd say that "total clicks" should be your SEO north star. If that number is going up, your SEO efforts are working.
If not, then you probably want to switch things up.
Which leads us to our second important SEO metric…
2. Core Web Vitals
Core Web Vitals is Google's way of sizing up your site's overall user experience.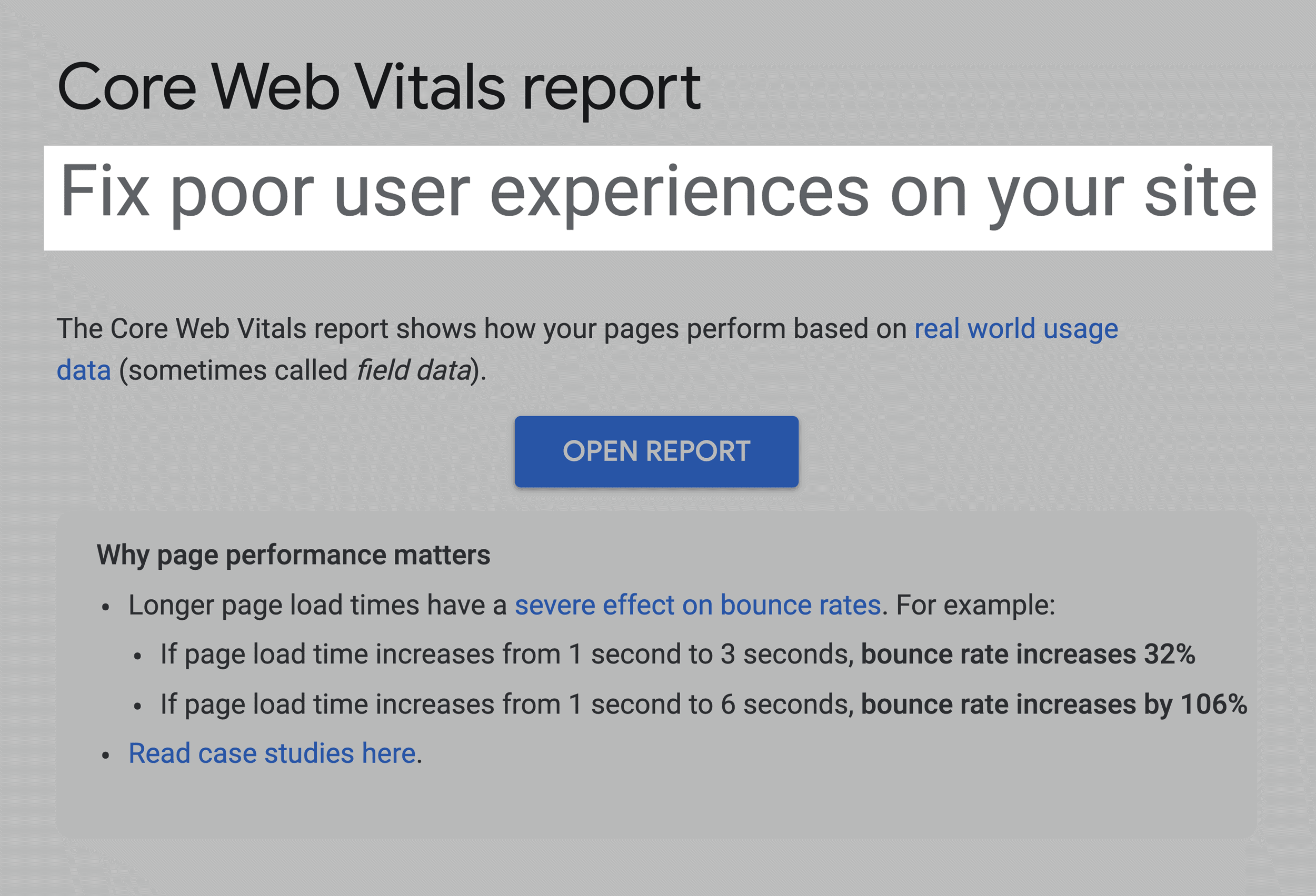 Why is this important?
As you may know, Google now ranks sites partly based on so-called "User Experience Signals".
In other words: Google doesn't just evaluate your site based on traditional search engine ranking factors, like backlinks and keyword optimization.
(Even though that stuff is still important).
Instead, Google wants to make sure that your site is VERY user friendly.
And Google's AI-based RankBrain algorithm makes it easy for Google to measure how users interact with your website.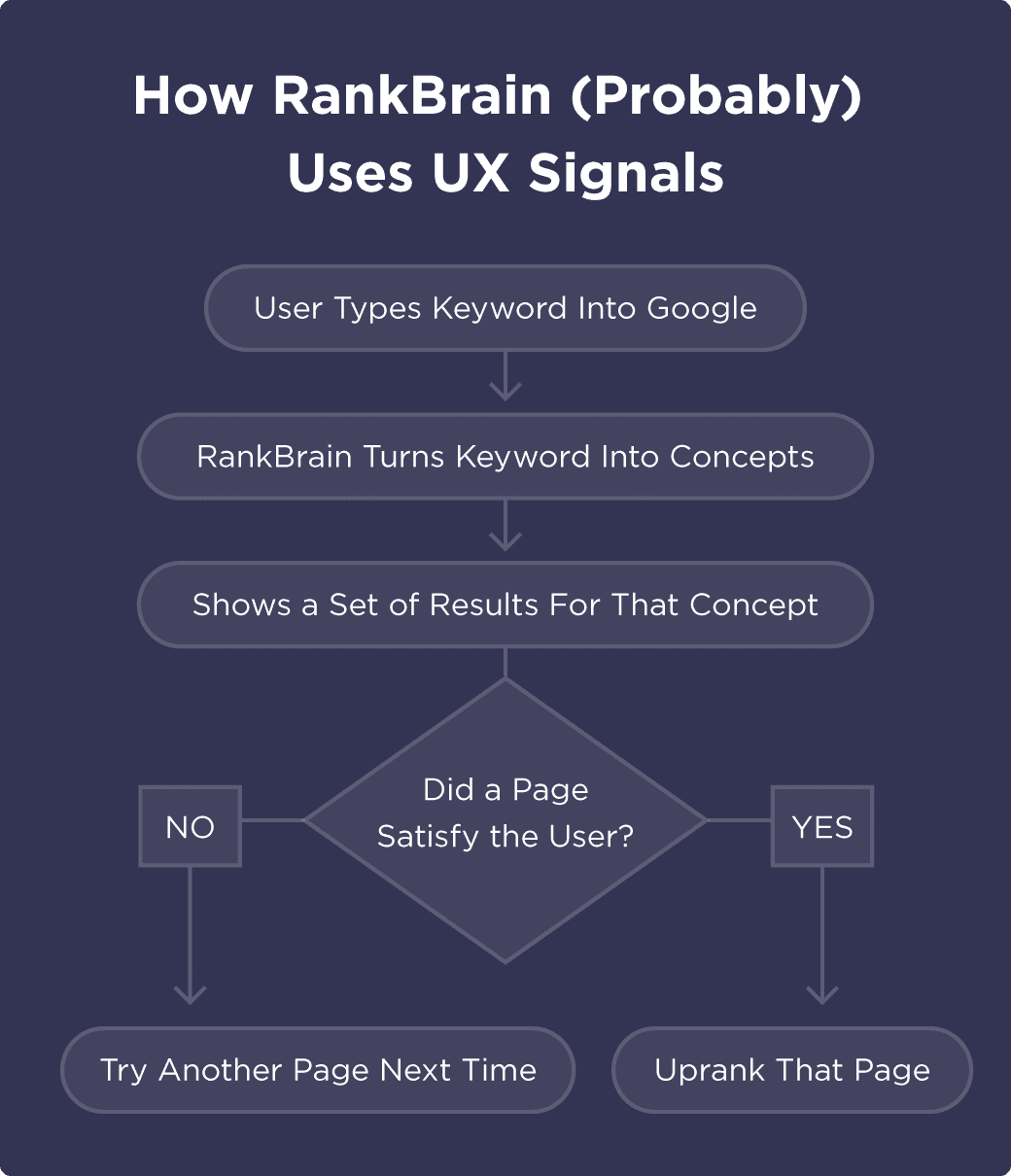 Which is why they're making user engagement metrics a bigger part of the algorithm.
That's why I recommend paying super close attention to your Core Web Vitals report.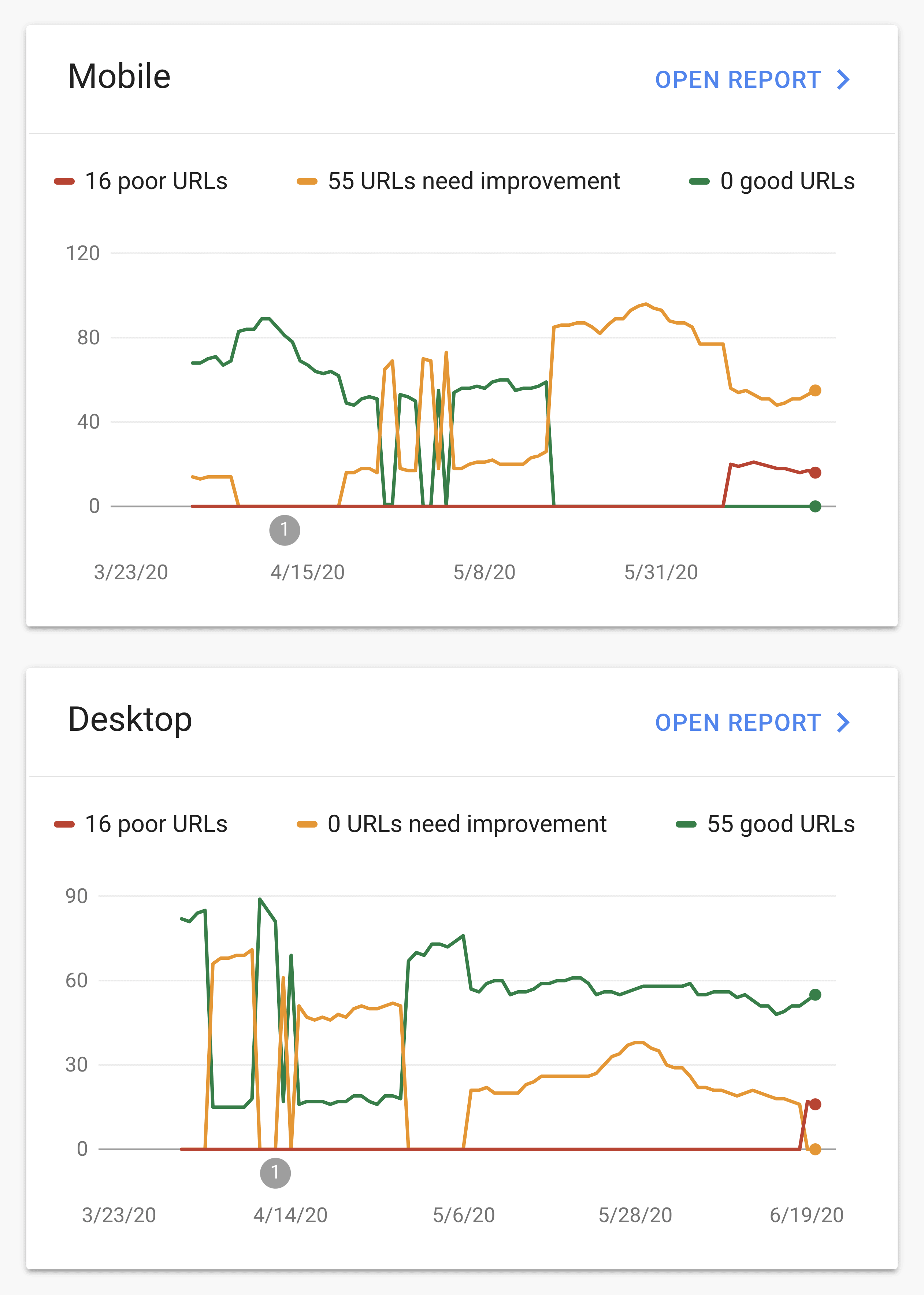 This report breaks down your site's user experience based largely on pagespeed and performance.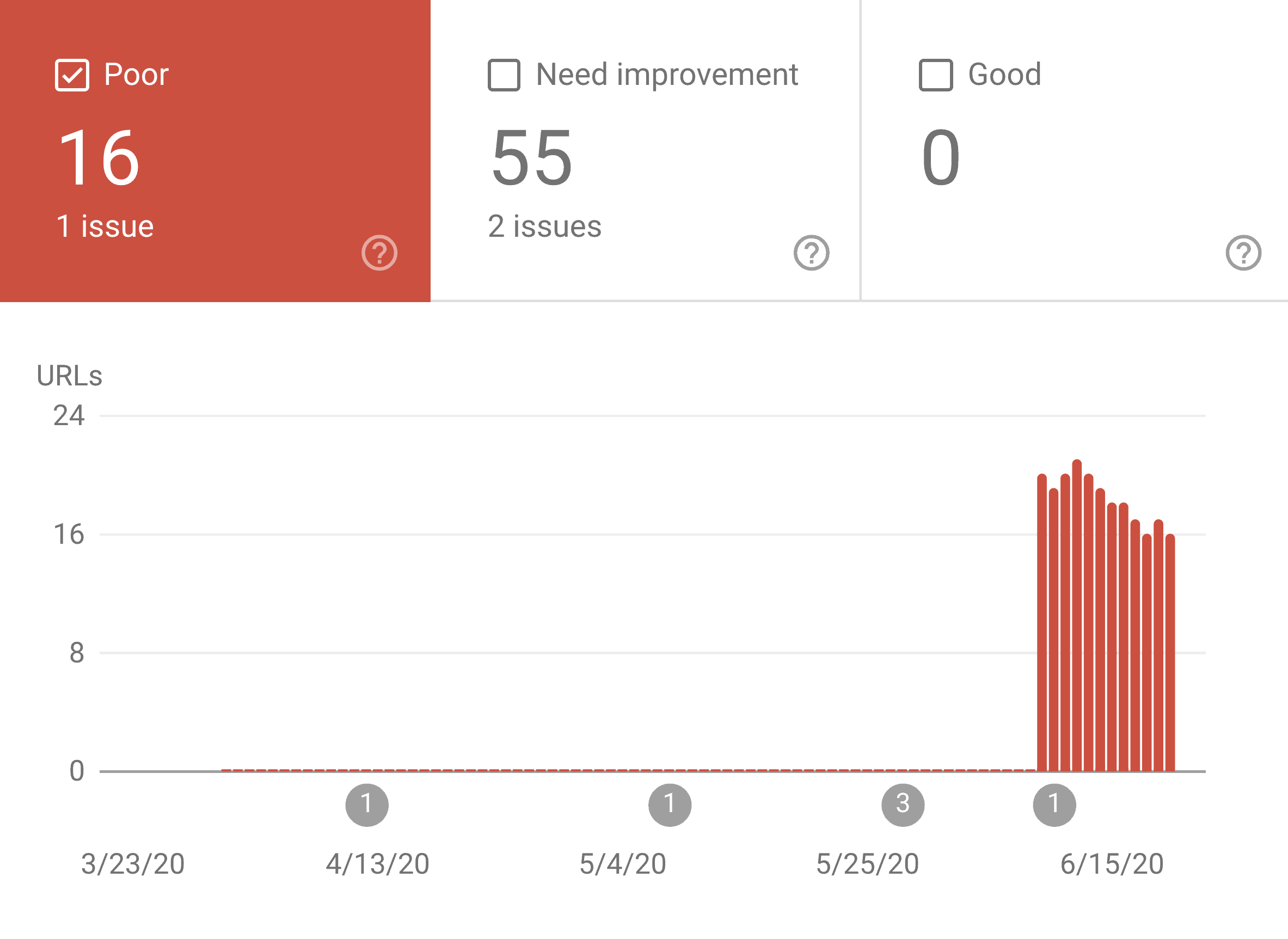 3. Referring Domains
Earlier this year my team and I conducted a Google SERP analysis of 11M results.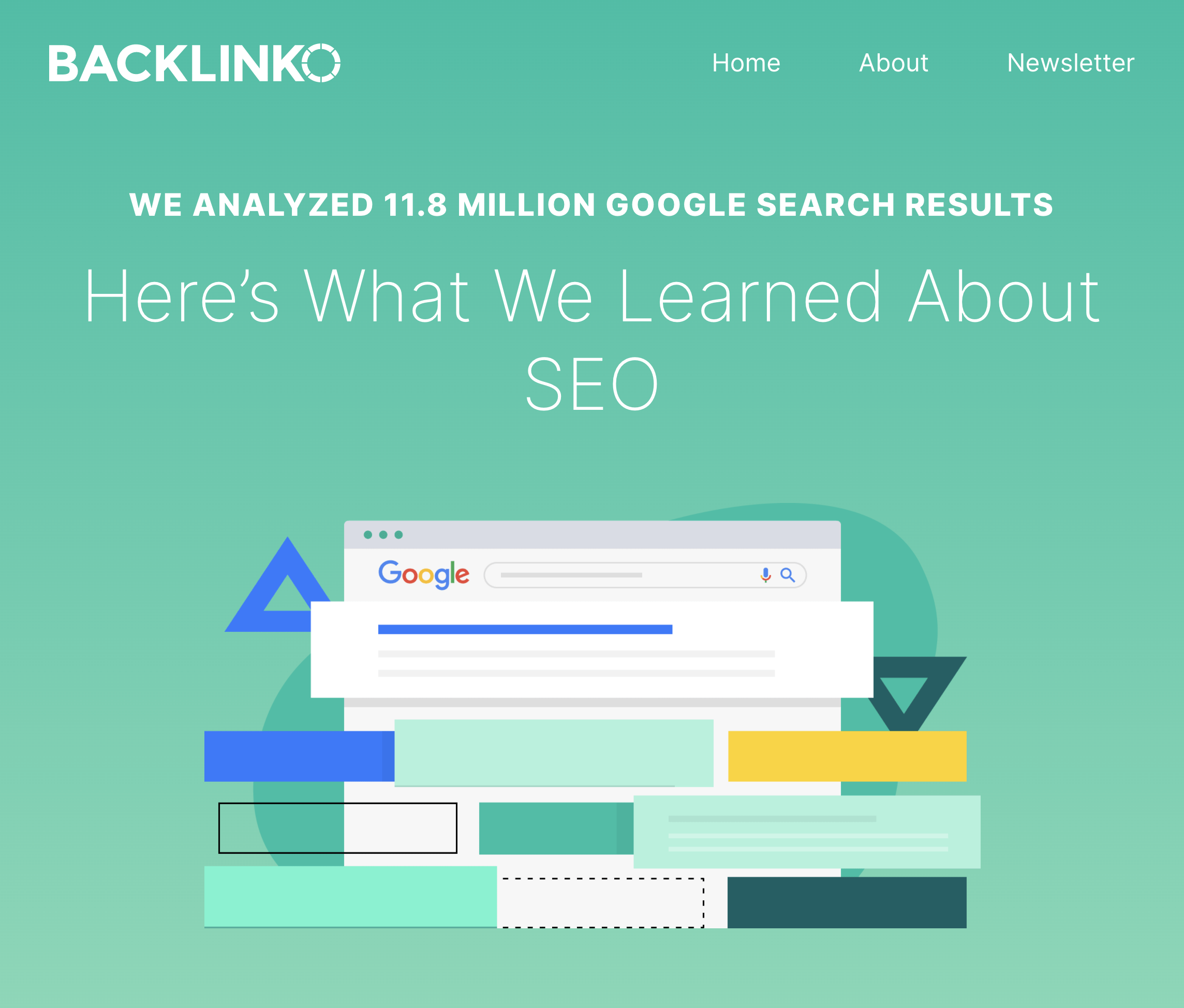 As you might expect, we discovered that links are still a key part of Google's algorithm.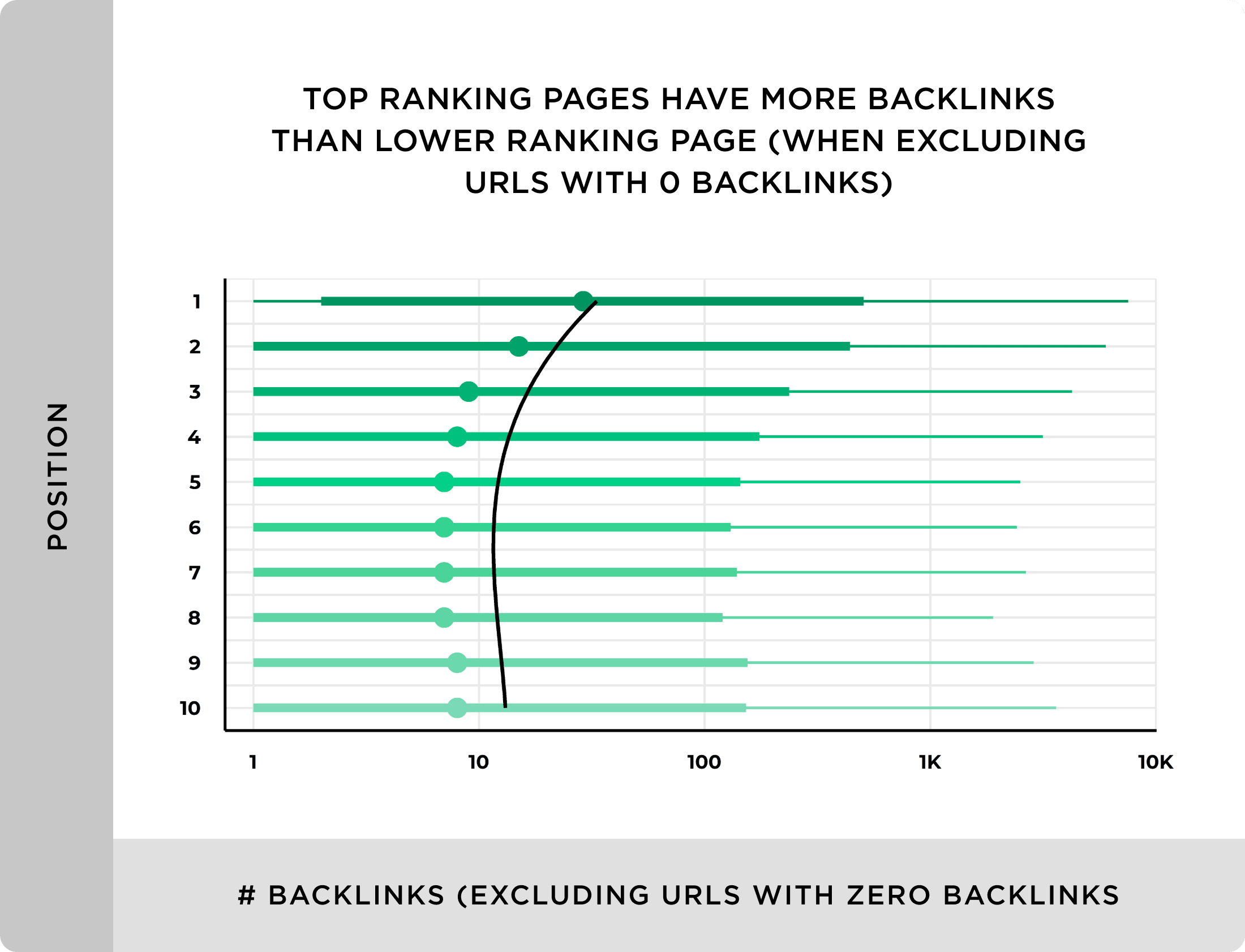 If you've been doing SEO for a while this result shouldn't really surprise you.
The thing is: we didn't just find a correlation between the total number of backlinks and rankings.
We also found that webpages with lots of referring domains tend to rank higher in Google organic search.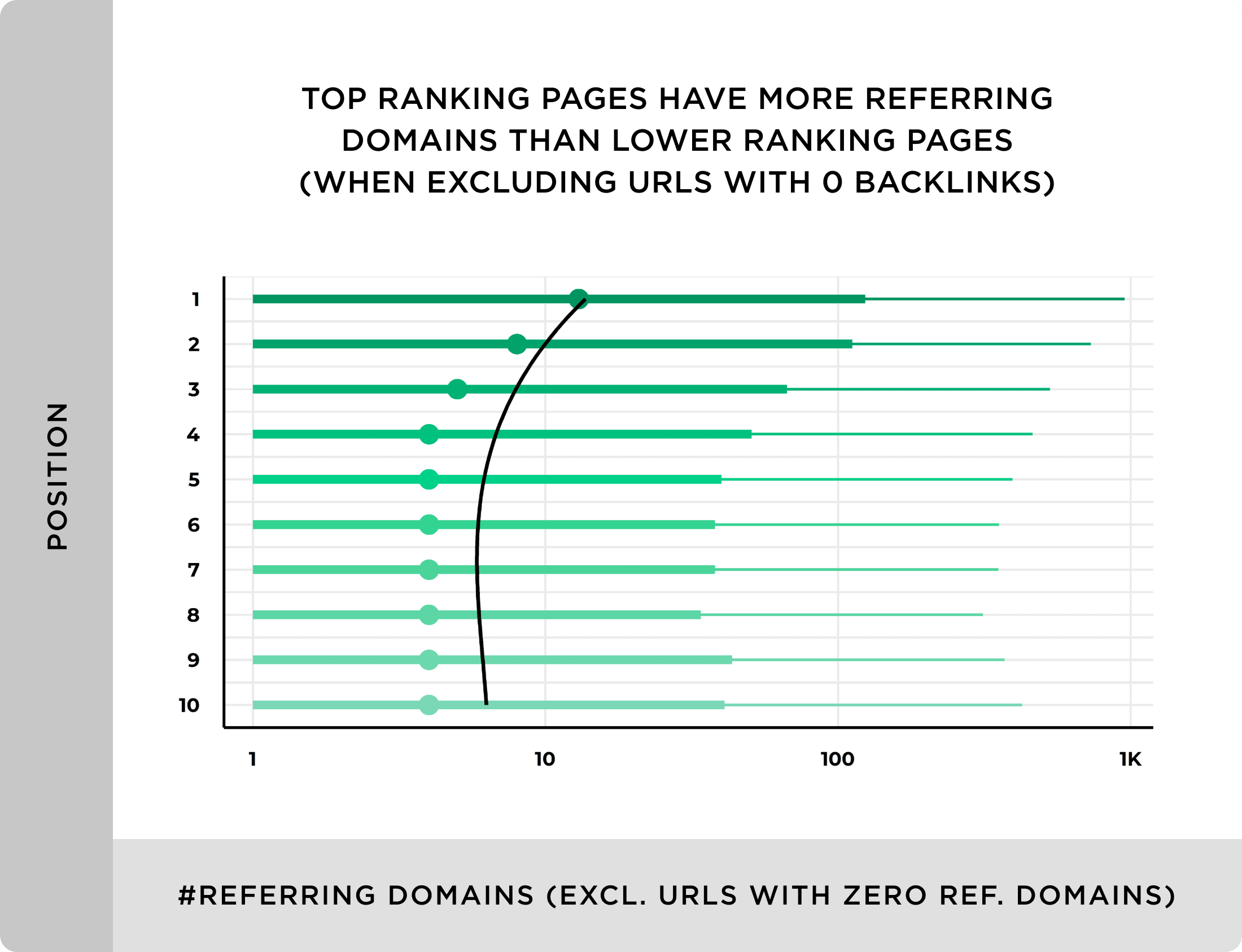 Referring domains are the number of different sites that link to you. Not the number of total backlinks.
Why is this such a big difference?
Well, Google puts less weight on a backlink from the same site.
For example, I recently got a link from Vimeo.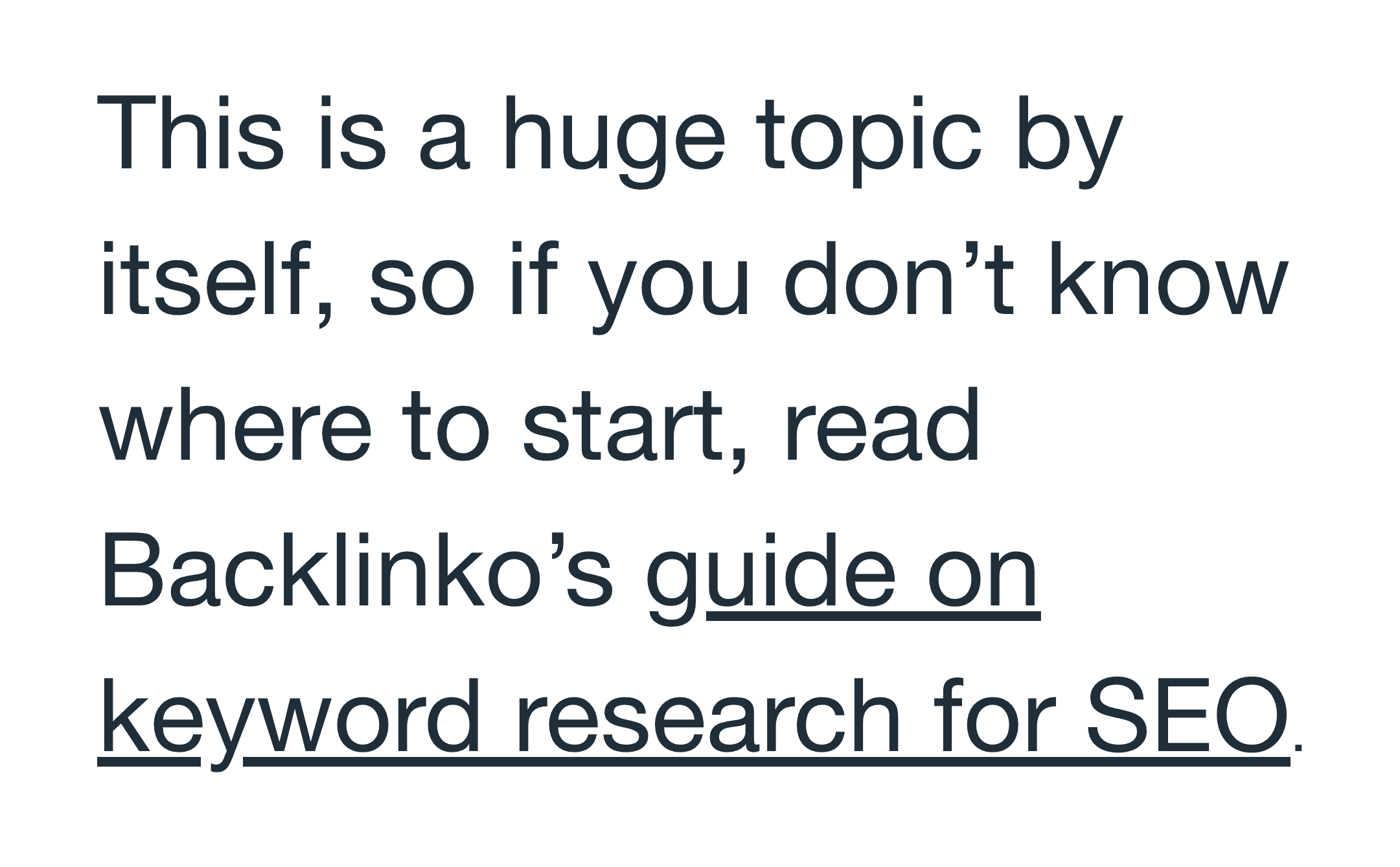 That was the first time that Vimeo linked to me. This means that the link is pretty powerful.
But the next link they send my way will be significantly less powerful. And the one after that will be less powerful than the second link etc.
This is why I recommend focusing more on referring domains than total backlinks.
In fact, I basically ignore "Backlinks" when I check my site in Semrush. Instead, I focus 100% on "referring domains".

If that number is going up, then it's a sign that my content marketing and link building is working.
4. Organic Traffic
Organic traffic is another way of measuring how much traffic you get from Google organic.
You can easily find this SEO metric in Google Analytics.
First, head over to Audience → Overview.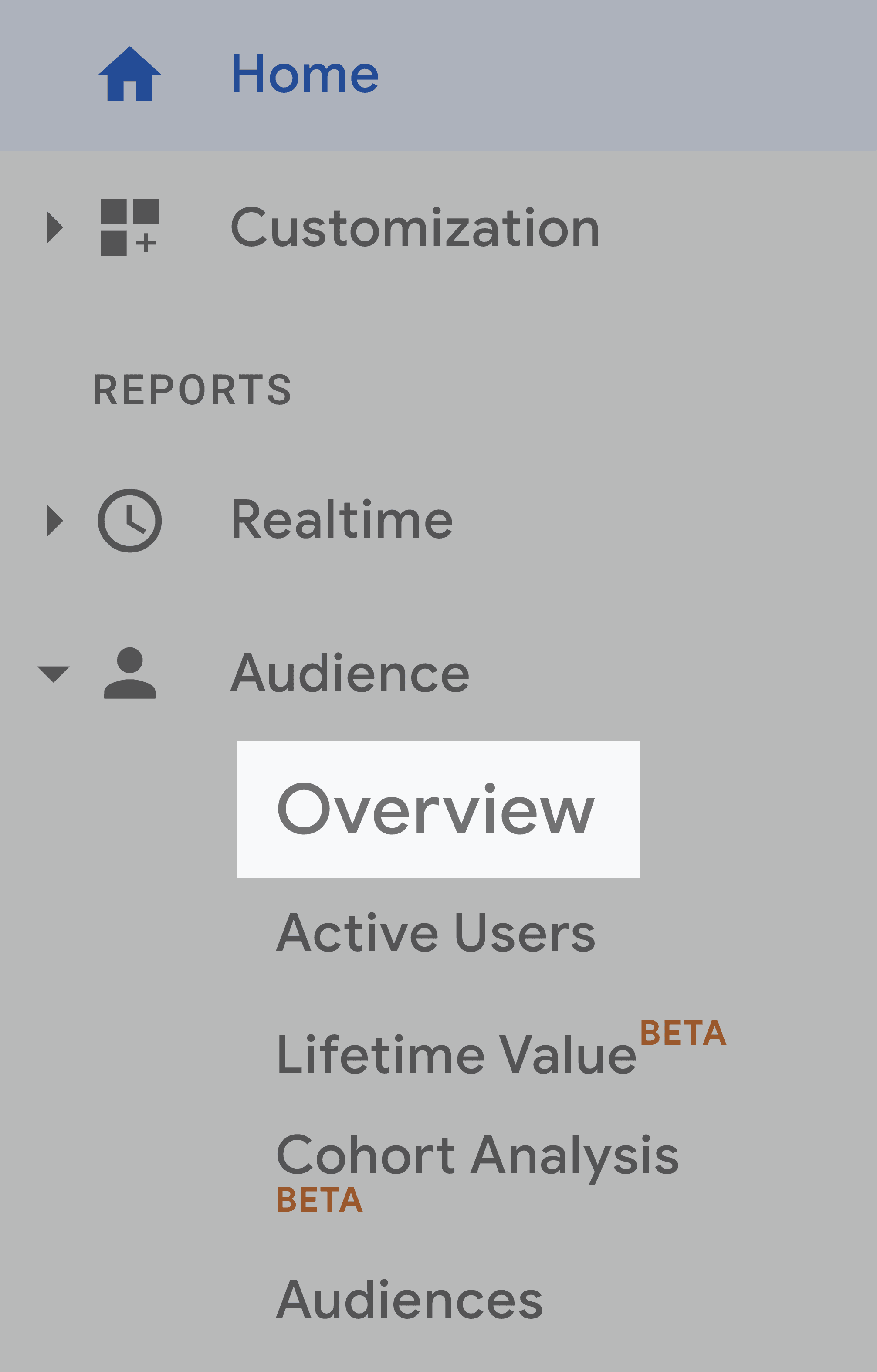 Then, hit "Add Segment".
And choose "Organic Traffic".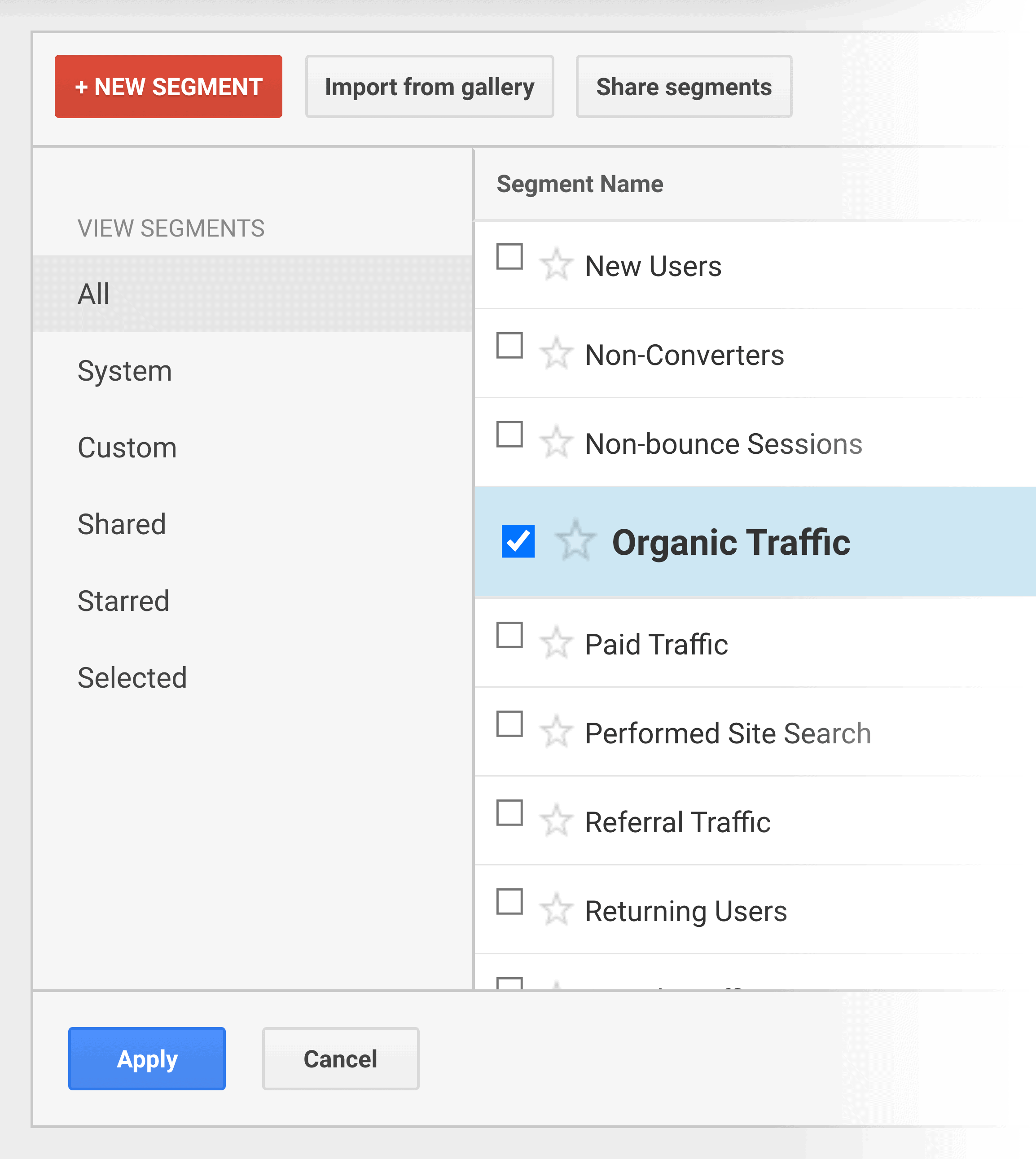 Voila! You'll see exactly how many search engine visitors your site gets.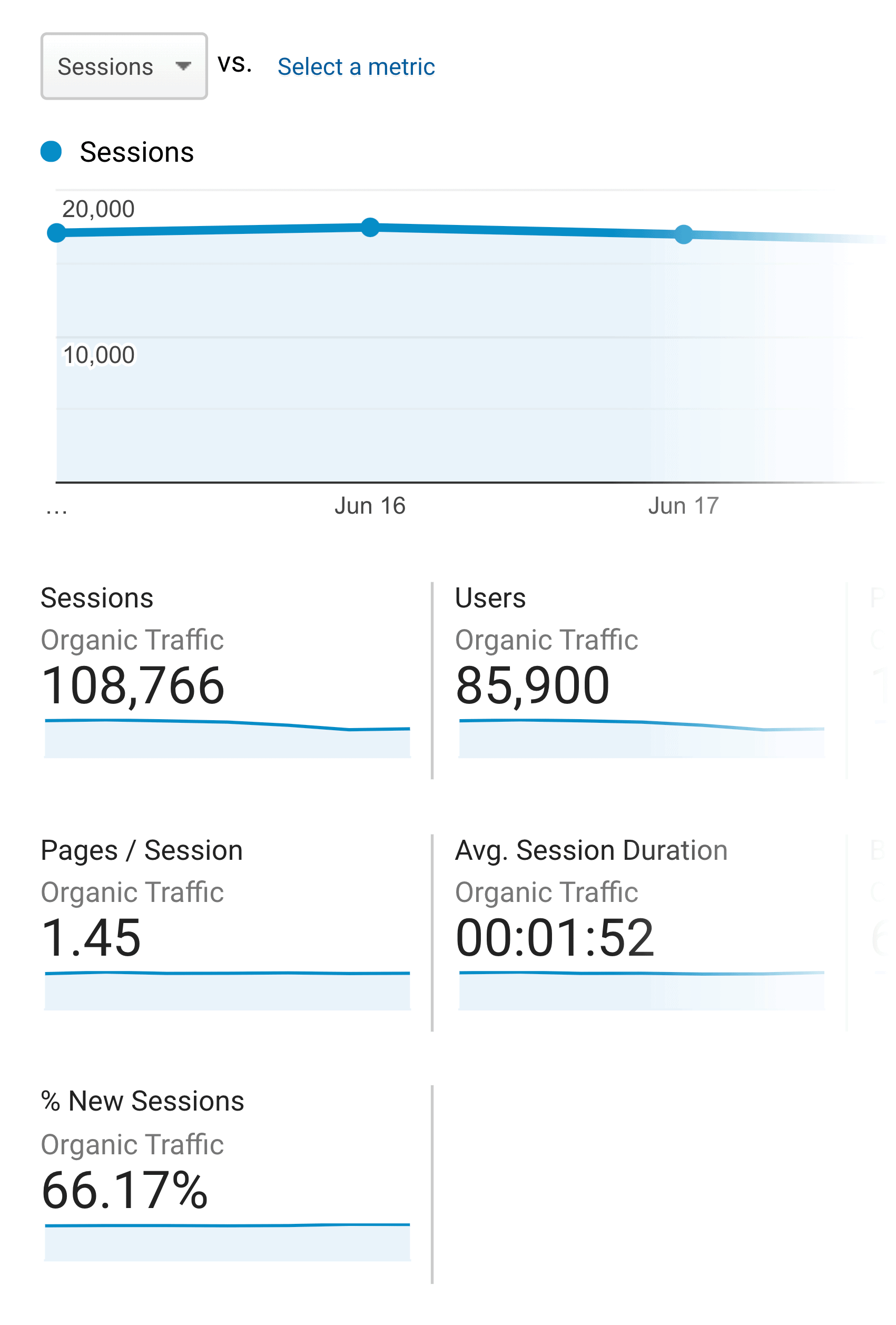 You might be wondering:
"Isn't this the same exact thing as "Total clicks" in the Search Console?"
Yes… kinda.
"Organic traffic" and "Total clicks" essentially measure the same thing.
But they do it in different ways.
For example, "Total clicks" ONLY measures traffic from Google. And "Organic traffic" takes all search engines (including Bing) into account.
They also measure traffic a little bit differently. Which is why the numbers from each source are sometimes different.
But the overall trend usually lines up.
That's actually why I like looking at both metrics: if Total clicks and Organic traffic are both moving in the right direction, that's a good sign.
5. User Experience Metrics
I already covered the Core Web Vitals report (it's the second SEO metric on this list).
Thing is, Core Web Vitals doesn't tell you the whole story.
Yes, page loading speed is important. And you definitely don't want slow site performance to impact your UX.
Which is why Core Web Vitals focuses almost 100% on those two things.
But if you ONLY pay attention to Core Web Vitals, you're missing out on the whole UX picture.
Specifically, you want to zero-in on two other key user experience signals that Google uses in their algorithm:
To be clear: these aren't the only ways that Google measures how people interact with your website.
But they're two of the most important.
In fact, the 11M+ results ranking factors study that I mentioned earlier discovered a strong correlation between dwell time and first page rankings.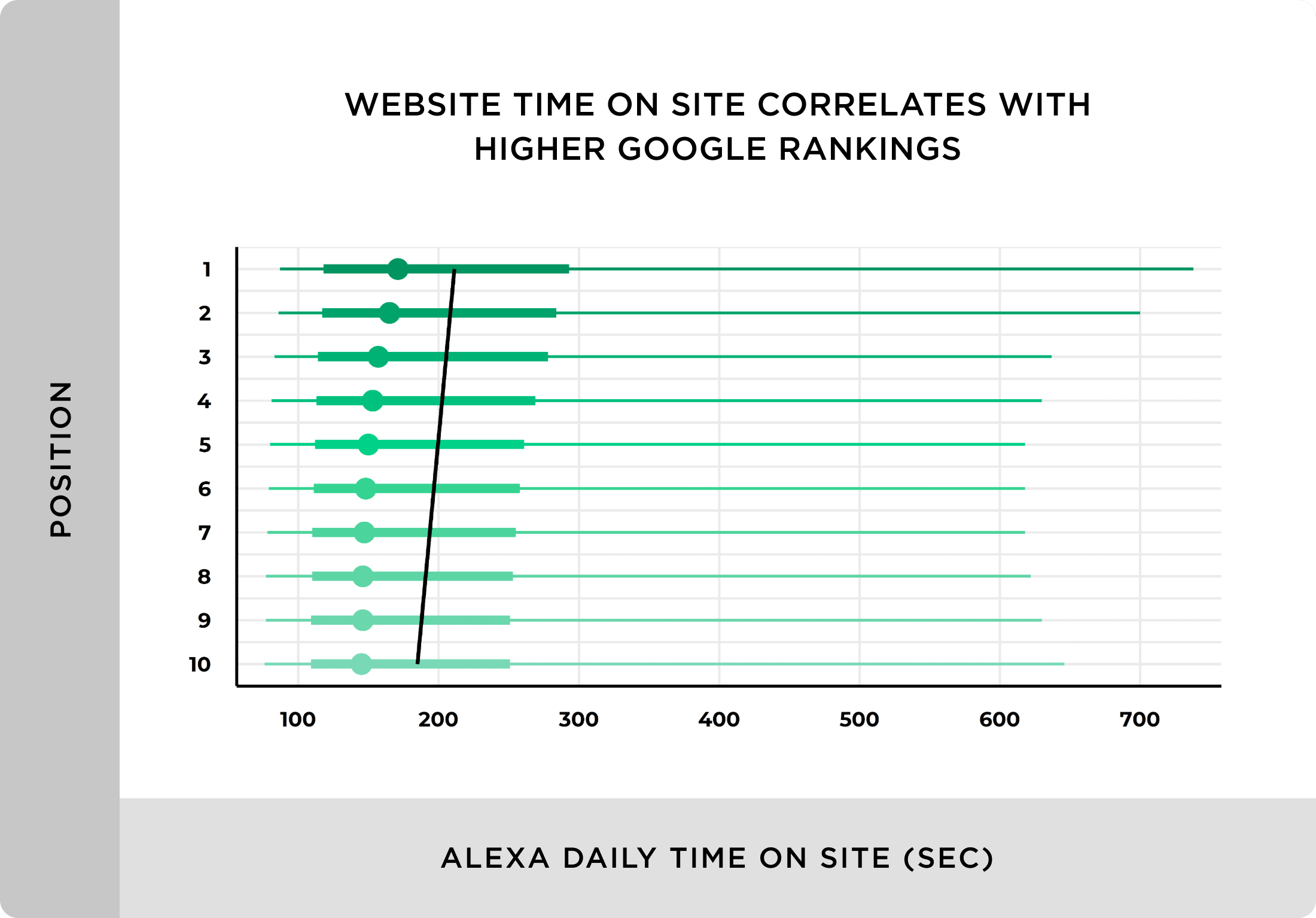 The other reason that I recommend focusing on these two SEO metrics is a practical one:
They're easy to measure and improve. In fact, you can easily find both of these metrics inside of Google Analytics.
All you need to do is go to Behavior → Site Content → Landing Pages.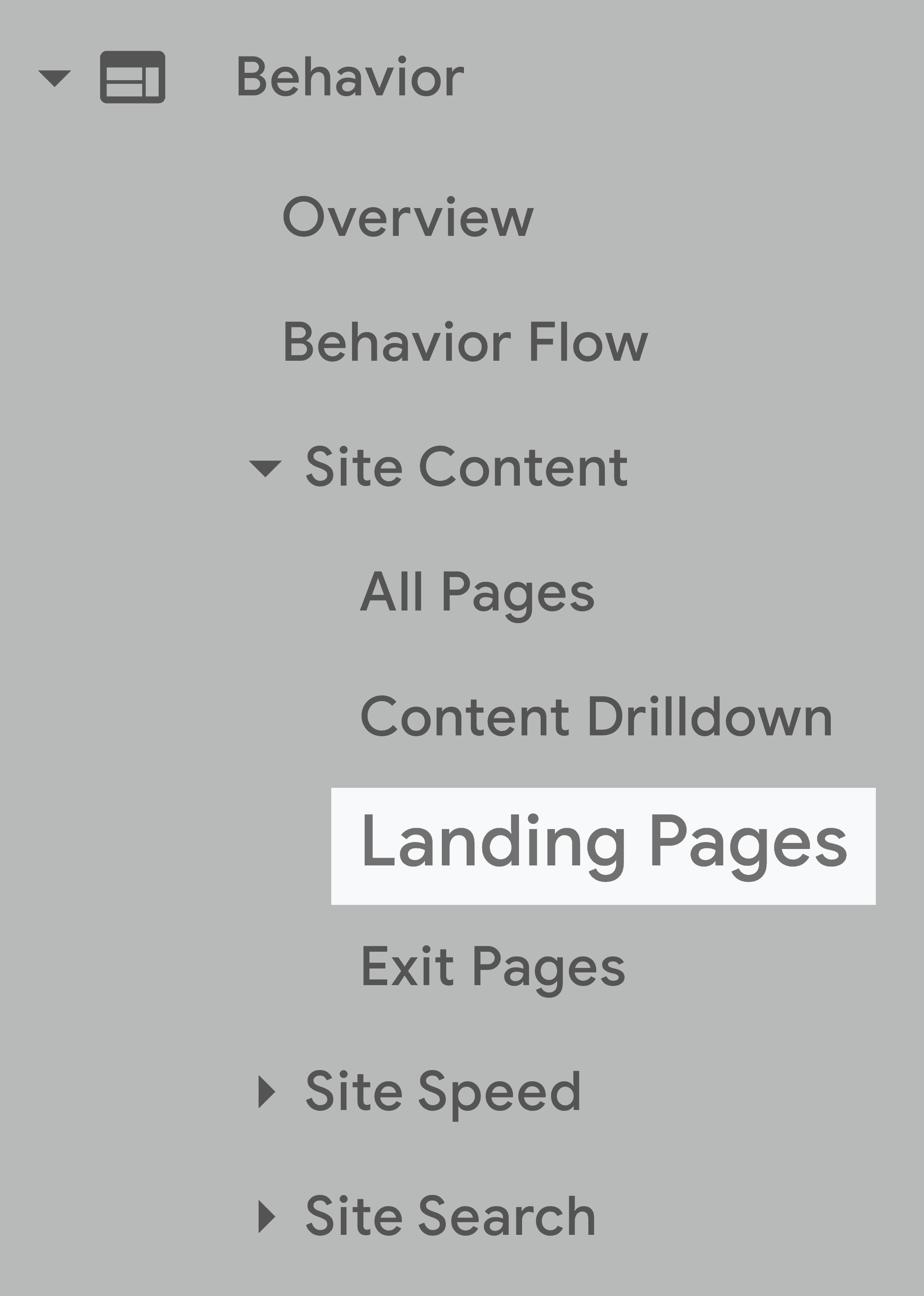 And you'll see a breakdown of how users interact with each page on your site.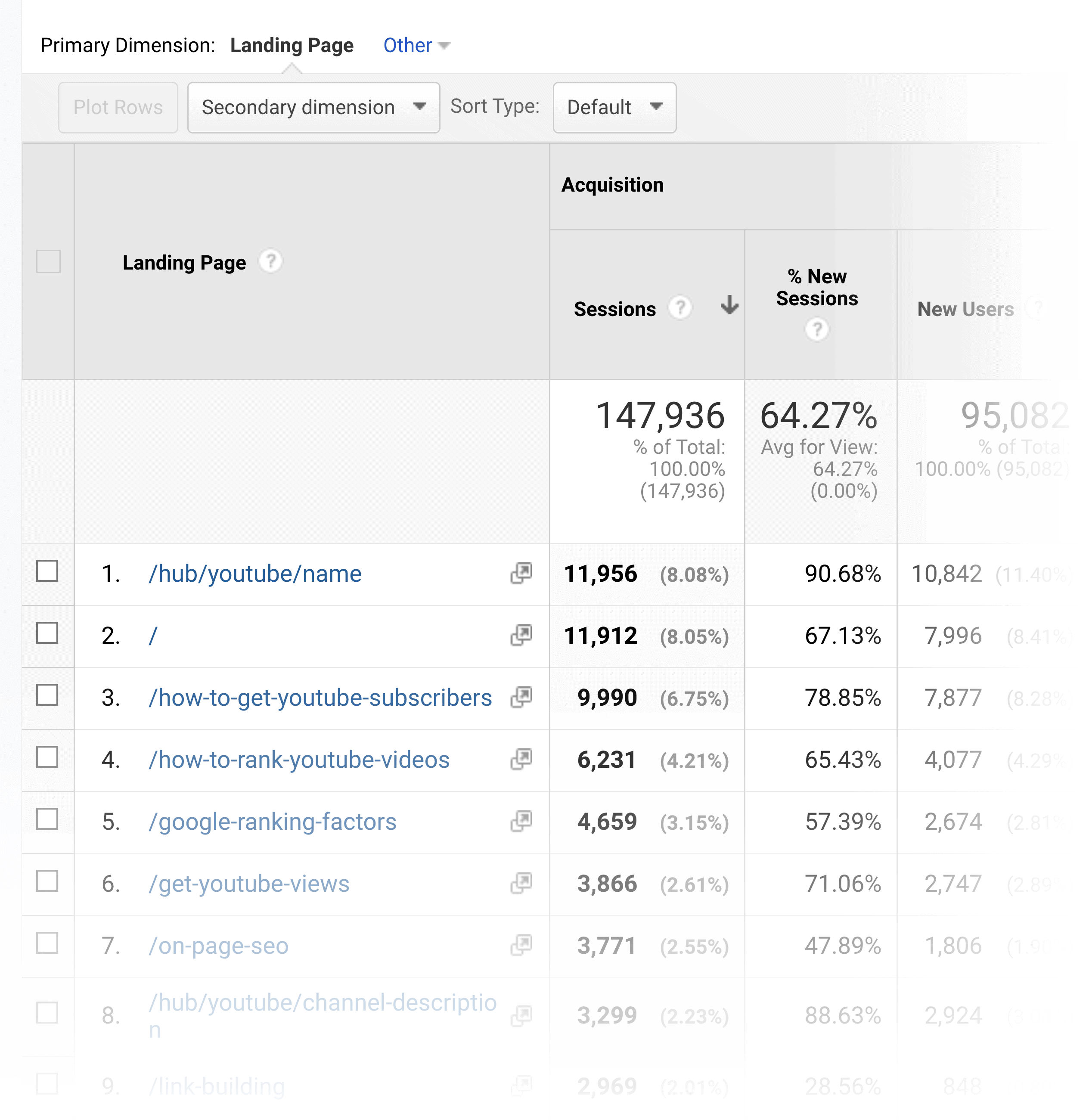 The two columns to pay attention to here are: Avg. Session Duration and Bounce Rate.
Avg. Session Duration is how long users spend on your site after they first land on it (aka Dwell Time).
Needless to say, the higher this number, the better. Google wants to serve up results that give them what they want.
And nothing says "this page stinks" then someone spending 5 seconds on a page before going back to the search results.
You also want to keep an eye on your Bounce Rate. As you can see in my report, my bounce rate is all over the place.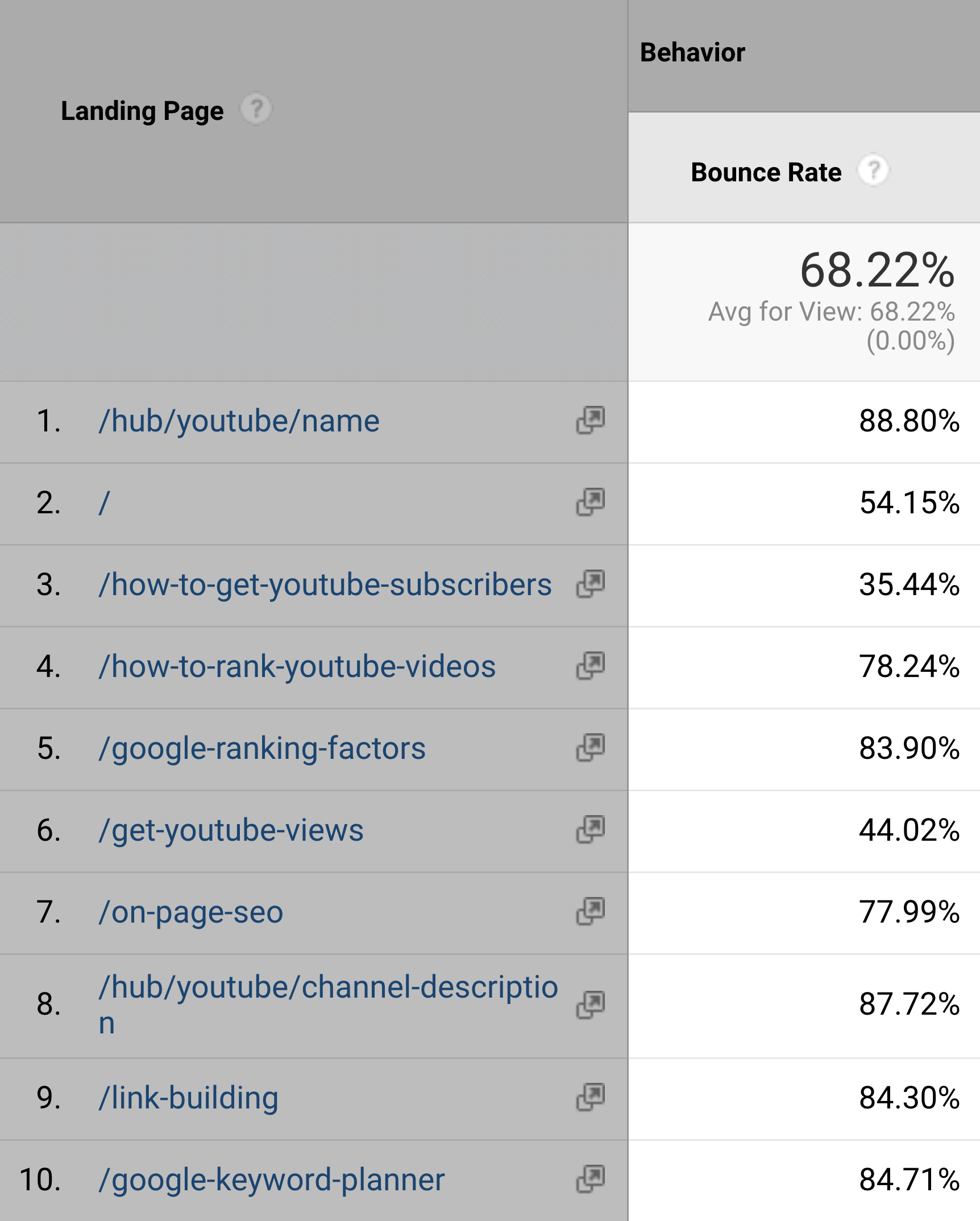 Certain pages (like /hub/youtube/name) have a super high bounce rate. Other pages (/how-to-get-youtube-subscribers) have a really low bounce rate.
This is perfectly normal. The key here is to figure out WHY certain pages have a high bounce rate. And improve those pages.
For example, let's look at my page with an 80%+ bounce rate.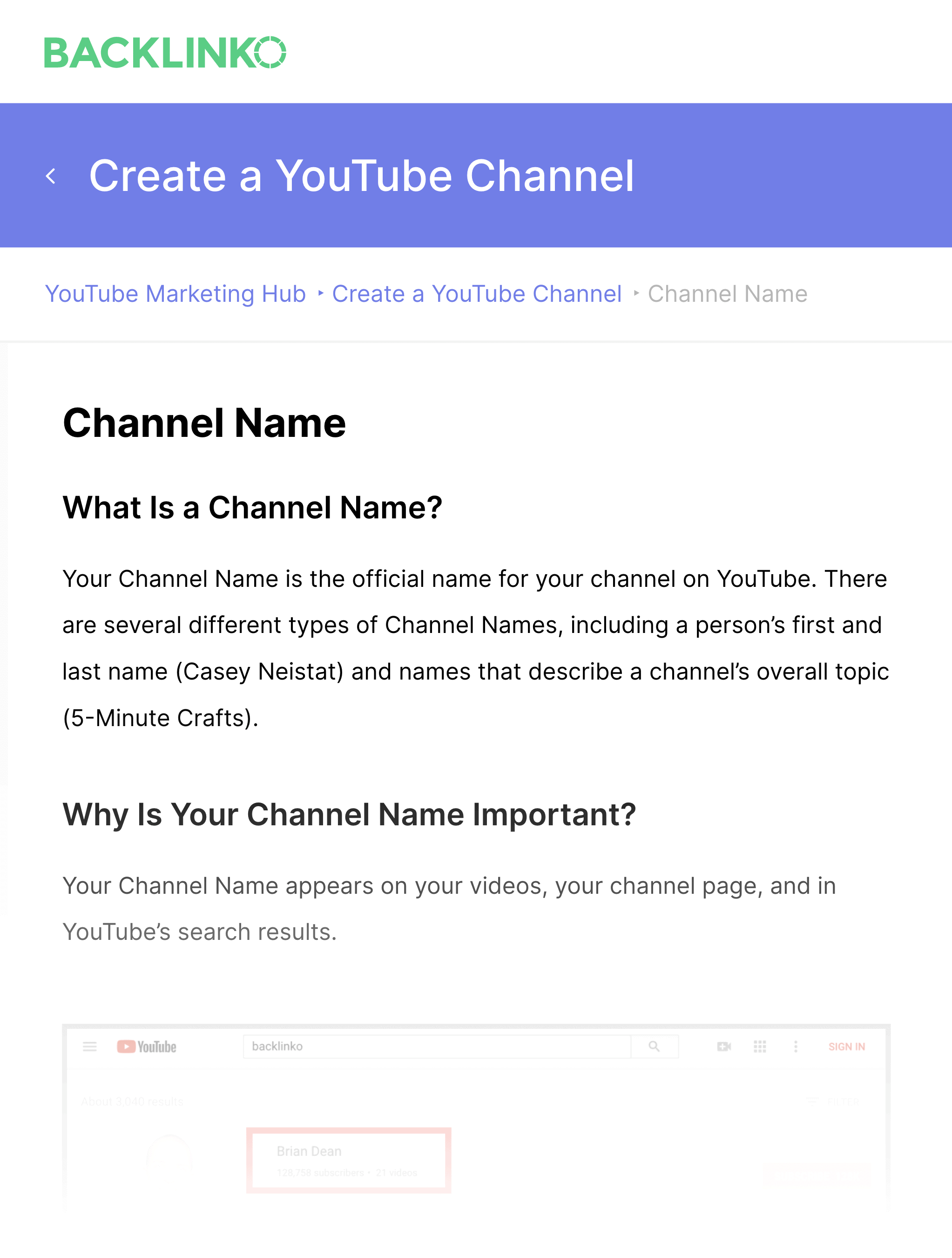 This page might have a high bounce rate because I don't dive right into the meat of the content.
The page is about "how to choose a channel name". But I have two intro sections before I get into the first step.
Which may lead people to quickly bounce.
On the other hand, my pages with a super low bounce rate tend to jump right into the important content.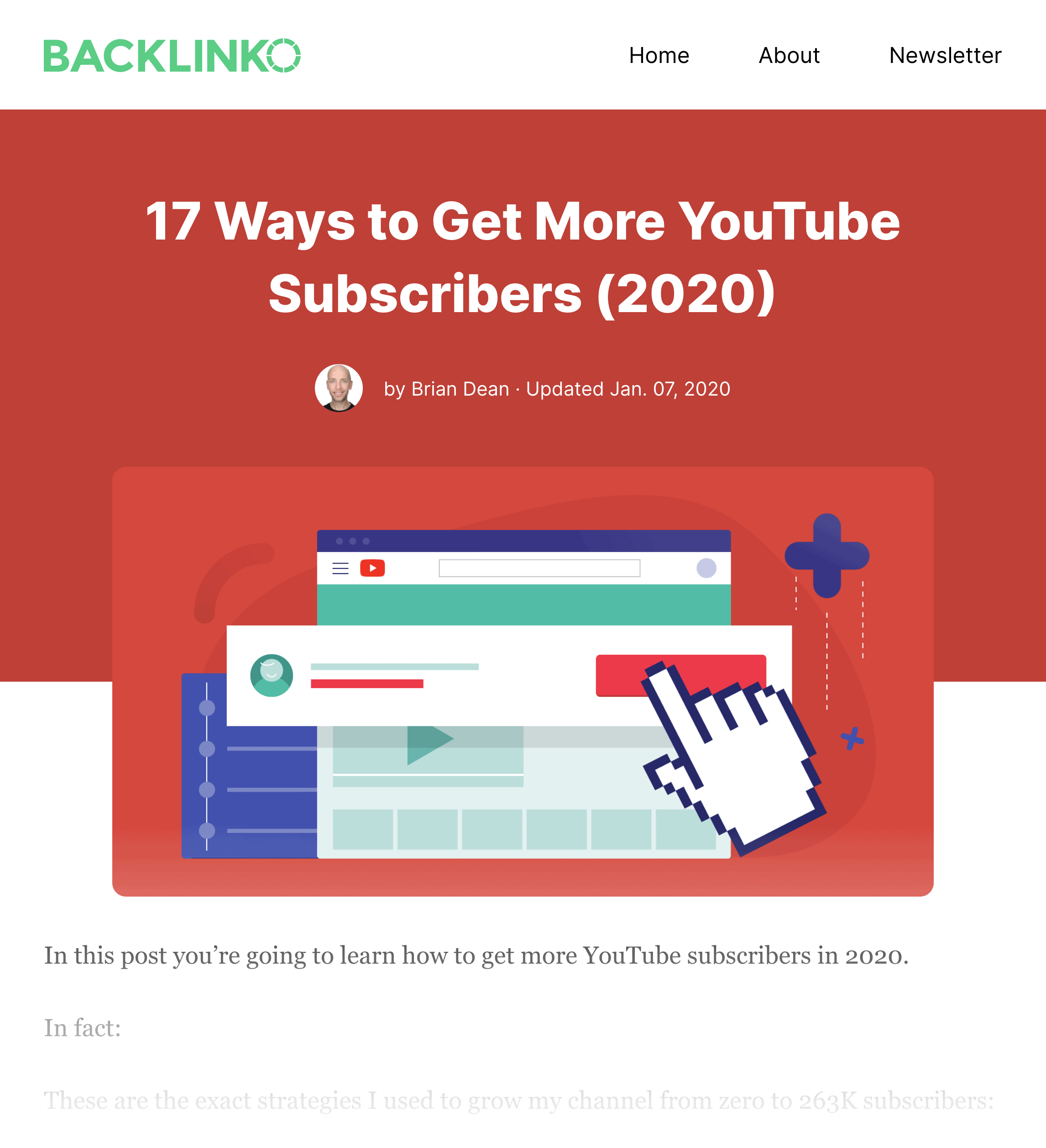 6. Traffic Cost
Referring domains.
Bounce rate.
Organic traffic.
It's really easy to get lost in the weeds with this stuff.
Yes, these SEO metrics are important.
But they don't answer the most important question of all:
Is SEO giving your business a positive ROI?
This is a surprisingly tricky question to answer.
After all, you can easily rank #1 in Google for a keyword that results in ZERO sales.
(This is a mistake that I've made hundreds of times)
Or you can watch your search traffic climb… while your site's overall conversion rate stays pretty much flat.
(Note: Solid keyword research can help you sidestep this issue. That's because you'll strategically pick keywords that your target audience actually searches for).
Which is why you don't want to fixate 100% on organic traffic. Instead, you also want to pay attention to your SEO traffic cost.
SEO traffic cost is an estimate of how much you'd pay in Google Ads for the traffic that you're getting from Google organic.
You can see this number in Semrush.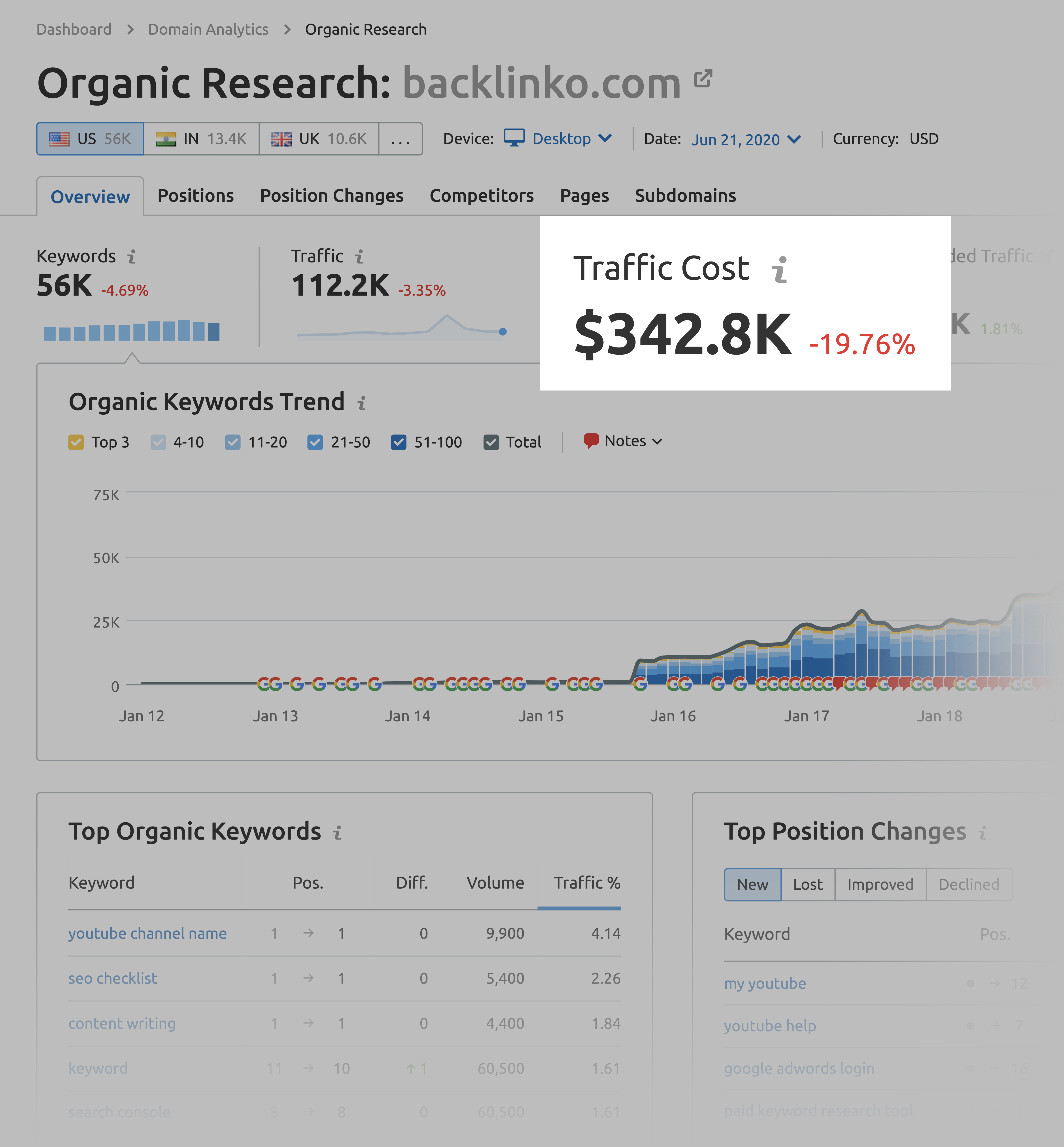 To be clear: this number isn't 100% accurate. After all, these 3rd party tools estimate your organic traffic in the first place.
So they're starting from a number that's not totally accurate.
But in general, they do a solid job of figuring out how much your SEO traffic is worth. And it, at last, gives you an IDEA of whether your SEO is paying off.
For example, my site gets $386,665 worth of organic search traffic every month.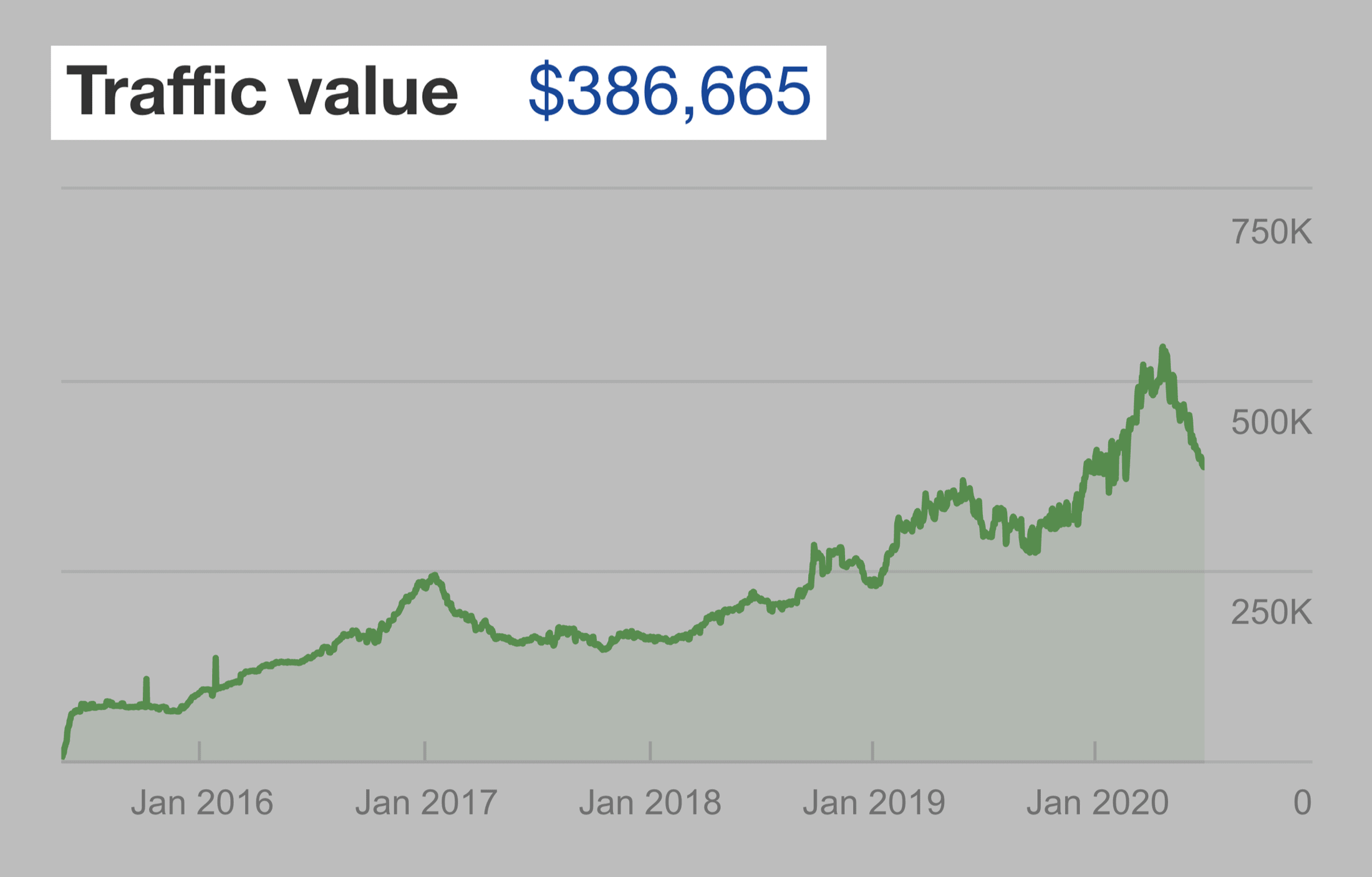 So as long as I'm not spending more than that on content, link building and other SEO tasks, then I should have a strong ROI from SEO.
Which I do 🙂
7. Indexed Pages
This is one of the most underrated SEO metrics on the planet.
Like the name suggests, indexed pages is the number of pages from your site that Google has indexed.
There are two simple ways to find out how many indexed pages you've got.
First, you can use the site:yoursite.com operator in Google search.
The number of results is a rough estimate of how many pages Google has indexed.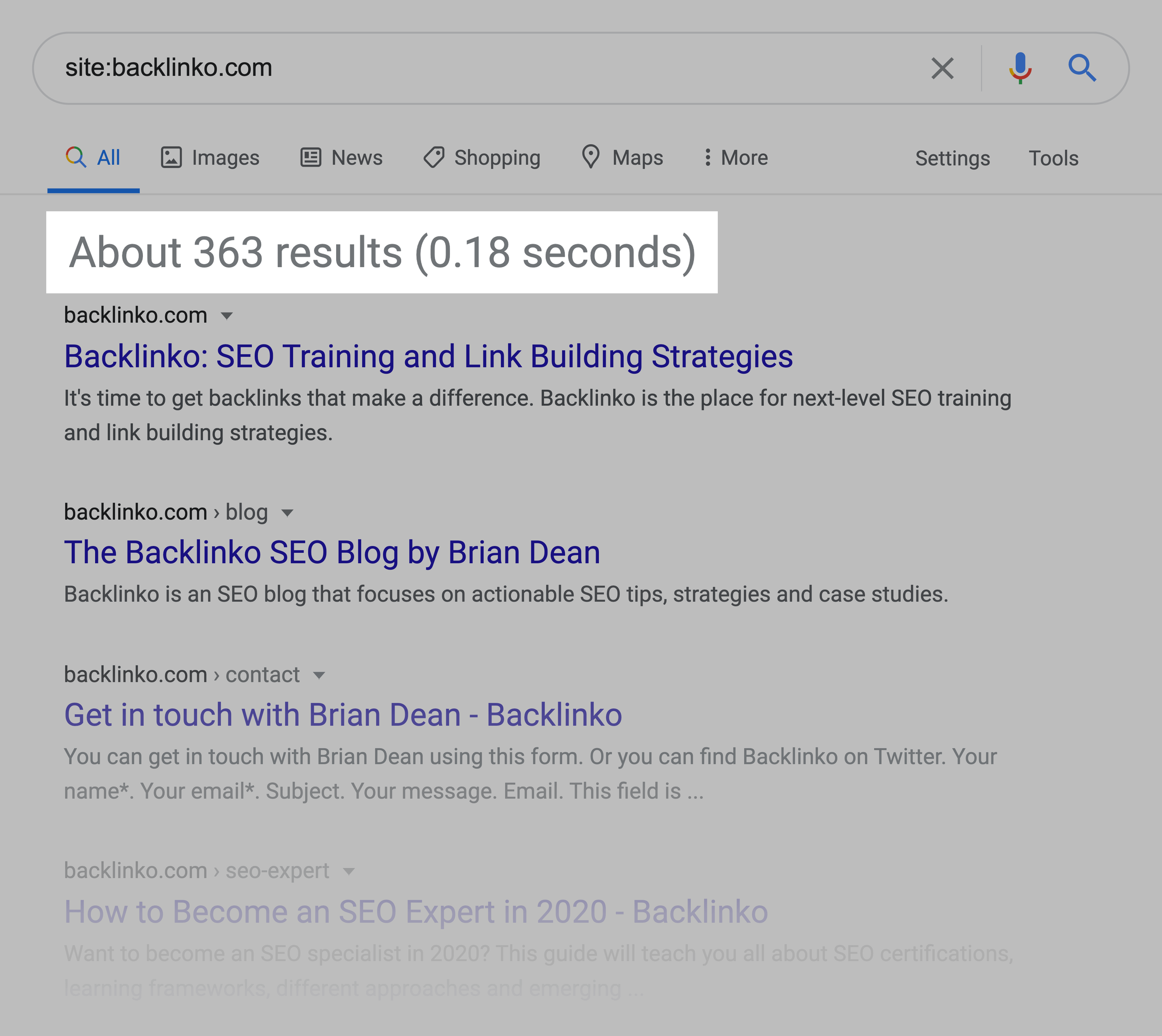 You can get a more precise number from the Coverage report in Google Search Console.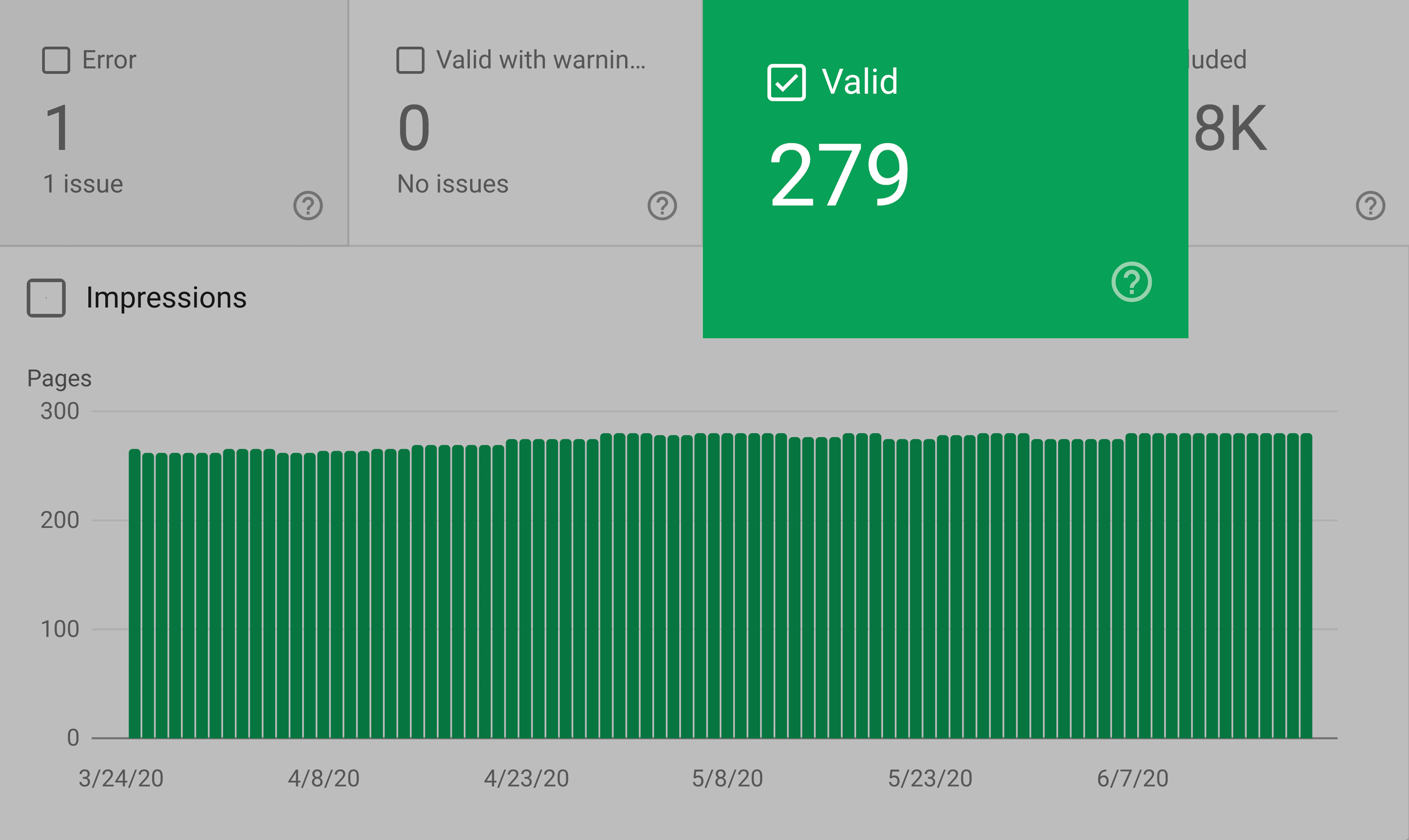 Either way, you definitely want to pay attention to this number.
And make sure that the number of indexed pages is in-line with the number of pages that you WANT indexed.
Why?
Lots of excess pages can hurt your site's overall technical SEO. Excess pages can easily lead to problems with duplicate content. Indexing. And more.
In fact, I recently slept on this metric. And it came back to bite me.
One of my properties was generating thousands and thousands of low-quality pages automatically.
For example, the site was putting out dozens of versions of the same page on different URLs.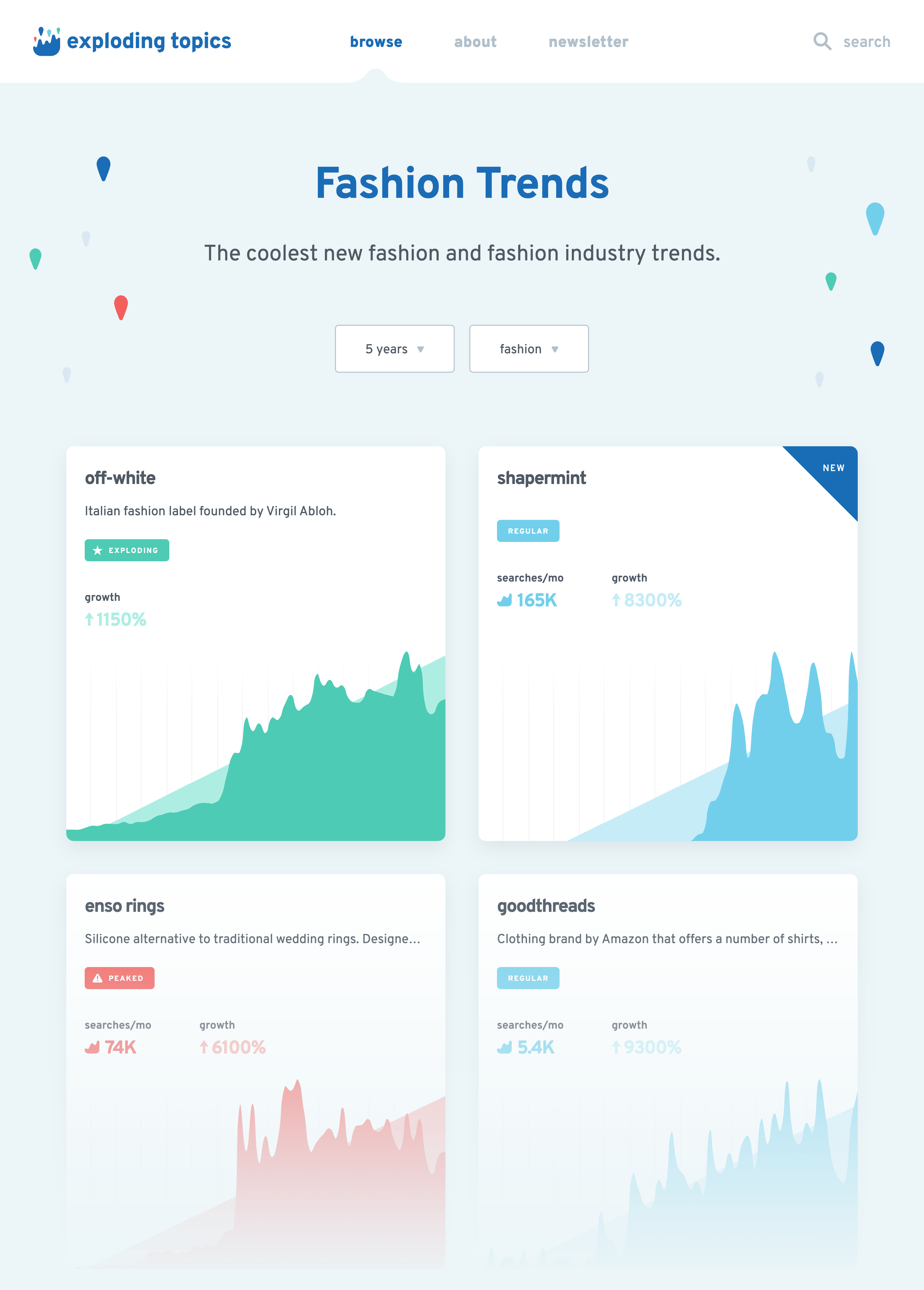 And all of those similar versions were getting indexed in Google.
Which led to the site ballooning to over 12k indexed pages.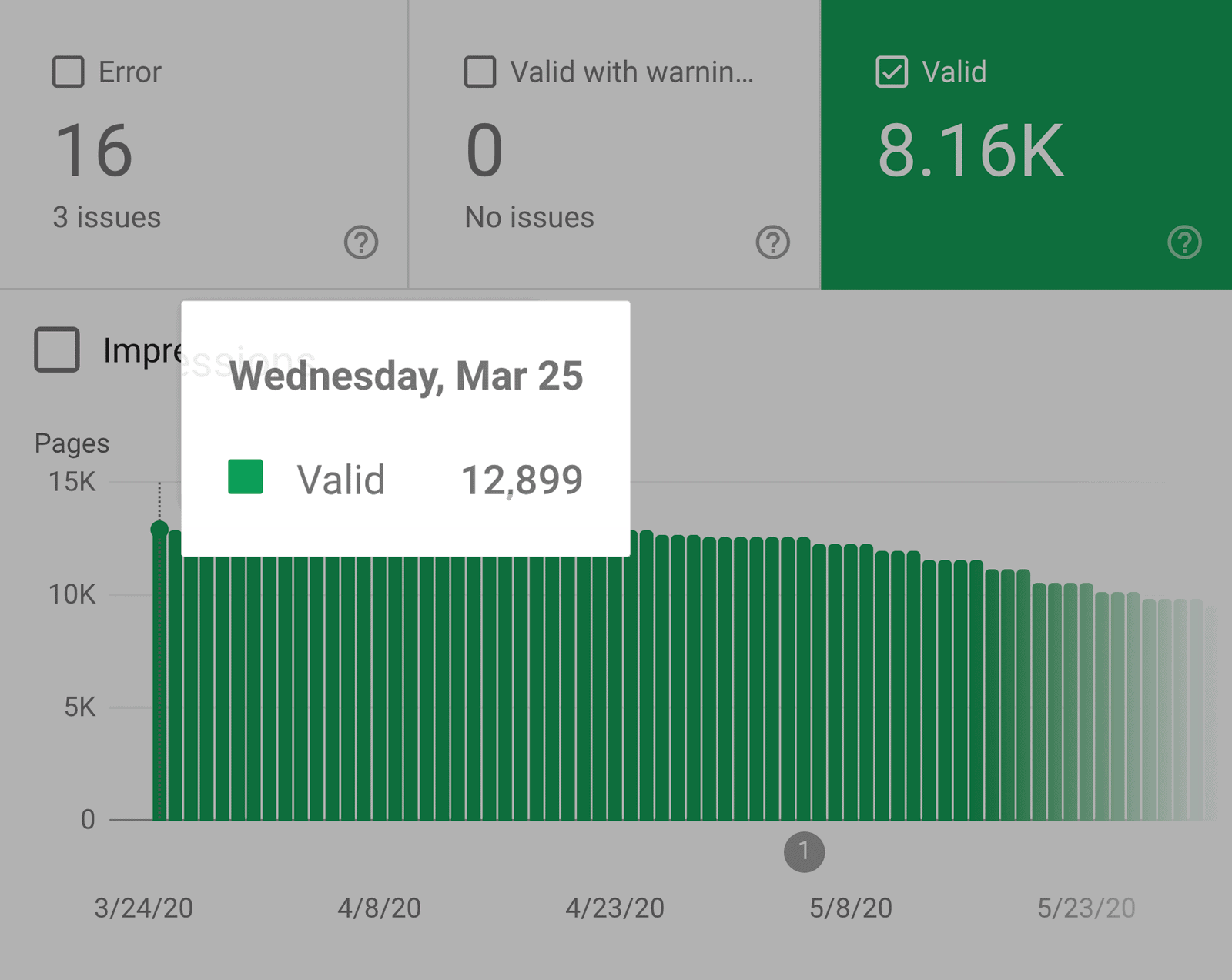 We eventually noindexed all of those duplicate pages. But it took MONTHS for those pages to get removed from the index. And our SEO performance suffered in the meantime.
8. Average CTR
Average CTR is the percentage of people that see your site in Google. And ultimately click on your site.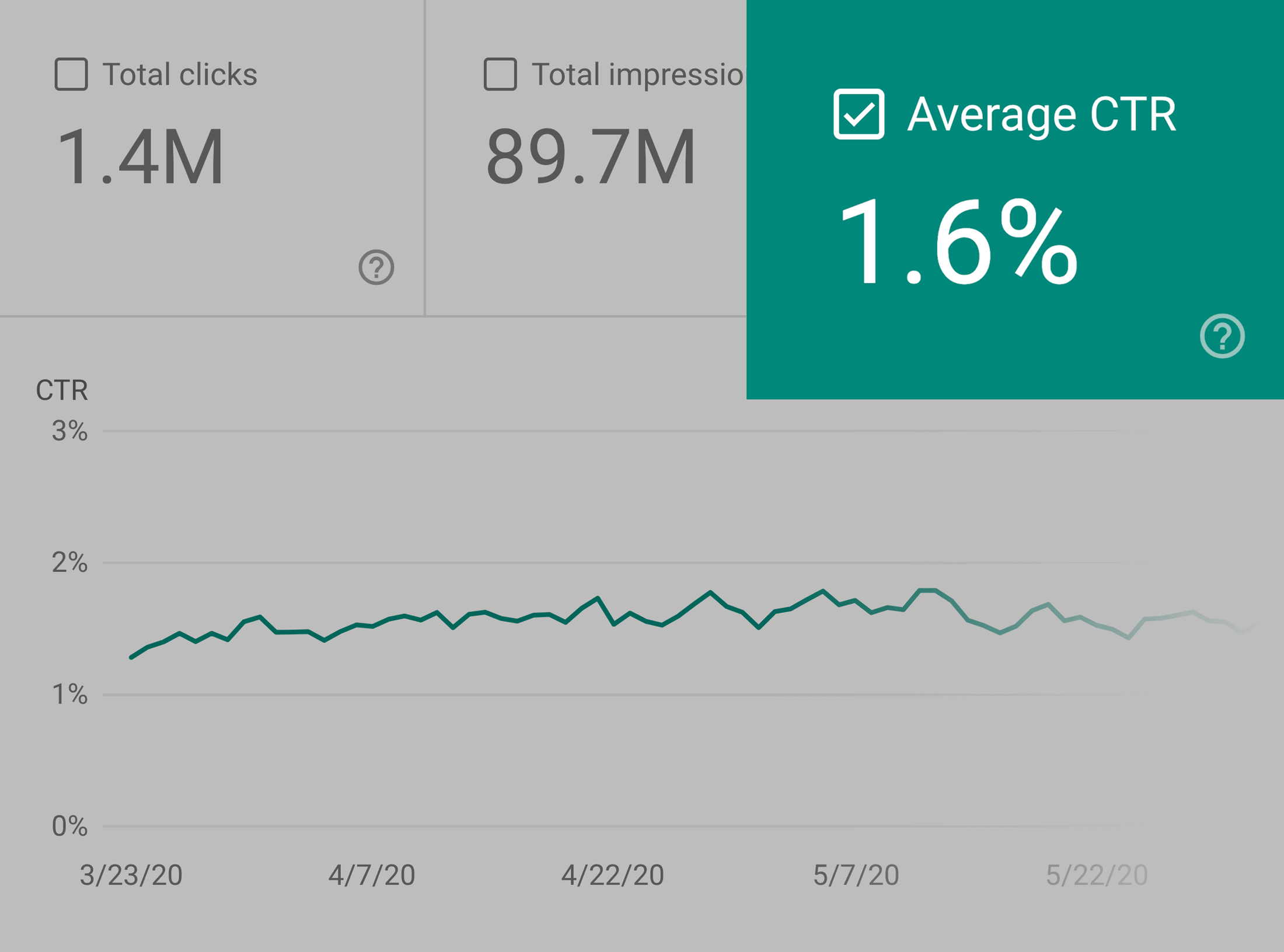 Obviously, the higher your CTR, the better. It's simple math:
Higher CTR=more clicks=more traffic.
But that's not the only reason to pay attention to Average CTR.
Google likely uses CTR in their ranking algorithm. And if your site gets more clicks than normal, it makes Google say: "This site is a super relevant result for this keyword. Let's bump it up a few spots".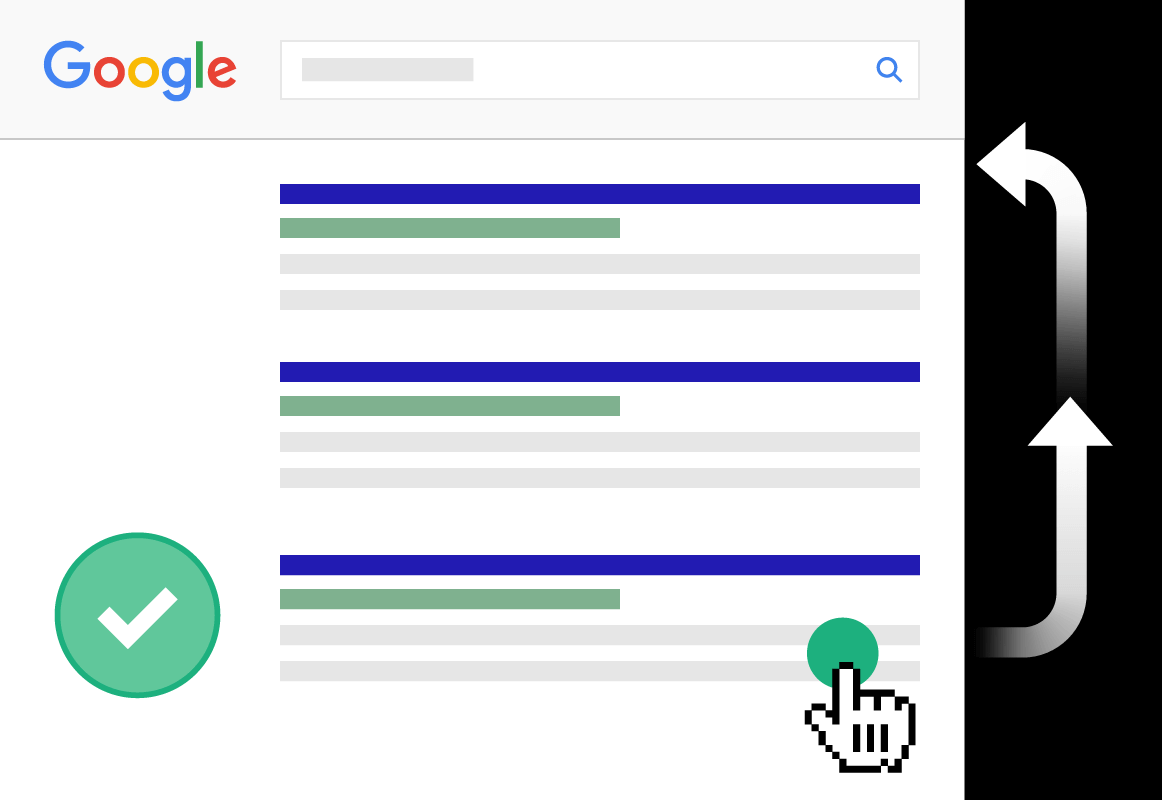 You might be wondering:
What's a "good" CTR?
Honestly, there isn't an answer to that. Why?
Because it HIGHLY depends on where you rank. And what other SERP features you're competing with.
For example, take a look at this SERP.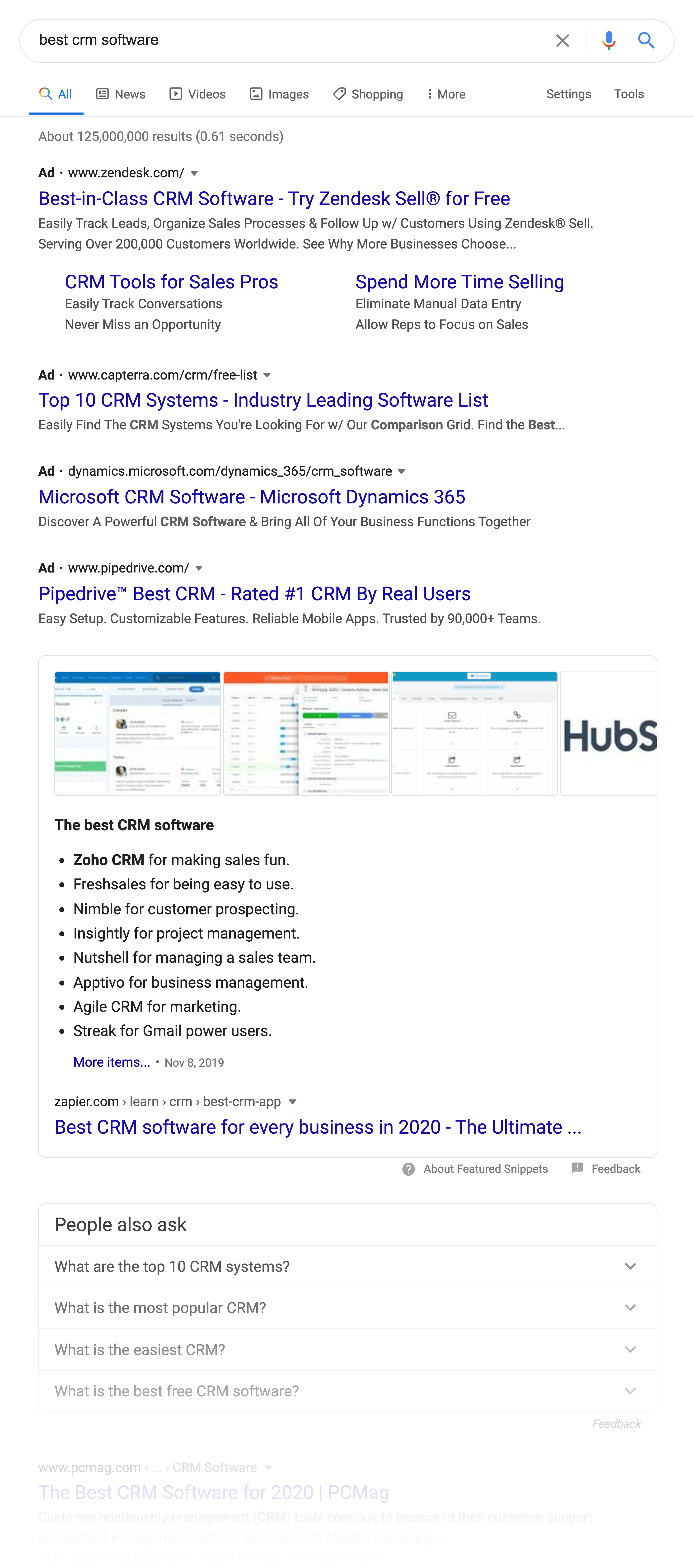 It has a bunch of ads, a featured snippet, and more. Which means that your CTR is going to be low (even if you rank #1).
On the other hand, this SERP is pretty clean.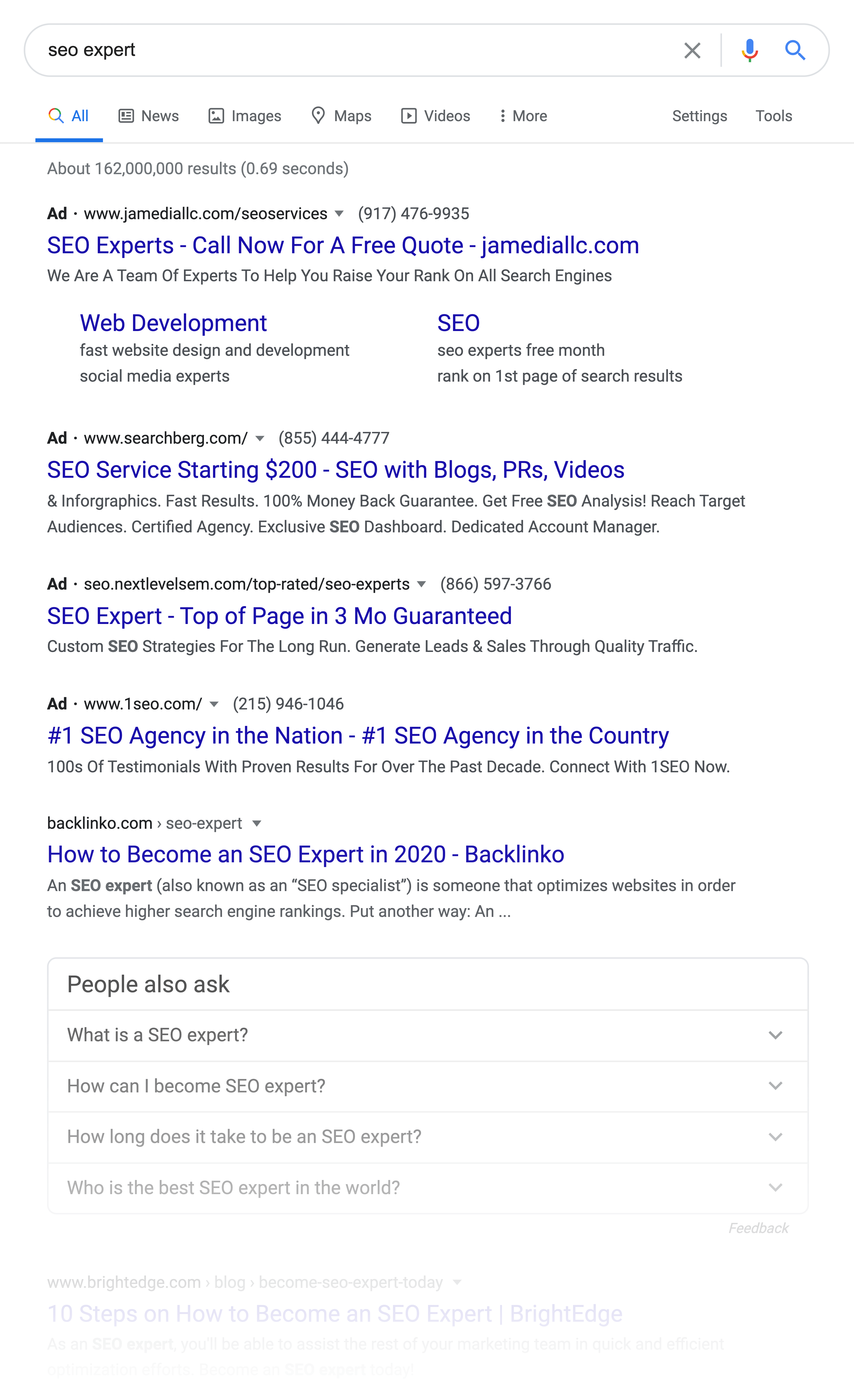 So in this case your CTR will probably be pretty high.
The thing is, you can't really control what Google puts around your results. But you CAN control how enticing your result looks to Google searchers.
So the goal here isn't to hit some random CTR benchmark.
Instead, you want to improve your title and meta description tags. That way, more people will want to click on your result.
9. Keyword Rankings
This is simply where you rank for a set of keywords.
Now:
There two main ways to track keyword rankings…
First, you can use a rank tracking tool. You enter a set of keywords that are important for your SEO campaign.
And the tool will let you know where you rank for those search terms. And track your rankings over time.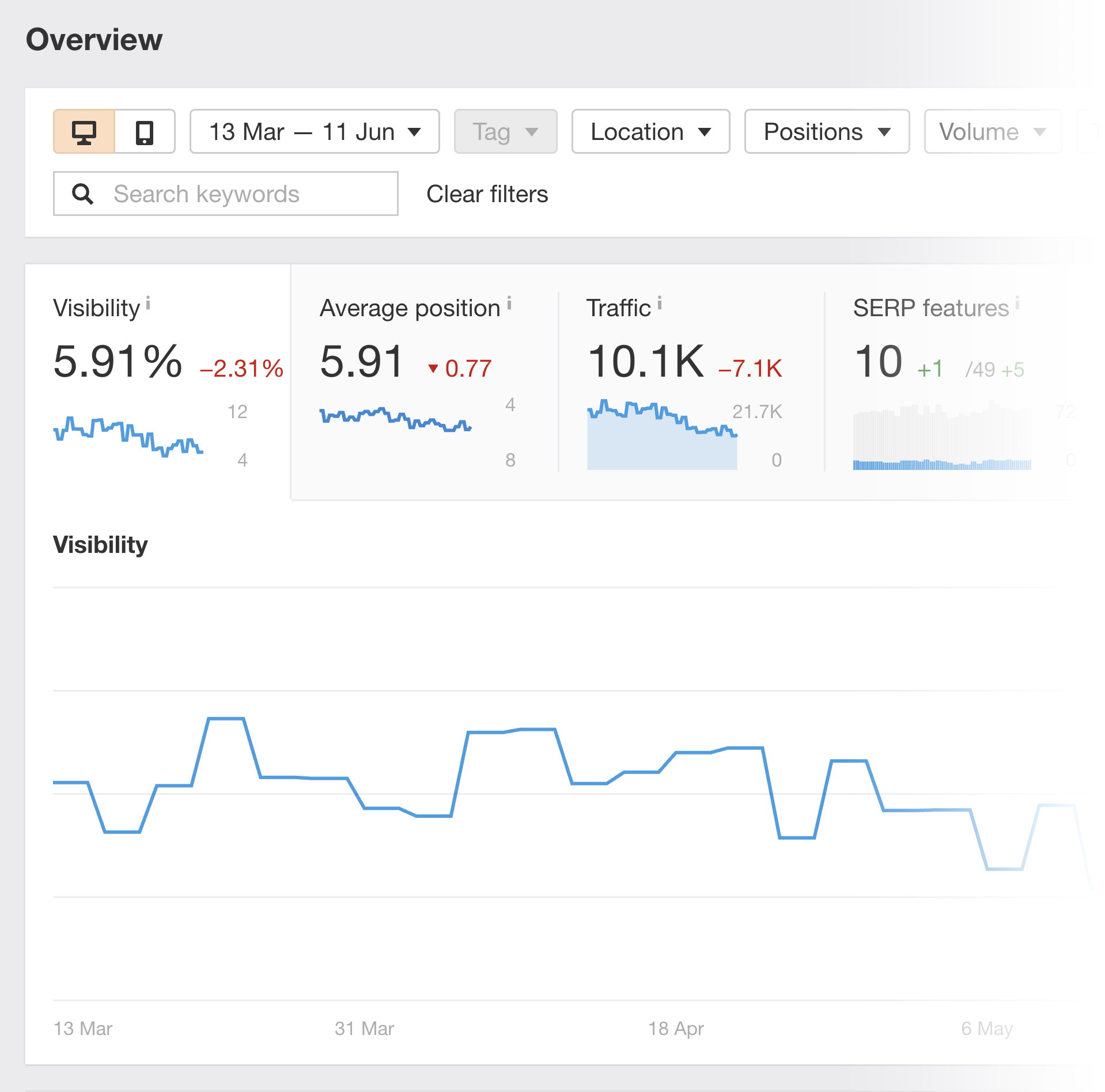 The second way is to check out organic keyword reports in SEO tools like Semrush.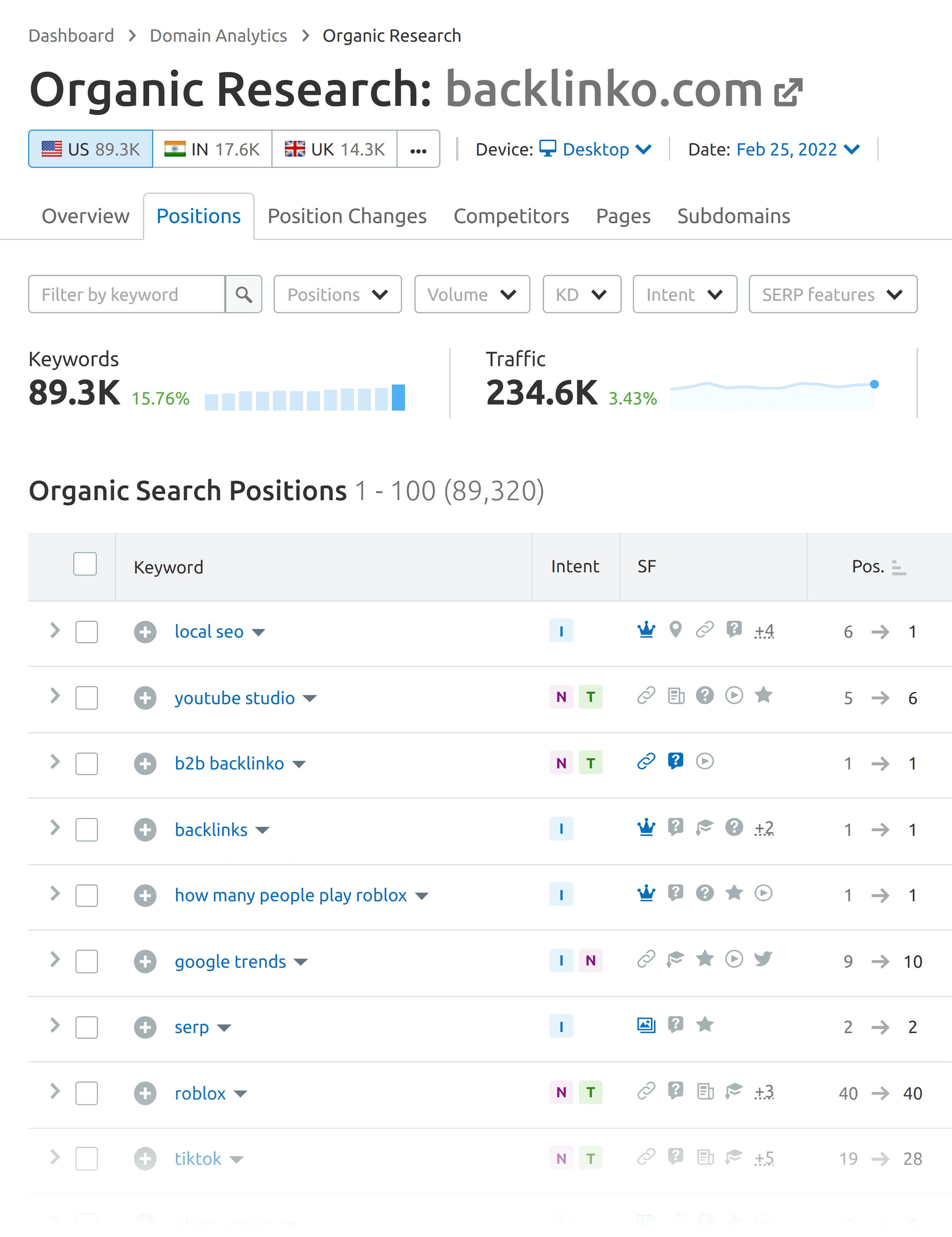 I actually pretty much stopped using traditional rank tracking. Instead, I just use organic keyword reports.
Why?
Well, the big problem with rank tracking tools is that they only track keywords that you put into them.
Which means that you only get a small look into all of your site's keywords.
But an organic keywords report automatically tracks all of the keywords that your site ranks for. And where you rank.
Which gives you a super thorough overview of your keyword rankings.
10. Coverage Errors
Coverage errors are crawling and indexing problems that your site has.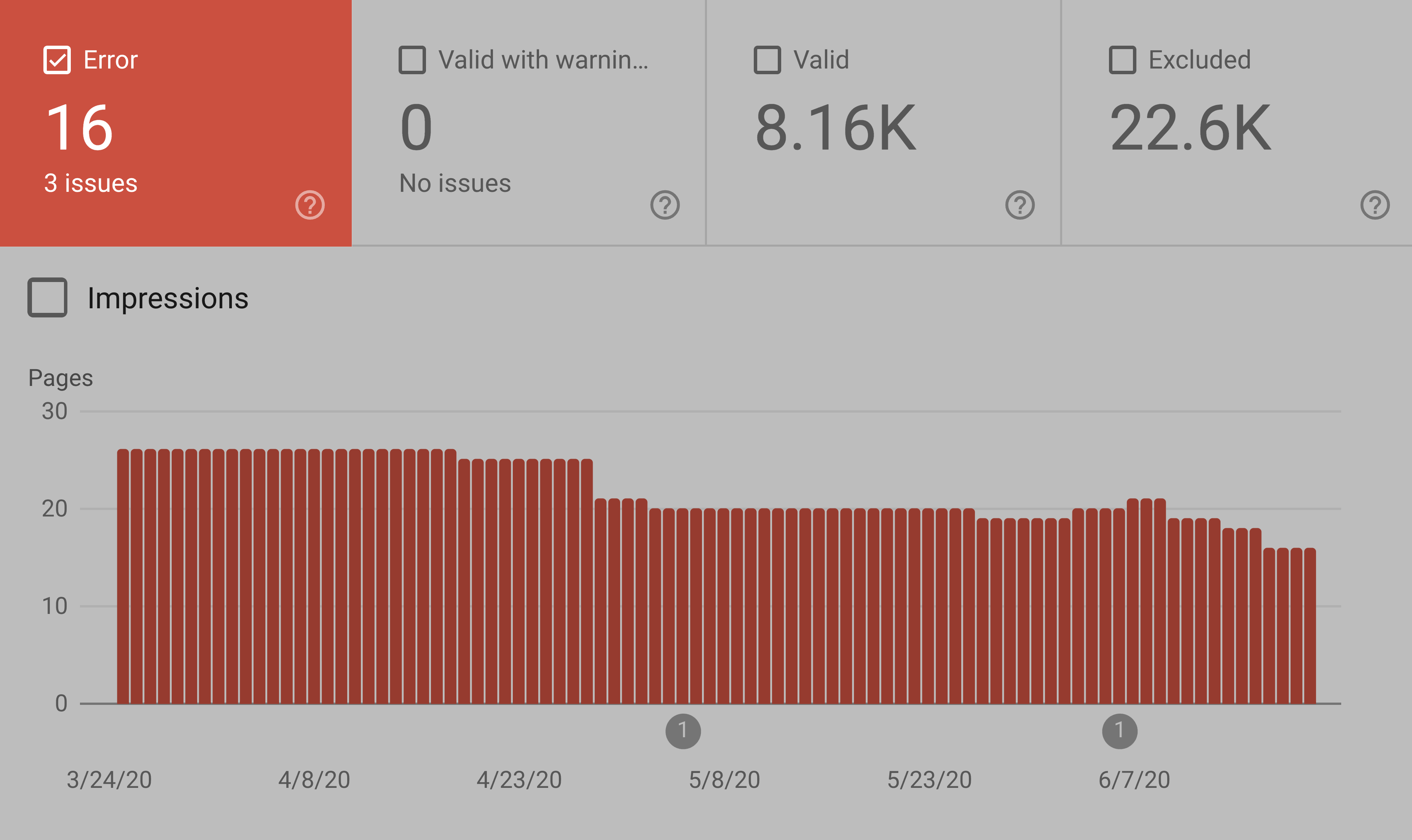 To be clear: it's not always possible to get this number all the way down to zero.
(Especially if you run an ecommerce site with 10k+ pages).
Either way, you definitely want to monitor your coverage and crawl errors in the Google Search Console. Otherwise, they can easily lead to problems that can pull down your entire site's rankings.
For example, you can see here that this site has a bunch of submitted URLs marked as "noindex".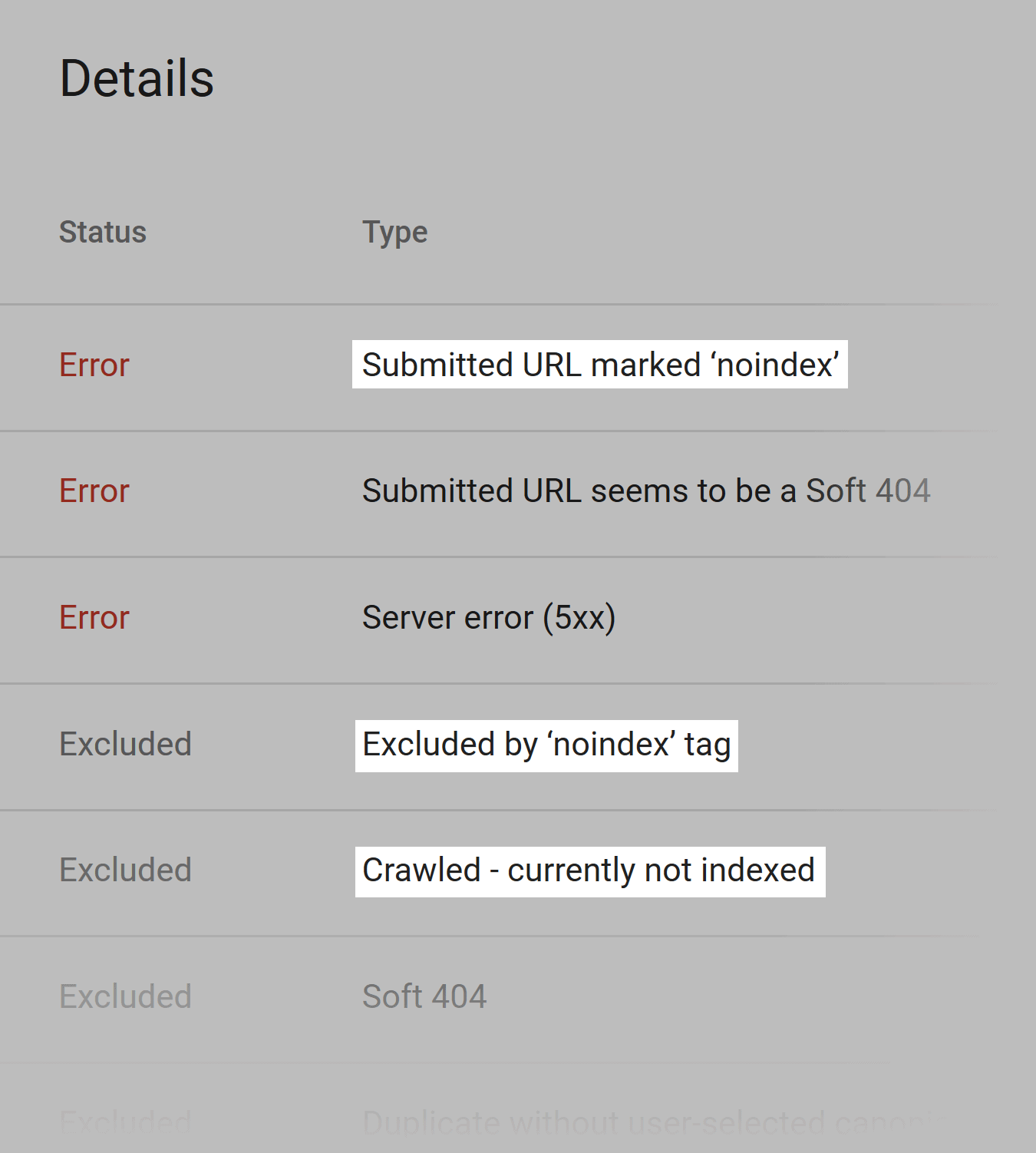 This error means pages that I want indexed aren't getting indexed.
And if these pages aren't indexed, they're not going to rank for anything.
That's (obviously) bad.
Which is why I recommend checking our Coverage errors at least once a week.
Learn More
How to Create an Effective SEO Strategy: Yes, you can optimize for each of these SEO metrics one-by-one. But starting from a solid SEO strategy makes optimizing for these metrics much easier.
We Analyzed 5 Million Search Results. Here's What We Learned About Organic Click Through Rate: Benchmarks for what a "good" CTR is by ranking position. Along with data-driven ways to get more clicks.
How to Get Powerful Backlinks: Video with actionable strategies that you can use to get more referring domains and improve your domain authority.
The Definitive Guide to On-Page SEO: Solid on-page optimization can help boost up most the SEO metrics that I covered on this list.