Clearscope Review: Is This New SEO Tool Any Good?
by Brian Dean · Updated Feb. 24, 2020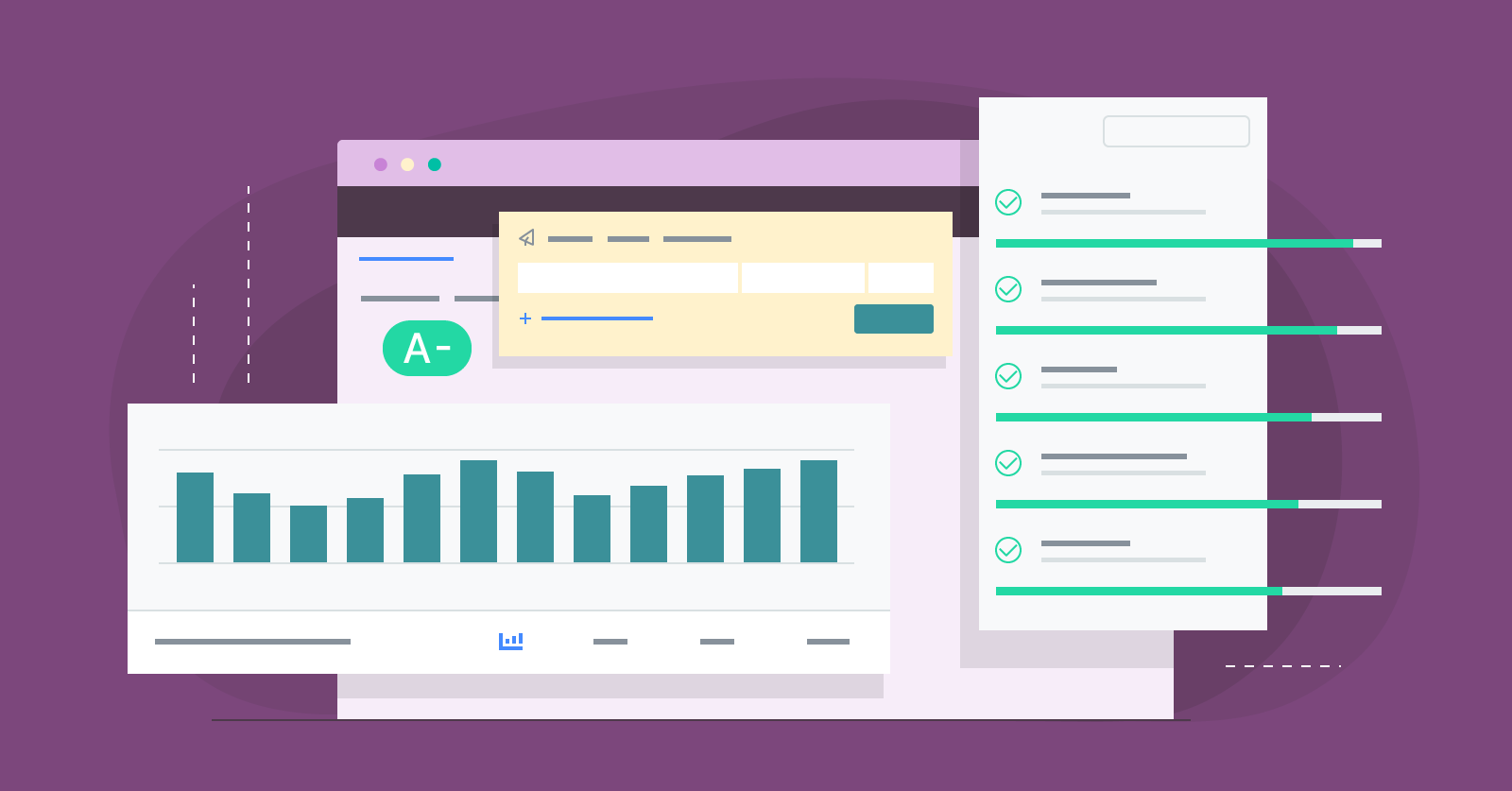 This is a SUPER in-depth review of Clearscope.io.
In this up-to-date review I'll break down:
What Clearscope does
What makes it unique
Key features
Things I like
Thing I don't like
Whether or not it's worth the price tag
Lots more
Let's get started.
What Is Clearscope, Exactly?
Clearscope.io is a keyword research and content optimization tool.
Its bread and butter feature is called "Optimize".
This feature grades your content based on "content relevance and comprehensiveness".
In other words, the tool scans your content for key LSI keywords that Google considers closely-related to your target keyword.
And Clearcope hands you a letter grade based on how well your content is optimized for SEO.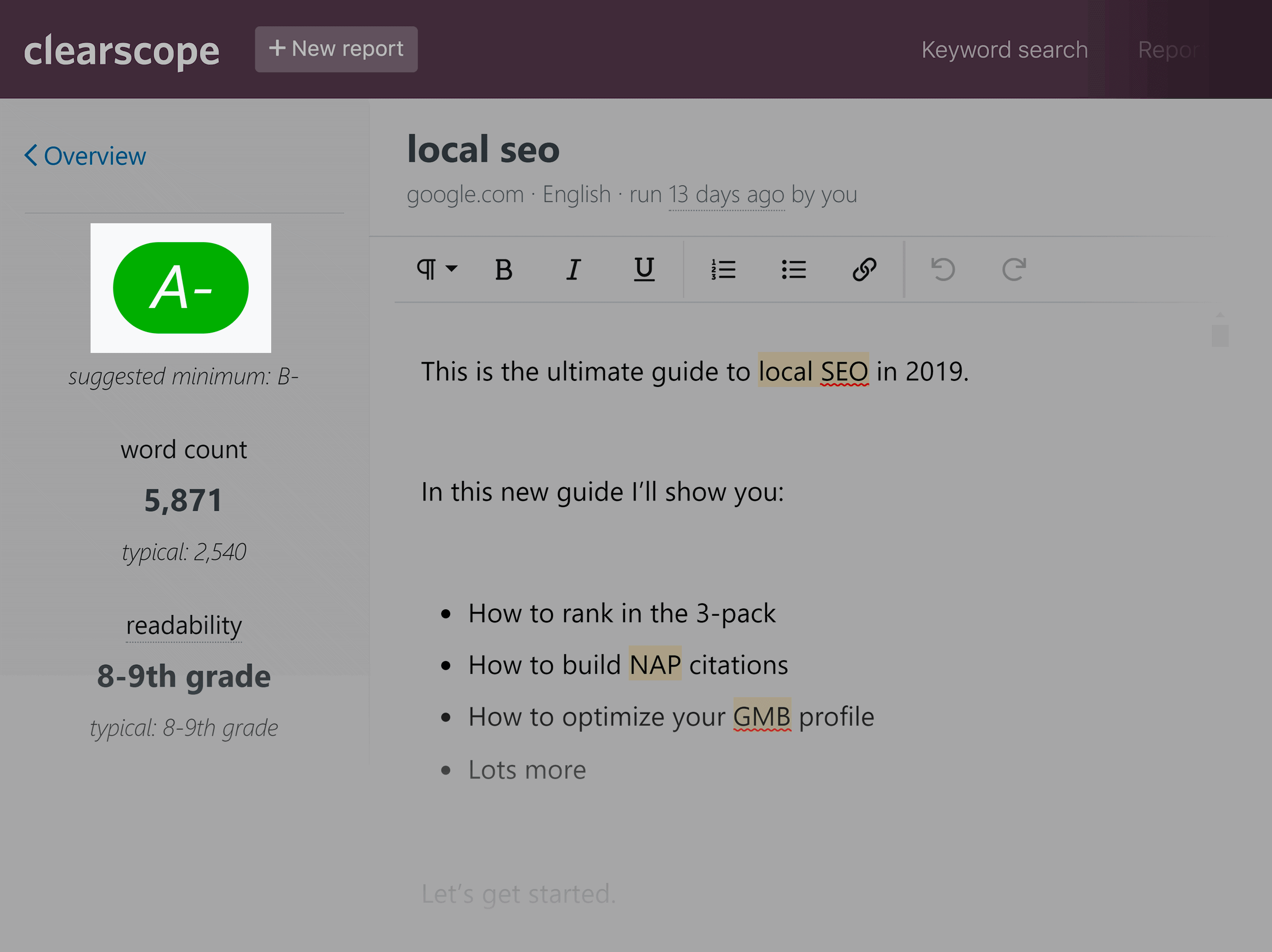 Now:
I'll break down this feature in A LOT more depth later on. But I wanted to quickly show you Clearscope's main thing before digging into the nitty gritty details.
How Does Clearscope Work?
Let me show you exactly how this SEO tool works using a real-life example.
When you first login to Clearscope, you land on a dashboard page.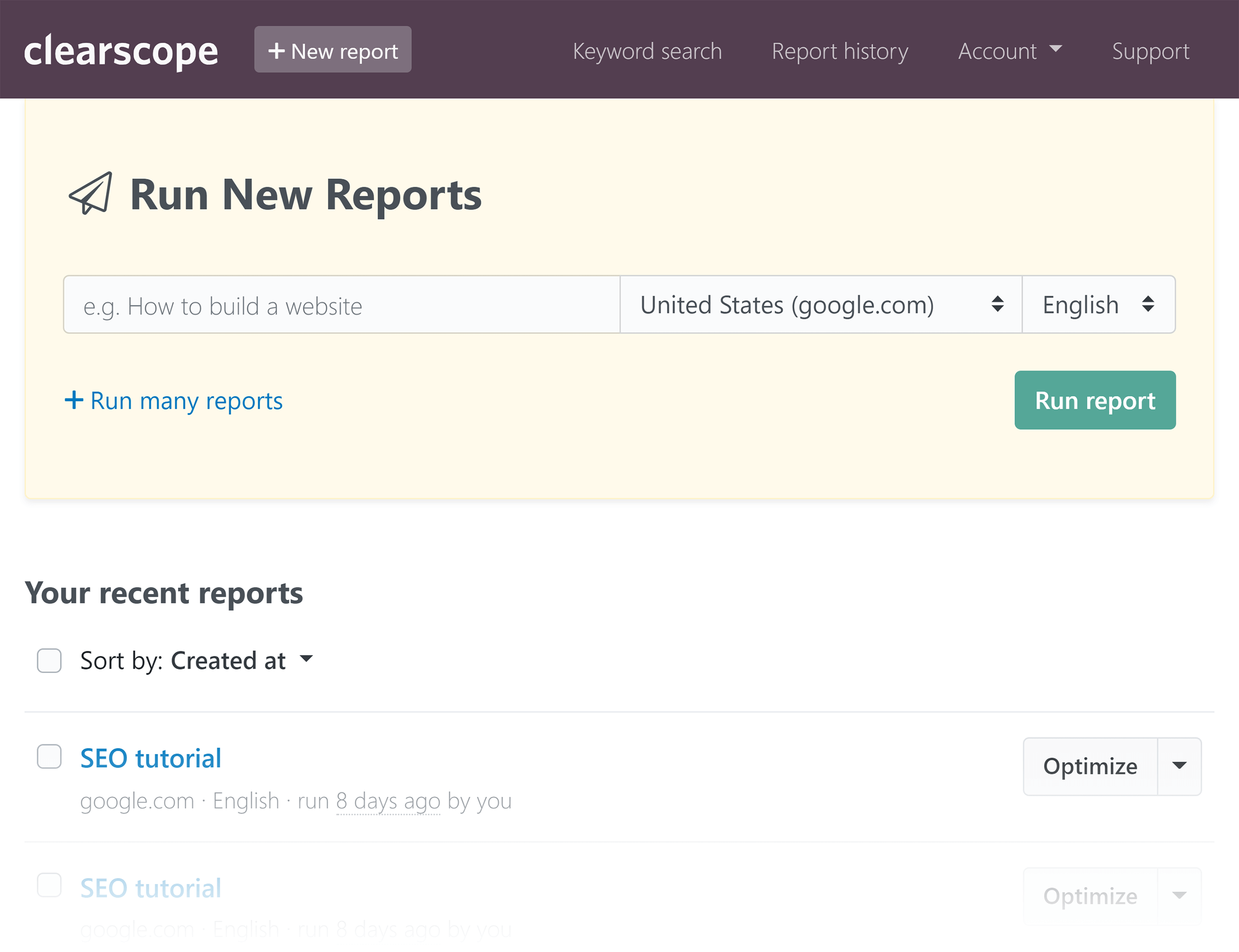 This page is where you can run "reports". And see a history of reports that you recently ran.
So the first thing you'll do with Clearscope is type in a keyword that you want to rank for.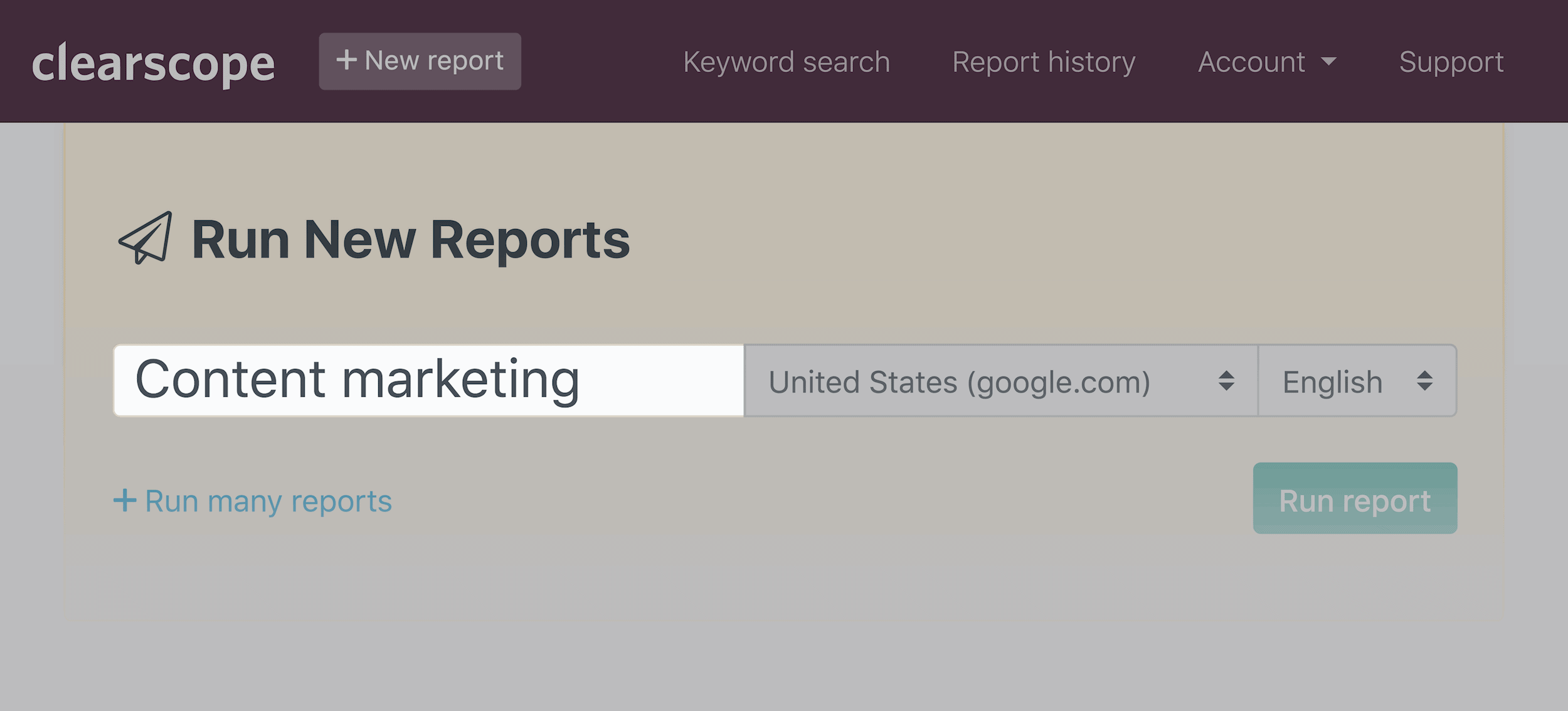 Then, hit "Run report".
And Clearscope will get to work by scanning the top 30 pages that already rank for that term.
(This process usually takes about 2-3 minutes)
When it's done, you'll see a "report" page that looks like this: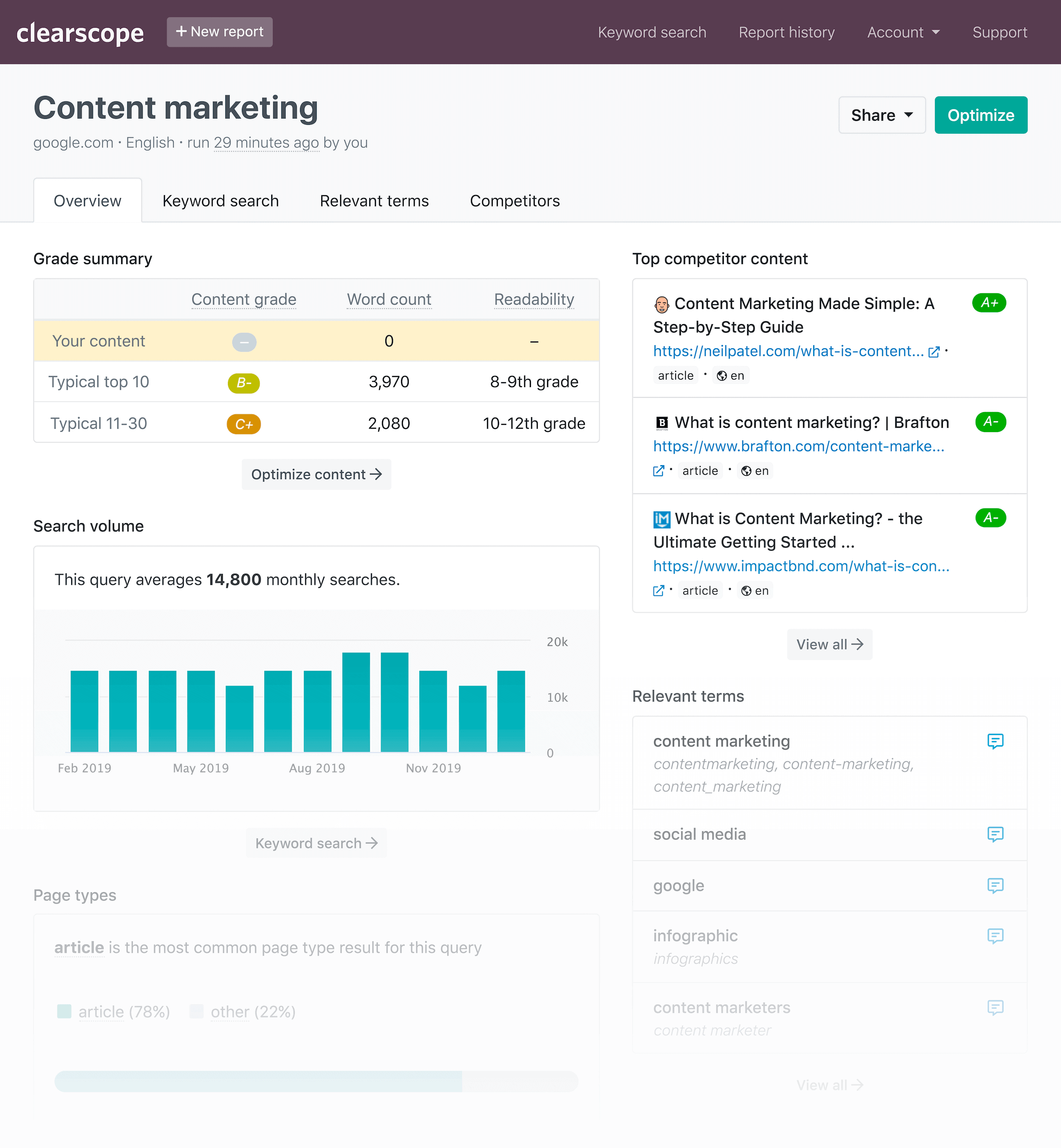 And when you hit the green "Optimize" button, you'll go to a page that allows you to copy and paste your content into Clearscope.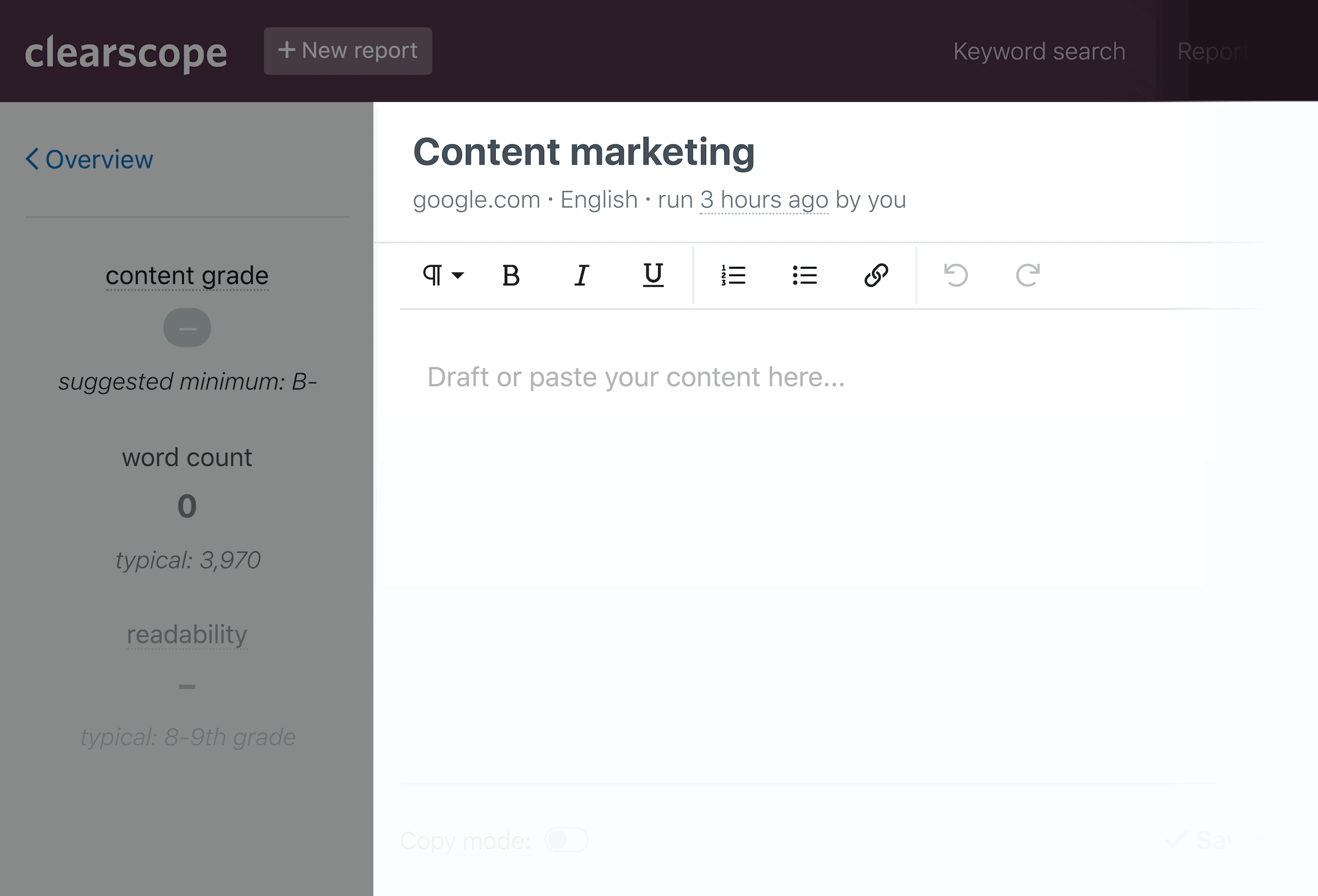 Then, they'll grade that content based on how many terms your content shares with the top 30 results.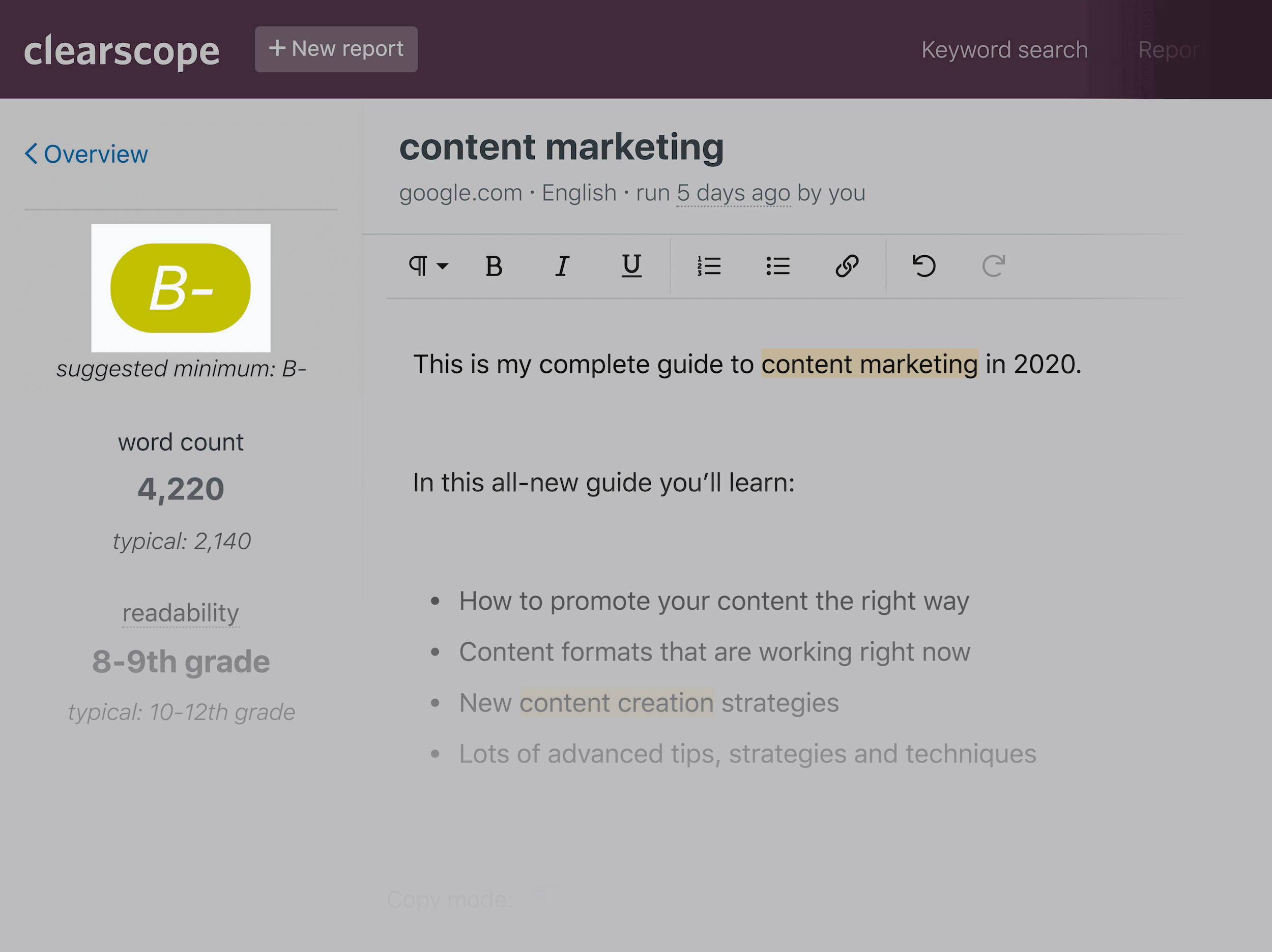 In the sidebar you get a list of LSI keywords that you should try to include in your content.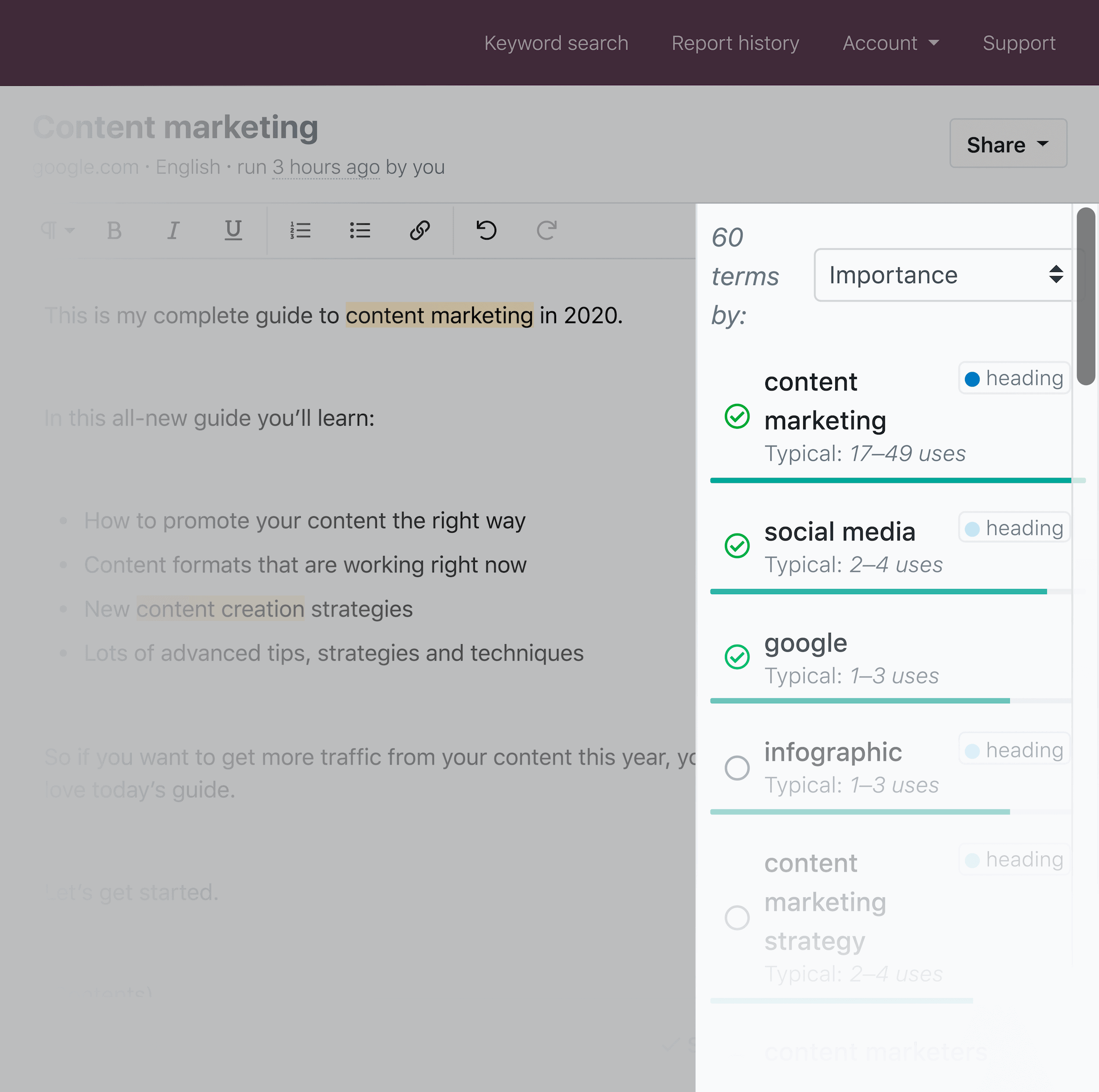 Some of LSI terms will make perfect sense: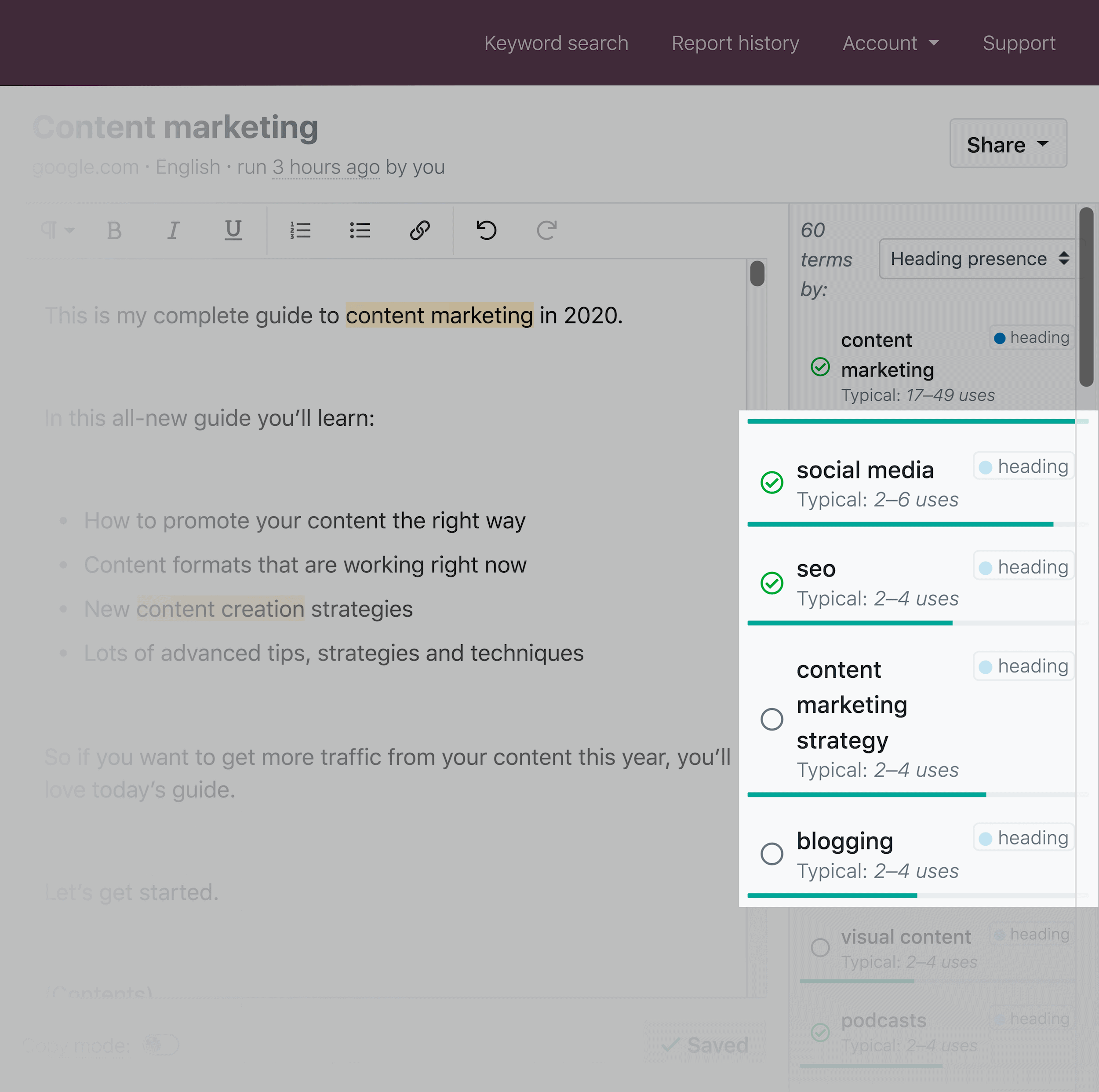 Others… not so much.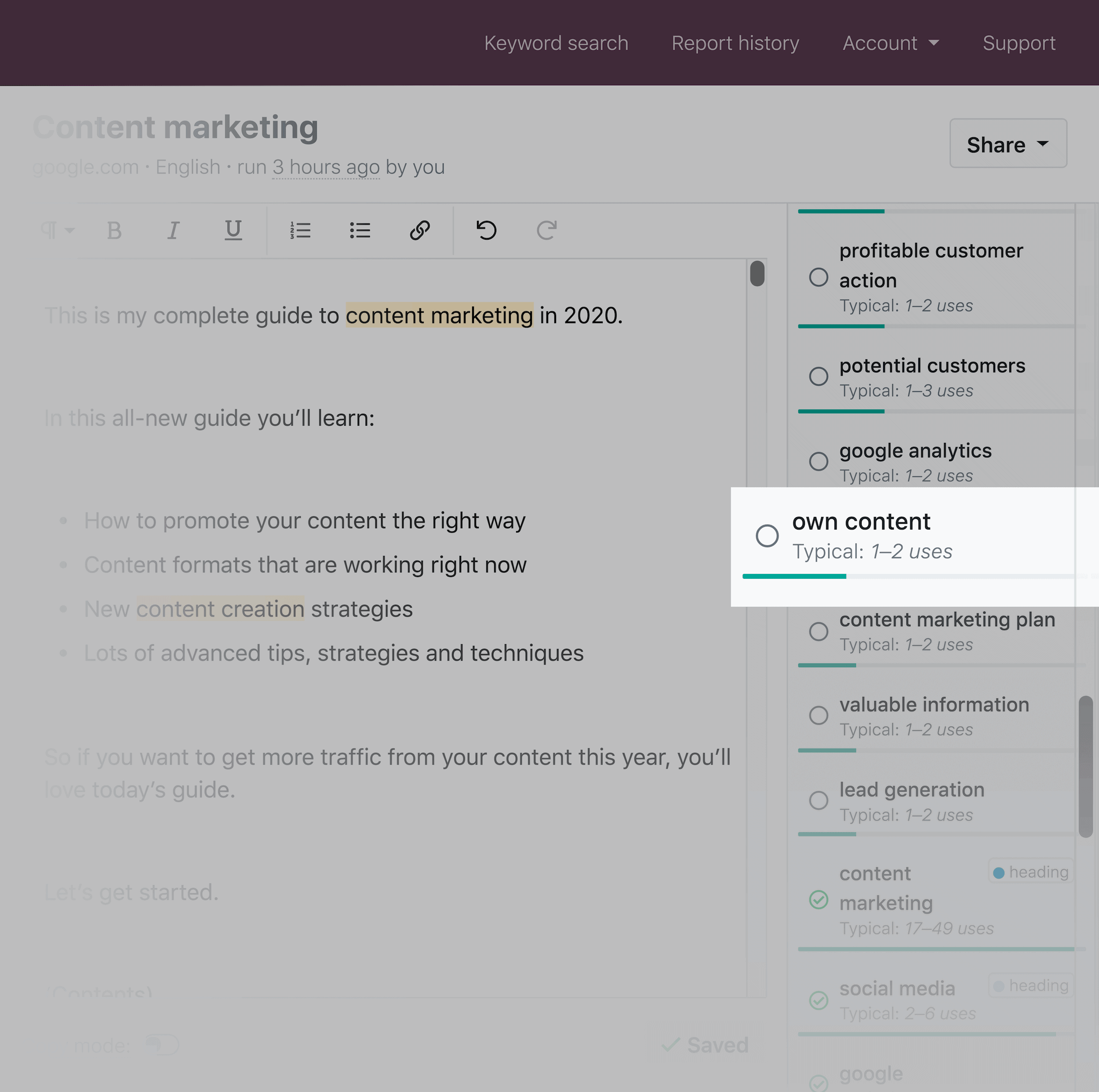 So yeah, that's essentially how the tool works: you give it a keyword. It finds LSI keywords that you should include in your content. And it grades your content based on how many of those LSI keywords you already used.
Now it's time to go over the key Clearscope features.
Grade Summary: Clearscope's Keyword Overview
The Grade summary is the first thing you see on a report page.
This little box breaks down the current Google SERPs for that keyword based on a few different factors:
Content Grade: How comprehensive the content that ranks in positions 1-10 and 11-30 based on Clearscope's grading system. A+ is the best. F- is the worst.
Word count: The average word count of the results. This is helpful because it gives you an idea of what Google users want to see. Do they want a quick, 200-word answer? Or an in-depth guide that's 10k+ words? As far as I know, Clearscope.io is the only SEO tool on the market that has this feature. Which is surprising considering that it's a relatively simple feature.
Readability: This shows you the Flesch Kincaid score for the top results. I tend to write in simple English anyway. So I don't pay much attention to the readability.
Keyword Search: Clearscope's (Limited) Keyword Research Feature
And if you hit the "Keyword search" button, you head over to Clearscope's keyword research tool.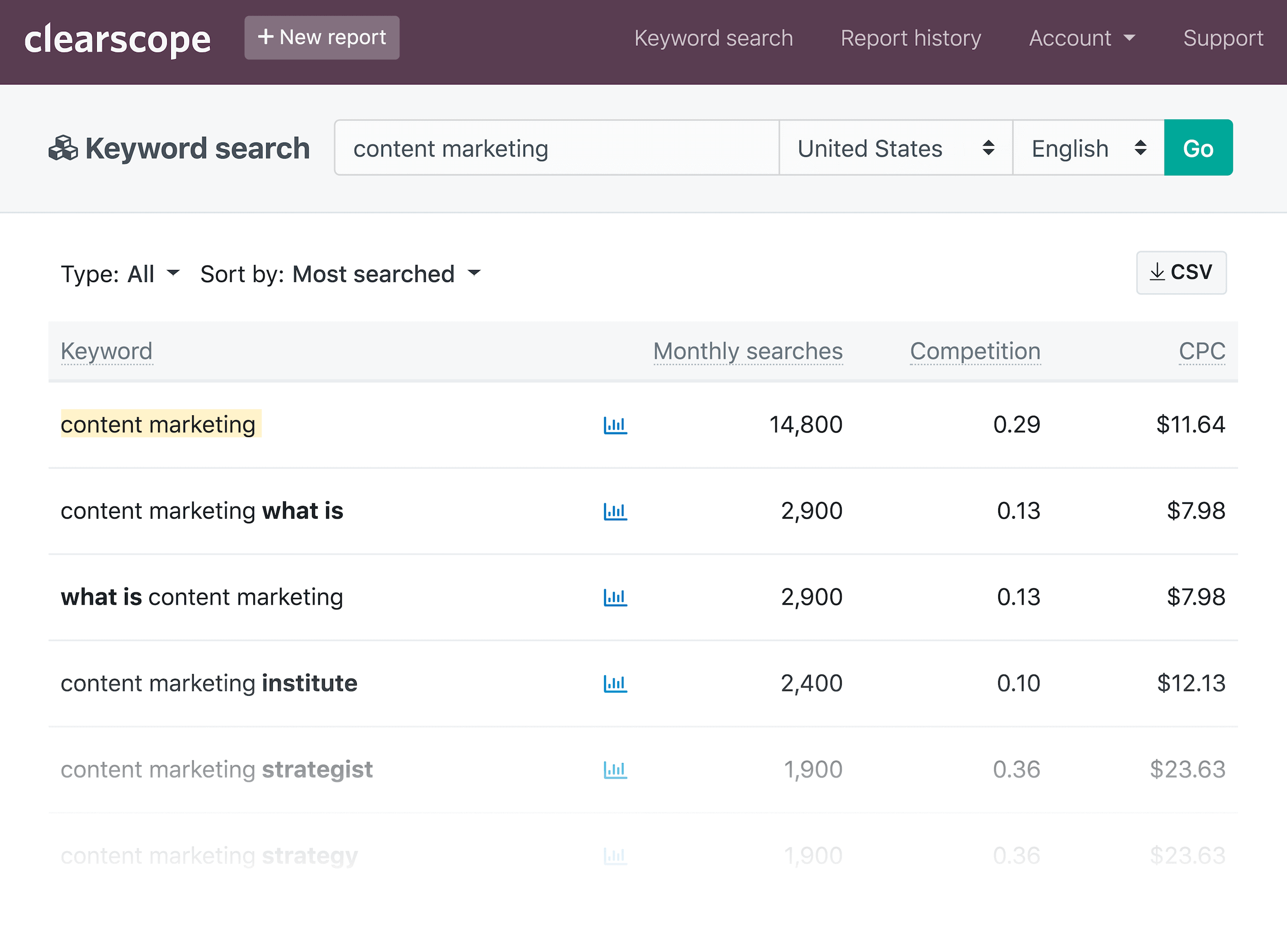 As you can see, this is basically a list of keyword suggestions, CPCs and search volumes. Nothing fancy. And it doesn't come close to the keyword features that you get in a tool like SEMrush.
I'm 99% sure that they get this data from The Google Keyword Planner. Which, as you can see in this keyword tool analysis, has it's pros and cons when it comes to generating keyword ideas.
For example, their "Competition" score comes from Google Adwords.
The "competition" score in the Google Keyword Planner has nothing to do with SEO. It's NOT a keyword difficulty score.
Instead, it's a measure of how many people are bidding on that term. So it's not helpful for keyword research. Honestly, I wish they didn't even include this metric here. It's confusing.
That said, I don't use Clearscope.io for keyword research. Just content optimization. But I did want to point out in this review that Clearscope does have a very basic keyword tool.
Relevant Terms: Terms to Add to Your Content for SEO
Relevant terms is a list of the terms that Clearscope found when it scraped the top 30 results.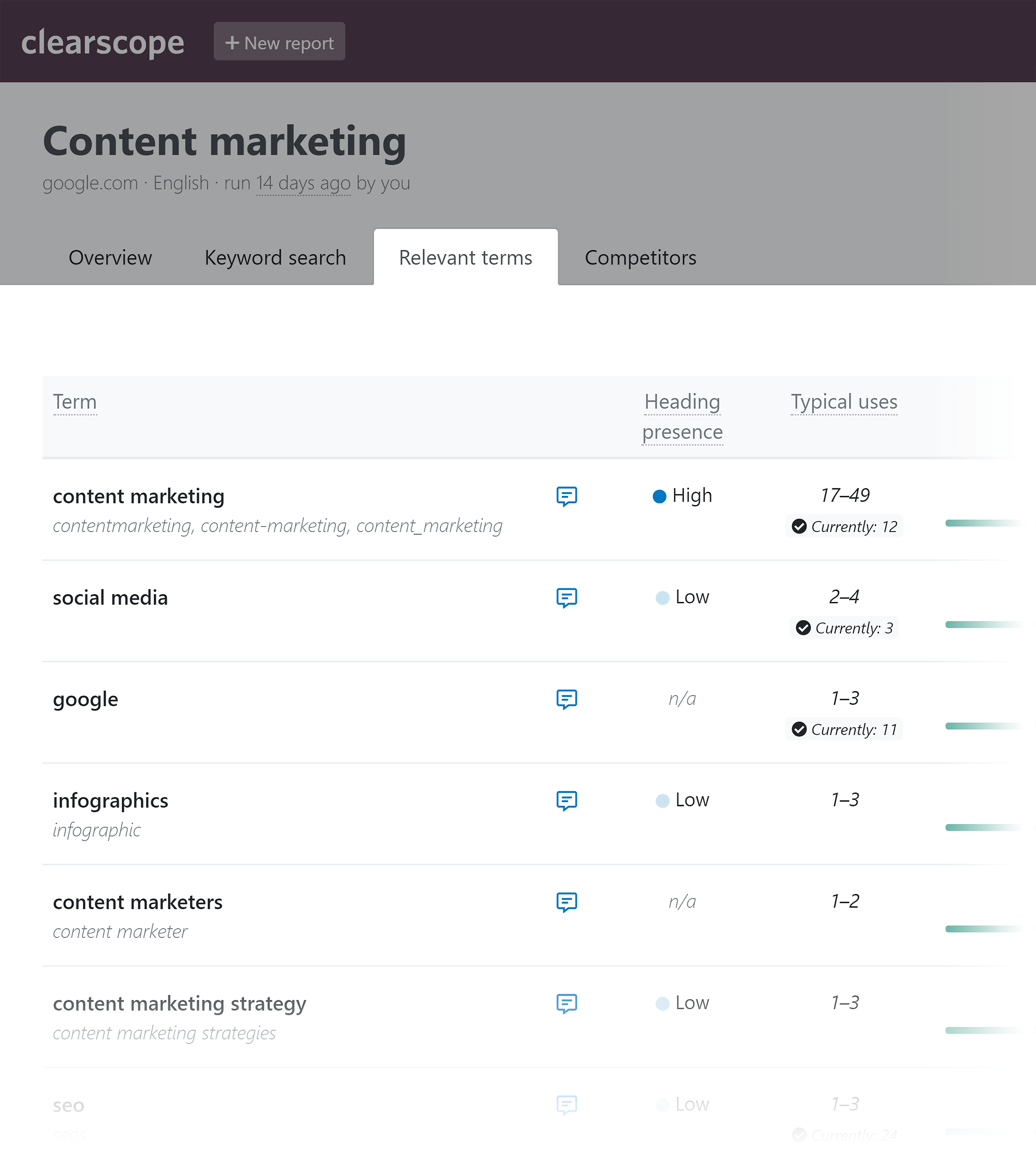 As you can see, they don't just list out the terms. You also see how many times each term was used on each page: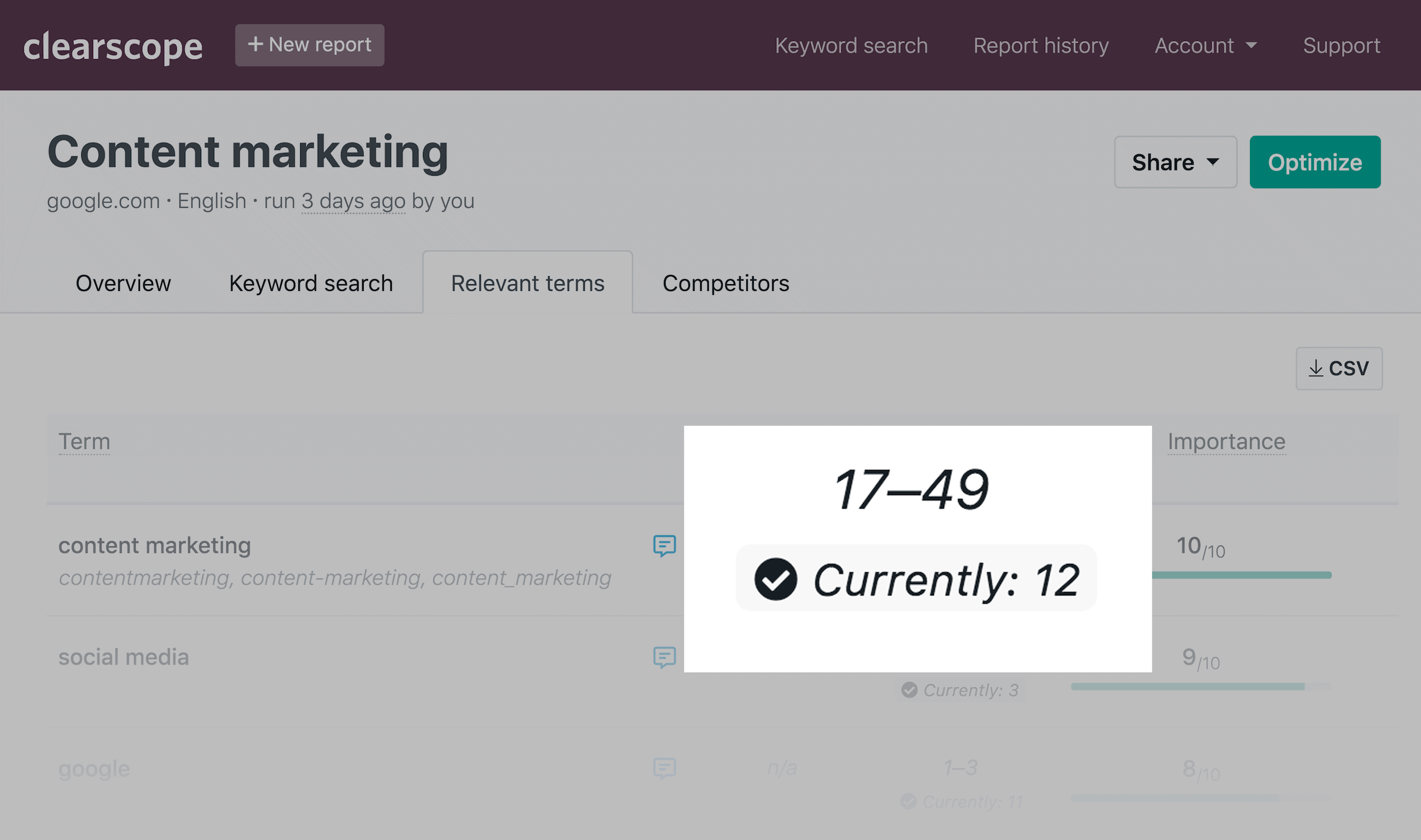 And a new feature that Clearscope recently rolled out was to let you know if that term shows up in a page's header.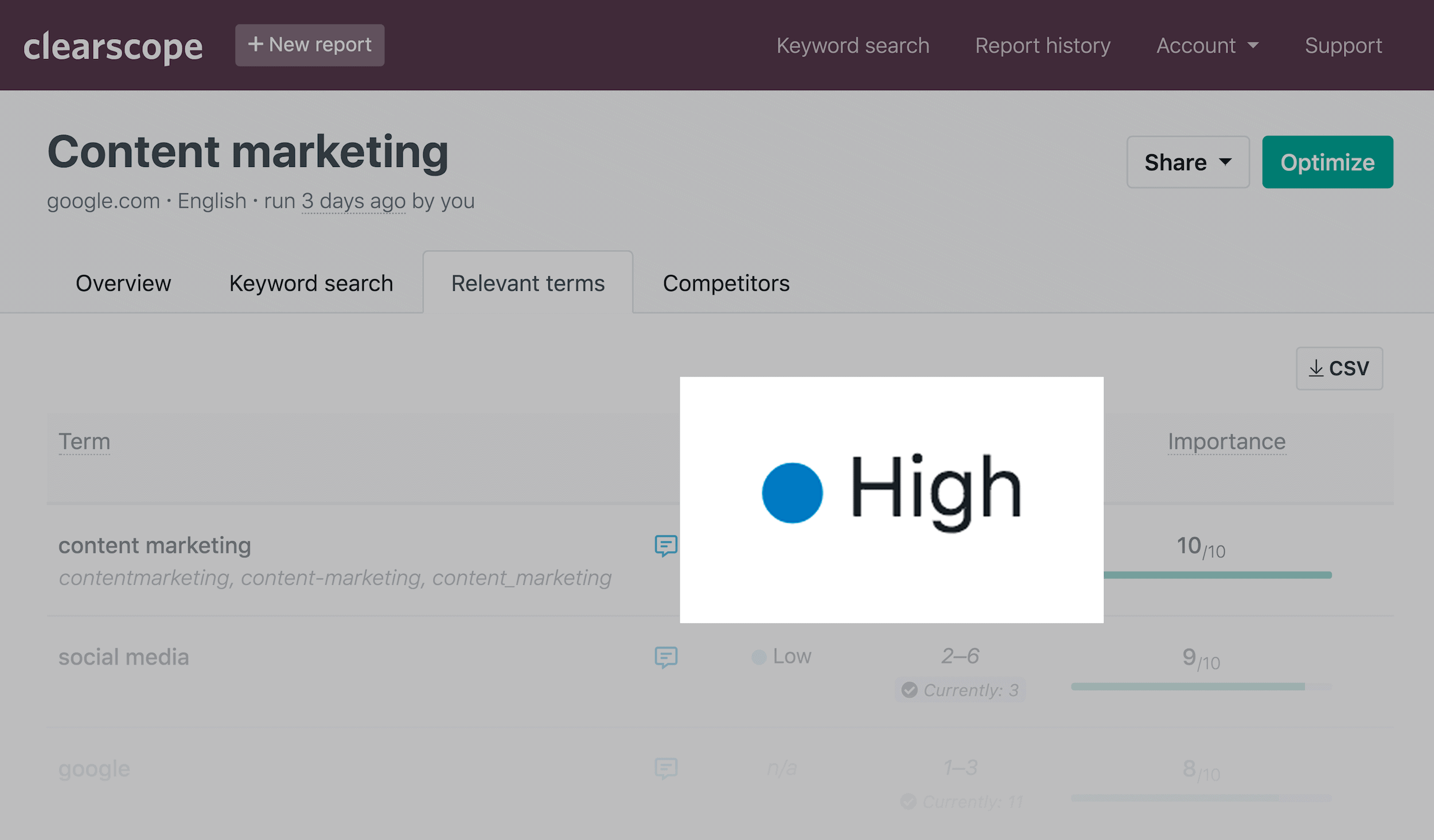 Why is a keyword showing up in a header important?
Well, Google puts more weight on terms that appear in header tags (like an H2). So if a keyword shows up randomly in the middle of a paragraph, that term may or may not be important.
But if that same keyword is part of an H2 tag, it tells Google: "The terms in this H2 tag are an important part of this page".
For example, in my content marketing guide, chapter 1 is "Double Down On Video Content".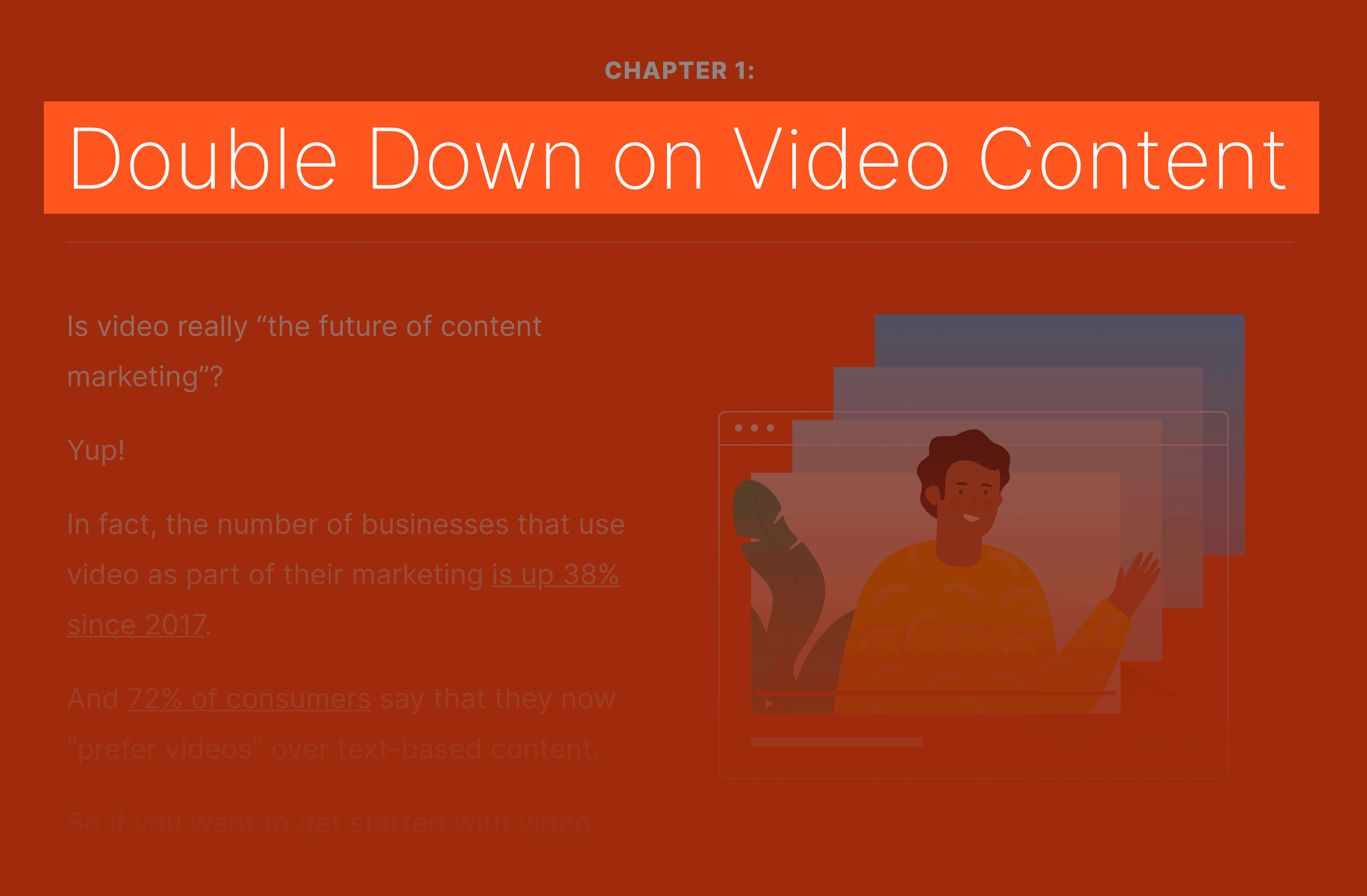 That heading is in an H2 tag. Which means that Google is going to see the term "Video Content" as important.
Now:
Even though seeing this list of related terms is helpful. It's also redundant because you get the same list in Clearscope's "Optimize" feature. Which I'll cover in a minute.
But first, I need to talk about their "Competitors" feature:
Competitors: See How The Competition Stacks Up
If you click on the "Competitors" tab, you get a list of the top 30 results all graded by Clearscope.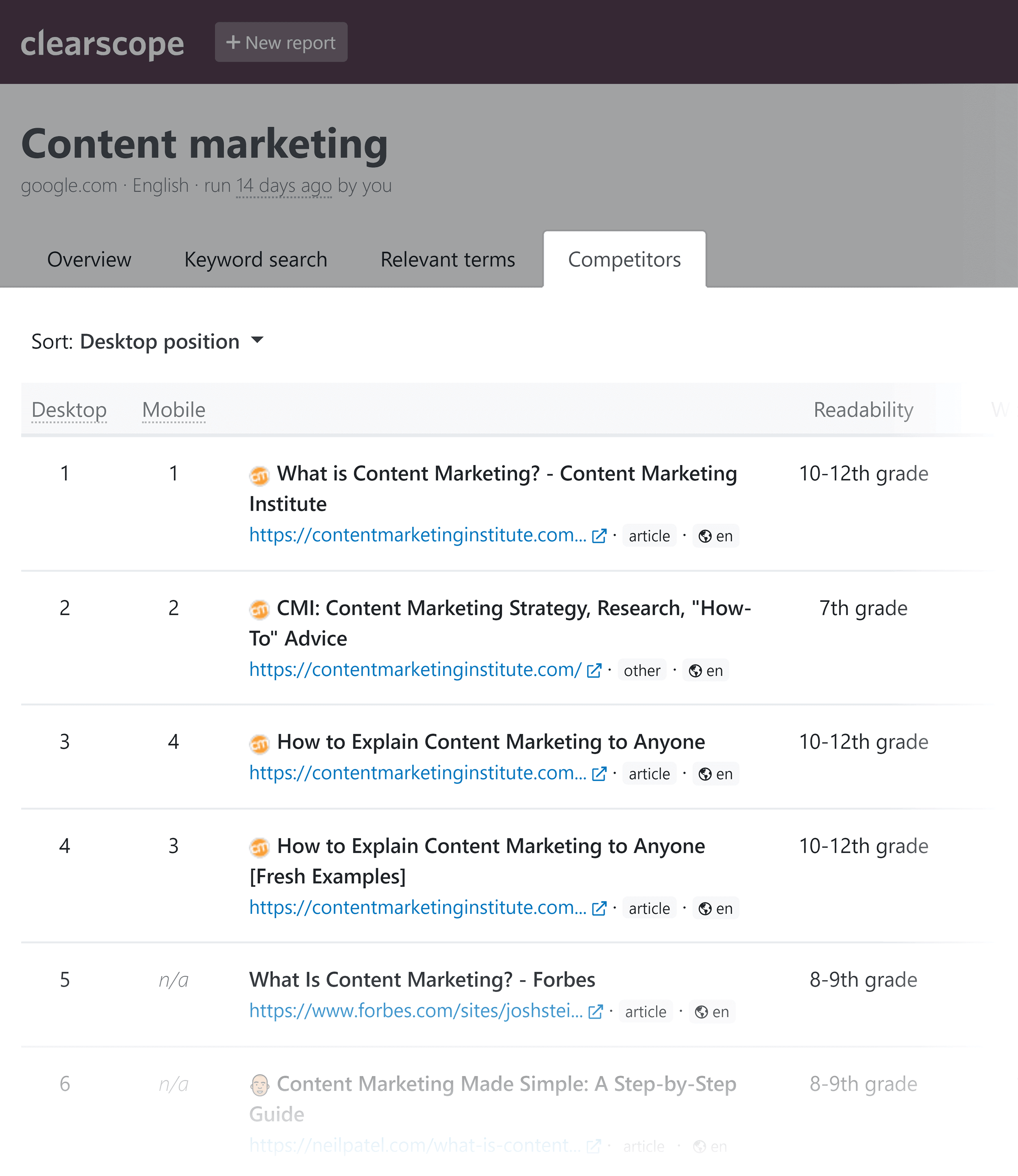 If you're going after competitive keywords, then expect to run into a lot of A's here. Otherwise, you may get lucky and find a term where #1 piece of content is only C+. Which is very beatable.
In most cases, you'll notice that the letter grades get worse as you go to the second page of Google and beyond. Which shows that Clearscope's Content Grade is legit.
That said: I don't even worry about the 11-30 results. According to an analysis that we recently rank, less than 1% of Google users go to the second page of the results.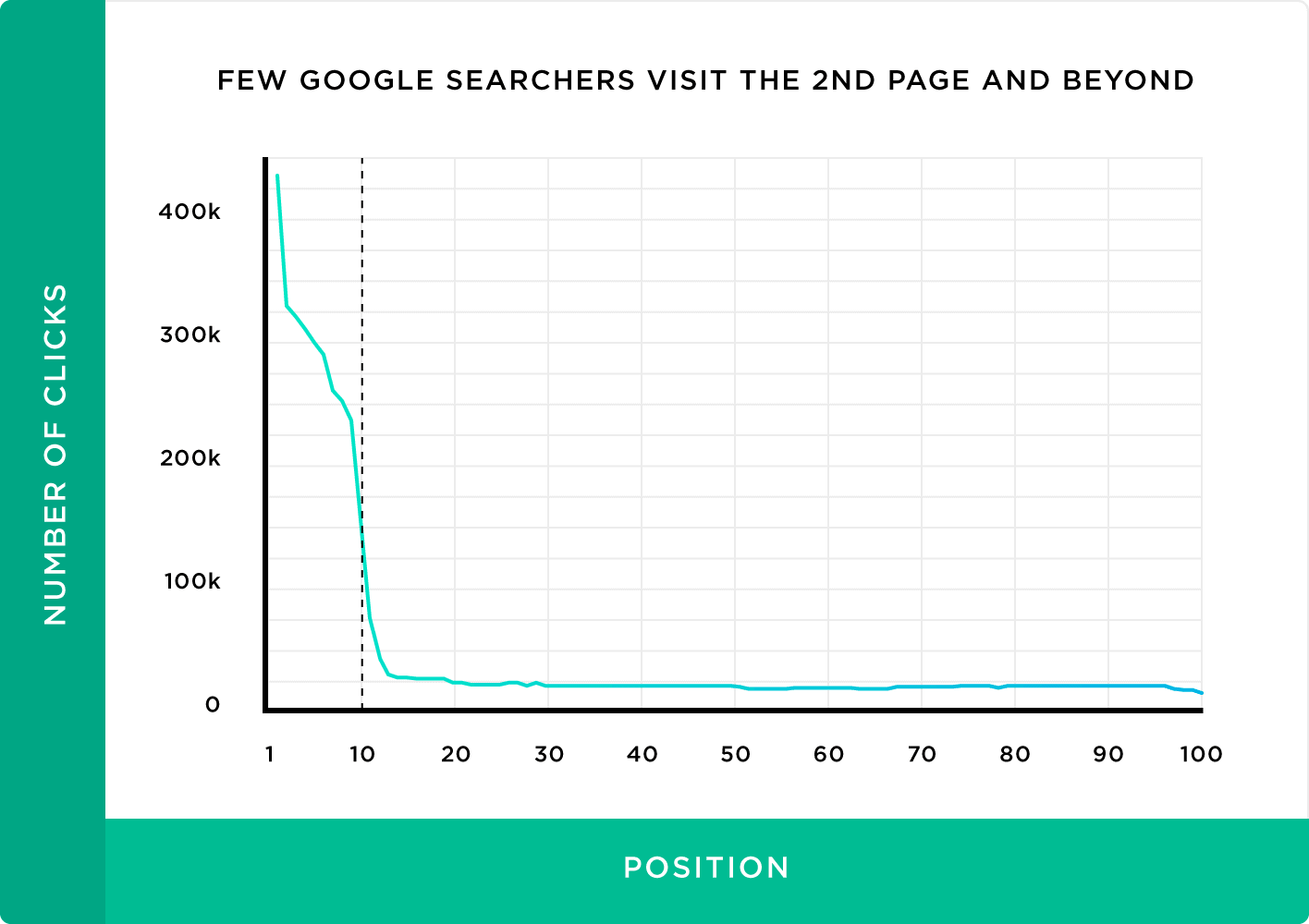 I kind of wish that there was a feature where you could ONLY look at LSI keywords that show up in the top 10 results. Or the top 3.
But I understand that they want to get a wide range of potential terms that you can use in your content. Which is why they go all the way to the third page of Google's results.
Optimize: Make Your Content More Comprehensive
"Optimize" is where you'll spend most of your time inside of the Clearscope platform.
So in this Clearscope review I want to show you exactly how it works.
The first thing you'll see is a page like this: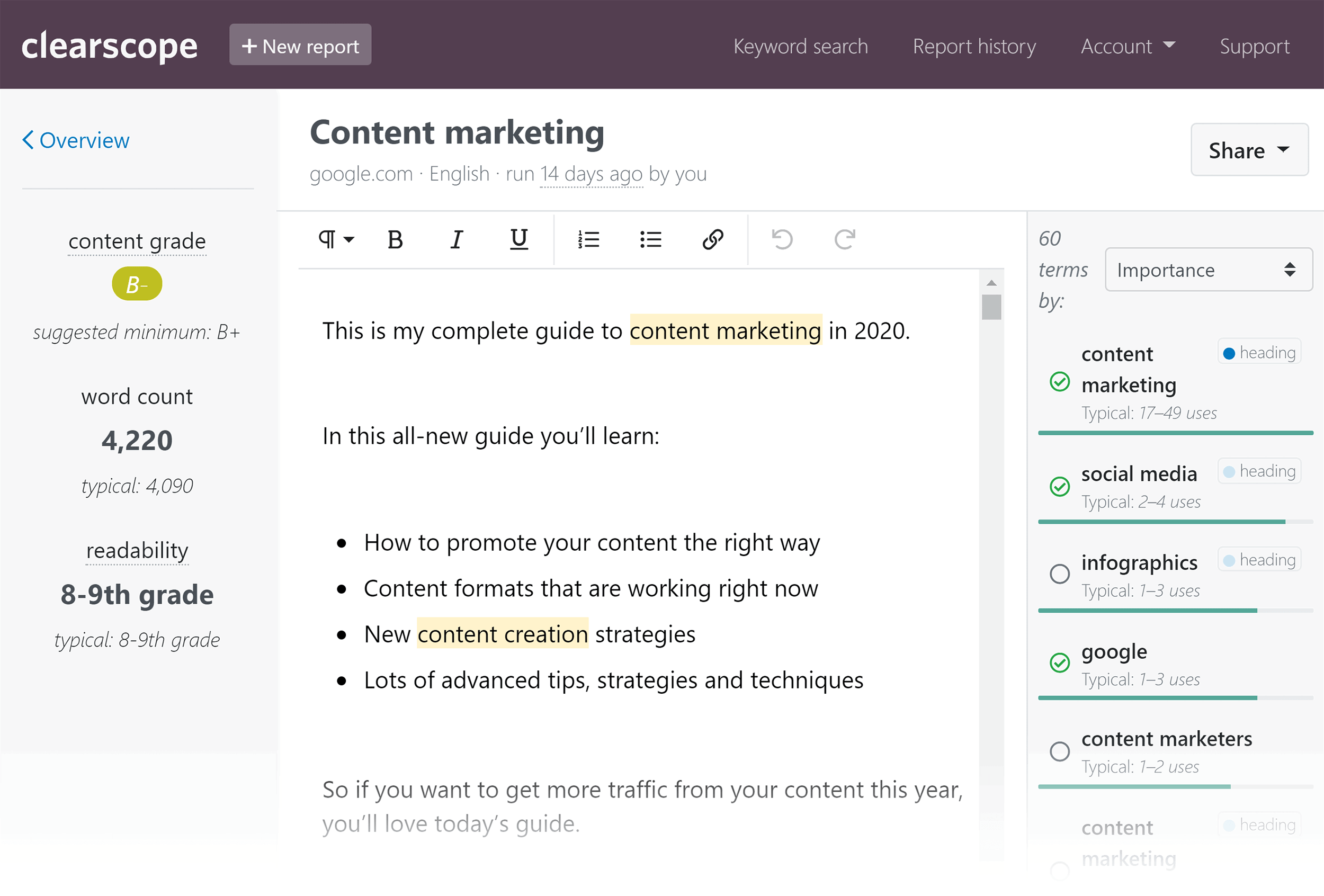 You've got a giant field for your content. And the right sidebar lists out all of the terms that you should try to include in your content.
(And they also show you terms you should try to include in your headers)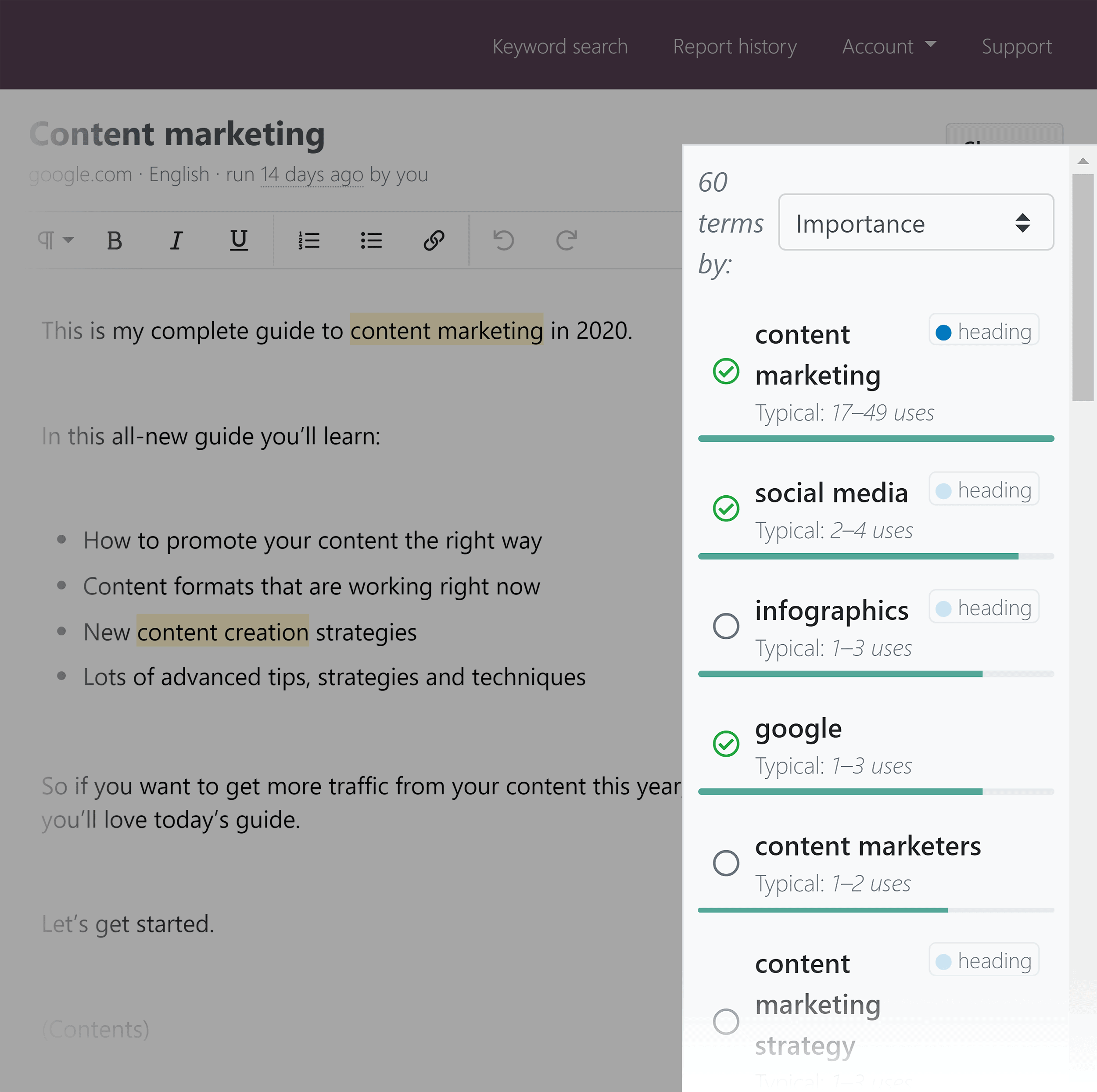 You can either copy and paste your draft into Clearscope. Or write directly in the editor.
If you do choose to write your content in Clearscope, note that it has an auto-save function, like Google Docs.
Either way, Clearscope will scan your content against their list of important terms.
Then, you'll get a letter grade.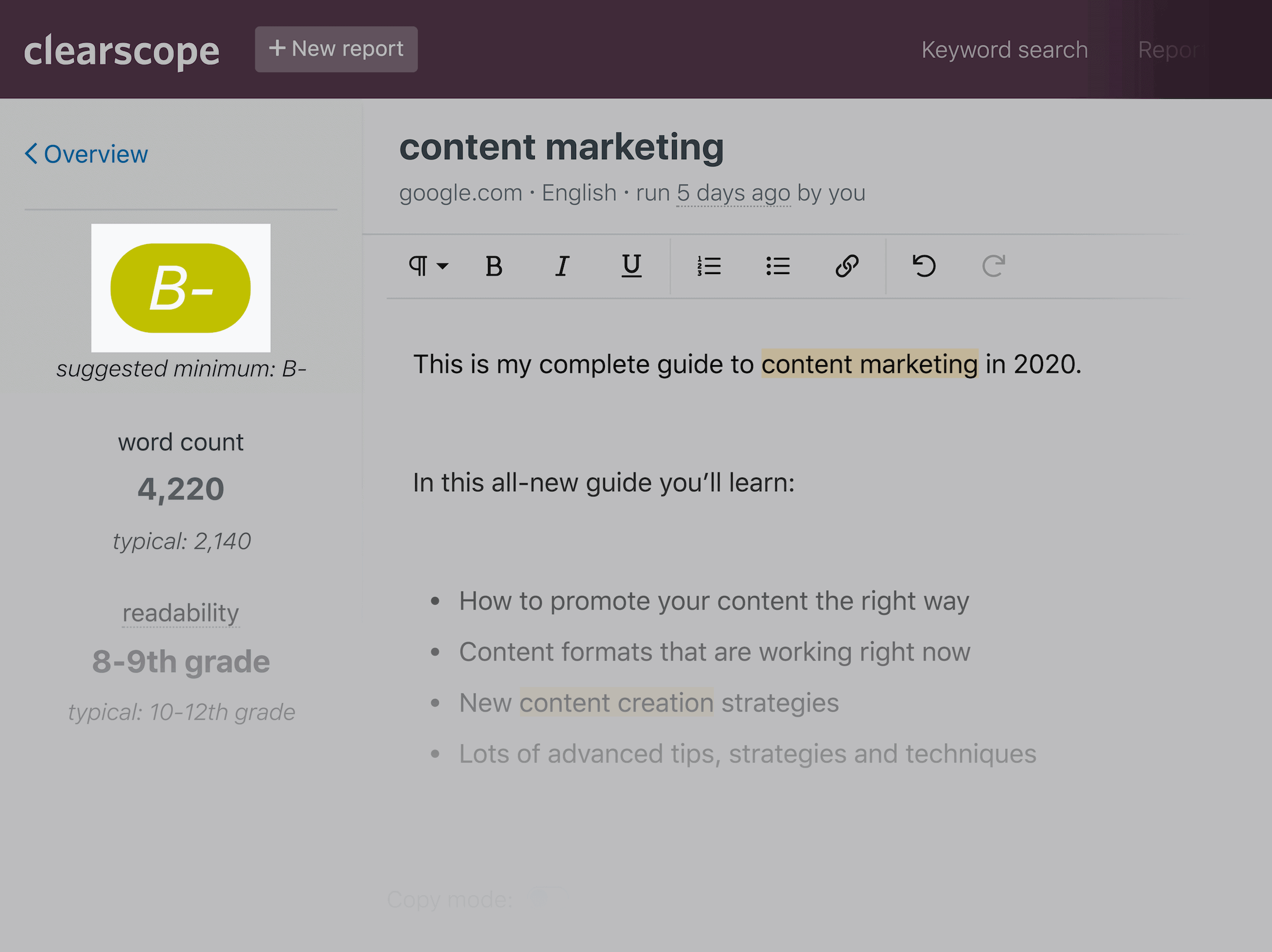 And a list of terms that you did and didn't include.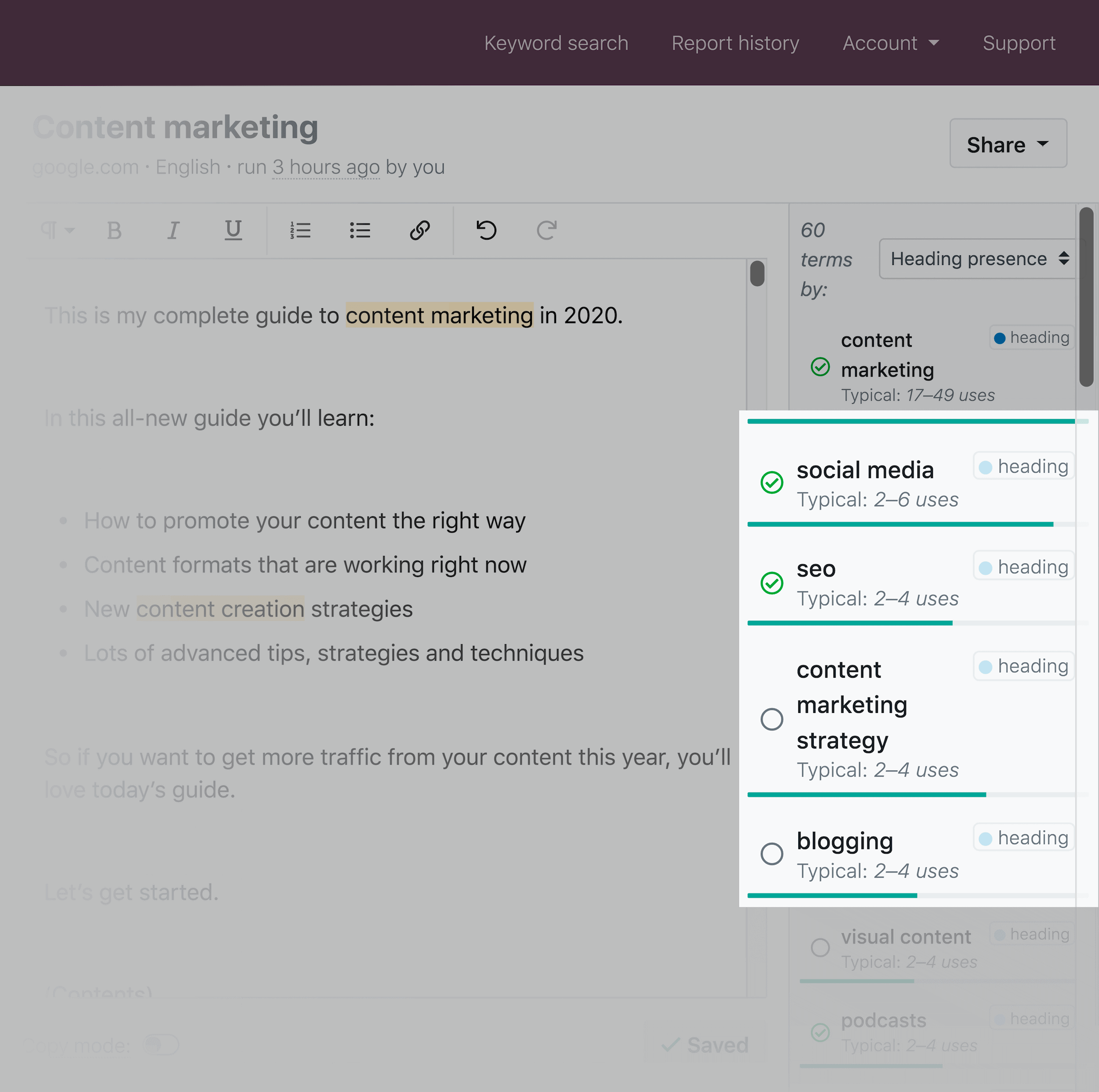 Now:
Just because Clearscope says that a keyword's "typical use" is 50 times doesn't mean that you need to use it 50 times.
It's just a way to get a rough idea of how many times a term is used compared to the others on the list.
For example, you can see here that the term "content marketing" is used 17-49 times on average.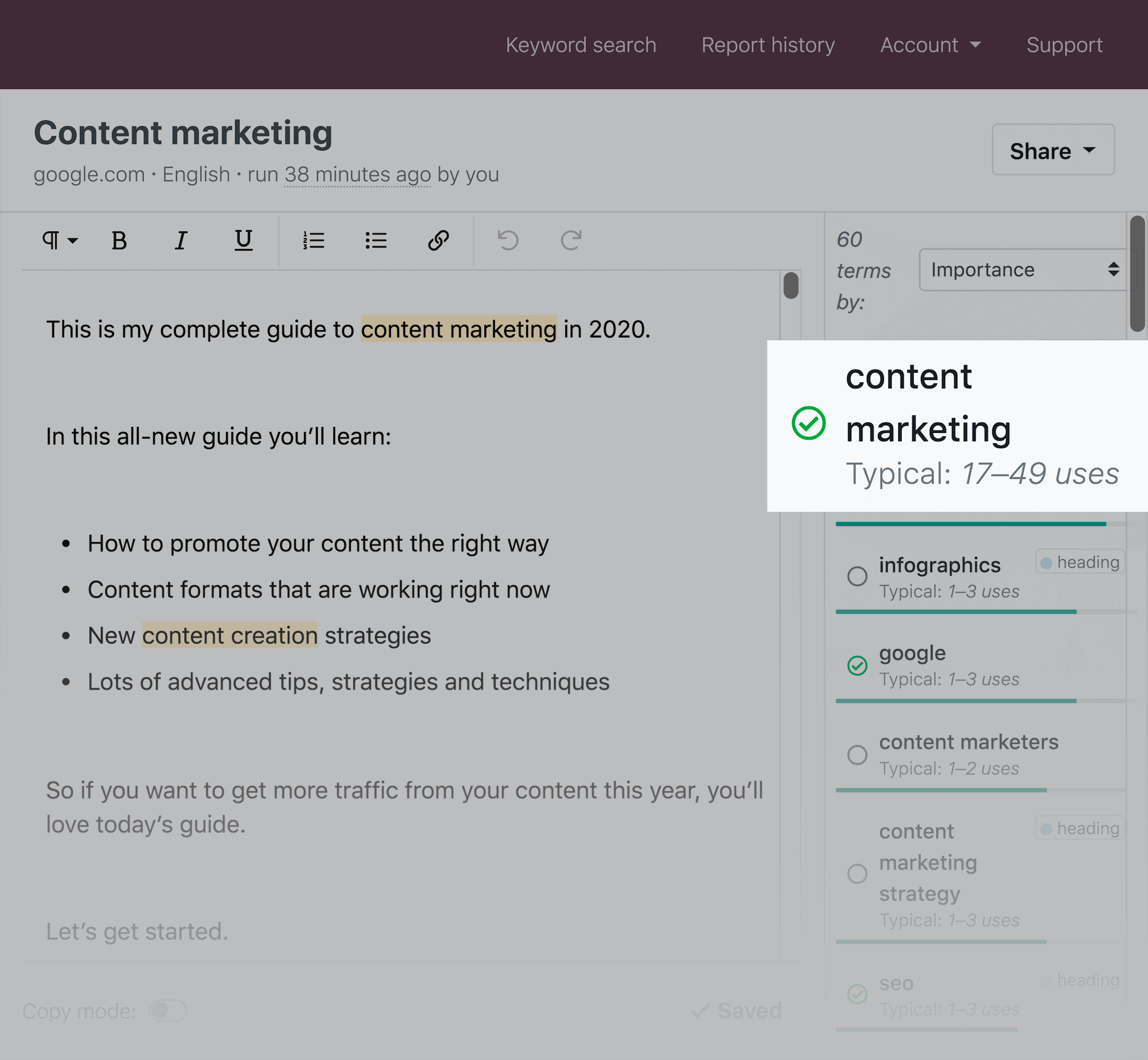 But a term like "Google" is only used 1-3 times.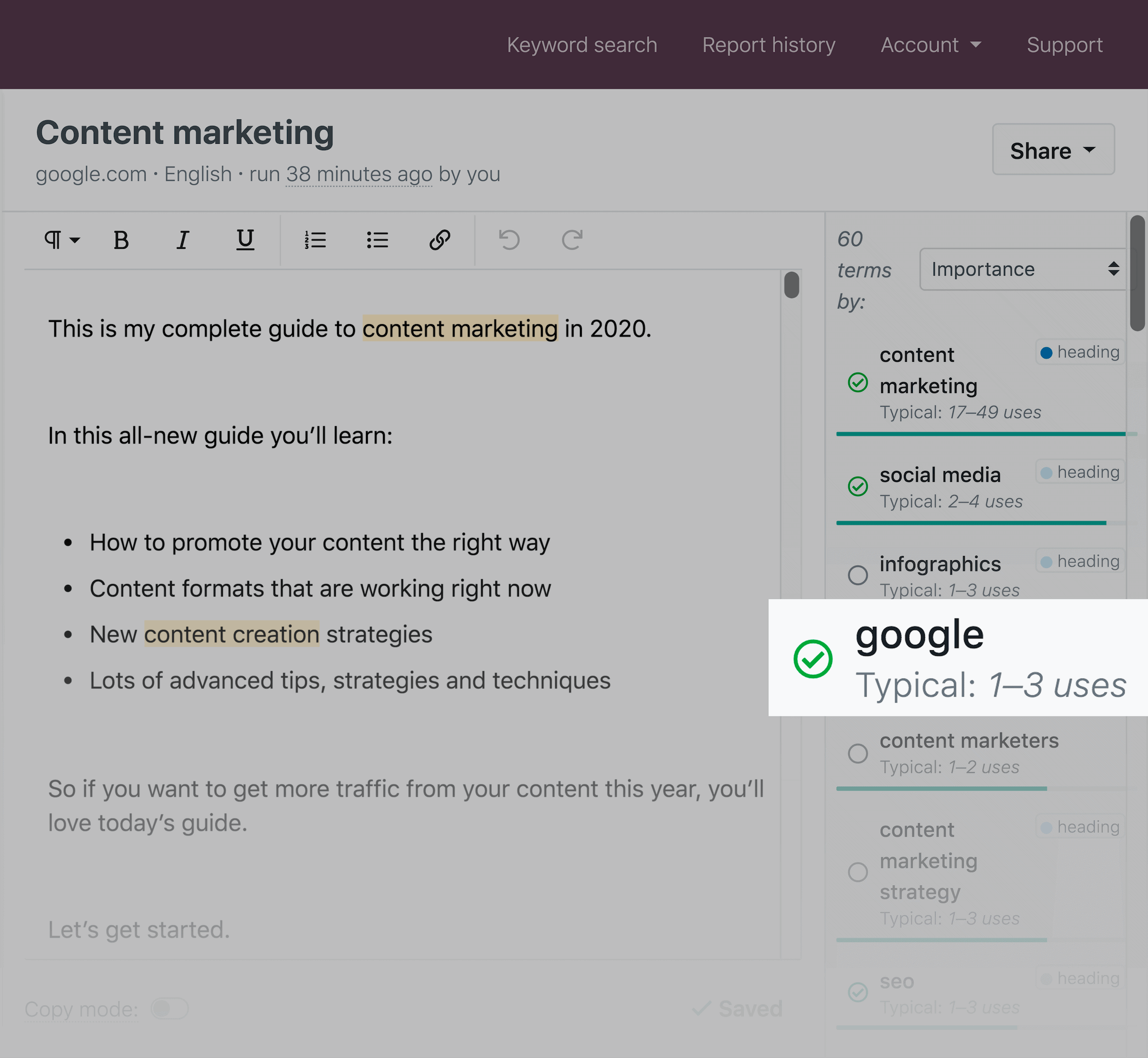 This doesn't mean that I need to use "content marketing" 49 times. And "Google" 3 times. But it does tell me that the term "content marketing IS more important than "Google". And that I should try to use that term more than I use the term "Google".
So that's how you use Clearscope. It's basically a last step before you publish to make sure that your content is 100% optimized for SEO.
Using Clearscope for Content Planning and Outlining
Make no mistake:
Clearscope.io is first and foremost an SEO tool.
But I've actually been using it to help me plan and outline my content.
And it's sneaky good at making sure that your content doesn't just include certain terms… but also covers key subtopics that Google wants to see.
Here's how:
Let's say that you wanted to write an article optimized around the keyword "SEO tutorial".
Well, you could just outline that post based on what you think people would want to read. But you can't really be 100% sure.
Enter: Clearscope.
With Clearscope, you can use the headings that it suggests to actually create your post outline.
For example, each of these headings would make GREAT sections for your article.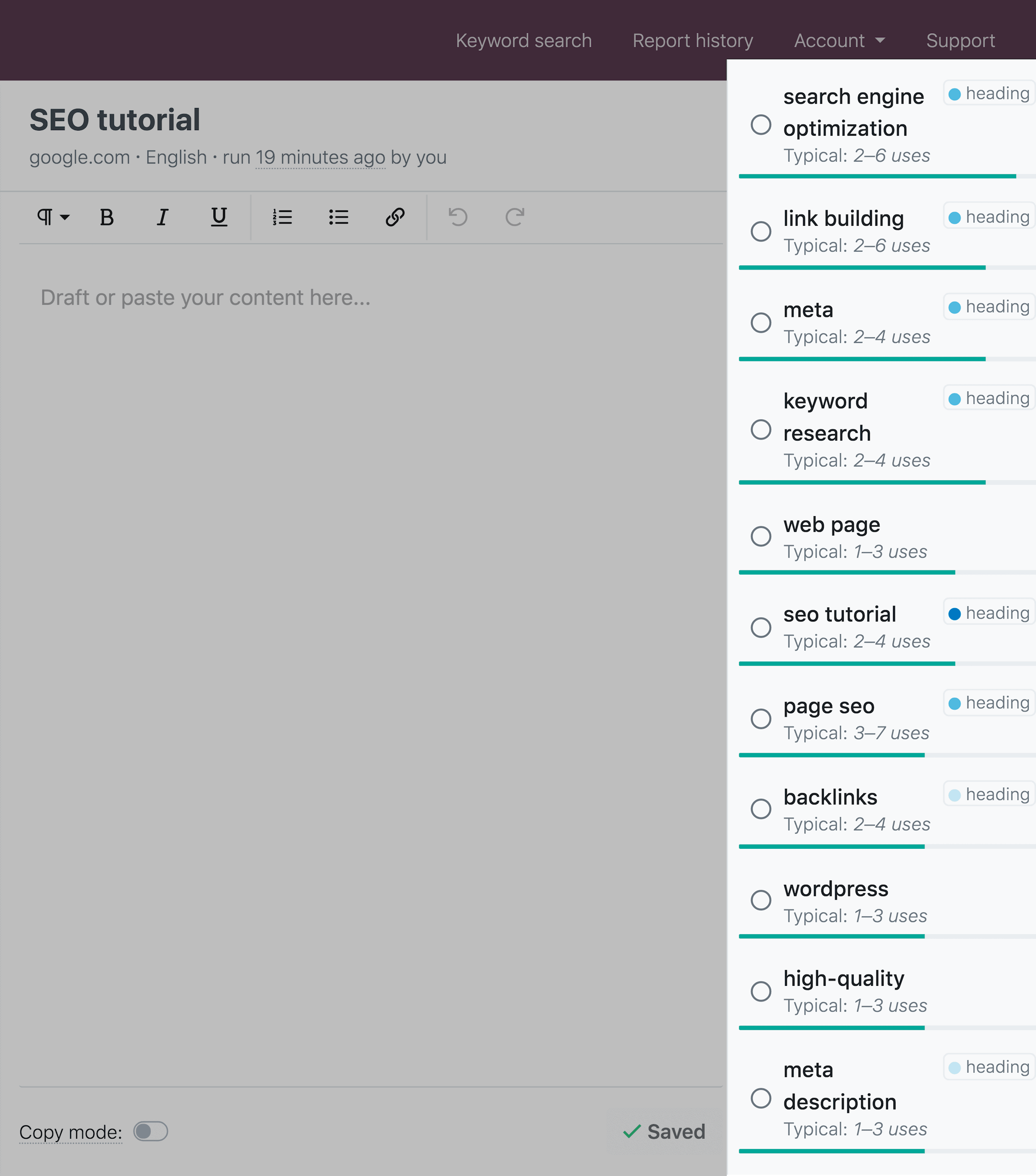 In other words, you could use these suggestion headings to create an outline that looks something like this:
Search Engine Optimization Basics
Everything You Need to Know About Link Building
Keyword Research 1010
Meta Description Tips
Etc.
Even as someone that writes about SEO all day long, I find these heading suggestions helpful. But if you hire a freelance writer that's new to the topic, this feature is HUGE.
Instead of writing random stuff, your freelance writer basically has an outline handed to them. And outline that's based on what's already ranking for that keyword.
Clearscope Support
How does Clearscope's support stack up?
Well, I decided to run a little experiment to find out.
First, I hit the "support" button in the site navigation.
And I went directly to a simple contact form.
No choosing an "issue category" or any BS like that. Just a simple form. Which I appreciate.
And, as a bonus, they even filled in my name and email for me!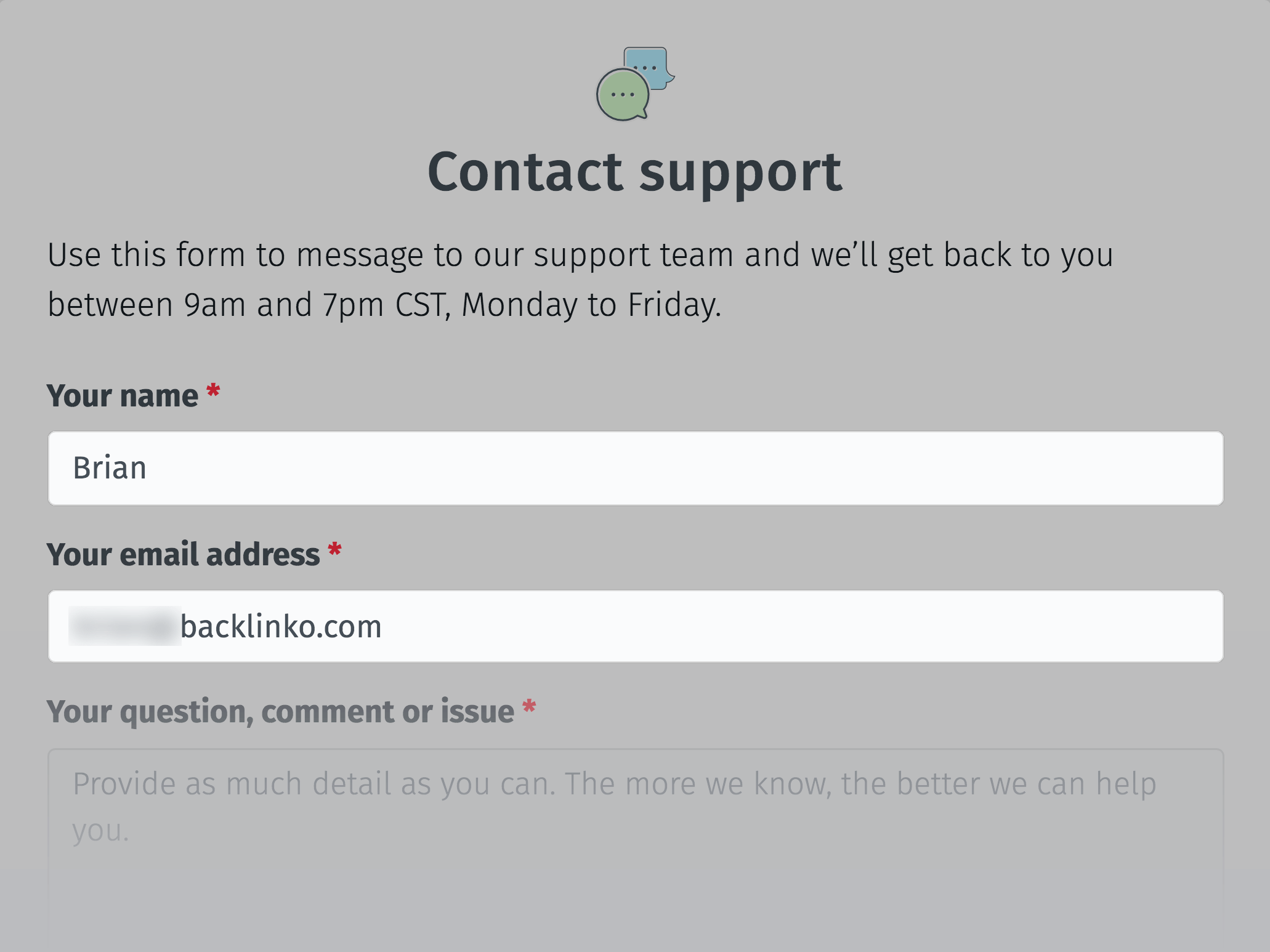 This is a nice little touch that shows that they respect your time.
So I asked them a question about their "heading" feature.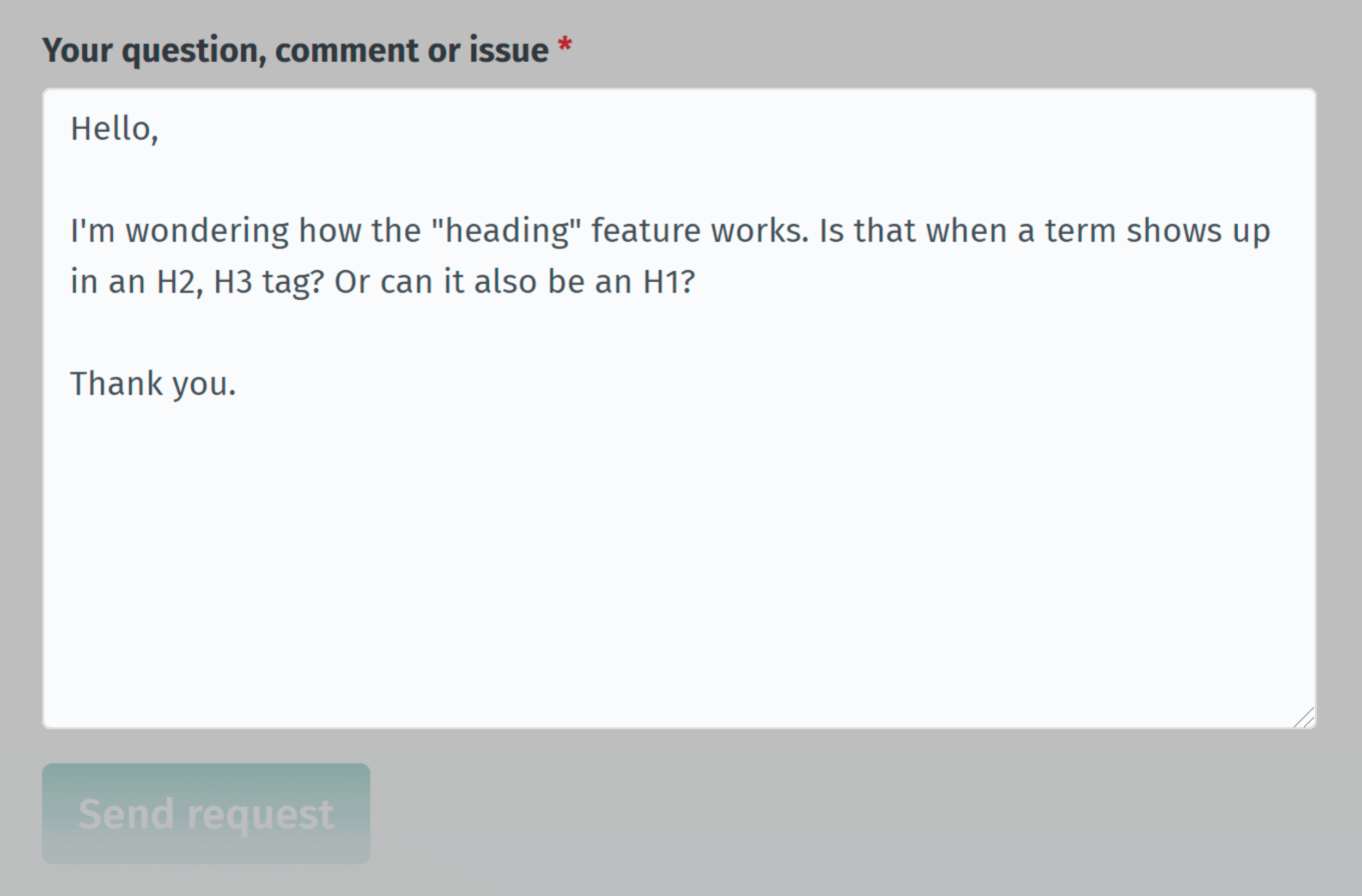 In other words: I didn't ask them something that their support team could answer with a template (like: "How do I change my password?"). Plus, I was generally curious about that detail.
About 4 hours later, Kevin from their team sent me this: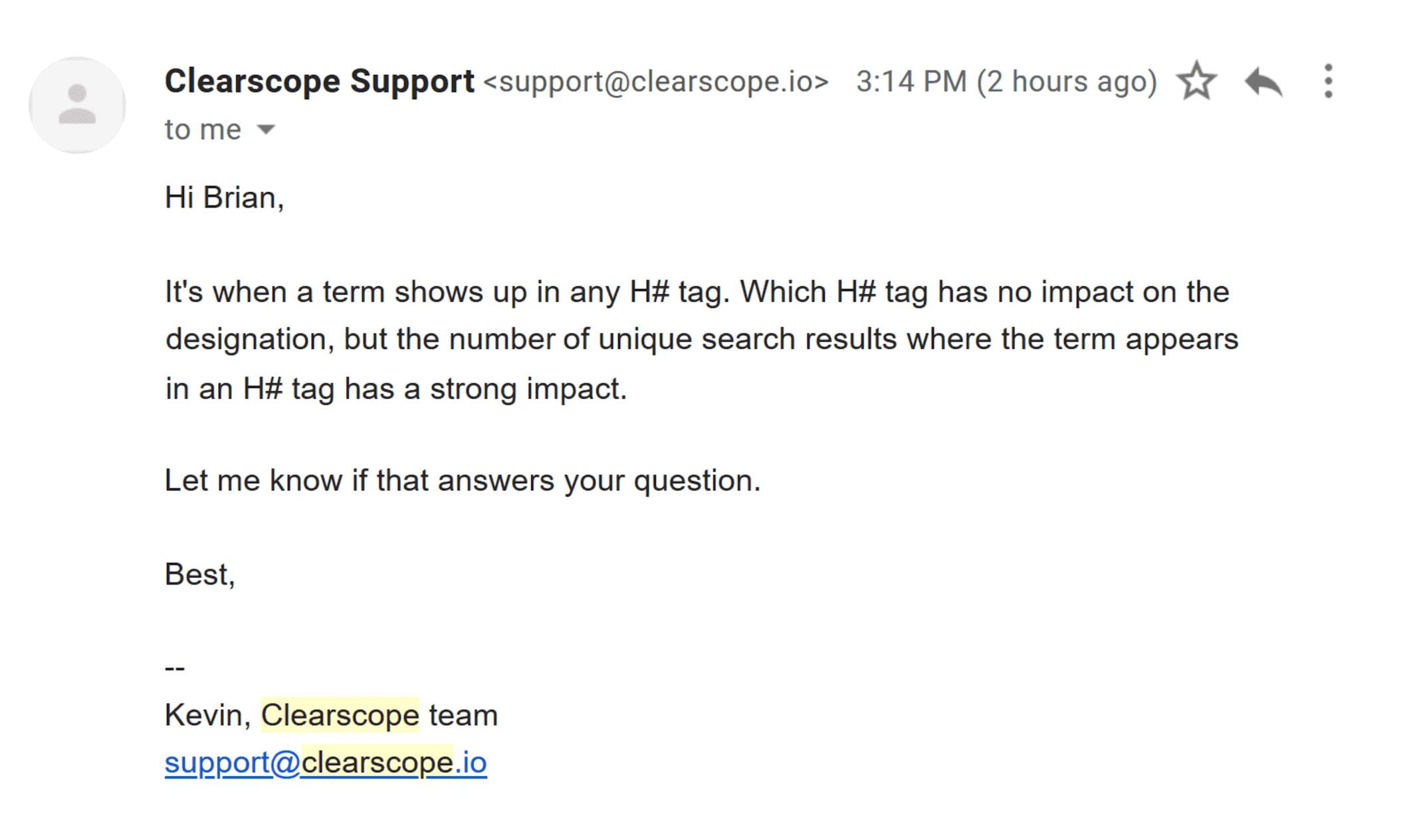 4 hours isn't REALLY fast. But it's not slow either. So they get a pass there.
Overall, the response itself was solid. But not amazing either. For example, Kevin's response could have used an example or a link to a knowledge base article. That way, he could be sure that I 100% understood his reply.
But that's a little bit nitpicky. Overall, I'd rate their support as a solid A-.
My Results Using Clearscope
I've been using (and paying for) Clearscope since September 2018.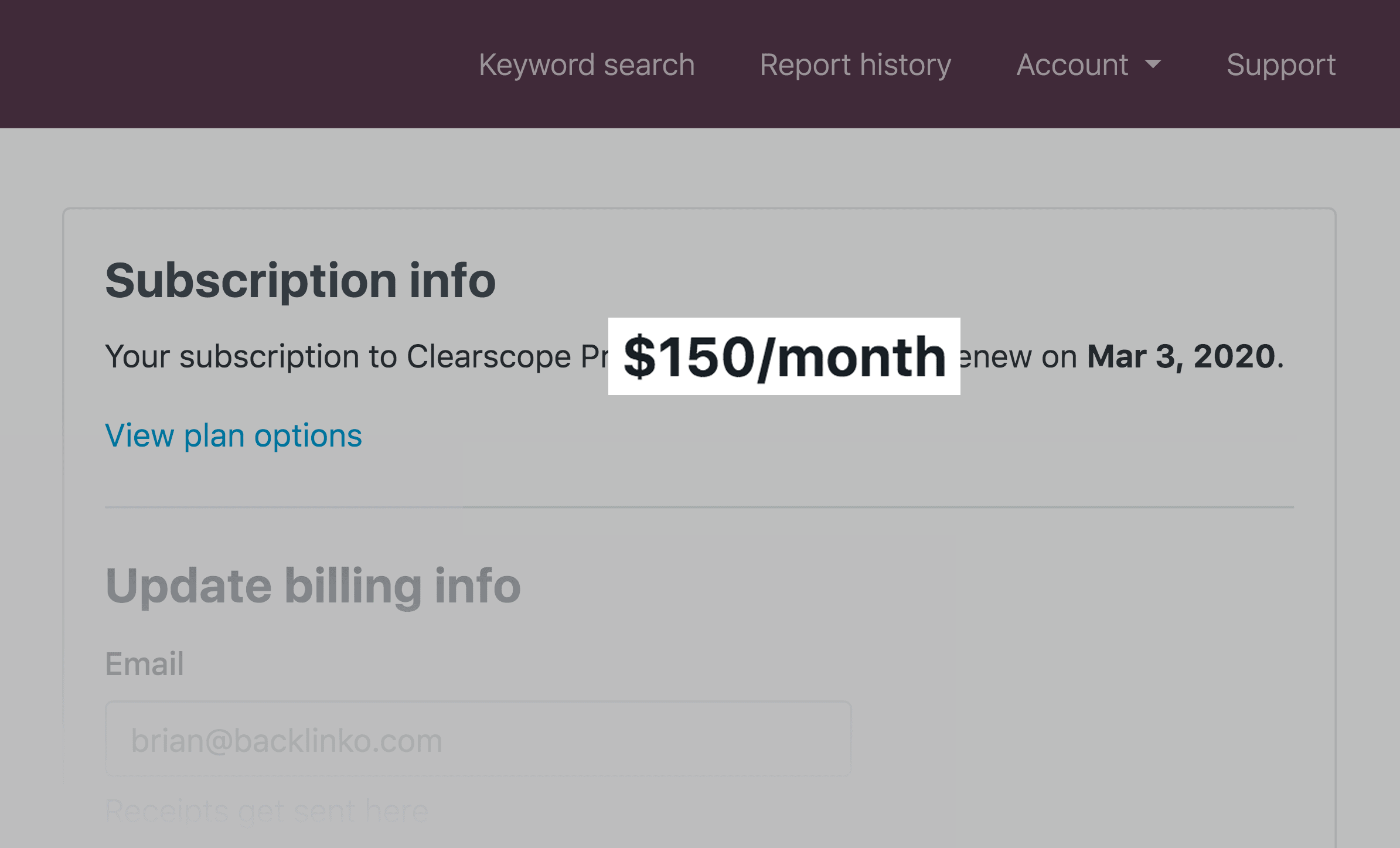 (That's why I only pay $150/month. I got grandfathered in to their original pricing)
So in this Clearscope review I did want to touch on my results from using the tool for almost two years now.
So to the answer to the big question that you're probably thinking about right now:
Does Clearscope help you get higher rankings in Google?
Overall, I can't draw a straight line from using Clearscope to higher rankings. That's because I use it to optimize pretty much all of our content at Backlinko.
In other words: I haven't run a controlled test of content that was optimized with Clearscope vs. content that wasn't optimized with Clearscope.
So I can't give you a specific number like: "Clearscope has helped us get 18.4% more organic traffic".
But I can say that, overall, Clearscope has helped our content get more organic traffic. Which is why I continue to use the tool.
Plus, adding relevant terms to your content can't hurt your Google rankings (as long as you don't shoehorn terms into your content just for the sake of it).
But making your content more comprehensive can definitely help with SEO. Which, at least to me, makes Clearscope worth using.
Clearscope Pricing
My Clearscope review just wouldn't be complete without talking about pricing.
This section is going to be pretty short. Because Clearscope only has two pricing tiers: $350/month or an "Agency & Enterprise" plan.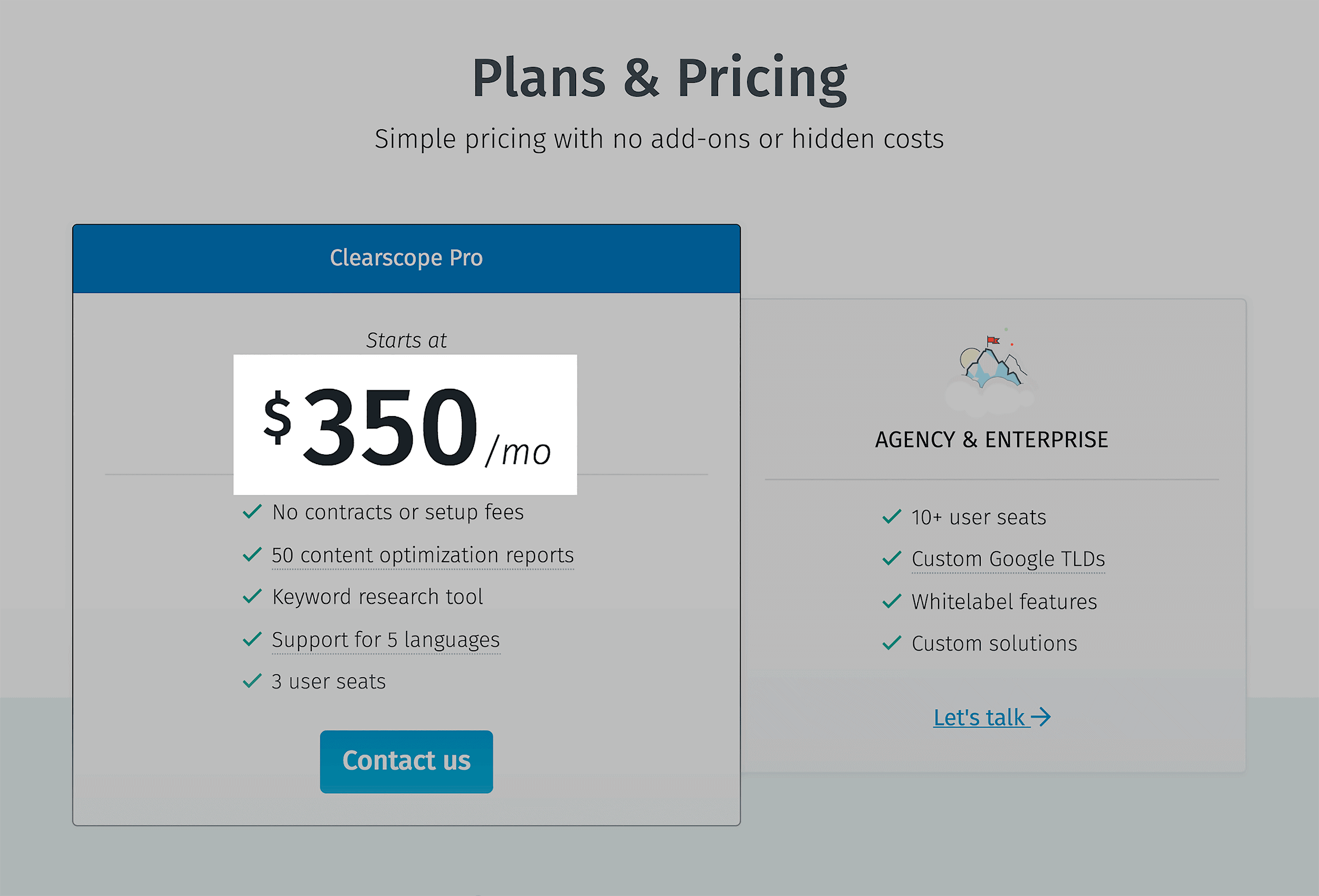 So yeah, not cheap. Especially when you compare Clearscope to other SEO tools on the market, like Ahrefs.
Comparing Clearscope to Ahrefs or other SEO software suites isn't a 1:1 comparison. Clearscope is pretty unique.
That said, in terms of pricing, Clearscope is definitely on the higher end.
Clearscope Review Bottom Line: Is Clearscope Worth $350 Per Month?
If your SEO is a big part of your digital marketing strategy, then I would say Clearscope is worth the relatively steep price tag.
At first glance, $350 may seem like a lot for an SEO tool. And it honestly is.
But to me, a tool's value is based on the ROI that it gives you.
In other words: I rather spend $1k/month on an amazing tool than $50/month on a tool that doesn't help me all that much.
And if you feel that a boost in your organic traffic can generate significantly more than $350/month, then I would give Clearscope a shot.
Plus, there aren't any contracts or long-term commitments. You can use Clearscope for a month. See how it goes. If you don't find that it's improving your SEO, you can cancel.
That said: if you're just starting out. Or you have a limited SEO software budget. Or you're new to SEO. Then I'd pass on Clearscope.
If that describes you, then you're better off optimizing your content with traditional on-page SEO best practices. And you'll get 80-90% the same results as you would with an advanced optimization tool like Clearscope.
But if SEO is a big part of your business, I recommend trying Clearscope.
Now It's Your Turn
So that's it for my review of Clearscope.
Now I'd like to hear from you:
Have you tried Clearscope before?
If so, what was your experience with it? Good? Bad? Somewhere in between?
Either way, let me know by leaving a comment below right now.