Ahrefs Review: Is This SEO Tool Worth The Money?
by Brian Dean · Updated Apr. 29, 2020
This is my SUPER in-depth review of Ahrefs.
In this post I'll show you:
Ahrefs' best features
Ahrefs' worst features
How Ahrefs compares to SEMrush
Whether or not I recommend it
Lots more
Let's dive right in.
My Personal Experience With Ahrefs
Before we get into my Ahrefs review, I want to point out a few things.
First, I've been a paying Ahrefs user since August 2012.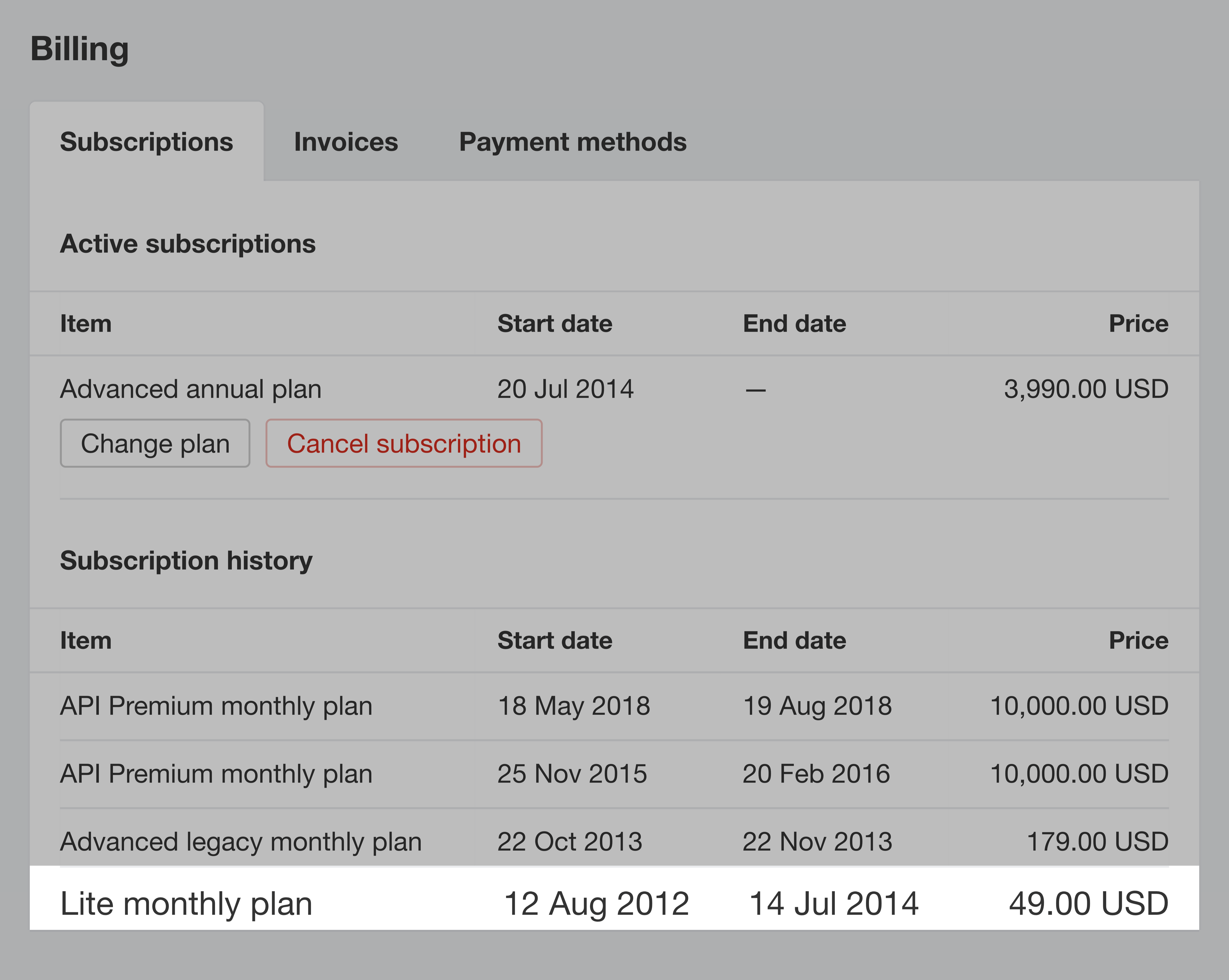 Back then, Ahrefs was basically a link building tool… and that was about it. Since that time, Ahrefs has added a TON of features. Many of which I'll cover in this review.
I'm telling you this to point out that I didn't sign up for Ahrefs last week. I've been using the tool pretty much every day for the last 8+ years.
Second, you may have noticed that I'm featured on the Ahrefs homepage.
No: I wasn't paid by Ahrefs to say that. And I have no official relationship with Ahrefs.
In fact, I still pay for my Ahrefs account every month.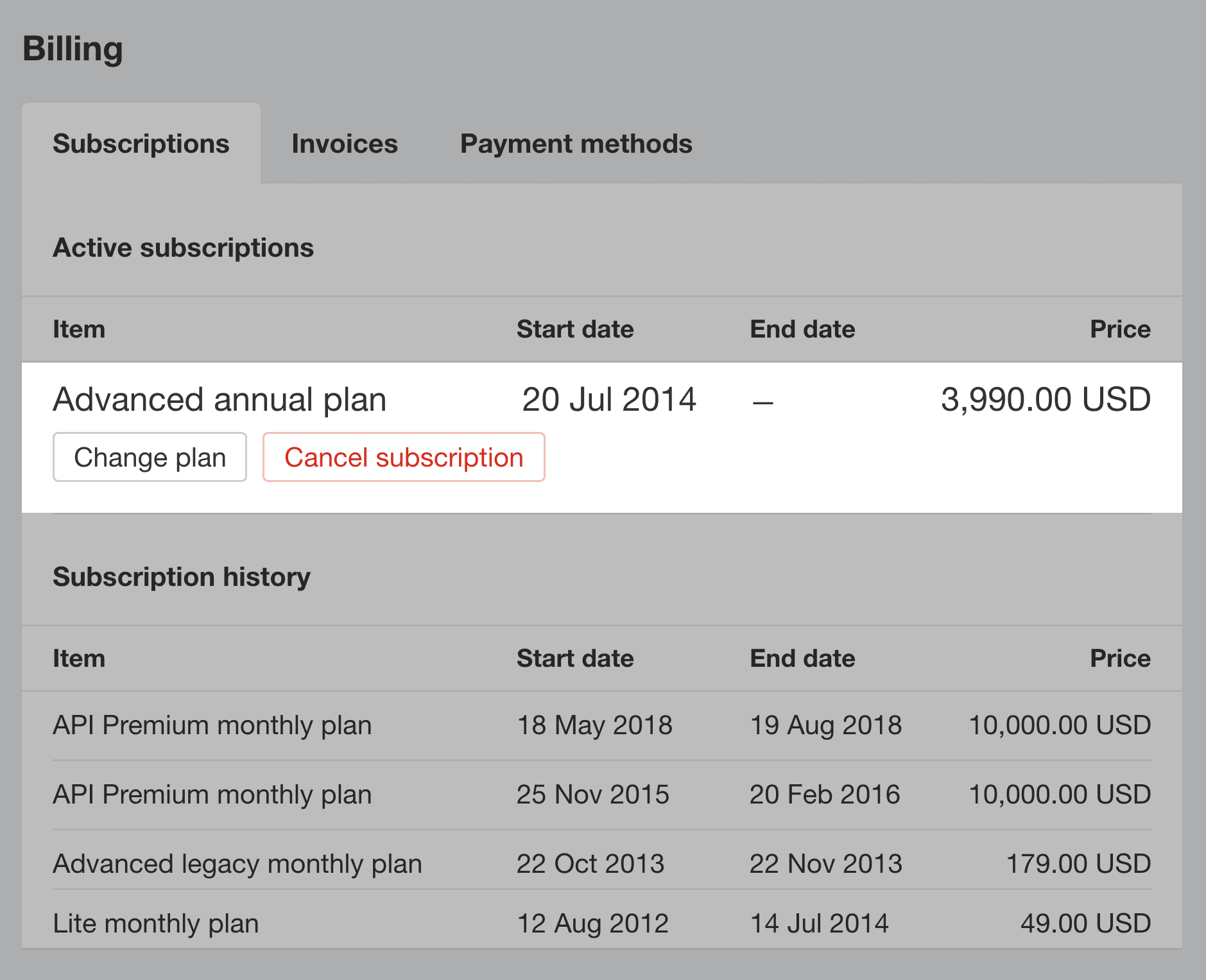 As a policy I don't accept freebies. That way, my reviews (like this one) remain unbiased.
With those caveats out of the way, let's get right into the review.
Site Explorer: Analyze a Site's Organic Traffic and Backlinks
Site Explorer is Ahrefs' bread and butter feature.
Here's how it works:
Type in a site's URL. And get an overview of that site's (or page's) overall SEO performance.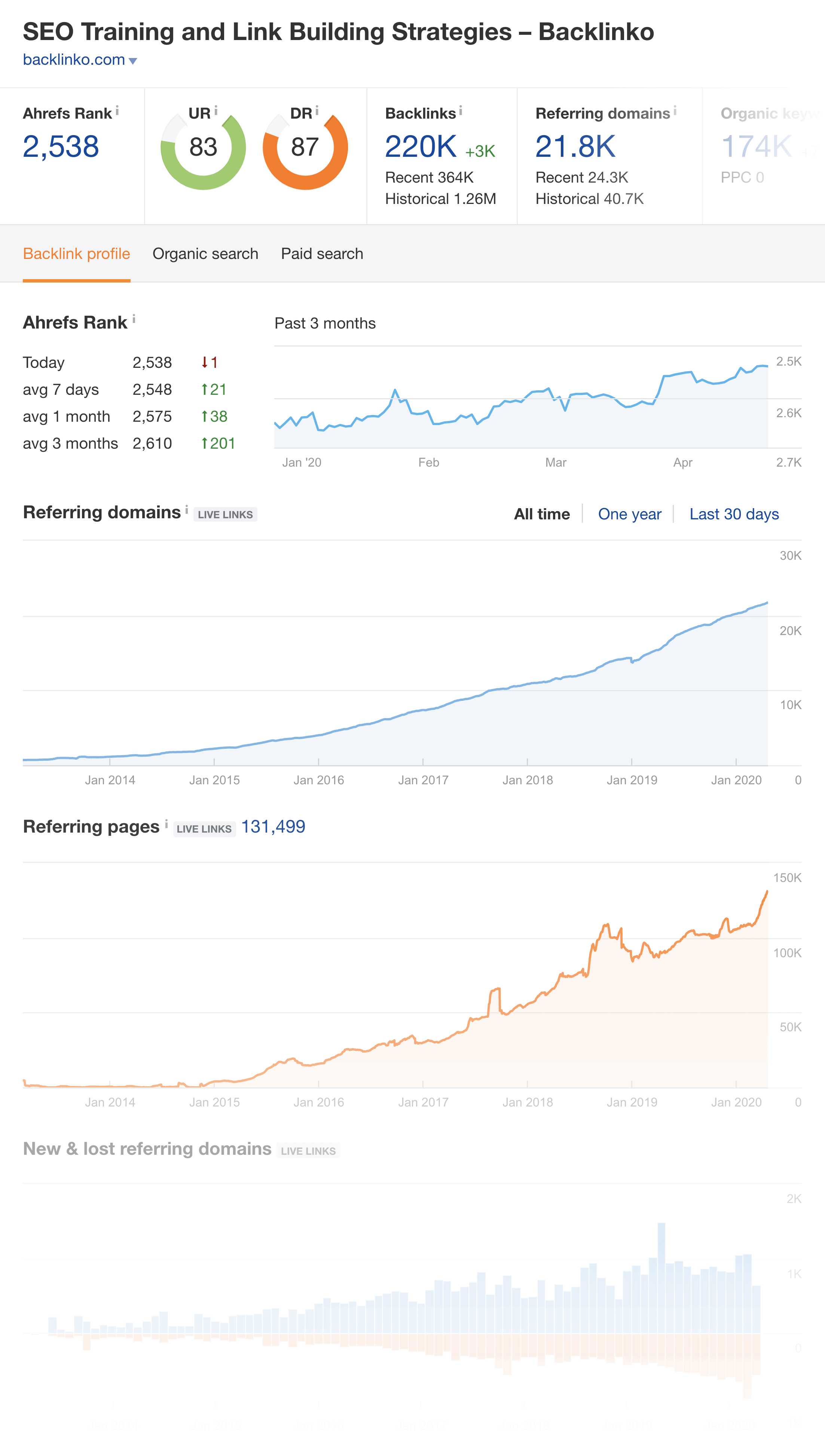 This report shows you how many backlinks the site (or web page) has. How much traffic it gets from Google. How much that traffic is worth. And lots more.
It's basically a dashboard that shows you a ton of SEO-related info all on one page.
That said:
This feature is really two major features (backlinks and organic traffic) combined into one. So let's break down each of these features separately.
Backlink Profile: The Ahrefs Backlink Checker
This feature shows you a site's complete backlink profile: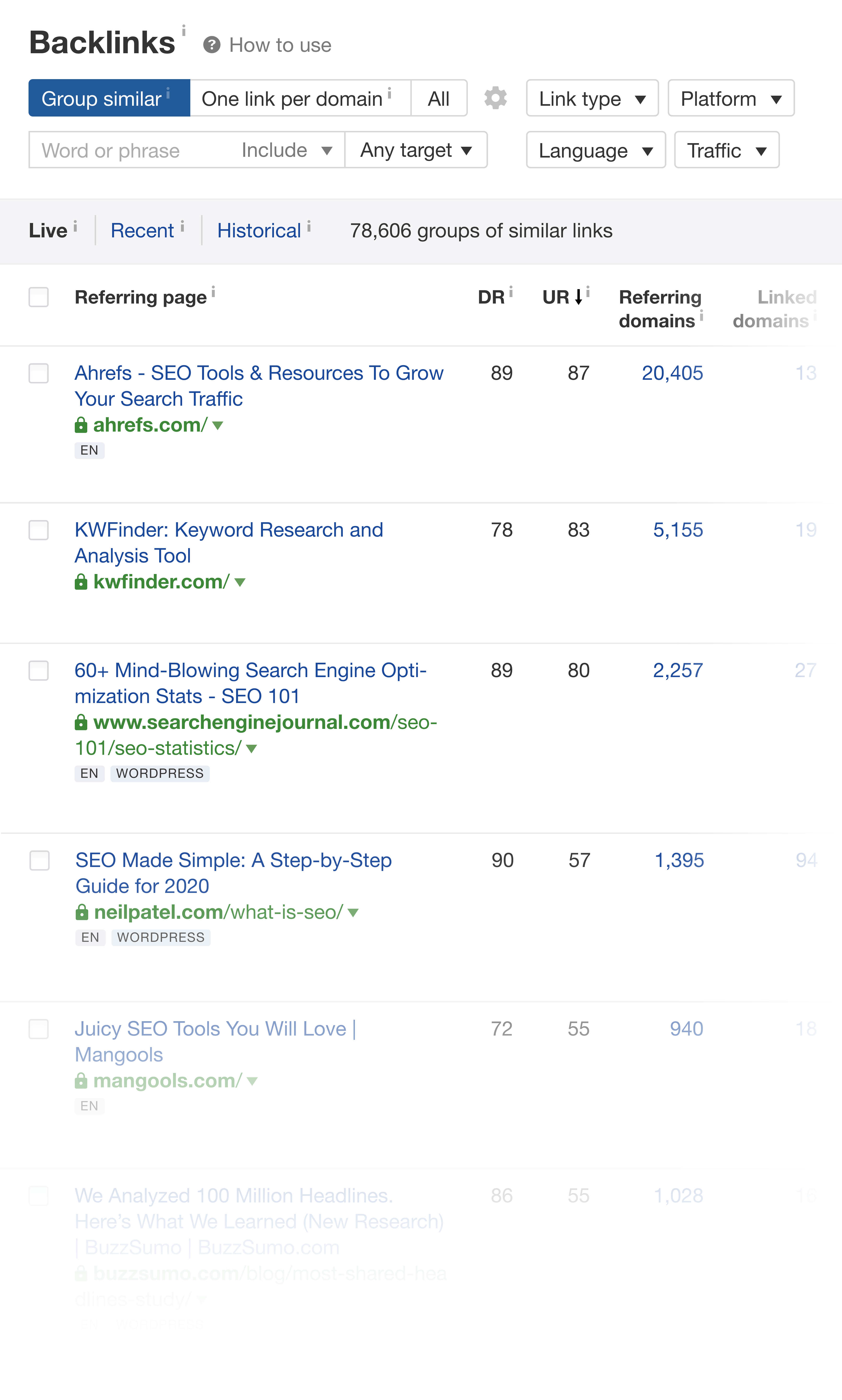 On the surface, this backlink report is the same as most other backlink checkers out there (like SEMrush and Moz Pro).
Like those other tools, you put in a URL. And get a list of their backlinks.
What makes Ahrefs different from other backlink checkers?
First off, Ahefs has GREAT filtering and sorting features.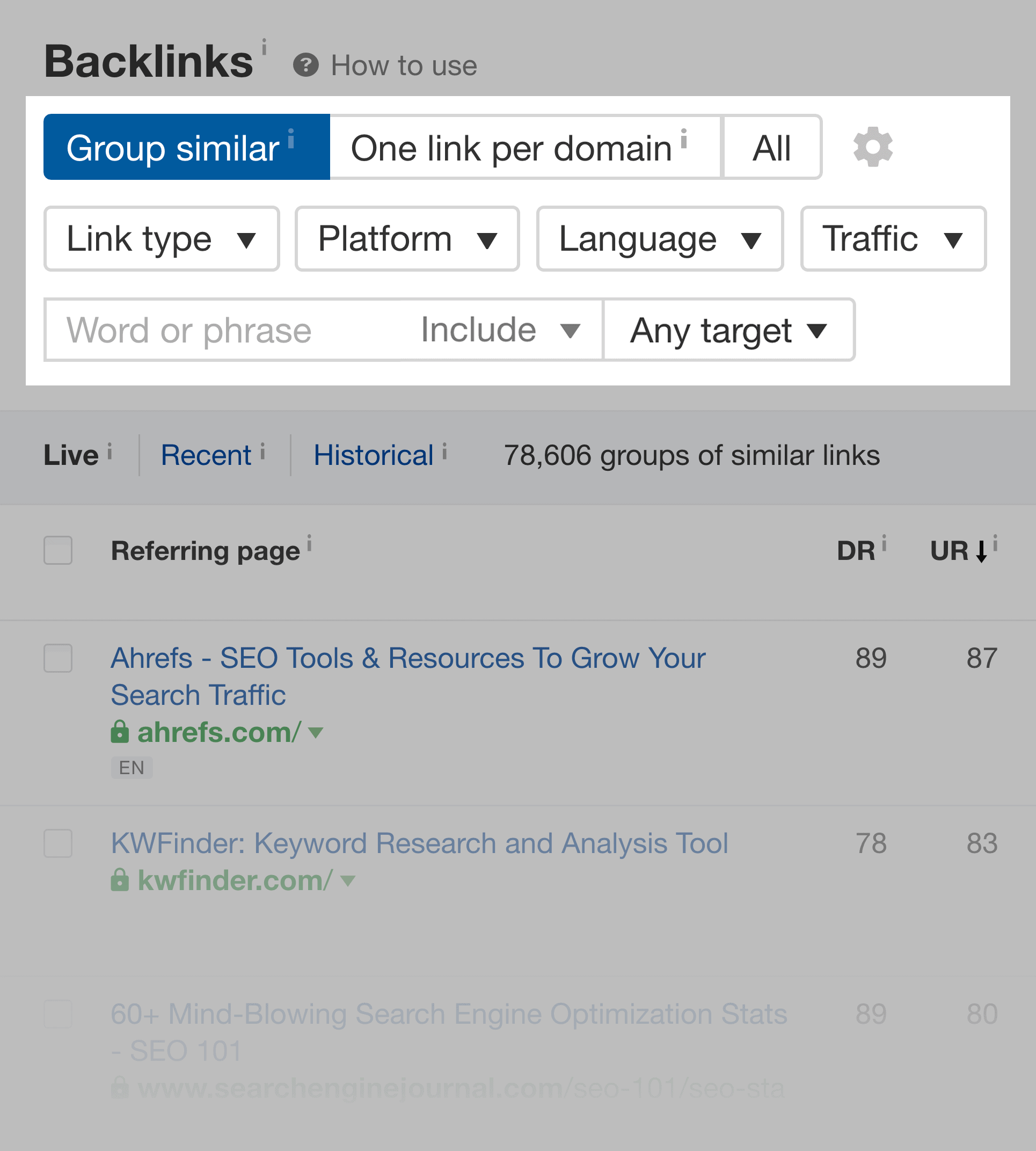 This is sneaky important.
For example, let's say that you want to check out the backlinks pointing to a major authority site, like NerdWallet.
According to Ahrefs, NerdWallet has 2 MILLION backlinks.

Good luck going through that link profile one-by-one.
But let's say that you only want to see links from sites with a high Domain Rating. Or pages with a high URL Rating. You can easily do that.
Or maybe you just want to see nofollow links. Again, this is easy to do in Ahrefs.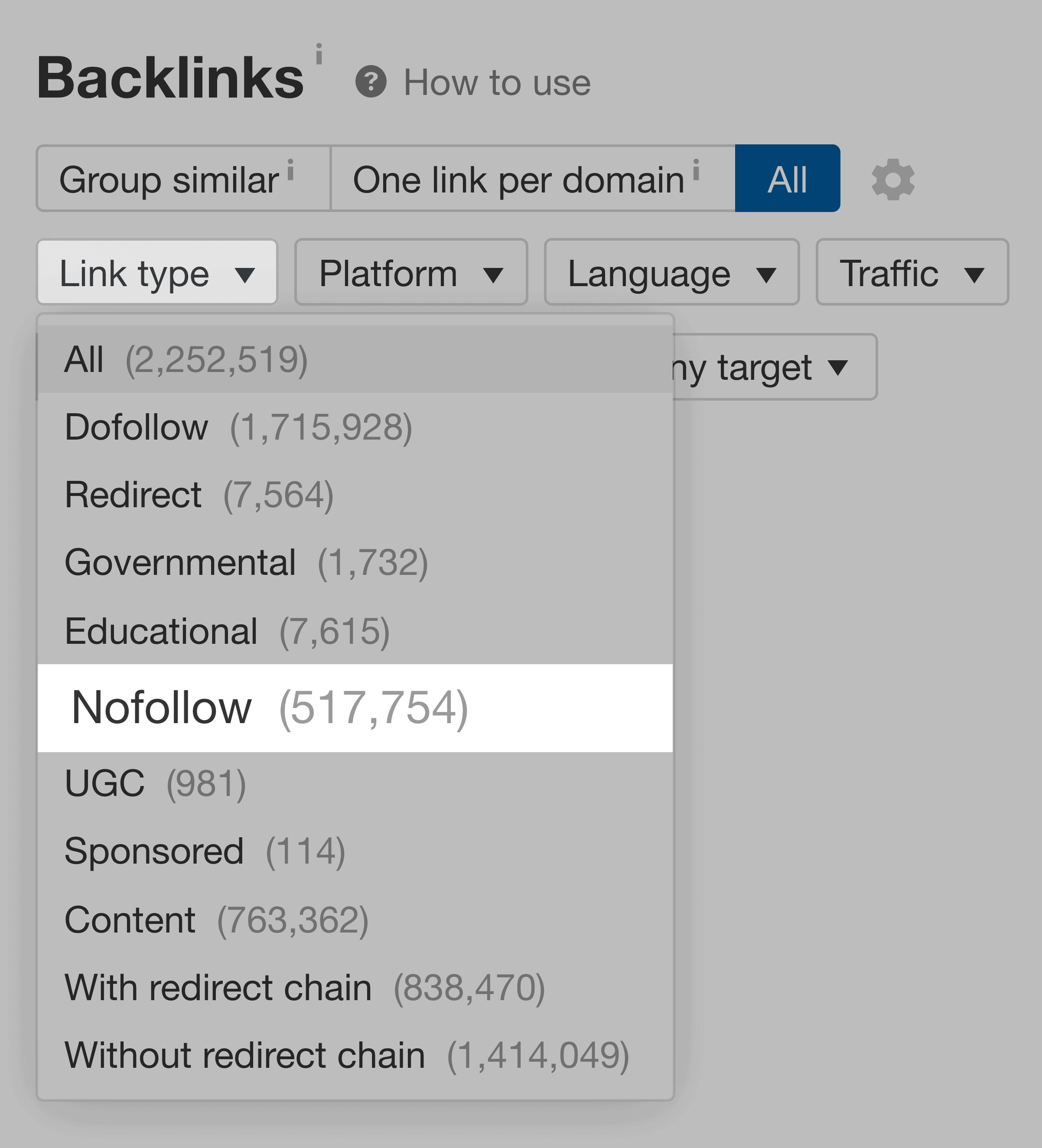 So yeah, I really like the filters and sorting options in Ahrefs. It's a huge time saver.
The other strong point about Ahrefs link analysis tool is that their index is HUGE. Plus, it's updated all the time.
Which means you never have to worry about looking at out of date link data.
In fact, Ahrefs states that their crawler is the second most active (after Google of course).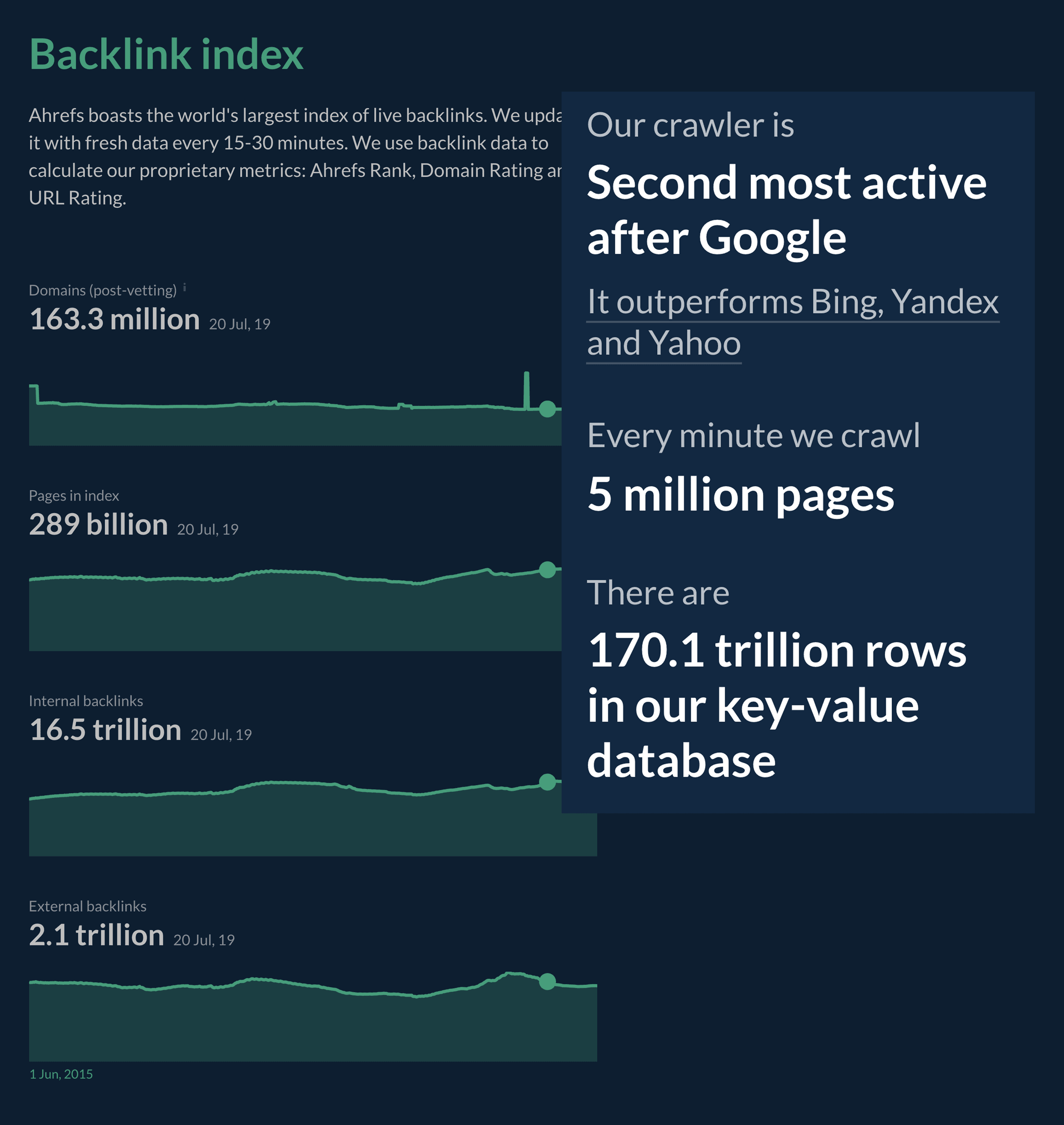 In reality, Ahrefs is really good at finding new links. But not necessarily the best out there.
I recently ran a test to see how quickly Ahrefs, Moz, SEMrush and Majestic find new links.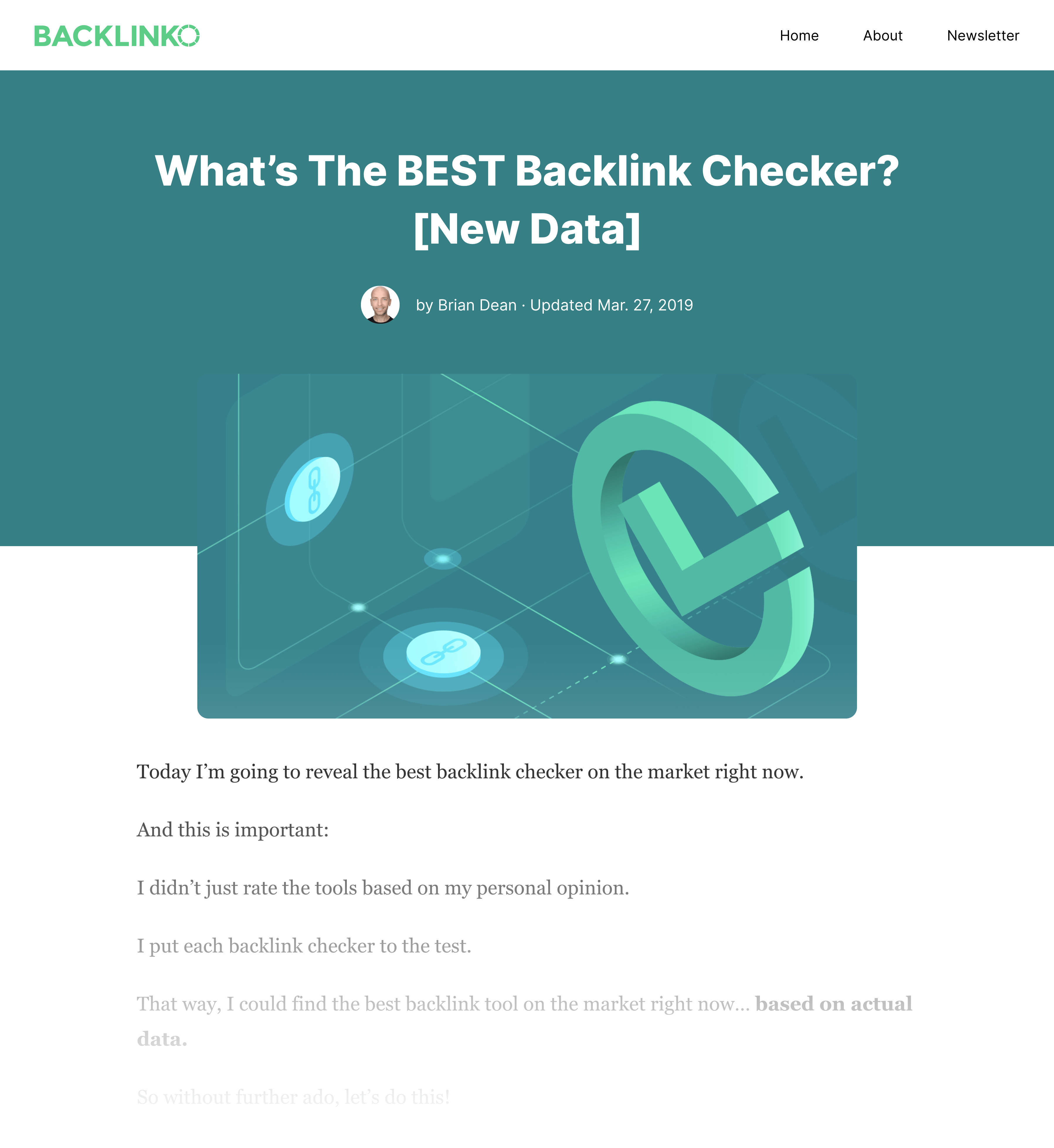 We found that Ahrefs was faster than SEMrush. But not quite as fast as Moz or Majestic.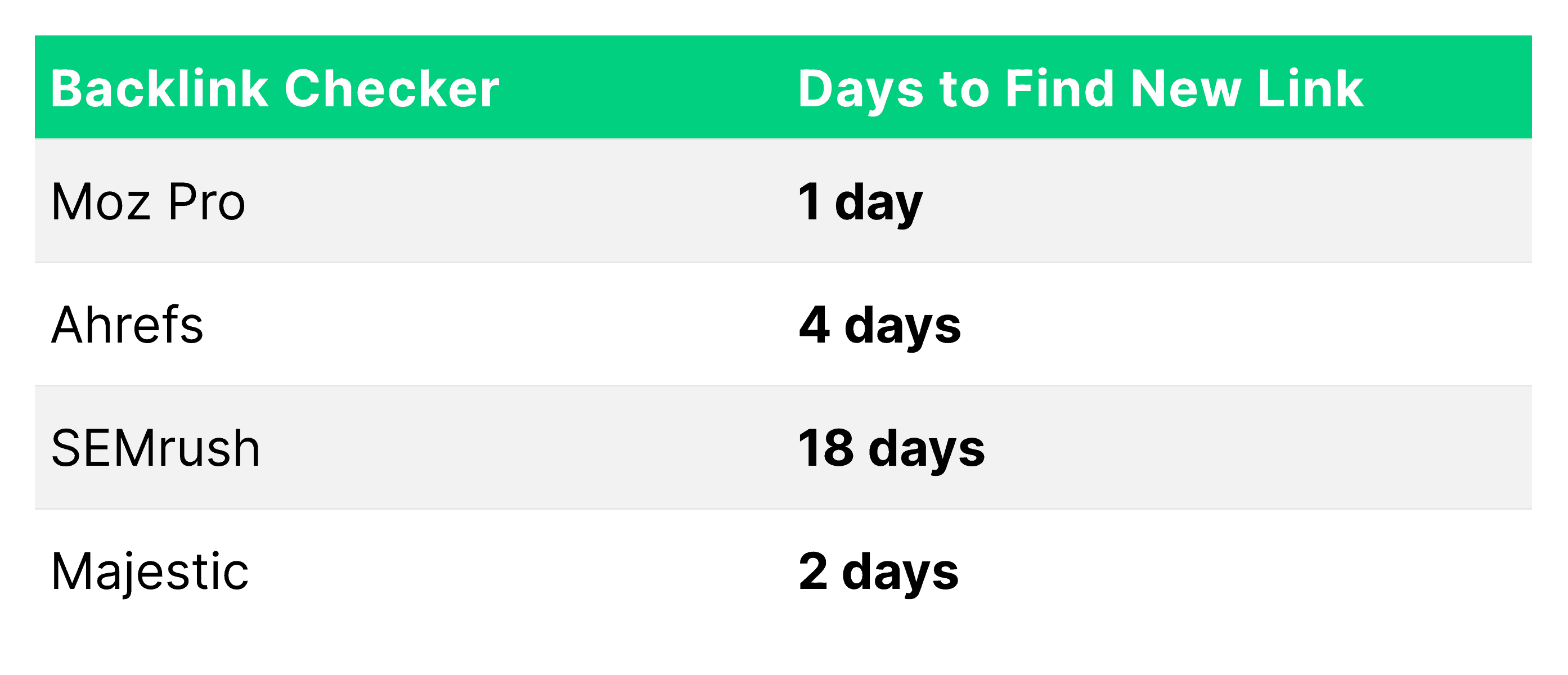 All in all, I consider Ahrefs backlink data trustworthy and fresh. But at least according to my small test, it's a little bit behind Moz and Majestic in terms of finding new links quickly.
Overall, I think Ahrefs' backlink analysis feature is a major strength of the tool. It's easy to use. Updates regularly. And helps me find exactly what I need.
Even though I spend most of my time in Ahrefs analyzing a site's link profile. I should point out that Ahrefs also has a few cool little backlink-related features that I use now and again.
For example, I sometimes use Ahrefs to find new links that a site just acquired.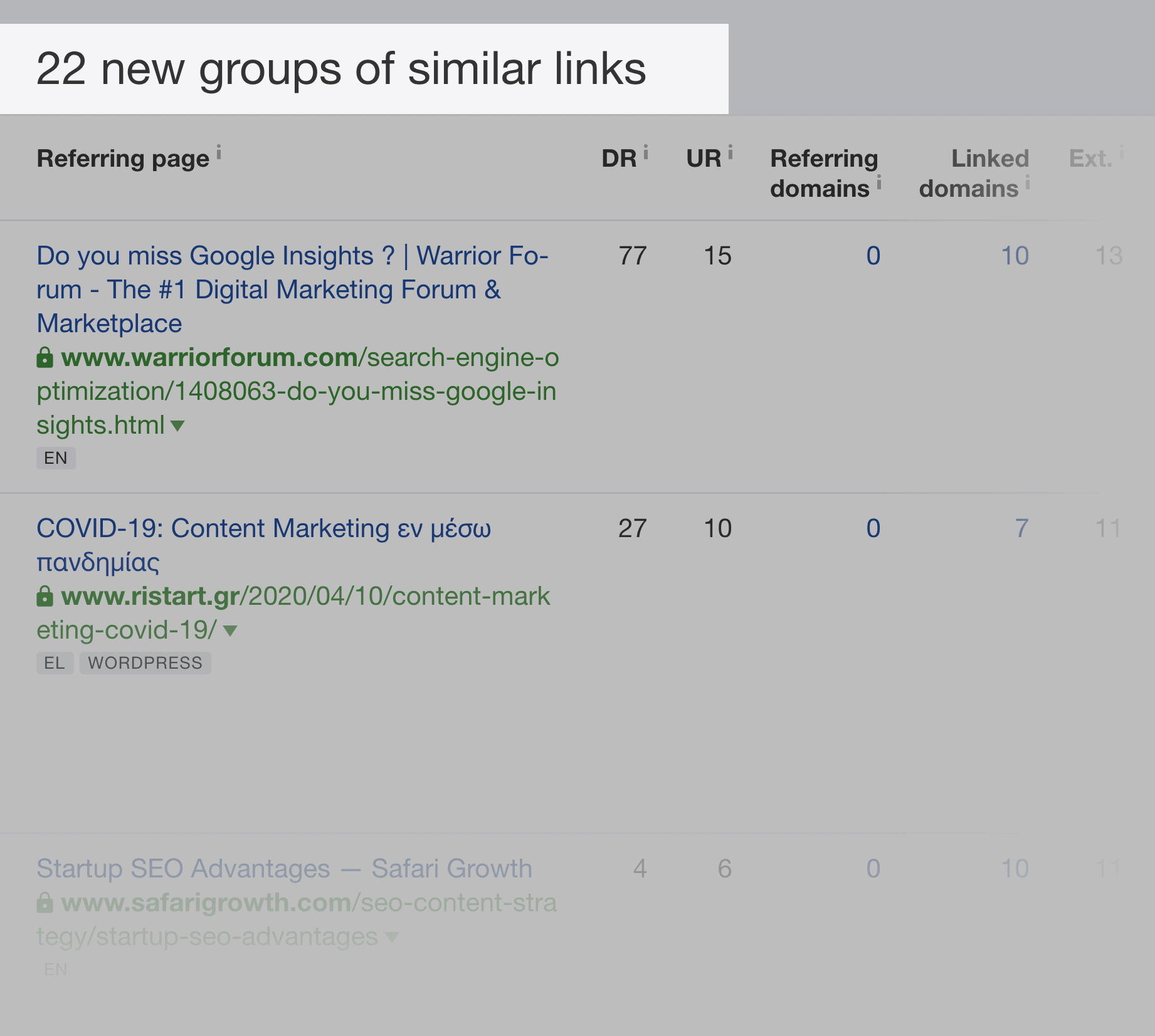 Or to see which pages have the most link growth over the last 30 days.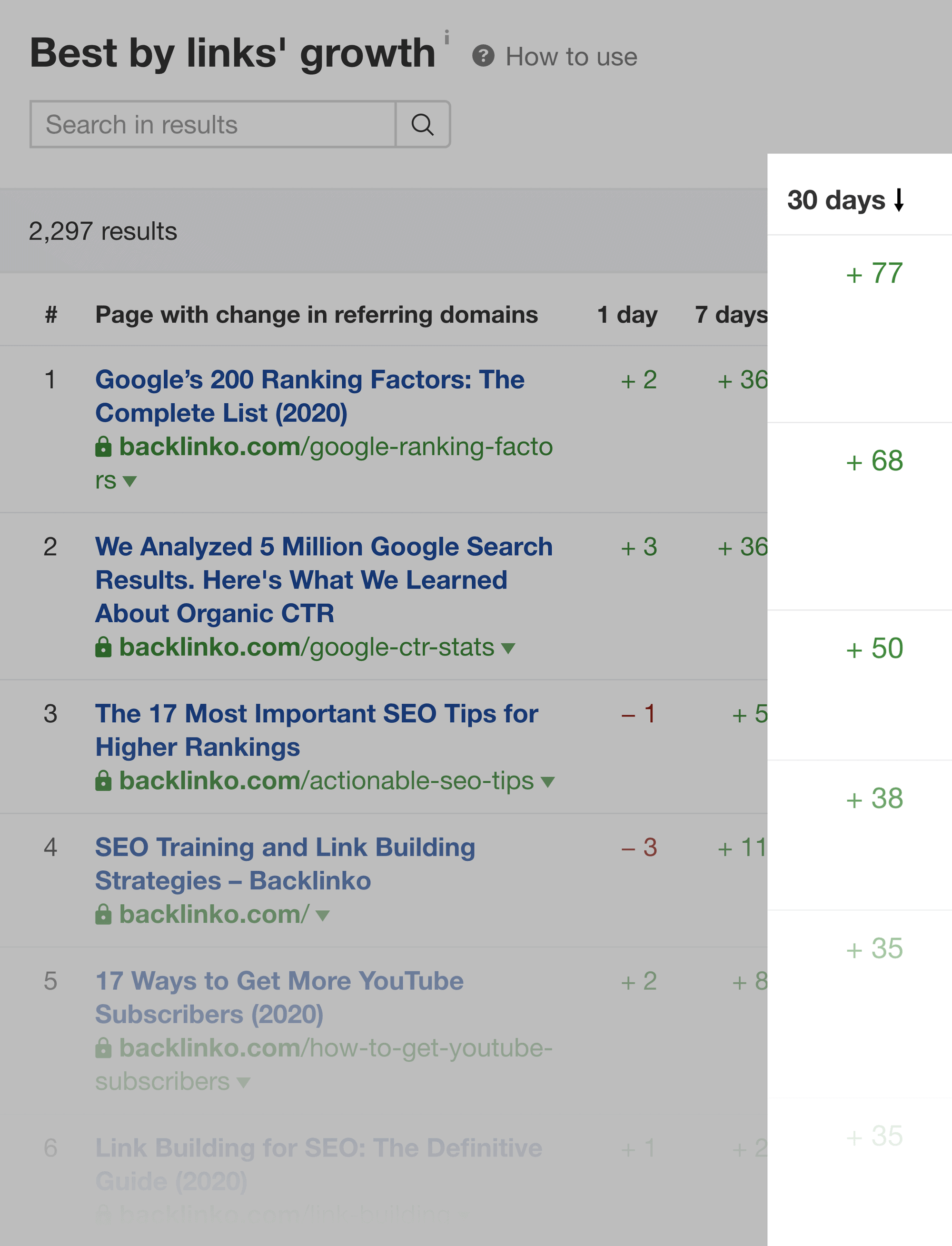 Both of which help me figure out what kind of link building is working best for a specific site.
Organic Search: SEO Competitor Research
This feature is all about finding your competition's top SEO keywords.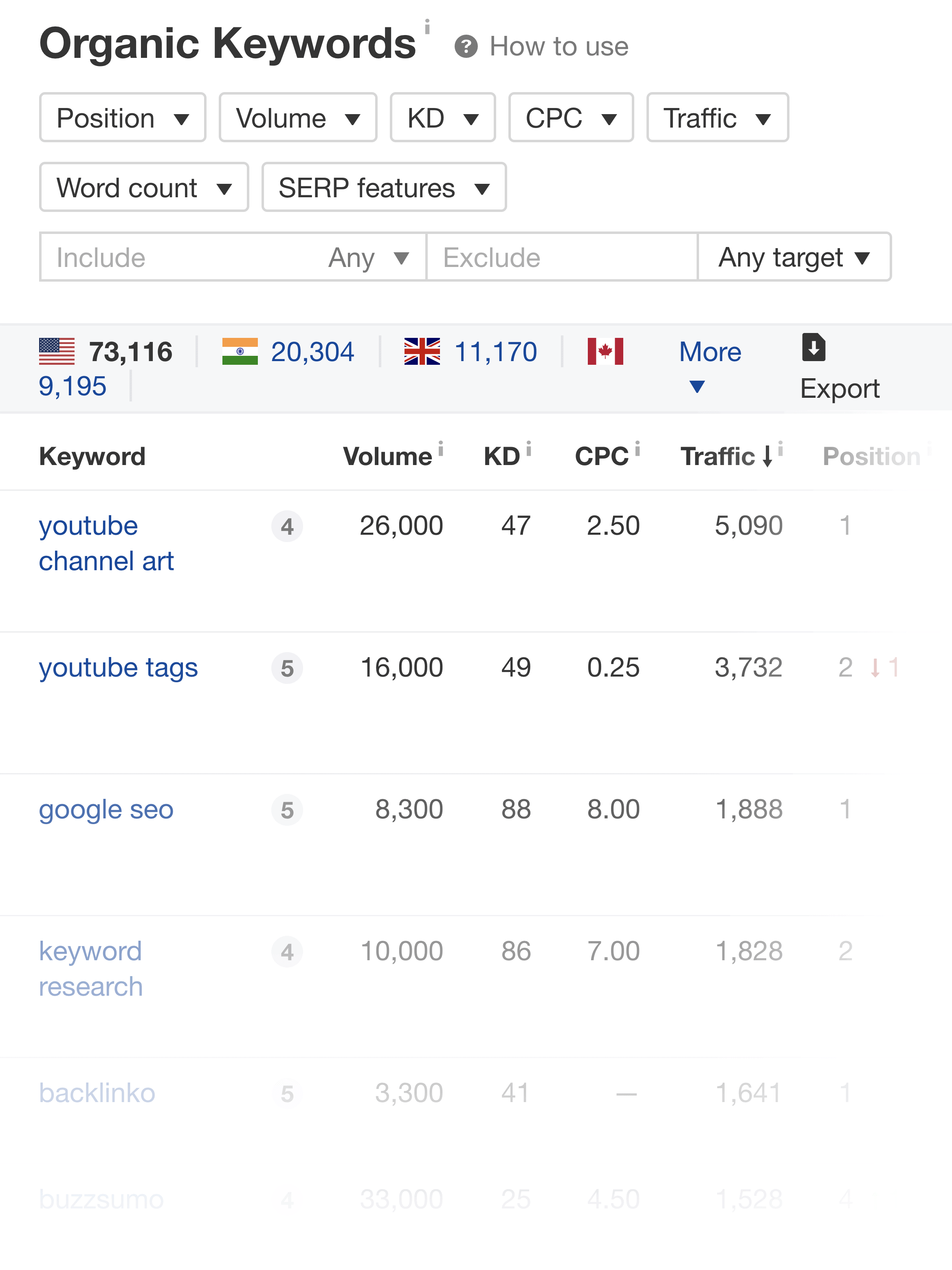 Obviously, this report isn't going to 100% match someone's Google Search Console data.
But Ahrefs gets pretty darn close.
For example, here's what Ahrefs reports as my top keywords in Google.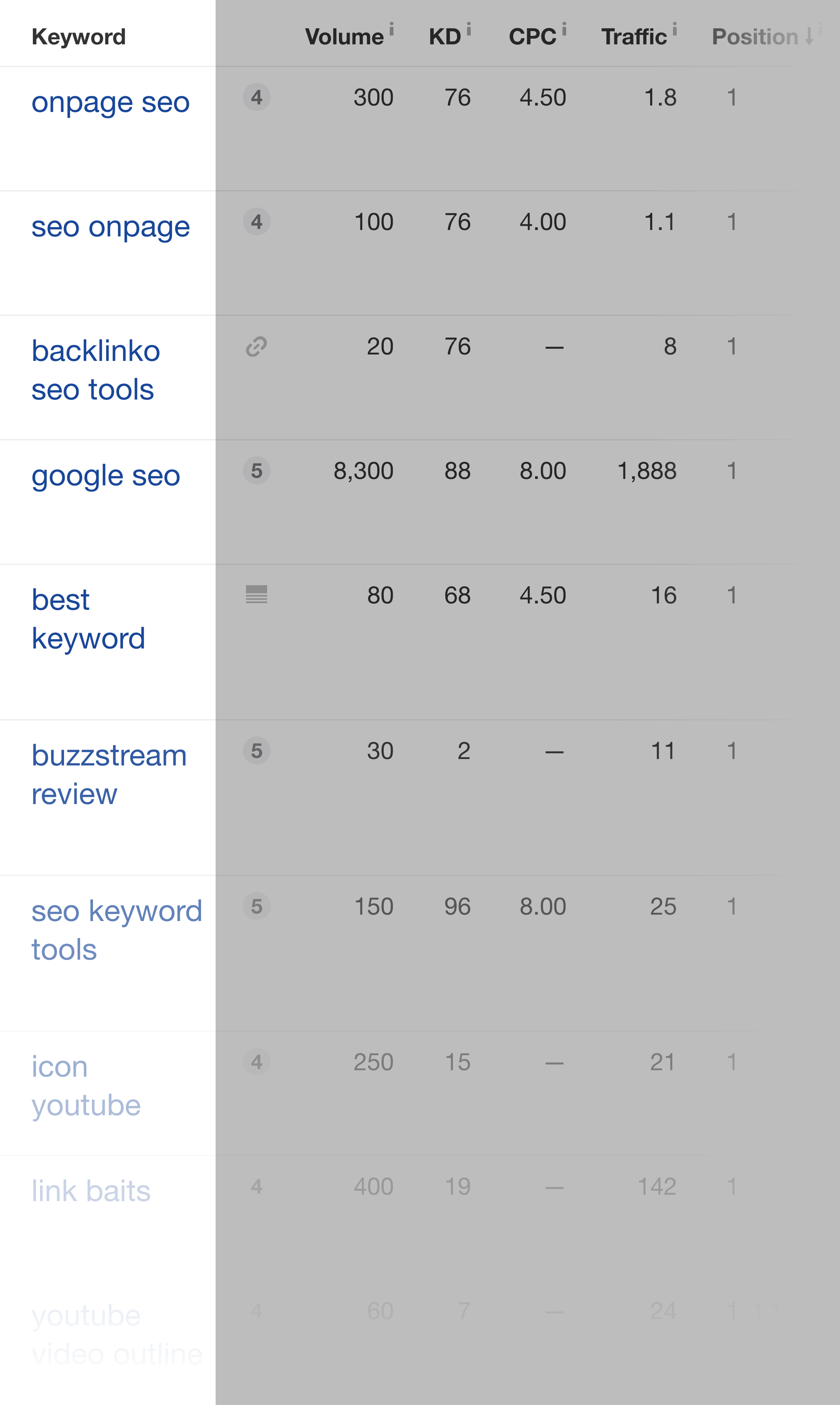 And here are the top 10 keywords according to Search Console.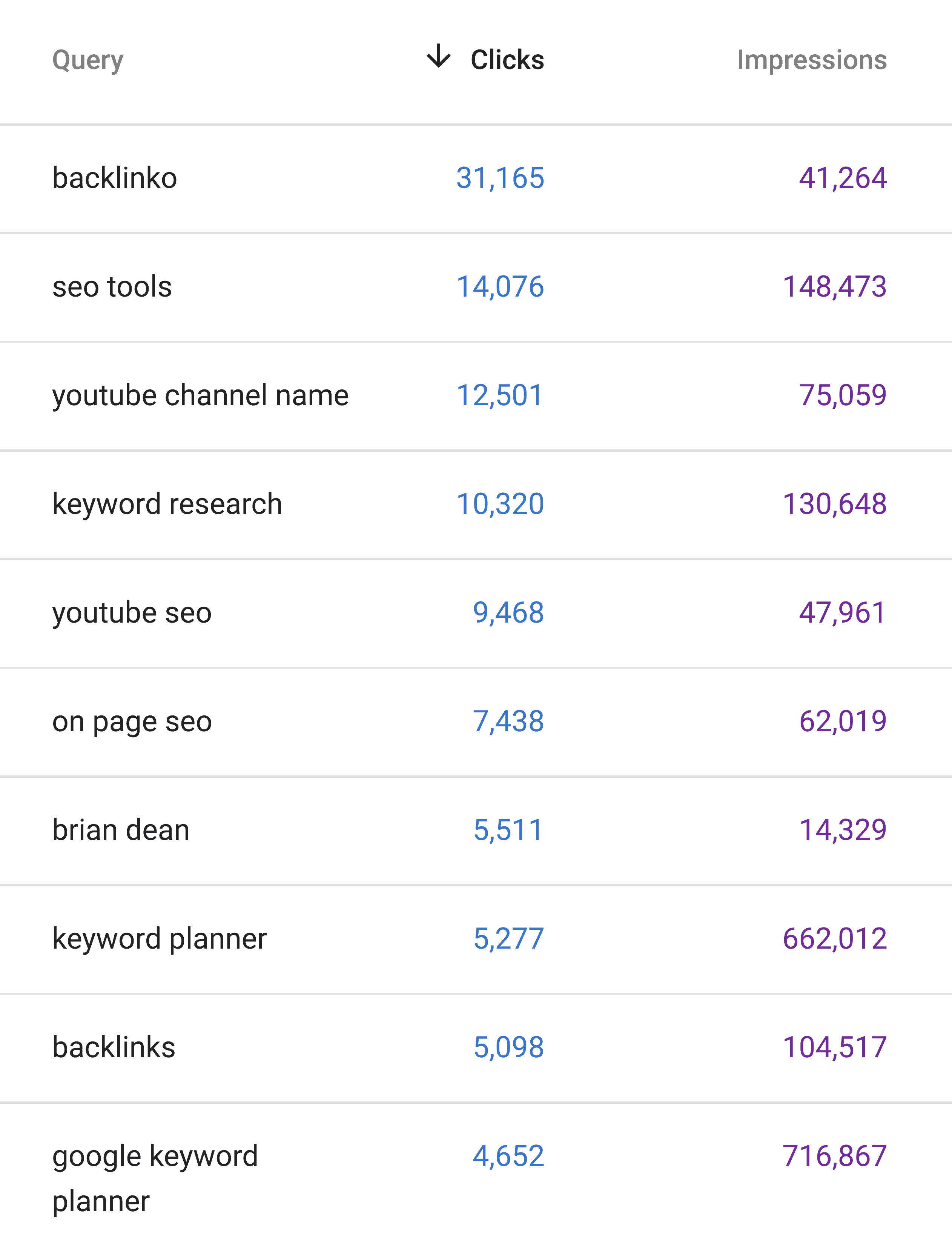 Not bad.
So, Ahrefs tends to do a solid job of finding keywords that a site ranks for. And estimating how much search traffic those keywords bring in.
Just like with Ahrefs' backlinks tool, the real strength of this tool comes from sorting and filtering.
For example, one of my main SEO competitors is HubSpot.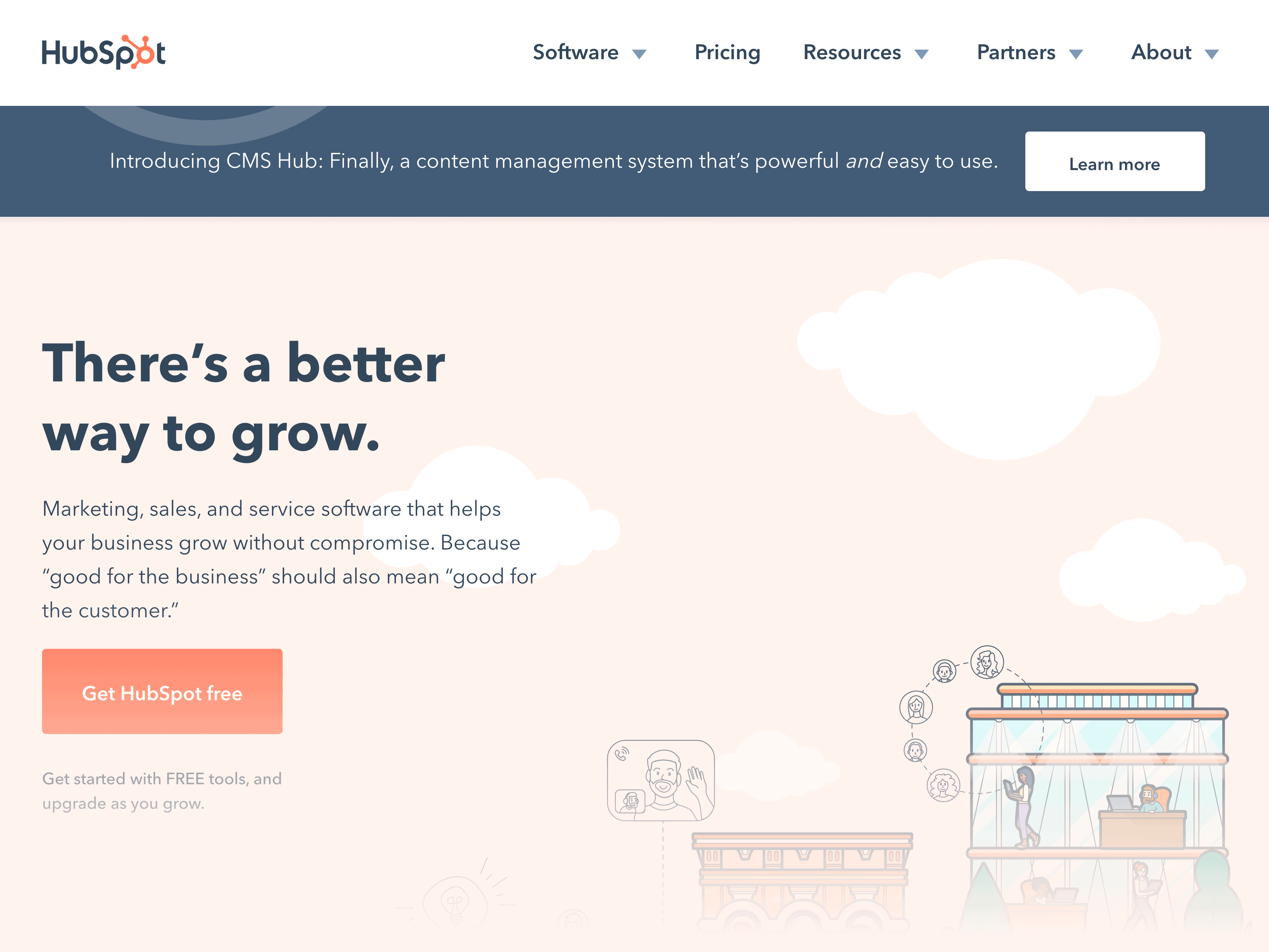 Ahrefs states that HubSpot currently ranks for 1.5 million keywords.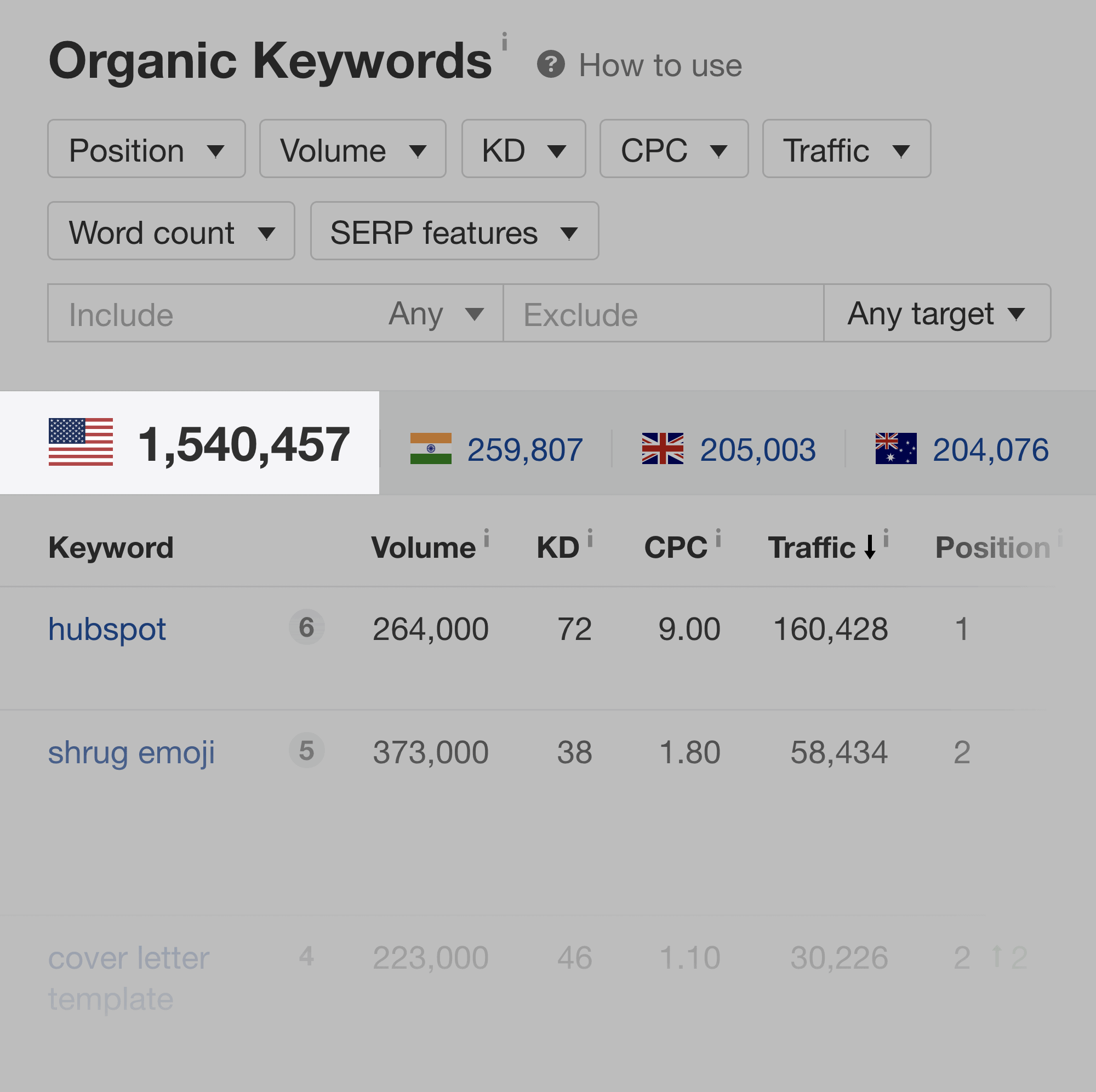 That's… insane.
How am I supposed to find keywords that make sense for me from that list?
Enter: Ahrefs' excellent filters.
These filters make it easy for me to find keywords that contain a specific word or phrase: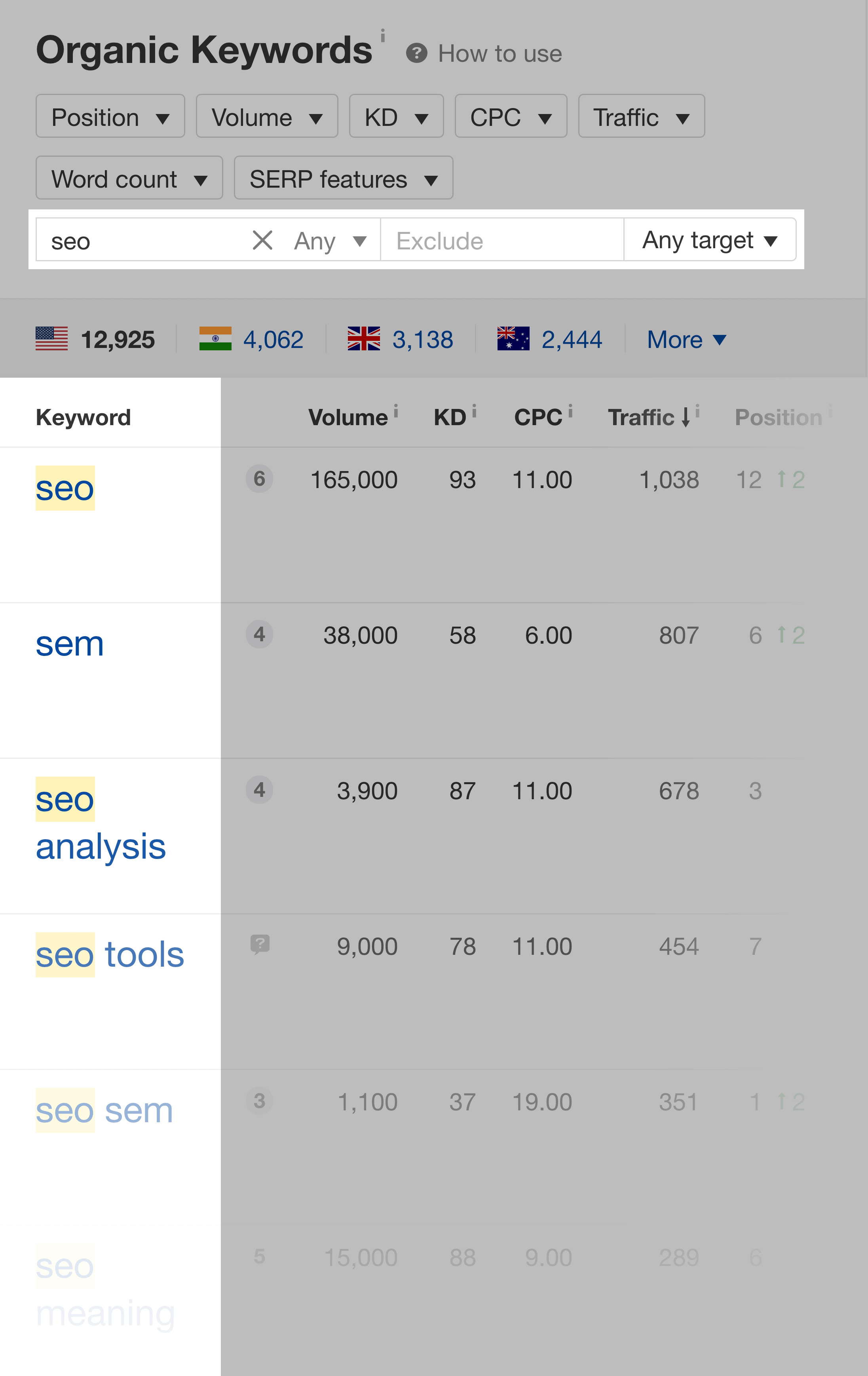 Have a certain keyword difficulty level: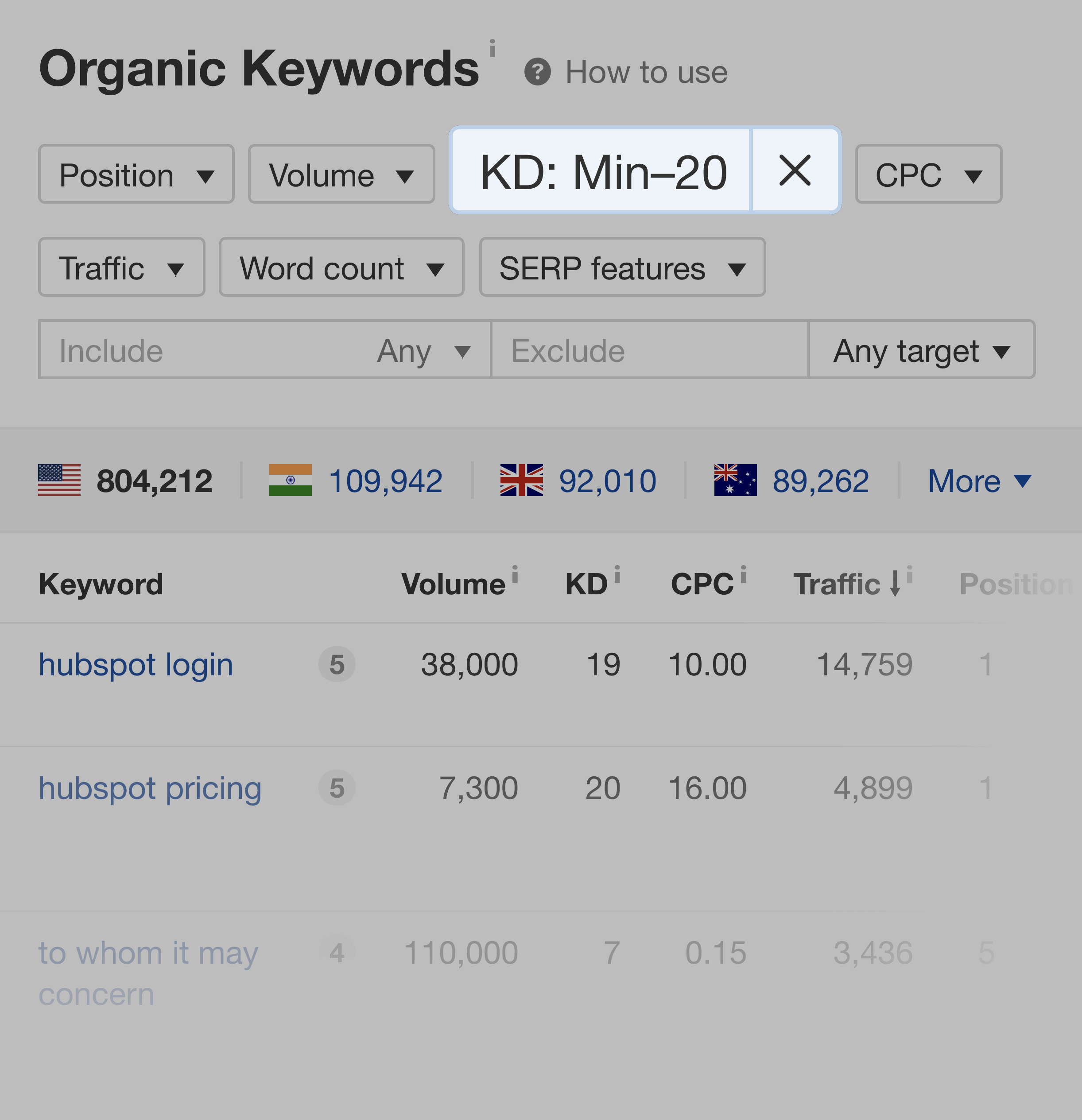 Rank in the Featured Snippet spot: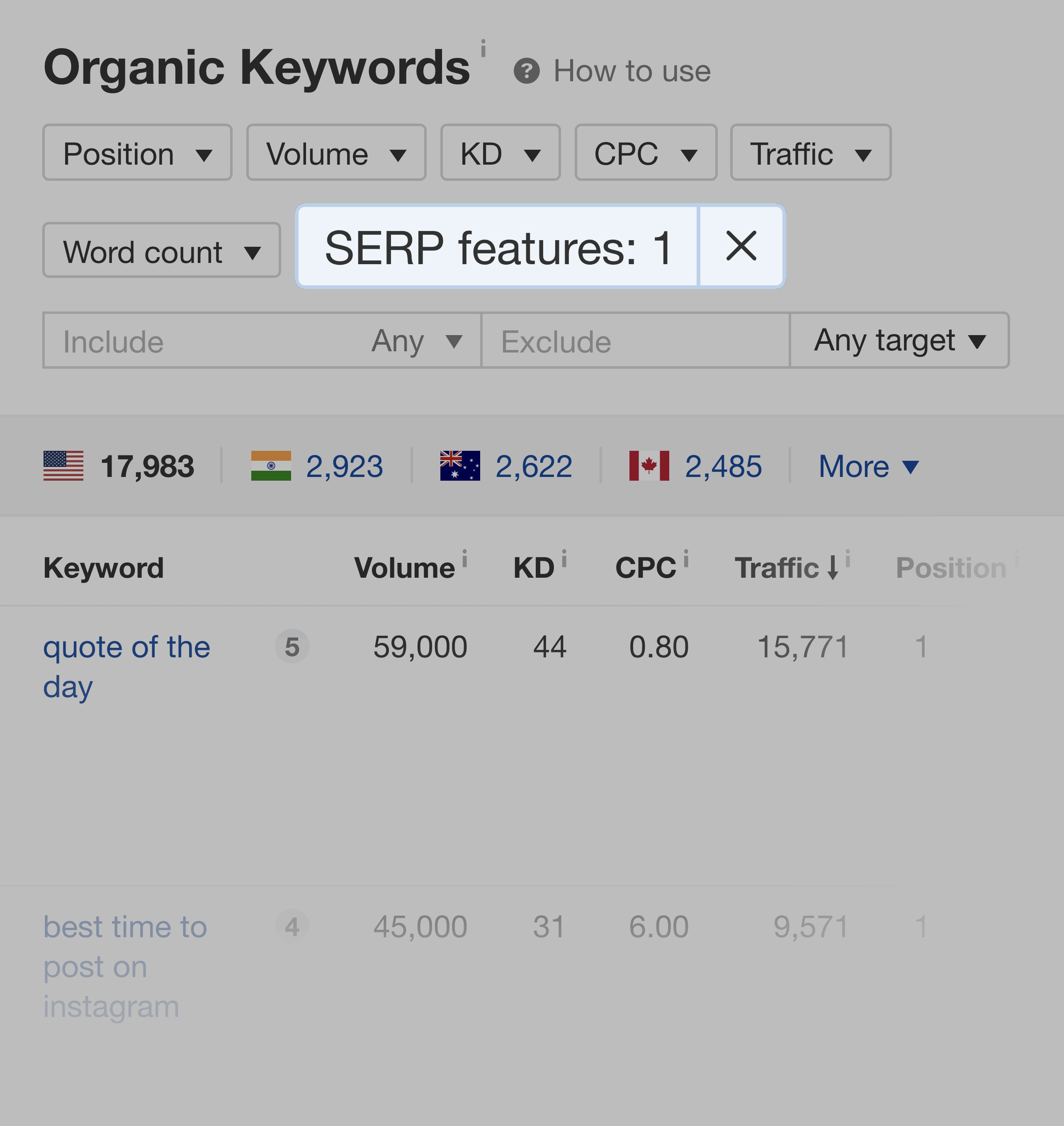 And more.
In short: these filters make it easy to zero-in on a set of keywords that work best for me.
There are also a handful mini features inside Organic Search that are pretty cool.
For example, "top pages" shows you the pages on a site that bring in the most organic traffic.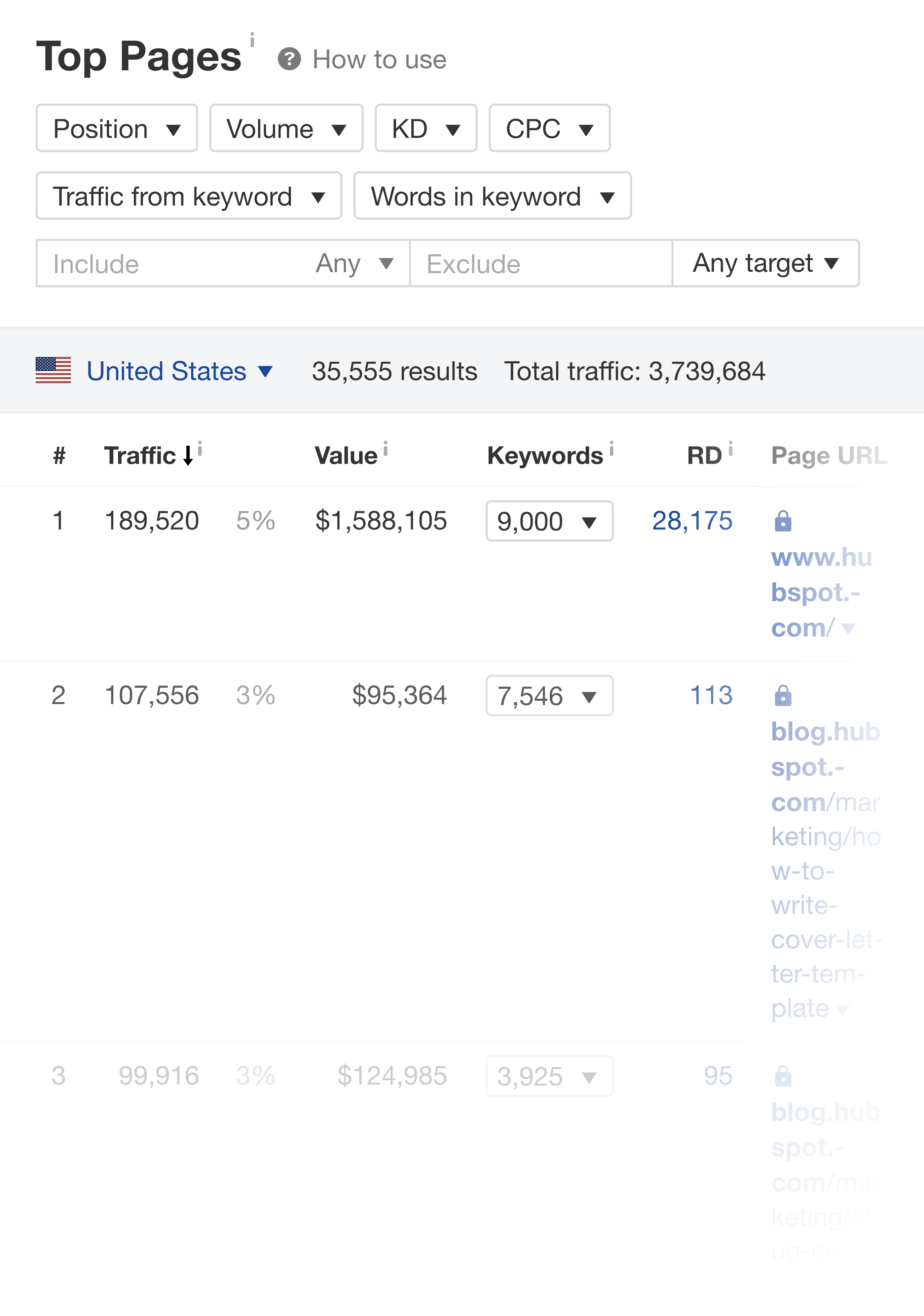 And "competing domains" shows you a site's main SEO competitors.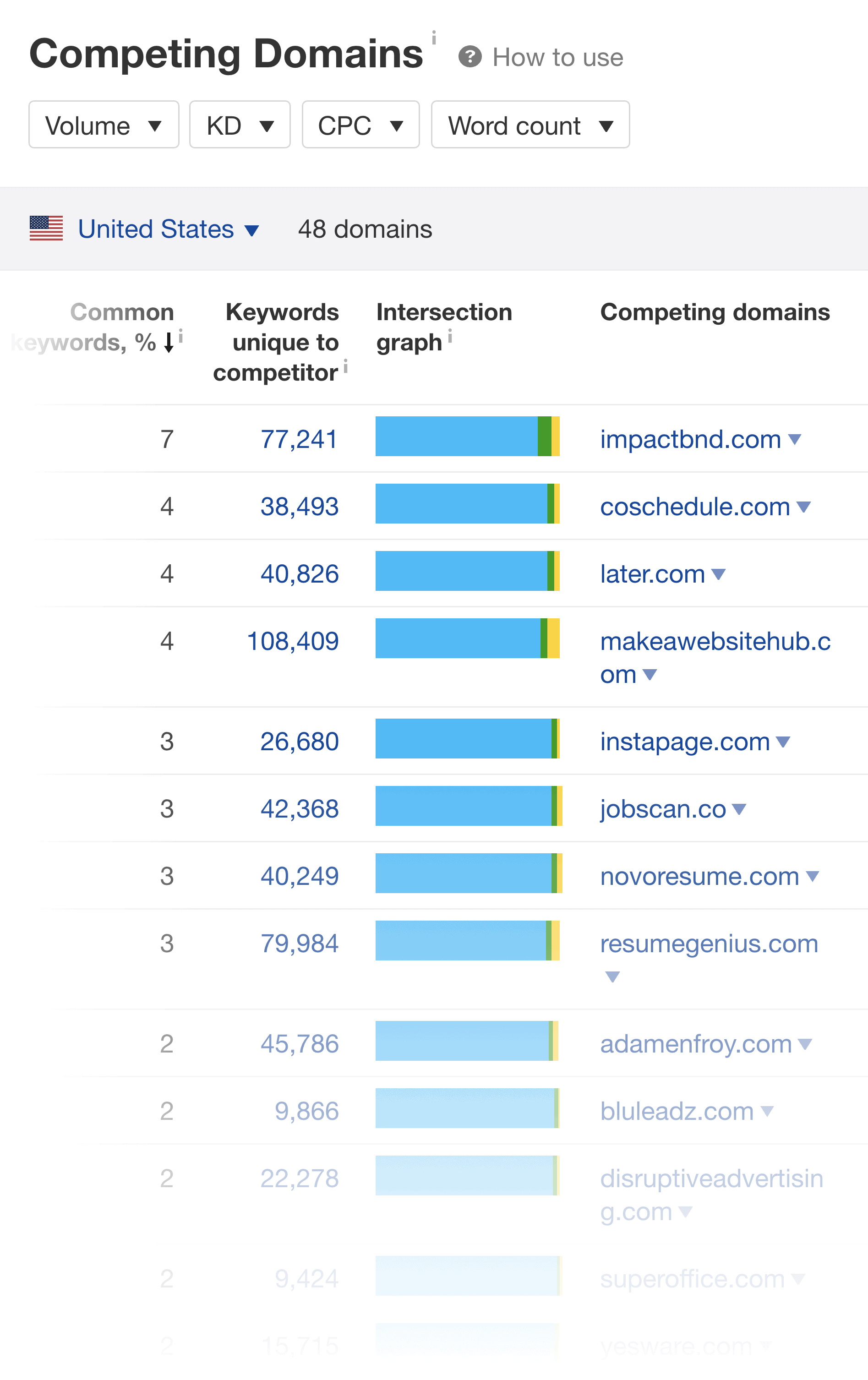 That way, you can find other sites to reverse engineer for backlinks or keywords.
Keywords Explorer: Find Keywords for SEO
Next, let's take a look at the Keyword Explorer, the Ahrefs keyword tool.
Unlike many other keyword tools, Keyword Explorer doesn't limit you to one search engine: Google.
You can use Keyword Explorer to find and analyze keywords in YouTube, Amazon, Yandex and Bing.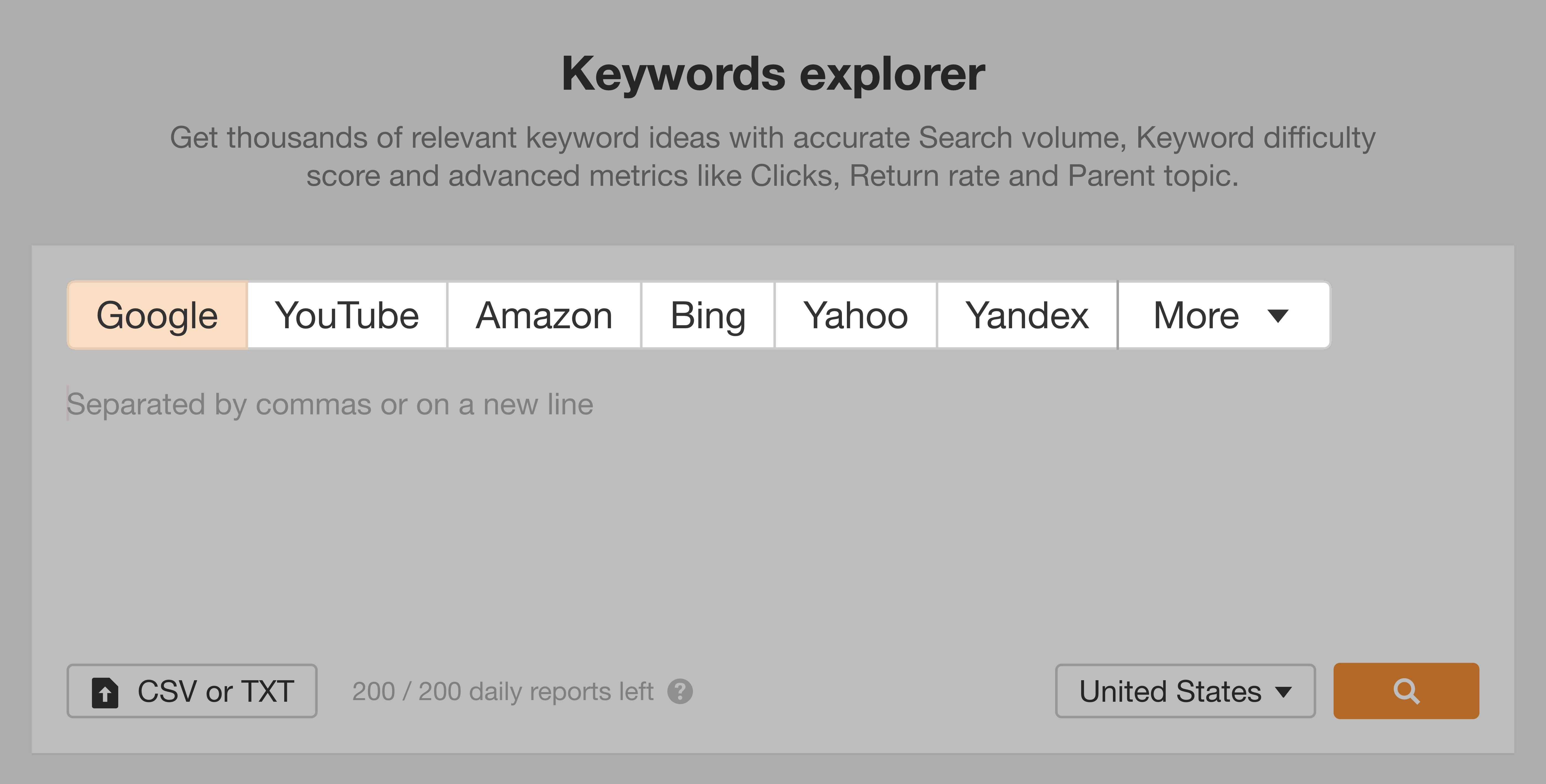 Overall, Keyword Explorer has some major strengths. And some major weaknesses.
Let's start with the strengths. First off, Keyword Explorer is GREAT at giving you a deep dive on a specific keyword.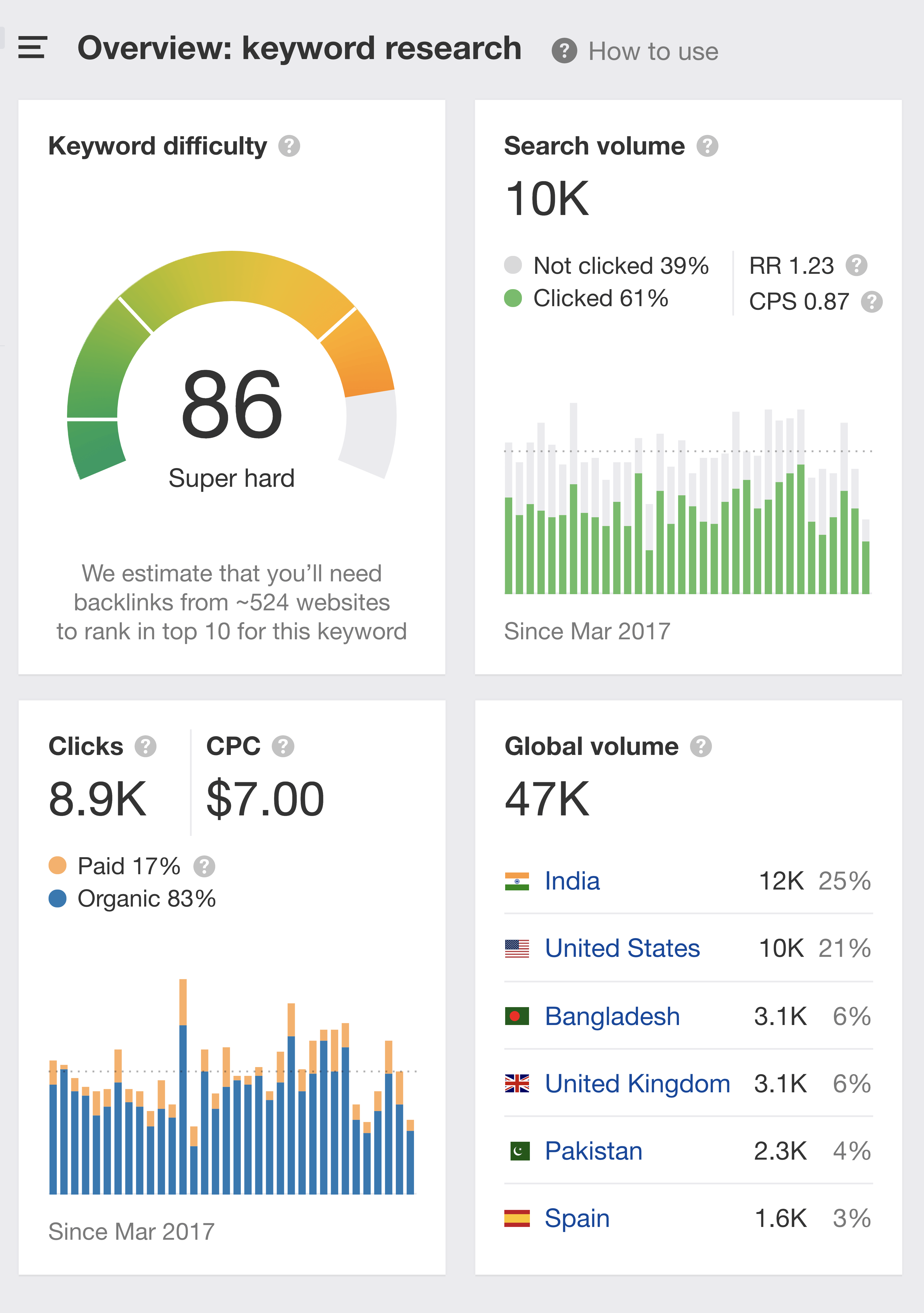 This single report shows you helpful info on search volume, competition, CPC, CTR, SERP position history and more.
So if you're deciding between a set of different keywords, these features can help you find the best keywords for you.
That's the good news: Ahrefs is awesome at analyzing a specific search term.
The bad news is that Ahrefs isn't great at coming up with new keyword ideas.
In fact, we recently ran a large-scale keyword research tool analysis.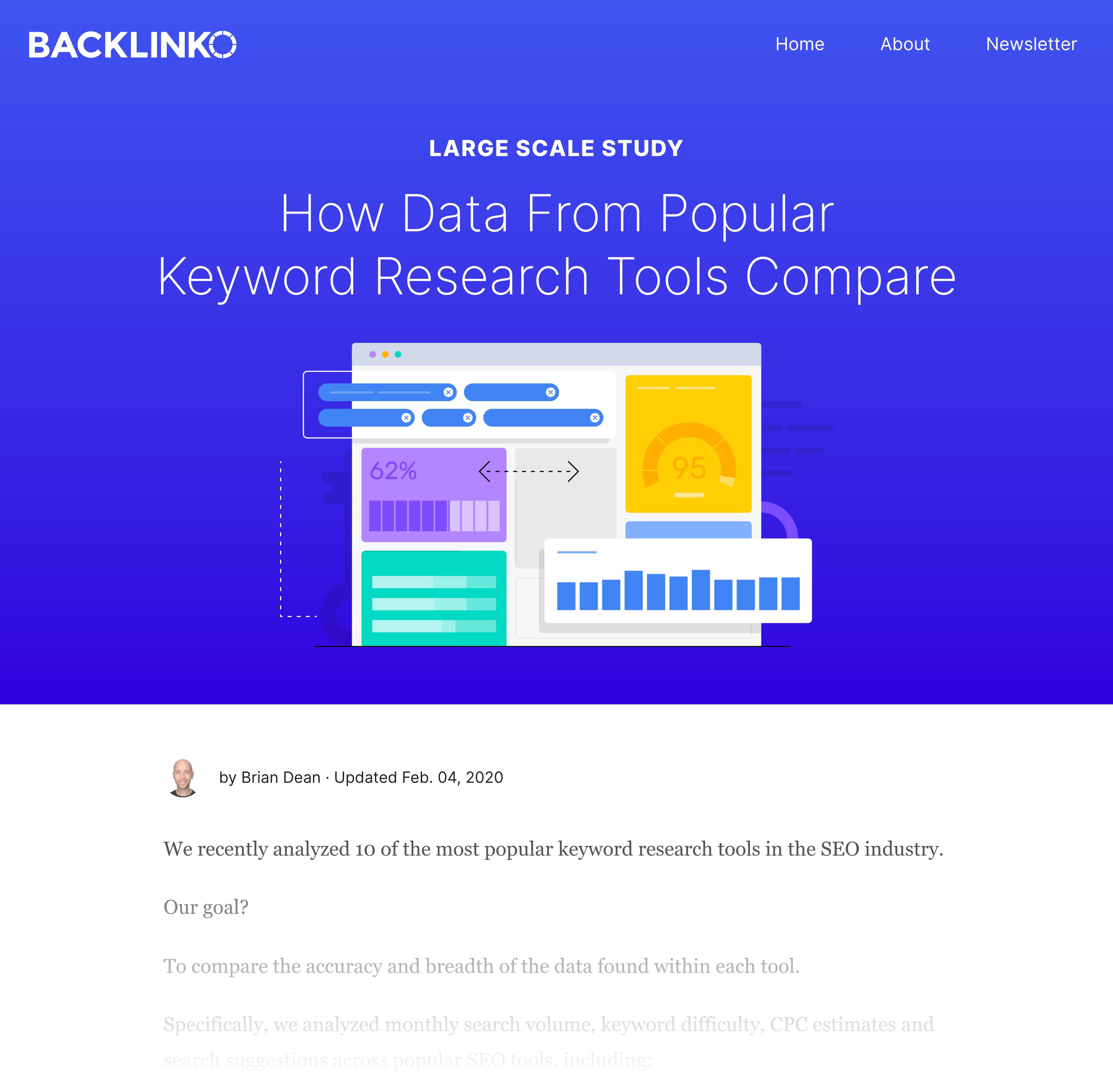 And we found that Ahrefs generated more keyword suggestions than any other tool.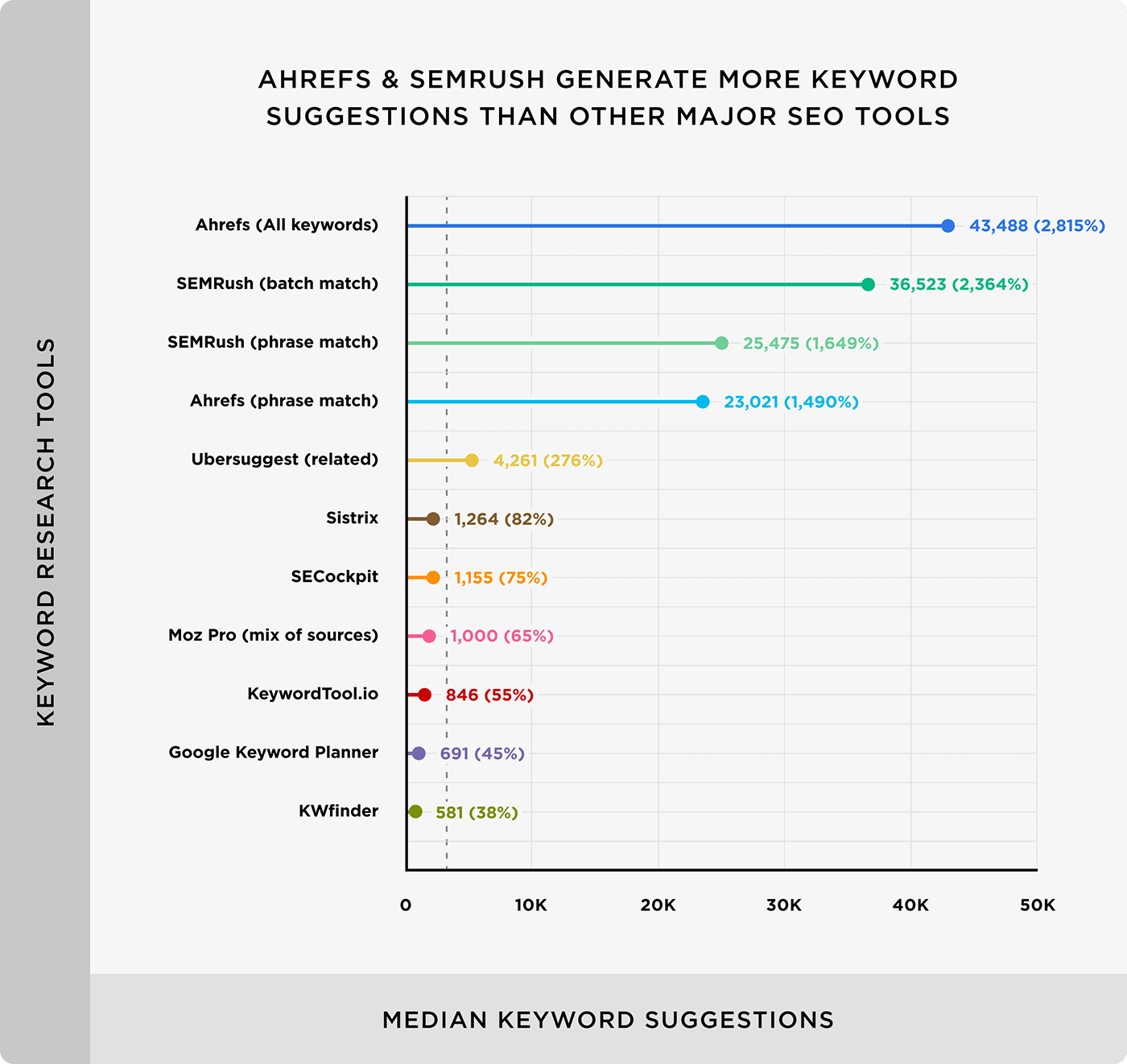 All good, right? Well… not really.
When you actually look at these keyword suggestions, you'll probably notice that a lot of them are completely unrelated to what you typed in.
For example, here are some of the keyword ideas for "paleo diet".
There are some decent keyword ideas here.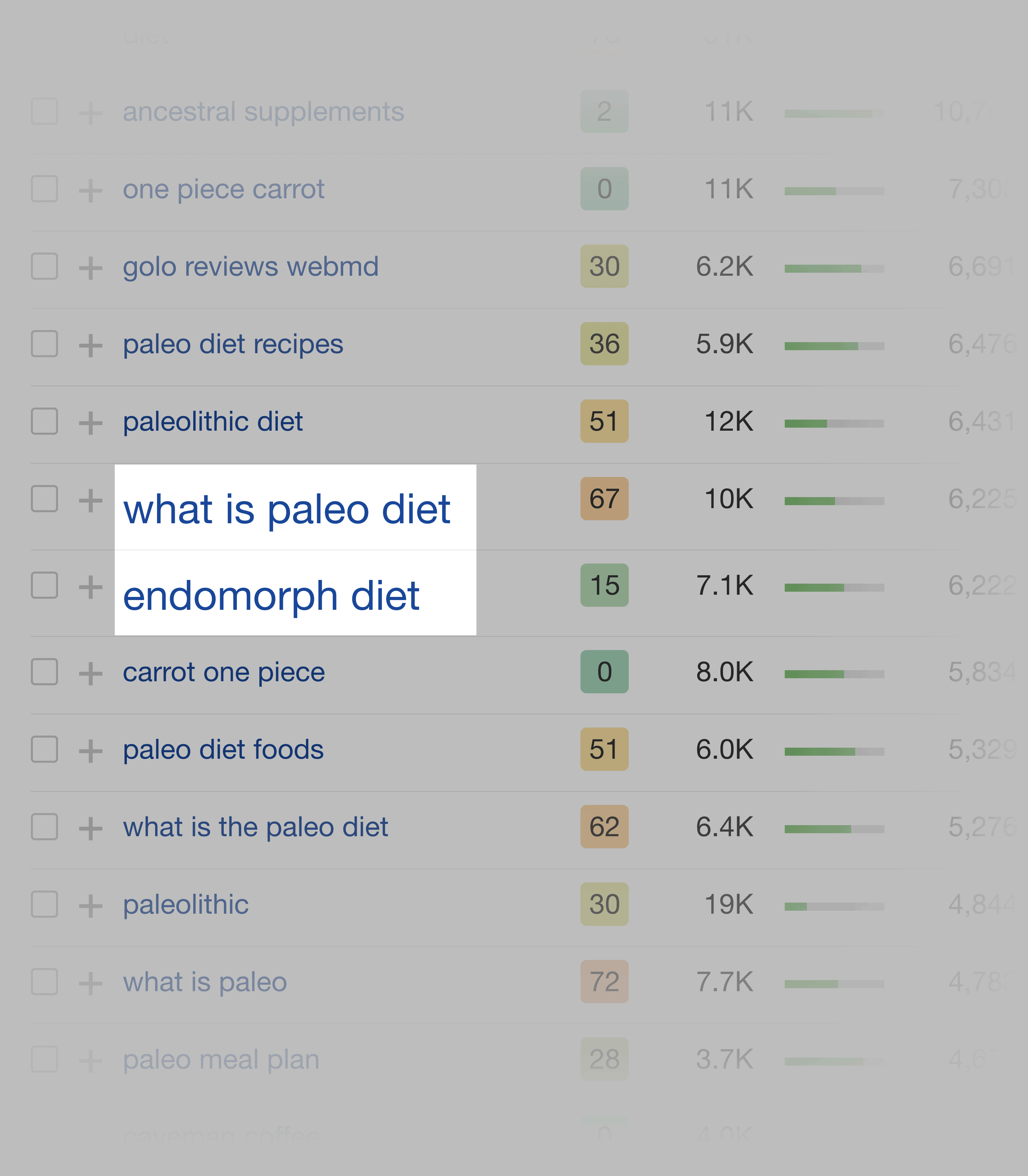 But also a lot of junk to sort through.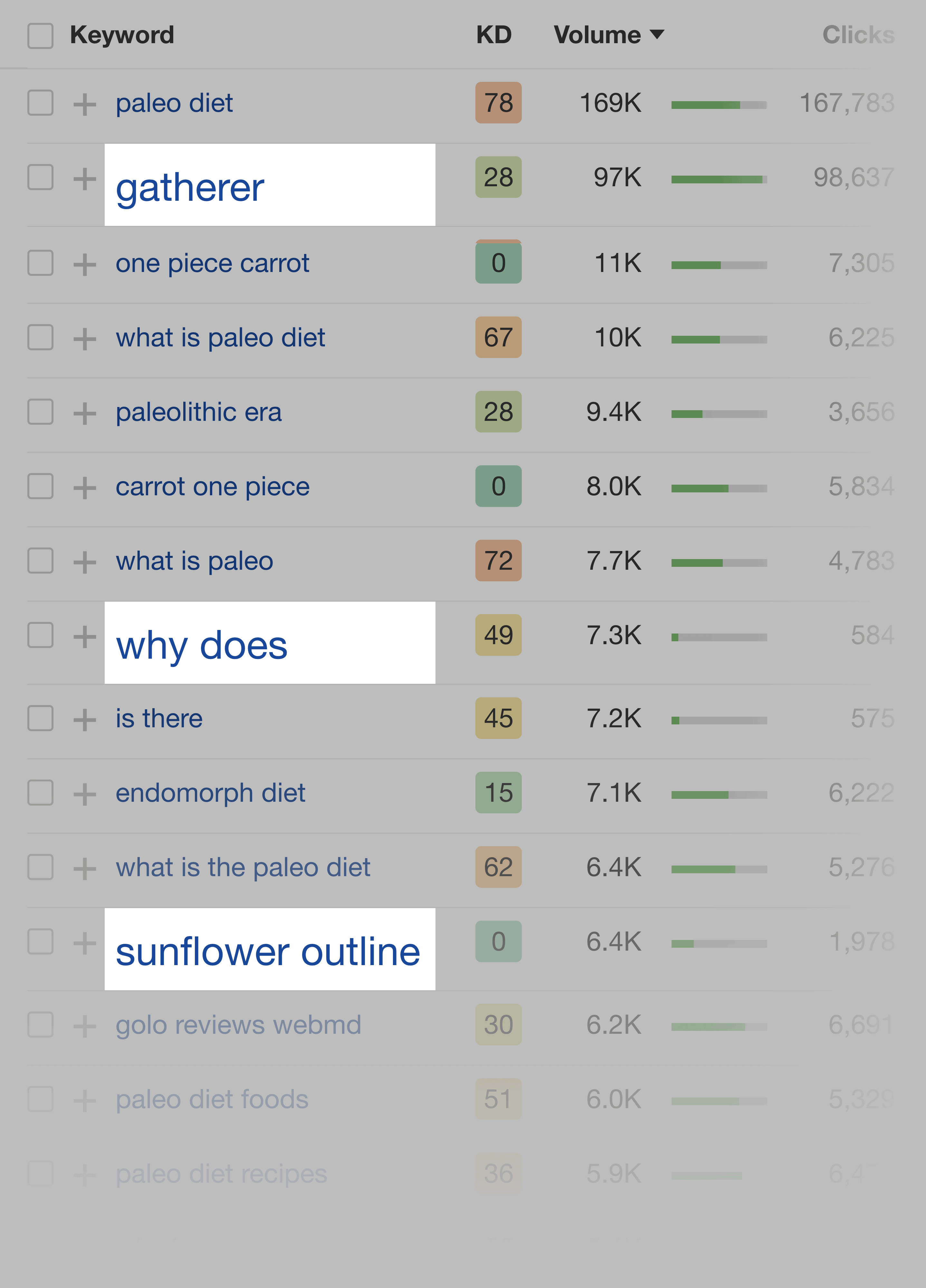 And it's the same story for most keywords. You have to sort through a list that has A LOT of completely irrelevant terms.
In my experience, SEMrush does a much better job at coming up with relevant keyword ideas.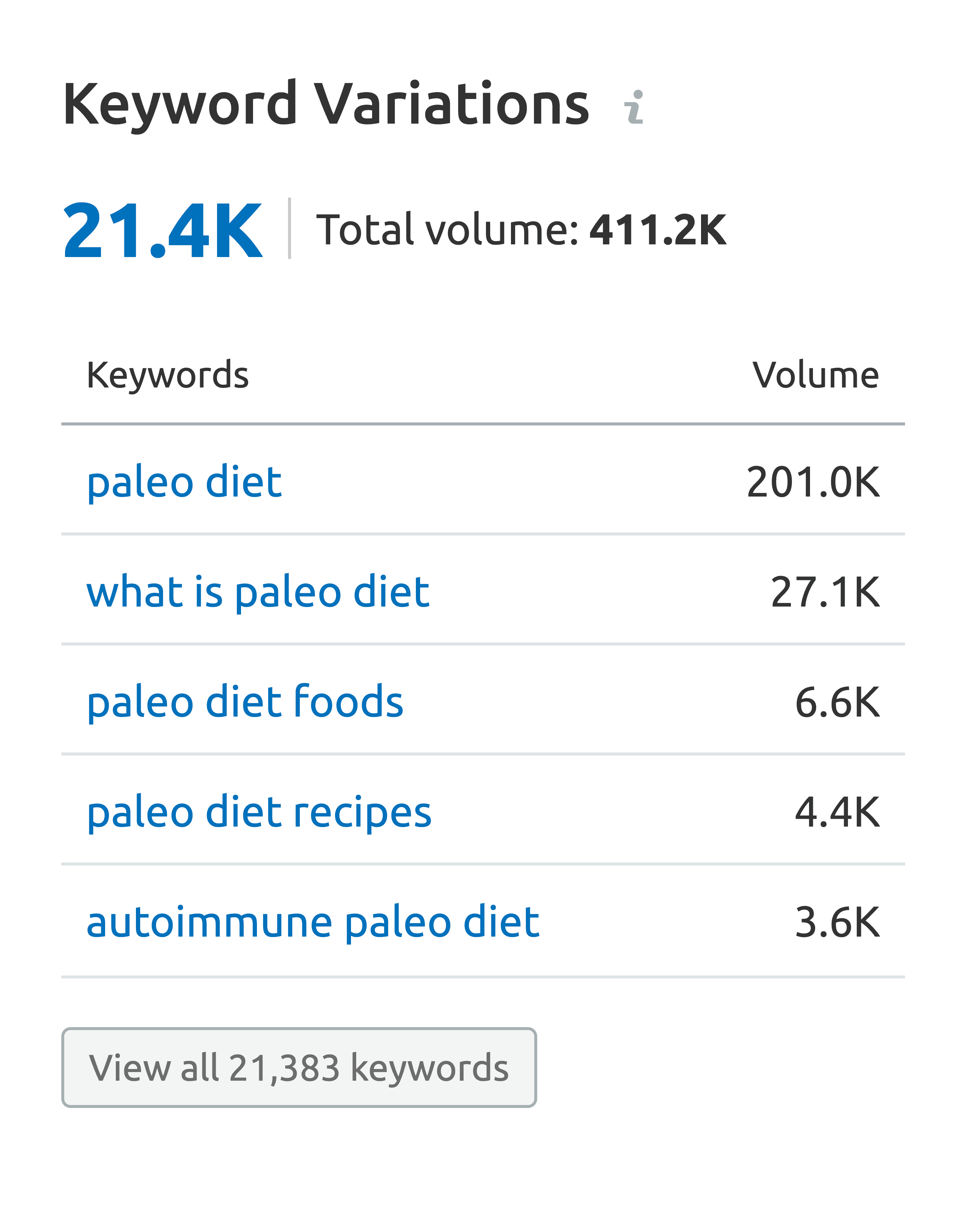 So if you want to go "an inch wide and a mile deep" on a specific keyword, Keyword Explorer is a 10/10.
But if you want a tool that will help you find new keywords to rank for, I don't think you'll be 100% happy with Keyword Explorer.
Site Audit: Find Technical SEO Problems
Let's take a quick look at Ahrefs' SEO site audit feature.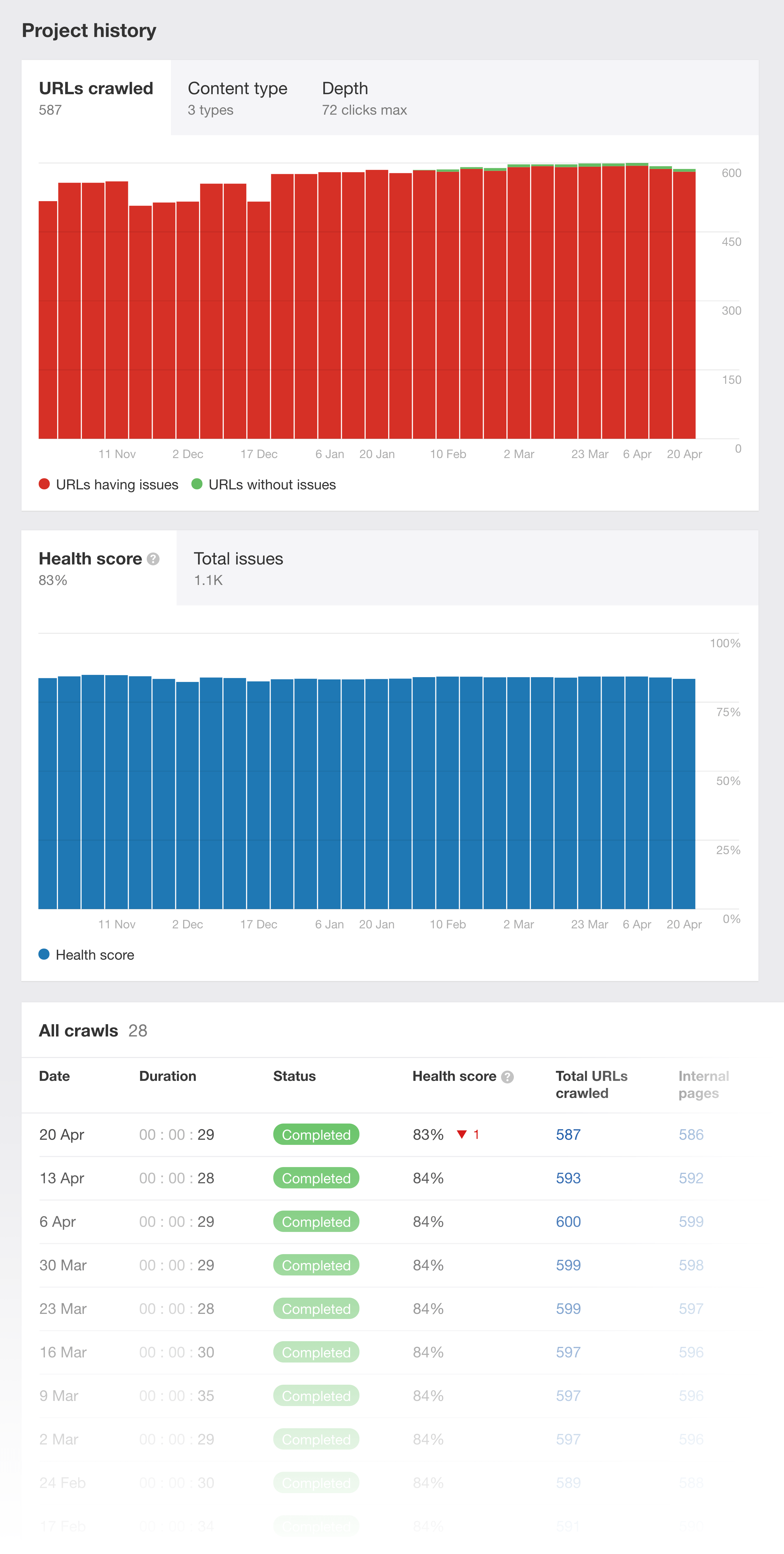 If you've ever used an SEO site audit tool before, you won't be surprised at what you get here.
Like most other audit tools, Ahrefs gives your site an overall "health score".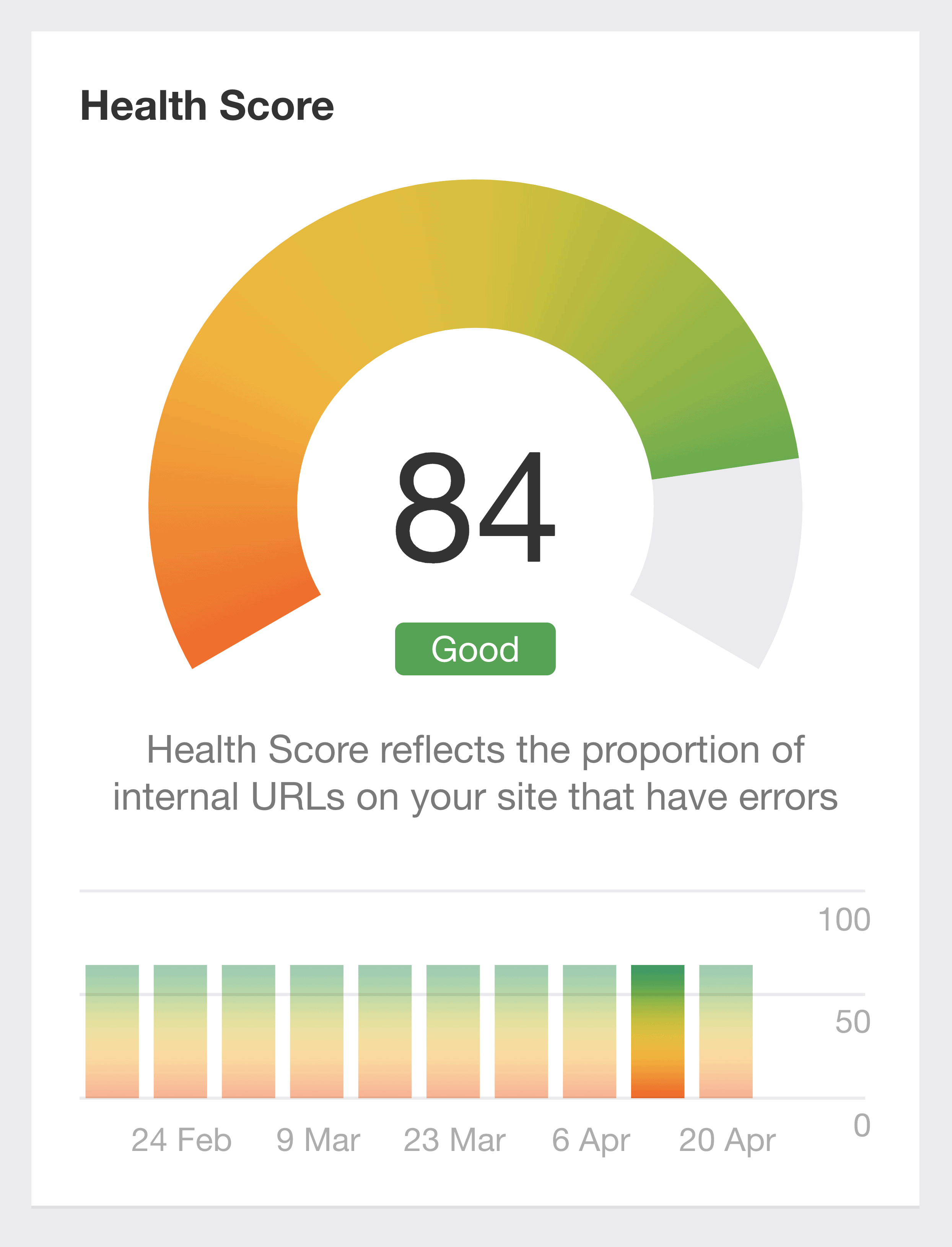 (Backlinko is only at 84%. I need to work on that 🙂 )
And you get the usual list of technical SEO issues to fix: duplicate meta tags, broken redirects, stuff like that.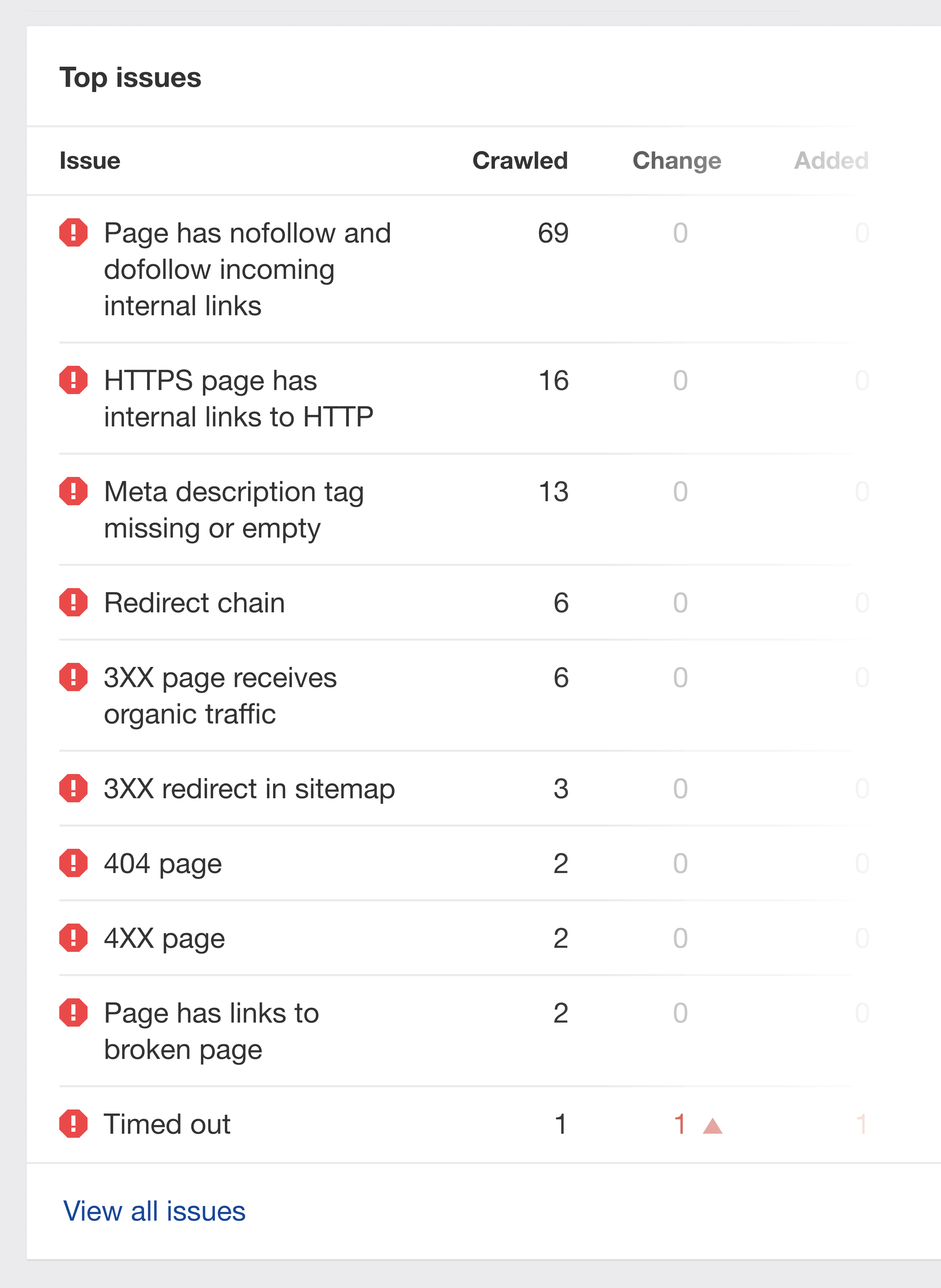 Overall, this is a very solid SEO site audit tool. It's easy for SEO newbies to quickly figure out what they need to do.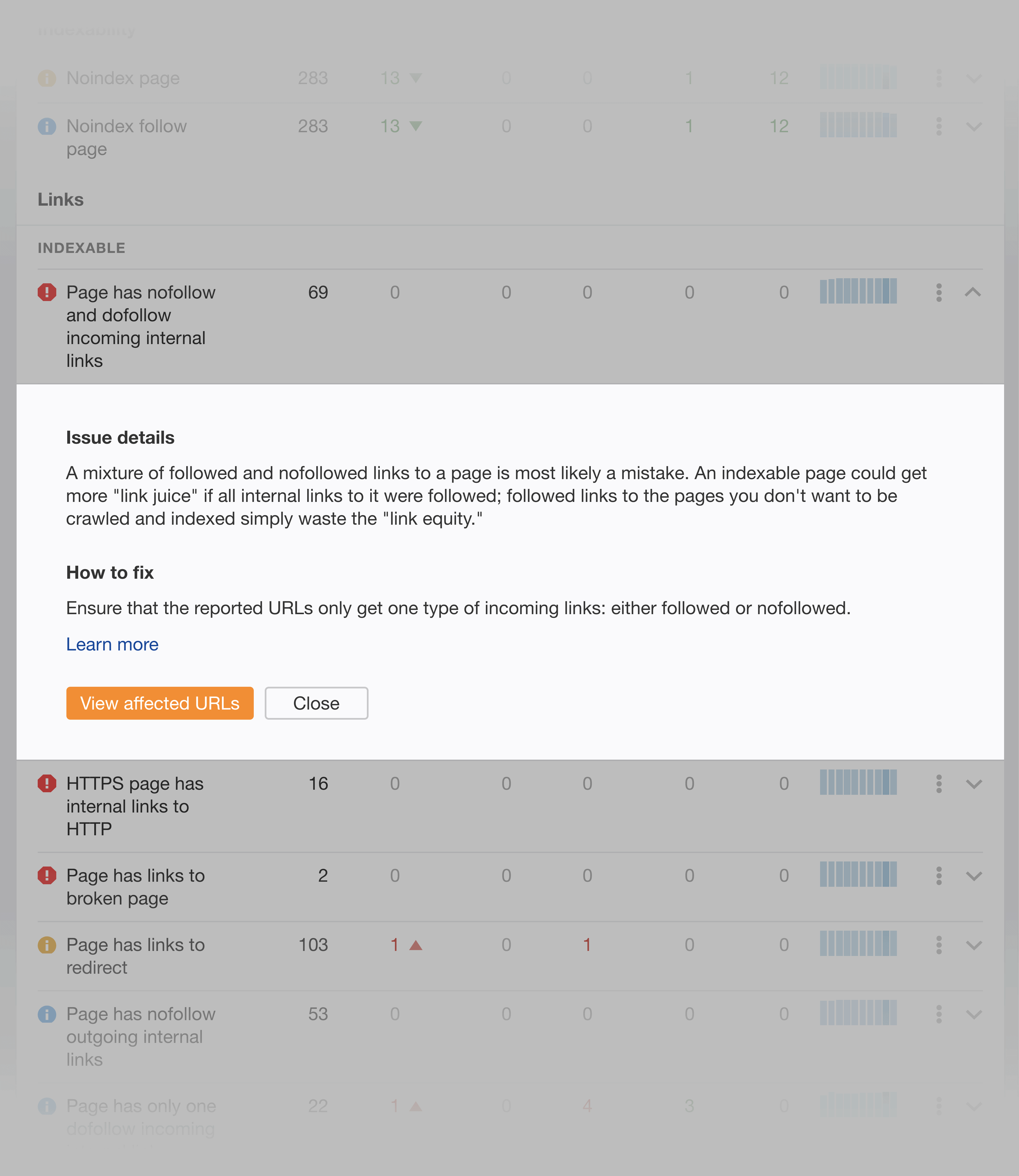 And there's plenty of stuff for SEO experts to sink their teeth into.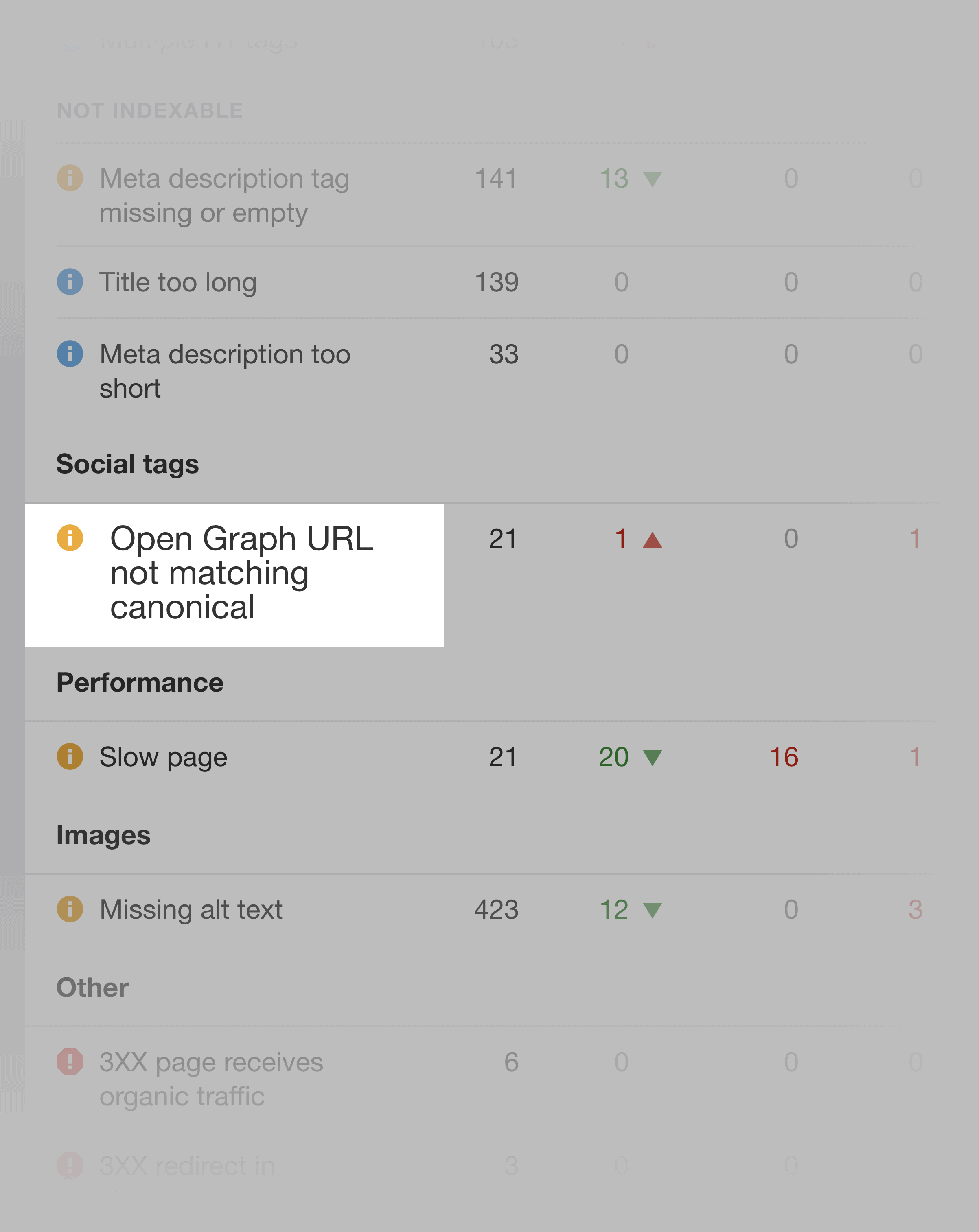 Plus, I like that it runs on a regular basis on its own. That way, I don't need to remember to run a crawl.
Rank Tracker: Track Your Most Important Keywords
Now it's time to break down "Rank Tracker": the Ahrefs rank tracking tool.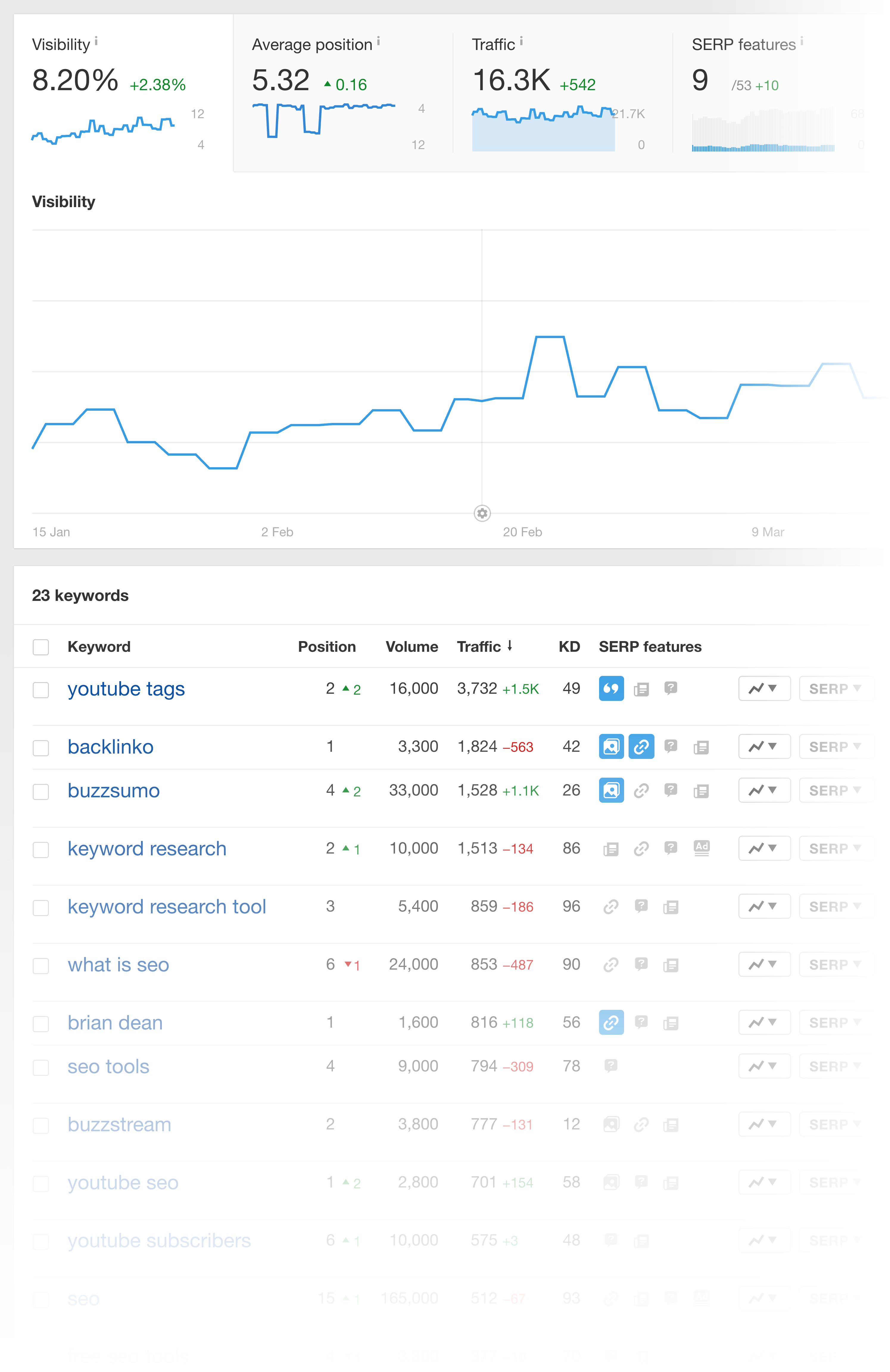 Ahrefs' rank tracking tool is like any other: Pop in a bunch of keywords. And see where they rank in Google. Plus, you can track ranking changes over time.
The problem is this:
Unlike most other rank trackers, this doesn't update every day.
How often you get ranking updates depends on the plan you choose.
For example, if you go with Ahrefs Lite, your keyword rankings only update once per week.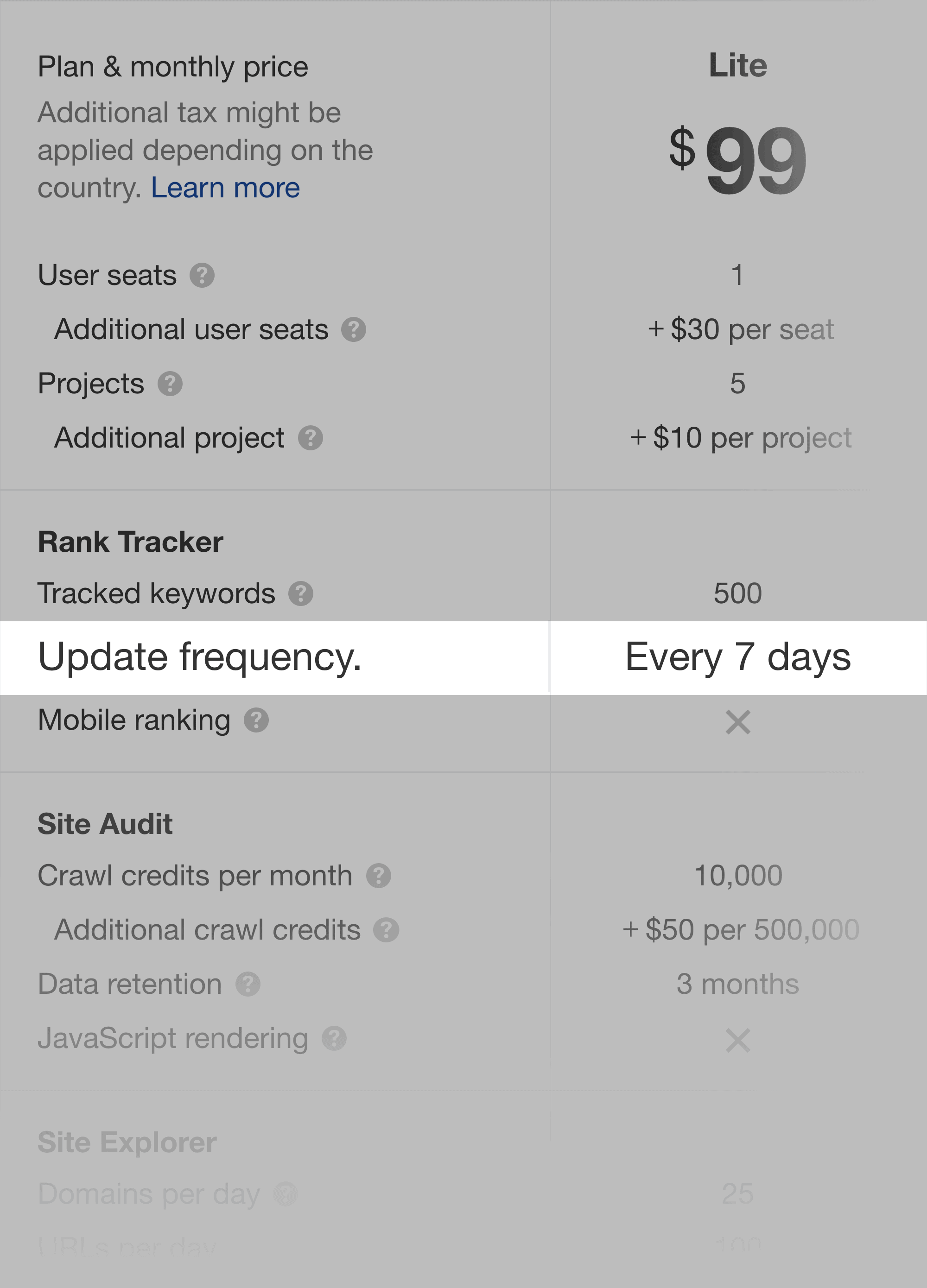 That's not good. If SEO isn't a big part of your site's digital marketing, then checking your rankings once a week may not be a big deal.
But if you're an SEO pro, you need to stay on top of your rankings 24/7. Imagine if a client called you up and asked how your rankings changed today. You need a tool that can give you that info.
And unfortunately, Ahrefs doesn't offer daily updates. The best they offer is "every 3 days" for their higher-tier plans.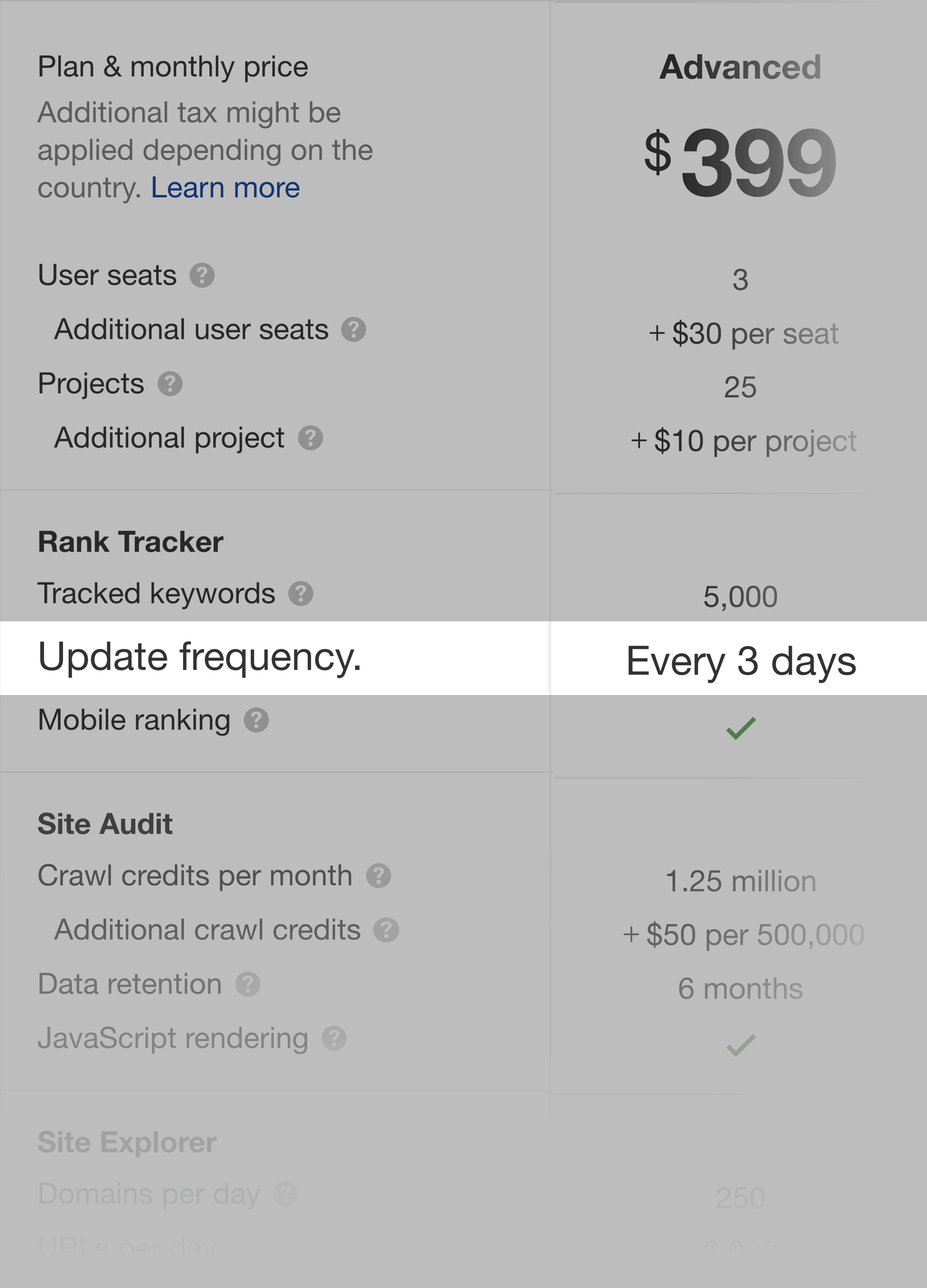 Overall, I think Ahrefs has a solid rank tracking tool. It's easy to use. And has a great UI. It's just a shame that the data doesn't update every day.
Domain Comparison: Compare Multiple Sites Side-By-Side
Here's where you can compare and contrast the backlinks of up to 5 different sites at once.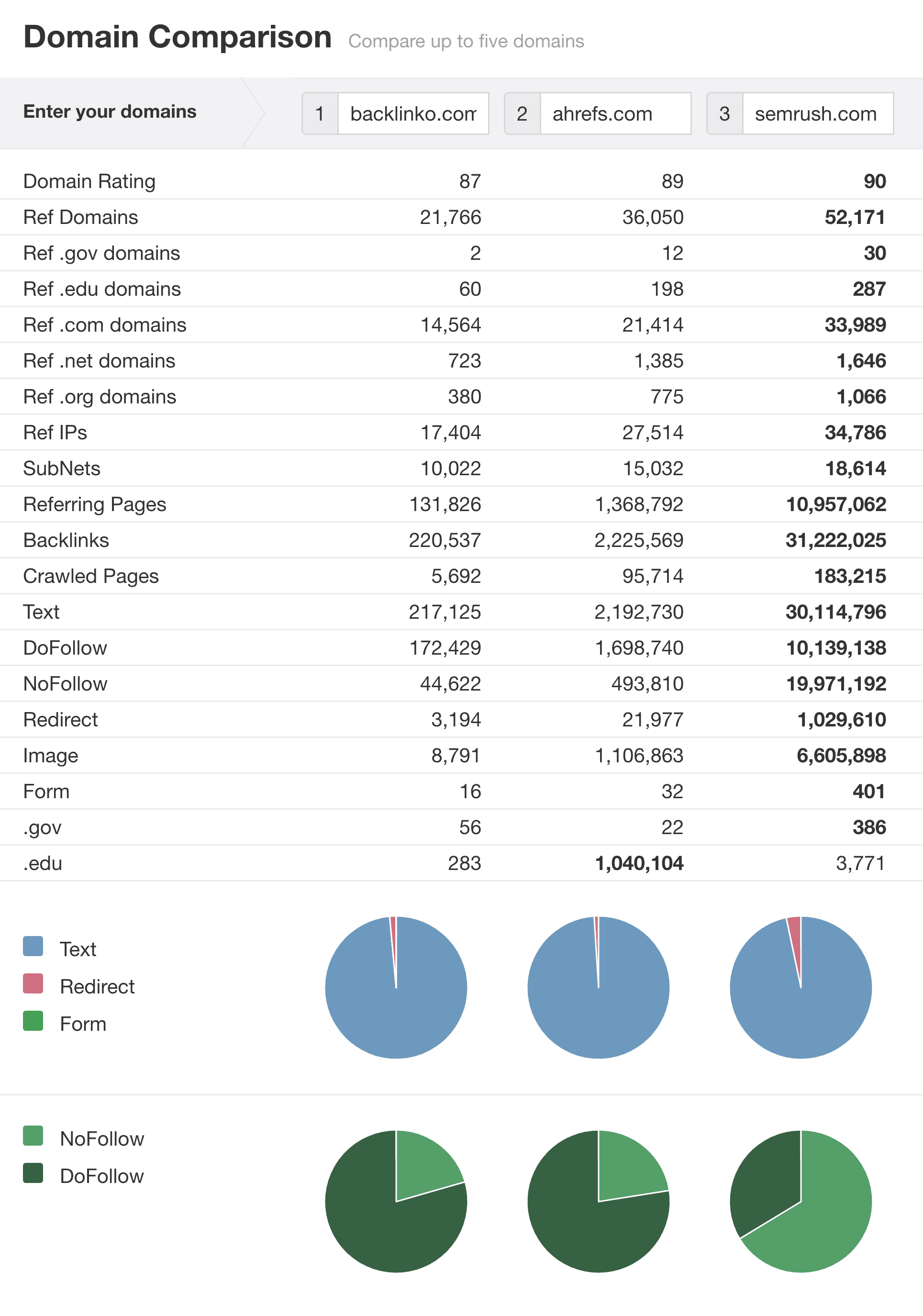 Plus, there's a chart that you can use to see how each site's link profile has changed over time.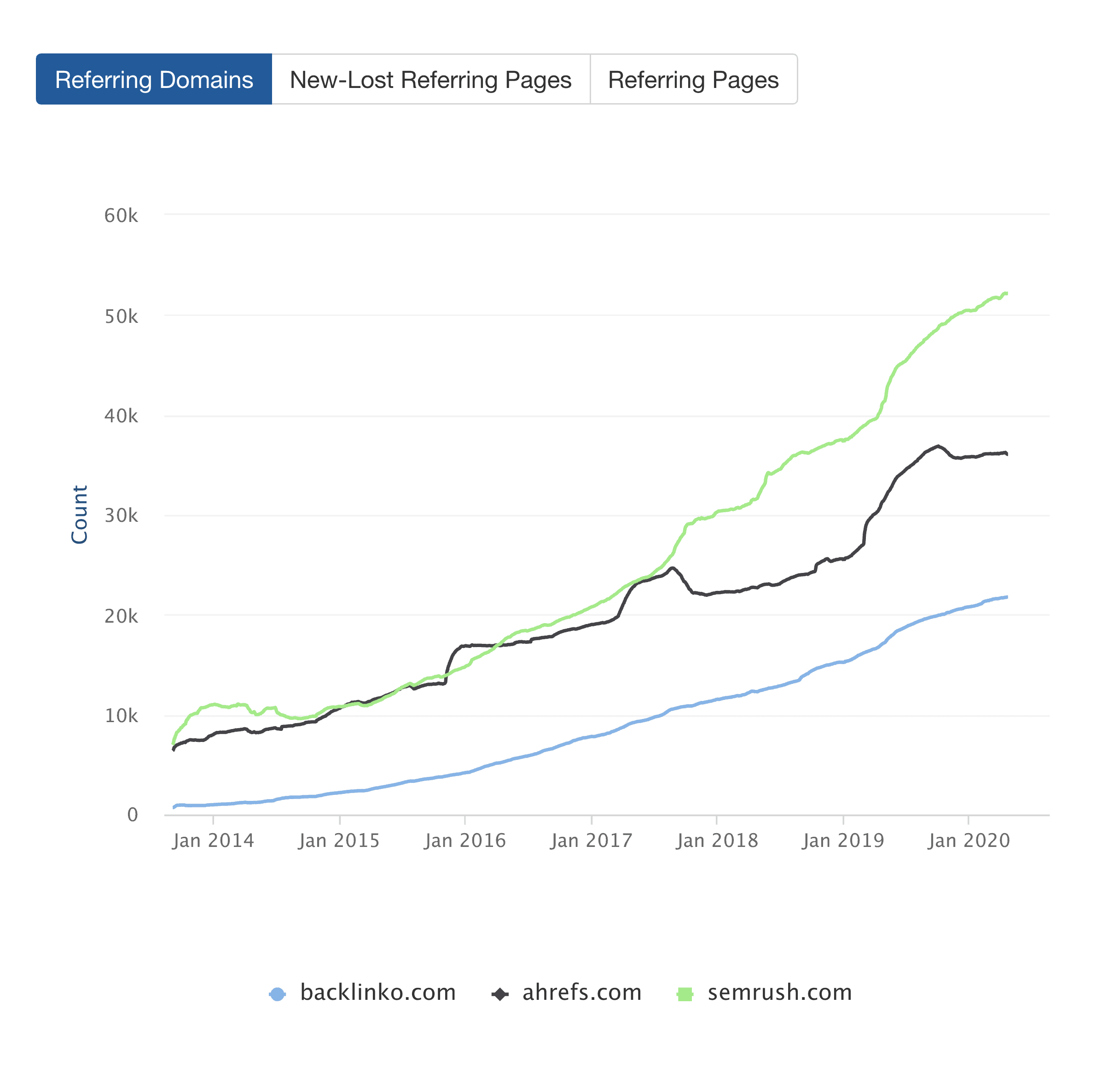 It would be great if Ahrefs had this same feature for organic traffic. That way, you could see how a bunch of different site's search traffic has changed overtime.
But otherwise, I think this feature is pretty cool.
Content Explorer: Ahrefs' Content Marketing Tool
Content Explorer is similar to the "Content Analyzer" in BuzzSumo.
To use it, type in a topic. And you'll get a list of content on that topic with lots of social media shares, backlinks, or both.
This is definitely a helpful feature. And a feature that SEMrush and Moz Pro don't have.
That said: it's not really fair to compare Content Explorer to the BuzzSumo tool as a whole. BuzzSumo has A LOT of cool features outside of Content Analyzer.
And in my opinion, BuzzSumo's Content Analyzer is a lot more robust. For example, you can actually see who shared a specific piece of content on Twitter.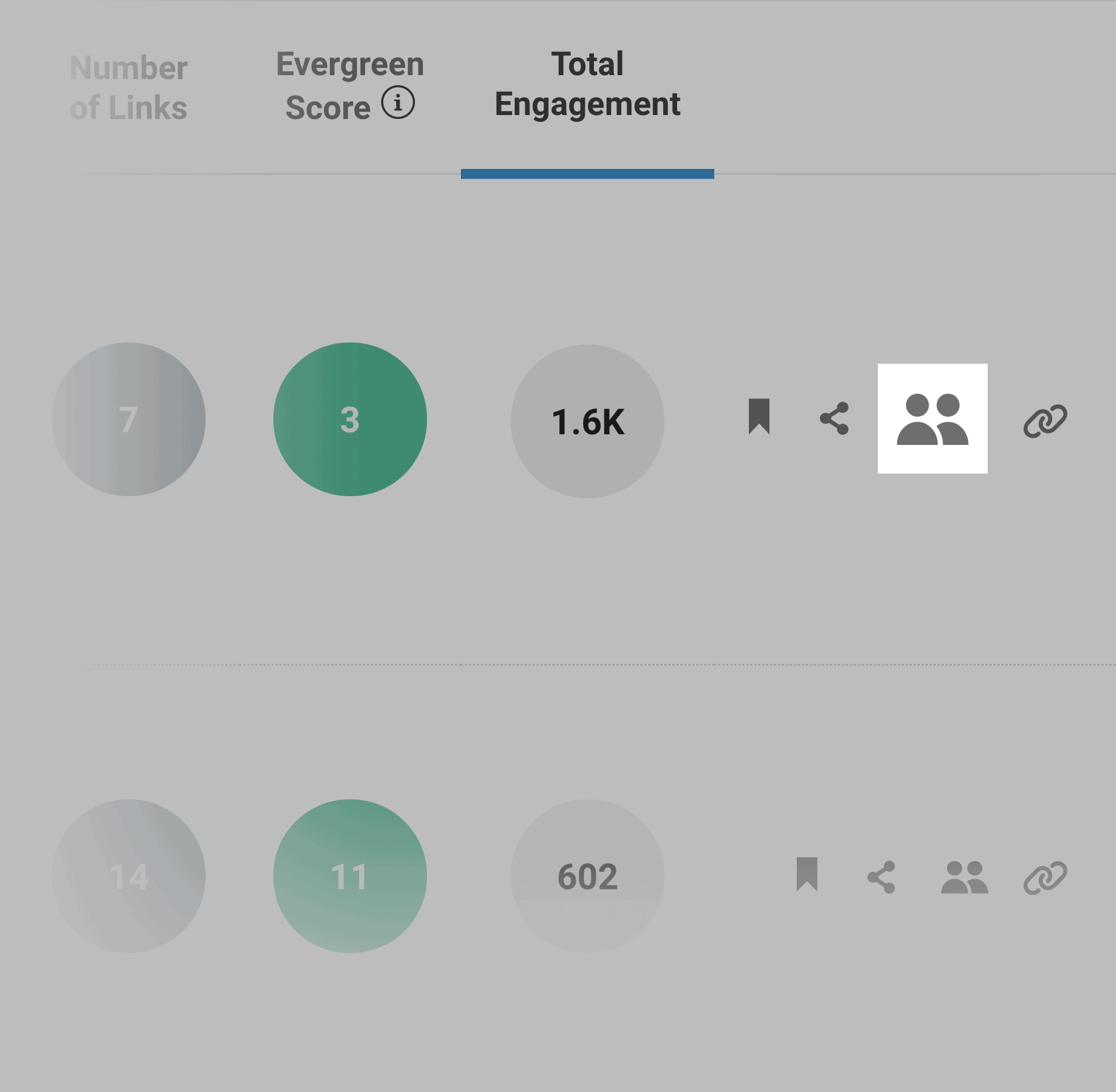 Something that you can't do with Content Explorer.
So yeah, it's no BuzzSumo. But Content Explorer is useful.
Ahrefs Support
Support can make or break my experience with a tool. Great support will help me blast through roadblocks. And squeeze more value out of each feature.
Bad support can leave me scratching my head. And wondering what to do next.
Now: I already did a quick test of Ahrefs support in my SEMrush vs. Ahrefs post.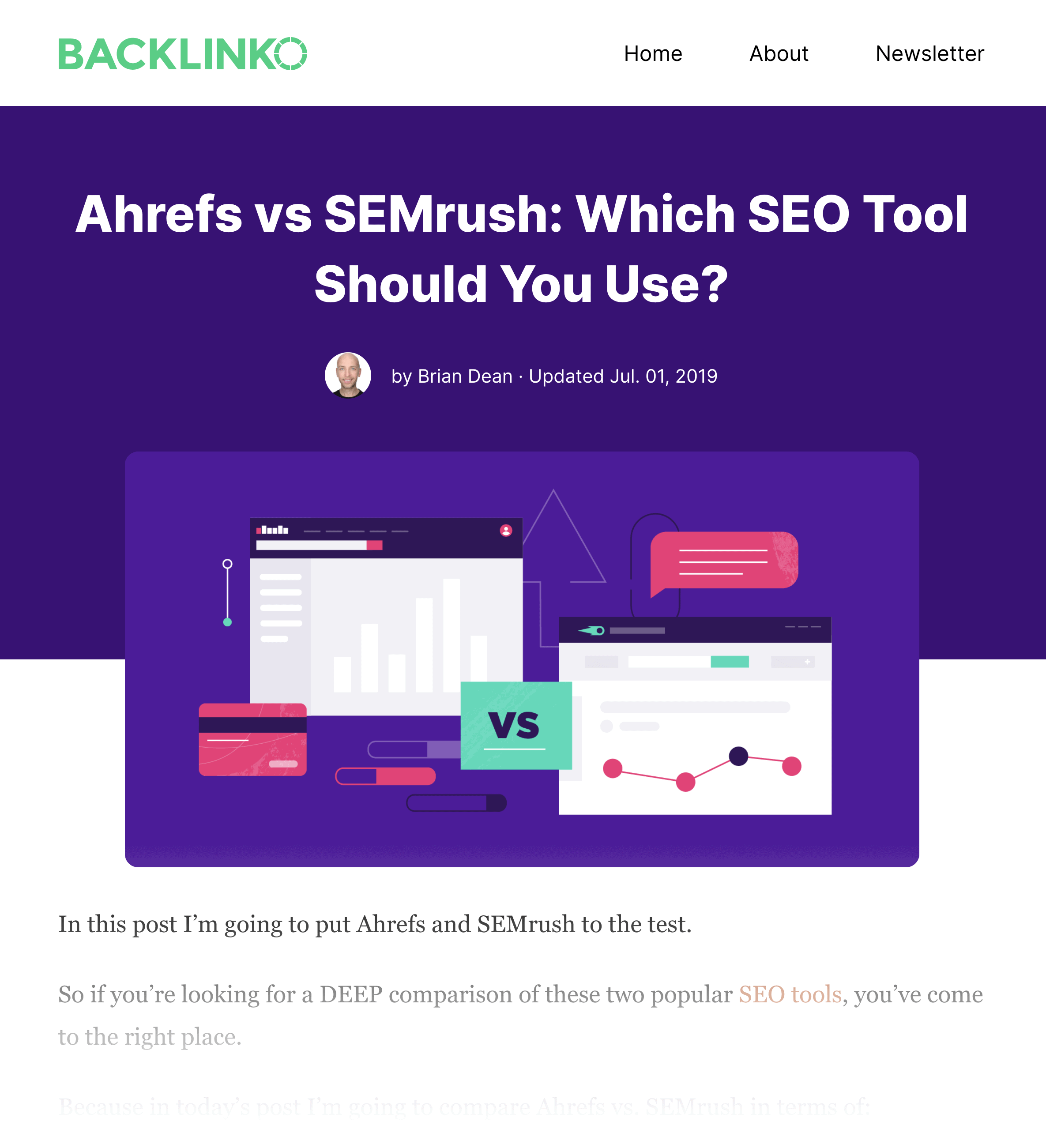 But that test was almost a year ago. So I wanted to see if their support is still up to snuff.
For the test, I asked this question at 5:56am Eastern.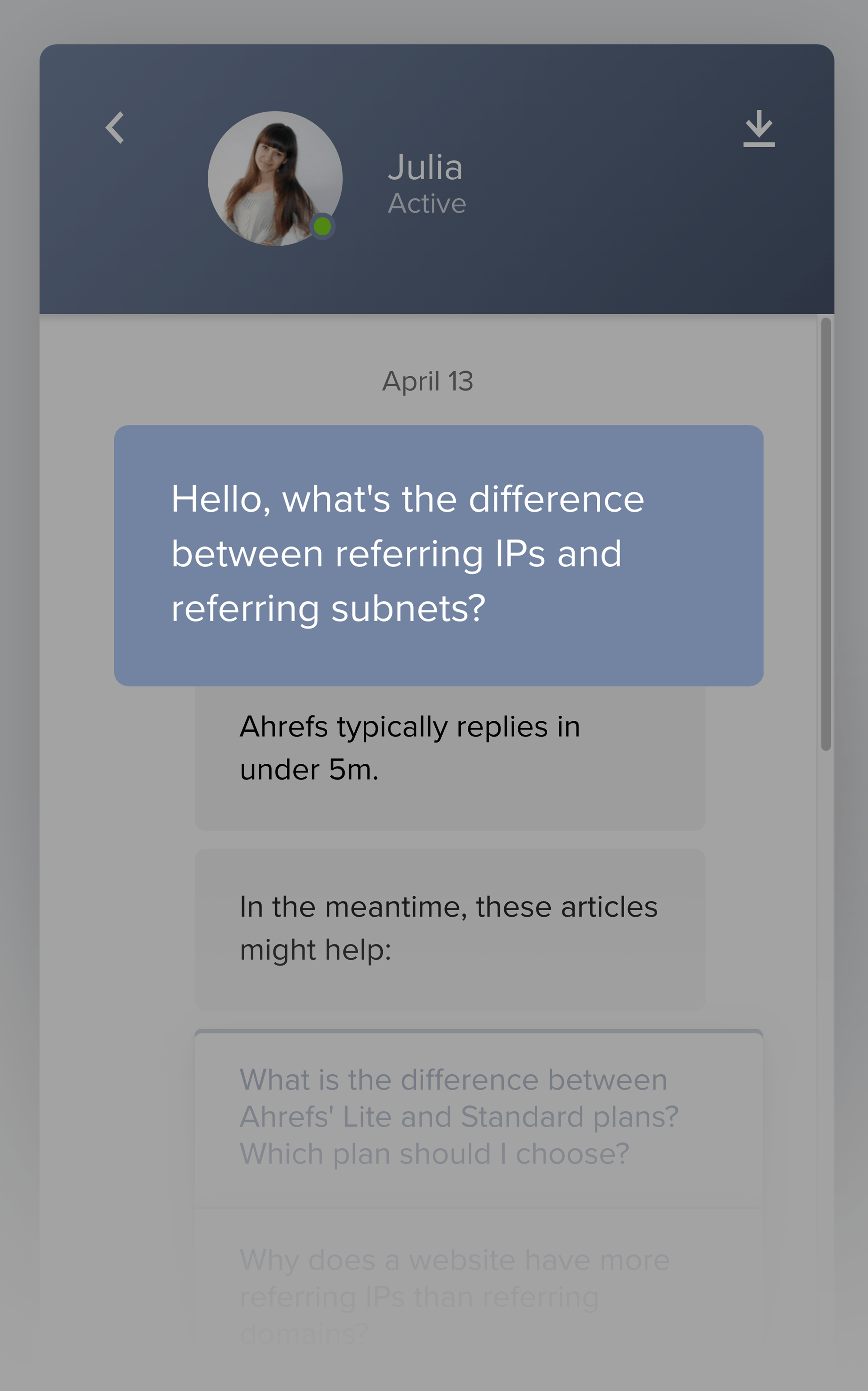 I chose this question for two reasons:
First, I was genuinely curious about it.
Second, it was a tough question. A tough question that their support staff probably didn't have a "copy & paste" script for.
And 8 minutes later, I received this reply: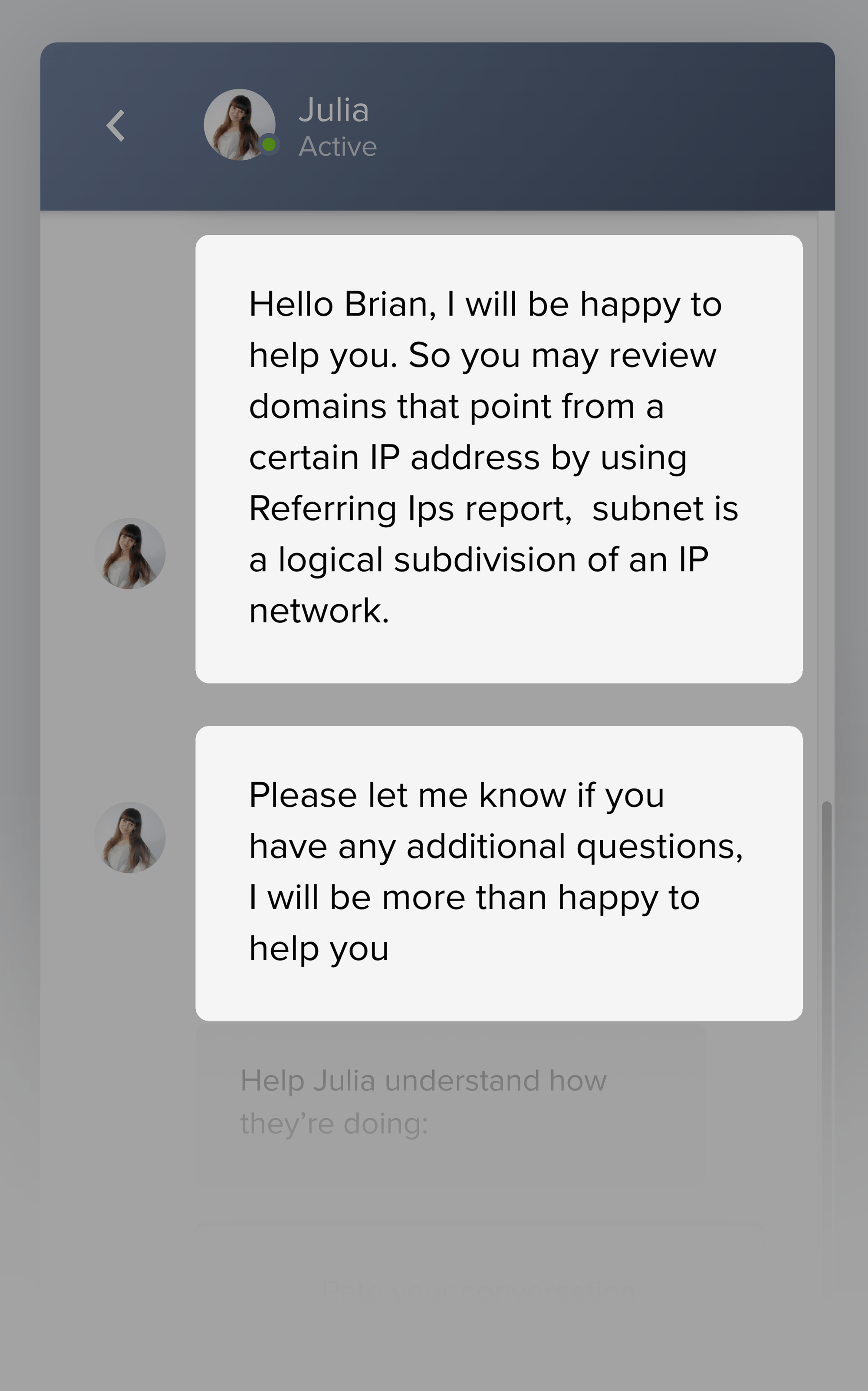 Honestly, not super helpful. I asked the question because I'm not super technical.
But the reply seemed to assume that I was a professional coder. So it didn't get me any closer to understanding what the difference between referring ips and referring subnets were.
Ahrefs Pricing
Ahrefs has four different plans, ranging from $99/month to $999/month.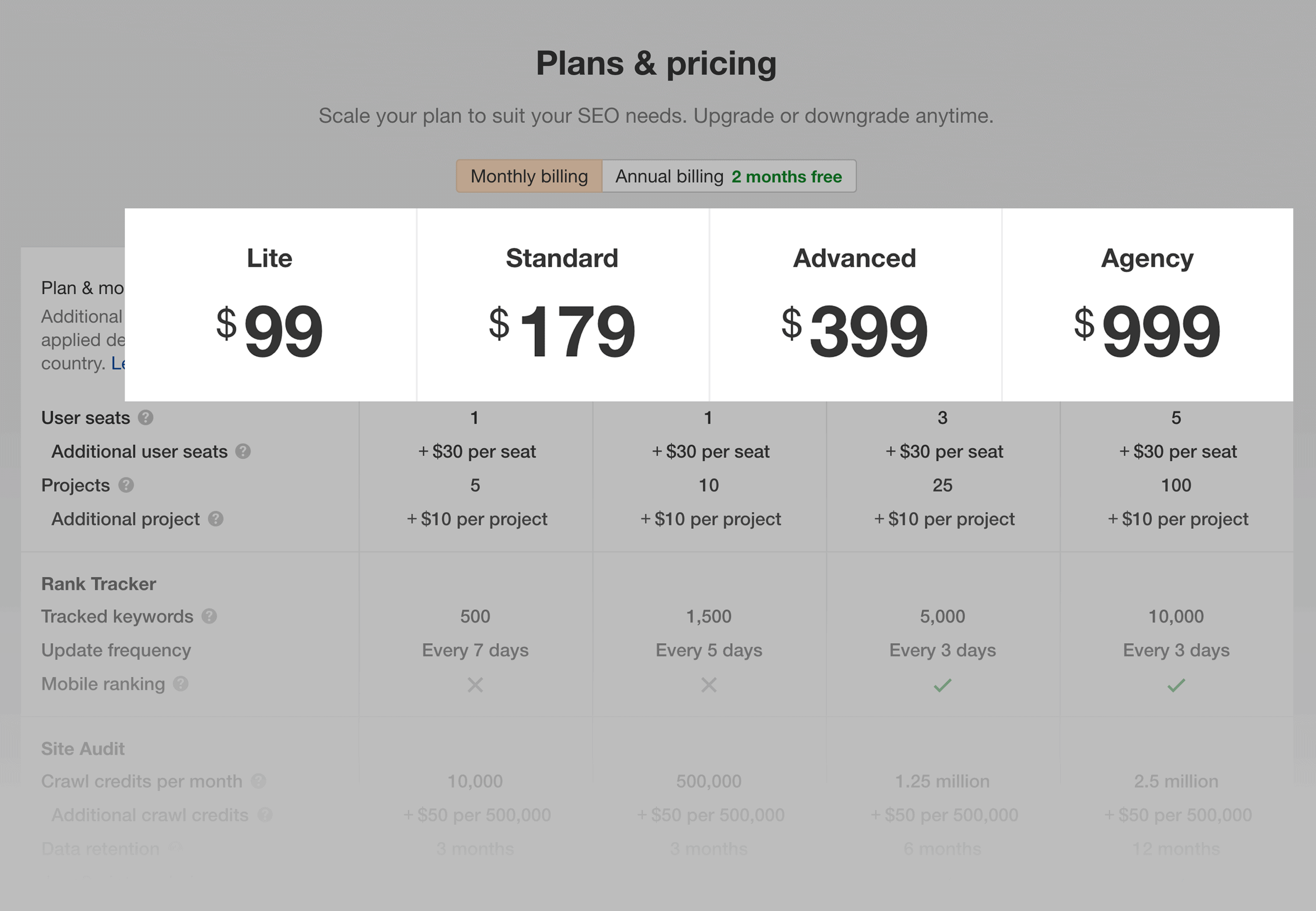 Every plan has the same major features.
The difference is the amount of data that you get from each feature.
For example, you can track 500 keywords on the Lite plan. But you can track 10k keywords on an Agency plan.
Same feature. But one gives you 50x more data to work with.
And it's the same story for backlinks, keywords, site audit crawls, and more.
Each plan gives you the same access as any other plan. But the more you pay, the more you can get out of each feature.
Note: there are a few exceptions to this rule. For example, you can't track mobile rankings at all with a Lite plan. But for the most part, the main difference between each plan is the amount of data that you have access to.
Ahrefs: Things That I Like
Great UI and UX: Like any tool, it can take some time to get the hang of using Ahrefs. But once you get used to Ahrefs, it's SUPER easy to find what you need to find. And it usually only takes a click or two to get there. For example, let's say that I want to see a site's anchor text breakdown. I can go directly to that report from the sidebar: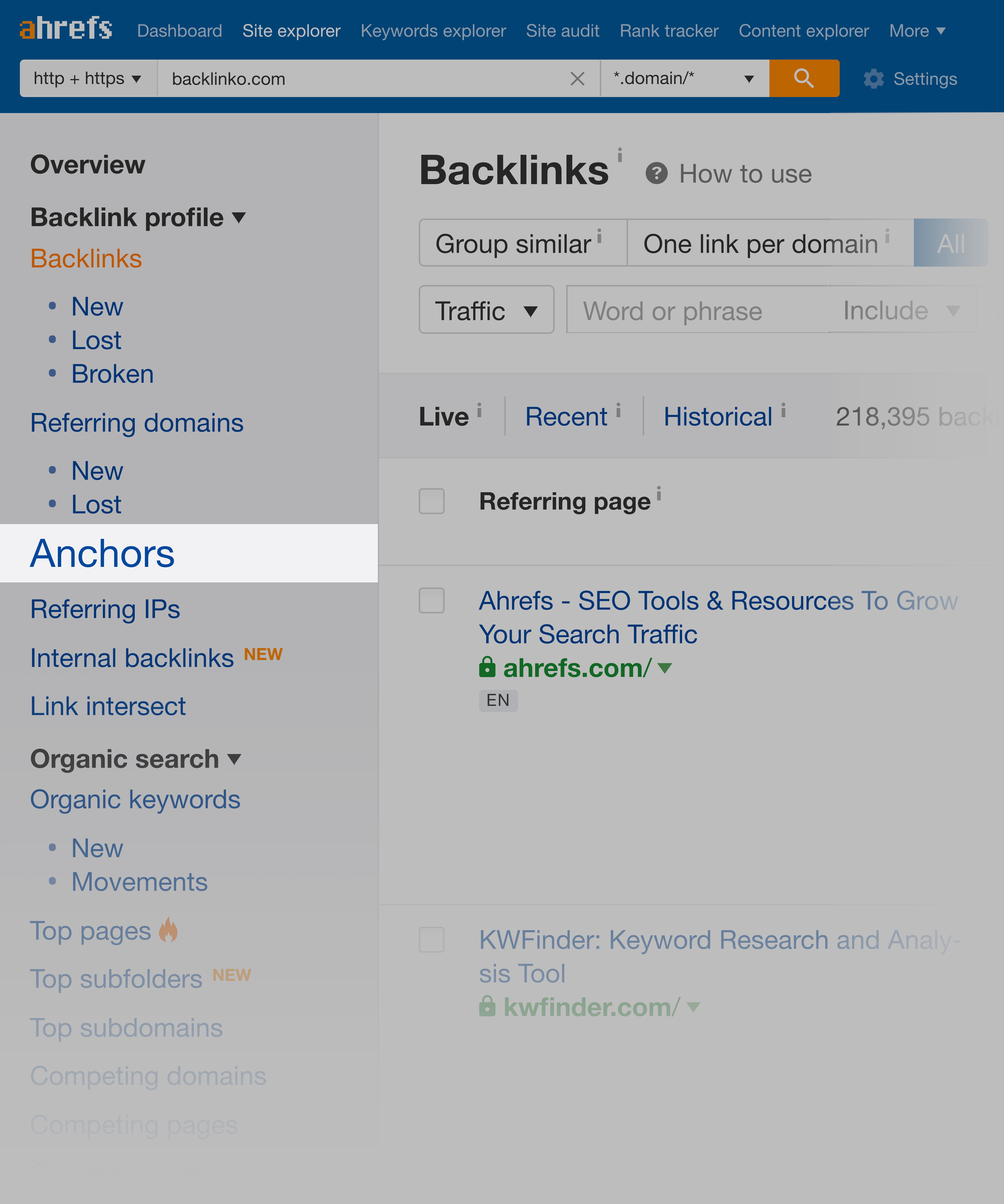 And it's the same story for top pages, referring domains, broken links, and more.
Solid Data: A tool like Ahrefs is only as good as its data. Whether it's search volume, backlinks, rankings or social shares, the data in Ahrefs is REALLY good.
Excellent Site Audit Feature: I find the Ahrefs site audit tool to be one of the best out there. And even on par with tools that specialize in site audits.
Keyword Deep Dives: If you want a DEEP dive on a specific keyword, Ahrefs Keyword Explorer is for you. On a single page you get pretty much everything you need to make a decision on a specific keyword.
Cool "Little Features": Ahrefs has a TON of helpful little features that I didn't have room to cover here.
For example, "Link Intersect" reveals sites that are linking to multiple competitors.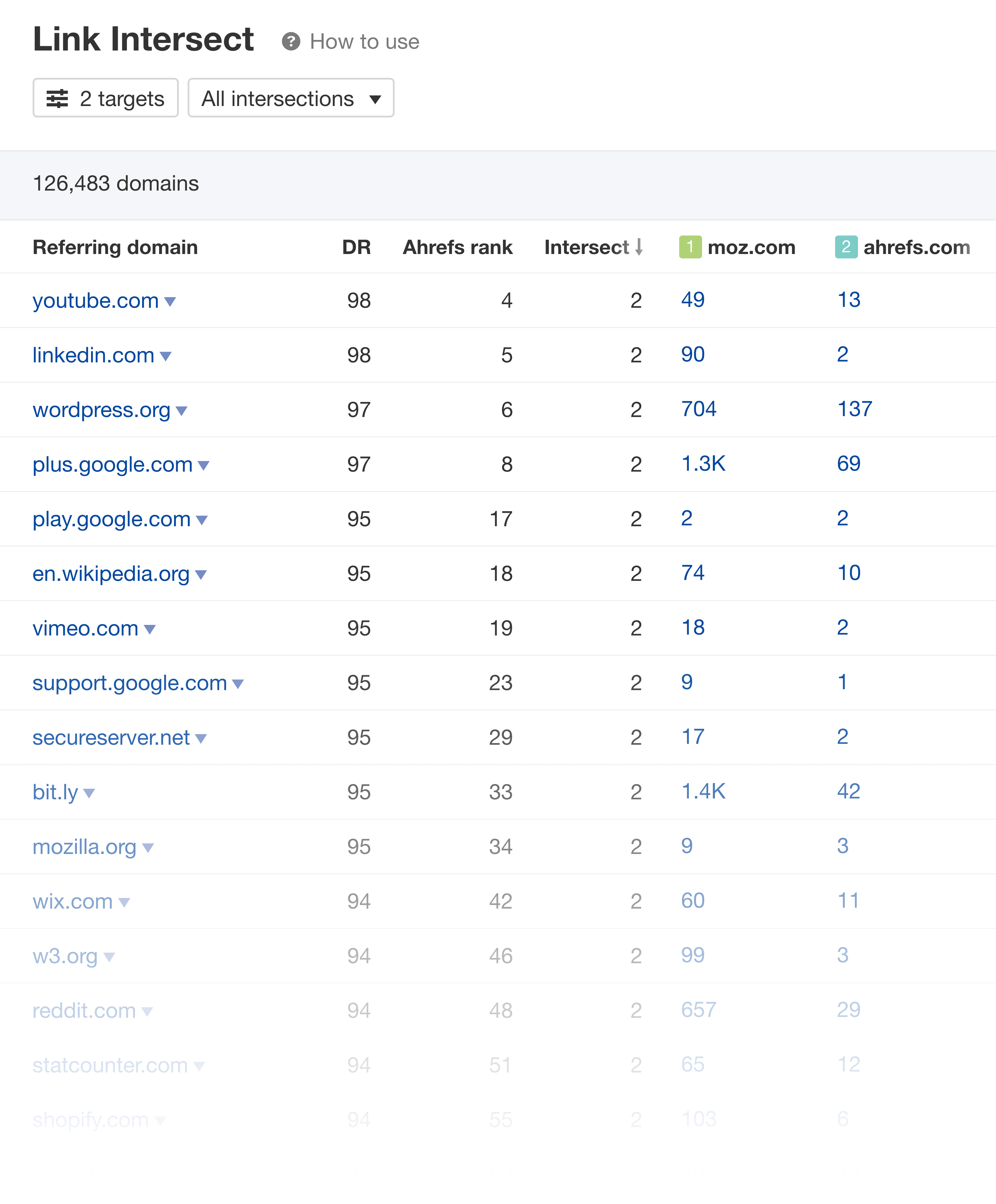 And "internal backlinks" shows you internal links that point to a specific page.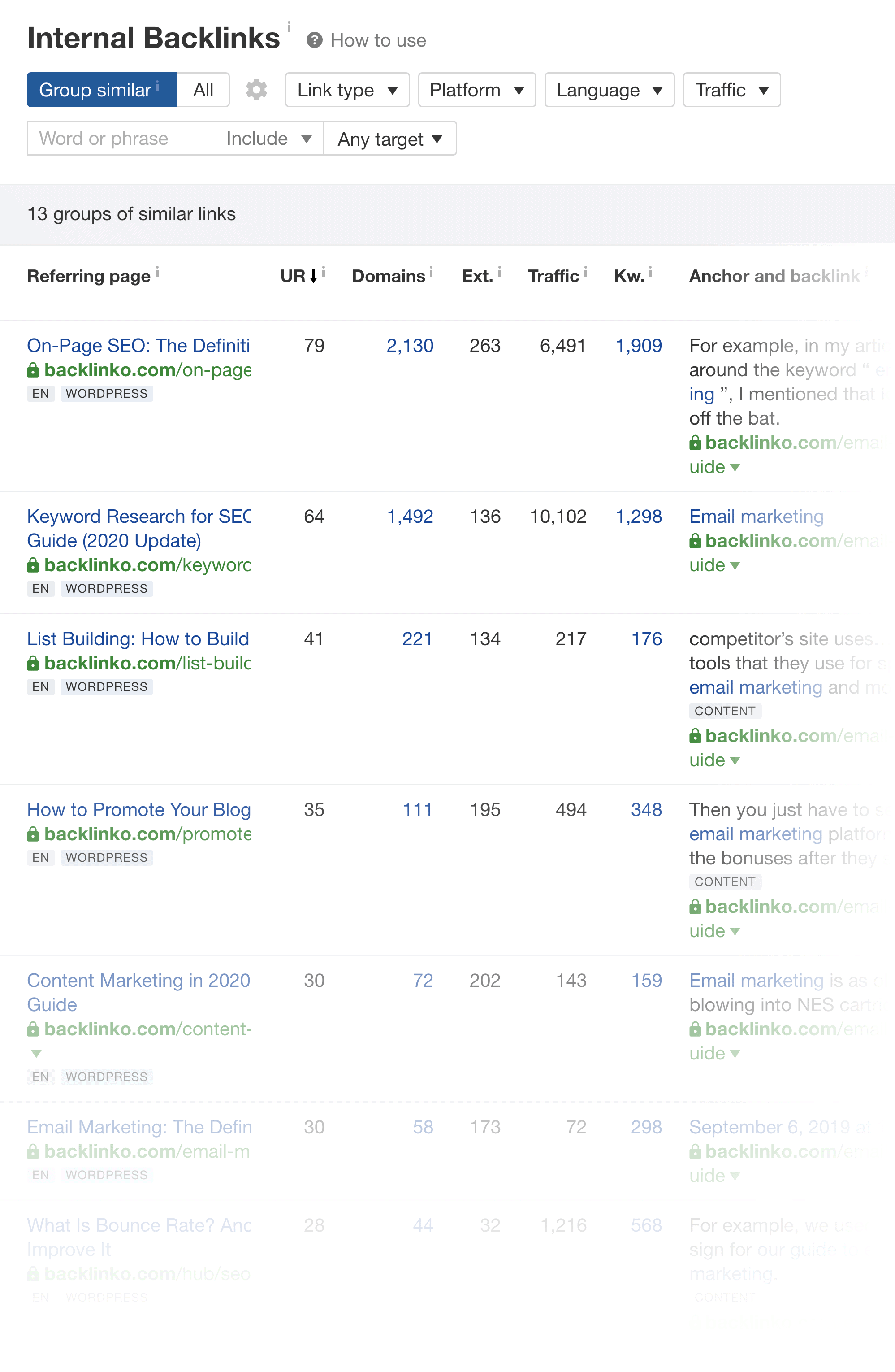 "Content gap" shows you keywords that your competitors rank for (but you don't).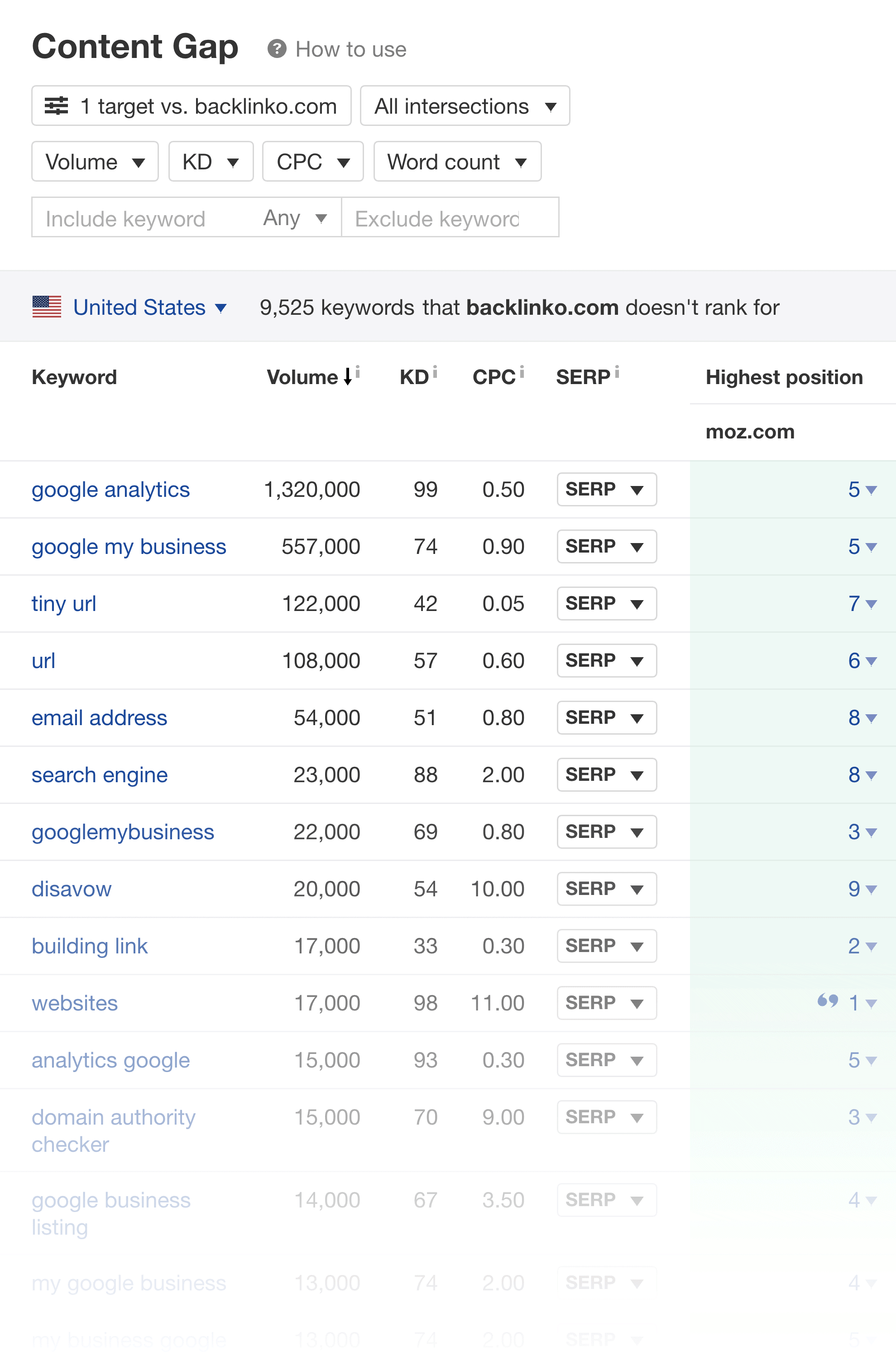 These are just three examples. There are literally dozens more.
Ahrefs: Things I Didn't Like
Poor Rank Tracking: Ahrefs only updates your rank tracking reports once every 7 days for their lite plan. And once every 5 days for their standard plan. In my opinion, a rank tracker should update every day. Period.
Limited PPC Features: Ahrefs does have a PPC tool set.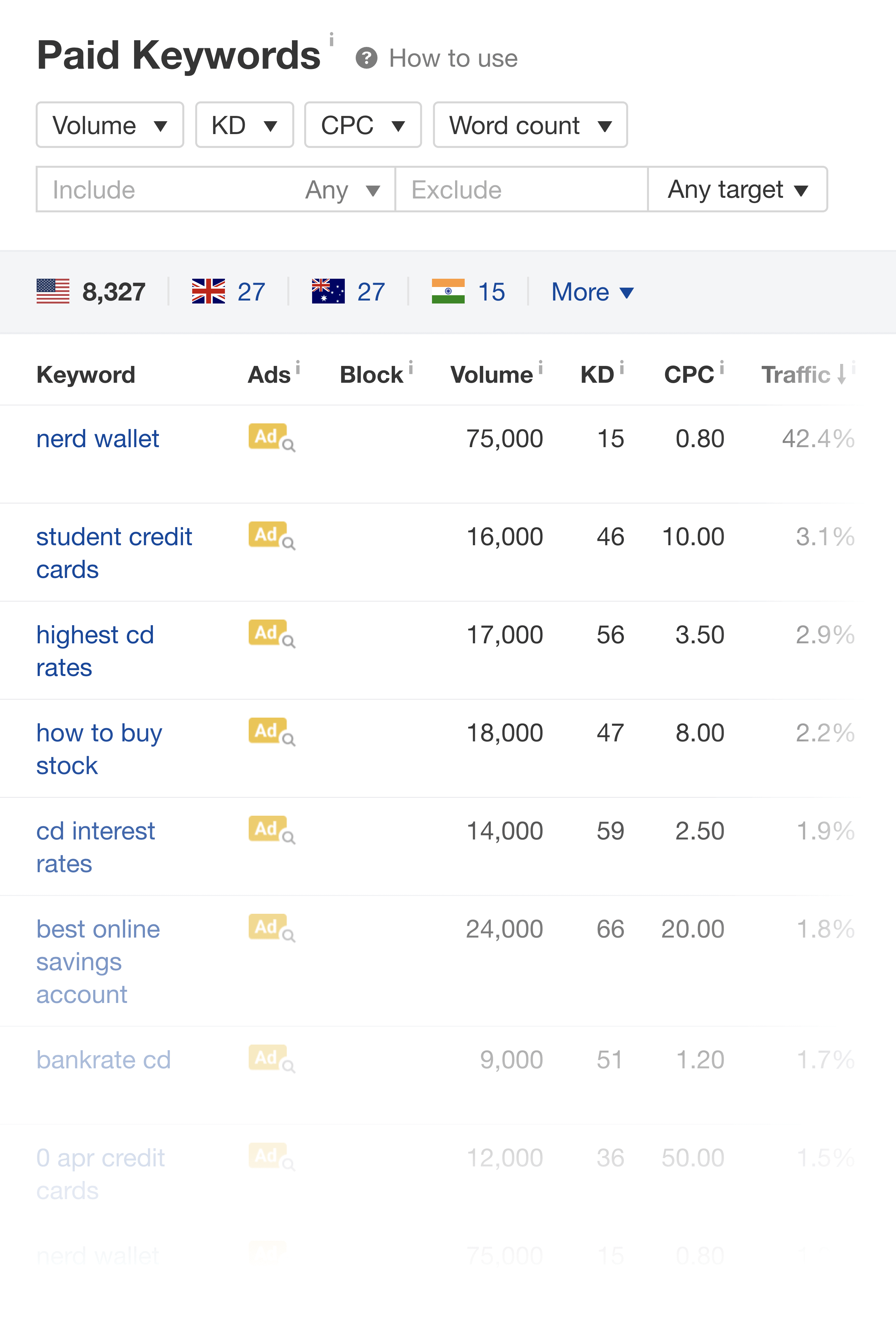 In my opinion, it's pretty good. And if you run Google Ads for your site and a handful of clients, it might be enough for you. But when it comes to PPC feature, Ahrefs isn't in the same universe as SEMrush.
Irrelevant Keyword Suggestions: I have a love-hate relationship with Keyword Explorer. I love the depth of info that you get on a keyword. But I hate that I can't really use it to uncover new keyword ideas because there are so many suggestions that don't make sense.
Ahrefs Review: The Bottom Line
Ahrefs is a leading SEO software suite with a robust list of features, including backlink analysis, keyword research and technical SEO audits. Pair that with world-class data and an excellent UI, and it's no wonder that Ahrefs has established itself a leader in the SEO software space.
Personally, I use Ahrefs on a daily basis. Usually multiple times per day. It's become part of my work routine. Whenever I want to check a site's backlinks, find a new keyword or track my rankings, I login to Ahrefs to get the data I need.
Overall, I highly recommend Ahrefs. In my opinion, it's the best SEO tool on the market right now.
Now I'd Like to Hear From You
So that's it for my Ahrefs review.
Now I want to hear about your experience with Ahrefs.
What do you like about it?
What do you think they need to improve?
Let me know by leaving a comment below right now.