What Is SimilarWeb?
SimilarWeb is a tool that estimates the total amount of traffic different websites get. It allows you to see competitors' top traffic sources, broken down into six major categories, including referring sites, social traffic, and top search keywords.
What Makes SimilarWeb Useful?
Even though SimilarWeb isn't 100% accurate, it gives you the ability to see your competitors' traffic sources.

Which is SUPER valuable to anyone doing SEO or content marketing.

It's also a quick way to see who the largest players in your space are, and to get a sense for their respective sizes.

And you can use SimilarWeb, to see more granular detail into, for example, exactly which referral sources are most important among your competitors or in your industry.

If you upgrade to SimilarWeb Pro, you get access to a host of features, including device distribution, audience info and traffic share from various social media networks.
Key Features
Traffic Overview
Even if the "Traffic Overview" section were the only thing SimilarWeb offered, it would still be worth using.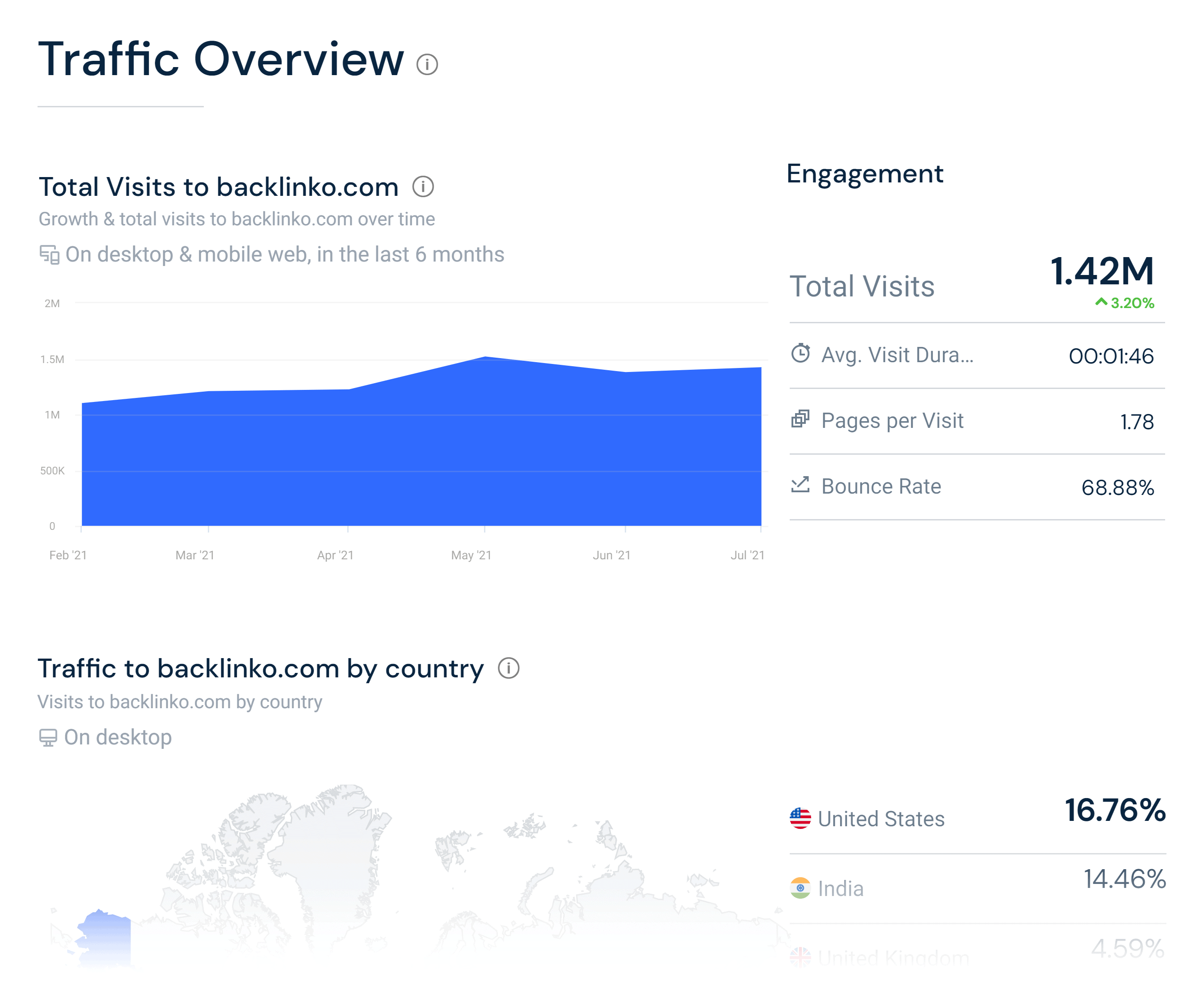 Start by going to similarweb.com and entering any URL in the search box. (Pro Tip: You can also see SimilarWeb data for any website you're visiting in just one click by setting up a custom bookmarklet or installing the SimilarWeb Chrome extension. This is super helpful if you're doing a lot of competitive analysis.
With that, here's exactly what to pay attention to in this section.
Total Visits
The "Total Visits" graph lets you see approximately how much traffic a given site has gotten over the past month. And a trendline of that site's traffic over the past 6 months.

In my experience, this data is pretty accurate. Not in the sense that it lets you know exactly how many visits another site gets every month.
But it's accurate in the sense that it's relatively accurate for measuring traffic levels between sites.
(Kind of like Alexa rankings.)
For example, look at the traffic stats for my site and Moz.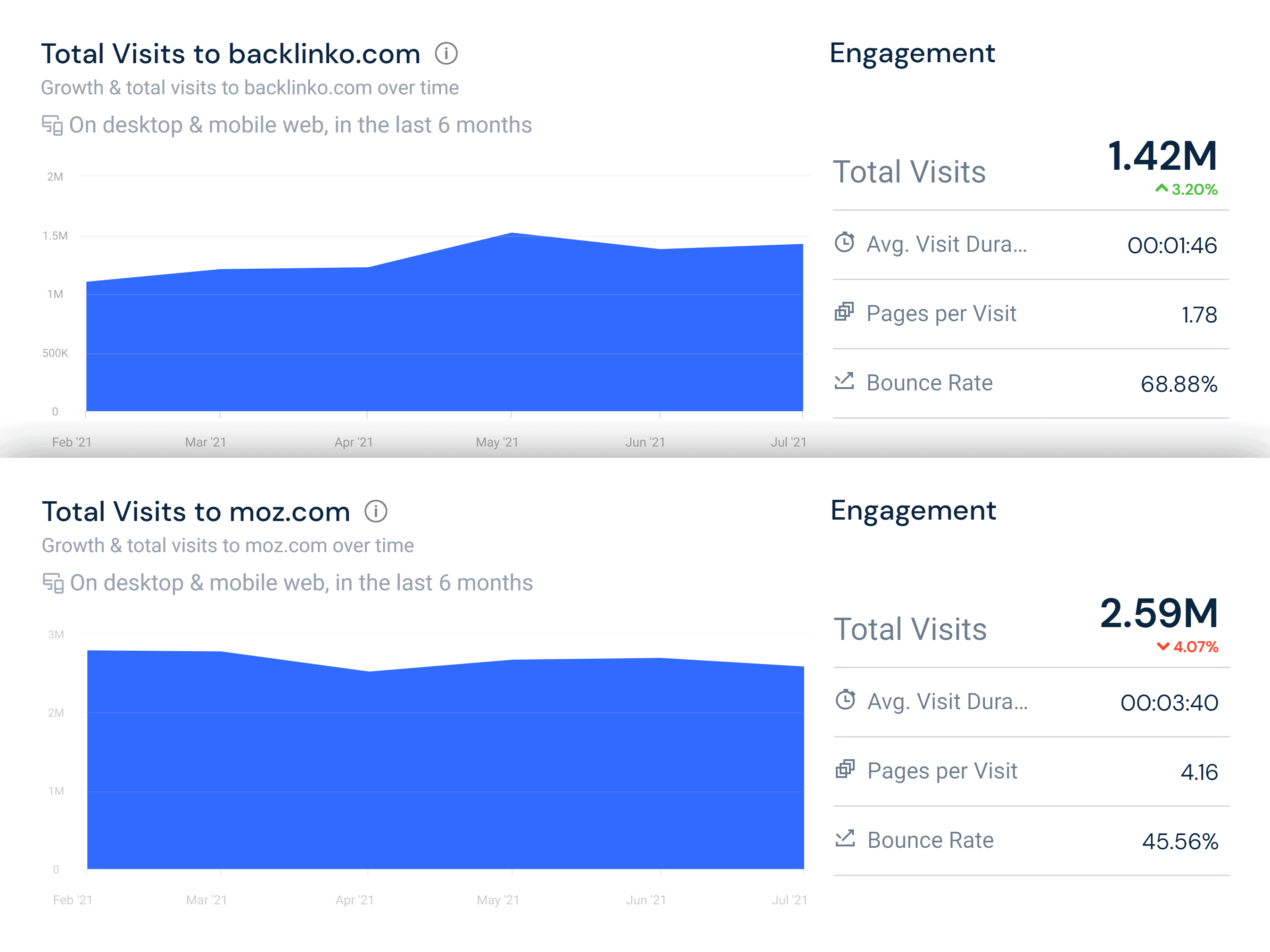 Why is this data useful?
Well, let's say you're entering a brand new niche. Or you just took on a client that's in a space that you're not familiar with. This report will let you know where you stand in that industry.
Without this competitive intelligence data from SimilarWeb this info would be impossible to know.
Engagement Metrics
You can also see engagement metrics like average visit duration, page views, and bounce rate.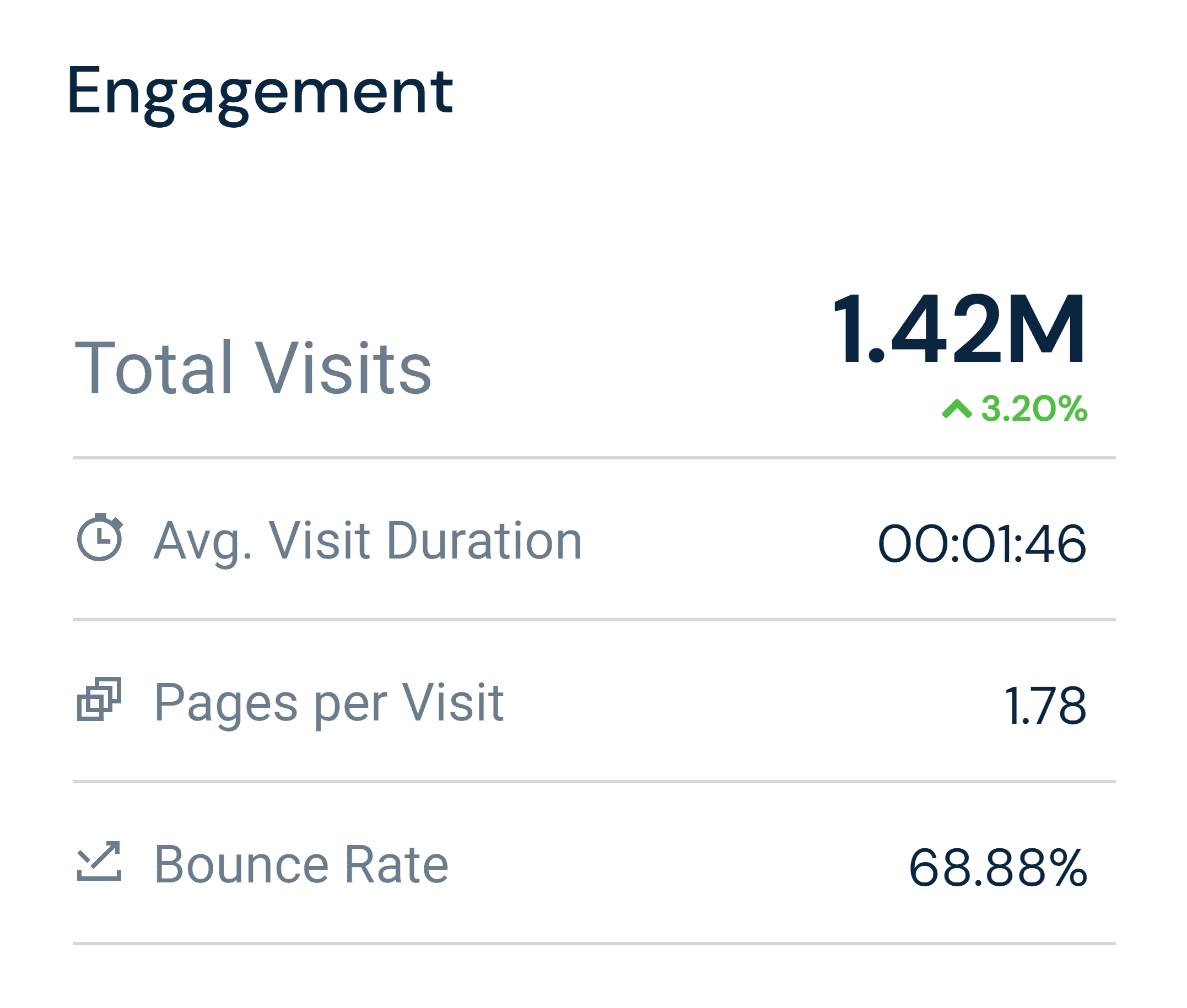 Again: you have to take this data with a grain of salt. I wouldn't use this data to say: "Site A has a bounce rate of exactly 72.5%. That's 10.5% better than our website".
That said:
If you do see that a competing site has a way better bounce rate than you do, it might be a sign that there's room for you to improve.
For example, according to SimilarWeb, my site's bounce rate is 68.88%.

If your bounce rate is 70.35%, you're in the same ballpark. But if your bounce rate is 88.52% then this could be a sign that my site is doing a better job of keeping visitors engaged.
Traffic Sources
The "Traffic Sources" chart is probably the most important part of this section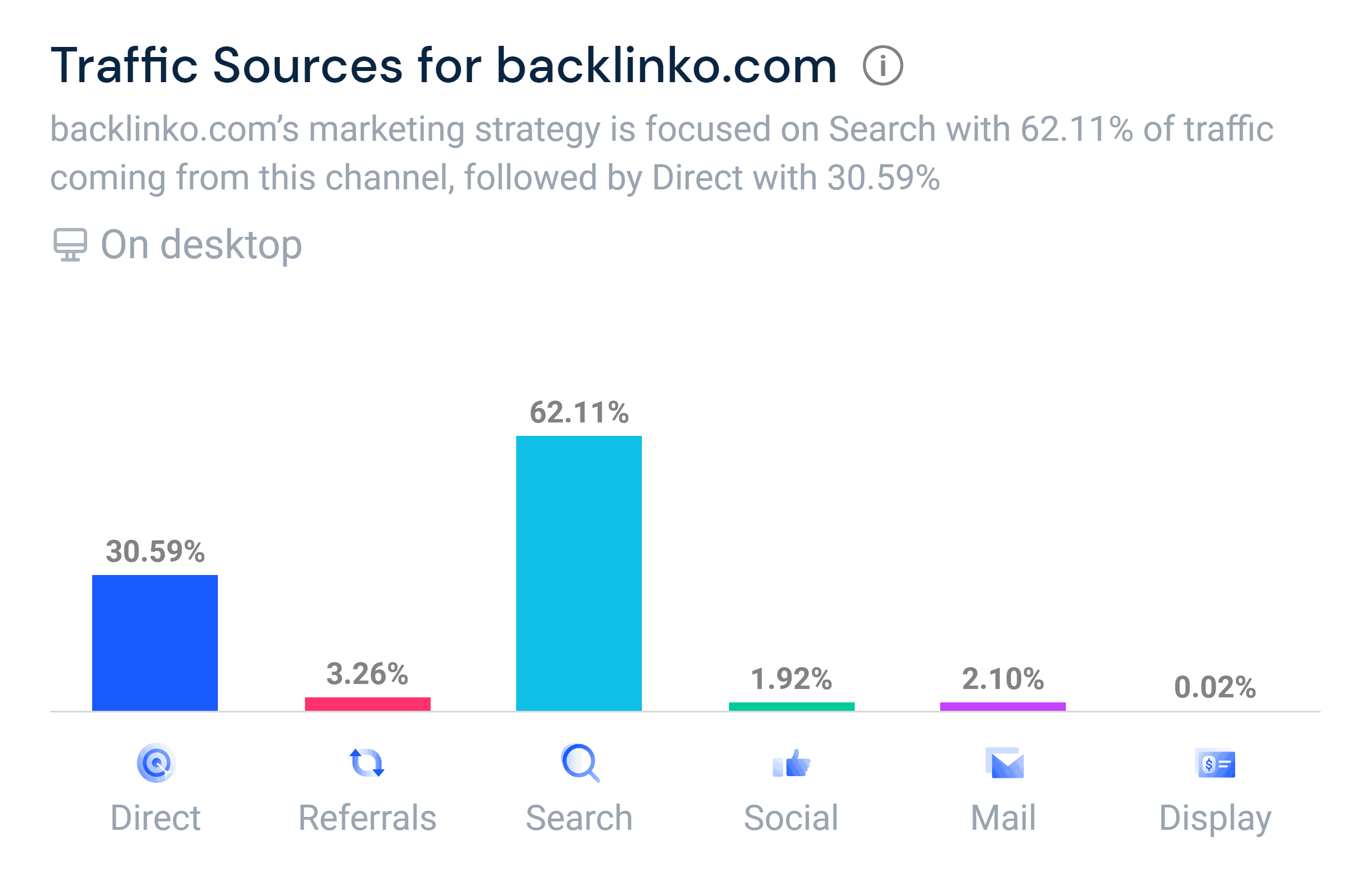 It shows the breakdown of what percentage of a site's traffic comes from each of these channels: Direct, Referrals, Search, Social, Email, and Display Advertising. This is incredibly useful information you can use to help determine where you should focus your content marketing efforts.
For example, let's say you're about to enter the SEO and content marketing space. And you're looking to go head-to-head with my blog.
Well, your first step would be to see what channels are working best for me.
That way, you can start to make inroads there.
Another approach is to look at channels that a competitor is ignoring. Then, double down on that channel.
For example, you can see that I'm not running any display ads.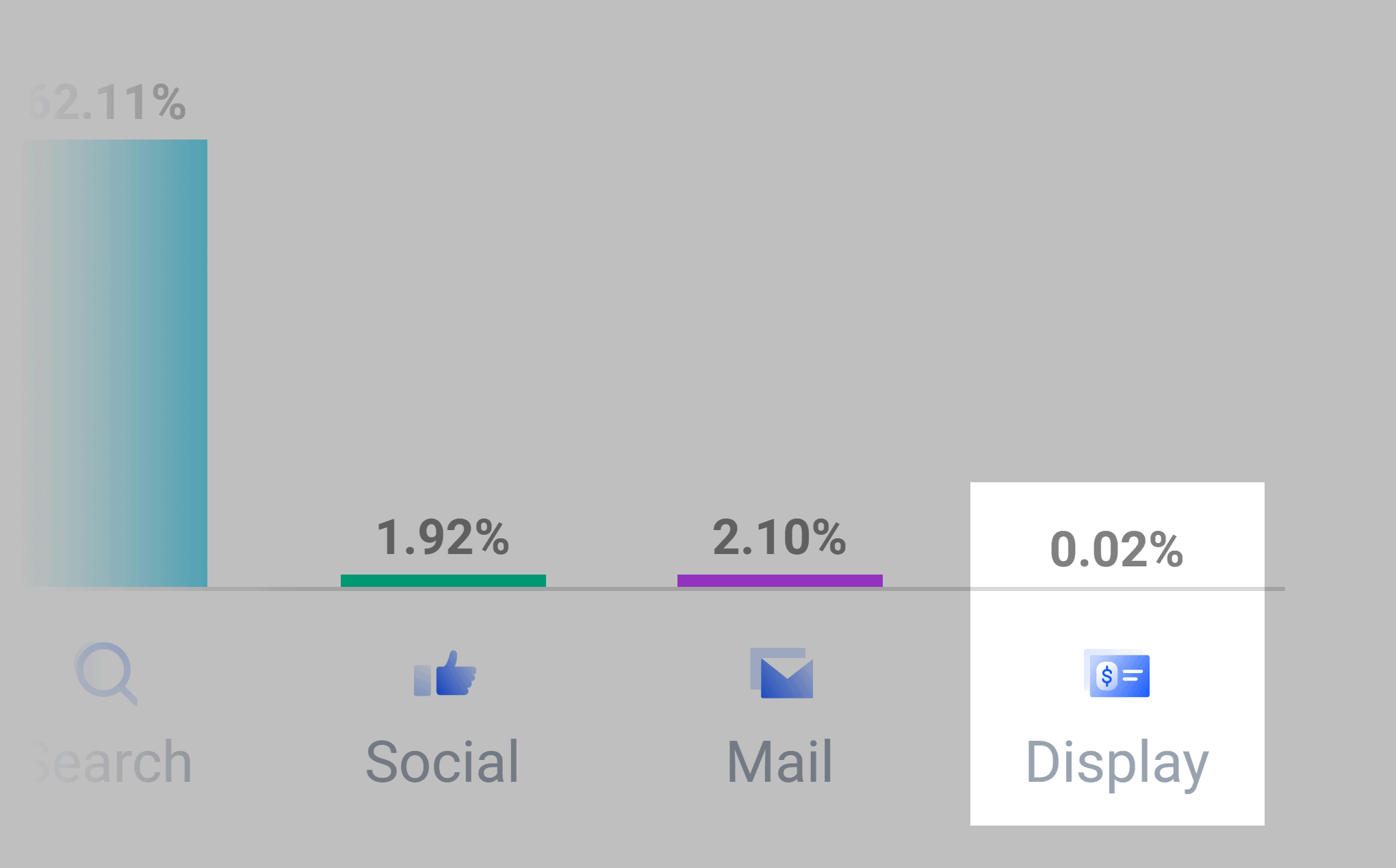 Which might be an opportunity for you to swoop in and get traffic from that channel. It's the same story with social. According to SimilarWeb, social makes up around 3% of my traffic. That's an opportunity for you to do more on Facebook, Twitter, LinkedIn and Instagram.
Referrals
I LOVE SimilarWeb's "Referrals" feature.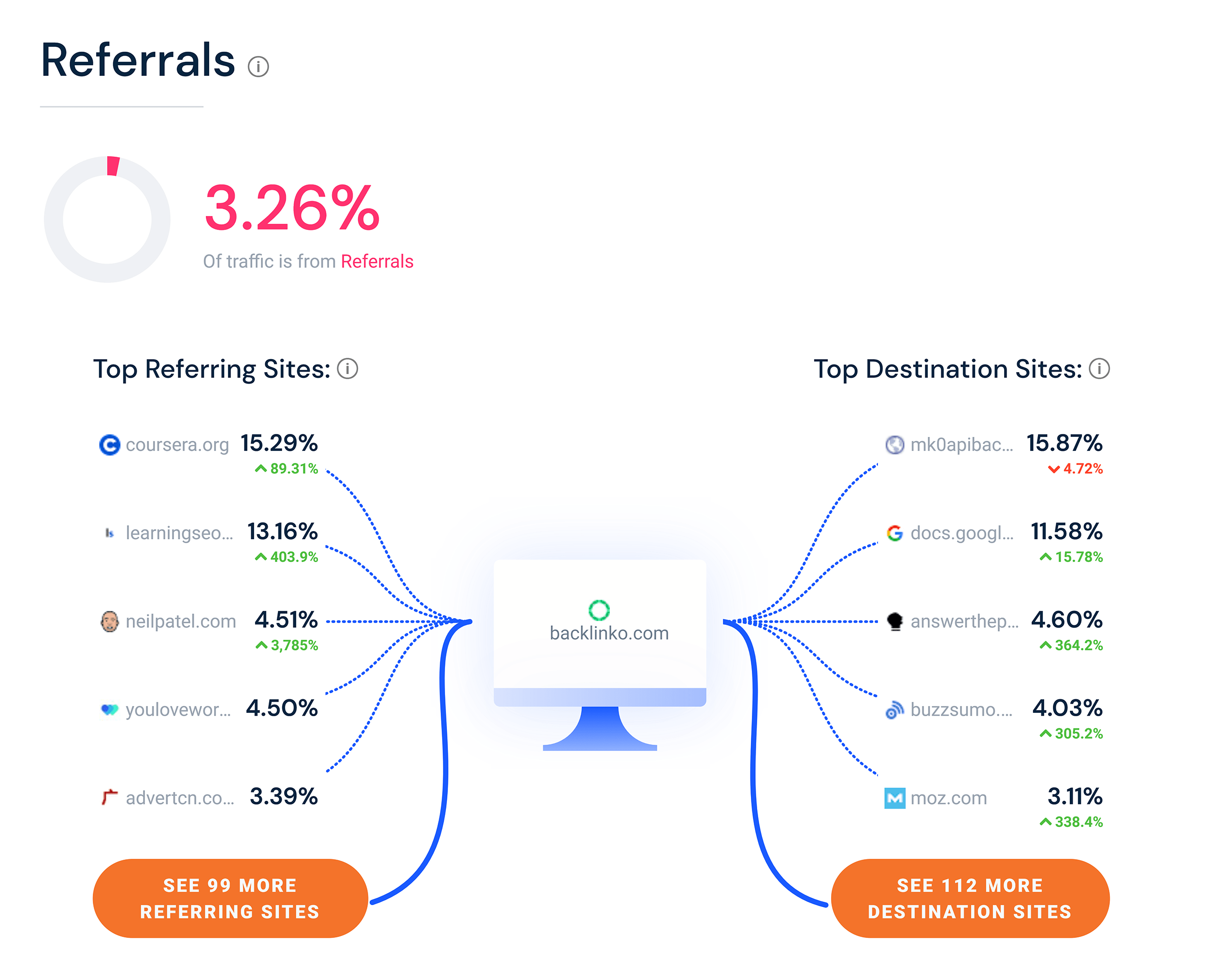 Let me show you why.
Well, you can see the % of the site's overall traffic that is coming from referral traffic.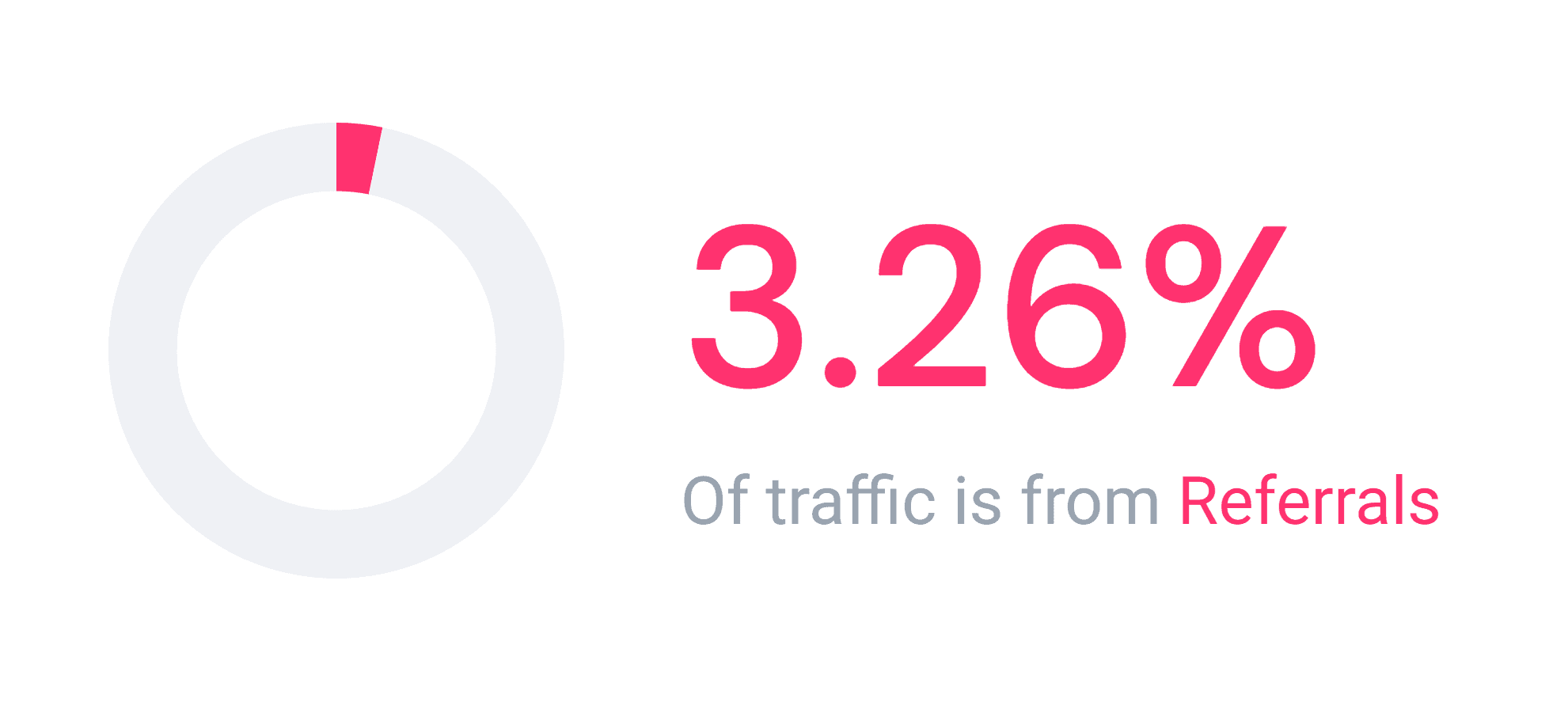 ("Referral traffic" basically means any non-ad traffic coming from individual sites that aren't search engines or social media.)
Honestly, this data isn't super actionable. But it's still something to note.
The two most helpful pieces of data in this section are…
Top Referring Sites
This is the star of this section. It will show you the top 5 referring sites (or more if you buy the "Pro" version of SimilarWeb), including the % of traffic from each.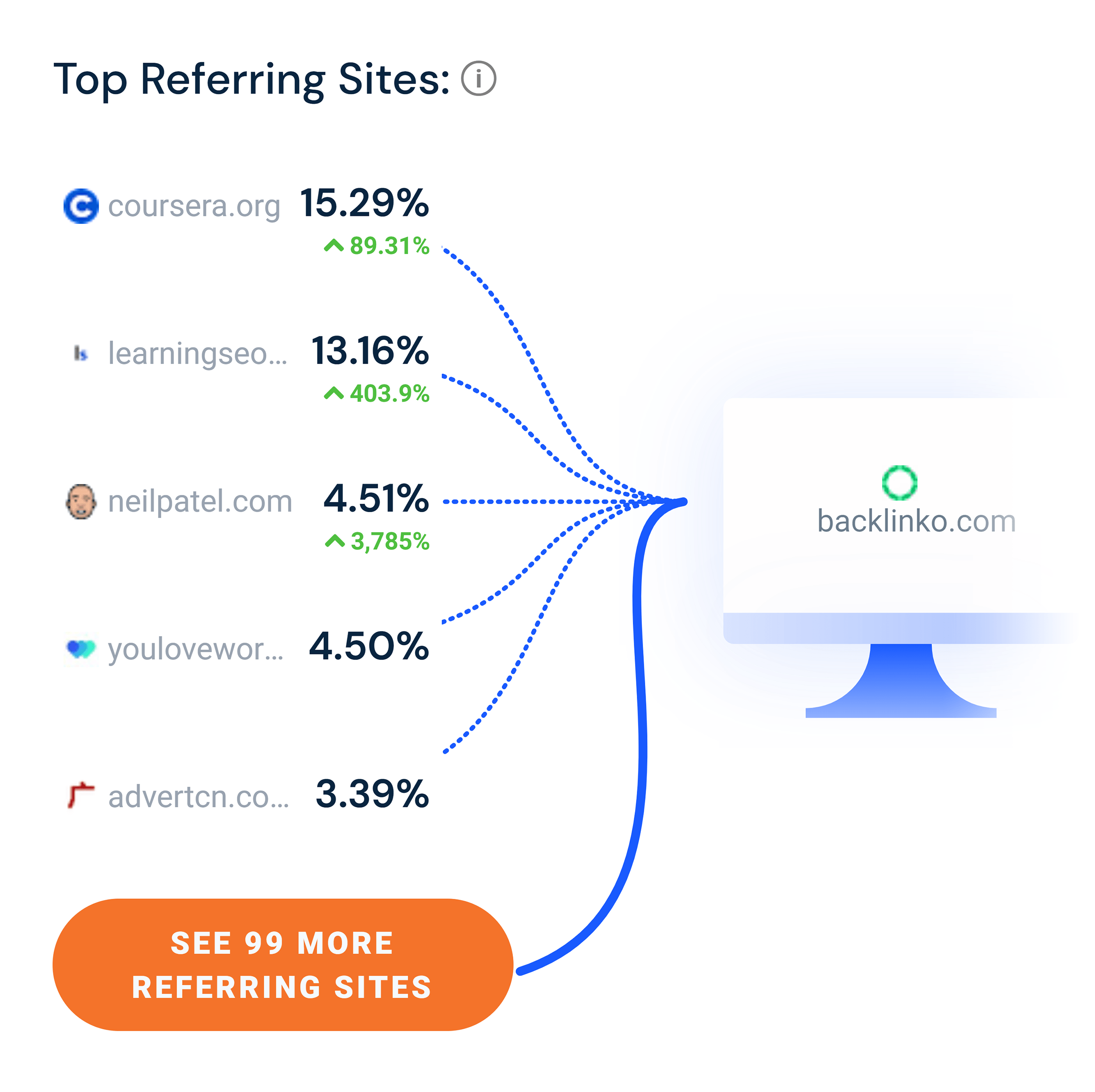 For content marketers, this can be a great way to find high-value link building opportunities, potential partners or online communities to start becoming active on.
It's also an awesome way to find guest post opportunities.
For example, you can see that 13.16% of my referral traffic comes from learningseo.io.

This means that a good chunk of my target audience must also read learningseo.io.
So if you were looking to start a guest blogging campaign, learningseo.io would be one of the first sites to reach out to, if they accepted guest posts.
Top Destination Sites
This report can also reveal some interesting data.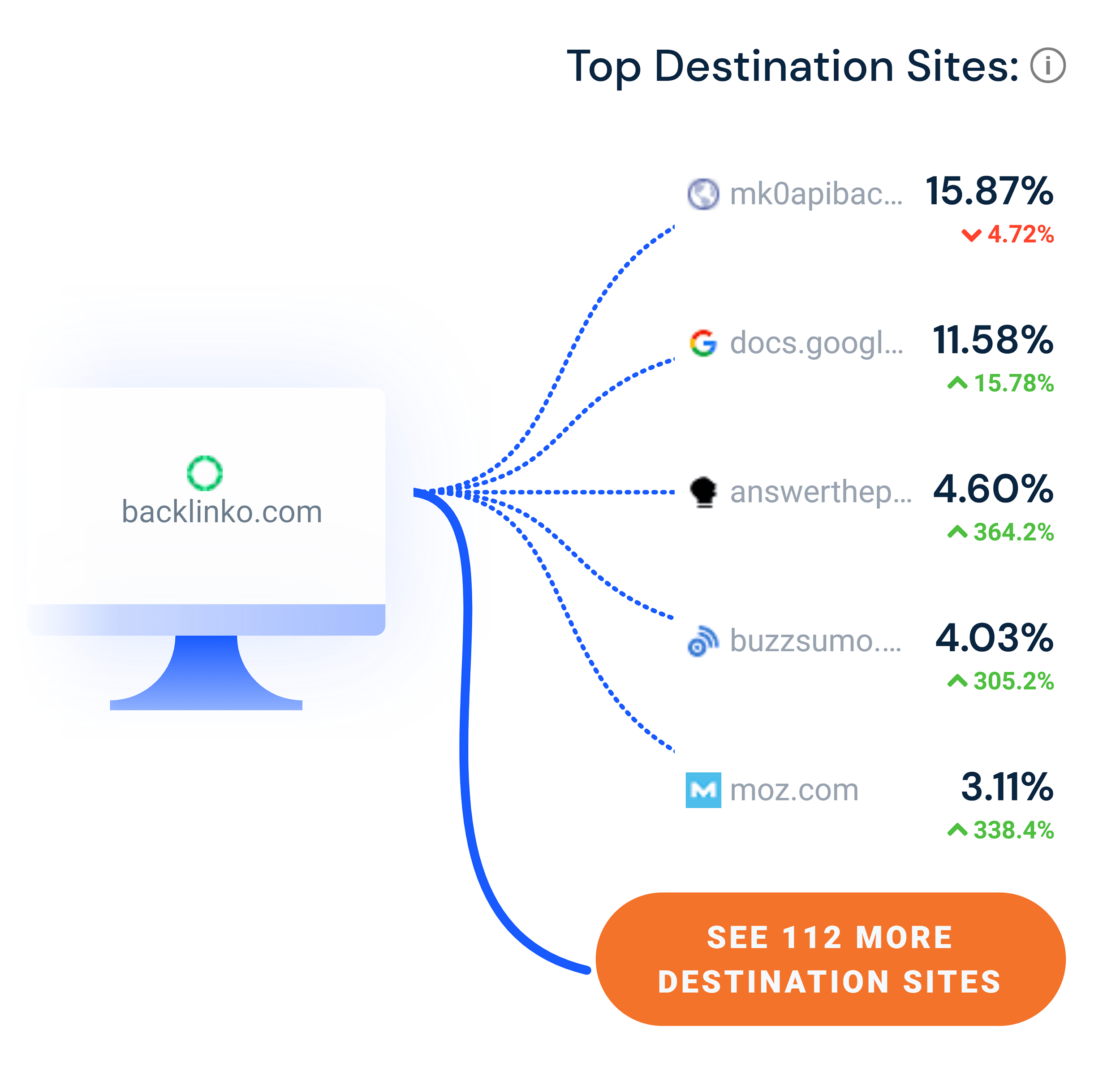 While "Top Referring Sites" shows where the site's visitors are coming from, "Top Destination Sites" shows how people leave the site you're analyzing.
This shows you other sites that you want to get featured on. For example, you can see that 3.11% of my traffic leaves to go to Moz.com.
So if you were entering the digital marketing space, Moz would be another place you'd want to guest post on or get featured.
Search, Social and Display
The "Search," "Social," and "Display" sections take a closer look at some of the biggest traffic sources most websites get.
Search
Search is a massive chunk of most site's traffic. In fact, according to SparkToro, Google accounts for 57% of all website traffic.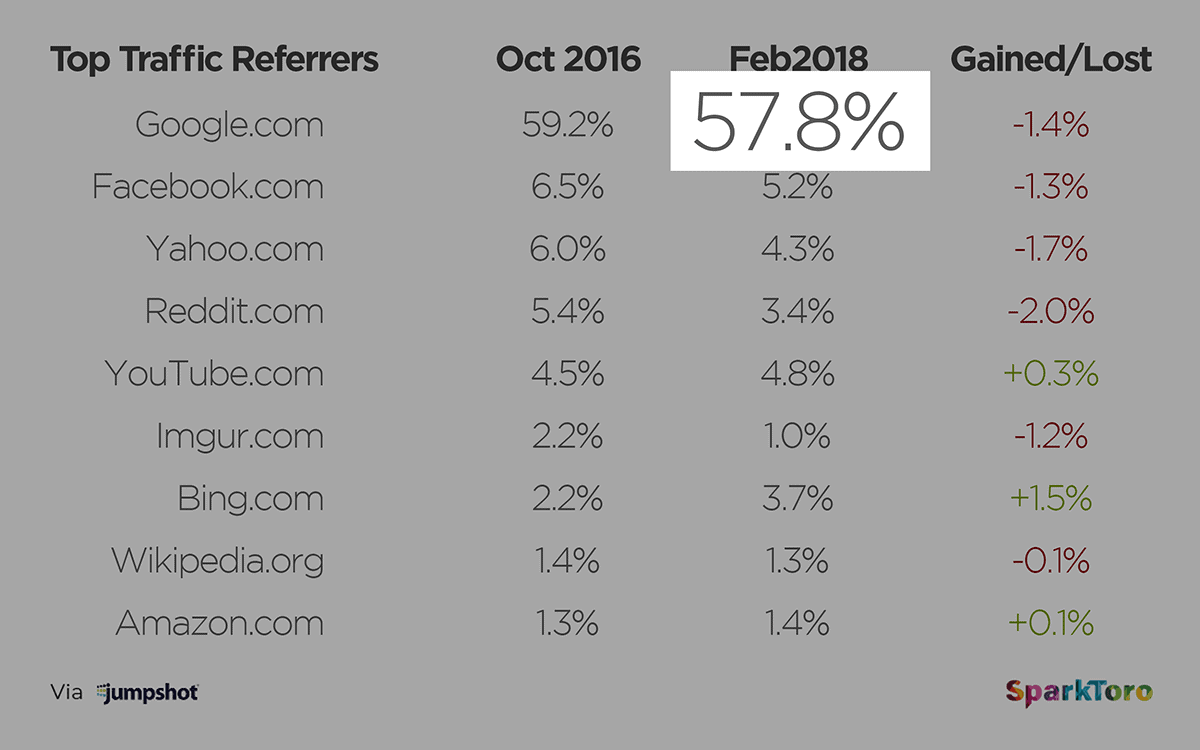 And according to Backlinko's SimilarWeb report, 62.11% of my traffic comes from search.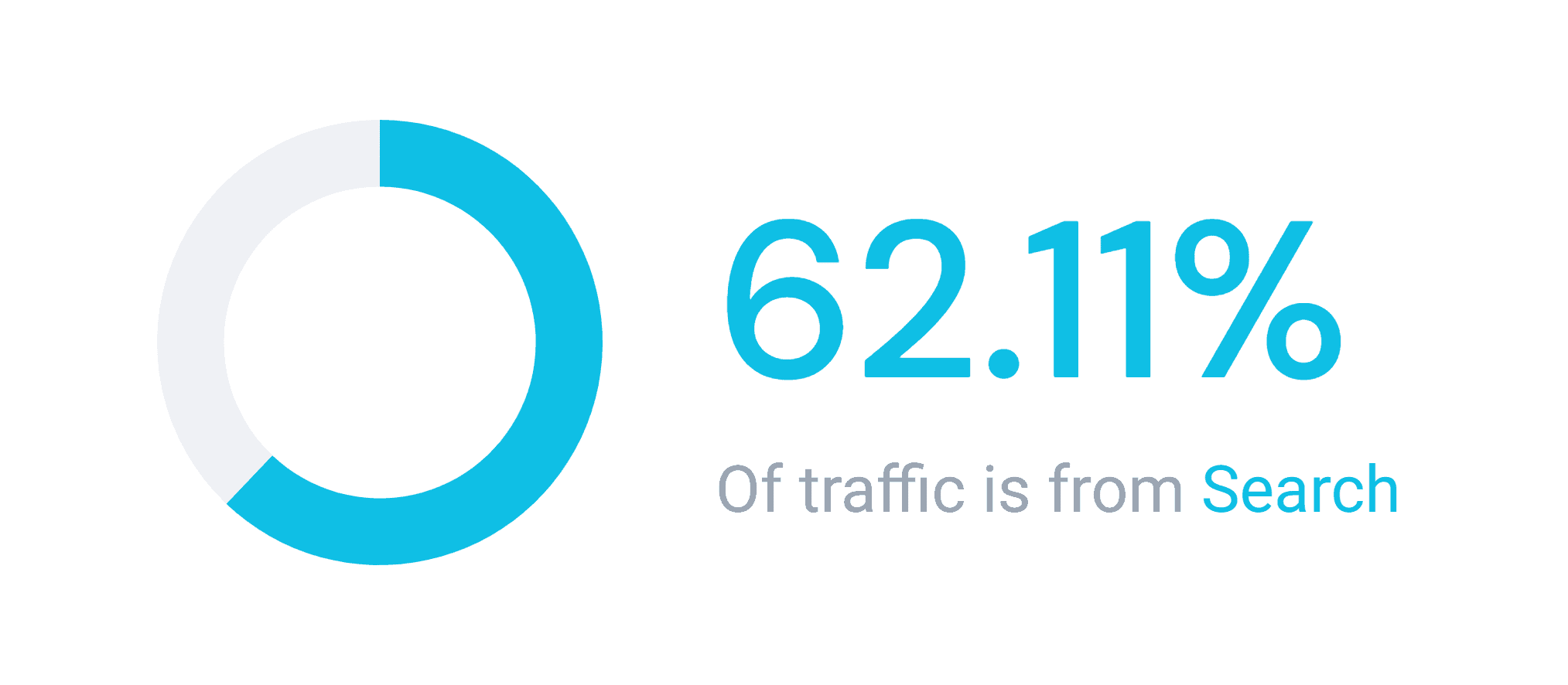 This is why spending some time to analyze what's working for your competitor's SEO is super helpful.
What makes SimilarWeb's "Search" section awesome is that it shows you the top 5 search keywords (for both organic and paid search).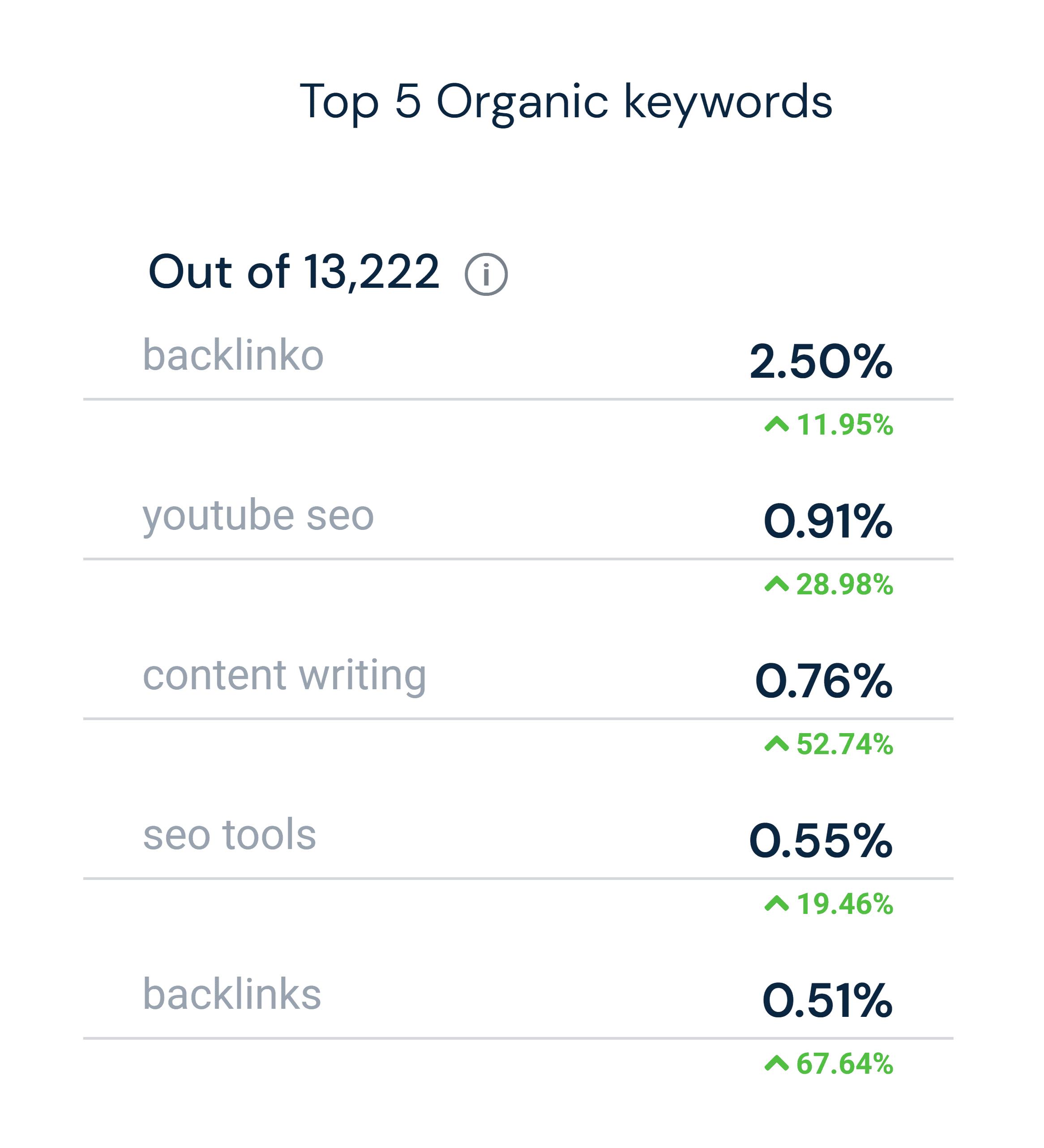 If you Google those keywords, you'll be able to find out exactly which pieces of content are ranking for them, and then use the Skyscraper Technique to steal their search traffic.
Social
Social media traffic sources are also broken out by specific platform, so you can see which platforms are working best for your competitors.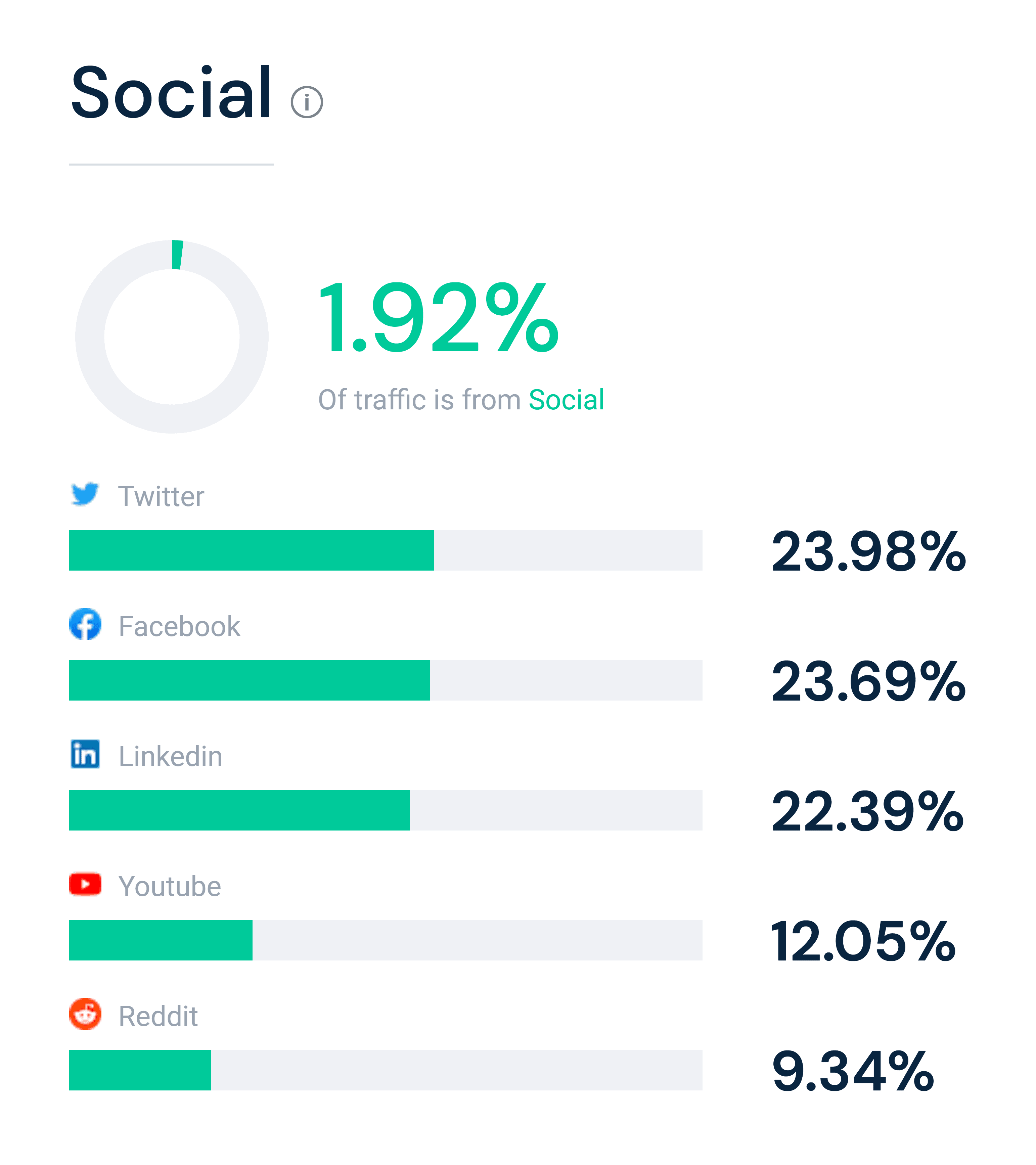 Just like with the Traffic Sources report, you can use this data in two different ways. You can either dive head-first into the social media sites that your competitors are already active on.
Or you can use it to find untapped social sites that aren't super competitive yet.
Display Advertising
This report shows you both the top publishers (sites) as well as the top ad networks being used for paid display ads and PPC if any.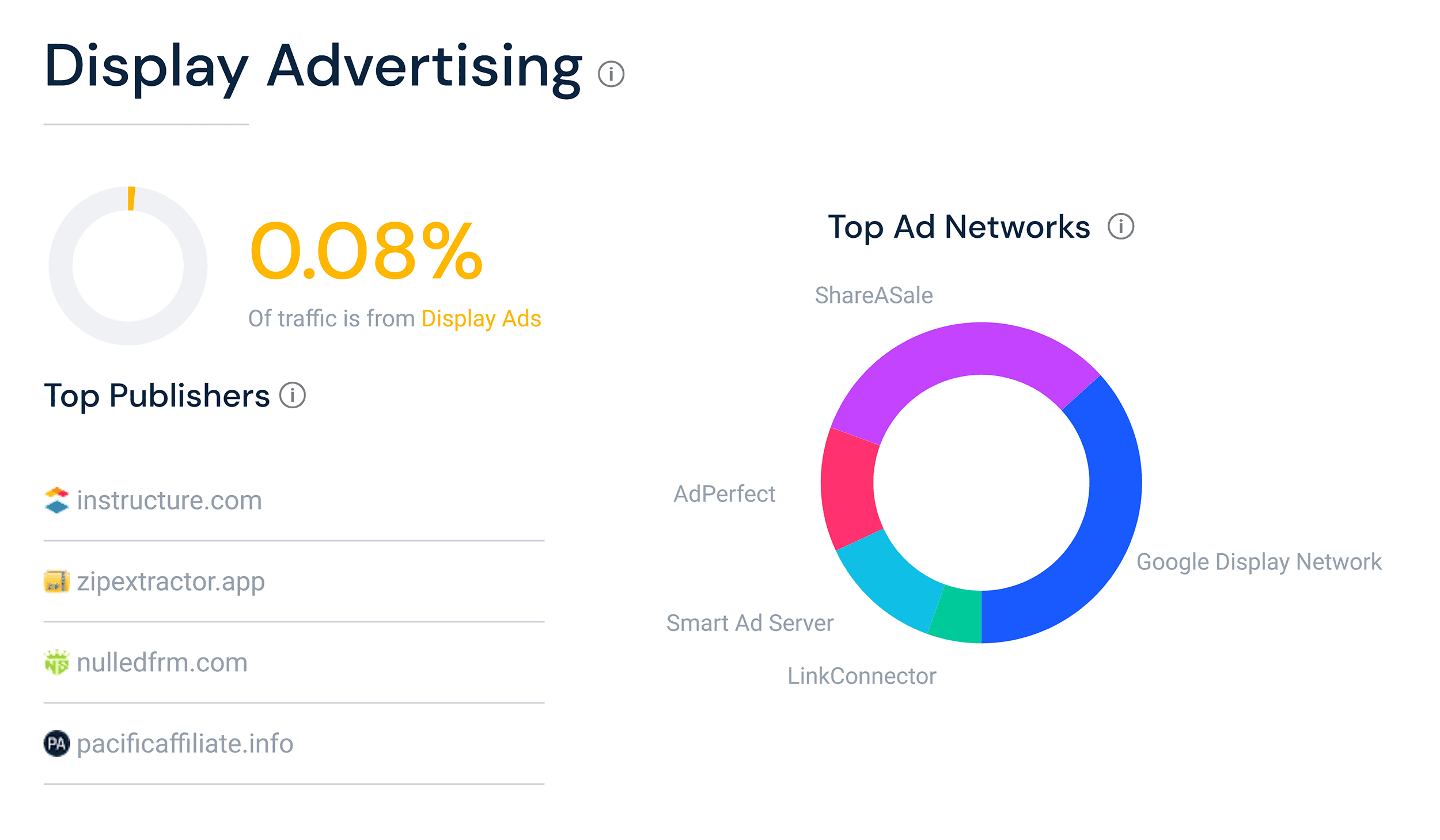 One thing to keep in mind here is that SimilarWeb doesn't have access to Facebook ad traffic data.
Audience Interests
SimilarWeb's "Audience" data focuses on what the site's visitors do outside of that site itself.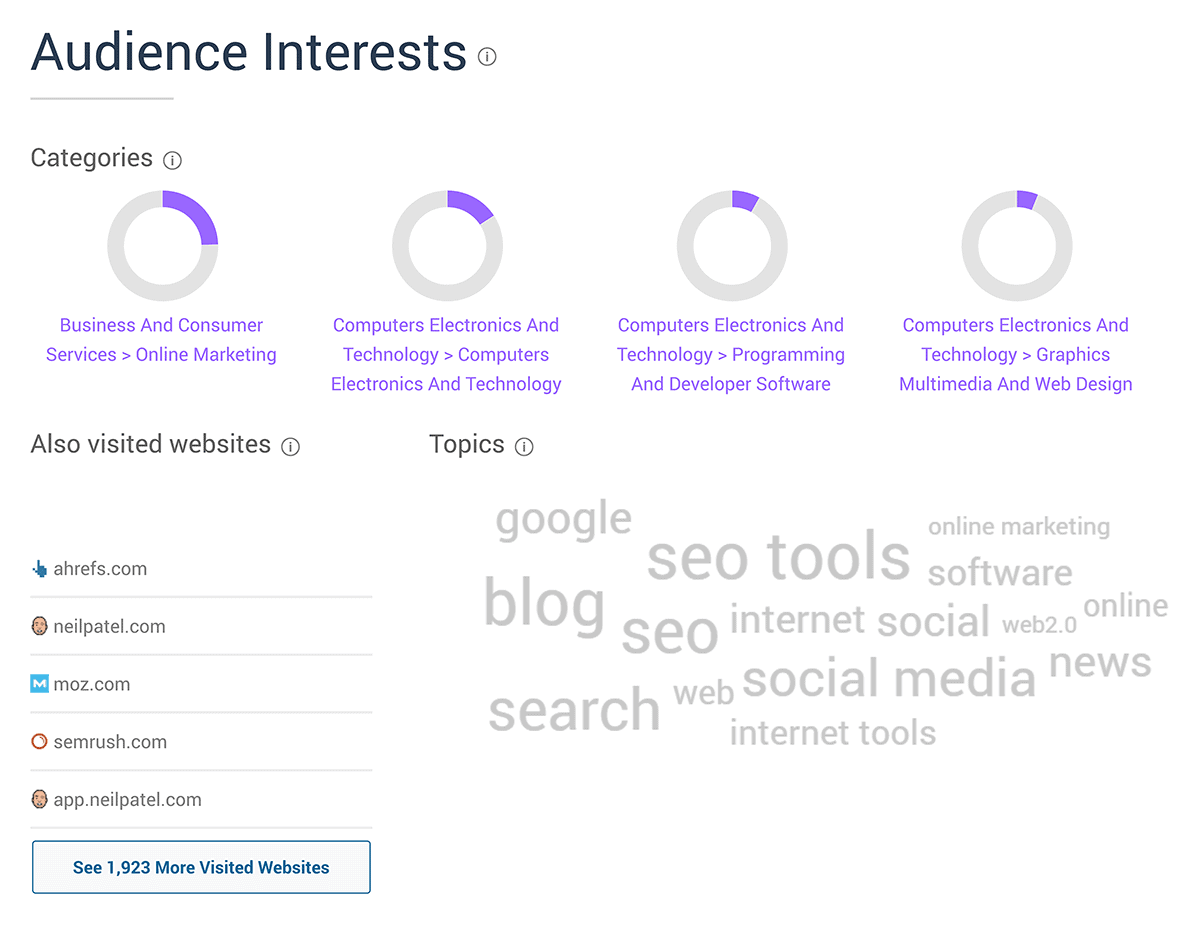 Categories
You can see the categories of interests they have, based on their activity outside of the web. For example, the top category it shows for Backlinko's audience is "Online Marketing," followed by "Computers, Electronics and Technology."

Sounds pretty accurate to me.
And if you analyze a health and fitness website, you'll find that their interests tend to revolve around things like nutrition and sports.

Why is this helpful for content marketing?
Well, the foundation of any content strategy is to create content that's going to help your target audience. And this report gives you a high-level overview of the types of things that they're interested in.
Also Visited Websites
This is another report that I use all the time.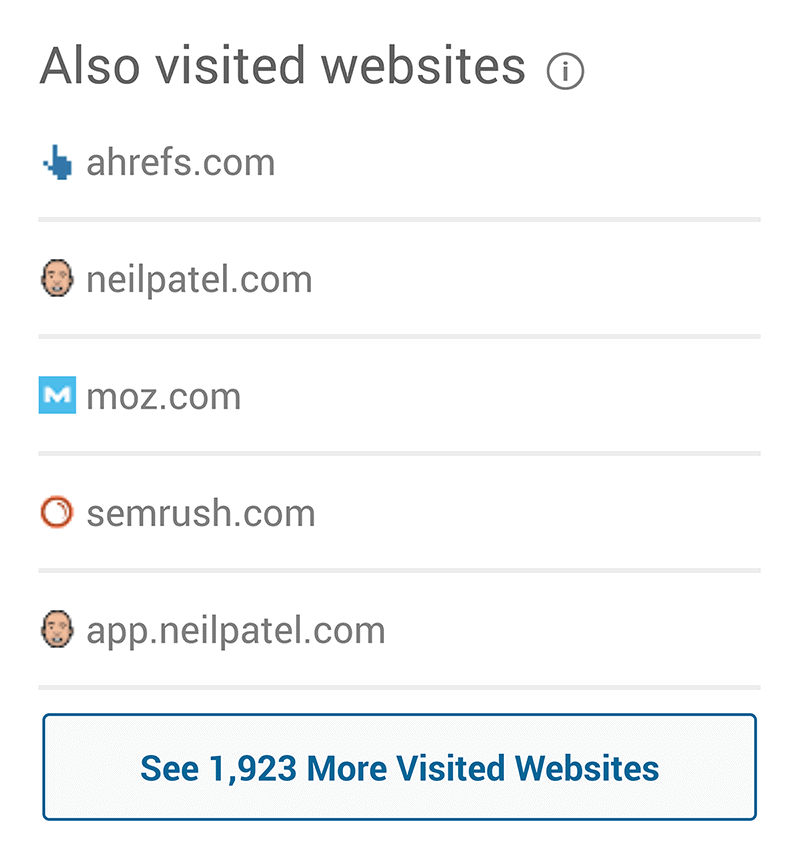 That's because it gives you an idea of the sites that your audience tends to hang out on.
For example, if you look at this report for Twitch.tv, you can see that their users tend to spend a lot of time on YouTube, Steam and Reddit.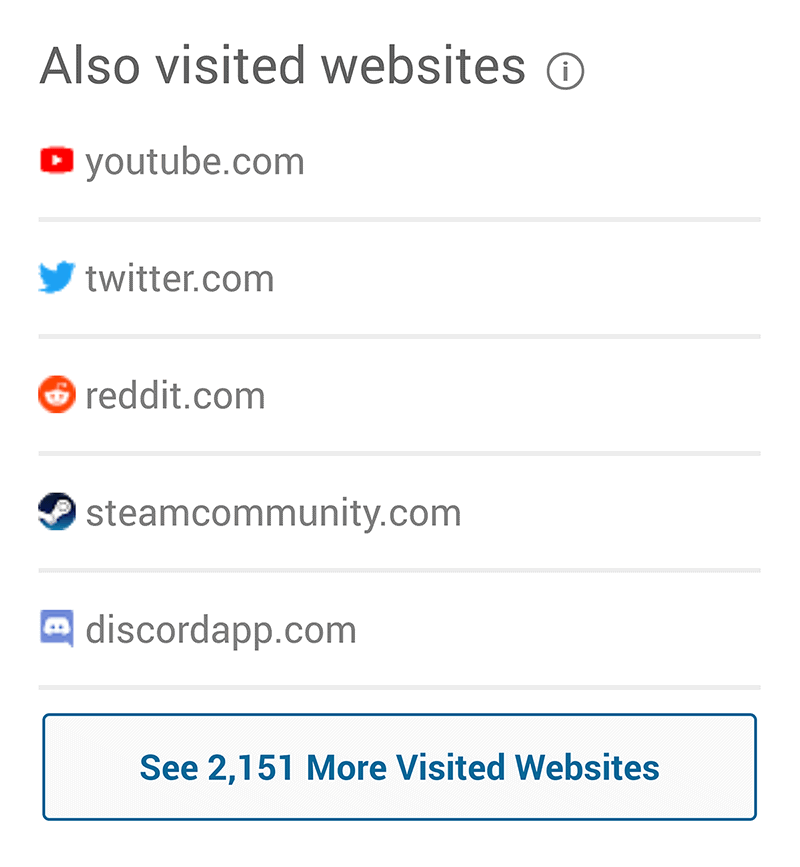 So if you were setting up a Twitch competitor, these are the sites that you'd want to focus on.
You can also look at this information for your own site. That way, you get a list of related sites you might want to collaborate with, advertise on, or perhaps promote to your own audience as an affiliate.
Word Cloud
Finally, this section includes a word cloud of the topics that SimilarWeb thinks are the most relevant to the site's visitors.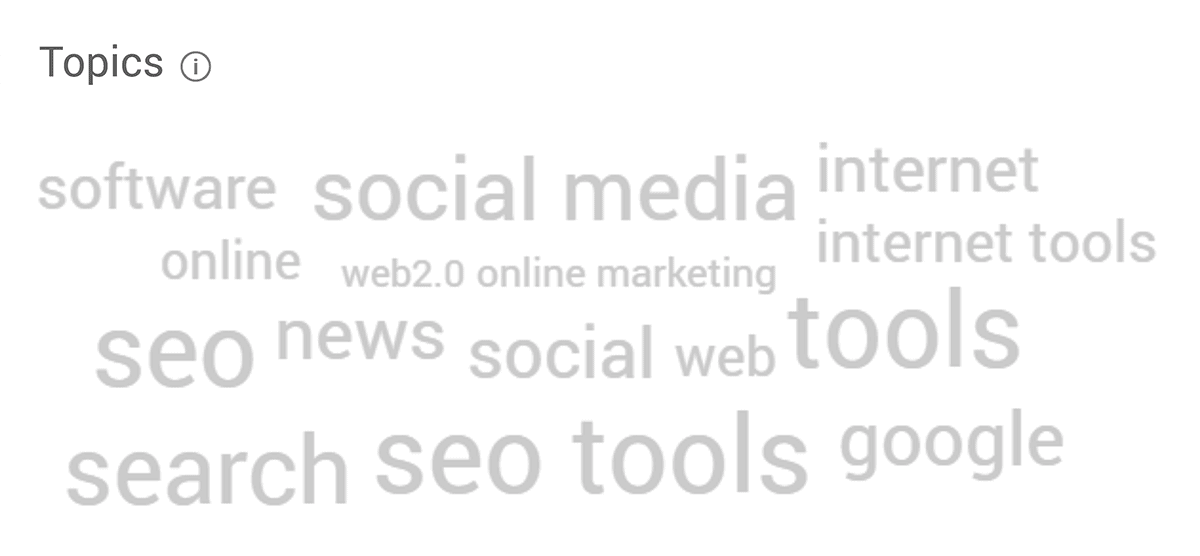 Don't expect surgical accuracy here. But it adds some color to the "Categories" list. For example, one of the interest categories for Backlinko is: "Computers Electronics And Technology > Computers Electronics And Technology".
What does that mean in practical terms? I have no idea.
But the word cloud gives you terms that help you understand what these folks are actually into.
Competitors & Similar Sites
This report is a fast way to figure out who your competitors are. For example, if you look at the SimilarWeb report for Backlinko, you get 10 sites that I compete with.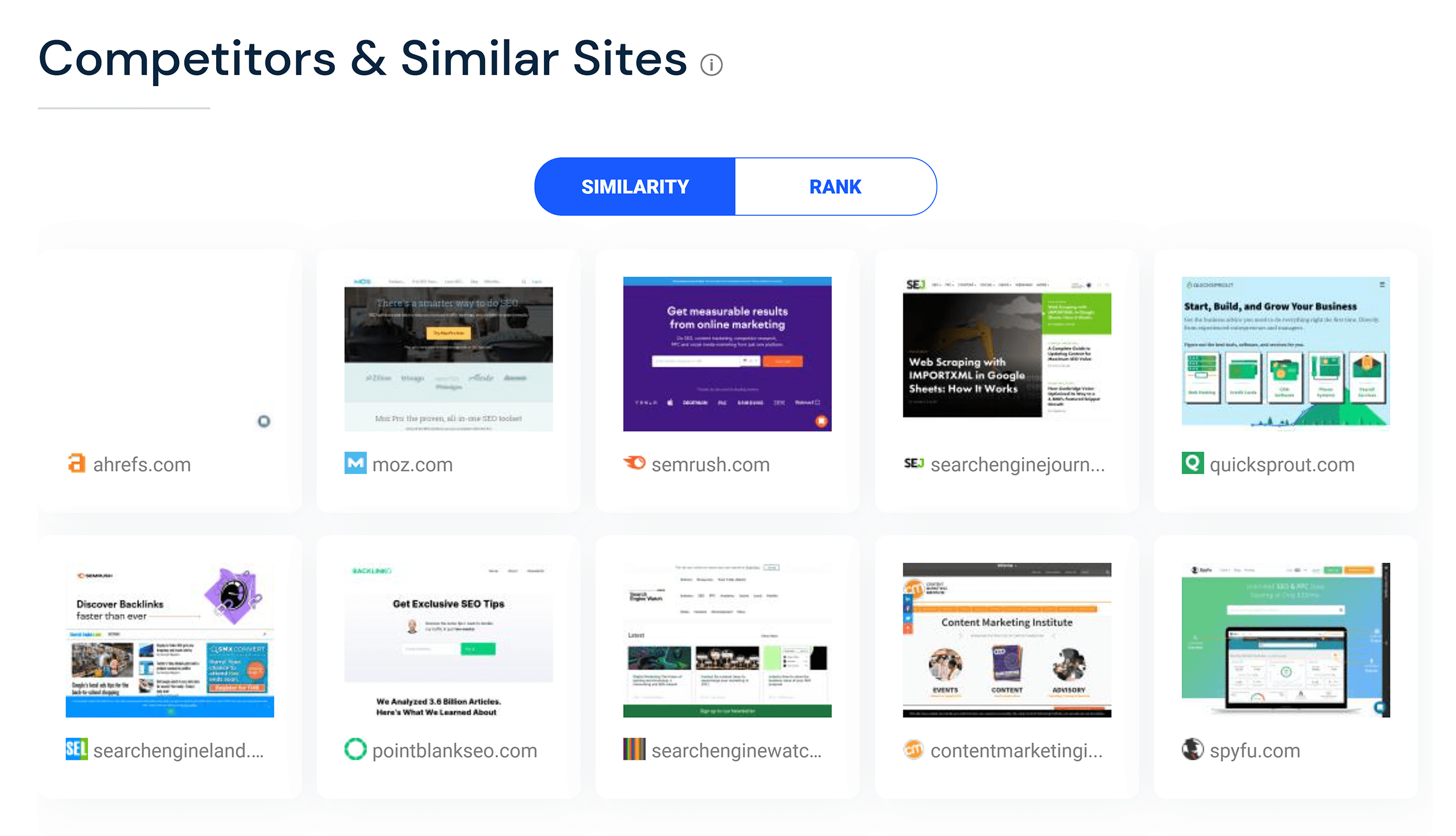 As someone that's actually in this space, I can tell you firsthand that this list is pretty much 100% spot on. These are the exact sites that I find myself up against when it comes to SEO, video marketing, and social media.
Seeing who your competitors are is helpful. But how do you take action on this kind of market intelligence?
Well, you can check out the landscape of what all the top websites in your niche are doing… and try to do the opposite. Sometimes, just being different is the most important thing you can do. Early on with Backlinko, I decided to focus on super in-depth, long-form content. My posts were easily 5 or 10 times longer than most pieces of content in the SEO industry. It became a big differentiator (and still is today).
You can also use this report to find guest posting or other collaboration opportunities. So-called "competitors" can work together to create something much better than if they'd only done it by themselves.
Related Mobile Apps
This section shows you mobile apps that your competitors have, along with ratings and reviews.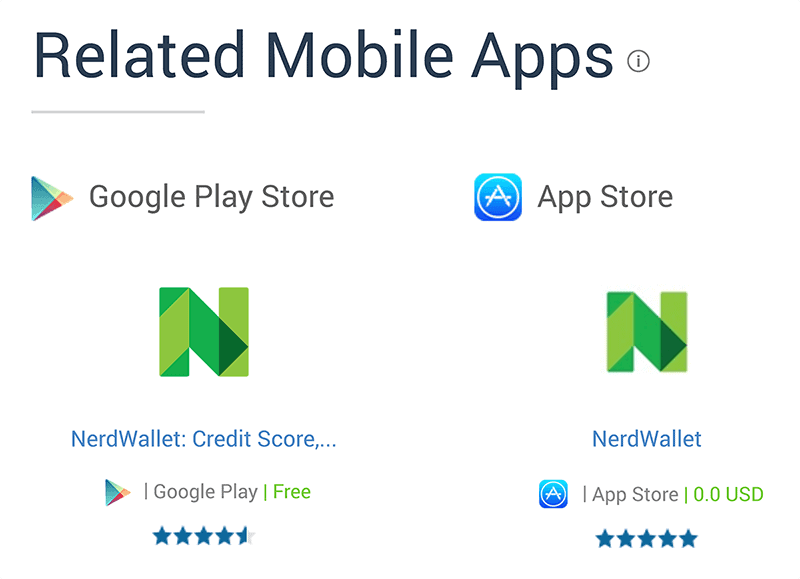 Learn More
Keyword Competition: The Ultimate Guide: Now that you've found a keyword using SimilarWeb, how do you know if you can rank for it? This guide walks you through the steps.
How SimilarWeb Collects Its Data: An interesting overview of how SimilarWeb is able to get data on where websites get their traffic from (without access to Google Analytics data).
Content Gap Analysis: Learn how to improve on the content that your competitor's publish.