What Is Buffer?
Buffer (also known as "Bufferapp") is a multi-purpose social media marketing software tool. Buffer's core feature is the ability to draft and schedule posts for sharing across multiple social networks including Facebook, Instagram, Twitter, LinkedIn and Pinterest. Buffer also offers social media reporting and monitoring functionality.
What Makes Buffer Useful?
Buffer.com is actually divided into three separate groups of features. In many ways, each of these are different products. Although, if you sign up for all 3, you can link them together and click over to each one in the navbar.

Buffer Publishing: this is the core functionality of Buffer, where you can schedule social media posts on different platforms.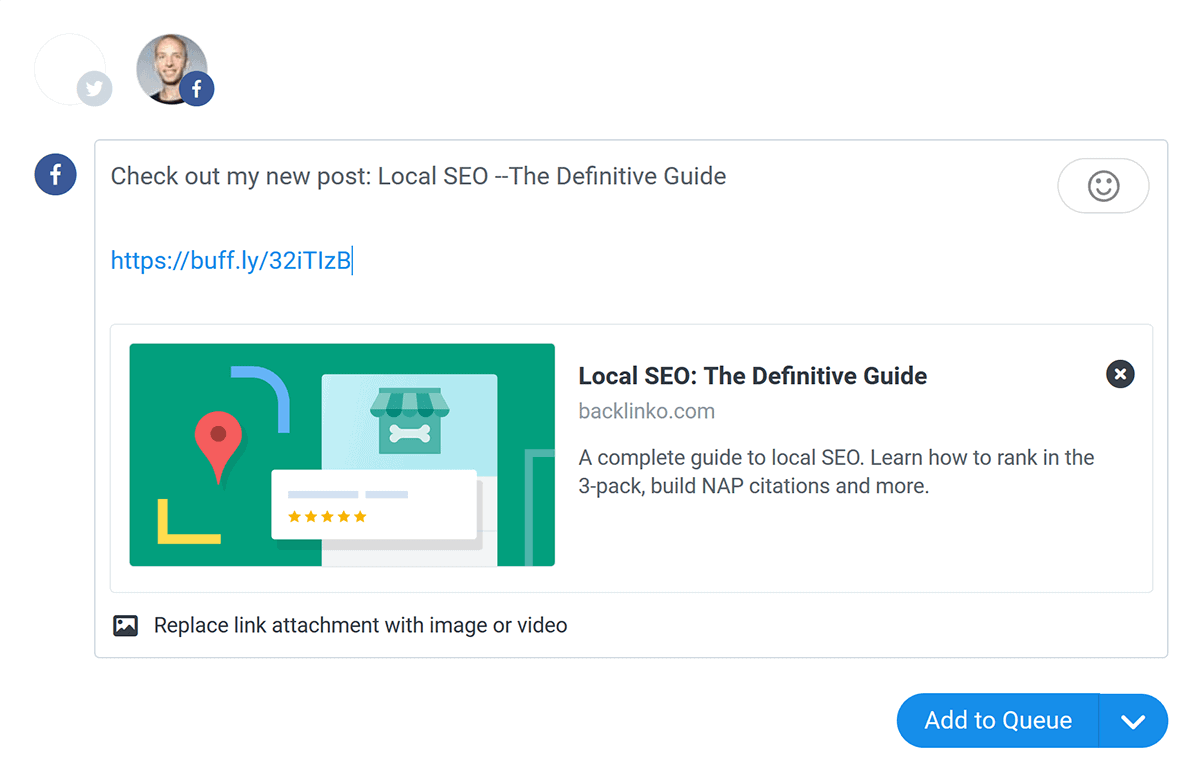 Buffer Analytics: their social media reporting suite. Here's where you can see how your social media posts are performing. You can analyze each platform one-by-one or get all of your social media performance data combined.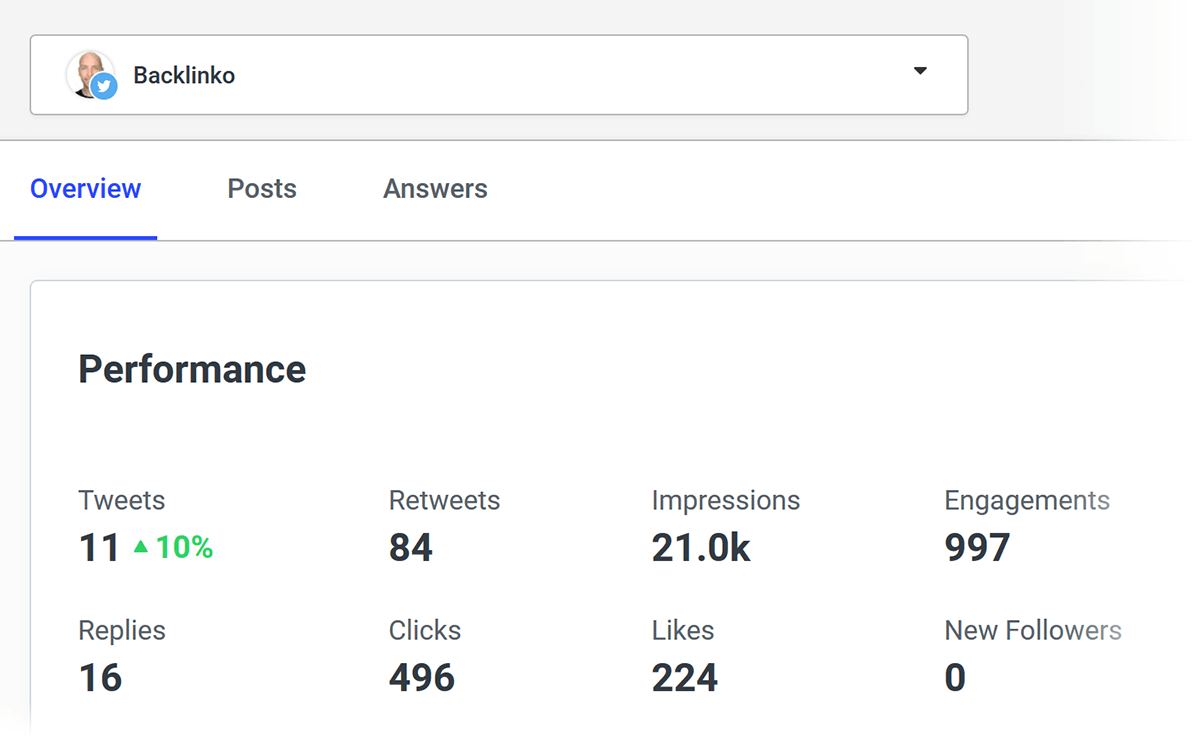 Buffer Engagement: Buffer's business Instagram monitoring and engagement tool. Designed for large organizations to monitor conversations about their brand happening on Instagram… and to reply to people that need help.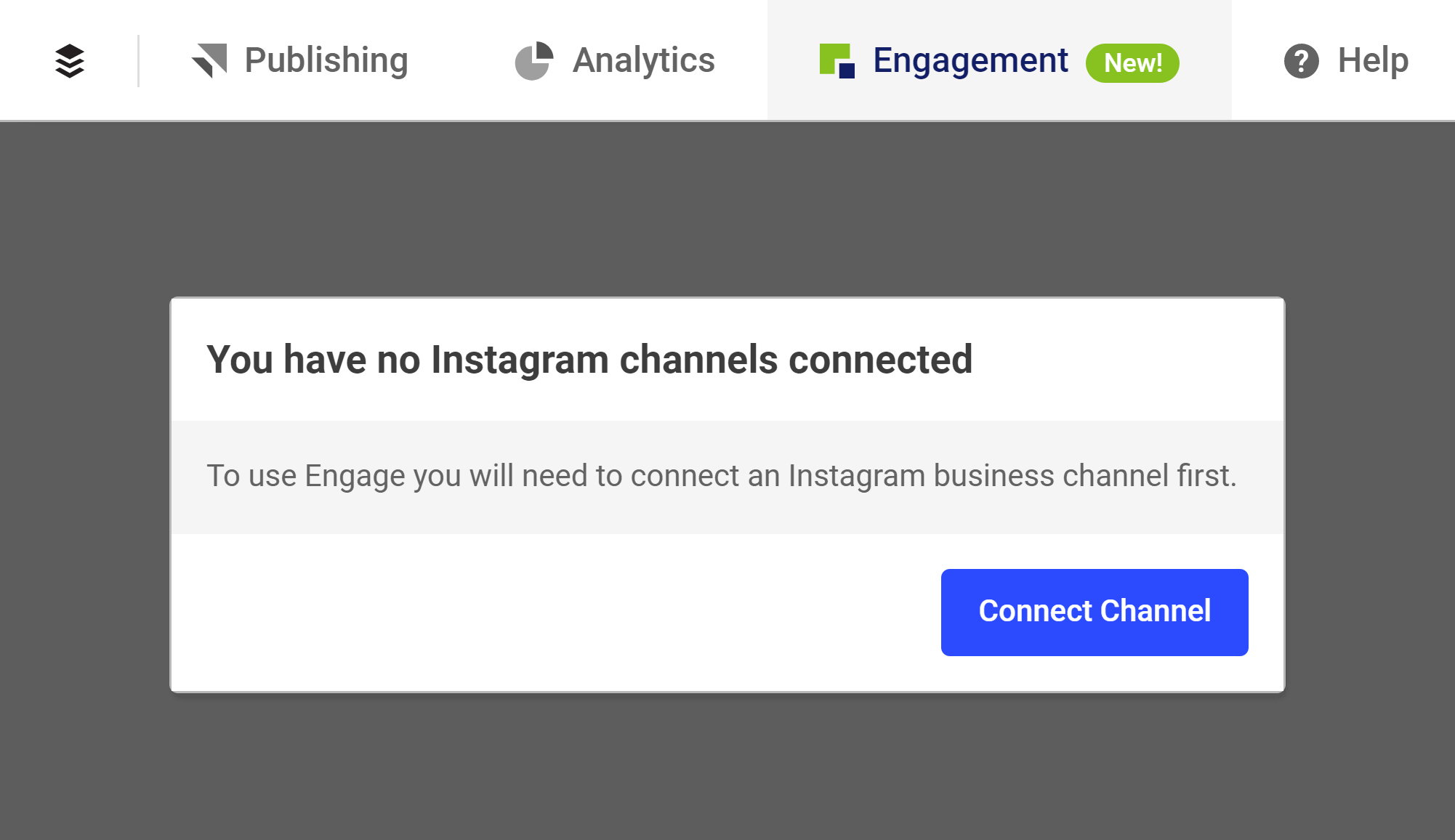 Key Features
Posting Schedule
The original Buffer only allowed you to schedule individual tweets in advance on-by-one.
Which you can still do.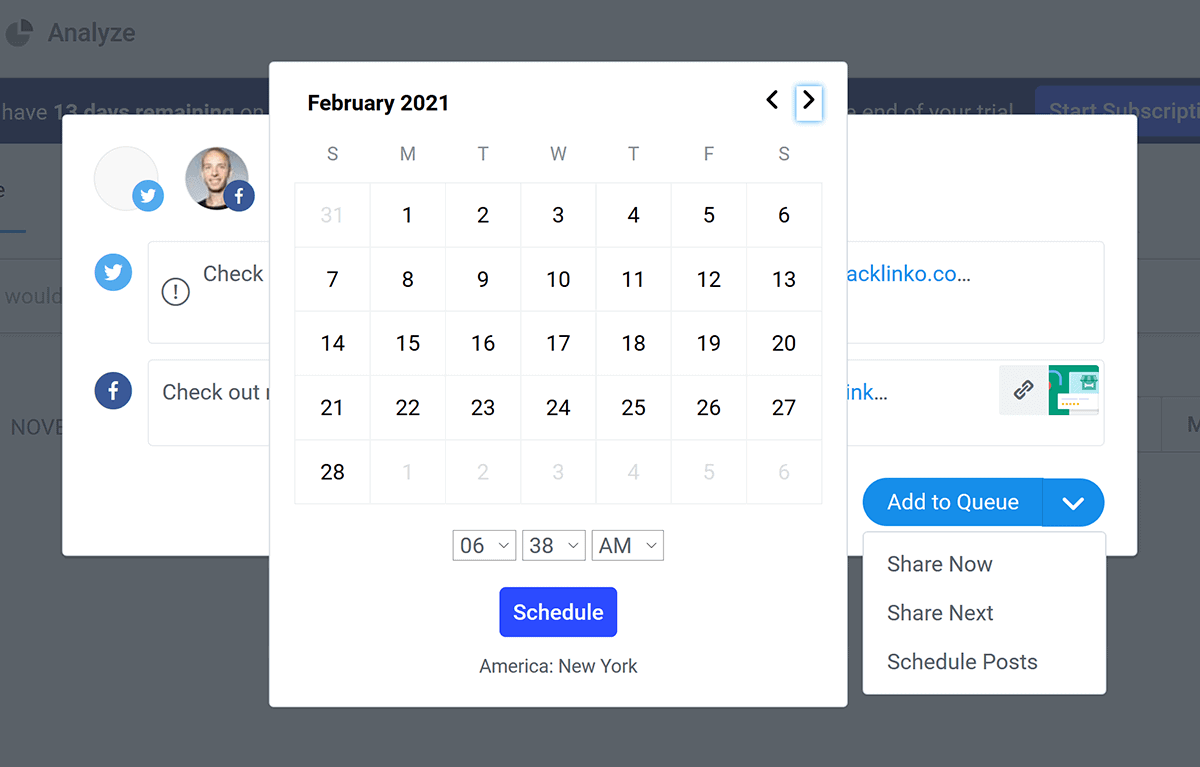 One new-ish feature inside of Buffer's Publish is the "queue" system for semi-automatically scheduling posts.
With this feature, you can tell Buffer which days and times you'd like it to share future content.
Then, as you add content for Buffer to share, it will automatically put it into the next available time slot.
This way, you can keep sharing across all your social accounts without thinking about when to publish each individual post. Super helpful.
Tailored Posts Composer
Buffer Publish also lets you customize your posts for each social network by clicking "Customize for each network."
This will allow you to change the text as well as the link and media for each platform.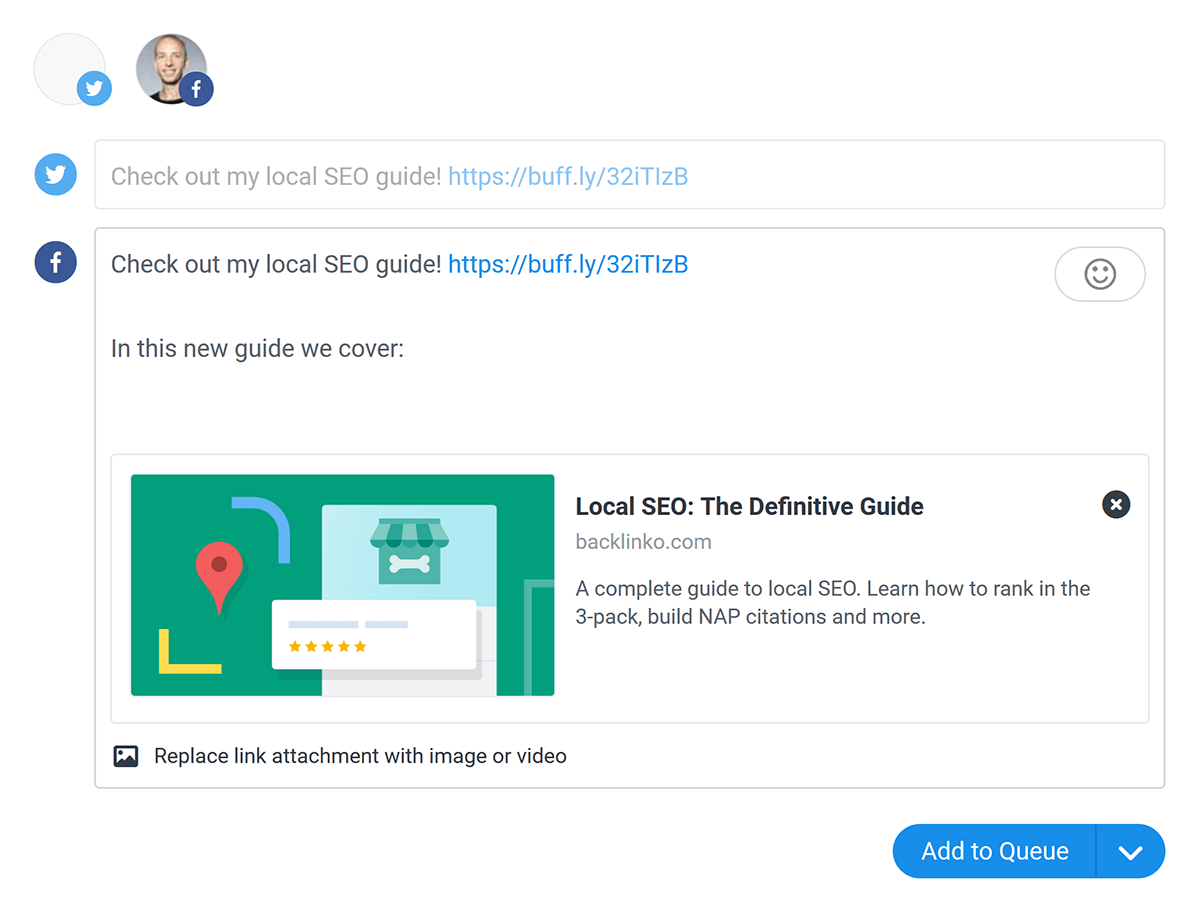 Why is this useful?
Well, say you want to post something to Twitter and Facebook. Well, it's no secret that the character limit on a Facebook post is MUCH higher than on a tweet. And this feature allows you to add more content to your Facebook post.
Or let's say that you want to schedule a bunch of Instagram posts. Well, you might want to include something like "link in the bio" that doesn't make sense for LinkedIn. With this feature, you can use a single social media post as your "base"… and modify it for each network.
Yes, this is more work than posting the exact same thing across different networks. But it can lead to better performance on each channel.
Anyway, once you've drafted your post, you have four options for posting it:
Add it to the next empty slot in your queue.
Schedule it as the very next piece of content that gets shared, pushing back every pre-scheduled piece of content by one time slot.
Share now, ignoring the queue entirely.
Schedule a custom date and time, again regardless of your queue.
The Buffer Browser Extension
Another great Publish feature is Buffer's browser extension.
(It's available for Chrome, Firefox, Safari and Opera.)
The browser extension allows you to compose new posts from any webpage instead of having to go back to the Buffer site to share something.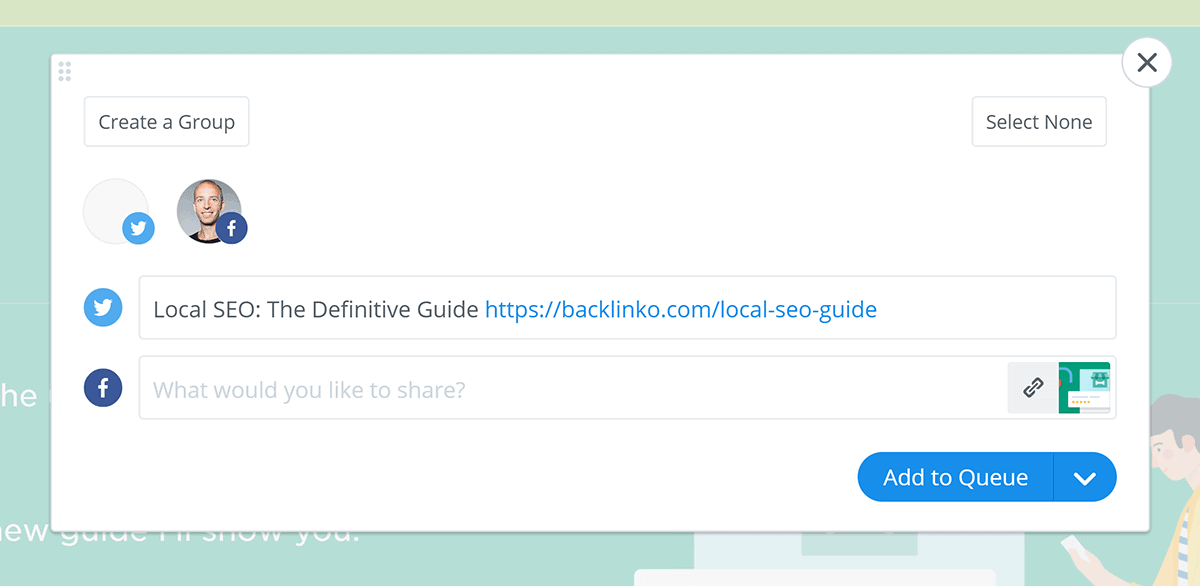 You can even customize the post for different social networks like usual, right from the browser extension.
This pairs perfectly with the queue system: see something cool your followers might like? Just add it to your queue, right there from that page.
This makes it very easy to stay active on social media without interrupting your workflow or browsing habits.
The Buffer browser extension also makes it easy to share quotes from articles. Just highlight the text on the page, then right-click and hit "Buffer Selected Text" to start drafting a new post with that text already added in quotes.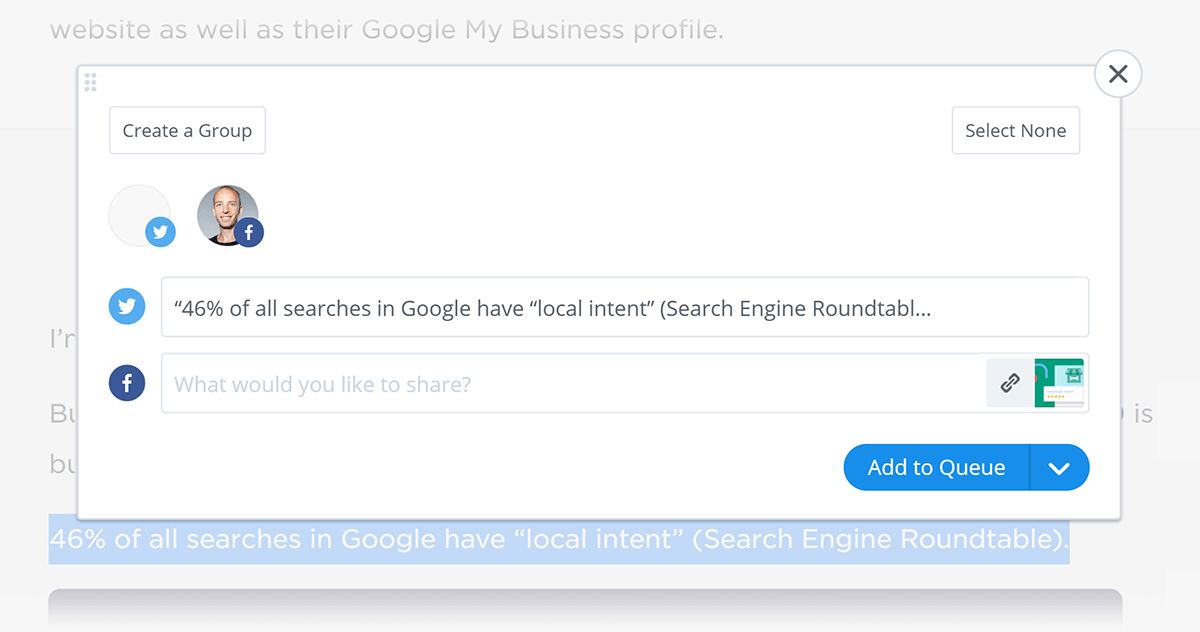 Nice!
Buffer Analyitics
Both Publishing and Engagement come with limited reporting, so not everyone needs Buffer Analytics.
But if social media marketing is super important for your business, Analytics allows you to go much deeper.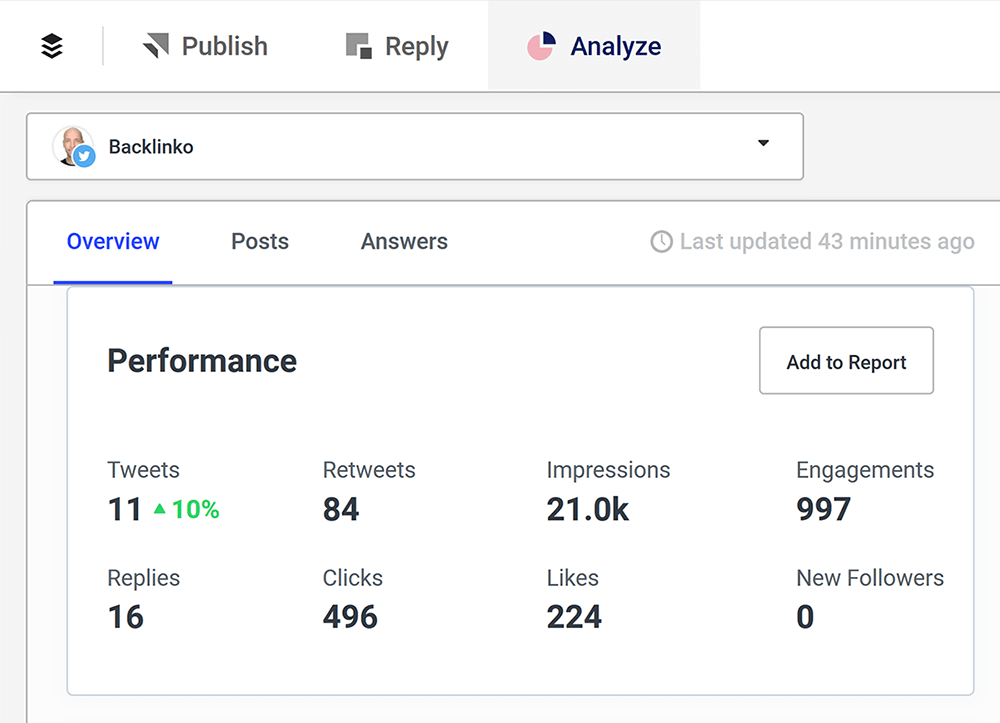 It allows you to see data like:
What kinds of content is performing best
What your best-performing days are for posting
Hashtag performance
Breakdown table of all your published posts, filterable and sortable by a variety of metrics
And more.
It also lets you export reports as PDFs to distribute to clients or to hang onto for future reference.
Learn More
Social Media Marketing: The Ultimate Guide: Buffer is a great piece of social media software. But it's just a tool. This means it won't make up for a bad social media marketing strategy or execution. And if you're new to social media marketing, this helpful guide has you covered.
Moz's Social Media, Influencer Marketing, and SEO Guide: Learn how social media, influencer marketing, and PR play a role in search engine optimization.
How to Use Buffer for Social Media Teams: Do you run or work as part of a social media team? This guide will show you how to use Buffer's tools to increase your team's productivity.