What Is a Channel Description?
A Channel Description (also known as a "YouTube About Page") is a brief outline of what type of content you publish on your channel. It appears on your Channel Page and in YouTube's search results.
Why Is Your Channel Description Important?
Your Channel Description is a way for visitors to learn more about you and the type of videos you create. And a well-written Channel Description can also convert visitors into subscribers. Also, using keywords in your Channel Description can help your channel's YouTube SEO.
Best Practices
Start Strong
The first 100-150 characters of your channel description is super important.
Why?
First off, YouTube shows that 100-150 character snippet next to your channel in the search results: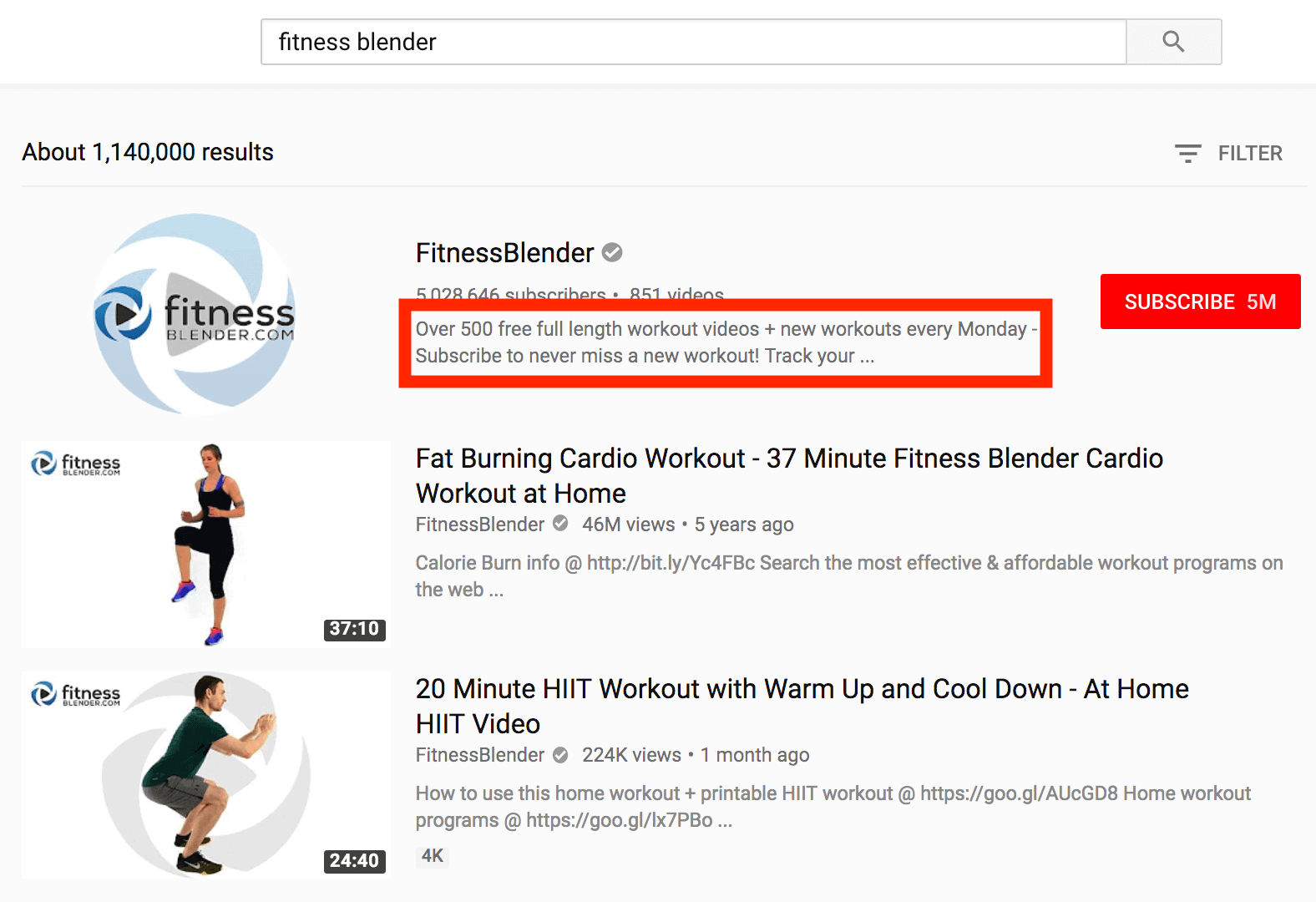 Also, this is the first part of your description that people will read. So you want to communicate your channel's positioning right off the bat.
For example Unbox Therapy includes their tagline ("Where products get naked") along with a brief description of what's unique about their channel:
Keep Your Viewer in Mind
Many YouTubers make their Channel Description about them. For example, their description might sound something like: "My channel is all about my favorite TV shows. I tell you what I think of each and every episode".
For some personal brands with a large following, this approach makes sense.
However, for most channels, it's important to demonstrate the benefit someone will get from watching your videos.
For example, the first sentence of the Vox YouTube channel description clearly communicates what watching their videos will do for you.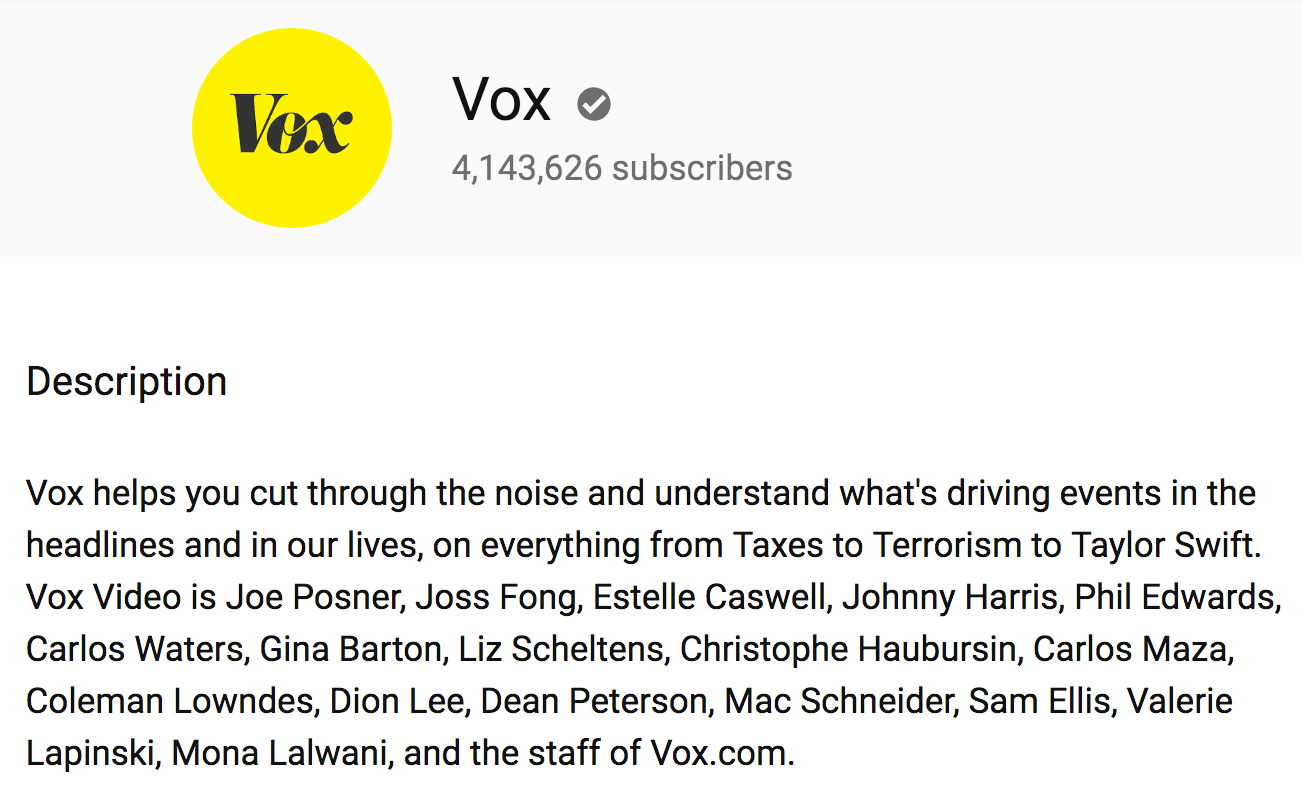 Use Keywords
A well-optimized channel can rank in YouTube search. For example, when you search for "bodybuilding" in YouTube, the BodyBuilding.com channel is the #1 result: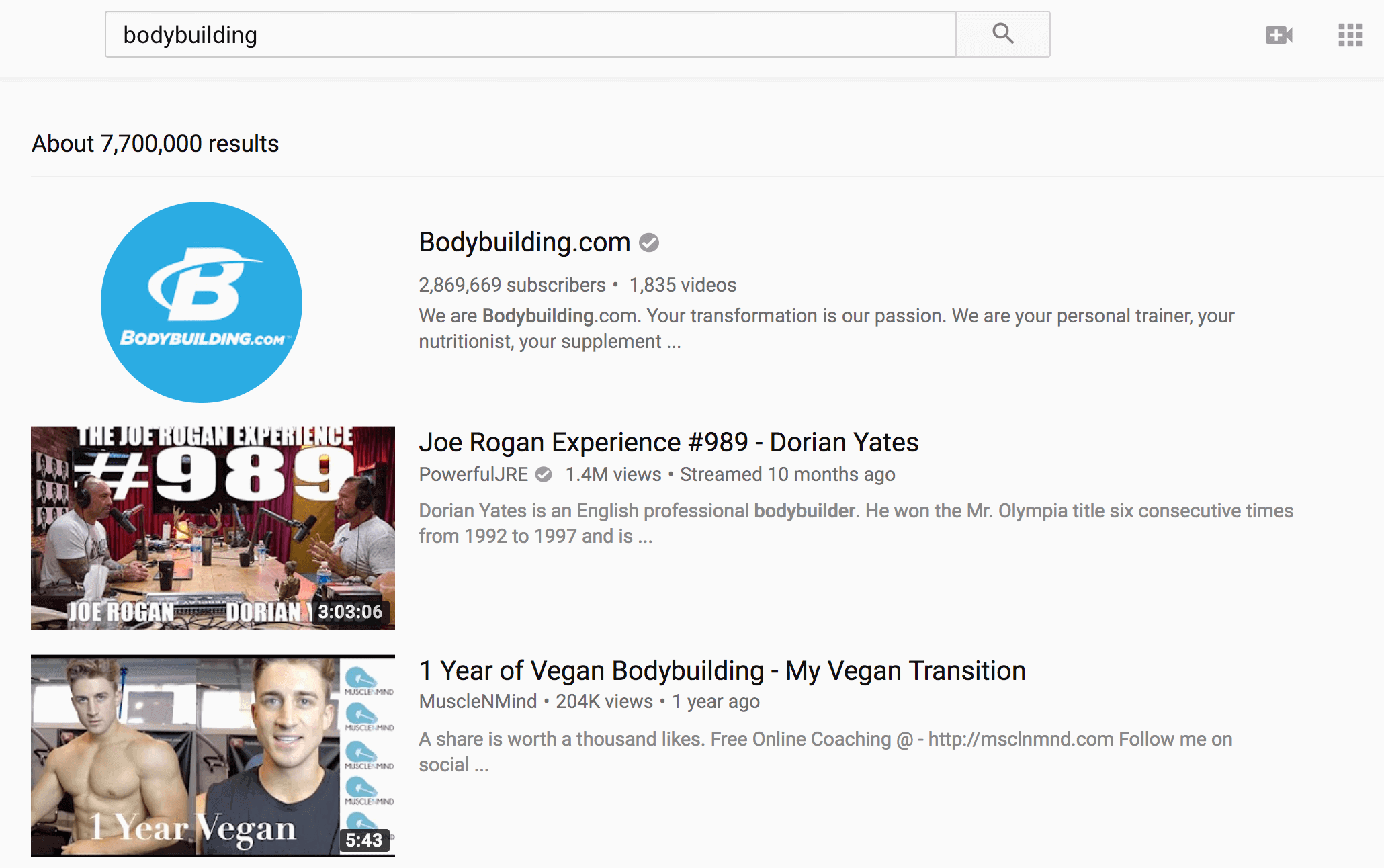 YouTube uses several different ranking factors to rank videos and channels. But when it comes to ranking your channel in YouTube, YouTube puts a lot of weight on the terms you use in your Channel Description.
So think of terms that people would type into YouTube to find your channel. Then, sprinkle those into your Channel Description.
For example, The Backlinko YouTube Channel uses several different terms that people might use to find channels related to SEO and content marketing.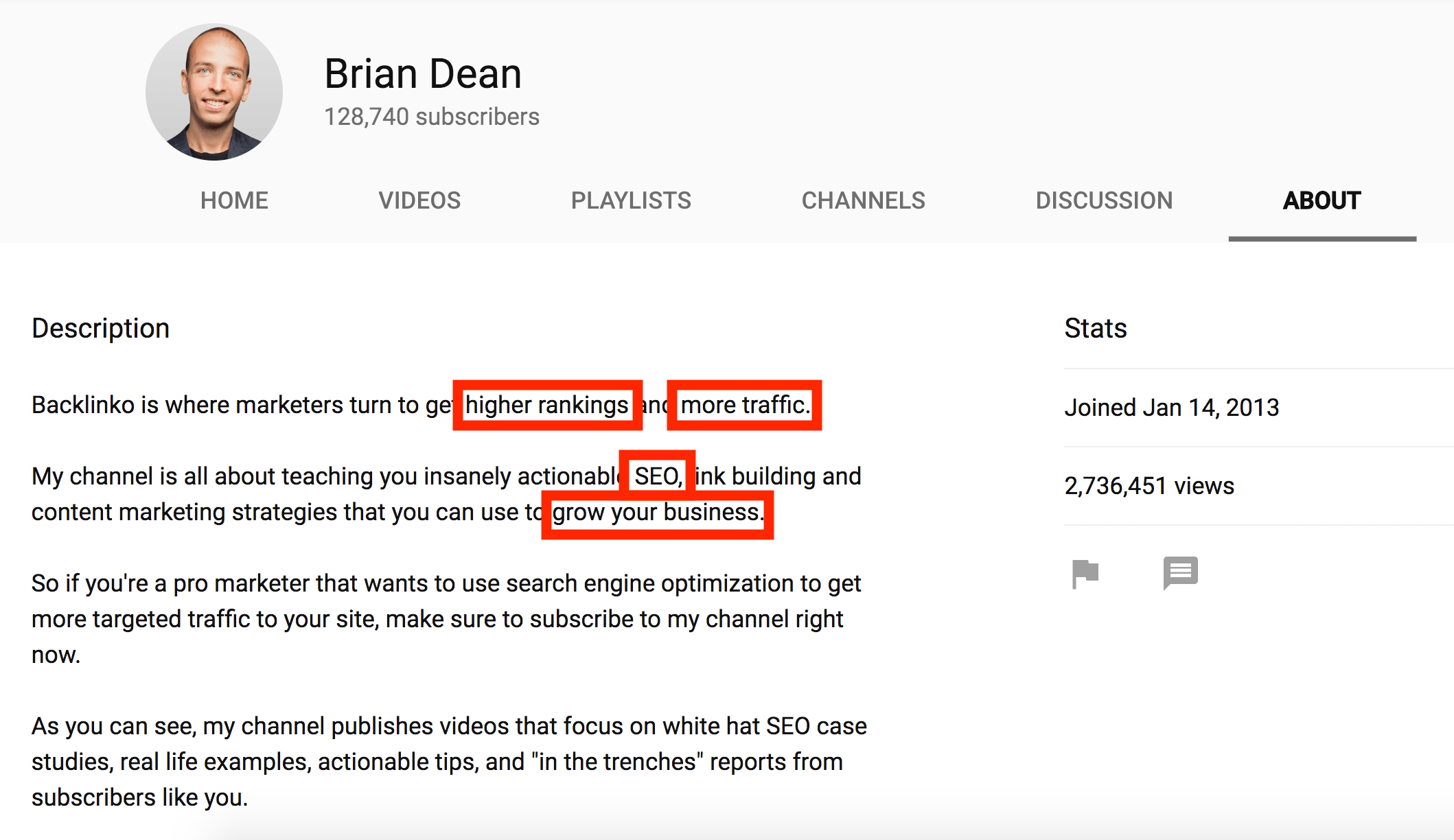 That said, you want to avoid "keyword stuffing". This can make your description sound robotic and unnatural (keyword stuffing also looks spammy to YouTube and Google).
Instead, write a compelling description that would entice someone to subscribe. Then, include a handful of keywords where it makes sense.
Schedule (Optional)
Your description is the perfect place to highlight your upload schedule.
For example, Clevver Style provides a detailed schedule in their Channel Description: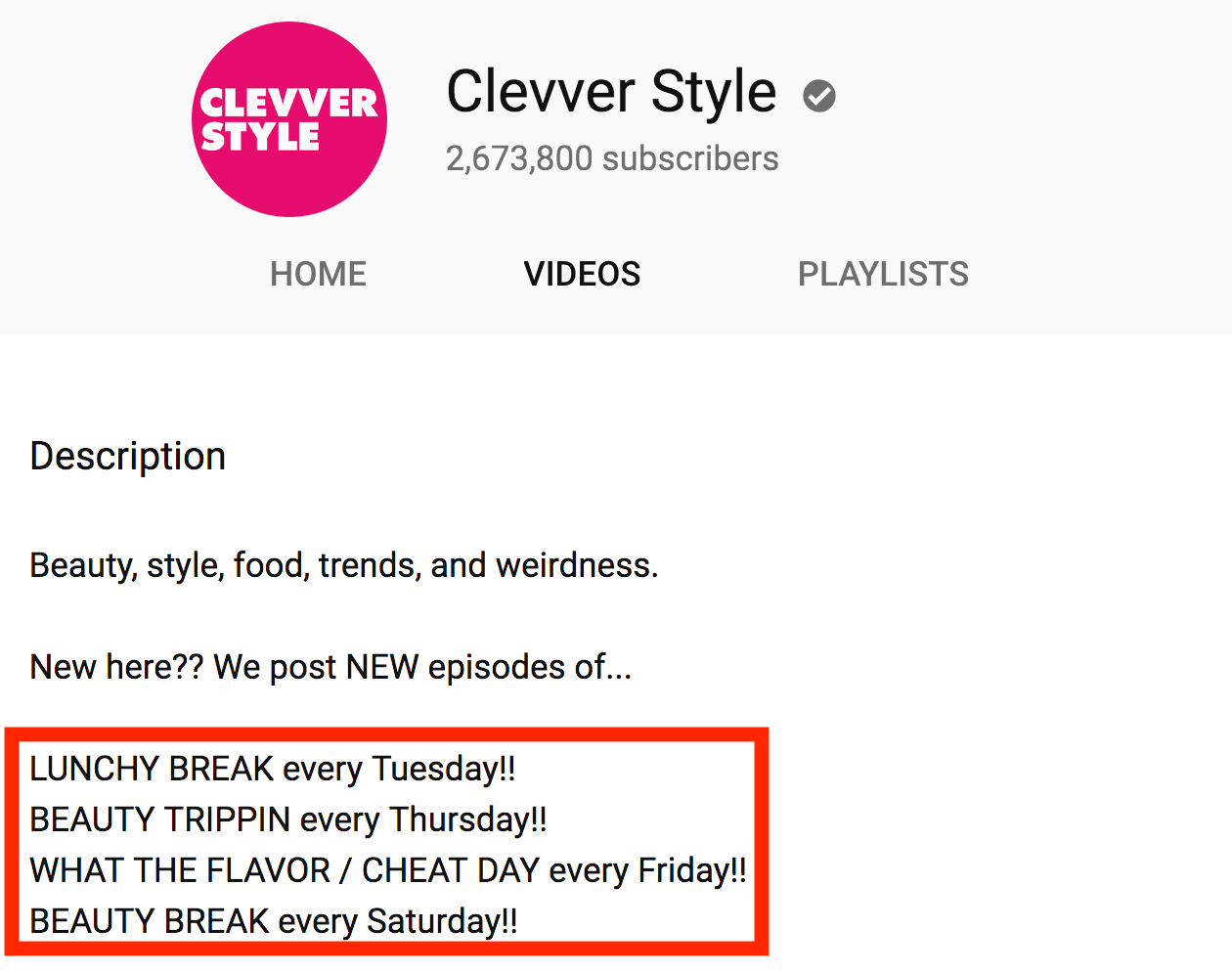 Call To Action
Don't be afraid to end your description with a clear call-to-action to subscribe. This encourages people to subscribe while they have your channel page open.
For example, Jared Polin caps off his Channel Description by asking you to subscribe to his channel: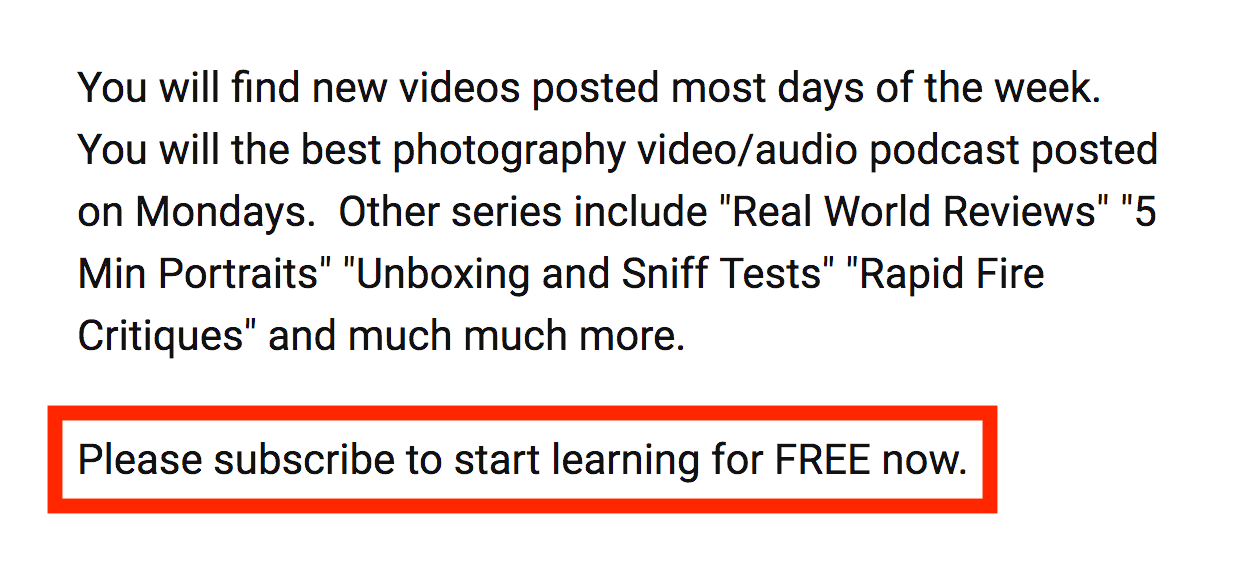 Learn More
Video SEO Guide (Channel Authority): A chapter from The Definitive Guide to Video SEO that shows you how to create an attractive and SEO-optimized channel page.