Shopify SEO 2023: The Ultimate Guide
by Brian Dean · Updated Mar. 27, 2023
Today you're going to learn EXACTLY how to rank your Shopify store.
In this complete Shopify SEO guide you'll learn:
How to optimize your product and category pages
How to find untapped product keywords
How to write SEO-friendly title tags, meta descriptions and alt text
Advanced ecommerce SEO strategies
Lots more
Let's dive in.
1. Use a Flat and Wide Site Structure
Specifically, you want your Shopify store's site structure to look like this: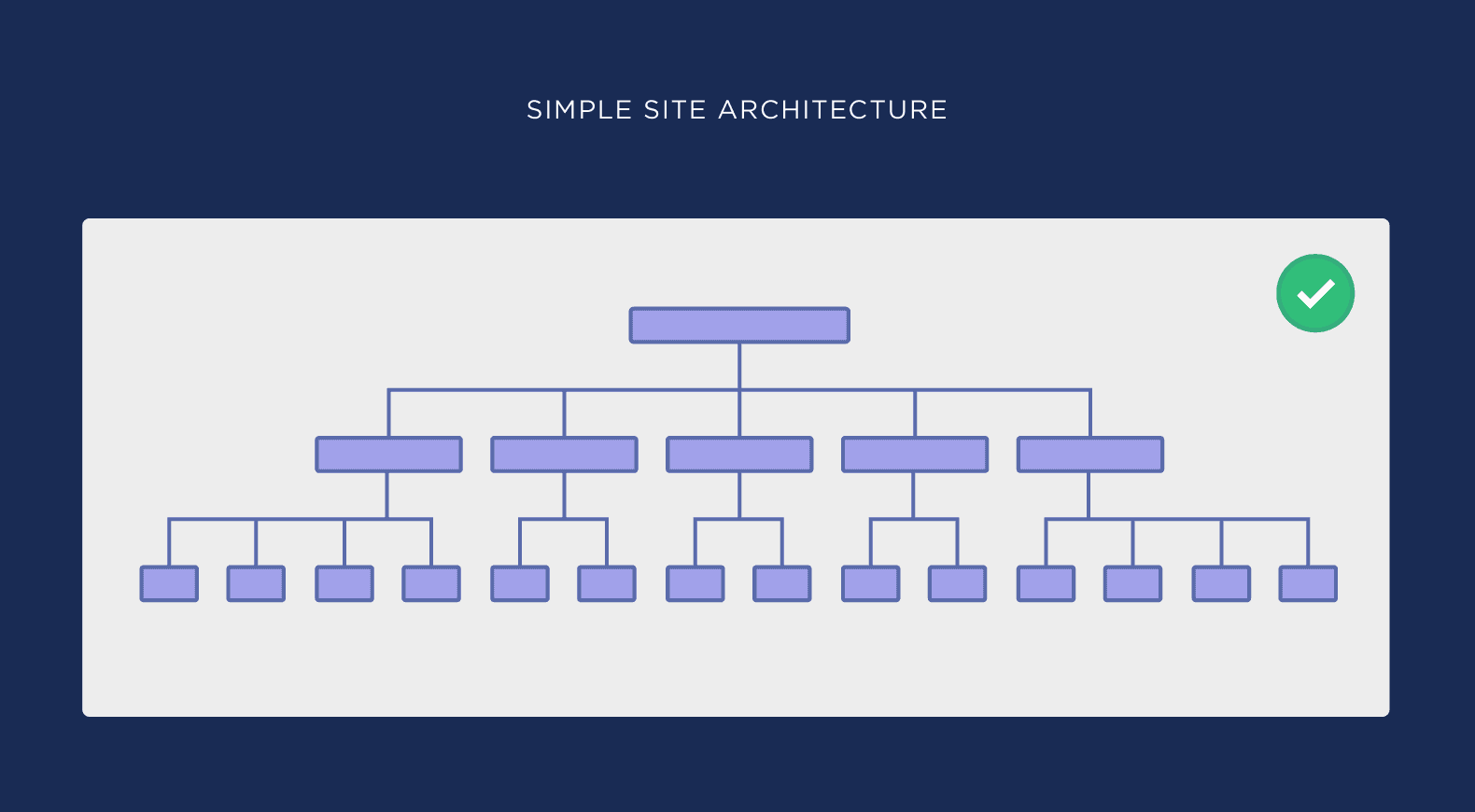 In other words: you want all of your pages to be no more than four clicks from your homepage.
In other words, you don't want a "narrow and deep" site structure, like this:
Why is this important for Shopify SEO?
First off, a flat site structure helps Google and other search engines find all of the pages on your site.
For a blog or services site, crawling and indexing isn't usually a big deal.
The thing is, eCommerce sites tend to have LOTS of pages (sometimes 50K+). This means that search engines can sometimes have trouble indexing all of them.
But when your site structure is flat, search engine spiders can easily find the key pages on your site.
Also, a flat helps keep your site's link authority flowing around your site.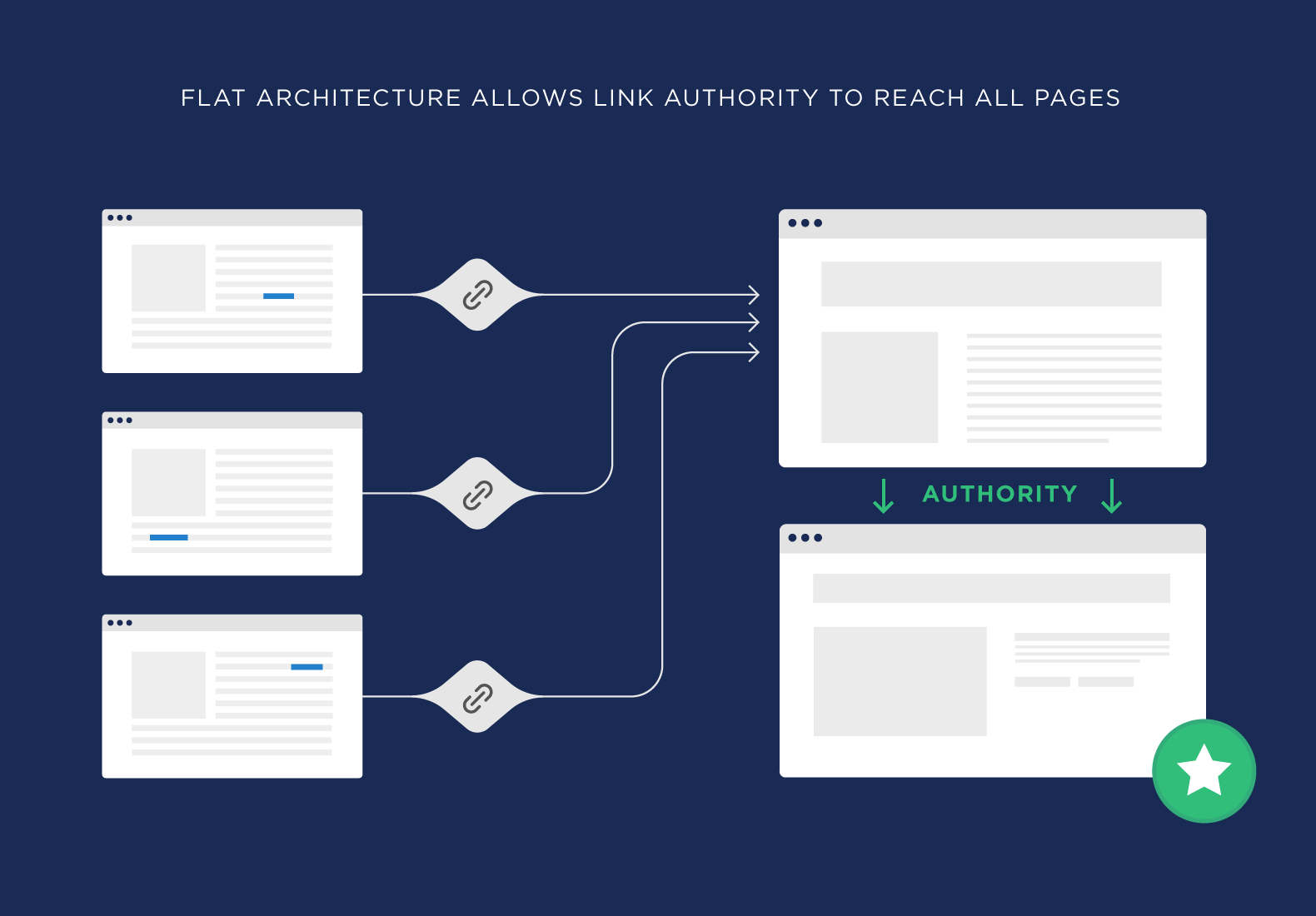 Which can help your product and category pages rank higher in Google.
You can check your site's current structure in Semrush. They have a feature in their SEO site audit tool under "Crawled Pages" where you can check your page depth.
You can also VisualSitemaps.com. As the name suggests, this tool gives you a visual representation of your site structure. That way, you can see if it's flat or deep.
2. Find Untapped Keywords
Keyword research is important for ANY site's SEO.
And that includes Shopify stores.
With that, here's how to find low-competition product and category keywords.
Use Search Suggestions
Search suggestions are great because they're based on what people are actually searching for.
Google is obviously great for this.
But you do the same thing on Amazon.
On Pinterest.
Or on a competing ecommerce site's search.
Use Exploding Topics
Exploding Topics is a free tool that finds and lists topics that are rapidly trending (based on Google search volume growth).
And quite a few of the topics are either emerging product categories.
Or growing brands that sell the same types of products that you do.
Both of which can turn out to be GREAT products and category keywords to target.
Analyze Your Competitors' Rankings
Your competitor's current rankings are a goldmine of keyword ideas.
Especially if you reverse engineer an ecommerce site that's similar to yours.
(In other words, not Amazon.)
There are a million tools that do this, from SEMRush to Moz Pro.
They all work pretty much the same way. Enter a competitor's homepage into the tool. And they'll show you the exact keywords that your competitor already ranks for.
Now:
Not all of these keywords will make sense for you. Some of the search terms might be products that you don't sell. Or keywords that are way too competitive.
Either way, you definitely want to execute this step.
Because in my experience it's one of the best ways to find keywords that you can optimize your ecommerce product and category pages around.
3. Optimize Your Product and Category Pages
Next, it's time to make sure that your product and category pages are SEO-friendly.
Here are the most important steps for doing just that.
Create Unique, Keyword-Rich Title Tags
Your title tag is one of the most important on-page SEO elements.
So it's important to get this part right.
At the very least, you want every single title tag on your site to be unique. Obviously, there can be some overlap (for example, if you have two similar products on separate product pages).
But you don't want a bunch of title tags that are exactly the same. Or similar. Otherwise, you can run into issues with duplicate content.
(More on that later.)
Other than that, it's important that your title tag includes your target keyword word-for-word.
For example, let's say you have a product page for "foam rollers".
You want to use that exact keyword in your title tag.
Write Eye-Catching Meta Descriptions
Meta descriptions are the text that Google sometimes shows underneath the title tag in the search results.
And a recent analysis that we did found that pages with a meta description got an average of 5.8% more clicks than pages with a missing description.
So Google may not use your meta descriptions to understand your page (they use your title tag and page content for that).
But people that search in Google DO use the meta description to figure out what to click on.
Include Your Main Keyword In Your Product Description
This isn't about "keyword density" or any shady stuff.
Instead, you're helping Google understand what your product page is about.
So there's no need to cram your keyword into your page 47x. Instead, just include your keyword a few times where it makes sense.
And if you can, include your keyword early in your product description.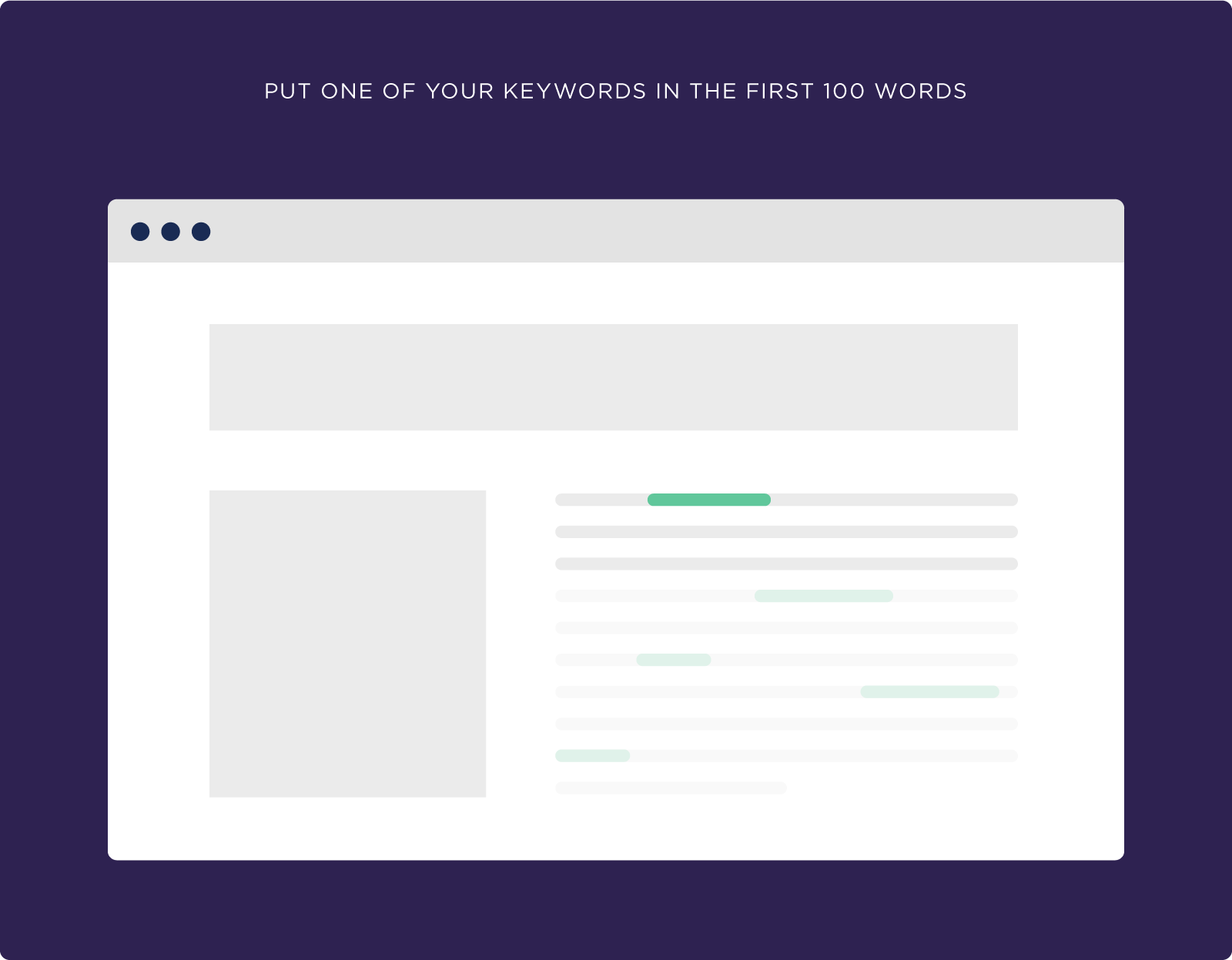 Google and other search engines pay more attention to terms that show up towards the top of your page. Which is why you want to put your important keywords here.
Note: Just like your title tags, your product descriptions should be 100% unique, hand-written content. I know that's tough to do with an ecommerce site. But it's important for SEO. And worth the extra effort.
4. Internally Link Between Pages
If your site structure is flat, a good chunk of your internal linking is already good to go.
In other words, your homepage links to all of your category pages. And those category pages link to product pages so that your site structure is nice and flat.
Those are all internal links. And they're super important for your site's overall SEO health.
That said: there's another way to use internal linking to help rank your Shopify store.
Internally link from product pages to other products on your site.
(Especially product pages that you really want to rank.)
This is important for two reasons:
First, this will send link authority to those important product pages. Which can give them a rankings boost.
Second, the anchor text that you use will help Google understand the page's on your site better.
For example, let's say that you have a product page that sells podcast microphones. And you include your target keyword in your title tag and a handful of times on the page.
That's a good start.
But when you internally link to that page. And use the anchor text "podcast microphone", that helps Google understand that the page is really about "podcast microphones".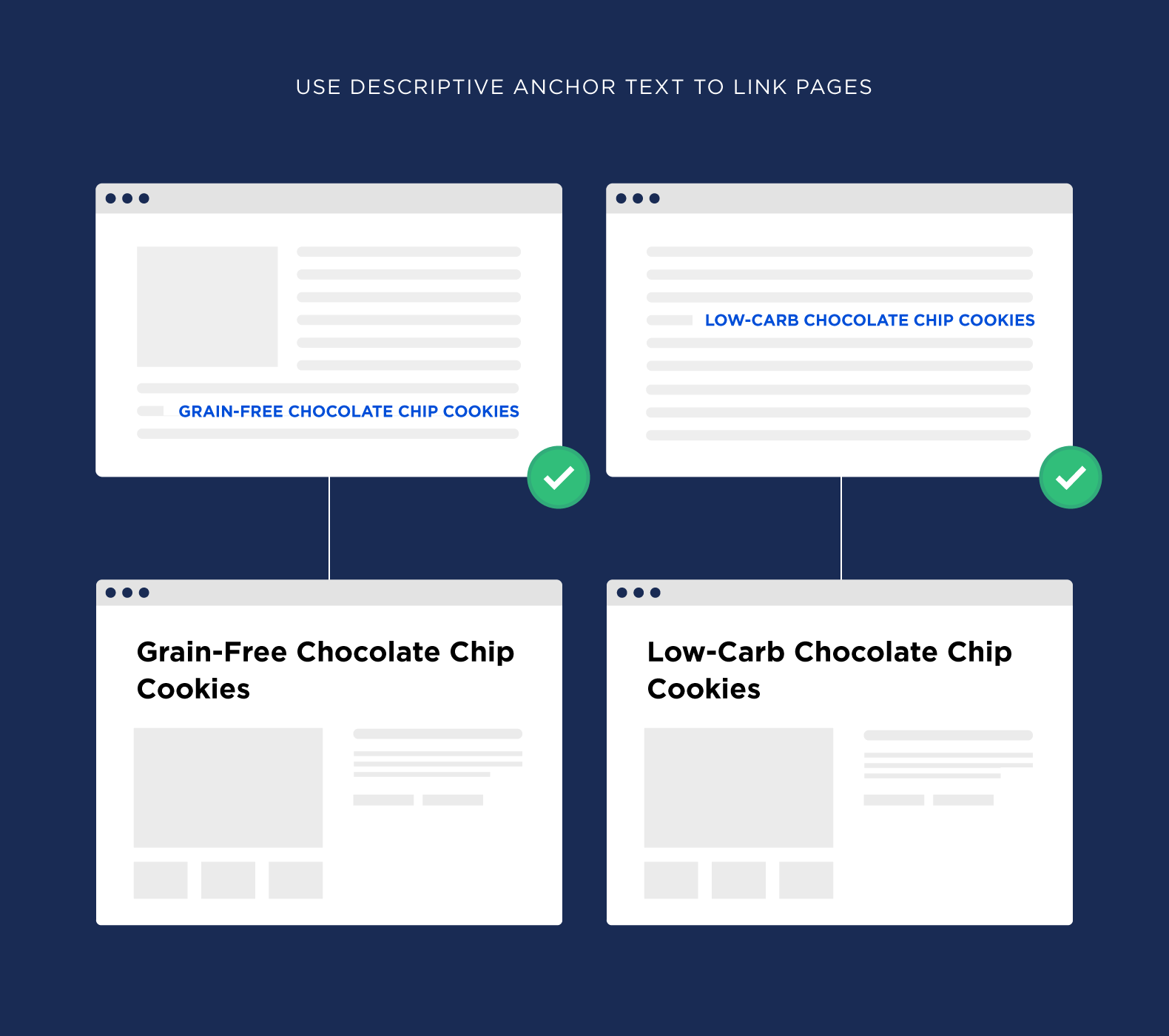 5. Optimize Your Images for SEO
Now it's time to optimize your product images for SEO.
This is important because a fair number of people find products through Google Images.
(In fact, Google Images is actually the second most popular search engine online. Even more than YouTube and Bing.)
Plus, optimized images can help your pages rank in the "normal" Google search.
Fortunately, this is pretty straightforward.
All you need to do is make sure that your image filenames describe what the image is. And that your alt text does the same thing.
SEO-optimized images can also help you rank in visual search (Google Lens).
A large-scale study of Google Lens ranking factors found that image SEO best practices also helped images rank well in visual search.
Conclusion
I hope you enjoyed my Shopify SEO guide.
Now I'd like to hear from you:
Which strategy from this guide do you want to use first?
Are you going to find and fix duplicate content? Or launch a blog?
Let me know in the comments section below.