What Is Evergreen Content?
Evergreen Content is content designed to be relevant and beneficial over the long term. This is in contrast to most news articles and blog posts that both tend to have a short shelf life.
For example, this list of SEO copywriting tips is a classic piece of evergreen content.
Like any content, it got a spike when I first published it:

But unlike most content, it's still bringing in significant amounts of traffic 3 years later:

Contrast my evergreen blog post with content formats with an expiration date, like:
News articles
Seasonal content (like content about Christmas presents)
Newsjacking
Content on trending topics
Product reviews (like "iPhone X review")
These formats tend to get traffic for a few days or weeks… then drop off to almost zero.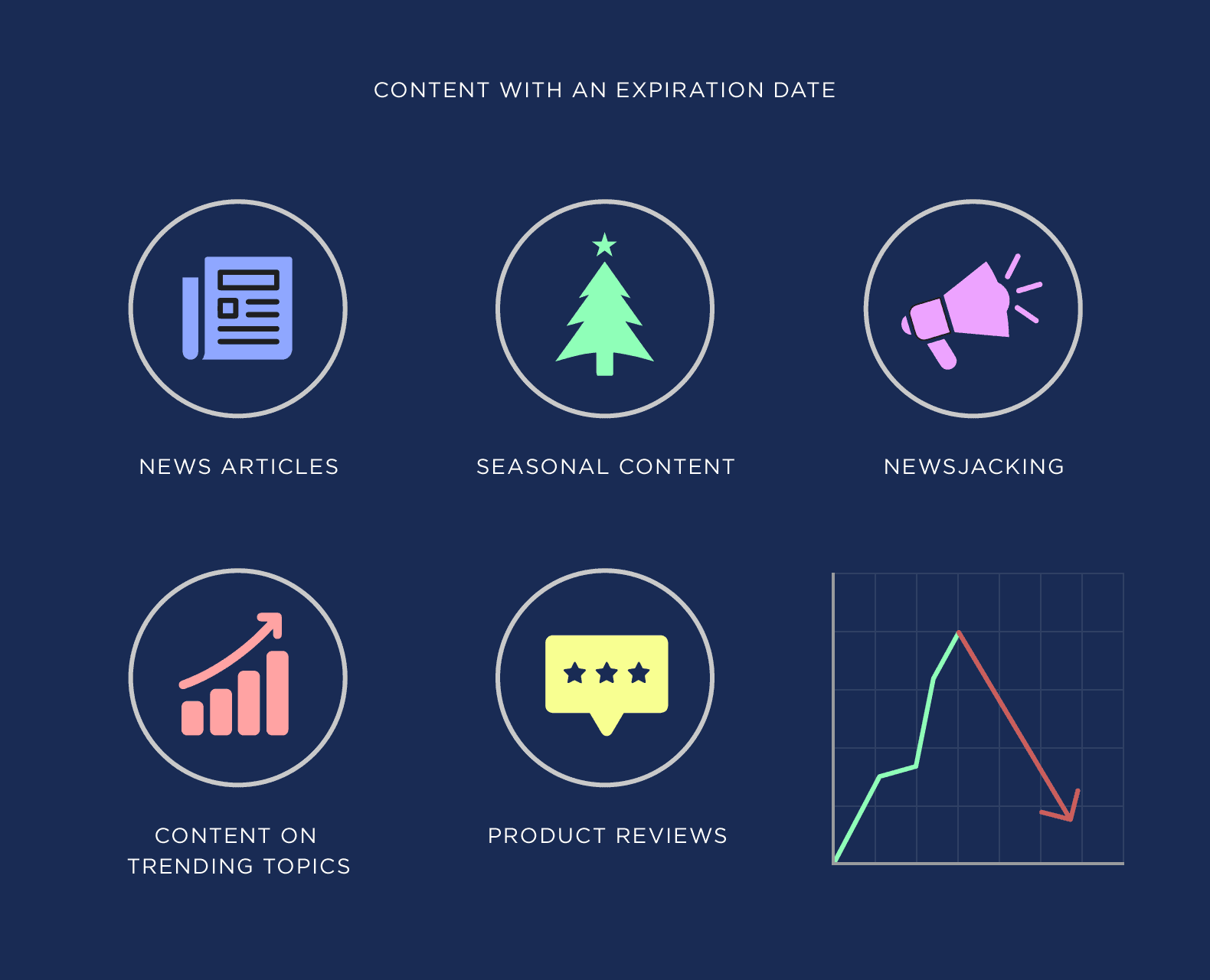 Why Does Evergreen Content Work?
There are three main reasons that evergreen content is the cornerstone of most people's content marketing strategy:
Long-Term Value: When you publish a piece of successful evergreen content, it can bring you traffic for YEARS. That way, you don't need to keep your foot on the gas and pump out new content 24/7.
Backlinks: Evergreen content is awesome Link Bait. An evergreen article can get backlinks years after it first goes live. And because they're link magnets, evergreen posts tend to rank well in search engines.
Great for SEO: Evergreen content is super SEO friendly. That is, as long as you keep your content up-to-date (more on that later). In fact, my #1 most visited blog post was first published

back in 2013

:
With that, here's exactly how to publish Evergreen Content.
Best Practices
Optimize Around Stable Or Trending Keywords
Remember:
The goal of evergreen content is to drive traffic to your site for YEARS.
That's why your first step is to choose a keyword that's stable or trending up.
For example, in 2018. I published a detailed SEO audit process.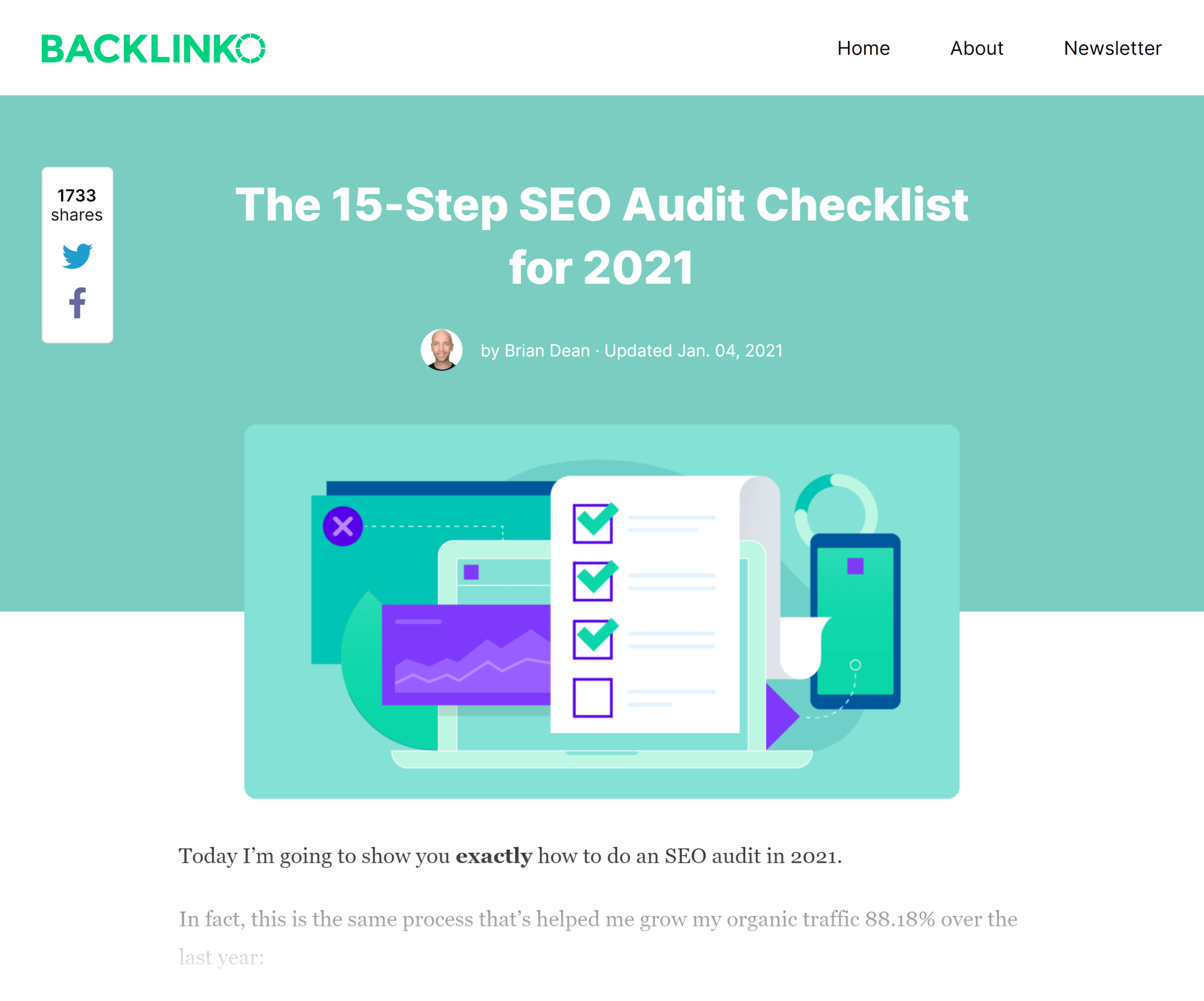 Why did I choose that topic (and keyword)?
Well, when I put "SEO Audit" into Google Trends, I could see that search volume was pretty stable over the last year or so: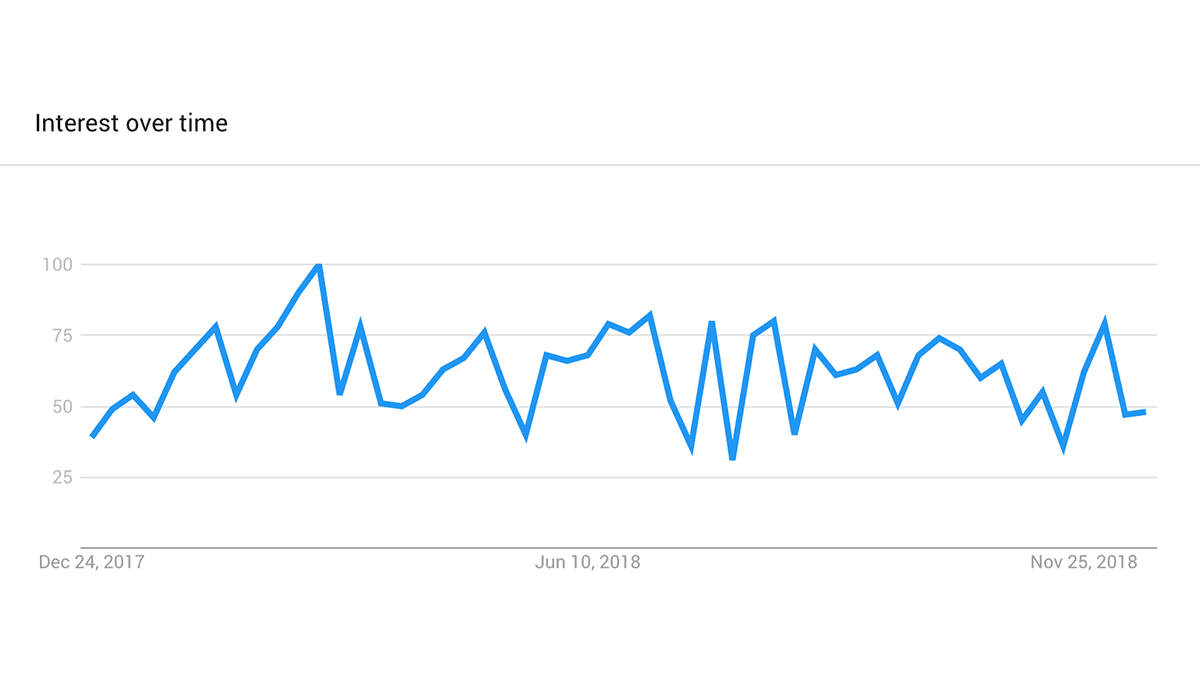 Which told me that this was an evergreen topic.
You can also focus your keyword research on terms that are growing in popularity.
The one downside is that it's risky. If interest suddenly drops off, you just wrote a piece of content that people don't care about anymore.
But if interest in that topic continues to rise, you can get even MORE traffic as time goes on.
For example, some time ago I saw a surge in interest in mobile optimization (and the keyword "Mobile SEO").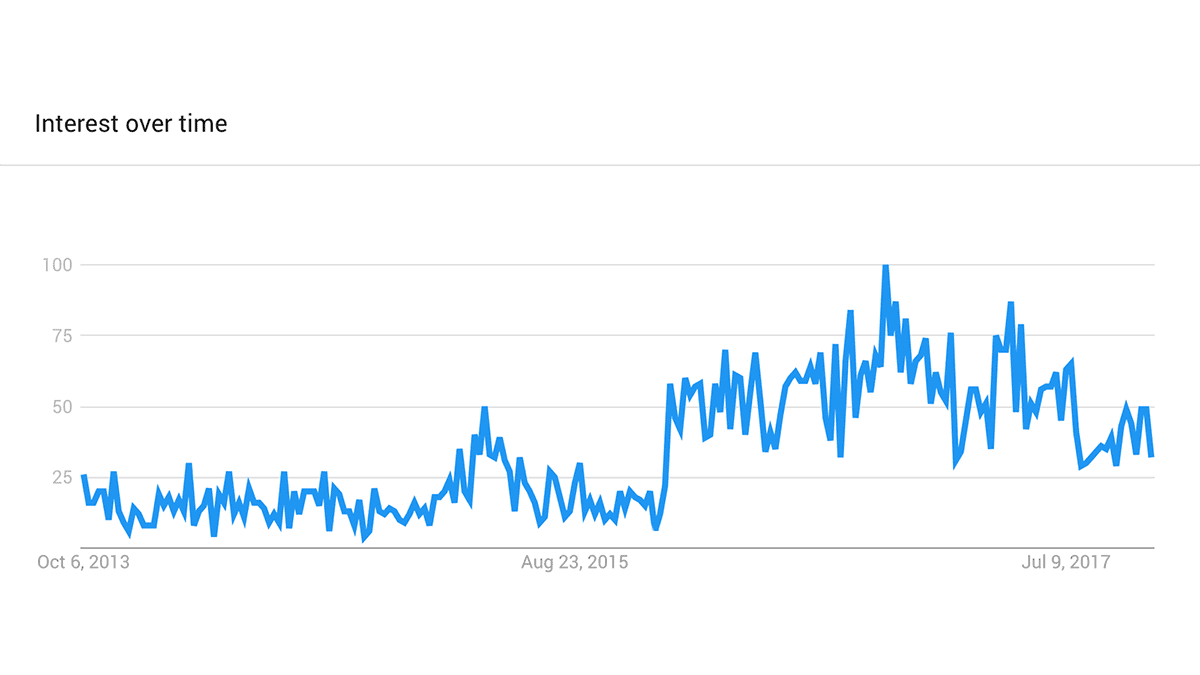 So I quickly put together an evergreen guide to mobile SEO.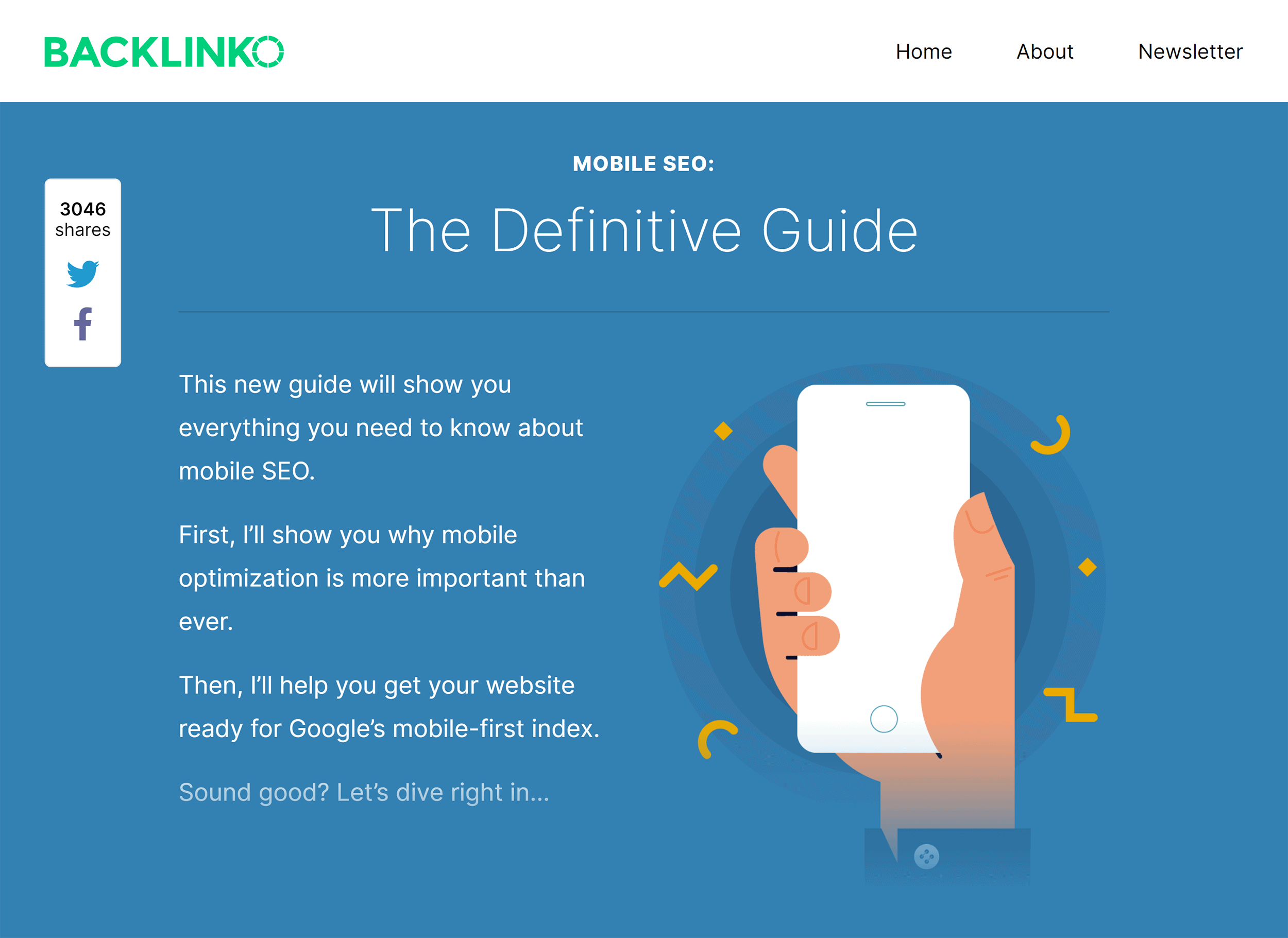 And because I picked a trending topic, my guide still gets over 1k unique visitors per month: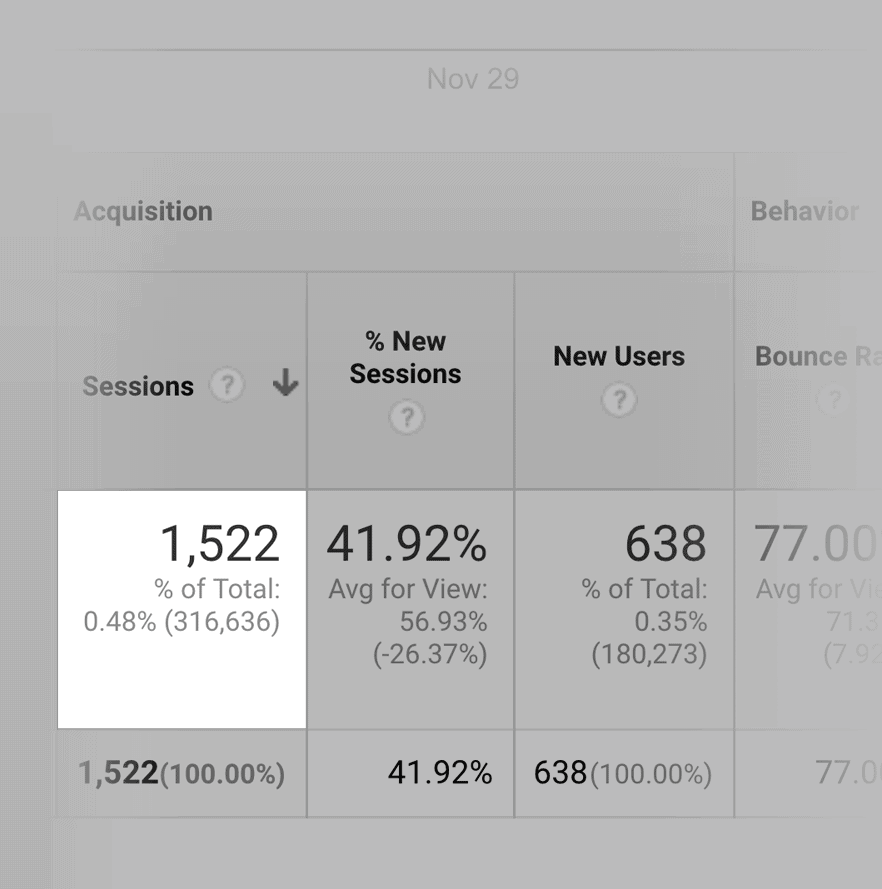 Choose an Evergreen Content Format
Just about any piece of content can be evergreen. But here are a few content types that work REALLY well as evergreen content.
Ultimate Guides
As long as your guide is on a trending or stable or trending topic, it's hard for a well-written ultimate guide to get out of date.
That's because your guide covers THE most important elements of that topic… which aren't likely to change overnight.
For example, my guide to backlinks needs tweaking now and again.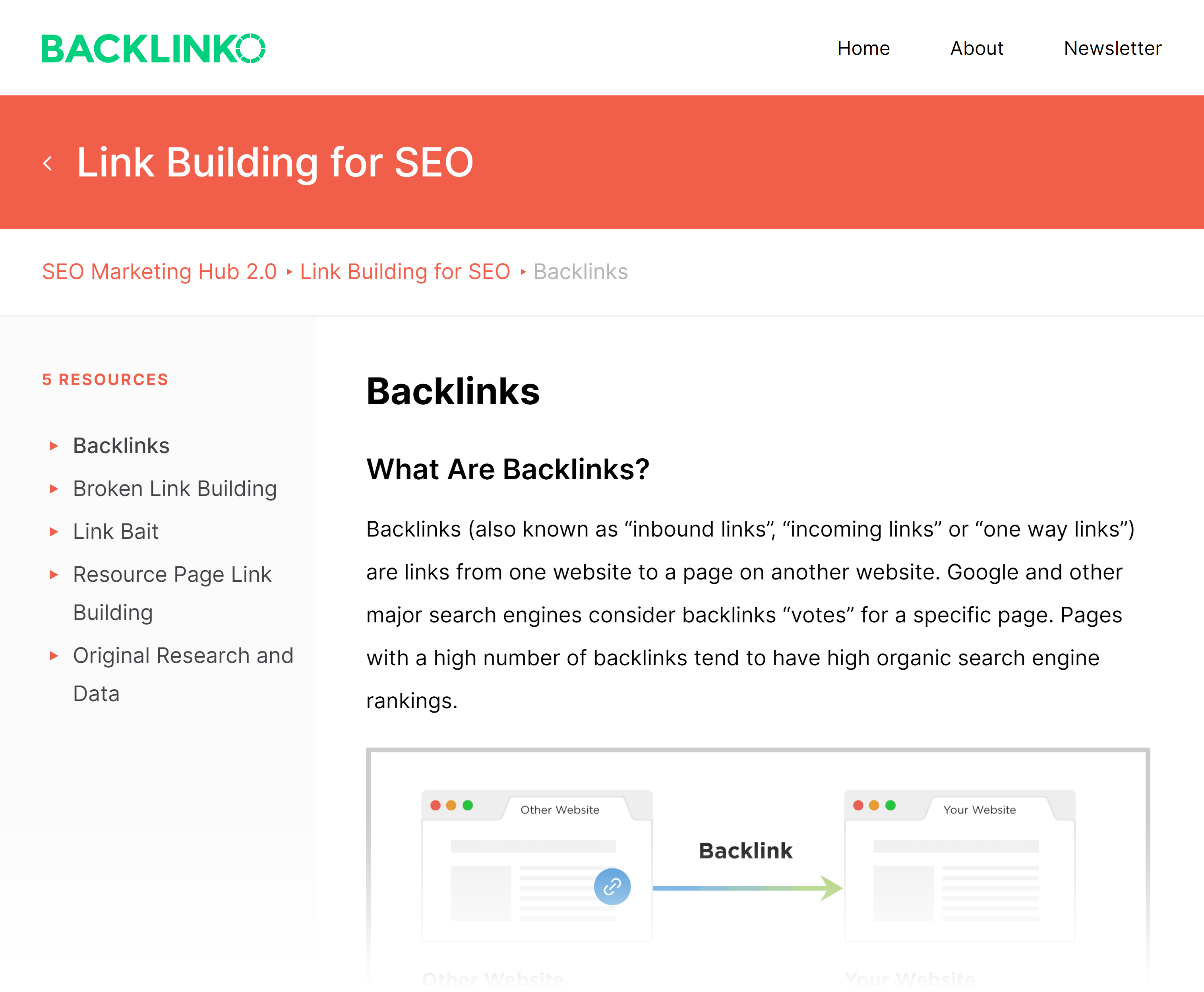 But for the most part, the content remains as relevant as when I first published it.
List Posts
Unless you list out things that aren't going to matter in a few months (like "Top iPhone apps this month"), a list post can continue to provide value without much editing or updating.
For example, take this list of SEO tips from my blog.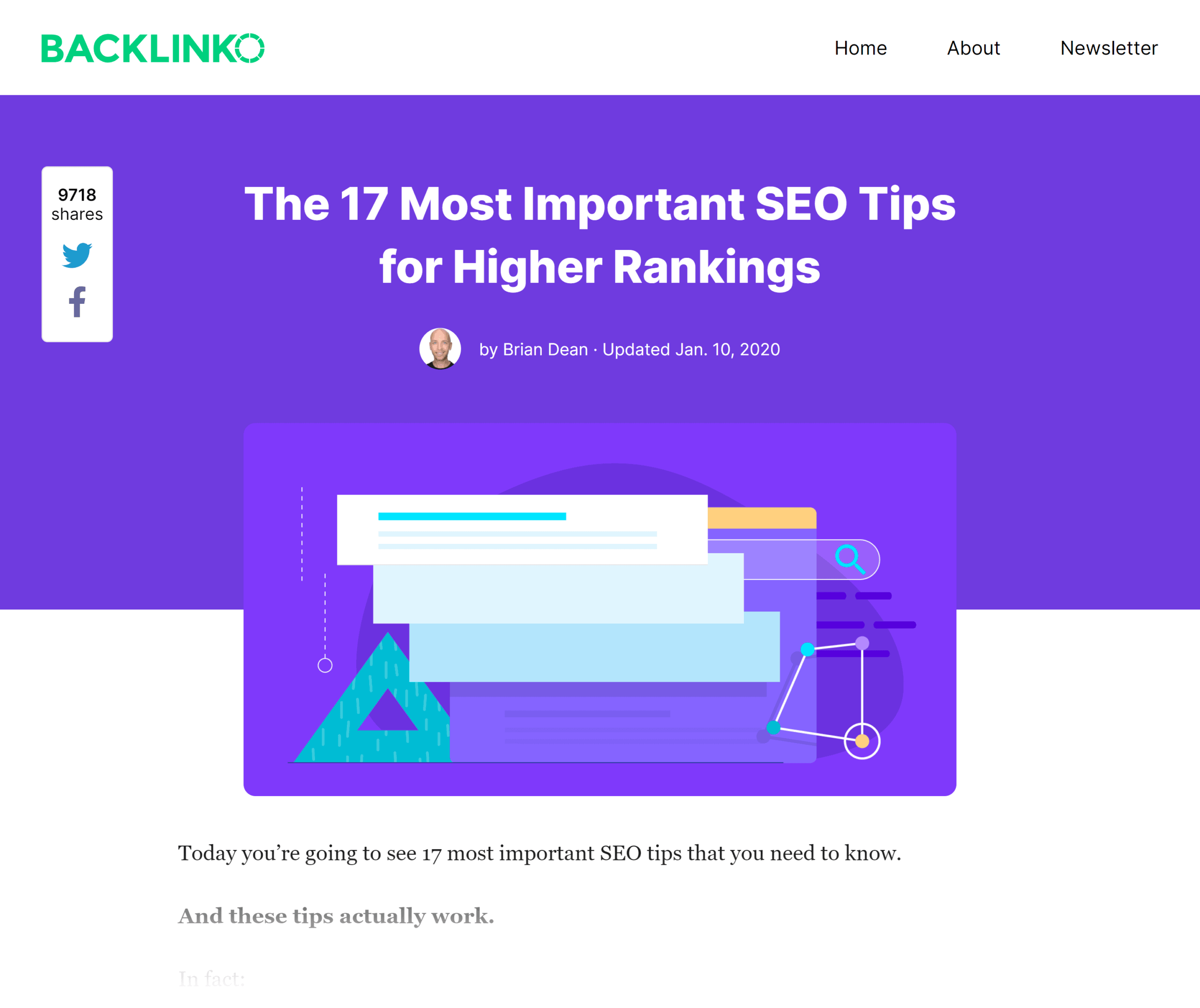 Sure, it has a few tips that I might need to change within the next year or so.
But for the most part, the tips are going to work as long as Google is around.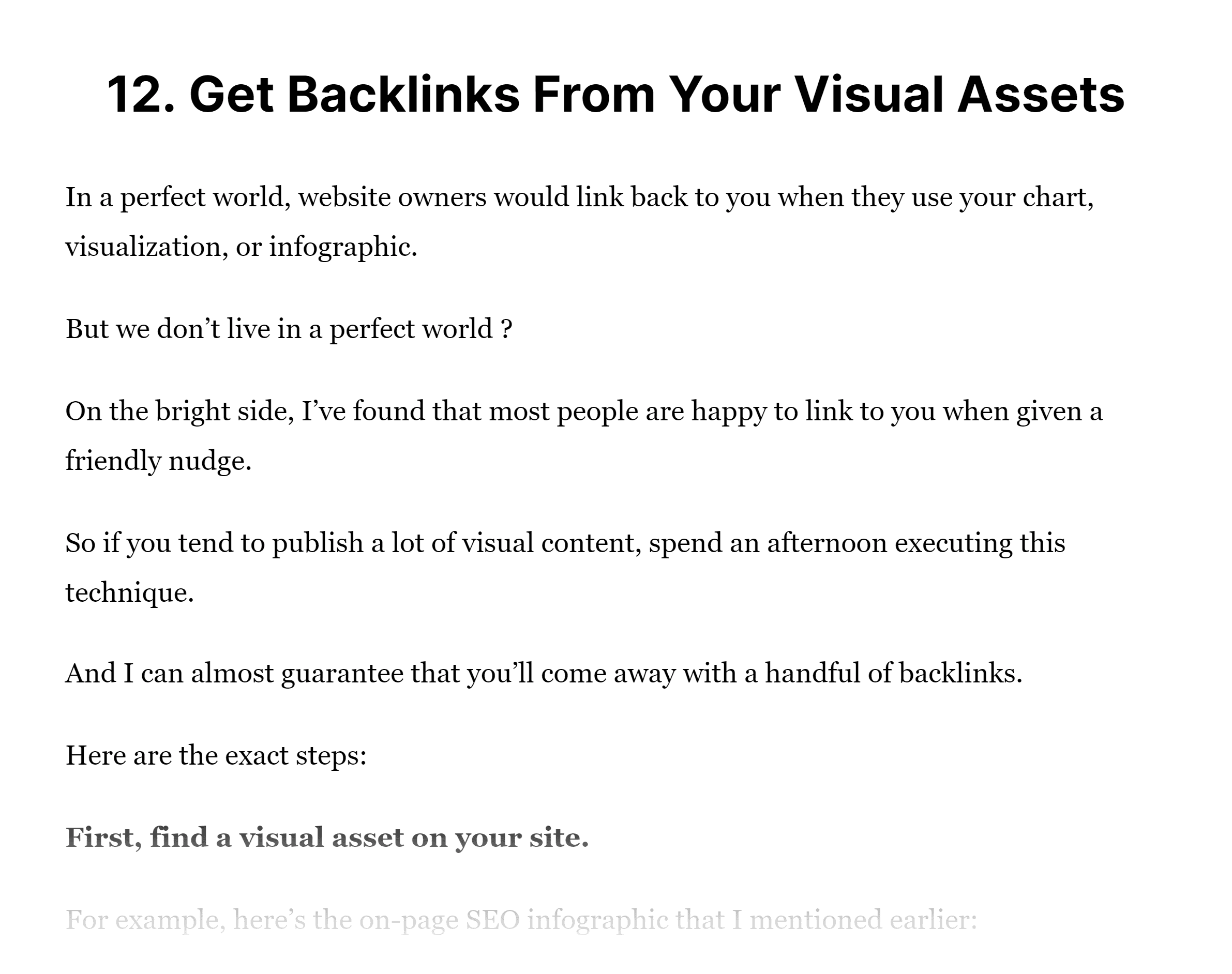 Case Studies
Case studies document something that happened. So as long as your case study is on a topic people care about, you're set.
For example, take this SEO case study.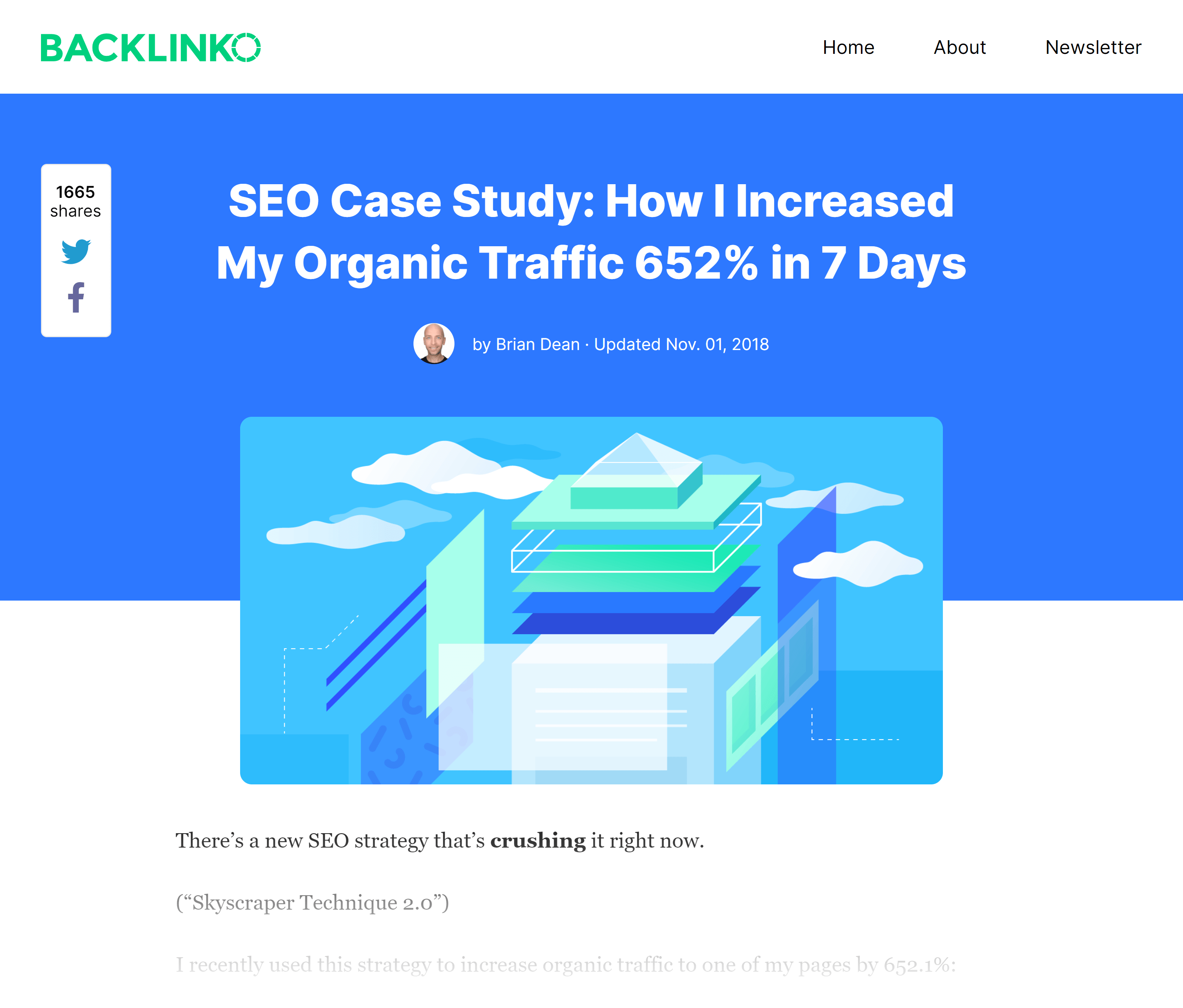 This case study is all about optimizing your content for User Intent.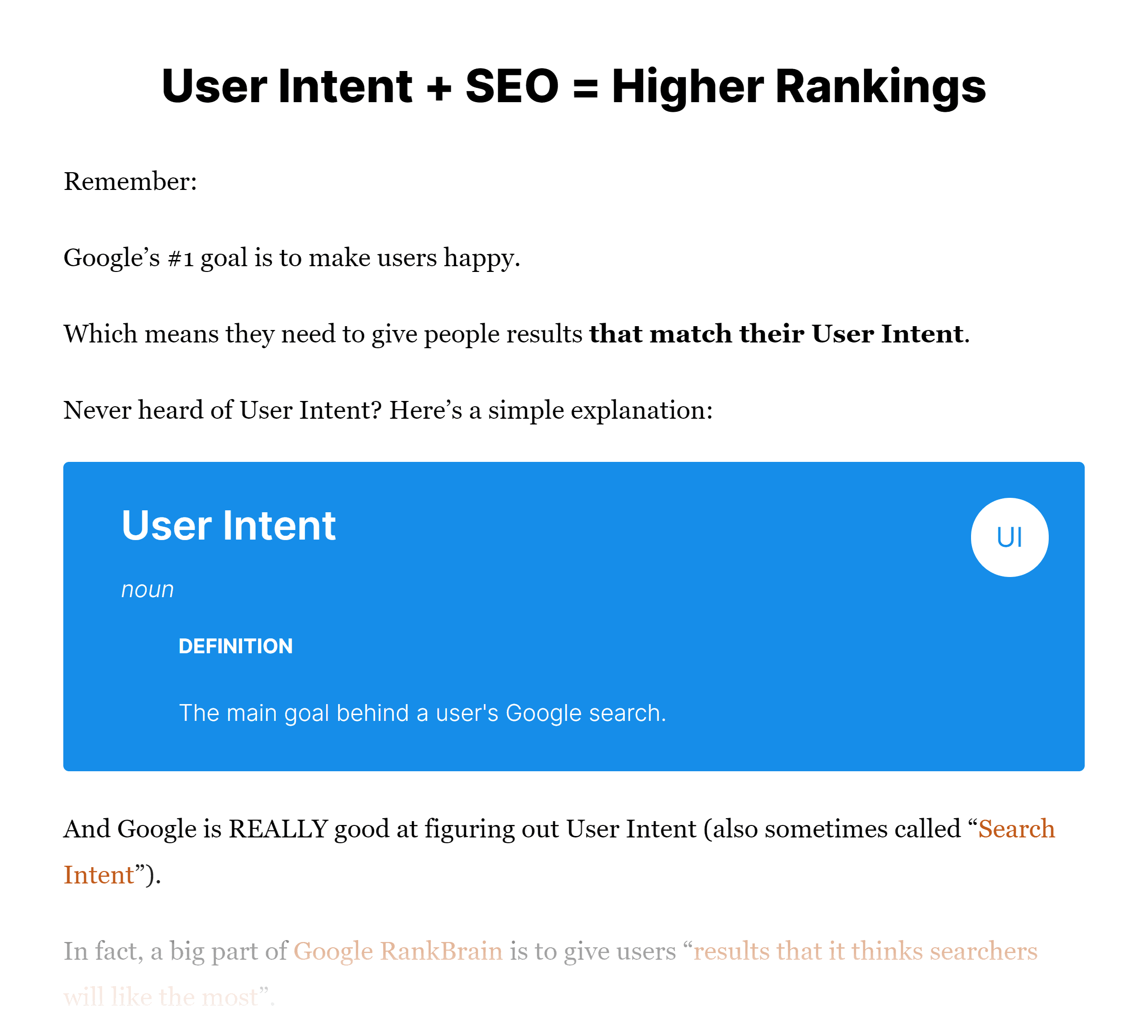 So as long as Google's goal is to serve up content that matches what a searcher wants, my case study will help people.
Videos
Many people don't consider video "evergreen".
But it's actually one of the BEST forms of evergreen content out there.
In fact, lots of YouTube videos continue to rack up views 5 or 10 years after they first went live.
The only downside of video is that (at least on YouTube) you can't edit your video after you publish it.
So if you want your videos to get views over the long-term, you need to carefully plan and outline what you're going to cover.
For example, here's a video from my channel that I published few years ago:
I knew that I wouldn't be able to edit out irrelevant stuff from my video.
So I stuck to tips and techniques that would still work years later: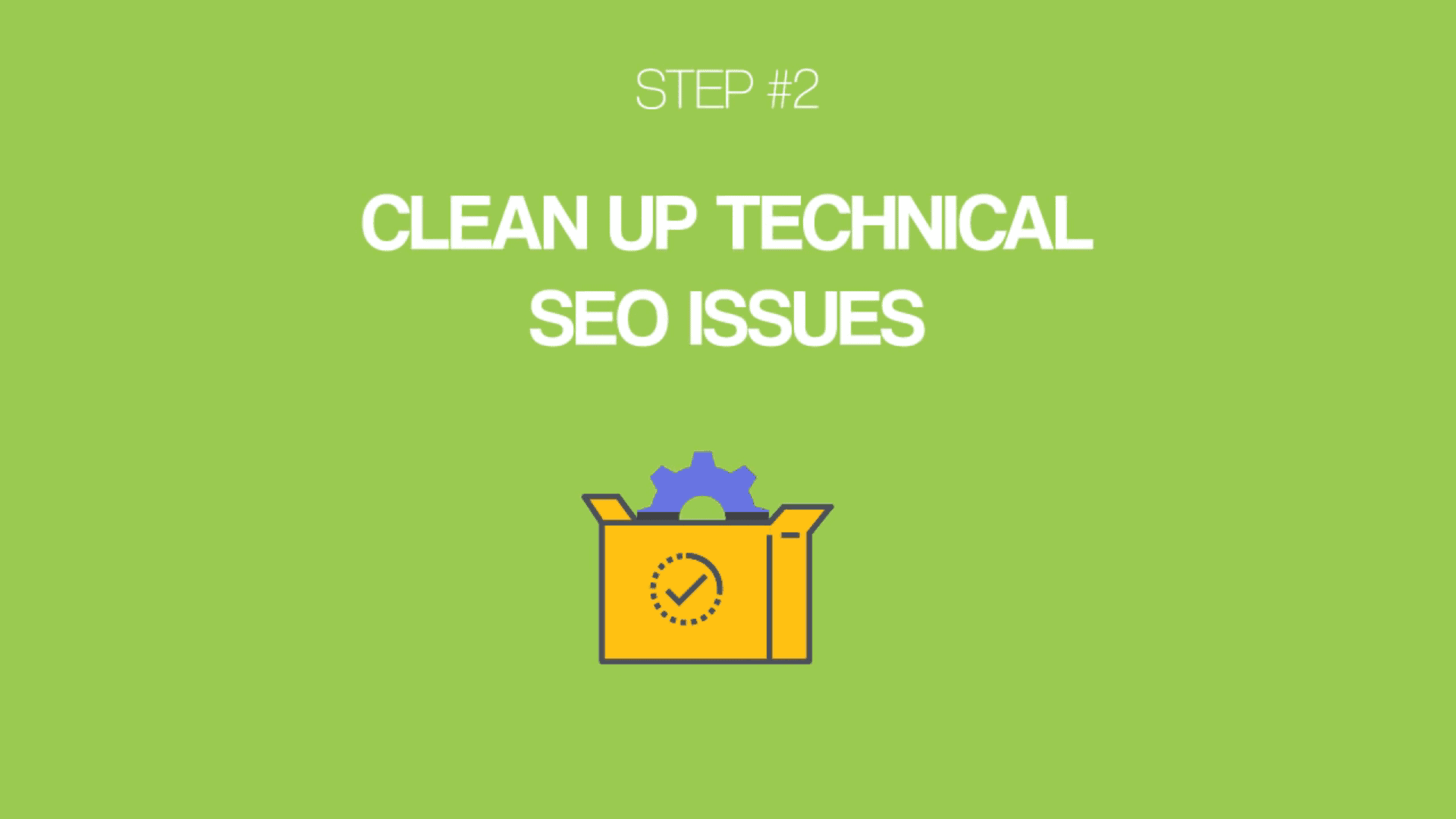 Checklists
Checklists might be the ultimate evergreen content format.
(In fact, sites like eHow have built their entire business on evergreen checklists.)
For example, check out this SEO checklist from my blog.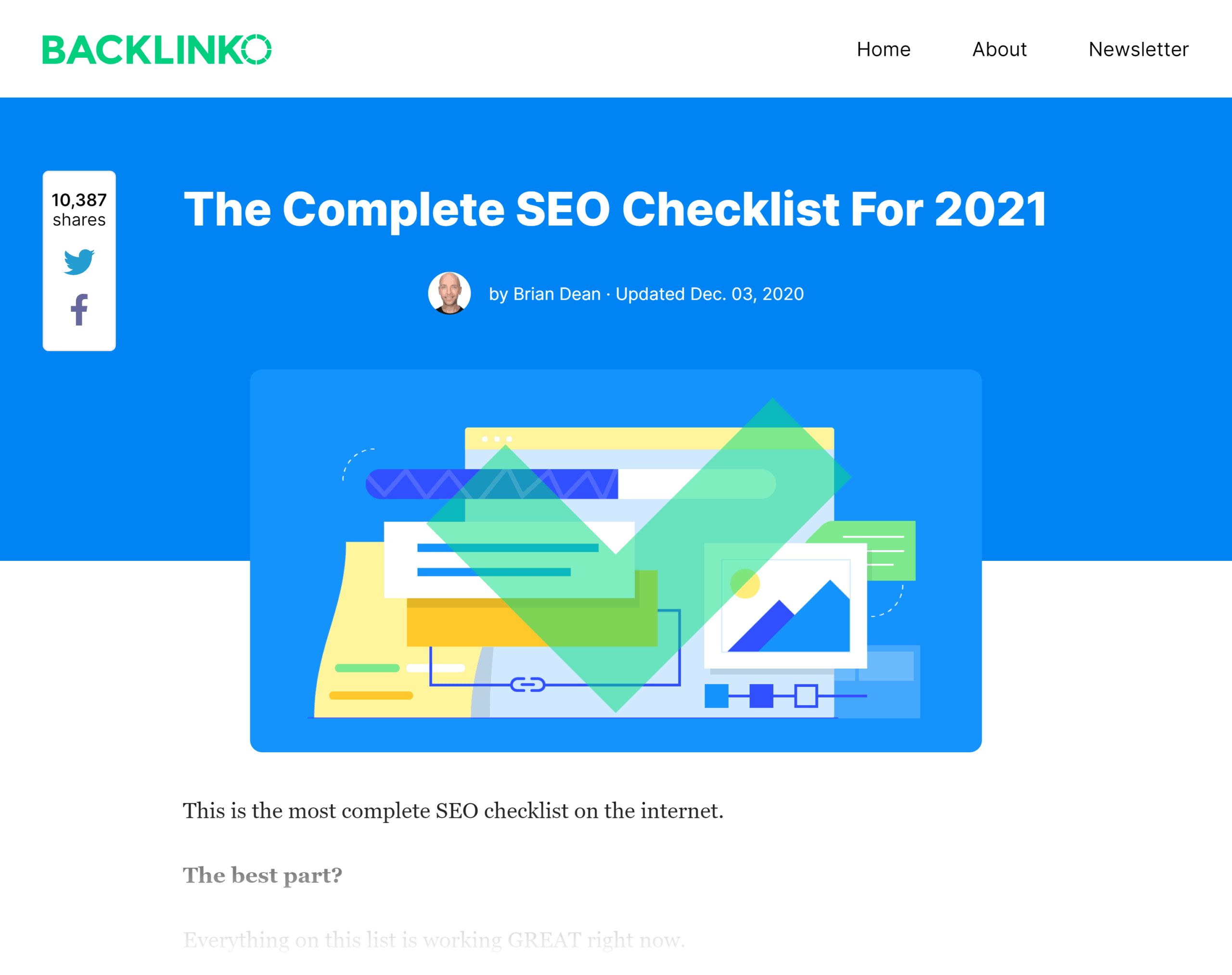 I focused 100% on tips that aren't going to change anytime soon: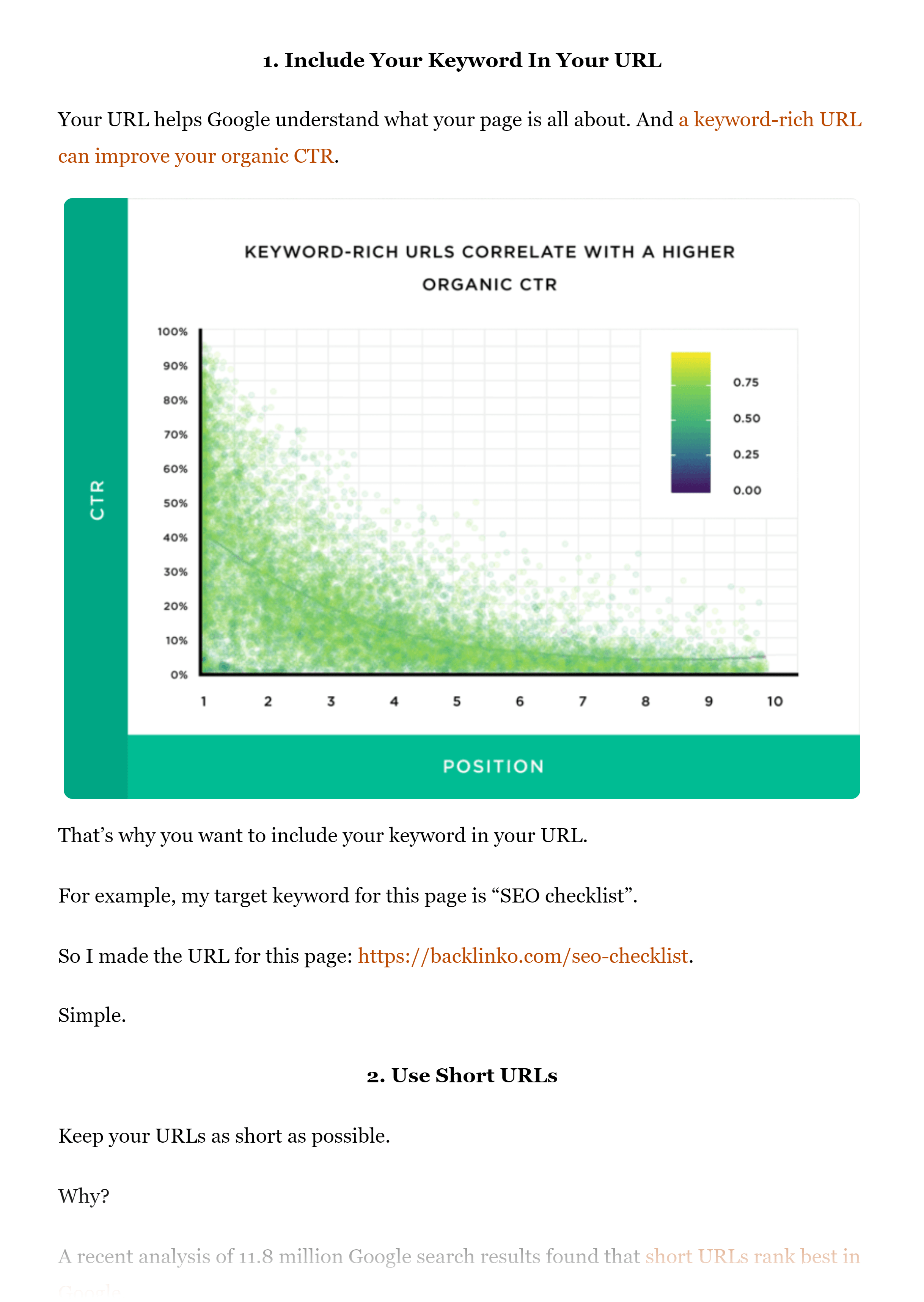 Plus, if something does change, I can easily delete or replace that item on my checklist.
How-to Guides
Just like with ultimate guides, how-to posts rarely get outdated.
For example, my post "How to Get High Quality Backlinks (7 New Strategies)" is made up of tested strategies that will probably never stop working.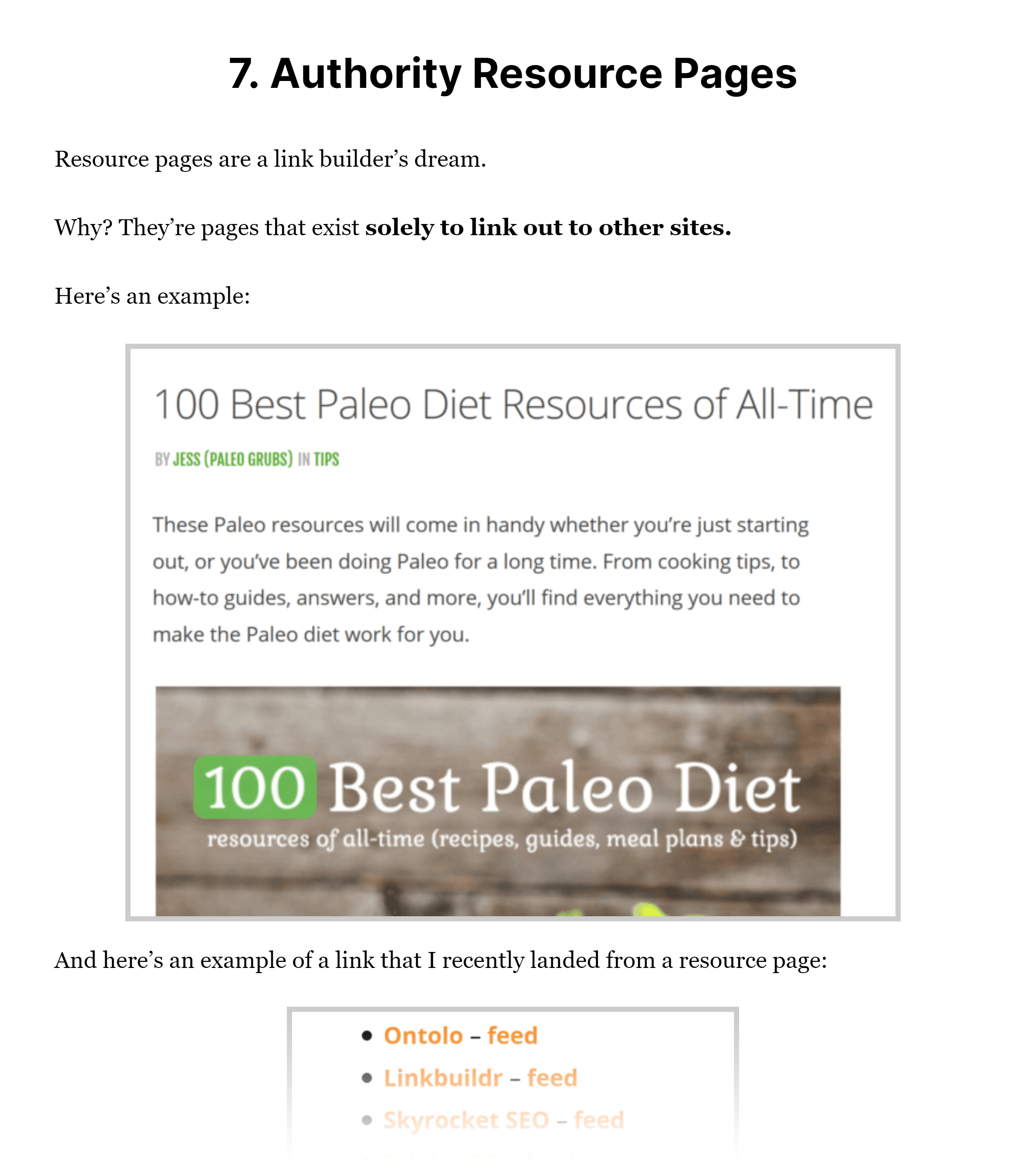 Regularly Update Your Content
This is a biggie.
No matter how evergreen your content is when you first publish it, stuff WILL get out of date.
That's why you want to regularly review and update your content.
I audit every post on my blog at least once or twice per year. And I'll give high-priority posts a small update every quarter.
For example, I first published The Definitive Guide to Guest Blogging in 2013: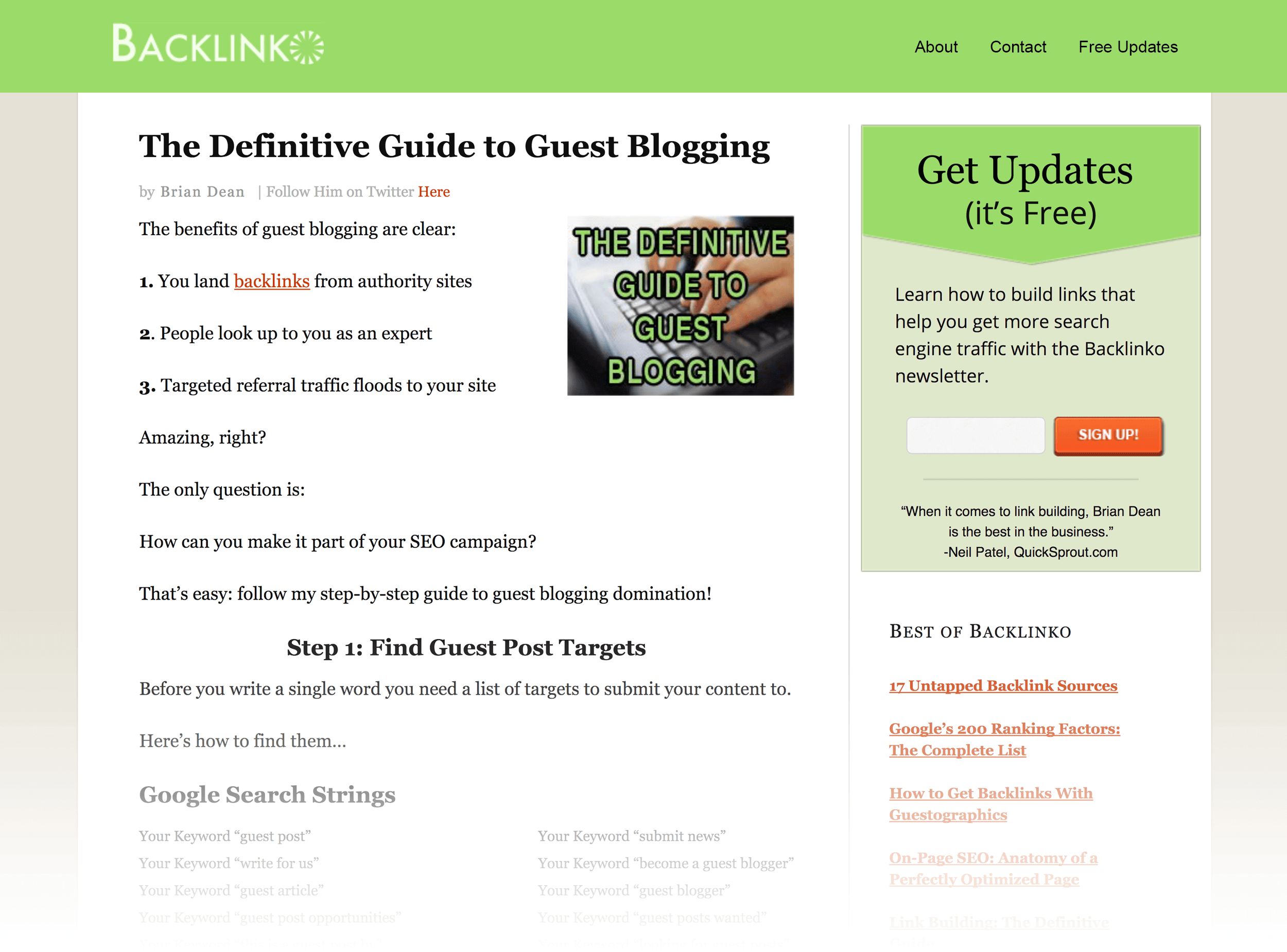 And I've updated it 25+ times since.
To be clear:
Guest posting doesn't change that much from year to year.
But I've found that there's always something that you can update… or at least improve.
For example, one of the strategies in the original post was to use a service that no longer exists: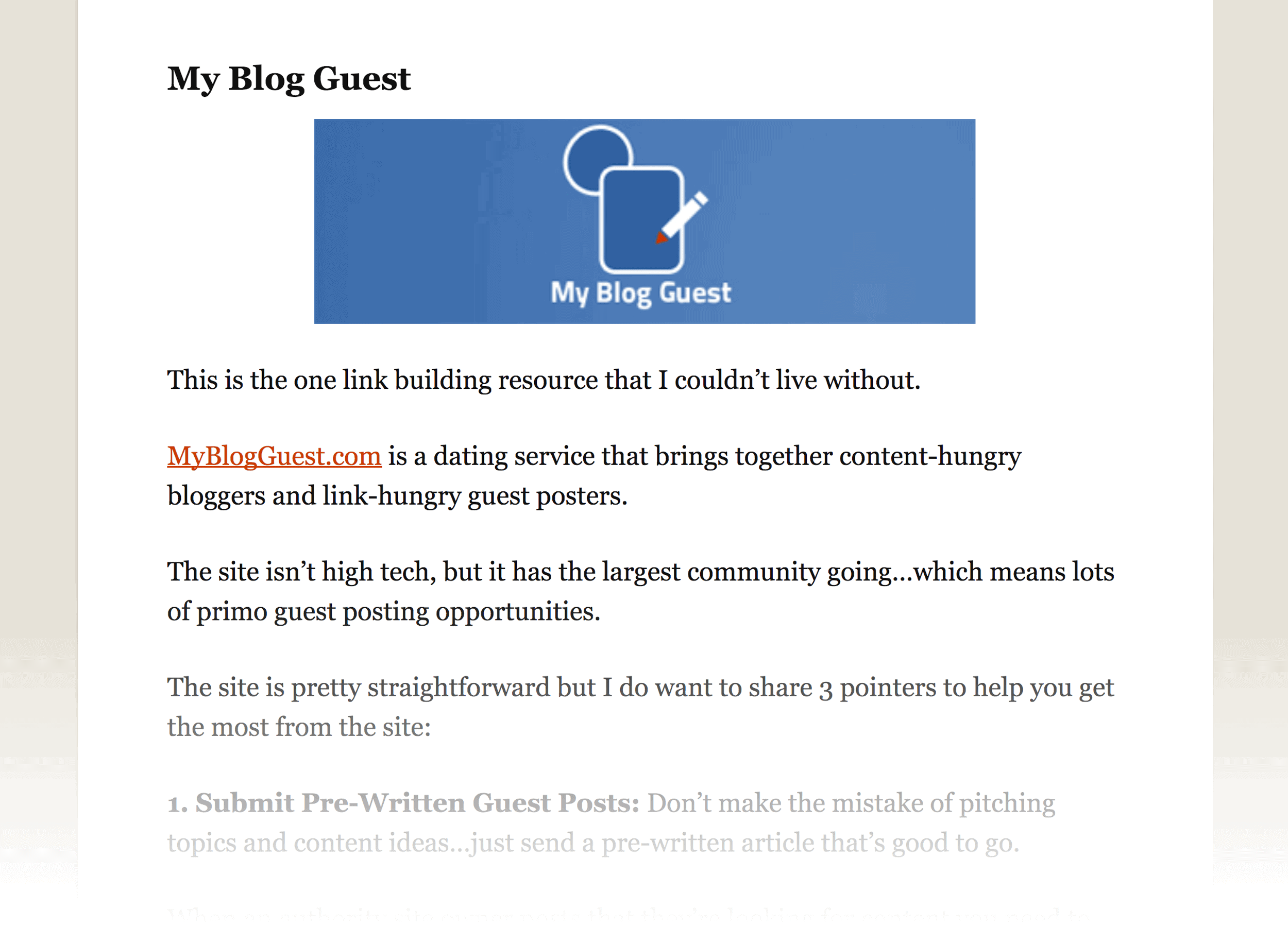 So I obviously took that out.
Also, even though the strategies were still sound, some of the screenshots were dated-looking: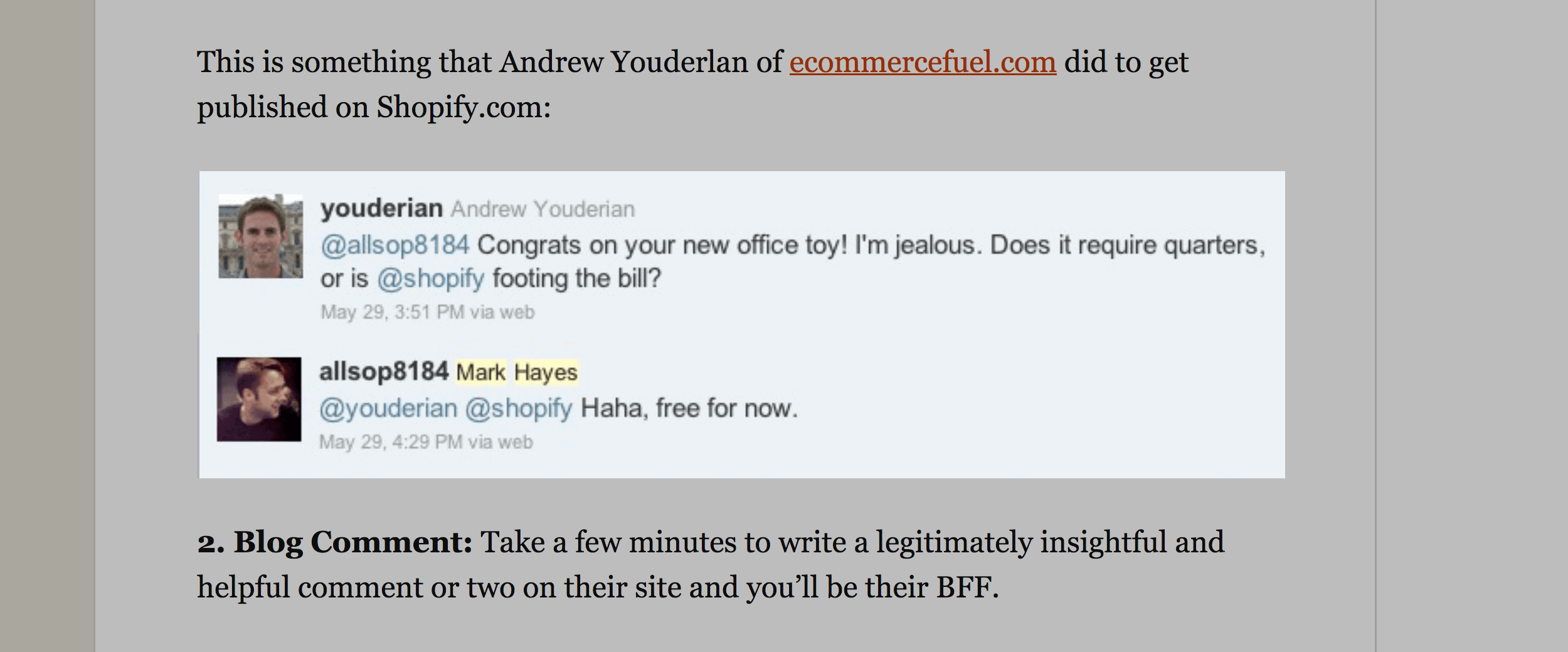 So I swapped those out with new versions: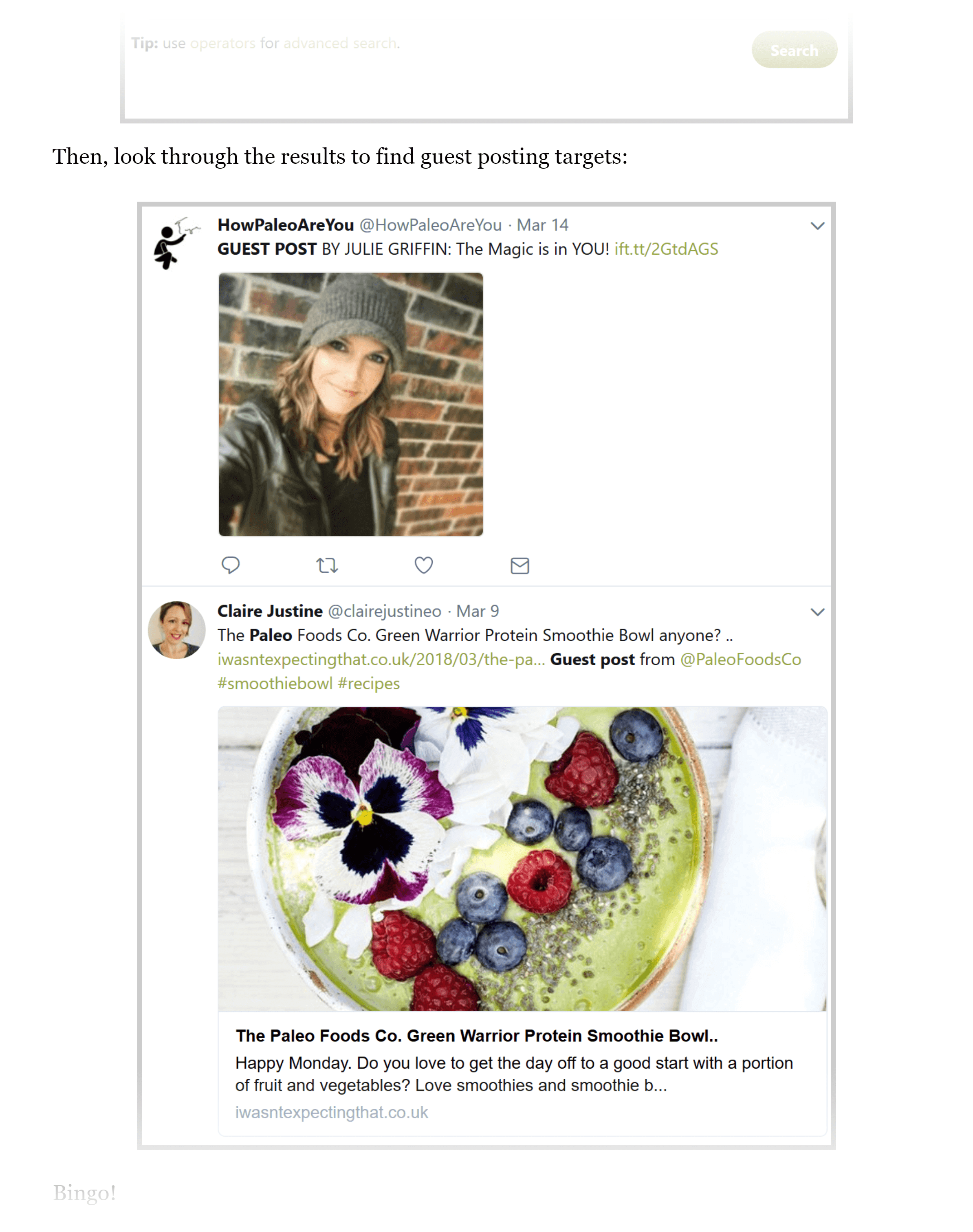 And I realized that my post was tricky to navigate (it's 4k+ words). So I added a table of contents to the top: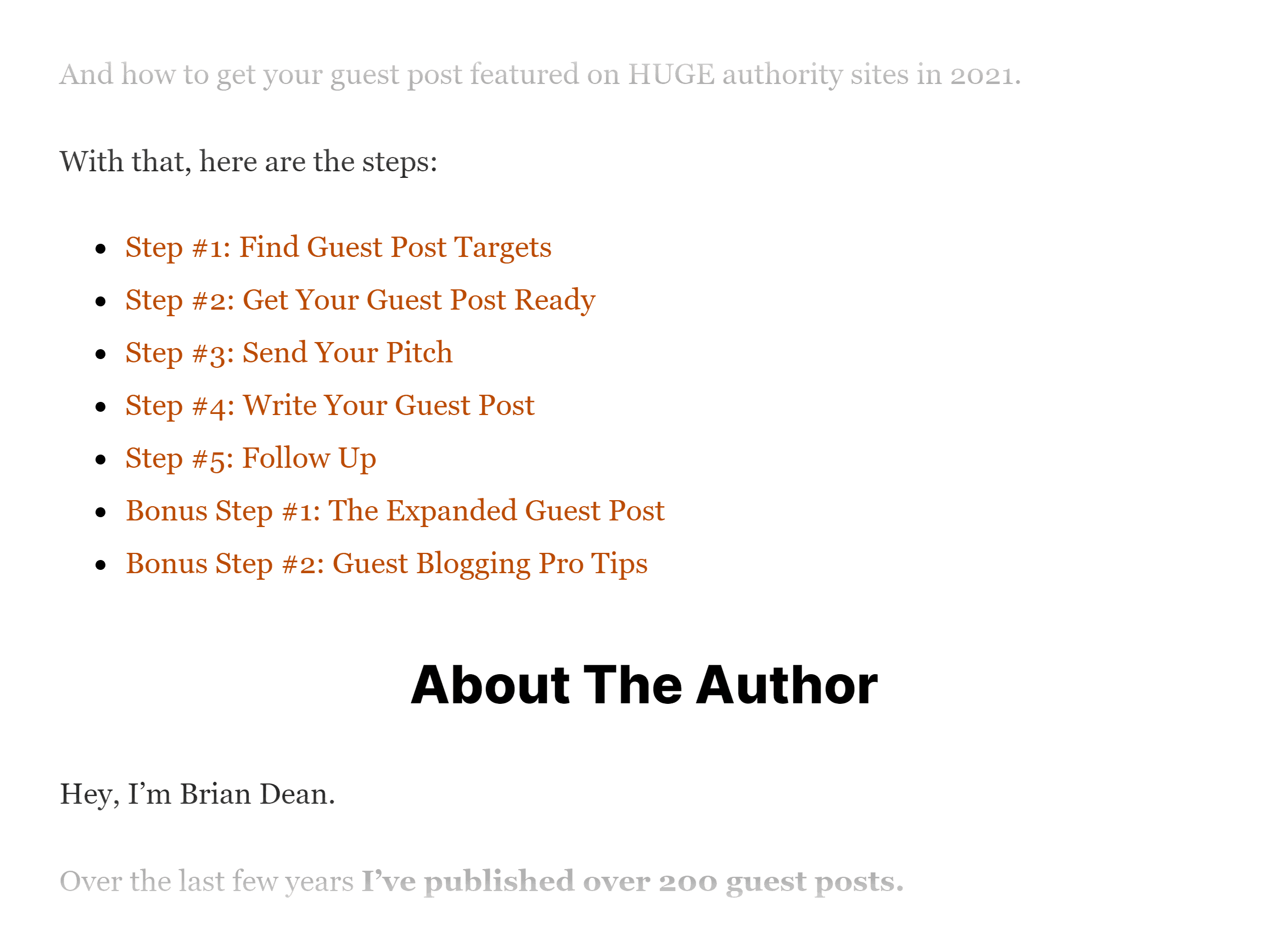 I think you get the idea 🙂
And these regular updates have kept my rankings stable (top 5 in Google for my target keyword) for 8+ years: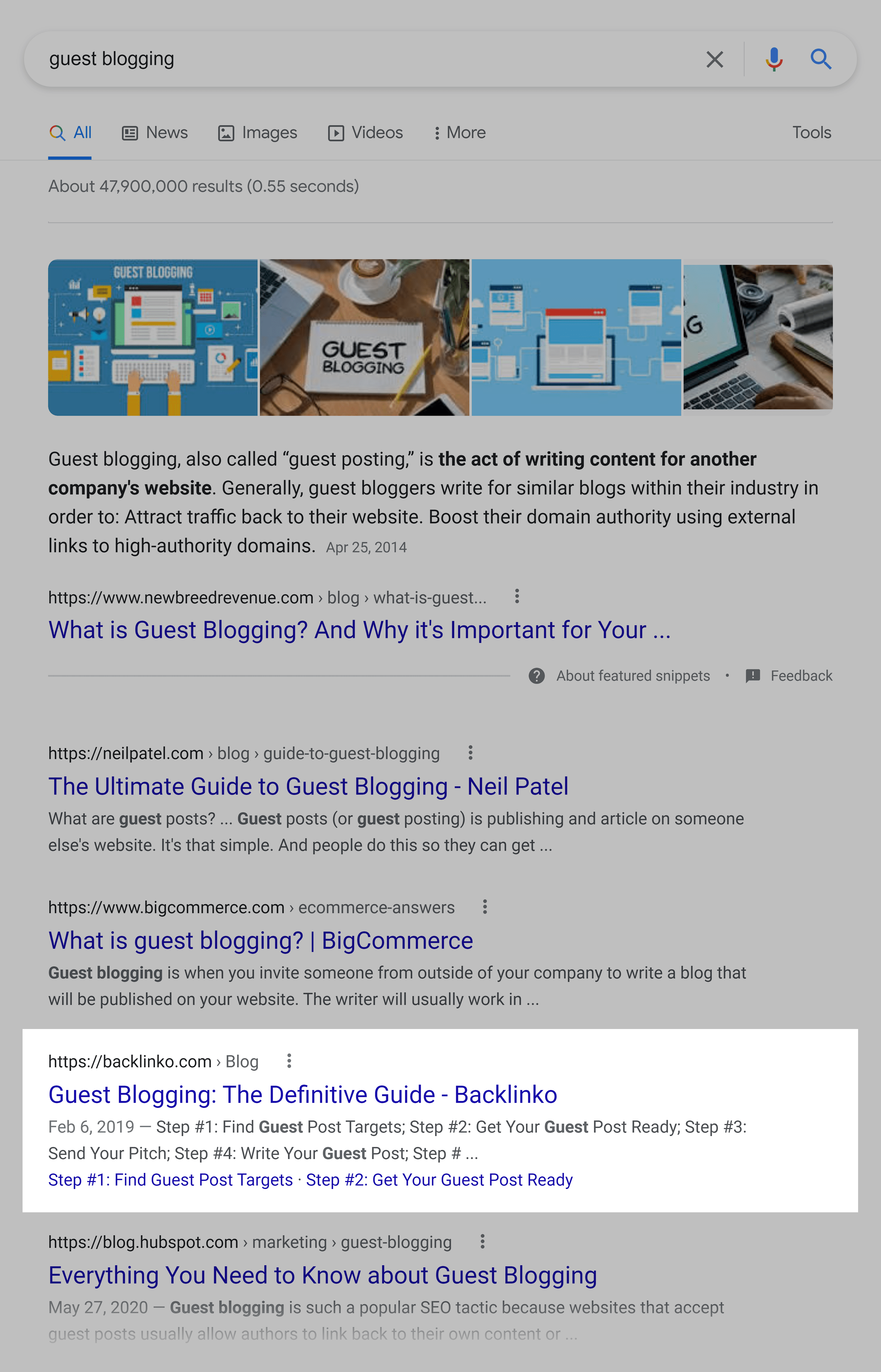 Repromote On Social Media
When you first publish a post it gets featured on the top of your blog feed: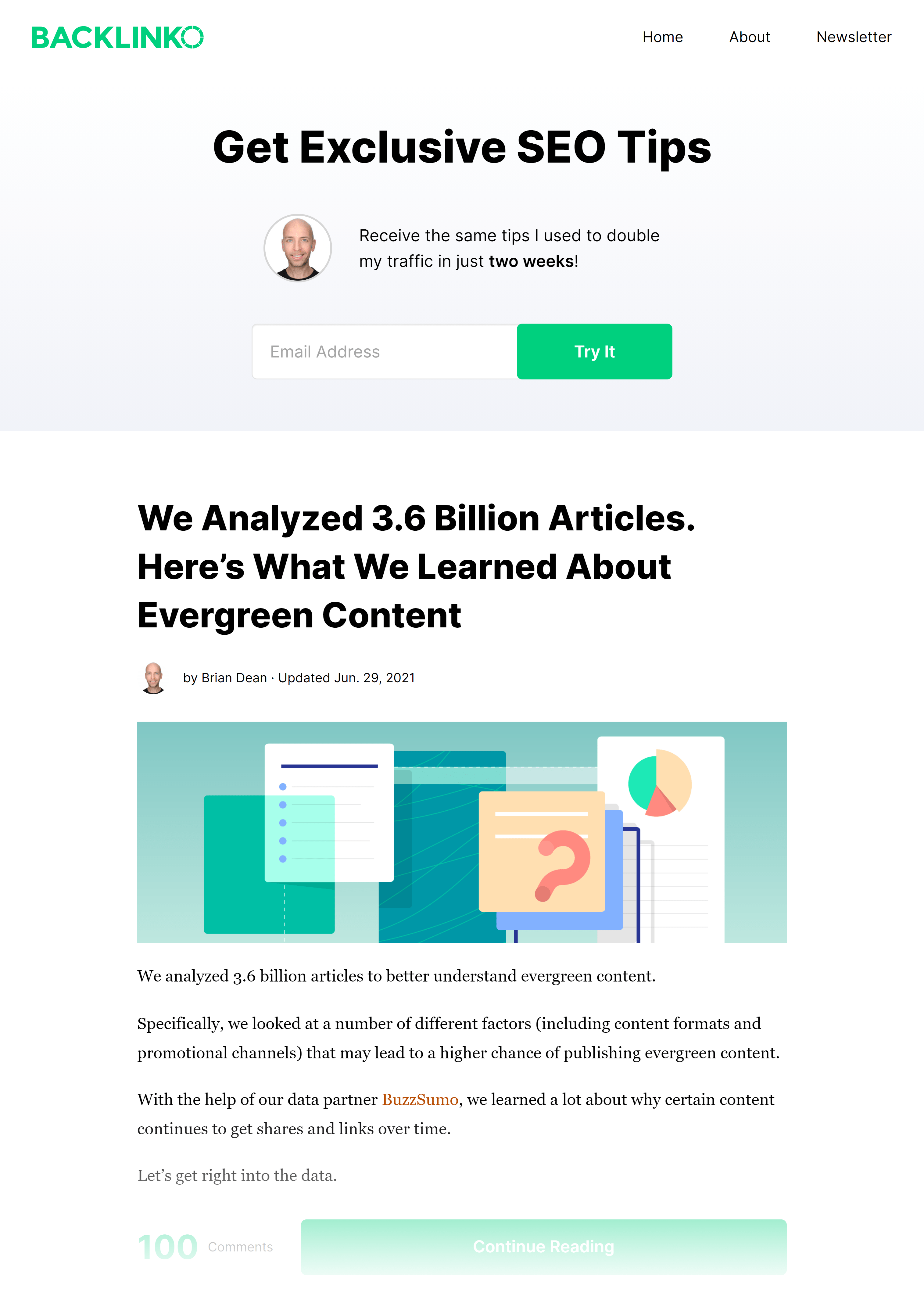 But as you publish new stuff, that post gets buried lower and lower in the feed.
(Which makes it harder for people to find.)
That's why you want to repromote your older content on Facebook, Twitter and other social media sites every few months.
And if you want to get even more eyeballs on your older content, repromote it right after an update.
For example, when I overhauled and upgraded my email marketing guide, I tweeted it out: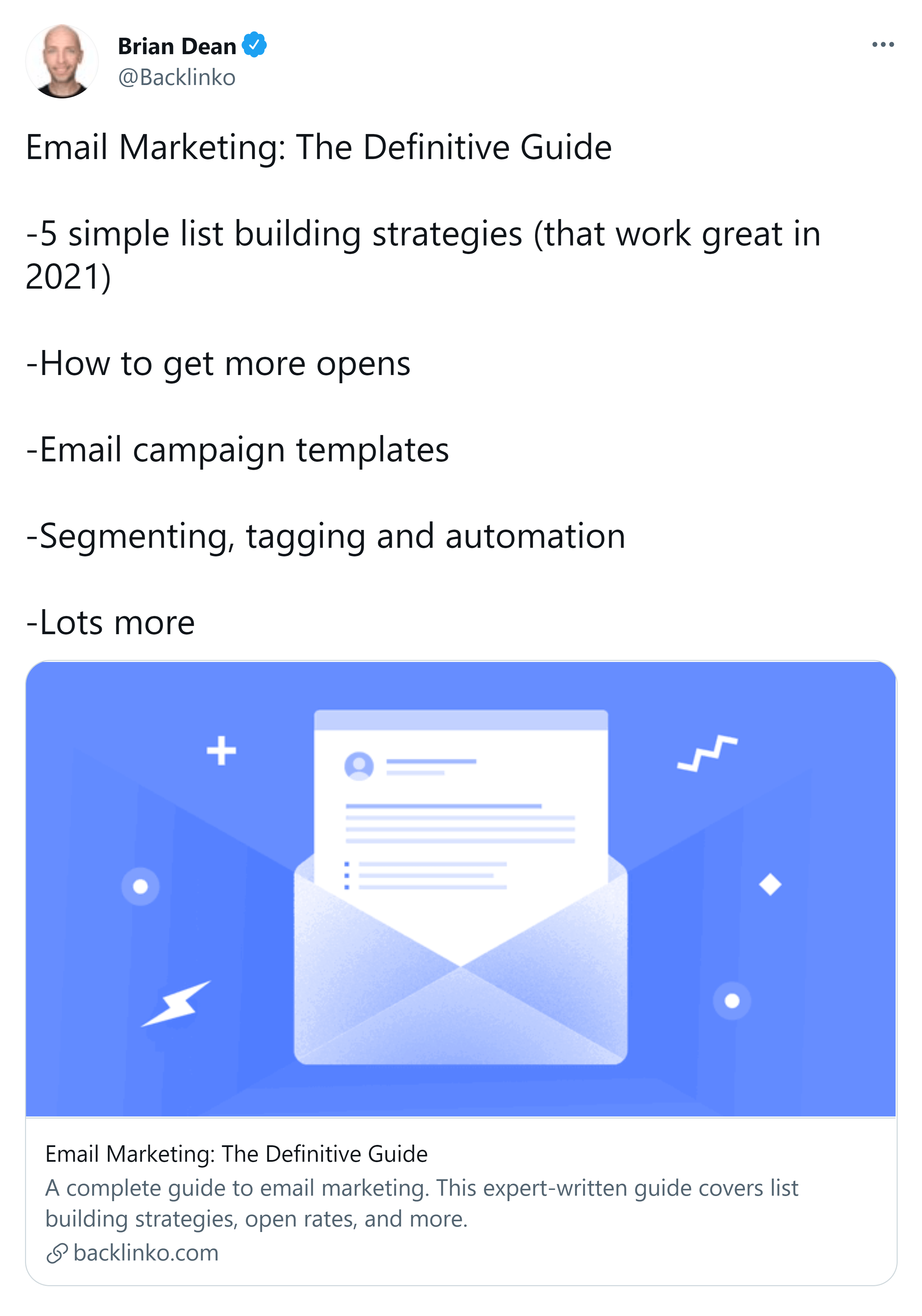 Which led to an influx of visitors that didn't see my guide the first time around.
You can also promote your old content to email subscribers.
For example, whenever someone signs up to the Backlinko newsletter, I send them links to some of my best stuff: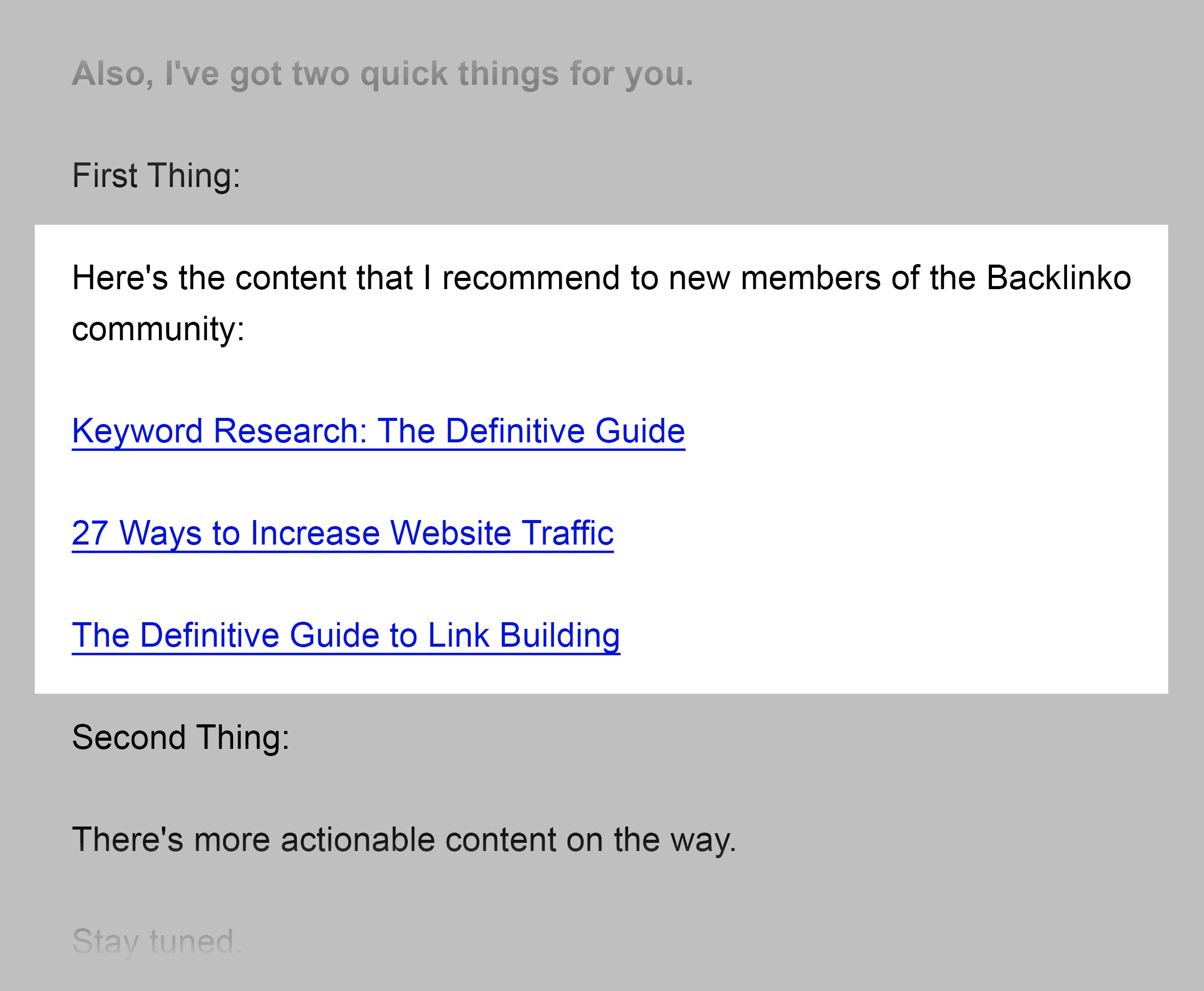 Relaunch as a New Post
Also known as "The Content Relaunch".
Here's how this works:
First, find an evergreen post from your blog. Preferably one that you haven't updated in a while.
For example, this post from my blog was still 75% up-to-date.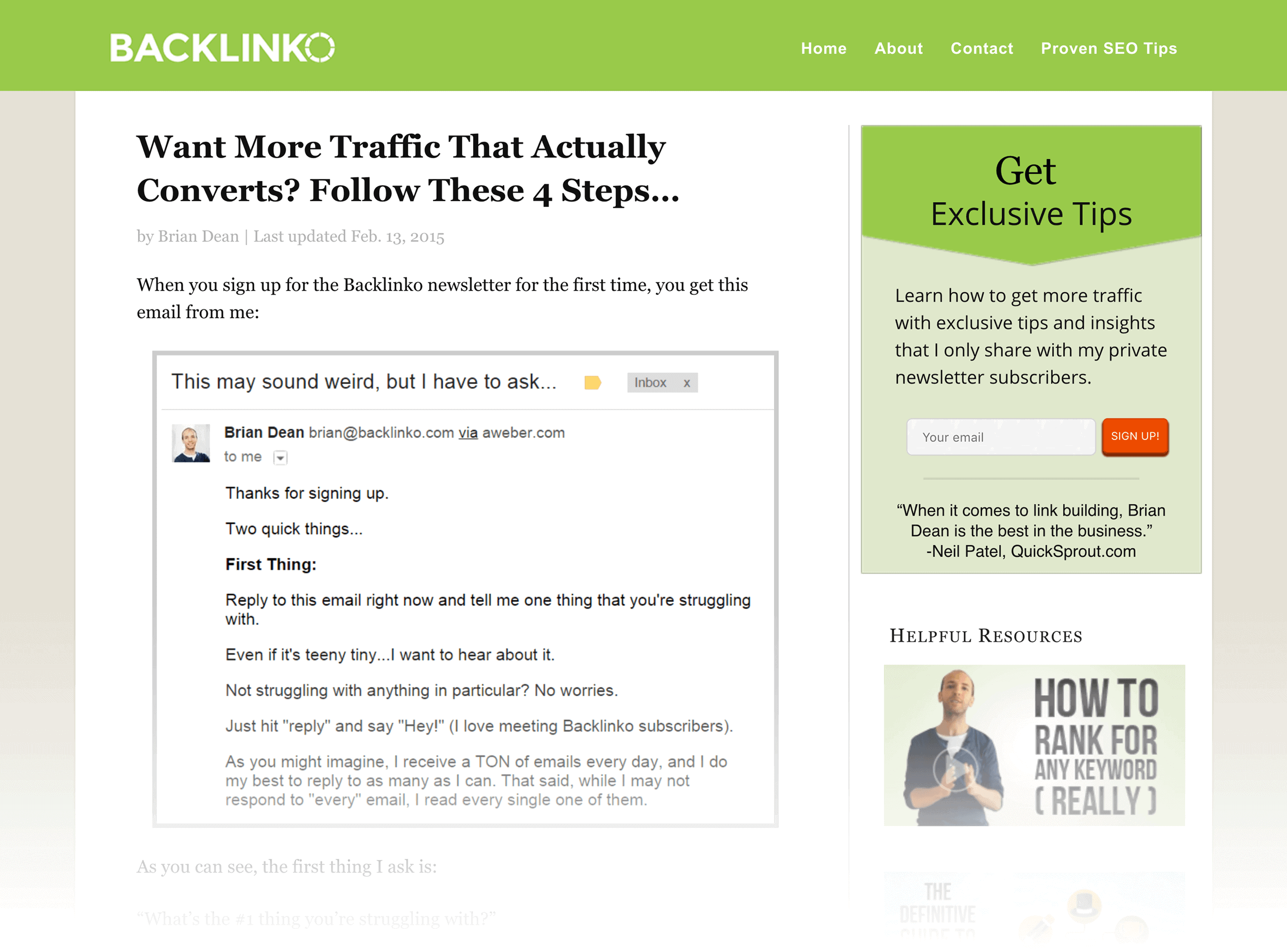 But there were a lot of old screenshots, outdated strategies and new stuff that I wanted to cover.
So I went back and overhauled the entire post.
I took out old images: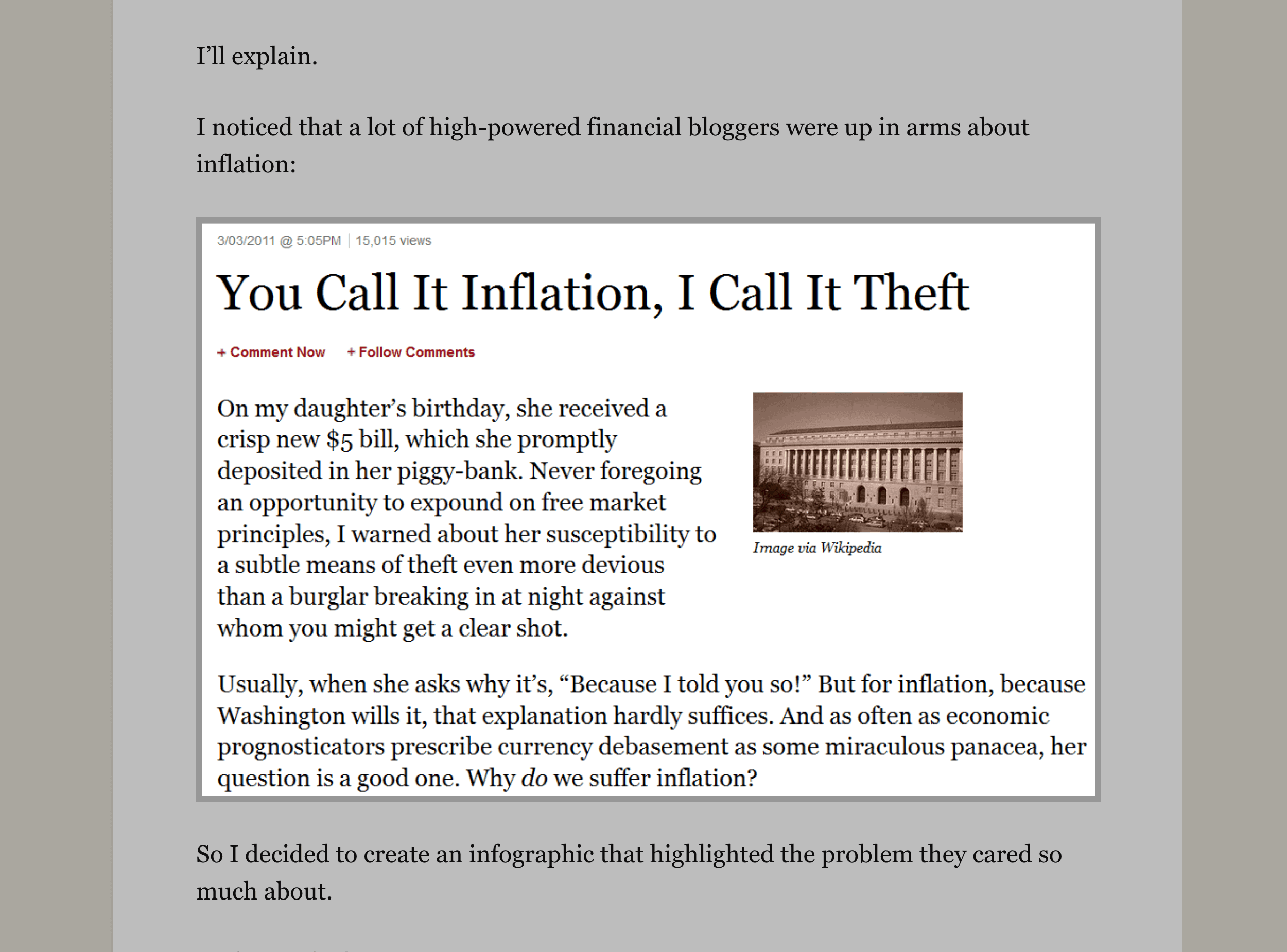 Added new strategies: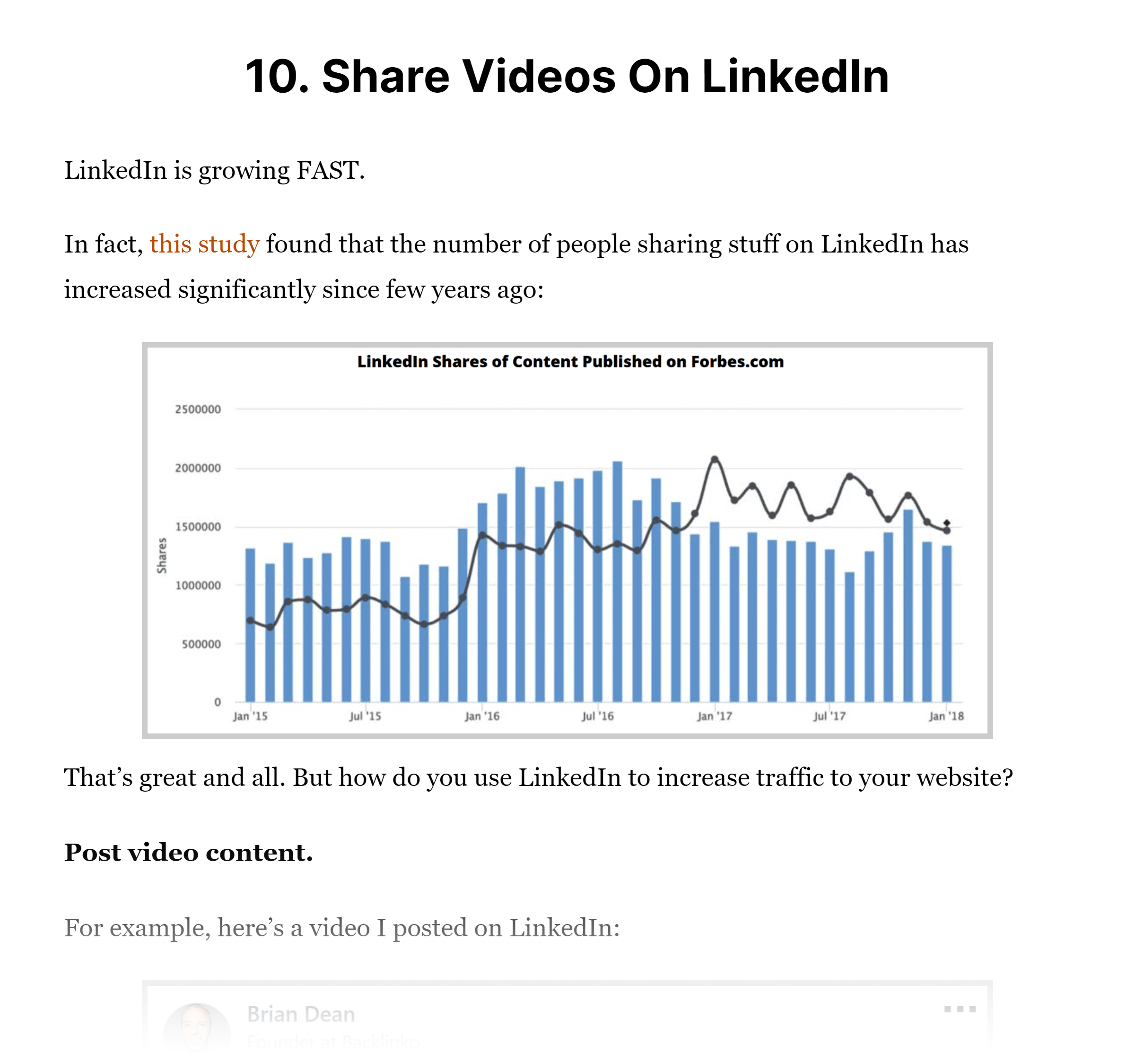 And even threw in a few "bonus" techniques I knew people would want to learn about: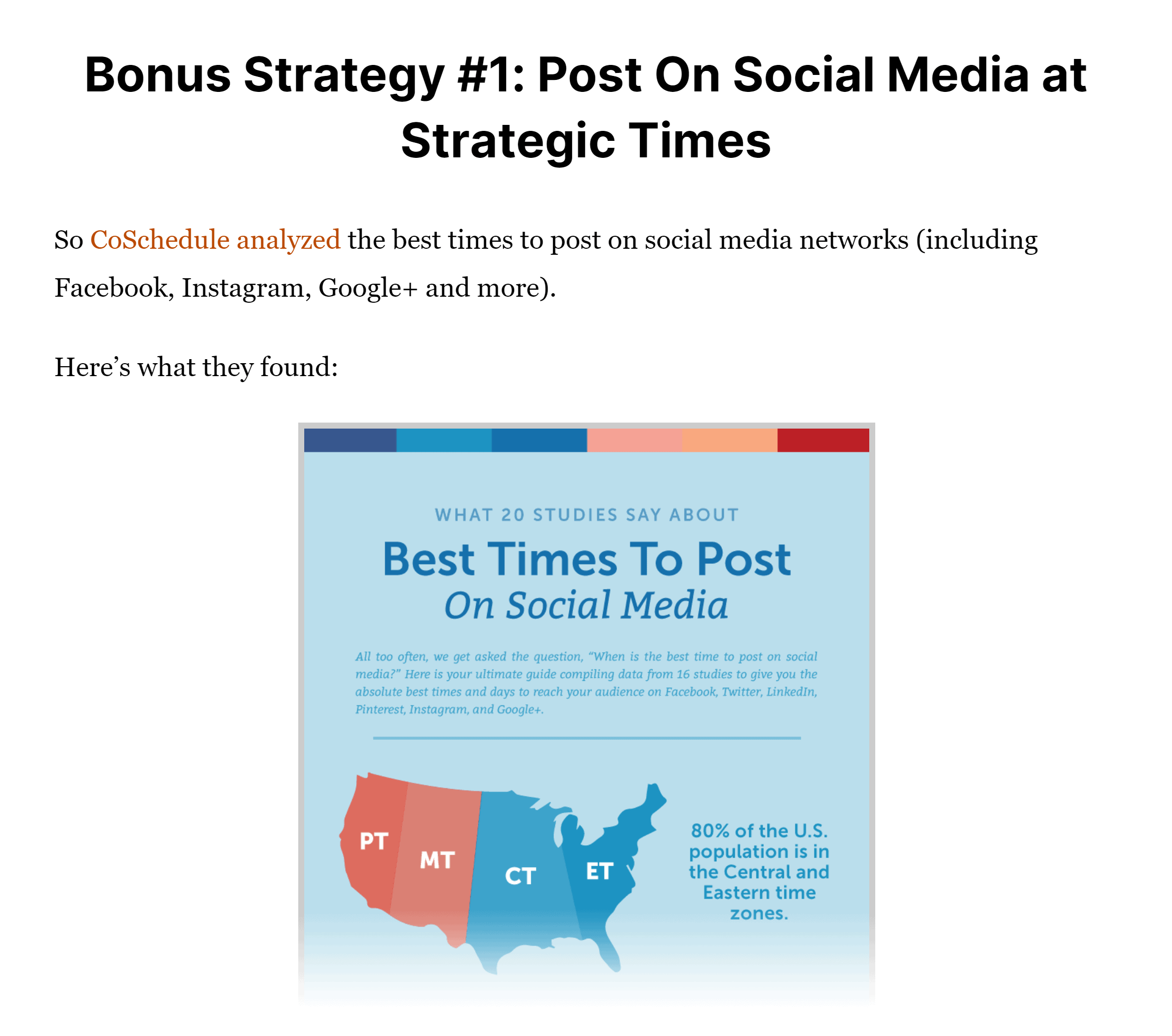 But I didn't stop there.
Instead of quietly updating the post, I relaunched it like it was brand new.
(Because it largely was.)
I updated the post date in WordPress so it went to the top of the /blog feed.
And shared it on social media: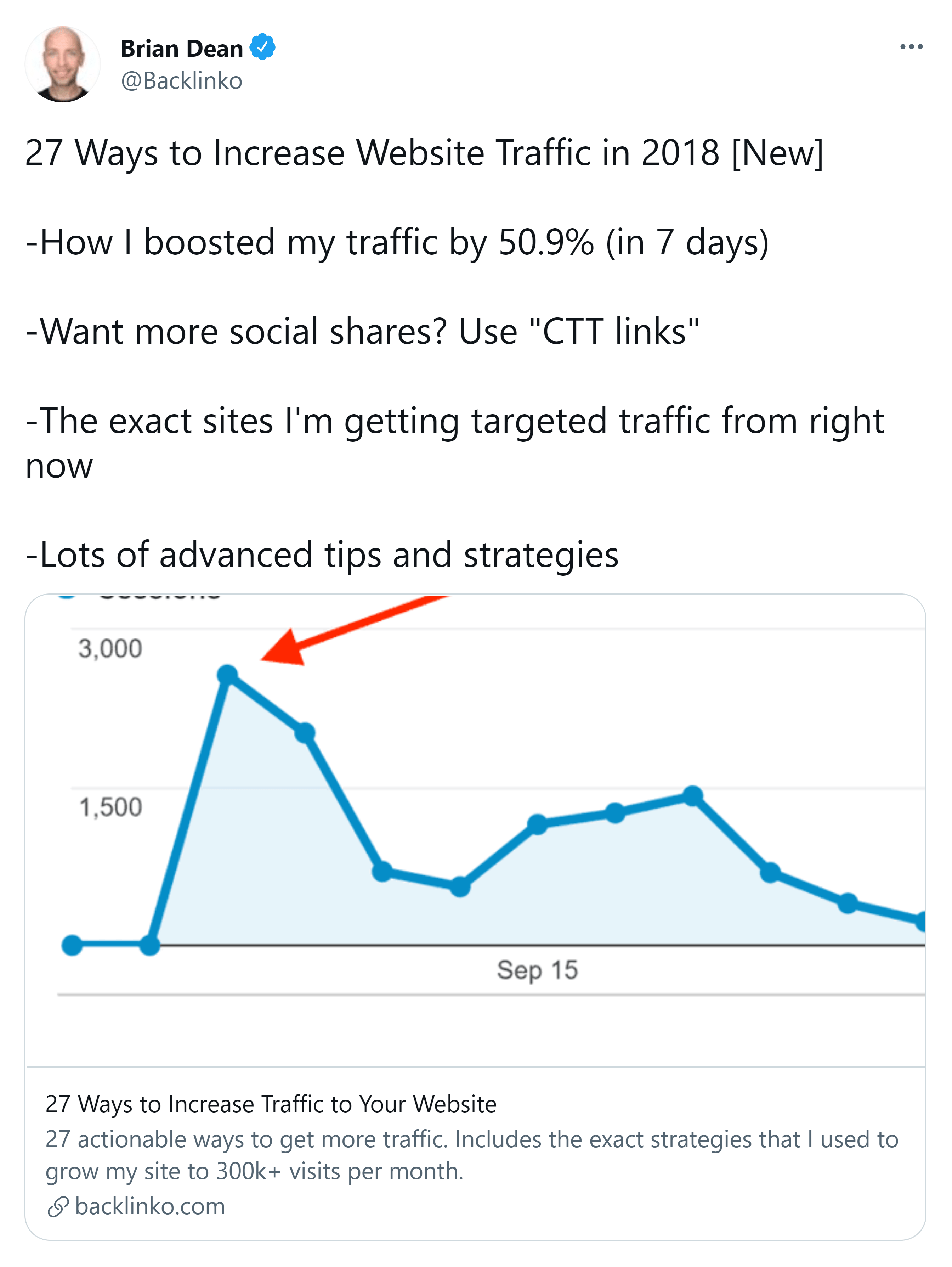 Not only did the relaunch result in a massive surge in targeted traffic…

…but it was 10x easier than writing a new post from scratch.
Nice.
Repurpose Into New Formats
Let's face it:
Writing evergreen content is A LOT of work.
That's why you'll be happy to hear about a way to get MORE value from your evergreen piece.
Repurposing your content
Repurposing content is when you turn your blog content into a new format… like a video, report, ebook, presentation, podcast or infographic.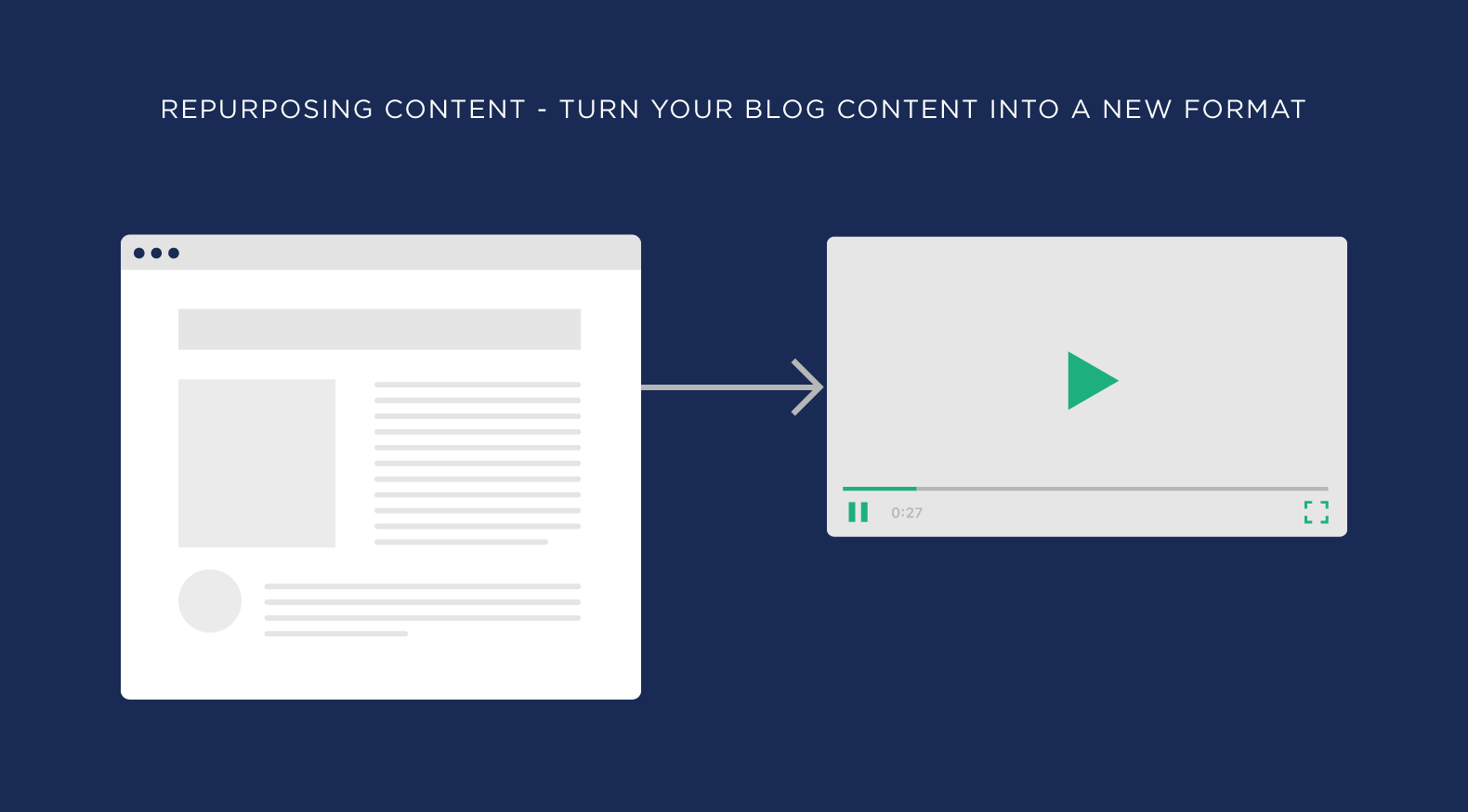 For example, I knew that I wanted to make a YouTube video about link building.
My first instinct was to open up a blank Google doc and start from scratch.
But I decided to repurpose content that I already had on my blog.
Specifically, I decided to reuse the strategies from my link building guide: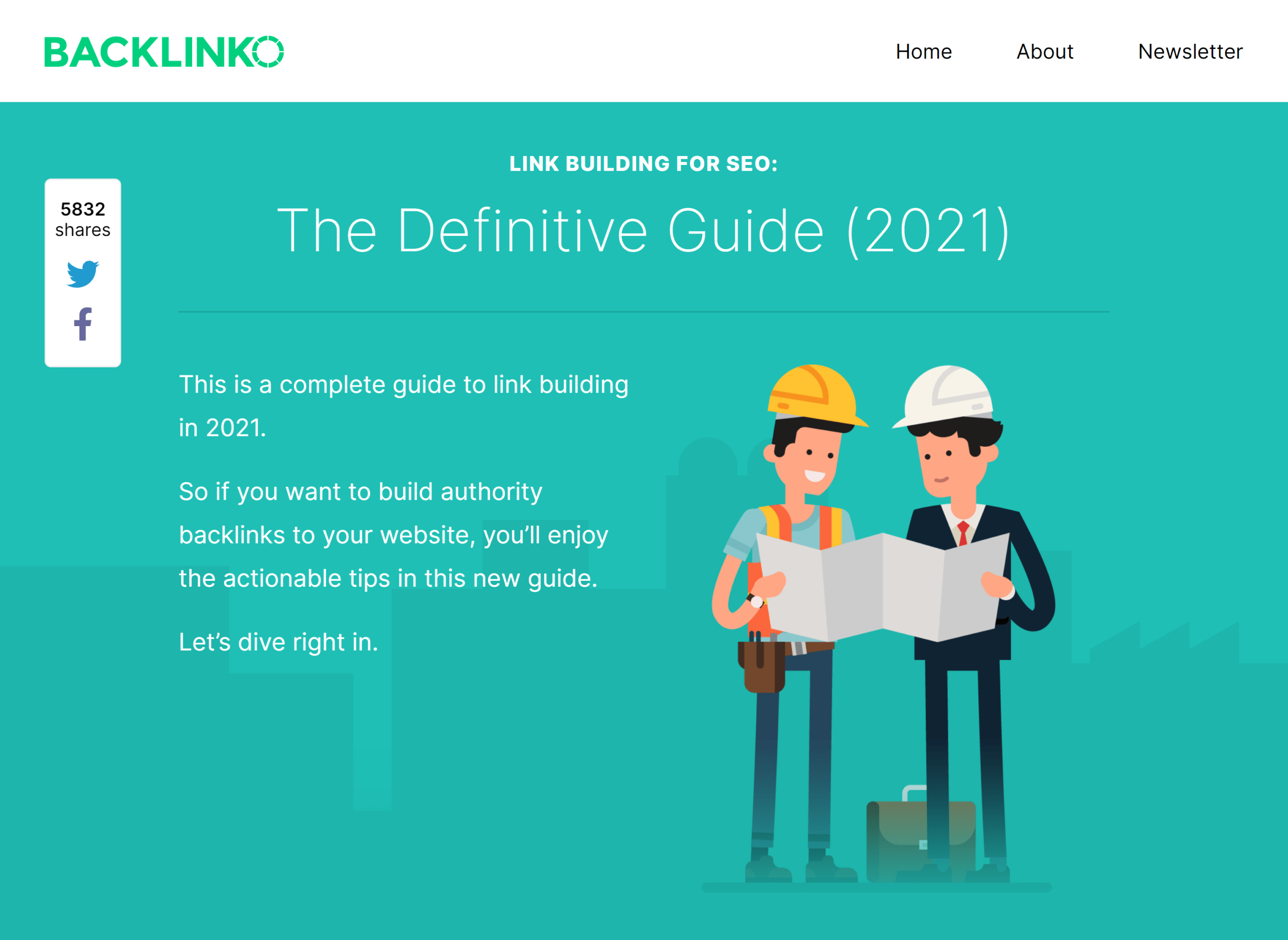 So I took those helpful strategies that I already outlined…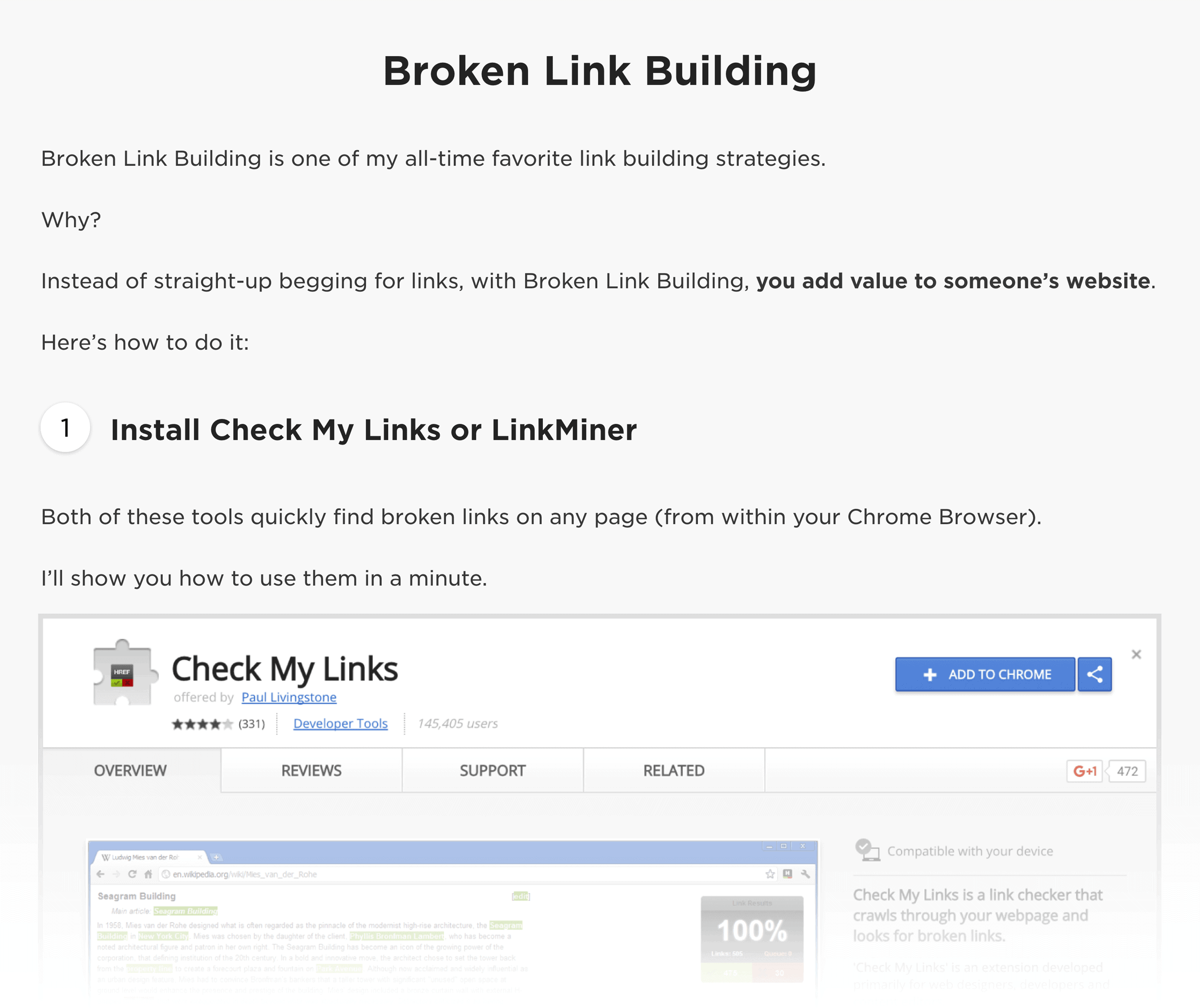 …and shared them in my video: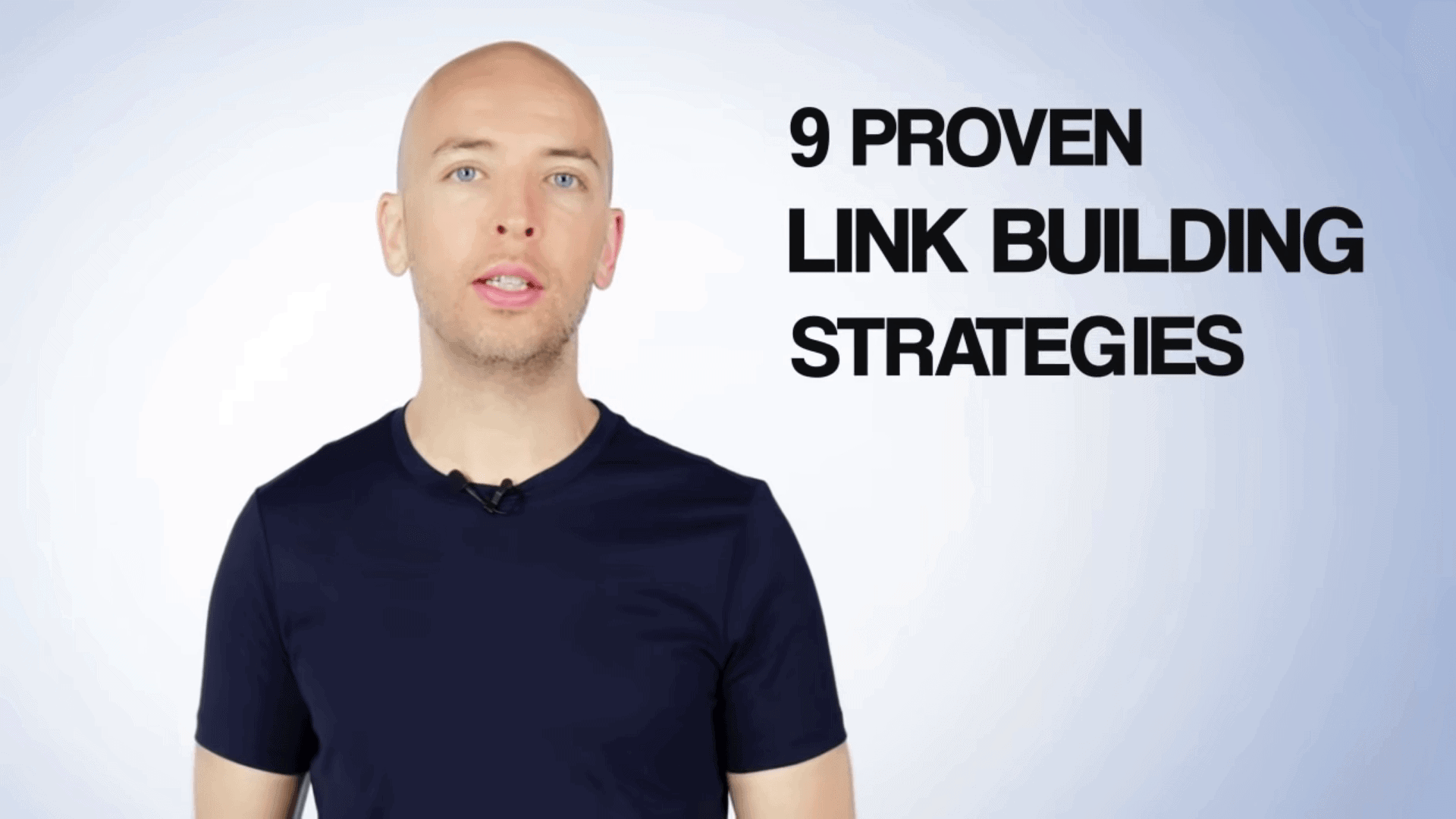 The only catch is that your repurposed content needs to match the new format.
In other words:
You can't just read your article into a microphone and call it a podcast. Or turn your article into a PDF and say: "I just wrote an ebook".
It doesn't work.
For example, I didn't repeat the written text from my link-building guide content word-for-word.
Instead, I adapted the content for the video: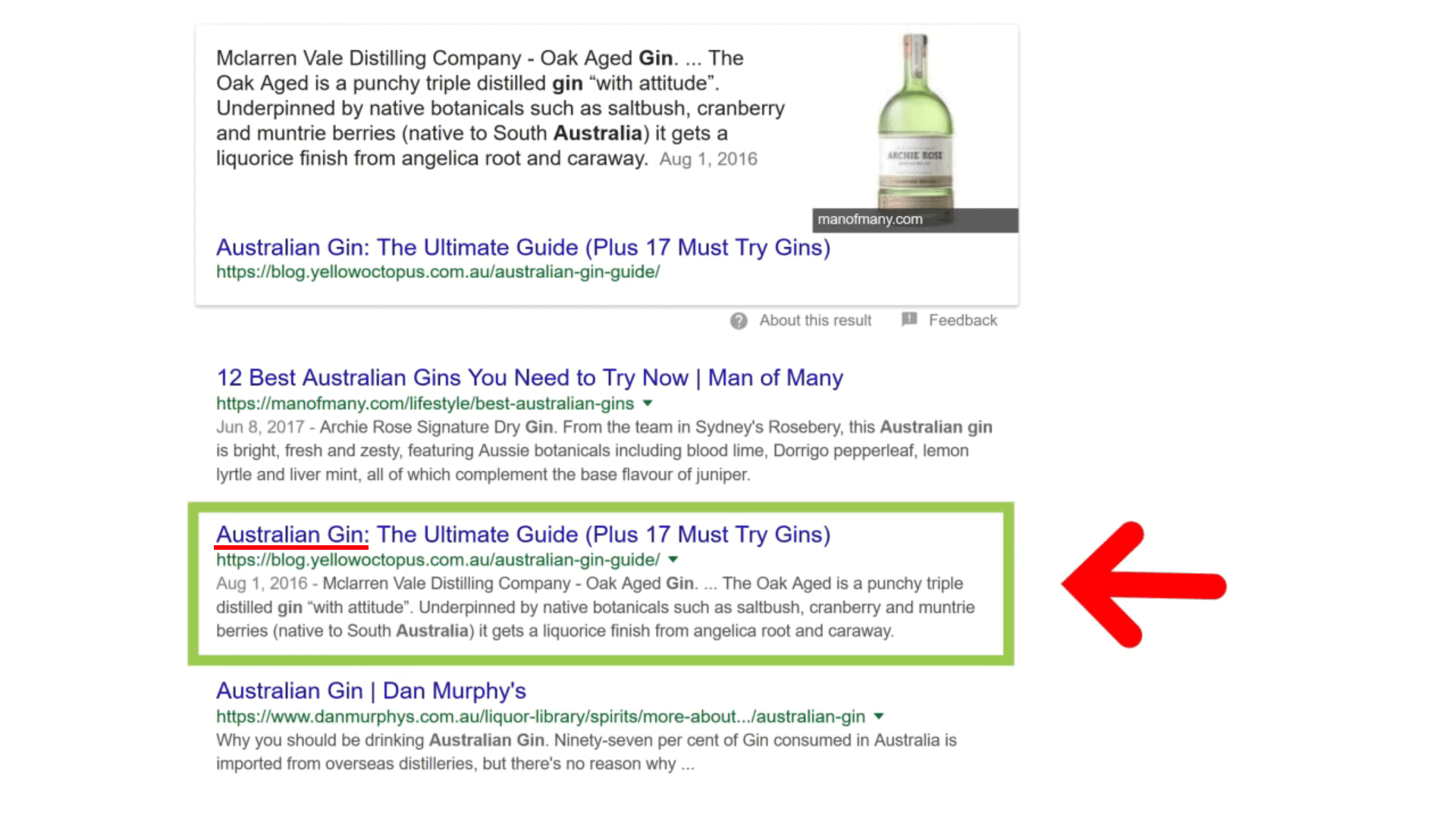 Even though the content itself was 80% old stuff, that video has racked up 278K views up to date: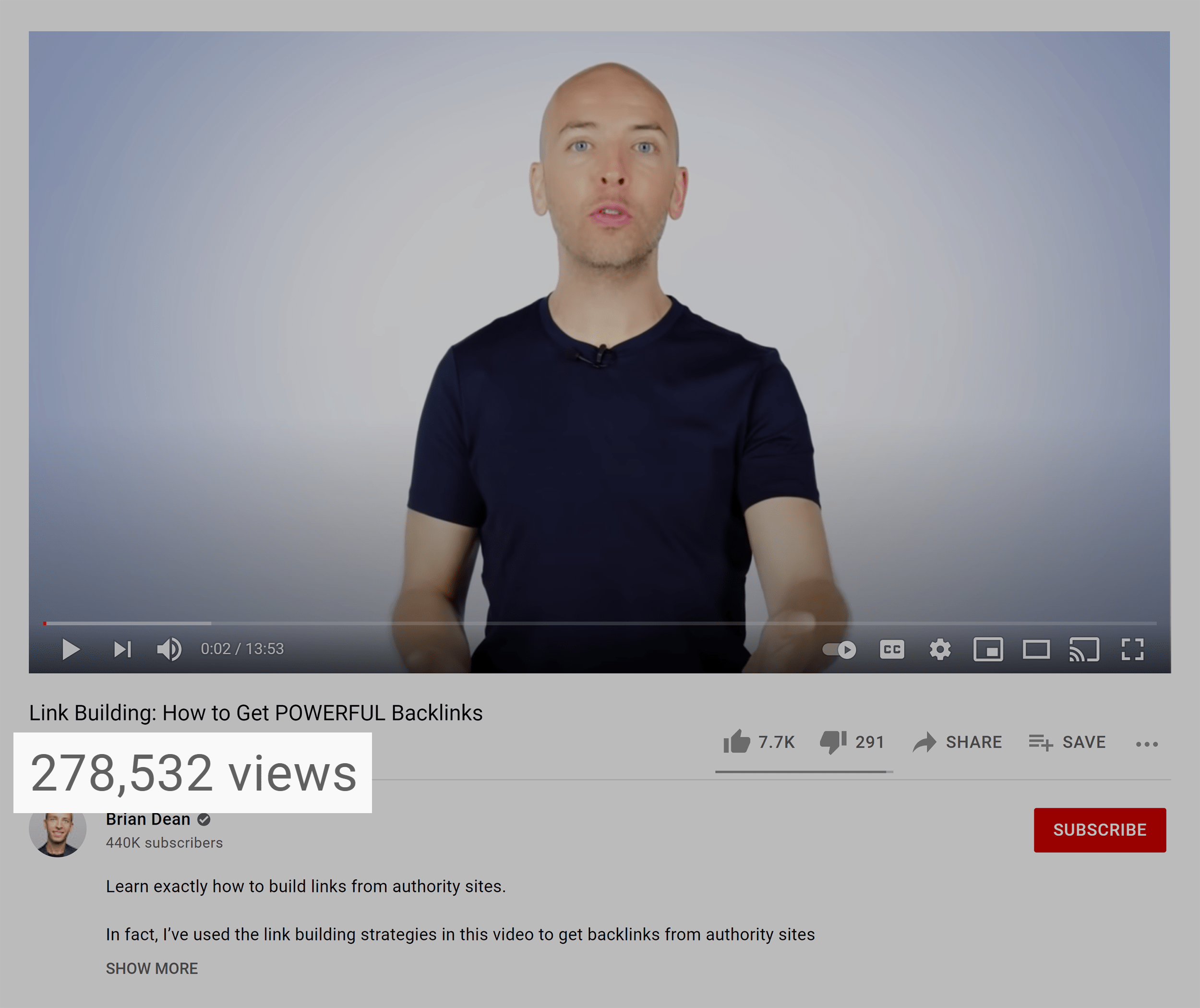 And because I worked with an existing piece of evergreen content, my video was CINCH to make.
Learn More
Link Building Case Study: How I Increased My Search Traffic by 110% in 14 Days: A guide to creating evergreen content based on what's already working in your niche.
The Long-Term Link Acquisition Value of Content Marketing: Excellent real-life examples of the types of content that generates links over the long-term.
How to Rank #1 in Google [New Step-by-Step Case Study]: A step-by-step case study that shows you how I created a piece of evergreen content… and got it to the #1 spot in Google.