What Is Interactive Content?
Interactive content is any form of content that can be manipulated or interacted with by a website visitor or user. Common types of interactive content include click-triggered graphical animations, quizzes, standalone apps and interactive maps.
Why Does Interactive Content Work So Well?
Why do many content marketers consider interactive content to be "the next big thing"?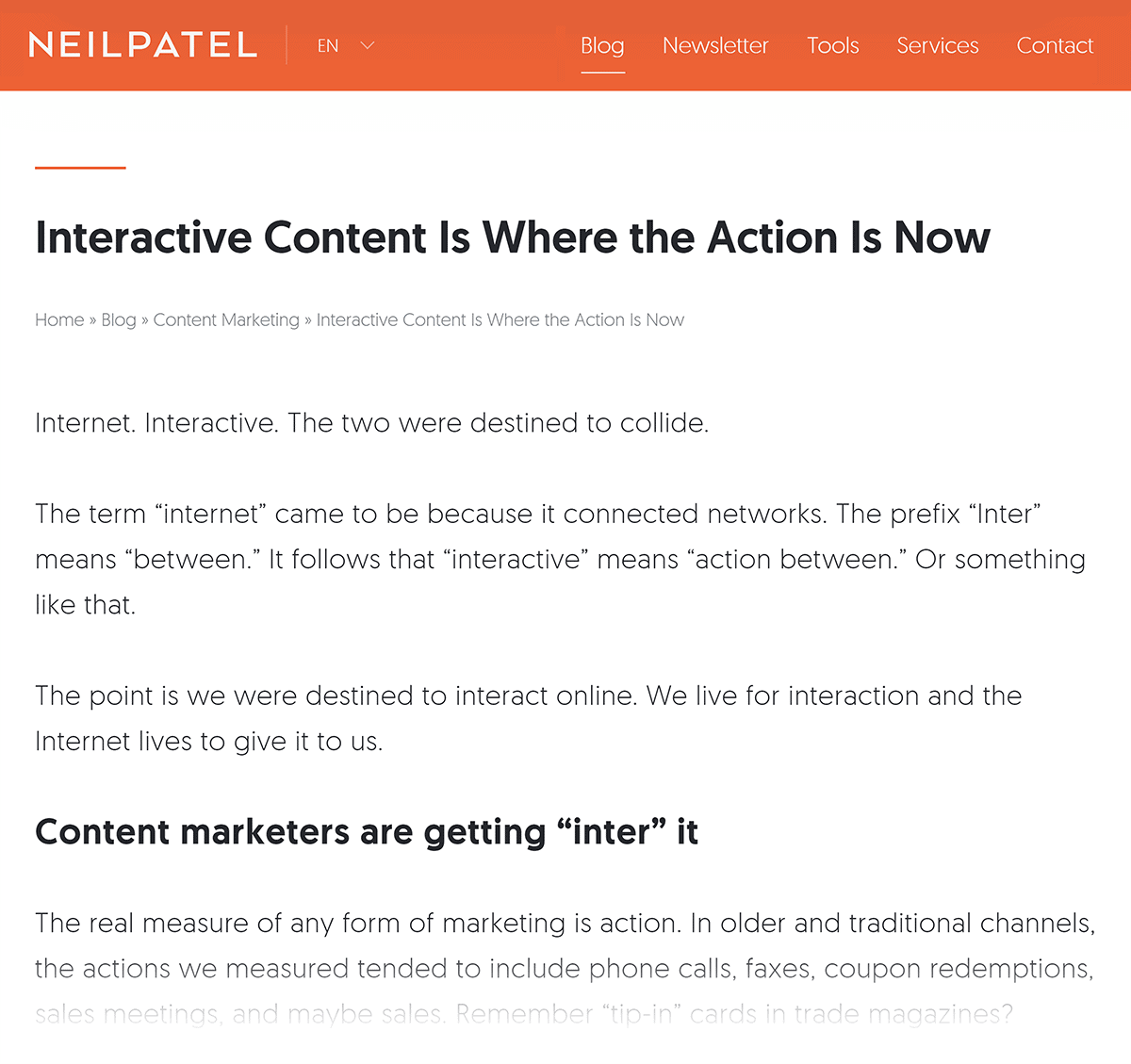 When it comes to content marketing, engagement is KEY. You don't want people landing on your page and bouncing. In a best-case scenario, your content should have an emotional impact on your reader. Emotions like excitement, desire, surprise… these feelings can help people build a bond with your brand, which can help with sales and lead generation.

However, this kind of emotion is hard to do with static content. For example, the New York Times's interactive "Snow Fall" piece is much more emotionally compelling than your average blog post.

According to SurveyMonkey, 33% of marketers state that getting user attention is a challenge. In a world of shrinking attention spans, interactive content can grab (and hold) people's attention for longer than a blog post or video.
Interactive content is growing. But it's still super rare. So when you create something interactive, it helps your content stand out. This means that people are more likely to share (and link to) your content.

For example, a few years ago we published a list of almost every SEO tool on the market.

And to make the content stand out even more, we added an interactive filter to the top of the page.

That way, users could quickly find the tools that were the best fit for them.

And that little interactive component is one of the main reasons that our post has 21,772 shares to date.
Best Practices
Make Your Interactive Content Beautiful and Fast
One of the most difficult things about interactive content is making it both beautiful and fast. But to have a hugely successful piece, both are important.
When it comes to animations, sometimes less is more. The more complex the animation, the slower and more confusing the page will be. Use Google's PageSpeed Insights as well as Pingdom Tools to measure how fast the page loads, plus get suggestions for speeding it up.
Make it clear how to interact with it (on both mobile and desktop). For example, in our SEO tools post, we add a simple call-to-action to make it clear that users can filter through the list.
Different Types of Interactive Content
There are many types of interactive content out there. Here's a list of interactive content types that you can try:
Tools and Calculators
Assessments, Polls and Tests
Interactive Graphics, Maps and Timelines
Apps
Interactive quizzes
Interactive white papers
360-degree video
Forums, Webinars and Q&As / AMAs
Interactive infographics
Interactive Content Examples
Now it's time to take a look at a few examples of interactive content in action.
Optimize for Social Sharing
Because interactive content is so unique and compelling, people will typically more likely to share it on social media without needing any sort of push. But there are a handful of things you can do to increase your shares even more.
Include contextual share prompts by using Click to Tweet or an image sharing plugin.
After providing the results from an assessment, test or calculator, present a "share your results" call-to-action to encourage more shares.
Optimize for RankBrain in Different Ways
Google's RankBrain algorithm is one of its top three ranking factors. One of RankBrain's main jobs is to understand which pieces of content are best at satisfying the needs of people who search for different keywords. The content that does the best job is rewarded with better rankings.
There are two different types of content that Google tends to love: the first type solves a problem or gives someone an answer very quickly.
The second type of content drives high dwell time, keeping people engaged and interested.
Each piece of content you create should attempt to do one of those two things, depending on what you think the search intent is behind the keyword you're targeting. As you might expect, interactive content is great for reducing Bounce Rate and improving dwell time.
Tools, calculators, assessments, polls and tests are generally geared toward solving a specific problem. And the faster you can solve that problem with your content, the more likely you are to be favored by RankBrain.

For example, take a keyword like "car insurance quotes". Many of the first page results have a calculator on the page that you can use to figure out how much you'll pay.

This is the type of interactive content that people searching for that keyword want.

Make it obvious what to do. And reduce the amount of information someone needs to type in to get started.

For example, Bankrate puts their amortization calculator above the fold.

That way, you can't miss it. And despite being a calculator on complicated topics, the calculator only has 4 required fields.

Interactive graphics, maps and timelines, apps, forums, webinars, and Q&As/AMAs are all types of interactive content that are designed to be interesting and engaging vs. instantly useful.

Or in the cases where they are designed to be useful, it's through a long, deep user experience… not as a quick solution to a problem. So design these types of interactive content to be thorough and engaging instead of trying to quickly solve your target audience's problems.
Avoid These Mistakes
The same way not all data should be displayed in an infographic, not every piece of content should be made interactive. Here are some common mistakes that people make with interactive content.
Having the interactive elements get in the way. Simple information is best conveyed simply. Don't add an interactive layer that doesn't add value — for example, by making people click to open boxes that could have simply been shown outright.
Making your interactive look cool, but useless and boring.
Creating "me too" interactive content. The world already has a million and one BMI calculators.

So if you want to create a BMI calculator, it needs to have something SUPER unique to stand out.
Learn More
Visual Content: Interactive content is just one of many types of visual content. This guide will show you how to use visual content as part of your digital marketing strategy.
9 Tools to Help You Create Interactive Marketing Content: This post will show you the practical steps you'll need to master to start with interactive content marketing.
5 Steps to Increase Conversion Rates with Interactive Content: Learn how to boost conversion rates on your landing pages with the help of interactive content.