What Is Podcasting?
Podcasting is the act of writing, creating, and publishing audio-based content. Podcasts are typically released as a series of episodes that listeners may download or stream on their mobile devices or computers. According to data from Statista, the majority of US consumers listen to podcasts.
Why Is Podcasting Important?
Why should you consider podcasting as part of your content marketing?
Podcasts are already popular. But more important than that, they're growing quickly. 41% of adult Americans have listened to a podcast within the past month, up from about 10% a decade ago.
Podcasts research a highly-valuable target audience. According to research by Nielsen, podcast fans tend to be young, educated, and affluent – an excellent target consumer for marketers.
There are lots of niche audiences that listen to podcasts. If you have an idea for a podcast, there's probably an audience out there for it. The most popular podcasters cover topics you'd expect, like music, technology and sports. But some of the most popular podcasts break the mold. For example, the true-life investigative podcast Serial, and the hours-long epic episodes of Dan Carlin's Hardcore History.
Podcasting advertising is still cheap, which may make it a good way to promote your own content. Advertising on podcasts costs only about $0.01 per active user per hour, compared to $0.11 for radio, $0.13 for TV, and $0.24 for the Internet. So even if you don't start your own podcast, you can still get in on the action.
Appearing as a podcast guest can help you reach a new audience. Going on a podcast as a guest is similar to a guest post. But unlike a guest post, there's very little prep involved. You basically just show up and get asked about things you already know.
Best Practices
Choose a Goal For Your Podcast
The first step in your podcasting journey is to develop your overall goal is for the podcast.
Is it in support of an existing business, to build a new one, or just for fun? Is it for networking purposes, or to monetize? Your answers to those questions will help guide every other decision you make.
For example, The GaryVee Audio Experience podcast is designed to build stronger ties with his existing audience.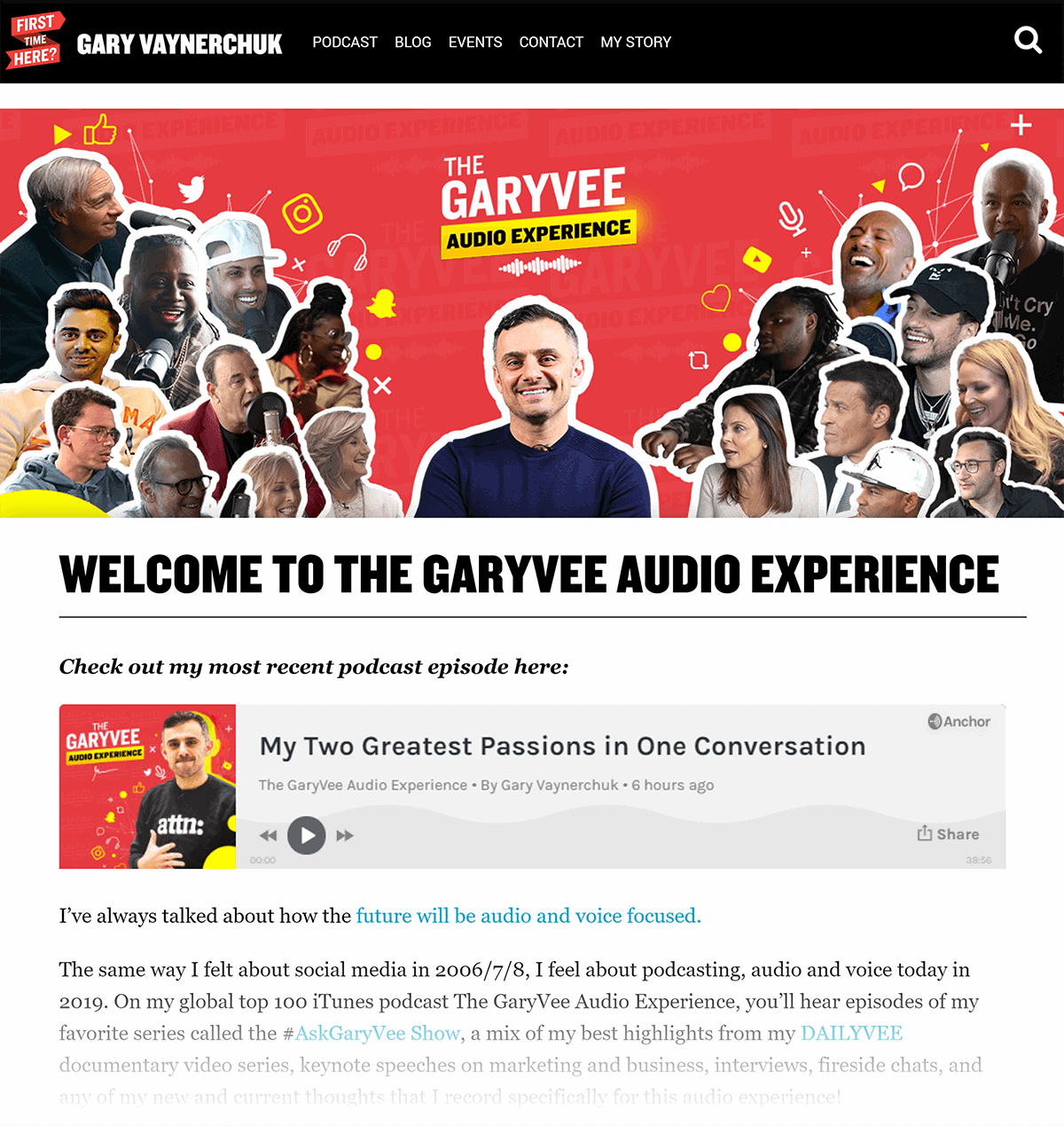 On the other hand, the main goal of The Art of Charm podcast is to reach new people.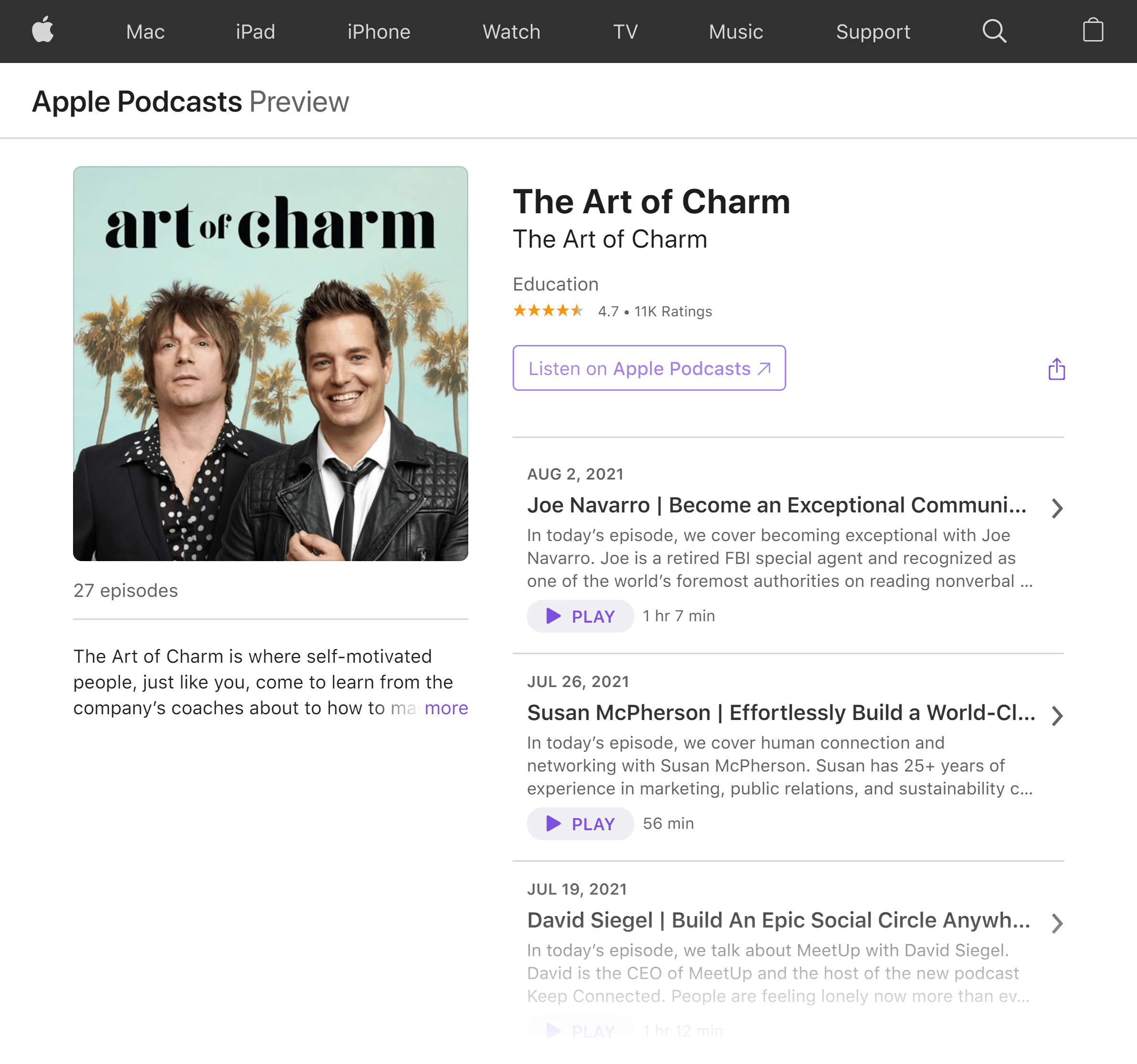 There's no right or wrong goal to have with your new podcast. But it is important to have this goal in mind… before you shop for a microphone.
Choose a Podcast Topic
Your next step is to zero in on your podcast's topic.
In general, your topic needs to have enough "meat" to support several episodes. And there needs to be an audience out there for whatever it is you're going to cover. The audience doesn't have to be huge. But you do need some sort of an audience. Even if it's relatively small.
You can check if your topic can support an audience by checking out similar podcasts on Apple Podcasts (iTunes).

If you see that there are already a handful of podcasts that cover the same general topic that you do, you're good.
That said: if you see 100 podcasts on your topic already, how can you possibly stand out?
"Niche down".
In other words: focus your podcast on something super specific at first.
For example, The Auburn Undercover Podcast covers all things Auburn football. There are a lot of college football podcasts out there. But very few dedicated to one team.
Pick a Podcast Format
Now it's time to pick a format for your podcast.
Here are a few different formats to choose from.
Single host
Multi-host (you and a co-host)
Discussion-based
Tips and strategy-based
Interviews / guests (whether in-person or remote)
Independent episodes
Serialized, with a continuous story like "Startup" by Gimlet Media or "Serial" by WBEZ Chicago
You don't need to necessarily stick with a single format for the entire run of your podcast. You can experiment with different formats to see which one works best for you.
Choose a Name For Your Podcast
Now it's time to choose a name for your podcast.
Developing a name for your podcast is more art than science. Even so, here are the characteristics that your podcast name should have.
Short and sweet (it needs to fit on your podcast cover art)
The ".com" domain is available
Easy to understand verbally
Describes your podcast's content
For example, NPR's hit podcast "How I Built This" checks all of these boxes.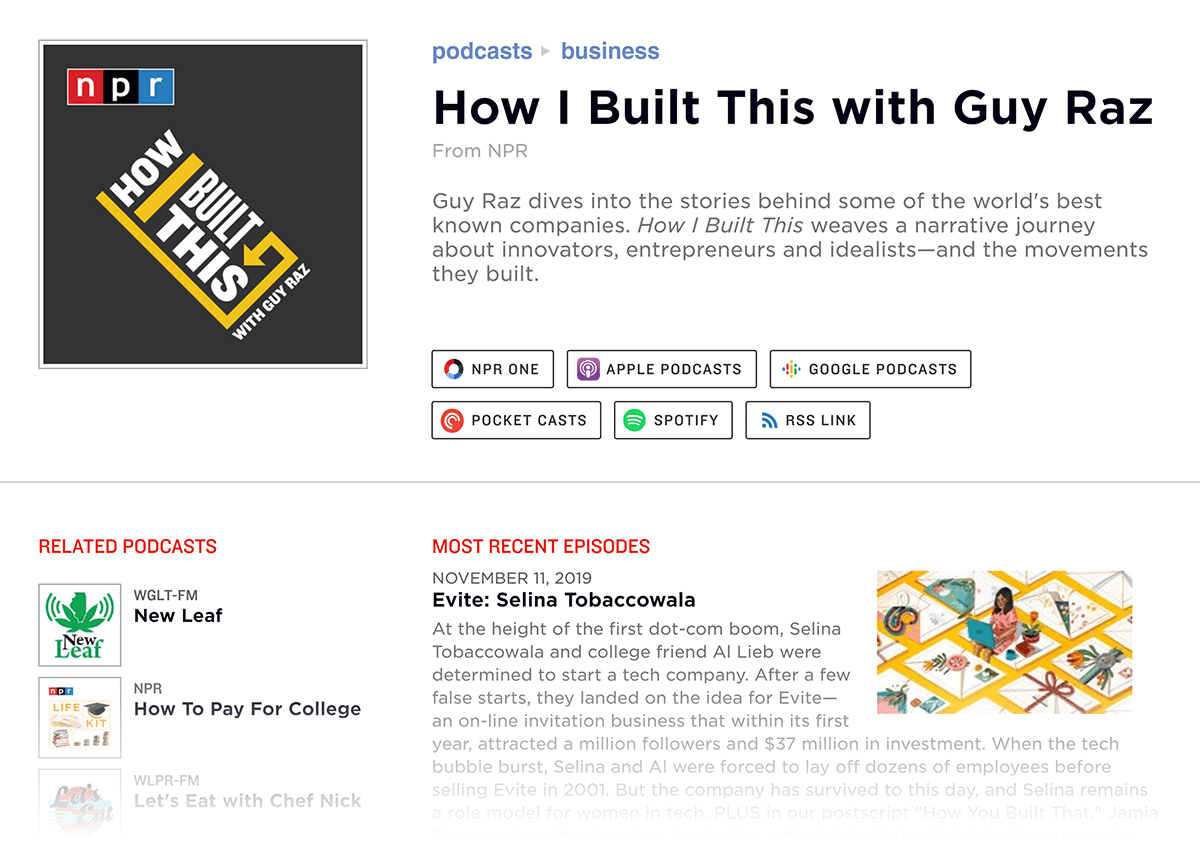 It's short. Easy to read and share verbally. And it outlines what the podcast is all about.
Still struggling to find ideas? Use this handy podcast name generator.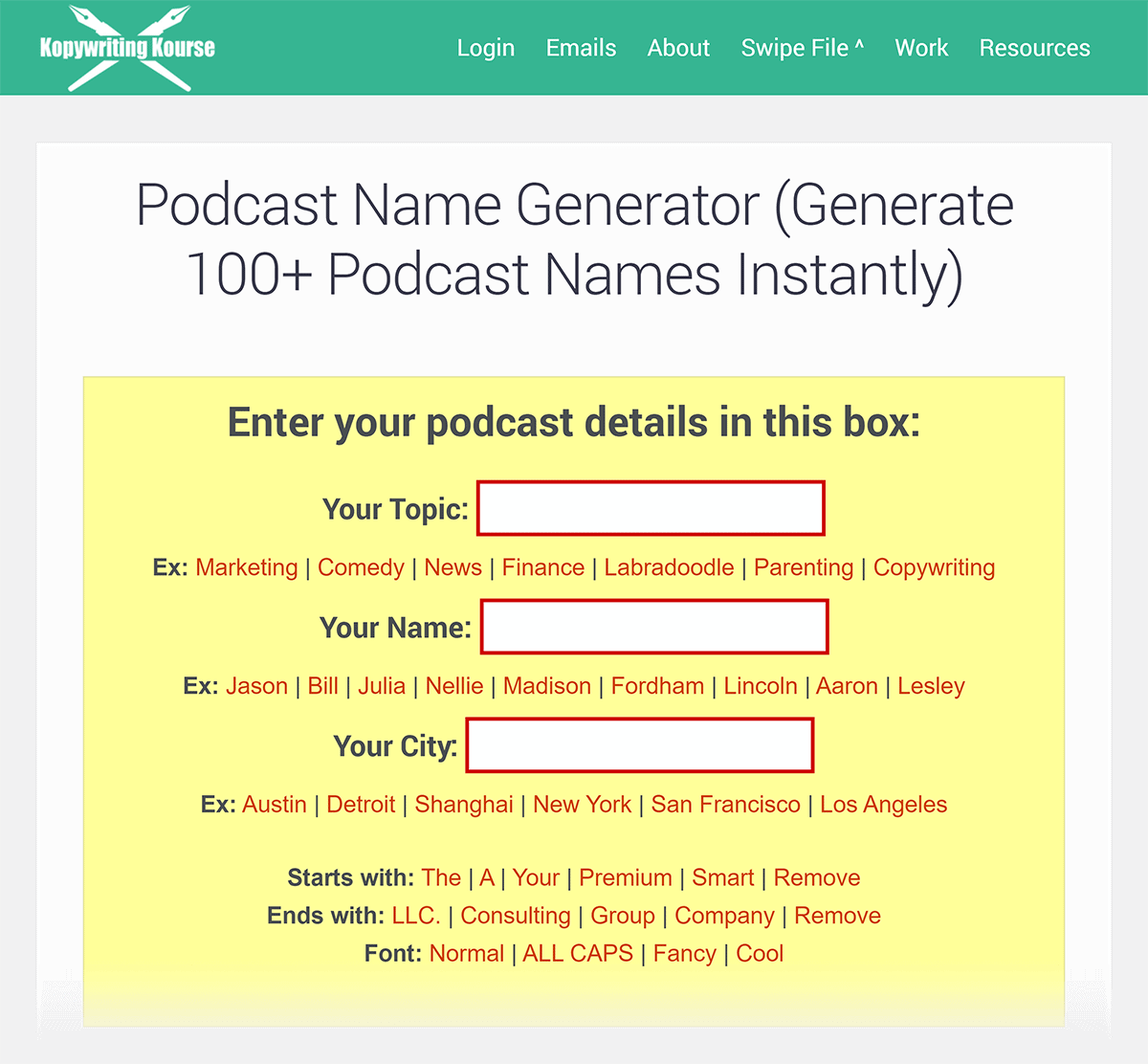 Setup Your Recording Plan
Now that you have a format and name, it's time to plan your recording schedule.
Here's how:
First, decide how often you're going to publish. In the world of blogging, consistency is super important. And that's probably even more true with podcasting. So choose a schedule you know you can stick to, even if it's one episode per month.
Second, script out and outline your first episode. If your podcast is you sharing your thoughts on a topic, outline the key points that you want to cover. If it's interview-based, write out your questions that you plan to ask your first guest over Skype.
Finally, put your podcast schedule in your content calendar.
Get Your Equipment Ready
This is a step that trips a lot of people up. In fact, many people jump right over the steps that we covered so they can start shopping for mics on Amazon.
Does having the right equipment increase the odds that your podcast will succeed? Yes. Audio quality definitely helps.
The thing is, no microphone or editing software will overcome a podcast with poor positioning or mediocre content. This is why I dedicated the beginning of this guide to making sure those things are taken care of.
With that caveat/rant out of the way, here are some things to keep in mind when choosing equipment for your podcast.
If you're itching to get started and don't have any budget at all, you can record your first episode with nothing more than your phone (or laptop) and a pair of earbuds. In fact, even the earbuds are optional!
It doesn't take much to make your podcast sound a lot better than it would by using your phone's built-in mic. The "Podcast Starter Kit" outlined here lists options for different budgets and needs, starting at just $63 for an ATR-2100-USB microphone. (That same microphone is also listed in Tim Ferriss' list of podcasting gear.)
Depending on the room you'll be recording in, you may also need acoustic panels. These absorb or shape any echoing (reverb) that occurs. If you're on a tight budget, you can place yoga mats or throw rugs on the floor. Or use the surprisingly-effective "Duvet method".
Record and Edit Your Podcast
Most recording software can be used for editing purposes, and vice versa. There are many great free and paid options — here are some of the most popular ones:
The exact software that you use doesn't matter all that much. As long as you can get it to do what you want, you're good.
How exactly you edit your podcast depends a lot on the format and style that you're going for.
For example, Tim Ferriss's podcast is very lightly edited. Except for a scripted intro, his 2-3 hour podcast episodes are essentially raw uploaded audio. It's the same story with The Joe Rogan Experience.
On the other hand, This American Life is made up of heavily edited, polished episodes.
Host Your Podcast
Now is your moment of truth: bringing your podcast to the world!
Before your podcast can be found and listened to on Apple Podcasts, Google Play, Spotify, Stitcher and elsewhere, you'll need to get set up with a podcast host. That way, your audio files will go on an RSS feed that various podcast apps can pick up.
If you're using Anchor, this functionality comes built-in. Otherwise, you'll need to sign up for podcast hosting and upload your files.
Here are a few podcast hosting options to consider.
Libsyn: the oldest and probably most popular podcast host out there.
Buzzsprout: simple and easy.
Transistor: includes advanced analytics.
Besides hosting your podcast, you want to publish show notes and transcripts on your blog.
Create and Optimize Your Podcast Settings
Add your podcast settings including title, description, artwork, categories and more.
The idea here is to help Podcast directories understand what your podcast is all about. They can't "listen" to your episodes. So they rely on the text-based content that you upload to figure out what kind of content you're putting out there.
Pro Tip: Include related keywords in your title and description to maximize your chances of getting found on podcast apps.
Here's an example: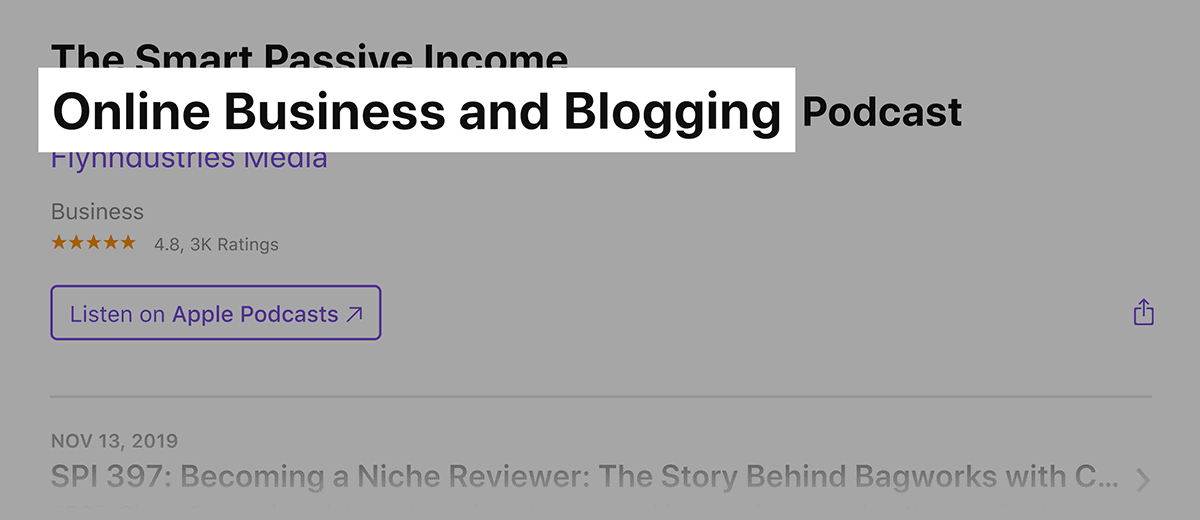 Get Featured
The majority of podcast listening happens on Apple Podcasts. And on Apple Podcasts, you have approximately eight weeks after launching your podcast to attempt to get featured in the "New and Noteworthy" category.
If you get enough downloads, positive reviews, and subscriptions, the editors may notice your podcast and feature it in this category. This will give your podcast a big bump if you're able to make it there, so promote early and promote hard.
Learn More
How to Start a Podcast: This playlist is a series of 10 videos by podcasting ace Pat Flynn. Our guide gave you a quick overview and a few key first steps. Pat's videos go much deeper.
Tim Ferriss Shares His Podcast Setup (Video): The exact process that Tim uses to record high-quality podcasts. If you're overwhelmed by equipment and recording options, you'll appreciate how simple Tim's process is.
How to Promote a Podcast: Anyone can start a podcast. But unless you have an existing audience, growing a podcast from nothing can be tough. That's where promotion comes into play. And this helpful post by the folks at Buffer will show you how to get your podcast in front of more people using social media.
"New & Noteworthy" and "What's Hot" Sections of Apple Podcasts: This section shows you what formats, topics and structure is working right now in the world of podcasting.