What Is Content Curation?
Content curation is the act of choosing, collecting, packaging, and sharing content from around the web. Curated content typically contains a list of high-quality resources on a given topic, like "best of" lists or content designed to help someone learn a specific skill.
What Makes Content Curation Useful?
Why should you use content curation in your content marketing?
Content curation saves time by filtering out the noise: The best museums in the world use curators. These curators sift out the less-impactful pieces and focus on only the most truly outstanding exhibits or artwork.

It's the same idea with curating content. You're doing the hard work of reading dozens (or even hundreds) of articles. And you're applying a filter that only leaves the absolute best stuff.

Content curation shines a spotlight on great content: This helps your audience find "hidden gems" that they may not have otherwise seen.

For example, some time ago I sent out a newsletter that linked to my favorite pieces of comprehensive content:

Some of these posts were old. Others were new. The idea here wasn't to send my readers all new stuff. Instead, my goal was to curate GREAT examples of content that covers a specific topic.

And because I showed my audience content that they hadn't seen before, the response was great.

Content curation is (relatively) fast: Although it does take time to do, curating content is usually much faster than creating a new piece of content from scratch. In fact, some companies even automate the process at scale for their users. Google Discover is a great example of this.
Content curation helps establish you as a thought leader: The very fact that you can filter through the noise and identify the BEST content on a topic shows that you're an expert.
Best Practices
Find Content Worth Curating
Think of curating content like sports highlights: you may not be the athlete or the cameraman. But you're providing a valuable service by cutting all the footage down to the best parts.
And your first step is to find the highlight that you can feature in your content curation posts. Here's how.
Use BuzzSumo Content Explorer
This content marketing tool is like a search engine designed for content curators.
To use this helpful content curation tool, type in a topic.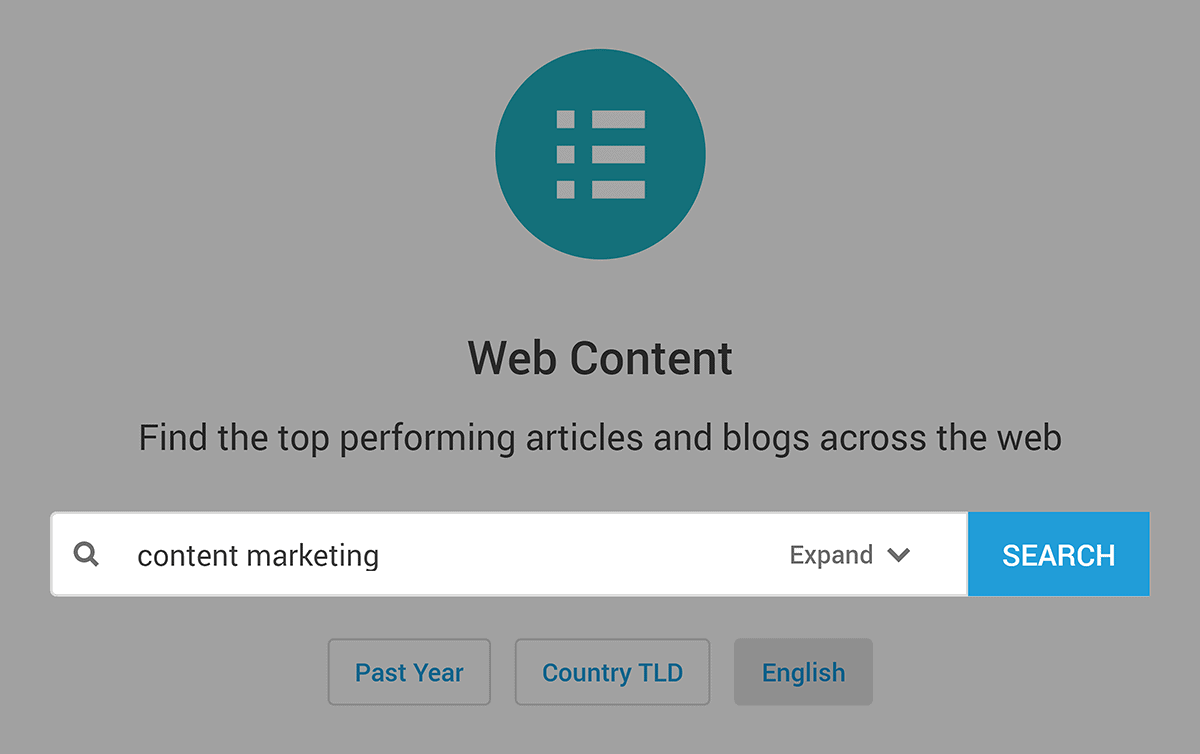 And then, sort through the results.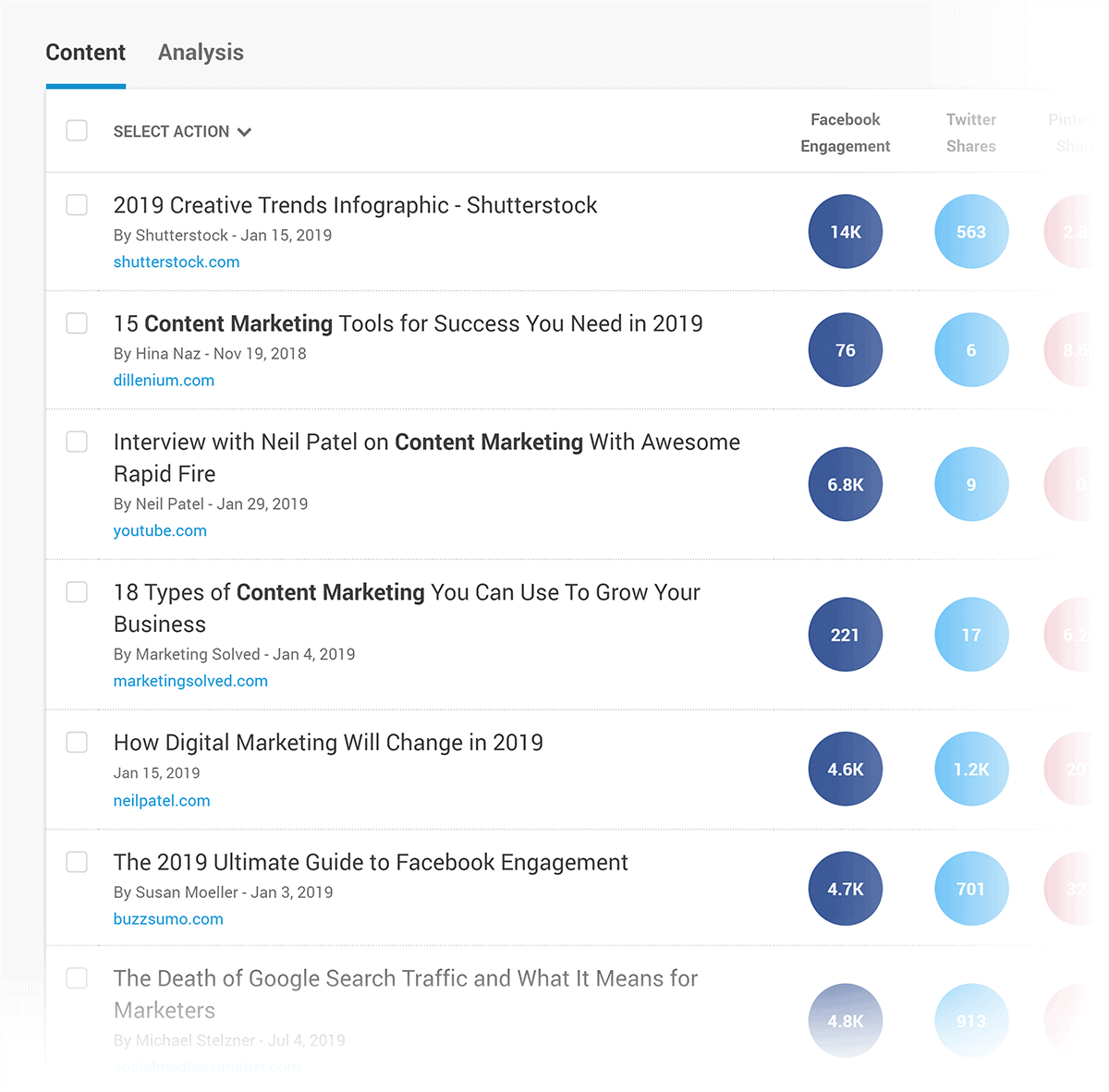 Finally, sort through the results and save any posts that seem worthy of curating.
What you include or don't include in your curation post depends on the topic. If you're curating a list of case studies, then you want to zero in on content that includes real-life examples.
But if you're looking to curate infographics, then you should keep an eye out for high-quality infographics in the results.
Subscribe to Industry Email Newsletters
Many of these newsletters curate the best content for you.
For example, The Moz Top 10 goes out on a monthly basis. This popular newsletter highlights the best SEO and content marketing articles from the month.
Keep a Swipe File
Create an ongoing list of what you see people sharing and talking about on social media. Even if you're not sure how you'll use that content yet, it's nice to have a list of amazing content ready to go whenever you want to write a content curation post.
You can use your browser's bookmarks to save this content. Or use a content curation tool like Scoop.it, Pocket, or Evernote.
You can even include your own content on this list. There's nothing wrong with including content that you've published on your curated content list.
Pro Tip: Search on Twitter and Instagram with hashtags to find content that's getting a lot of traction.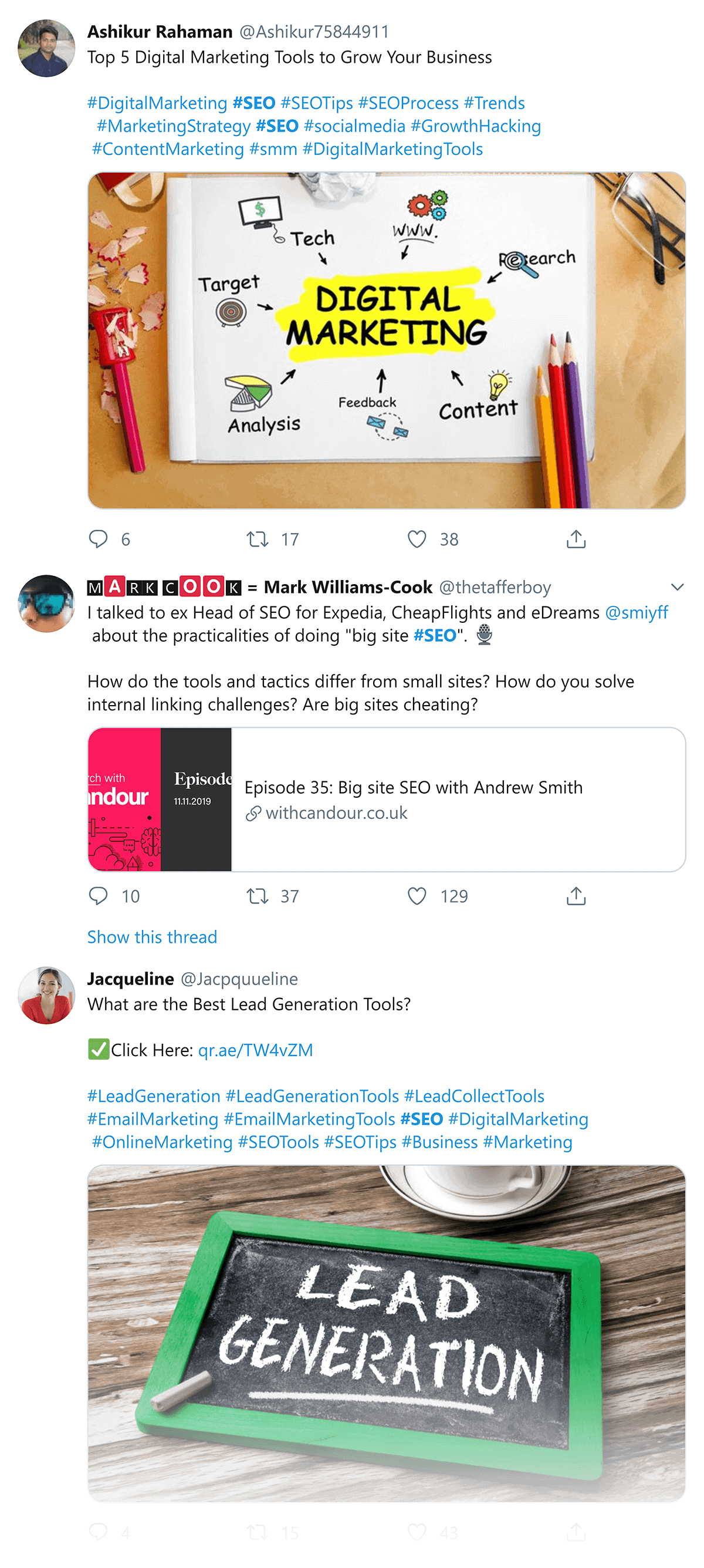 Search In Google
In a way, Google's algorithm curates some of the best content online for you.
For example, when you search for "content curation tools", the results are sorted by what Google deems as the best content.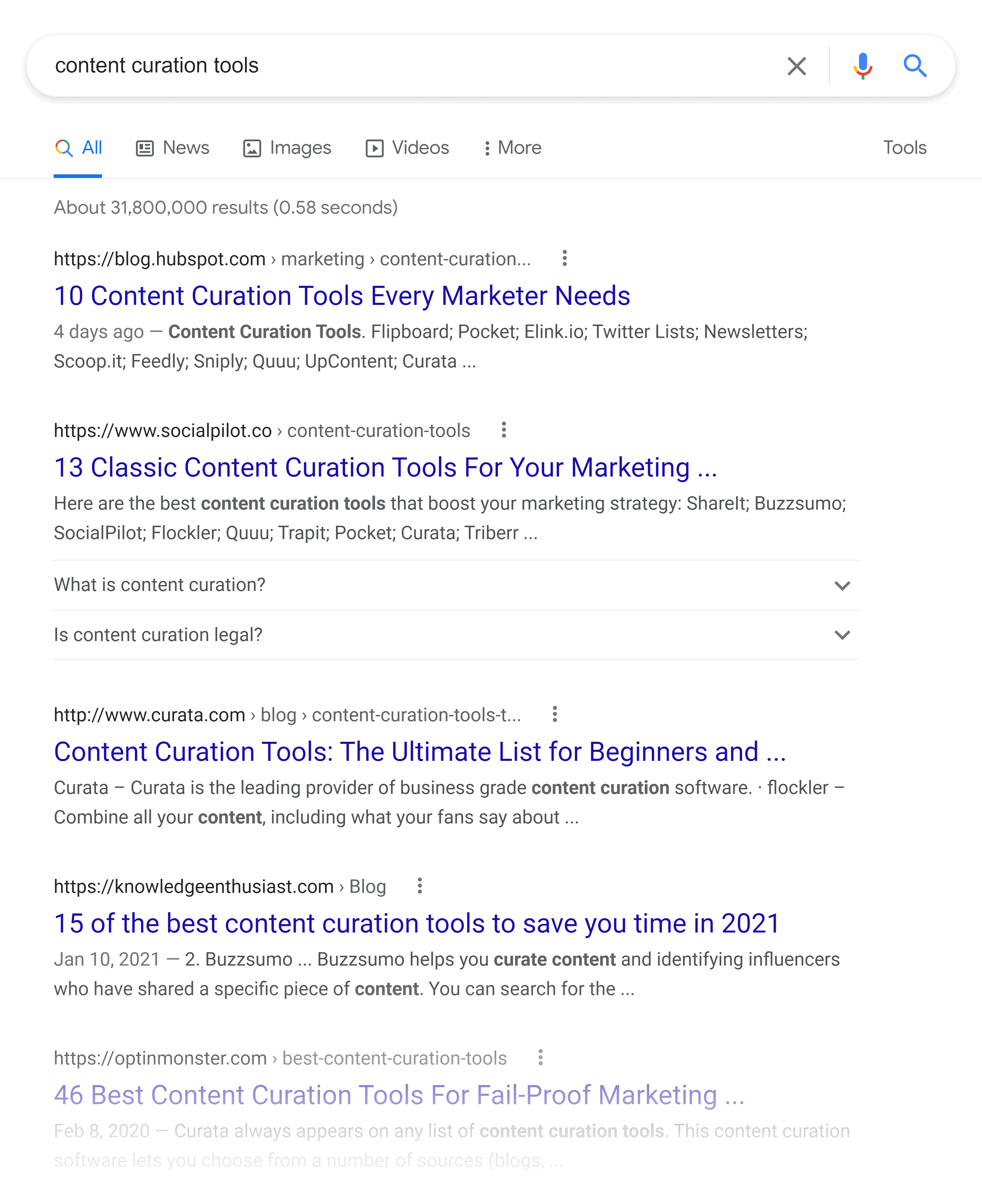 Obviously, you may not agree that the first page is full of content that's worth curating. And that's OK. After all, part of your job as a curator is to figure out what's good or not.
This is why I recommend looking at the 2nd, 3rd or even 10th page for "underground" content that may be amazing… but for whatever reason hasn't cracked Google's first page.
Scan Popular Blogs
Instead of searching for content based on a topic, go straight to blogs that tend to publish amazing content.
All you need to do is scan their blog feed for content that would be a good fit.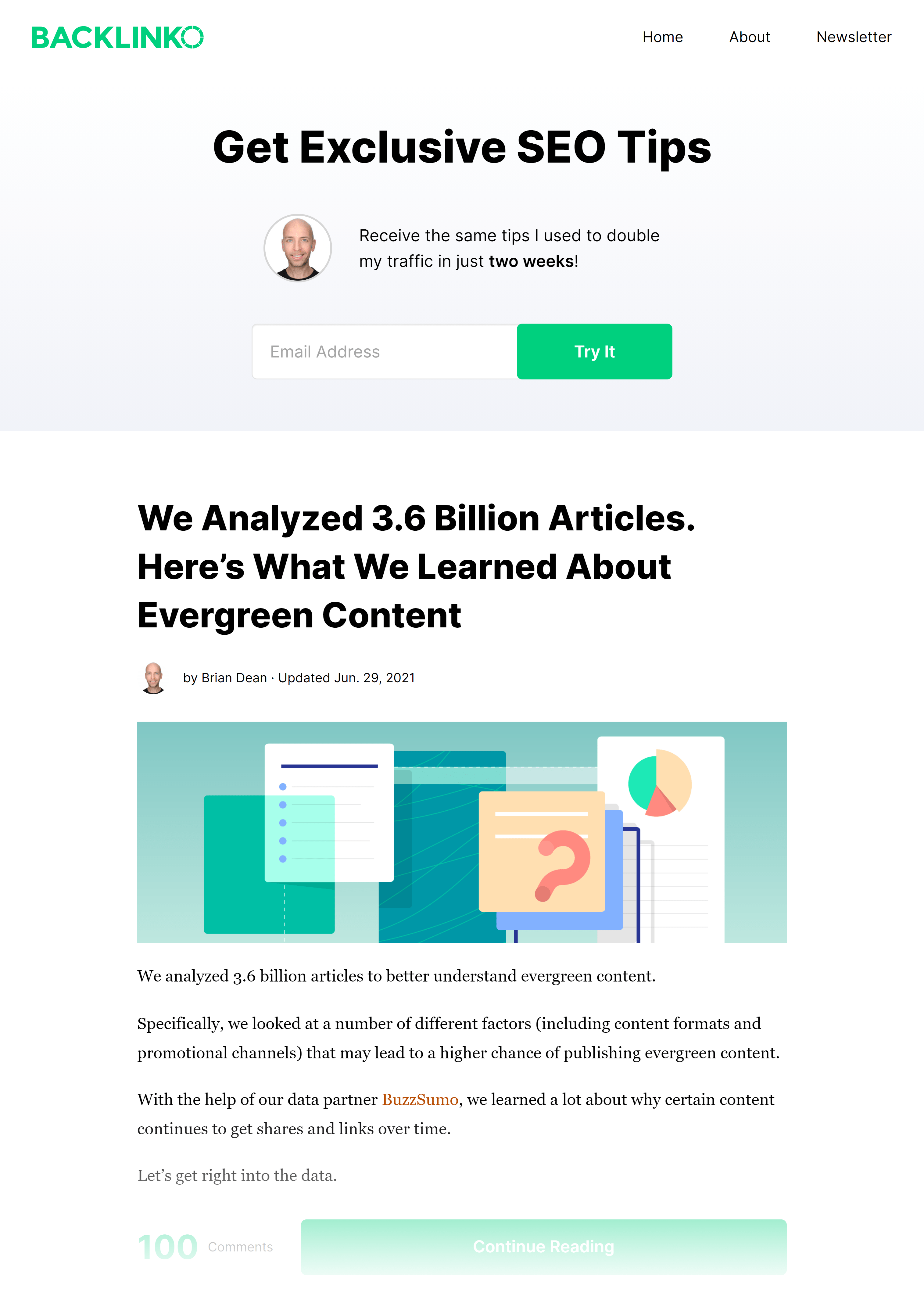 (Or subscribe to their RSS feed using a tool like Feedly.)
Sometimes, the blog will even have a "Popular posts" list that you can use to quickly find their best stuff.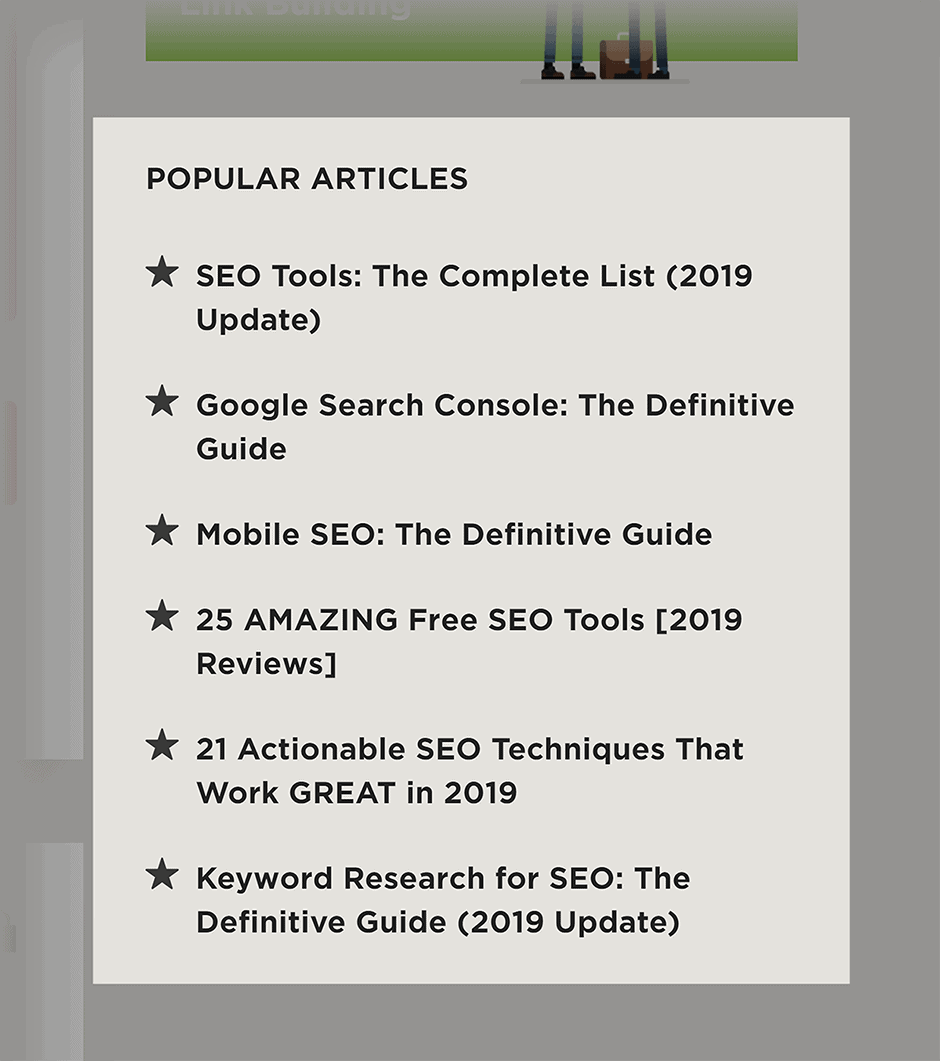 Share Other People's Content on Social
Now that you have a list of amazing content from a variety of sources, what's next?
The easiest way to curate content is to simply share that content on social media.
Here's an example of a tweet that's curating content from around the web: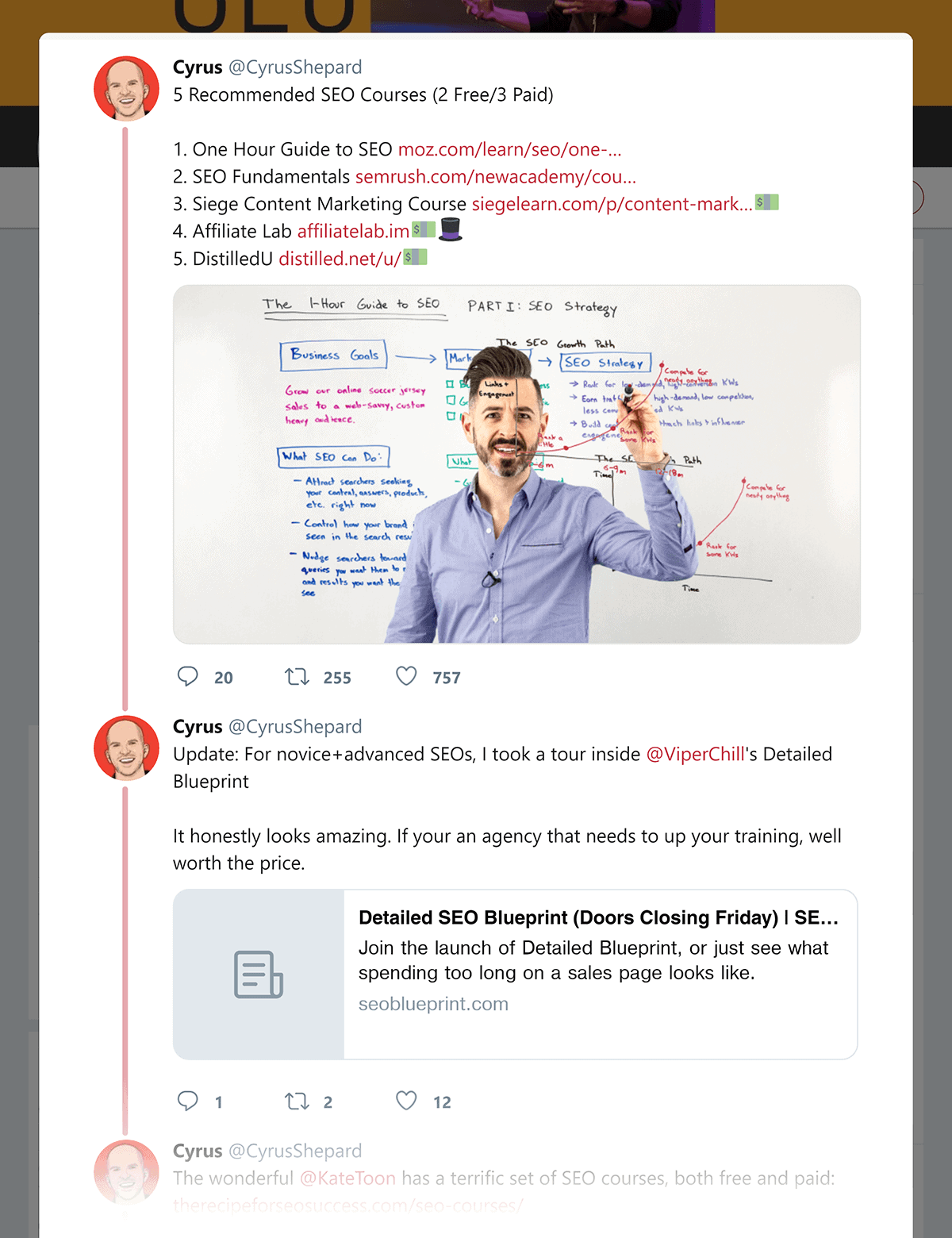 This type of content curation can benefit you in a few different ways:
First, it gives you content to share with your social network, without having to produce it all yourself.
Second, it can help you build relationships with other people in your industry.
Finally, people may include your curated social media posts in their articles and roundups (often as an "h/t" to thank you for helping them find the post). Which can send some traffic your way.
Pro Tip: Whenever you share other people's content on social media, add your own insights, commentary or opinion. This adds value for your followers and positions you as an expert.
Here's an example: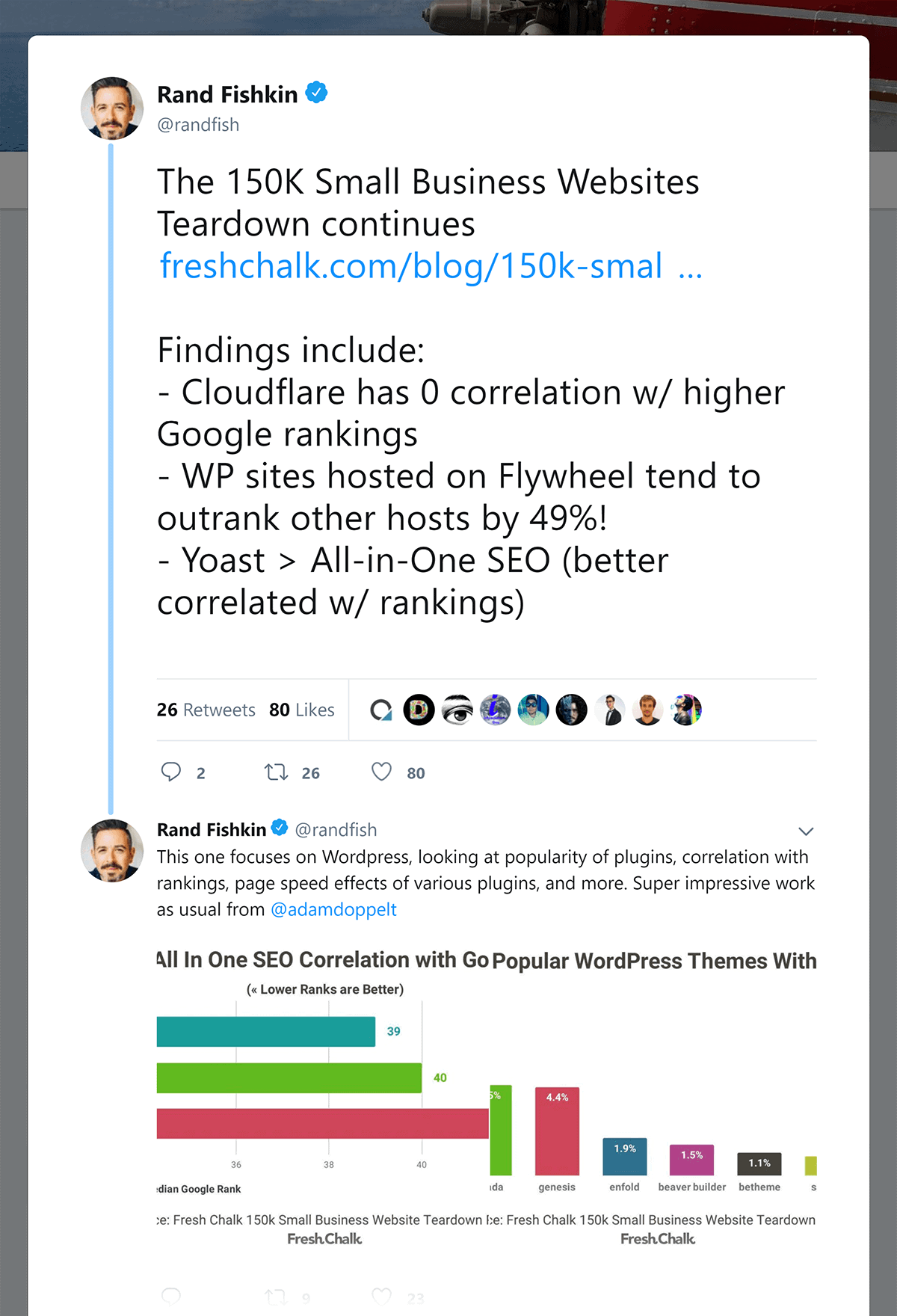 Curate Resources In a Blog Post
While sharing other people's content on social media is the fastest way to curate content, you'll usually get more long-term value out of a blog post.
For example, few years ago I curated some of the best SEO content out there into a post that I called: "How to Learn SEO (In Record Time)"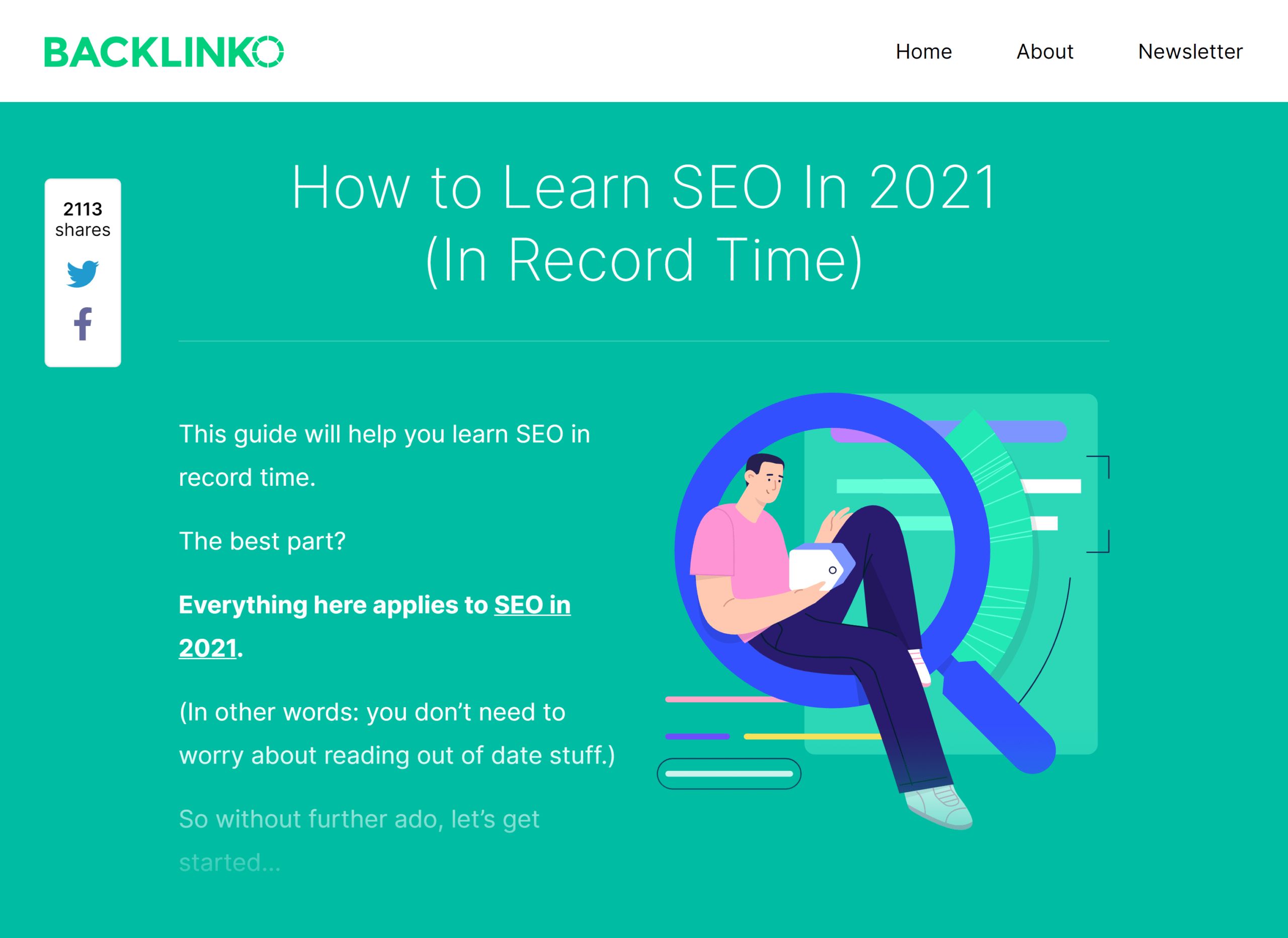 And because I published this content as a blog post, it has serious staying power.
Not only did that post bring in a spike of traffic in the first week…

…but that curated post continues to bring in 1,995 visitors to my site every month.

My learn SEO guide was on the small size. In all I curated about 50 total resources. But you can definitely go bigger. For example, FYI's marketing templates list includes 374 free marketing resources.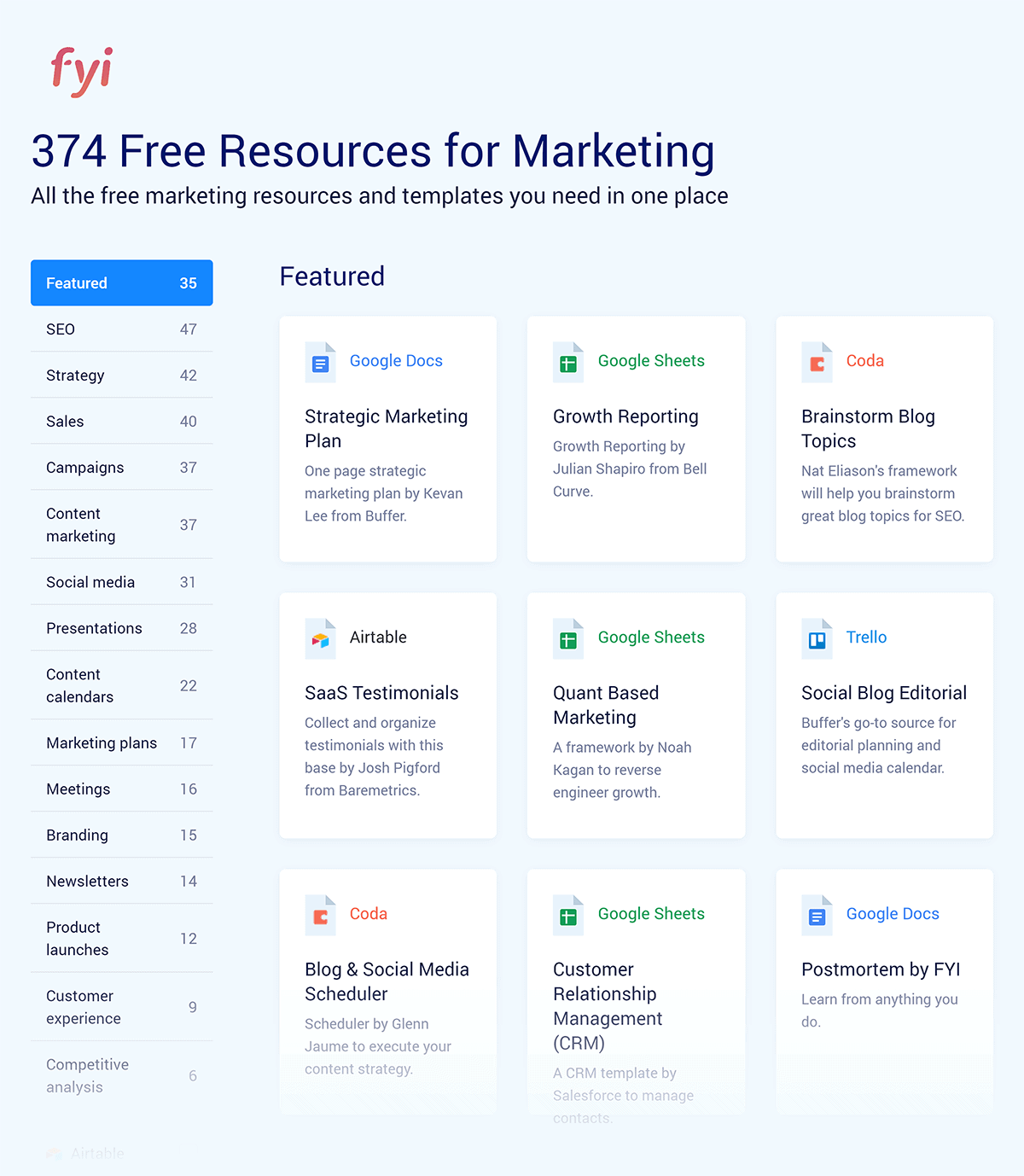 Pro Tip: Many listicles also as curated content. For example, this list of the 100 best infographics from Siege Media is a listicle of curated infographics that have performed well. They even went the extra mile by putting each of the 100 infographics in different categories:

Other Ideas for Curating Content
Stuck? Here are some more ways to find ideas for curated content.
Email Subscribers "Best Of Content"
You probably already know that emailing your subscribers is important. But if you don't publish new content very often, curating quality content can fill the gap. This is what Tim Ferriss does with his "5 Bullet Fridays."
Mine For Gold On Other Platforms
This BuzzFeed article simply lists the best sandwich restaurant in each state based on its Yelp ratings. It also includes a quoted Yelp review for each one.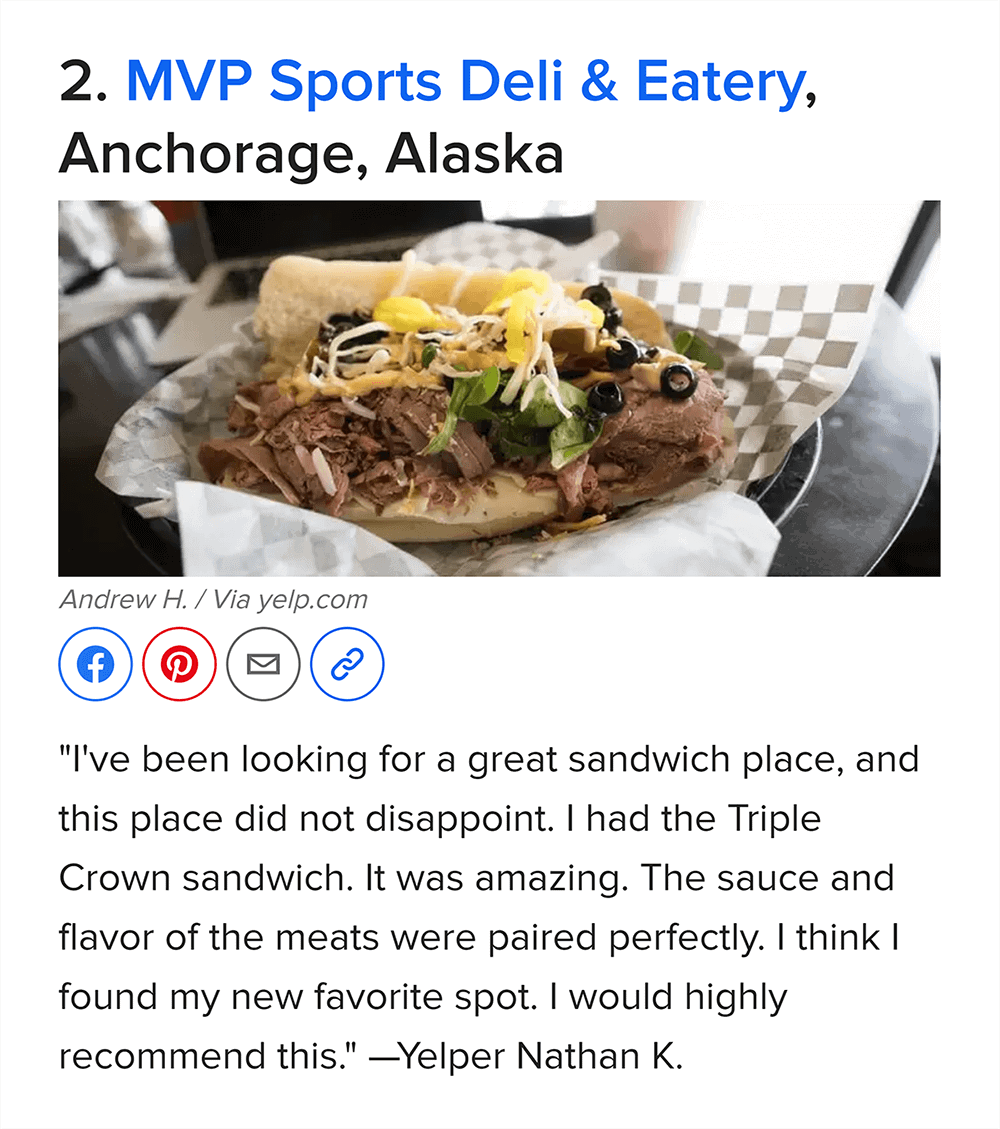 Since most of the content on this list was taken from Yelp, this post was probably a breeze to put together.
We actually did something similar to this here at Backlinko. Even though it was a little bit more involved.
We curated the best Chicago SEO companies based on a formula that we developed internally.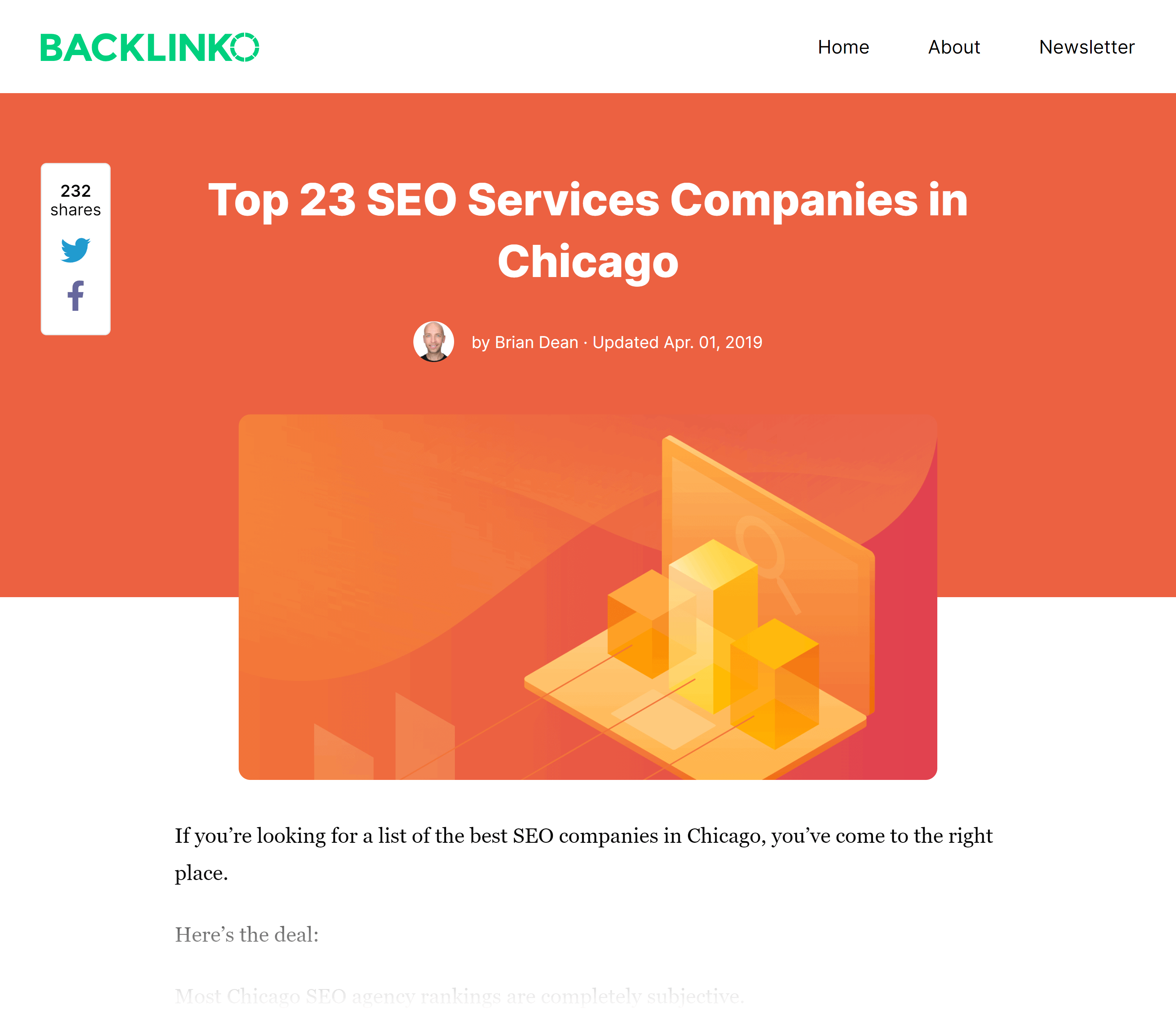 Even though we had to create the formula from scratch, the actual data came from Google reviews and data from Ahrefs. Which meant that creating the actual list was pretty easy.
Curate Your Audience's Questions
Here's where you collect and answer your audience's most burning questions.
Mark Sisson does this every week with his "Dear Mark" series.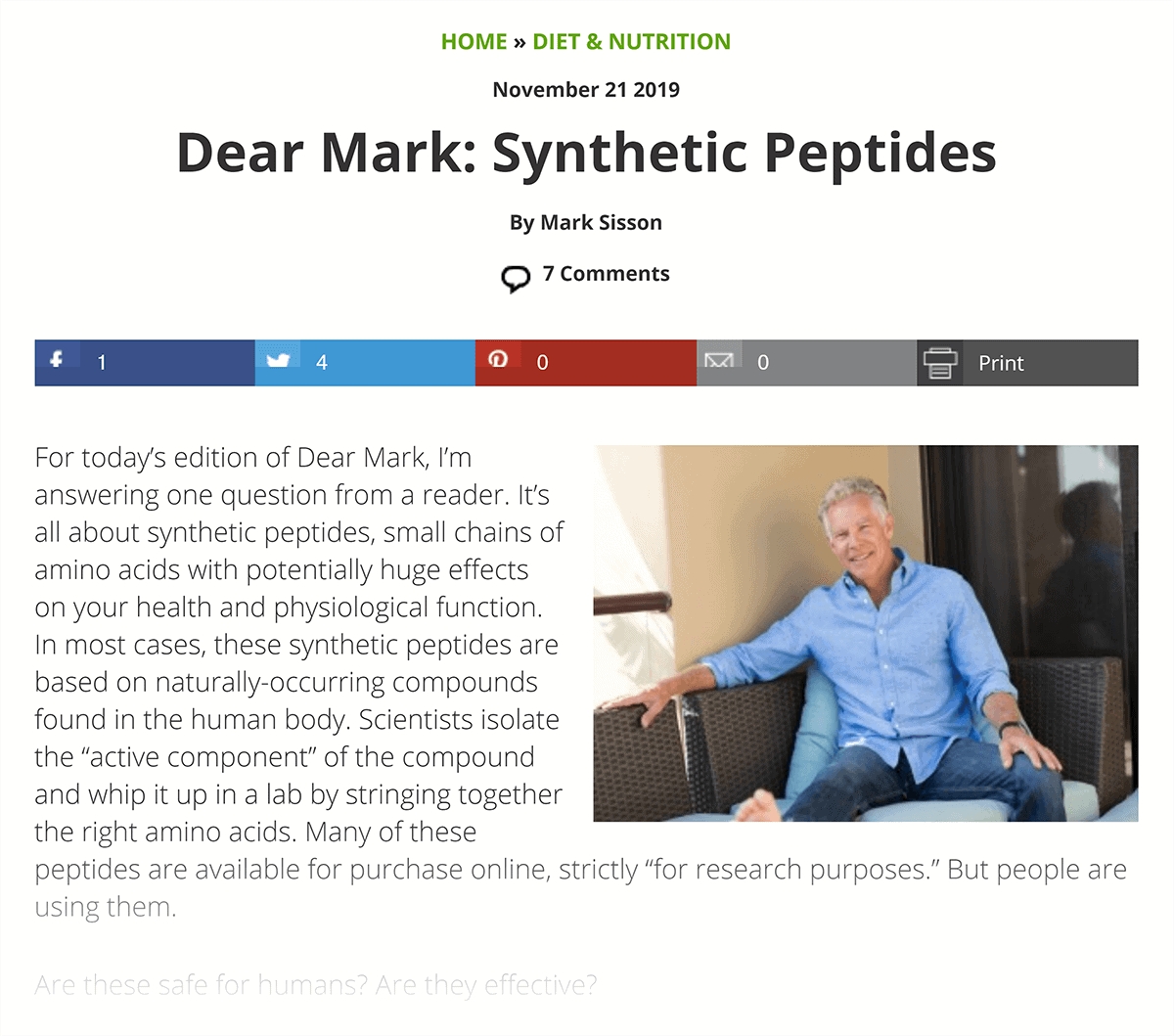 Go In-Depth
The Brain Pickings blog is an excellent example of in-depth content curation. Each post is a collection of quotes on a given topic, typically focused around a single famous person (like a writer, artist, or historical figure). For example, Hemingway's Tough-Love Letter of Advice to F. Scott Fitzgerald on Writing and Turning Suffering into Creative Fuel.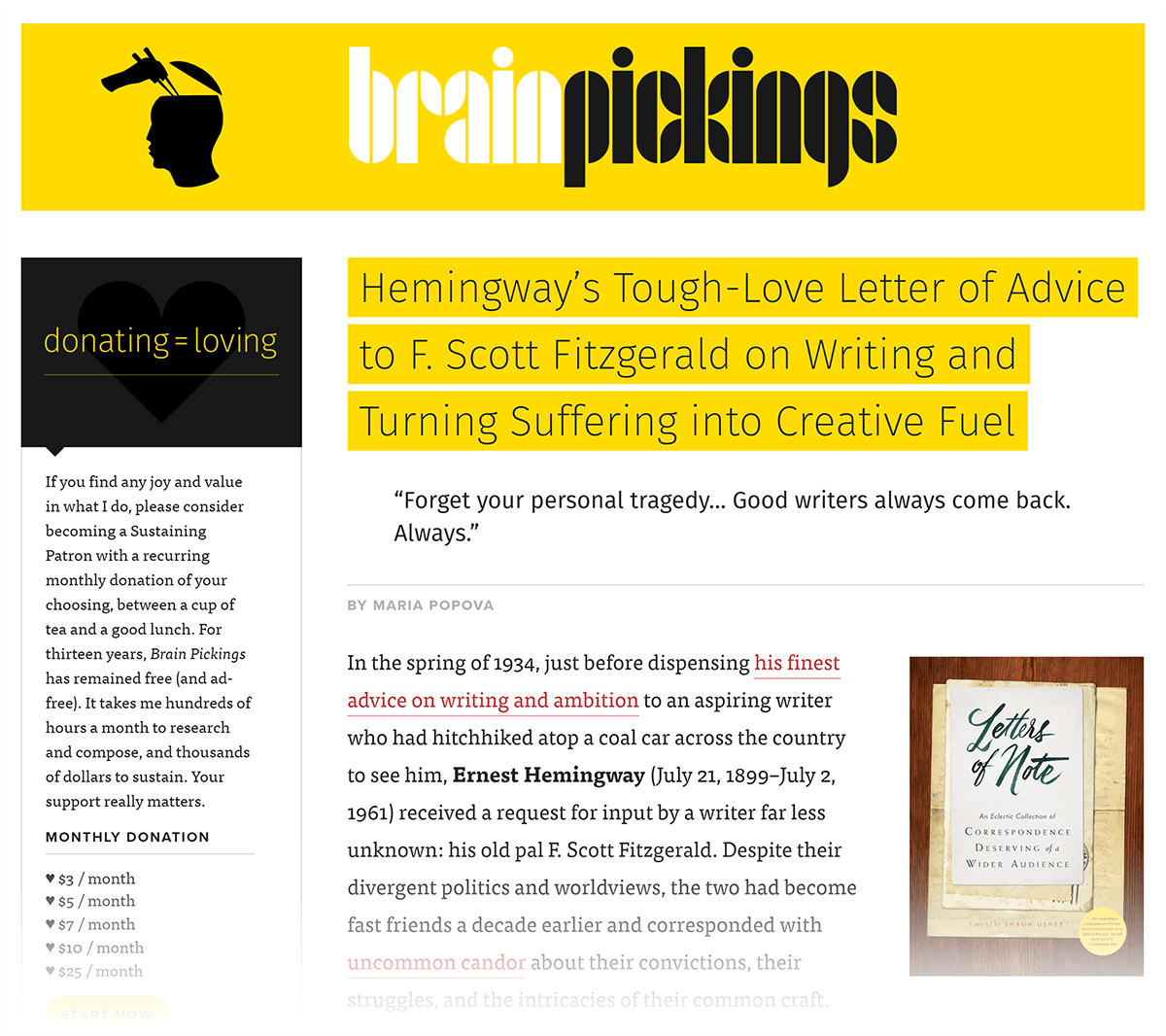 Add Curation to Normal Blog Posts
You can curate relevant content inside of your normal how-to posts, case studies and list posts.
For example, take this guide on our blog about becoming an SEO expert.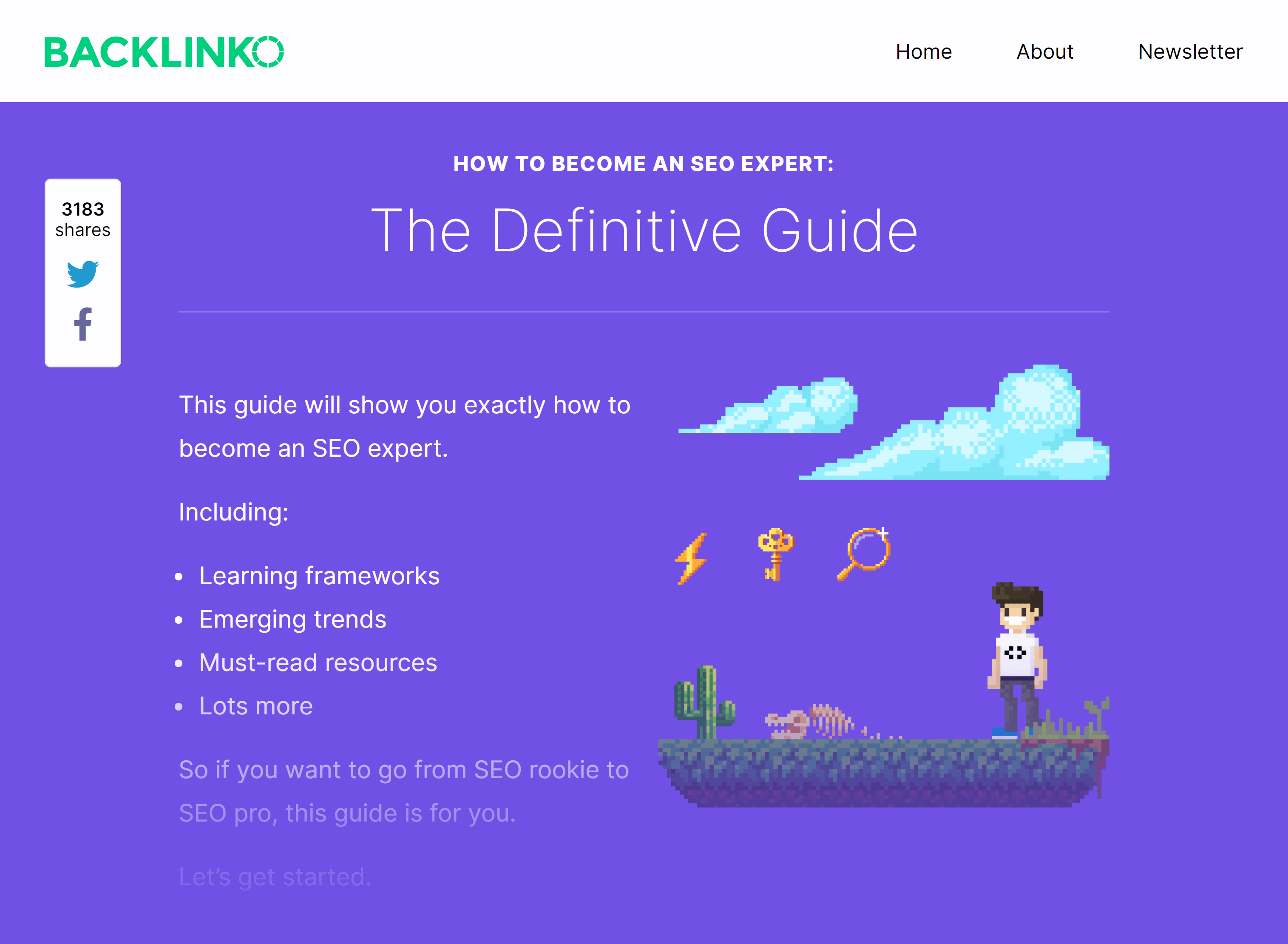 It's mostly original content that I wrote. So in that sense, it's a "normal" blog post.
But I knew that no single guide could cover everything there is to SEO. It's too complex of a topic.
So to make my post more comprehensive, I added links to some additional resources that people could use to learn more.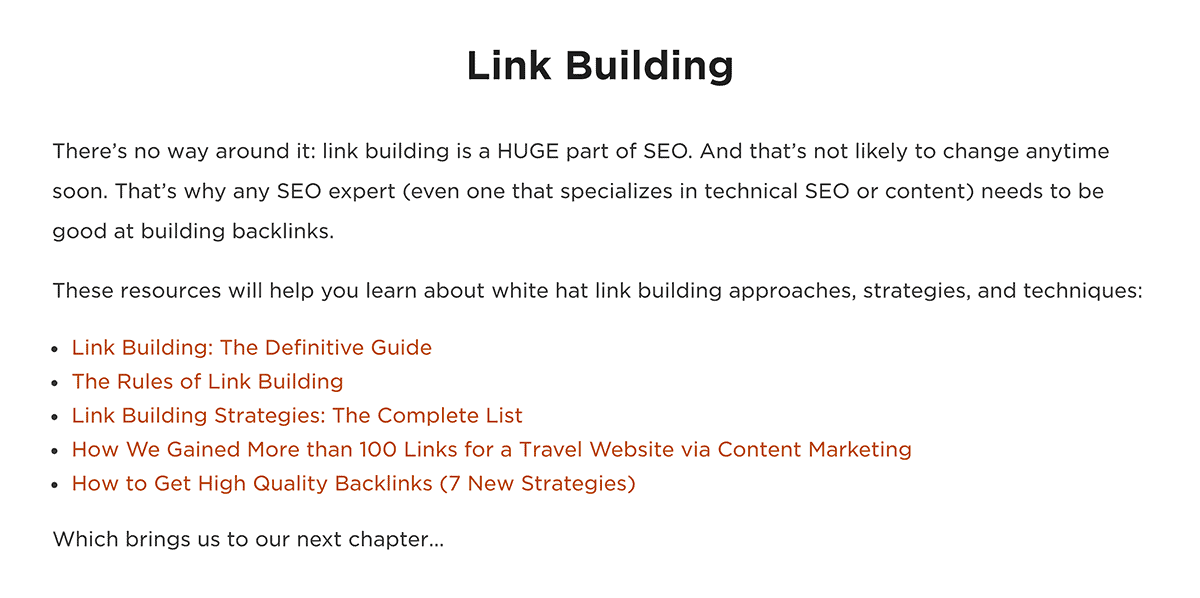 Add Your Own Original Content
Sure, a straight-up list of links to great content provides value.
But if you want to take your content curation to the next level, consider adding original commentary or advice to your post.
For example, take the Learn SEO post that I mentioned earlier. Simple listing out the resources would have been helpful. But that probably wouldn't be enough to get people to link to my content or share it on social media.
This is why I wrote unique descriptions for every resource on the list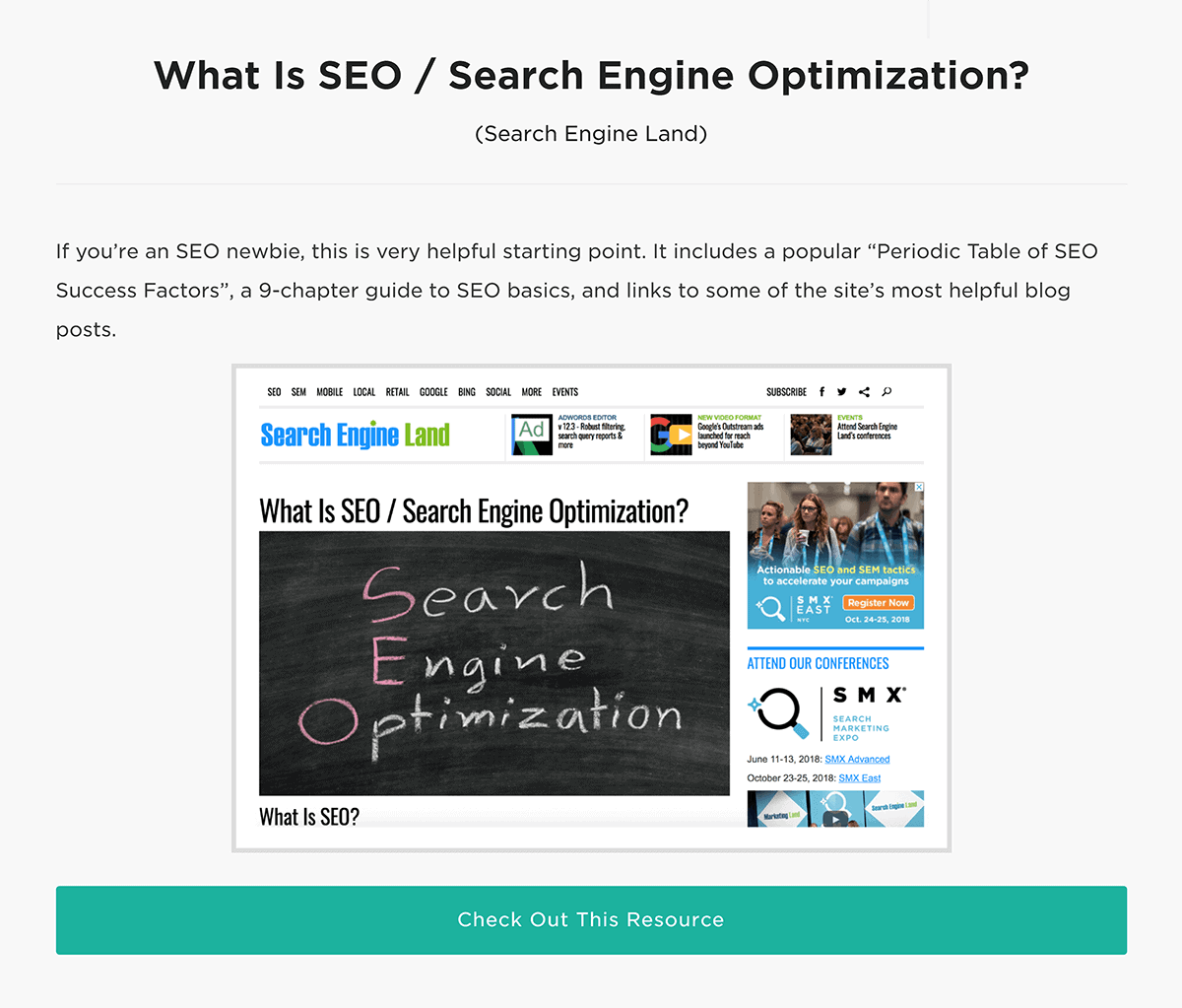 And invested in a custom design to help my guide stand out even more.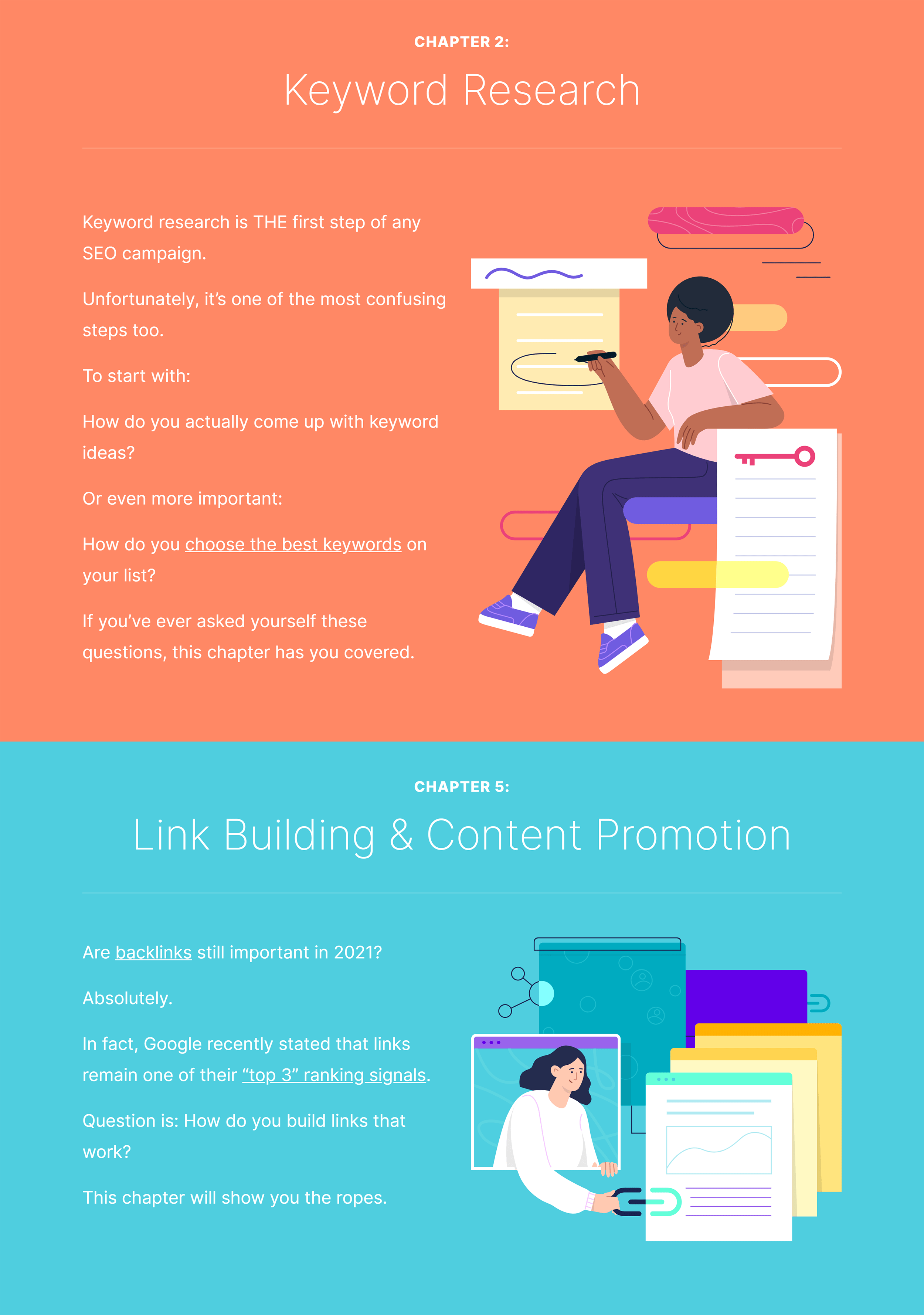 This didn't take that much extra effort. But it made a big difference in how this piece of curated content was perceived.
It was the same story with our Chicago SEO services list. Because we used an objective formula to rank the companies, we could have easily just listed them in order.
But that wouldn't make for a very compelling piece of content. So we described each company and included a screenshot of their homepage.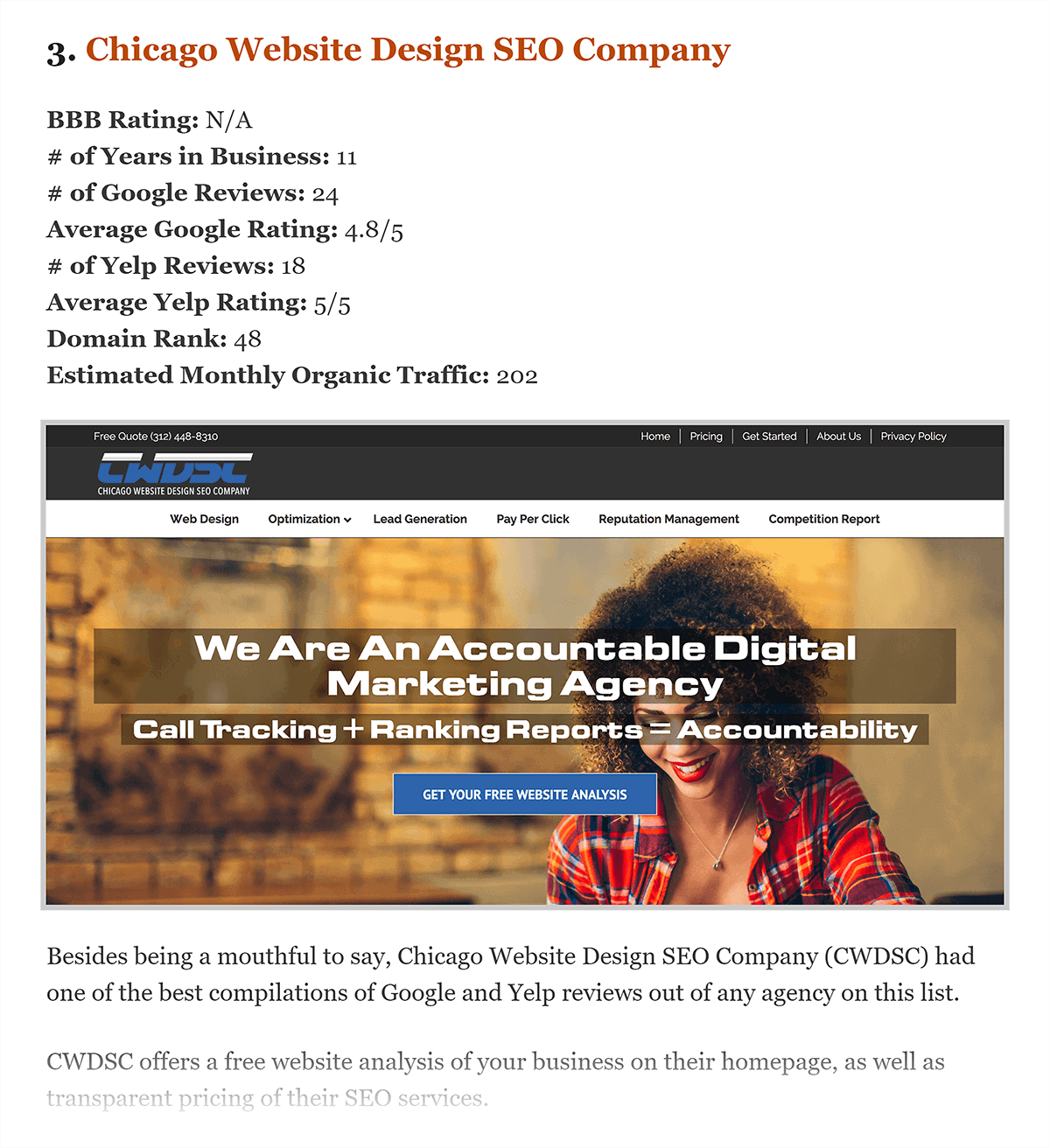 Again, this didn't take 20 hours to pull off. But it helped round out our content a little bit. And increased the perceived value of what we put together.
Reach Out to The People You Included
One of the great things about content curation is that email outreach is built right into it.
Think about it this way:
If you publish a post and email an influencer about it, they MIGHT be interested in it.
But when you publish a post that features that person, they're pretty much guaranteed to be interested.
So as long as you get your content in front of them in a non-pushy way, most people will be receptive to your outreach.
For example, a few years ago I curated the best SEO tools on the market.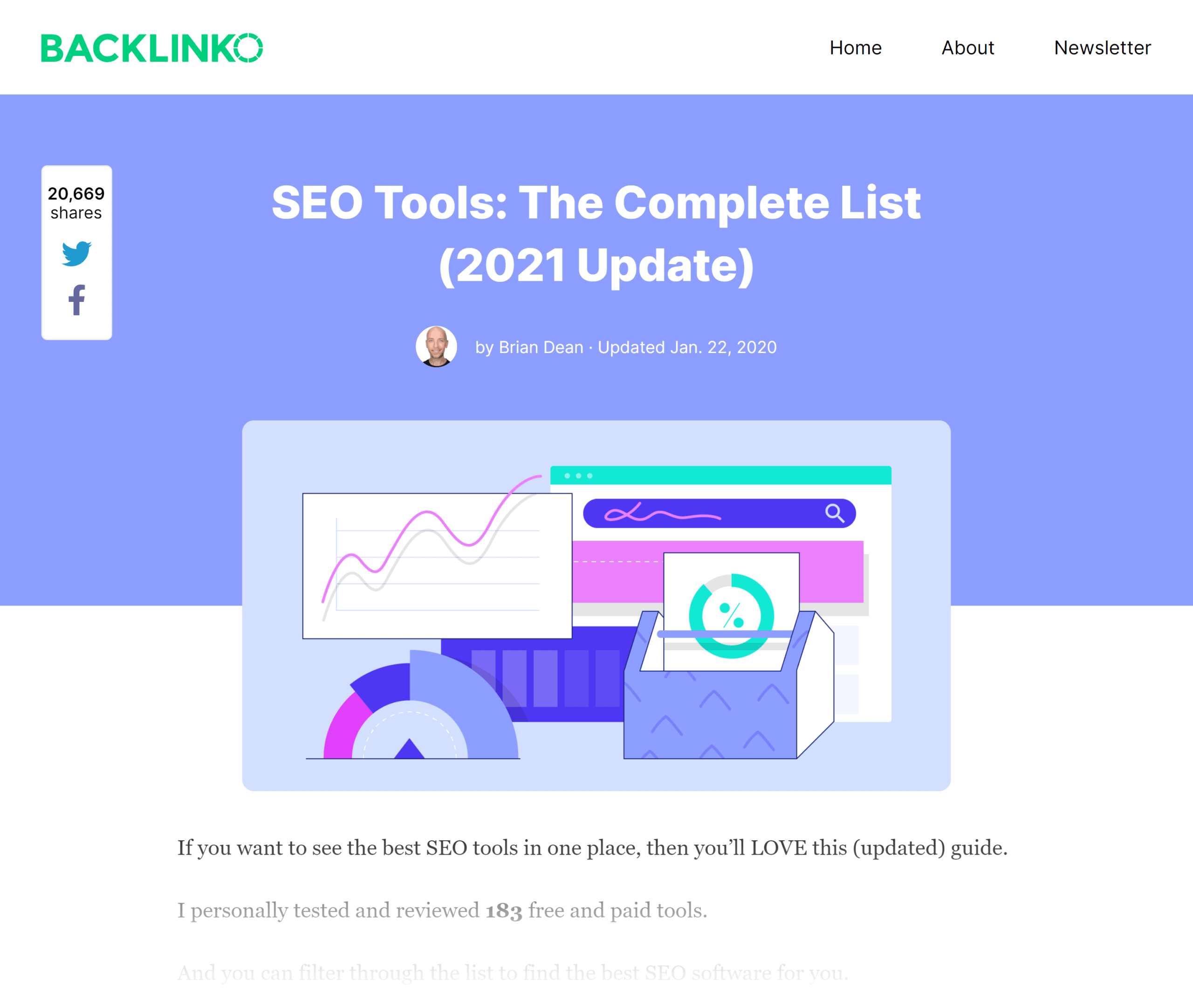 And to help get the word out, I personally emailed someone that worked at each of the companies that I listed.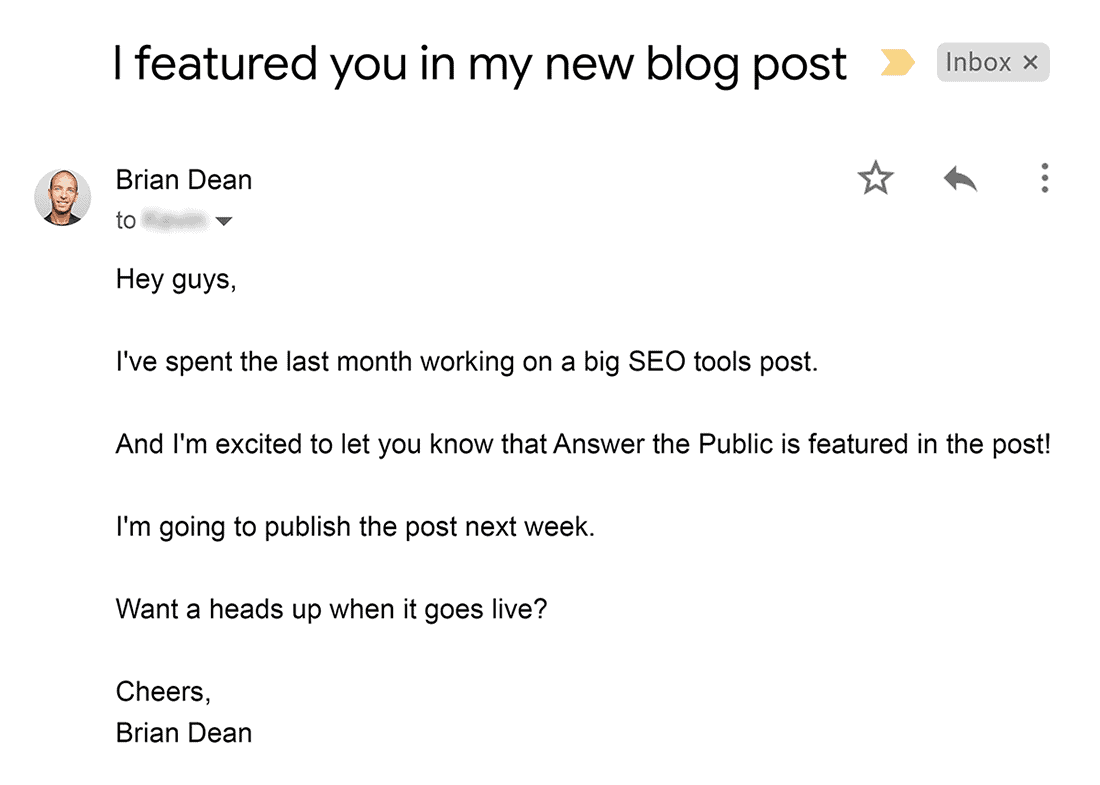 (Who I reached out to depended on the tool. If it was a huge company with 100+ employees, I usually emailed the social media or content manager. If it was a small tool that one person developed, I emailed that person directly.)
And because I wasn't shoving a random article in their face, but an article they were featured in, many of them shared my content on Twitter.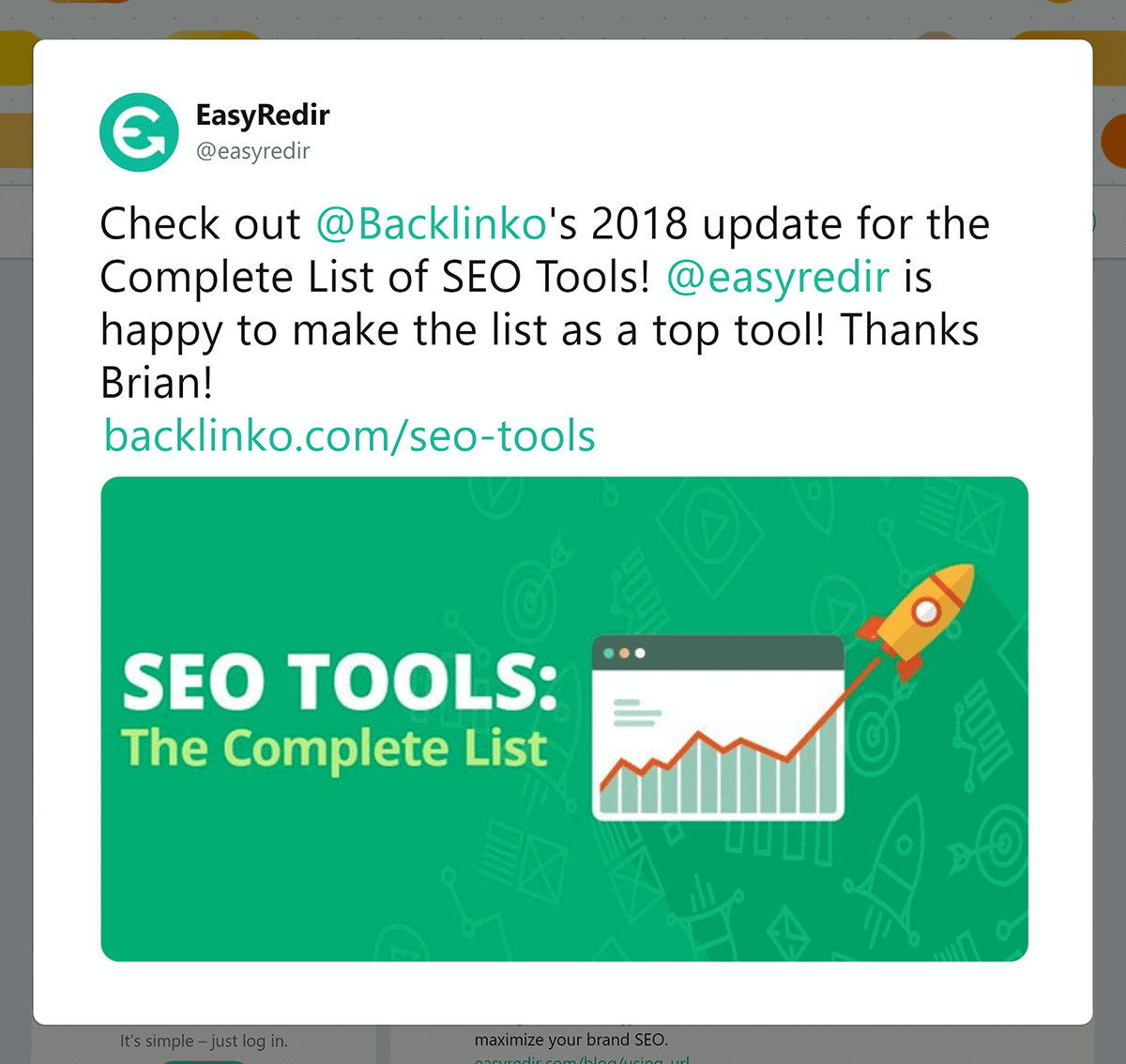 Examples of Content Curation
Here are some great examples of content curation to draw inspiration from:
Learn More
BuzzSumo: The Definitive Guide: BuzzSumo is a powerful tool for content curation. This guide will show you how to use some of BuzzSumo's more advanced features. That way, you can easily find content that's worth curating.
Content Strategy: Learn how content curation fits into your overall content marketing strategy.