SEO Pricing: How Much Does SEO Cost in 2023?
by Brian Dean · Updated Mar. 27, 2023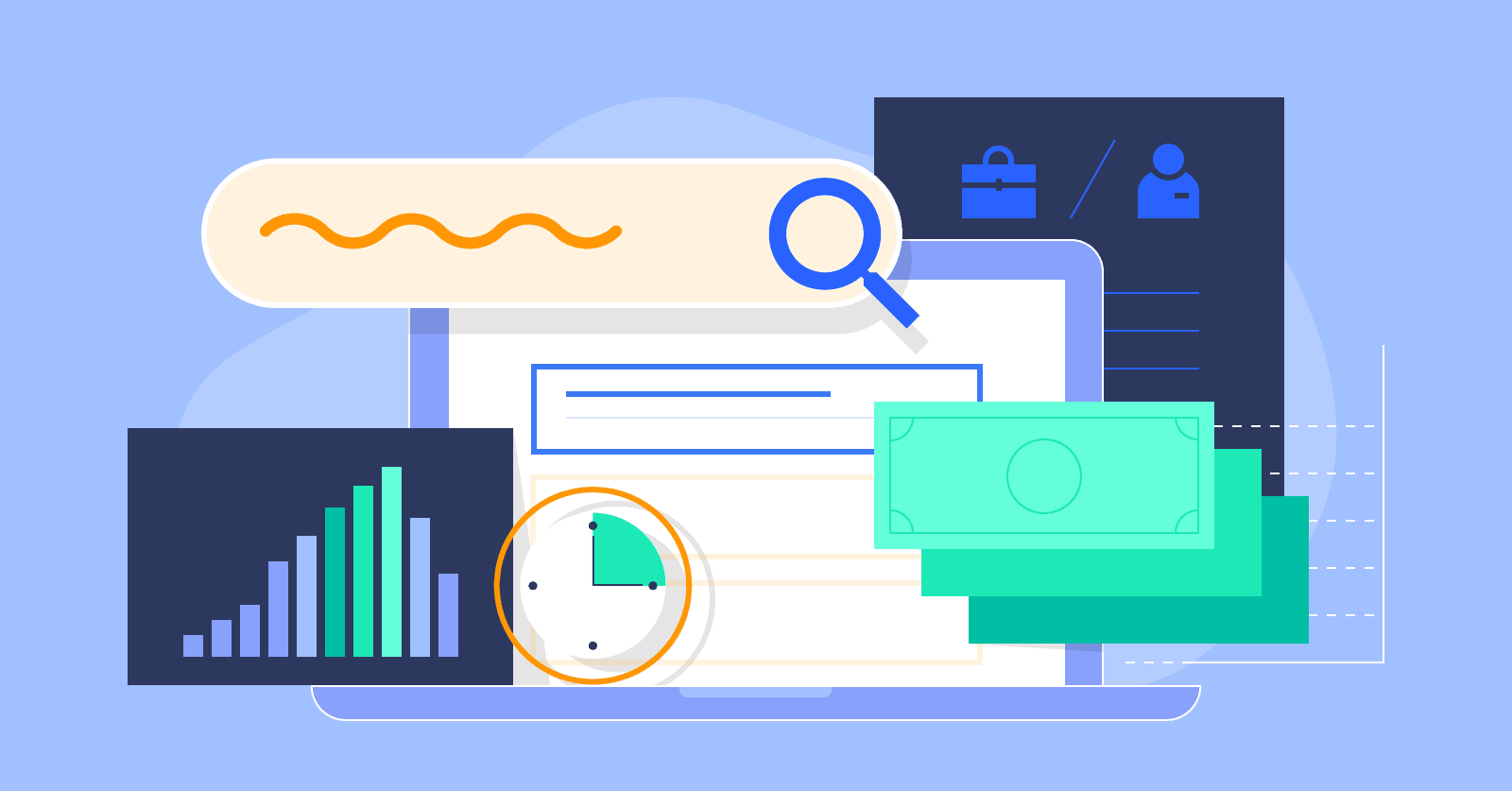 This is a complete guide to SEO pricing.
So if you're wondering "How much does SEO cost?", you'll love the in-depth research in this guide.
Let's dive right into the numbers.
How Much Do Monthly SEO Services Cost?
The average cost of monthly SEO services from a freelancer or marketing agency is $497/month.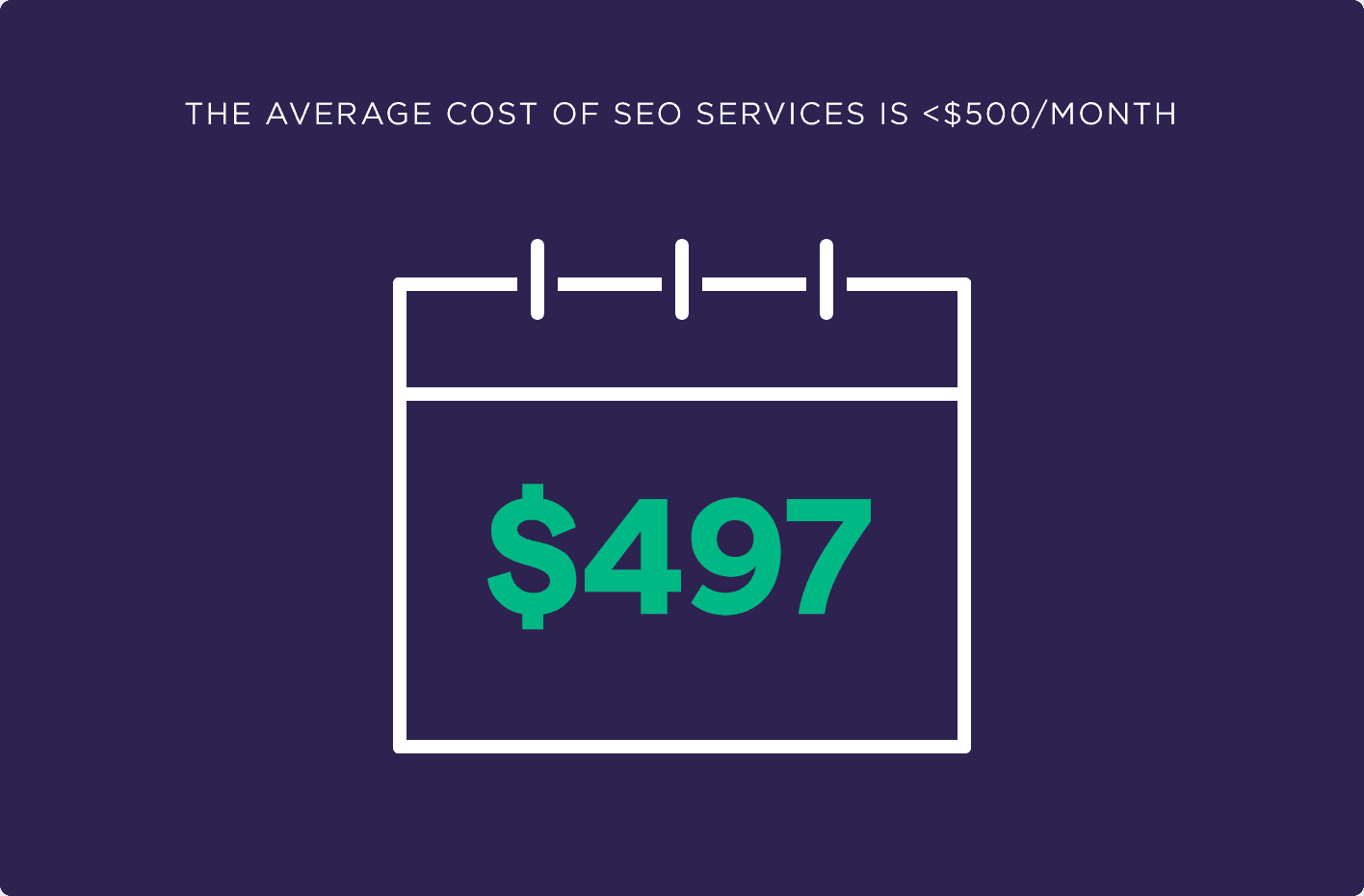 That figure comes from this large-scale analysis of SEO services that we conducted last year.
In that analysis, we asked 1,200 business owners and decision-makers about their experience with SEO providers. And a good chunk of our questions revolved around cost.
So yeah, we found that the average small business owner spends about $500/month on SEO.
We also discovered that this number varies quite a bit.
In fact, small businesses spend anywhere between $100 to $5,000 per month on SEO services.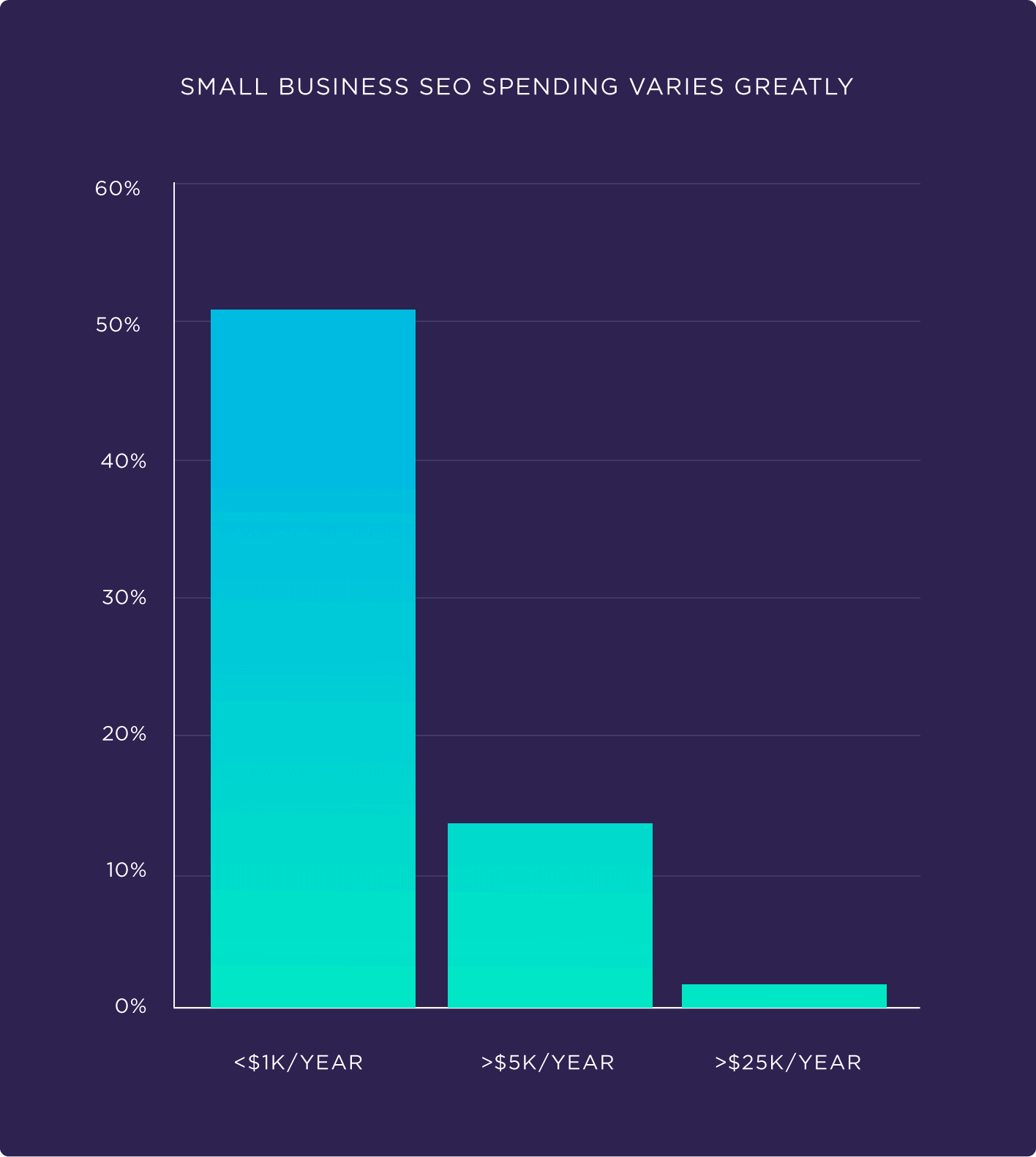 But again, the average tends to be around $500 per month.
As you might expect, agencies and freelancers that charge a higher monthly retainer also tend to deliver better results.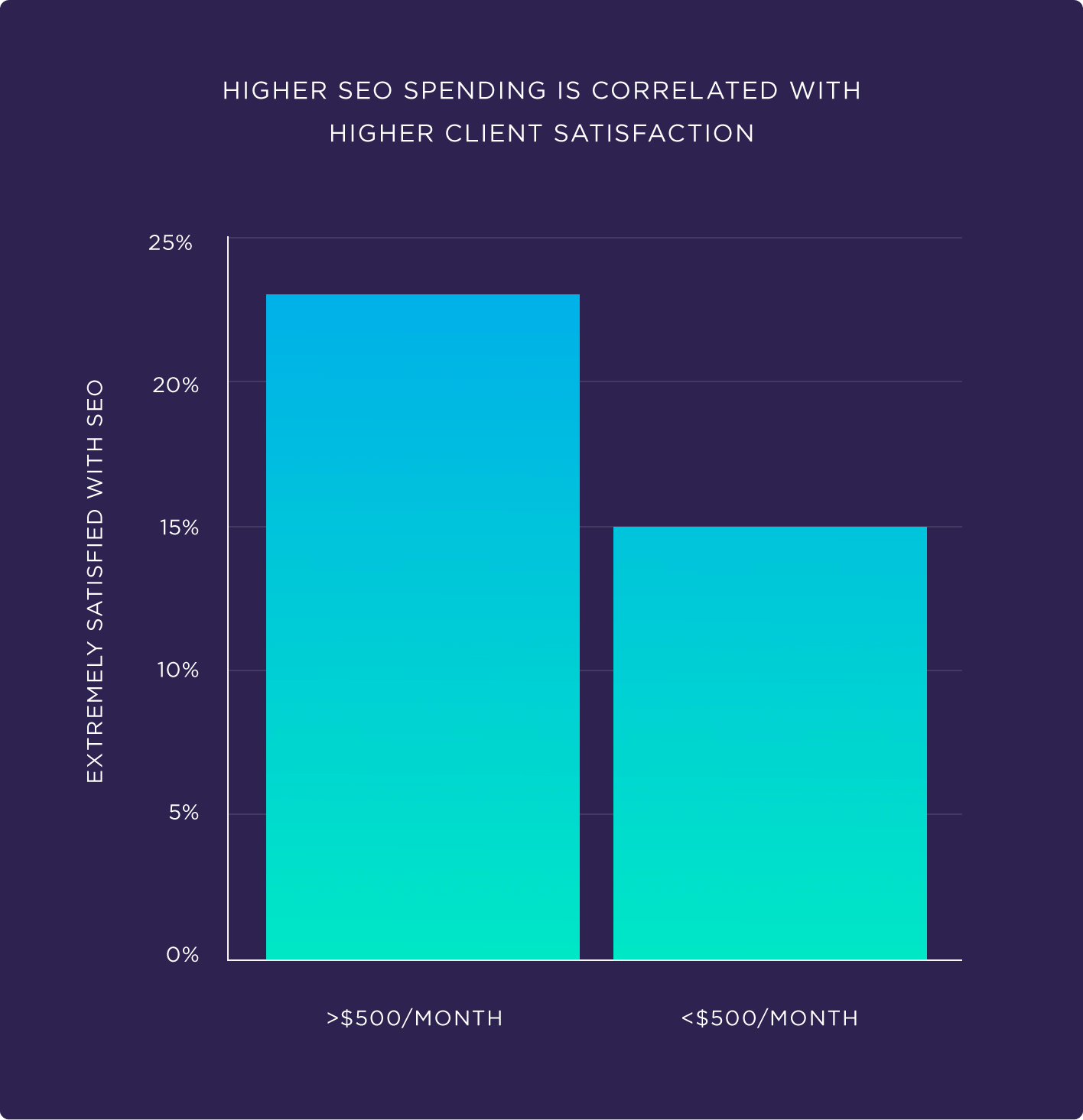 In fact, according to this analysis, people that spend anything below $500 on SEO services were much more likely to be unhappy clients. The inverse was also true: those that spent more tended to walk away happier with the work that their agency did for them.
How Much Does It Cost for Hourly SEO Services?
Hiring an experienced SEO freelancer or agency by the hour typically costs anywhere between $50-$150 per hour.
Of course, you can find people that charge significantly less or more than this hourly rate.
For example, this SEO hourly rate breakdown found that 6% of SEO providers charge over $200/hour.
So there are a number of SEO providers that charge more than $150/hour. And quite a few that charge less. But those two extremes tend to be outliers.
According to several sources, including the SEO Services Report I mentioned earlier, this SEO jobs report, this pricing survey by Credo, and other industry sources, $50-$150 per hour is the average rate for hourly SEO services.
Note that this hourly SEO cost refers to freelancers and digital marketing agencies.
Hiring an SEO professional full-time is a different story. Our SEO jobs analysis found that most US-based SEO pros make approximately $60,000/year in annual salary.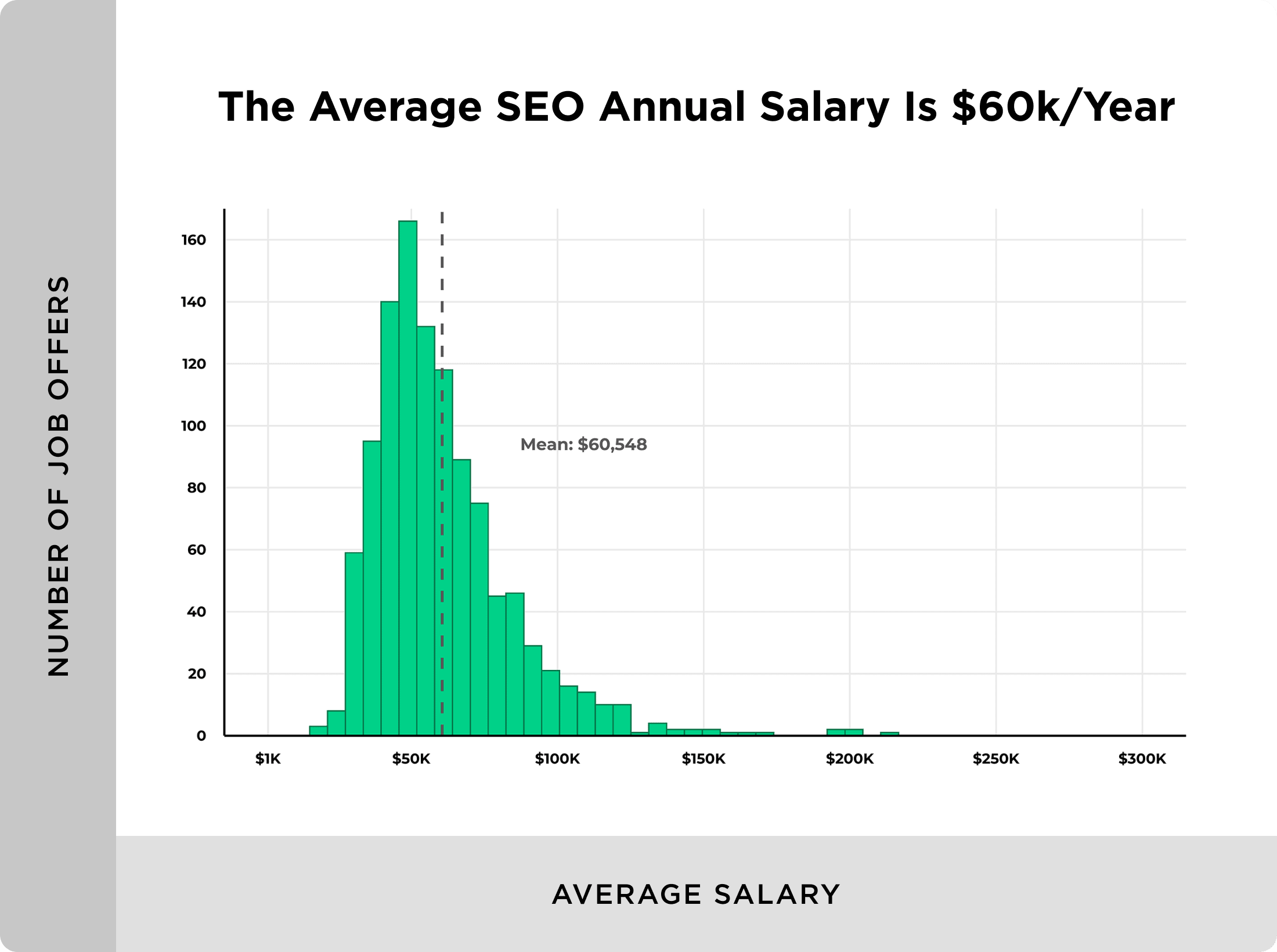 That breaks down to only $30/hour. Obviously, comparing freelancer rates to full-time employees doesn't always make sense. But this does indicate that working with an SEO pro full time can sometimes be cheaper than hiring an agency by the hour.
What Do SEO Services Typically Include?
One of the reasons that SEO pricing isn't standardized is that "SEO services" can vary A LOT between different providers.
For example, a monthly retainer for SEO services might include all, most, or some of these tasks:
Creating a personalized search engine optimization strategy
Finding keywords that your target audience looks for
Developing and executing on an SEO campaign
Writing content for your blog
Managing your social media accounts
On-page optimization of product and service pages
Running technical and non-technical SEO audits
Improving the loading speed of your website
PPC campaign creation and management
Managing your local SEO presence
Building backlinks to your website
Improving your site's technical SEO
That's really just a small sample of what SEO services can include.
For example, here's a list of monthly tasks that one SEO agency lists on their site: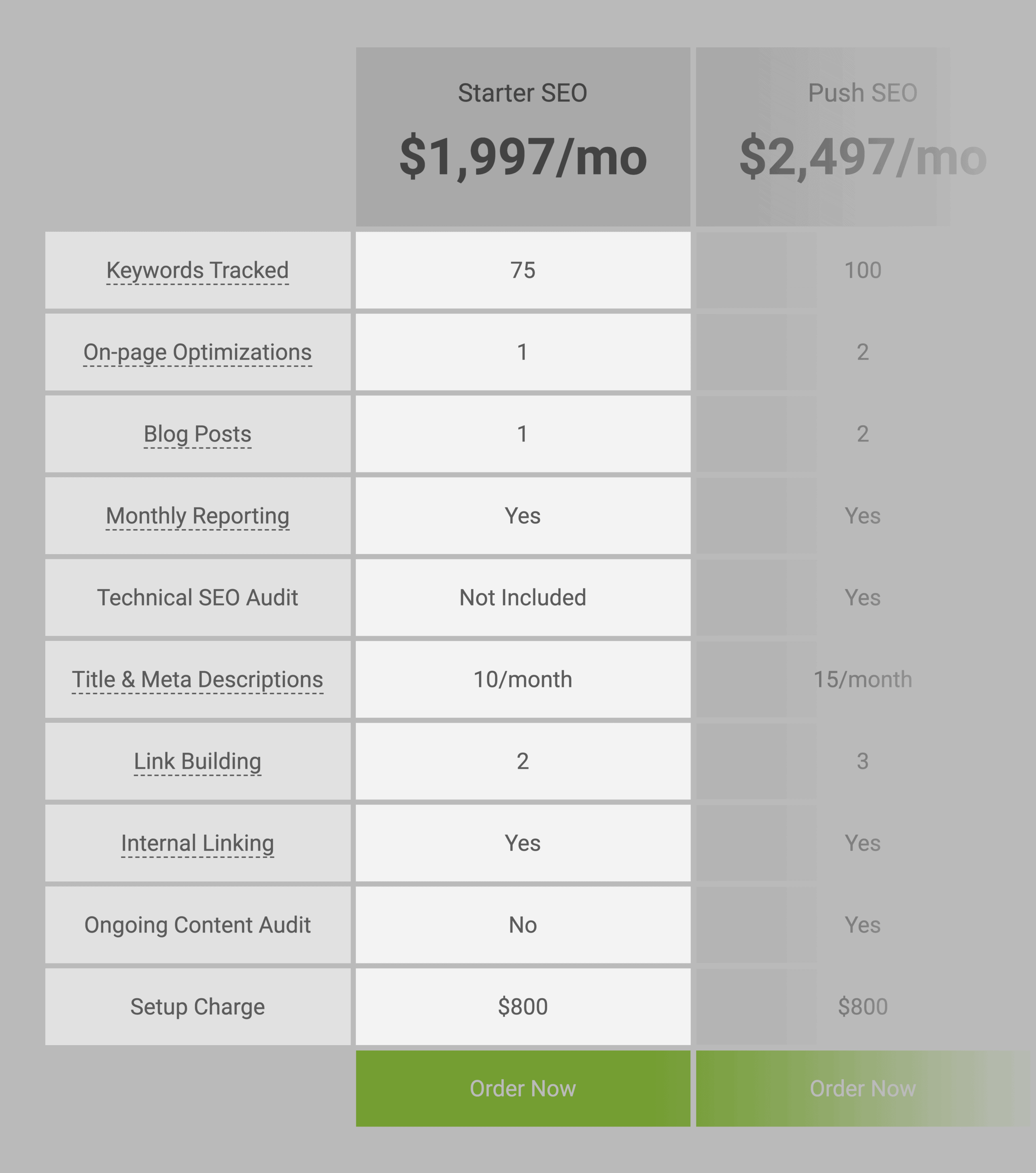 And here's another example from a different agency: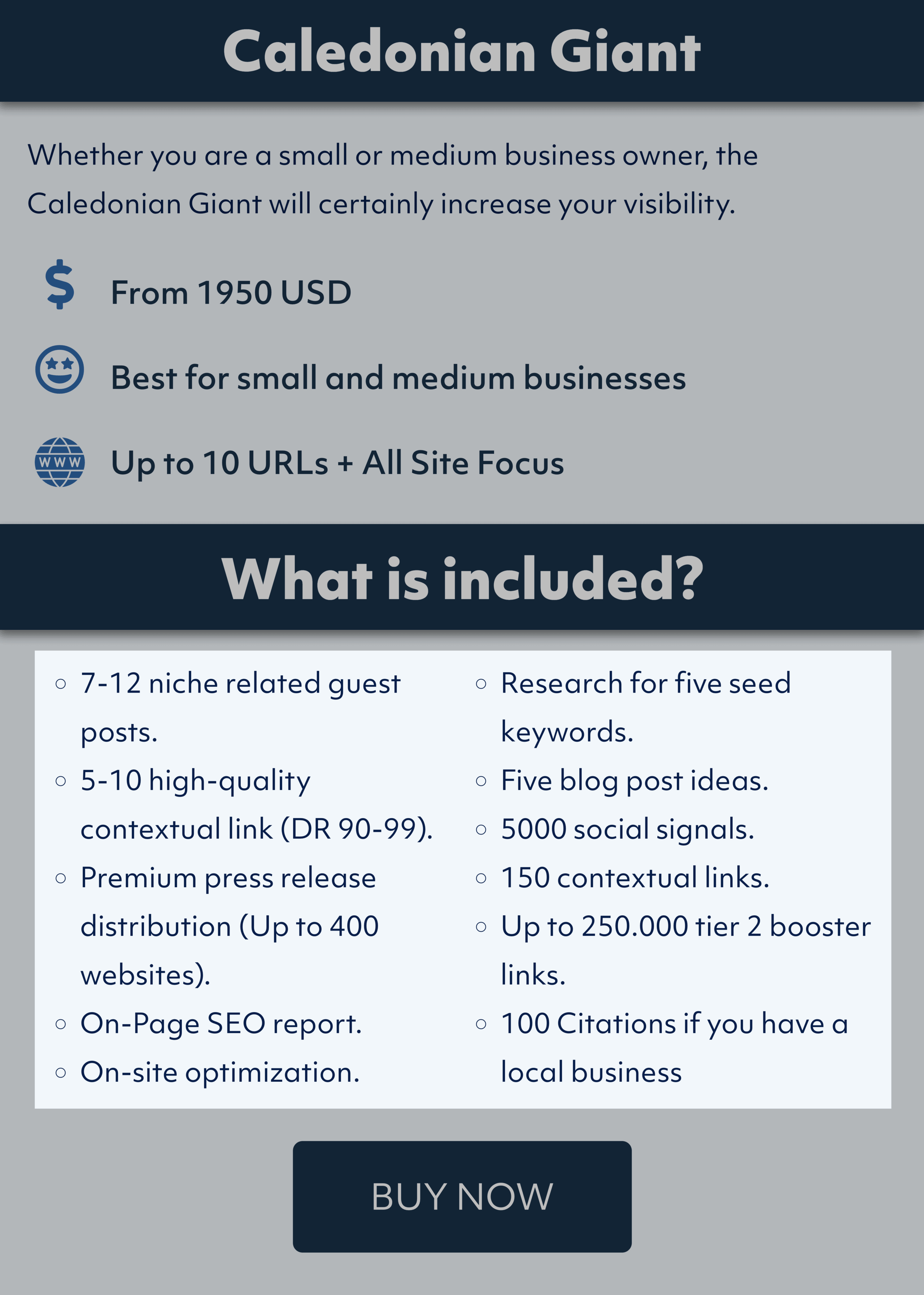 As you can see, the services they offer are completely different. Even though both technically offer "monthly SEO services".
There are also agencies that only do ONE thing (like email outreach link building). And charge a rate specifically for that: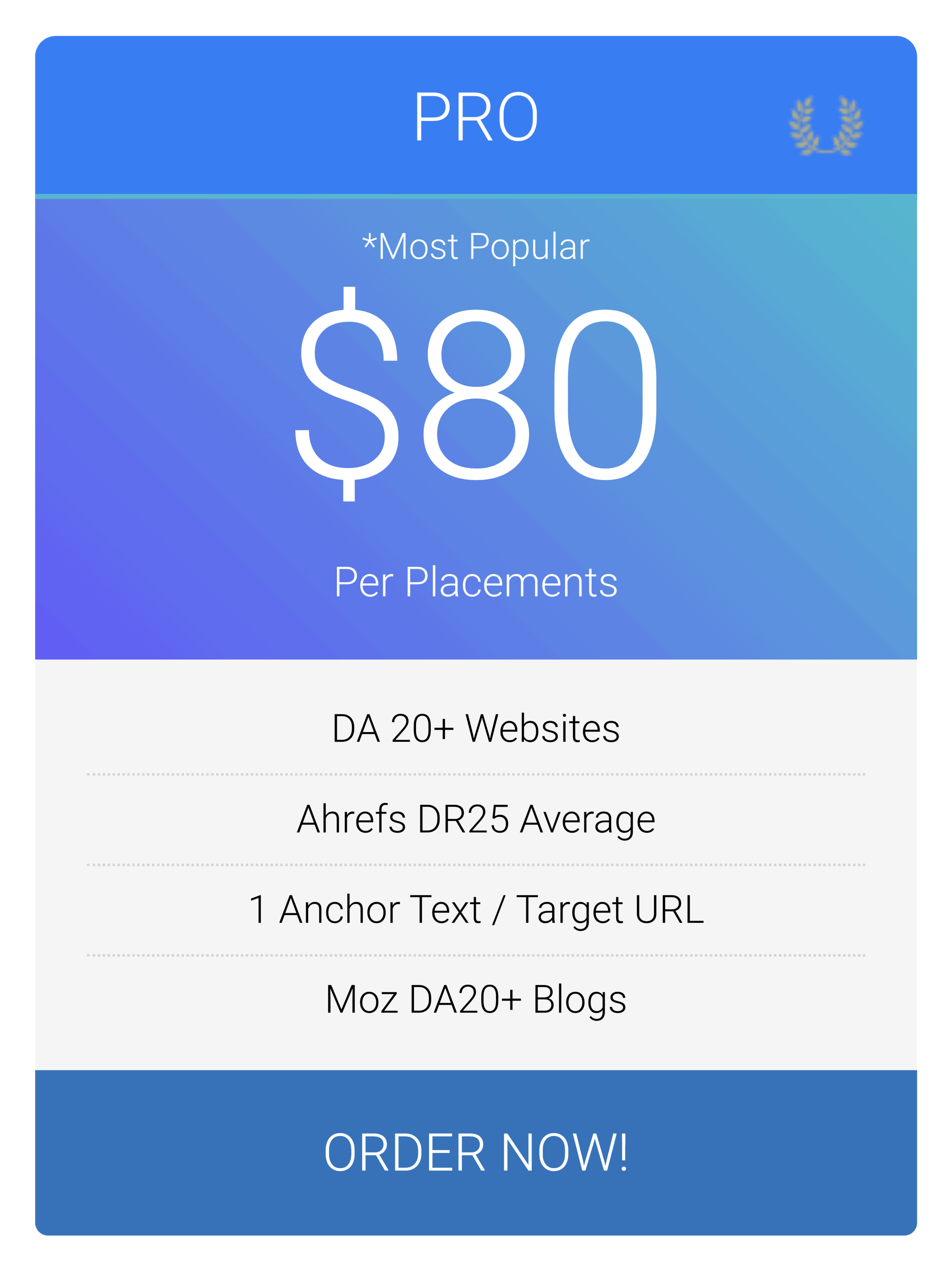 And don't forget about project-based SEO. This is where you hire a provider to help with a specific task on a one-off basis, as an SEO website audit. Or to find a batch of keywords.
For example, one of the sites that I manage had what's known as a "page bloat" problem. In other words, we had more indexed pages than we should.
This is the perfect scenario for hiring an SEO expert for a one-off project. Why? Our site's SEO performance is actually good. So we didn't need an SEO package that includes everything or an SEO company to manage our SEO every month.
Instead, we hired a freelancer off of Upwork to help with this issue.
Although not completely solved, that freelancer started to fix our page bloat problem within days.

Needless to say, hiring someone to help with a specific SEO project means that the price range can vary significantly (literally $25-$25k). It really depends on the project. And who you choose to work with.
Bottom line: There's no standardized definition of "SEO services". Depending on the agency and client, SEO services can include dozens of different monthly tasks. Or just one.
What Factors Influence SEO Pricing?
You might be wondering why SEO pricing varies so much. Even for the same exact set of services.
As it turns out, there are LOTS of factors that go into SEO pricing. Some of the most important factors that influence the cost of SEO include:
Agency vs Freelancer
Interestingly, SEO agencies tend to charge more than individual freelancers.
Which makes sense. Agencies can sometimes put more resources (time and energy) behind a campaign. And at least according to this analysis, they charge a premium for that privilege.
(There's also the opposite case to be made: that individual freelancers can provide more personalized time and attention than an agency can. However, the data does strongly suggest that people are willing to spend more on SEO when working with an agency compared to a freelancer.)
In fact, agencies were 8x more likely to charge $10k+ per year compared to freelancers.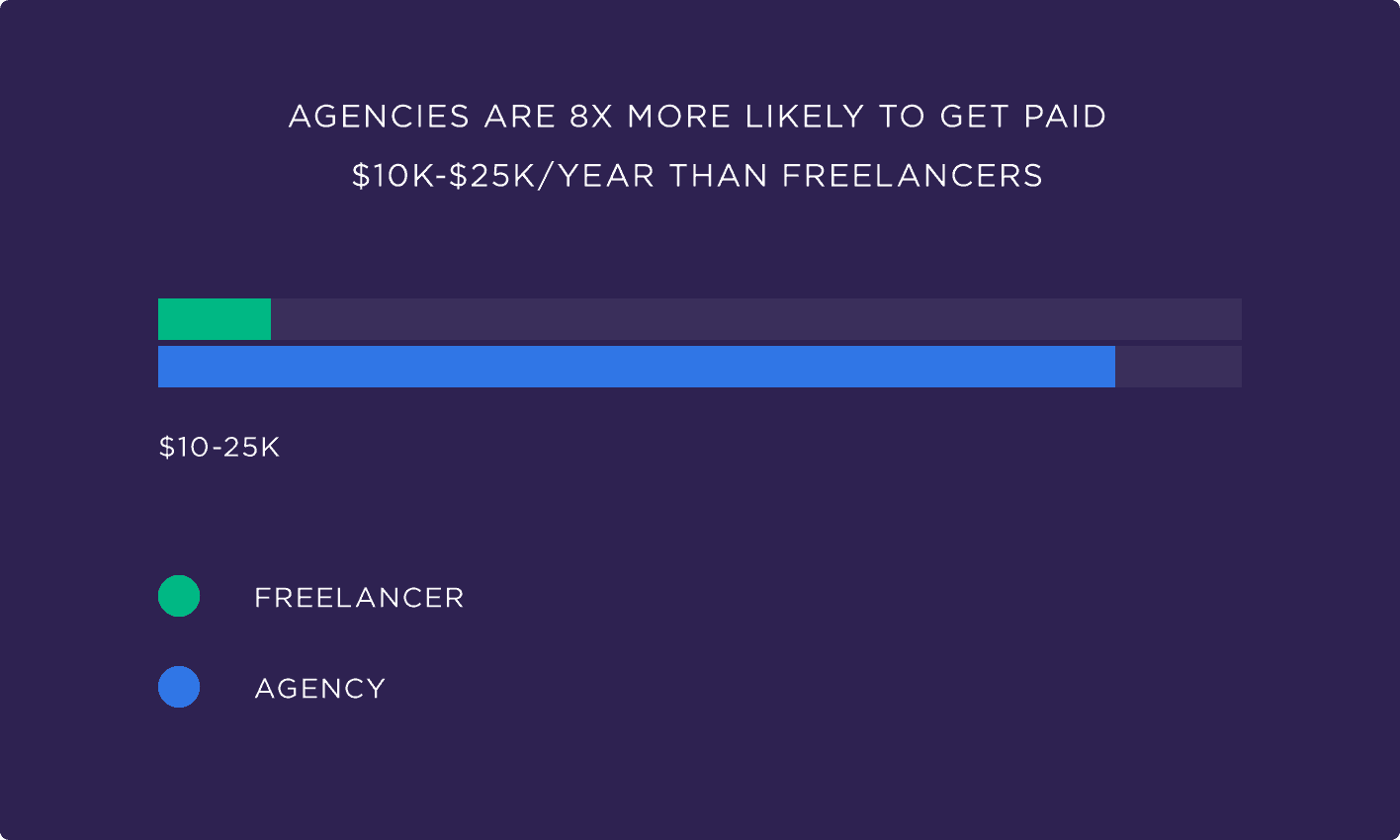 In short, working with an SEO agency is more expensive than a freelancer or SEO consultant.
Skills and Specialties
According to our SEO jobs report, SEO professionals that can code tend to make significantly more than those without any coding experience.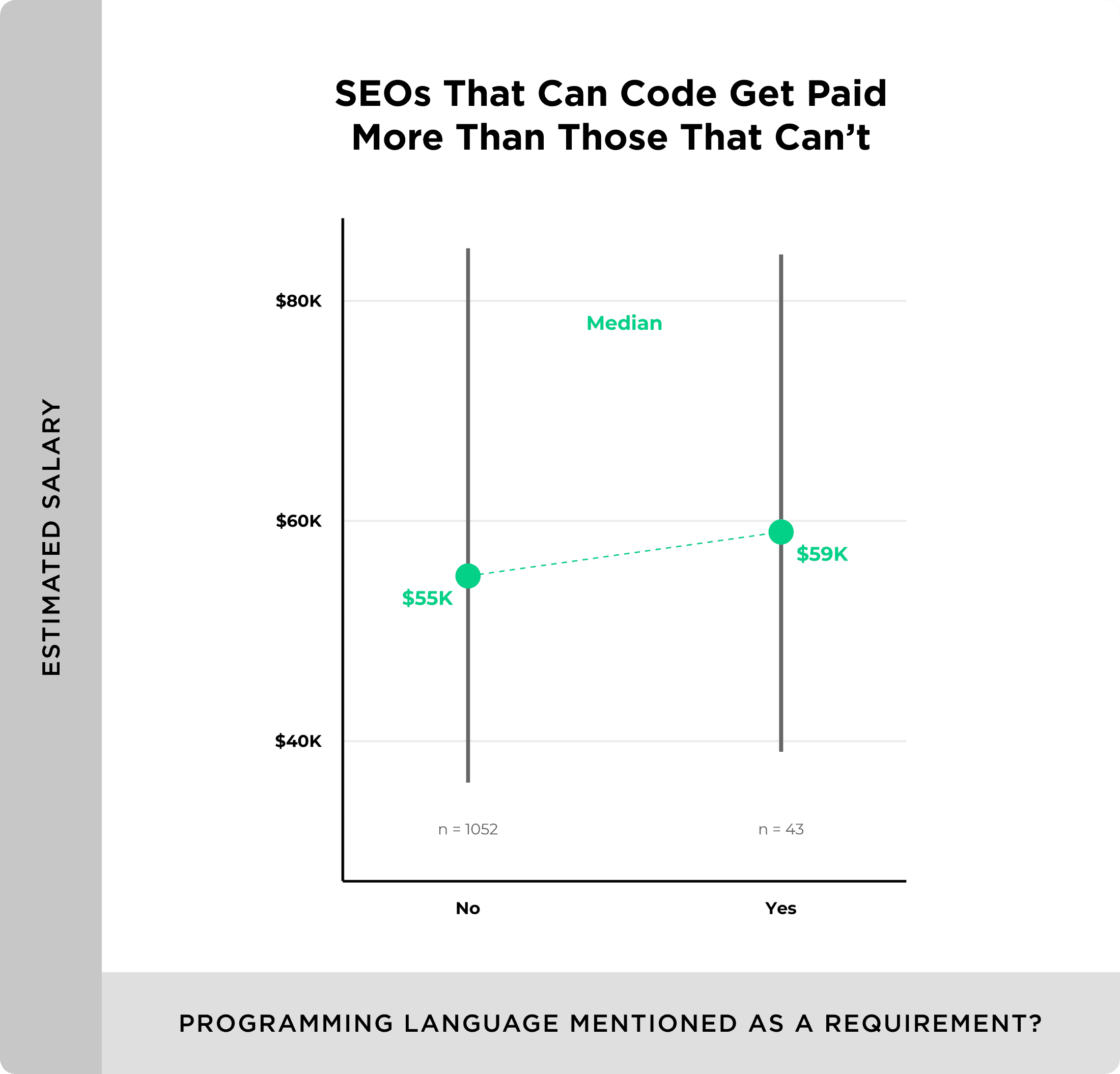 In fact, SEO pros with development skills make 7% more than those that can't code.
That's just one of many examples of a specialty leading to higher rates.
In general, SEO providers that specialize in one task can oftentimes charge more than those that provide general SEO services.
For example, take a look at this pricing page for a link building agency: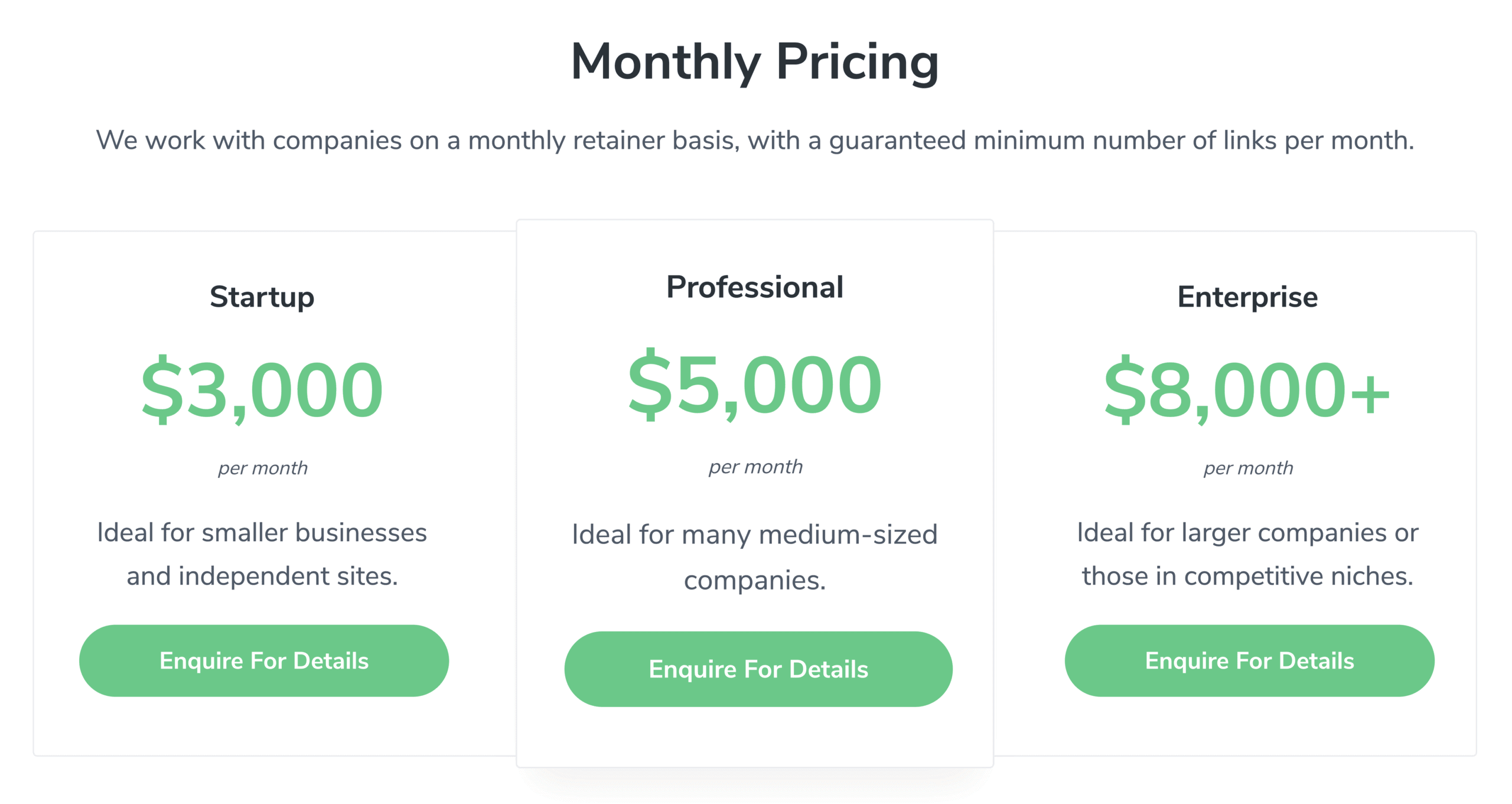 As you can see, they charge $3k+ per month. That's significantly higher than many agencies charge for their entire set of SEO services. But they're able to charge that amount because they do link building all day long.
And this provider is presumably better at building links than someone that includes link building as one part of a 50-part monthly SEO package.
Results and Experience
It shouldn't come as a surprise that providers with years of experience (and tangible results) can charge a premium for SEO services.
That's because their results remove some of the risk of working with them (which is especially important if you sign a contract that ties you into a monthly retainer commitment).
Personally, I think that results and experience are important factors to consider when sizing up an SEO agency. That said, that doesn't mean that the provider will automatically deliver amazing results for YOU.
(In fact, I've heard countless horror stories from people that have worked with "experienced" SEO providers that delivered nothing.)
But a proven track record does show that they have the know-how and skills to deliver results. Which reduces the risk of working with them compared to a random person off of Upwork.
Types of Services Offered
Like I mentioned earlier, no two SEO pricing models are the same.
As you might expect, SEO plans that include more, cost more.
But that's not the entire story.
That's because certain SEO services cost significantly more than others. Either because they're more time-consuming. Require specific expertise. Or both.
For example, keyword research tends to cost less than link building.
Why? Well, finding keywords is much faster than building white hat backlinks. Plus, keyword research is essentially "one and done". Once you find a large group of keywords to target in Google, you're pretty much set for months.
On the other hand, link building is an ongoing process.
That's just one of many examples of how different services impact SEO pricing.
In general, here are SEO services that tend to be reliably expensive:
Link building
Enterprise SEO
NAP citation building
Web design and development
Creating visual assets (like infographics)
Digital PR
Running a site's content marketing
And these are SEO services that are usually on the cheaper side:
Google My Business account management
Social media account management
On-page and on-site SEO
Writing simple blog posts
Creating an SEO strategy plan
Guest posting
Wrapping Up
That's my guide to SEO pricing in 2021.
Now I'd like to hear about your experience:
Has your experience matched the average numbers that I outlined here? If not, what do you pay for SEO right now?
Let me know in the comments section below.