Does Promoting Content on Social Media Actually Work?
If done right: YES!
In fact, a recent blogger survey by Orbit Media found that 94% of bloggers promote their content on social media.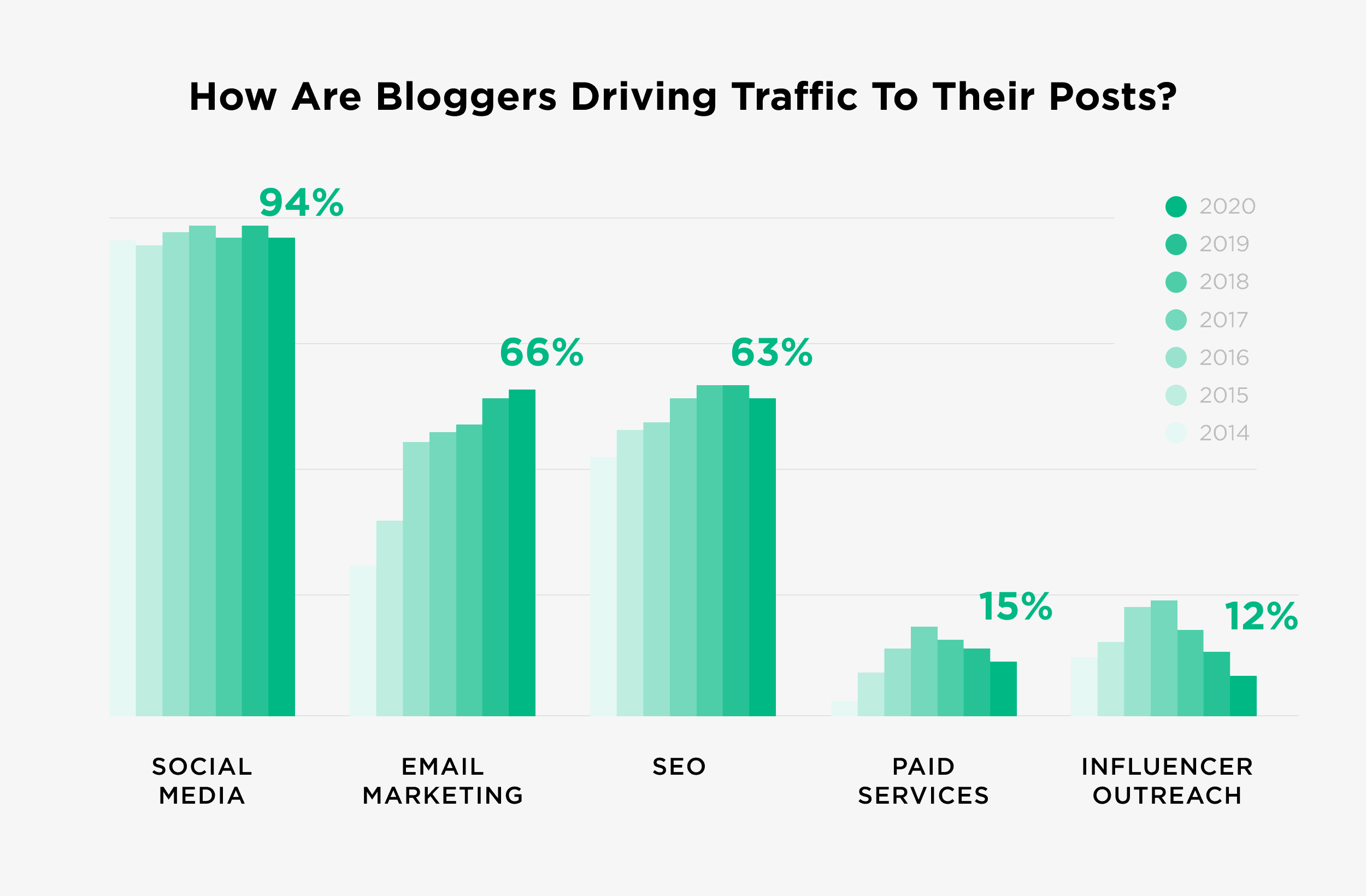 That's the good news.
The bad news is that most social media promotion fails.
That same blogging survey found that even though social media was popular, it's not very effective.
When asked "what type of promotion provides you with the best results?", social media was ranked dead last… behind SEO, email marketing and paid services.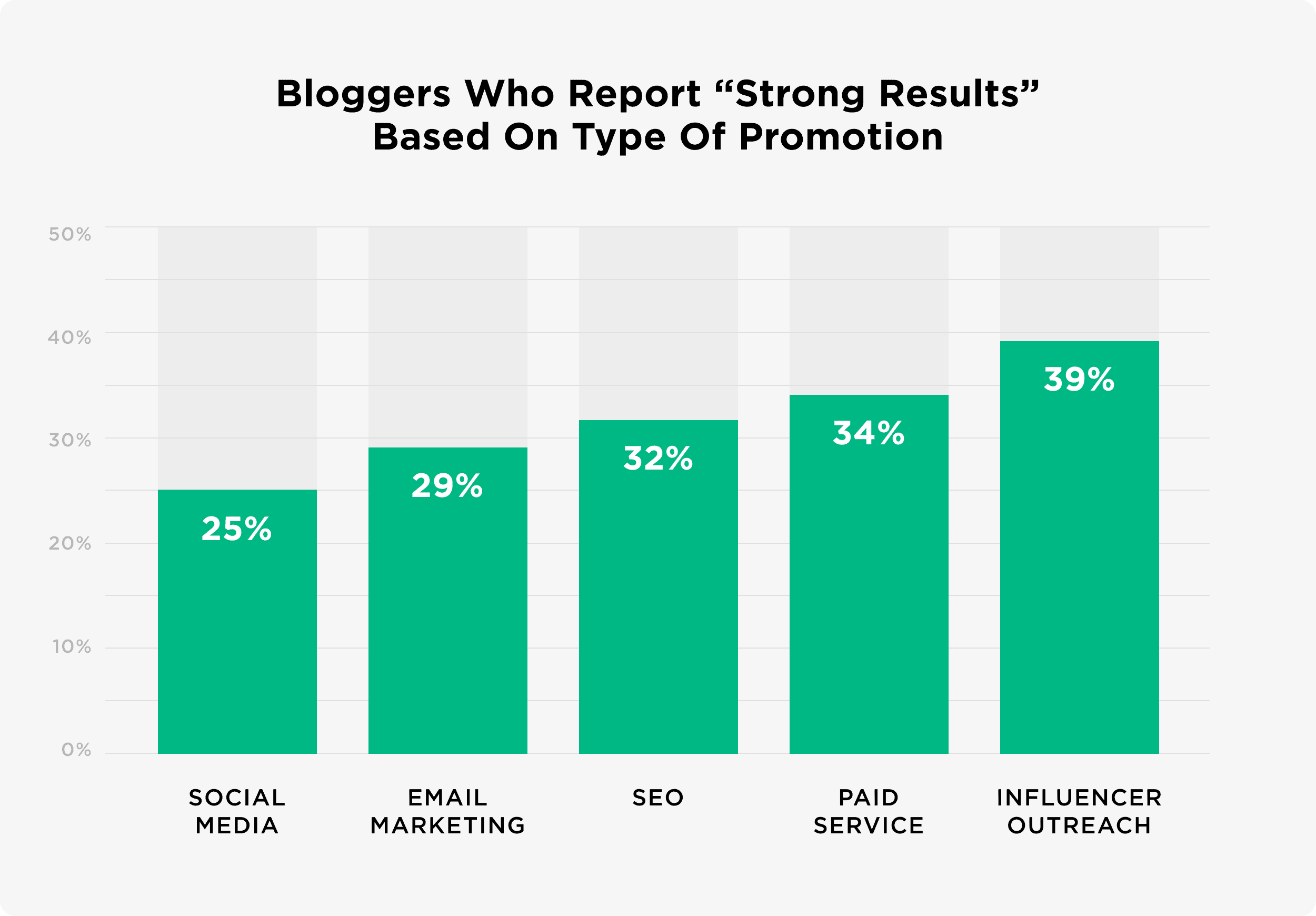 If you look at the social media marketing landscape, this shouldn't come as a huge surprise.
Organic reach across almost all social networks (especially Facebook) is on the decline.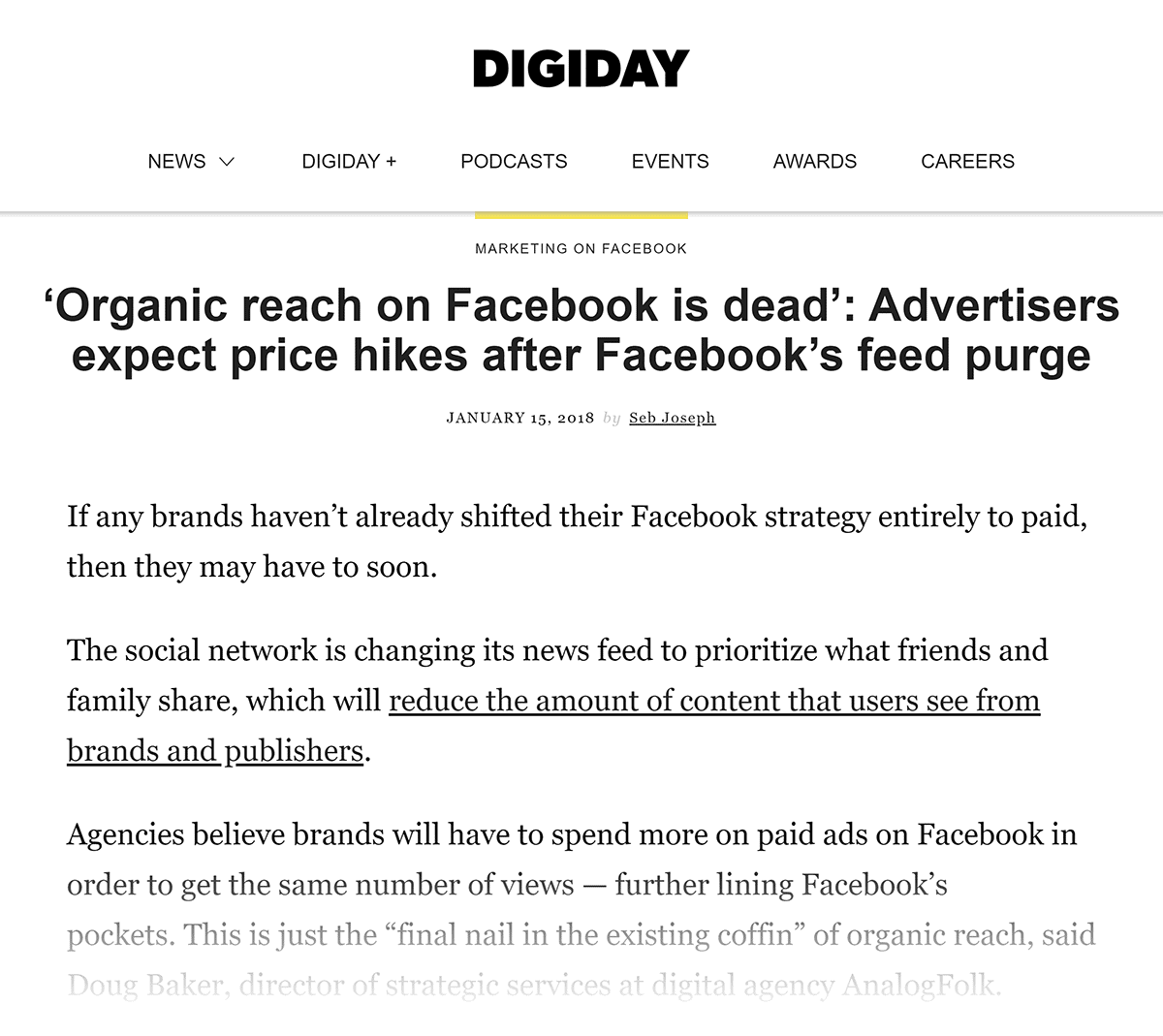 And just posting a link to your latest post doesn't work like it used to. To get your target audience to actually see your content on social media, you need to get strategic.
With that, here's exactly how to promote your content on social media.
8 Ways to Promote Your Content on Social Media
Post at the Right Time
When it comes to social media, timing is everything.
Sprout Social found that publishing in the morning and early afternoon works best on Instagram, Twitter, LinkedIn and Facebook.
However, our own analysis found that there's no best day to publish content.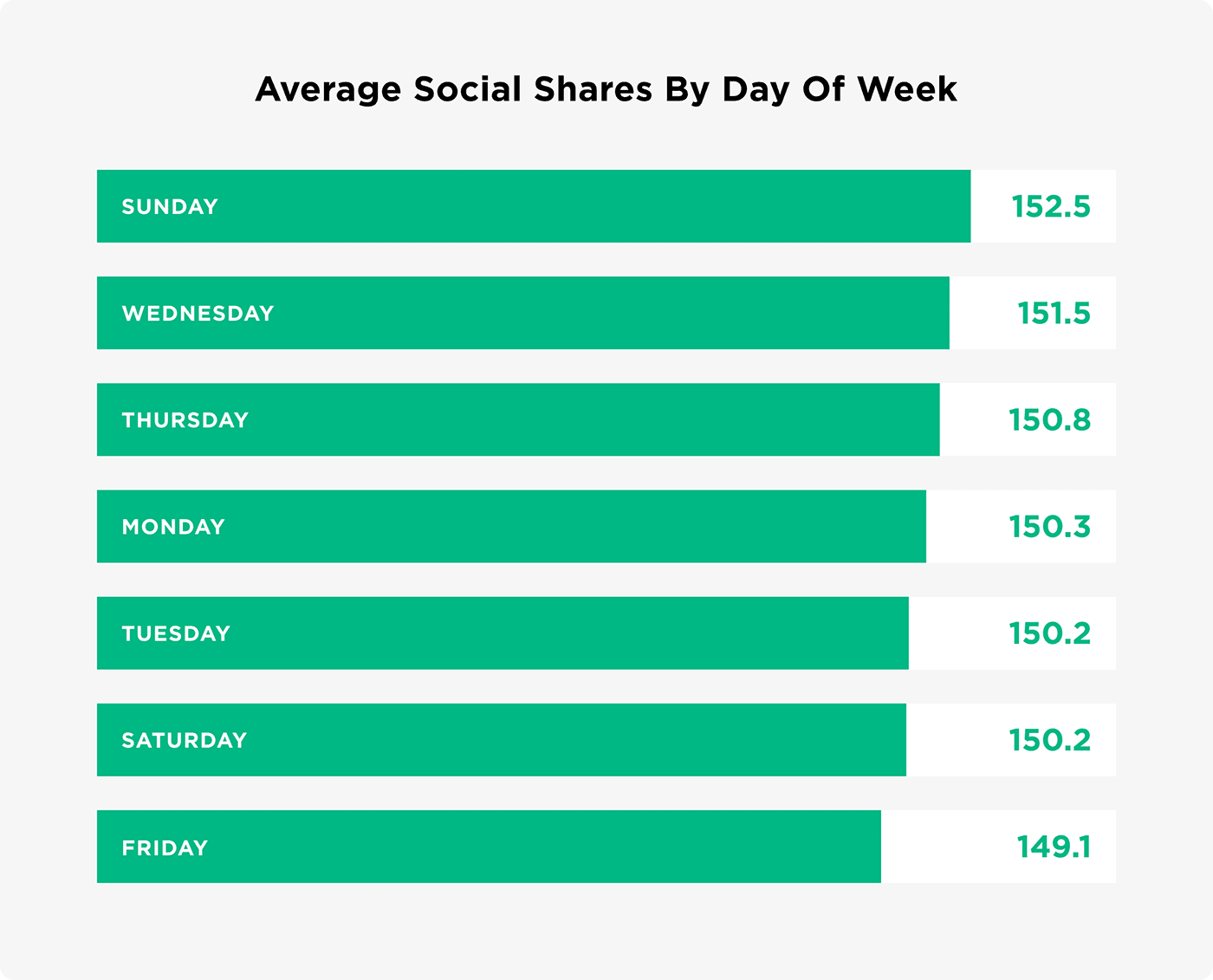 These "best times to post on social media" studies are helpful. But they don't tell you the best time for you and your audience.
And to get the most eyeballs on your posts, you need to post when your target audience is online and ready to see it.
Why is this so important?
Every social network, including Twitter, Instagram, Clubhouse and Facebook, gives new posts a temporary boost.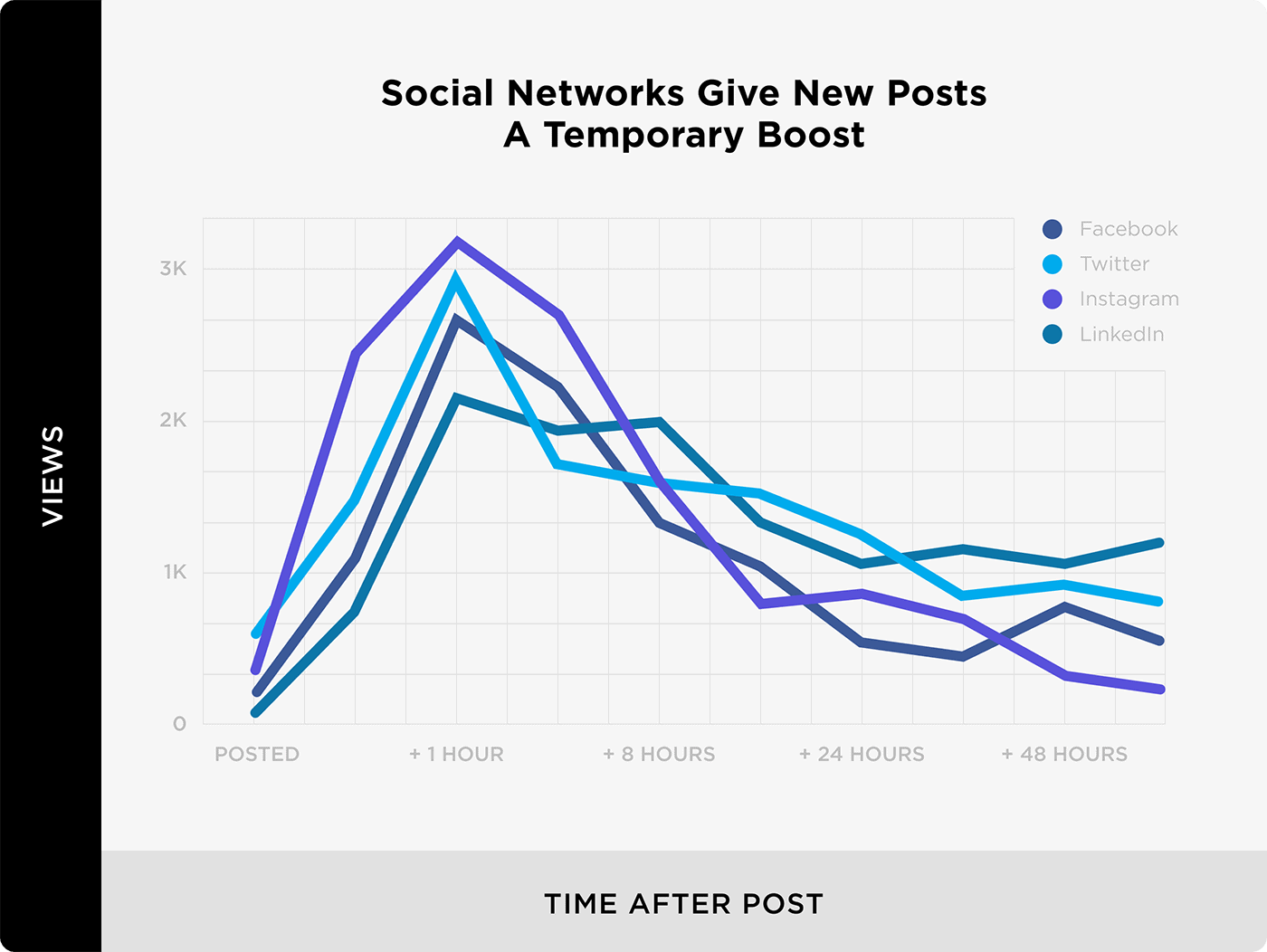 And if you time your content to go live when most of your folks are online, you'll increase the odds that your posts get in front of them.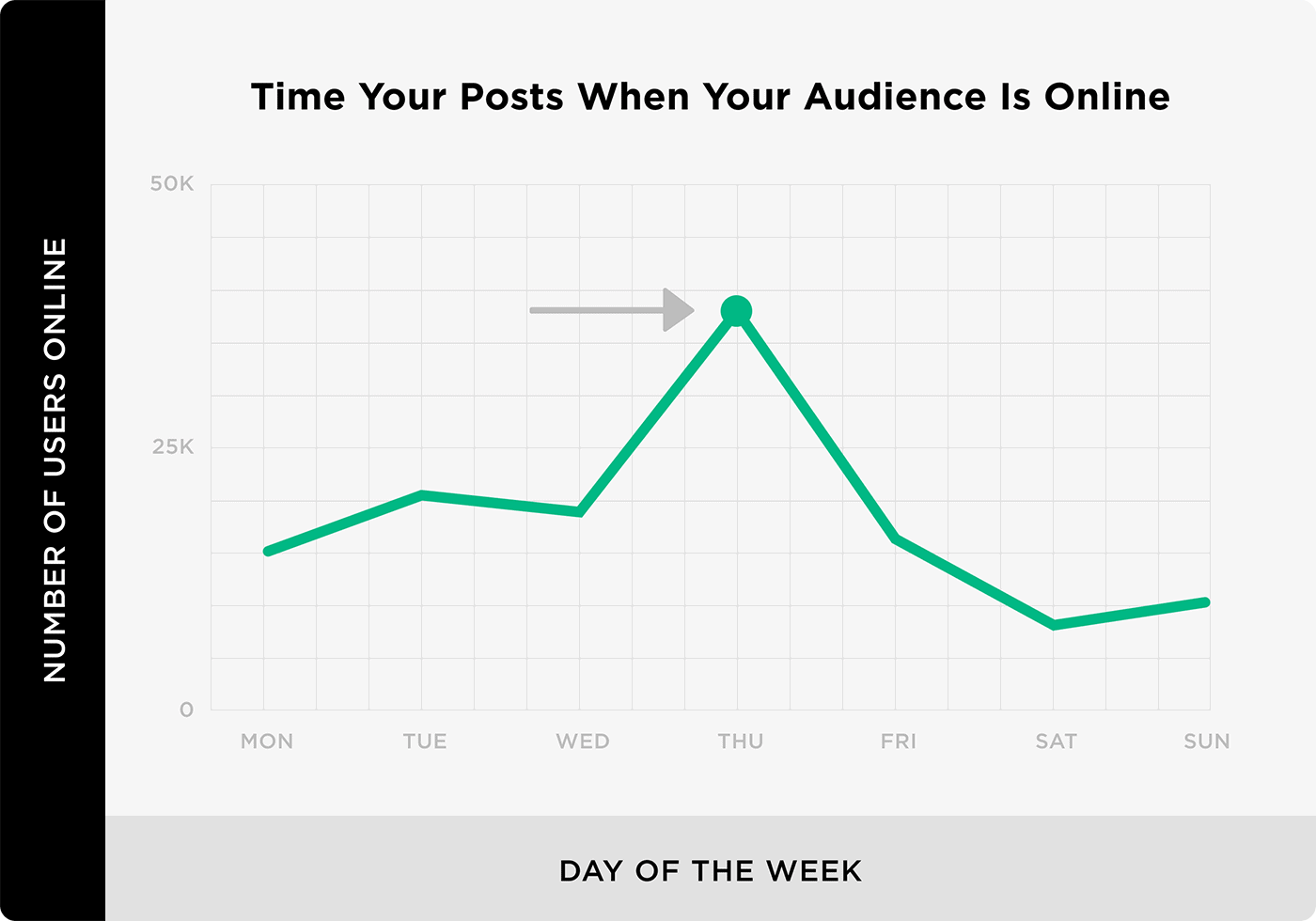 What's the best way to figure out the best time for you and your business?
Test and experiment.
For example, over the last few years, we've tested over 15 different posting times. And from those experiments, we discovered that Tuesdays at approximately 11am Eastern work best for us.
That's because we're a B2B company. So 11am Eastern is a time where most of the United States and Europe is at work. But if you're B2C you may find that Sunday mornings work best.
Add Context to Your Posts
A common mistake people make with social promotion is just posting a link to their latest piece of content.
Here's an example of what I'm talking about: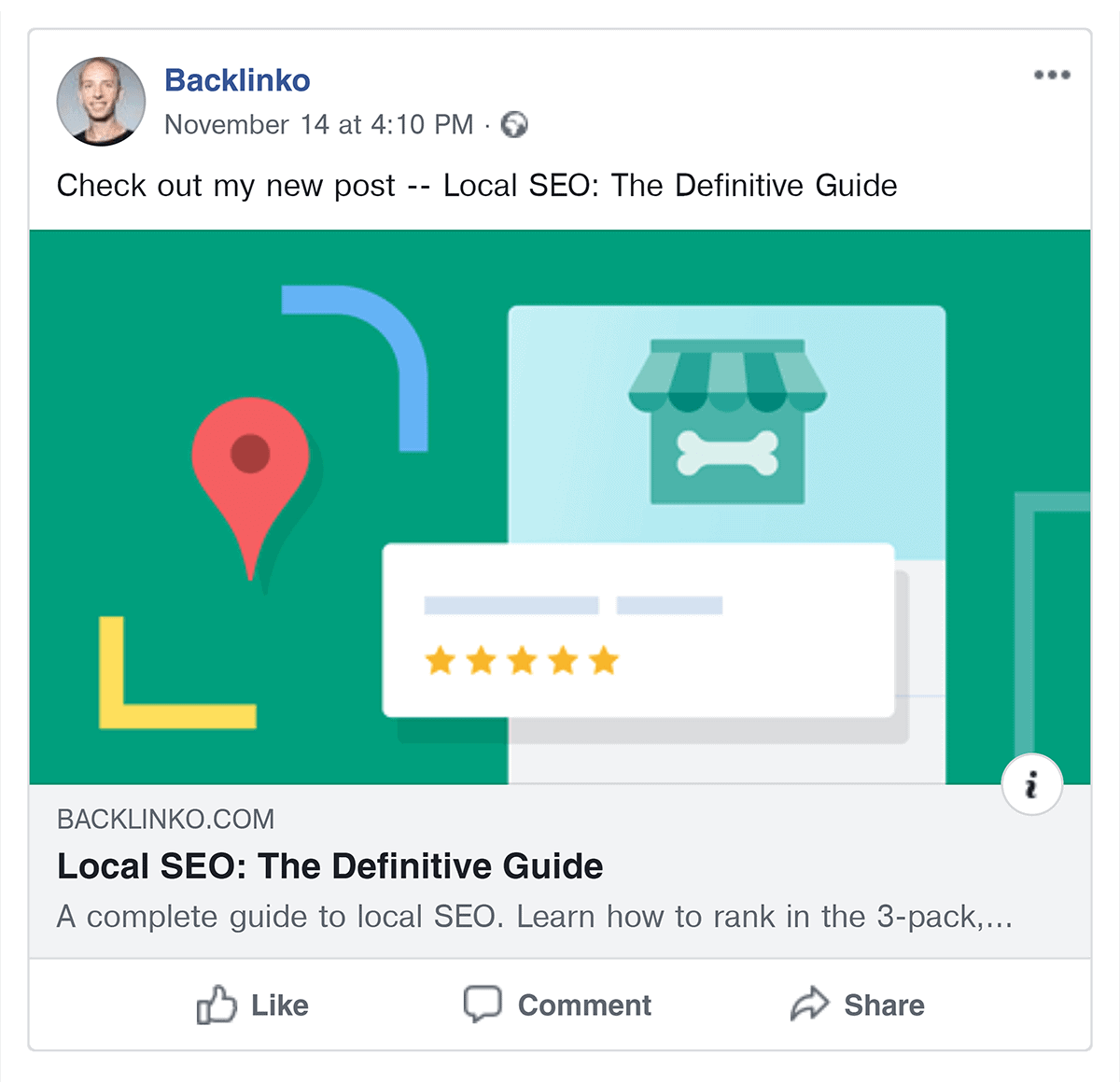 Back in the day, this used to work. But with social media algorithms burying link-based posts, you need to go the extra mile to get seen.
Specifically, you want to add some native content to your social shares.
For example, some time ago I published a report on Google's organic click-through rate.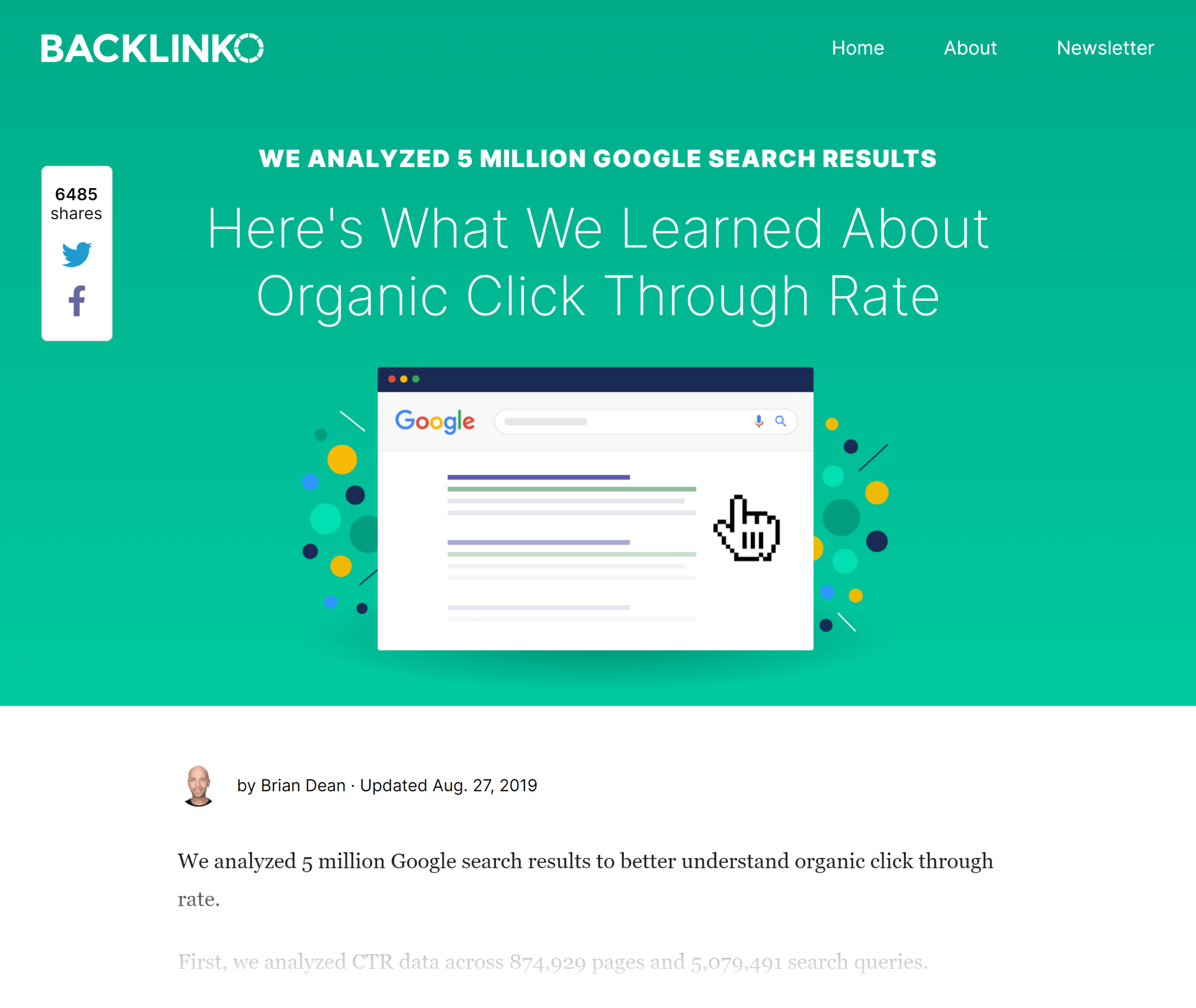 And instead of just posting a link on Twitter, I actually outlined some of our most interesting results.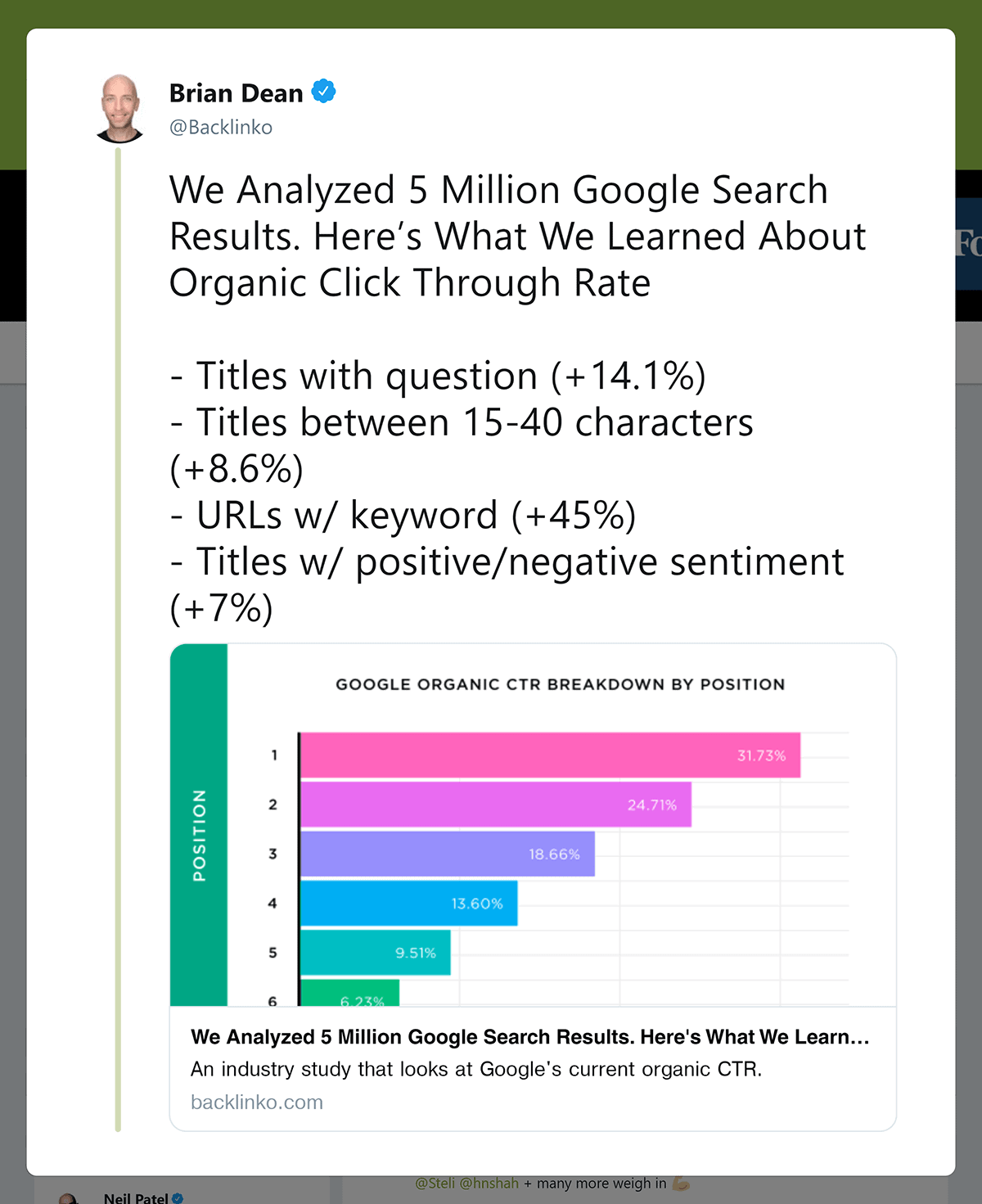 Because I added a little bit of native content to my tweet, it did GREAT. In fact, that Tweet got over 800 retweets, which was a new record for my account.
This works for two reasons:
First, social media algorithms LIKE native content.
In other words, most social media sites aren't going to promote posts that send people away from the platform. But if you write some great content to go with your link, it can spread.
Second, native content gives people a post that they can share and retweet. That's because the post itself provides value.
In fact, that's exactly why most people shared my tweet. The tweet itself had new, interesting content that people wanted to read.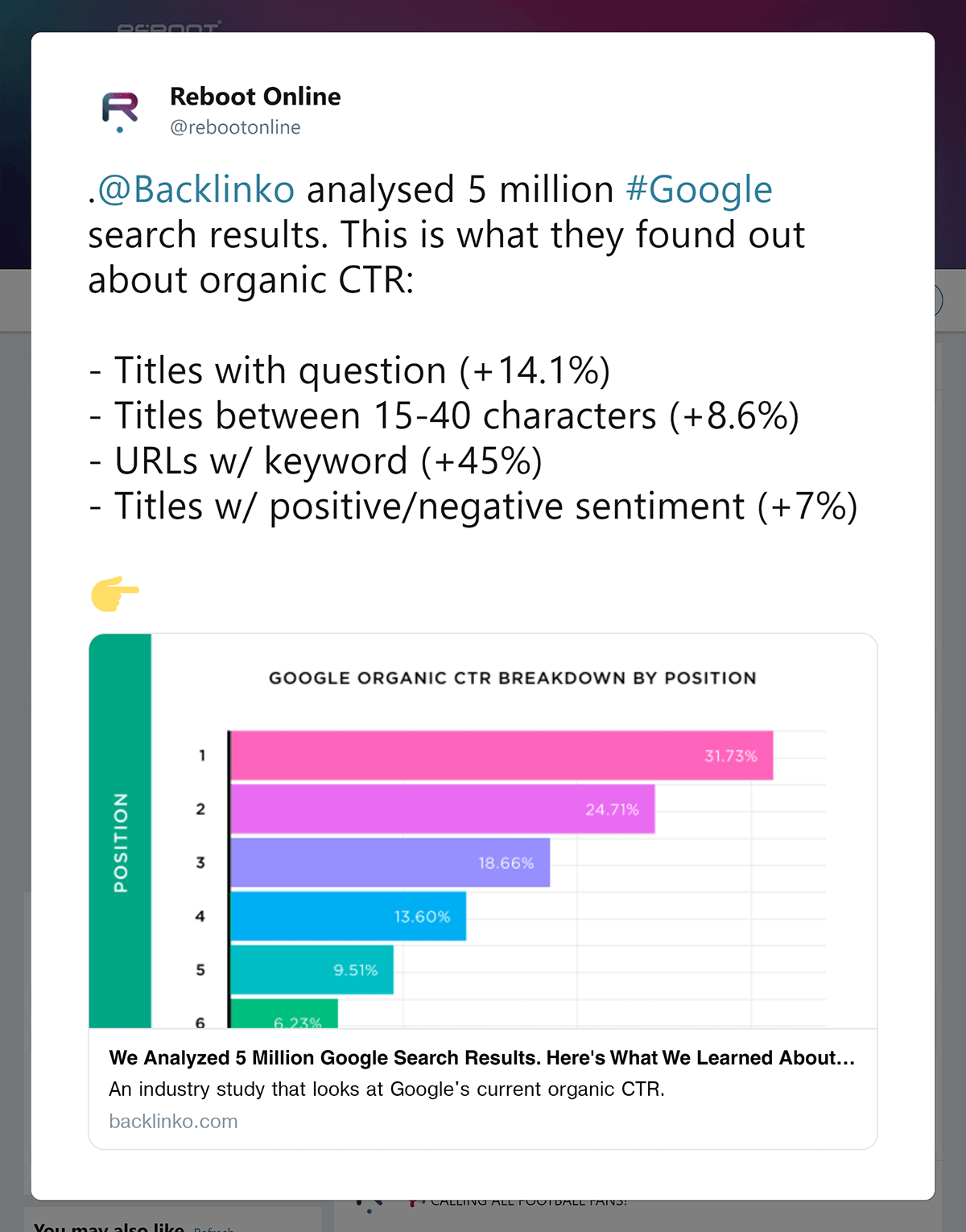 Obviously, Twitter's character limits mean you can't add a ton of native content to your post.
But on LinkedIn and Facebook, you can actually write what I call "mini blog posts".
These mini blog posts are 100-200 words of social media content that provides value… and pushes people to click over to your post.
For example, to promote one of our posts on LinkedIn, I told a little story about how I struggled with digital marketing back in the day.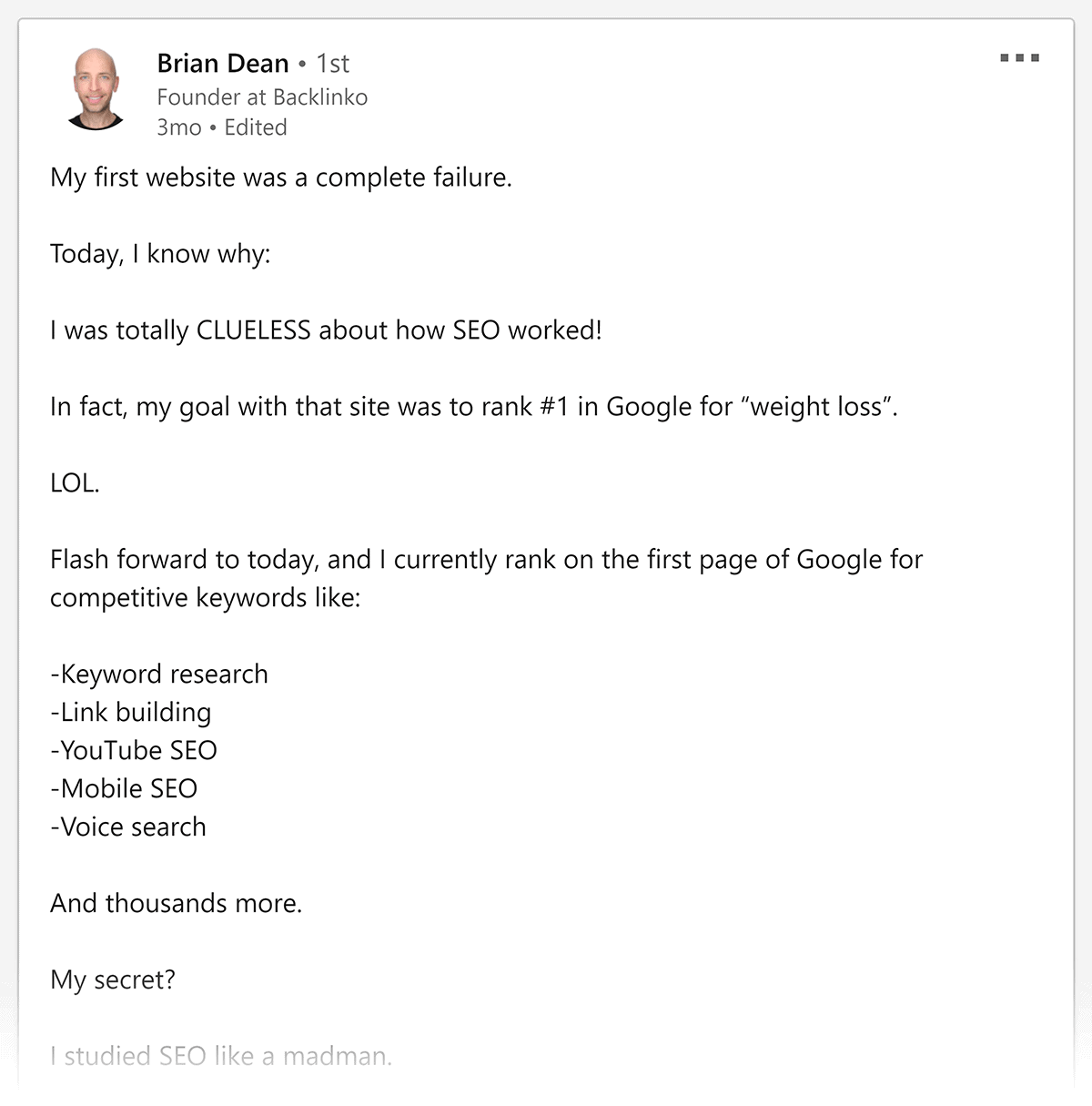 And this mini post helped that LinkedIn post rack up 39,000 views.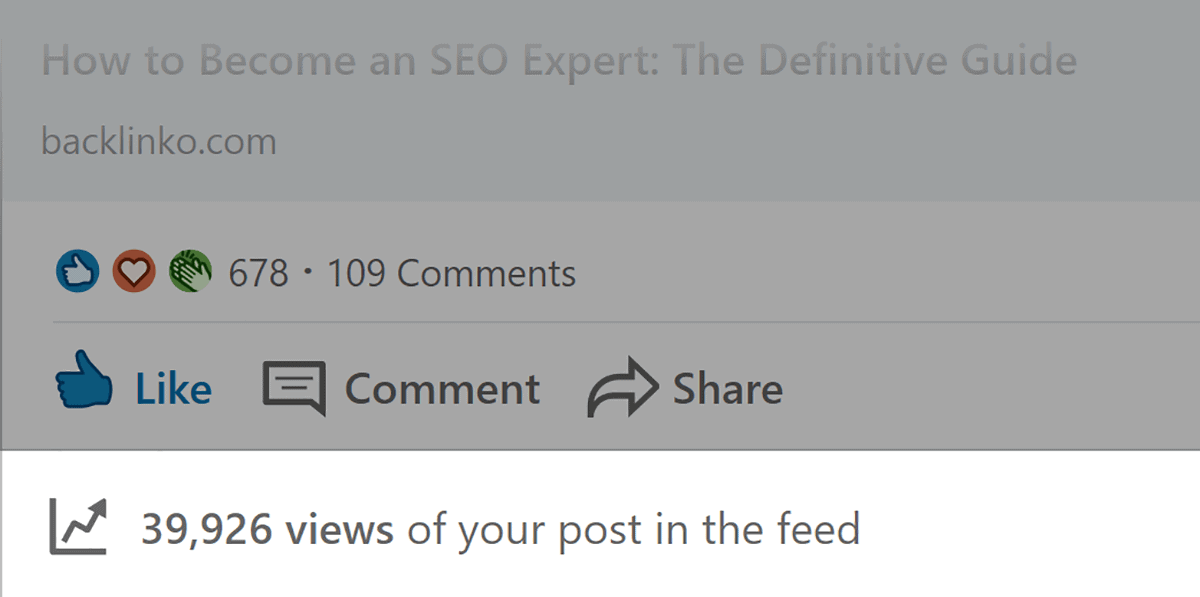 Use Popular Hashtags
Hashtags probably won't make or break how your social media posts perform. But they definitely can't hurt. So I recommend testing them out.
The best way to find hashtags to use on your posts is a free tool called hashtagify.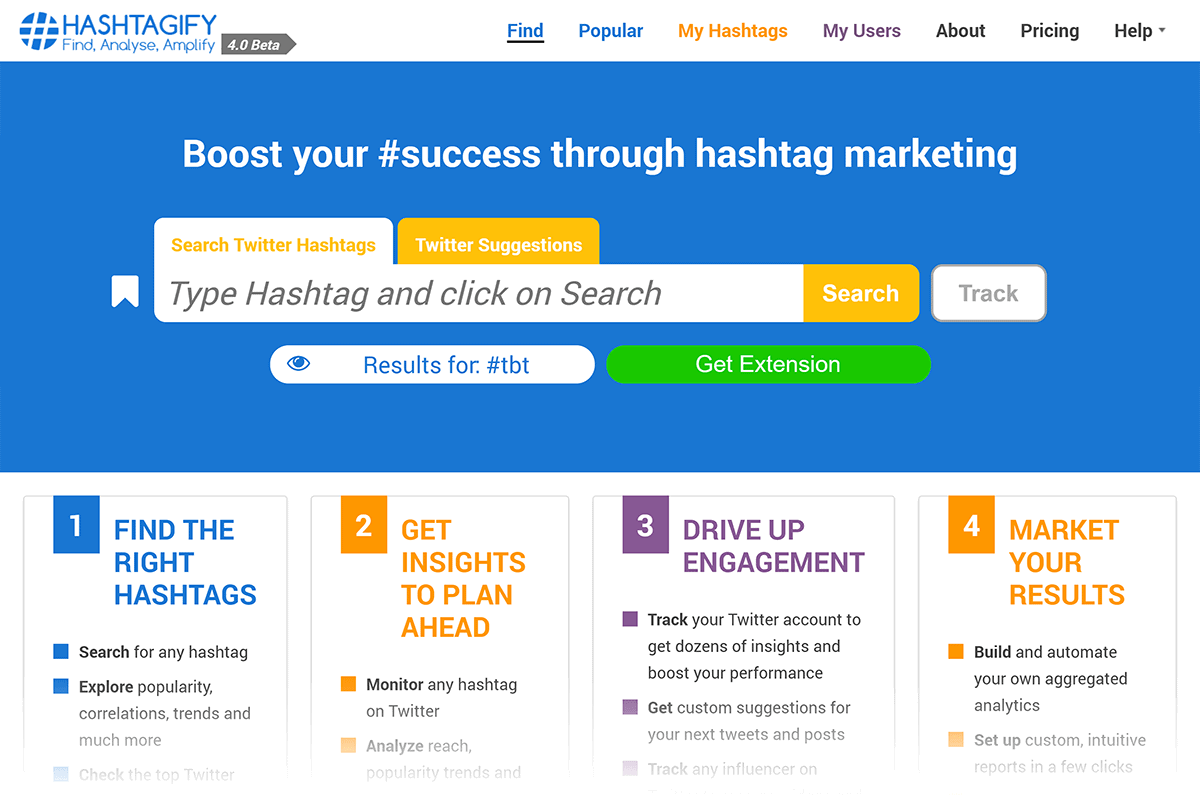 To use it, type in a hashtag that you want to use.

And the tool will let you know how popular that hashtag is… and suggests other hashtags to try out.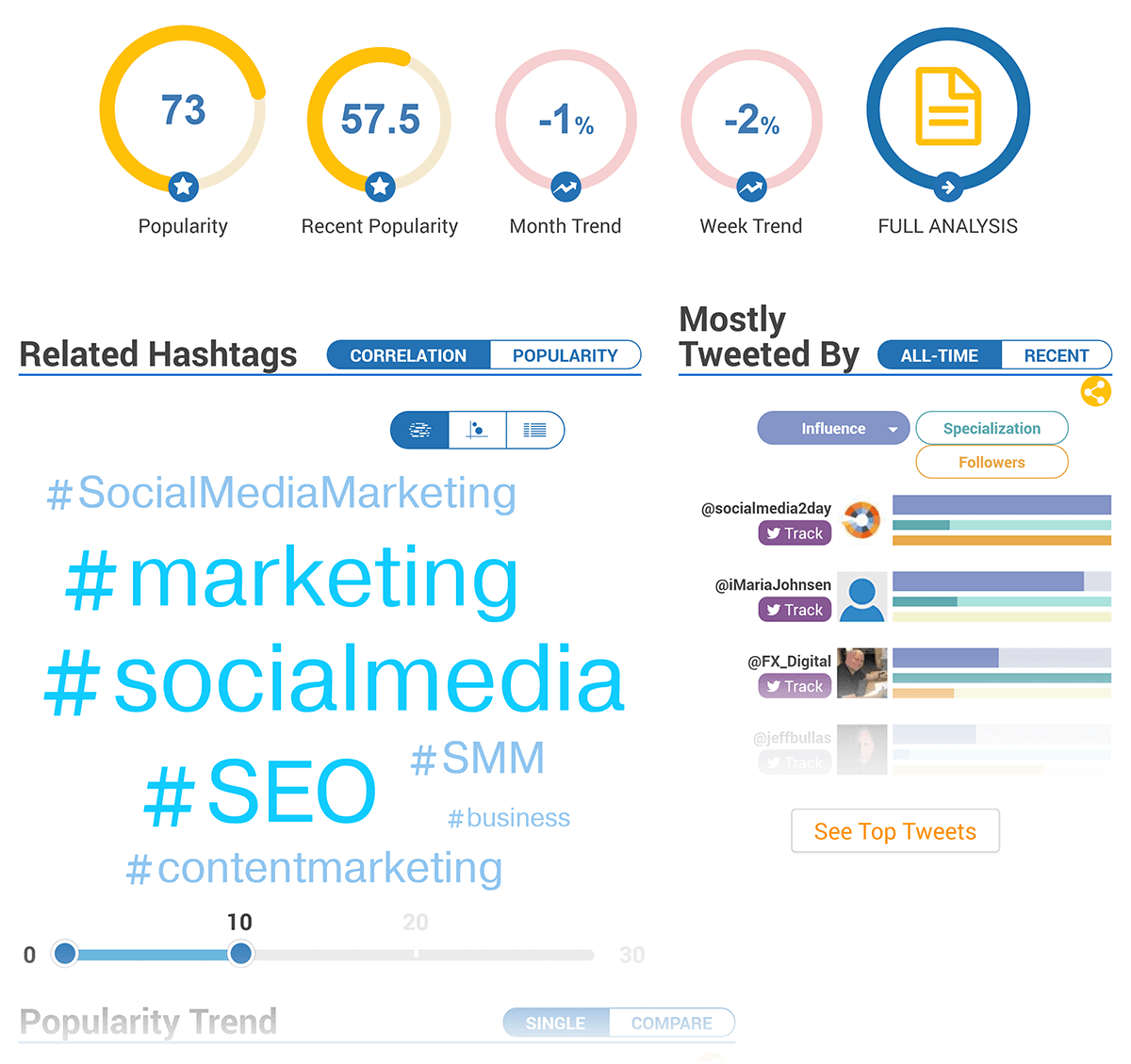 Very cool.
Test Paid Promotion
Paid promotion (like Facebook boosted posts and Twitter ads) is a guaranteed way to get more eyeballs on your posts.
That said:
The ROI you get from paid promotion depends a lot on your targeting, ad copy and budget. So it's not something that I recommend everyone do.
But if you have the budget for it, I do recommend dipping your toes into a paid promo.
This is something we've experimented with A LOT here at Backlinko. It's helped some of our Facebook and Twitter posts get hundreds of clicks.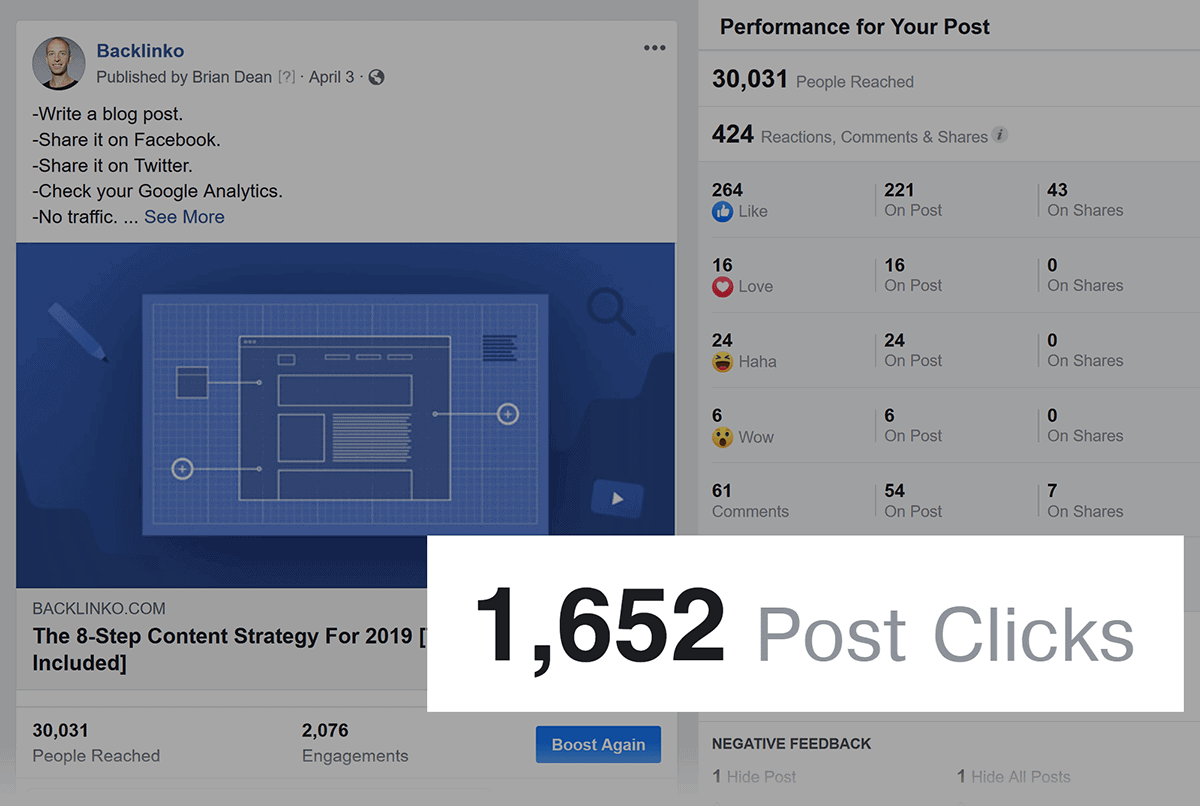 If you want to boost your posts, here are a few things to keep in mind before you start.
Start small and slowly expand: You can run Facebook ads for as little as 10 bucks. If that small test run got results for you, you can expand and sale up.
Focus on traffic and clicks: I don't recommend paying for likes, followers or "engagement". The point of this whole thing is to promote your content on social media, not to get a bunch of likes.
Target small groups: Targeting can make or break how your ad performs. I recommend targeting super small groups that you KNOW will be interested in your post. For example, in our case, we usually target people that have visited our site over the last month (aka retargeting).
Get Influencers to Share
When most people think "promote content on social media", they think:
"Sharing content on your own account".
But that's just scratching the surface. If you have a small following, you actually want to spend your time and effort on getting other people to share your content on social media.
And the best way to do that? Email outreach.
With outreach, you get your content directly in front of someone that can share it with hundreds, or even thousands, of followers.
The "catch" is that your outreach needs to be SUPER targeted to work.
For example, a few years ago I was about to publish a new content marketing case study.
And before I published that post, I used BuzzSumo to find people that recently shared stuff about content marketing on Twitter.
I sent each of them a personalized, non-pushy outreach email.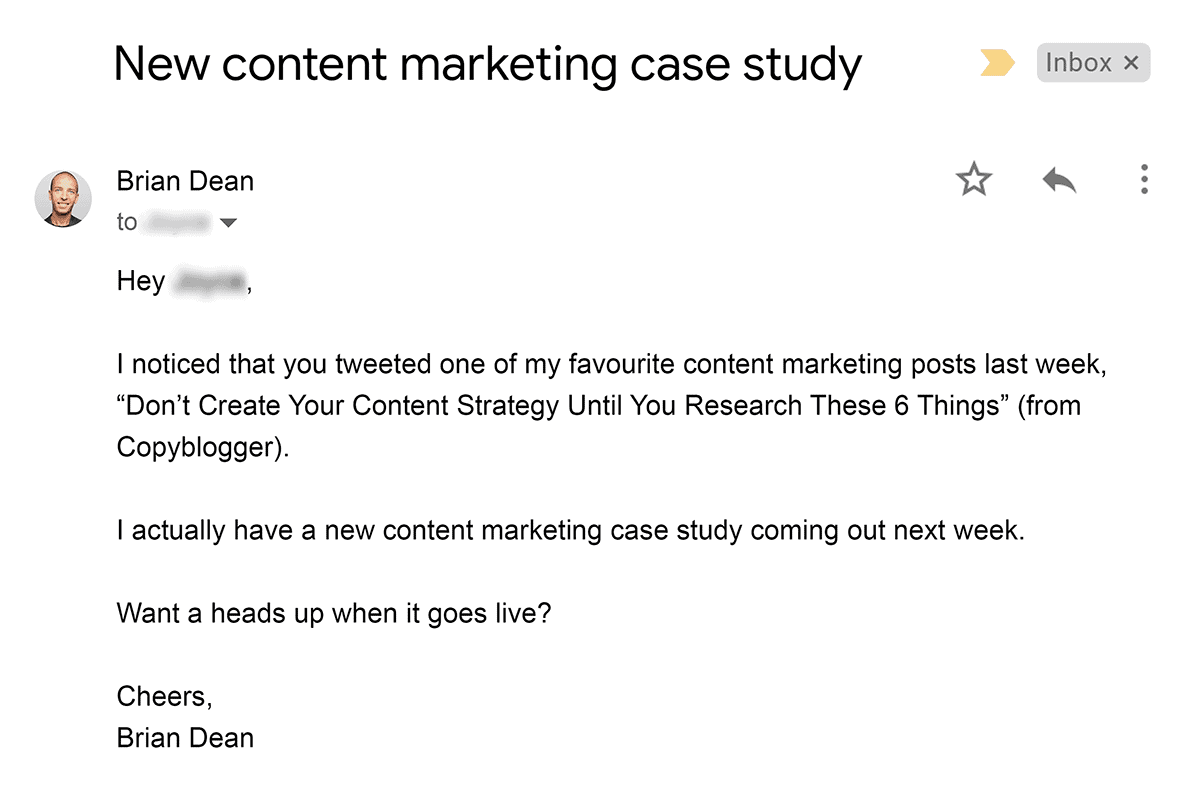 And it worked!
Because I was promoting content that people wanted to read and share, most people were happy to share my post with their audience.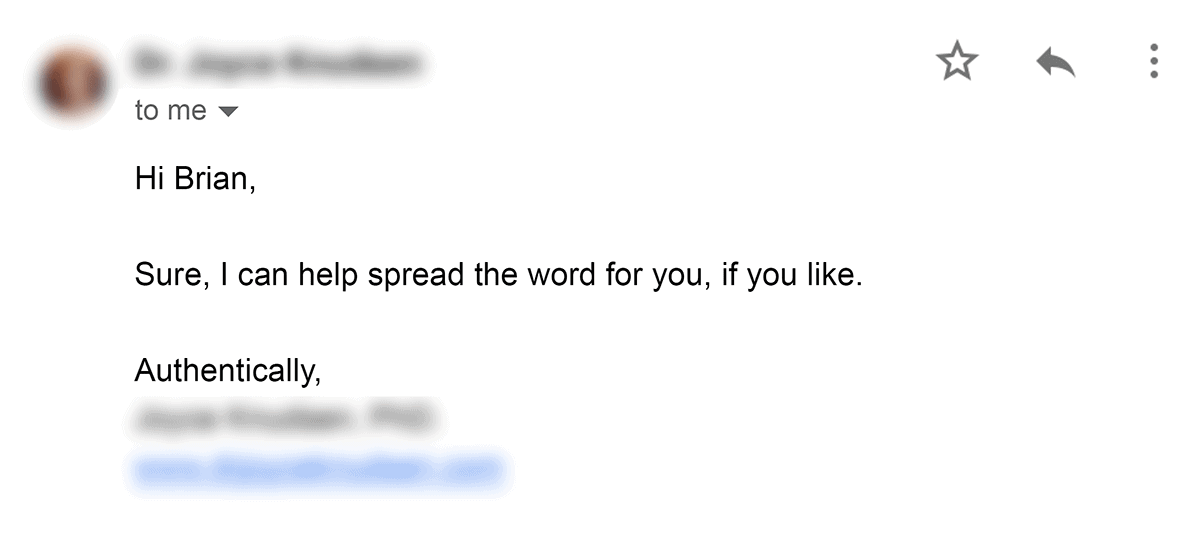 Adapt Posts to Each Social Channel
Snapchat. Instagram. Facebook.
Every social media channel has its own wrinkles.
So it's important to adapt your posts to fit the platform that you're sharing on.
For example, I know that most people on Twitter are looking for the latest news in tech, sports and entertainment.
So when I share something on Twitter, I make sure to emphasize that it's new.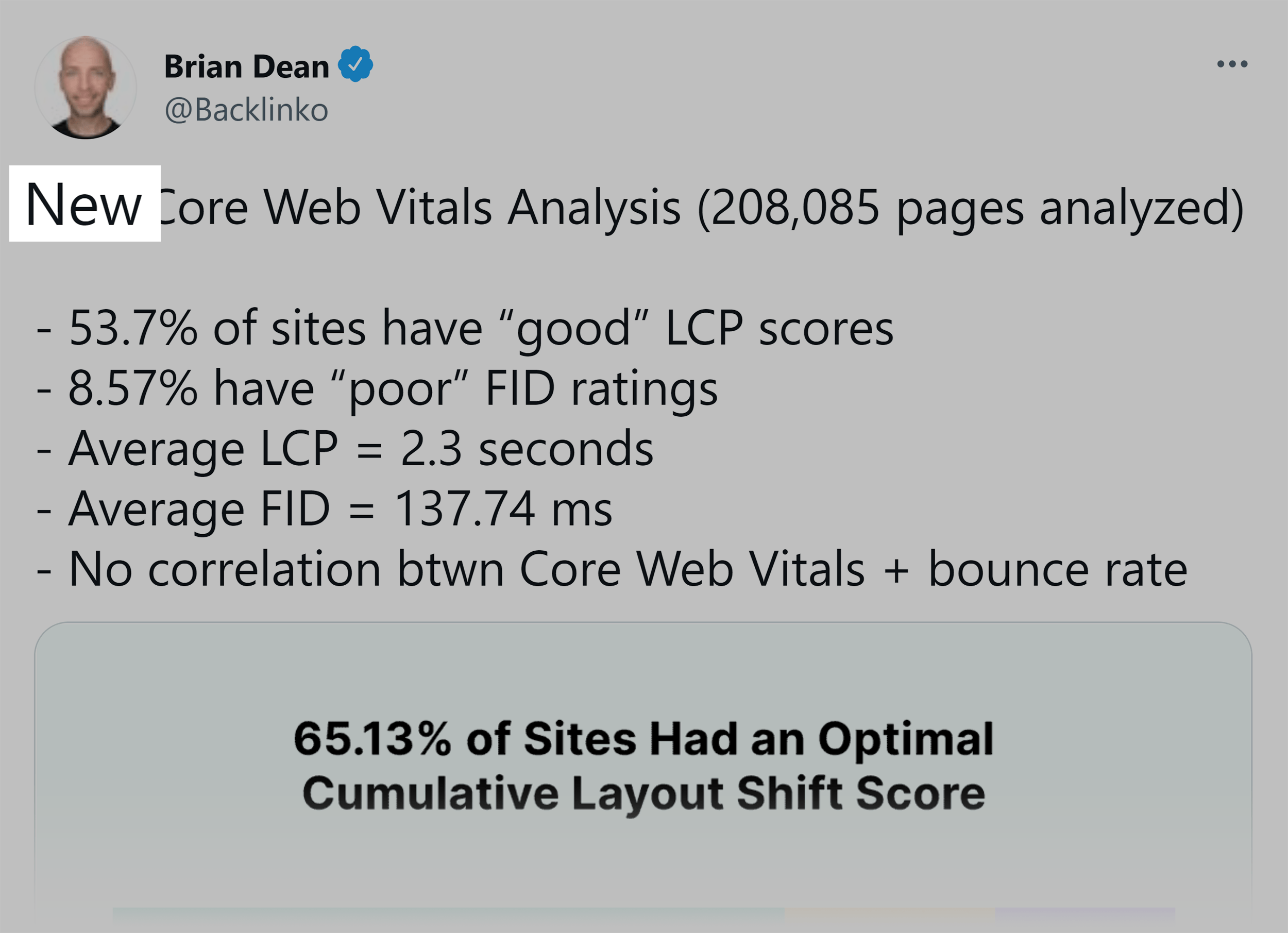 But on Facebook, people are there to see what their friends and family are up to.
So when I write Facebook posts, I tend to get a little bit personal.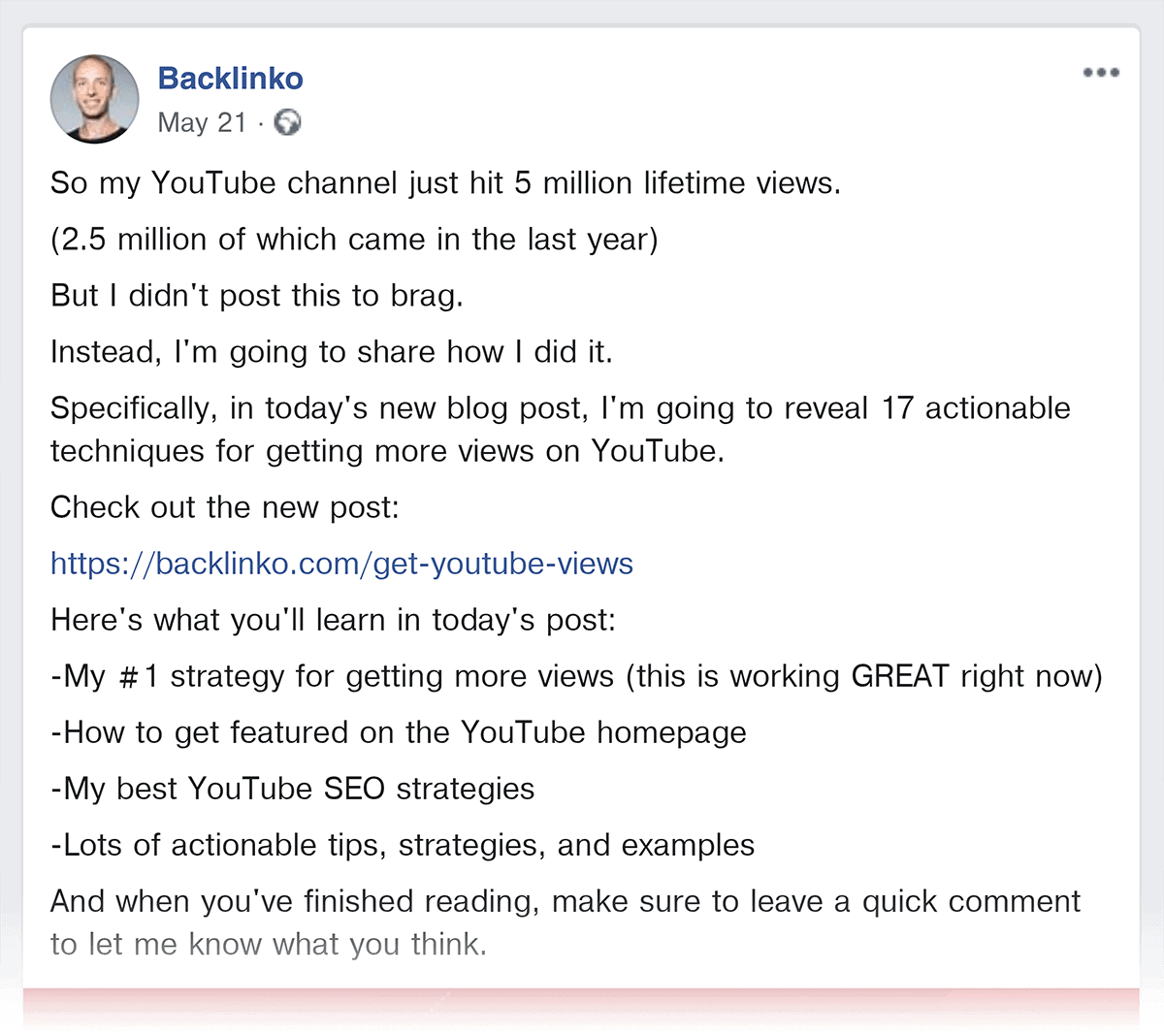 Optimize Your Title Tag for Shares
Your title tag isn't just for SEO.
Why?
Well, when someone shares your content, your title tag becomes the title of that social media post.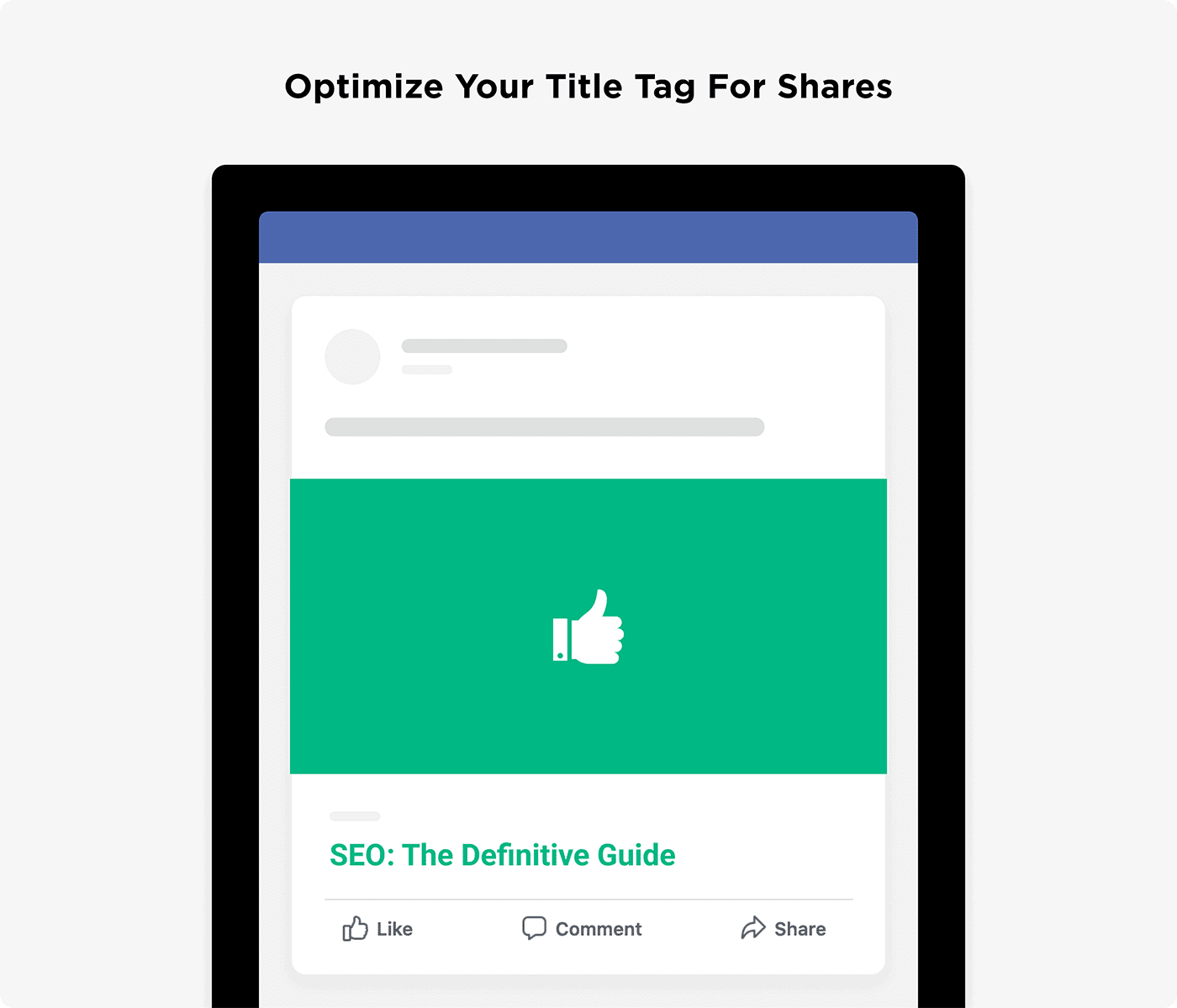 This is why you want to use titles that grab people's attention.
How do you do that?
Write long headlines.
Headlines between 80-100 characters tend to get the most shares.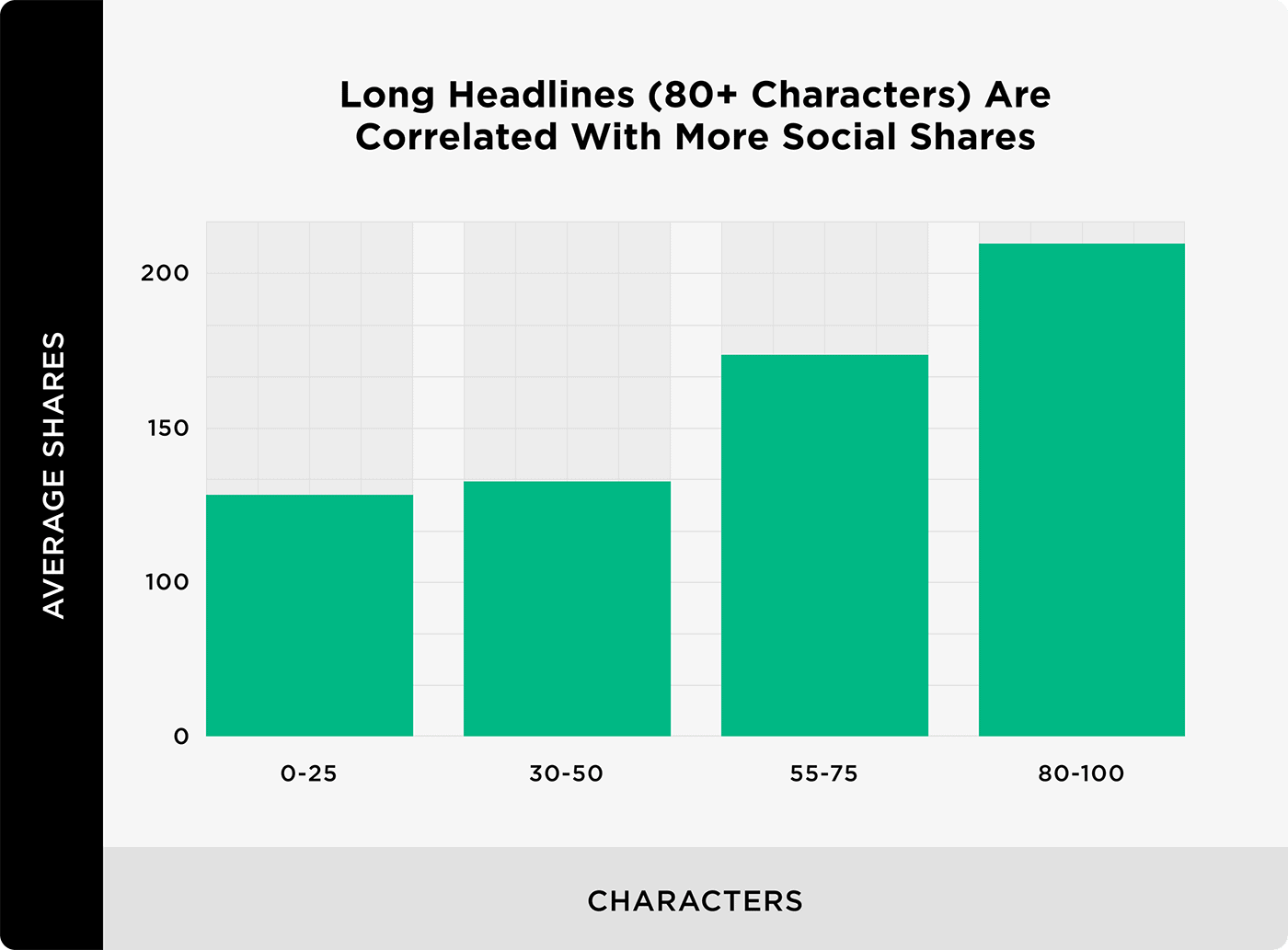 For example, here's how you can make your short headlines longer and more compelling.
Short Version: 5 Tips for Content Marketing
Long Version: 5 Powerful Content Marketing Tips (That Work in 2021)
See how that works? You can usually just add a word or two at the beginning or end of your title. And that will boost the odds that people click.
Create a Compelling Social Image
Use free tools like Canva to create social images that stand out.
For example, we spend a lot of time and energy on each of our social images.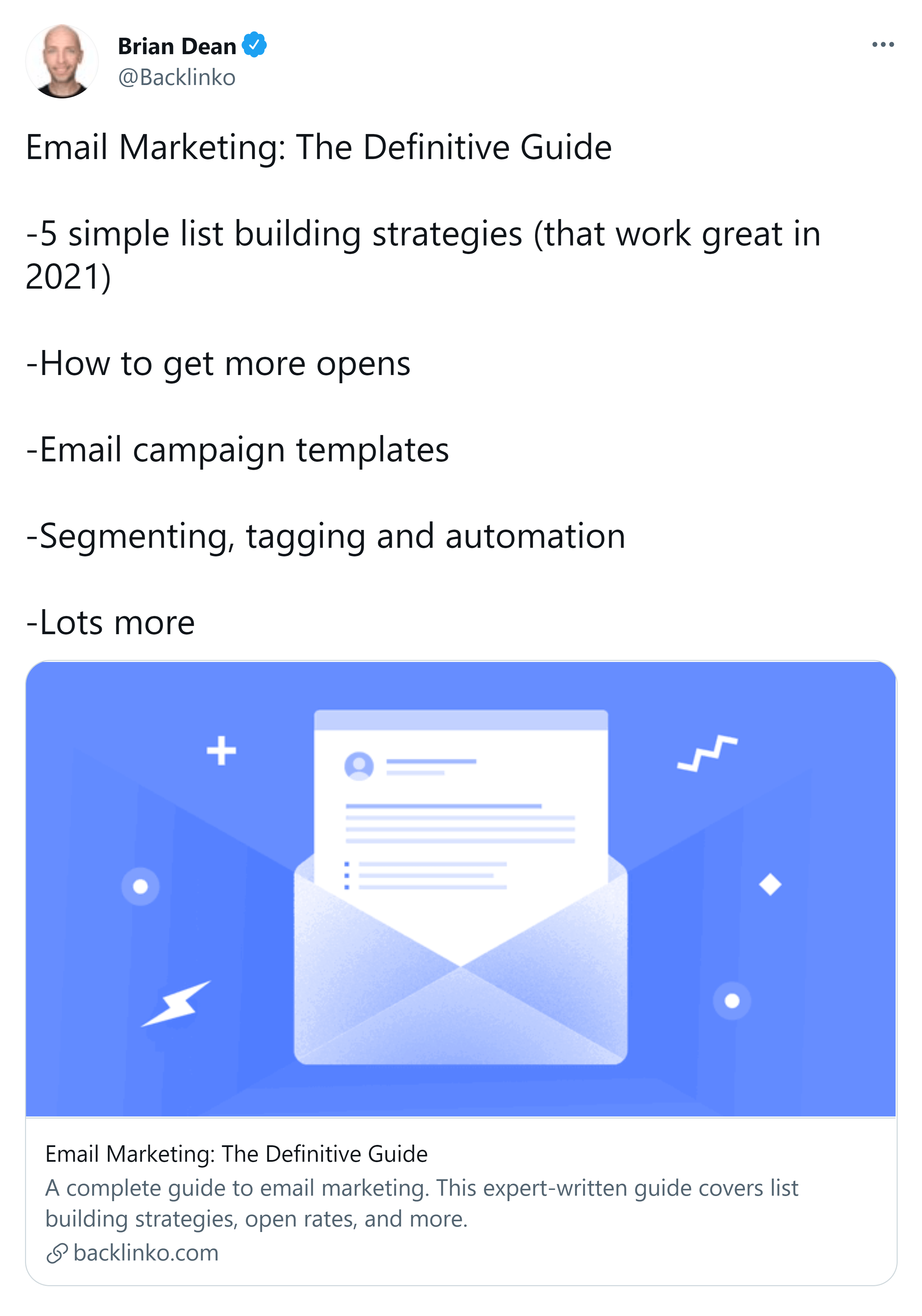 Sometimes we even use a chart or infographic.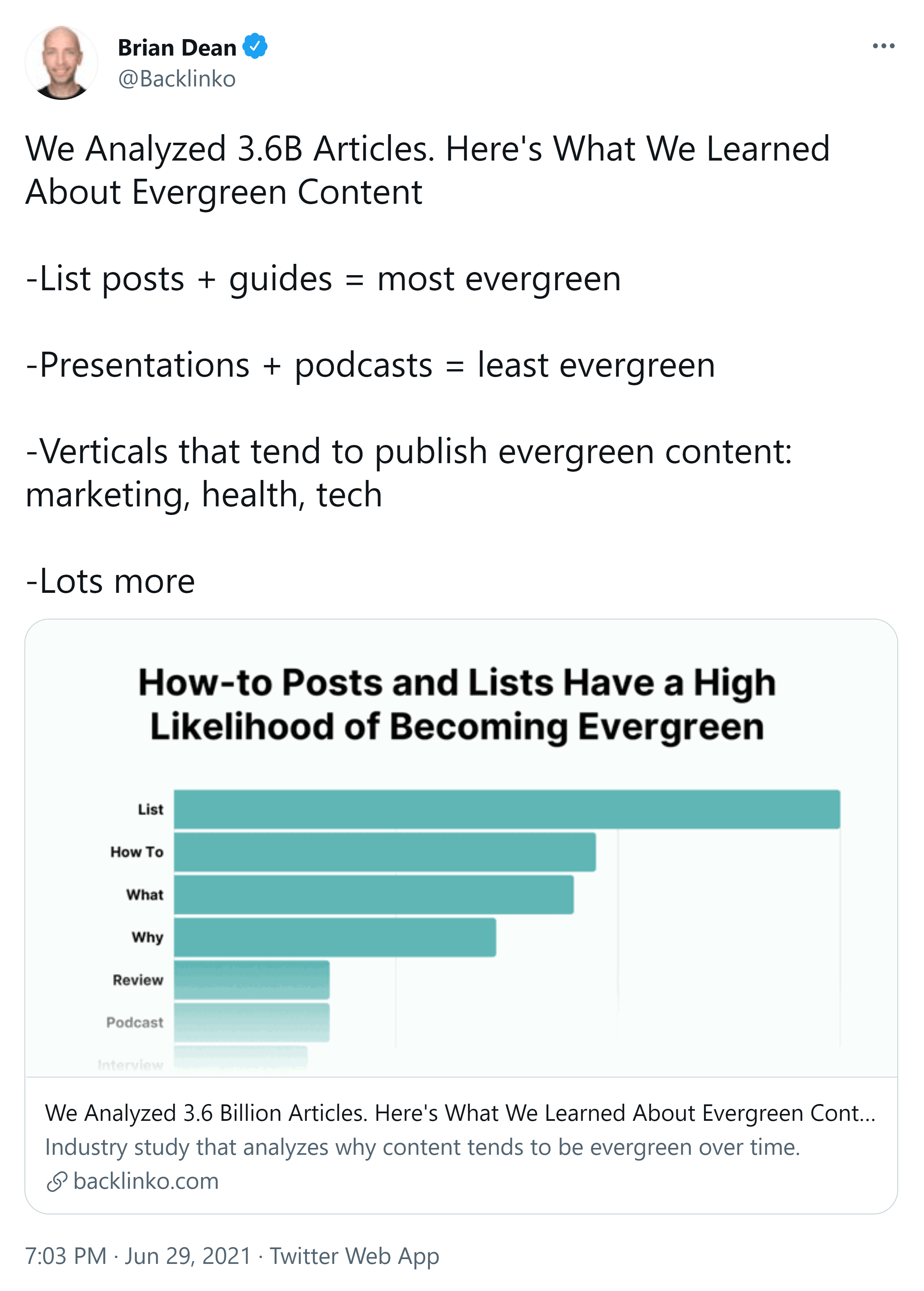 This helps our posts stand out in people's crowded feeds.
Learn More
50 Content Promotion Tactics: An up-to-date list of 50 techniques that you can use to promote your latest post.
A Simple Guide to Using Ads to Promote Your Content on Facebook: Learn how the social media marketing pros at Hootsuite promote their latest content on Facebook.
Simple Content Promotion Checklist to Skyrocket Traffic: Short and sweet video guide to adding content promotion to your social media strategy.