What Is B2B Content Marketing?
B2B content marketing is the practice of producing and distributing content in order to increase brand awareness, traffic, leads and sales for business-to-business companies. Common forms of content marketing in B2B include blogging, podcasting, email newsletters and infographics.
Why Is Content Marketing Important for B2B Companies?
It's simple:
Content marketing has a GREAT ROI.
And there's data to back this up. Data from Statista shows that 30% of marketers consider content to have the "highest ROI" of any channel.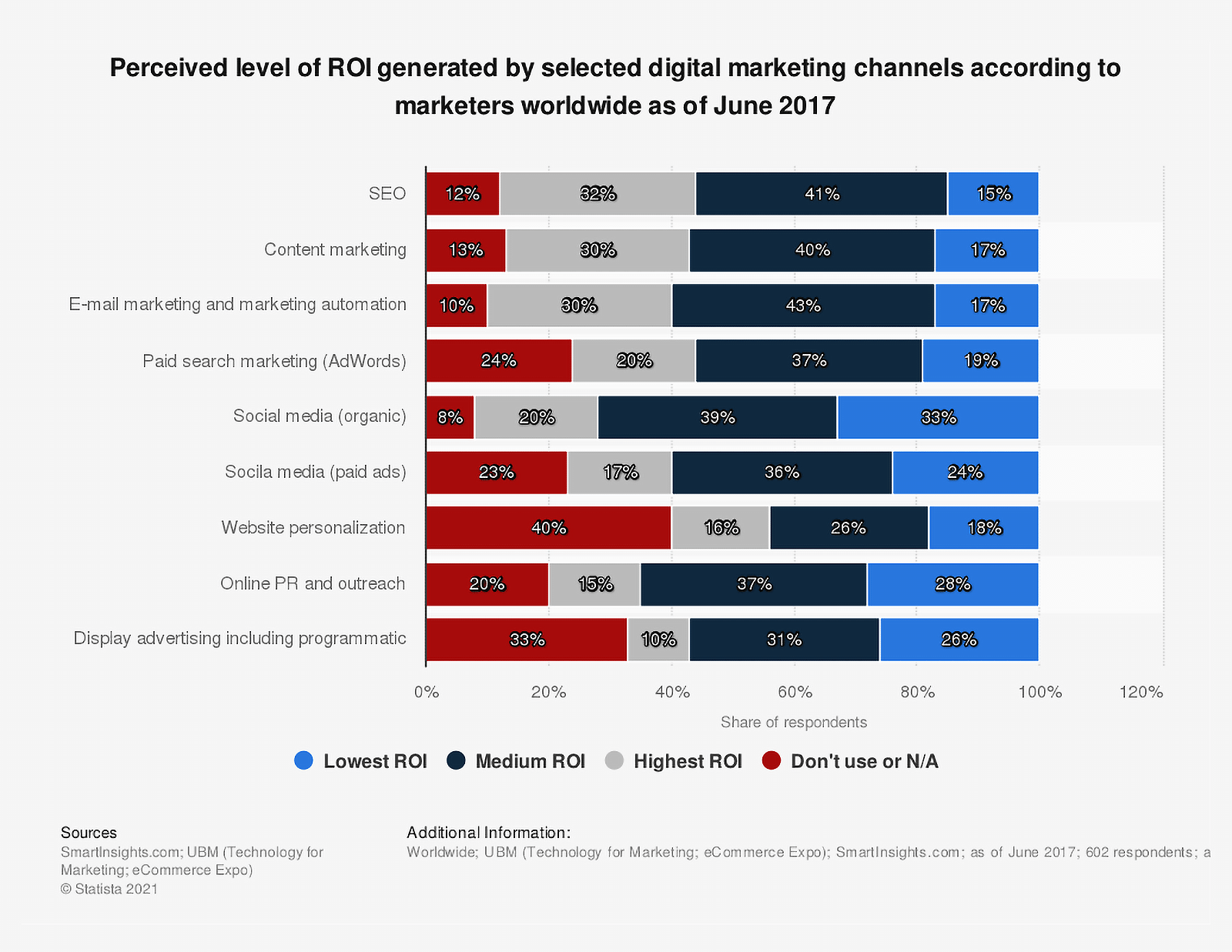 Which is probably why 91% of B2B marketers use content to spread the word about their company.
My B2B company is a great example of how well content marketing can work for traffic, brand awareness, lead generation and revenue.
Thanks largely to the strategies that I'm about to share with you in this guide, my site brings in 522,981 visitors every month.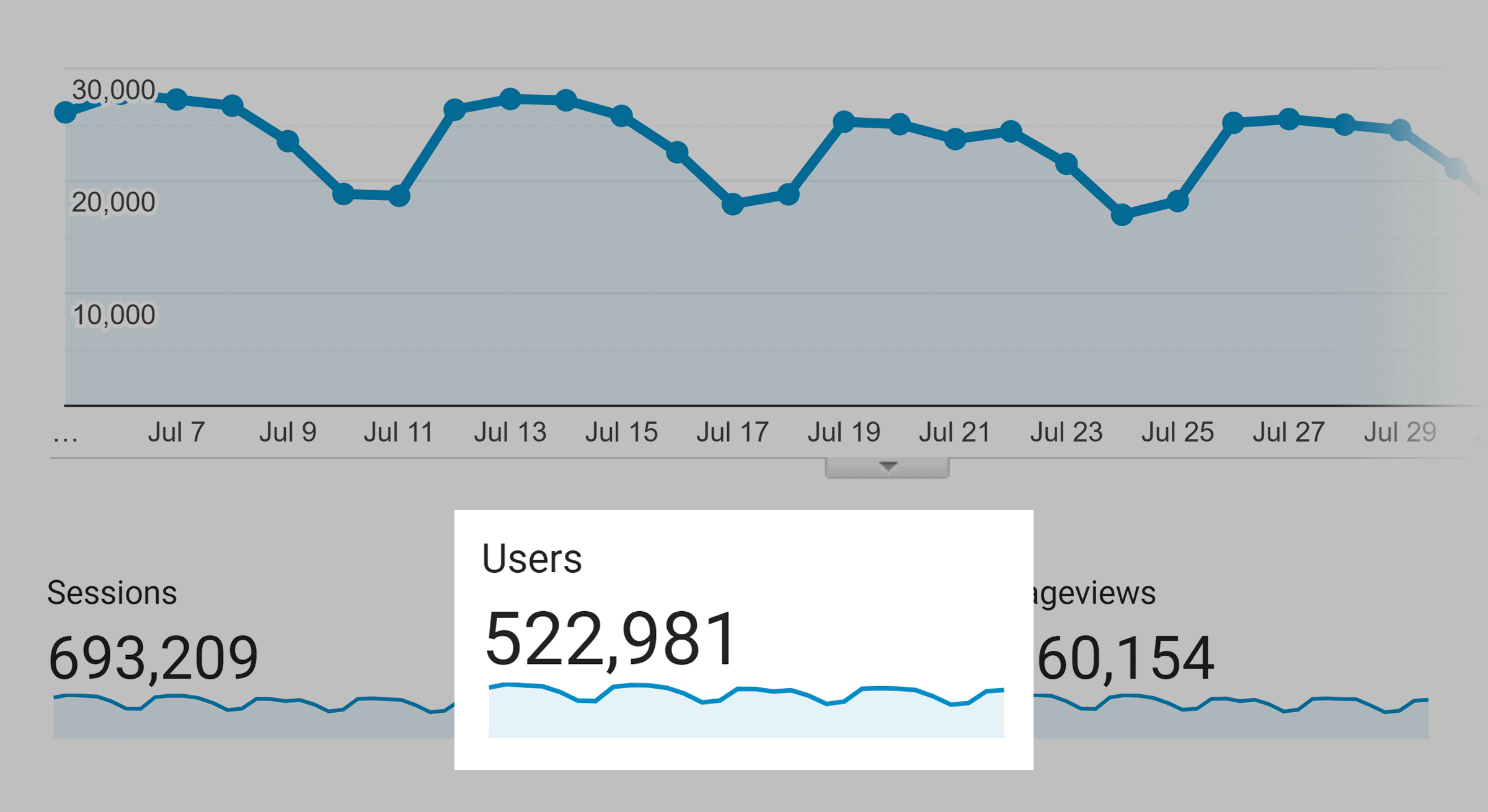 And that traffic has helped me build up my email list to 254,372 total subscribers.

Traffic and leads are great. But what about sales?
Well, that's the real power of content marketing in the B2B space. When you constantly publish top-notch content, people see YOU as the go-to leader in the space.
Which makes them more likely to buy from you.
For example, we send out a "welcome survey" to every new customer.
As you can see, a good chunk of these customers cites our content as a specific reason that they decided to buy from us.

B2B Content Marketing vs B2C Content Marketing
What's the difference between content marketing for B2B vs B2C?
Different Audiences: With a B2C company, your audience is usually pretty broad.
(Basically, anyone that might buy your product.)
But in B2B, the audience for your content is MUCH more focused.
Specifically, your content needs to target key decision-makers that work at the businesses that you serve.
For example, CoSchedule is a B2B business that sells a content calendar tool.
As you can see, their blog is tailored to people within organizations (like CMOs) that make the decision of whether or not to invest in software for planning and schedule content.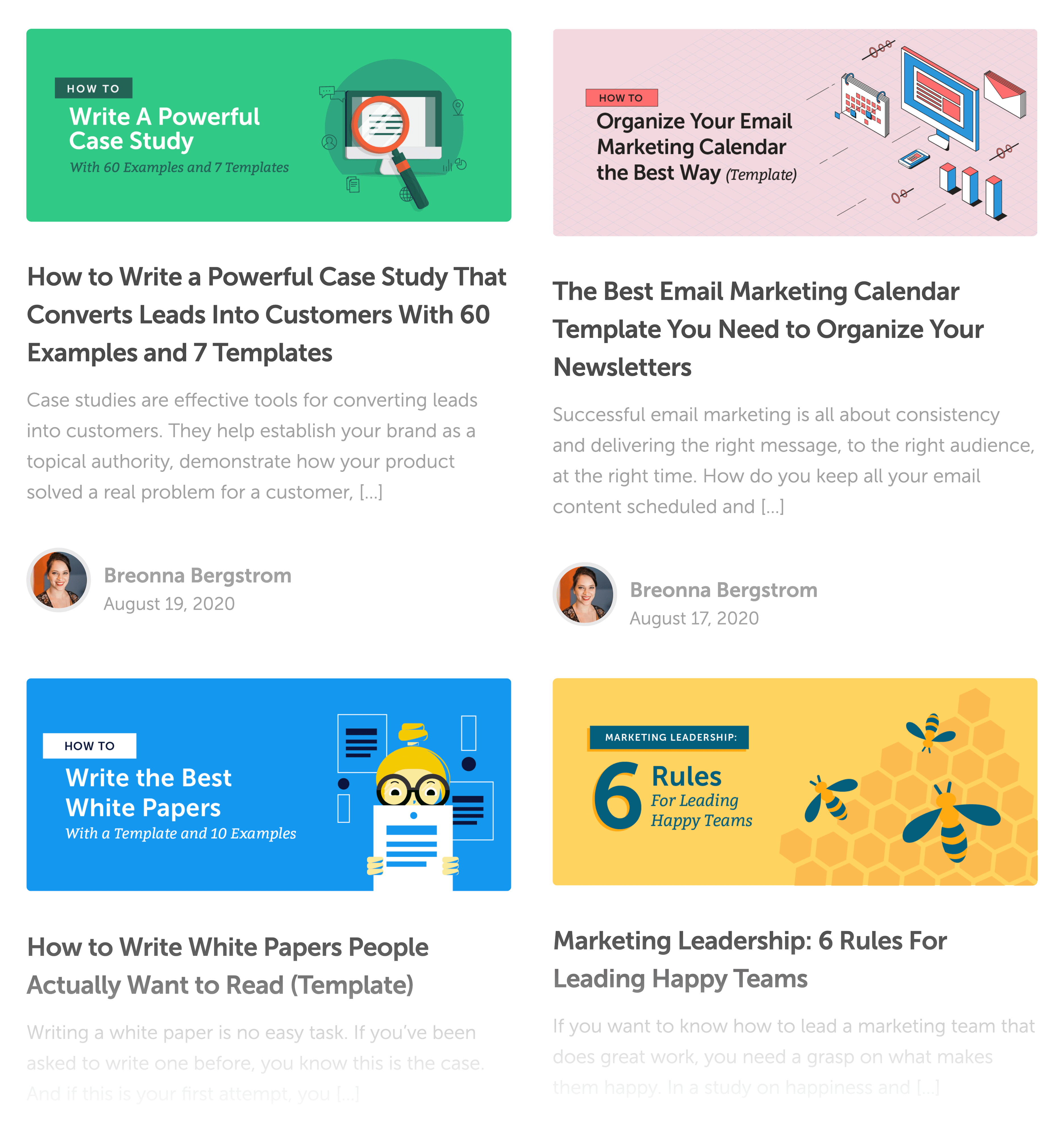 Different Distribution: A business that sells vases can crush it on Pinterest.
But that's probably not the best social media platform for a B2B business that sells CRM software.
Why?
B2B content doesn't get shared on social media all that much.
Some time ago I partnered with BuzzSumo to analyze 912 million blog posts.
And we found that B2C content gets nearly 10x more social shares than B2B content.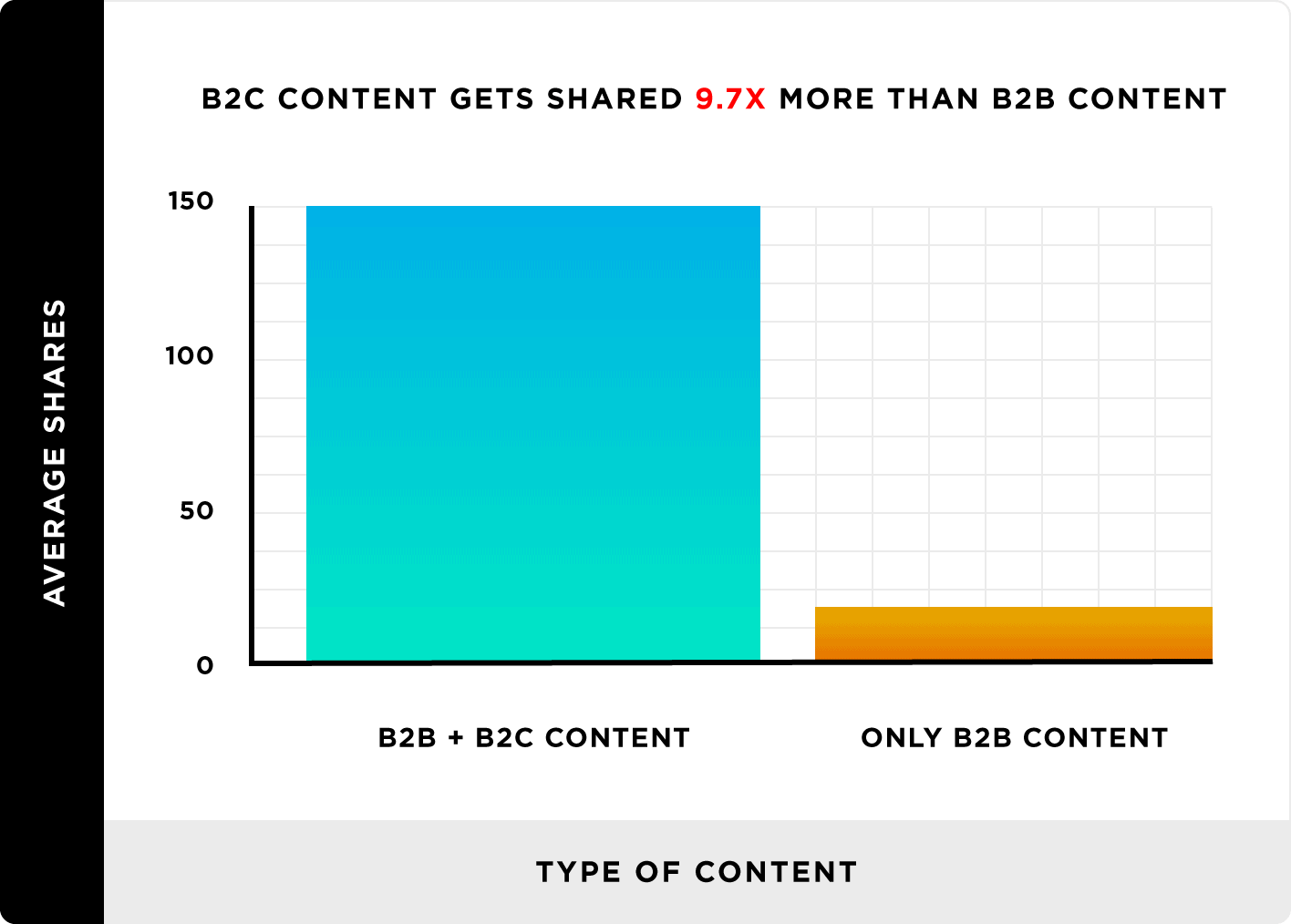 Instead of Twitter and Facebook, B2B businesses tend to distribute their content via email marketing, conferences, search, and their own websites.
In fact, research by FocusVision discovered that 70% of B2B customers consume content directly from a vendor's site (compared to 53% that discover B2B content on social media).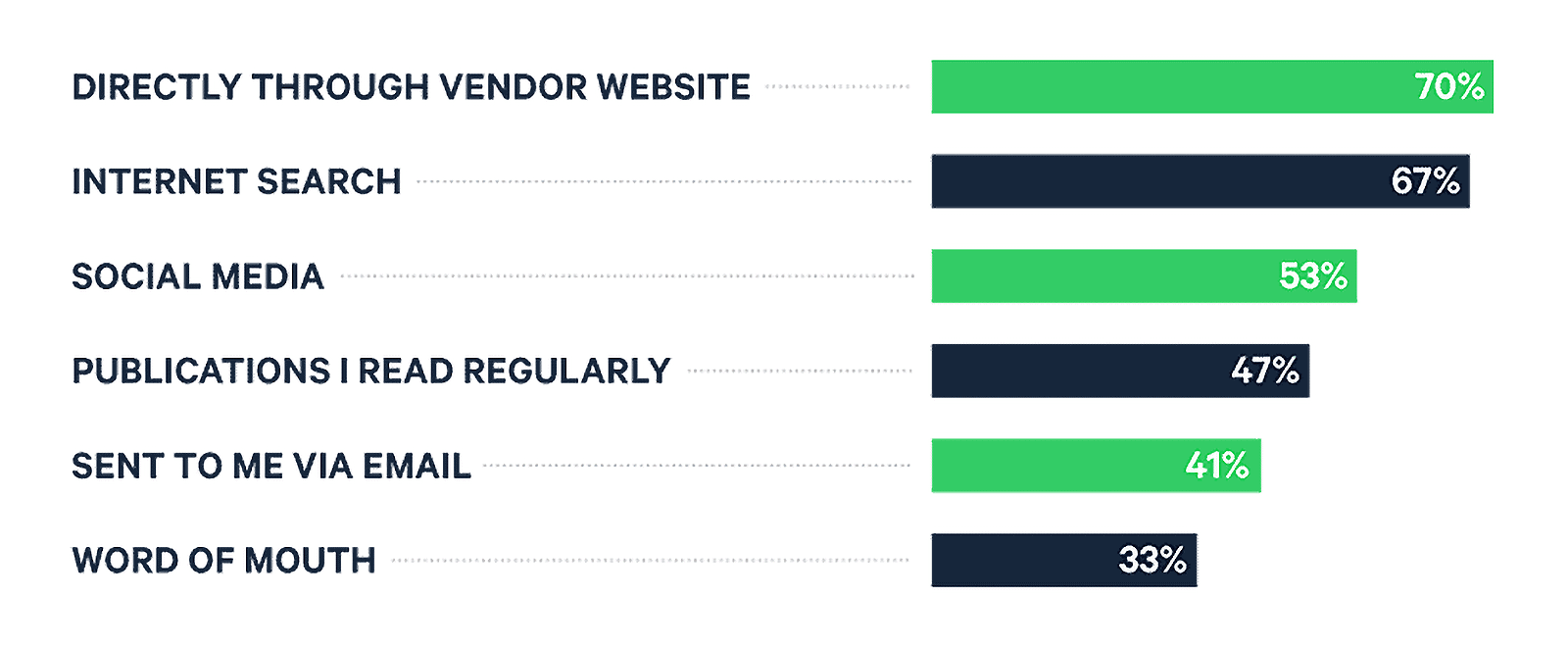 Different Formats: B2B companies tend to rely on a specific set of content formats: email, blog content, webinars, case studies, and PDF whitepapers.
This is a full breakdown of the main differences between B2B and B2C content marketing:
B2B Content Marketing Strategies

| Approach | B2C Content Marketing | B2B Content Marketing |
| --- | --- | --- |
| Keyword Selection | Targets broad, high-volume terms | Targets high CPC, low-volume terms |
| Audience | General audience | Specific decision-makers within companies |
| Social Media | Super important | Only relevant on certain networks (esp. LinkedIn) |
| Content Style | Can be emotional and fun | Tactical and practical |
| Primary Content Distribution Channel | Social media | Email |
With that, here are 8 B2B content marketing strategies you can use today.
1. Publish Industry Studies
In my experience, industry studies are THE best type of B2B content that you can create.
And there isn't even a close second.
For example, few years ago we published this page loading speed industry study on our blog.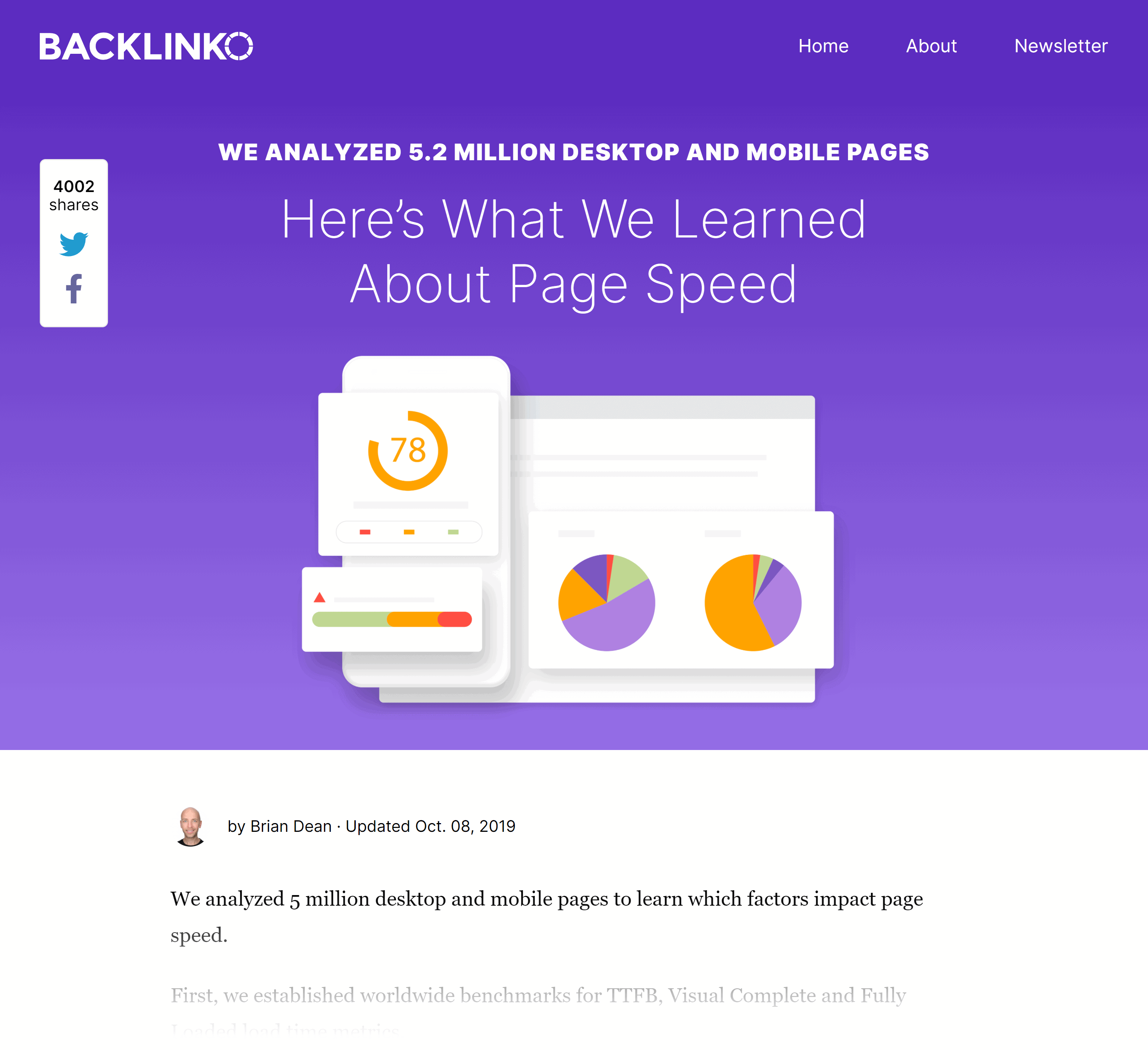 To date, that single piece of content has brought in 59,653 total visitors.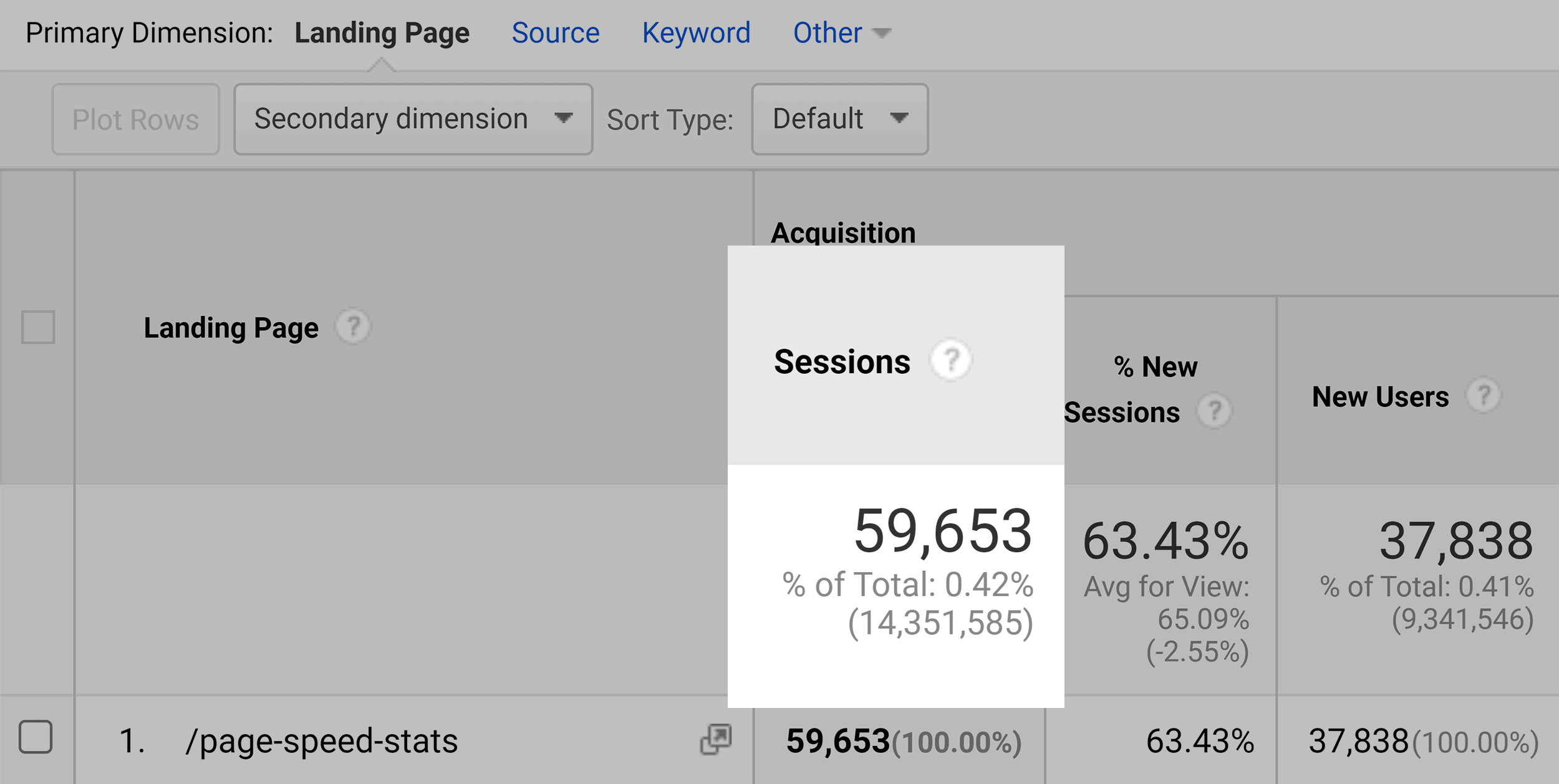 It also got shared on social media 4002 times.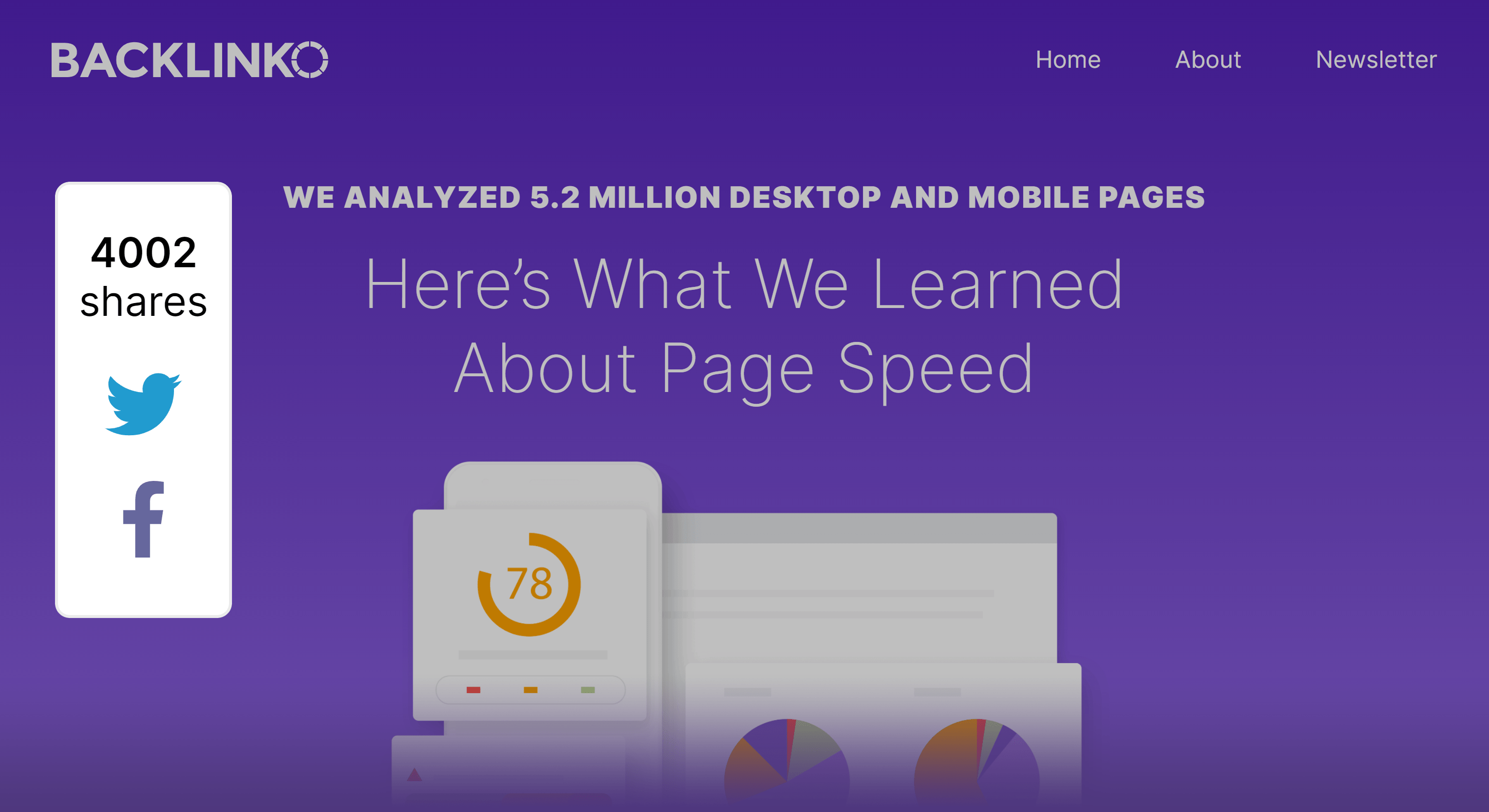 Last but not least, 675 different websites have linked to that study.

So yeah, the traffic and shares that you can get from industry studies are great.
But the real benefit is the fact that they tend to generate tons of backlinks. Which is SUPER important for SEO.
In fact, just look at this guide. I've already mentioned and linked to several industry studies.
That's because these industry studies help back up what I'm saying with actual data.
And when you publish a high-quality industry study, YOU can be the source that other blogs in your niche reference.
Over the last few years, I've published about 15 studies. So I want to share two key lessons that I learned with you. That way, you can get the most out of the industry studies that you publish.
First, I HIGHLY recommend publishing your content as a freely available article or blog post.
In other words, don't do this.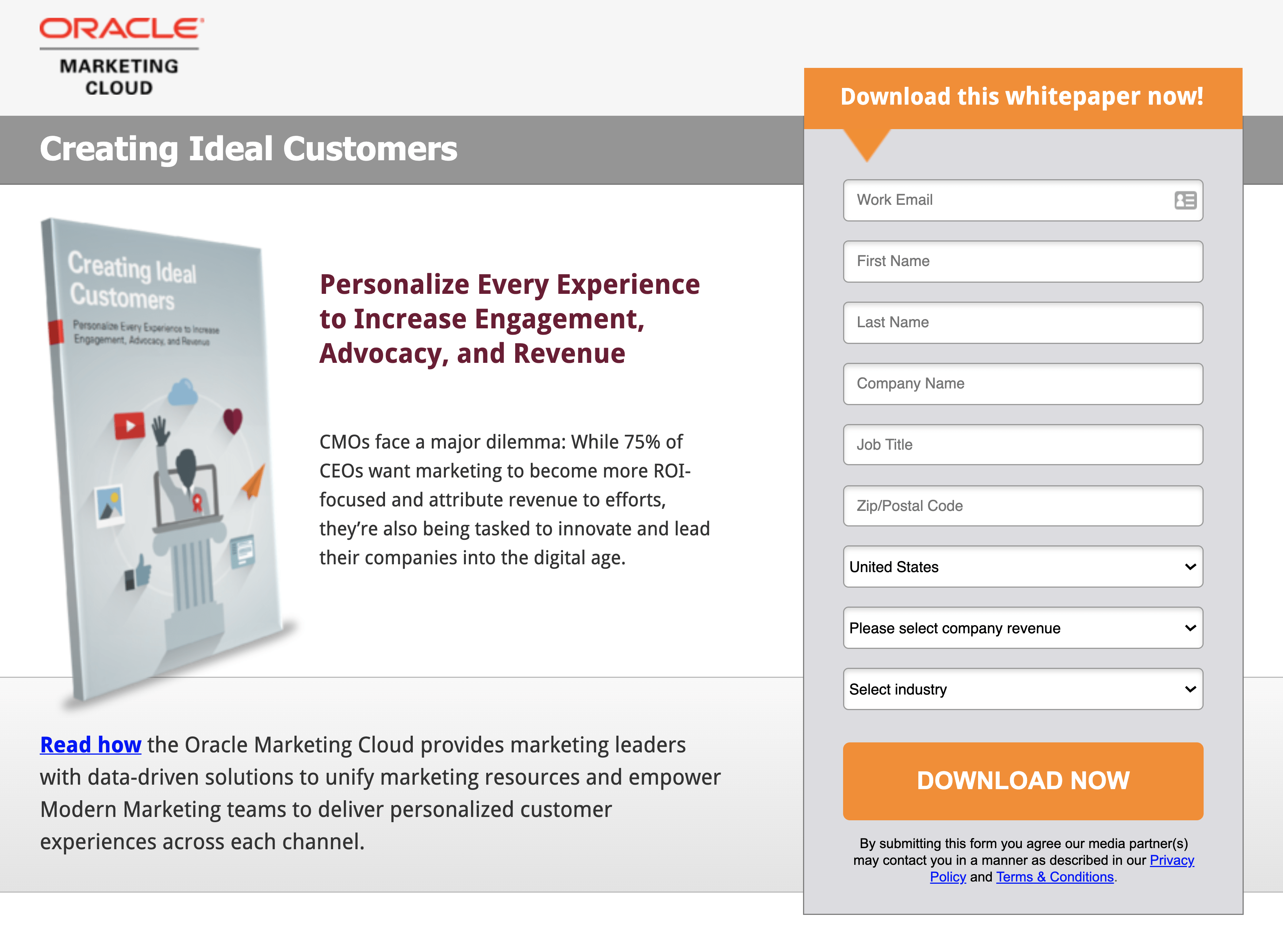 Why?
It's simple: people don't generally link to squeeze pages like that. Or share them on social media.
On the other hand, people are more than happy to link to a blog post chock full of data points, like this: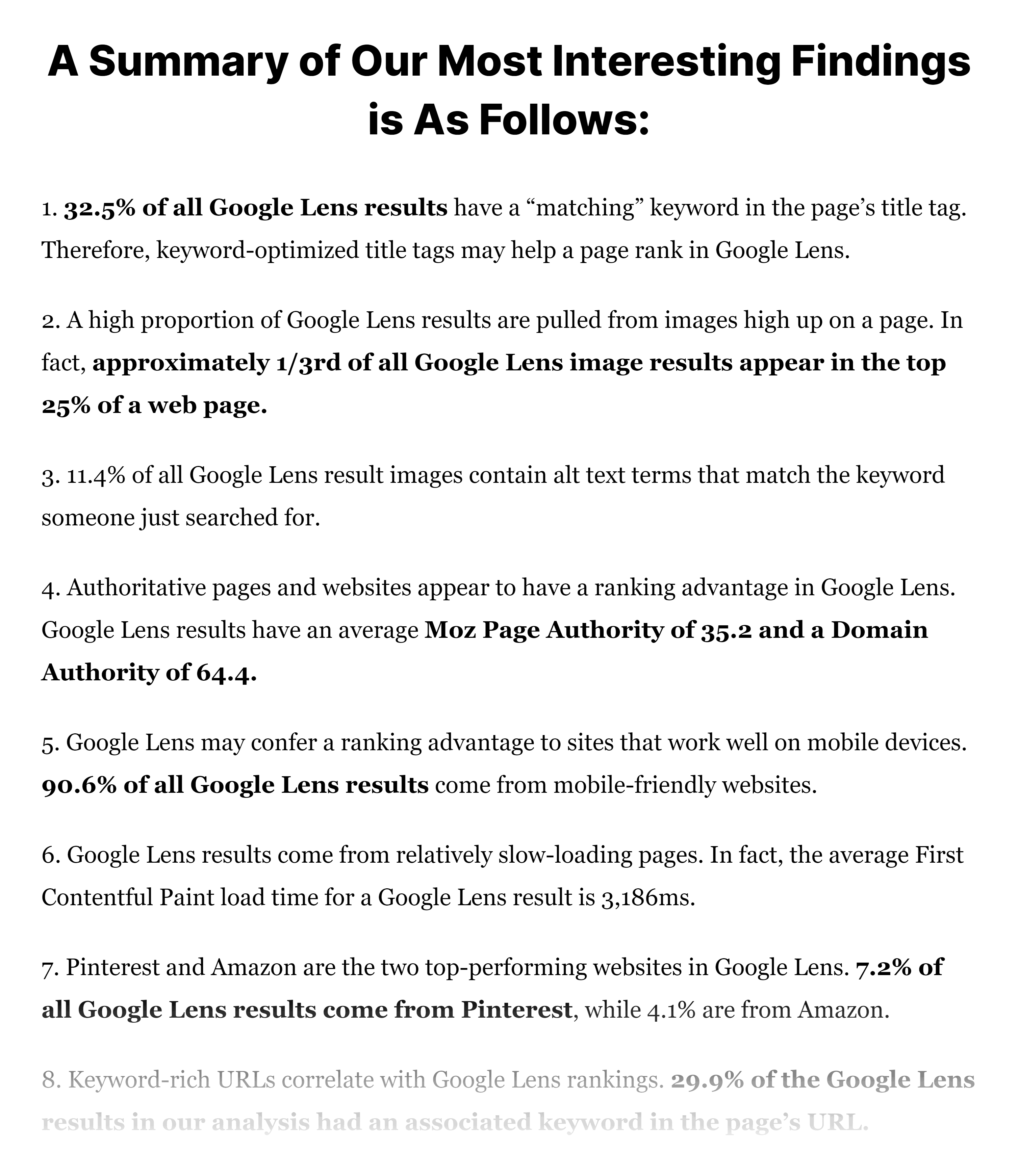 You might get a few extra leads hiding your study behind a paywall.
But over the long term, the publicly available study will bring in WAY more leads from social media and SEO.
Second, you want to be super transparent about how your study went down.
For example, we always include a PDF link to our methods. And we even link to a GitHub repository with the raw data.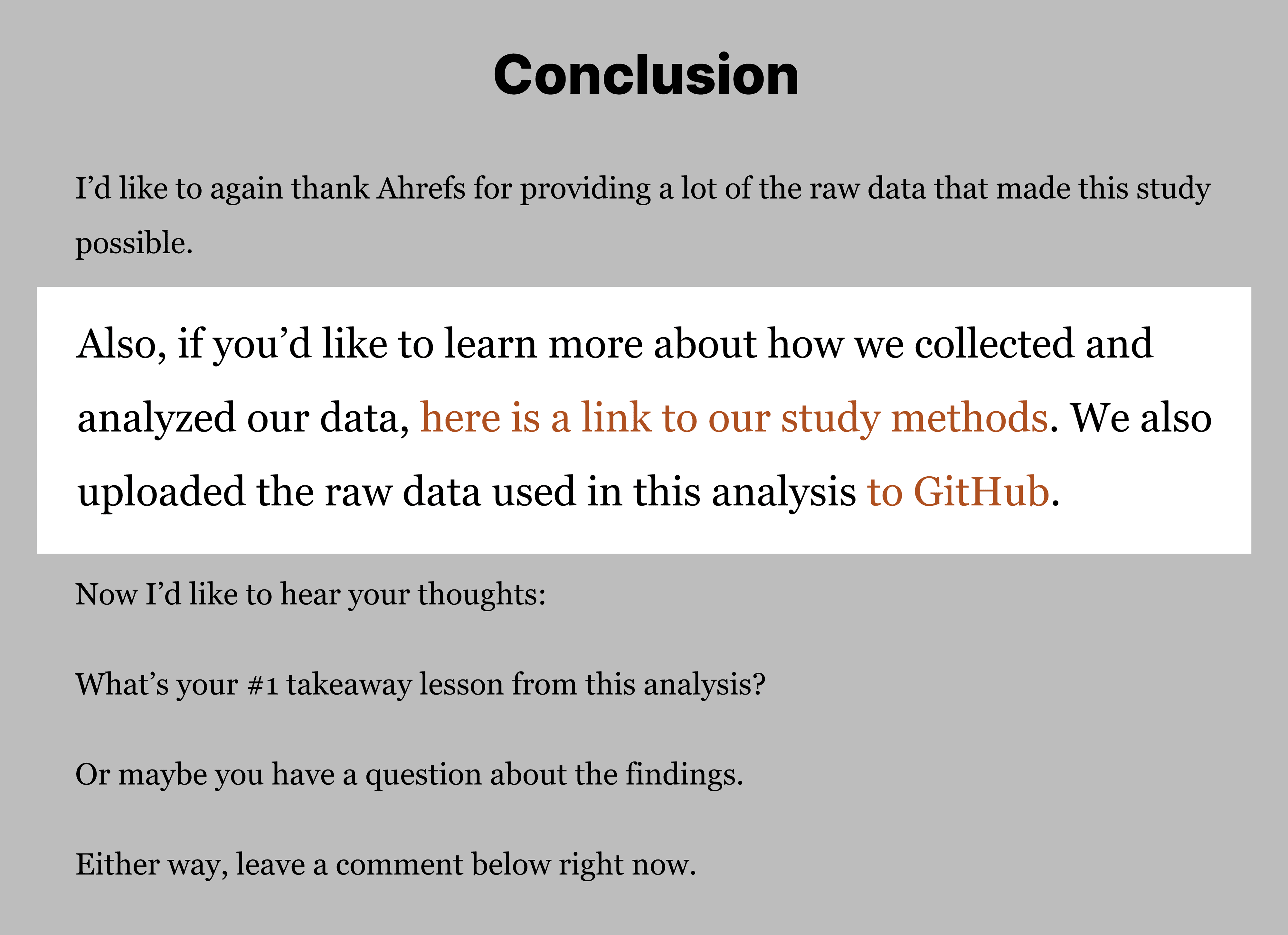 2. Send Out Weekly Newsletters
According to a survey done by The Content Marketing Institute, 31% of B2B businesses use email newsletters as a way to nurture leads.
And we've used email newsletters to grow our B2B business, Exploding Topics.
So I've personally seen how powerful a value-packed newsletter can be for lead gen. And for nurturing the leads that you already have.
For example, the fact that we have a weekly newsletter gives site visitors a tangible reason to become a lead.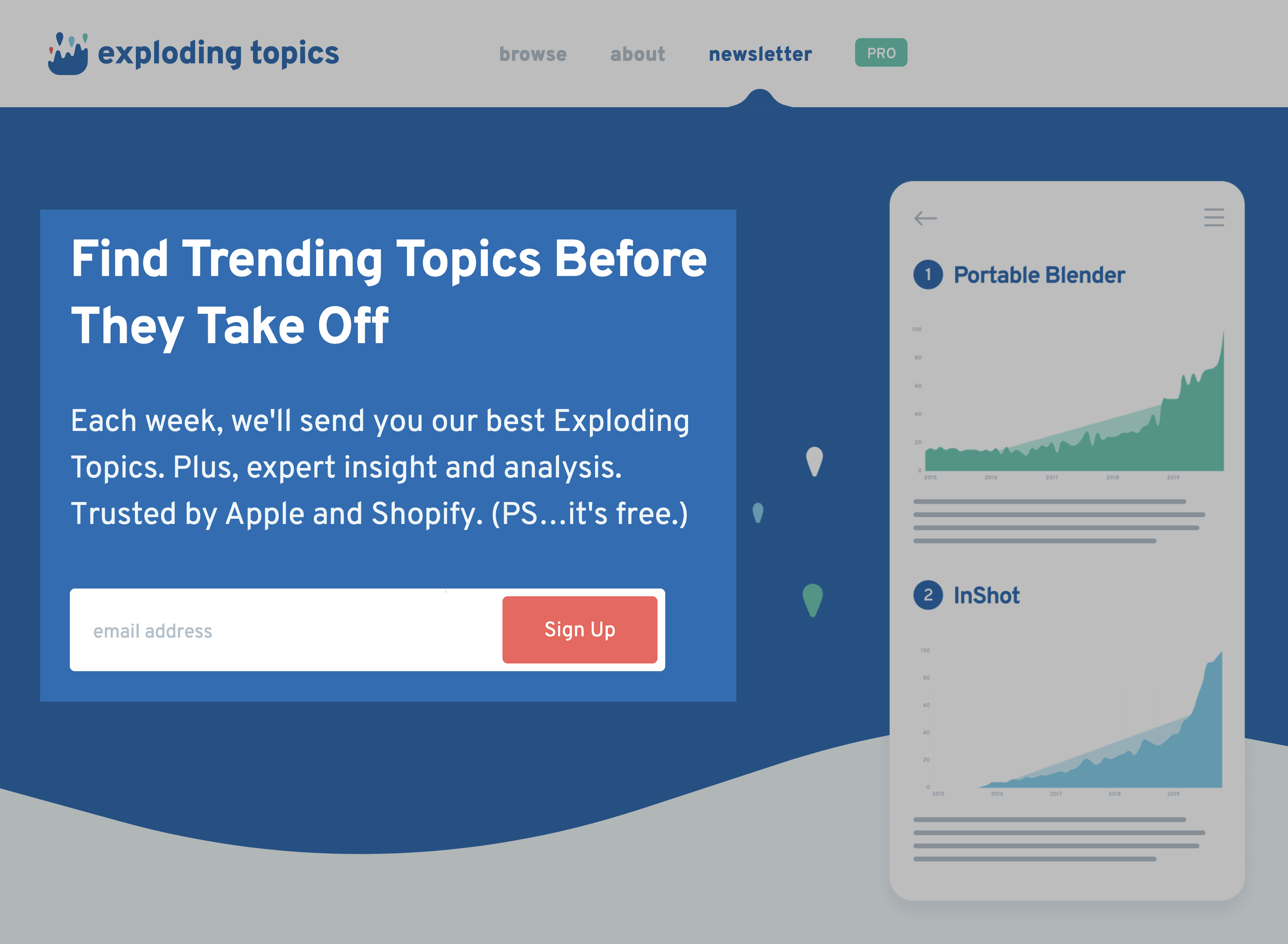 If we had a generic pitch like "sign up for updates" very few people would fork over their email.
But the real benefit of a newsletter is branding.
With a newsletter, you get your business in front of thousands of people every week. Which reminds your email subscribers that you exist.
Over time, this can lead to more sales.
For example, many Exploding Topics customers say that they decided to sign up for a trial because they enjoyed reading our email newsletter.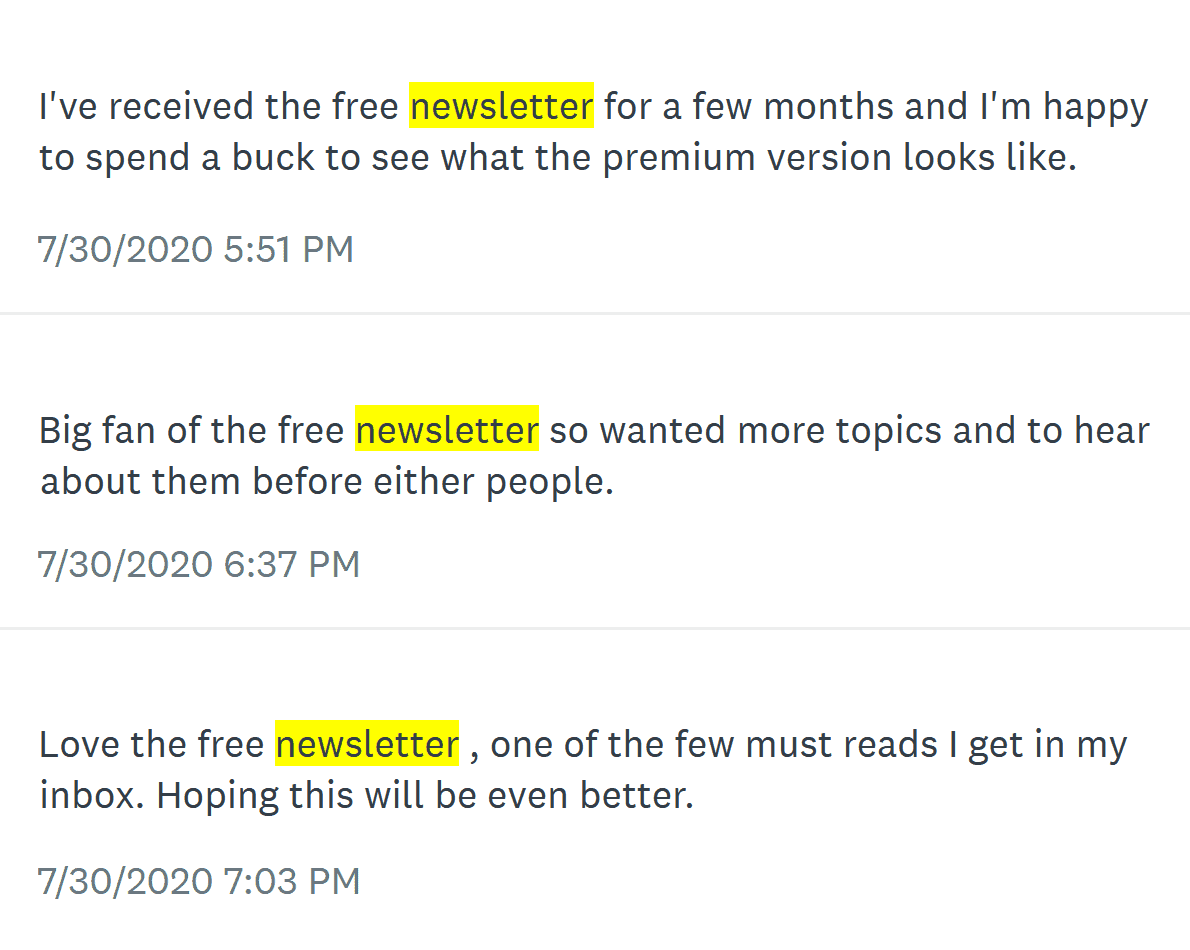 3. Test Out LinkedIn Content
81% of B2B marketers use LinkedIn.
And for good reason: LinkedIn is THE social network for B2B.
Plus, it still has a fairly high organic reach.
(Especially compared to Facebook.)
In fact, I've been using LinkedIn A LOT lately. And it still feels largely untapped.
For example, check out this post I posted on LinkedIn.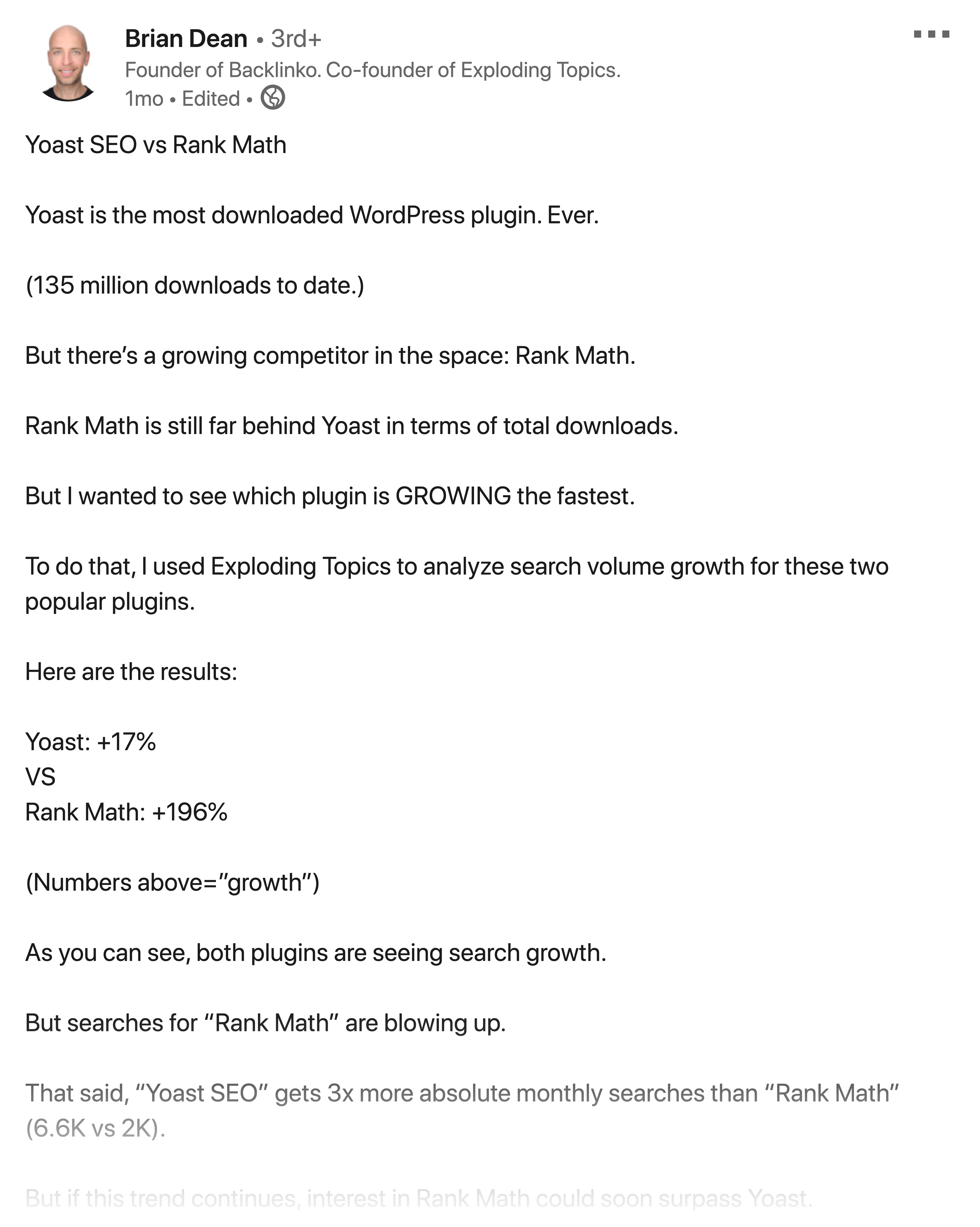 As you can see, nothing fancy. Just some interesting data that we pulled together in about 10 minutes.
Well, that single LinkedIn post got 20k views.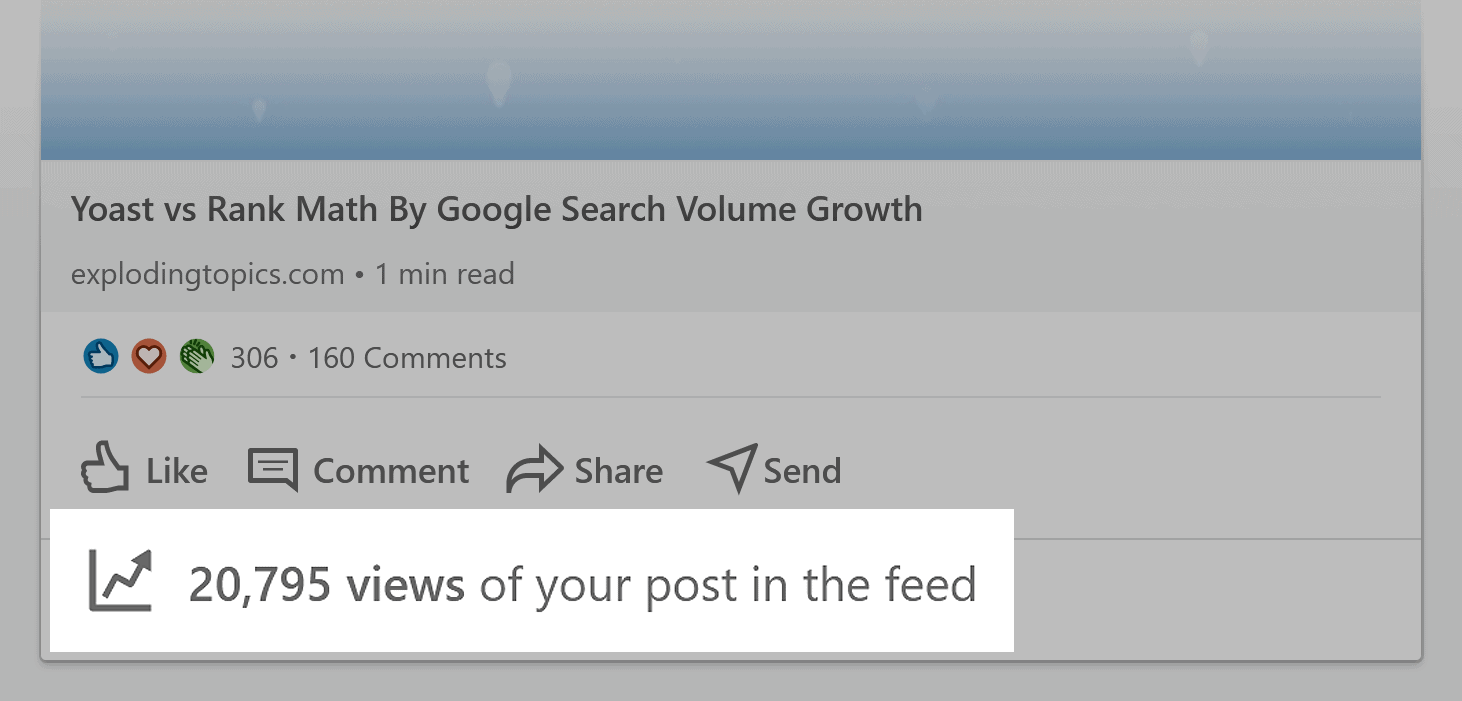 And brought in 152 targeted visitors to our website.
Text-based content like this works really well on LinkedIn. But so does video.
For example, I posted this video to LinkedIn a while back.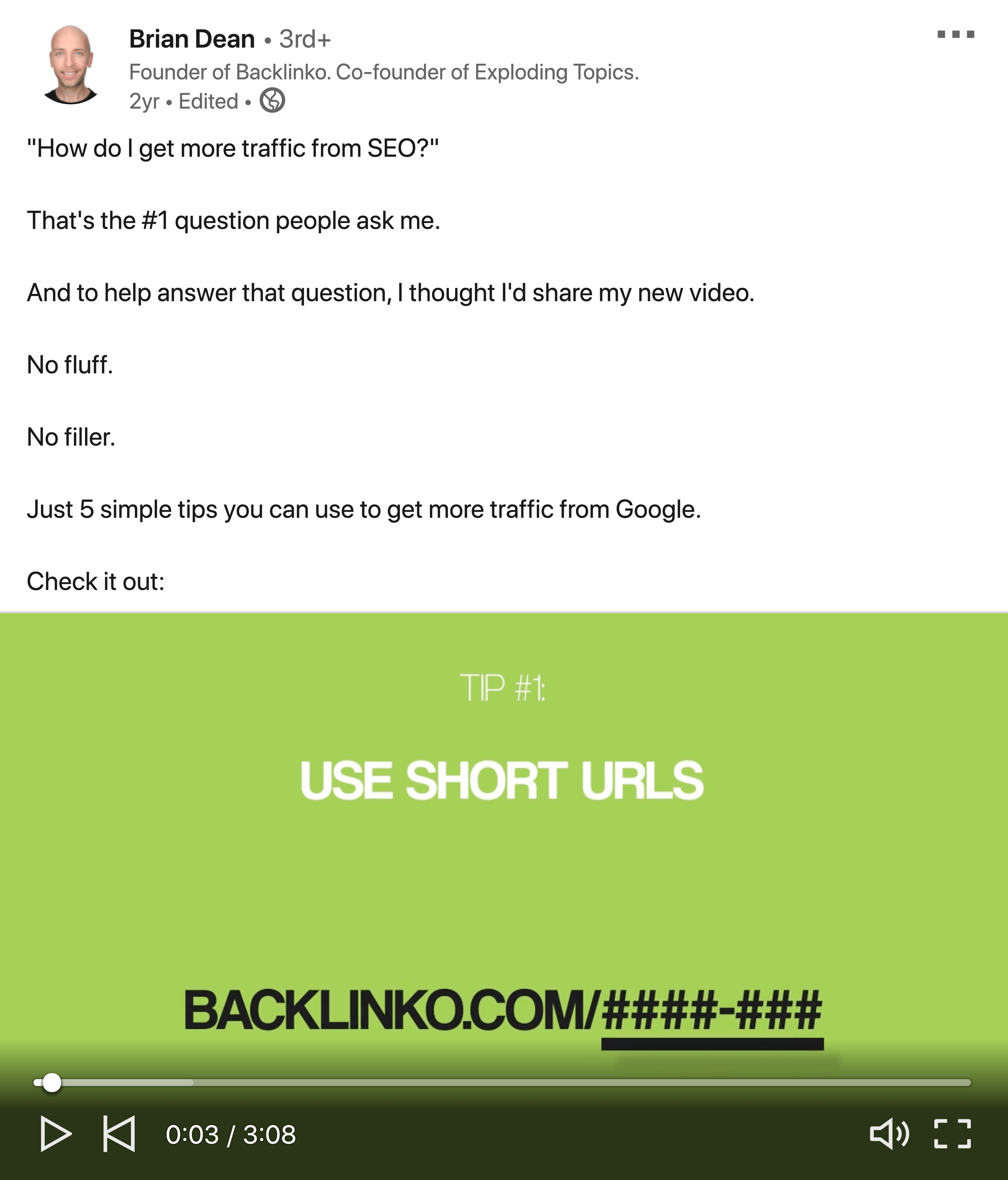 (This wasn't a video that I made just for LinkedIn. It was actually a clip from one of my most popular YouTube videos.)
And, as you can see with these engagement numbers, the video did super well.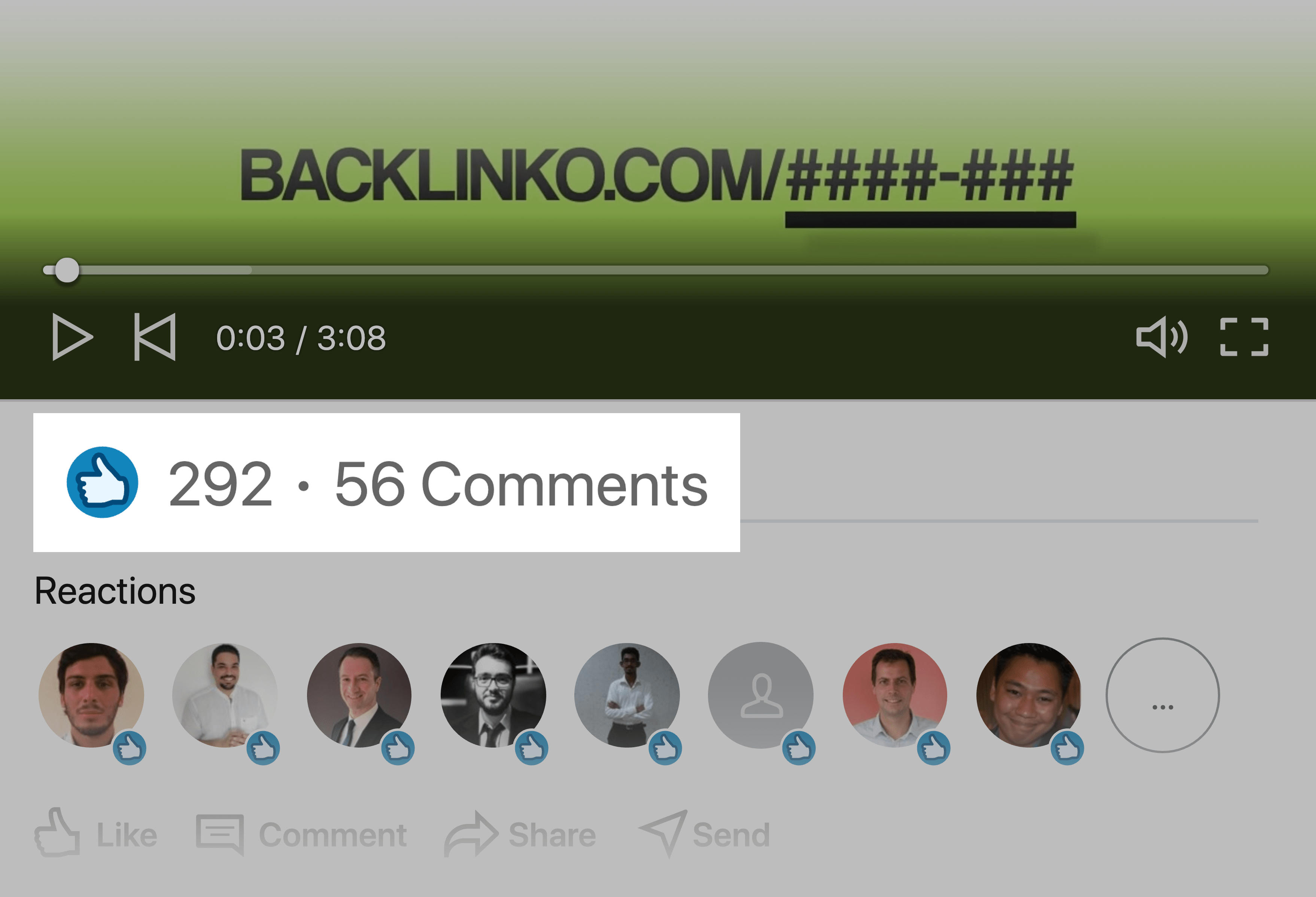 Not too shabby.
You can also publish articles on LinkedIn. In my experience, these don't get as much reach as a normal post.
But they can still do well.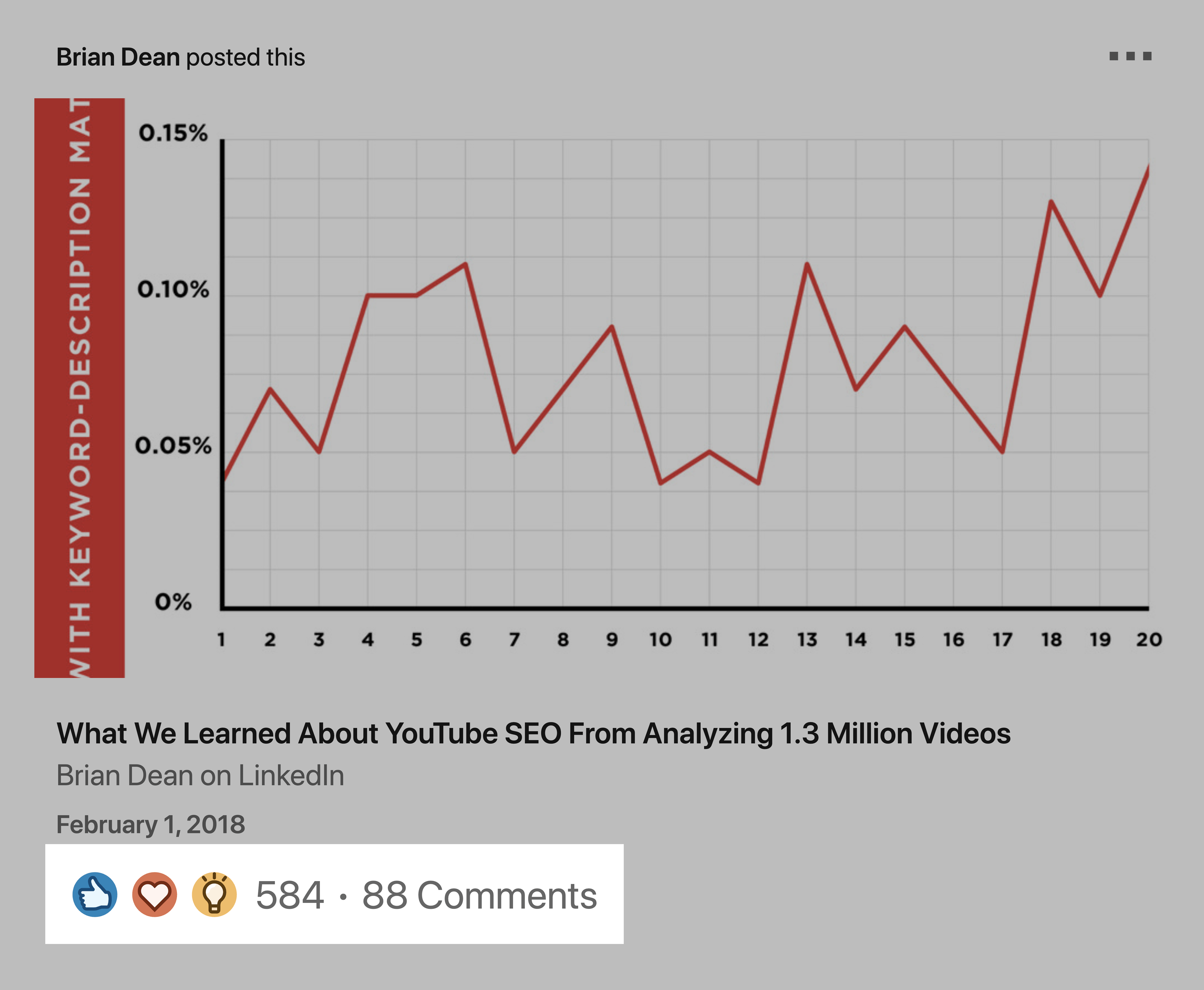 As with any social media platform, consistency is key. My first few LinkedIn posts didn't super well.
But after publishing 100+ posts, I've figured out a structure that works really well on the platform.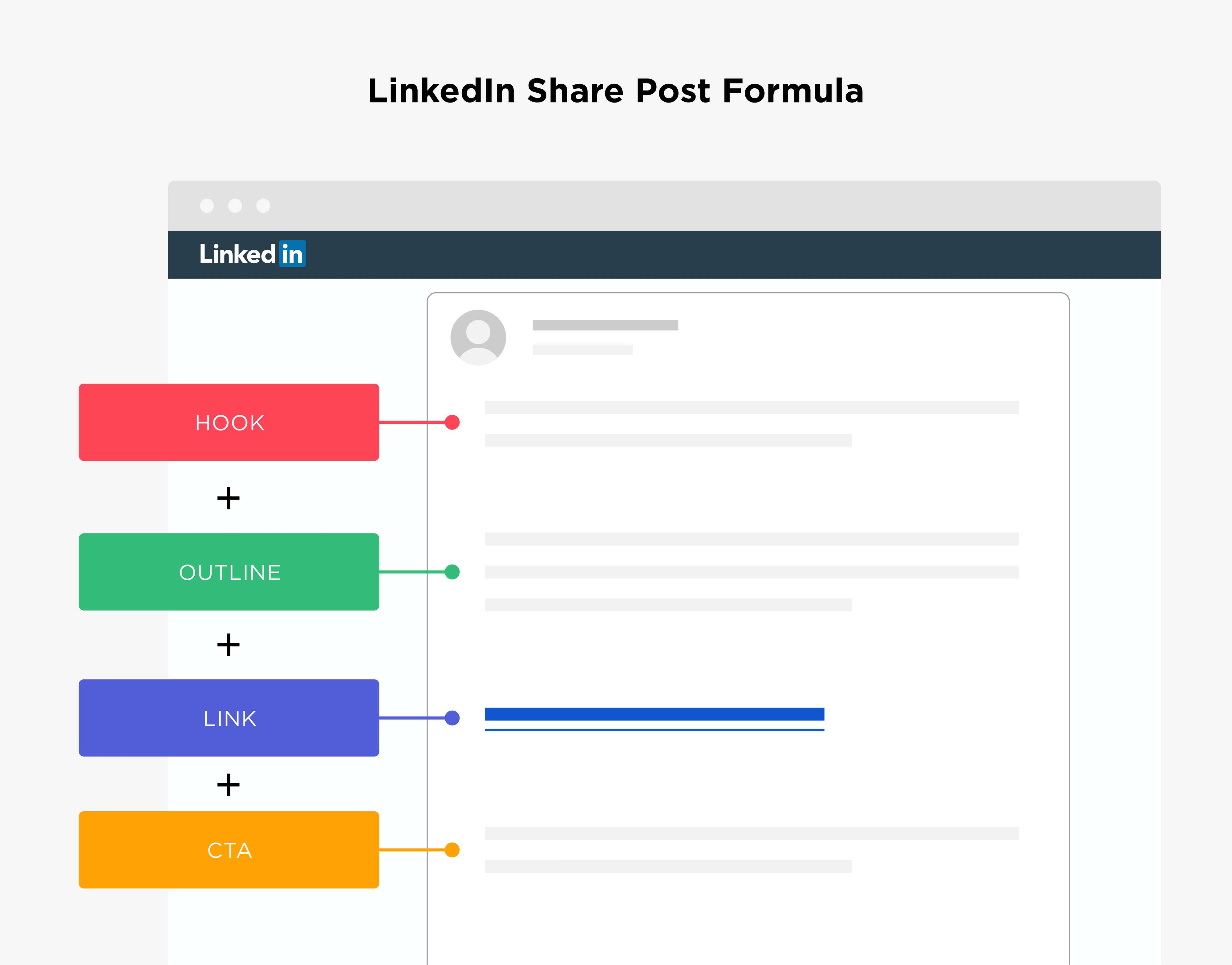 4. Create Complete Guides
94% of content that's published gets ZERO backlinks.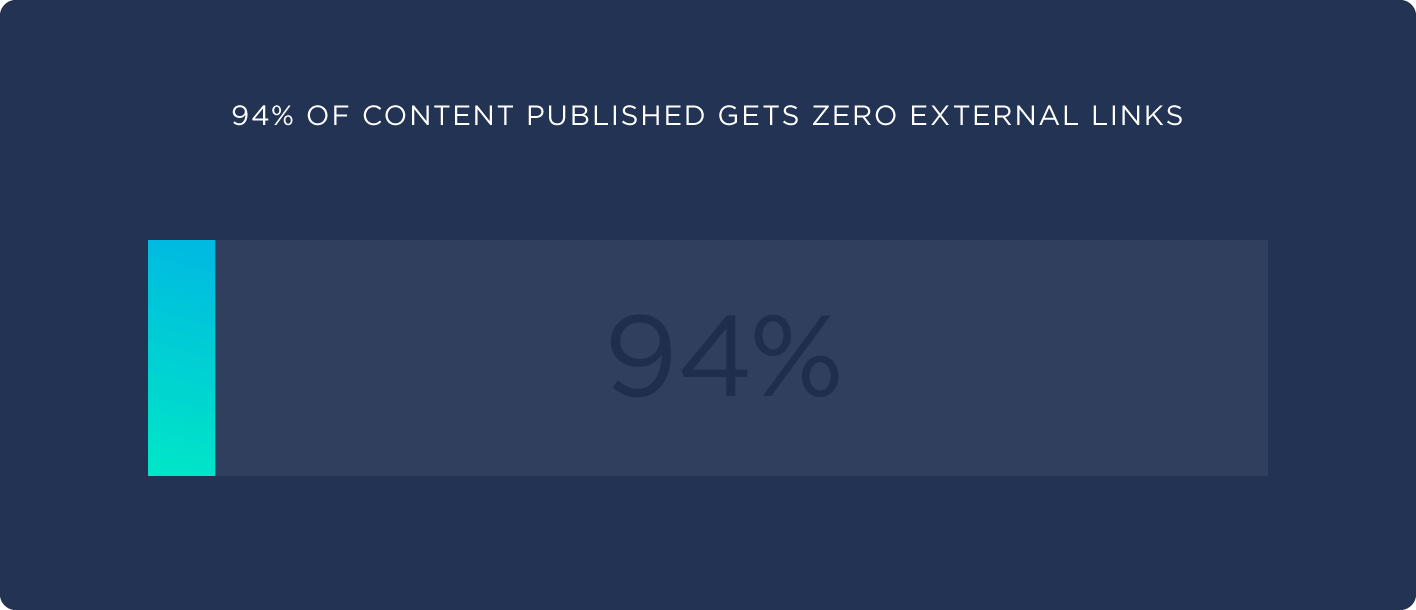 That's partly due to the fact that you're competing against millions of blog posts, news articles, emails and YouTube videos that come out each day.
But it's also due to the fact that most B2B content just isn't that great.
And definitely not worth linking to.
Enter: Complete guides.
When done right, complete guides are absolutely worth reading and sharing.
Plus, they tend to rank well in Google.
(Which makes complete guides GREAT for SEO.)
For example, check out this complete guide to on-page SEO that we published a few years back.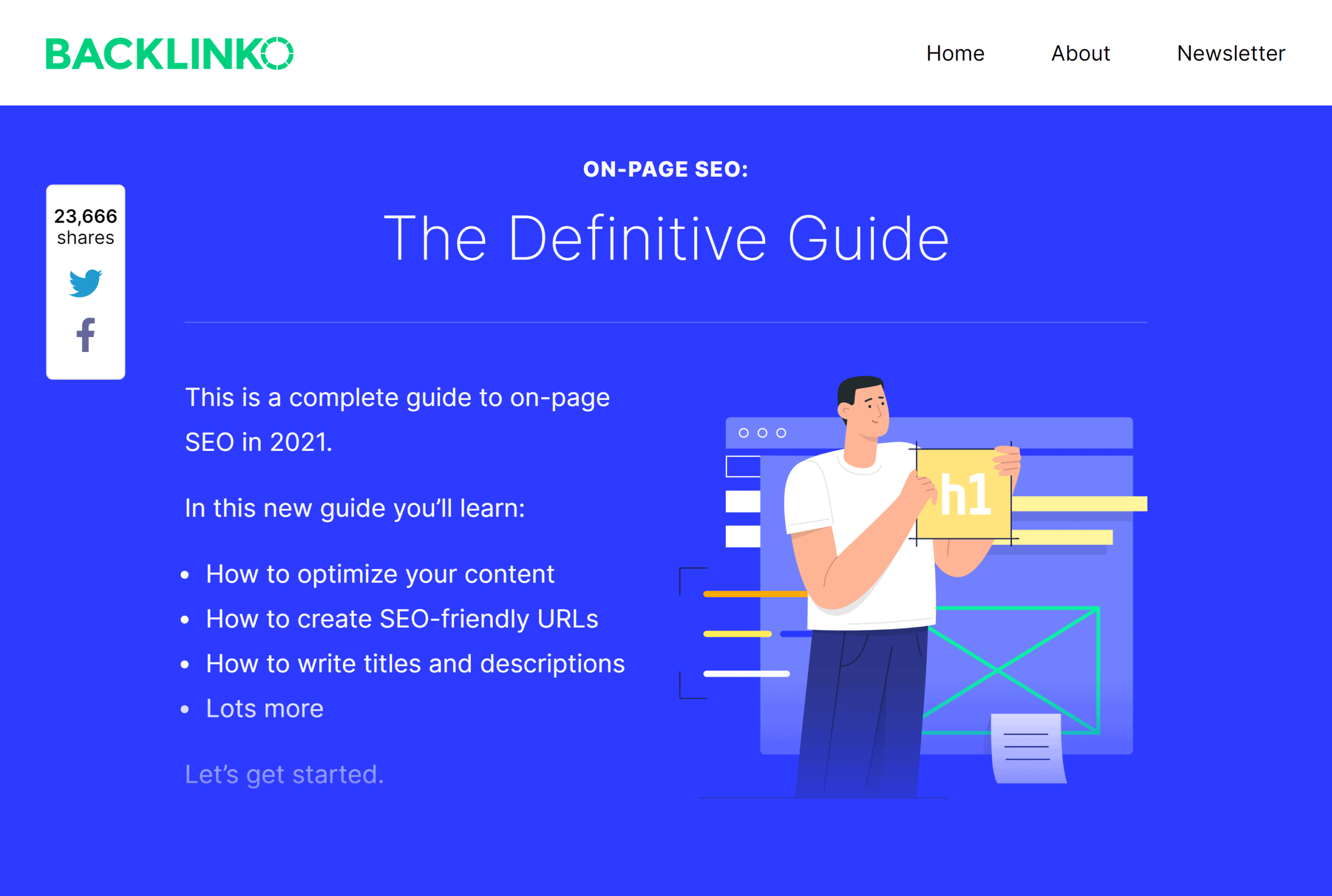 Like any legit complete guide, this one covers the topic from top to bottom. Including fundamentals, techniques, strategies, terminology, examples and more.
This is why that guide ranks in the top 3 in Google for my main keyword.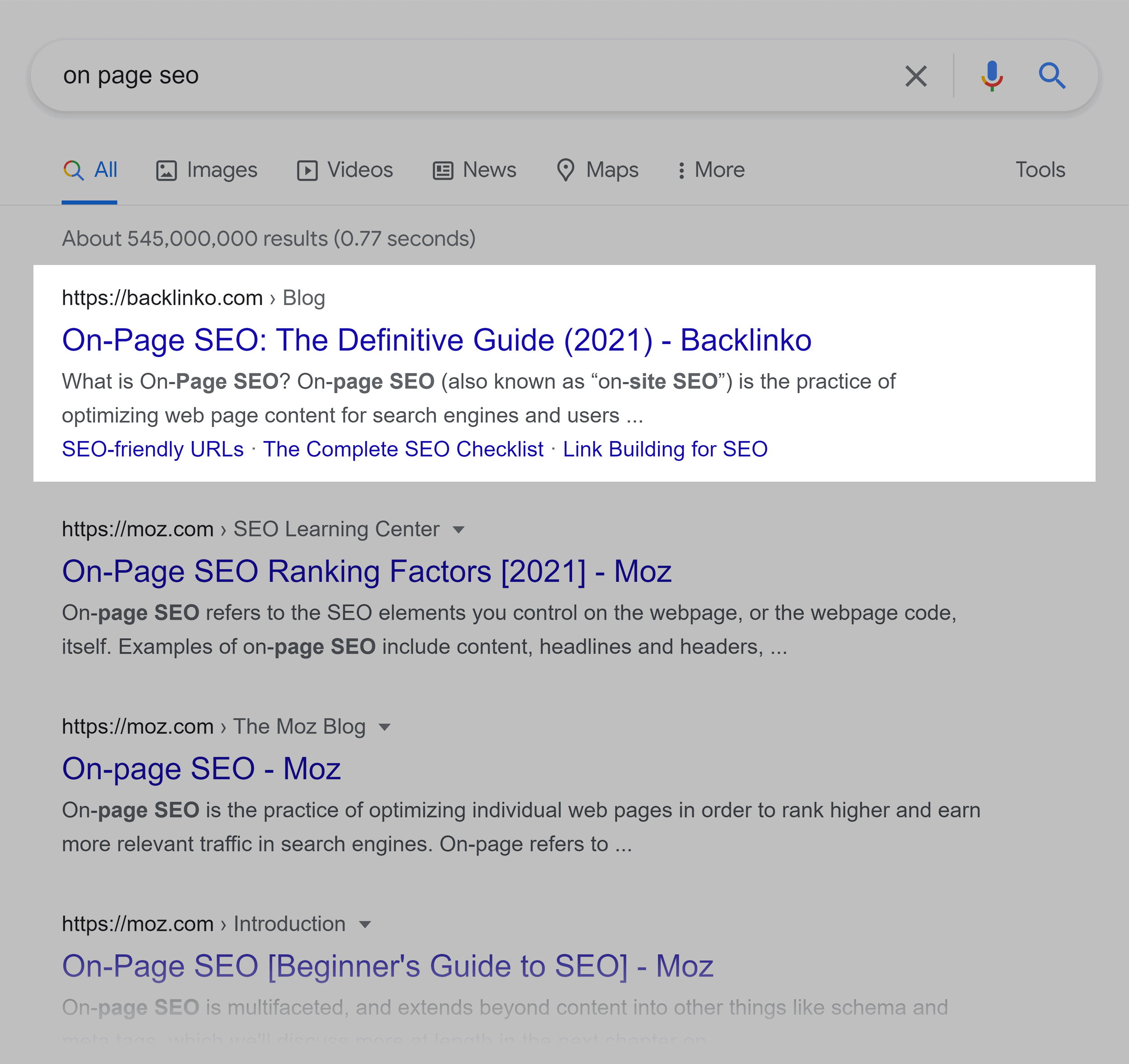 And brings in about 14,838 visitors every month.
The big downside of complete guides is that they take A LOT of time and effort to make.
In my experience, a really good complete guide takes about 5-10x more time to write than a traditional blog post.
That's mainly because a good complete guide should be REALLY comprehensive.
That way, you cover every angle of the topic.
For example, my on-page SEO guide is 4,050 total words.
And because I give readers "one-stop shopping" for learning about the topic.
Plus, long-form content is ideal for SEO.
A recent search engine ranking factors study that we did found that longer content tended to rank better in Google.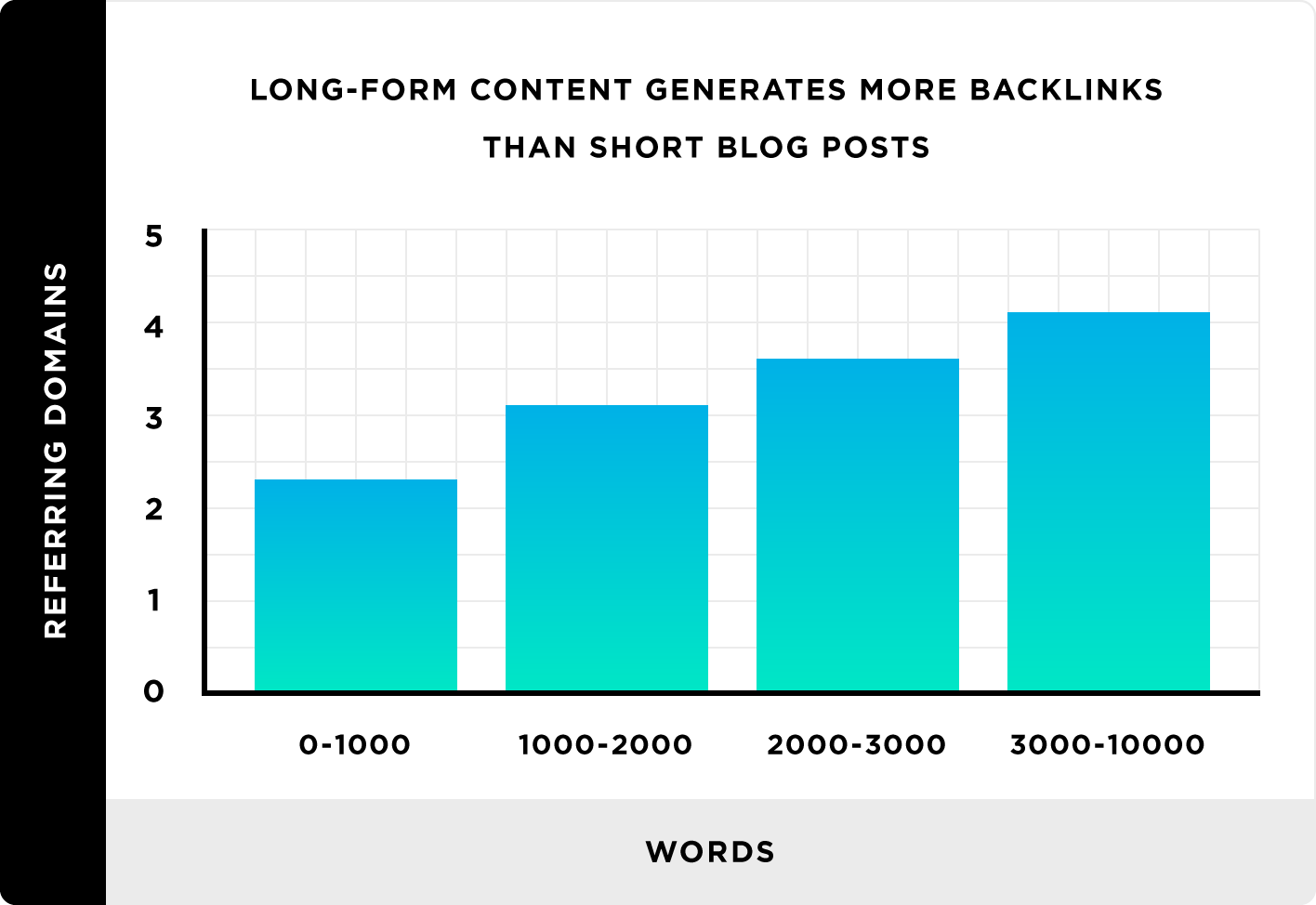 5. Invest In B2B Video Content
According to HubSpot, 86% of businesses now use video as part of their content marketing.
Believe it or not, but video isn't just for B2C businesses.
In fact, one survey found that 53% of tech-focused B2B buyers rated video as the "most useful" type of content.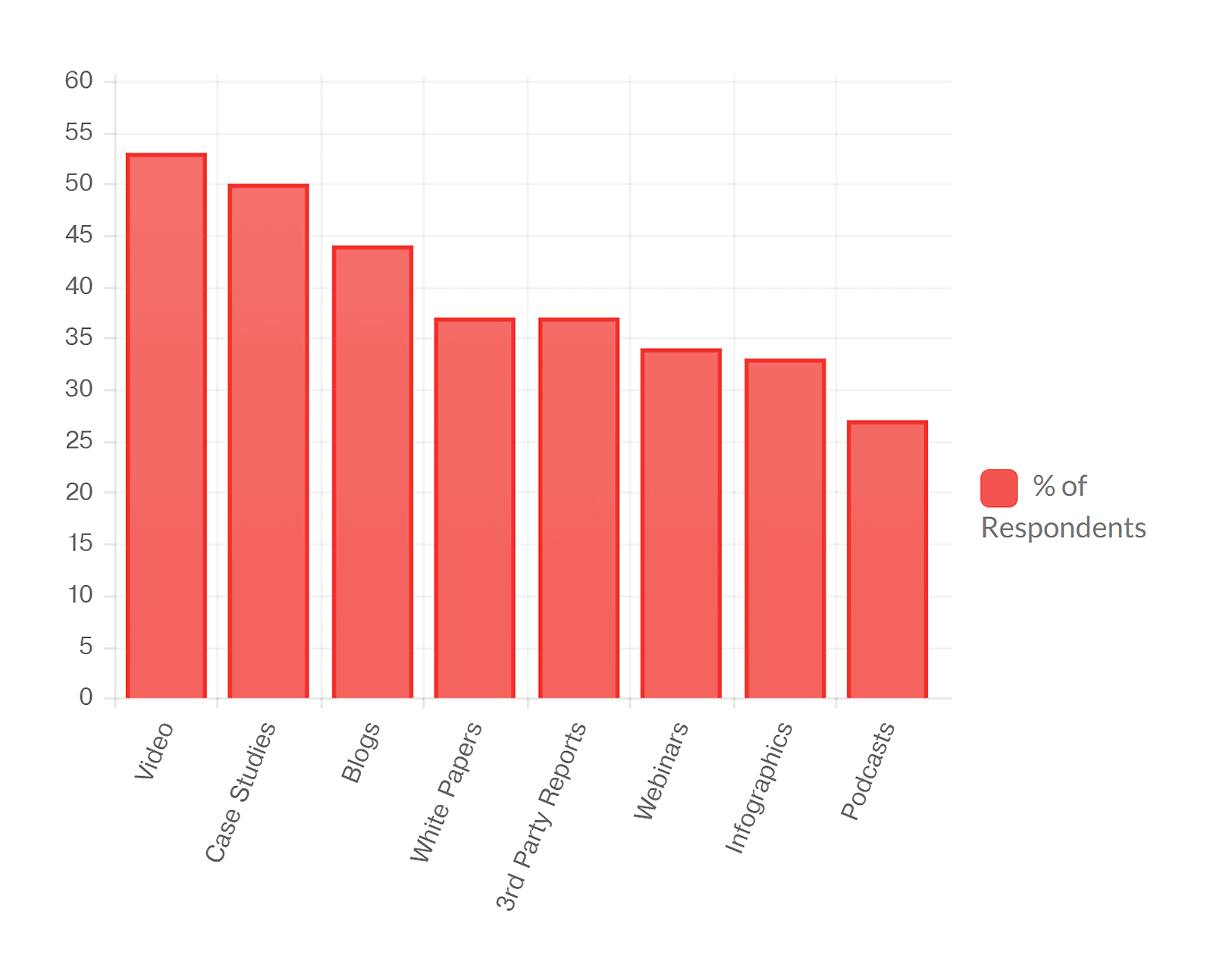 And I've found that video is super untapped in the B2B marketing world.
Mostly because most brands prefer to stick to the old mainstays of B2B content (like blog posts and reports).
There's still a place for traditional blog posts and reports.
But you may also want to add video to your content marketing strategy.
In fact, creating videos for my B2B brand is one of the best things I've ever done for my business.
Early on, I created pretty rough-looking videos from my home office. And published them on my website.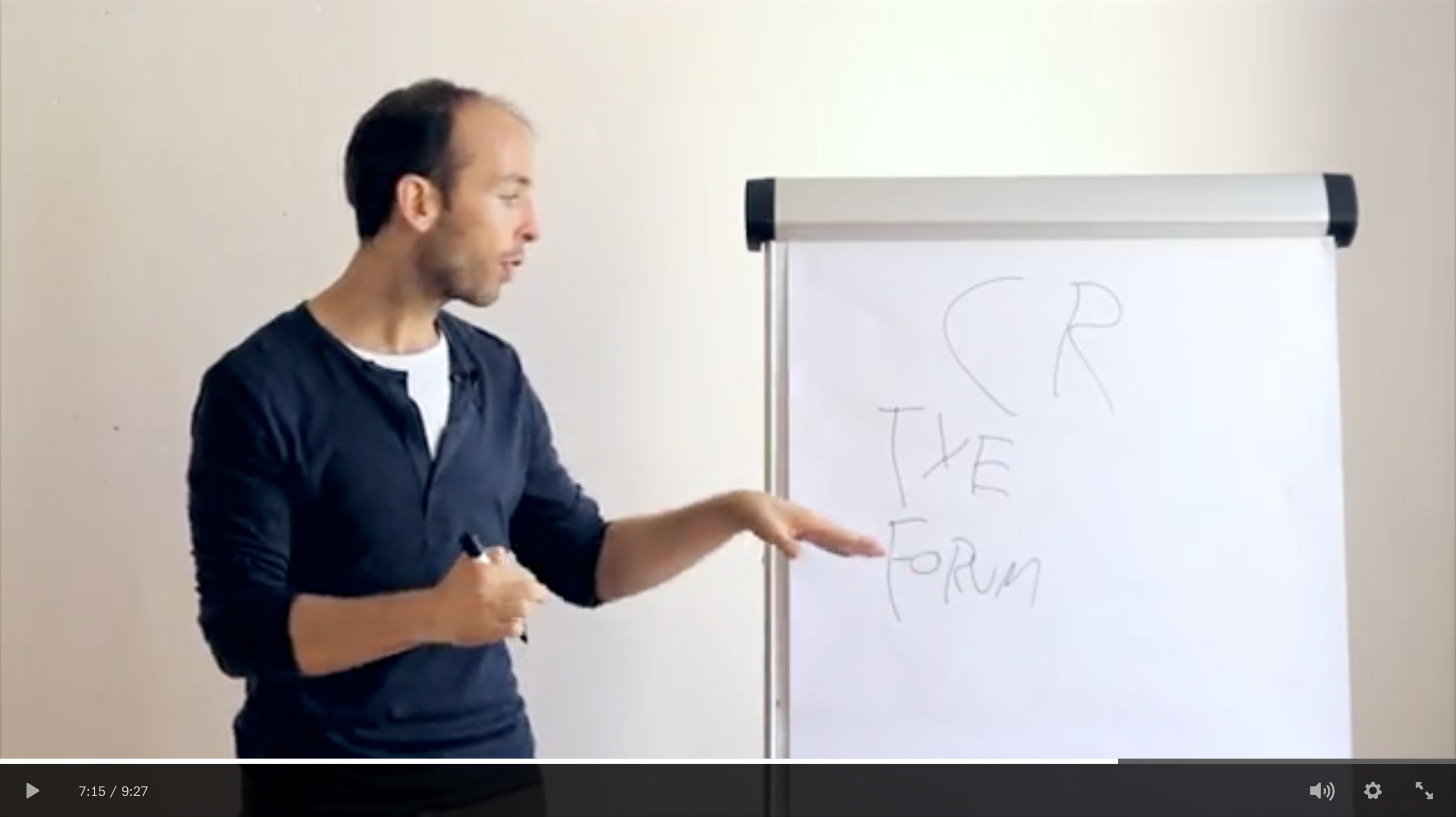 Even though the videos didn't look super professional. My audience loved them. Which encouraged me to level up my video production game.
Specifically, I started posting videos about SEO and how to get more traffic on YouTube.
Again, my early videos weren't great.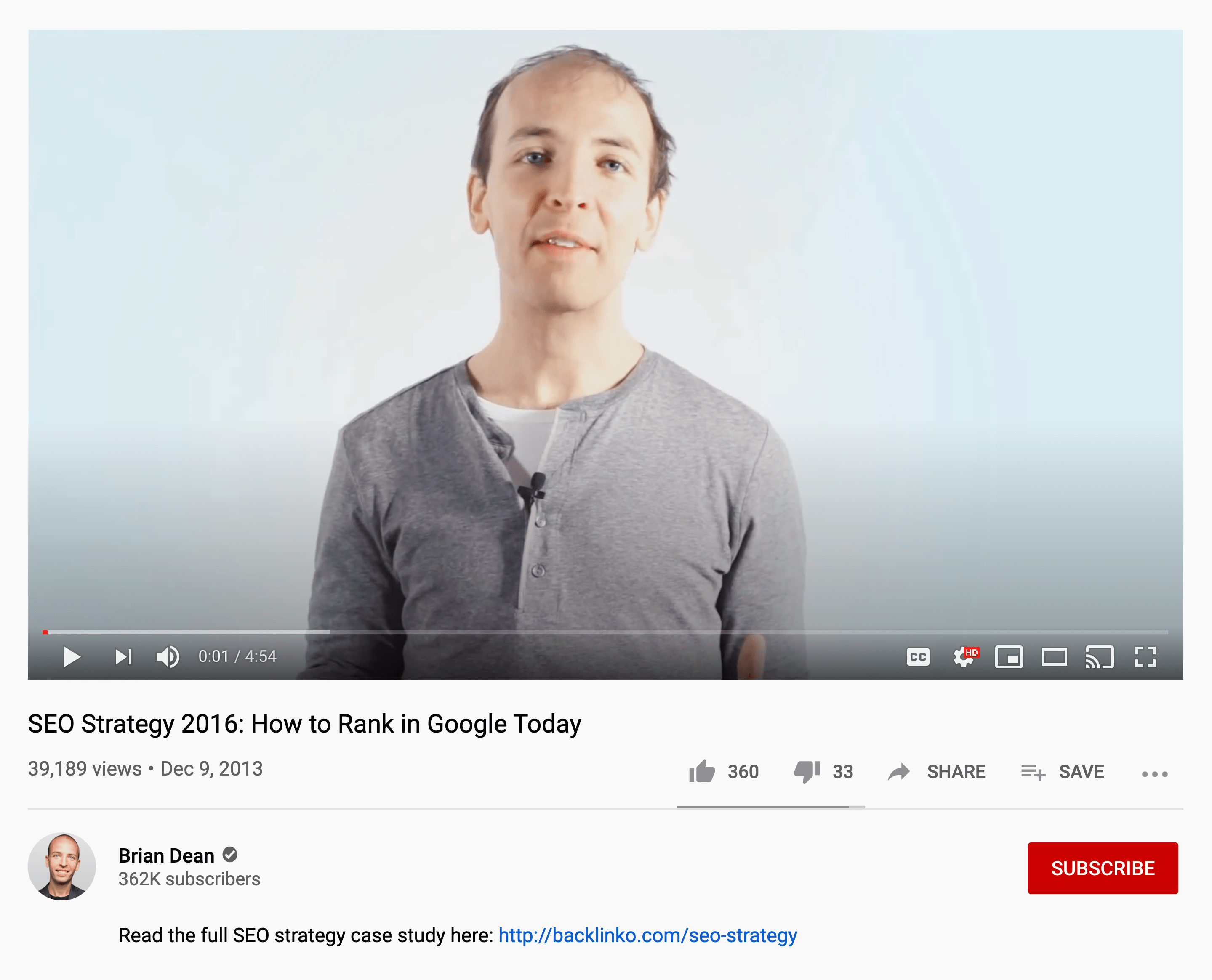 But they got better over time.
Flash forward to today, and my channel gets 314.1k views per month.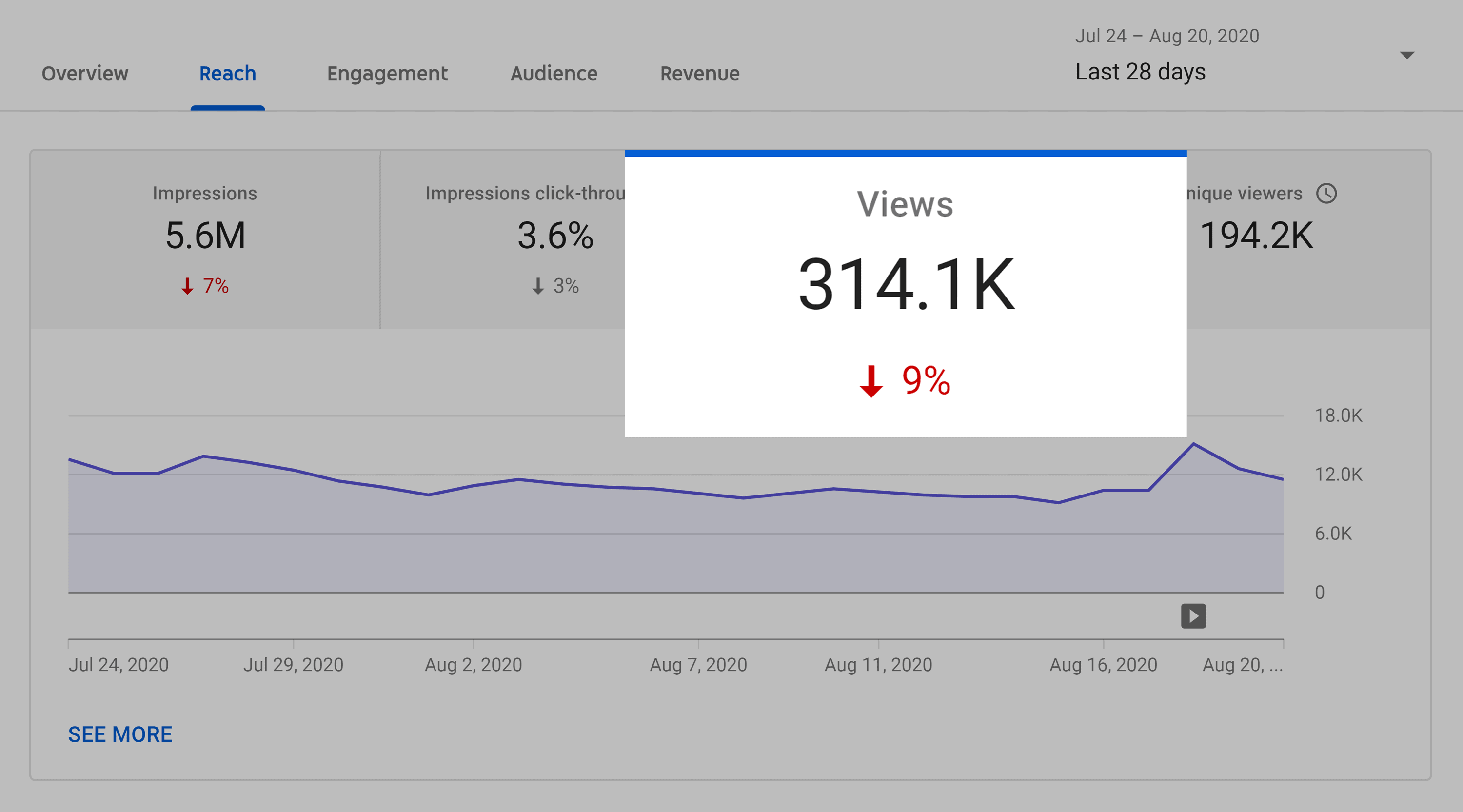 But more important than that, 201.5k unique PEOPLE see my videos each year. That's a lot of people.
And needless to say, a fair number of those viewers become leads and customers down the road.
The best part?
You don't have to create your B2B videos completely from scratch.
I mean you can. But if you've been doing content marketing for a while, you probably have a ton of content sitting around.
Content that you could repurpose into a high-quality video.
For example, I published this beginner's guide to SEO video on my YouTube channel.
This content was basically a mashup of different strategies from my blog posts.
And even though the content itself was "recycled" from my older content, that video has done super well.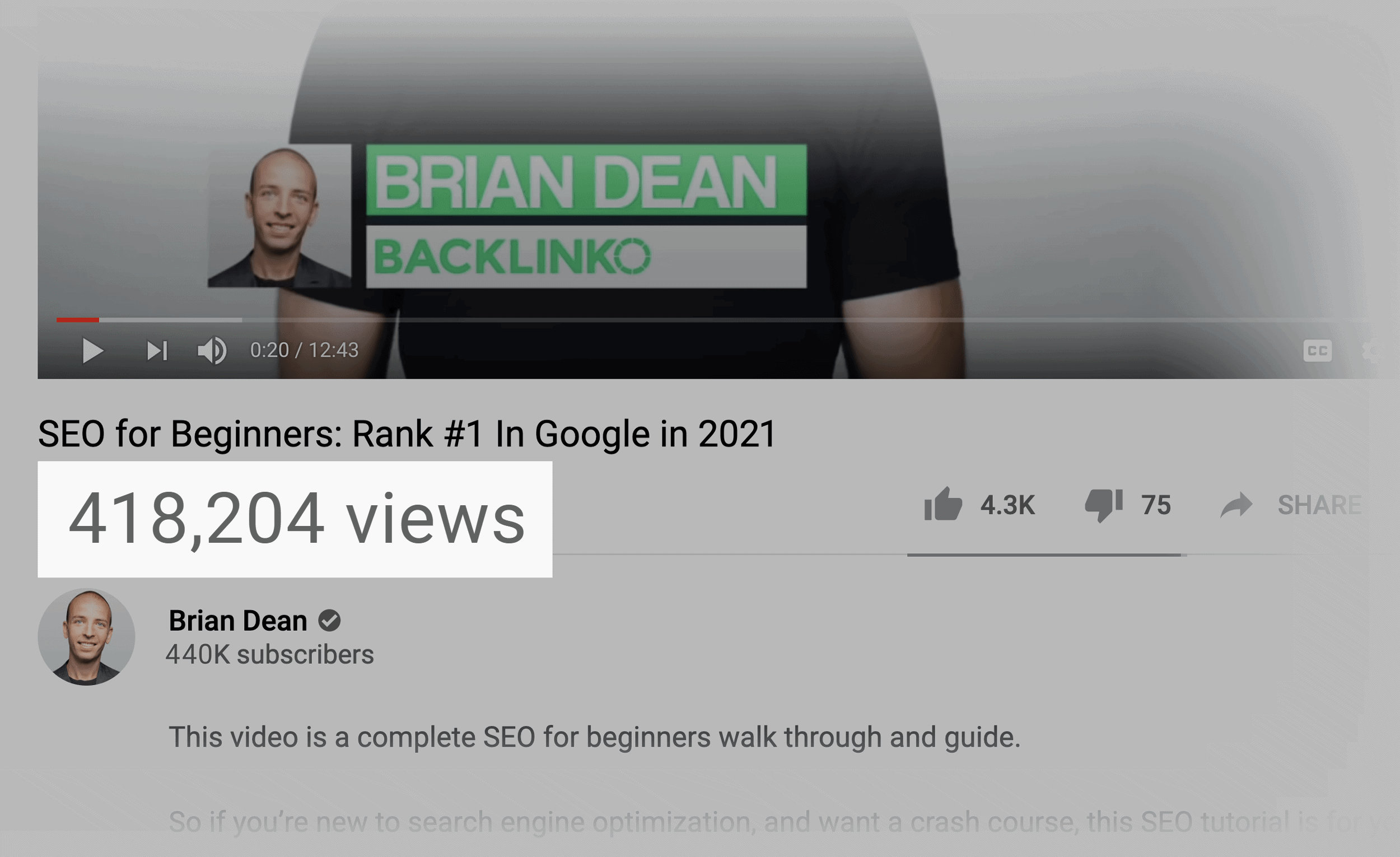 6. Promote Your Content With Email
Creating content is easy.
But promoting it?
That's another story.
Especially in B2B. In B2B, a lot of distribution channels (like Pinterest and Instagram) simply don't work.
Fortunately, you can get eyeballs on your B2B content with a good old-fashioned email.
Here's how:
First, you send targeted outreach emails to bloggers and journalists that cover your industry.
For example, I usually send a handful of emails to people in my niche that have shared similar content in the past.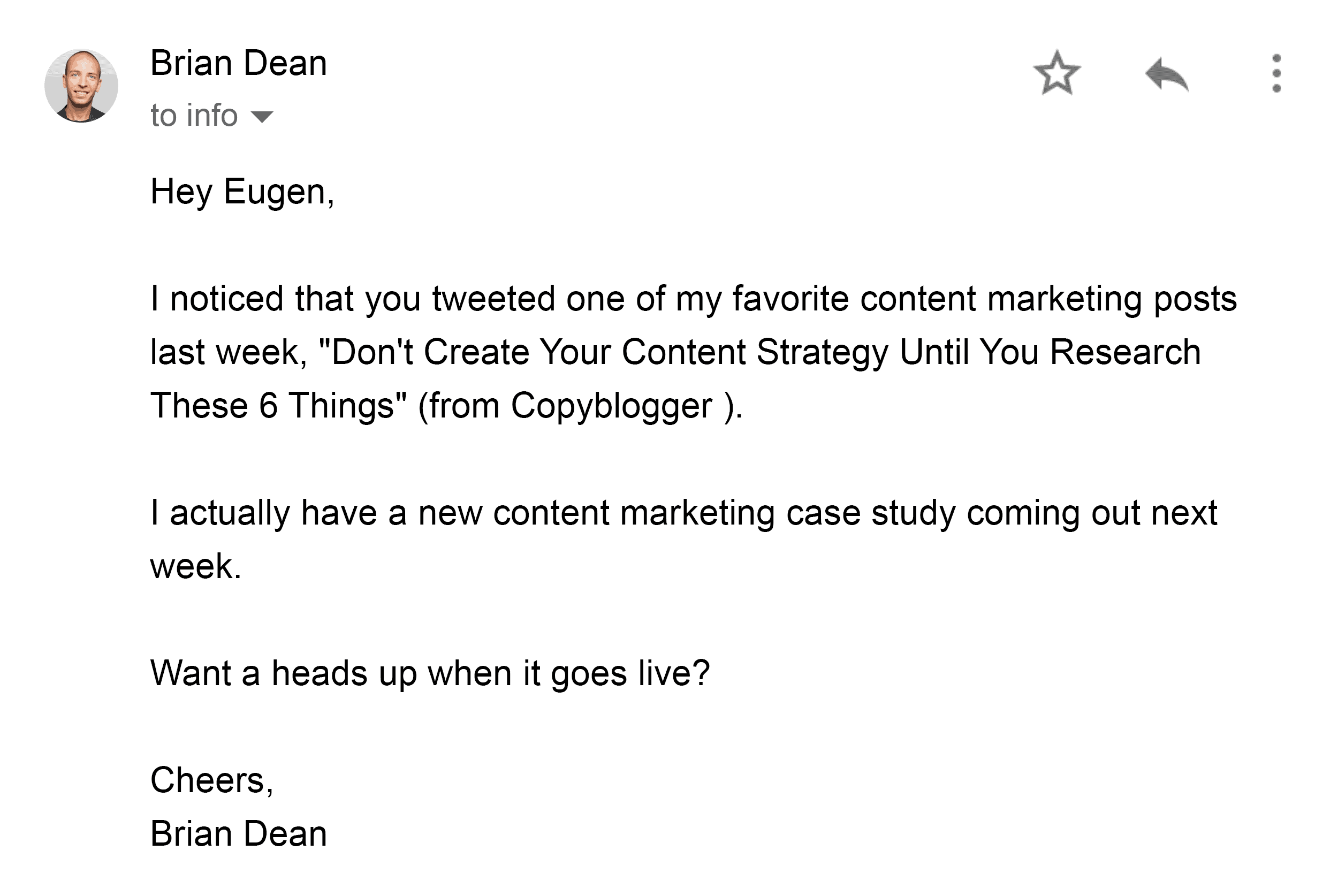 Because I'm not blasting out 1000 random emails, my outreach is usually well-received. And effective.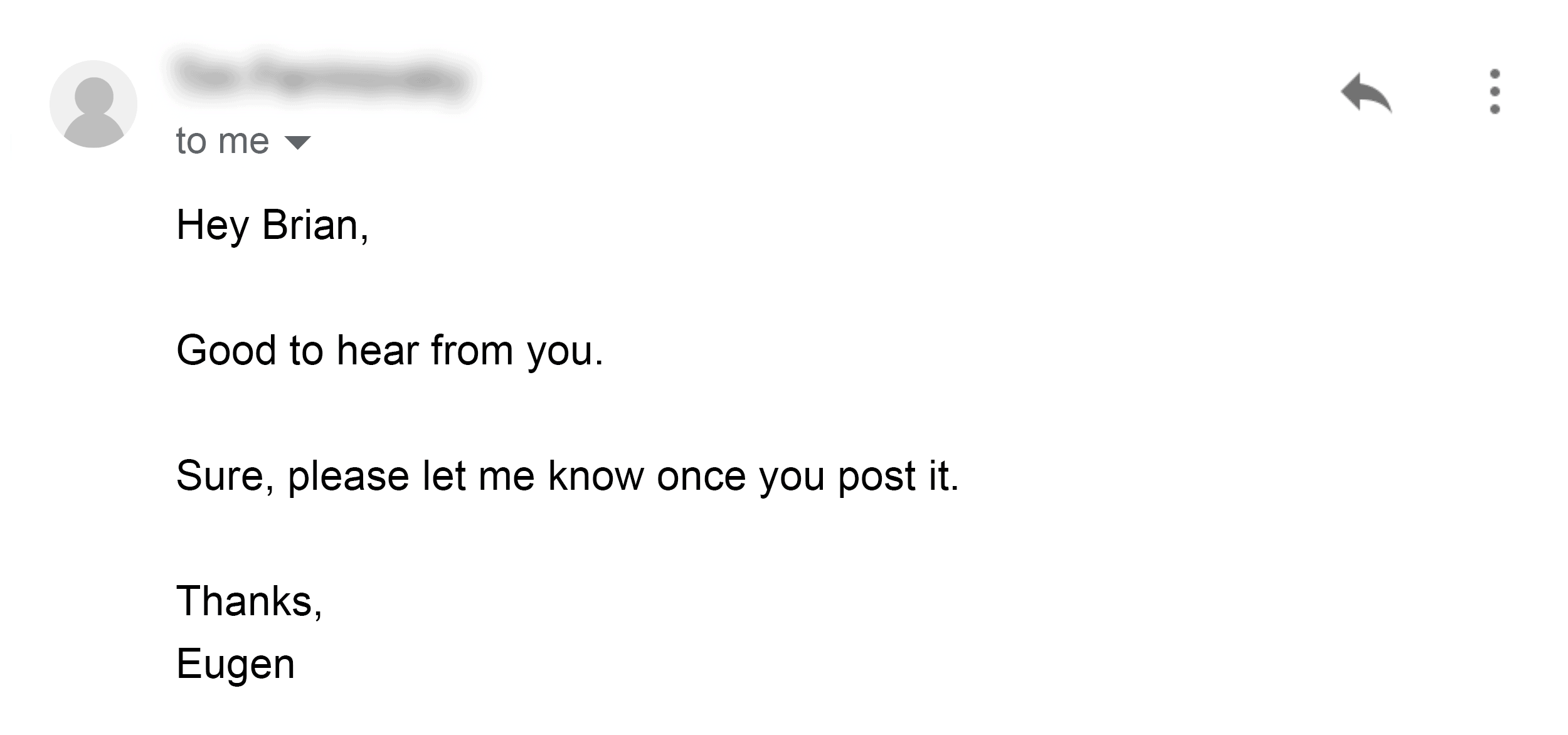 You can also promote your content in your email newsletter.
How you do this depends a lot on the type of newsletter that you have.
For example, with Backlinko most of my subscribers sign up specifically to hear about my latest content.
This is why my email newsletters tend to be focused on that new content.
But people sign up for the Exploding Topics newsletter to hear about the latest trends. NOT read the content that we publish on our blog.
So in that case, we mention our new posts as a PS at the bottom of the newsletter.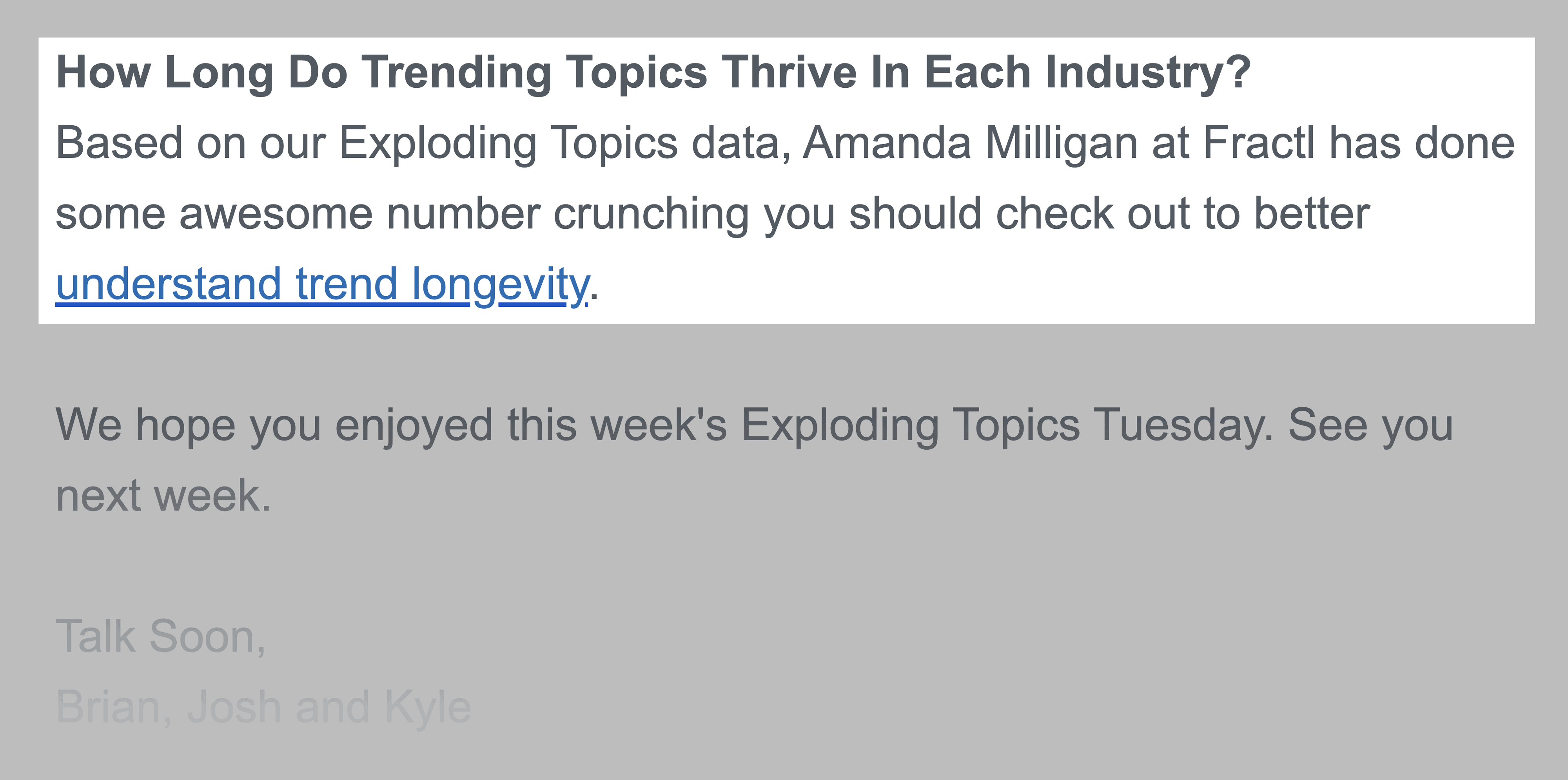 That way, we still deliver what our subscribers want (trends). But we also promote content that they might enjoy reading.
So it's a win-win.
7. Focus On Commercial Intent Keywords
Keyword research isn't just for SEO.
In fact, choosing the right keywords can help you uncover topics to cover. Even if that content isn't designed for SEO.
The tricky part is finding terms that your customer persona searches for while they're at work.
Well, I recently developed a neat little trick for finding these exact keywords.
Here's how it works.
First, grab a competitor's site. Preferably one that ranks for lots of different keywords.
Then, reverse engineer their rankings in SEMrush.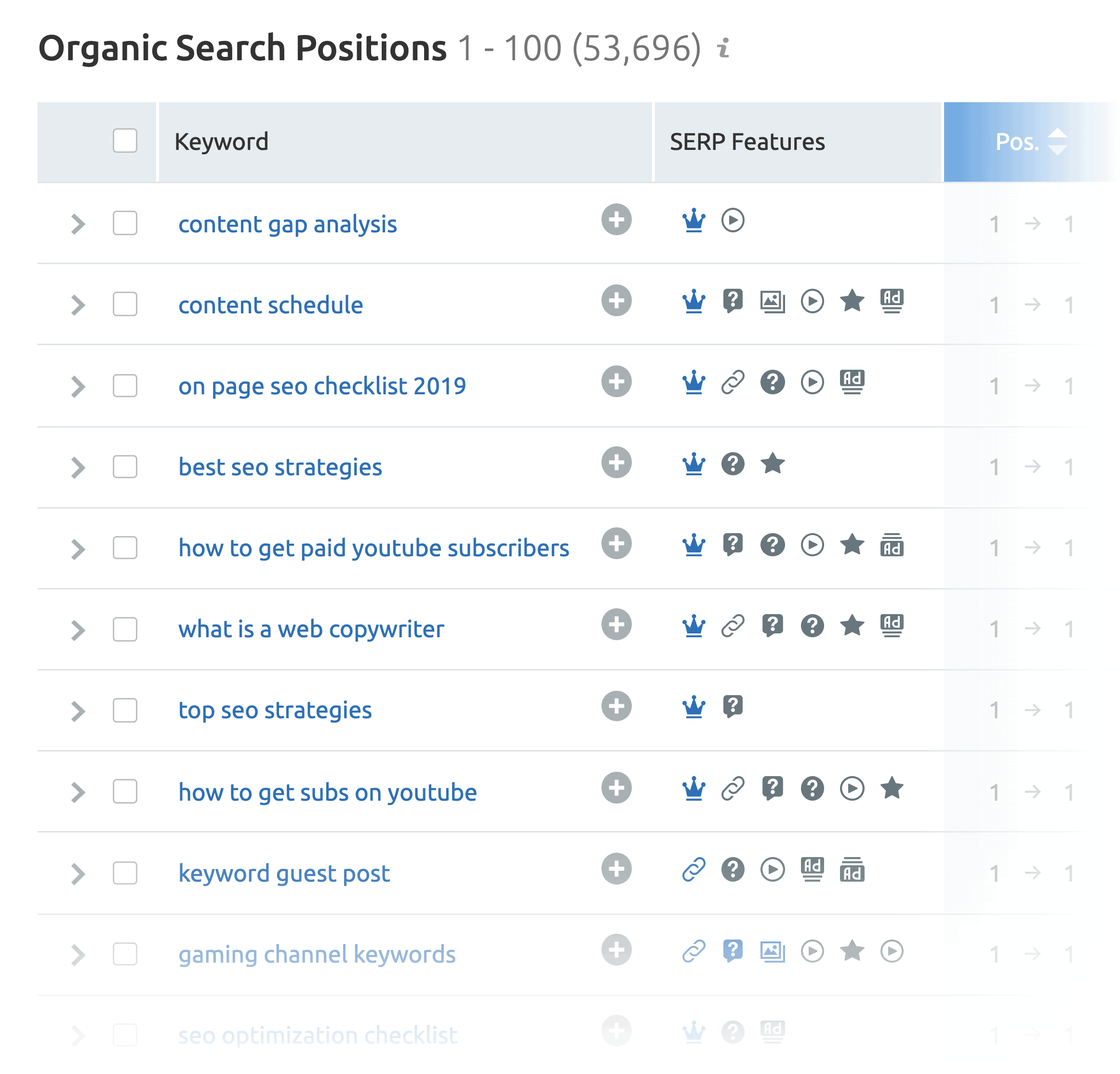 Now: here's the important part.
Filter the keywords by cost per click. Specifically, you want to focus on terms with a very high CPC (at least $10).
Why is this important?
Well, if you find a keyword with a high CPC it means that the keyword has high commercial intent.
Put another way: people that search for that keyword become leads. And buy things.
This is why so many people are bidding on those terms.
So when you see a keyword like this, you KNOW there's buyer intent there. Otherwise, people wouldn't be paying $40 for a single click.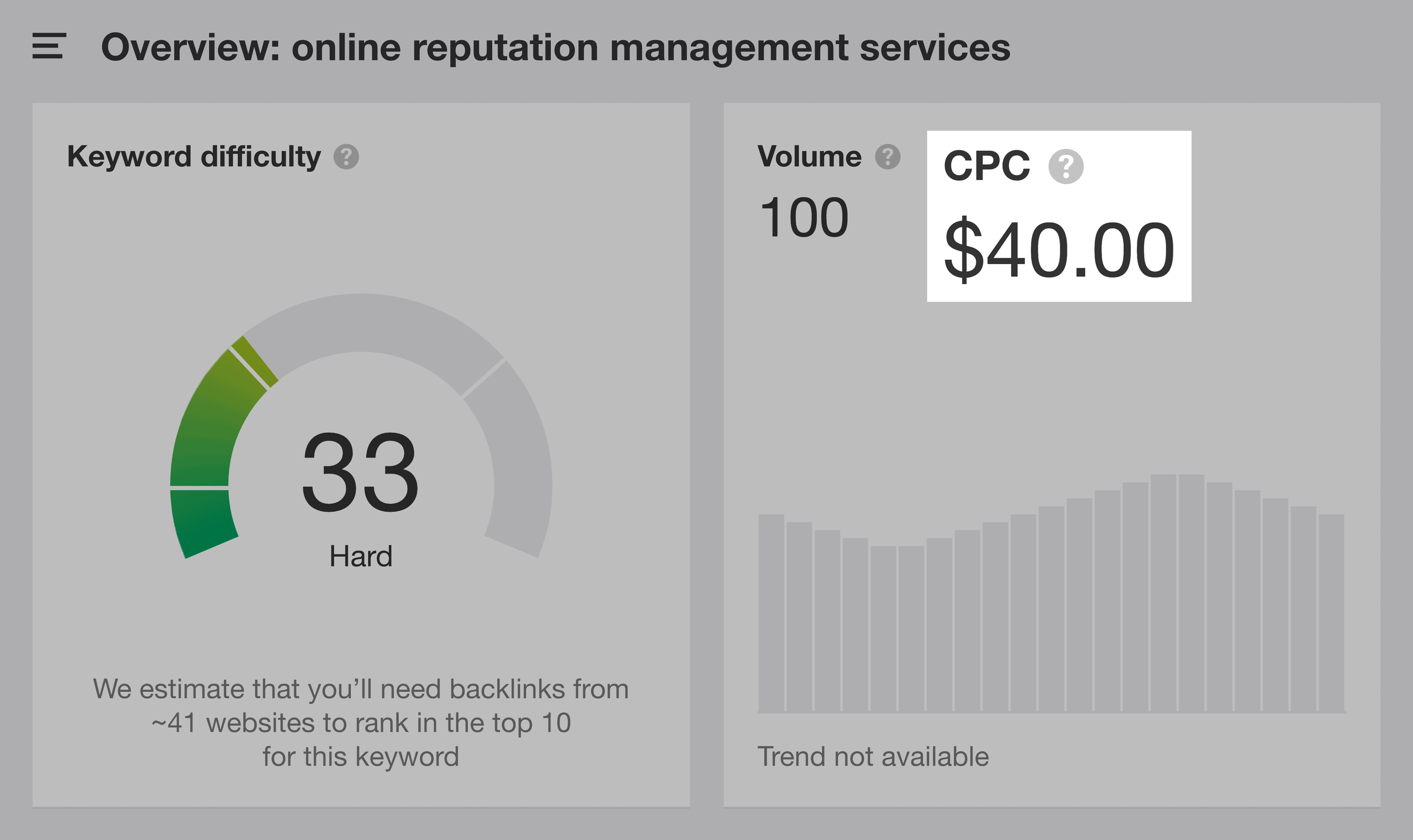 Now: the only downside here is that many of these keywords will have super low search volumes. Sometimes less than 100 searches/month.
But to me, that's absolutely worth it. Especially if someone is searching specifically for what I sell.
For example, I recently targeted this keyword. Even though it only gets searched for 600 times/month.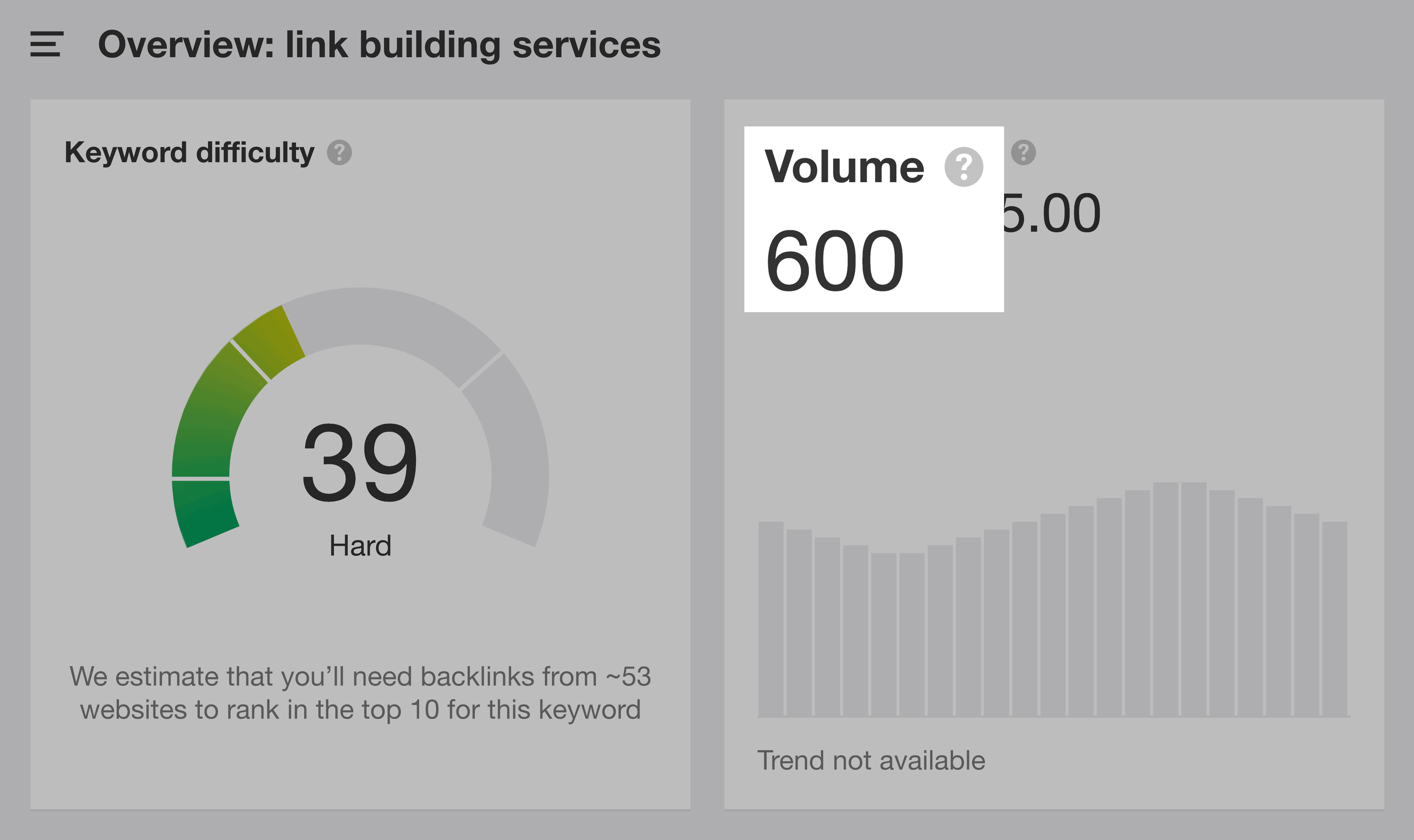 But the CPC was fairly high ($25). Plus, it's the exact type of keyword that my target customer would search for.
8. Find Fresh Topic Ideas
According to a survey from Databox, 37% of marketers get their content ideas from SEO keyword research.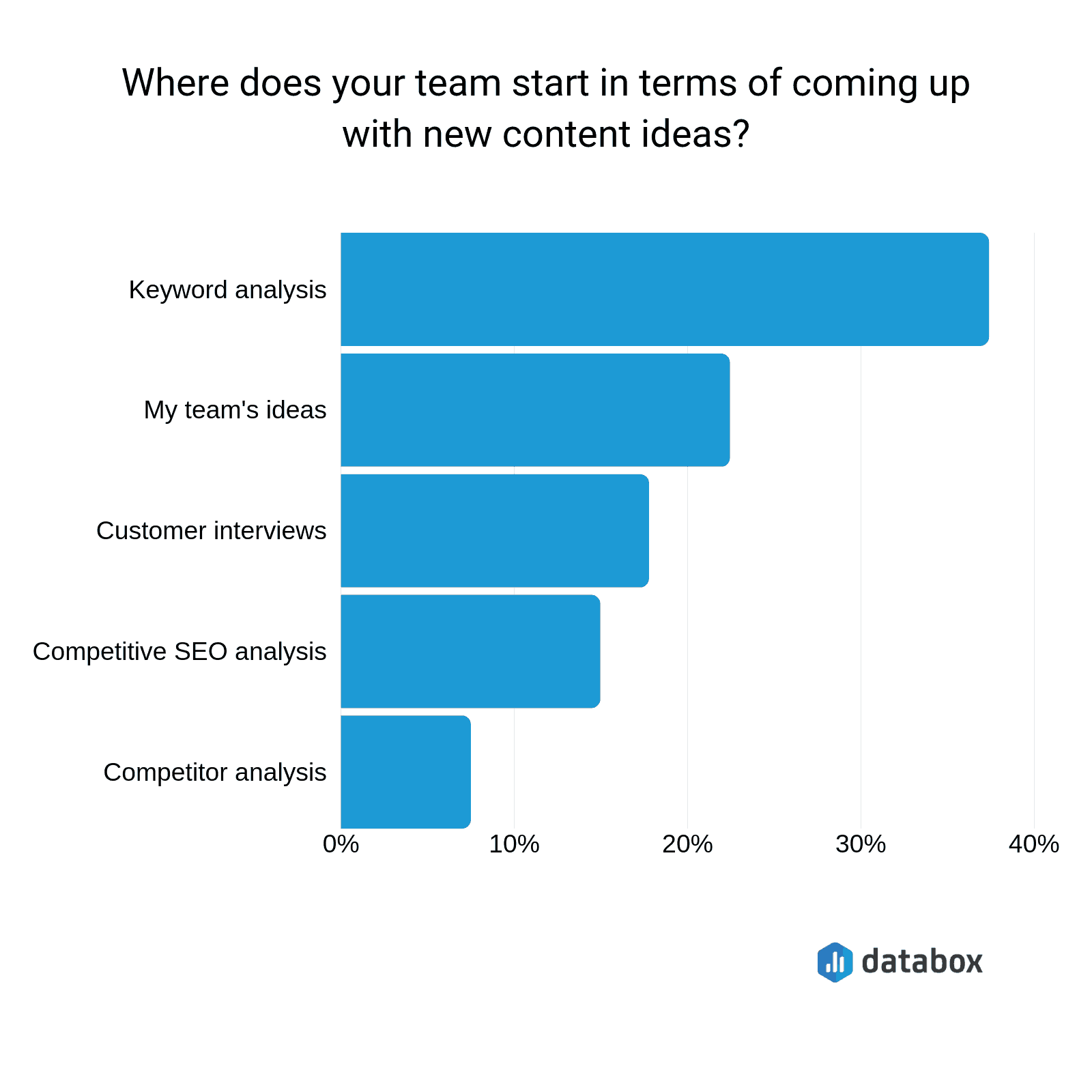 There's no doubt about it: keyword research is a great way to come up with topics for podcasts, blog posts and webinars.
But there are tons of other great ways to come up with B2B content topic ideas.
For example, online communities.
To use this approach, head over to a community that your audience hangs out on. In the B2B space, this might be a LinkedIn or Facebook group. Or a Specific slack channel.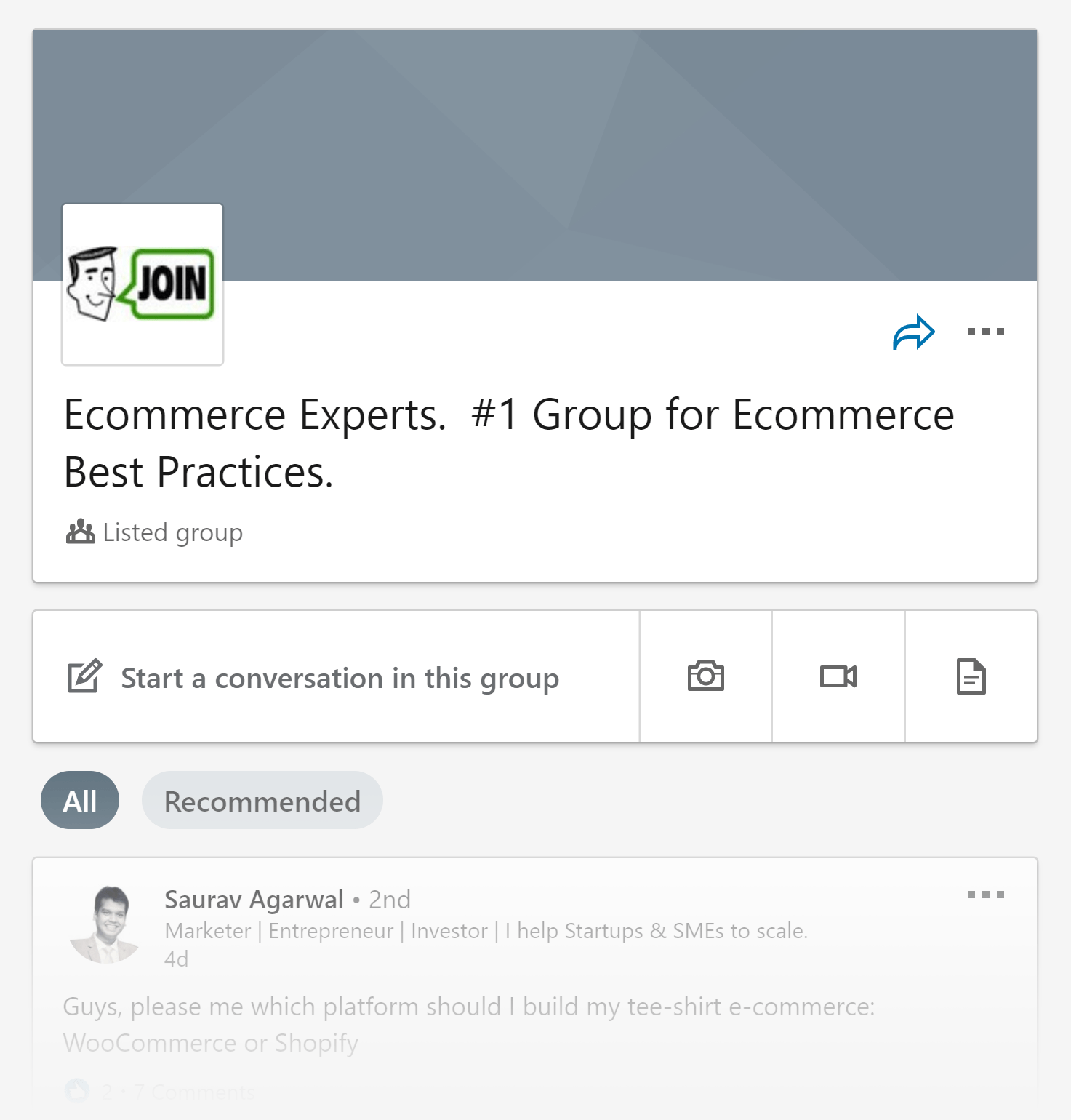 Then, keep an eye out for questions that people tend to ask.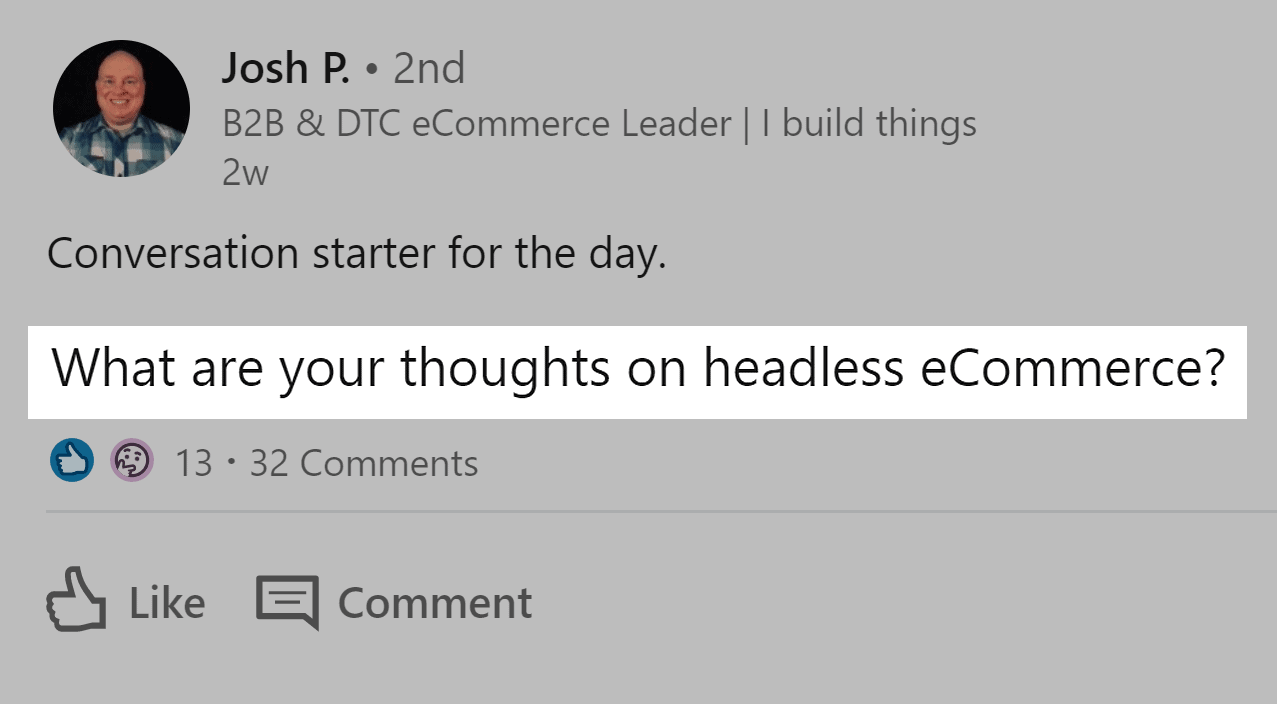 A lot of the time someone that asked a question in a community already searched in Google. They didn't find anything. So they asked the community for a hand.
This means that there's a giant gap that you can fill with your content.
Blog comment sections are another untapped source of topic ideas. These can be your own blog's comment section. Or other blogs in your niche.
Either way, you'll often come across topic ideas that you'd be hard pressed to find in a keyword tool.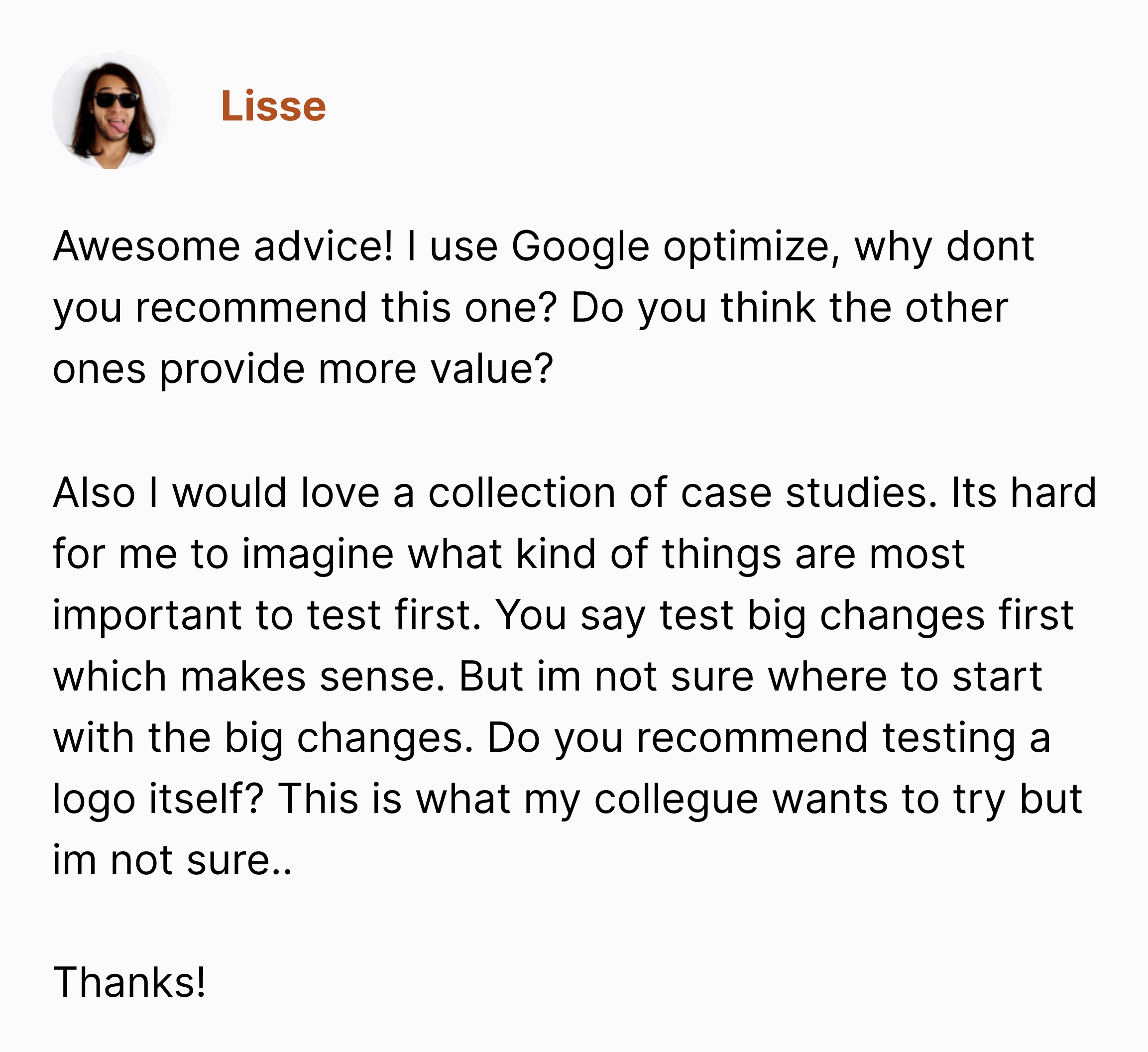 Learn More
What Is a Content Strategy?: Guide that shows you how to create a B2C or B2B content strategy plan from the ground up.
25 Awesome Content Marketing Tools: A list of tools to help with content creation, production and social media promotion.
Evergreen Content: This resource will show you how to create what should be the foundation of any B2B content approach: evergreen content.