What Is Google Analytics?
Google Analytics is the most popular website analytics software in the world. It allows site owners to see information about how users find, interact, and navigate between the pages of their website. Common reports that people use in Google Analytics include traffic sources, popular landing pages, bounce rate, conversion rate and page views.
Key Features
Google Analytics "Home"
Inside your Analytics account, the "Home" page is the first thing you'll see when you log in. It shows you a quick overview of your site's recent performance, including users, sessions, bounce rate, session duration, traffic sources and more.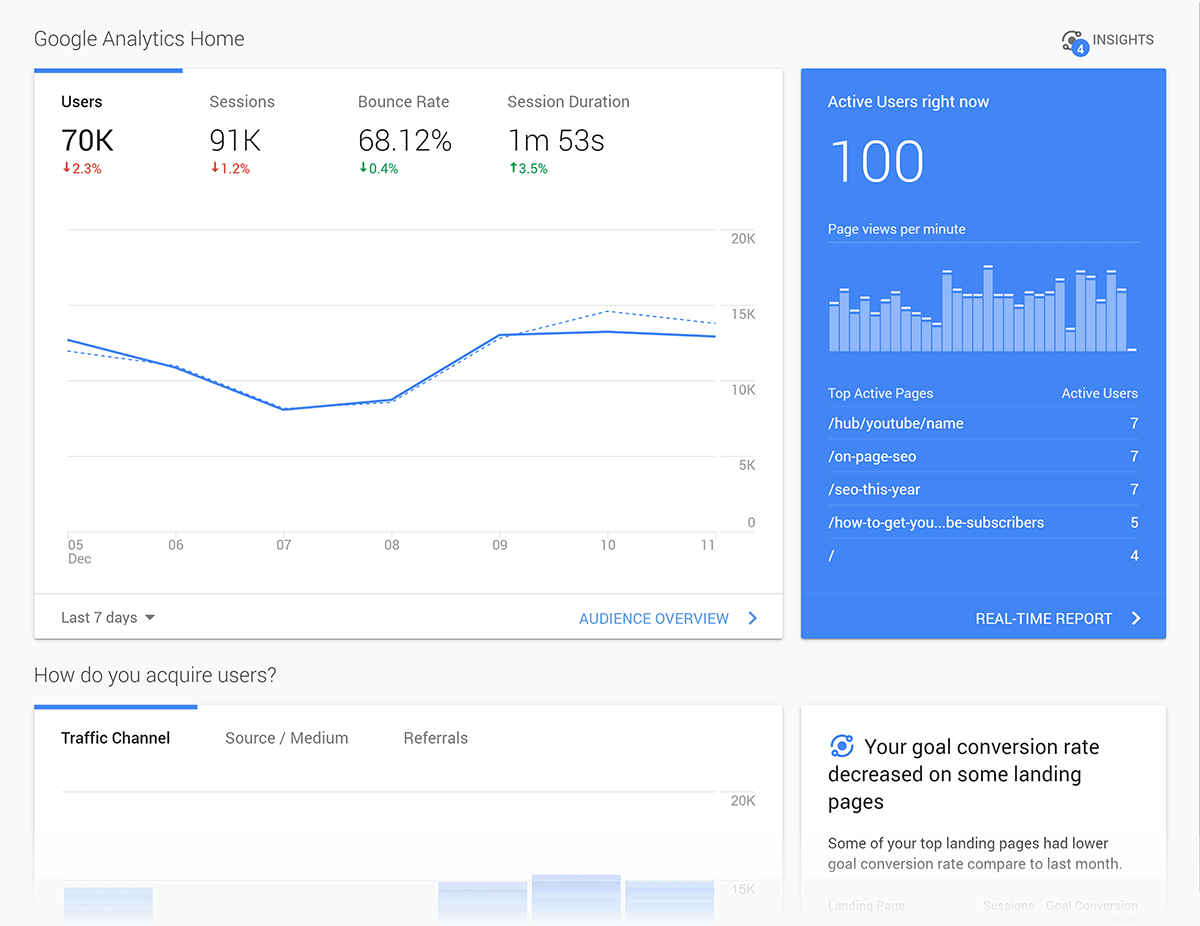 Here are some of the most important terms to understand that are found on the Home screen and other places in Google Analytics.
Users: the number of people who have visited your site. (Formerly known as "Unique Visitors").
Sessions: the number of times people have visited your site (previously called "Visits")
Bounce Rate: without getting too technical, this is basically the percentage of time people come to your site and immediately leave without looking at multiple pages or doing anything else. Lower bounce rates are generally better.
Session Duration: how long people stay on your site. Generally, longer session durations are better.
Traffic channel: This is a high-level overview of where your traffic comes from. It's divided into categories like "Organic Search", "Direct", "Social" and "Referral".
Real-time: This is activity that's happening on your website right now. In my experience, this is more of a fun feature than anything that's super useful or actionable.
The "Audience" Section
The Audience report in Google Analytics is the best place to see more detailed information about who your visitors are and what they have in common. This information can help you tailor your content to appeal to your target audience. And if you use paid advertising, you can use this report to improve your targeting.
There's a lot of data inside of this report (especially if your site gets a lot of traffic). But in general, here are the areas that I recommend focusing on in the Audience report.
Sessions and Users
This is an overview of how many people have visited your site (and how many times they visited) over a certain time period.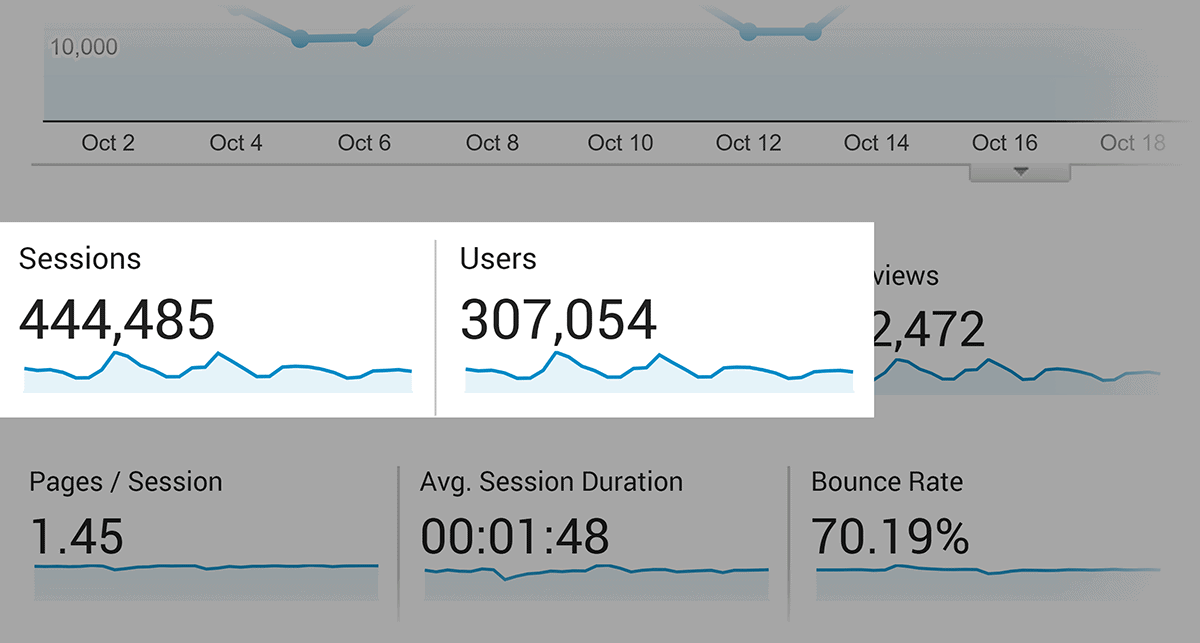 (The default is the last 30 days.)
This report is pretty straightforward. So the only thing I'll add here is that "Segments" is a GREAT way to dip deeper into where your traffic comes from.
For example, let's say you wanted to see how much of your traffic came from organic search. And how your organic traffic has changed over the last year.
Well, hit "Add Segment" at the top of the report.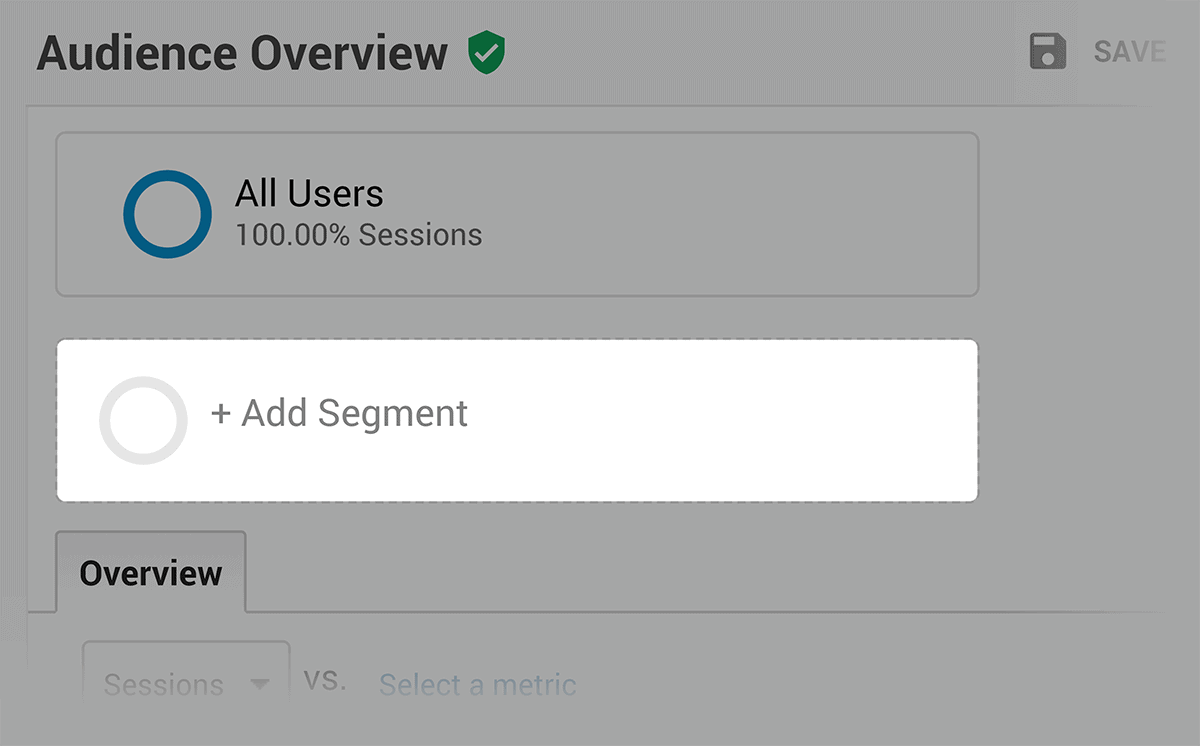 And choose "Organic Traffic" from the list.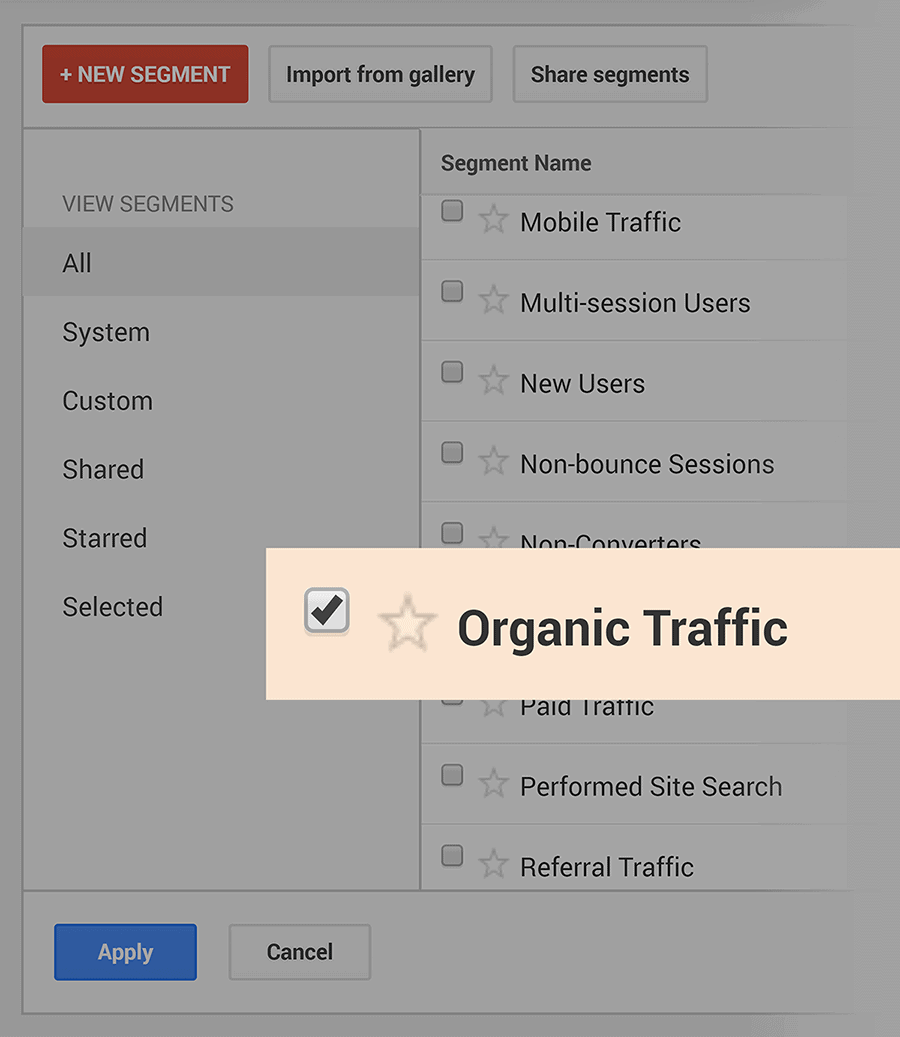 Now you have a way to visualize that segment of traffic that comes to your site. "Organic Traffic" is a super helpful report to have handy if you do a lot of SEO. In fact, many content marketers have this report bookmarked so they can see how their SEO is performing over time.
Geo
This report shows you where your visitors live… and what languages they speak.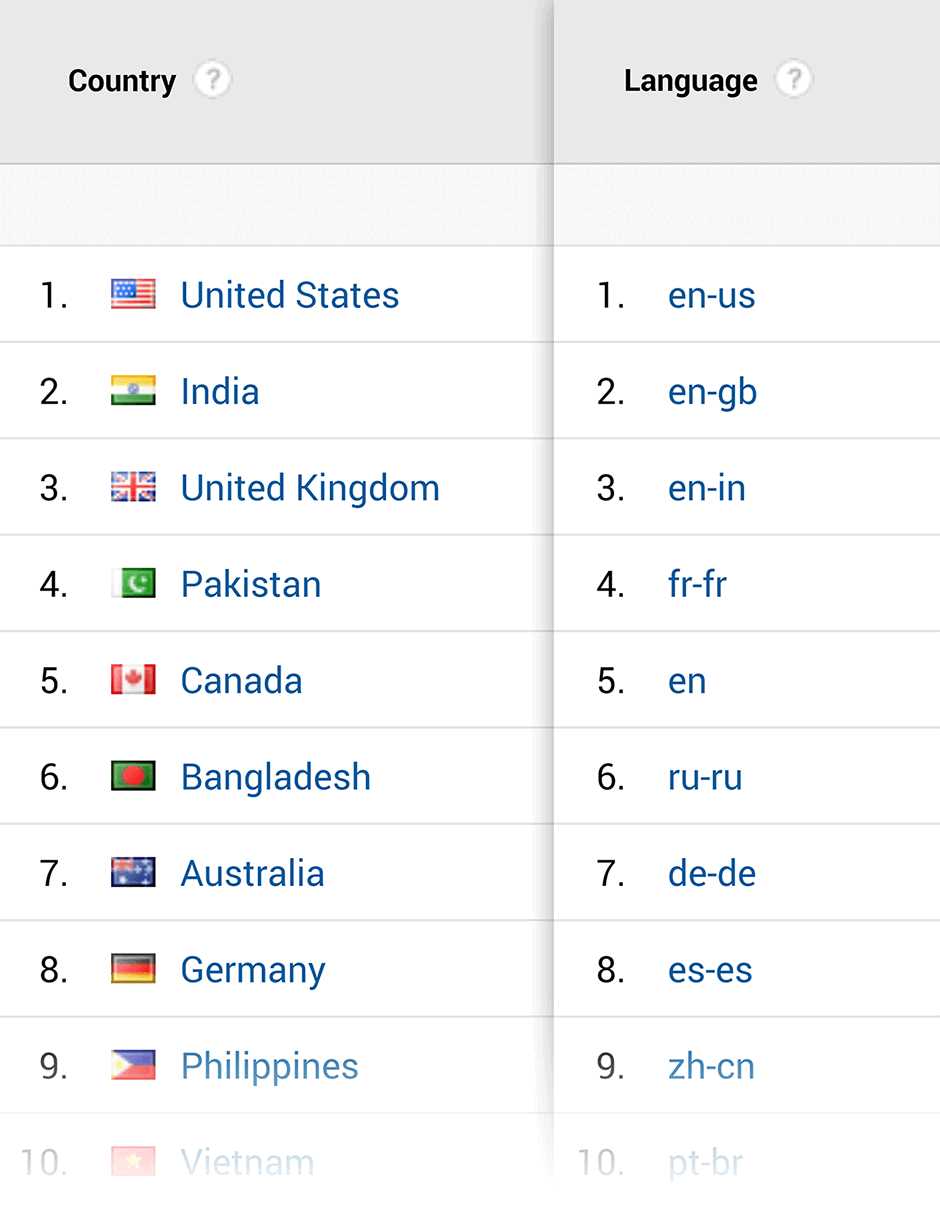 Behavior
How many of your users are brand new people that have never visited your website before vs. returning visitors.
This report shows you that exact breakdown.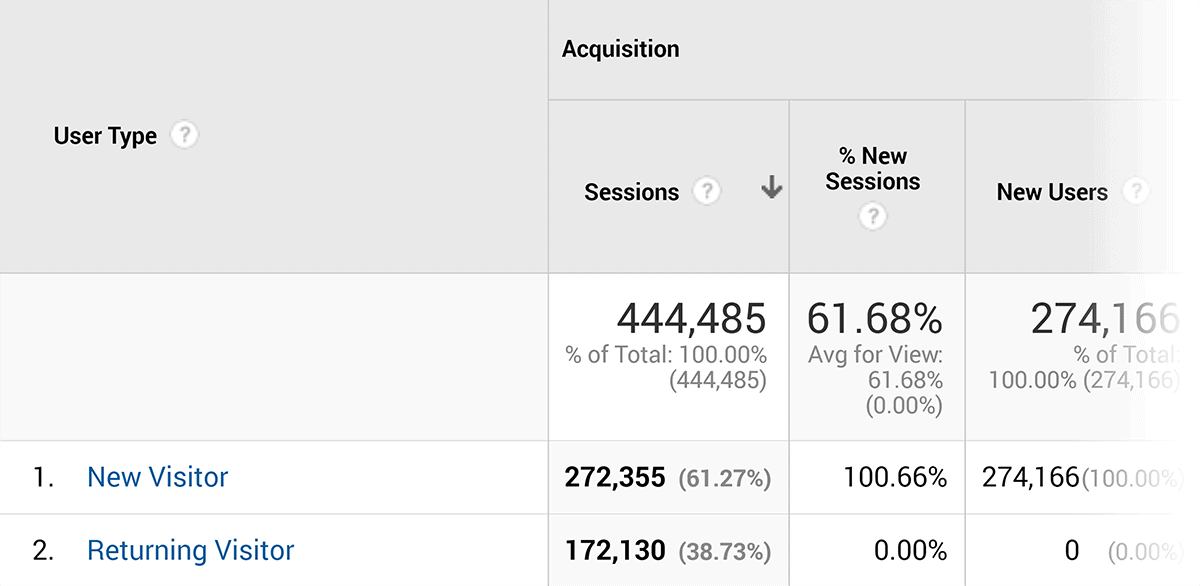 This report is helpful for content marketing because, in general, you want a healthy mix of new and returning visitors.
If 90% of the people that visit your site are returning, this means that your content keeps people coming back. On the surface, that sounds great. But for your business to grow, you need a healthy crop of new people finding your site from search, social and referral traffic.
On the other hand, if 90% of your visitors are new, it means that you have a lot of "drive-by" traffic. In other words, people that land on your site, hit their back button, and never come back.
Users Flow
The "Users Flow" section report is one of my favorite Google Analytics reports.
This report you a visual breakdown of where people are coming from, which page they're landing on when they enter your site, and where they go from there.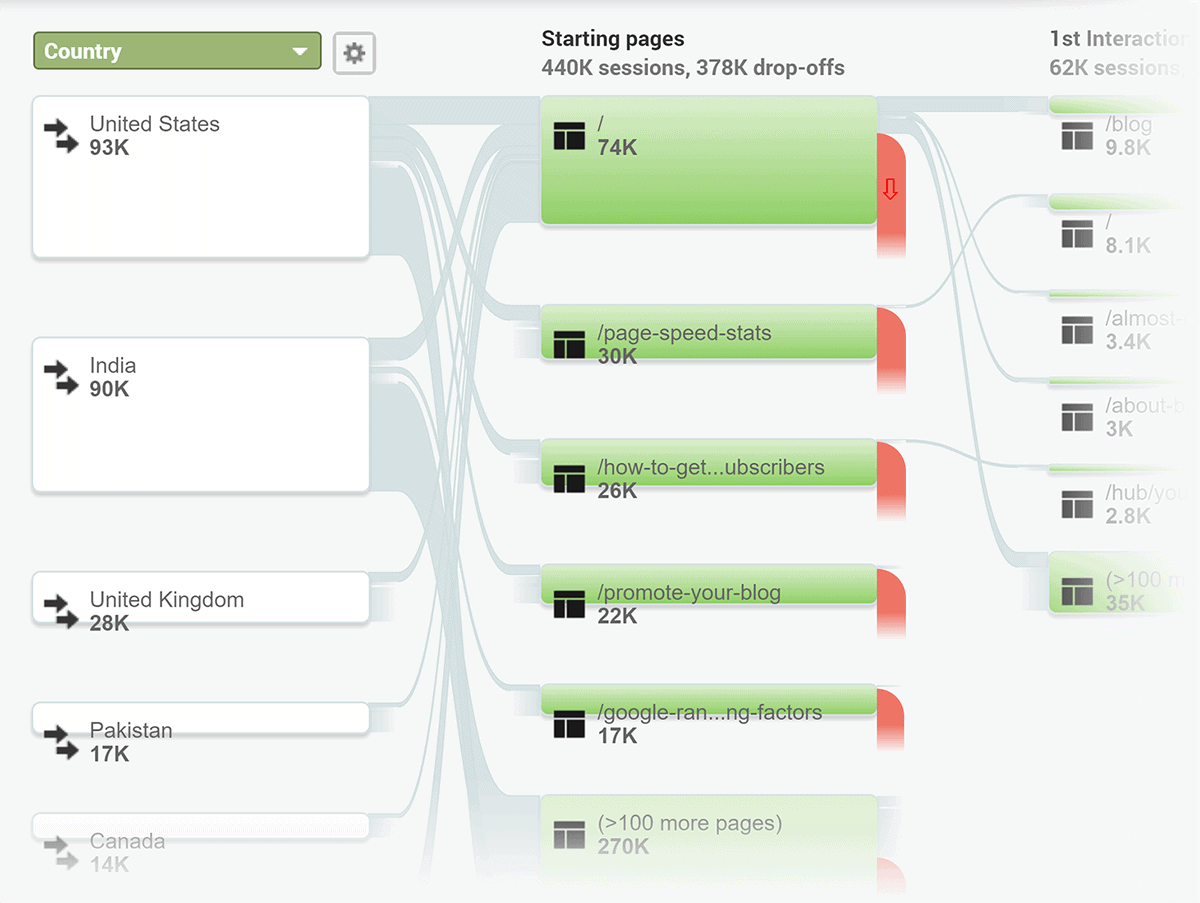 At each step, you'll see how many people drop off and leave the site vs. how many continue their journey. Doing a good job of interlinking your content and recommending additional posts at the end of each one can help keep people engaged on your site for longer.
And if you're looking to convert readers into email subscribers or customers, this report is a goldmine of data. That's because you can see exactly where potential customers drop off. In some cases, the landing page is the culprit. Sometimes it's a checkout page. Without a visual breakdown like this, it's impossible to know what's up.
Mobile
Here's where you can find out what devices people use when they're reading your content.
You've probably read that most traffic now comes from mobile devices.
Which is true. Search Engine Land reports that 57% of all traffic comes from mobile devices. But it's important to see how many people visit your site on different devices.
For example, we're an SEO training company. Which means we're B2B. Because most people search for the content that I publish when they're at work, our audience reads our content largely on desktop computers.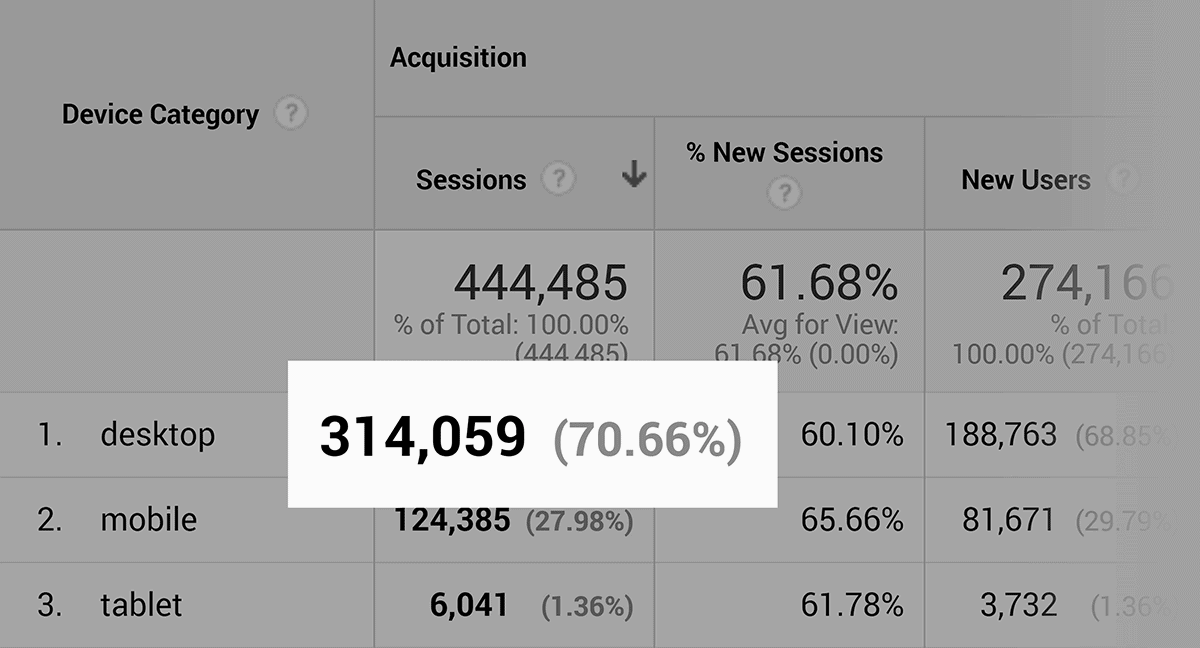 If I just read about "trends in digital marketing", I would just assume that most of our traffic came from smartphones and tablets. But thanks to this report, I know that our visitors mostly use desktops when they visit Backlinko.
Because about 75% of our users are on desktops, we optimize our content "desktop- first". Specifically, we publish a lot of custom-designed posts that don't display as well on mobile.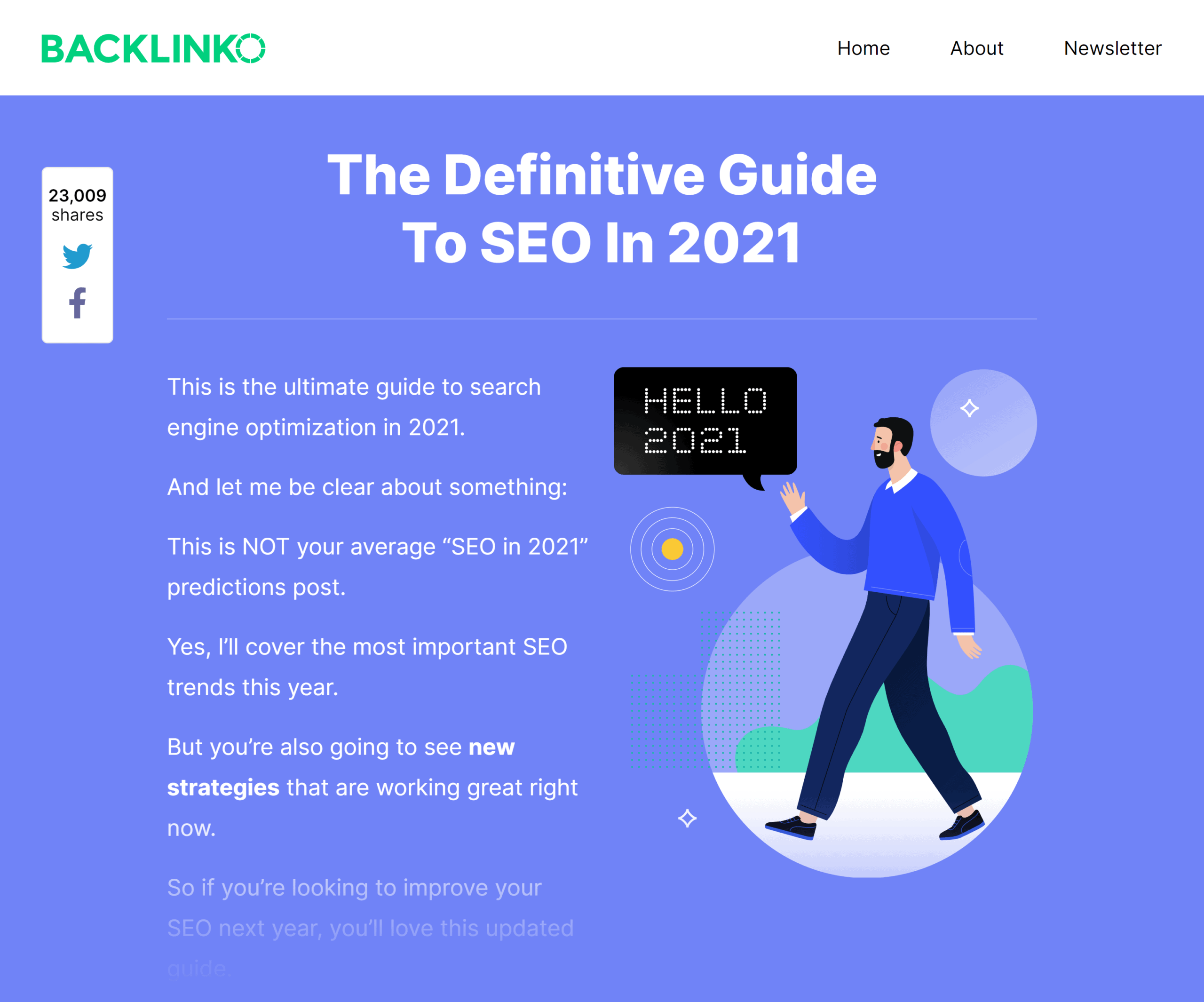 We also use large, high-res images that look great on desktop and laptop screens, but take a long time to load on smartphones.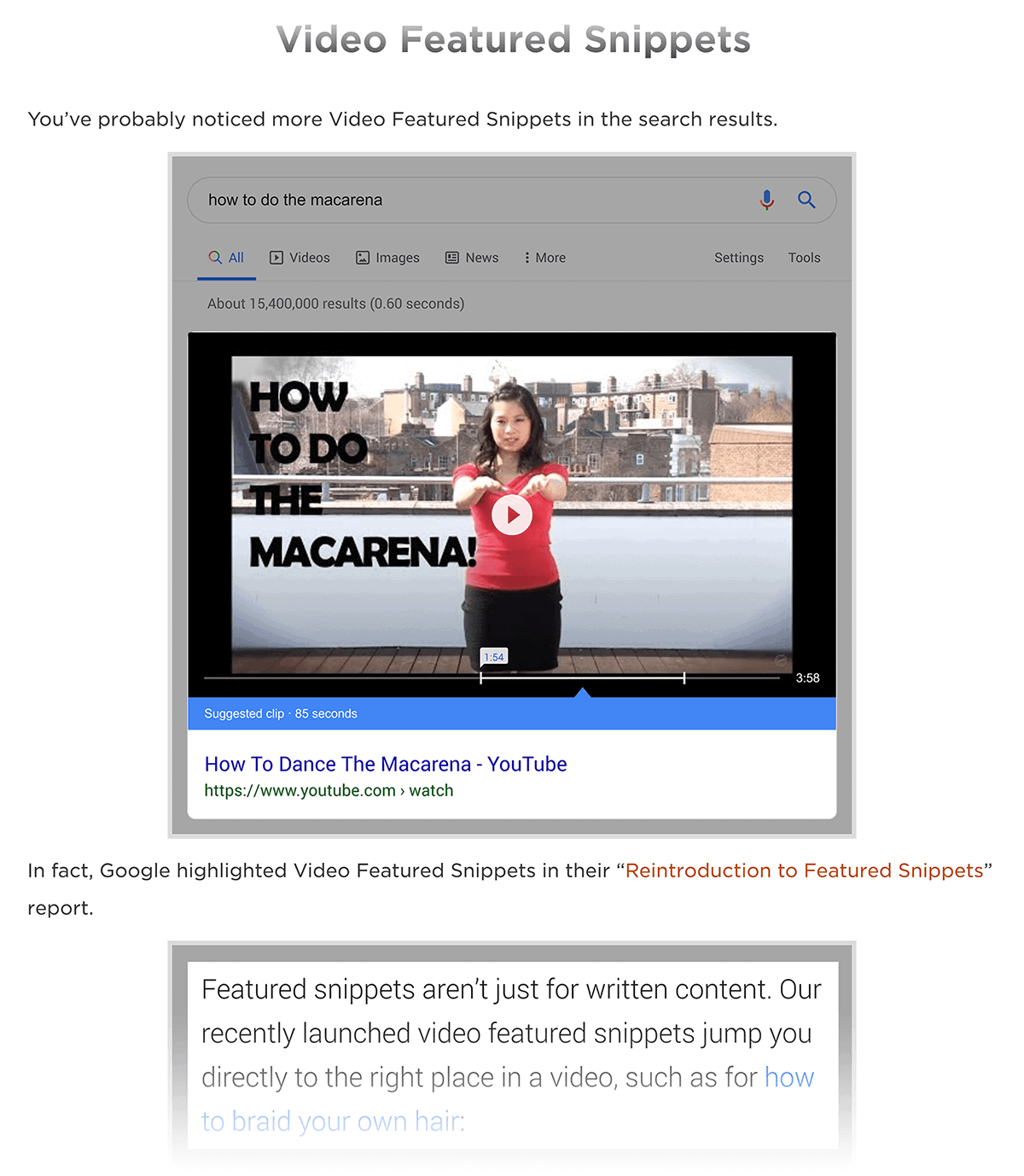 If you want to dig deeper, hit "Devices". And you'll see the exact devices people are using when they're on your website.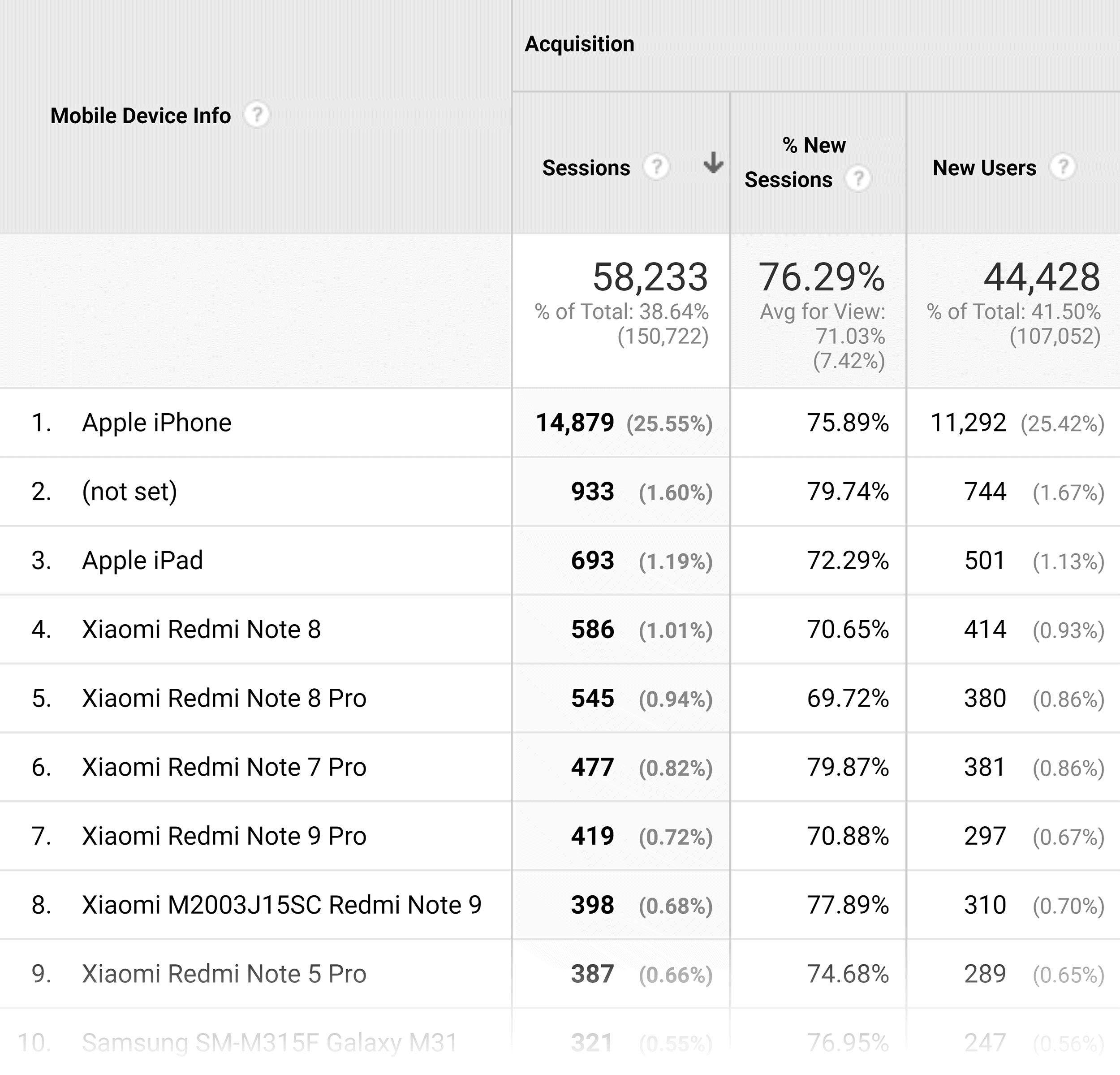 Why is this helpful?
Well, as you can see, the vast majority of our mobile traffic comes from Apple iPhones.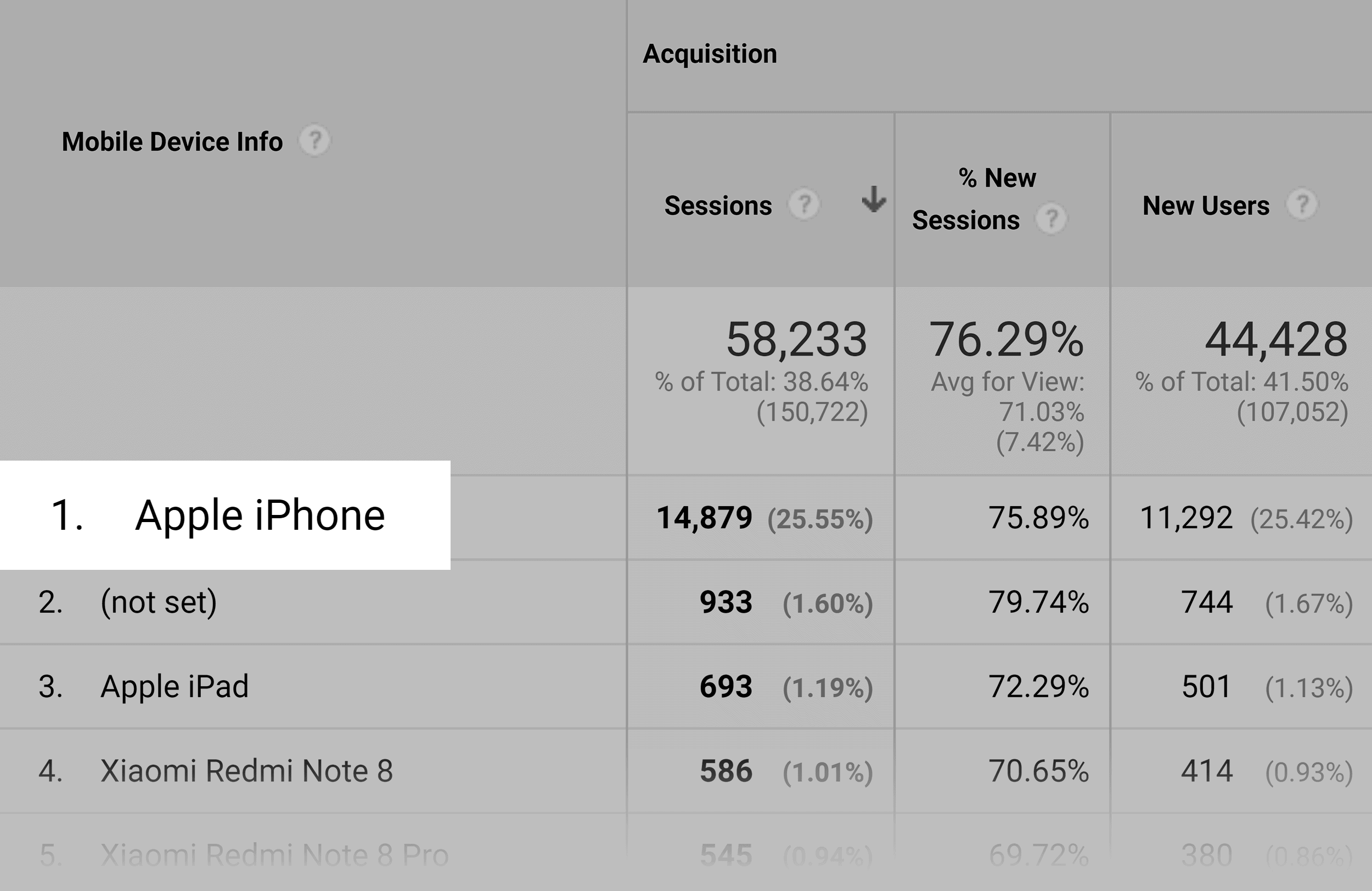 So we need to be 100% sure that our site loads properly on iPhones and browsers that people use in iPhones (like Safari and Chrome).
That's not to say that your site shouldn't be mobile-optimized in general. But the device report lets you know which devices to focus on.
The "Acquisition" Section
The reports in the Acquisition section contain information about where your visitors are coming from. This section is HUGE for content marketers because it shows you where your content marketing is working best (and worst).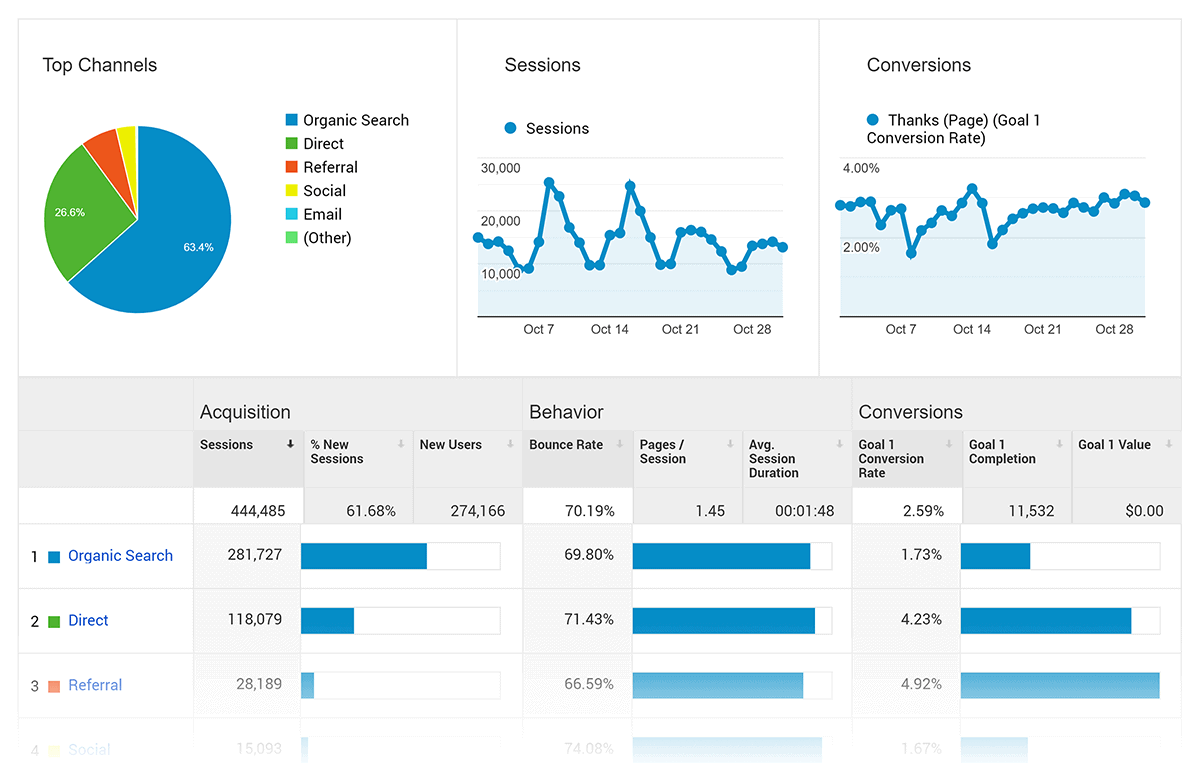 All Traffic
"All Traffic" is the most important group of reports in this section, and one of the most important reports in all of Google Analytics.
The "Channel" report shows you the types of places that send you traffic.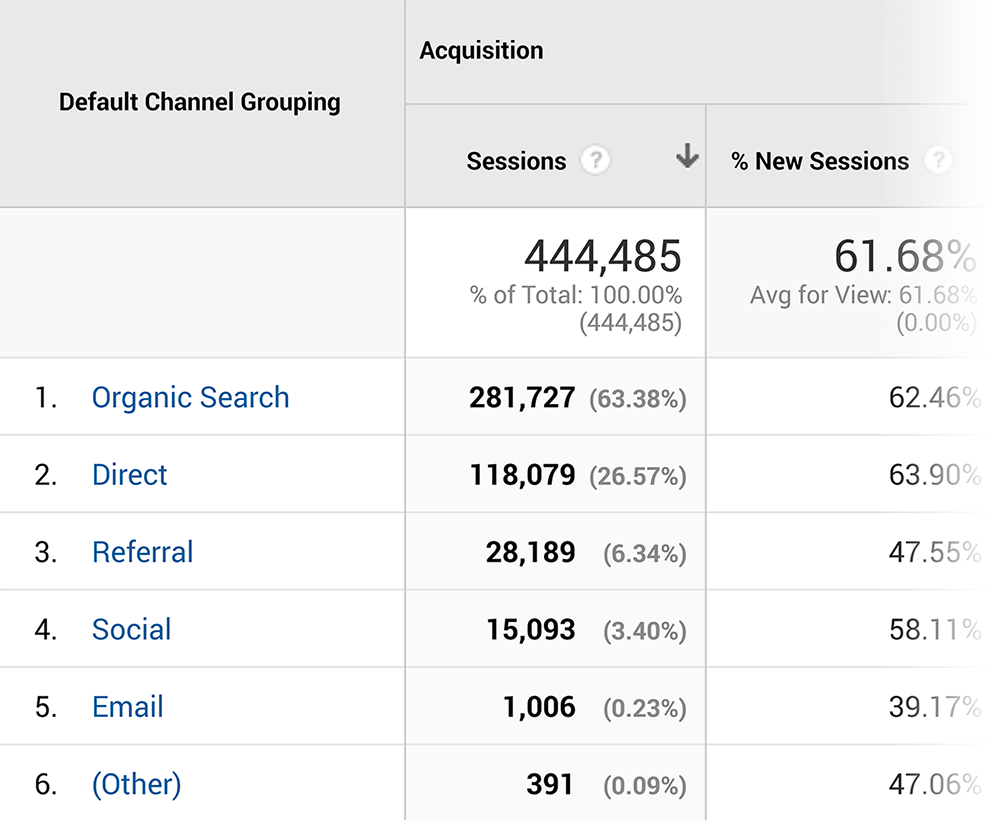 This is helpful for understanding what broad channels (like SEO or guest posting) send your site traffic.
For example, in our case, we get 63.38% of our traffic from Organic Search.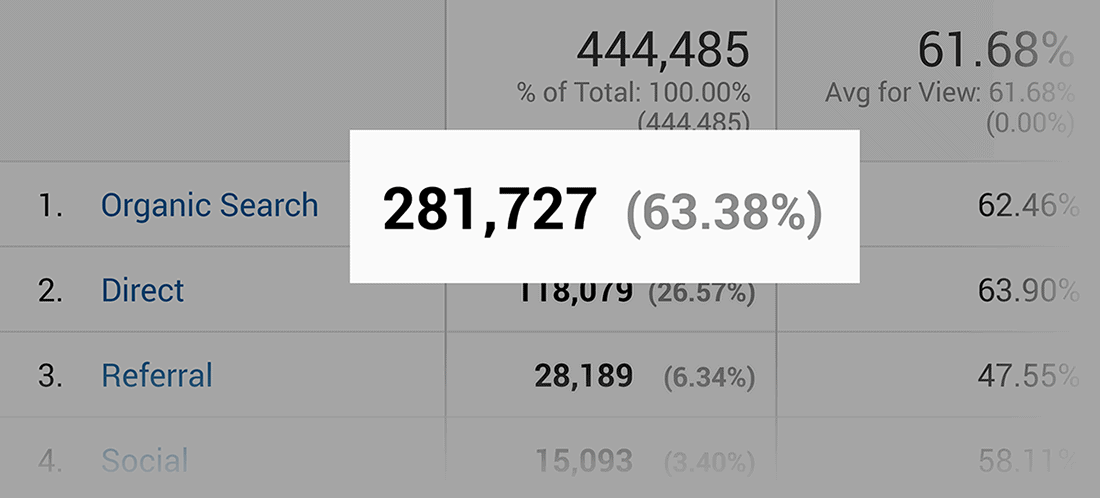 Considering that we focus a lot on SEO, this makes sense. On the other hand, less than 5% of our traffic comes from Social.

This reflects the fact that we don't do a whole lot of stuff on social media. But if we were super active on Twitter, LinkedIn and Instagram, a tiny amount of Social traffic like this would be a sign that what we're doing on social media isn't working.
The "Source / Medium" report will show you exactly where your traffic is coming from.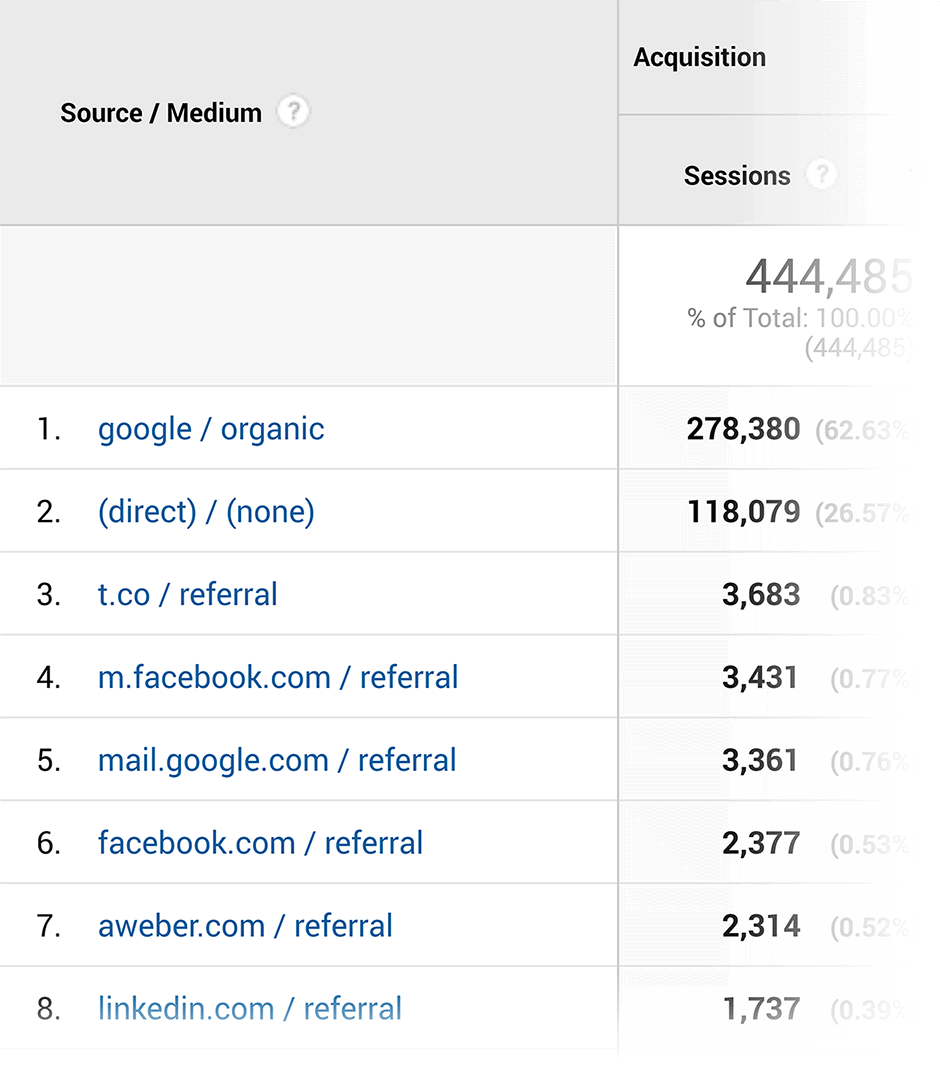 The Channels report that we just talked about is helpful for looking at different website categories that drive traffic to your website. The "Source / Medium" report shows you the specific websites that send you traffic.
For example, you can see that Google.com sends us a ton of traffic every month.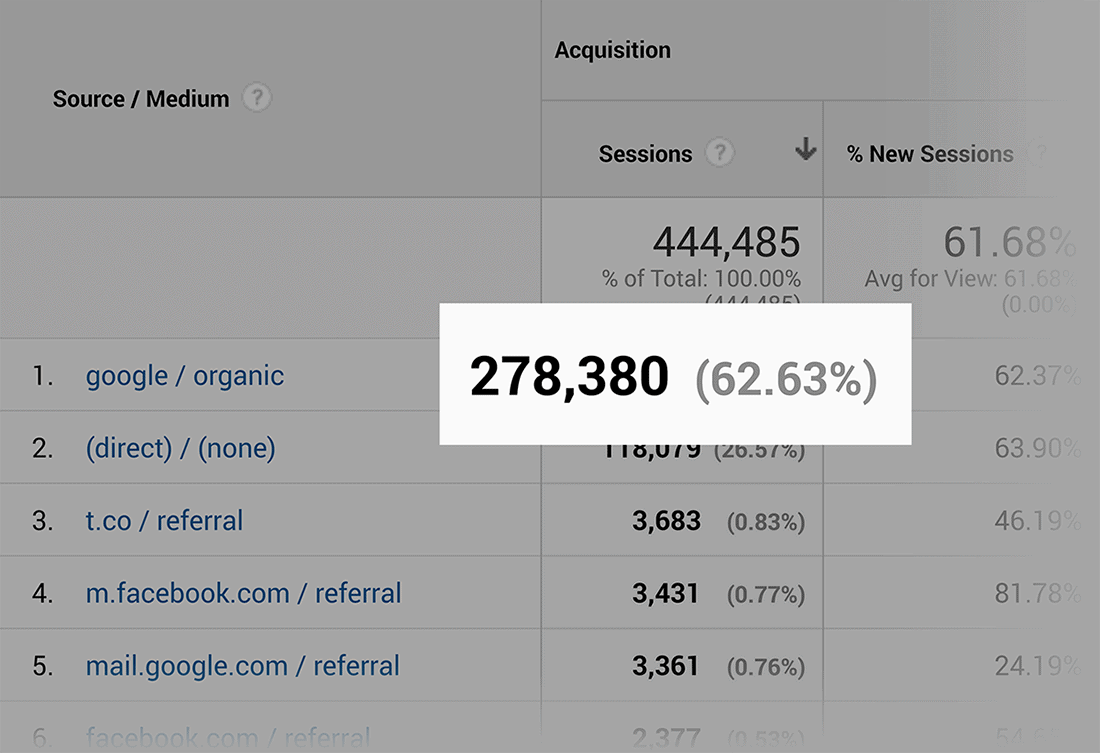 Even though other search engines (like Bing) exist, they're not really a factor for us.
Referrals
This report drills down into the sites that refer traffic to you.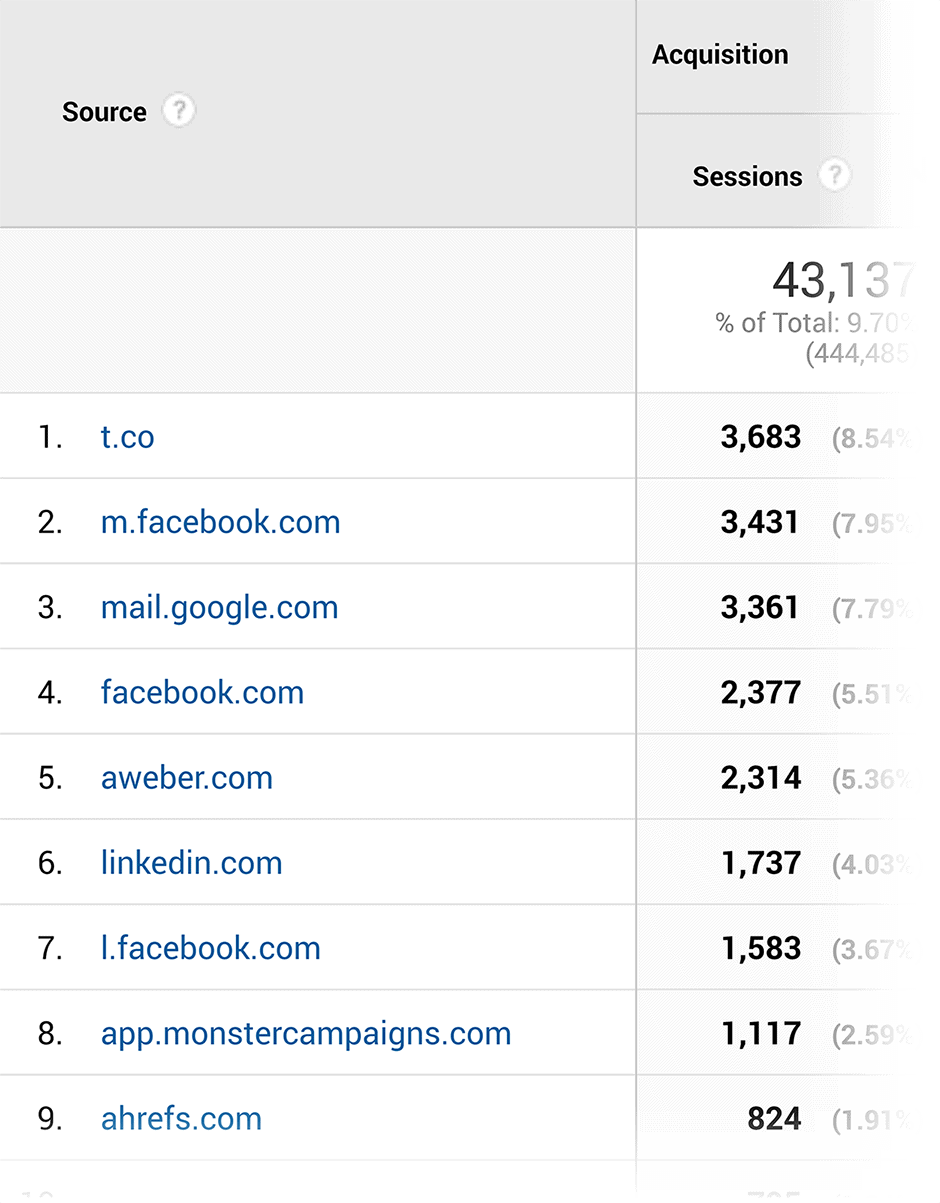 In practical terms, this is traffic that doesn't come from a search engine or from someone directly visiting your website via a browser or app.
Most sites will only get a small fraction of their traffic from referrals (we get about 10-15%). But in many cases, this report gives you a peek into how people are talking about your brand online. And linking to you when they do.
For example, if you see a spike in traffic from a specific source, check out the page that's sending you that traffic. You'll usually find that an influential blog mentioned and linked to a piece of content from your site.
Search Console
"Search Console" is another important part of the Acquisition section.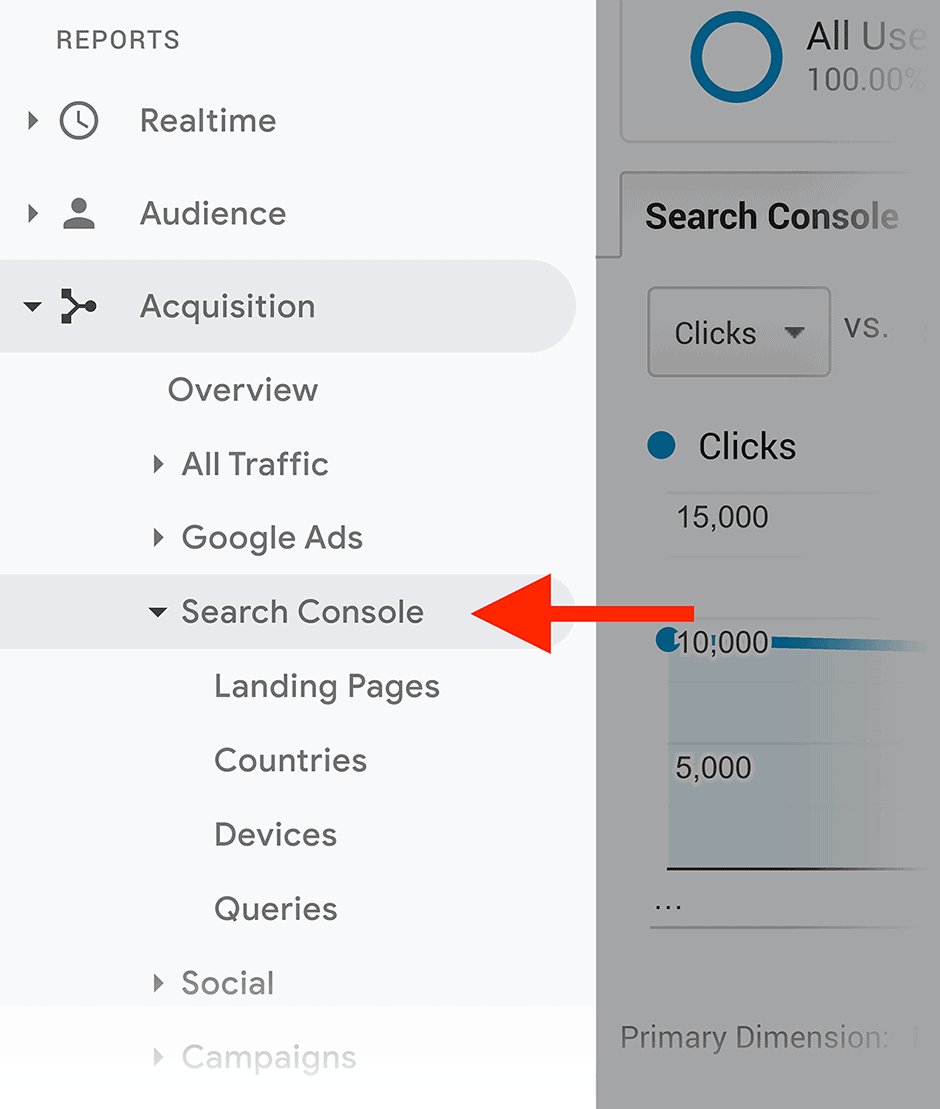 This relies on organic search data from the Google Search Console. But brings this data into Google Analytics to make it easier to view alongside everything else. Everyone content marketer should set up Google Search Console and connect it to their Google Analytics account.
"Social," "Campaigns,' and "Google Ads": these report groups offer more granular breakouts of the same data from the "All Traffic" reports.
Social
If social media is a big part of your content marketing, you'll love this report.
That's because you can see which networks send you the most traffic.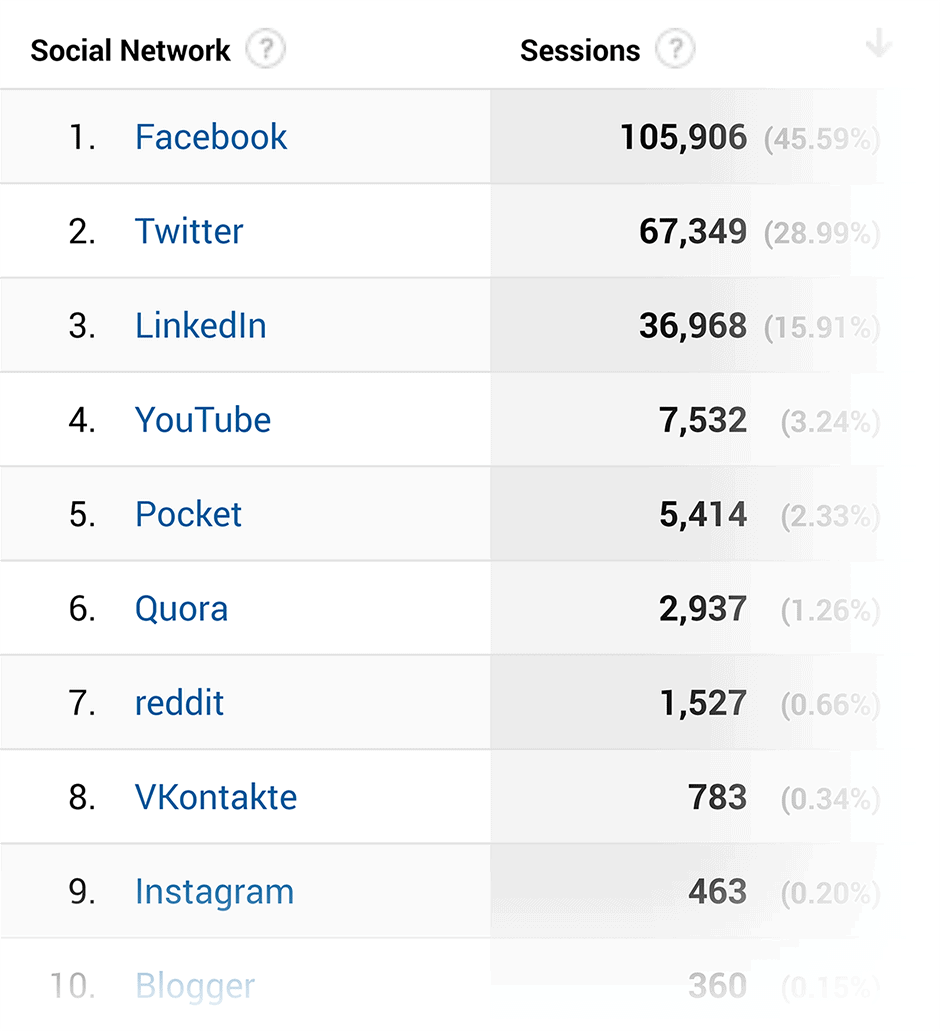 And how people that come from those different networks interact with your site when they get there.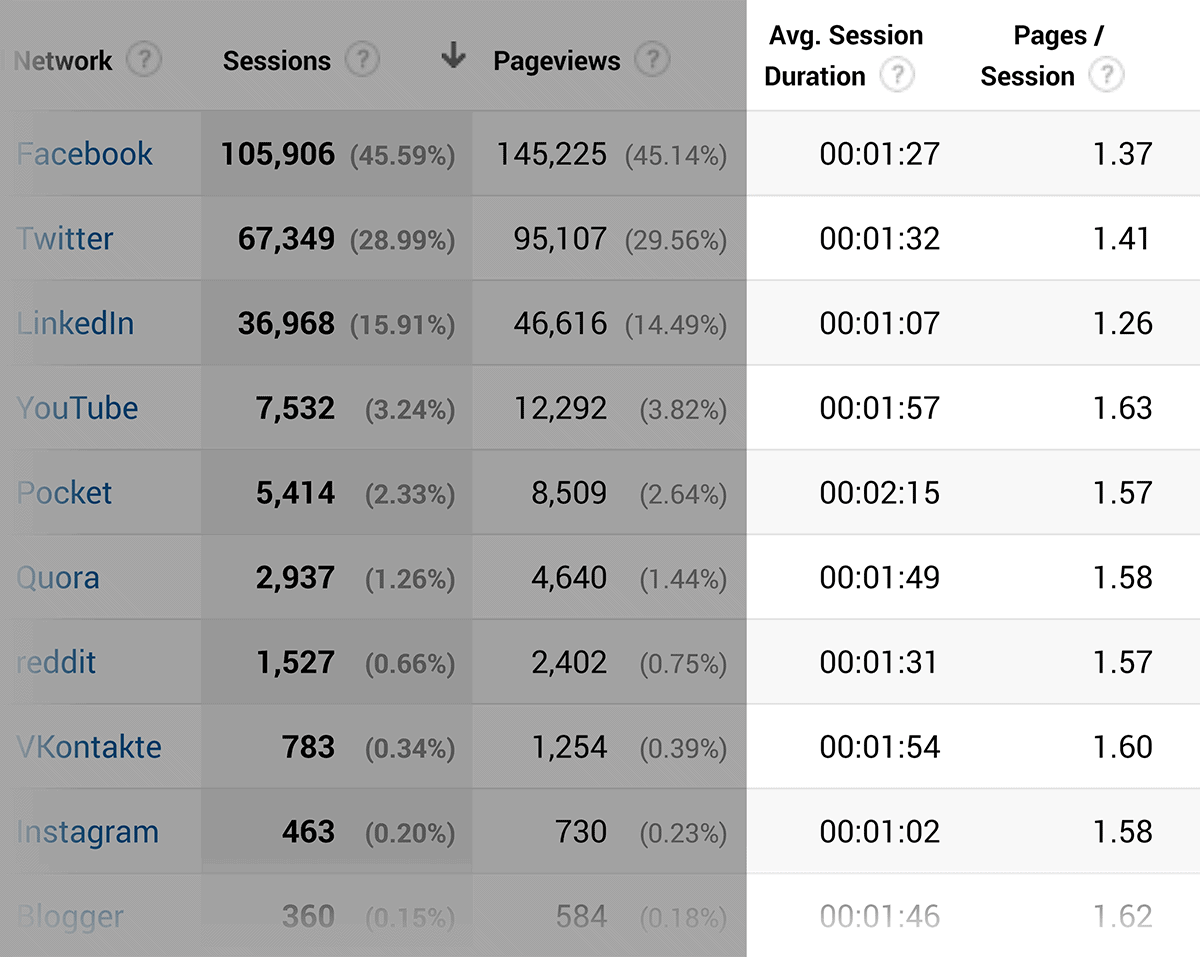 For example, you can see that traffic from YouTube tends to stay longer and view more pages compared to LinkedIn.

And the Landing Pages report lets you know which pages bring in the most social media traffic.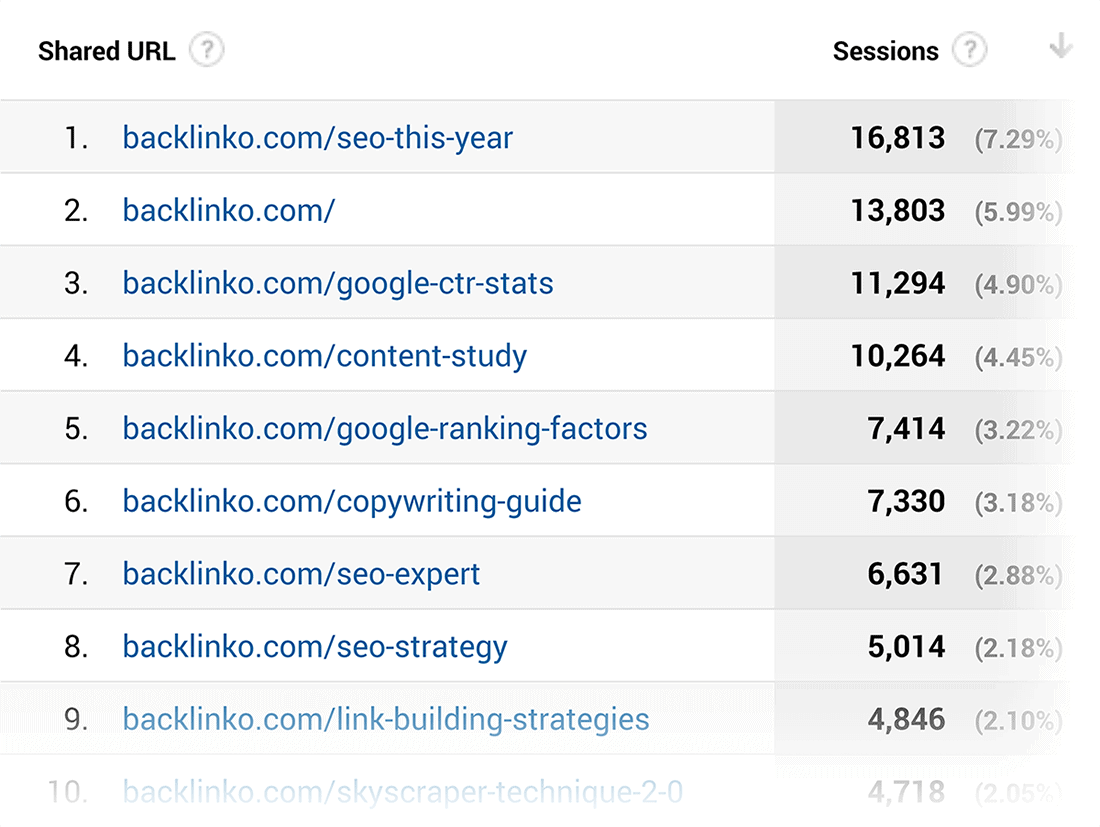 Why is this important?
Well, let's say that you want to get more traffic from social media. You could use a tool like BuzzSumo to find popular content in your niche that gets lots of shares.
Or you could double down on content from your site that people are already sharing.
For example, industry studies tend to bring in a good chunk of our social media traffic.

So if increasing traffic from social media was one of my goals, I'd create more research-backed content.
The "Behavior" Section
Reports in the Behavior section will show you what people are doing on your site when they get there.
Site Content
This report will show you the most popular content on your site along with performance metrics for each page.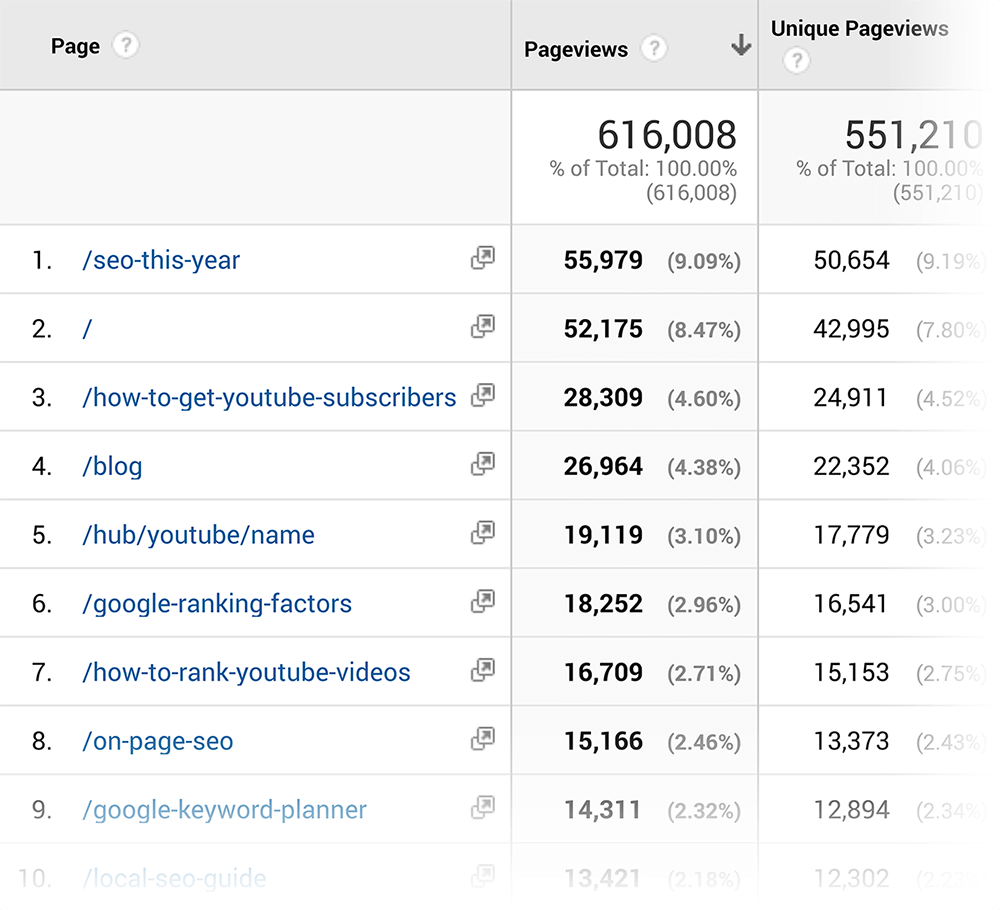 In other words: this report answers the question: "What pages from my site do people visit most?".
You can also see which pages people most commonly enter ("Landing Pages") and exit ("Exit Pages") on.
If you run a blog, your top pages here will likely be your latest posts. This is why I like to apply the "Organic Traffic" segment to this report.
That way, you can see which pages people land on the most from Google and other search engines.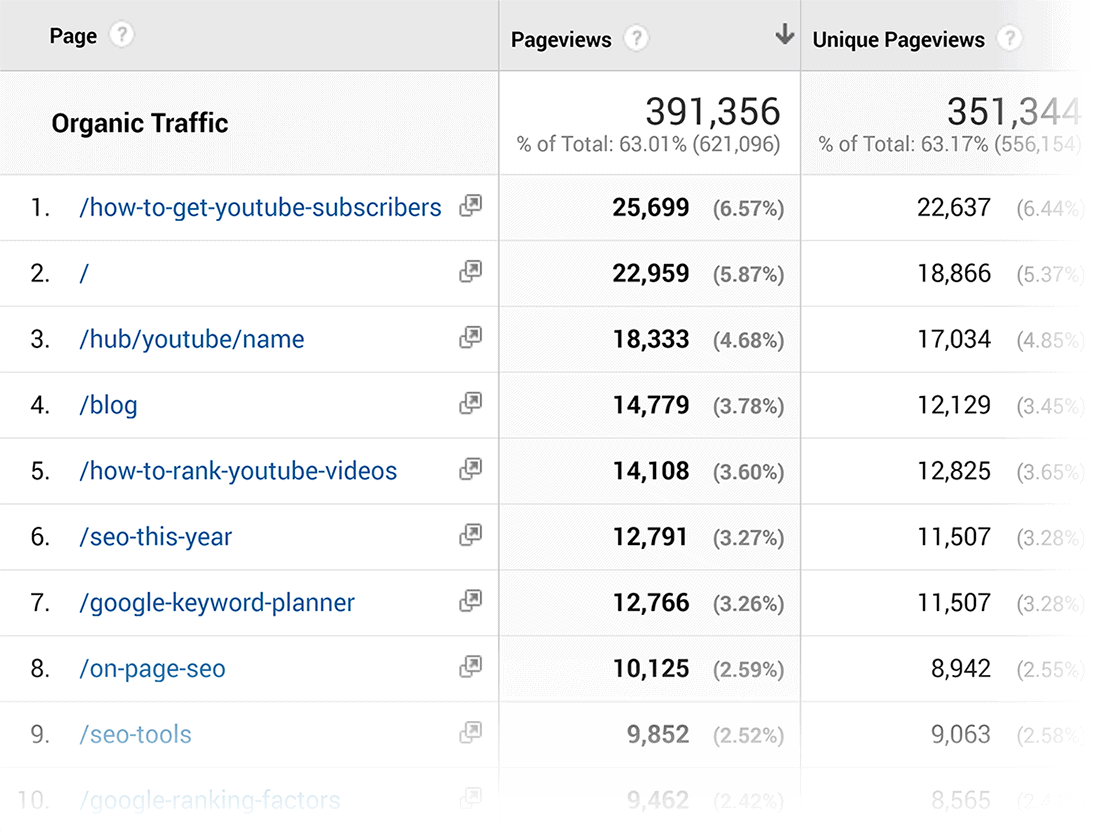 Pro Tip: compare bounce rate across different pages. If some pages have much higher than average bounce rates for your site, make sure those pages are giving your visitors what they want.
Site Speed
The "Site Speed" report group is important for anyone who creates complex or "large" content.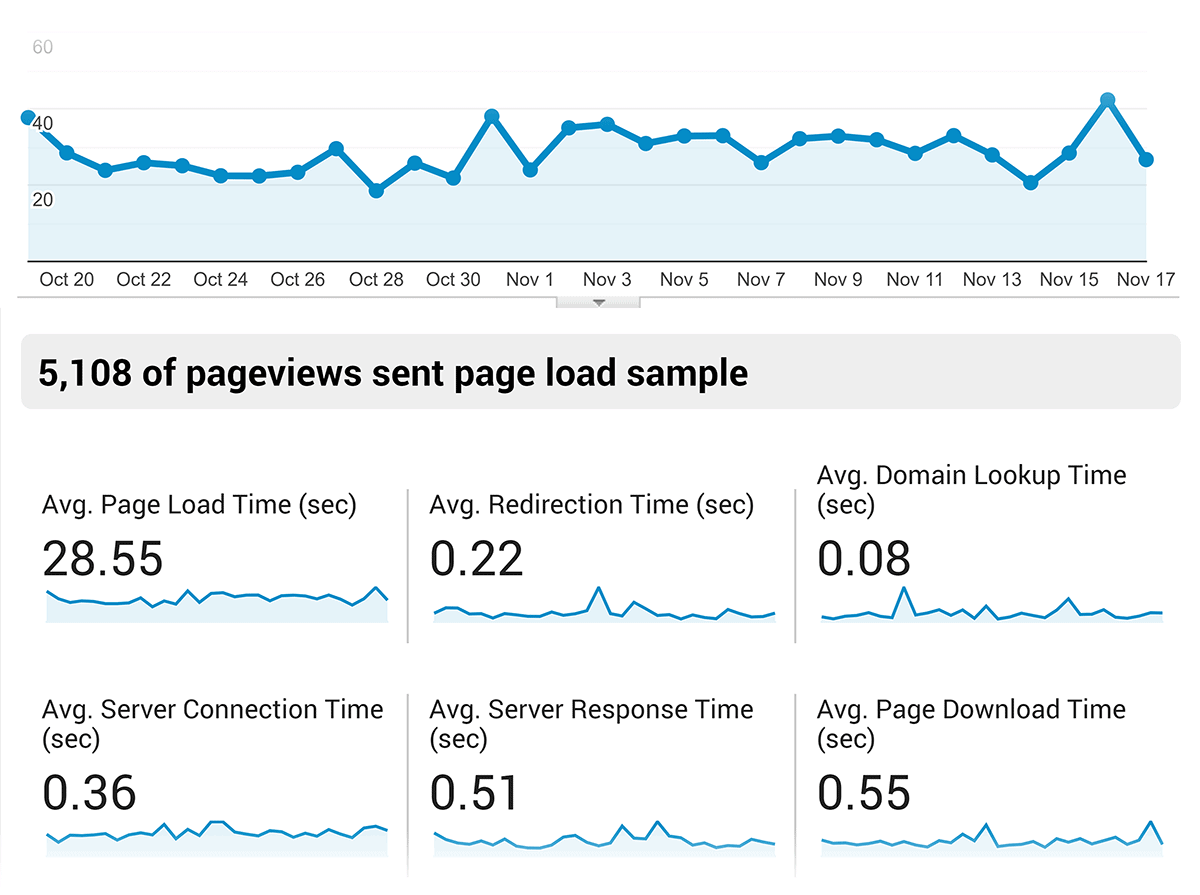 These reports can quickly show you how quickly all of your site pages load. You can also sort pages by loading speed or pageviews to find any critical issues.
There's also a dedicated "Speed Suggestions" report to help you improve things.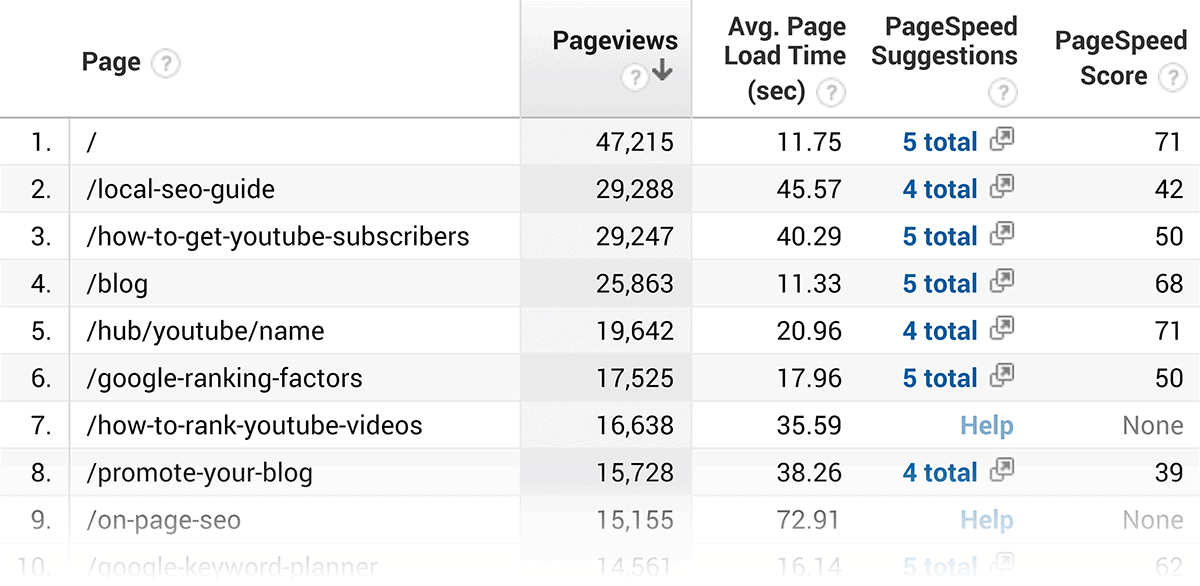 But what I like the most about this report is that you can see how your PageSpeed is trending over time.

In my opinion, this is more helpful than a snapshot of your site's average loading speed.
Events
Finally, the "Events" reports section can be very useful if you use events-tracking on your site.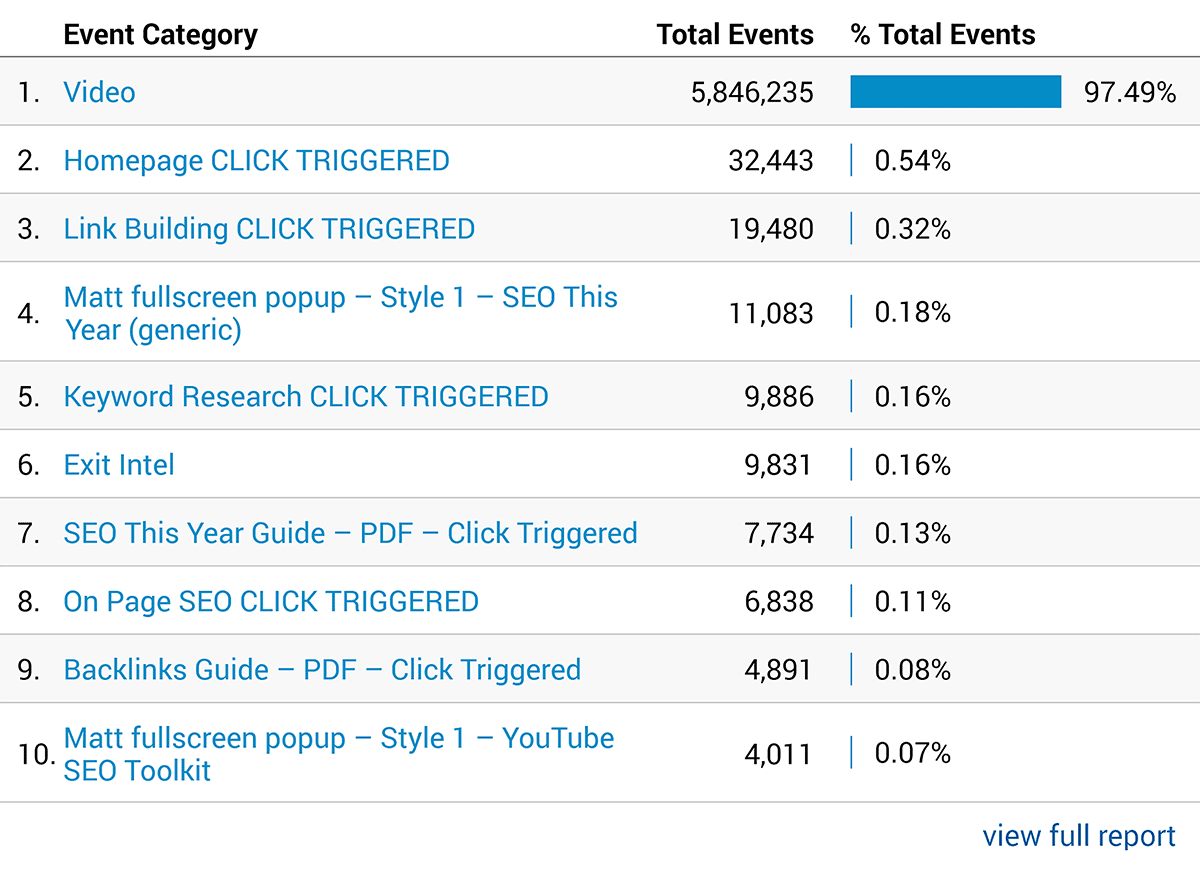 Events are a way of tracking specific actions people may take, such as clicking on a social share button — which can help you see the direct effects your content may be having on the overall business. Events can be set up to trigger through Google Tag Manager or directly through Google Analytics.
The "Conversions" Section
If you've set up goals or revenue tracking, here's where you can track your site's conversions.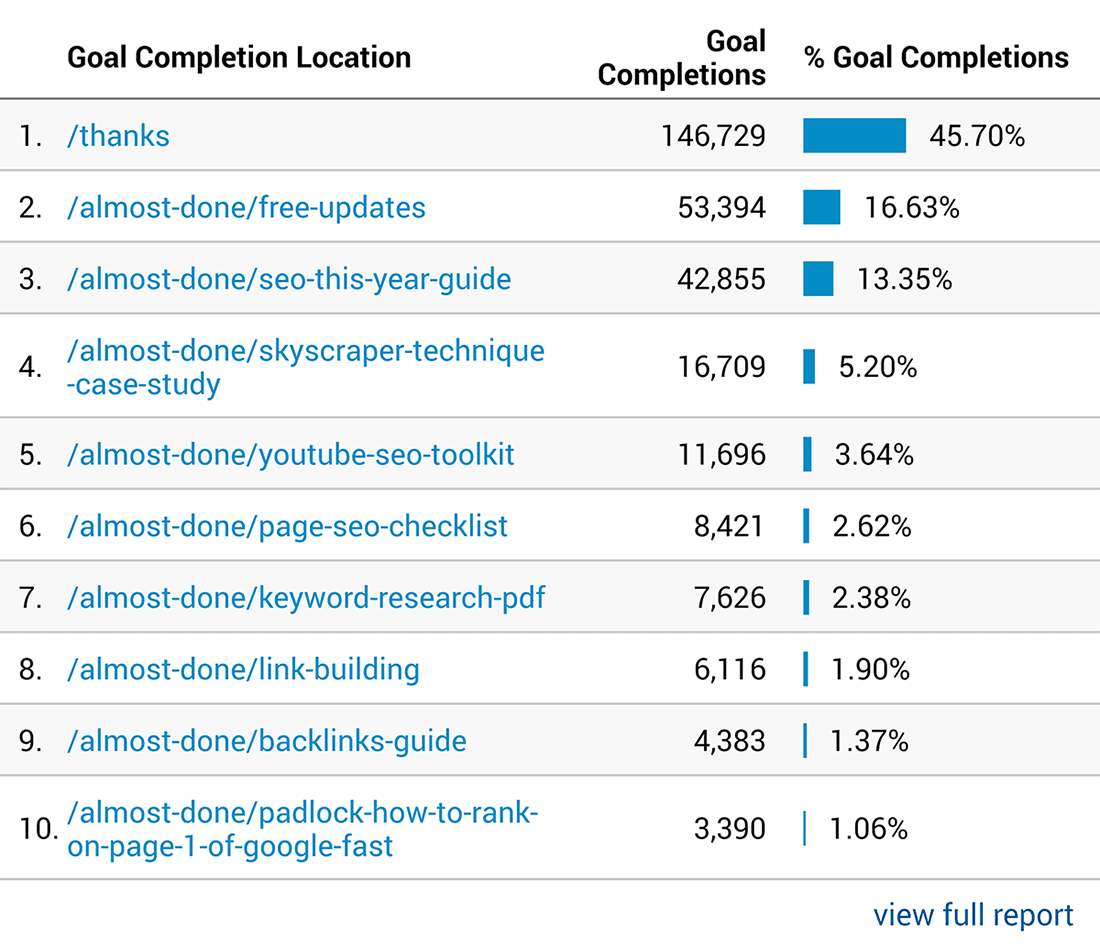 Even if you don't sell anything on your site, it's still a good idea to set up some form of goal tracking so you can understand the value of your different pieces of content and traffic sources. After all, even 1M visitors aren't worth much if they don't subscribe, don't share, don't link to your site, and don't buy.
For example, we don't sell anything directly on Backlinko. But our blog is optimized to get more email subscribers. This is why we've set up email conversions as a goal in GA.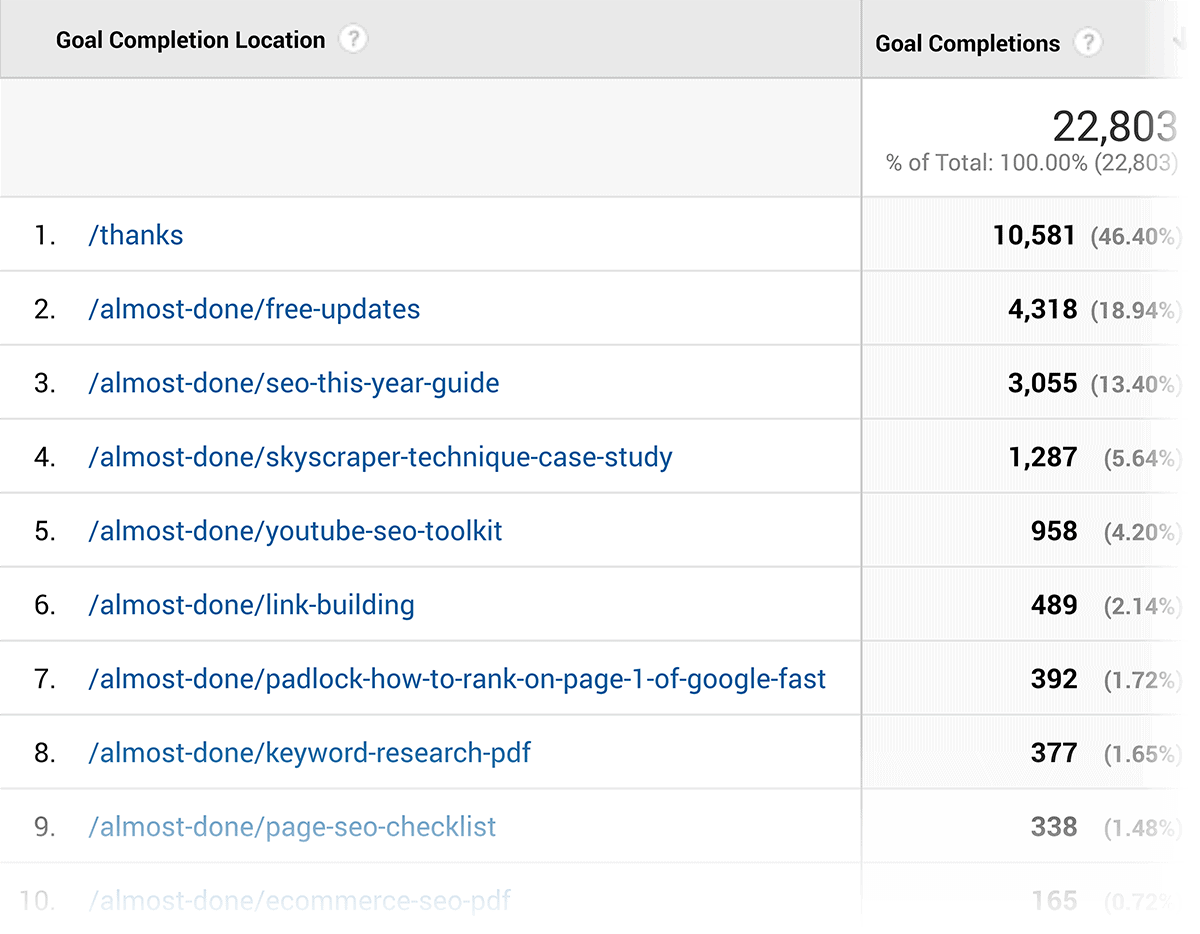 I already mentioned events-tracking, which is similar to goals. In fact, you can create a goal and have it trigger based on an event.
Goals can also be triggered using destinations on your site, the amount of time someone spends on the page, or the number of pages someone viewed in a given session. So they don't necessarily have to be a traditional "conversion".
Ideas of goals you might want to track include:
Purchases
Leads
email signups
social media shares and follows
Viewing key pages (for example, sales pages or thank-you pages)
These can all help you better understand the impact your content marketing is having on the business.
Reverse Goal Path
This helpful report shows you exactly how your visitors ended up converting.
It's super rare for someone to land on a page and convert right then and there. And if you only focus on the conversion rate of a specific page, you're missing out on the big picture.
This report helps you get a better grasp of how your site visitors actually convert into subscribers or customers.
Ecommerce
Google Analytics has a special report just for eCommerce websites. This report requires a special Ecommerce tracking snippet to work.
Funnel Visualization
As the name suggests, this is a visual of your site's most common conversion paths.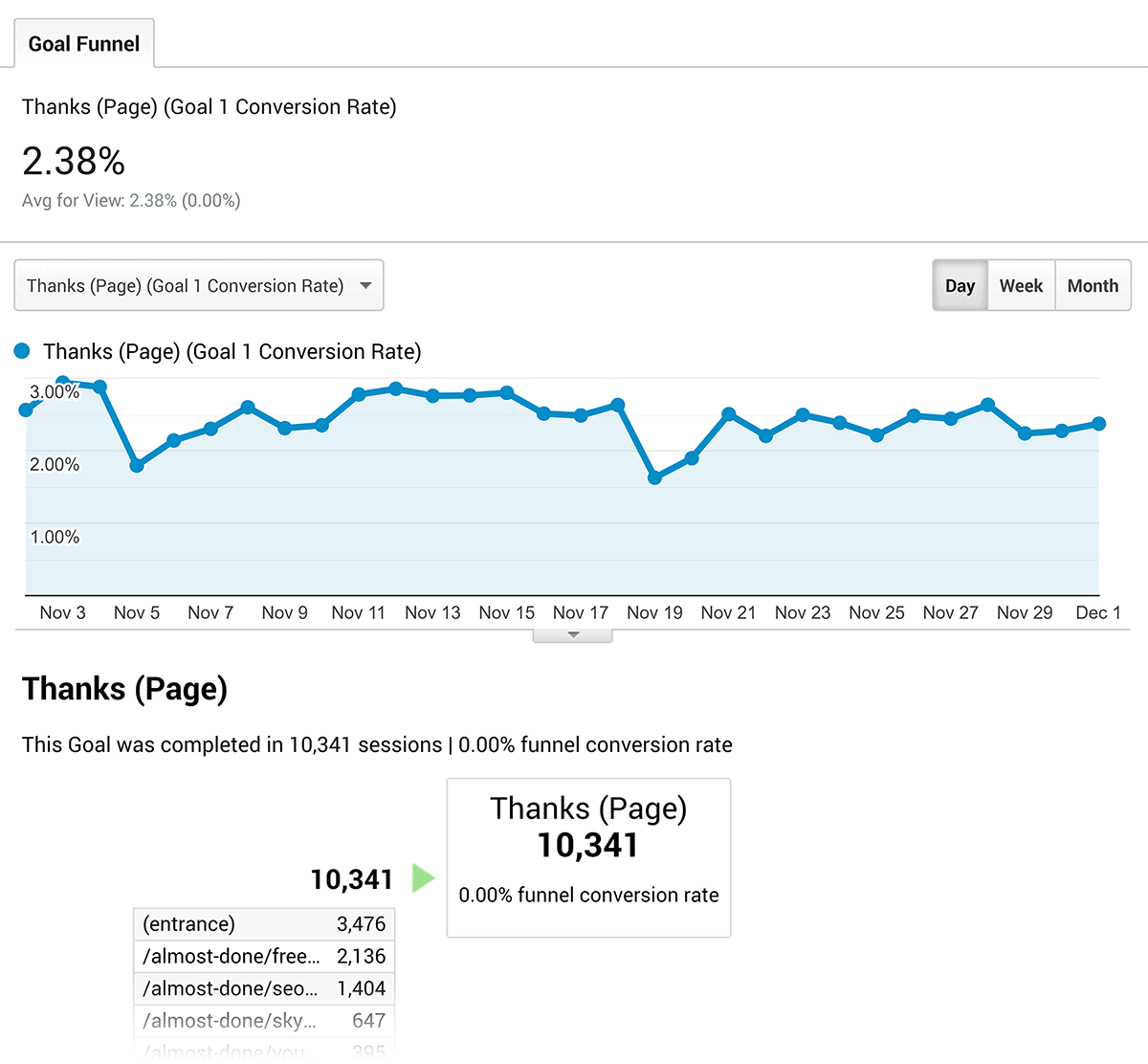 This is especially helpful for identifying which pages generate the most conversions for you.
Learn More
Google's Guides to Getting Started` With and Finding Your Way Around Analytics: Two helpful guides to help you install the tracking code and get some of the basics down.
How To Measure SEO Performance: Learn how to use Google Analytics, Search Console and other popular SEO tools to figure out whether or not your SEO and content marketing efforts are paying off.
Google Analytics Tutorial – Beginner To Expert: An excellent video tutorial on how to get the most out of Google Analytics.