Clickflow Review: Is This Tool Worth It?
by Brian Dean · Updated Aug. 12, 2021
This is my personal review of the SEO testing tool Clickflow.
I spent the last few weeks testing it out.
And I wanted to write this post to share my thoughts.
Let's dive in.
So, What Is Clickflow Exactly?
Clickflow bills itself as "Content Optimization Software"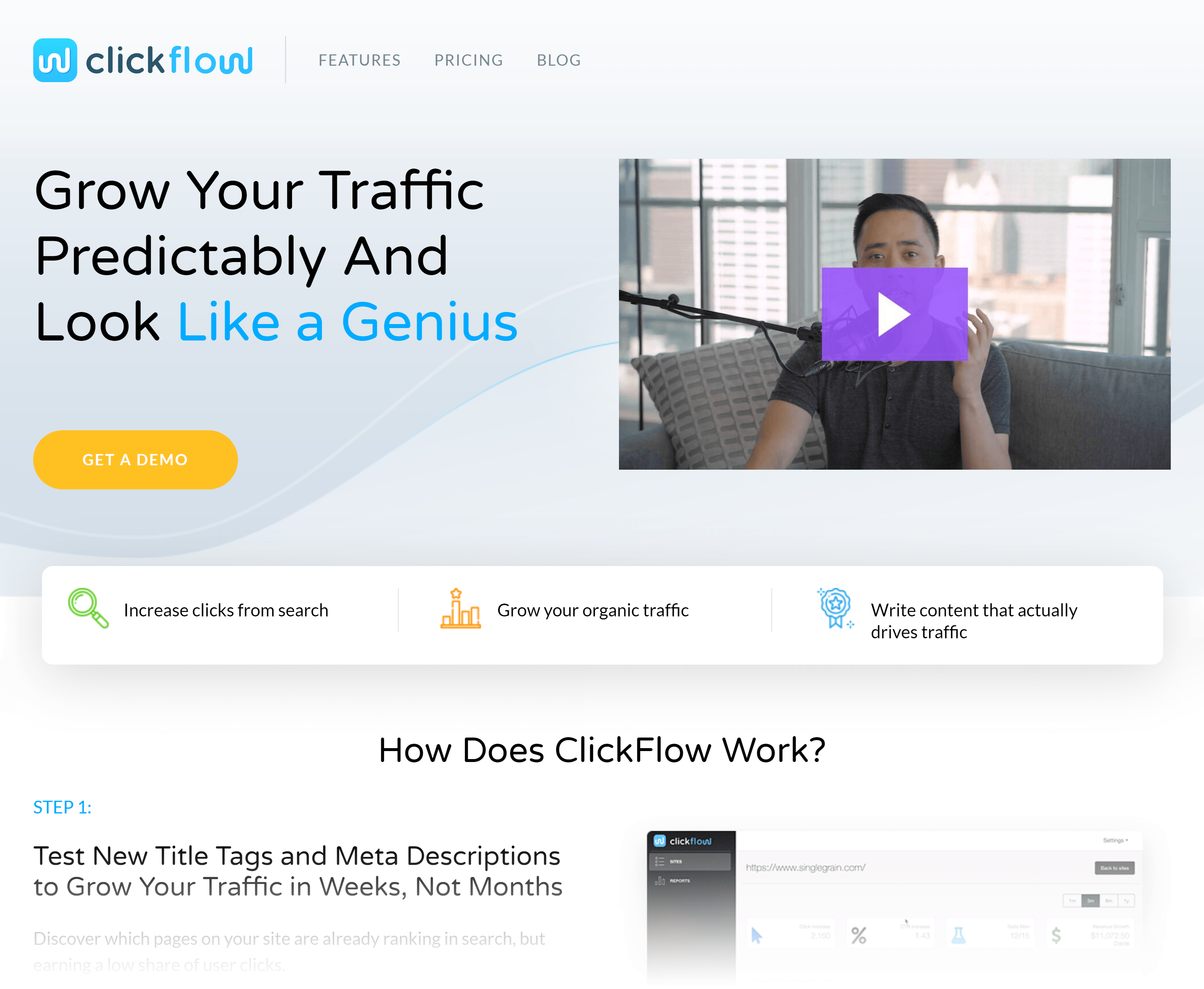 In other words: it's an SEO tool focused on improving the performance of existing content.
(As opposed to researching content, finding keywords, building backlinks, etc.)
Which does make the software somewhat unique in the SEO tool landscape.
I mean, there are a thousand and one keyword research tools. And a bunch of tools for link building. And a bunch more tools for technical SEO.
But there are very few tools dedicated to on-site optimization.
I'll cover each of Clickflow's features in the next section.
But the gist is that Clickflow is aimed towards getting more traffic to existing pages.
With that, let's break things down feature-by-feature.
Growth Opportunities
When you first login into Clickflow, here's what you'll see: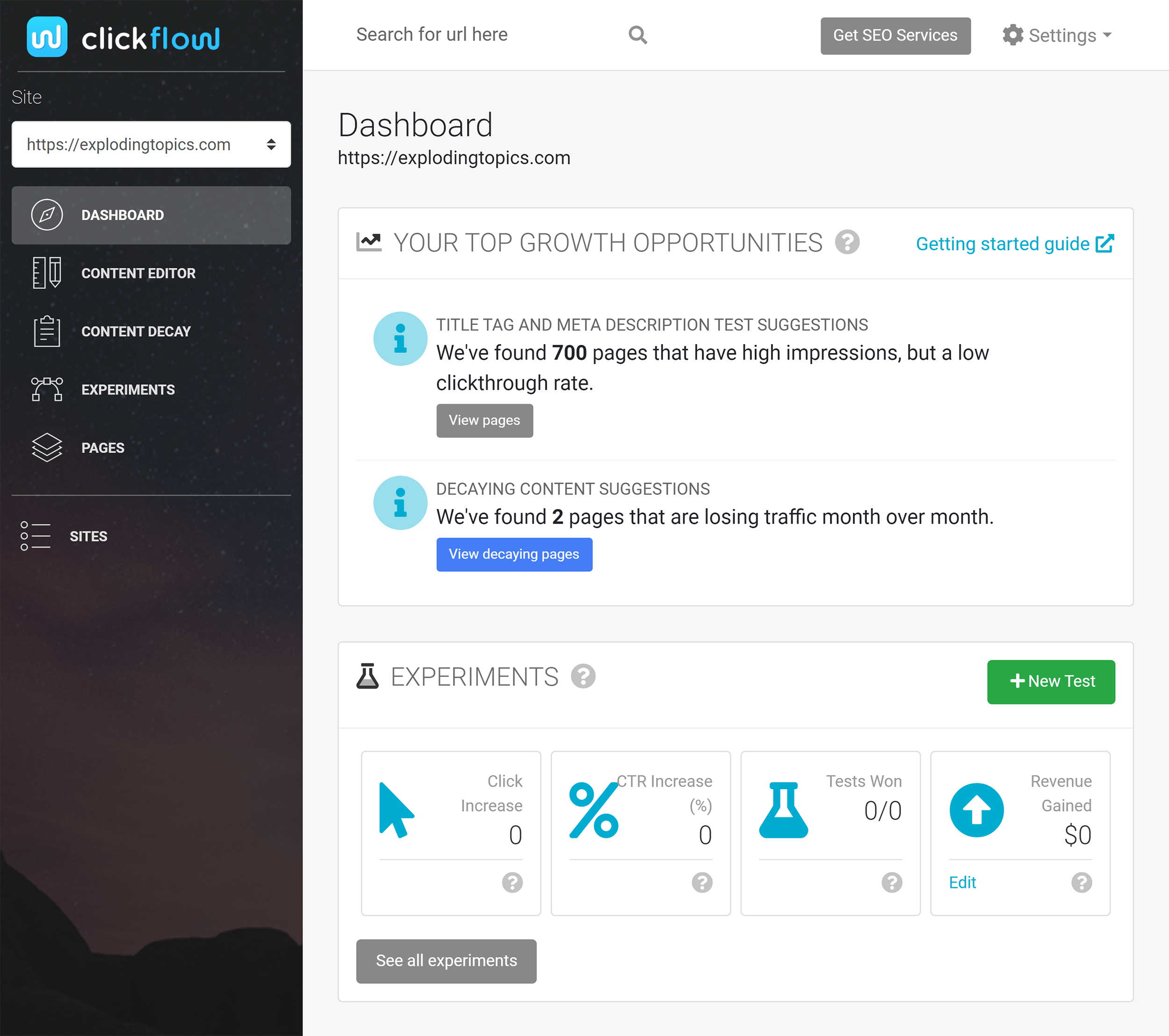 As you may have noticed, Clickflow bubbles up things you should work on first.
(They call this "Your top growth opportunities".)
These opportunities fall under two main categories:
Pages you should run an A/B test on
Pages with declining traffic
The first opportunity covers pages that get a lot of impressions (based on Search Console data). But very few clicks.
Sometimes this is normal. For example, I get 900k impressions (and 926 clicks) from the keyword "Reddit".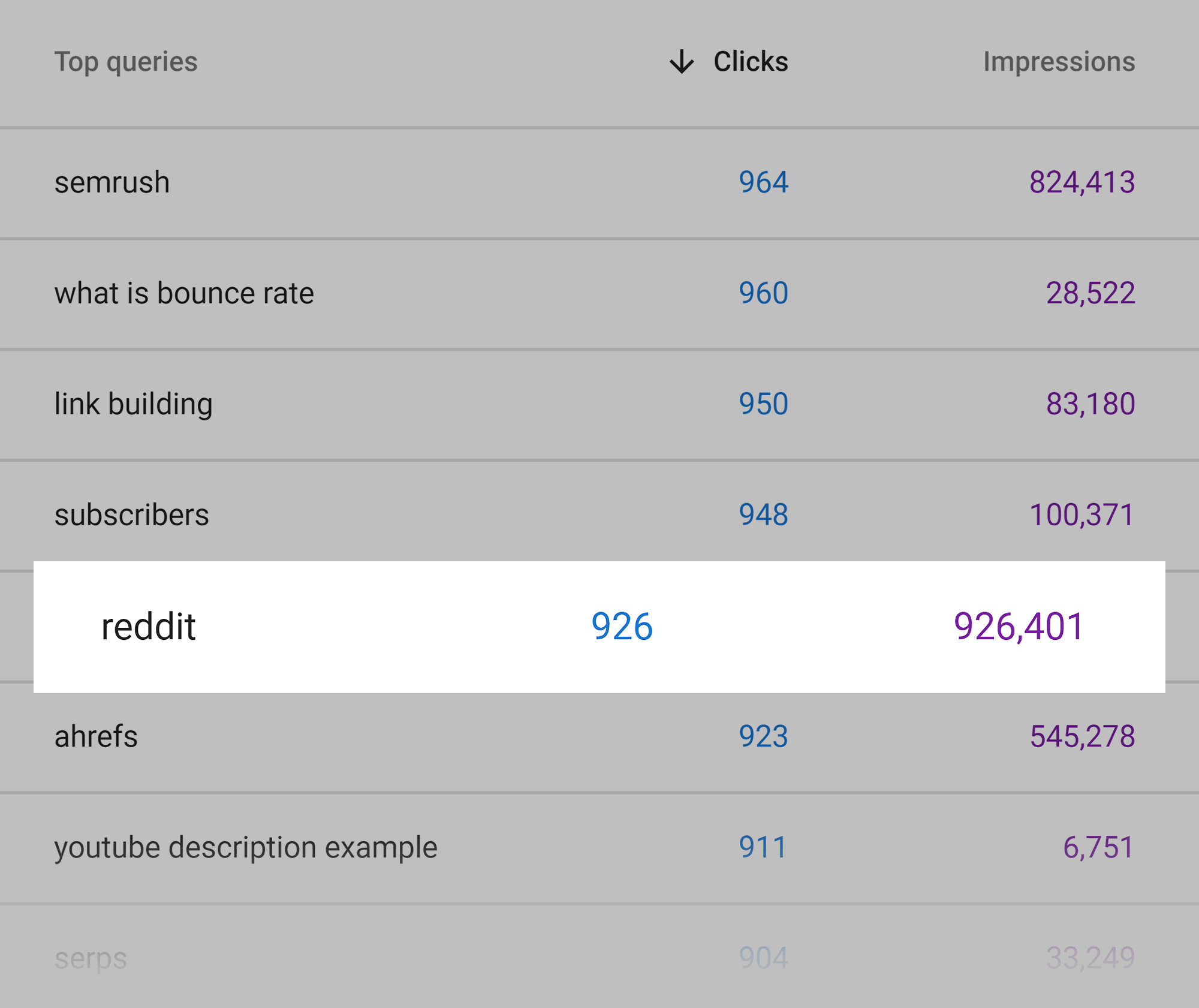 That has nothing to do with a subpar click-through rate. It's because I rank nowhere near the first page for that term. Nor will I ever.
But many times there ARE pages that get lots of impressions. And you have a chance to rank for. You just need to give that page some TLC.
Here's an example:
Clickflow also highlights pages with "content decay" (basically, pages that are fading).
When you click on that report, you get a full breakdown of pages that fall under that category. And how much organic traffic to that page has dropped off.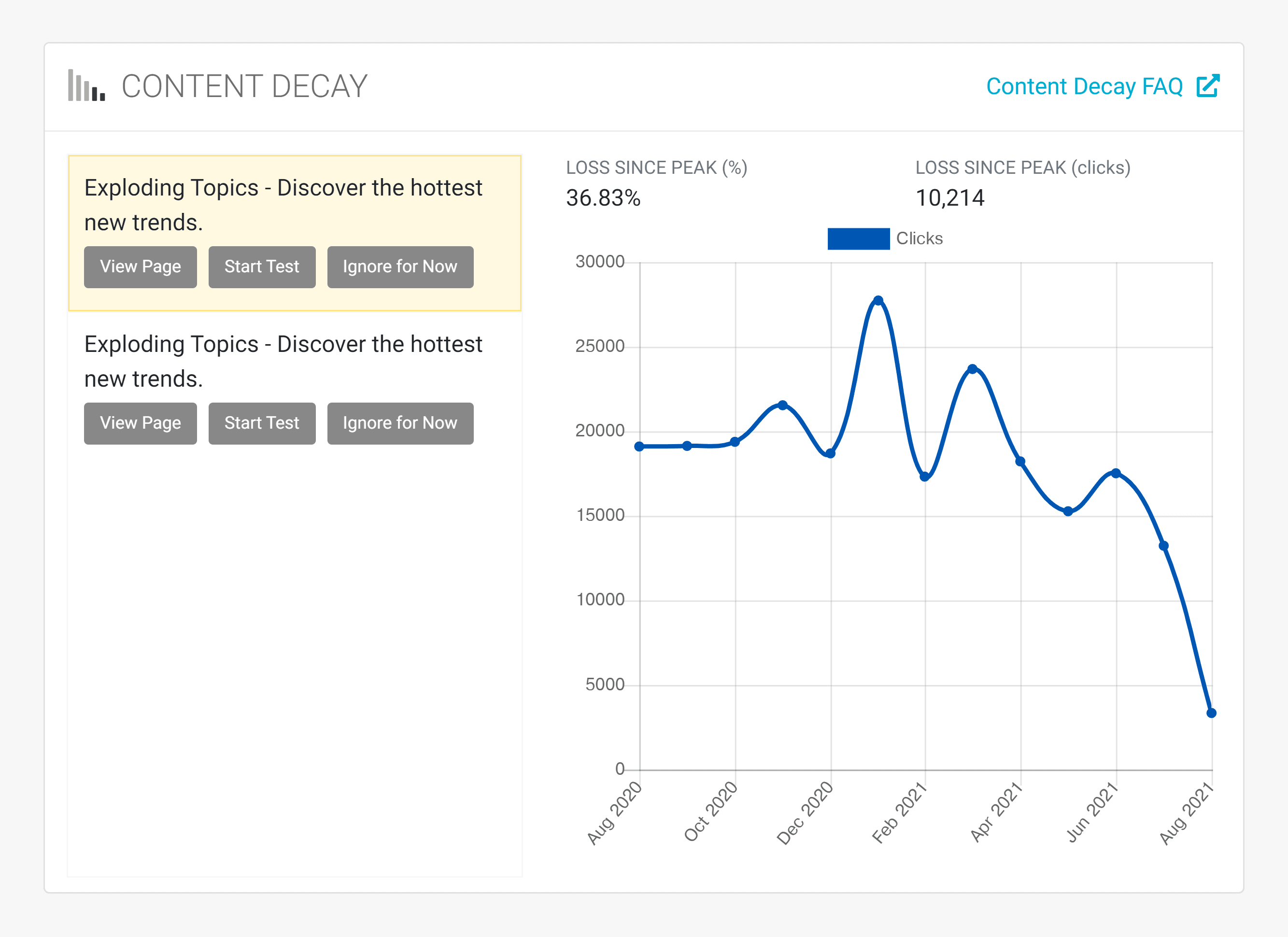 These two features are really designed to help show you where to get started with the tool itself.
So now that you've identified a few pages that need testing, it's time to jump into Clickflow's core features.
Content Editor
Clickflow's content editor essentially scans the SERPs for your target keyword. Finds terms that top-ranking pages use. And lets you know which terms you need to include in your content.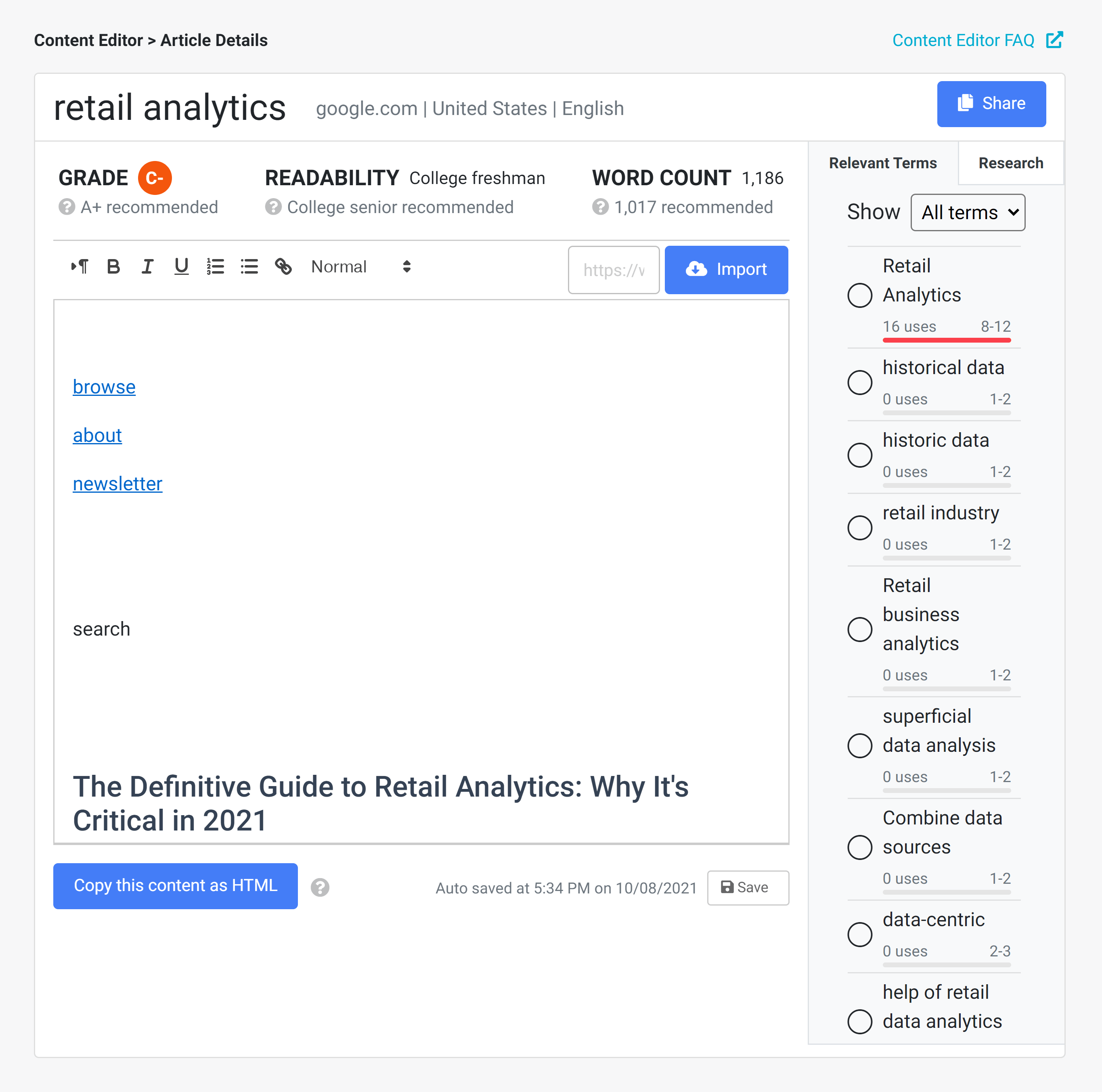 (Similar to Clearscope.)
This feature also lets you know the average word count of the top 10 results. That way, you know if you should go with a short article or long-form blog post for this piece.
In fact, this feature can help you write content briefs. That way, you can make sure your content hits the major themes it needs to hit before you start the editing process.
This is a pretty straightforward feature (in a good way). So I don't have a ton of say about it.
Let's move onto our next feature…
Content Decay
It's perfectly normal to have pages on your site that get a huge spike in traffic in the beginning.
Then fade as the buzz (and rankings) start to die down.
The issue is: finding these pages in Google Analytics is a huge pain!
Enter: Clickflow's content decay feature.
This page scans your Search Console. And identities pages that are showing a significant traffic drop.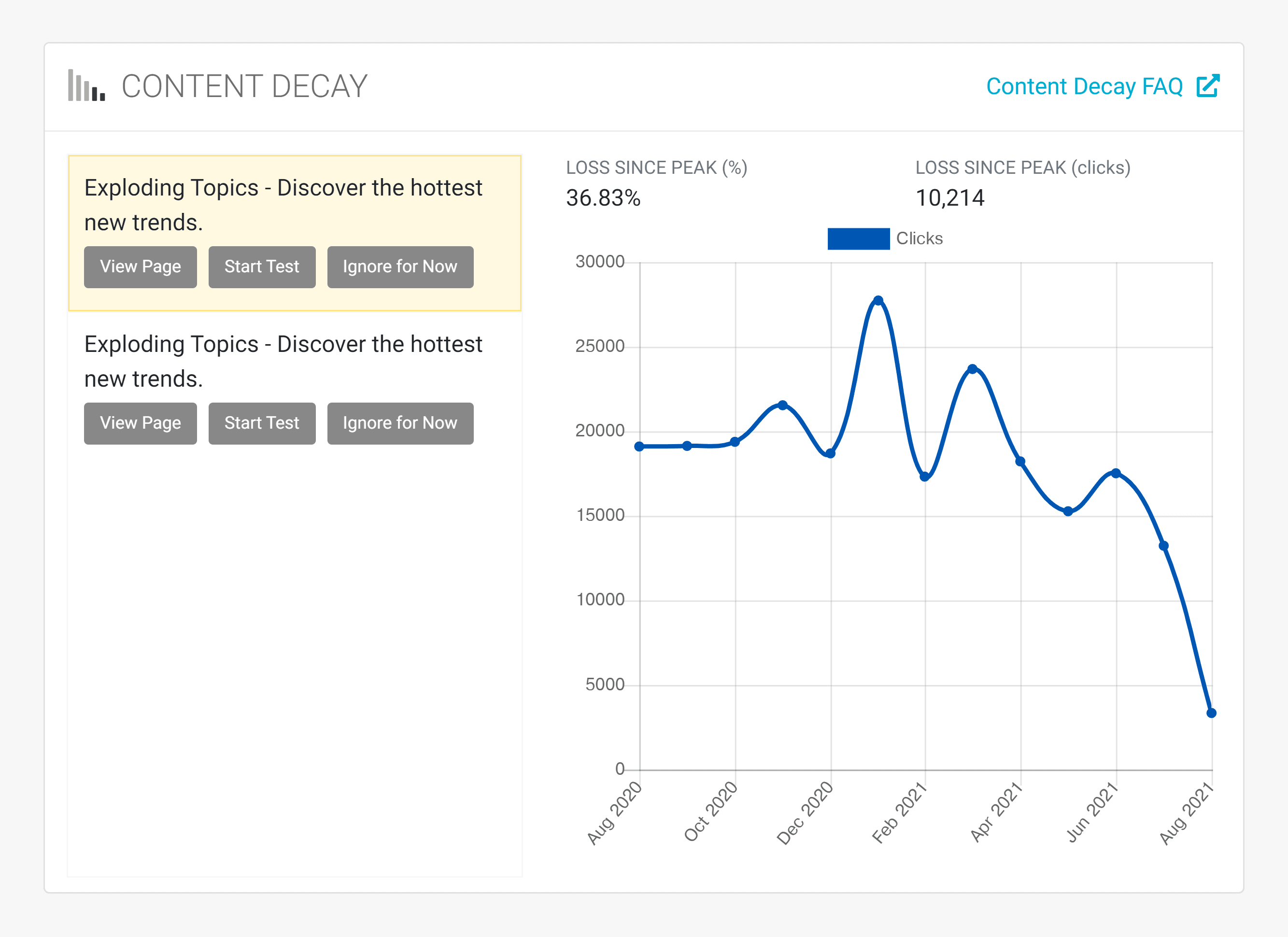 That way, you can update the content (if it's outdated). Improve the content (if it's not up to snuff anymore). Or re-promote the content (via the Content Relaunch method) if it needs another round of promo.
Experiments
This is the bread and butter feature inside of Clickflow.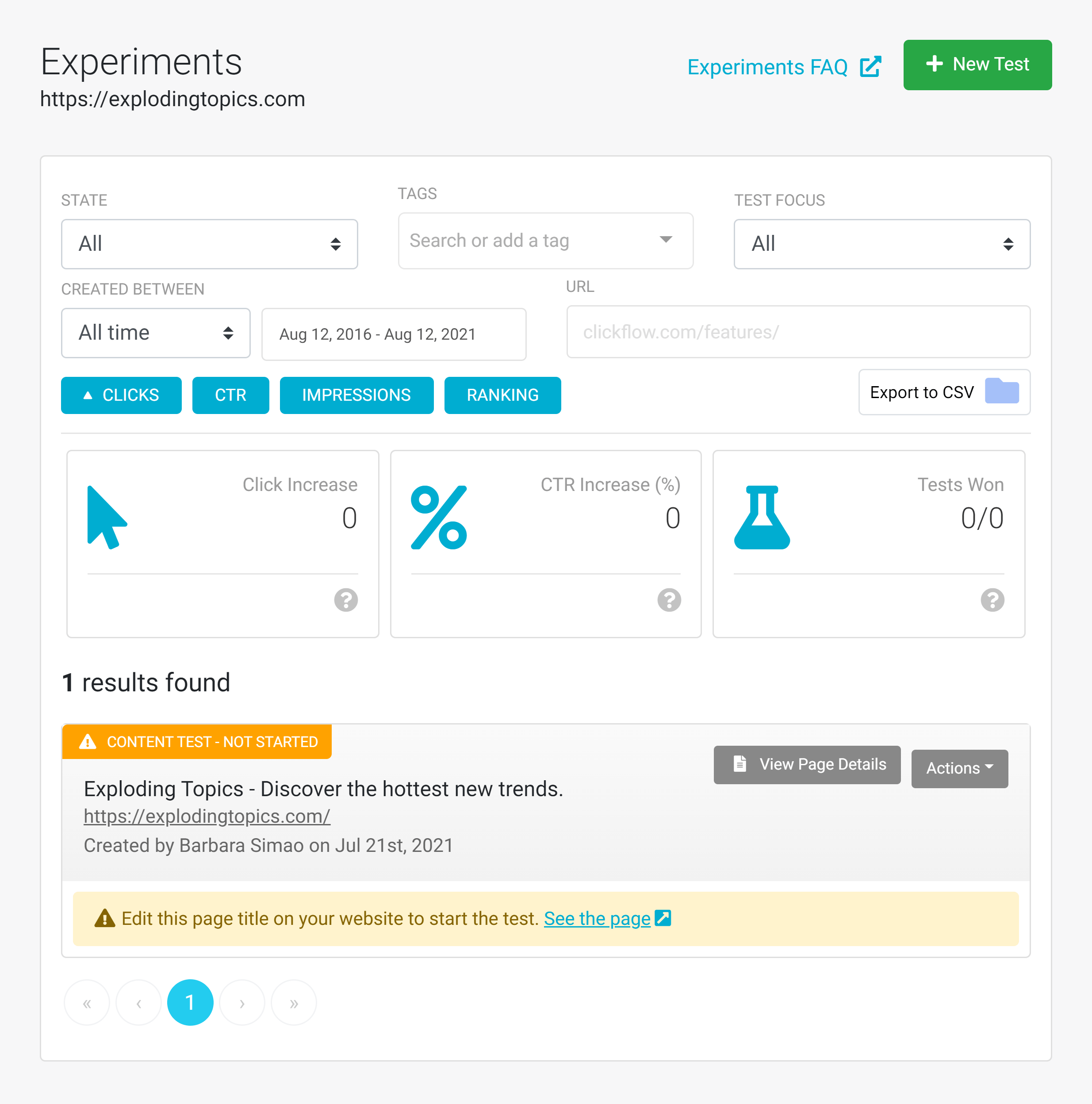 How it basically works is this:
You have a page on your site that you want to get more organic traffic to.
There are a million ways you can try to improve that page's rankings, from boosting its loading speed to building backlinks to the page.
But an underrated way to get higher rankings is to improve that page's organic click-through rate (CTR).
And yes, there are lots of best practices to follow when it comes to getting more clicks from Google.
(In fact, here's a study that outlines some of the important things to try first.)
That said, it's impossible to predict how a change to a title tag or meta description will impact your CTR.
I mean, we're talking about human behavior here… 🙂
That's why it's important to TEST each change that you make.
Back in the day, this was a nightmare to do manually. It involved spreadsheets. Lots of Google Analytics segments. Calendar reminders. And more.
Fortunately, starting a test in Clickflow is super duper simple.
All you need to do is tell Clickflow the change you made to the page. And it will begin to track that page's rankings and clicks over time.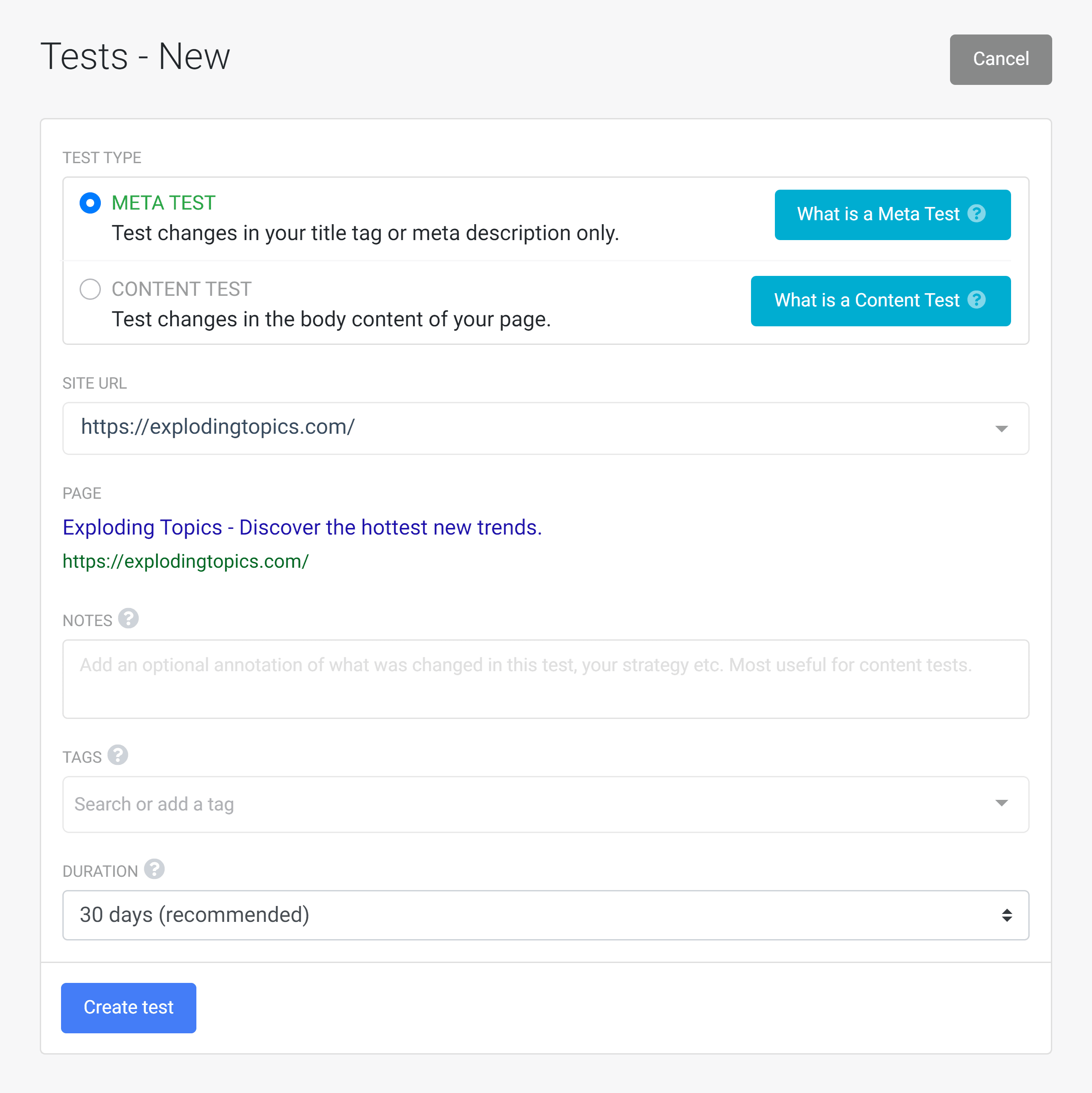 After 30 days, check back to see how your test performed. If the new version won, you can keep it as-is. Or run another test.
If the original version of the page outperformed the new one, then you probably want to start another test with new variables.
Clickflow Pricing
Clickflow has two plans: Starter and Professional.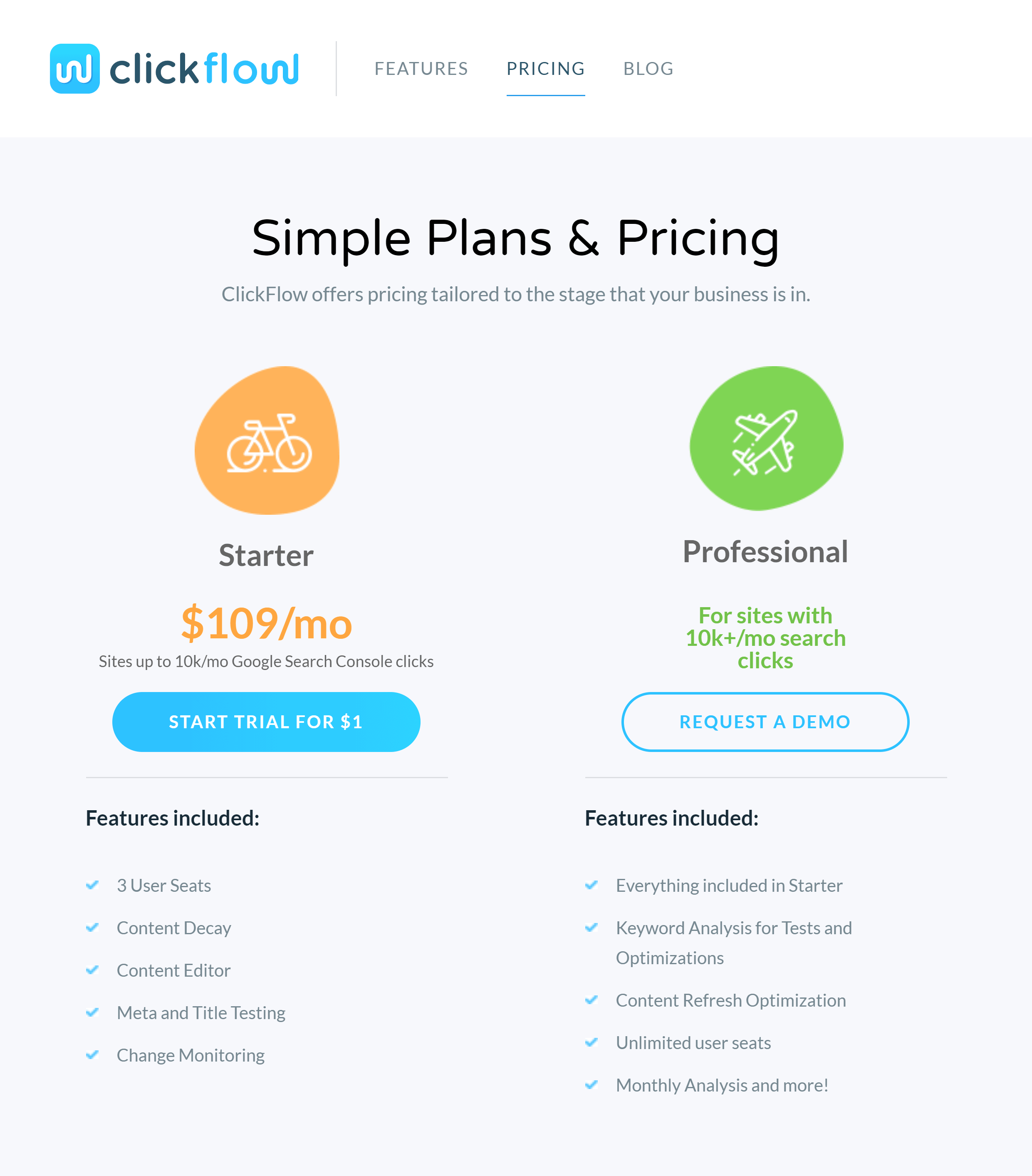 Starter is $109/mo. And covers sites with 10k or fewer clicks from Google per month.
Their Professional plan is essentially an enterprise plan (which is why they don't list pricing for that plan).
Clickflow Review: Is It Worth Trying?
In my opinion, Clickflow is a very solid SEO tool. And definitely worth using.
It fills a need that most SEO tools lack: optimizing your existing content. And it does it quite well.
The only situation where I wouldn't recommend Clickflow is if your site is relatively new.
Yes, you can technically split test new pages. And optimize them.
But the real value with Clickflow is to squeeze more juice out of your existing content.
So if your site has a decent library of content or landing pages, Clickflow is a tool that's 100% worth trying.
Now It's Your Turn
So that's my review of Clickflow.
Now I'd like to hear what you have to say:
Have you tried the tool before? If so, how did things go?
Leave a comment in the comments section below.