How Many People Use YouTube in 2023? [New Data]
by Brian Dean · Updated Mar. 27, 2023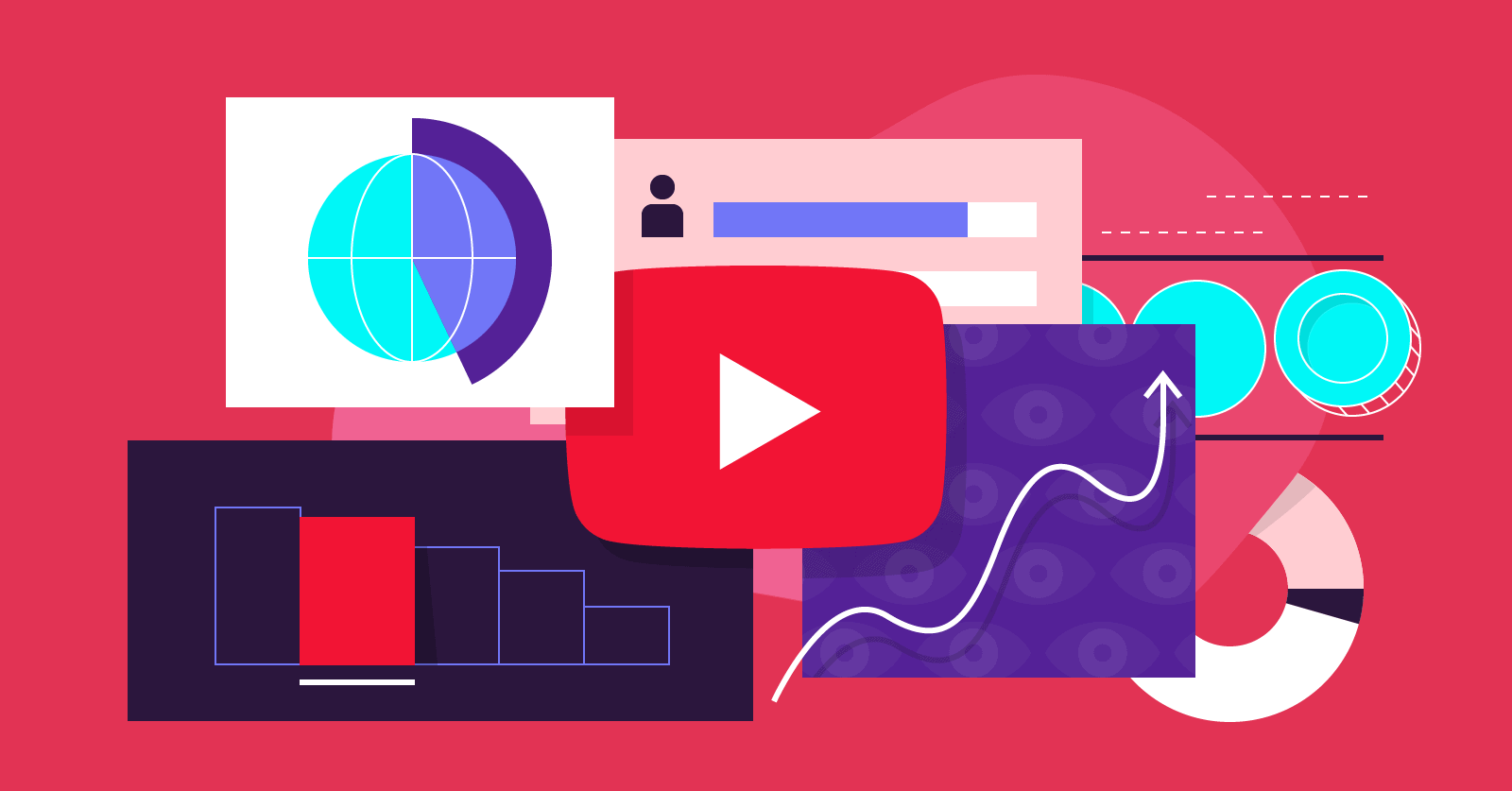 YouTube was officially founded on February 14th, 2005. The first video followed on April 23rd, with co-founder Jawed Karim publishing "Me at the zoo". The now-legendary 18 seconds of the film has been viewed over 126 million times.
With over 2 billion monthly active users, the platform has come a long way. In fact, nearly 43% of all global internet users access YouTube every single month.
This article is a one-stop shop for a variety of YouTube demographic and usage statistics.
Here's a summary of what you'll learn:
So now let's dive into the stats.
YouTube statistics (Top Picks)
YouTube currently has 2 billion users. Up from 800 million users in 2012.
42.9% of all global internet users access YouTube monthly.
Daily Active Users (DAUs): More than a billion hours of content is consumed on YouTube every single day.
YouTube's user count of 2 billion+ places it second on the list of most-used social media platforms. Only Facebook has more users.
India has the most YouTube users, estimated at 225 million. The United States follows, with 197 million.
Among the top 10 biggest viewers, the United Kingdom averages the most views per person.
YouTube is most popular among people aged 15-35.
Globally, more women than men use YouTube.
96.6% of YouTube channels have fewer than 10,000 subscribers.
Quarterly YouTube ad revenue is over $7 billion.
On average, individual creators receive between $3-$5 per 1000 views.
Monthly active users (MAUs)
Monthly active users is a statistic denoting how many unique visitors YouTube receives in a given month. This figure only measures  logged-in users, so the actual numbers may be even higher.
YouTube has over 2 billion monthly active users. Among these, there are more than 30 million paid subscribers, taking into account YouTube's Premium and Music services.

Just over a quarter of the world's population accesses YouTube every month.
42.9% of the online global population are YouTube monthly active users.
Of all the active mobile internet users, 46.7% log on to YouTube monthly.
Sources: YouTube, Worldometers, Statista, CNBC
Daily active users (DAUs)
Daily active user statistics relate to YouTube usage on any given day. While monthly stats give a good idea of the overall user base, daily figures can show how many people log on to YouTube as part of their everyday routine.
62% of U.S. YouTube users access the site daily. This amounts to more than 122 million people.

Worldwide, users watch more than 1 billion hours of content every day.
An average visitor spends 16 minutes and 44 seconds per day on YouTube.
Daily statistics for creators show the sheer scale of YouTube. Each minute, more than 500 hours of new content is uploaded. That's 720,000 hours of new videos per day.
Sources: Statista, YouTube, Alexa
YouTube's user growth
YouTube currently has over 2 billion users. Which means close to half of the global online population are YouTube users. So how did the video sharing platform get to this point?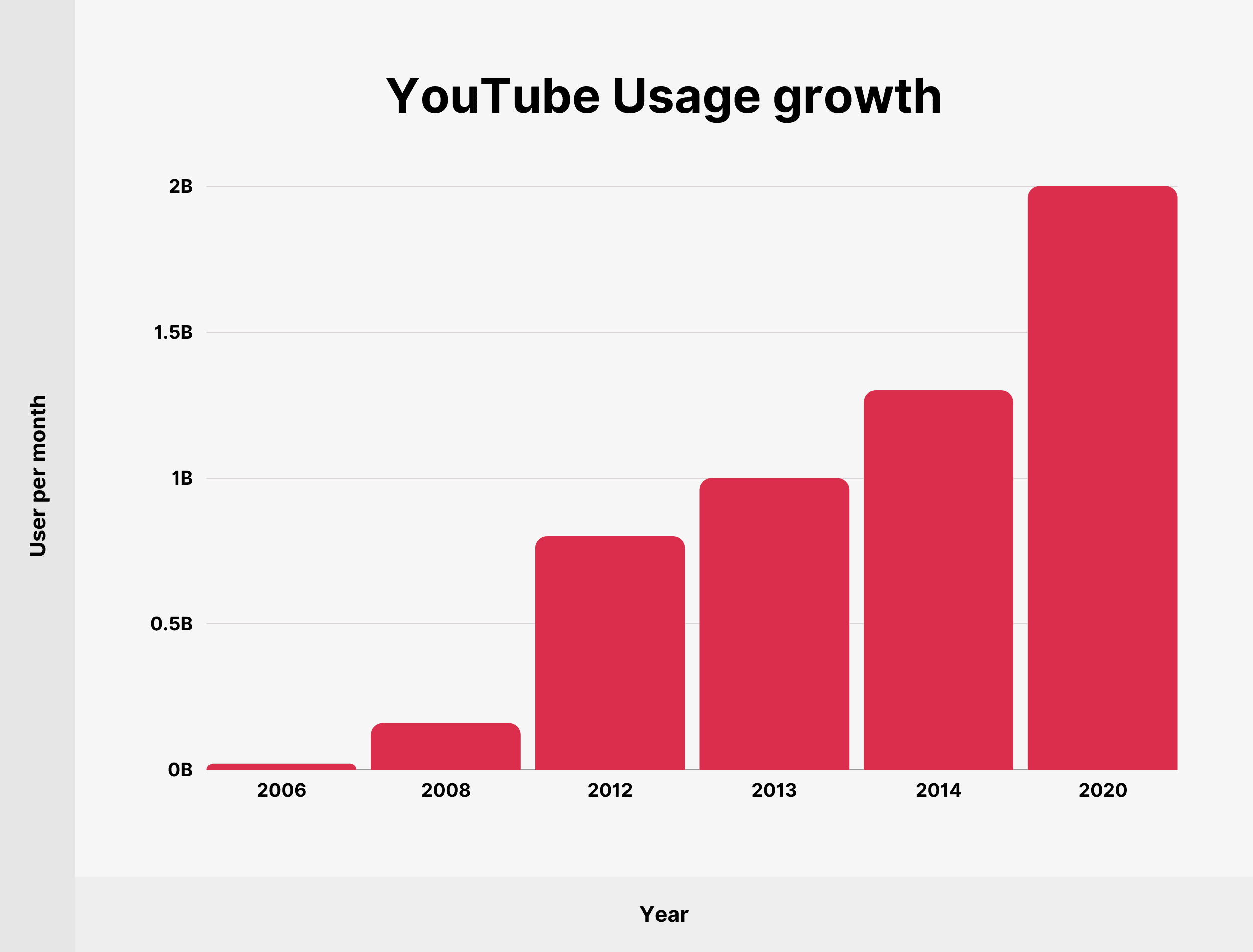 There isn't any official consolidated data on YouTube's user growth rate over time, but we can get a reasonable idea by pulling various sources together. Here are some milestones in terms YouTube's user growth.
| Year | Users Per Month |
| --- | --- |
| 2006 | 20 million |
| 2008 | 160 million |
| 2012 | 800 million |
| 2013 | 1 billion |
| 2014 | 1.3 billion |
| 2020 | 2 billion |
YouTube currently ranks 2nd overall in terms of overall traffic. The only website to receive more traffic is that of its parent company, Google.
Sources: USAToday, Core, The New Yorker, CNBC, SiliconBeat, YouTube, Alexa
YouTube Users by Country
YouTube is localized in over 100 countries. It can also be used in 80 different languages. Clearly, the video sharing platform has become a truly global phenomenon. But how do usage statistics break down by country?
India has the most active YouTube users. At least 225 million people living in India are YouTube users – that's around 16% of the population. The USA comes in second on raw user count, but that translates to a much higher proportion of the country.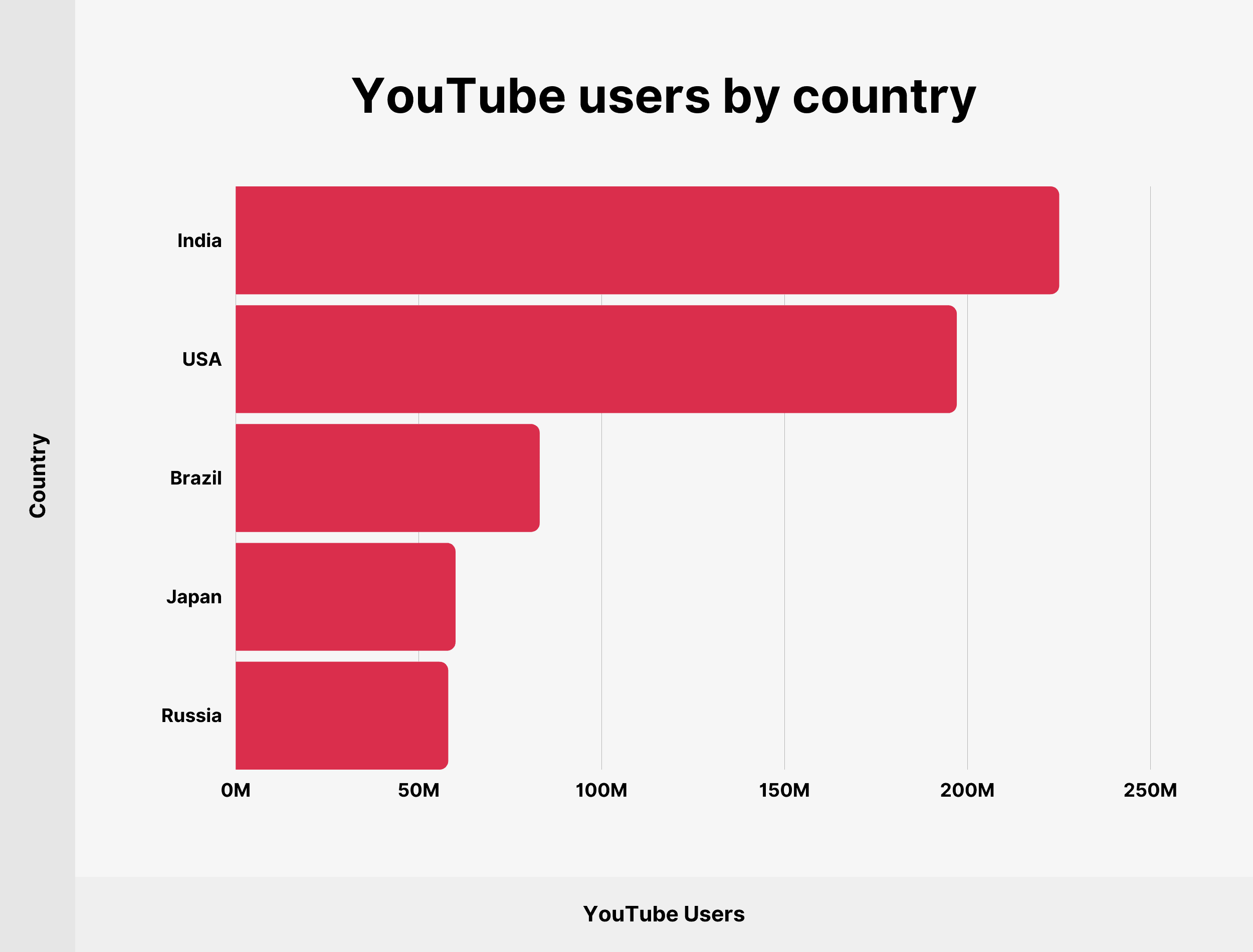 Almost 73% of the entire US population aged 15+ are users, rising to 77% among 15-35 year-olds.
Here are the top five countries by total estimated number of YouTube users:
| Country | YouTube Users |
| --- | --- |
| India | 225 million |
| USA | 197 million |
| Brazil | 83 million |
| Japan | 60 million |
| Russia | 58 million |
But this breaks down differently when looking at the total number of video views from each country. In this metric, the US wins by a longshot – the figure is approaching a remarkable 1 trillion views. That's some way ahead of India, where views sum to just over 500 billion. This shows that the average US user is watching far more videos than the average Indian user.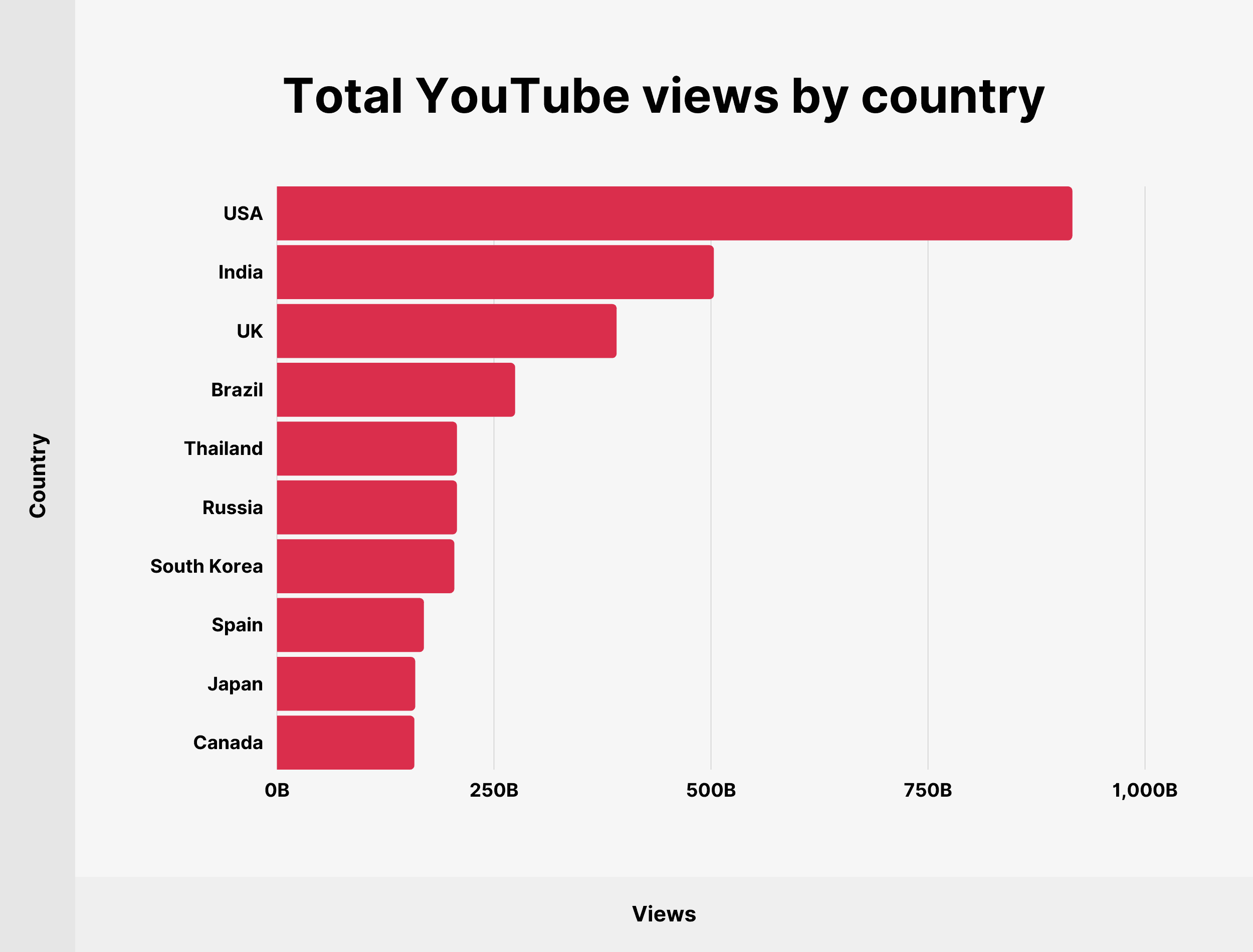 Here is the top ten, sorted by total views:
| Country | Views | Population |
| --- | --- | --- |
| USA | 916 Billion | (~ 2767x total population) |
| India | 503 billion | (~ 363x total population) |
| UK | 391 billion | (~ 5750x total population) |
| Brazil | 274 billion | (~ 1286x total population) |
| Thailand | 207 billion | (~ 3000x total population) |
| Russia | 207 billion | (~ 1428x total population) |
| South Korea | 204 billion | (~ 4000x total population) |
| Spain | 169 billion | (~ 3596x total population) |
| Japan | 159 billion | (~ 1262x total population) |
| Canada | 158 billion | (~ 4158x total population) |
These statistics reveal that the United Kingdom average the most views as a proportion of the overall population. It is the equivalent of every single British and Northern Irish person viewing 5750 videos! Canada, South Korea, Spain and the USA also have viewing figures significantly higher than the overall population.
Sources: Global Media Insight, Statista, ChannelMeter, Worldometers
Ranked 2nd: Most Used Social Media Platforms Worldwide
In 2020, YouTube is ranked second amongst all global social media platforms. Sorted by the number of active users, it is beaten only by Facebook.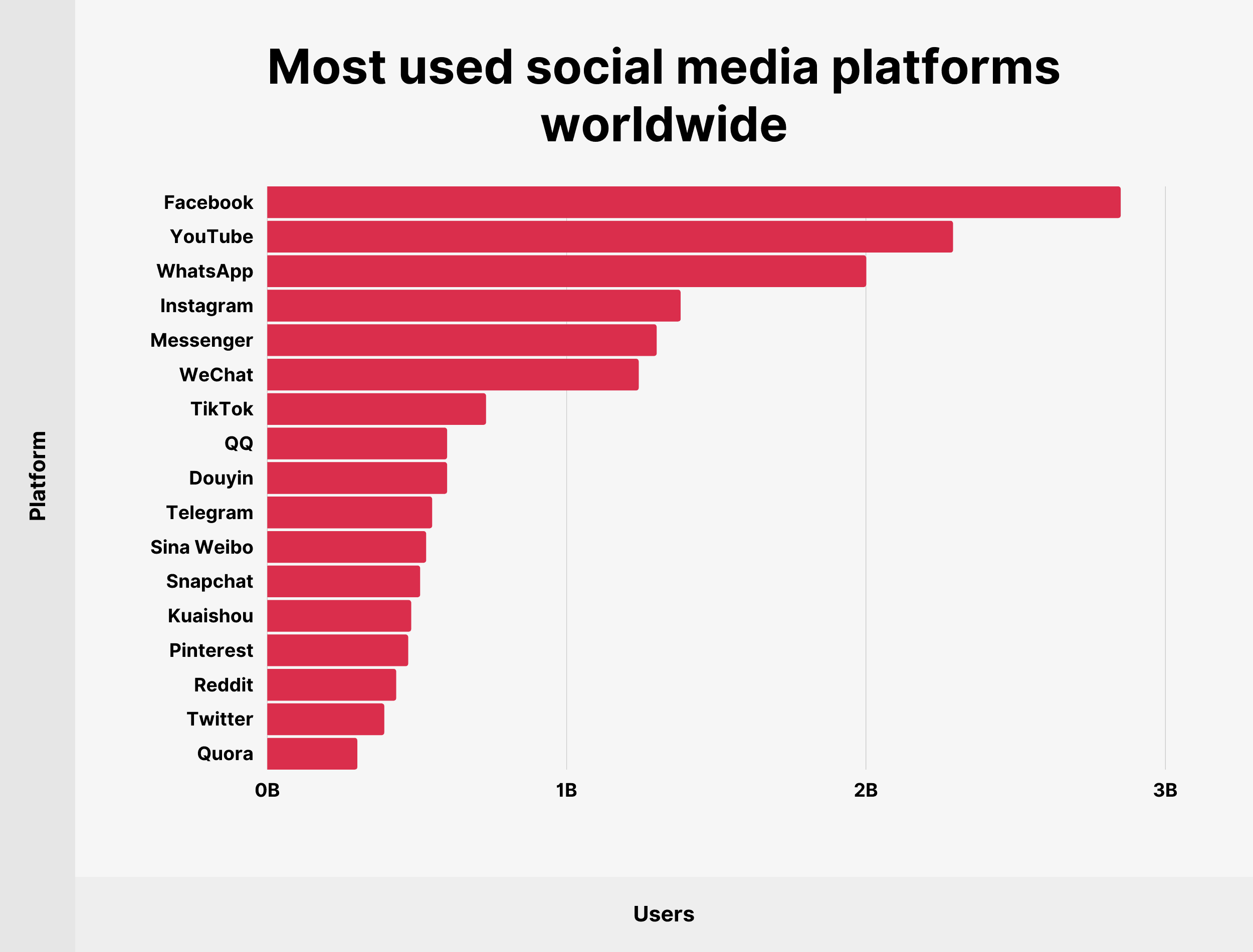 TikTok's ascent to 730 million users occurred in just four years. It took YouTube almost seven years to hit the same milestone – so if that meteoric growth continues, we may yet see some movement towards the top of this table.
For context, there are just shy of 4.5 billion active social media users globally. So YouTube is one of just two sites that can claim to have captured at least a 50% share of all social media users.
| Platform | Users |
| --- | --- |
| Facebook | 2.85 billion |
| YouTube | 2.29 billion |
| WhatsApp | 2 billion |
| Instagram | 1.38 billion |
| Messenger | 1.3 billion |
| WeChat | 1.24 billion |
| TikTok | 732 million |
| QQ | 606 million |
| Douyin | 600 million |
| Telegram | 550 million |
| Sina Weibo | 530 million |
| Snapchat | 514 million |
| Kuaishou | 481 million |
| Pinterest | 478 million |
| Reddit | 430 million |
| Twitter | 397 million |
| Quora | 300 million |
Sources: Statista, Data Reportal
YouTube User Demographics
Given that YouTube has 2 billion users, it can be safely said that people from a whole range of demographics use the site. But user breakdowns can give an idea of the groups of society where YouTube is the most popular.
YouTube Gender Demographics
82% of all adult men in the USA use YouTube, compared to 80% of women. But globally, more than 50% of YouTube users are female.
Any content creators without a specifically gendered target market should therefore be looking to make videos with a relatively even male/female viewer split in mind.
Sources: Pew Research, Think with Google
YouTube Age Demographics
Among US adults aged 18-29, 95% use YouTube. This makes Millennials and Gen Z the biggest users of YouTube by proportion. The full breakdown is as follows:
| Age | Proportion |
| --- | --- |
| 18-29 | 95% |
| 30-49 | 91% |
| 50-64 | 83% |
| 65+ | 49% |
That being said, the growth rate of users aged 55+ is approximately 80% higher than the overall user growth rate. And one ComScore study estimated that YouTube reaches up to 95% of those aged 55+ in a month, even though some may not be users.
Sources: Statista, Think with Google, Pew Research
YouTube Location Demographics
US adults living in urban areas are more likely to use YouTube. 84% of city-dwellers are users, dropping to 81% in suburbia and 74% in rural locations.
Sorted by country, India has the most YouTube users. The USA follows, with Brazil, Japan and Russia in third.
Sources: Pew Research, Global Media Insight
YouTube Income Demographics
In the USA, YouTube is most popular among high earners. 90% of those earning $75,000 or more say that they sometimes visit YouTube.
Among Americans with an income of $30,000-$49,999 income, 83% are Youtube users, and dropping to 79% among US adults with an income of between $50,000 and $74,999. That figure drops again for those earning under $30k, with 75% of this group using YouTube.
Source: Pew Research
YouTube user education level data
These statistics reveal a correlation between YouTube usage in the USA and higher levels of education.
70% of adults with a high school education or less use the video-sharing platform. This rises to 86% for those with some college education. Among those with more than a college education, 89% use YouTube.
Source: Pew Research
YouTube usage by device
In YouTube's early days, PCs and laptops were the only real viewing options. But the digital landscape has changed hugely since 2005. Smartphones and smart TVs have altered how people interact with the world – and with YouTube specifically.
The YouTube mobile app has over 5 billion downloads on the Google Play store. It is therefore unsurprising that YouTube's internal figures suggest that more than 70% of all views come from mobile devices.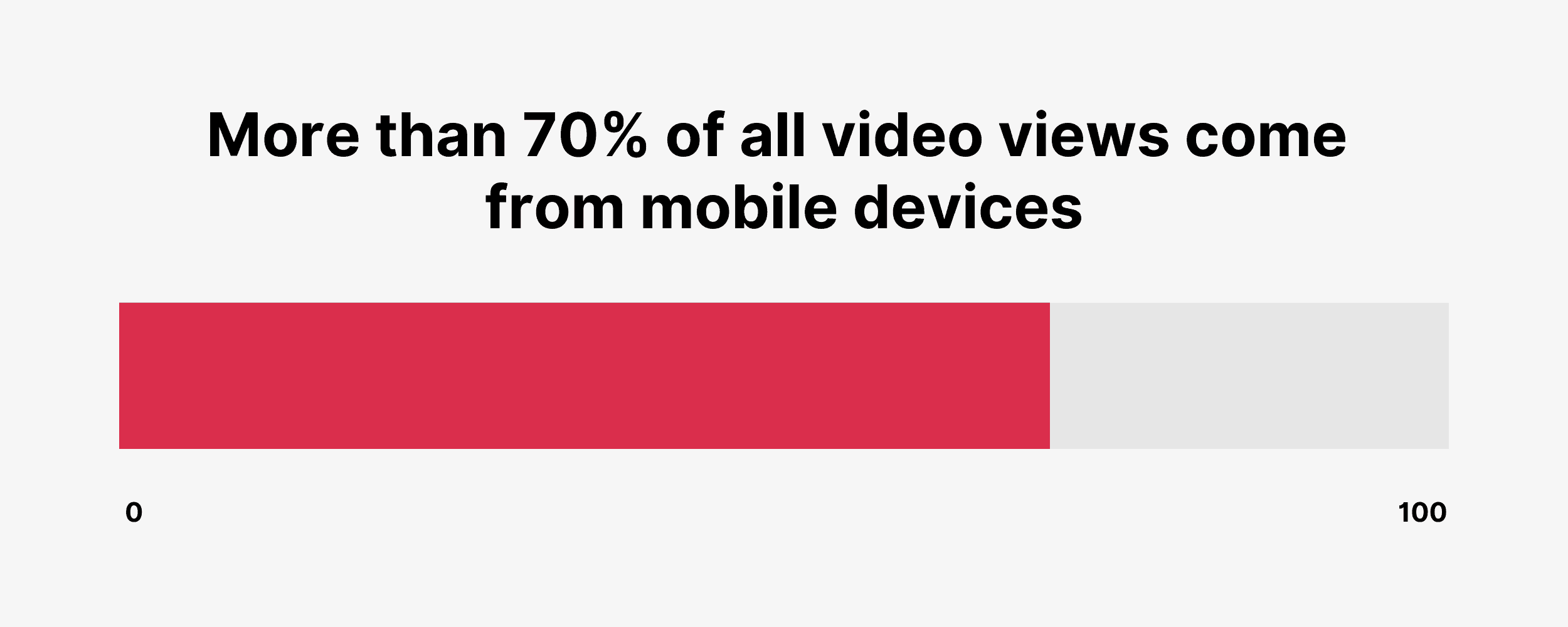 Interestingly, accessing YouTube via a TV is also increasingly popular. The company has stated that 450 million hours of content per day is watched on a television screen. That can be largely attributed to more TVs and game consoles with integrated YouTube functionality.
These numbers also suggest that the latest available figures – 1 billion total hours watched per day – may be significantly higher in reality.
Sources: Google Play, Variety, TubeFilter
Average number of channel subscribers
YouTube has approximately 38 million channels. Subscriber numbers vary hugely. They range from single digits to over 100 million.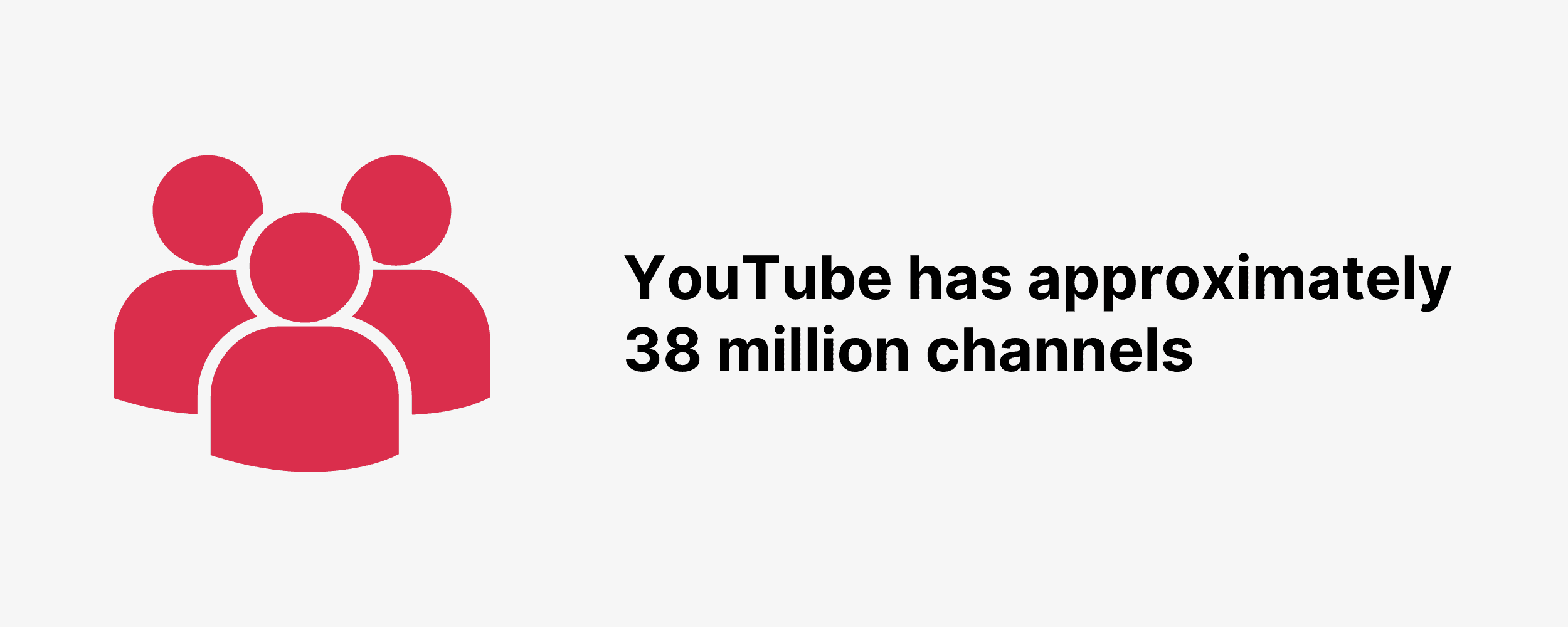 An exact average is hard to find. But it is definitely hard to make it big on YouTube. Around 96.6% of YouTube accounts have fewer than 10,000 subscribers. And 84.2% of channels have fewer than 1,000.
Roughly 230,000 channels have cracked the 100k subscriber mark. The rarified air of 1 million+ subscribers is only shared by about 22,000 channels.
Source: Tubics
Most-subscribed YouTube channels
T-Series, India's largest music label, is the most-subscribed YouTube channel. Here is the top 10: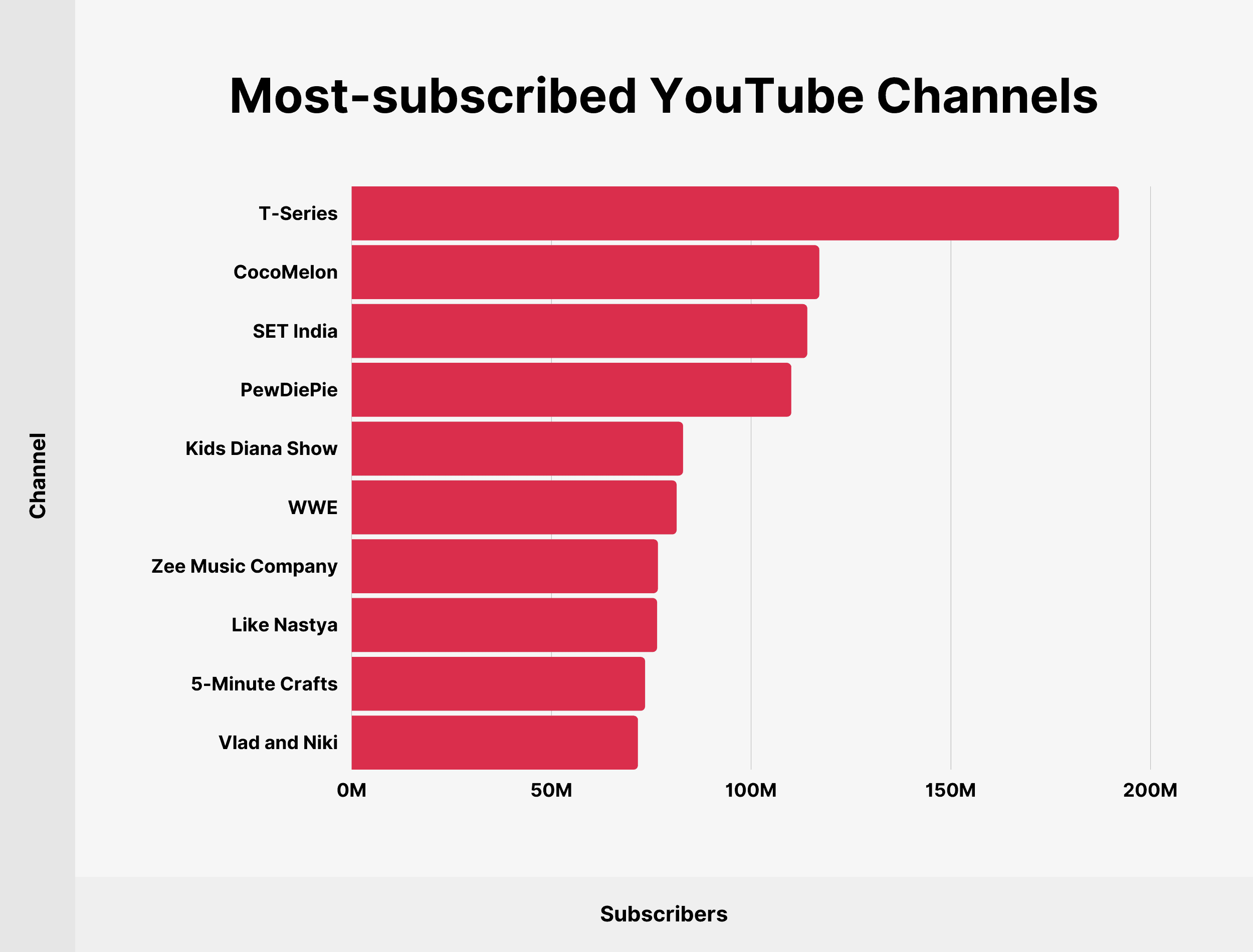 And here are the exact subscriber numbers:
| Channel | Subscribers |
| --- | --- |
| T-Series (music) | 192 million |
| CocoMelon – Nursery Rhymes (education) | 117 million |
| SET India (entertainment) | 114 million |
| PewDiePie (entertainment) | 110 million |
| Kids Diana Show (film) | 82.9 million |
| WWE (sports) | 81.3 million |
| Zee Music Company (music) | 76.6 million |
| Like Nastya (entertainment) | 76.4 million |
| 5-Minute Crafts (howto) | 73.4 million |
| Vlad and Niki (entertainment) | 71.6 million |
Source: SocialBlade
Most-viewed videos
Baby Shark Dance is the most viewed YouTube video of all time, reaching over 9.2 billion hits.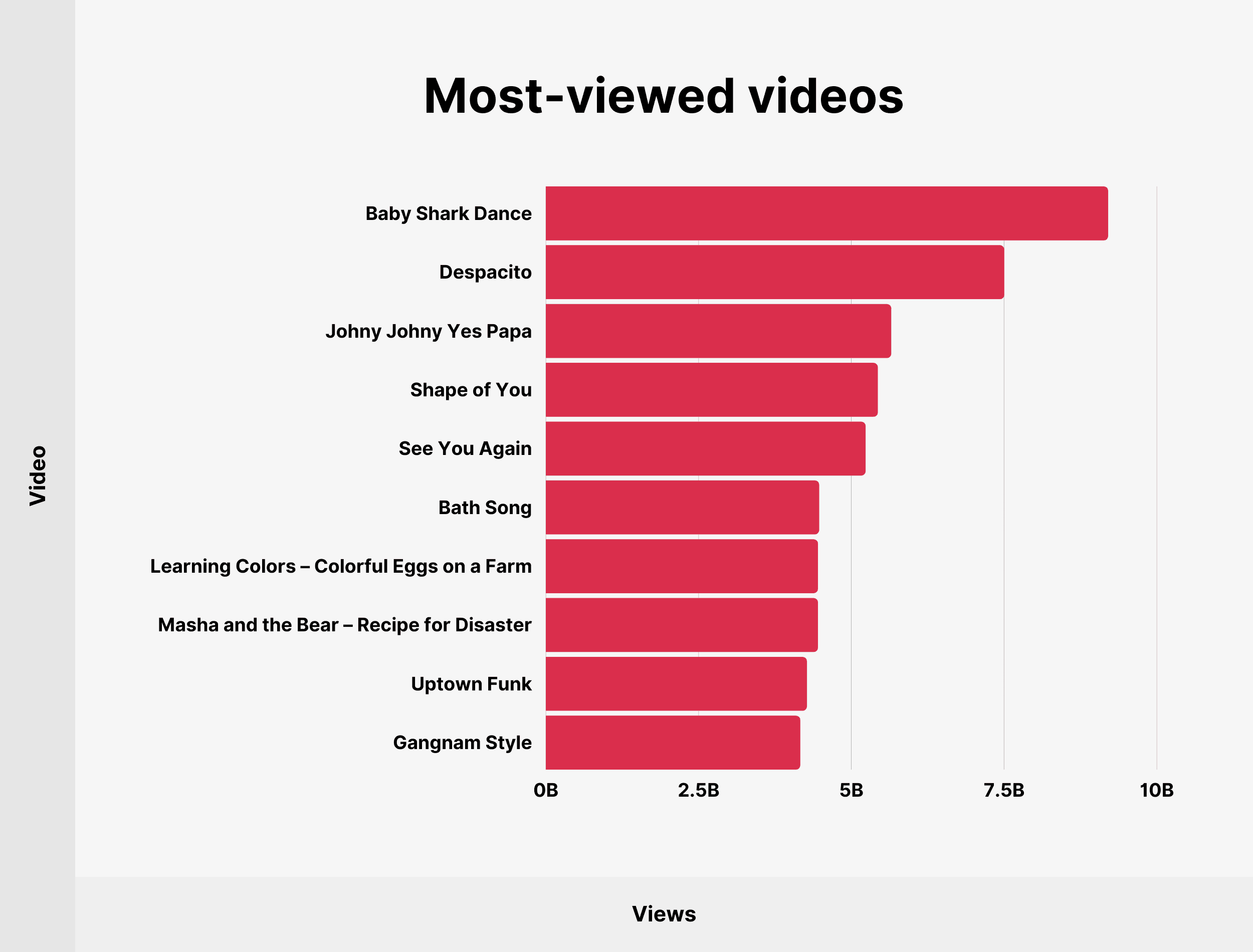 The top 10 is dominated by music. It looks like this:
| Video | Views |
| --- | --- |
| Baby Shark Dance (music, kids) | 9.2 billion |
| Despacito (music) | 7.5 billion |
| Johny Johny Yes Papa (music, kids) | 5.65 billion |
| Shape of You (music) | 5.43 billion |
| See You Again (music) | 5.23 billion |
| Bath Song (music, kids) | 4.47 billion |
| Learning Colors – Colorful Eggs on a Farm (music, kids) | 4.45 billion |
| Masha and the Bear – Recipe for Disaster (children's show) | 4.45 billion |
| Uptown Funk (music) | 4.27 billion |
| Gangnam Style (music) | 4.16 billion |
Source: Statista
YouTube by the money
In November 2006, Google purchased YouTube for $1.65 billion in stock. At the time, this was considered a hugely risky investment. Now, it earns more than 3x this in ad revenue – quarterly.
YouTube advertising revenue amounted to $13.007 billion in the first half of 2021, a 65.69% year-on-year increase.
YouTube's ads brought in $19.77 billion in revenue throughout 2020, accounting for a 10.83% share of Alphabet's overall revenue. For comparison, this was up from an estimated $3.7 billion in 2012: an increase of 434.32% in 8years.
These figures don't even include money from subscriptions. YouTube Premium and Music services have an estimated 30m combined subscribers. Alphabet doesn't release official figures for this revenue stream but for context a Music subscription in the USA costs $9.99 per month. If all subscriptions were on this cheaper package and paid in US dollars, that would be another $3.6 billion annually.
Regional subscription prices vary hugely in reality. YouTube Premium costs the equivalent of just $1.79 per month in India, but rises as high as $19.01 in Denmark.
In terms of individual YouTubers, revenue comes from a share of advertising money. Creators are paid 68% of advertising revenue. Actual figures vary significantly, dependent on factors such as engagement rate, but as a rough average channel owners can earn between $3 and $5 for every 1000 video views.
According to PayScale, employees at YouTube have an average salary of just over $91,000. The total staff amounts to approximately 10,000 people.
Sources: Alphabet Investor Report, Wall Street Journal, Kodino, Influencer Marketing Hub, PayScale, Owler
Conclusion
You made it! That's the end of my list of YouTube user statistics.
Hopefully, you found these facts and figures informative. Lots of the YouTube stats beyond their press page require some hunting down, but I've done my best to put a good selection together in one place.
Now I'd like to hear from you:
Any questions? Or anything you'd like to see added to this YouTube roundup?
Either way, please let me know in the comments below.