9 Proven Ways to Get SEO Clients
by Brian Dean · Updated Jan. 04, 2021
Today you're going to learn exactly how to get more SEO clients.
The best part?
The strategies in this post are all super actionable.
Which means you can put them into practice today.
Let's get started.
1. Do Free SEO Site Audits
When I launched my first SEO agency over 10 years ago, I had a website.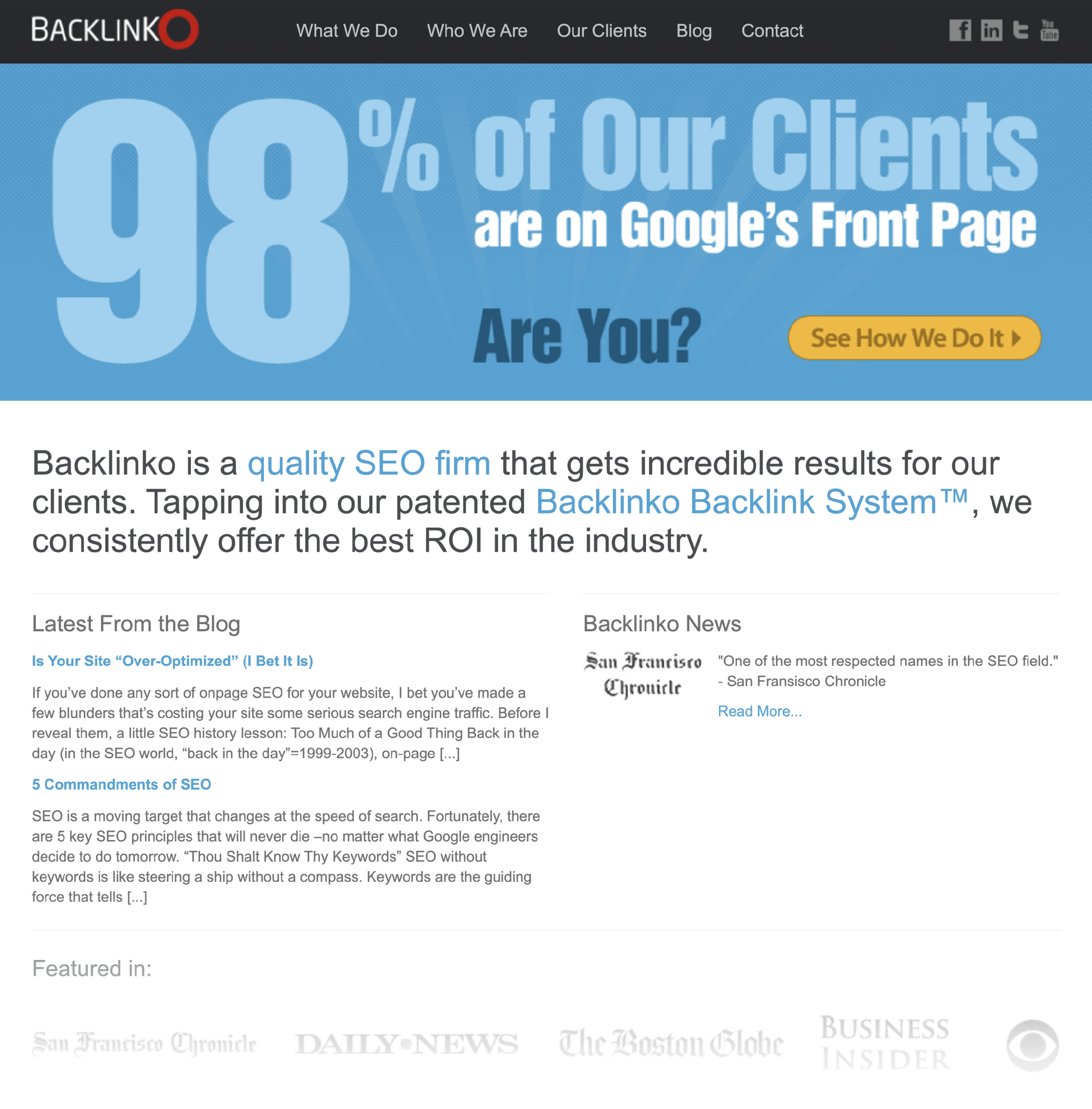 And not much else.
No leads.
No clients.
Just a website and a vague idea of the SEO services that I wanted to offer.
So the first thing I did was a search for small businesses that were struggling with SEO.
(Fortunately, 95%+ of small business sites have serious SEO issues. Which means it's usually super easy to find a site that needs help with their SEO).
In my case, I wasn't serving a specific state or city.
So I just searched for keywords that bring up sites in industries that tend to have enough revenue to spend on SEO.
Here's an example: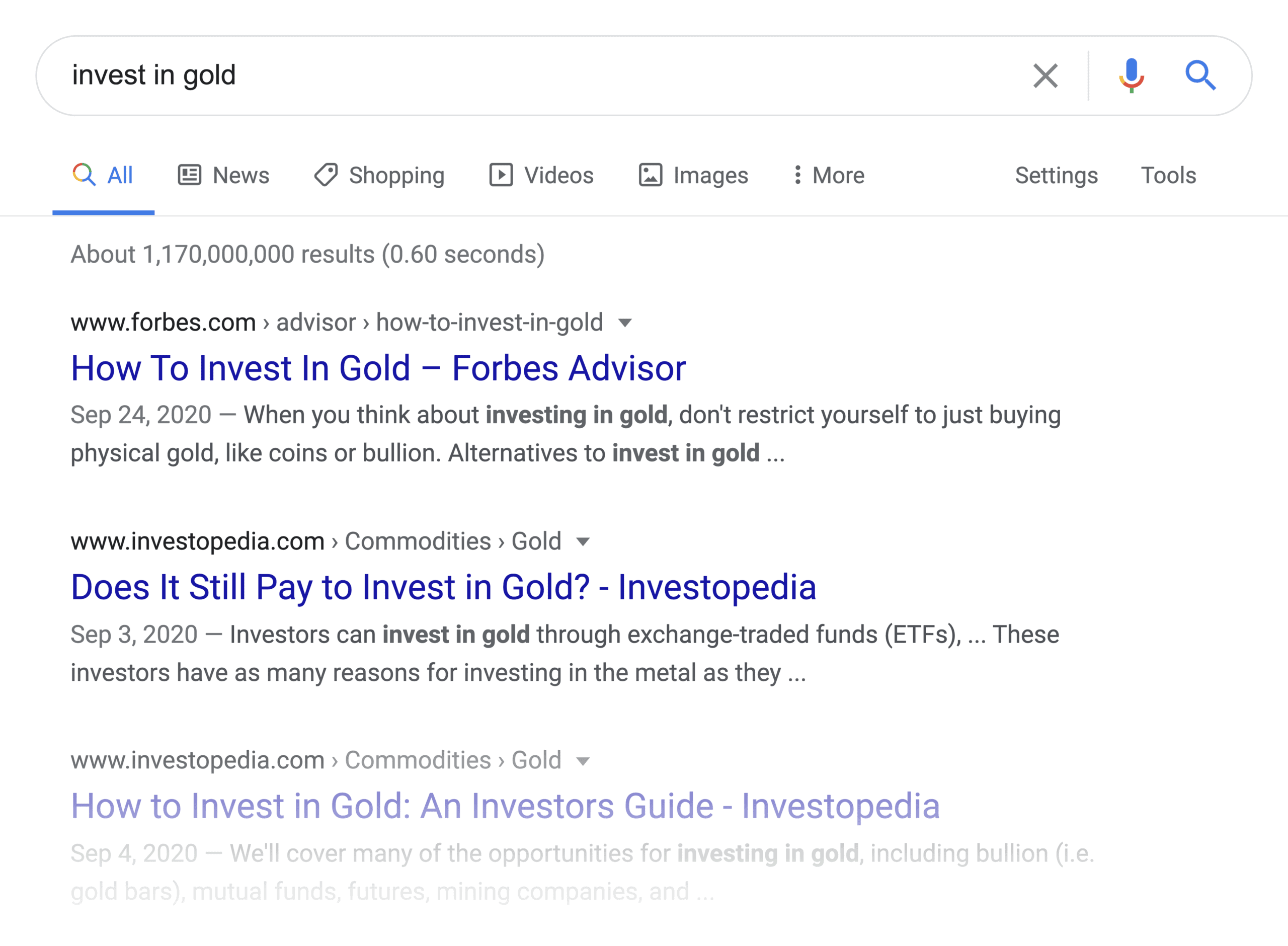 Then, I'd go to the 5th page. And run a quick SEO audit on each site.
And I'd reach out to each site with the results from that audit.
Now: this obviously took a lot more work than cold emailing 1000 prospects.
But my conversion rate was REALLY good. After all, I was already delivering value on Day 1.
If you're looking for local SEO clients, this process is even easier. You just need to do a search like this: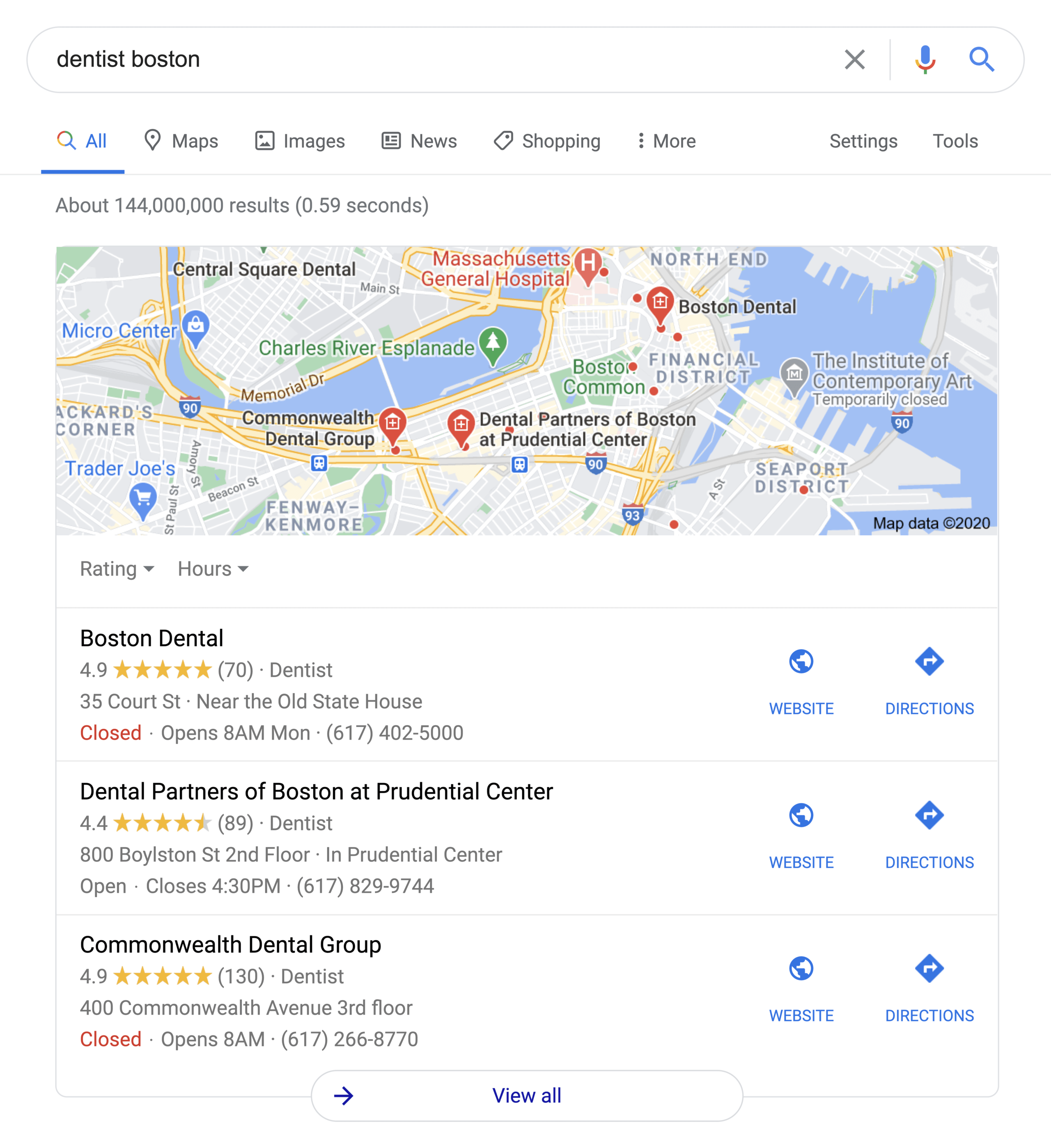 And reach out with their SEO audit results. But this time, you also want to mention that you're local.
That way, the potential client sees you as a helpful neighbor. Not some shady SEO agency.
2. Specialize in a Specific Niche
Having a niche is one of the things that helped my new agency stand out right away.
In my case, I made my niche "contextual link building".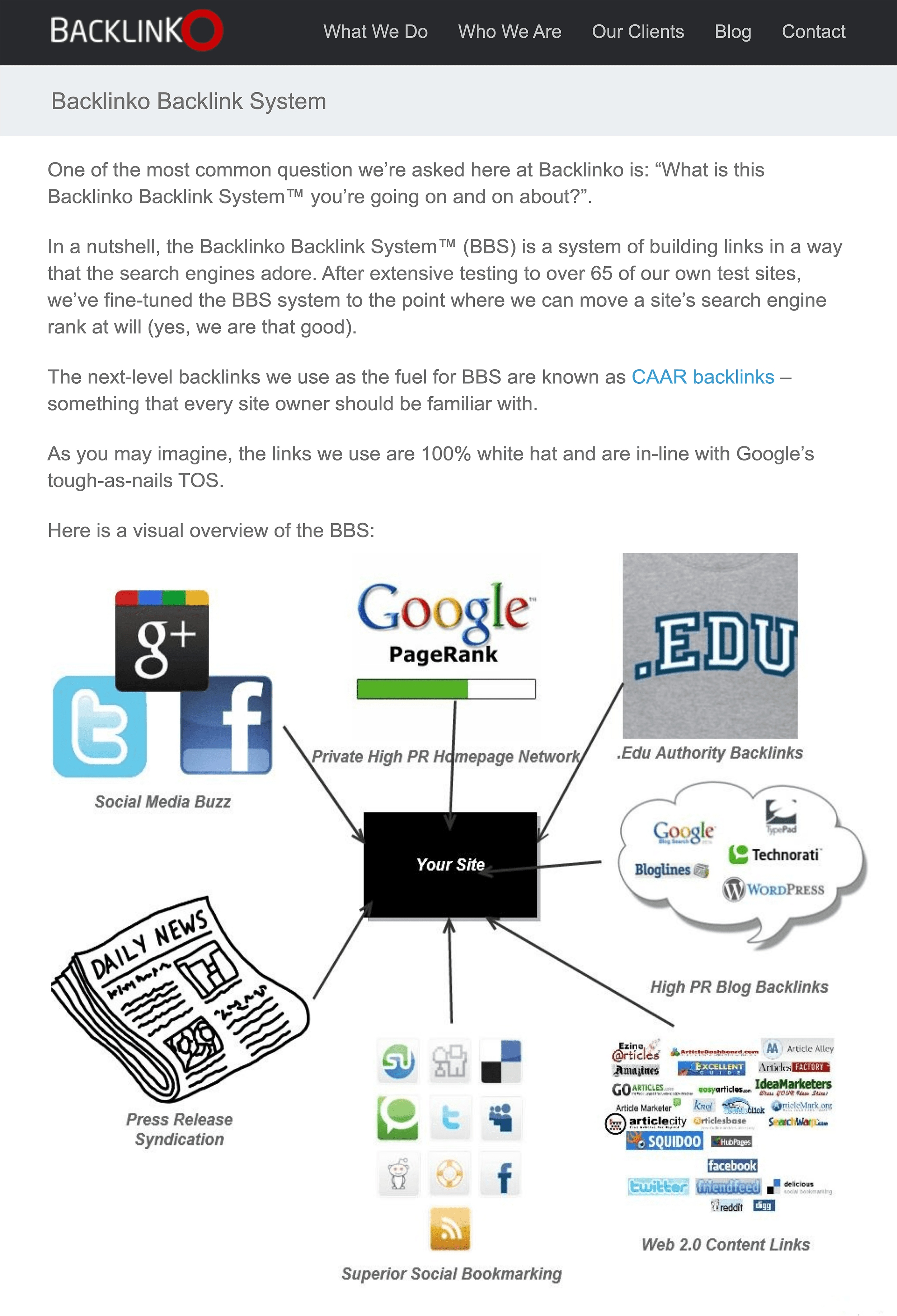 In other words: I specialize in getting our clients backlinks that actually moved the needle.
Needless to say, having a niche can help ANY business stand out. But it's especially important for digital marketing agencies.
Why?
Because basically every agency has the same look, feel, branding, offer, and pricing.
For example, take a look at this agency's website: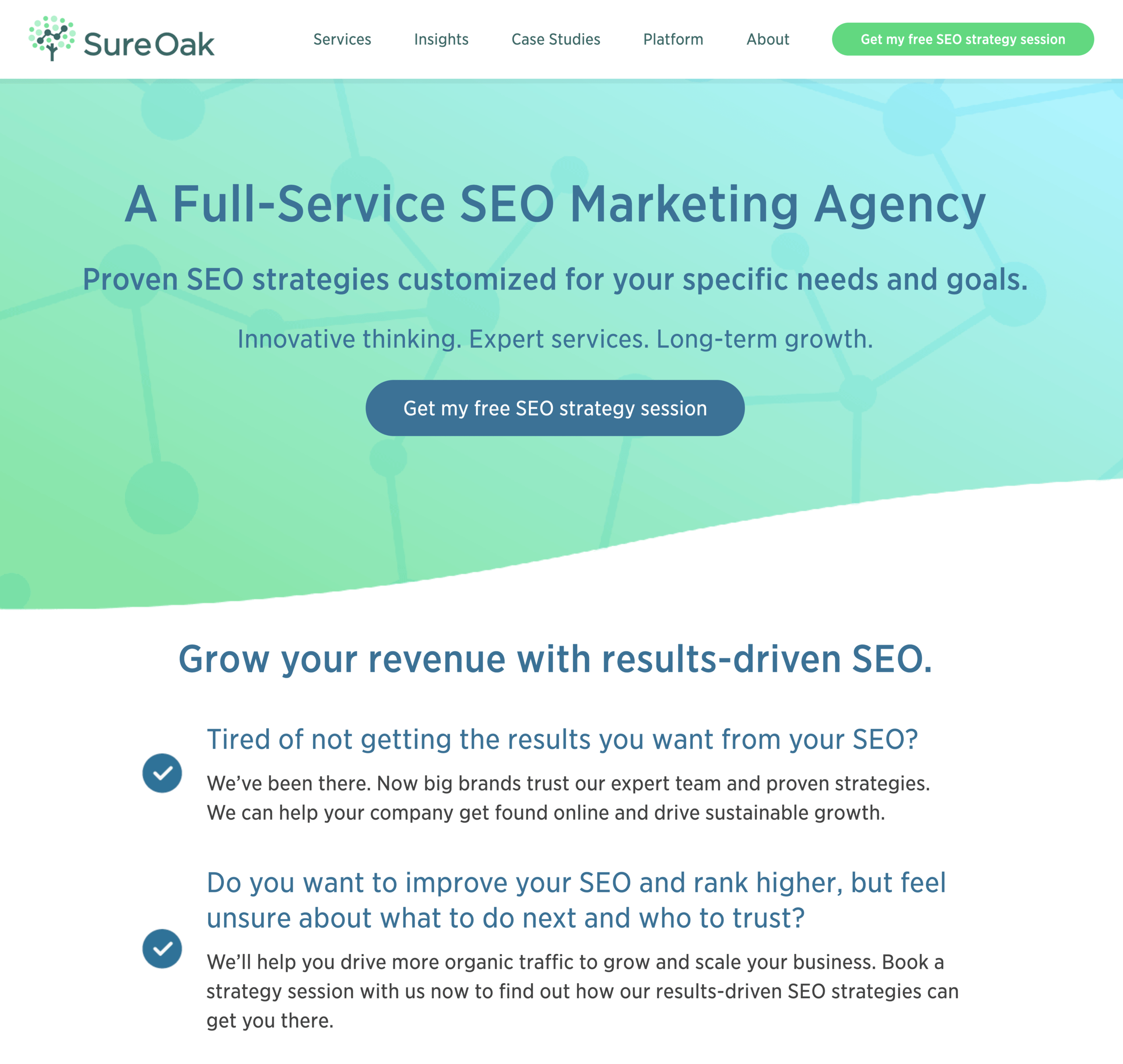 There's nothing wrong with that site. It looks professional. And it seems like they know what they're doing.
So what's the problem?
It looks like every other SEO agency's website on the planet.
Put yourself in a client's shoes: You realize that you want help with your SEO. So you start researching different SEO agencies.
And they all start to look the same after a while.
This is your opportunity to stand out. When that same client lands on YOUR site. And sees that you have a specific niche. They're much more likely to remember you. And reach out for a quote.
What niche you choose depends on your expertise. And where you see the biggest opportunity.
In my case, most SEO agencies at the time were using the same tired link building strategies: guest blogging, sending out press releases, and other grey hat strategies.
My "secret sauce" was that I knew how to build links using email outreach (we were especially good at promoting infographics).
Maybe you're really good at technical SEO. In that case, make that specialty clear on your website.
Or maybe you have a lot of experience with ecommerce SEO. Then you want to plaster "we're ecommerce SEO experts" all over your site.
Or you might even specialize in a specific vertical, like dentists or veterinarians. Again, you want this specialty to be front and center on your website (especially your homepage).
Here's a real-life example of a site that does a GREAT job showing off their niche expertise.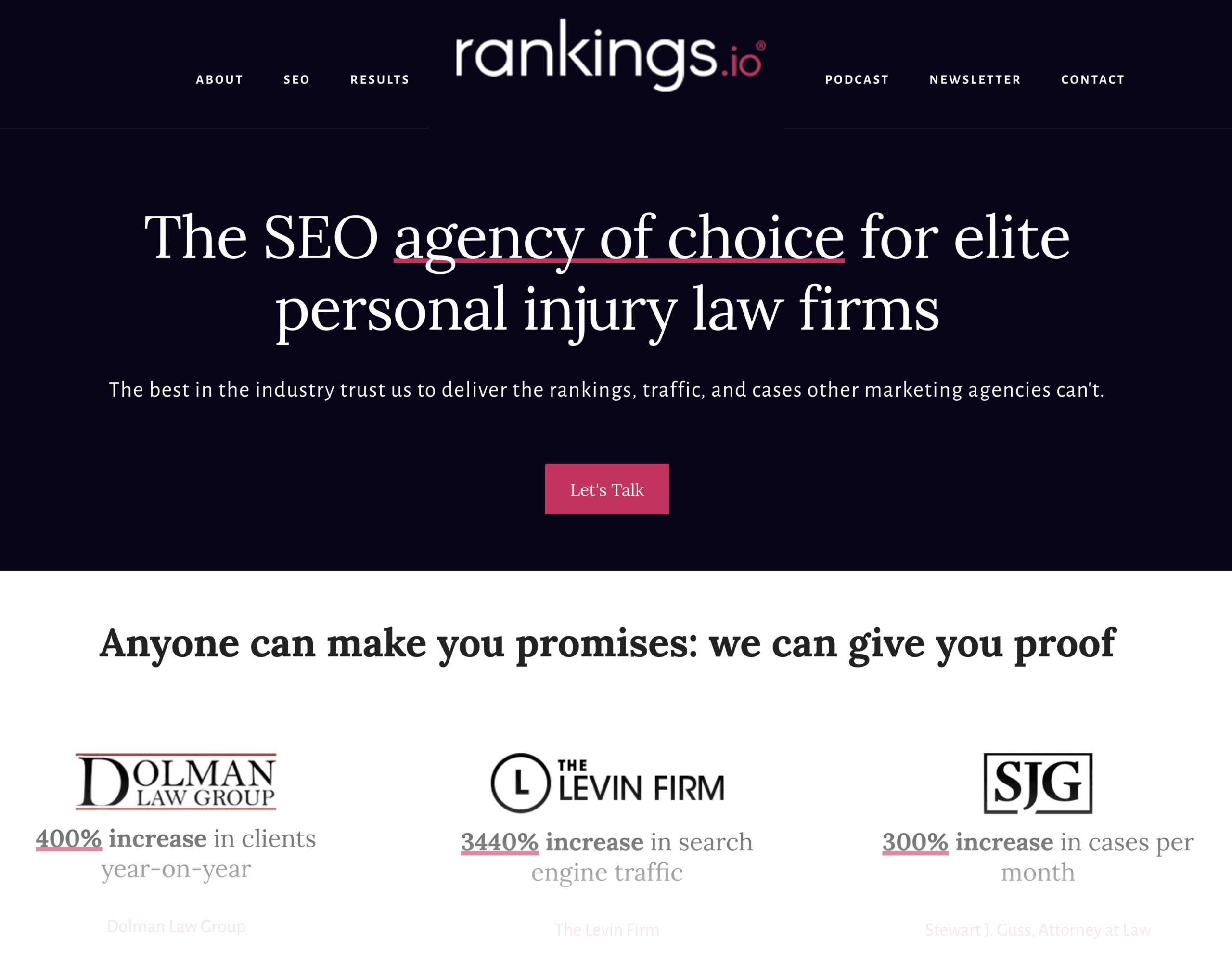 3. Partner With a Design Agency
Partnerships help grow my agency from one client to dozens. Within weeks.
Like I mentioned earlier, I was able to land my first few clients with free SEO audits.
But I quickly realized that this approach was hard to scale. Plus, I still had to close clients over the phone (which I hated).
Then, one day, I did some SEO work for a web design agency in Florida. And they made me an interesting proposition.
They said: "Brian, we do some SEO work for our clients. But it's not even close to our expertise. So SEO takes a lot of time for us. And we don't really deliver great results. How about we just send you our clients that are interested in SEO. And you pay us a commission?".
This was a complete no brainer for me.
They would send me warm referrals (they'd always talk me up as an SEO expert to each lead). And I'd only pay them if the client ended up coming on board.
It was a total win-win.
In this case, I also paid part of my monthly retainer back to the design agency. That way, they got some long-term revenue from the partnership.
But you can structure this however you want. For example, I know a lot of agencies that pay a flat fee per lead. Which can work if you have a high close rate.
Either way, the big takeaway here is that you don't need to rely 100% on cold outreach to get more SEO clients.
There are likely other agencies (design, social media, content, etc.) that have good clients that need SEO. And many of them are happy to pass them off to you for a fee.
4. Speak at Marketing Conferences
This is one of those strategies that won't get you more SEO clients right away.
But over the long-term, speaking at conferences and events can bring in LOTS of high-quality clients.
Why?
First off, you can close (or at least have discussions) with potential clients at the conference.
For example, I've spoken at dozens of conferences around the world.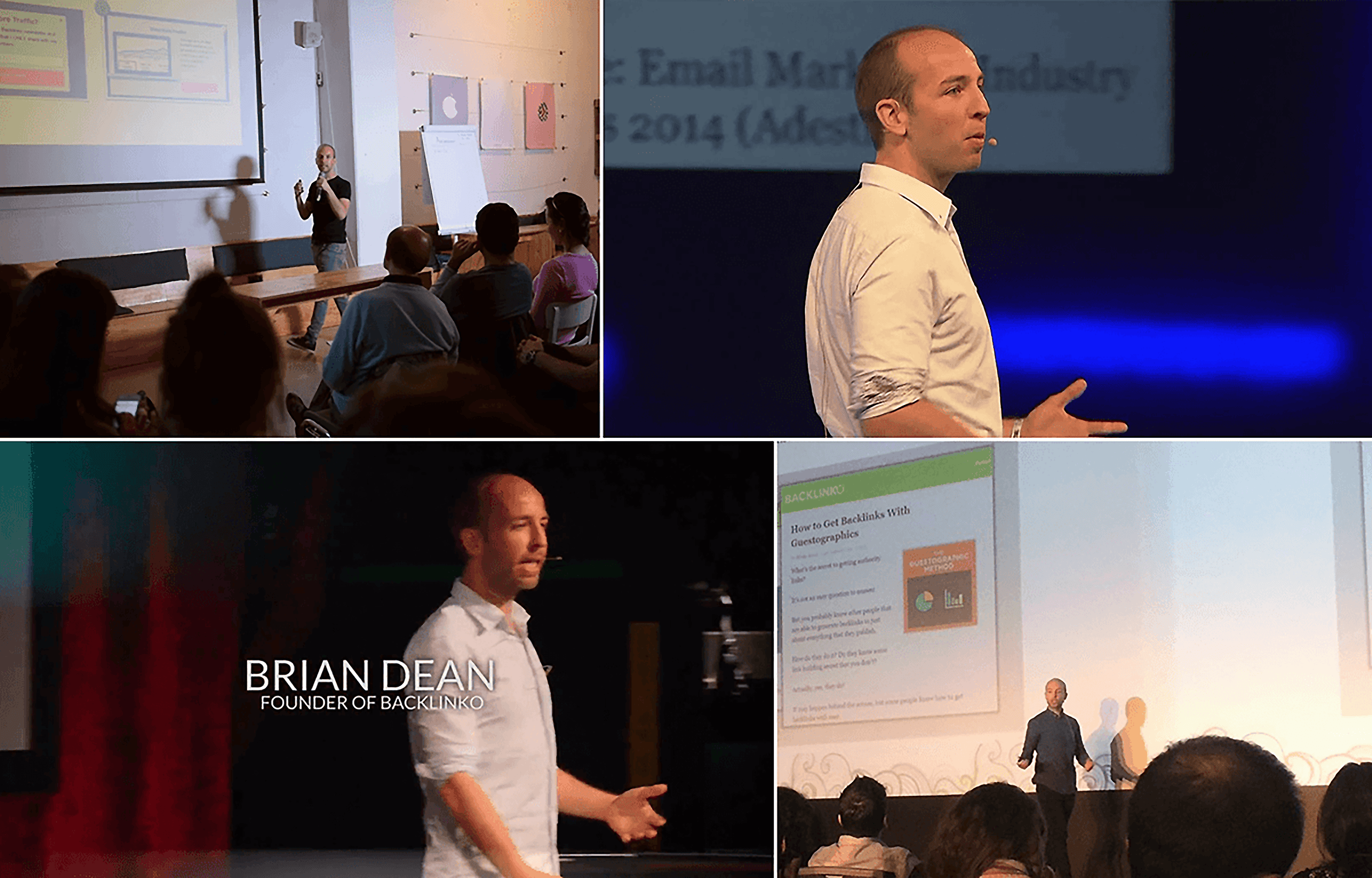 And whenever I get off the stage, at least one person comes up to me and says: "Do you offer SEO services? I'd love to hire you". That person just saw me speak about SEO in front of a large group.
So they're usually extremely warm. If you know what you're doing, you can close them right then and there.
Plus, you'll usually have a few people introduce themselves later on. And compliment your talk. Again, these folks are usually great potential clients.
So yeah, your talk can directly lead to high-quality leads.
But every talk that you give has a long-term ripple effect.
Specifically, you can mention that you spoke at the conference on your site: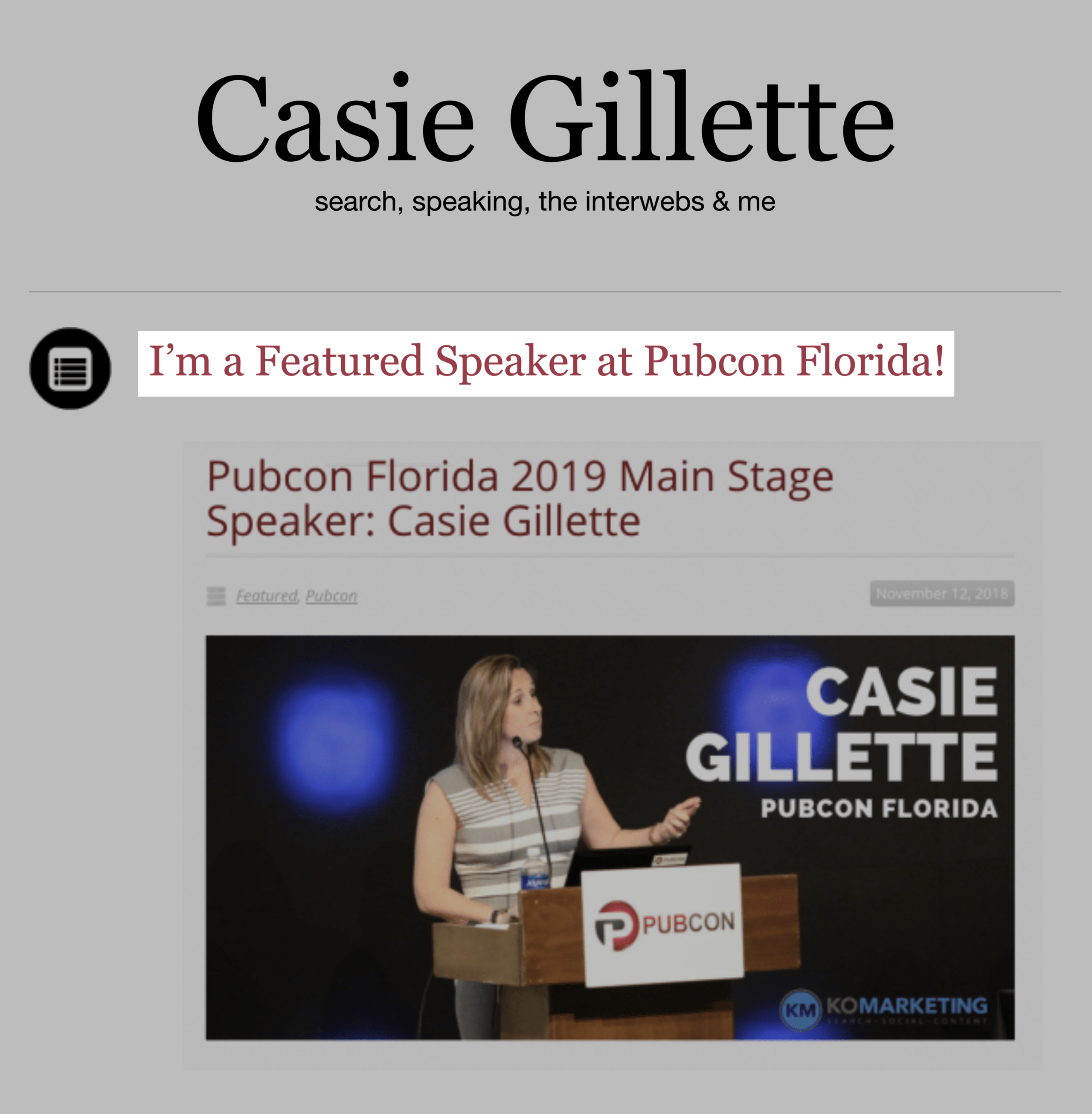 (Which is a great credibility indicator)
And publish your talk on YouTube and other social media platforms.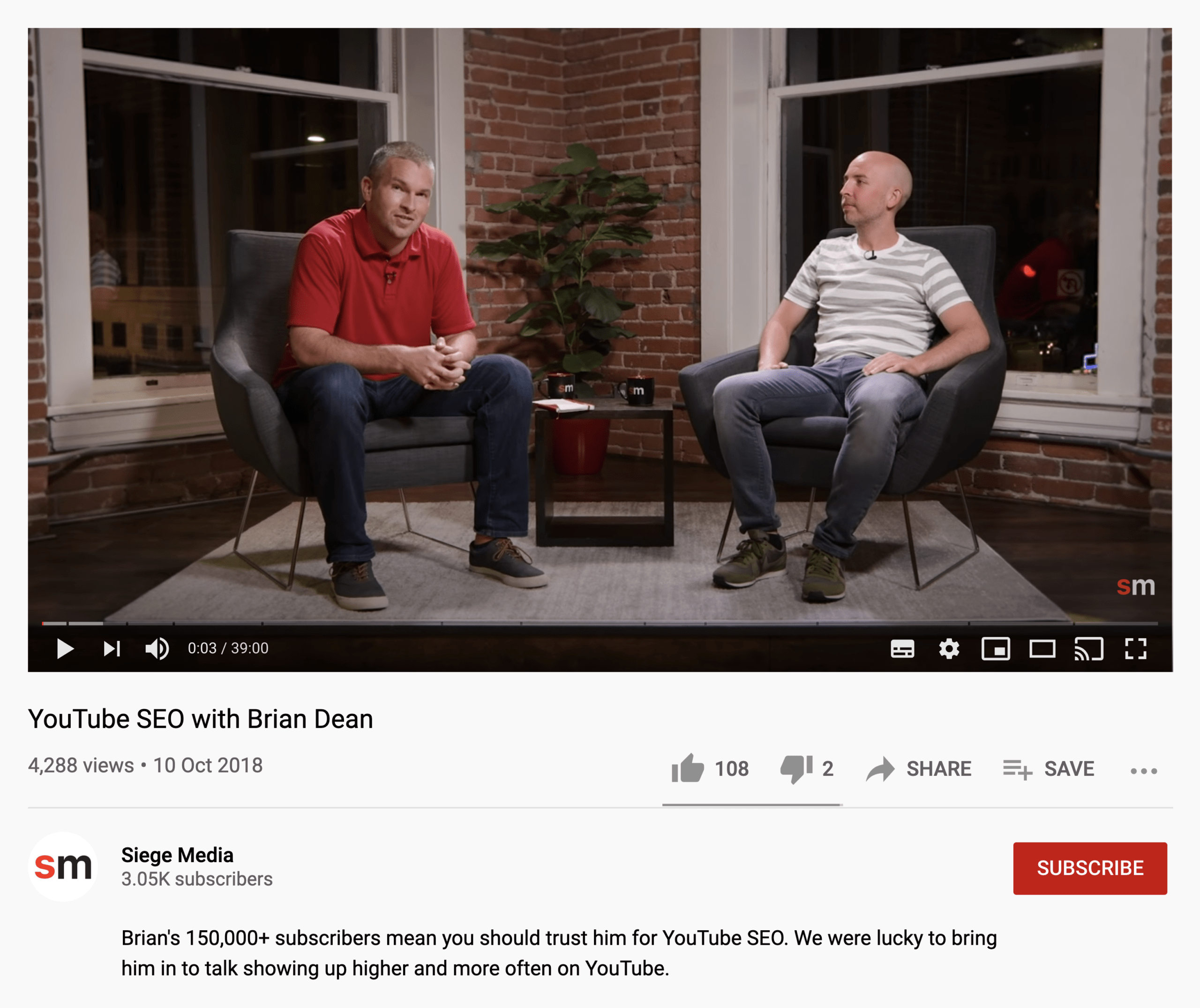 Which leads us to…
5. Publish "Pillar Content"
Most of the content that SEO agencies publish is the exact same stuff:
"5 SEO tips for small businesses"
"The importance of email marketing"
"Why SEO and social media work together"
What does this content have in common?
It's written for people that know nothing about marketing.
In theory, this makes sense: you want to publish content that appeals to potential clients (small business owners).
And most small business owners don't know much about SEO. Therefore, you publish content for newbies.
But in practice, this very rarely works.
Why?
Because that content doesn't show off your expertise with SEO. It's literally one notch above what the client already knows.
Instead, I recommend publishing "Pillar Content". Basically: long-form content that is designed to help intermediate and advanced marketers.
Here's a real-life example:
Is this content over the heads of most potential clients?
Yup!
And that's totally fine. Anyone that comes across this post (even someone that knows nothing about SEO), will be able to see that I know what I'm talking about.
Plus, unlike a generic beginner-level post, this is the kind of content that other SEO pros will want to share. And link to.
Which can help get your content in front of more people (including potential clients).
In fact, I basically only publish Pillar Content at Backlinko.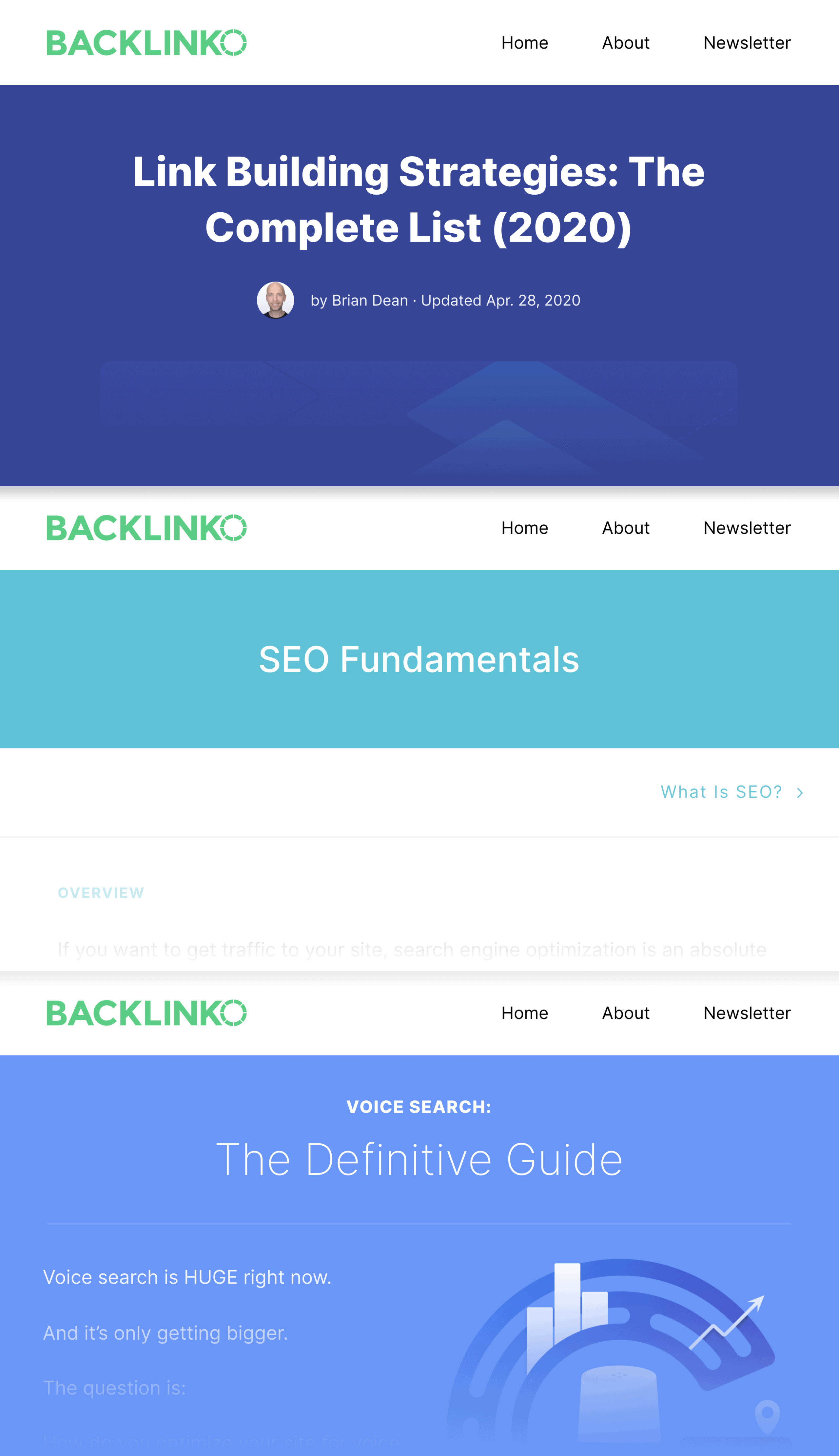 Again, this stuff is way over the heads of most small business owners.
But they still "get" that I'm an expert.
(Which is the whole point)
In fact, I usually get a flood of SEO inquiries every time I publish a piece of Pillar Content on my blog.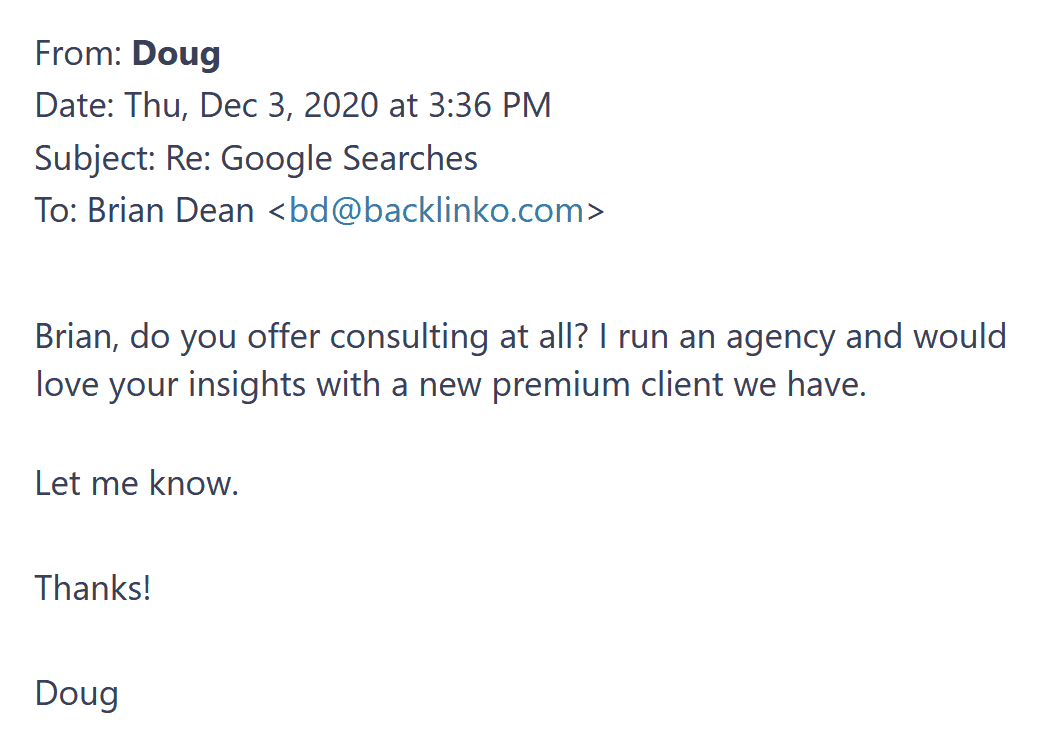 6. Share Your SEO Expertise On Social Media
Sharing helpful content on social media can help you get more SEO clients in two ways:
First, your posts can get in front of your target audience.
Obviously, there's no guarantee that a social media post will be seen by a specific person (or group).
But if you post super helpful stuff, you boost the odds of people seeing your brand.
Here's an example of the type of content I'm talking about.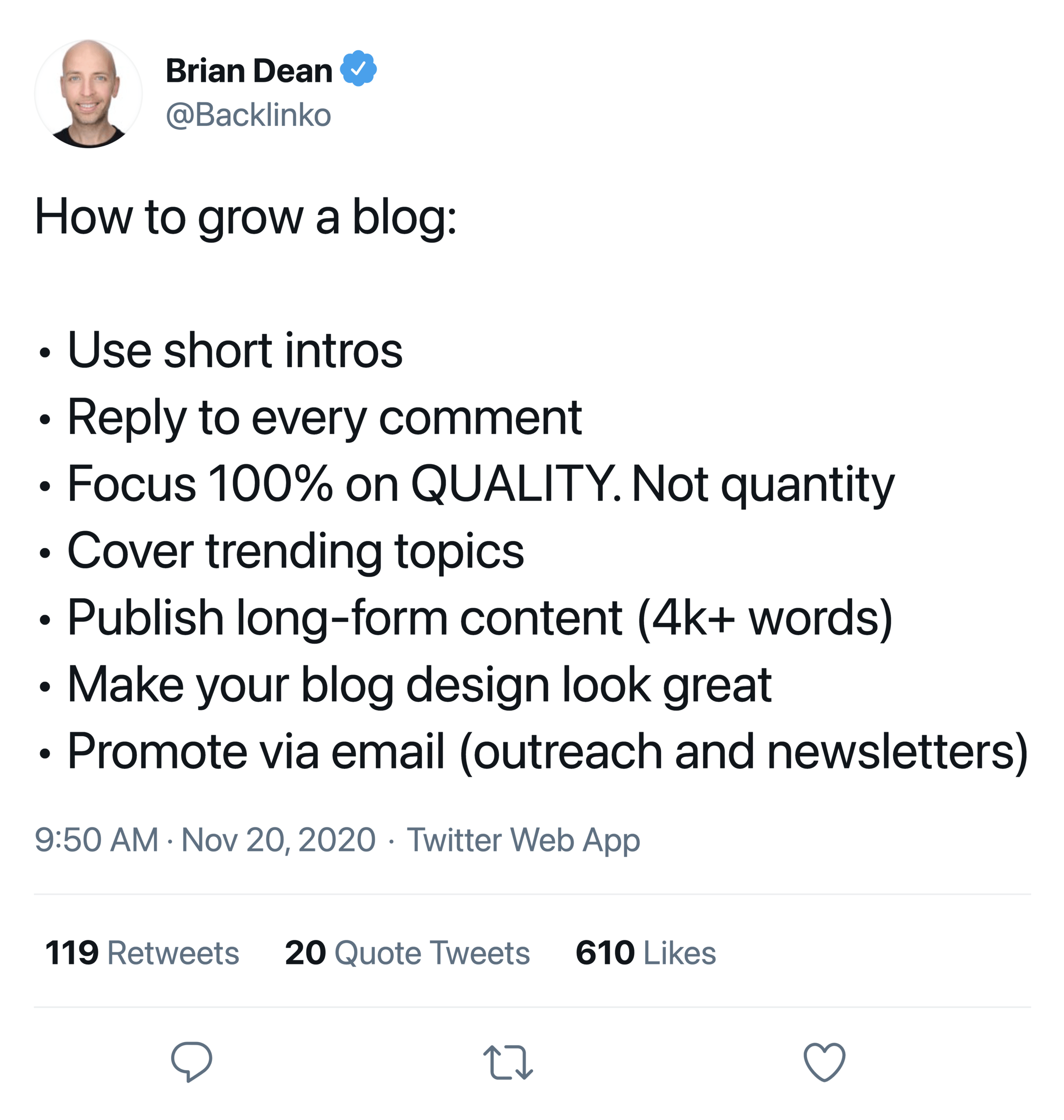 Second, clients will often check out your social media presence to see if you're legit.
If they see that you haven't posted in months. Or that your posts are 100% self-promotional. They'll be much less likely to reach out.
On the other hand, if your social accounts are pumping out useful stuff, it helps cement you as a legit expert.
7. Send (Non-Spammy) Outreach Messages on LinkedIn
LinkedIn can still be a great place to find potential SEO clients.
The challenge is that most outreach on LinkedIn is super spammy, like this: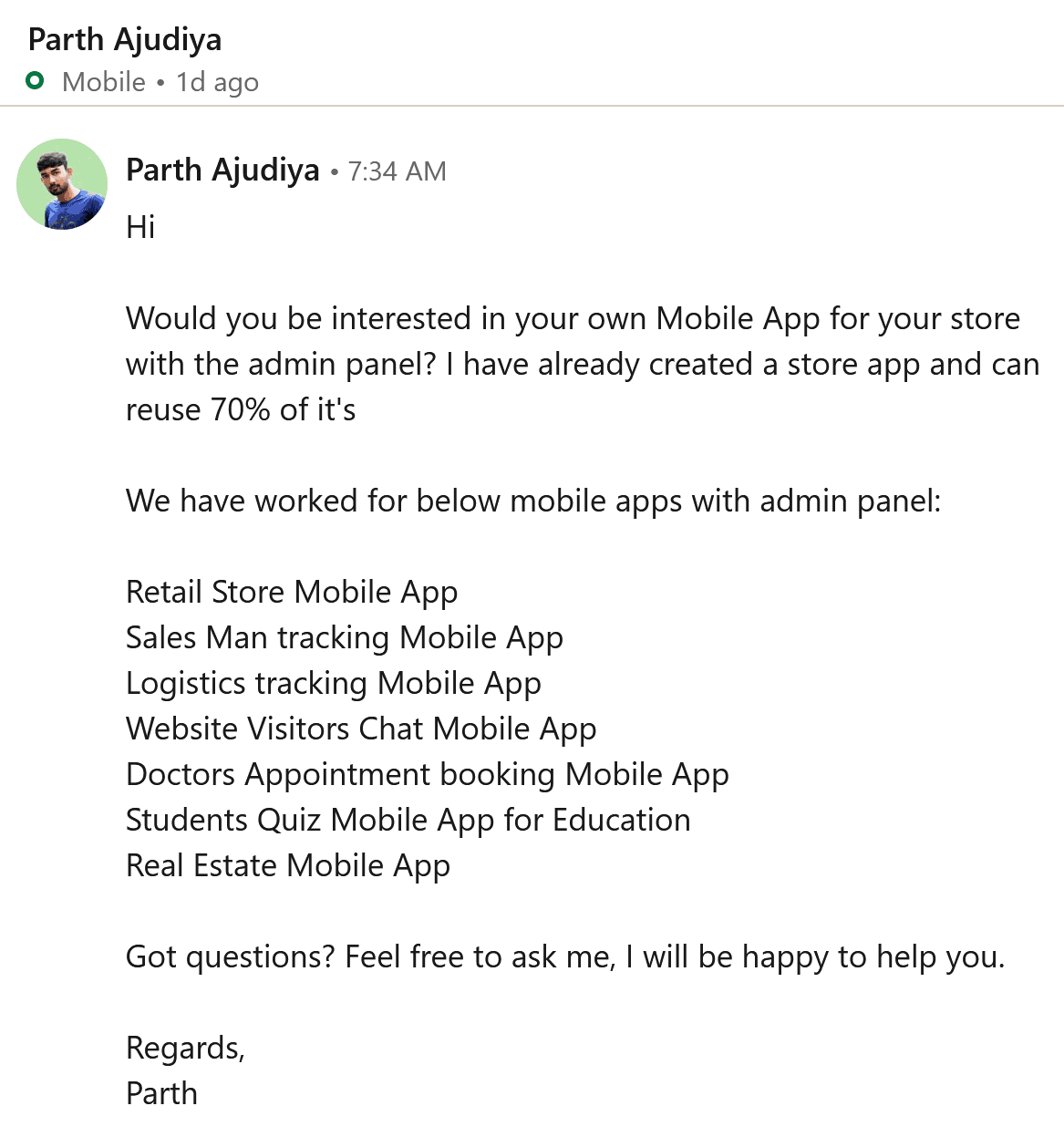 And as an SEO agency owner, you need to do something REALLY special to stand out. Otherwise, your LinkedIn messages are going to get lost in the noise.
Here are three simple ways to help get your LinkedIn messages read and replied to.
First, mention something personal at the top of your message. The person's city or college works well.
Plus, you can easily find this info on their LinkedIn profile.
Second, try to provide some value in your first message. An SEO audit is an easiest and most straightforward way to do that.
But you can also just send them a quick tip for optimizing their homepage. Or send them a keyword that you think they should be targeting.
This kind of thing is MUCH quicker than running a detailed SEO audit. But a quick tip or a 5-minute keyword research task is still more than 99% of what most people are doing on LinkedIn.
Which means you instantly stand out.
Finally, don't be afraid to follow up (once). LinkedIn is a VERY crowded place. So I recommend following up with people once. Any more than that and you're going to burn bridges with people.
8. Create Monthly SEO Packages
Monthly packages aren't a magic bullet. But in my experience, they can help you generate more SEO leads from your website.
Why?
Well, most SEO clients that visit your website are looking for one thing: price.
This is why I recommend testing monthly packages with transparent pricing. Here's an example of how this might look.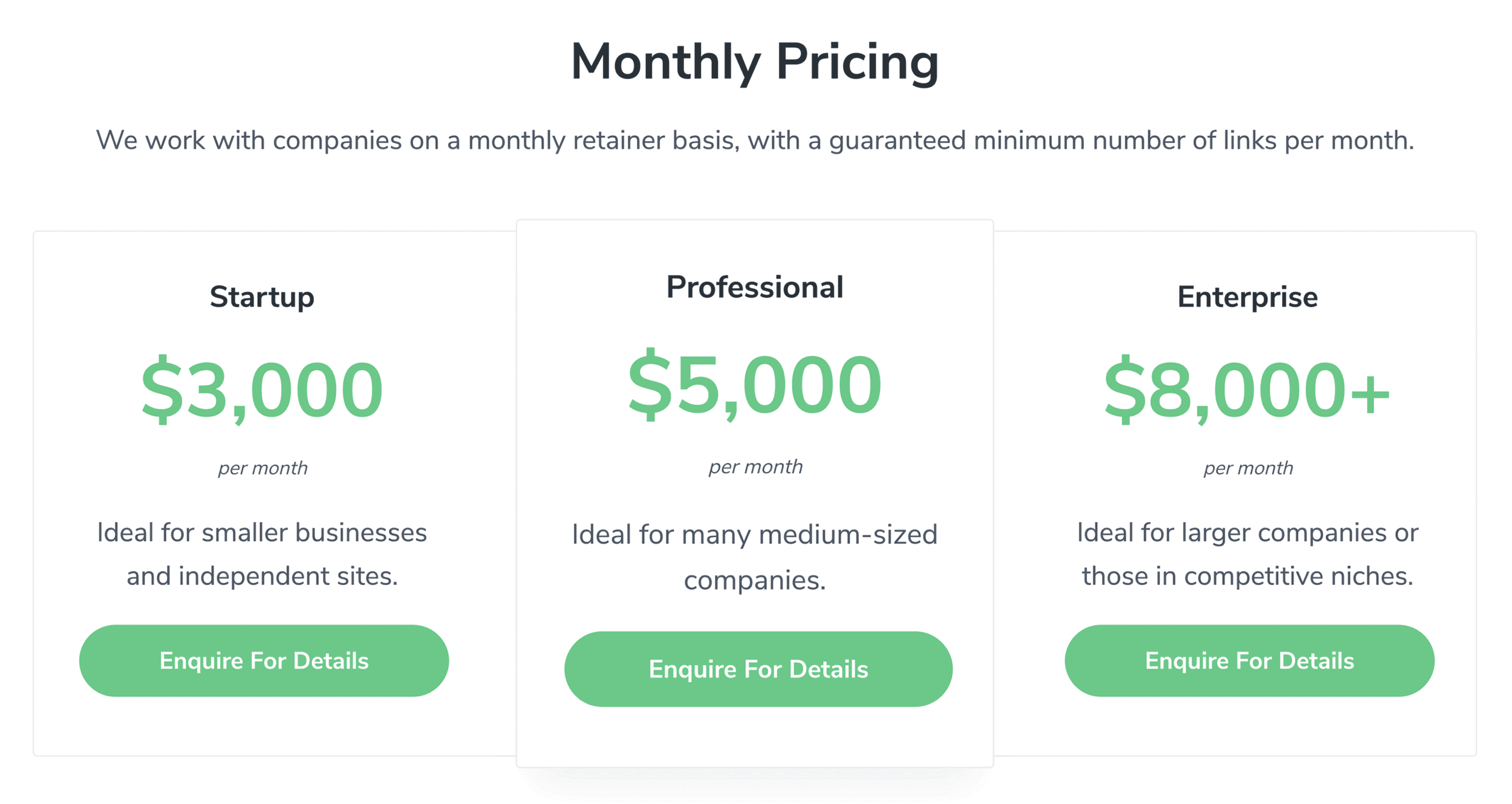 Put yourselves in the shoes of a potential client. You're debating between Agency A and Agency B.
Agency A has a landing page that says: "Contact us for a custom search engine optimization package". Agency B's landing page lists out their different packages. What each package includes. And the cost of each package.
Most clients are going to go with Agency B every single time.
This is why you may have noticed a trend of more agencies listing their pricing on their site. It works.
Note: I get that every client is different. And that it can make sense to create a custom SEO plan for every client. But the reality is, the vast majority of SEO clients don't want to fill out a form just to see how much you charge. Which limits the number of leads that come in.
9. Add Reputation Signals To Your Site
When we surveyed 1,200 decision makers to ask them about their experience with SEO services, we found that "reputation" was THE most important factor that clients look at when deciding on an SEO company.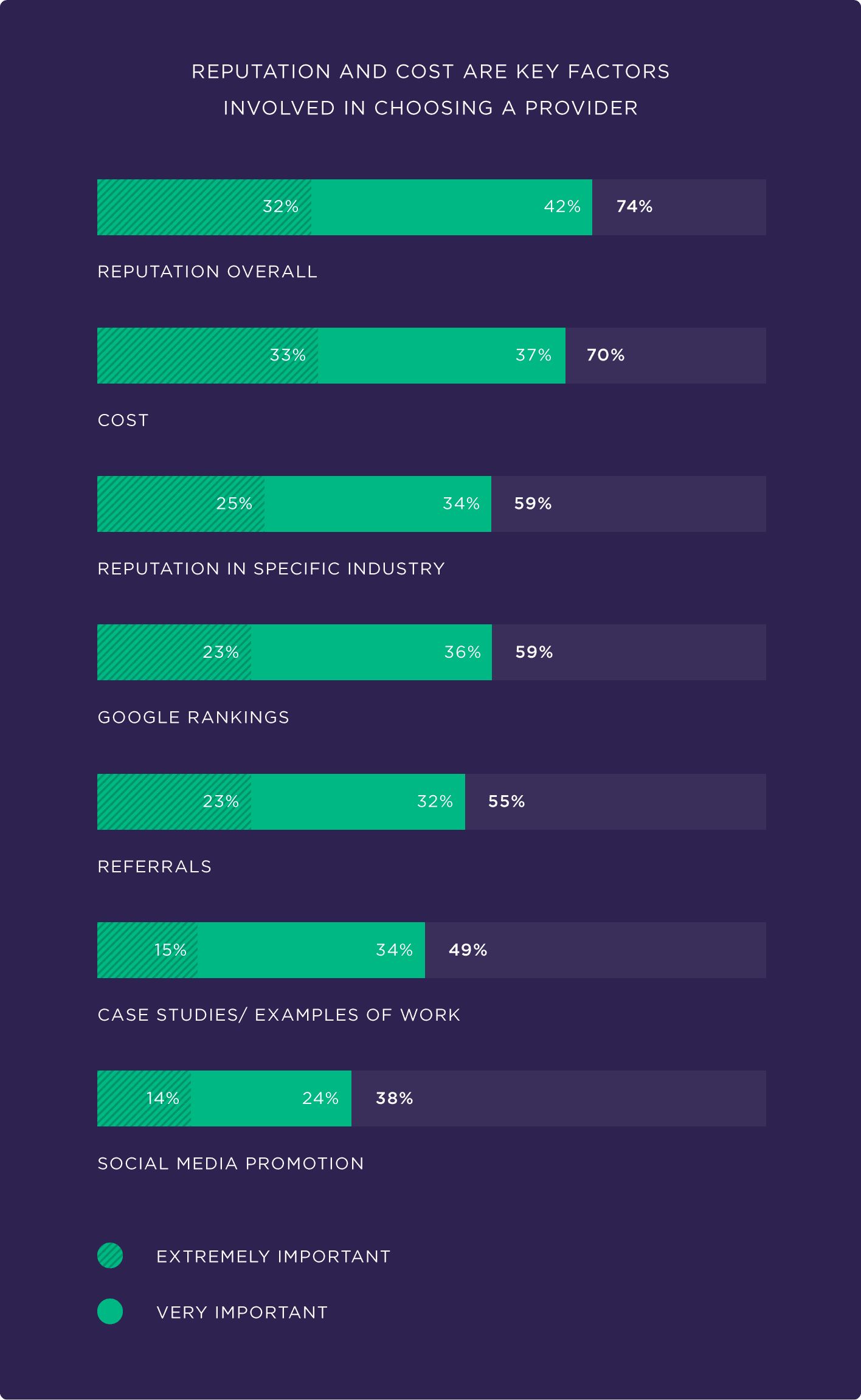 (Cost was a close second)
Fortunately, you can easily add "Reputation Signals" to your site:
Client Case Studies: Nothing beats a strong case study from one of your clients. I recommend making these somewhat detailed. Almost like a blog post. Here's a great example of an SEO client case study: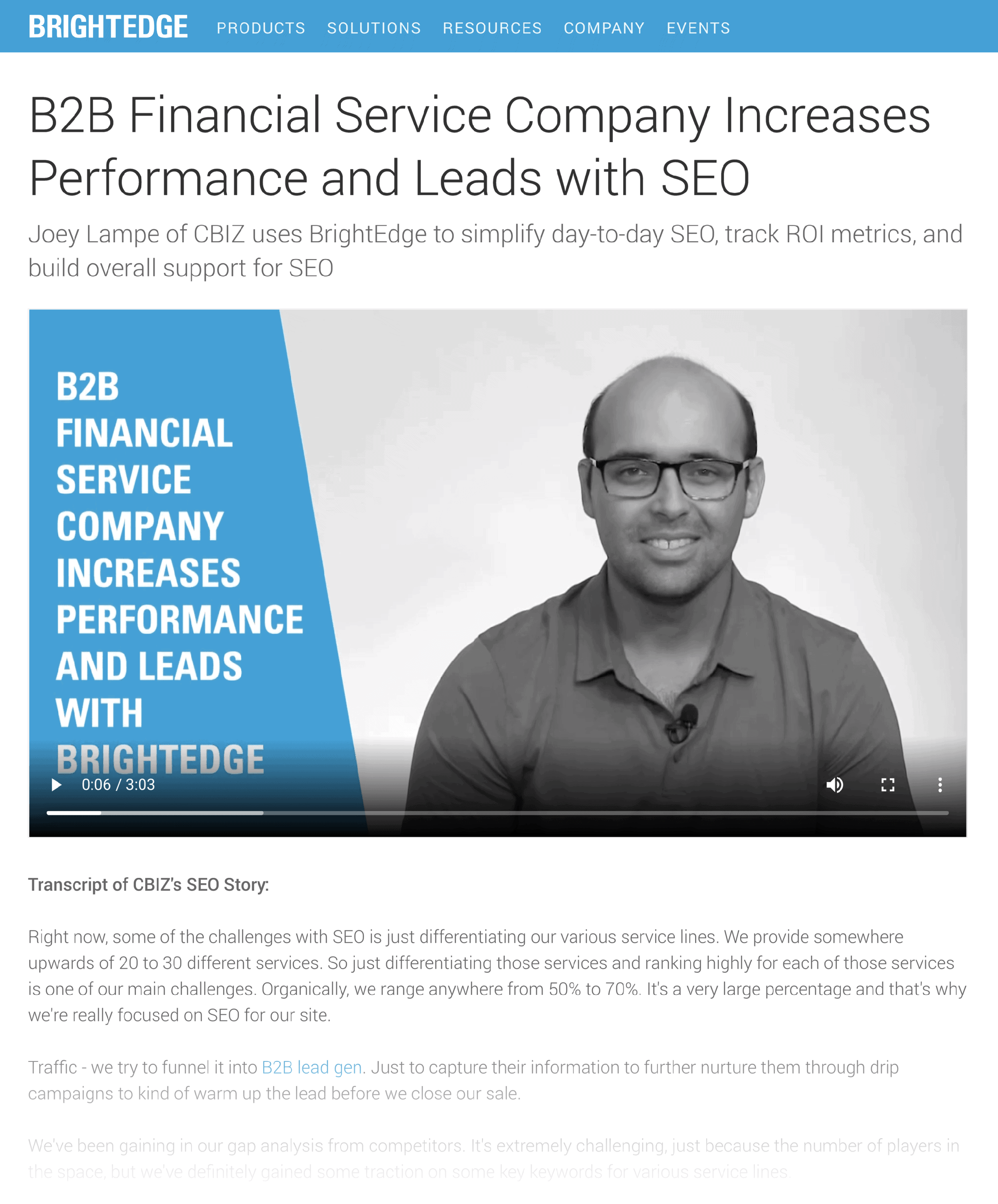 Your Office Address: You probably have your company's address on your site already. But I recommend making your location SUPER obvious. Why? In the SEO services survey I mentioned earlier, 78% stated that they consider knowing where their agency is located as "important".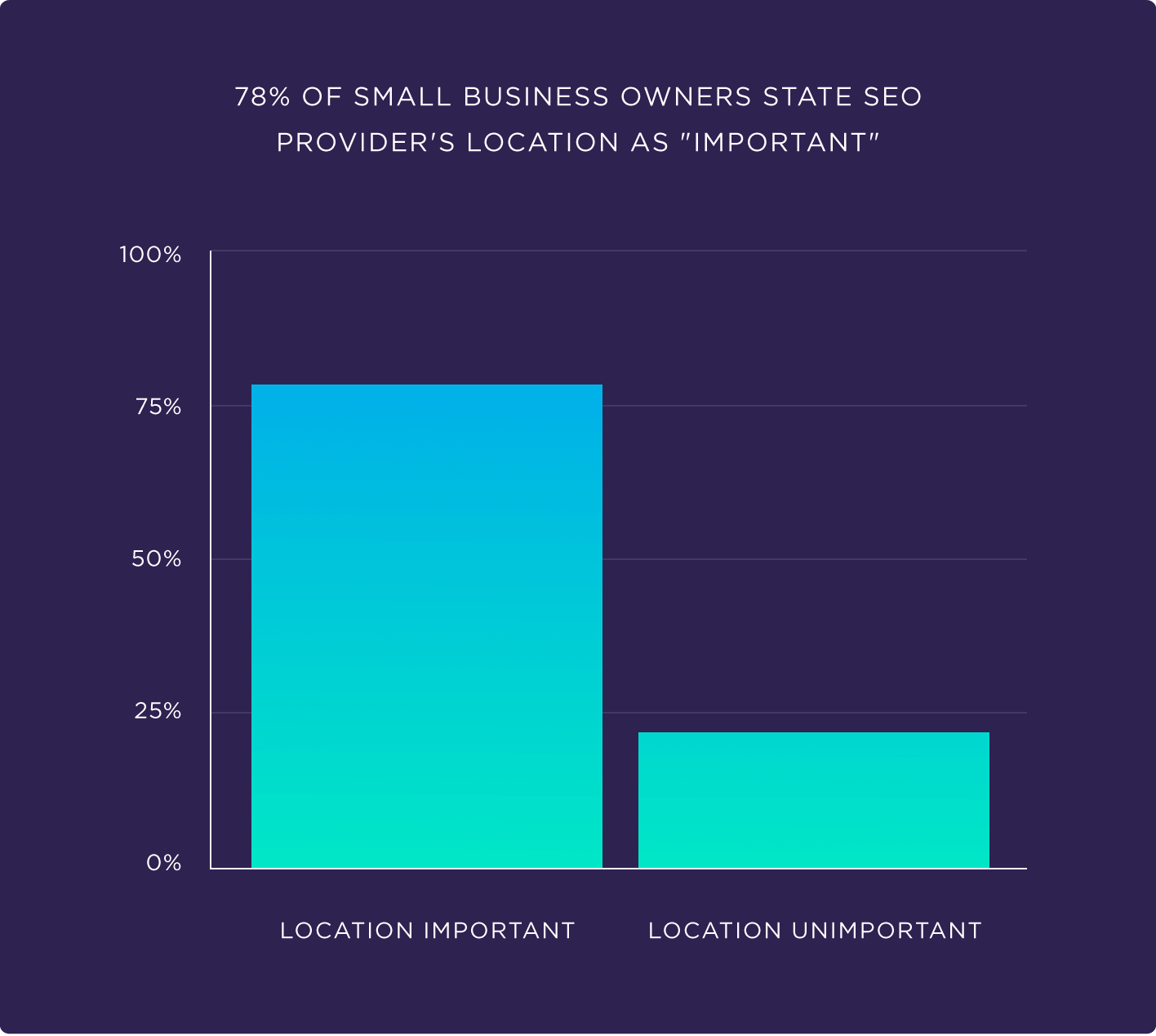 Helpful Blog Content: In other words, content marketing with the goal of attracting new SEO clients. This can help clients find your site in the first place. And push visitors to reach out for a quote.
Industry Awards and Accolades: This can be as simple as "we've spoken at Pubcon".
"Featured On" Logos: If you've been featured on major news sites (like Forbes) or industry blogs (like Moz), don't be afraid to show that off on your site.
Bonus: Film Helpful Tutorial Videos
This works for one simple reason:
Very few marketing agencies are using video to promote themselves.
Which is a great opportunity for your agency to stand out.
For example, I have a fairly popular YouTube channel.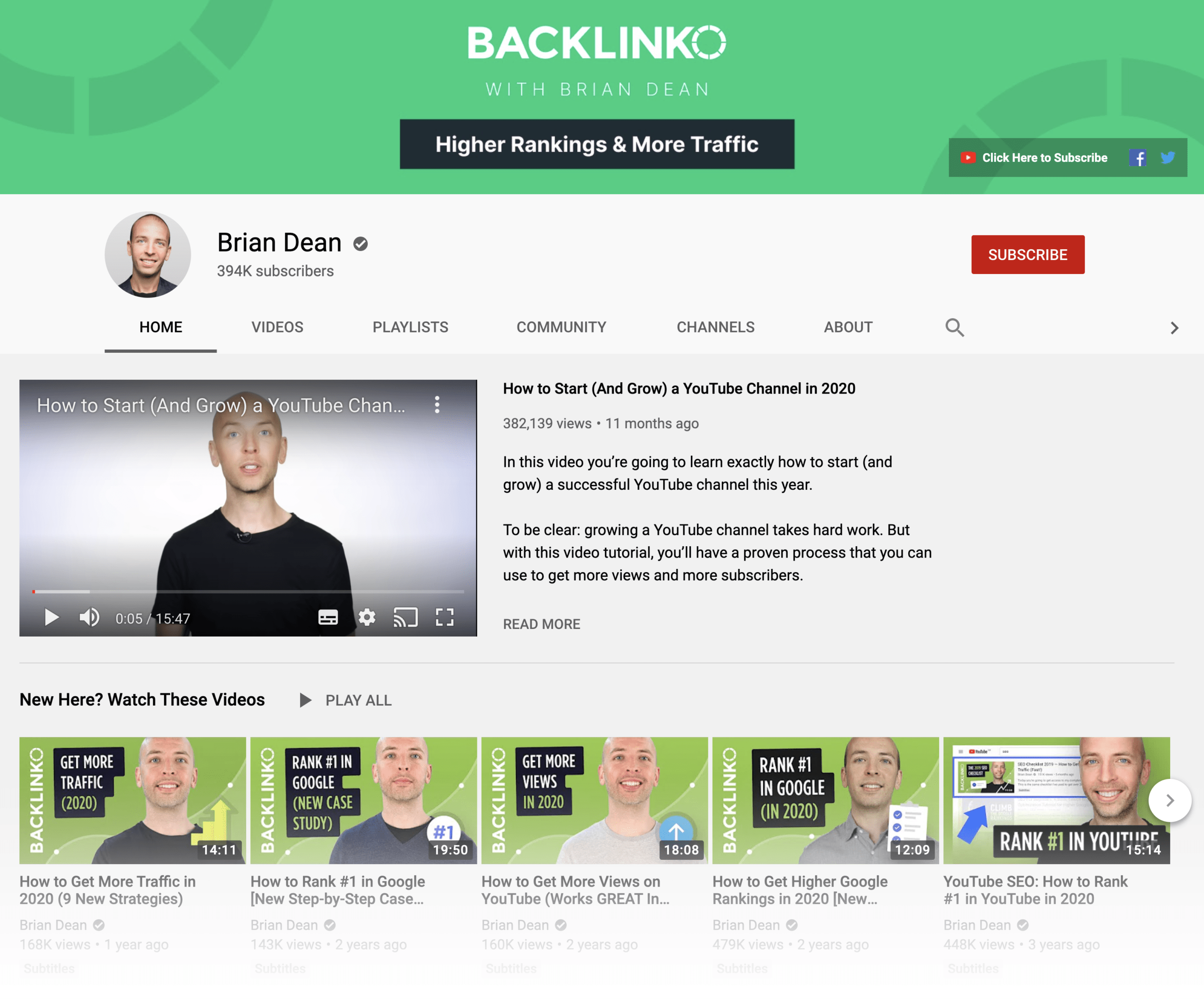 This helps get me and my brand in front of literally thousands of people every month.
Many of which reach out to ask about my SEO services.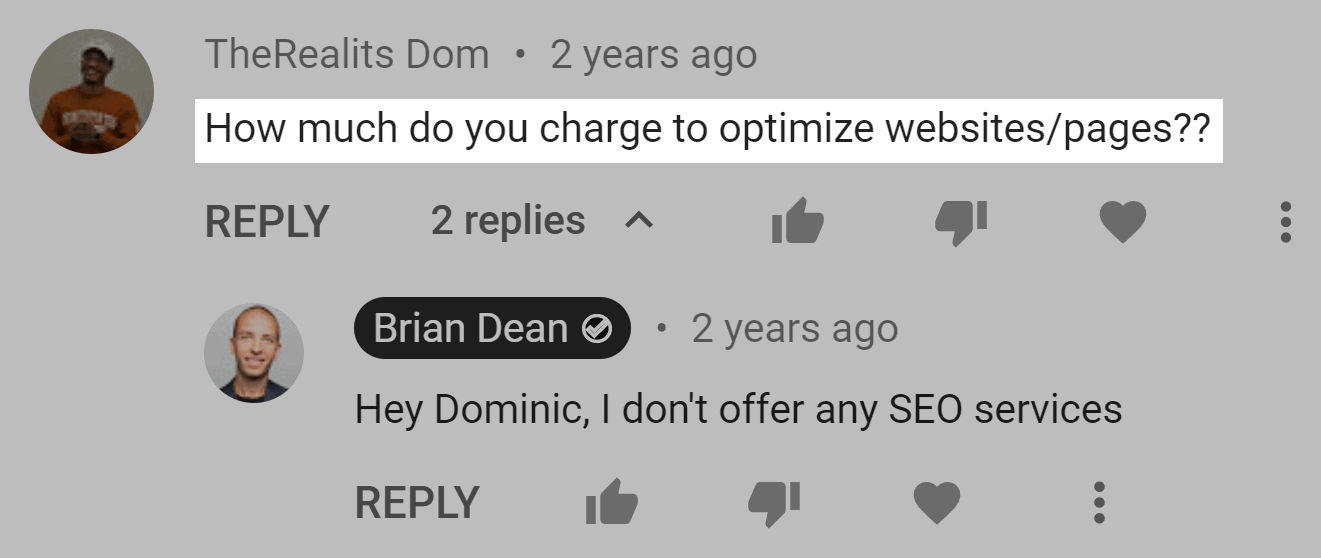 Conclusion
There you have it: 9 actionable ways that you can get more SEO clients for your agency.
Now I'd like to turn things over to you:
Have you tried any of these strategies to build up your client base? If so, how did they work out for you?
Let me know in the comments section below.