30 Crucial B2B Marketing
Statistics (2023)
Written by Brian Dean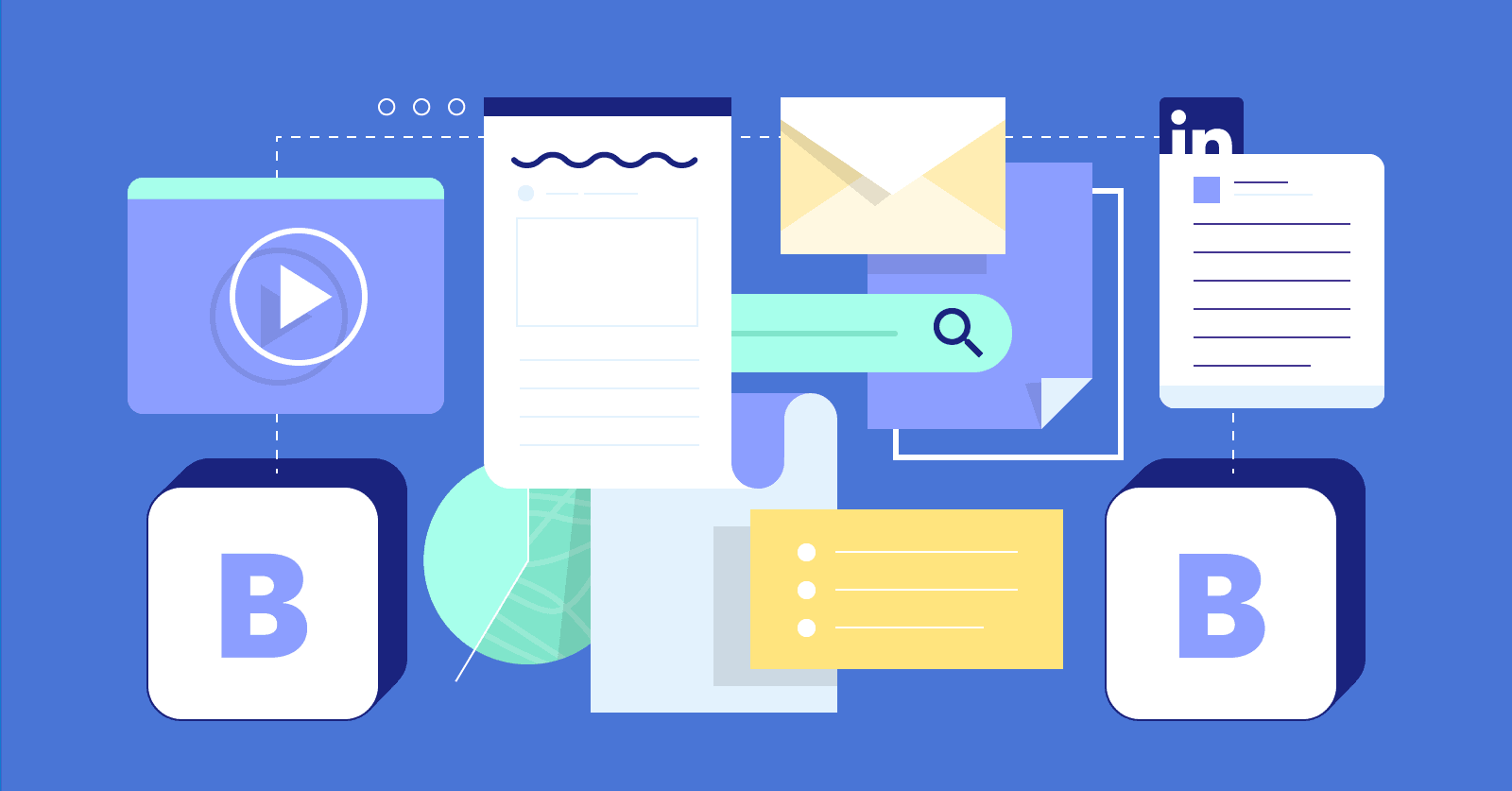 In this guide, you'll find 30+ B2B marketing statistics to have on your radar for 2023.
Unlike most stats posts, all of these stats are 100% up-to-date. In fact, I go back and update this page with new stats every 6 months.
So if you're looking for B2B marketing stats that are relevant today, you'll love this list.
Click for a specific section:
B2B Marketing Teams
41% of B2B businesses conduct their marketing activities in-house (Statista)
There are a million things that go into full-scale B2B marketing strategy: Strategy. Planning. Tracking results. And more.
Yet almost 60% of B2B brands don't do all of that stuff in-house.
Instead, the vast majority of B2B companies get help with activities like keyword research, content writing, and ad management. Some outsource the work to agencies. Others hire freelancers with specific expertise. Either way, nearly 60% of B2B brands get some form of help with their marketing from external sources.
Which means that just over 40% actually say they handle the end-to-end of their B2B marketing strategy in-house.
Half of B2B marketing teams outsource at least one content marketing activity (CMI)
Speaking of outsourcing, Content Marketing Institute found that half of all B2B marketing teams outsource at least once of their content marketing activities.
And that 84% of those who outsource cite content creation as the activity they get the most help with. Distributing content comes in at a distant second (31%).
Other tasks (like content planning, measurement, or research) seem to be reserved almost exclusively for in-house marketers.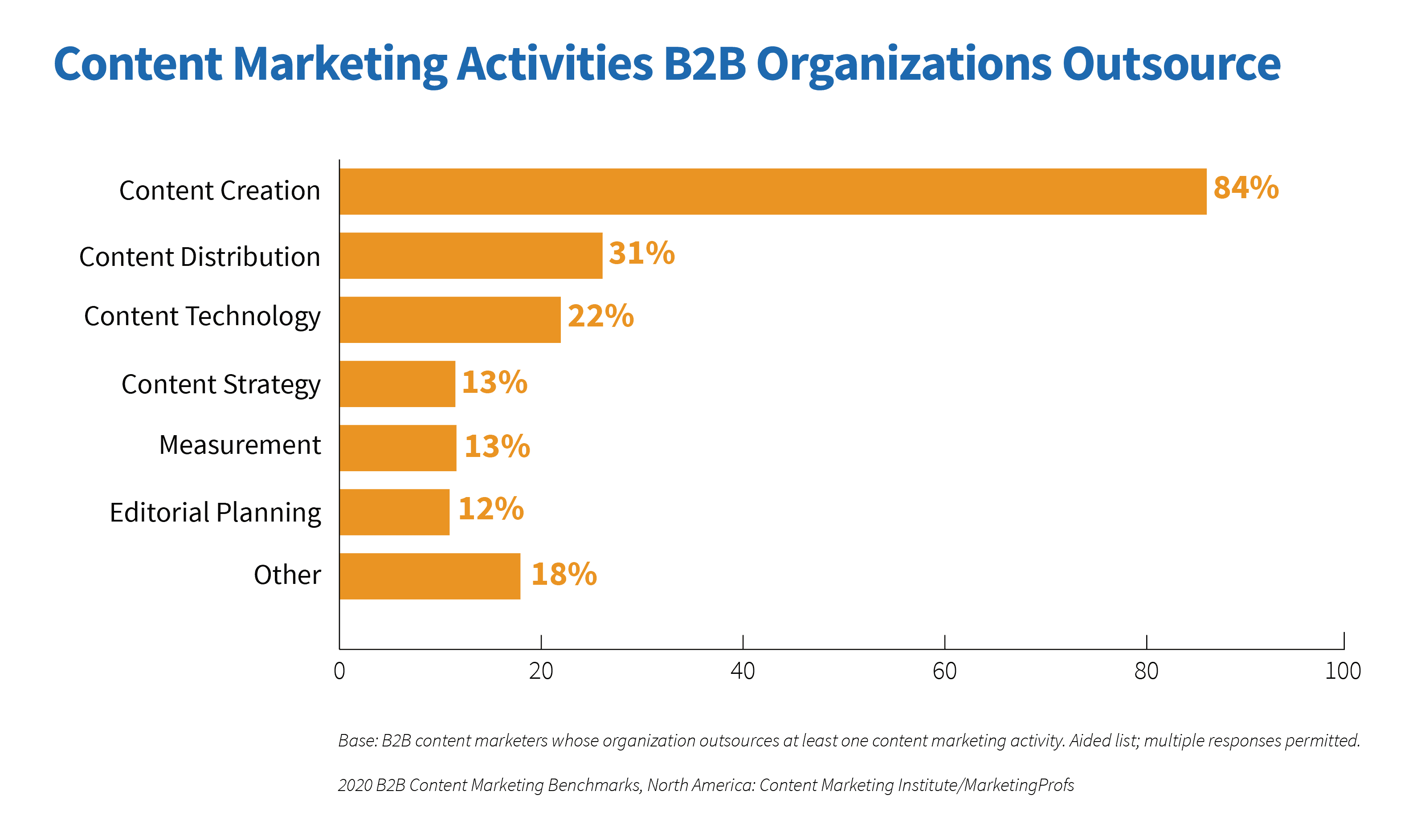 B2B Marketing Budgets
A quarter of B2B organizations allocate only 5% of their total budget to marketing (Statista)
Most B2B businesses would agree: marketing is SUPER important for the company's success.
Like with B2C, a successful marketing campaign can help get your brand in front of more people. Turn those people into leads. And ultimately get more sales.
Yet it doesn't seem like most marketing budgets are conscious of that. A quarter of B2B businesses allocate just 5% of their organization's total budget towards marketing.
Just 8% said they allocated more than 15% of their budgets to marketing—despite it fueling a consistent stream of leads.
46% of B2B companies plan on increasing their content marketing spend within the next 12 months (Statista)
B2B content marketing is nothing new. So you might expect that companies would funnel some of their content marketing budget towards new strategies, like influencer marketing.
But that's clearly not the case.
Nearly half of B2B organizations said they're planning to boost their content budget in the next year. Just 4% of respondents plan to slow down their spending.
Which goes to show that content marketing still has a high potential ROI in the B2B world.
Spending on digital advertising is set to reach $375 billion by 2021 (eMarketer)
Speaking of budgets, eMarketer predicts that worldwide spending on digital advertising will reach record-breaking levels by next year.
Needless to say, a good chunk of that will be spent on B2B ad campaigns, like LinkedIn ads, conference sponsorships, and Google Ad campaigns.
This increased spend is partly due to the fact that thousands of brands are moving their products and services online for the first time. And they've quickly realized that online ads can bring in customers faster than content and SEO.
B2B Lead Generation Statistics
50% of the content created by B2B marketers is focused on creating brand awareness and interest (Content Marketing Institute)
It's easy to think that B2B content should be boring and "professional".
But the truth is: B2B buyers are still human.
Yes, they want tangible solutions to their business problems. But that doesn't mean that they want to read dry white papers. Or jump on a sales call after their first visit to your website.
Like any human being, reading content from a brand can help decision-makers know, like and trust you more.
As it turns out, top-of-the-funnel branded content isn't the exception. It's the rule: half of all content being put out by B2Bs is designed to engage potential customers.
Like in the B2C world, people at work watch YouTube videos, read blogs and engage in communities.
78% of B2Bs use lead conversions as a performance metric (CMI)
Content marketing ROI can be tricky to track. But it's not impossible.
Especially if your sales and marketing teams are on the same page.
Sure, your marketing team can send thousands of visitors to your site. But if those marketers don't know what an ideal customer looks like. Or why they'll ultimately convert. Traffic could stay exactly that: just traffic.
Marketing teams need to know exactly what their target B2B buyer looks like. And how to create content that drives that person to sign up as a lead. Both of which are best learned from sales teams on the front lines.
The average MQL to SQL conversion rate is 13% (Implisit)
Just 13% of the people marketing teams would consider a "lead" something a sales rep can work on.
Here's what that looks like in practice: 10,000 people land on your website. Marketers consider 1,000 of those to fit the ideal customer profile. Yet when sales reps dig through and find B2B accounts to prioritize, they find just 130 actually fit the mold of a paying customer.
The MQL to SQL for leads found through webinars is 17.8%, according to Salesforce. Which is a little better. But still pretty bad.
Either way, the misalignment between sales and marketing could mean you're driving traffic to your B2B website that isn't ever going to pay off.
B2B Content Marketing Statistics
Most marketers publish new content several times weekly (Databox)
There's no doubt that it's not easy to get customers to see the content that your B2B brand publishes. Which is why it's important to put out a decent amount of content. That way, the odds are in your favor.
In fact, most marketers are publishing new content in the form of videos, blog posts, or podcast episodes on a weekly basis. And many publish a new piece of content every single day.
It takes 3 hours and 55 minutes to write a blog post (Orbit Media)
"Writing a blog post" isn't as easy as it used to be. On average, it takes almost four hours to write a single blog post. That's up 65% from just six years ago.
And in many cases, B2B content takes longer to write. There's usually more research. More data. And more polish that needs to be done.
Dedicating nearly four hours to a single blog post is no joke. Especially for busy B2B marketing teams. That's likely why most B2B companies outsource at least one content marketing activity. And why "content creation" is first on that list.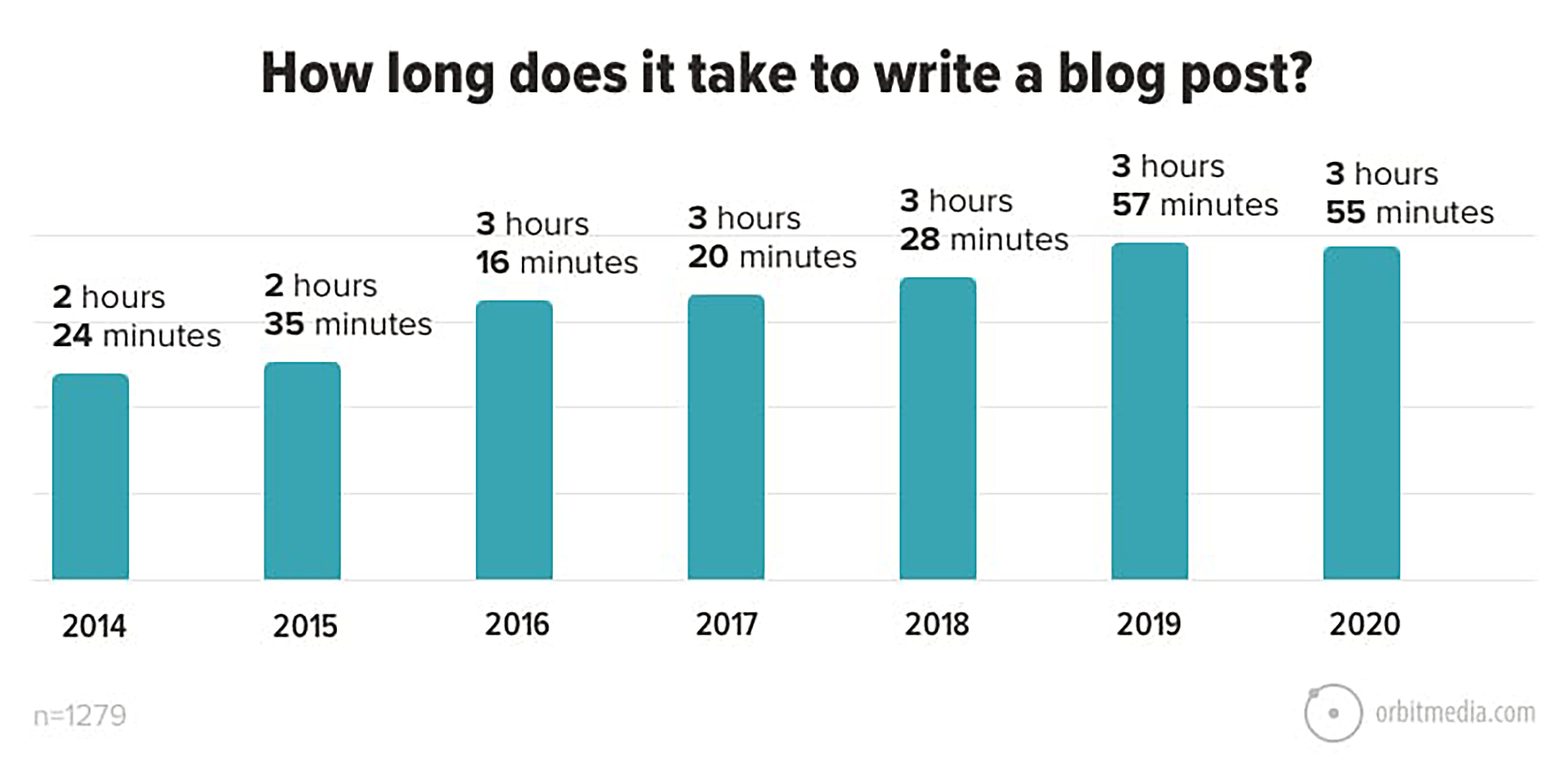 Content ranking on page 1 of Google has 1,447 words, on average (Backlinko)
This is one of the reasons that writing a blog post takes longer than it used to. Blog content used to be relatively short (400 words or so).
Today, most of the posts that B2B blogs publish are 1,000+ word monsters. And this is partly because long-form content seems to be good for SEO.
Specifically, we found that the average first-page results come in at almost 1,500 words long. Longer content means you can cover a topic comprehensively.
Comprehensive content is exactly the type of content that busy decision makers want to read. And, according to this analysis, the type of content that Google wants to rank.
67% of B2B content teams say top-of-funnel content is the type of content they create most (Databox)
B2B content converts best when someone is SUPER close to signing up as a lead.
That said: there are usually only a handful of keywords in your niche that fall under that category. And they're probably super competitive.
Enter: top-of-the-funnel content.
Research shows that 67% of B2B content teams create top-of-funnel content the most often. Likely because that's where most of the eyeballs are.
28% say they create content for people in the middle of the funnel (someone ready to buy but need a nudge).
Just 5% focus their attention on B2B buyers moments away from buying.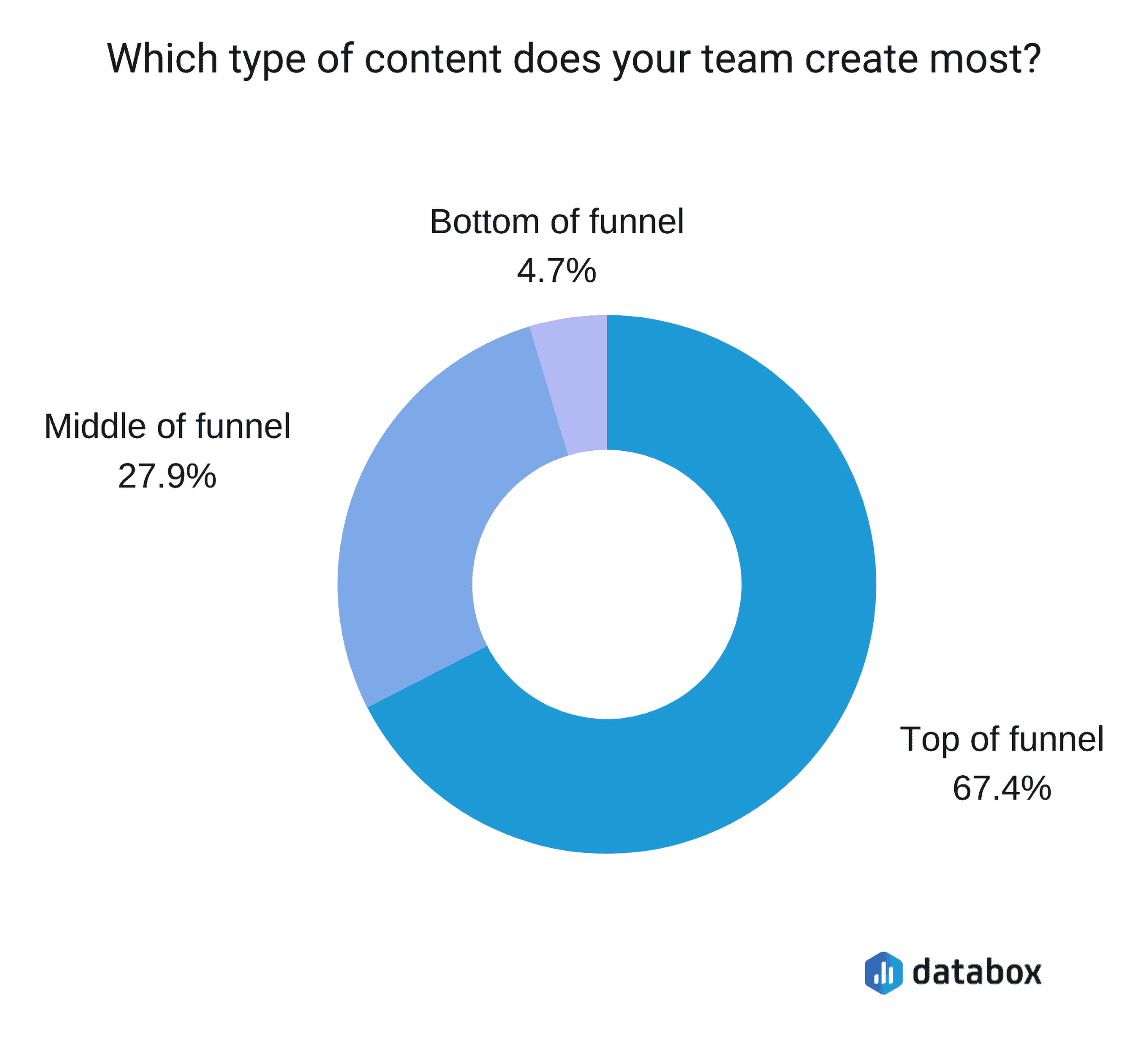 PR and news-related blogs receive double the organic traffic than educational blogs (Emily Byford)
Not every piece of content has to be actionable and educational. In fact, one study of 500 SaaS companies found that blogs that focused on PR tended to get more traffic than educational blogs.
That's likely because buyers use branded search terms to find PR-focused blogs about a brand they'll buy from, such as "Backlinko statistics." Competition isn't as fierce as it would be for a non-branded search term like "B2B marketing statistics."
Plus, PR and news blogs have the potential to get covered and linked to by major media outlets. Especially when the brand does something that's legit newsworthy.
Here's where things get interesting: 36% of companies provide educational content compared with just 12% sharing press releases… Even though the latter gets double the organic traffic.
Listicles Get 218% more shares than "how to" tutorial-style posts (Backlinko)
Listicles, like this one, tend to get 2x more shares than "how to" tutorials. Listicles also outperform another B2B content marketing darling: infographics.
This can boil down to two reasons. First, list posts much easier to digest than an in-depth tutorial.
B2B buyers don't need to invest hours to extract value from a listicle. That's not always the case with a case study or infographic. Both of which are tough to skim.
Plus, listicles target people higher in the sales funnel. Which means more eyeballs. And more social shares.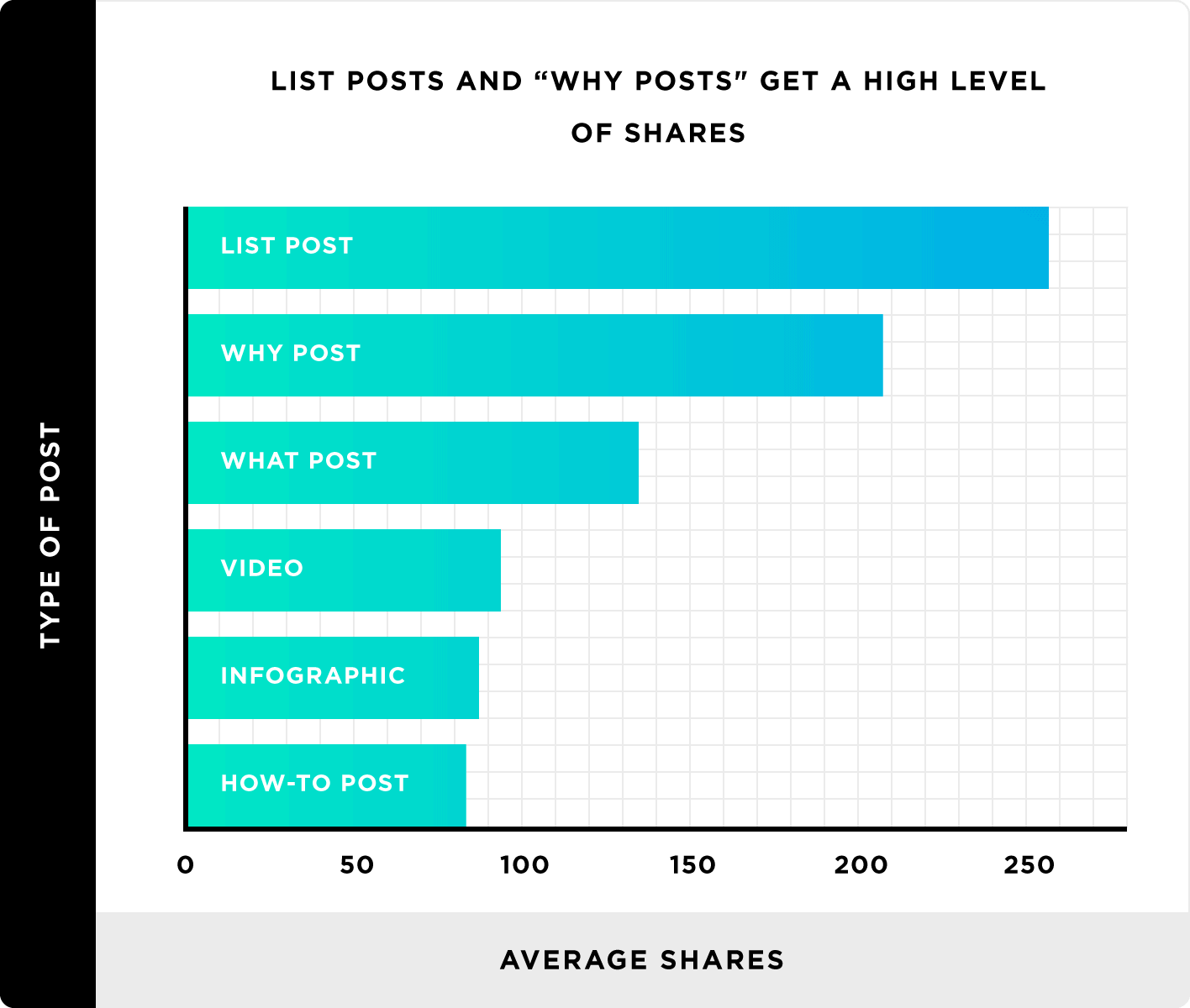 52% of B2B buyers say they're "definitely" more likely to buy from a brand once they've read their content (MarketingCharts)
There's a reason why B2B content marketing is a hugely popular marketing strategy.
Content is a great way to drive traffic to B2B sites. And can drive leads into your sales funnel.
But there's another reason to put out amazing B2B content: more than half of B2B buyers say significantly more likely to buy from a vendor after reading their content.
B2B Video Marketing Statistics
More than half of tech buyers think video is the most useful form of content (Isoline Comms)
When you think of "content," most people in B2B think of text-based content, like blog posts, reports and case studies.
That said, B2B buyers don't necessarily want to consume text content. In fact, over half of B2B tech buyers voted video content as the most useful form of content.
7 in 10 B2B buyers watch videos throughout their sales journey (Google)
Seven out of 10 B2B buyers say they spend time watching video content throughout their sales journey.
Whether that's a video hosting on a website. Or on YouTube. A surprising amount of content consumption in B2B is video-based.
87% of business-related video views are done via desktop (Vidyard)
Office workers are at their desks when they're making a purchasing decision. They're also sharing useful content with their colleagues via email or Slack. Those links are almost always opened using a desktop computer.
So, what does that mean for your B2B video content? Make sure it's desktop-friendly. Ditch the vertical videos that only work best on mobile. And make sure check the quality is up to scratch on larger screens.
B2B SEO Statistics
The majority (89%) of B2B researchers gather information about potential purchases through the internet (Google)
You already know that B2B buyers use their desktop when they're making purchasing decisions.
It's interesting to note that most of those people use the internet to gather information about products or services they're thinking about buying. Not word of mouth. Or reading offline industry publications.
Plus, 42% of researchers use a mobile device during the B2B purchasing process. This is why it's super important that your site is SUPER easy to use on mobile.
Before interacting with a website, the average B2B buyer conducts 12 different online searches (Google)
Buyers tend to make 12 different online searches before interacting with a B2B website.
This proves that a single piece of content isn't usually enough. You usually need to get in front of potential buyers in search. On social media. And with branded online ads.

29% of Google users only visit one page from the search results (Backlinko)
When you type something in Google, how many results do you tend to click on? Most B2B buyers would have a simple response: "One."
B2B buyers don't typically hop around different websites to find what they're looking for. Remember: they're busy people looking for a quick solution to their problem. Which means they usually land on one page. Find their solution. And move onto the next thing.
Combine that with the fact that a quarter of searchers click the first result, and you'll see why increasing rankings by just a few positions can make a huge difference.
B2B Email Marketing Statistics
Email newsletters are the best ways to nurture leads, according to 31% of B2B marketers (Content Marketing Institute)
The people who've subscribed to your email list are your most loyal fans. And according to this research, the leads closest to making a purchase.
Yes, straight-up sales emails obviously convert well. But they can also burn out your email list. And turn off colder leads.
An email newsletter provides insane value. And reminds people that you exist. This powerful combination is probably why almost a third of B2B marketers consider them their #1 closing tool.
The vast majority (89%) of all B2B emails have the company name as the sender (SuperOffice)
A B2B buyer's inbox is sacred. it's where they interact with coworkers. Communicate with partners. And head from brands they're considering buying from.
However, the vast majority of B2B email campaigns show the company's name as the sender, not a real person. There's nothing wrong with that necessarily. But it's smart to test different company vs. real person sender names to see which results in more opens and clicks.
B2B Social Media Statistics
95% of B2B marketers utilize social media content in some form, making it the most widely-used content type (Content Marketing Institute)
When you think of social media marketing, you probably think of "viral" campaigns.
Thing is, platforms like LinkedIn and Twitter are super important. CMI reports that 19 in 20 B2B marketers are using them, hoping to influence buyers.
This influence can take many different forms. The buyer might see a piece of interesting content from a brand in the newsfeed. Or get wrapped up in a discussion about a specific product.
Or, they can experience FOMO. Something which 56% of social media users admit they struggle with.
Social media is a source in making purchasing decisions for 84% of B2B executives (Leadspace)
Granted, B2B buyers can be influenced by random content on social media.
Yet 84% also say they head to social media when they're actively making a purchasing decision. They want to hear other real-life opinions on a product, service, or company. Before they commit to buying it.
4 in 5 B2B leads from social media come through LinkedIn (LinkedIn)
LinkedIn is one of the only social media platforms geared towards professional., So it should come as no surprise to learn that the vast majority of B2B social media leads come through that channel.
(A lot of those leads are also due to insane levels of LinkedIn message spamming. But that's another story 🙂 )
There are a million ways to get more leads from LinkedIn. You can create and publish content on your company profile. Individual team members can engage with posts that their target audience is likely to read. You can even publish original content in the form of LinkedIn articles.
B2B Marketing Analytics Statistics
74% of B2B marketers set goals, but only 3% always achieve them (CoSchedule)
Research shows that B2B marketers set goals. But they rarely achieve them. Just 3% say they always achieve marketing goals.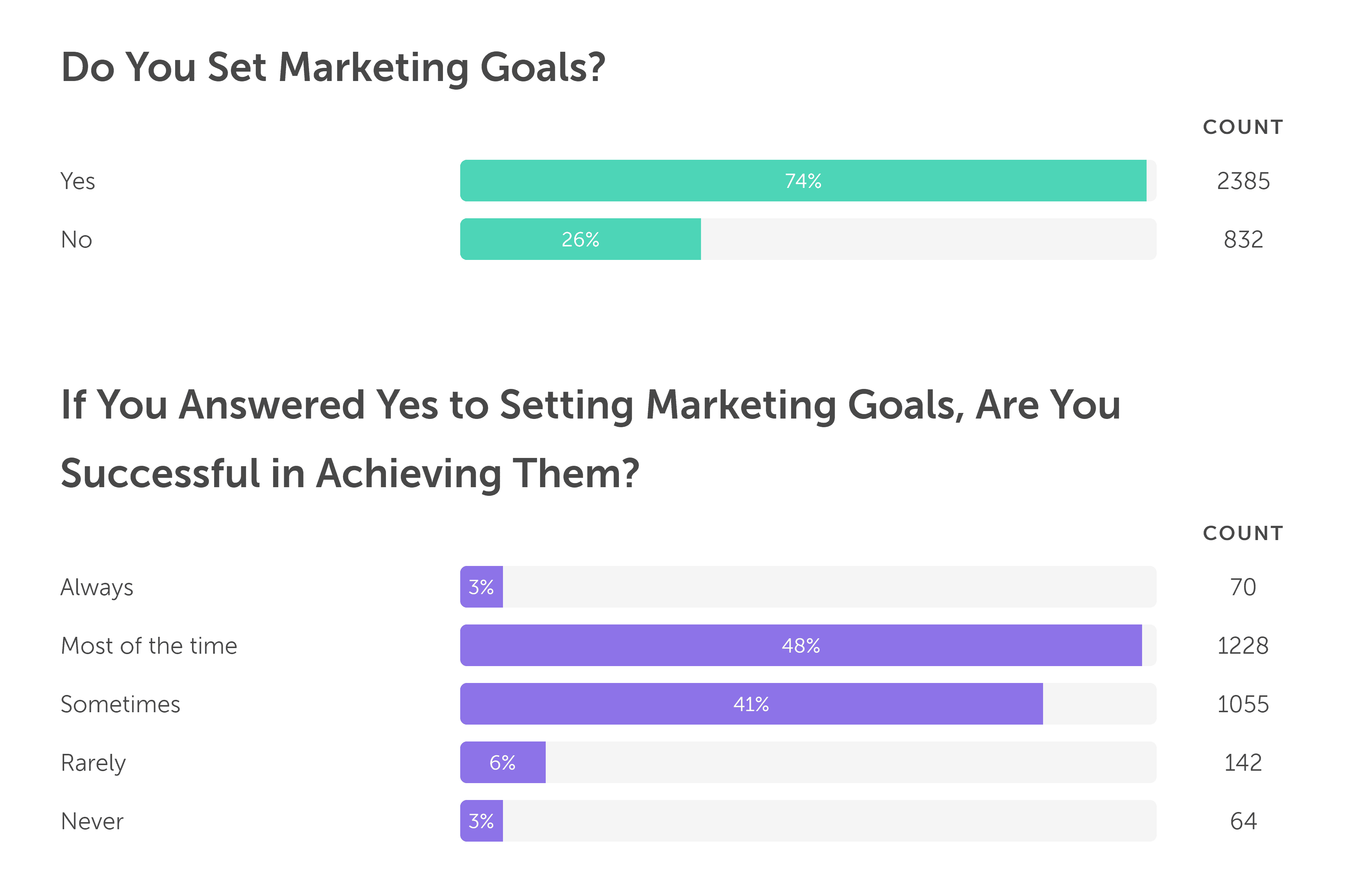 Total sales is the most common success metric for content marketing (HubSpot)
Traffic. Social shares. Backlinks.
These are all decent metrics for figuring out if your content is working. But there's another metric that trumps all: sales.
In fact, according to this data total sales tend to be the default success metric for most companies.
It does make sense to evaluate your content marketing efforts based on sales. To a point.
The thing is, a "conversion" for a piece of content depends on the stage of the funnel it's being written for. For example, the goal for a middle-of-the-funnel piece might be "newsletter subscribers". And the goal for a top-of-the-funnel piece would be something less tangible, like "brand awareness".
Both of these conversions are valuable. But they won't lead to sales that day.
Plus, the average B2B buying process involves six to 10 decision makers. This means your readers need to get buy-in before making a decision on whether to purchase. Something that's unlikely to happen from a single blog post or YouTube video.
Most marketers use 15 data sources for reporting (Salesforce)
Google Analytics uses a "last-touch" attribution model. Which means the content isn't always credited with a sale. Even if that content was the reason why someone visited your B2B website in the first place.
That's probably why most marketers use up to 15 different data sources for reporting. Their CRM, Facebook Ads dashboard, and revenue figures all have valuable data you can extract for marketing reports. Plus, pooling data together is more accurate relying only on Google Analytics.
Conclusion
That's my round-up of B2B marketing stats.
Now I'd like to hear what you thought of this list:
Specifically, which stat surprised you the most?
Let me know in the comments section below.