We analyzed 12 million outreach emails to answer the question:
What's working in the world of email outreach right now?
We looked at subject lines. We looked at personalization. We even looked at follow-up sequences.
Along with our data partner for this study, Pitchbox, we uncovered a number of interesting findings.
Here is a Summary of Our Key Findings:
1. The vast majority of outreach messages are ignored. Only 8.5% of outreach emails receive a response.
2. Outreach emails with long subject lines have a 24.6% higher average response rate compared to those with short subject lines.
3. Follow-ups appear to significantly improve response rates. Emailing the same contact multiple times leads to 2x more responses.
4. Reaching out to multiple contacts can also lead to more success. The response rate of messages sent to several contacts is 93% higher than messages sent to a single person.
5. Personalized subject lines boost response rate by 30.5%. Therefore, personalizing subject lines appears to have a large impact on outreach campaign results.
6. Personalizing outreach email body content also seems to be an effective way to increase response rates. Emails with personalized message bodies have a 32.7% better response rate than those that don't personalize their messages.
7. Wednesday is the "best" day to send outreach emails. Saturday is the worst. However, we didn't find an especially large difference in response rates between different days that messages were sent.
8. Linking to social profiles in email signatures may result in better response rates. Twitter was correlated with an 8.2% increase, LinkedIn an 11.5% increase, and Instagram a 23.4% increase.
9. The most successful outreach campaigns reach out to multiple contacts multiple times. Email sequences with multiple attempts and multiple contacts boost response rates by 160%.
10. Certain types of outreach get higher response rates than others. Outreach messages related to guest posting, roundups and links have an especially high response rate.
We have details and additional data from our study below.
Most Outreach Emails Are Ignored or Deleted
You may have heard that it's challenging to get people to reply to cold outreach emails. According to our data, poor response rates do appear to be the norm.
In fact, we found that only 8.5% of all outreach emails receive a response.
This response rate is similar to what several cases studies, like this one from the Moz blog, have previously found.
The fact that 91.5% of cold outreach messages are ignored may not come as a surprise. After all, generic outreach emails like this are extremely common: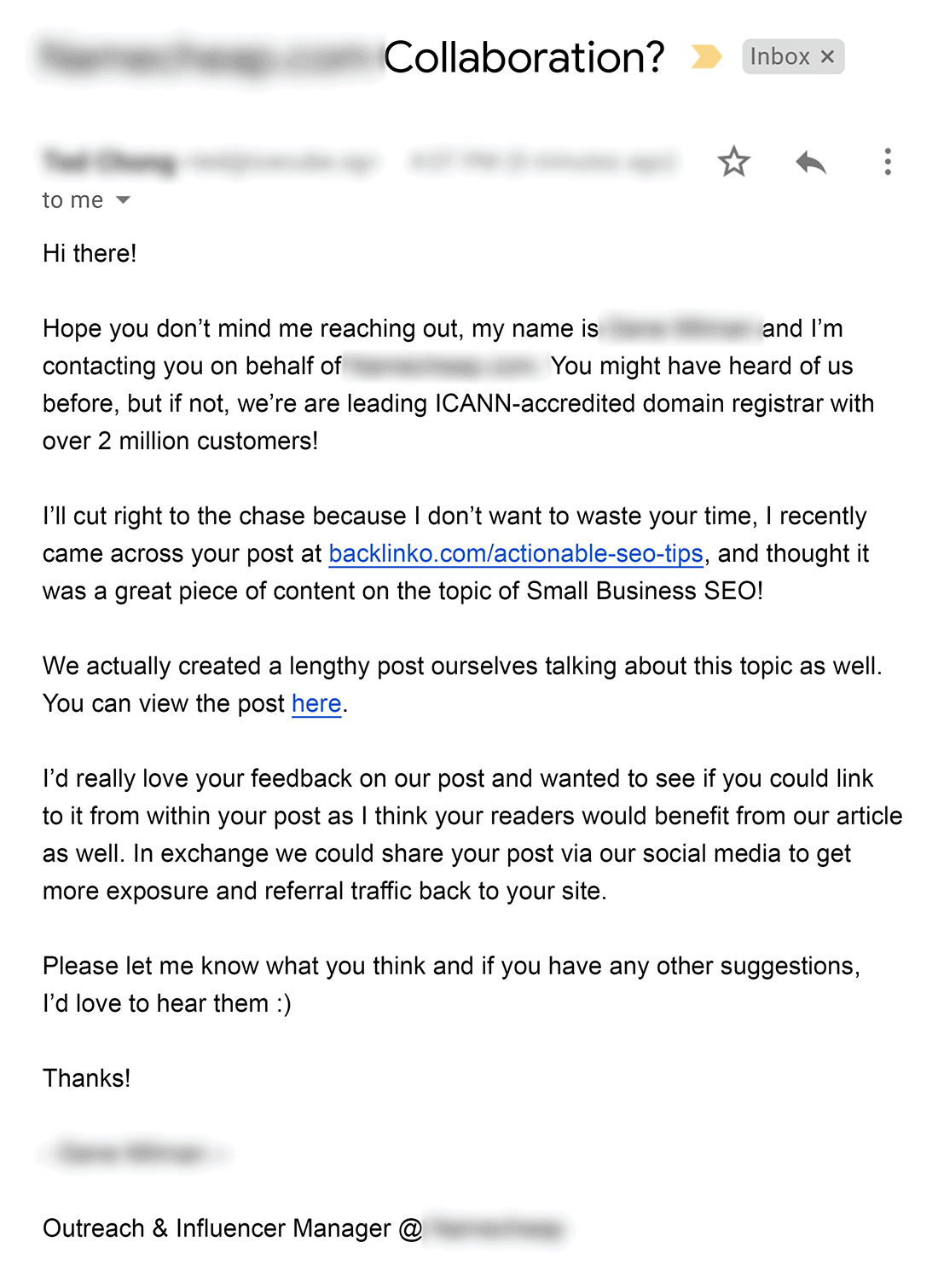 Fortunately, our research found several factors that helped certain outreach emails outperform the average. We will cover these findings later in this post.
But for now, it's important to note that very few outreach emails receive a response.
Key Takeaway: 91.5% of outreach emails are ignored.
The Ideal Outreach Email Subject Line Length Is 36-50 Characters
Our study found that long subject lines get a significantly higher response rate than shorter subject lines.
Specifically, subject lines between 36-50 characters get the best response rate.
To compare subject line response rates, we placed them into 5 buckets: short, medium, long, very long and extremely long.
And we found that long subject lines outperformed short subject lines by 32.7%.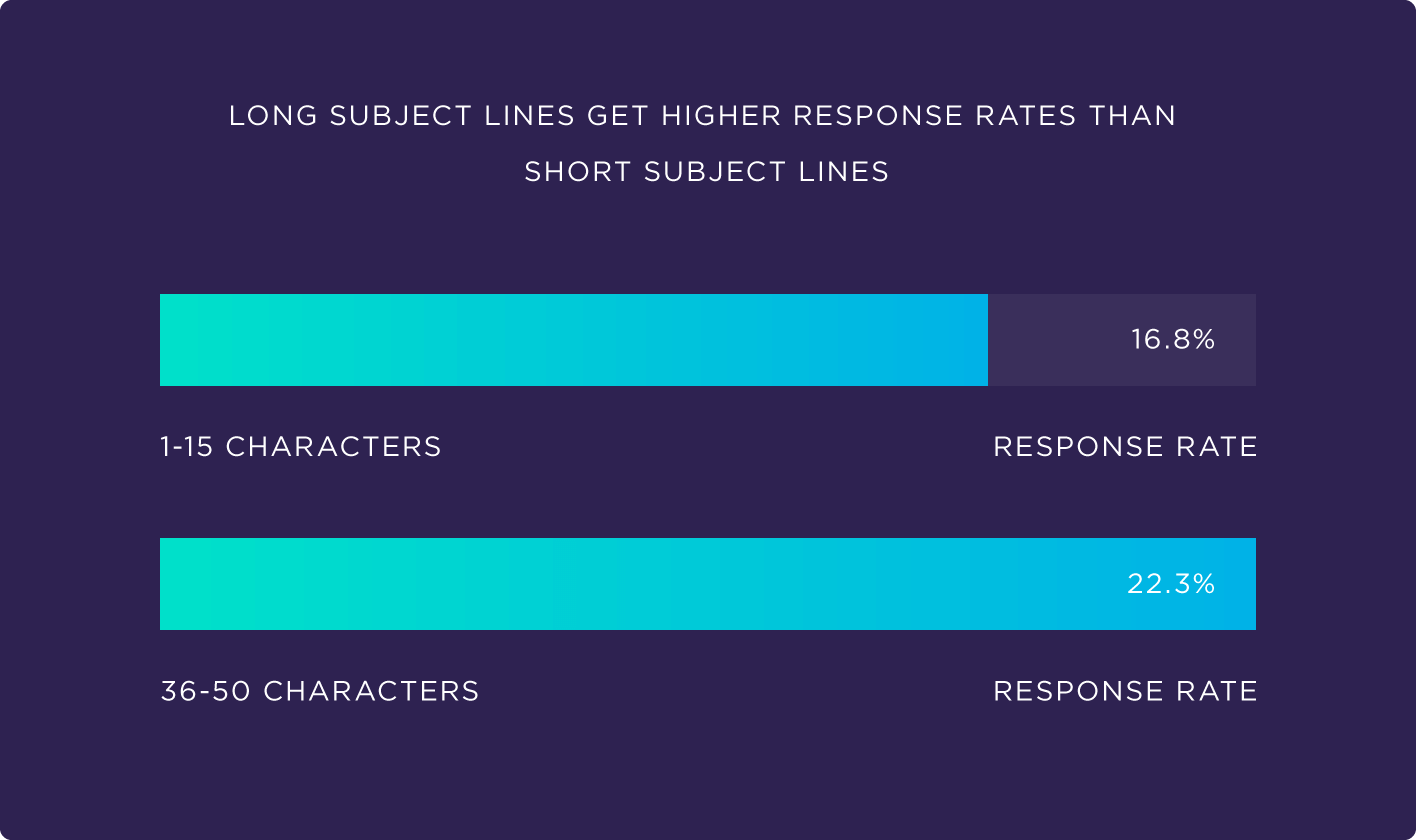 Why do long subject lines do best?
It's likely because longer subject lines give you an opportunity to fully describe the content of your message.
For example, imagine a super short subject line like: "Quick Question".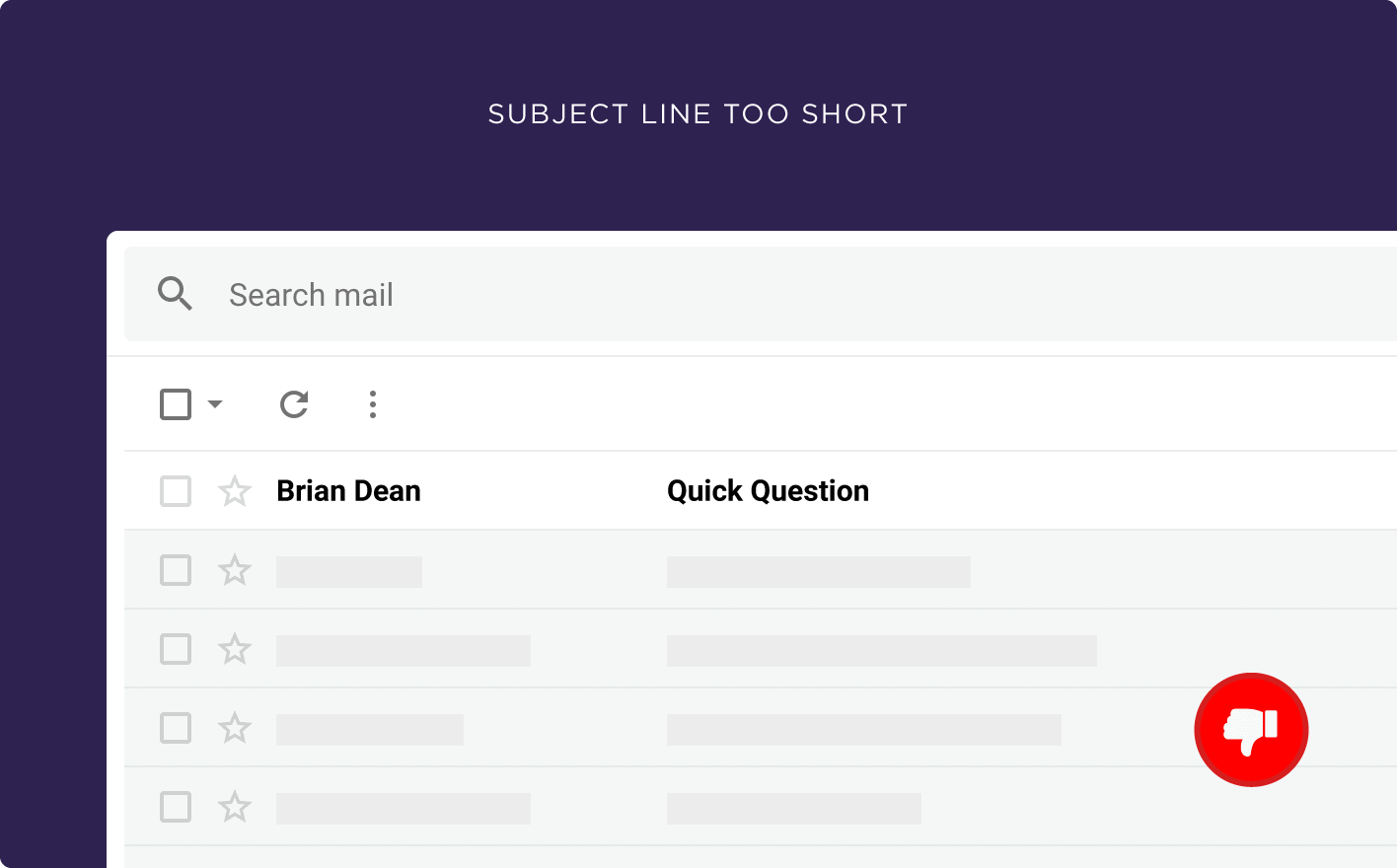 At 13 characters, it's impossible for your recipient to know what your email is about. It could be a question about their sales process. Or their lunch plans.
Plus, because it doesn't note anything specific, it makes your outreach email seem generic before they've even opened it.
Contrast that with a subject line like: "Quick Question About Your Latest Blog Post"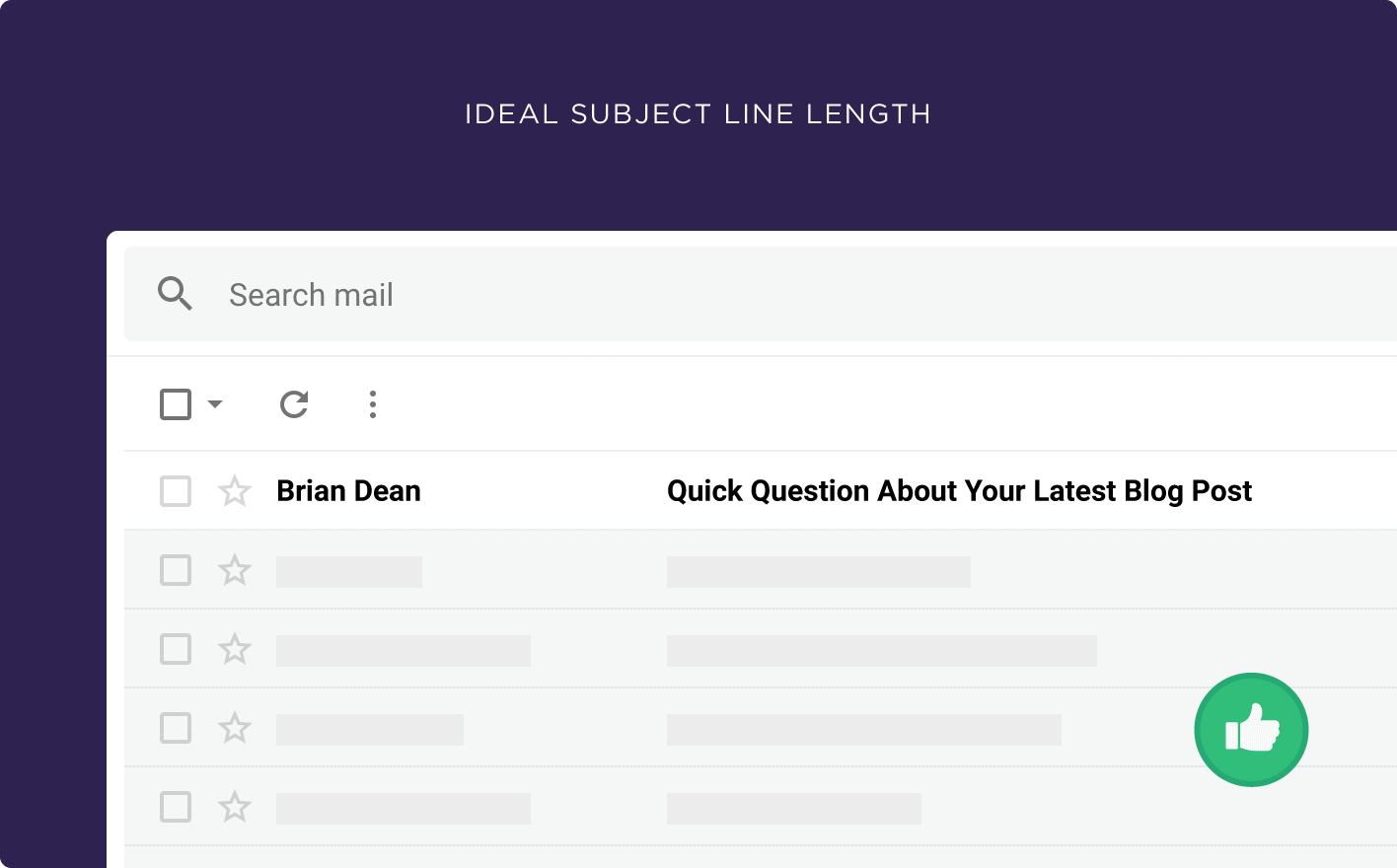 This subject line is much more specific. That way, if the recipient decides to open your email, they know what to expect.
However, it's possible for your subject line to be too long.
For example, "Quick Question About Your Latest Blog Post About The Top 10 Paleo Diet Myths" is an extremely descriptive subject line. But it's likely to get cut off by most inboxes (like Gmail):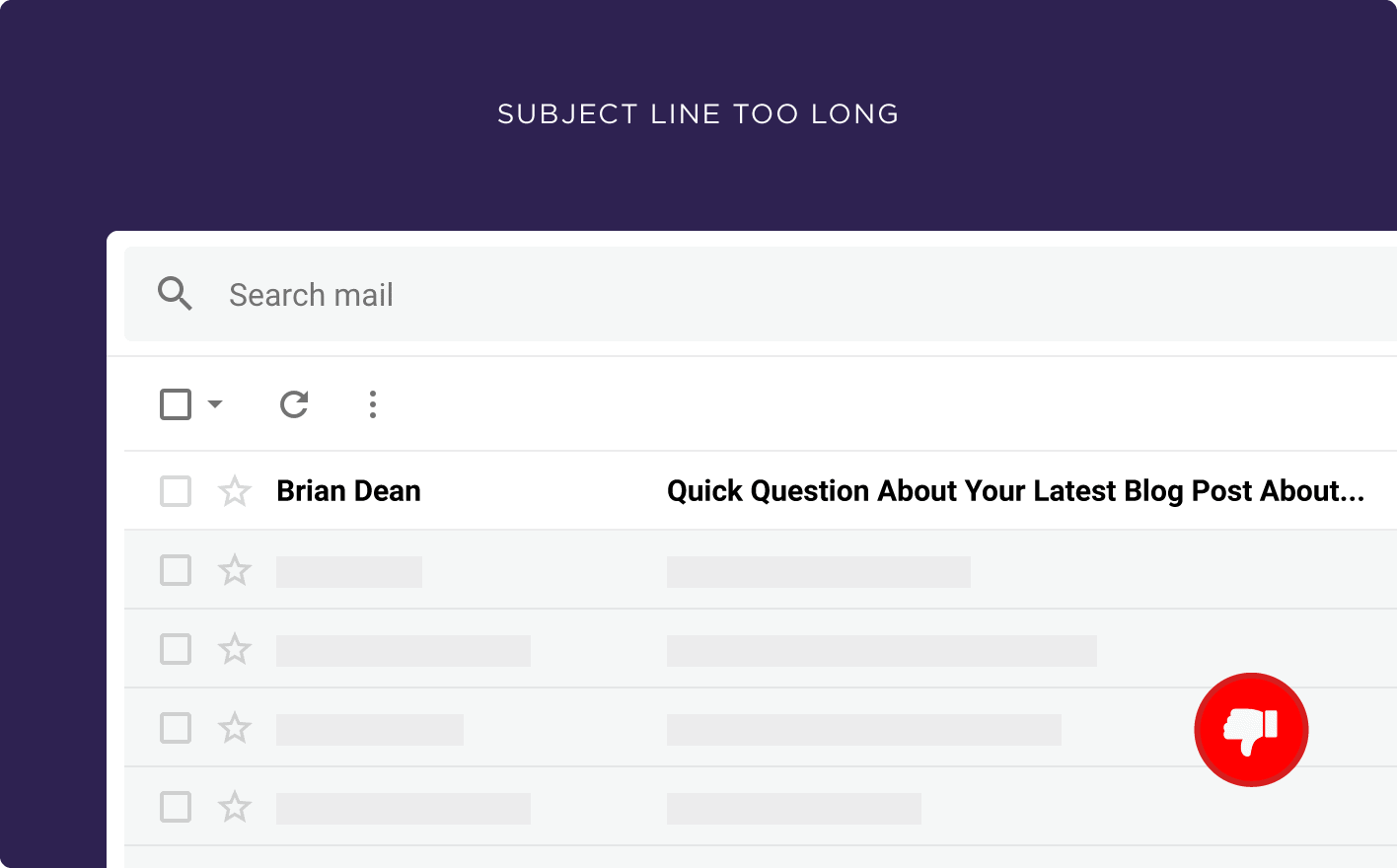 Key Takeaway: Long subject lines get 32.7% more responses than short subject lines.
Sending Follow-up Messages Significantly Improves Response Rates
Should you send follow-up messages to people that don't reply to your initial outreach?
According to our findings, yes. We found that multiple outreach messages work better than a single message: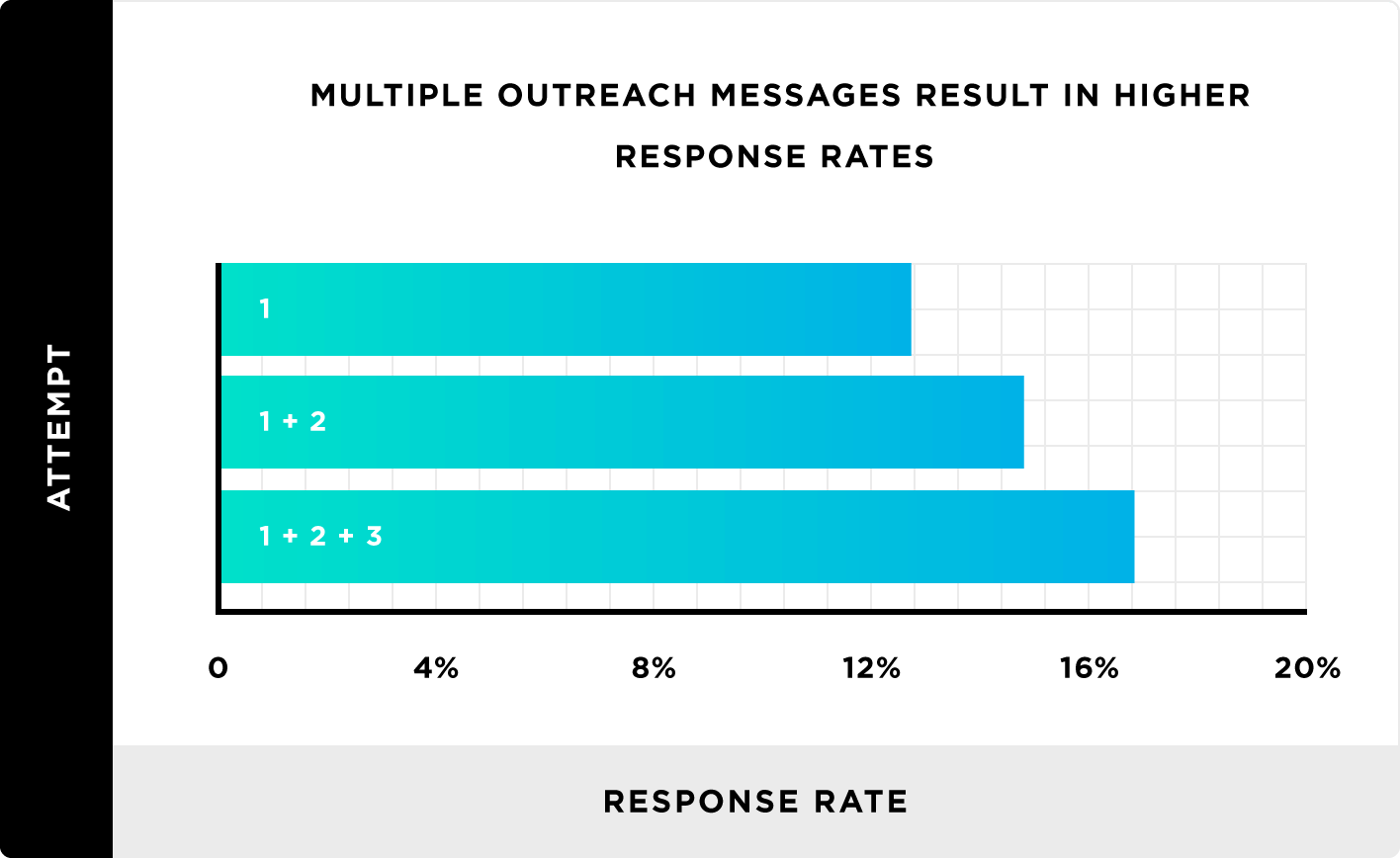 While sending 3 or more messages results in the best overall response rate, sending just one additional follow-up can boost replies by 65.8%.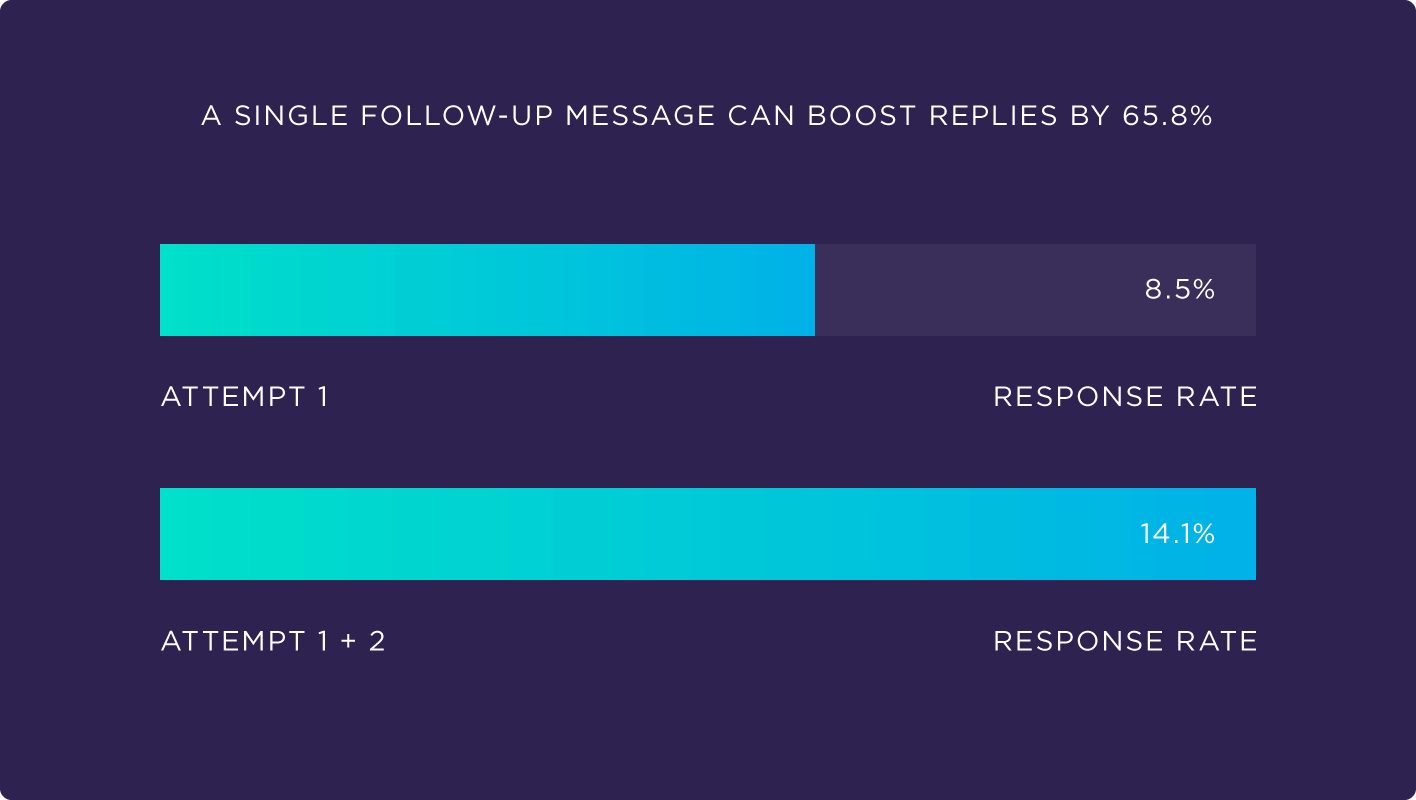 Why do follow-ups work so well?
Simply put: people receive lots of emails in their inbox every day. In fact, The Radicati Group found that Key Takeaway: Follow-ups can significantly improve outreach conversion rates. In fact, a single additional follow-up message can lead to 65.8% more replies.
Reaching Out to Several Contacts Increases the Odds of a Response
We looked at the effect that reaching out to several contacts at the same organization had on outreach conversions.
And we found that, compared to a single contact, sending emails to more than one contact improves response rates by 93%.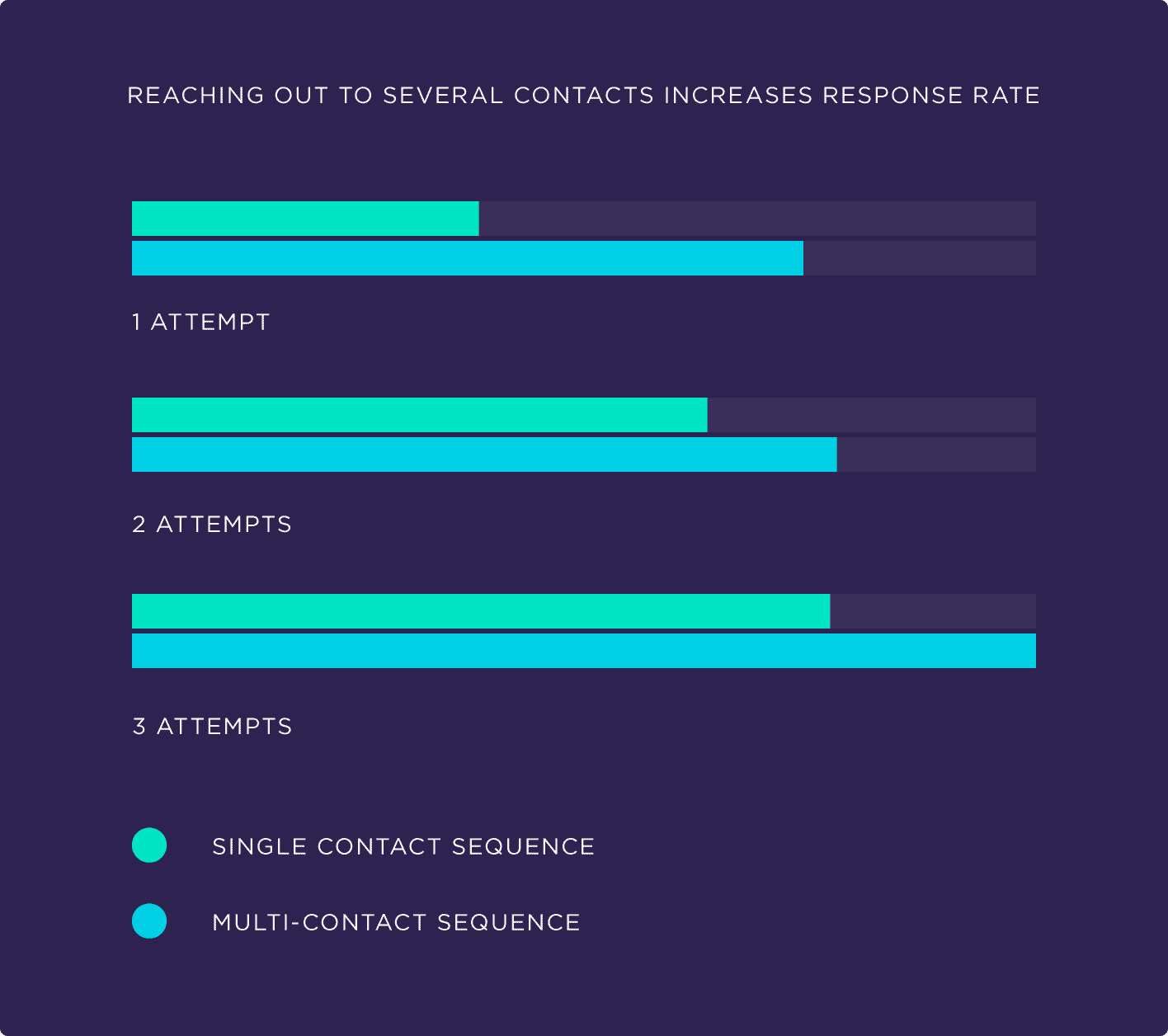 We also looked at how outreach success rate correlated with number of contacts. We found a clear pattern that more contacts leads to more responses.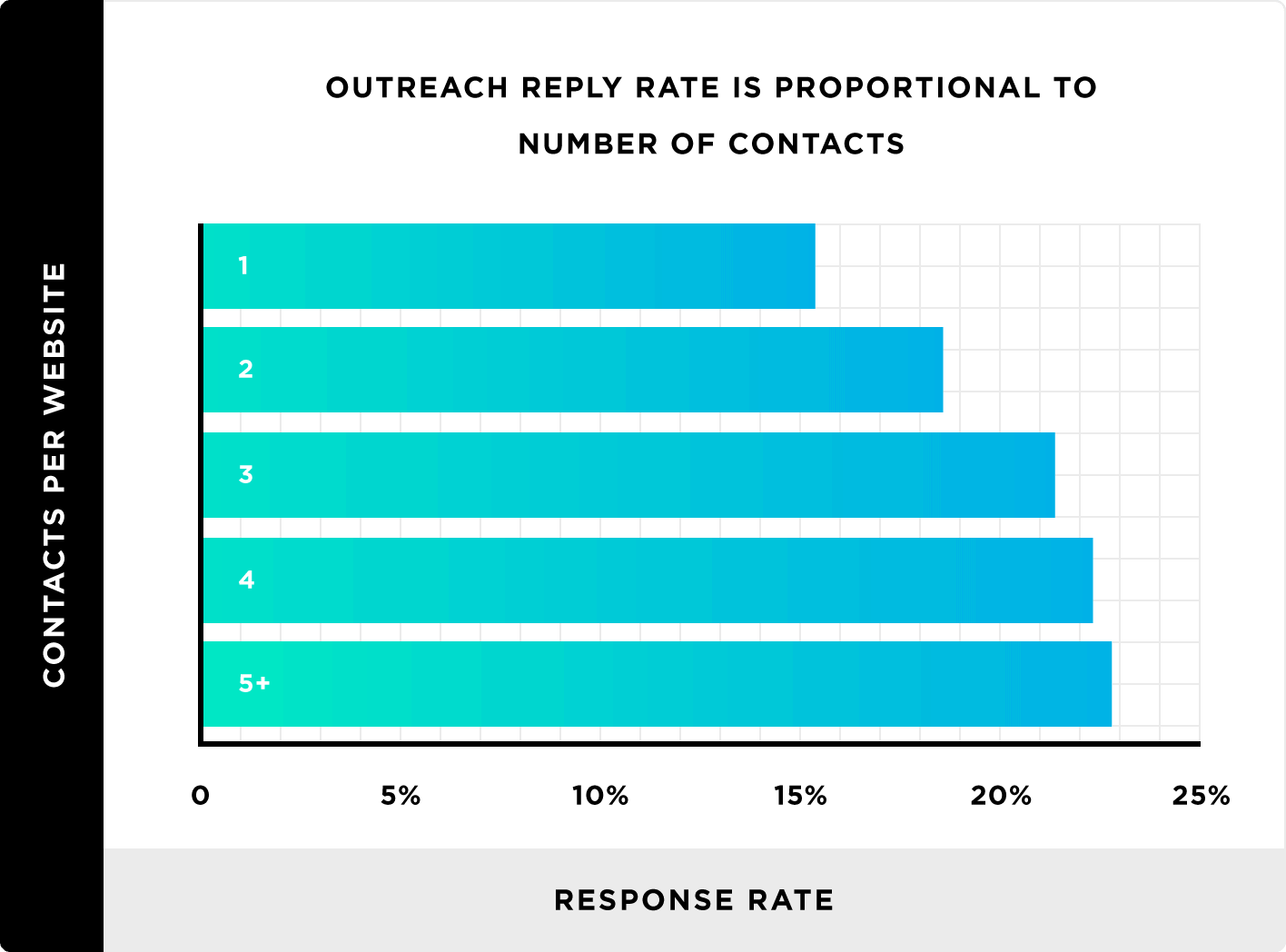 However, we did find a point of diminishing returns at 5+ contacts.
If you're reaching out to a single-author blog, you probably don't need to worry about sending messages to several different contacts.
However, multiple contacts becomes important when reaching out to large websites with dozens of employees. That's because it can be hard to tell who exactly is responsible for which task (even with the help of an org chart and "About Us" page).
For example, let's say that you're sending an outreach message to a large publisher as part of a link building campaign. Should you email the author of the article? Or the editor of the blog? Or maybe the best person is the head of content.
It's almost impossible to know without an intimate understanding of the organization's inner workings. That's why it usually makes sense to reach out to a single person. Then, if you don't hear back, try again with another contact. That way, over time, your message should get in front of the person that is most likely to add your link to the post.
Key Takeaway: Having multiple contacts to reach out to increases your chances of getting through. In fact, outreach emails sent to multiple contacts can boost response rates by 93%.
Personalized Subject Lines Lead to More Replies
Personalizing emails is considered an outreach best practice. However, to our knowledge, there hasn't been any research done to support this strategy.
That's why we decided to investigate the effect of personalization on outreach email replies. Specifically, we compared the response rates between messages that did and didn't use personalized subject lines.
Our data showed that personalized subject lines got nearly 1/3rd more replies than those without personalization.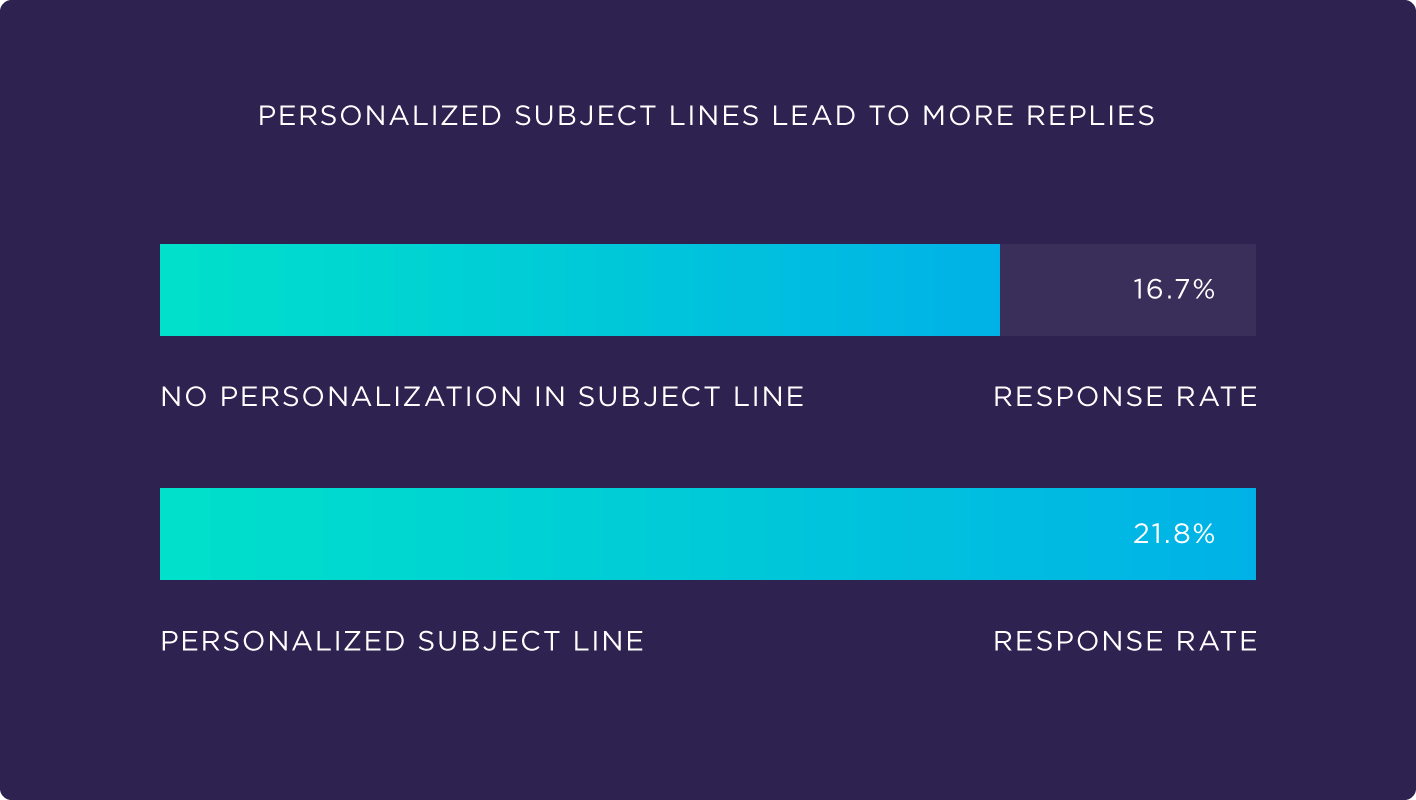 Why do personalized subject lines lead to more responses?
Although it's difficult to fully answer this question from our data alone, my theory is that personalized subject lines help you stand out in someone's crowded inbox.
For example, take a non-personalized subject line like: "More Leads". For someone that's hurriedly scanning incoming emails from their iPhone, "More Leads" doesn't compel them to see or open the message.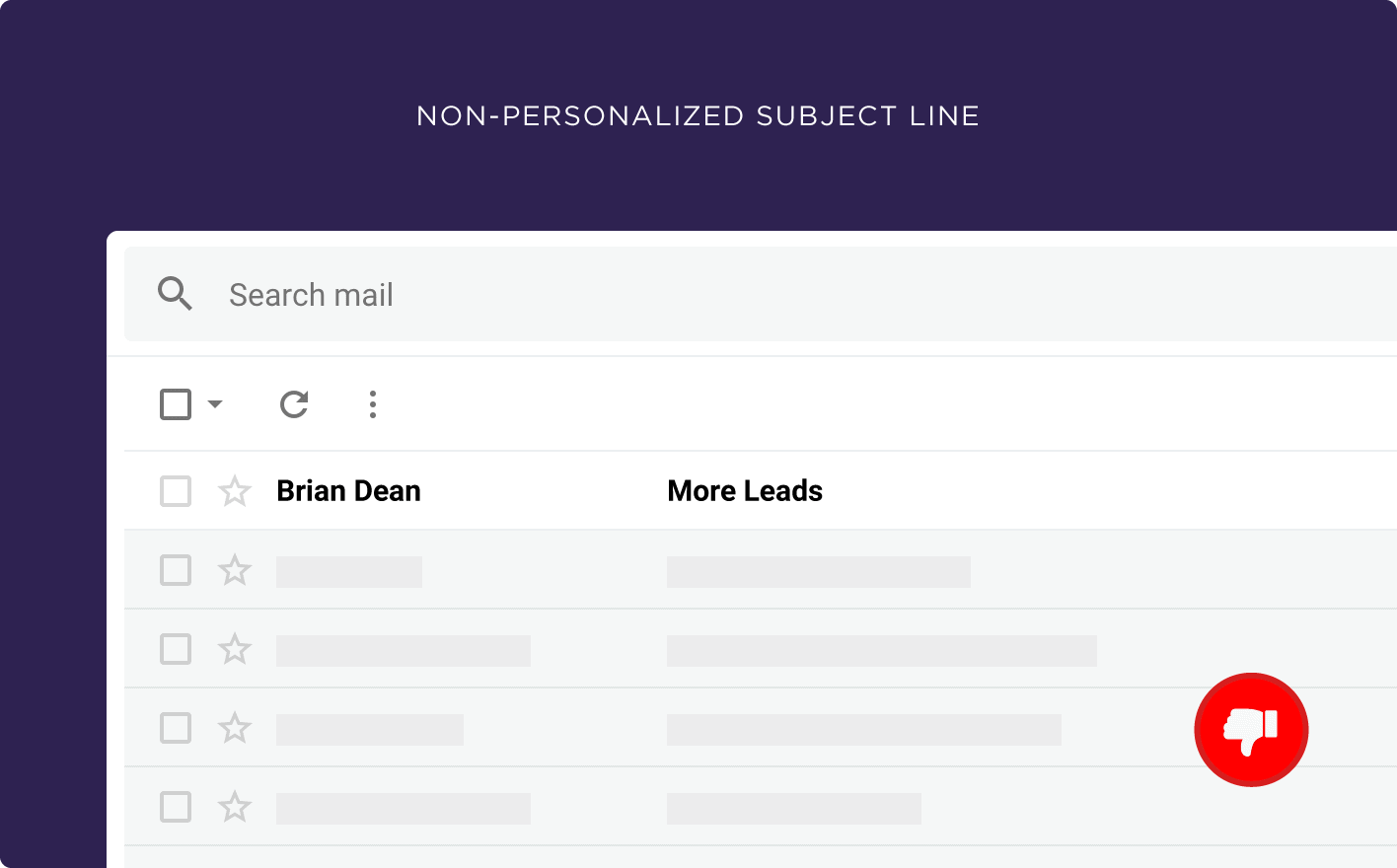 On the other hand, adding a bit of personalization makes your subject line much more compelling to the person on the receiving end of your message.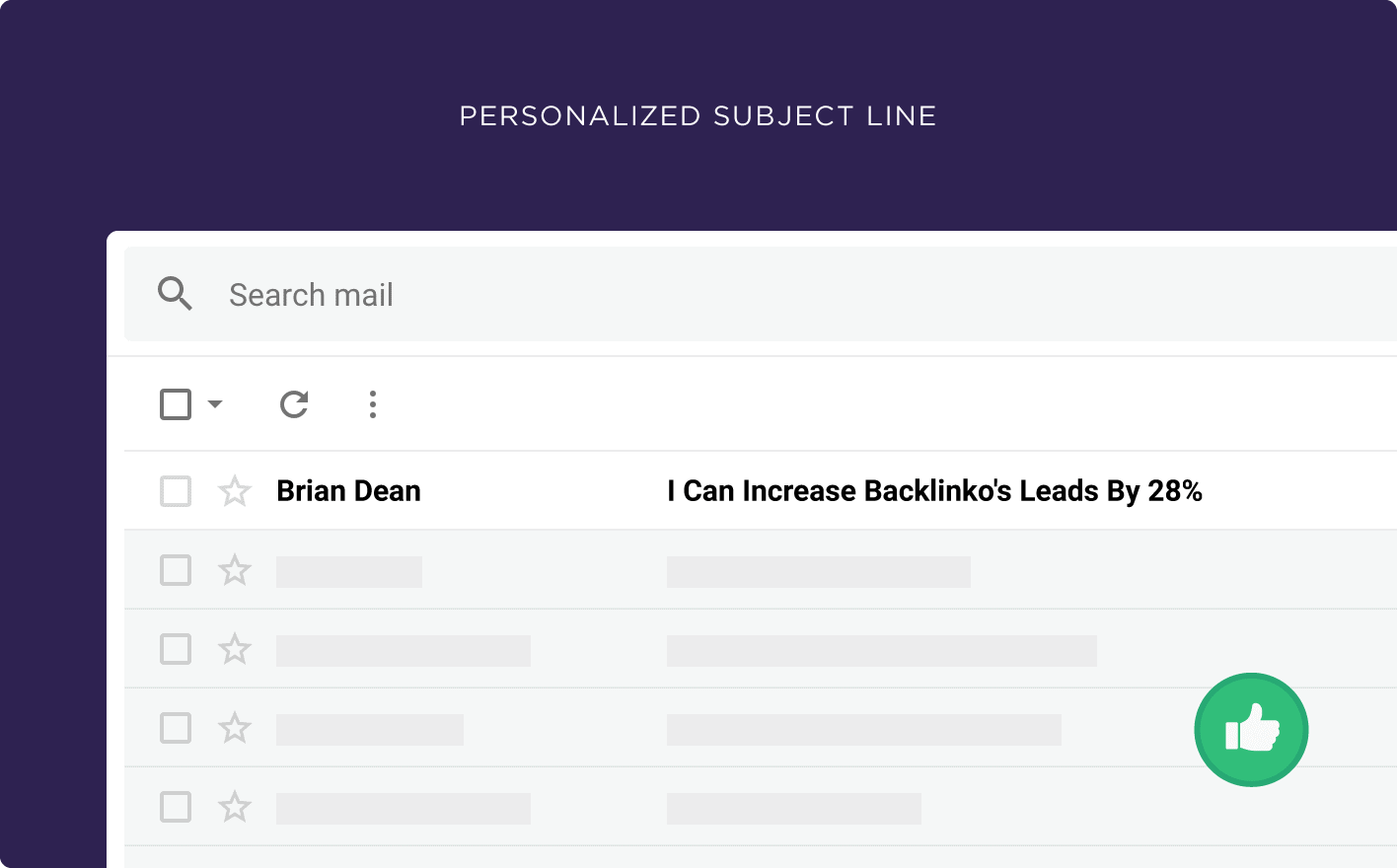 Key Takeaway: Emails with personalized subject lines boost response rate by 30.5%.
Personalizing Email Body Copy Can Significantly Improve Response Rates
As we just outlined, personalized subject lines are correlated with higher response rates (likely due to a higher email open rate).
However, we wanted to see if the benefits of personalization extended to the outreach email body itself.
Our data showed that personalizing the body of outreach emails also improved conversion rates. Specifically, personalized messages received 32.7% more replies than those that weren't personalized.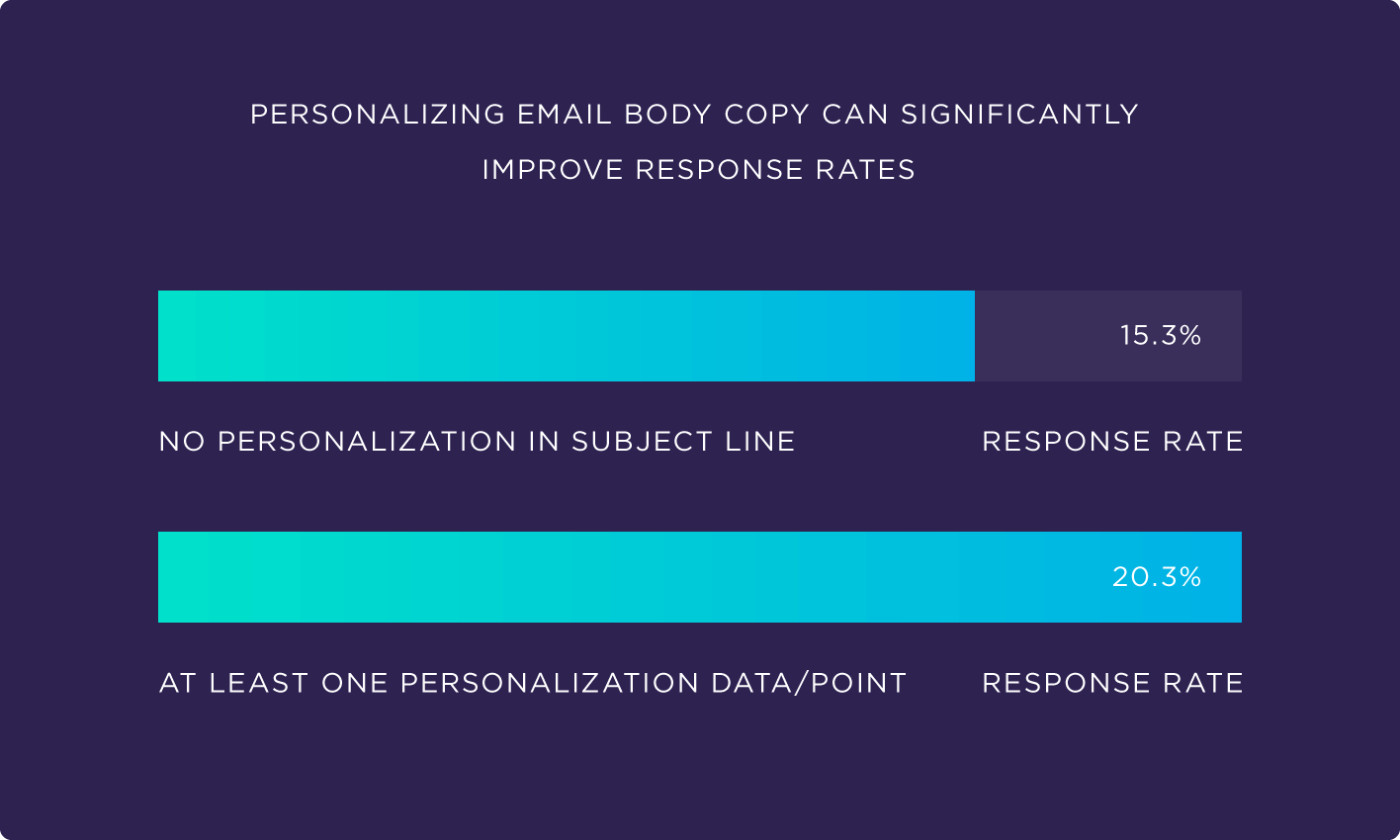 Generic outreach messages are easy to spot. For example, here's one that I received a few days ago: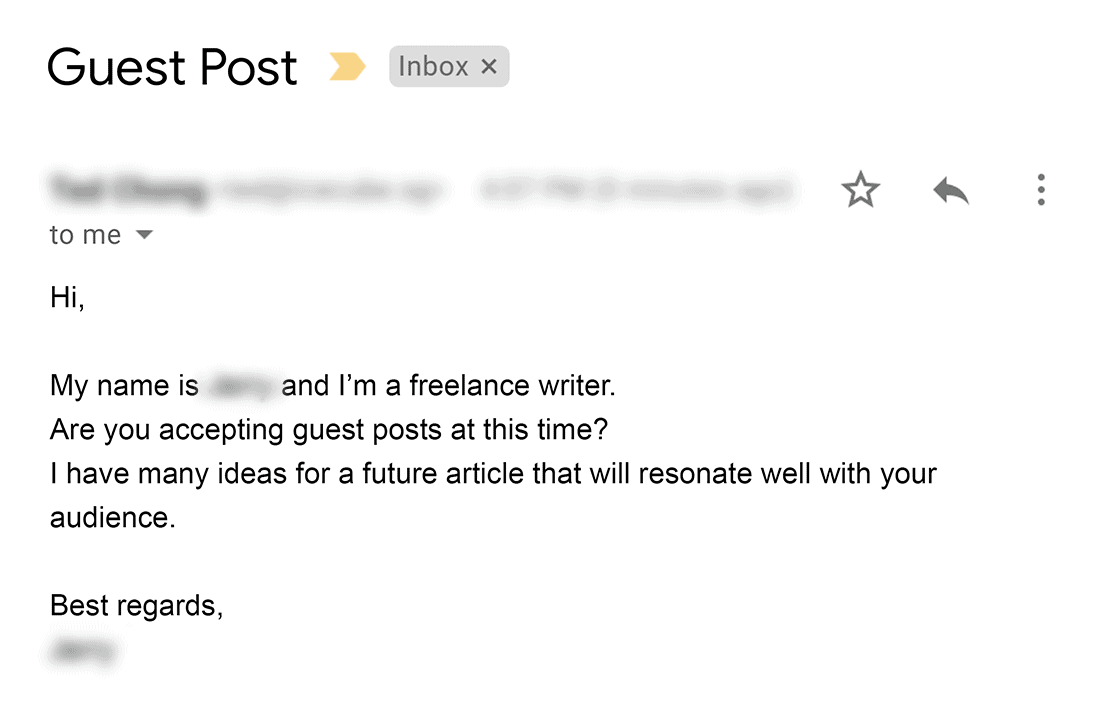 The telltale "Hi," or "Hello," is usually enough to let you know that this exact same email has been sent to hundreds of other people.
On the other hand, even a relatively small gesture, like using the person's first name, can go a long way.
And for those that are interested in getting the highest reply rate possible, writing outreach emails from scratch (or working from a template with lots of room for personalization), seems to work best. Here's an example of one such outreach email someone recently sent me: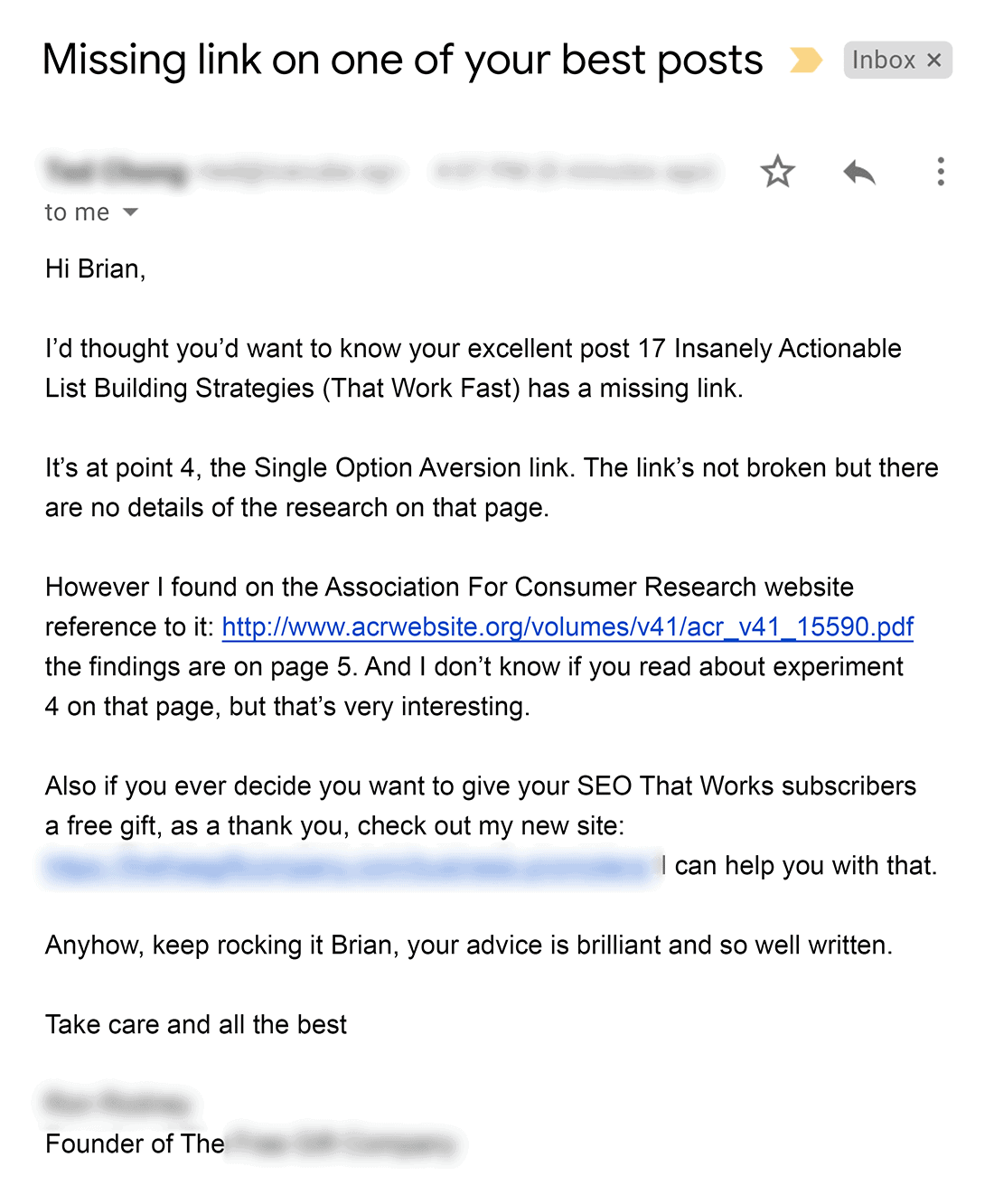 According to our research, personalizing subject lines and body copy is correlated with above-average response rates. Yes, personalizing takes more time and effort. But the data suggests that this extra work pays off.
Key Takeaway: Emails with personalized bodies boost response rate by 32.7%.
Wednesday Is the Best Day To Send Outreach Messages
Several industry studies have set out to answer the "best day to send emails" question. However, most of these studies (like this one from GetResponse) are specific to newsletter messages. They also tend to focus on open rates, not reply rates.
Which is why we decided to look at how response rates differed based on the day of the week that messages were sent out.
Our data showed that Wednesday had a slight edge over the other 6 days of the week. Also, Saturday appears to have the worst response rate.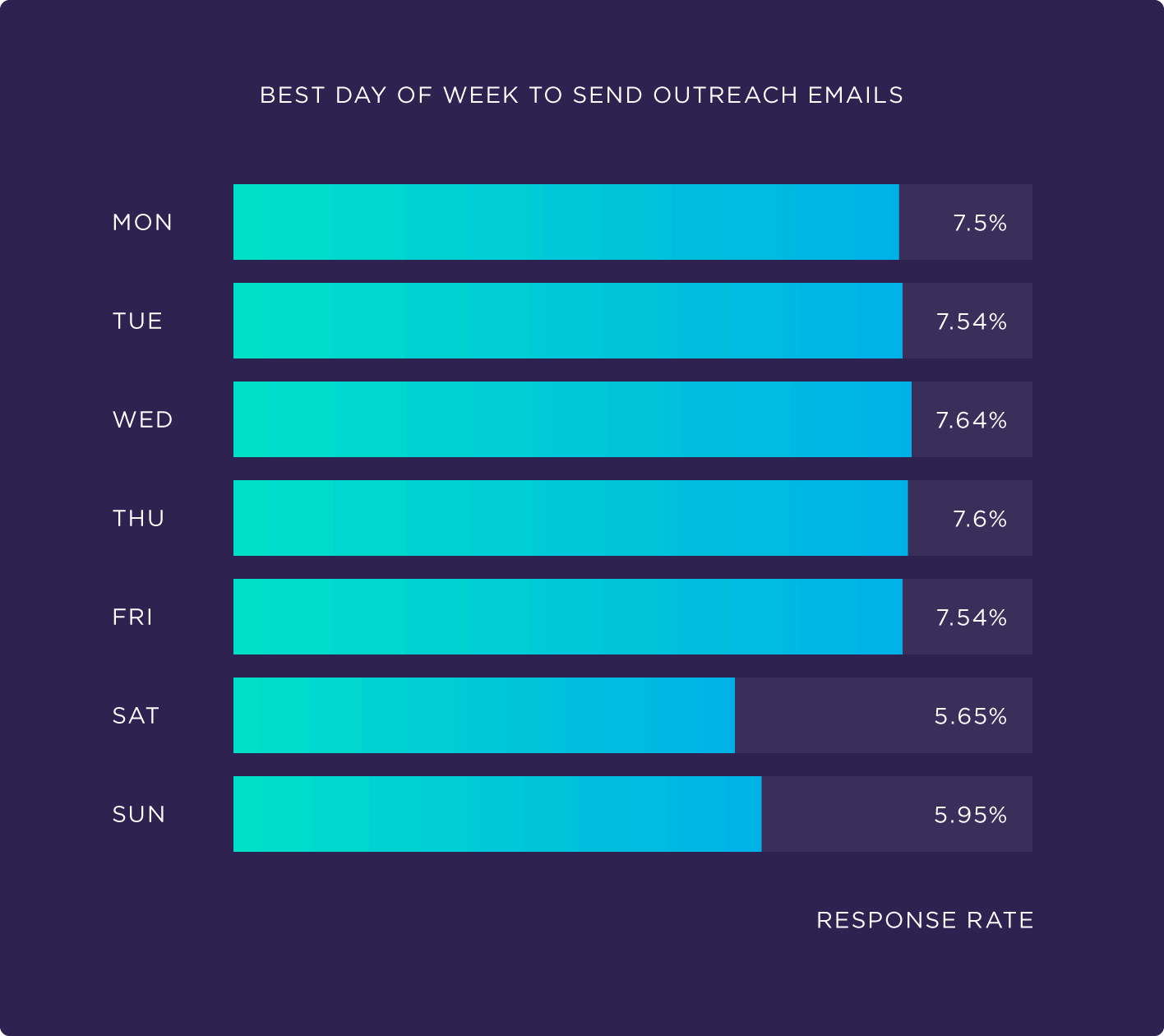 However, I should note that the differences in response rates were somewhat small.
For example, when we looked at the response rate for the "best" day (Wednesday) to the "worst" day (Saturday), we found that messages sent on Wednesday had a 1.99% higher overall response rate.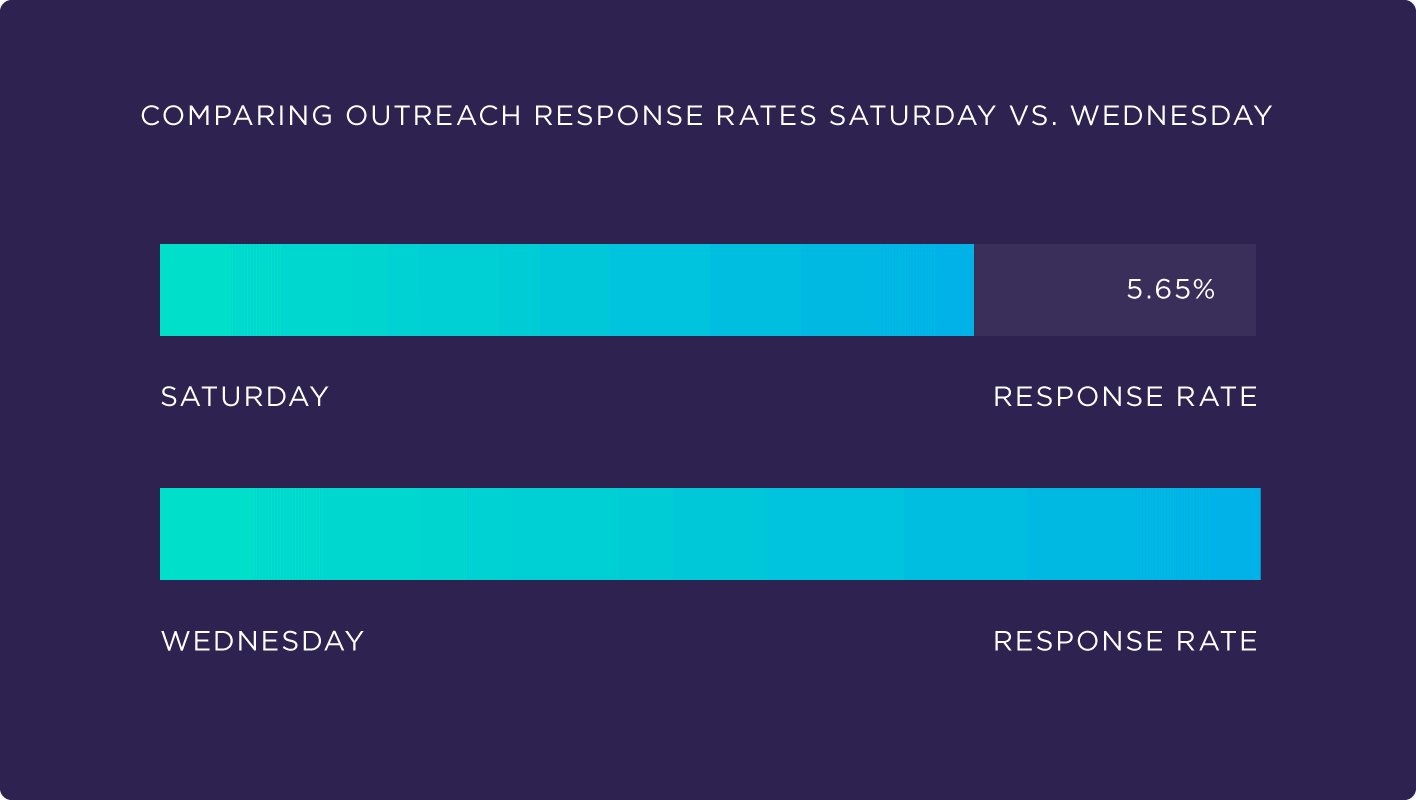 In other words, according to this data, sending outreach emails on Wednesday vs. Saturday could theoretically boost your response rate from 6% to 7.99%. If you're only sending a few dozen outreach messages per month, this may only lead to an additional reply or two.
However, this finding is more significant if you're doing outreach at scale. That's because, while 1.99% may not mean much in absolute terms, it amounts to a 33.1% higher relative response rate. Which is significant for those that send out a large amount of outreach emails every month.
We also compared response rates for messages sent during the week vs. those sent on the weekend.
And we found that outreach emails sent Monday through Friday had a 23.3% better conversion rate than emails sent on Saturday or Sunday.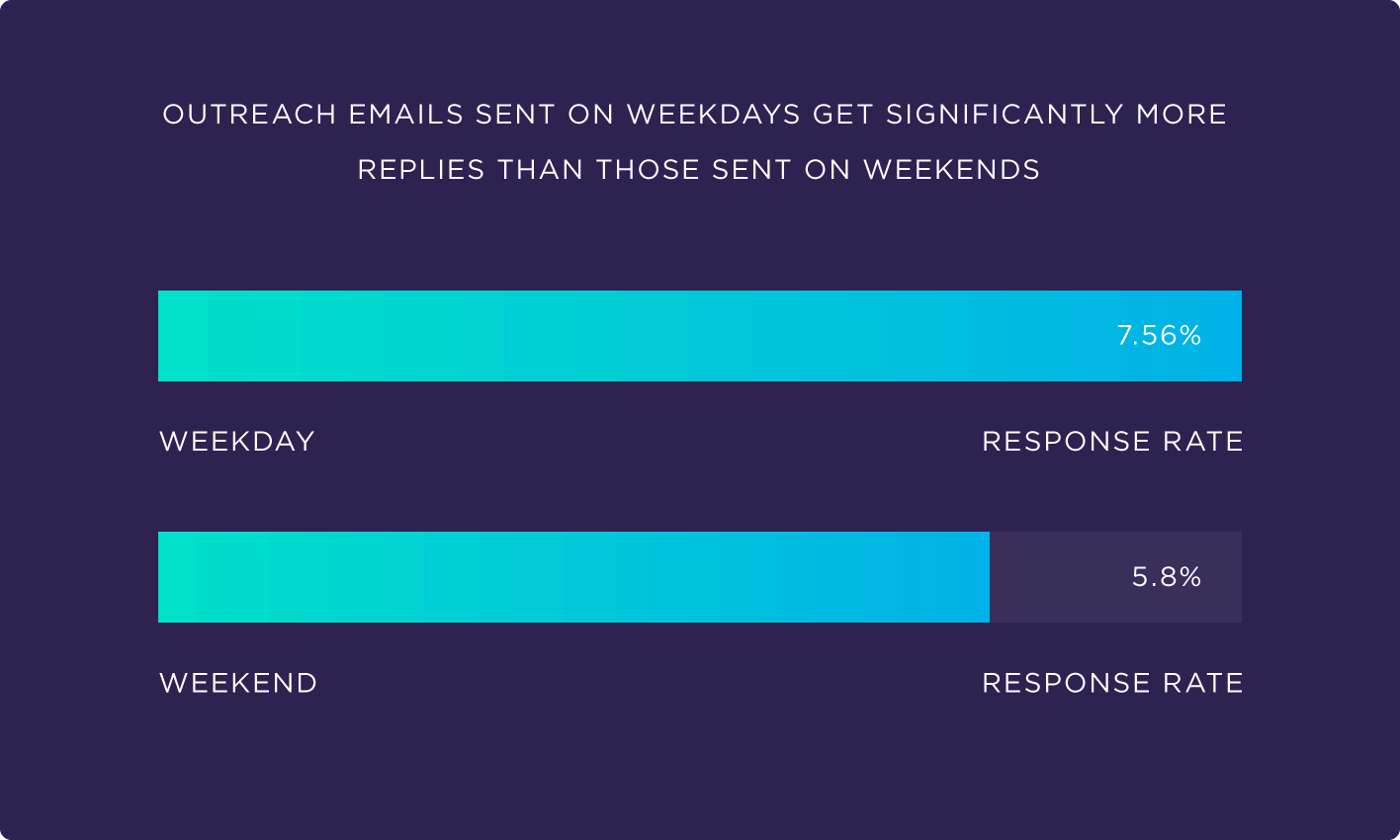 Key Takeaway: Outreach emails sent on Wednesday get more responses than any other day of the week. However, most small-scale outreach campaigns don't need to organize their sequences based on the day of the week.
Linking to Social Profiles May Slightly Improve Outreach Response Rates
Do social profile links in the email signature affect response rates?
According to our study, they do. Messages that contained links to social profile links in the sender's signature had an 9.8% higher average response rate compared to messages without them.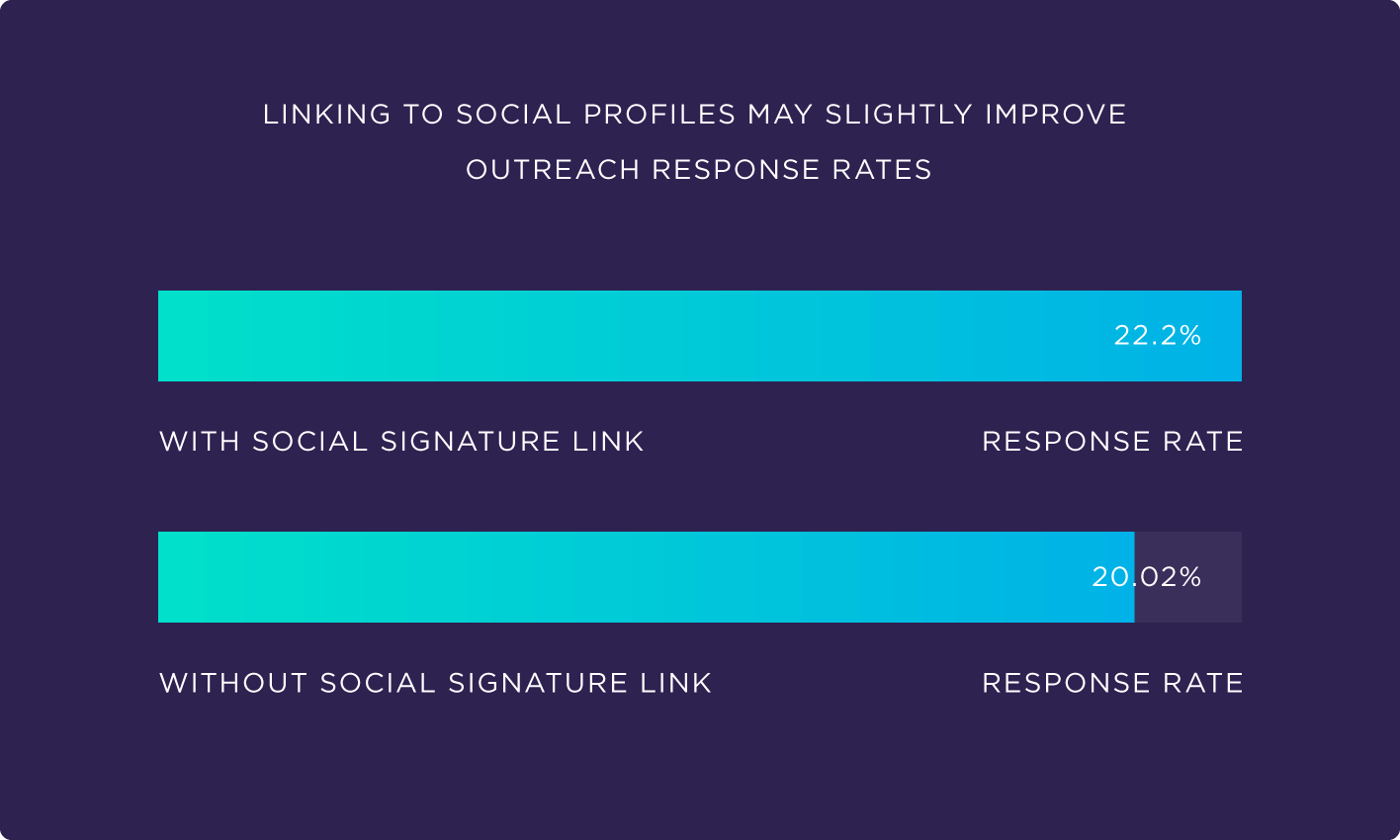 We also broke down the impact of social signature links by social network. We found that linking to Twitter, LinkedIn and Instagram profiles positively affect response rates. However, linking to Facebook profiles didn't seem to make a dent.
Why would social profile links lead to more responses?
I have two theories:
First, links to social profiles make you seem like a living, breathing person.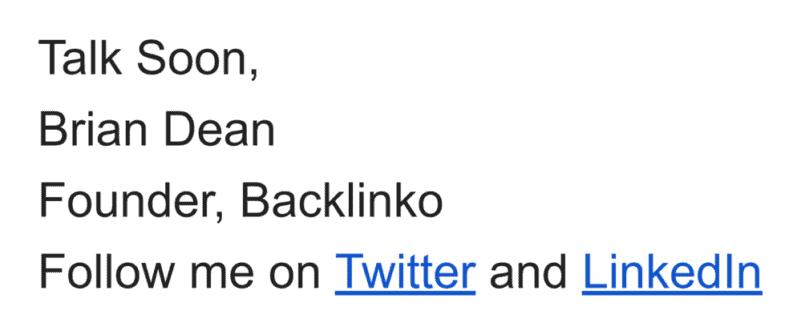 I doubt that many recipients actually click on these social signature links. However, their mere presence may suggest: "I'm not an outreach robot. I'm a person that's reaching out to you".
Second, it's possible that social profile links may not have any direct impact on responses at all. It could be a case of correlation, not causation.
For example, people that tend to be transparent may also spend more time personalizing their messages, which is the true underlying cause of the improved response rates.
While it's impossible to glean the exact effect of social profile links on outreach response rates, they don't appear to hurt conversions. Which makes them something worth testing.
Key Takeaway: Outreach emails that contain links to social profiles have a 9.8% higher response rate than those without social profile links. Links to Instagram and LinkedIn appear to be most effective.
Email Sequences That Involve Multiple Contacts and Multiple Messages Perform Best Overall
As I covered earlier in this write-up, follow-up messages and sending multiple contacts are correlated with higher outreach reply rates.
We also decided to investigate the combined effect that these two strategies had on conversion rates. Specifically, we compared reply rates between a single email to a single contact with a 3-part email campaign to several different contacts.
Our data showed that more contacts combined with sequencing yield a 160% higher response rate than sending a single message to a single contact.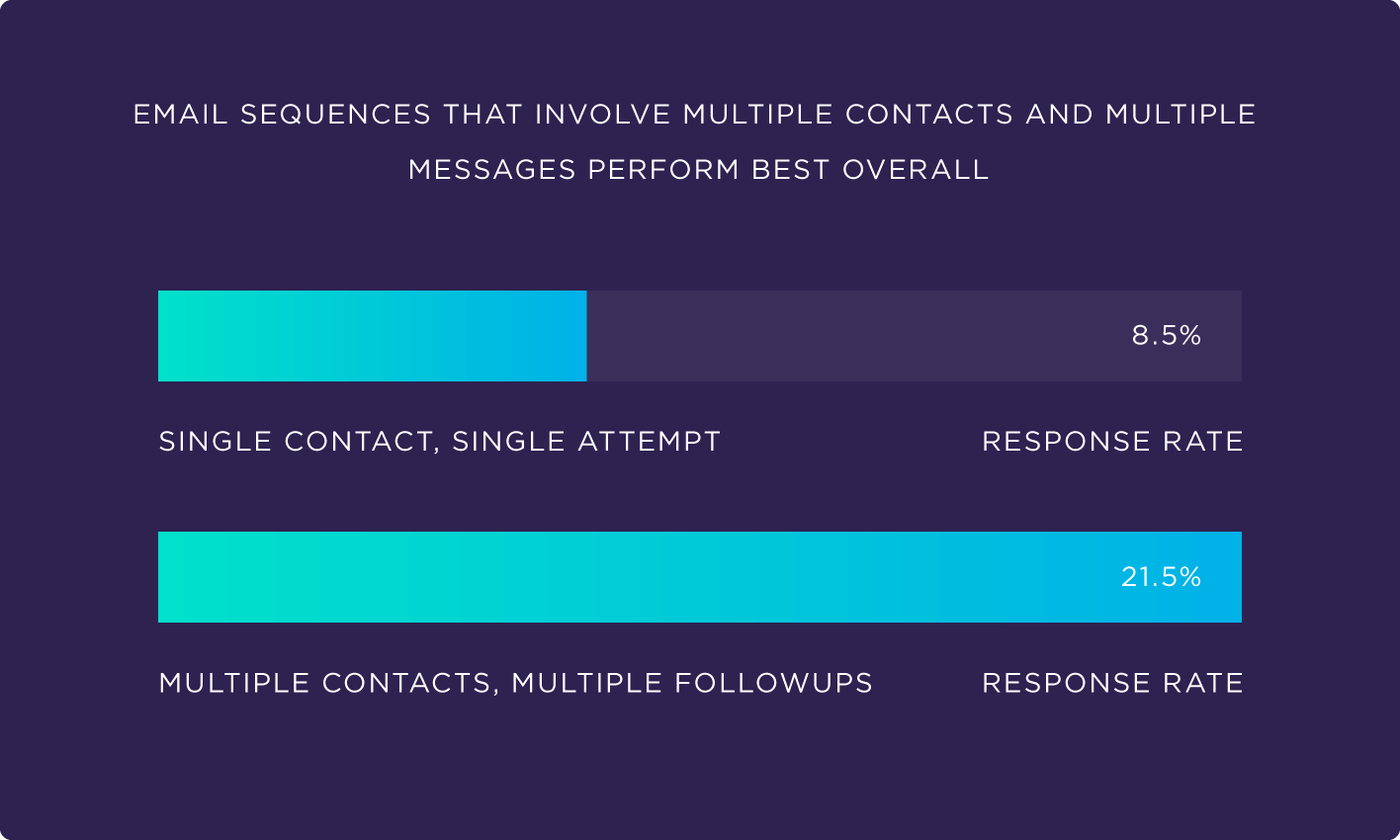 Key Takeaway: Taken as a whole, campaigns that involve sequences that go out to several contacts perform significantly better than one-off emails to a single person.
Outreach Emails About "Links", "Guest Posting" and "Roundups" Have Especially High Response Rates
We investigated reply rates between eight common email outreach topics.
Specifically, we looked at the reply rate for outreach emails related to:
Link building
Guest posting
Sponsorships
Infographics
Resources
Reviews
Mentions
Roundups
And we found that outreach emails about guest posting, roundups and link building all had an above-average response rate.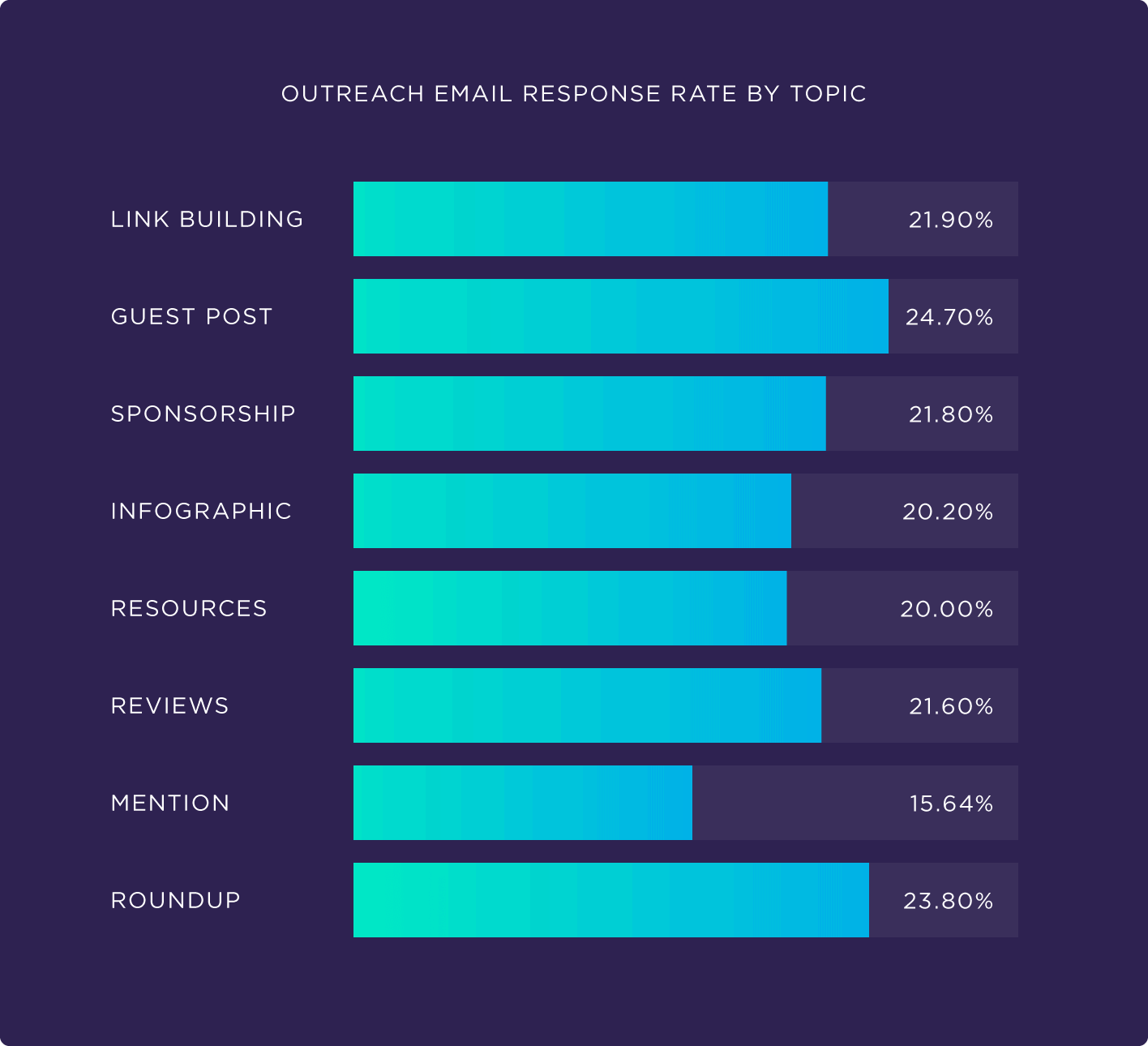 This is an especially interesting finding considering that many content marketing and SEO experts consider guest posting and roundups "dead".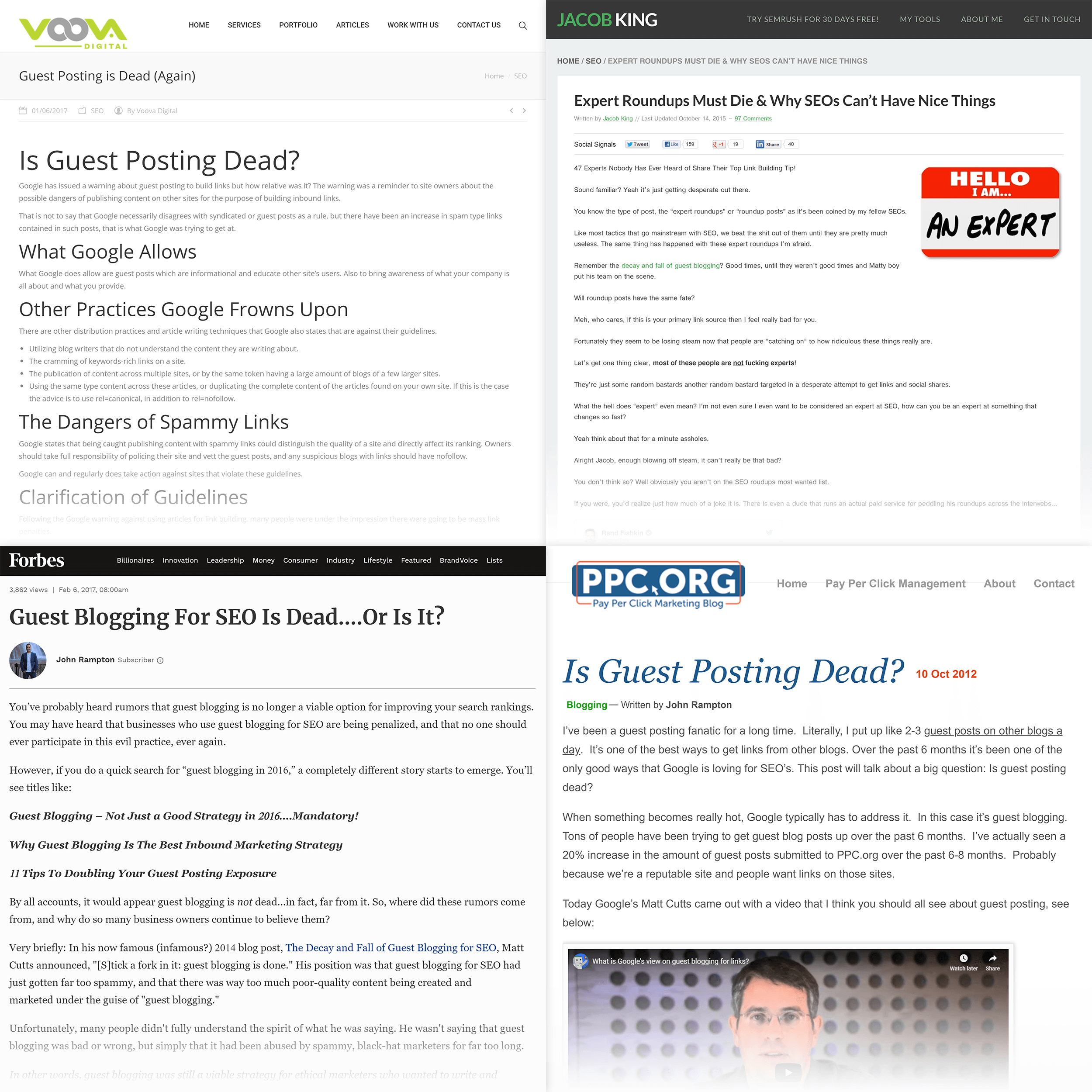 However, at least according to our study, site owners are still largely receptive to pitches for guest posts and expert roundup invitations.
Emails related to sponsorships also tended to get a fair share of replies. I found this noteworthy as Influencer Marketing, which relies heavily on paid product placement and promotion, is growing. It appears that influencers are still happy to receive pitches from brands that want to sponsor their website, YouTube channel or Instagram profile.
Our data also showed that messages about infographics receive relatively few replies.
This may be due to the fact that infographics have lost the novelty they once had. Or that the most infographic-focused outreach is untargeted.
For example, I got this infographic pitch in my inbox a few months ago: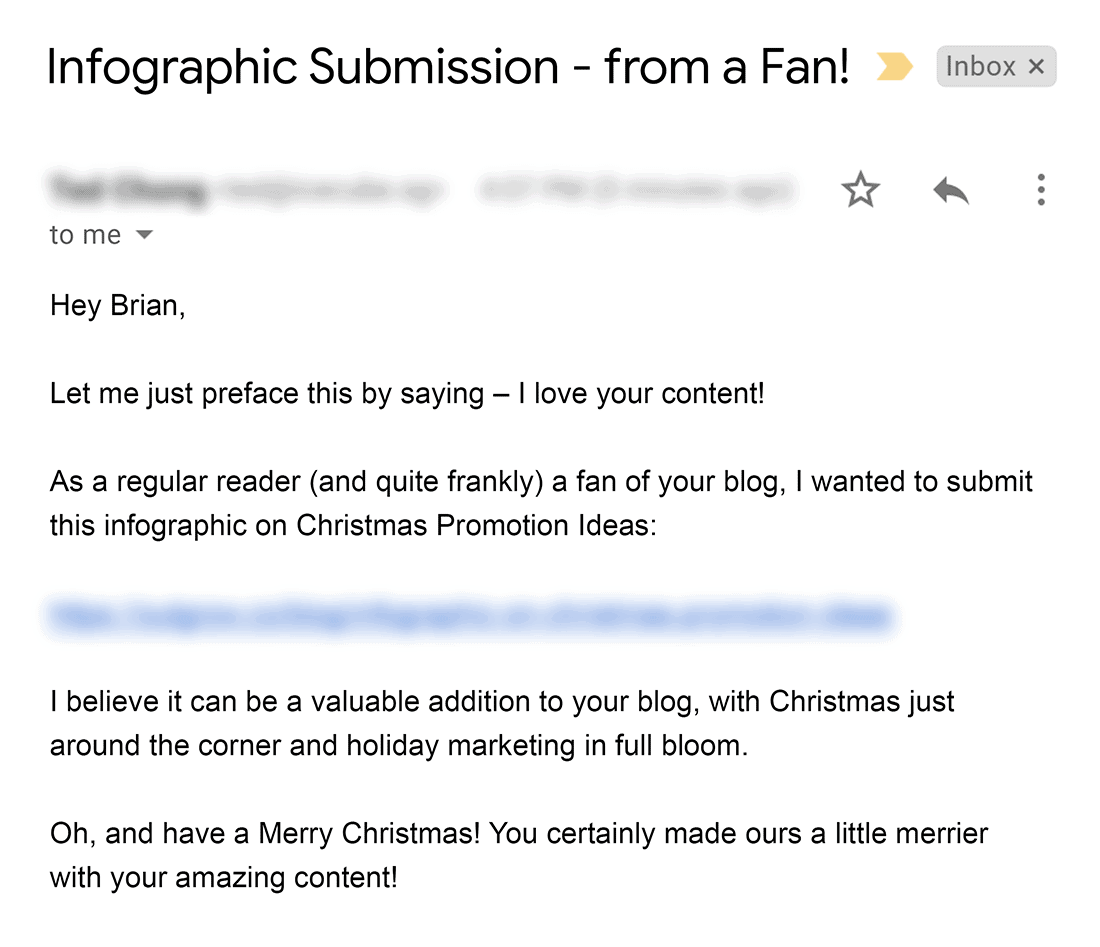 My site has never written about or even touched on holiday promotions. This was clearly someone that created a mediocre infographic with the hope that mass outreach would help get the word out.
Key Takeaway: Emails about guest posts, roundups, links and sponsorships tend to get the best response rates.
Conclusion
I'd like to thank Michael Geneles from Pitchbox for providing the data that made this study possible. I also want to give a shout out to Alex Gopshtein for digging deep into the data and making it easy to understand and digest.
And for those that are interested, here's a link to our study methods.
Now I'd like to hear from you:
What's your #1 takeaway from today's study?
Let me know by leaving a comment below right now.