Clubhouse Made Simple: A Step-By-Step Guide
Written by Brian Dean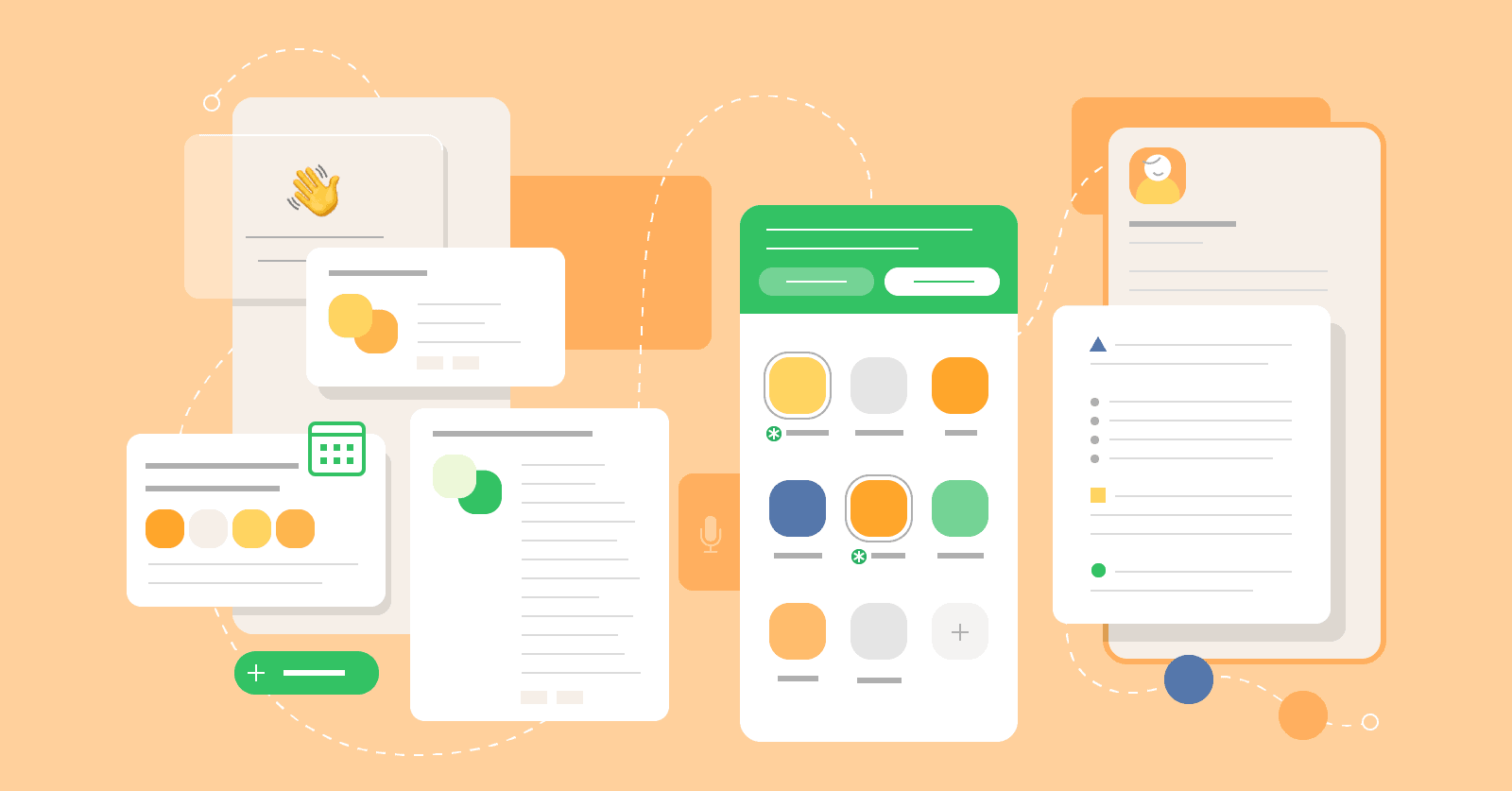 This is a complete guide to the fast-growing social network Clubhouse.
In this guide you'll learn:
What Clubhouse is
How Clubhouse works
How to start popular rooms
Lots more
Let's jump right in.
What Is Clubhouse?
Clubhouse is an audio-based social media platform founded by Rohan Seth and Paul Davison. Clubhouse features live audio "rooms" for discussing a wide range of topics, from marketing to music.
At a high level, Clubhouse is kind of like an audio version of olds school chat rooms. Like chat rooms, rooms on Clubhouse are all live. And each room can be on almost any topic under the sun.
For example, here's a room that recently popped up in my feed: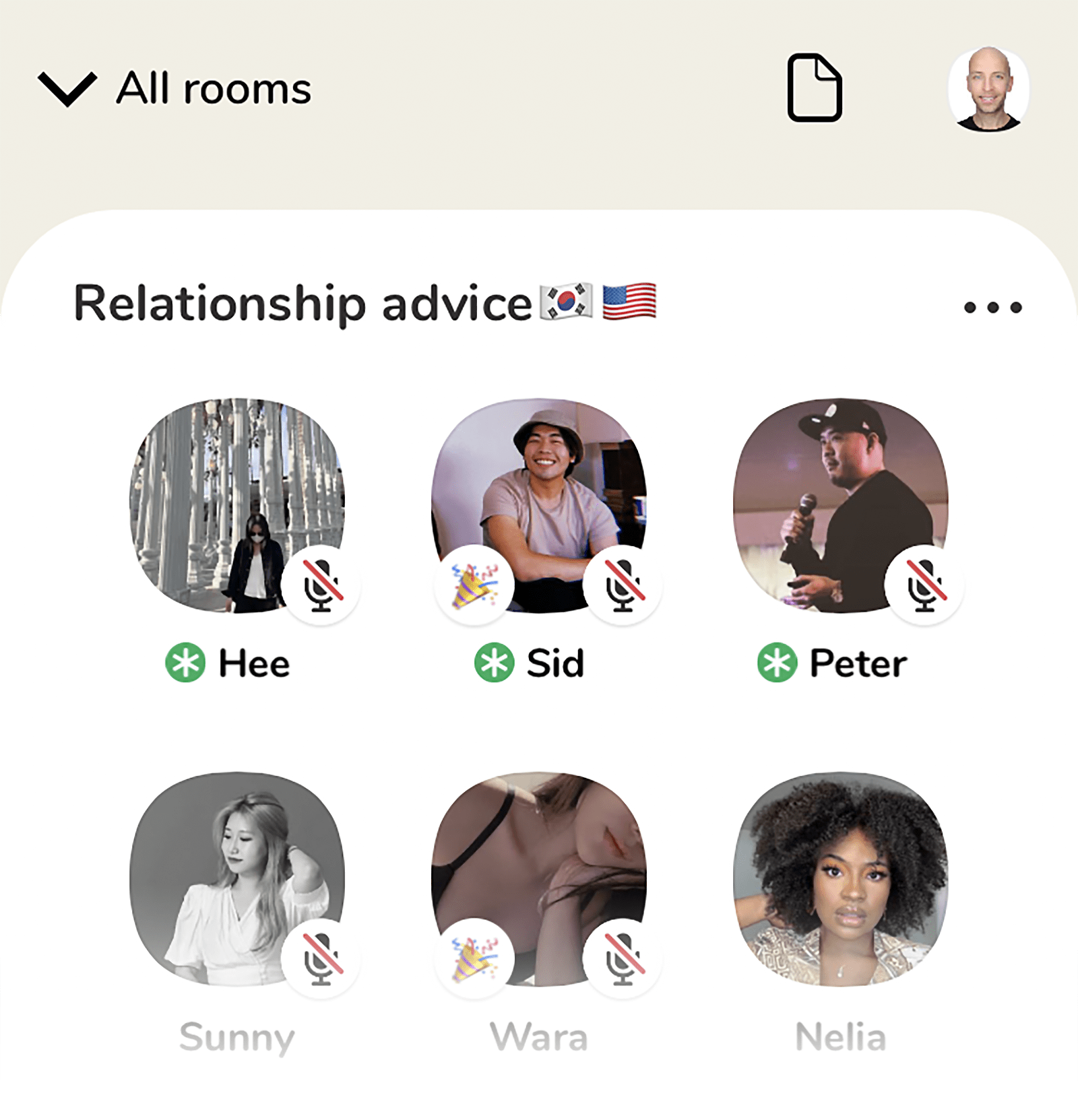 It doesn't get much more niche than "relationship advice".
Why Clubhouse Matters
Compared to many other social media platforms (like Instagram and Twitch), Clubhouse is tiny.
In fact, Clubhouse currently has approximately 10 million total users. Plus, it's currently in private beta mode. Which further limits the number of people that can sign up.
However, Clubhouse's user base is growing quickly. Specifically, they added about 8 million new users in late January/early February 2021.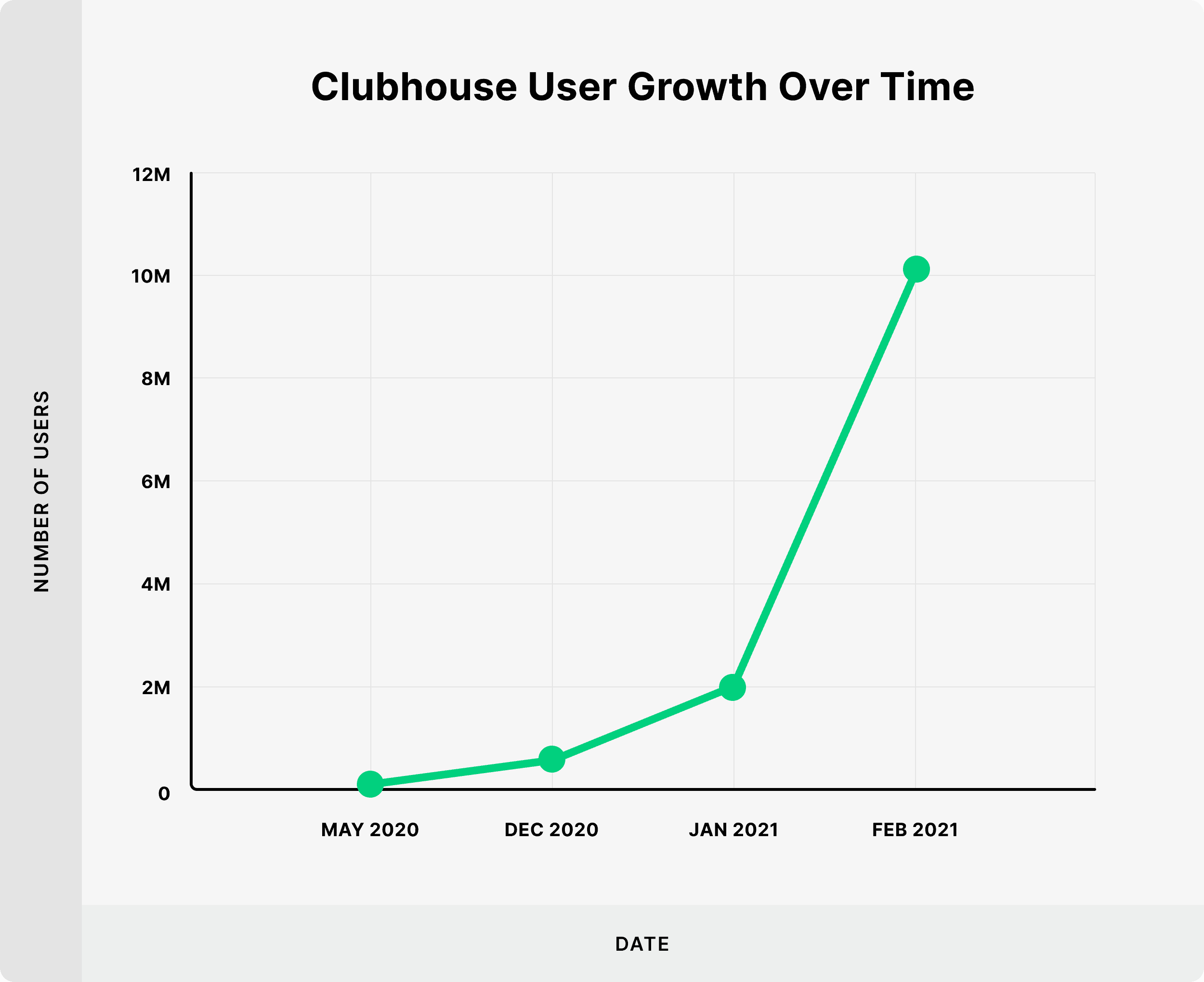 Importantly, many famous and influential people are now on the platform. Which is something that helped put Twitter on the map.
Influential people that are currently on Clubhouse include Oprah Winfrey, Drake, and Aston Kutcher.
So whether you're a marketer that wants to get in on "the next big thing" in social media. Or you just want to connect with smart folks. Clubhouse is a platform worth checking out.
Plus, the format makes it easy to learn and connect with other users on the platform. Clubhouse doesn't currently have a direct message (DM) feature. But you can hop into any public room at any time. And join the conversation.
How Clubhouse Works
Now it's time for me to breakdown how the Clubhouse app works exactly.
Rooms
Clubhouse is all about "Rooms".
Rooms are essentially audio-based chat rooms.
Here's an example: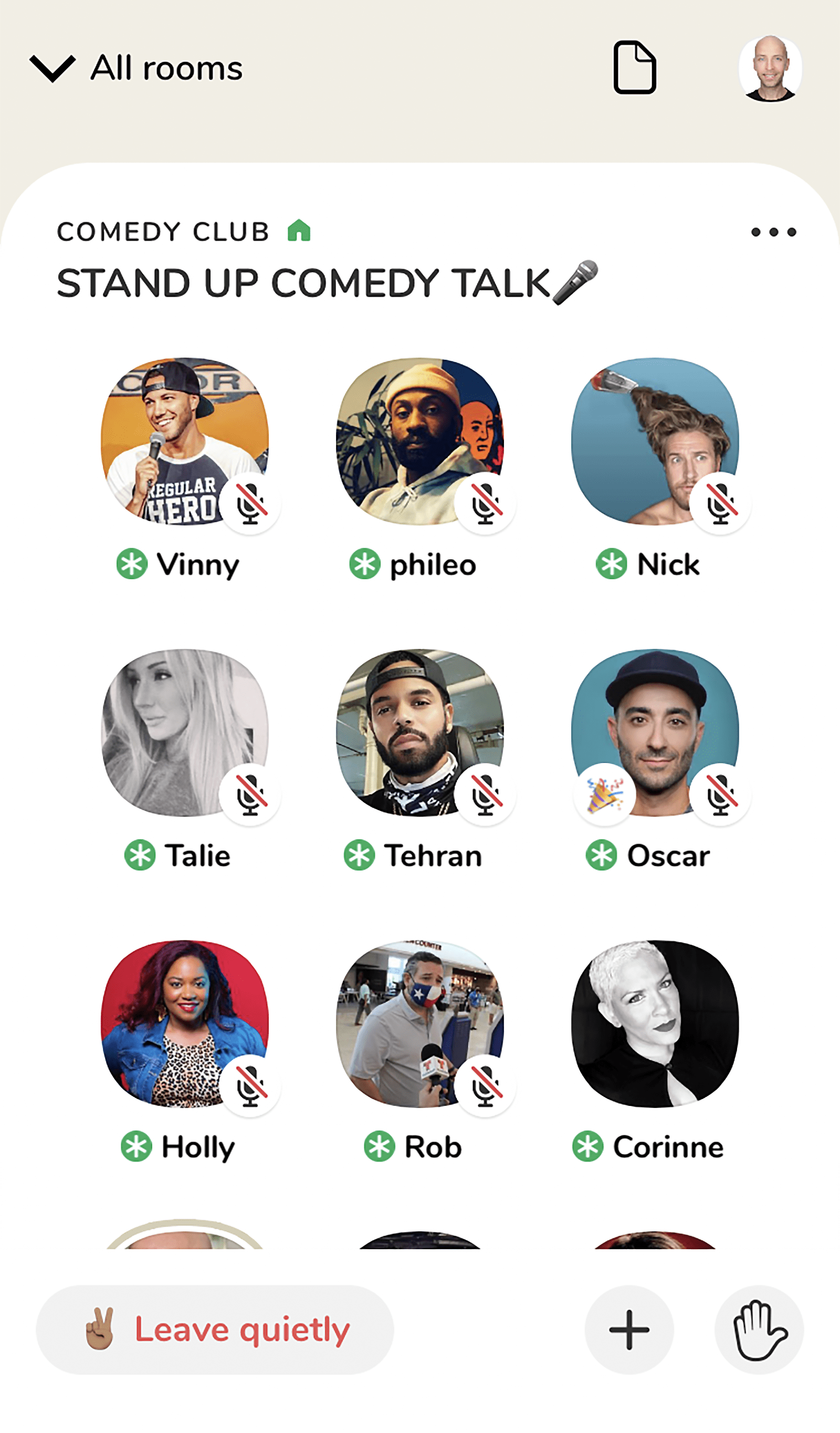 When you see a room in your feed, click on it. And you'll join the room. In most cases, the room will have several moderators. Each of which leads the discussion.
You can also create a private room. Just click on the little dot icon in the lower right corner of the app. And invite people to your private room.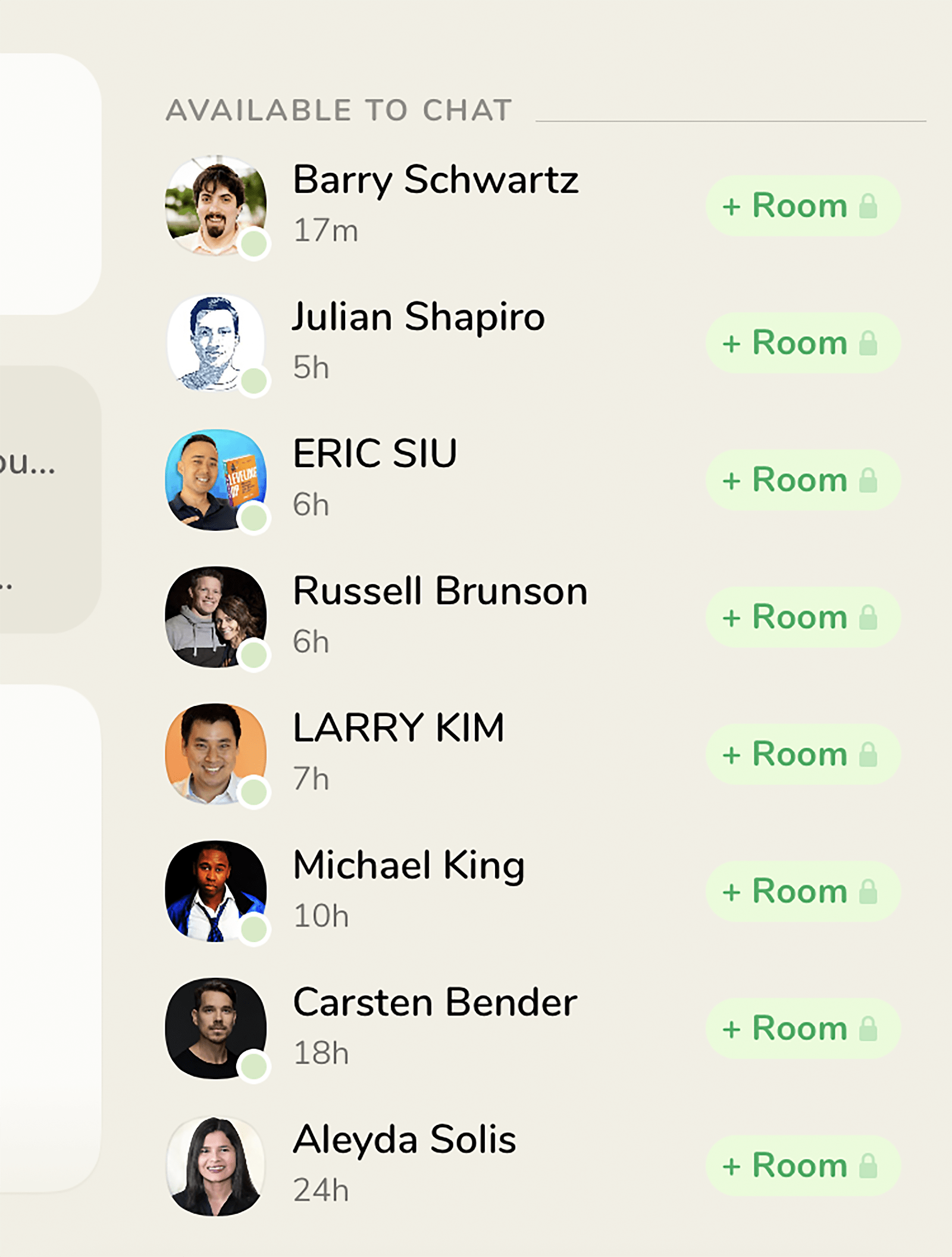 The Stage
When you enter a room, the people at the top of the room make up "the stage".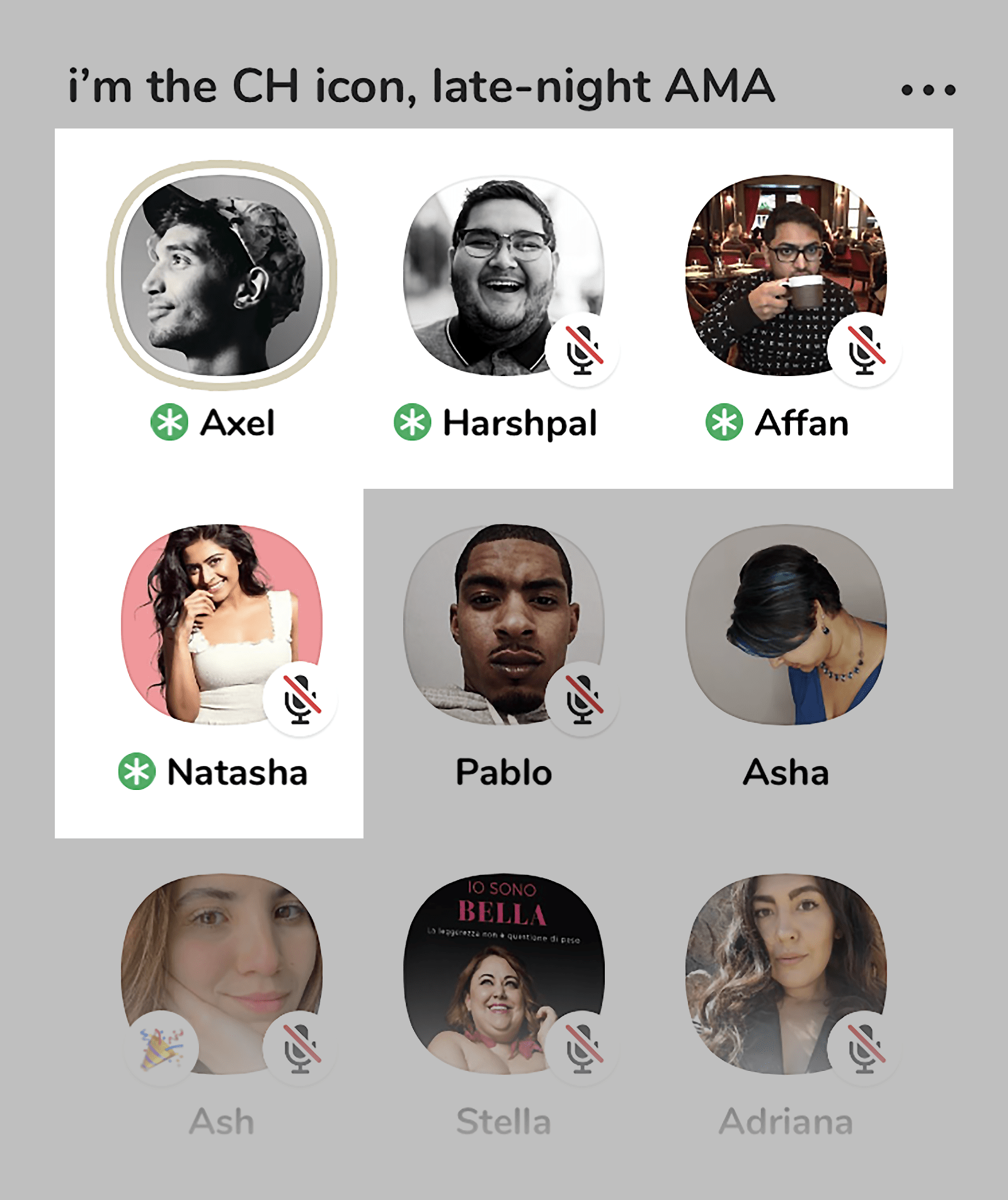 The stage is made up of people in the room with permission to speak.
However, you'll probably notice that most people on the stage are muted (noted by the crossed-out microphone icon).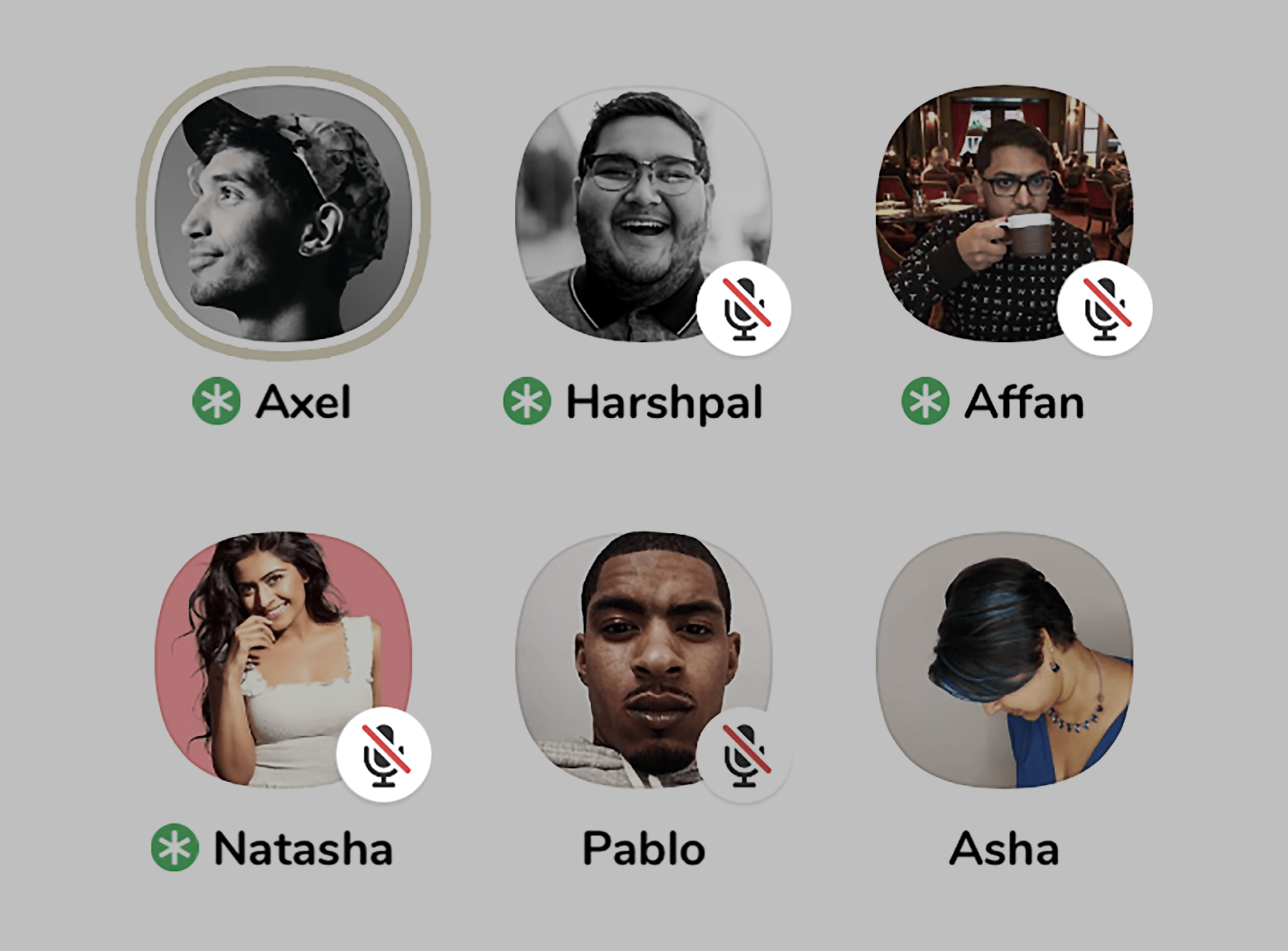 One of the unwritten rules of Clubhouse is to mute yourself when you're not actively in a conversation.
The Audience
Anyone not on the stage is in "The Audience".
The audience is just like it sounds: people in the room that are there to listen. By default, you'll be in the audience whenever you enter a room on Clubhouse.
Starting a Room
To start a room, hit the green "Start a room" button on the app. You'll then be able to add a title to your room. And invite people.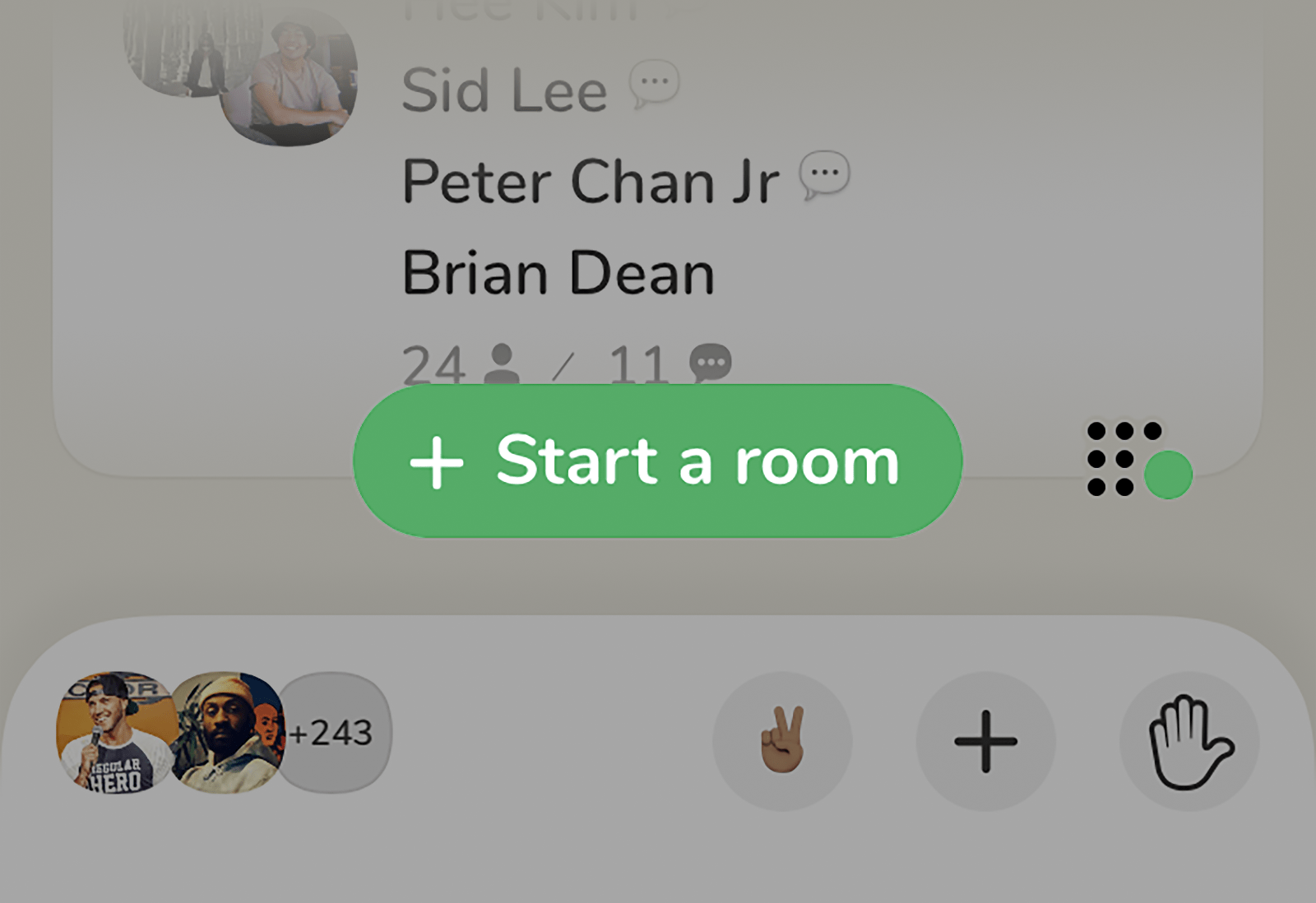 And your room will go live. Just like that.
Unless you have A LOT of followers on Clubhouse, it can take a while for people to join your room. So be sure to give it at least 15-20 minutes before giving up.
Clubhouse also has a feature for scheduling rooms in advance. To do that, hit the calendar icon. Add details about your upcoming room.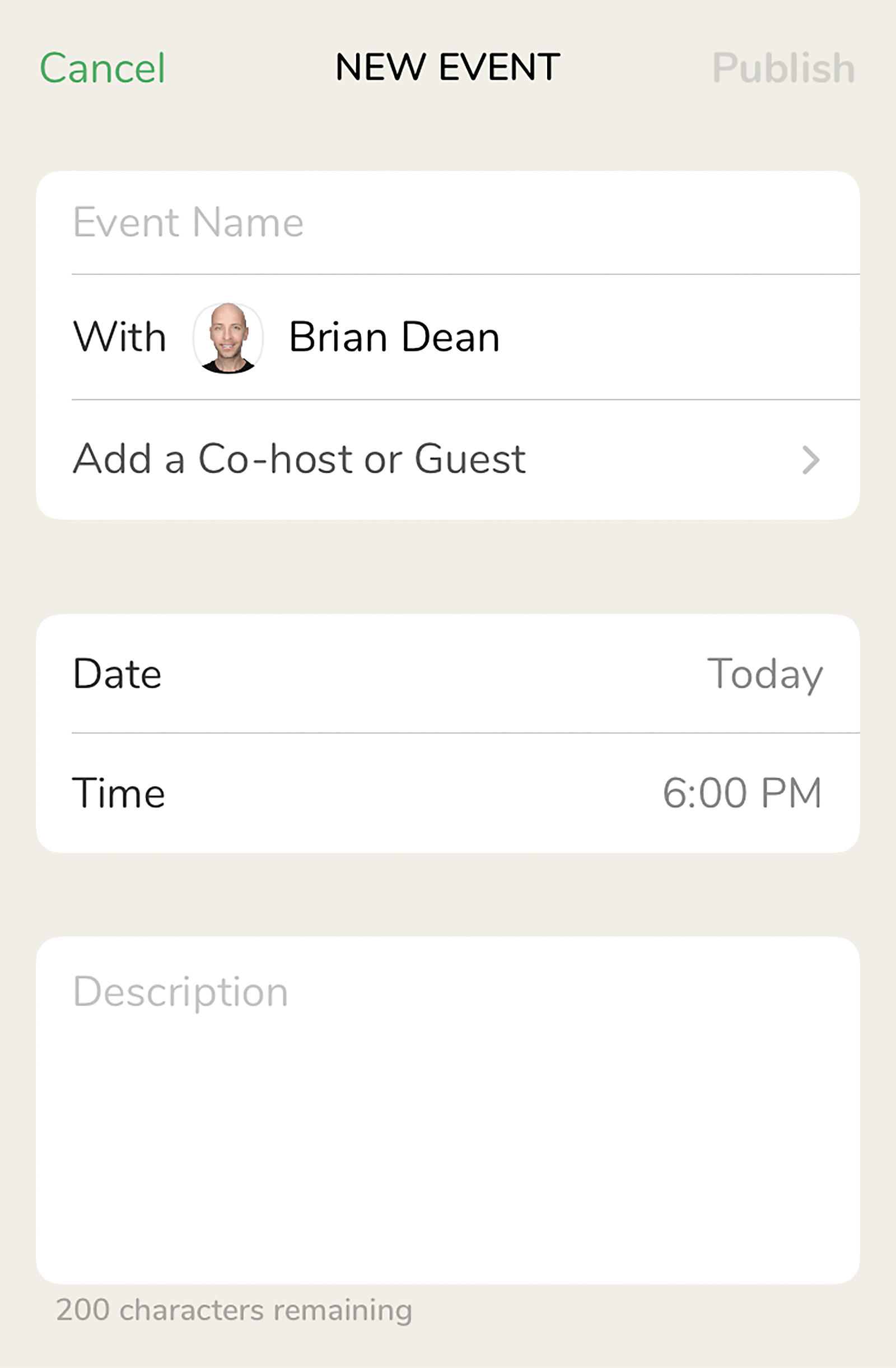 And your followers will get notified. That way, they can make a note to be around when your room starts.
Raising Your Hand
In most rooms, you'll be muted by default when you join.
If you want to chime in or ask a question, you can "raise your hand".

The moderator can then put you on the stage to chime in. And unmute you.
Set Up Your Clubhouse Profile
Now that you have a handle on how the platform works, it's time to learn how to create a compelling profile on Clubhouse.
Upload a Profile Picture
Your profile picture might be the most important part of your Clubhouse profile.
That's because your profile picture (and first name) is what people see when someone shares a room with you.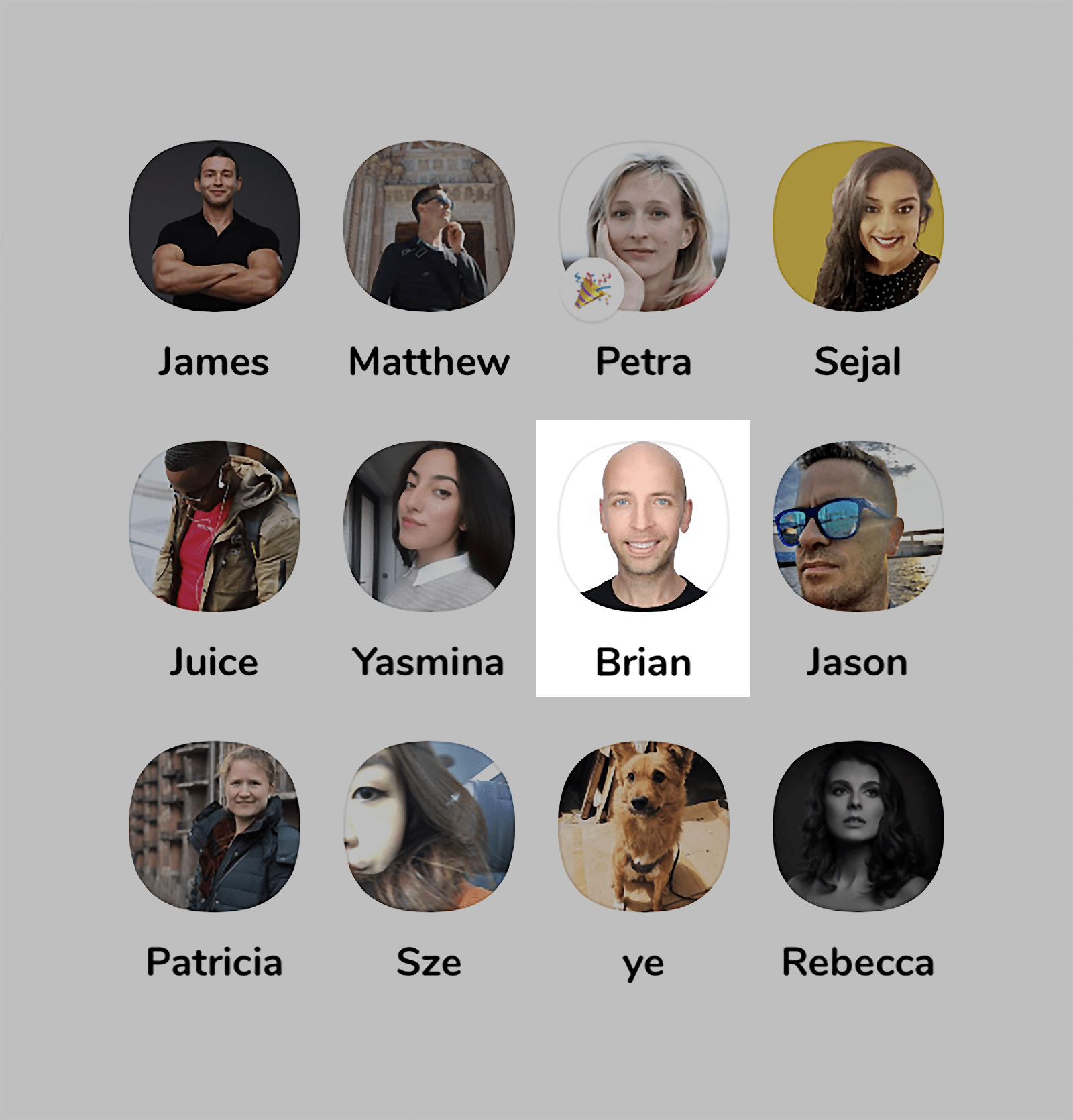 The most important thing to keep in mind with your Clubhouse headshot is that you want your headshot to be fairly "zoomed in".
That's because the profile pics on Clubhouse tend to be pretty small. So if your headshot shows you at a distance, it's going to be really tough for other users to see your face.
Fill Out Your Bio
Now that your profile pic is uploaded, it's time to fill out your bio.
Unlike IG or Twitter, Clubhouse bios can be SUPER long. And I recommend taking advantage of all that space.
Question is:
What do you actually write in your Clubhouse bio?
The key here is to list out your achievements and current projects in bite-sized little chunks. In other words: don't write paragraphs about what you've done. Instead, list everything out in bullet form.
Here's my bio as an example: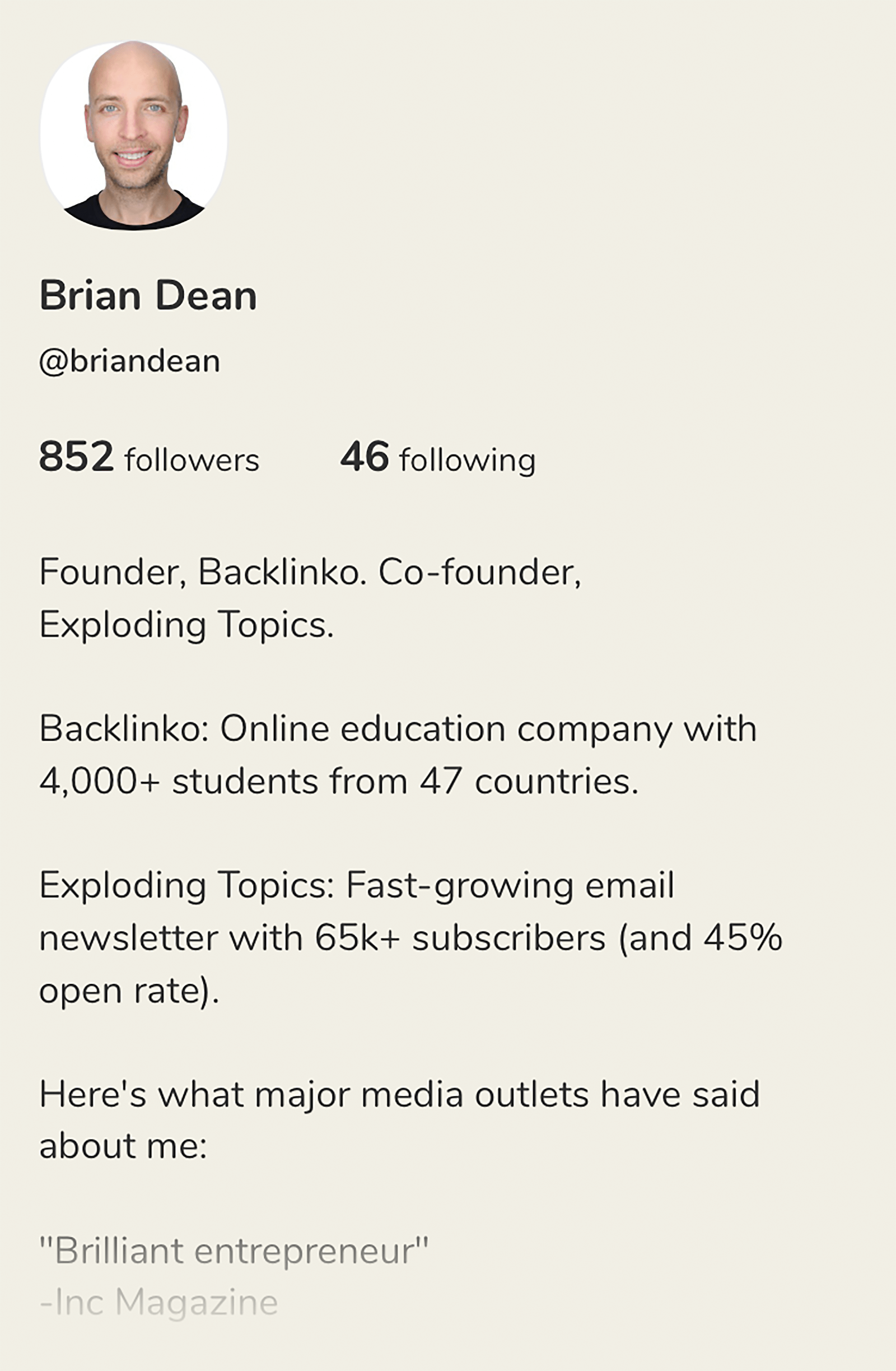 Most people on Clubhouse use emojis to break up their bio into little chunks. Which I think works well.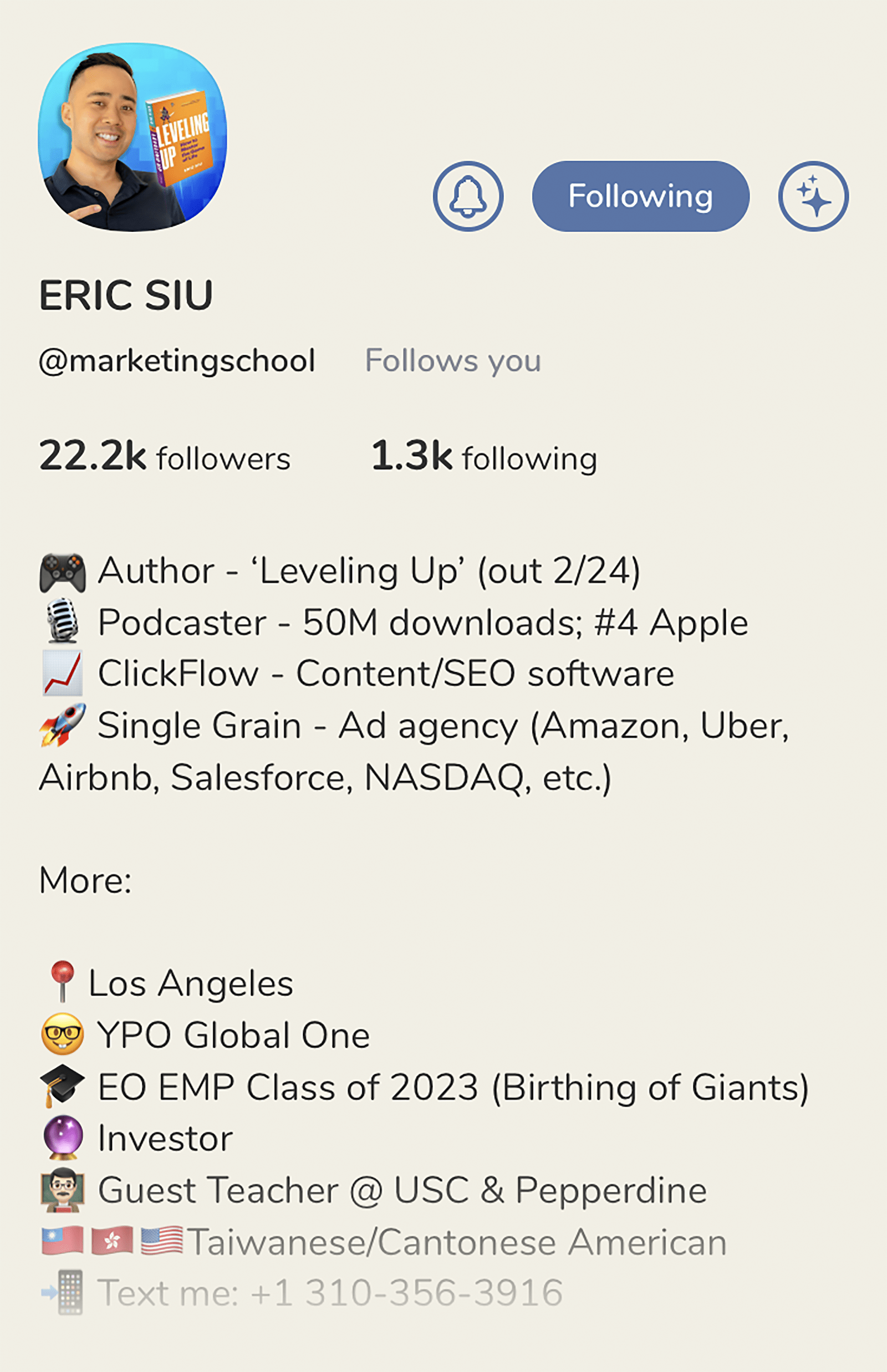 So if you're into emojis, that's something to consider.
Pro Tip: Start strong with your bio. Clubhouse only shows a snippet of your bio when you appear as a suggestion. Or when someone clicks on your profile pic from a room.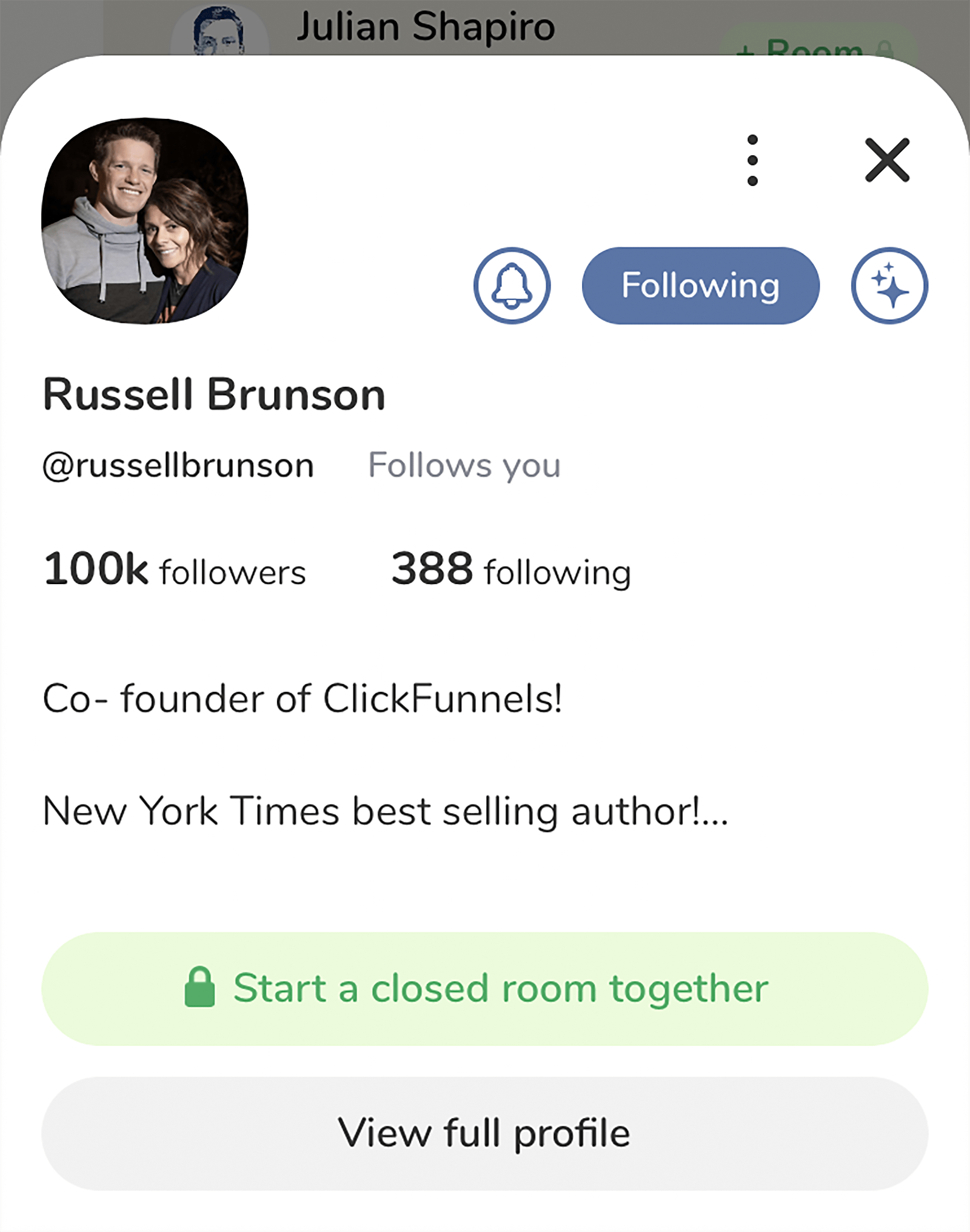 This is why you want to start your bio off with something SUPER strong. It can be a company you founded. The TED talk you gave last year. Or the fact that you're a best-selling author.
You can also just list out what you're currently up to. Either way, just be sure not to waste that early part of your profile.
Connect With Twitter and Instagram
Right now Clubhouse doesn't allow links in profiles. Which means you can't link to your site (yet).
But you CAN connect Clubhouse to your Twitter and Instagram accounts. Right now there's no functionality with this feature. It just adds links to your other social accounts.
But I still recommend connecting your Instagram and Twitter to Clubhouse. That way, people can click over to those accounts. Learn more about you. And visit your website.
Include Keywords
Clubhouse recommends your profile to other users largely based on the keywords that appear in your bio.
So you want to strategically include keywords that your target audience would use to find you.
In my case, my bio automatically included a number of keywords that describe what I do (like "SEO").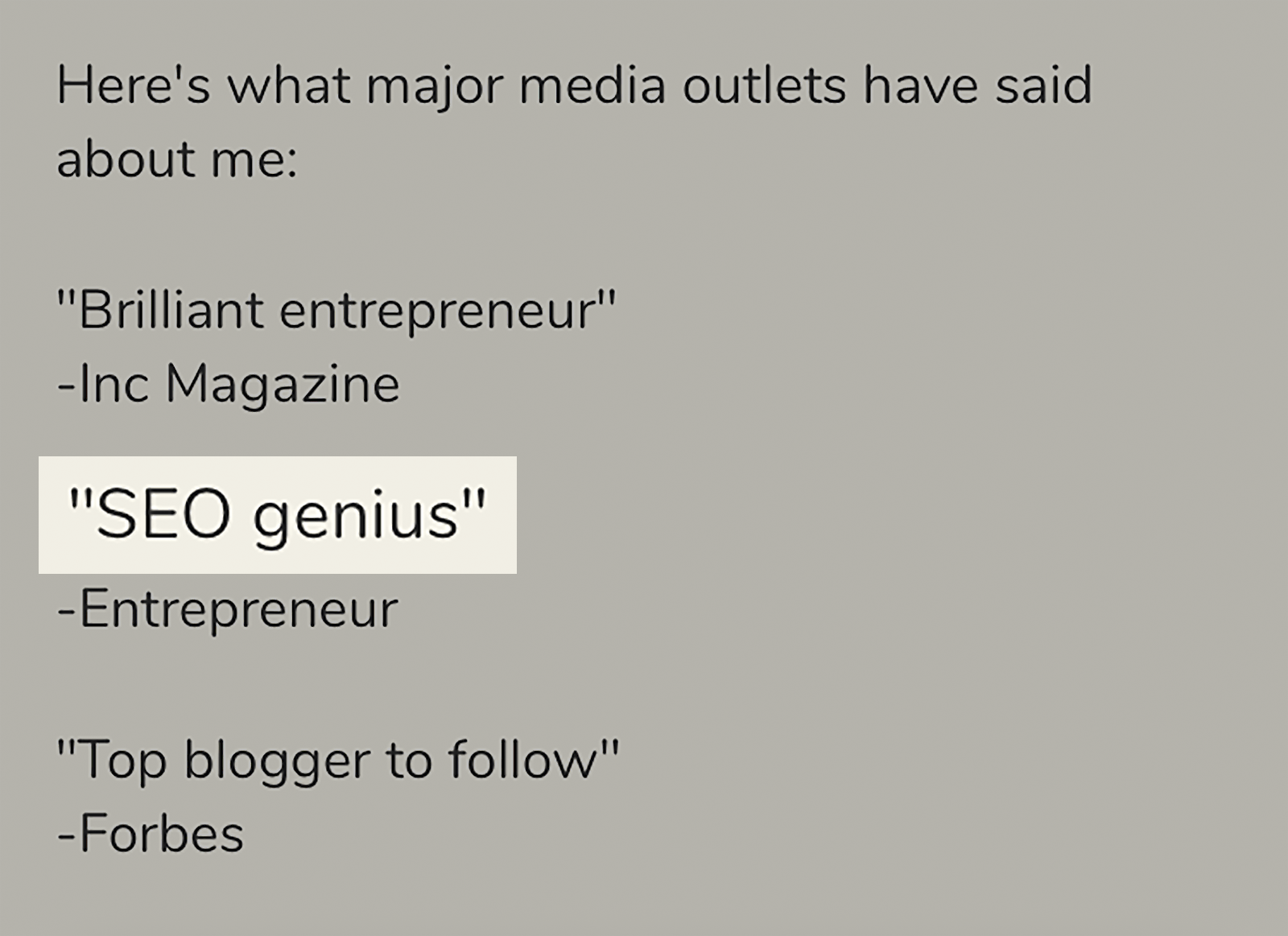 But I also added a little "interests" section to the bottom of my bio.
That way, Clubhouse will recommend me to people that are interested in those topics.
How to Get Followers on Clubhouse
Last up, it's time for me to show you how to get more Clubhouse followers.
Cross Pollination
The fastest way to get more followers is to "cross-pollinate" your audiences on YouTube, Twitter, and Facebook to Clubhouse.
You can literally just say: "I just joined Clubhouse. Make sure to follow me there."
But I like to be a little bit less pushy.
In my case, I posted on LinkedIn telling people I signed up (along with my handle). But I also added a little discussion point.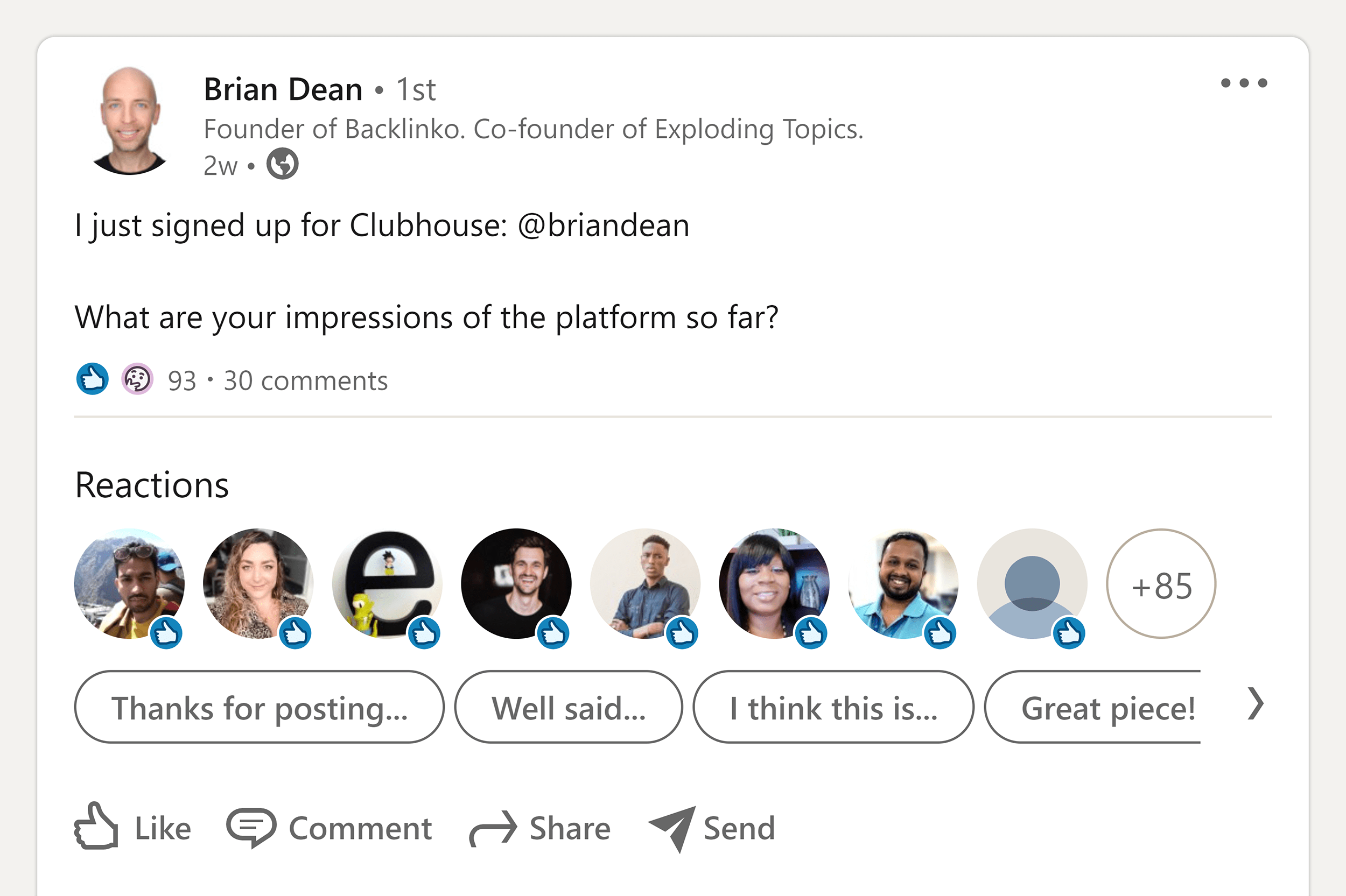 That way, my post didn't come off as pushy or spammy. Plus, my post got some nice engagement (which helped it reach more people).
Co-host Rooms
Another great way to get more followers on Clubhouse is to co-host rooms with other people.
I recently did a co-hosted room with a bunch of people.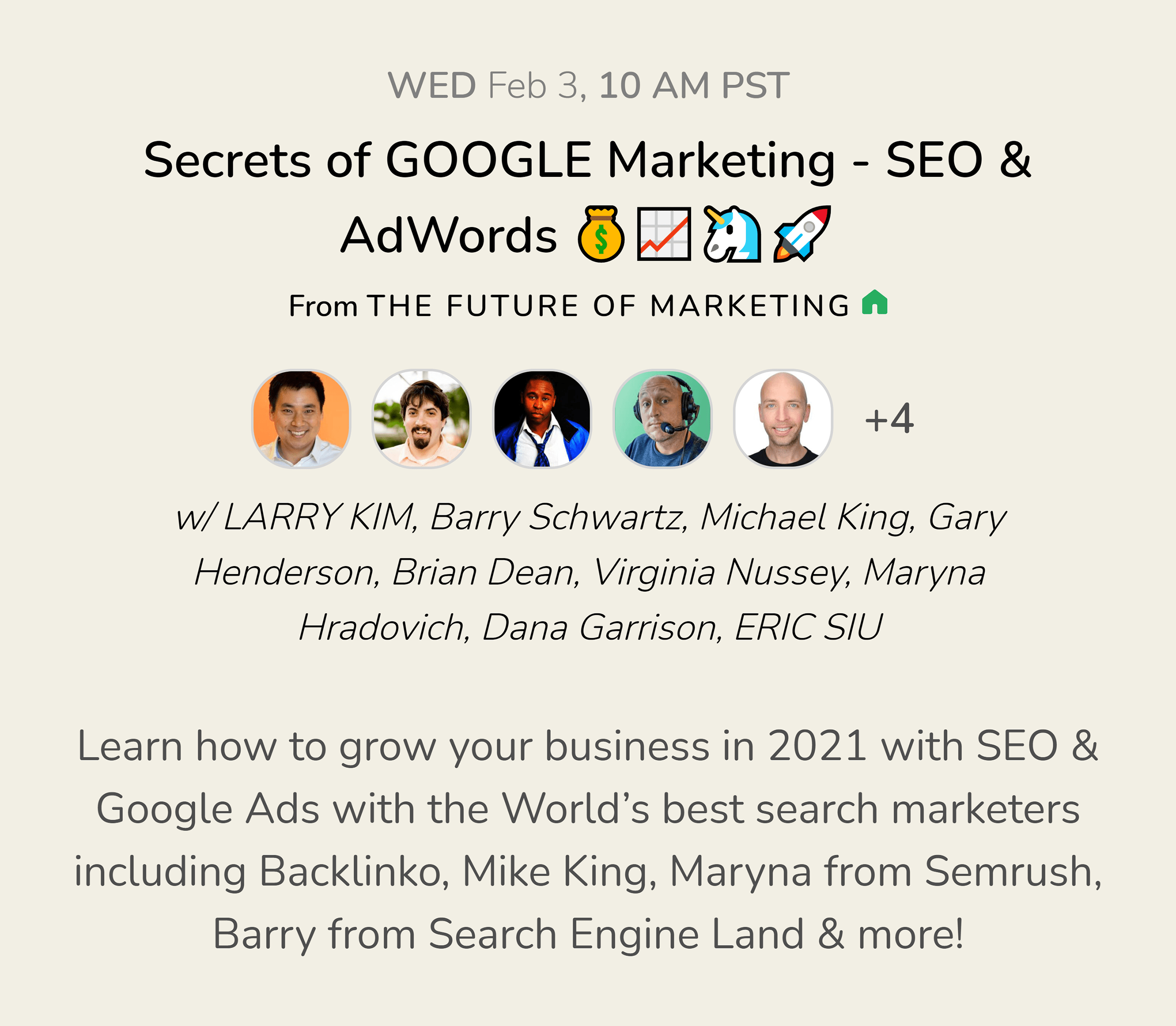 And it did great! I got about 250 followers from that event. Which probably wouldn't have happened if I created a room on my own.
Join a club
Clubhouse clubs are groups of people that host rooms together.
Here's an example: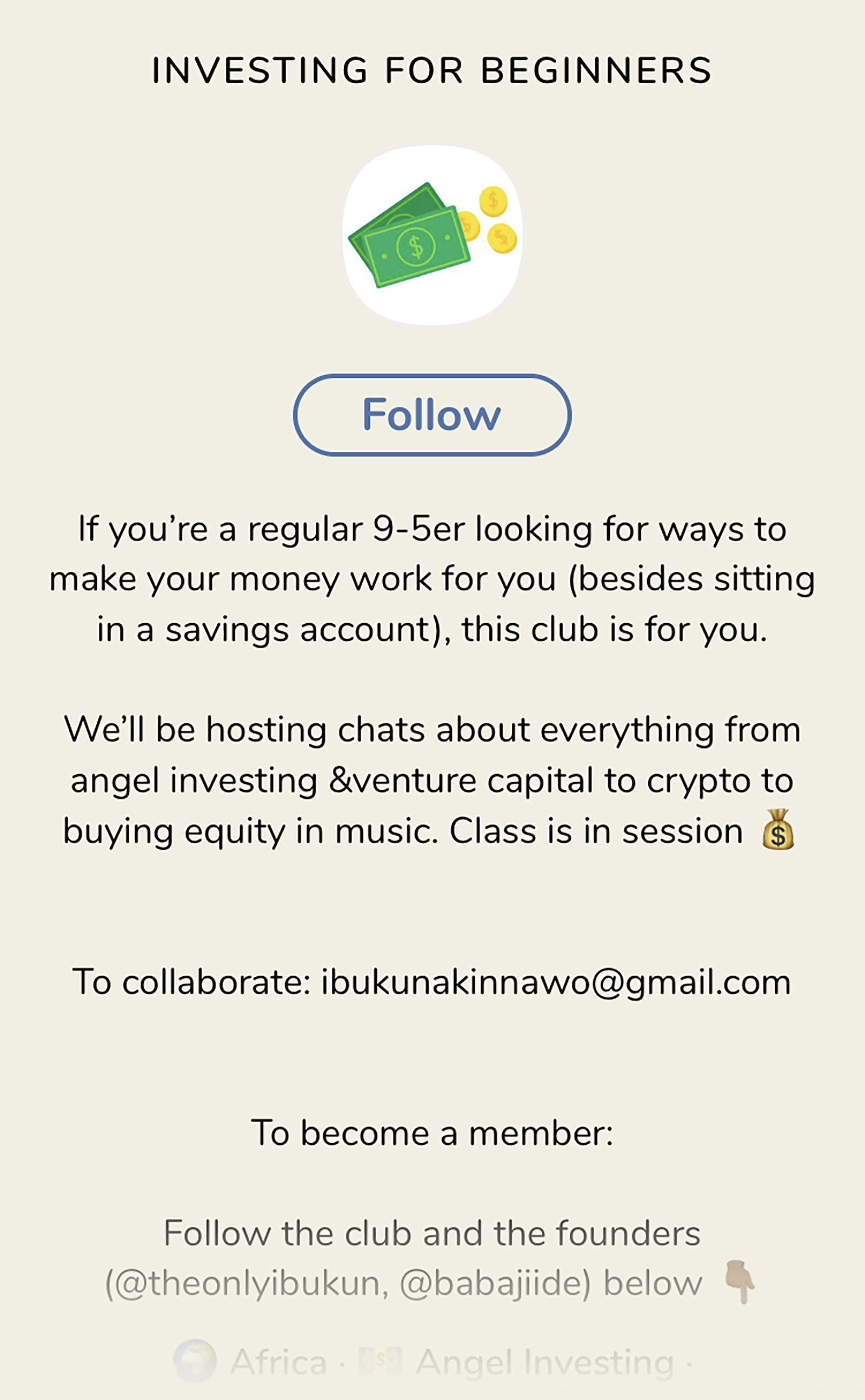 The advantage of starting a club is that people can follow a club the same way they'd follow a profile. So if you're a member of a club. And host a room through that club, all members will get a heads up (even if they don't follow you personally).
Right now you need to have 3 hosted rooms under your belt to apply for your own club. In the meantime, you can join as many clubs as you'd like.
Conclusion
That's it for my guide to Clubhouse.
Now I'd like to hear your thoughts:
What are your impressions of Clubhouse so far?
Let me know in the comments section below.