Twitch Usage and Growth Statistics: How Many People Use Twitch in 2023?
Written by Brian Dean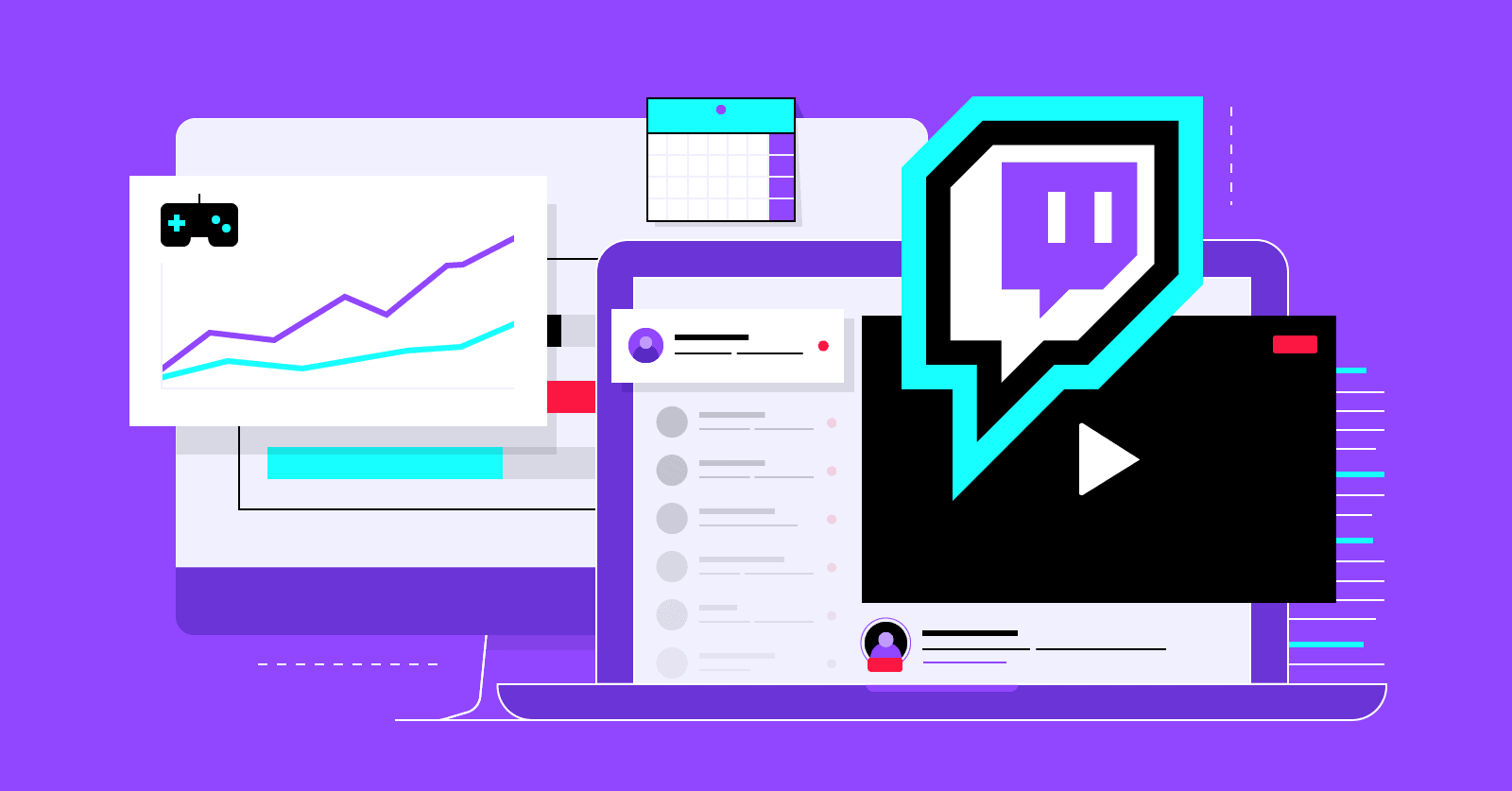 Twitch launched in 2011 as a live streaming service focused on gaming and eSports. It hit 3.2 million users per month within its first year.
Three years later, Amazon parted with $970 million in cash to acquire Twitch. Today, Twitch has 140 million monthly active users (MAUs).
Read on to find all of the essential Twitch statistics in 2023. Here's a summary of what we'll cover:
Let's get right into it:
Twitch statistics (Top Picks)
Twitch currently gets 140 million unique visitors every month. That's up from 55 million users in 2015
107,800 live Twitch broadcasts are going on at any given time The US has the biggest share of Twitch viewers. It's home to nearly a quarter of all users
65% of Twitch users are men
73% of Twitch users are below the age of 35
The Twitch app has been downloaded over 100 million times
League of Legends is the most-watched title on Twitch, with streams of the video game accumulating 42.55 billion watch hours
Twitch's annual revenue is $1.54 billion
Twitch monthly active users
Monthly active users (MAUs) refers to the number of unique visitors Twitch receives in a given month. The statistics in this section give an indication of the size of the overall Twitch user base.
Twitch has 140 million monthly active users

Each month, 7.4 million streamers publish content to Twitch
The overall number of active Twitch streamers amounts to 9.2 million
Over 1.14 trillion minutes of video were watched on Twitch so far – around 1.86 billion hours each month
Twitch receives more than 2.3 billion hours of video views in its biggest months
Sources: Business of Apps, Twitch Tracker, Games Industry
Twitch daily active users
Daily active users (DAUs) references the number of unique visitors Twitch receives on a daily basis. While monthly statistics give a more holistic picture, DAU figures show how Twitch has become part of the everyday routine for many people.
There are 30 million daily active users (DAUs) on Twitch

On average, there are over 2.5 million people watching Twitch streams at any given time
The average number of concurrent broadcasting channels is 107,800
Streams receive the most active viewers on Sundays. Saturday is the next best day to stream. Streams done on Mondays attract the lowest number of average viewers
Sources: Twitch, Twitch Tracker
Twitch usage growth
Twitch grew rapidly following its launch in 2011. In its first year, the streaming platform was already receiving over 3 million unique visitors per month. Reporting on monthly user count has gone quiet in recent years.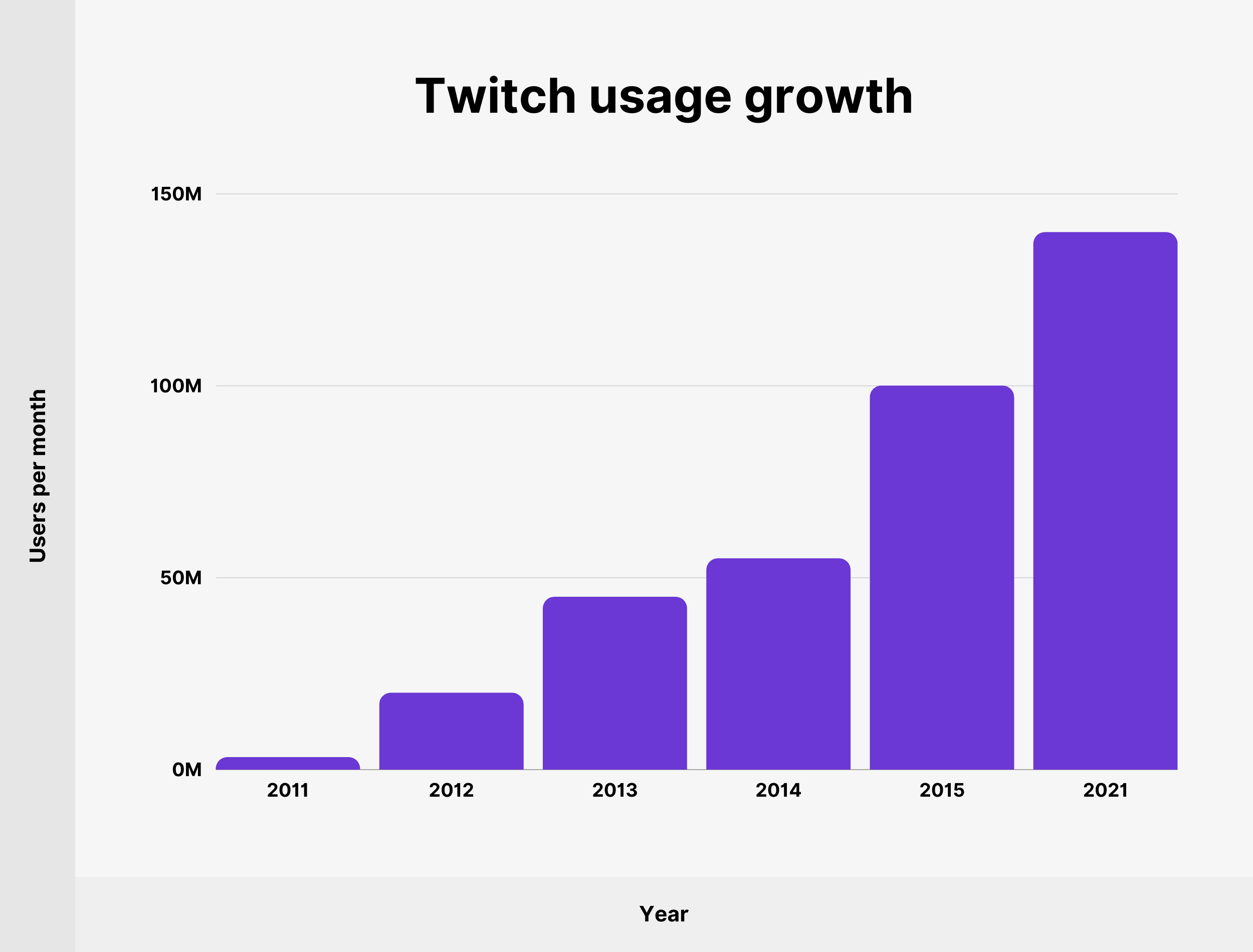 But by drawing a number of sources together, we have charted the growth of the Twitch user base over time:
| Year | Users (Per Month) |
| --- | --- |
| 2011 | 3.2 million visitors |
| 2012 | 20 million visitors |
| 2013 | 45 million visitors |
| 2014 | 55 million visitors |
| 2015 | 100 million visitors |
Most recent figure (2021): 140 million visitors per month
Sources: CNBC, The Verge, ARSTechnica, HBS, Business of Apps
Ranked 37th: Global internet engagement
In 2021, Twitch is ranked 37th globally for overall internet engagement. For context, there are approximately 2 billion websites in total – so Twitch is in the top 0.000002%.
Nonetheless, Twitch is still unable to claim the top spot in the video-sharing rankings. YouTube ranks second only to parent site Google for global web traffic. And it boasts over 2 billion monthly active users. While TikTok grew to 1 billion users in the space of just five years.
There are 4.8 billion active internet users around the world.
Sources: Alexa, Hosting Tribunal, YouTube, DataReportal
Twitch as a social media preference among video gamers
Twitch ranks 4th (after Youtube, Facebook, Instagram, Twitter) as the most commonly used social media platform among video gamers in the US.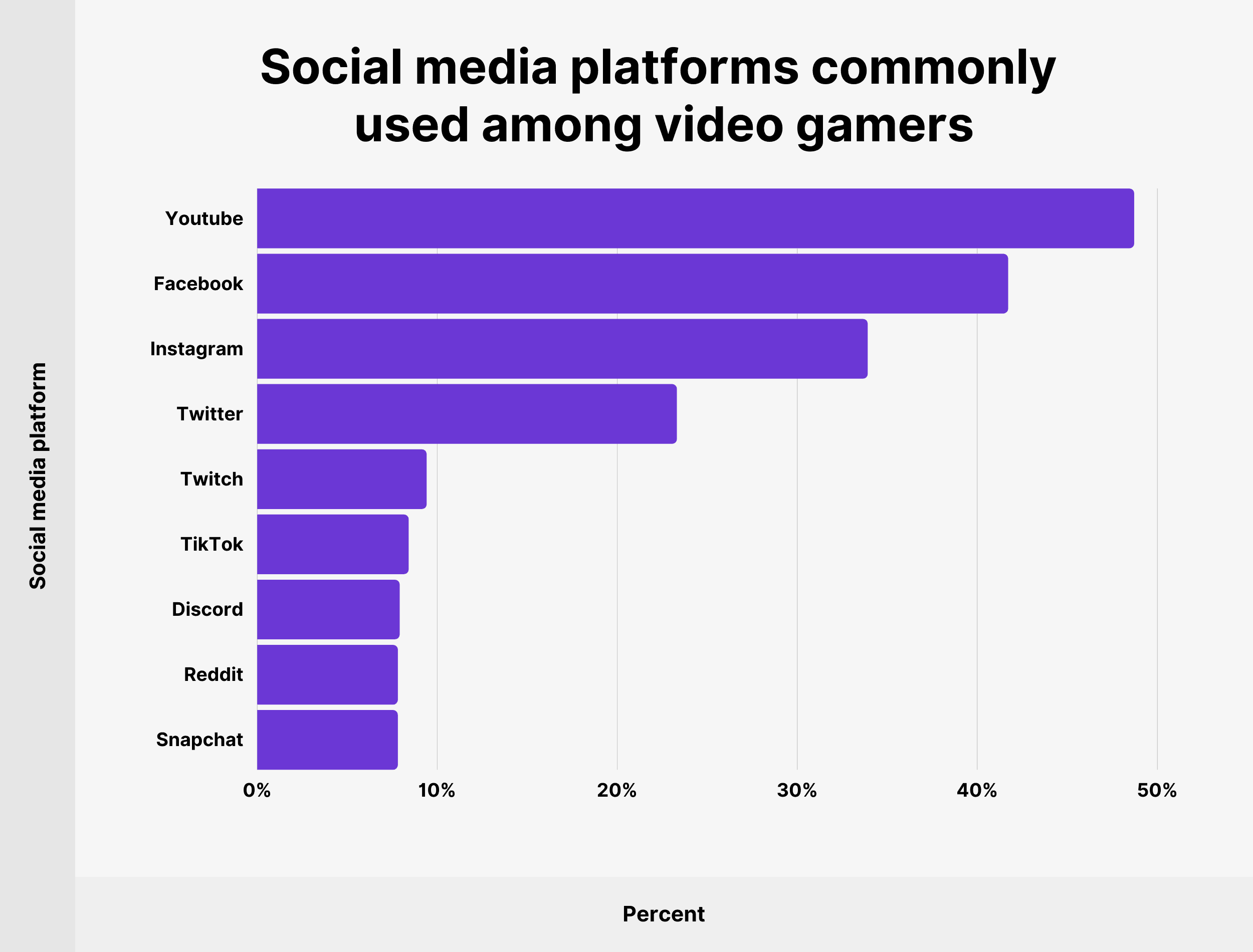 Here's the complete list of social media platforms that are most commonly used among video gamers:
| Social media platform | Percent |
| --- | --- |
| Youtube | 48.7% |
| Facebook | 41.7% |
| Instagram | 33.9% |
| Twitter | 23.3% |
| Twitch | 9.4% |
| TikTok | 8.4% |
| Discord | 7.9% |
| Reddit | 7.8% |
| Snapchat | 7.8% |
Source: DataReportal
Twitch users by country
Given that Twitch is known for its eSports streams, there is a perception that the Asia Pacific market drives a lot of the viewing. After all, China, Japan and South Korea make up three of the four largest video game markets.
In reality, however, services like DouYu, a Chinese streaming giant, make it hard for Twitch to break into non-Western markets. Plus, Twitch has been blocked in China since September 2018. Here are the five countries that make up the greatest percentage of the Twitch viewership:
| Country | Twitch Viewership |
| --- | --- |
| United States of America | 20.83% |
| Germany | 7.11% |
| Korea | 4.53% |
| Russia | 4.30% |
| France | 4.11% |
The USA alone accounts for 44 million Twitch viewers. This is forecast to grow to 51.6 million by 2024.
Sources: NewZoo, BBC, SimilarWeb, eMarketer
Twitch user demographics
Twitch doesn't routinely release demographics data. But some independent studies have attempted to break down the Twitch user base. Here's what we know about the cohort of 140 million plus Twitch viewers.
Gender demographics
65% of Twitch users are male, with the remaining 35% made up of female viewers.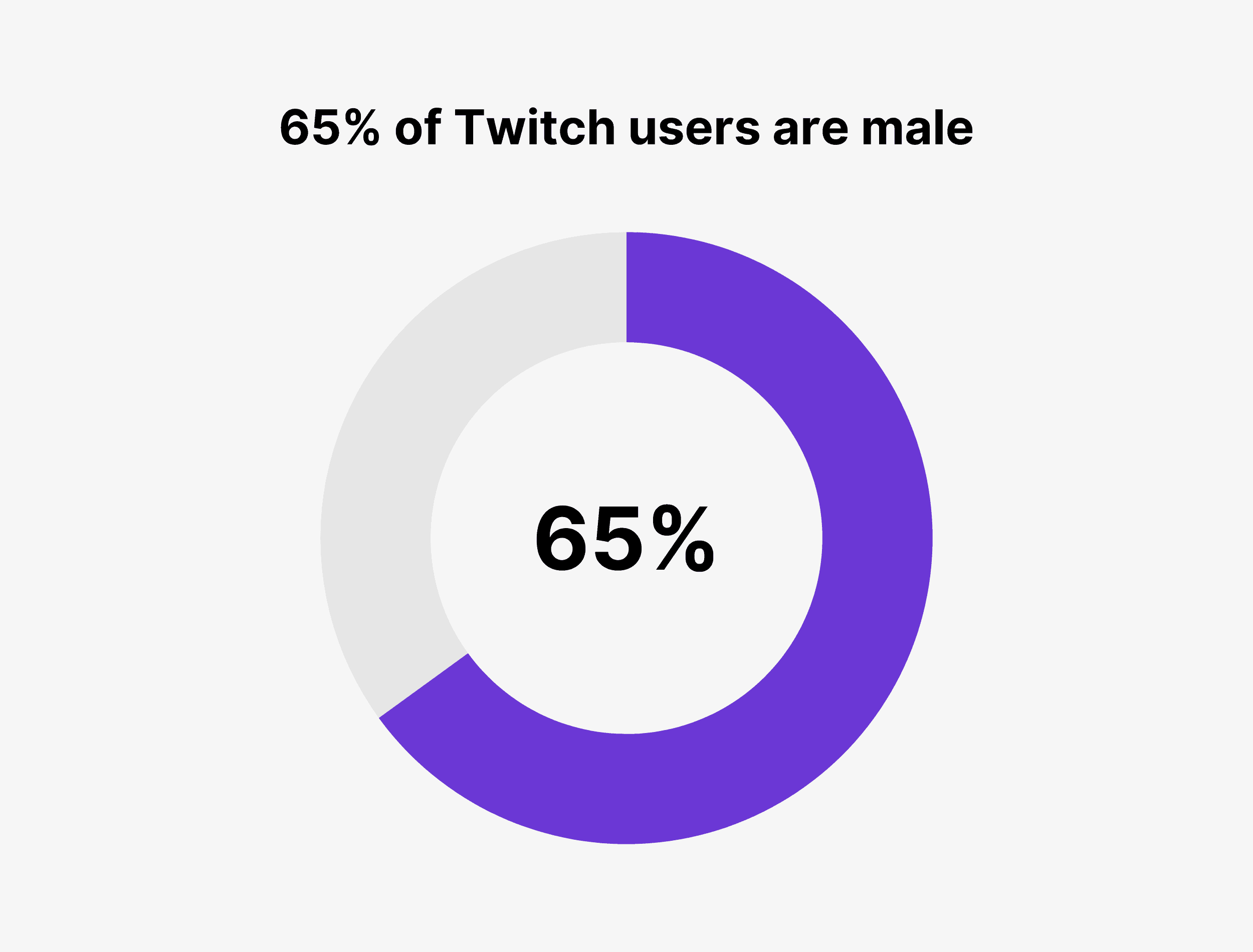 This is less of a gender mismatch than back in 2017, the last point at which Twitch released official figures. At that time, 81.5% of users were male.
Sources: Statista, StreamScheme
Age demographics
Twitch is dominated by younger viewers. In fact, nearly three-quarters of all total users are below the age of 35. Here is the complete age breakdown:
| Age | Percent |
| --- | --- |
| 16-24 | 41% |
| 25-34 | 32% |
| 35-44 | 17% |
| 45-54 | 7% |
| 55-64 | 3% |
Source: Statista
Usage by device
Worldwide, there are an estimated 4.42 billion users that access the internet via mobile devices. Many of these people use their phones to watch video content. In fact, over on YouTube, more than 70% of views come from mobile devices.
But what about Twitch? The streaming platform doesn't release regular figures on this. That said, the last known estimate suggests that 35% of Twitch views come from mobile.

We can also get an indication of the mobile scene on Twitch today by looking at app downloads. On the Play Store, the app has been installed over 100 million times.
Sources: Statista, Variety, Video Games Stats, Google Play
Most popular Twitch channels
Twitch has over 11 million unique streaming channels. But not all channels are equal. While the reality for a lot of streamers is battling to hit landmarks like 100 followers, the biggest channels can attract millions of subscribers.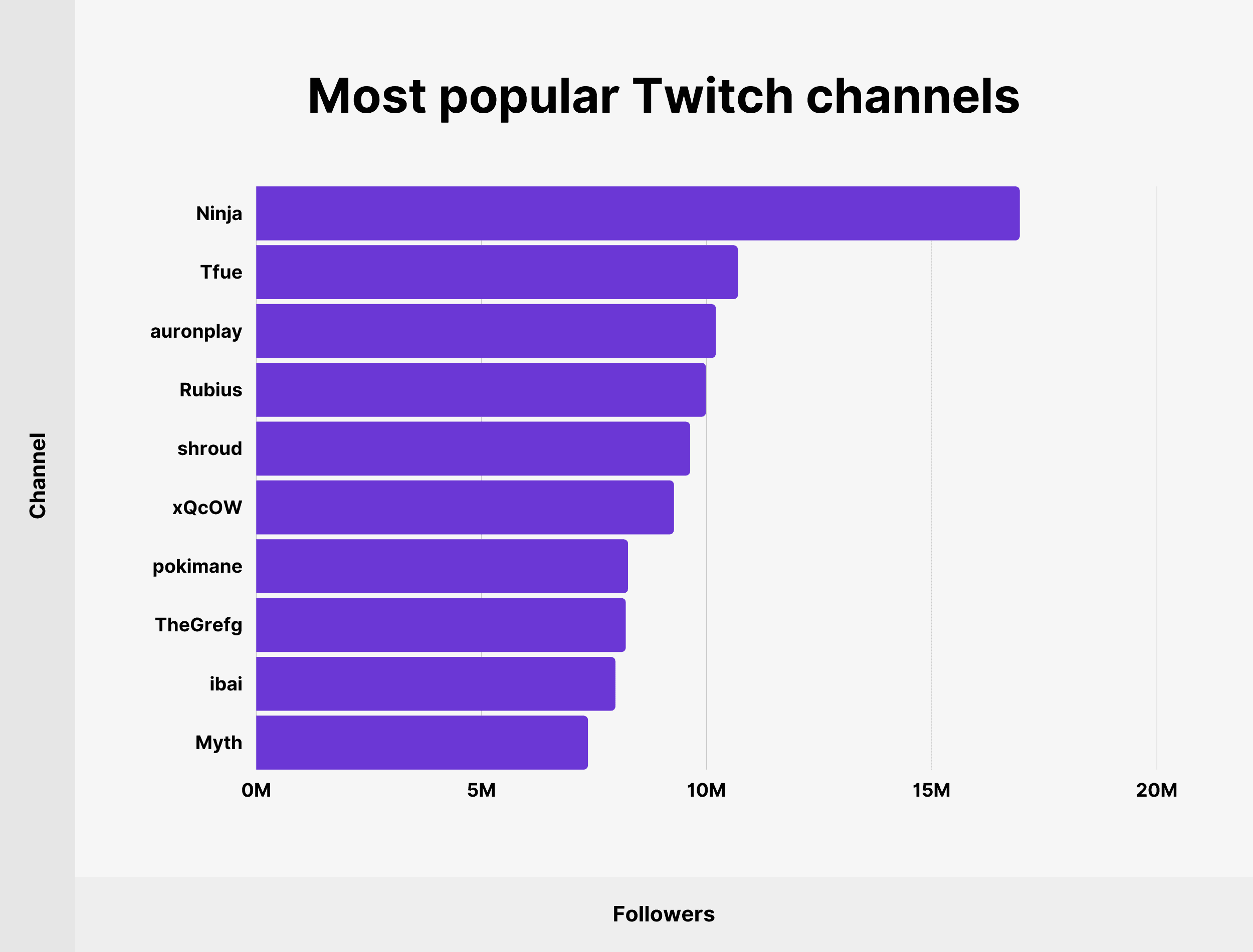 Here is the list of the top ten Twitch channels by followers:
| Channel | Followers |
| --- | --- |
| Ninja | 16.95 million |
| Tfue | 10.69 million |
| auronplay | 10.2 million |
| Rubius | 9.98 million |
| shroud | 9.63 million |
| xQcOW | 9.27 million |
| pokimane | 8.25 million |
| TheGrefg | 8.2 million |
| ibai | 7.97 million |
| Myth | 7.36 million |
Sources: Medium, TwitchMetrics
Most popular games on Twitch
Gaming is the bread and butter of Twitch. The site has its roots in eSports – while other categories of stream have sprung up, video games still account for the bulk of the content.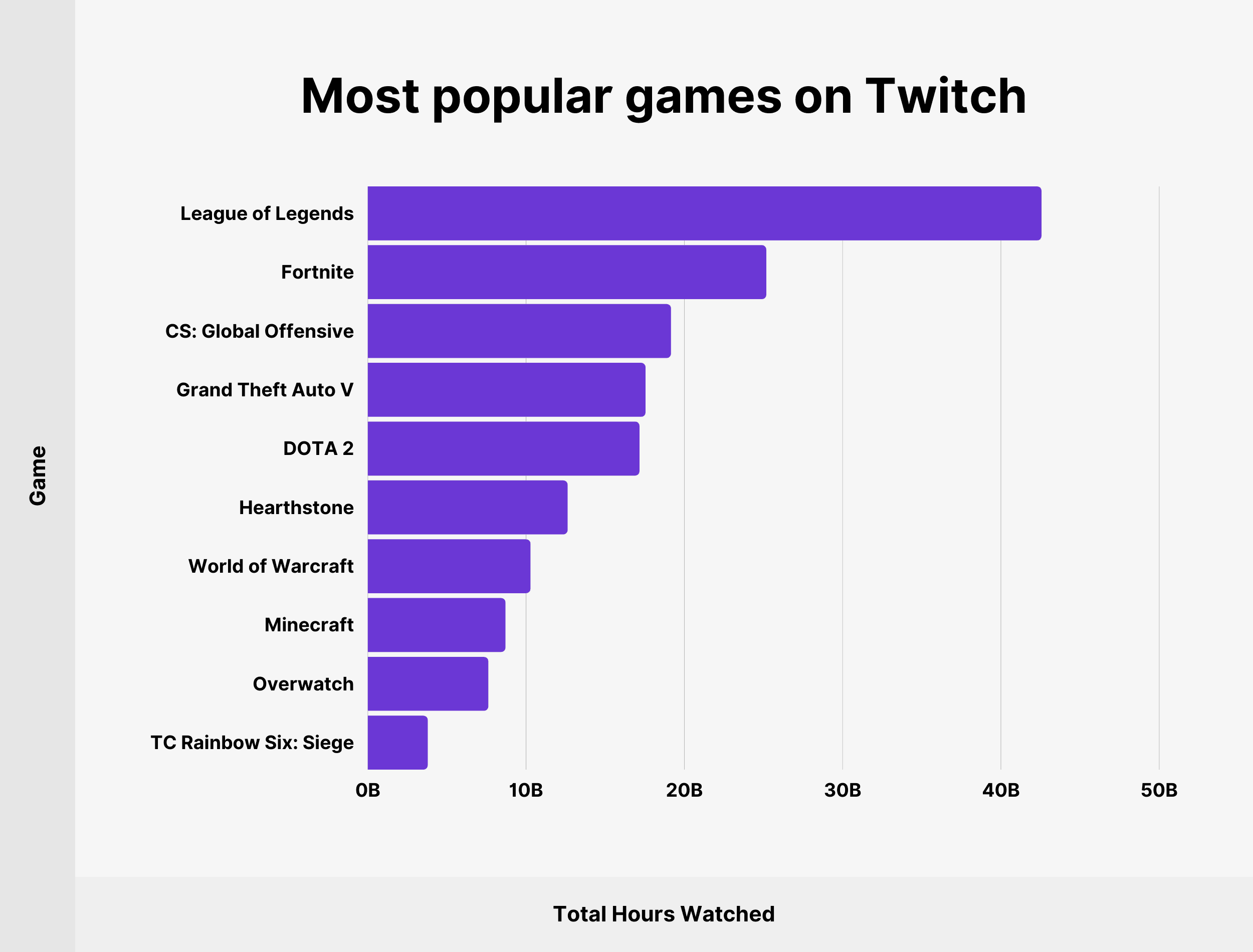 With that in mind, here are the 10 most-watched games on Twitch, sorted by total hours watched:
| Game | Total Hours Watched |
| --- | --- |
| League of Legends | 42.55 billion |
| Fortnite | 25.16 billion |
| Counter-Strike: Global Offensive | 19.14 billion |
| Grand Theft Auto V | 17.53 billion |
| DOTA 2 | 17.15 billion |
| Hearthstone | 12.61 billion |
| World of Warcraft | 10.26 billion |
| Minecraft | 8.68 billion |
| Overwatch | 7.6 billion |
| Tom Clancy's Rainbow Six: Siege | 3.77 billion |
However, the "Just Chatting" category saw more growth on Twitch than any individual game last year. In total, streams with this tag attracted more than 2 billion hours of watch time. On average, 4,408 channels are simultaneously broadcasting chat-based content.
Sources: Statista, SullyGnome
Twitch by the money
In August 2014, Amazon purchased Twitch for $970 million. This came amid heavy rumors that Google was also in talks to buy the streaming service.
Twitch brings in $231.8 million in annual advertising revenue. This has more than doubled from $102.5 million in 2017. However, it is still a tiny fraction of Amazon's overall ad revenue. The ecommerce giant generated $13 billion from ads in 2020.
The other principal Twitch revenue stream is subscriptions. This is hard to assess precisely, given that a subscription toAmazon's Prime service comes with a premium Twitch subscription. But Nielsen-owned SuperData calculated total annual Twitch revenue at $1.54 billion.
Twitch has 1800 employees. The average salary for those working at Twitch is $124,380.
What about creators on Twitch? They have two main ways of making money on the platform: through the affiliate and partner programs, and through ads. The affiliate program allows eligible accounts to receive a split of all revenue generated from subscriptions, as well as enabling "cheers" – essentially a tipping system.
Criteria for joining the affiliate scheme relate to follower count and regularity of content – affiliates must have at least 50 followers and 500 total streaming minutes over at least 7 different days. Twitch partnerships are for a more exclusive group of creators: only around 27,000 accounts have earned this status.
Naturally, income varies hugely from streamer to streamer. But Business of Apps estimates that expert streamers can make an average of $3000 to $5000 per month from the affiliate program, playing 40 hours a week.
As for ad revenue, the average creator earns approximately $250 per month for every 100 followers they have.
Twitch experienced a data leak incident in October 2021, which included information on creator payouts. Assuming the data is legitimate, top streamers on Twitch earned $9.6 million during the past 2 years (from August 2019 to October 2021). The top 10 accounts on the platform registered more than $50 million in earnings.
Sources: BBC, The Guardian, CompareCamp, Business Insider, The Loadout, Twitch, Comparably, Business of Apps, Fortune
Conclusion
You made it! That's the end of my list of Twitch user base facts and figures.
Hopefully, you found these statistics interesting. Twitch doesn't publish a ton of user data. But I've done my best to consolidate a selection of some of the best stats out there.
Now I want to hear from you:
Any questions? Or anything you'd like to see added to this Twitch stats roundup?
Whatever it is, just drop a note in the comments below.